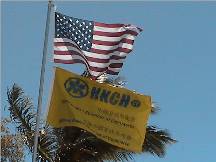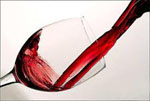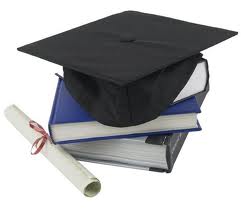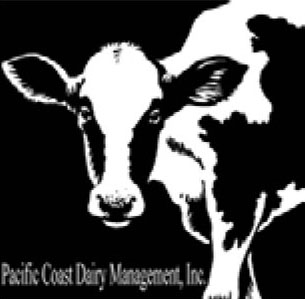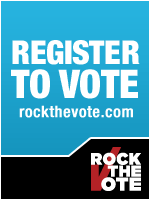 Biz-Video

Hawaii's China Connection

Doing Business in Hong Kong & China
Hong Kong, China & Hawaii Biz*



Skype - FREE Voice Over IP

View Hawaii's China Connection Video Trailer
Do you know our dues paying members attend events sponsored by our collaboration partners worldwide at their membership rates - go to our event page to find out more! After attended a China/Hong Kong Business/Trade Seminar in Hawaii...still unsure what to do next, contact us, our Officers, Directors and Founding Members are actively engaged in China/Hong Kong/Asia trade - we can help!
Are you ready to export your product or service? You will find out in 3 minutes with resources to help you - enter to give it a try


Listen to MP3 "Business Beyond the Reef" to discuss the problems with imports from China, telling all sides of the story and then expand the discussion to revitalizing Chinatown - Special Guest: Johnson Choi, MBA, RFC. President - Hong Kong.China.Hawaii Chamber of Commerce (HKCHcc) and Danny Au, Manager, Bo Wah Trading

December 25 - 31, 2008

Hong Kong: Thousands of construction industry employees from Hong Kong, including workers and supervisors, have been tipped to lose their jobs in Macau and Dubai and return home in the coming months. The Construction Industry Council says it will provide retraining courses in an effort to help them find other jobs in the recession-battered local economy. The chairman of the council's training board, Billy Wong Wing-hoo, said the industry estimated that 8,000 workers would be sacked at stalled casino developments in Macau. This includes 4,000 job losses already announced at the massive Las Vegas Sands project. "Apart from Macau workers, Hong Kong supervisors working in Middle East places like Dubai might return to the city as well," Mr Wong said. "The Dubai economy is not as good as expected." Hong Kong has 230,000 registered construction workers. From next month, the council will use new comprehensive models designed by two universities to predict movement of construction labor. "It will help the government and industry to get objective information on the demand and supply of workers," Mr Wong said. The council estimates that peak demand for construction workers on 10 infrastructure projects to be undertaken by the government will be from 2013 to 2015. It is working on making the demand for workers more evenly distributed. "We would like to avoid a repeat of what happened in 1997, when loads of workers lost jobs," Mr Wong said. The council will provide training programs according to the estimated demand for workers. Mr Wong said predicting demand for construction workers had become more difficult amid the gloomy global economy and uncertainty over government policies. New courses combining several skills, including carpentry, painting, plumbing and plastering, will be provided from next month. Secretary for Labor and Welfare Mathew Cheung Kin-chung said more than 55,000 construction jobs would be created next financial year. A new training centre will be opened in Tin Shui Wai in March, and the council is looking into opening another centre in Yuen Long, where many South Asians live. It has also introduced a course on shot firing - using the explosives needed to break up soil and rock on projects such as tunnels and demolitions. There are only eight registered shot-firers in the city and the council aims to train as many as 210.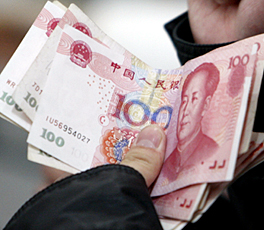 Companies in Hong Kong and Macau will be allowed to use yuan to settle trade in goods with partners in Guangdong and the Yangtze River Delta under a pilot program announced in Beijing yesterday. Under the scheme, reported by Xinhua after a State Council meeting, the currency will also be used to settle the tangible trade of companies in Guangxi and Yunnan with counterparts in the 10 Southeast Asian countries which comprise the Asean bloc. The larger-than-expected scale of the pilot scheme underscores Beijing's intention to avert risks brought on by an unstable US dollar - the currency in which most trades are settled - and to strengthen the position of the yuan in the international currency system, analysts said. "It is not mainly targeted at bolstering Hong Kong's economy," said Zhao Xijun , a professor at Renmin University in Beijing. "Though the city will undoubtedly benefit from the scheme, the point of the policy is to cope with the fallout from the financial meltdown." Details of the scheme, including when it will begin, have yet to be announced. Earlier this month, the central government issued a 30-point directive in which it vowed to "support the development of yuan business in Hong Kong" and expand the use of the currency to settle trade with neighbouring countries. On December 16, central bank governor Zhou Xiaochuan said it was ready to implement measures to expand renminbi business in Hong Kong, and noted that the use of the US dollar in trade could incur higher risks as its value fluctuated. "The US dollar is unlikely to be stable next year and later," Mr Zhao said. "And the likelihood of the United States issuing more money in the near future adds to the depreciation risk in US-dollar-denominated assets and trade settlements." "It's like packaging similar things together," he added. "Guangxi and Vietnam have been settling in yuan for a long time." Together, the members of Asean - the Association of Southeast Asian Nations - make up the mainland's fourth-largest trade partner. Imports and exports totalled US$202.5 billion last year, accounting for 9.3 per cent of the mainland's foreign trade. Hong Kong, the mainland's fifth-largest trading partner, settled trade of US$197.2 billion last year, accounting for 9.1 per cent of the total. Stanley Wong Yuen-fai, an executive director of Hong Kong-listed bank ICBC (Asia) (SEHK: 0349), said even though the city was not granted "an exclusive right" under the scheme, it still had the advantage in developing as a centre for offshore renminbi business. "Hong Kong is part of China, and it also accounted for the biggest share of investment on the mainland, so the demand for yuan service will be bigger," he said. Mr Wong said the scope of the yuan trade-settlement scheme was bigger than expected. This partly reflected Beijing's desire to repatriate yuan in an orderly manner, he said. Trading volumes between the mainland and countries such as Vietnam and Thailand had increased significantly in recent years, and some yuan was in circulation in those countries. Billy Mak Sui-choi, associate professor of finance at Hong Kong Baptist University, agreed Hong Kong would still have the advantage. "A [yuan offshore] centre is driven by market demand," he said. Li Youhuan, an economist with the Guangdong Academy of Social Sciences, said China was also seeking a more influential position for its currency. "Behind the move, there are big powers tussling - the US, EU, Japan and China," said Professor Li. "China is also actively paving the way for yuan settlements in northeast Asia, Russia and other regions. It is eyeing a bigger role in the international monetary system." However, there are hurdles for the initiative. The yuan is not fully convertible. Trade companies can buy and sell yuan on condition they present legitimate trade documents to banks. But investors cannot exchange the currency freely and the new scheme does not include the nation's capital accounts.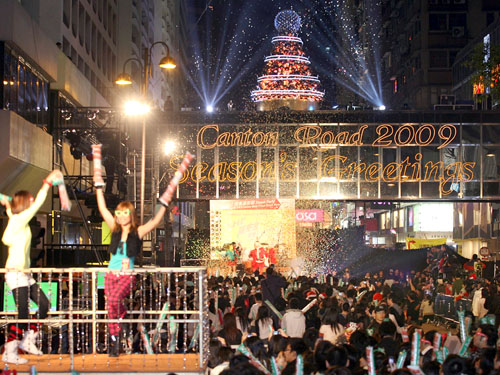 Thousands flocked to Canton Road in Tsim Sha Tsui last night for the Christmas countdown street party. Organizers were expecting 300,000 participants, while police expected 400,000 people to turn out on both sides of Victoria Harbor. Special traffic control measures were in force in Tsim Sha Tsui, Central and Causeway Bay.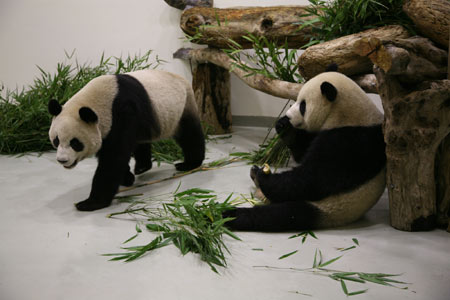 A pair of giant pandas take food in the Taipei zoo in Taipei, southeast China's Taiwan Province, Dec. 23, 2008. The 4-year-old giant pandas, Tuan Tuan and Yuan Yuan offered by the Chinese mainland arrived in Taiwan by air on Dec. 23, 2008.
Lai Fung Holdings (1125) - the mainland property arm of Lai Sun Group - expects to reap about HK$2.2 billion from two mainland residential projects next year. The company plans to start marketing the remaining 300 flats at Shanghai Regents Park phase II during the Lunar New Year or later and expects to earn between HK$1.6 billion and HK$1.7 billion. About 150 homes were sold earlier this year. "The property market is slower this year compared with the previous year, but prices are stable," executive director Kraven Tam Kin-man said yesterday. "We are still optimistic about the market after the central government cut interest rates actively." Lai Fung has also sold up to 70 percent of the units at Guangzhou West Point. The project consists of 243 flats and serviced apartments as well as commercial space. Tam expects the remaining homes will all be sold next year for HK$500 million. He predicts rental income from its Shanghai Hong Kong Plaza will surge after a yearlong HK$200 million renovation. Rental income for the year ended July 31 was HK$181.4 million for the plaza. "Rental income in Guangzhou and Shanghai amounted to HK$250 million [last year]," he said. Sister company Lai Sun Development (0488) said it expects rent from its properties in Hong Kong to drop by up to 5 percent because of the weak market after recording some growth this year.

China: Shanghai conglomerate Fosun International has paid US$150.11 million for a 13.33 per cent stake in advertising firm Focus Media Holding, expanding its diversified investment portfolio into a new industry. The company bought 17.27 million American depositary shares of Focus Media between November 17 and December 22 on the Nasdaq Stock Market, Fosun said in a statement filed with the Hong Kong stock exchange yesterday. Fosun on average paid US$8.69 for each share, a 9.38 per cent discount to the advertising firm's closing price of US$9.59 on Tuesday. Focus Media shares have slumped 83.12 per cent this year. "We'll hold the shares as a strategic investment," said Sun Jun, the assistant president of Fosun. Fosun's businesses range from retail to pharmaceutical, financial services and strategic investments, property development, mining and steel. The purchase, which will make Fosun the biggest shareholder in Focus Media, could boost its investment in consumer-related sectors that would benefit from Beijing's economic stimulus to boost domestic consumption, Mr Sun said. He said media and advertisements would not be Fosun's core business, although the sector's prospects were bright. He declined to comment on whether the firm would increase its stake in Focus Media. Fosun, which has more than 10 billion yuan (HK$11.33 billion) in cash and 14.7 billion yuan of credit facilities, last week said it would continue to seek acquisitions over the next two years as falling asset values created new opportunities. It said priority would be given to overseas-listed mainland firms in sectors including consumer goods, pharmaceuticals, retail and financial services, all of which have been heavily sold off by investors. Focus Media said on Monday it would sell its out-of-home operations to Sina Corp, operator of the mainland's most popular website, for about US$1.3 billion in stock. As Focus Media plans to distribute 47 million Sina shares to shareholders after the deal is closed, Fosun will also hold a stake in Sina. Fosun's Shanghai-listed unit, Shanghai Fosun Pharmaceutical, earlier bought an 8.56 per cent stake in New York-listed Tongjitang Chinese Medicines for US$10 million. In October, Fosun spent HK$632 million to increase its stake in Shanghai Forte Land.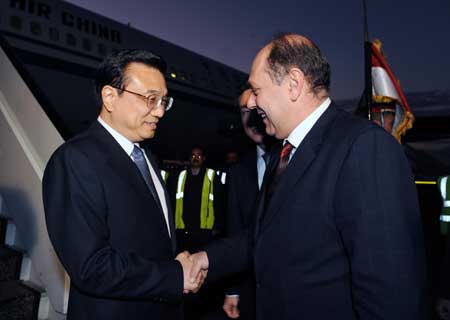 Visiting Chinese Vice-Premier Li Keqiang is greeted by a welcome delegation on his arrival at an airport in Cairo, capital of Egypt, Dec. 24, 2008. At the invitation of Egyptian Prime Minister Ahmed Mahmoud Mohamed Nazef, Chinese Vice Premier Li Keqiang arrived here on Wednesday afternoon for an official visit to Egypt. "I believe my visit will promote the China-Egypt strategic partnership of cooperation to a higher level," Li said in a written speech upon arrival at the airport. He noted that China attaches great importance to developing relations with Egypt and is ready to make joint efforts with the Egyptian side to consolidate the traditional friendship, deepen the strategic partnership of cooperation and enhance coordination in international and regional issues with Egypt.
The China Association of Automobile Manufacturers recently announced the top 10 sedan models in regards to sales volume from January to November this year. They are, in order, Jetta, Santana, Excelle, Corolla, Accord, Camry, F3, QQ, Xiali and Elantra.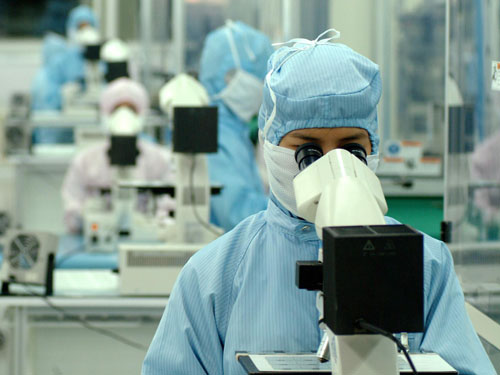 A key feature of the mainland's export-friendly measures, the new VAT rebate on certain electronics and machinery items marks the fourth round of increases since August. The State Council has unleashed a fresh package of measures to increase exports and domestic consumption to help the mainland ride out the global economic crisis. At a meeting yesterday, Premier Wen Jiabao revealed several additions to the stimulus plan: value-added tax rebates will be increased on high-value, high-technology electronics and machinery exports; export credit and insurance will be strengthened; and a yuan settlement scheme on trade will be implemented in Guangdong, Yunnan and Guangxi. Domestically, distribution networks will be expanded to boost the flow of agricultural products to urban areas and white goods into rural areas as a key strategy to spur demand. The expanded measures, which follow the 4 trillion yuan (HK$4.53 trillion) stimulus package announced last month, are intended to ensure the mainland economy grows at about 8 per cent next year as the global economic crisis eats further into the nation's foreign trade. Some economists said the State Council's latest moves showed top policymakers were worried about the growing adverse impact of the crisis on the nation's economy, which is heavily reliant on exports. As a key feature of the export-friendly measures, the new VAT rebate on certain electronics and machinery exports marked the fourth round of increases since August. This will be a hearty Christmas gift to about 55,200 Hong Kong processing trade exporters, many of whom are struggling to ride out the recession in their top three markets - the United States, Europe and Japan. However, Mr Wen has yet to specify the details of the latest VAT change, such as the new rebate rates on the exports in question and the effective date. While Toys Manufacturers' Association of Hong Kong executive vice-president Yeung Chi-kong welcomed the move, he called on policymakers to offer more tax incentives and revise the controversial new labor contract legislation. "The VAT rebate on toys can be raised further as the rebate on garments is now at 17 per cent, which means VAT-free," Mr Yeung said.
The mainland is at "grave risk" of missing its goals for social and economic development if it fails to deal properly with problems thrown up by the global financial crisis, the minister for economic planning warned yesterday. "As a result of the global financial crisis, we are facing severe challenges in the implementation of the 11th five-year plan," Xinhua quoted Zhang Ping , minister in charge of the National Development and Reform Commission, as saying. The 11th five-year plan runs from 2006 to 2010. He said the global financial turmoil was expected to last for some time, and a global economic downturn was inevitable. "If we are unable to properly deal with the difficulties, we might be faced with grave risks of failing to realize our strategic goals in economic and social development." To counter this, a cabinet meeting chaired by Premier Wen Jiabao decided yesterday to take steps to boost domestic consumption and exports, the two main drivers of the world's fourth-largest economy. To boost growth in the short term, the government would invest an additional 100 billion yuan (HK$113 billion) in new projects in the fourth quarter - which ends next week - and allocate 20 billion yuan to a special earthquake relief fund, he said. Mr Zhang warned the quality of bank assets would worsen as corporate losses mounted. Under the 4 trillion yuan stimulus package the central government announced early last month, banks are being encouraged to lend more for infrastructure projects and to small and medium-sized firms badly hit by the crisis. Mr Zhang also proposed measures to help boost exports, help low-income families and fund education, health care, pensions and environmental protection. He did not elaborate. He warned that weakening demand for property had affected economic growth. The minister said the volume of real estate sales, in square meters, in the first 11 months of the year was 18.3 per cent lower than in the same period last year. Mr Zhang's deputy, Zhang Mao , said the government would regulate land sales and seek to stop land prices rising too rapidly. "Volatility in the property market may induce some negative impact," Zhang Mao said. "A moderate decline in high property prices can help the property market return to a path of rational and healthy development, but we ought to prevent a sharp fall in property prices." The government has stepped up its efforts to stabilise the property market since mid-September - slashing lending rates and reducing duty on home sales. Economic growth slowed to 9 per cent in the third quarter, and to 9.9 per cent in the first nine months, compared with 11.9 per cent for the whole of last year. Economists expect a further weakening of growth in the fourth quarter. But Li Yang, a prominent economist, said the economy would probably recover in the second half of next year, making it one of the first to see a turnaround. To make that a reality, Beijing is taking steps to boost development in nine major industries - steelmaking, carmaking, shipping, petrochemicals, textiles, light manufacturing, nonferrous metals production, equipment manufacturing and information technology - Zhang Ping said in a briefing to lawmakers.
Guangzhou will spend nearly 50 billion yuan (HK$56.66 billion) on cleaning up the Pearl River and its tributaries by mid-2010, in time for the Asian Games that November. Zhang Hu , director of the Guangzhou municipal bureau of water affairs, said the city government would clean up 121 rivers with a total length of 388km in 18 months. It would order factories, restaurants, clinics, construction sites and farms to upgrade their sewage treatment facilities, he said. Guangzhou will also build 30 new sewage treatment plants, increasing treatment capacity by 2.25 million tons a day. The announcement was made as a water quality program was launched on Tuesday with construction of a treatment plant for the Shijinghe, a tributary of the Pearl River. Locals often call the Shijinghe "Black Dragon River" because of its severe pollution and foul odour. Mr Zhang said that from January 1, Guangzhou residents would no longer be allowed to discharge untreated sewage directly into rivers. The bureau would also demolish buildings on the banks of rivers designated as sources for drinking water, he said. Water shortages, water pollution and flooding have constrained growth and affected public health in many parts of the mainland. The World Bank says the per capita availability of natural fresh water on the mainland is a quarter of the world average. A report from the bank in 2006 said a combination of water scarcity and poor water quality was greatly jeopardizing the sustainability of water resources. The environment minister said the nation had stepped up efforts to curb pollution at major water sources to improve water quality. The mainland had invested nearly 24 billion yuan over the past two years on distributing clean drinking water to its rural population, Environmental Protection Minister Zhou Shengxian said on Tuesday. In a report to a plenary session of the National People's Congress Standing Committee, Mr Zhou said the programme had so far benefited 109 million people. Water quality last year was almost the same as in 2006, while the urban sewage treatment rate reached 63 per cent last year, an 11 percentage point rise from 2005, he said.
China's quality supervisor said on Tuesday that it would step up checks of soybeans from the United States after tons of soybeans were found tainted by pesticides. The General Administration of Quality Supervision, Inspection and Quarantine (AQSIQ) said the local quality watchdog in eastern Zhejiang province found some 57,000 tons of US soybeans were mixed with soybean seeds coated with three types of pesticides: metalaxyl, fludioxonil and thiamethoxam. Such seeds are for planting and usually bear warning colors such as red, blue or green, said the AQSIQ. In response, the AQSIQ said it had issued a notice to all local quality bureaus, ordering them to implement an early-warning system within 90 days and step up inspections of US soybeans. The AQSIQ also informed the United States about the issue and required the US side to intensify quality checks on soybeans destined for China. The AQSIQ said it had found soybean seeds mixed in many batches of soybeans imported from the United States, which it said indicated there were major problems in the US soybean export system.
December 24, 2008

Hong Kong: Sceptics cast doubt yesterday on the future of mobile television in Hong Kong, citing concerns about the small market and the absence of a viable business model. An industry source said it was not the right time to launch new broadcasting services, noting that digital television, launched last year by free-to-air broadcasters TVB (SEHK: 0511) and ATV, was still in its infancy. Digital television now covers 75 per cent of the population, but there has been only a 25 per cent take-up. "Hong Kong is a very unique place where you can access any kind of information within reach. Why will someone watch television on a tiny screen if he can watch elsewhere on a big screen, like in a fast-food restaurant?" the source asked. Wong Kam-fai, director of the centre for innovation and technology at Chinese University, agreed that the city might be too small to run mobile TV services alone. But opportunities existed if Hong Kong's mobile TV network could co-operate closely with the mainland network, and extended the services to populations in the Pearl River Delta. "Technology is ready but when we talk about the market, it is another matter. People may watch mobile TV on a long-haul trip, but definitely not on a ride on the MTR," he said. Following the "market-led" approach, the government had not stipulated any business model in its framework and that made it unclear how the new services would be rolled out. Another industry source said existing broadcasters had a better chance, driven by the large base of potential mobile TV viewers. "Broadcasters as the content providers would love to see their programmes being seen by a wider audience," said the source, adding that it was possible that the mobile services could be free, as they would be supported by advertisers. But it was also possible that telecoms operators would join the auction and provide mobile TV service as a value-added component for their customers. They would have to source content from broadcasters, and the subscribers were likely to be charged. Hong Kong Digital Content Alliance convenor Ringo Lam Wing-kwan said the decision to lift the ownership or cross-holding restrictions had paved the way for broadcasters to "join the game". The exemption from the Broadcasting Ordinance also meant that there would be no regulations on the duration of advertising, he said. "I would not be surprised to see newspapers bid for their own news channel," he said.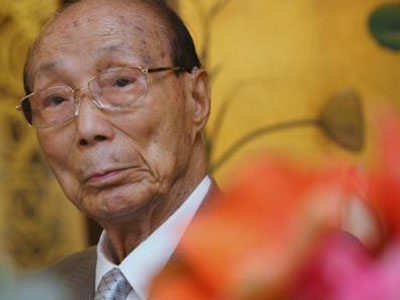 Sir Run Run Shaw, executive chairman of Shaw Holdings pictured at the Shaw Brothers Annual General Meeting at Kowloon Shangri-la, Tsim Sha Tsui earlier this year. On Tuesday, shares in Shaw Brothers surged after Sir Shaw floated a bid to buyout the firm. Movie mogul Sir Run Run Shaw's plan to buy out his listed unit, Shaw Brothers (Hong Kong), for HK$1.33 billion after he failed to sell his stake in the firm, propelled the stock as much as 58 per cent higher on Tuesday. The move could facilitate a possible sale of the firm's crown jewel, Television Broadcasts (SEHK: 0511) (TVB) by Sir Shaw, analysts said, referring to the centenarian tycoon who helped fund the 1982 science fiction film Blade Runner. "The privatization plan could remove a potential executive hurdle should Shaw Brothers decide to sell its TVB stake in the future, as minority shareholders' approval would no longer be necessary," UBS said in a research note on Tuesday. But a bid for TVB was unlikely in the near term, as any potential buyers would probably be constrained by tight credit due to the global financial crisis, it added. Shaw Holdings, controlled by Sir Shaw, would pay HK$13.35 per share for all the Shaw Brothers shares it does not already own, the company said on Monday. The stock closed on Tuesday's morning session up 55 per cent at HK$12.64, after earlier surging to as much as HK$12.86. TVB shares rose 2.7 per cent to HK$24.45. Entertainment conglomerate Shaw Brothers' studio produced up to a thousand titles and its influence is also evident in the films of Bruce Lee, Jackie Chan and John Woo. But in 1980, Sir Shaw focused on television, becoming the chairman of TVB, which became the city's dominant terrestrial TV broadcaster. The company now derives 100 per cent of its earnings from TVB, in which it has a 26 per cent stake. It also has a large piece of land in Hong Kong's Clearwater Bay. The offer price represents a 64 per cent premium to the stock's last close of HK$8.13 on December 12, prior to a trading suspension. The stock resumed trading on Tuesday. "That's a good price and close to its asset value of about HK$15 per share," said Francis Lun, general manager at Fulbright Securities. He expects the offer will be approved by minority investors. Arnhold and S. Bleichroeder Advisers, which represents about 10.2 per cent of Shaw Brothers' issued shares, had agreed to vote in favor of the offer, the company said. Shaw Brothers' market value fell more than 67 per cent from its peak in June to HK$3.2 billion on December 12 after hopes to sell Sir Shaw's controlling stake in the company were dashed amid the global financial crisis. Sir Shaw owns about 75 per cent of Shaw Brothers and has a 6.5 per cent interest in TVB. Shaw Brothers hit a record high of HK$24.30 on June 25, boosted by reports that Yeung Kwok-keung, chairman of property developer Country Garden Holdings, would buy Sir Shaw's interest in Shaw Brothers to get control of TVB. But Shaw Brothers said in October that talks by Shaw Holdings to sell its stake in the firm had ended due to the tumultuous situation in financial markets. In May last year, talk that Sir Shaw may sell his slice of the entertainment giant ahead of his 100th birthday in October that year lifted its shares as much as 32 per cent in two days.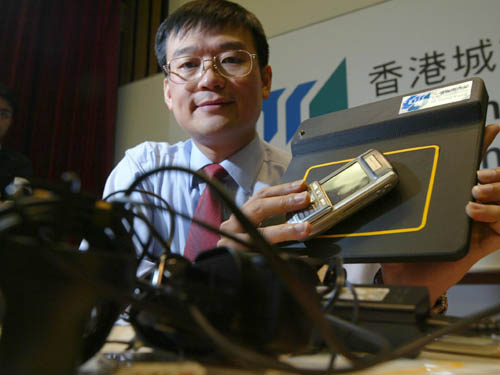 Professor Ron Hui Shu-yuen at City University's Department of Electronic Engineering shows how his battery-charging plate works. An international consortium founded in Hong Kong wants to cut the last cord that limits the mobility of wireless consumer electronic devices. Member-companies of the Wireless Power Consortium aim to develop a universal standard for people to charge over-the-air all of their portable electronic gadgets - including mobiles phones, media players and laptops - almost as simply as they access the internet through Wi-fi networks. A conservative estimate from consortium co-founder ConvenientPower, based in the Hong Kong Science Park, projects the market for universal wireless power-charging solutions and accessories could be worth US$15 billion a year. "Seamless, safe charging that is available everywhere for mobile electronic devices can only be achieved through a universal wireless power-charging standard. Wireless power cuts the `last wire' after wireless communications and data," said Camille Tang, president of local wireless charging systems developer ConvenientPower. Ms Tang said a number of wire-free technologies for transferring electric power existed, such as those used in electric toothbrushes. Ron Hui Shu-yuen, a professor at the Department of Electronic Engineering at City University, had earlier developed his version of an "unplugged" power charger - a wireless battery-charging plate. The charger uses so-called near-field electromagnetic coupling, allowing various devices to be charged simultaneously when placed on a charging plate plugged into a normal power outlet. Ms Tang said ConvenientPower had licensed Professor Hui's technology from the university. ConvenientPower chief executive Mike Mastroyiannis said the key would be contributing elements of that and other technologies to a universal wireless charging standard accepted by the industry. Otherwise, proprietary wire-free charging technologies will still prevent different power chargers from being used on a single device or different gadgets from being charged at a common power source. Having a universal wireless power-charging standard would ensure the compatibility of consumer electronic products and charging stations, Mr Mastroyiannis said. ABI Research has estimated sales of mobile phones will reach 1.3 billion units this year. Worldwide sales of all portable, rechargeable electronic devices in the telecommunications and consumer electronics sector are estimated to be more than 2 billion units. Demand for universal wireless power-charging systems could hence be significant when the standards are set and manufacturers start churning out their solutions. The consortium will first establish a standard for low-power electronic devices using 5 watts and below, such as mobile phones, portable media players, laptops and video game accessories. A standard for higher power portable electronics and electrical equipment is also planned. "This is a crucial moment in the development of wireless power," said Menno Treffers, a senior director for standardisation at Philips Electronics and the consortium chairman. Mr Mastroyiannis said the consortium would draw up the standard "as soon as possible". Stephen Chau Kam-kun, the chief technology officer at cellular-phone network operator SmarTone-Vodafone, said: "This is a good first step forward to help boost people's mobility with their devices." The global initiative for a universal standard was launched by the consortium last week at the Hong Kong Science Park. Other consortium members include Royal Philips Electronics, Texas Instruments, Sanyo Electric, Logitech, National Semiconductor, Fulton Innovation and Shenzhen Sang Fei Consumer Communications. The consortium will initially focus on a wireless charging technology that transmits power to a product near a charging station. The power transfer is based on the principle of magnetic induction. Magnetic induction, or transformer technology, is used in all kinds of electronic equipment because it is simple, efficient and safe. It makes rapid battery charging possible and will not interfere with data or devices nearby. In addition, it is reliable in demanding environments where there may be water, sand and dirt. "To establish a robust standard, we embrace diverse expertise and collaboration. The Wireless Power Consortium seeks as many electronics groups and companies as possible to join as members," said Wolf Oelschlegel, a general manager at Shenzhen Sang Fei.

Global luxury retailer DFS Hong Kong, which operates duty-free shops, plans to expand its outlet in Tsim Sha Tsui by 40 per cent to cater for strong demand from mainland tourists. In strong contrast to the declining sales suffered by many retailers in the neighborhood, DFS sales remain on an upward trend, according to Maureen Fung Sau-yim, the general manager for leasing at Sun Hung Kai Real Estate Agency. DFS Galleria, which sells prestigious international brands including Louis Vuitton, Gucci and Chanel, will rent an additional 35,000 square feet at Sun Hung Kai Properties (SEHK: 0016)' Sun Arcade in Tsim Sha Tsui. "The group is proceeding with the expansion despite the deepening financial turmoil. We just signed the leasing agreement last week," Ms Fung said. DFS Galleria's retail space at Sun Arcade, which generates shopper traffic of up to 120,000 visitors during weekends, will expand to 120,000 sq ft from 85,000 sq ft now. Ms Fung said retailers that remained in a strong financial position were able to take advantage of the economic downturn to expand in light of the declining competition for prime space and landlords becoming more flexible in discussing leasing terms. "DFS Galleria will expand its cosmetics and jewellery and watch zone in a bid to capitalise on mainlanders' strong appetite for luxury goods," she said, adding that cosmetics sales this month jumped significantly compared with December last year. As mainland tourists account for up to 50 per cent of DFS Galleria's sales, she said, the financial turmoil had a limited impact on its sales, and the retailer would add 17,500 sq ft of space this month and the remainder by the end of next year. After the completion of the expansion, DFS Galleria will account for 57 per cent of the 210,000 sq ft Sun Arcade, the biggest store in the shopping centre. Ms Fung declined to disclose the leasing terms but said the rents for the additional space to be committed to by DFS Galleria were higher than in previous leases. Currently, rents at Sun Arcade were HK$150 to HK$300 per square foot, she said. Aside from DFS, several global retailers are expanding their outlets. Spanish fashion retailer Zara will soon enlarge its store at IFC Mall in Central by 25 per cent to 16,000 sq ft. Sources have said Zara would close its IFC store on January 31 and the new store would open on April 1 next year. Rival luxury retailer Prada intends to expand from 2,800 sq ft to 8,000 sq ft, while Ferragamo plans to enlarge its space from 1,500 sq ft to more than 3,000 sq ft. Industry watchers said international brands tended to open fewer big shops instead of many small shops.
Improved relations between the mainland and Taiwan do not necessarily pose a threat to Hong Kong, according a pro-government think-tank. Bauhinia Foundation Research Centre chairman Anthony Wu Ting-yuk said yesterday that members of the think-tank visited Taiwan recently and took note of aspects of life and activities that carry lessons and potential benefits for Hong Kong. "Hong Kong government officials should visit Taiwan more often since cross-strait relations have improved," Wu said. More Taiwanese firms should be encouraged to list in Hong Kong, while local professionals should consider opportunities in Taiwan. Hong Kong should also consider importing agricultural products from the island. Wu said Taiwan has a successful creative outlook and an educational system that fosters cultural development. For instance, Taiwanese embrace gastronomy in their culture, Wu continued. "They have countrywide beef noodle competitions every year, so why can't we have a wonton noodle competition?" Wu hopes too that the day will come when Hong Kong think-tanks can be as influential as those in Taiwan and the mainland. The Chung-Hua Institution for Economic Research, the Taiwan Institute of Economic Research and the mainland's Chinese Academy of Social Sciences were welcomed as official think-tanks, he remarked. "I don't rule out the possibility that Bauhinia can eventually develop into a think-tank like those." Bauhinia has developed ties with several political appointees, but Wu side- stepped questions about the think-tank moving to foster more political talent. Bauhinia wanted to do no more than stimulate interest in public affairs, Wu said.
Hong Kong recorded a 51.3 billion HK dollars surplus in its balance of payment account, at 11.9 percent of GDP, in the third quarter, announced the Census and Statistics Department of Hong Kong SAR on Tuesday. According to the Census and Statistics Department, of the major balance of payments components there was a current account surplus of 76.5 billion HK dollars, compared with 34.8 billion HK dollars in the previous quarter. A net outflow of financial non-reserve assets amounting to 49.2 billion HK dollars was recorded. Beating the 60.1 billion HK dollars for the same quarter last year, the current account surplus in the third quarter of 2008 was characterized by an increase in visible trade deficit, a rise in invisible trade surplus, an increase in net inflow of external factor income, and a continued net outflow of current transfers.

China: China Railway Construction (SEHK: 1186) Corp said on Tuesday that subsidiaries had won contracts worth 24.97 billion yuan (HK$28.30 billion) for rail construction in the southern part of the country, as the country steps up spending to bolster its economy and infrastructure. The value of the contracts is equivalent to 14.07 per cent of the company's last year sales under domestic accounting standards, it said in a stock exchange filing. In a separate statement, China Railway Group (SEHK: 0390), the country's largest railway and highway builder, said subsidiaries had won 7.91 billion yuan in rail construction contracts, equivalent to 4.38 per cent of last year sales. Another construction contractor, China Railway Erju Co, announced that it had won contracts worth 5.36 billion yuan. Mainland will spend 5 trillion yuan until 2020 to add another 41,000km to its already extensive rail network, a recent publication issued by the official Xinhua news agency quoted Deputy Railway Ministry Lu Dongfu as saying. The country has been stepping up spending on its rail network under a long-term plan to bolster its transport infrastructure. It also recently announced a massive 4 trillion yuan stimulus package to support economic growth and stave off the impact of the global financial crisis.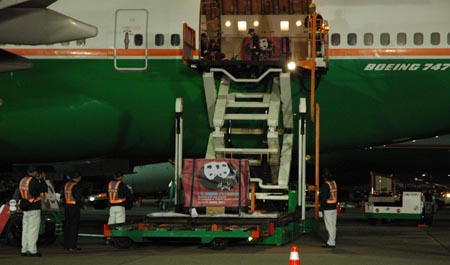 Workers wave as pandas Tuan Tuan and Yuan Yuan are escorted from Yaan panda sanctuary in Sichuan on Tuesday. A pair of giant pandas arrived in Taiwan on Tuesday as a gift from the mainland, the latest move in rapidly warming ties between the longtime rivals. A green-liveried Eva Airways jet carrying "Tuan Tuan" and "Yuan Yuan" set down at Taipei airport after the three-hour flight from Chengdu in Sichuan province. Taken together the pandas' names mean reunion – underscoring Beijing's hopes that the animals' arrival in Taiwan will spur unity between the sides, 59 years after they split amid civil war. Tuesday's panda arrival follows by a week the initiation of expanded transportation links across the 160-kilometre wide Taiwan Strait and other signs of friendship between Beijing and Taipei. Since his inauguration seven months ago, Taiwanese President Ma Ying-jeou has moved aggressively to link Taiwan closer to the mainland, opening the door to a substantially increased flow of mainland tourists and sanctioning a more liberalised regime for bilateral investments. His steps contrast sharply with predecessor Chen Shui-bian's efforts to emphasize Taiwan's political and cultural separateness, which enraged Beijing, and prompted it to reaffirm long-standing threats to use military force against the democratic island it claims as its own. After their arrival at Taipei airport, the pandas were prepared for the short trip to the city's zoo, where they are expected to remain in quarantine for 30 days. Assuming they are disease-free, Yuan Yuan and Tuan Tuan – and their new, two-story zoo habitat – will be unveiled to the public during the Lunar New Year holiday in late January. They are expected to double the zoo's number of annual visitors to 5 or 6 million. For more than five decades, Beijing has used panda diplomacy to make friends and influence people in countries ranging from the United States to the former Soviet Union. The giant panda is unique to China and serves as an unofficial national mascot. Beijing regularly sends the animals abroad as a sign of warm diplomatic relations or to mark breakthroughs in ties. The offer to send Yuan Yuan and Tuan Tuan to Taiwan was first made in 2005 when the pro-independence Chen was still in charge. Citing various bureaucratic obstacles, his government rejected it, but after Mr Ma's inauguration in May, the way was cleared to reverse that decision.
China military authorities are considering building an aircraft carrier to protect its interests, a development likely to worry its neighbors. Beijing's rising military spending has prompted concern in the United States and elsewhere, especially in Japan and self-ruled Taiwan. "Aircraft carriers are a symbol of a country's overall national strength as well as the competitiveness of the country's naval force," Chinese Ministry of National Defense spokesman Senior Colonel Huang Xueping told reporters. "China has a large sea territory. It is the sacred responsibility of our armed forces to protect our sea territory and to maintain our maritime sovereignty and rights and interests. China, taking into account all relevant factors, will earnestly research and consider [building aircraft carriers]." Taiwan was cautious in its reaction. "We need to do some research before we can judge whether (the carrier) is directed at Taiwan," said Ministry of National Defence spokeswoman Chih Yu-lan. Mainland military officials have been lobbying the central government for years to build an aircraft carrier, which would allow naval forces to project air power offshore, but rarely make public statements about their intentions. Hong Kong media have said the mainland could build its first carrier by 2010. The comments come amid strained military ties between Washington and Beijing, and as China prepares to send two navy destroyers and a supply ship on Friday to the Gulf of Aden, to join international efforts to fight rampant piracy off the Somalian coast. US defense officials last week welcomed China's Somalia mission and said they hoped it would act as a "springboard" for resuming contacts with Beijing, which China suspended in October in protest over a US$6.5 billion arms sale to Taiwan. Huang, however, said the US military had more work to do to improve ties. "At present the military relationship between China and the United States has some difficulties, but the responsibility is not with the Chinese side," he said. "We hope the US side will take seriously the major concerns and interests of the Chinese side... and take concrete actions to create conditions for military relations to recover." The United States switched diplomatic recognition from Taiwan to China in 1979, recognizing "one China", but remains the island's biggest ally and arms supplier and is obliged by the Taiwan Relations Act to help the it defend itself.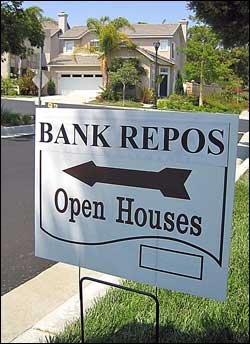 Chinese tourists seek ultimate US souvenir - Caravans of cash-rich Chinese have been weaving through US neighborhoods, looking for foreclosures and other bargain properties to buy. US home-buying trips are becoming one of the more popular tour group packages in China. New US visa rules and a loosening of foreign investment policies by China have made it easier for people like Zhao Hongjun of Beijing to go house hunting across the Pacific. The 48-year-old owner of a media firm went on a two-week road trip last fall, checking out properties from Los Angeles to New York. He's been following the swoon in prices since, and next month he may join another prospecting group heading for San Francisco, Los Angeles and Las Vegas - three of the worst-hit US housing markets. His budget: US$1 million (HK$7.8 million). "LA is not bad; a lot of Chinese live there," said Zhao, whose interest is in apartments and detached houses. Overseas Chinese have been buying southern California properties for years. What's different now is they are starting to do it in large groups and quite openly. Chow Ling, president of the Chinese American Real Estate Professionals Association in Southern California's San Gabriel Valley, says brokers and agents welcome the tours - anything to shake the doldrums of the market crash. But Chow, who serves mainlanders mostly, is skeptical. Unless they're willing to spend more than US$400,000, they'll likely be disappointed in the available homes. Liu Jian, chief operating officer at Soufun.com that is organizing next month's visit, said his group's tour would focus on homes between US$200,000 and US$300,000, just at or below the median for the region. More than 300 people have registered. James Chou of Coldwell Banker George Realty in Alhambra, California, is preparing for several groups early next year, totaling up to 200 people. His company will provide hotels and tour buses. Jamie Lee, who runs Los Angeles Convention and Visitors Bureau office in Beijing, has mixed feelings about these gou fang tuan, or home-buying groups in Chinese. Lee has been working hard in China to publicize the biggest attractions of Los Angeles - its great weather, beaches, Hollywood and theme parks. "I'm promoting tourism to LA, but not to go to buy cheap houses," she said. "Are we that desperate?" Mei Xinyu is ambivalent for a different reason. As a researcher for China's Ministry of Commerce, Mei doesn't want to see a rush of Chinese buying US homes and getting burned. "The housing price right now in the US is fairly low already, but it's hard to say how long it will remain the valley," he said. In some places, mainlanders could face a backlash, just as there was when the Japanese went on a shopping spree in the United States during the 1980s. What is more, he warned, some American cities may not bounce back at all. "China is still in the process of urbanization. It's unlikely to turn into ghost towns," he said. "But the United States is different." Yuan Lixin says his group's tour is meant to address precisely that concern - to give mainlanders a deeper understanding of US life over 14 days before they buy. "What we sell is the culture, American culture," said Yuan, a planning department official at Beijing Youth, a newspaper enterprise that has been organizing group tours since late 2006. "In the past, people who traveled to the United States might carry back a large luggage with American goods. It's just that this time, what they bring back are papers showing hundreds of thousands of dollars of a house."
China announced plans Monday to establish a social security number system for the welfare of its citizens. The draft of the social insurance law was discussed by the Standing Committee of the 11th National People's Congress, the country's top legislature, on Monday. The draft said China would establish a standard social security number system across the nation by using each citizen's current identification card number. The social insurance fund will be categorized into endowment insurance, medical insurance, insurance against injury at work, unemployment insurance and childbirth insurance, the draft said. Currently, China's social insurance fund is managed by the Ministry of Human Resources and Social Security and its branches in provinces, municipalities and autonomous regions.
December 23 2008

Hong Kong: Television viewers in Hong Kong will be able to watch their favourite dramas while they are on the go in two to three years' time. A broadcasting revolution in the city came a step closer yesterday with the announcement of an auction of new mobile television licences in the second half of next year. Three 15-year licences will be put up for bidding and, within 18 months, all Hongkongers will need to watch mobile TV is a mobile phone or MP4 player equipped with a receiver for the TV signal. The licence holders will be able to provide up to 26 channels in total, covering at least half of the city's population. They will also be required to use at least half their transmission capacity for mobile TV content, while the remainder can be used to provide new services such as digital audio broadcasting. Permanent Secretary for Commerce and Economic Development Duncan Pescod said yesterday a mobile TV service would mark the convergence of technological advancement and the media. "The market worldwide has called for a timely response from governments and regulators to facilitate the launch and growth of the service and we aim to enhance Hong Kong as a regional broadcasting hub," he said. The government will not impose ownership or cross-holding restrictions on the bidders while the content of mobile TV will be exempted from regulations of the Broadcasting Ordinance, which governs such matters as advertising content. The service will use two different technologies - the European-developed DVB-H standard on UHF (ultra high frequency) band providing 20 channels, and the Korea-based T-DMB standard on Band III, of which two licensees would share its six channels. T-DMB is understood to be more costly as it needs more transmission sites for full local coverage. Several telecoms operators have offered mobile TV service on their 3G networks by streaming technology but the broadcasting quality can fade out when too many people try to watch the programme at the same time. Mr Pescod said they had witnessed a positive response throughout two rounds of consultation since last year, both of which took place before the financial meltdown. "There are no indications that [interest] will be unduly affected by the time we start the auction," he said. The government said it would leave it to the licensees to decide how much viewers should pay for the new service. Industry sources said it was possible for the service to be rolled out for free, following the advertising-driven business model of terrestrial television. The city's free-to-air broadcasters TVB (SEHK: 0511) and ATV, together with the two pay-TV operators Cable TV and Now TV, said that they would study the framework.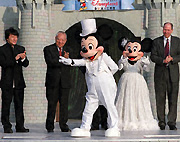 Hong Kong Disneyland's planned expansion would increase its size by more than one-third and cost about half the price of the cruise terminal to be built at Kai Tak, managing director Andrew Kam Min-ho said yesterday. The government estimates the terminal will cost HK$7.2 billion, meaning the park-expansion bill would be HK$3 billion to HK$4 billion. Three new themed "lands" would occupy about 12 of the 20-plus hectares available for development at the theme-park site, Mr Kam said. Hong Kong Disneyland currently features Main Street USA, Fantasyland, Tomorrowland and the largest Adventureland in the world. Disney, which has long expressed its willingness to finance the expansion, is still negotiating with the government, its joint-venture partner, on the way forward. The government holds a 57 per cent stake in the theme park. Mr Kam said the administration would remain the majority shareholder and only suffer a slight decrease in its stake if no taxpayers' funds were used to help pay for the expansion. It is understood that the lack of a proportionate injection of funds from the government would dilute its majority stake, and further progress would depend on whether it was willing to inject matching funds or accept a smaller stake. Bill Ernest, Walt Disney Parks and Resorts president and managing director for Asia, said the talks were expected to continue for a while. "I think the business is complex because any time we go in with our own level of capital, it puts it into the overall mix and then the government has to determine how it wants to handle it," he said. "So it's not an easy negotiation, but it is ongoing and frankly it has been for a while." A spokesman for the Commerce and Economic Development Bureau reiterated that different financing arrangements would change the capital structure of the theme-park joint venture. The spokesman said the government needed to consider the public's interests and the return on its investment but declined to put a deadline on the talks. Mr Kam said both sides understood the urgency of the negotiations given that the expansion plan would create thousands of much-needed jobs during the economic downturn and capitalise on falling commodity prices and labour costs. It was estimated that construction would take about two to three years, he said. "We've always said that our expansion plan is like the 11th major infrastructure project," Mr Kam said, referring to Chief Executive Donald Tsang Yam-kuen's recent call to speed up 10 key projects to prop up the economy. Hong Kong Disneyland is seeking to cater more to the young-adult market, as people in their 20s account for about 50 per cent of visitors to the theme park.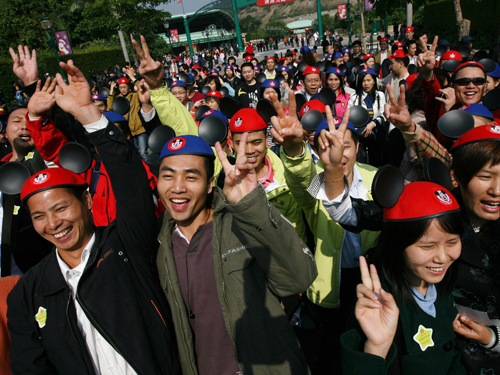 A group of non-Guangdong residents of Shenzhen arrive to enjoy the attractions of Hong Kong Disneyland yesterday. Rules for non-Guangdong residents of Shenzhen visiting Hong Kong in tour groups may be relaxed or simplified, said Wang Fugang, assistant general manager of China Travel Service. Under a pilot scheme, rules currently require mainland visitors to have lived and worked in Shenzhen for at least a year, and for them to obtain approval from their employer. Mr Wang's comments came as the scheme kicked off yesterday with the arrival of 153 mainland visitors from Shenzhen at Hong Kong Disneyland, as part of a tour. More tour groups were expected, said Mr Wang, but they would "probably wait until after Christmas as hotel rooms in Hong Kong are more expensive during the peak season". To draw more tourists, Hong Kong Disneyland managing director Andrew Kam Min-ho said he was considering introducing some hotel promotions - like buffet meals - during the traditionally quiet period after the Lunar New Year. Cheaper tickets for evening admission to the theme park was also being discussed, he said. It is estimated that about 200 non-Guangdong residents from Shenzhen would join these tours to Hong Kong every day.
Computer games show cuts entry fee but fails to draw in punters - Cutting the entry fee failed to boost attendance at the seventh Asia Game Show, which closed yesterday after a disappointing last-day turnout. Despite a reduction to HK$10 from HK$30.
Ten NGOs have received a total of HK$87 million in government funding to run 12 reconstruction projects in Sichuan , the first batch of groups to do so. And the government plans to apply to the development panel of the Legislative Council for more funds to help rebuild the quake-hit areas in the province, Secretary for Constitutional and Mainland Affairs Stephen Lam Sui-lung said. The Hong Kong government had said the city aimed to provide up to HK$10 billion in government and private funds for the reconstruction in Sichuan, where a massive earthquake in May left tens of thousands of people dead. Government funds worth HK$2 billion were granted by the Legislative Council in July. From this amount, the government is setting aside HK$100 million to sponsor rebuilding projects being run by local non-governmental organisations. The first 12 projects will range from rebuilding and reinforcing schools, and setting up rehabilitation centers to providing prosthesis and orthopaedic training and services to quake victims. They will be run by 10 organisations - the Youth Foundation, Sowers Action, Polytechnic University, Society for Rehabilitation, Scout Association, Rotary Club of Kowloon West, the Association of Engineering Professionals in Society, the Association of Chinese Evangelical Ministry Limited, Federation of Education Workers Education Organization Limited, and the Chinese Speaking Orthopaedic Society. Each project will cost between HK$1.5 million and HK$11.67 million. Chief Secretary Henry Tang Ying-yen presented the funding-grant letters to representatives of the groups yesterday. He said the government received more than 40 applications from local NGOs in October and last month. More groups would receive support, he said. Chan Kai-ming, president of the orthopaedic society, said the group would use the funds to train orthopaedists, physiotherapists and nursing officers at the Sichuan-Hong Kong Rehabilitation Centre to be built at the Sichuan Provincial People's Hospital. Choi Yuen-wan, president of the Youth Foundation, said the group would focus on post-disaster psychological counseling in the region.
Checks on imported food to be tightened - The food-hygiene watchdog has promised to tighten inspections following reports that importers have been sneaking uncertified mainland chicken carcasses into Hong Kong hidden among vegetables.
Singapore's DBS Group and Japan's Mizuho Financial Group are seeking to raise HK$52 billion in total to shore up their capital ratios, ramping up pressure on other Asian banks such as HSBC (0005) and Bank of East Asia (0023), which have yet to tap new funds.

China: China's foreign exchange reserves have dropped for the first time in five years with a decline in the amount of US dollars domestic companies sold to banks. Cai Qiusheng, an official of the capital account management department of the State Administration of Foreign Exchange (SAFE), told a forum that the reserves were now below the US$1.9 trillion peak. "Calculated on a month-on-month basis, its highest level was more than US$1.9 trillion, but it's now well below that figure," Mr Cai said. He did not elaborate. A source said the country's reserves could have contracted in October to less than US$1.89 trillion. China overtook Japan to become the world's largest foreign reserves holder in February 2006. Economists said the mainland would not lose this leading position for some time even if its reserves drop in coming months, as Japan's US$1 trillion in reserves at the end of last month was only about half of China's. "The massive reserves could add to China's economic resilience amid the financial meltdown," said Peng Wensheng, an economist at Barclays Capital Research. The People's Bank of China said the reserves reached US$1.9 trillion at the end of September, compared with US$403.2 billion in 2003, mainly because of the trade surplus and foreign direct investment. Mr Cai said that based on SAFE statistics, the dollars accrued from exports, foreign direct investment and household foreign exchange payments had dropped sharply. "But it also reflects a change in confidence, a change in the market, and we have already seen a big swing in the yuan exchange rate," he said. Guotai Junan Securities analyst Lin Zhaohui said the drop in the reserves was probably the result of increasing capital outflows. Mr Lin said the capital outflows were reflected in the four consecutive drops in the value of the yuan to the daily trading limit earlier this month. "The drop in the reserves will continue next year, with the global financial crisis affecting China's real economy," he said. Mainland export growth fell 2.2 per cent last month from November last year, the biggest drop since April 1999. Imports tumbled 17.9 per cent, the steepest decline since bankers started keeping monthly records in 1993. The deputy director of the Jiangnan Securities research department, Wei Fengchun, said the increasing confidence of mainland banks and export-led firms in dollar holdings had aggravated the drop in reserves as the US currency gained in the past four months. Mr Cai said the moderate easing in the reserves would please the authorities, adding SAFE would commit itself to the long-term goal of a fully convertible yuan in terms of the capital account despite the short-term risk of economic volatility. "It is necessary for SAFE, as a macroeconomic management body, to realise the overall policy of boosting growth," he said. Mr Peng said growth in the mainland's foreign exchange reserves would continue to slow in coming months and would complicate Beijing's efforts to boost liquidity to counter an economic slowdown. "The yuan equivalent of foreign exchanges makes up a big part of the nation's money supply growth. If it stops growing next year, it will be hard for China to achieve the 17 per cent M2 growth target," he said. Earlier this month, Beijing set the M2 - a measure of money supply including cash and all deposits - target for next year to ensure sufficient liquidity in the banking system to finance the 4 trillion yuan (HK$4.53 trillion) fiscal stimulus plan. "If M2 has to increase 17 per cent, bank lending should expand about 27 per cent. It's a substantial increase. The central government has to strive hard to make banks boost lending by such an extent," Mr Peng said. The last time bank lending rose more than 20 per cent was in 2003, when the country battled Sars. At the end of last month, outstanding yuan loans stood at 29.57 trillion yuan, up 16.03 per cent year on year. The annual growth of M2 eased to 14.8 per cent last month from 15 per cent in October, the People's Bank of China said.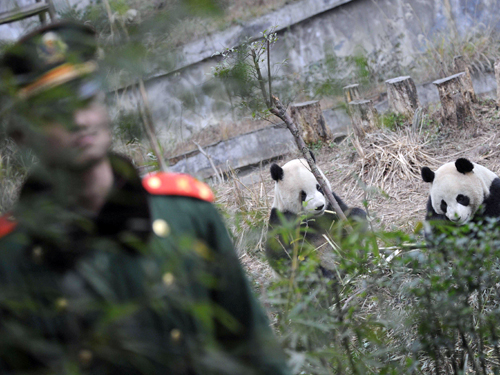 A policeman guards two giant pandas, Tuan Tuan and Yuan Yuan, at the Bifeng Gorge base of the China Conservation and Research Centre for the Giant Panda in Sichuan yesterday. Giant pandas Tuan Tuan and Yuan Yuan, whose names said together mean "reunion", will be flown by chartered Taiwanese plane from their native home in Sichuan to the island today, with steamed corn buns and fresh bamboo in their luggage and a supply of airsickness pills. Armed police and more than 500 security guards were stationed at an airport in Sichuan yesterday, from where the pair will take off for their new home in Taiwan, China Central Television said. An Eva Air jet from Taiwan landed at Shuangliu Airport in Chengdu at midday yesterday to pick up the pandas. Roads would be blocked when the pandas, which lived at a sanctuary 120km outside Chengdu, travelled to the airport in a convoy, CCTV said. The report did not explain the need for such high security, which was on duty around the clock. Beijing first offered the pandas to Taiwan in 2005, hoping they would strengthen Taiwanese public support for reuniting with the mainland, an offer rejected by the island's leader at the time, Chen Shui-bian, who supported independence. Current Taiwanese President Ma Ying-jeou accepted the pandas as a goodwill gesture. A veterinarian and panda keeper would travel with the two four-year-old animals, CCTV said. A two- storey glass-and-stone house will serve as the animals' new home in Taipei. After a month-long quarantine period, it will open for public viewing around the Lunar New Year, which begins on January 26. The pandas' previous home, the Wolong Nature Reserve, was damaged in the May 12 earthquake. "I am reluctant to let them leave here," Wang Xiaofang, owner of a shop several hundred meters away from their breeding base, told Xinhua. "Their departure for Taiwan represents the mainland people's wishes to promote cross-strait relations. I hope they will bring goodwill to Taiwan."
December 22 2008

Hong Kong: The central government will introduce support measures to help boost Hong Kong's worsening economy, Premier Wen Jiabao told Chief Executive Donald Tsang Yam-kuen in a meeting in Beijing. The pledge was made when Mr Tsang – on a three day visit to Beijing – met the premier to discuss the latest developments in Hong Kong. "I would like to stress once again here that the motherland is always a strong supporter of Hong Kong,'' Mr Wen said. " The central government will give all-out support to the SAR government in stabilising Hong Kong's economy," he said. The premier said 14 new measures had been drafted to boost Hong Kong's growth. These include steps to open the mainland's service trade to Hong Kong firms, encourage more cross-border economic co-operation and ease business restrictions on Hong Kong firms in the mainland. The Individual Visit Scheme, under which mainland tourists can visit Hong Kong as individual travellers, would be expanded. Mr Wen also guaranteed exports of food, water, electricity and gas to the city."The central government will help Hong Kong upgrade infrastructure construction and grant favorable policies for small and medium-sized HK enterprises," he said, adding he would discuss the measures in detail later in the day. Mr Wen said state leaders in Beijing had confidence in Mr Tsang's administration. "We believe that Hong Kong will be able to overcome the difficulties brought about by the financial crisis under the SAR government's leadership and through the concerted efforts of all sectors in the community," Mr Wen said. Mr Tsang thanked Mr Wen and other state leaders for offering support to Hong Kong in facing what he described a "once-in-a-century" global financial crisis. The chief executive will meet President Hu Jin-tao on Friday afternoon at the end of his annual duty visit to Beijing.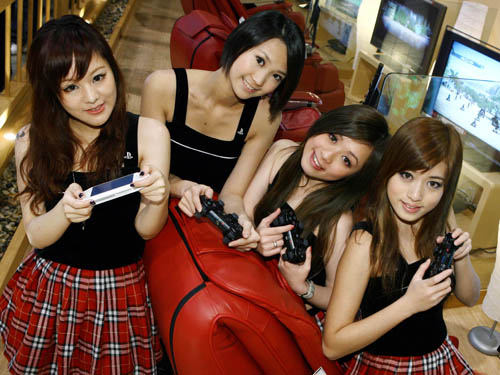 Promotion personnel pose during a press preview ahead of the Asia Game Show 2008, which starts today at the Hong Kong Convention and Exhibition Centre. The 7th Asia Game Show begins today amid hopes that it will attract more than 400,000 fans of video and computer games with money to spend. Organizers said yesterday they were optimistic after the success of two recent shows, the computer festival in Sham Shui Po and the Hong Kong Brands and Products Expo, which both attracted free-spending crowds. "When the economy goes down, more people will find playing video games to be a cheap and easy way to relax," the show's project manager, Johnny Chan Siu-lun, said. However, he declined to estimate how much the visitors would spend. The four-day show runs until Monday at the Convention and Exhibition Centre. Mr Chan said it had attracted 56 local and foreign exhibitors, 10 more than last year. Nearly one-fifth of them were mainland game developers. Sony, the Japanese game developer taking up almost one-third of the exhibition's floor space, will be featuring about 60 of the latest games for its PlayStation console. James Hong Ming-sang, deputy general manager of Sony's marketing department, said he expected the firm to take in HK$18 million at the show, similar to last year's figure. He said almost one-third of last year's customers were mainlanders, but the economic slowdown might make the tourists spend less. However, he was optimistic that a discounted package for the console and the latest games would boost sales. Sony has recruited about 200 temporary staff from Tin Shui Wai and Kwai Tsing, about 50 more than last year. Salaries were raised from HK$35 an hour last year to HK$40. Meanwhile, EGL Tours said it was recruiting 100 extra staff in the next year, including tour guides and marketing and IT employees. The travel agency also plans to give a total of HK$3 million in annual bonuses to its 650 staff members.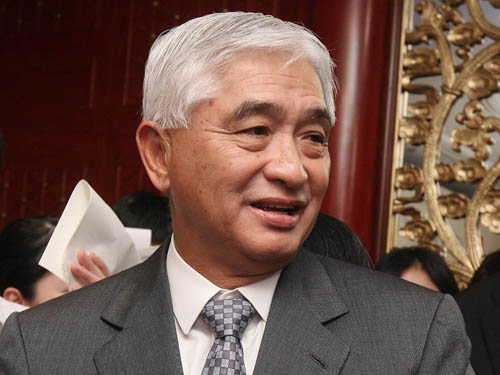 Citic Pacific (SEHK: 0267) shareholders are expected to call on chairman Larry Yung Chi-kin and managing director Henry Fan Hung-ling to step down amid doubts about their credibility in handling the company's massive investment losses. The call is expected to come today at an extraordinary general meeting being held to obtain approval from shareholders for a rescue package that management proposed. Democratic Party lawmaker James To Kun-sun said shareholders were angry with Mr Yung and Mr Fan. Shareholders authorised Mr To and party chairman Albert Ho Chun-yan to attend the meeting and ask questions. "They wonder if Mr Yung and Mr Fan are still covering up something regarding the massive investment losses," Mr To said. "Only if the top management is replaced by new blood will shareholders have a clearer picture of what has been happening in the company." The losses stem from "foreign currency accumulator" bets on the Australian dollar that oblige the firm to buy dollars at a fixed price up to 2010. The rapid decline in the currency means the firm is paying far more than market value, and forced it to look to its mainland parent, Citic Group, for extra funding. Noting that the Securities and Futures Commission's investigation of the company was still under way, Mr To expressed doubts whether the rescue package would be resolved today. A postponement would remove shareholders' doubts about the effectiveness of the rescue package if the commission discovered mismanagement, he said. The lawmakers will attend the meeting today with a group of people who hold small numbers of the shares. The shareholders are prepared to question the management's responsibility and handling of its six-week delay in making an announcement about its losses, put at more than HK$18 billion. The Democratic Party has been collecting signatures from Citic Pacific shareholders, as 100 signatures can cause the financial secretary to launch a broad investigation of the company's management. Citic Pacific's share price rose yesterday 12.9 per cent to HK$8.25.
The Social Welfare Department was duped into doling out a total of about HK$49 million in the 2007-08 fiscal year to reimburse applicants who falsely claimed to have lost money - as well as paying for designer glasses and bogus visits to the dentist.
Hong Kong Exchanges and Clearing (0388) chairman Ronald Arculli admitted yesterday he has received many phone calls and letters in recent days disagreeing with the stock exchange's plan to extend the "blackout" period during which listed-company directors cannot trade their company's shares.

China: Greater China remains the most favoured destination for Asian equity investors largely because fund managers are relatively optimistic about the economy even in a global recession, according to a Merrill Lynch survey. Half of the fund managers surveyed said they intended to "overweight" Chinese equities even though 80 per cent predicted the economy would slow down next year. "Ironically, the slowdown is indirectly making investors more bullish on China, thanks to the promise of policy stimulus and falling commodity prices," said Michael Hartnett, the chief emerging market equity strategist at Merrill Lynch. As the American-born credit crisis ricochets around the globe, investors see China as a safe haven and hope Beijing will roll out more economic stimulus measures to keep the economy on a fast track, say analysts. "The Shanghai Composite Index is at a low level, with stocks trading at 12 times their forecast earnings for 2008, compared with a price-earnings multiple of 40 in past years," said Pu Yonghao, a chief regional economist at UBS. "The central government is determined to stabilize the stock market, which means the possibility the index will decline further is slim. Maybe China will launch a stock stabilization fund." Beijing also hopes to stimulate the ailing economy to shore up confidence in the equity markets, as investors look to cash out on fears of worse corporate earnings ahead. The Shanghai Composite Index sank 61.69 per cent this year after a 96.66 per cent rally last year, and the sharp fall has made some stocks look attractive to investors. Early this year, Beijing tripled the quota for qualified foreign institutional investors from US$10 billion to US$30 billion. The foreign exchange regulator has pledged to waive rules to encourage purchases by overseas funds as they seek to profit from the mainland's economy. Moreover, last month Beijing unveiled a 4 trillion yuan (HK$4.54 trillion) economic stimulus plan and analysts expect more incentives in the coming months. "We are confident that China will be able to handle the current turmoil and get growth back on track," said Laura Luo, a Chinese equities fund manager with Schroders. "But it is likely to remain a bumpy ride for both the equity market and the economy in the year ahead, especially in the first half." China Everbright (SEHK: 0165) Research on Wednesday made an upbeat forecast of 8.6 per cent gross domestic product growth next year. A consensus prediction among economists is that the mainland economy will hit the bottom in the second quarter. H shares of dually listed companies might be more attractive for international fund managers as they were cheaper, analysts said. The mainland-listed A shares now trade at a 21.7 per cent premium to their Hong Kong counterparts, a smaller price gap compared with the more than 70 per cent in late October.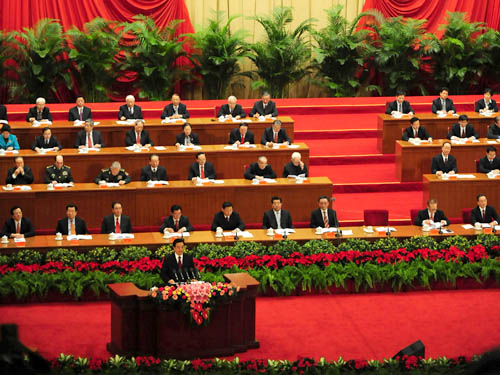 Deng Xiaoping's role in the reforms holds a young reader's interest & President Hu Jintao addresses top Communist Party leaders at the Great Hall of the People. The Communist Party yesterday marked the 30th anniversary of the launch of economic reforms which have revitalized China and reshaped the world - with a pledge of further change and even greater opening up. Speaking before ranks of current and retired state leaders at the Great Hall of the People, President Hu Jintao hailed the nation's astonishing rise since the party embarked on the road of reform in 1978. He promised China's people a "prosperous and harmonious society" in the years to come. But he warned the party against self-satisfaction and said that only by implementing more reforms could it lead the country to greater prosperity (SEHK: 0803, announcements, news) and retain its legitimacy to govern. "Comparing our achievements with our long-range goals and people's expectations of a better life, we have no reason to feel content and stop moving forward," he said. China still faced many challenges, including a low level of industrial innovation, a weak agricultural foundation, its less developed rural areas and deficiencies in party and government work. "Reform and opening was a key choice for the fate of China," Mr Hu, who is also the party's general secretary, said. "The road has been correctly chosen. There is no way we will turn back." The meeting marked the anniversary of the start on December 18, 1978, of the third plenary session of the 11th Central Committee of the Communist Party at which the economic reforms were launched two years after the end of the chaotic, decade-long Cultural Revolution. The president reminded the public how the reforms had brought the mainland from the brink of collapse 30 years ago to the economic power it is today. The historic shift came after the party leadership, under late paramount leader Deng Xiaoping , decided to throw open its doors to the rest of the world. "Only development makes hard sense," Mr Hu said, quoting a famous slogan used by Deng at the peak of ideological disputes in the 1990s over the way forward. Looking ahead, Mr Hu said China must continue to keep its feet firmly on the ground and focus on economic development, particularly wth the international financial crisis escalating. "Making economic development the focus is the key to national rejuvenation, and it is the fundamental imperative for our party and our country to achieve prosperity and development and enduring peace and stability," the president said. "We must earnestly implement the measures [which the government has announced] to further expand domestic demand, boost economic growth as well as cope properly with the international financial crisis and various risks in the internal economy to maintain stable and relatively rapid economic growth." The nationally televised gathering seemed designed to be a show of unity after China's successful staging of the Olympic Games this summer. The event featured a rare joint appearance by more than 6,000 current and retired mainland leaders. Mr Hu said the goal of building a well-off society would be reached in 2021, when the party celebrates its centennial. China would become a "prosperous, democratised, civilised and harmonious modern socialist country" when the People's Republic celebrated its centenary in 2049.
China's plans to join the fight against piracy off the coast of Somalia could lead to a renewal of military exchanges between Beijing and Washington, a top US military official said Thursday. Admiral Timothy Keating, head of the Pacific Command, held out hopes for a revival in military relations after China said it was preparing to send warships to the Gulf of Aden in response to a pirate attack on a Chinese vessel. "I hope the Chinese do (send ships to the Gulf of Aden) and we'll work closely with them," Admiral Keating told reporters. "I think this could be a springboard for a resumption of dialogue between PLA forces and US Pacific Command forces," he said. China suspended military contacts with the United States in October in protest over US arms sales to Taiwan valued at US$6.5 billion (HK$50.5 billion). Relations between Taipei and Beijing, which regards Taiwan as a renegade province, nevertheless have warmed since President Ma Ying-jeou assumed office in Taiwan in May. Admiral Keating said his command has been in touch with other agencies and military commands to provide information to the Peoples Liberation Army should it decide to deploy warships in Gulf of Aden. The United States wants "to make sure they are aware of the lines of communications that are available to them... should they desire to send ships to the area of piracy most prevalent which is of course the Gulf of Aden and off the coast of Somalia." Since the start of the year, about 100 ships have been attacked by Somali pirates who are holding 240 sailors for ransom.
China is to send two frigates and one support vessel to pirate-infested Somali waters for about three months for escort missions, it was reported yesterday. The group of three will leave from Sanya , Hainan province , after Christmas, state media said. Global Times, a subsidiary of the central government-run People's Daily, said it obtained the information from maritime departments. But the Foreign Ministry was more cautious in its regular press conference, saying the country was preparing for the mission and details would be available in a few days. On Tuesday, Foreign Affairs Vice-Minister He Yafei told a United Nations conference that China was seriously considering sending its navy to join an international operation in the Gulf of Aden to fight increasingly emboldened pirates, who have been seeking ransoms of about US$1 million per ship. The United Nations gave permission for international forces in the area to pursue the bandits on land, after extending the mandate for international combat against Somali pirates to one year. Foreign Ministry spokesman Liu Jianchao said Beijing was sending the navy to the area under the UN framework, since piracy there had already become a "threat to the international community". If realized, the mission would be China's first naval operation outside its immediate waters in the modern Chinese era, and as some point out, even in the 600 years since Ming dynasty voyager Zheng He ventured to the Cape of Good Hope. The Kenya Seafarers' Assistance Program said more than 300 ships were attacked or hijacked off Somalia last year. Between January and last month, more than 40 ships were hijacked, with 600 crew members on board. Half of these vessels are still in pirates' hands. Mr Liu said for Chinese ships alone, 20 per cent of the 1,256 journeys made through the Gulf of Aden in the first 11 months faced attacks. Seven China-related vessels have been hijacked this year, including two that were Chinese-flagged, several that were Hong Kong-flagged and other international vessels with Chinese crew members or cargo onboard. One of these is still being held. The latest attack on a Chinese ship was launched on Wednesday morning, just as Beijing announced its long-deliberated decision to combat pirates in the area. But although the pirates boarded the ship, they were forced to retreat four hours later after a "multilateral" rescue effort. The MV Zhenhua-4, a 60,000-tonne transport ship owned by the Chinese Communication Construction Company, was hijacked in the Gulf of Aden but the 30 Chinese sailors onboard held the pirates off until a Malaysian frigate and helicopter arrived and deterred the pirates. "We would like to express our gratitude to Malaysia and the concerned international organisation," Mr Liu said, referring to the International Maritime Bureau's Piracy Reporting Centre in Kuala Lumpur. Plagued by Islamist insurgents, droughts and a dysfunctional transitional government, Somalia has been mired in anarchy for 17 years, making piracy a much-desired and easy occupation for many people. UN agencies said up to 40 per cent of the country's 10 million people would be starving but for donated food.
Beijing has approved in principle a plan to boost domestic demand and infrastructure in the Pearl River Delta region, which has been savaged by the global financial crisis, state media reported yesterday. The impact of the crisis on the mainland's economy was "getting worse by the day", and its effects were being sharply felt in the Pearl River Delta region, which plays a major role in the country's export industry, state television said, quoting notes from a meeting of the State Council. The State Council ordered local leaders to boost infrastructure and social welfare to expand domestic consumption, which - with the heavy losses in exports - is the government's hope for maintaining any growth in the near future. "The Pearl River Delta region's small and medium-sized enterprises and export-oriented companies are numerous. Their overseas exposure is high, and they have been hit relatively badly," the notes from the meeting said. "Maintaining stable and fast growth must be made the sole priority." Tens of thousands of factories have shut down in Guangdong in recent months, sparking industrial unrest due to slower exports amid the global credit crunch. Guangdong's GDP growth in the first nine months of this year was 10.4 per cent, the lowest in 15 years. And from January to October, growth in tax revenue dropped by 12.3 percentage points, to 19.8 per cent, compared with the same time last year. There is consensus among economists that the mainland is facing its most severe economic downturn since the Asian financial crisis in 1998.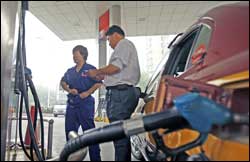 China yesterday surprised the market by cutting prices for petrol, diesel and jet- fuel one day after OPEC slashed crude oil production. The mainland cut fuel prices for the first time in nearly two years, after crude oil slumped 70 percent from its peak of US$147 (HK$1,147) per barrel in July, seeking to lower costs for companies and consumers. The ex-factory price of petrol was reduced by 14 percent to 5,580 yuan (HK$6,327) per ton, diesel by 18 percent to 4,970 yuan, and jet fuel by 32 percent to 5,050 yuan, the National Development and Reform Commission announced yesterday. This price reduction has factored in the fuel tax reform and will take effect from today, the nation's top economic planning agency said. The government will increase fuel consumption taxes to replace road maintenance fees to encourage energy conservation, effective January 1, the NDRC said.
December 20 - 21 2008

Hong Kong: Hong Kong's unemployment rate has risen to 3.8 per cent of the workforce — after a spate of lay-offs largely due to the impact of the global economic crisis, new statistics released on Thursday showed. The territory's jobless rate rose by 0.3 percentage points last month to the highest level in a year — as the impact of the credit crisis deepened, according to government figures. The seasonally-adjusted unemployment rate increased from 3.5 per cent in August — October to 3.8 per cent in September — November, figures from the Census and Statistics Department showed. A spokesman said shrinking business in the domestic and external trades amid the financial crisis had forced companies to shed jobs. He expected the outlook would be even bleaker in the coming months. "With the adverse effect of the financial turmoil increasingly feeding through to the labour market, the unemployment rate is expected to rise further in the coming months," the spokesman said. The retail, construction, manufacturing, communications, and import and export trades sectors recorded the biggest job losses during the period, he said. The underemployment rate, which measures the number of people unable to find full-time work, also climbed from 1.7 per cent to 1.8 per cent over the same period. Hong Kong has seen a growing wave of layoffs since September when a sub-prime mortgage debacle in the United States triggered an international financial crisis, posing a serious threat to the global economy. Secretary for Labour and Welfare Matthew Cheung Kin-chung said the external economic environment was expected to continue to worsen, dampening the territory's job market. "The financial tsunami has caused [a] significant impact on economies around the globe and, as an open economy, Hong Kong will also be affected," he said.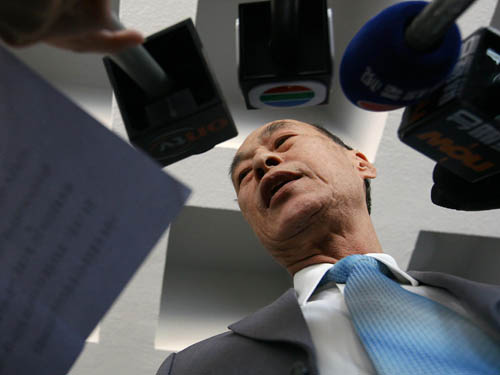 Fok Siu-wing has vowed to fight on after a court rejected his claim that higher fees for pregnant mainlanders were unconstitutional. The policy of charging pregnant mainlanders a higher fee to give birth in Hong Kong's public hospitals is justified, even for those with a Hong Kong husband, the High Court ruled yesterday. Mr Justice Jeremy Poon Shiu-chor said that when the policy was introduced in 2005, "there was clearly a genuine and urgent need" to address the "mischief" caused by the surge of non-eligible people giving birth in public hospitals. The policy was "plainly legitimate", he said. He dismissed a judicial review launched by Hongkonger Fok Siu-wing on behalf of his son, Fok Chun-wa, and mainland daughter-in-law, Zeng Lixia, saying her position was "materially different from that of a Hong Kong resident" and did not change merely because she had married into a Hong Kong family. "If a mainland woman wishes to give birth in Hong Kong, which is entirely a matter of her choice alone, she, as a visitor, cannot possibly expect to enjoy the same treatment as Hong Kong resident women," he said. Mr Fok, 68, had claimed the policy was unconstitutional and discriminatory. He also challenged the lack of a discretionary waiver of fees for pregnant mainlanders from families which, like his, depended on public assistance. He yesterday vowed to appeal against the decision, saying the judge had been unfair to differentiate between his daughter-in-law and local mothers. "The government does not have a chance if I appeal because the policy violates our Basic Law," he said. "It would be very wrong to treat her merely as a visitor because she married my son, and my grandson is a resident of Hong Kong." Under the policy, non-local women are charged HK$39,000 to book a bed. Those who have not made a booking, and often require the services of an accident and emergency department, have to pay HK$48,000. Asked if he would pay medical fees totalling HK$132,312 incurred by Ms Zeng when she came to Hong Kong to give birth last year, he said: "Of course not. I don't have the money to pay. Even if I had the money, I wouldn't pay." Ms Zeng is a two-way permit-holder awaiting approval by mainland authorities for a one-way permit, which would give her Hong Kong residency. She was married in 2005 to Fok Chun-wa, who has mild mental disabilities. She gave birth to her son, Man-kuen, on December 26 last year through the accident and emergency department of a public hospital in Hong Kong. She was admitted to the hospital three times for follow-up consultations and treatment. Making his ruling, Mr Justice Poon said the charging policy was justified to tackle the problem of an influx of pregnant mainlanders seeking to give birth in Hong Kong hospitals. The amount of the fees - set in 2005 and last year - was also justified. He said the policy ensured local women were given priority and non-local women were not attracted to Hong Kong's public hospitals by their low prices. "A responsibility to pay for obstetric fees is no more an infringement of [the Basic Law] than a responsibility of parents to pay for food and clothing," the judge said. Caritas social worker Tsang Koon-wing said the policy was affecting about 5,800 mainlanders. According to the Hospital Authority, 9,428 non-local mothers had babies in public hospitals from January to November this year.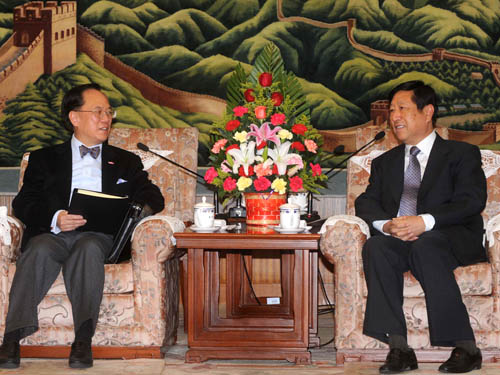 Chief Executive Donald Tsang chats with National Development and Reform Commission director Zhang Ping in Beijing. Chief Executive Donald Tsang Yam-kuen arrived in Beijing yesterday for a three-day duty visit, during which he is expected to gain approval for Hong Kong to carry out more renminbi business, through talks with state leaders and mainland officials. Aside from the widely expected expansion of renminbi business, Mr Tsang will also use the trip to discuss plans to expand the Individual Visit Scheme before meeting President Hu Jintao and Premier Wen Jiabao tomorrow. Among the options to be considered for expanding renminbi business, Mr Tsang is expected to discuss the possibility of yuan clearance and issuance of yuan-dominated bonds in Hong Kong. A source familiar with the situation said last night that there would be "results" tomorrow when Mr Tsang met Mr Hu and Mr Wen. "It [the expansion] won't be a big bang approach, it will be a gradualist approach in line with China's economic reform over the past 30 years," the source said. The source cited Beijing's currency swap accord reached with South Korea as an example of a model Hong Kong may follow. Last week Beijing and Seoul agreed on a 38 trillion won (HK$212.8 billion) currency swap accord to ensure financial stability in both countries. The government is also seeking to expand the Individual Visit Scheme by adding more mainland cities to the list. It has also sought to entice more tourists already permitted to visit by making it easier for them to come to Hong Kong. The source said there were many people on the mainland whose residency permits did not correspond to where they lived. "It's a lot of hassle for them to go back to the home city to get a visa for Hong Kong," the source said. "Maybe we can try to make it easier by allowing them to get the visa in the city they live in now," the source said. Earlier in the day, Mr Tsang held talks with National Development and Reform Commission director Zhang Ping. "[I am] grateful for the NDRC's attention on Hong Kong, including the assistance on progress made in the Hong Kong-Macau-Zhuhai bridge and the natural gas supply," Mr Tsang said. Hong Kong signed a deal with the commission this year that secured a further 20 years of gas supply from state-owned China National Offshore Oil Corporation. Mr Zhang said in the meeting that the financial crisis would have a significant impact on China. A scheduled meeting with People's Bank of China governor Zhou Xiaochuan yesterday was postponed to today. Mr Tsang's trip followed Mr Zhou's remarks on Tuesday that the central bank was ready to expand Hong Kong renminbi business. The State Council issued a directive on Sunday announcing that it would "support yuan business development in Hong Kong" and increase the use of the currency in trade settlements.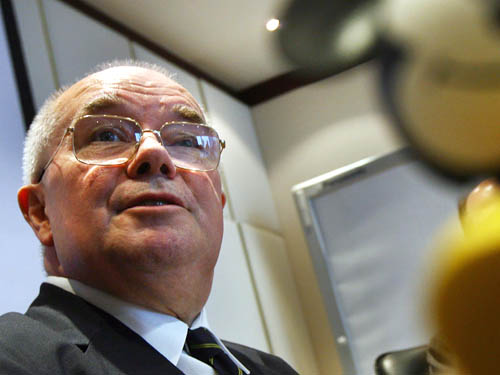 Mike Rowse says he is proud of InvestHK's part in reviving the city's Sars-battered economy. Retiring InvestHK director general Mike Rowse will release his version of the HarbourFest saga in a tell-all tome by the middle of next year. "I'm really looking forward to that. Most of the work has already been done," he said yesterday. Tentatively titled No Minister, the book is one of two planned by Mr Rowse, who turns 60 on Sunday, and follows a July court ruling that effectively cleared him of wrongdoing in the controversial HK$100 million concert series in 2003. The book will be the first time Mr Rowse has publicly given his account of the HarbourFest controversy. He retires tomorrow. The other book he has planned will be an autobiography. "I don't think the full story has been told yet and that's why one of my books is going to tell it," Mr Rowse said yesterday. "I think HarbourFest illustrates a number of important constitutional and administrative points. I don't think those have been focused on at all. I think the immediate concern was that a lynch mob was on the rampage, and they needed someone to hang. And they did." A disciplinary panel fined Mr Rowse HK$156,660 and severely reprimanded him over the handling of the HarbourFest concerts. To help revive the economy after the outbreak of severe acute respiratory syndrome in 2003, the government agreed to underwrite HarbourFest for up to HK$100 million. The American Chamber of Commerce was given the task of putting the event together. "We then had a choice as a department - we could either abandon AmCham and leave them to take the criticism alone or we could stick with them and deliver. It seemed to me that, since our job was to reach out to the international business community, if we had run away from them and left them on their own, we might as well have closed the department down. So it was conscious decision not to run away. I knew then that we would be subject to a lot of criticism, most of it unjustified," he said. Despite the finger-pointing surrounding HarbourFest, Mr Rowse cited his department's work in helping to revive the Sars-hit economy in 2003 as a successful highlight of his 34-year civil service career.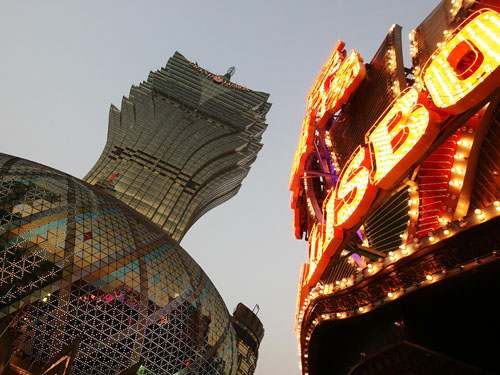 SJM yesterday marked the formal opening of the 430-room hotel attached to the Grand Lisboa. Gaming magnate Stanley Ho Hung-sun said despite a sharp slowdown in Macau's casino industry, SJM Holdings' balance sheet was solid and the company's new projects were proceeding on schedule. "We are all aware of the impact that the current economic situation is having on Macau and the gaming industry, but SJM's strong financial position and our prudent steady growth strategy has left us well placed to weather this storm," the SJM chairman said yesterday. "Our development plans are moving ahead as scheduled and we ... will come through these times stronger than ever." SJM yesterday marked the formal opening of the 430-room hotel tower attached to its HK$7 billion Grand Lisboa. While the casino hall and restaurants opened in February last year, construction of the hotel had been ongoing and the formal opening was further delayed by several months as a result of the sluggish government approval process for hotel operator permits in Macau following a major corruption scandal. Chief executive Ambrose So Shu-fai said yesterday that despite the slowdown, the company had no plans to implement lay-offs and instead of new recruits it would transfer existing staff over to new projects as they opened. SJM plans to operate a franchise casino at the Arc opening in the first half of next year. The casino, hotel and residential project is being jointly developed by Mr Ho's wife, Angela Leung On-kei, and GEM-listed International Entertainment, controlled by the family of New World Development chairman Cheng Yu-tung. SJM also plans to launch Oceanus, a HK$1.1 billion owned-and-operated casino to be refitted in the former New Yaohan department store opposite the ferry pier with 300 mass market gaming tables by the end of next year. Management confirmed the VIP gaming segment had contracted in the credit crunch as players delayed repayment or defaulted on debts to junket operators, but reiterated that SJM's share of the high-roller market was holding at 26 to 30 per cent. Mr So said that a recent spate of gaming industry lay-offs, cutbacks, and mothballing of projects was because some competitors had "overleveraged, over-borrowed and over-projected the market". Situated opposite the original Lisboa, the new property features 50 square metre-plus rooms equipped with steam rooms. SJM is forecasting 70 to 80 per cent occupancy and expects to set room rates at HK$1,600 to HK$1,800 on weekdays and HK$2,000 to HK$2,200 on weekends.
The government will announce arrangements within a year for a trial scheme to allow private cars from Hong Kong and the mainland to drive into each other's jurisdictions on temporary one-off passes. Secretary for Transport and Housing Eva Cheng said the scheme might first be introduced at the under-used Western Corridor. The expressway links Ngau Hom Shek in the northwestern New Territories to Dongjiakou in Shekou. Answering legislators' questions, Ms Cheng said quotas for the temporary passes should take into consideration the capacity of the road networks on both sides, road safety, security and environmental concerns. Mainland cars could be tested for Hong Kong's emission standards before their owners could apply. "Our target is to announce the arrangements for the first phase of the scheme within one year, while the actual implementation date will be worked out subject to the progress of discussions," she said. Ms Cheng added that experts from both sides would need to discuss details such as the number of passes, the issuing criteria, application procedures, mutual recognition of vehicle licences, insurance and traffic enforcement. She said the plan was aimed at allowing private car owners who could not get regular passes to apply for the one-off passes. "All information gathered about tested mainland cars will be used for setting up a data bank," Ms Cheng said. "We also want to make the application procedure convenient to users, such as by allowing them to apply via the internet." She said views had already been exchanged with Guangdong authorities. Both sides agreed to implement the proposed scheme in two phases, starting with the issuing of passes for private cars from Hong Kong, followed by those from Guangdong. Ms Cheng said the proposed scheme would provide specified quota limits to allow mainland residents to drive their cars to Hong Kong. "The number of ad hoc quotas may increase incrementally over the years in a gradual and controlled manner, or be adjusted flexibly having regard to seasonal demand."

(click on the picture for full view) Ricky Wong cites speed of reform for his demise - Departing ATV chief overlooked lack of funds, observers say - Asia Television's most short-lived chief executive, Ricky Wong Wai-kay, blamed his departure yesterday on reform tactics that were criticised as too fast and furious. But veteran broadcasters and a source close to ATV said Mr Wong was missing the crux of the problem - the station's chronic shortage of money. In his statement delivered yesterday, Mr Wong said he had expected strong resistance from people with vested interests, but insisted that if reform was to be successful, it had to be done rapidly, comprehensively and thoroughly. "I still believe most of what I have done has been correct and beneficial to ATV and its staff. The only problem is that we were not working at the same pace," he said. Mr Wong compared his job to the "Hundred Days' Reform" launched by Qing dynasty scholar Kang Youwei, which also ended in failure. A source close to ATV, however, said Mr Wong had been overconfident if he believed he alone could "rescue" the loss-making company. "Did [Mr Wong] ever research the history of this TV channel when he said ATV has no goals, no culture and no communication?" the source said. "Whatever weakness we have, ATV is a station with over 50 years of history. How can he say it has no culture?" Mr Wong was not the first person who wanted to make changes at ATV, "but the fact it was always short of money has slain many good ideas". The source said the host of a popular cooking programme now run by Television Broadcasts (SEHK: 0511) had tried to sell the idea to ATV, but management had turned her down because they thought it was too expensive. Mr Wong hinted of mass layoffs during a staff meeting, especially in the news and editorial team which he thought was overstaffed, but the source said that if the company could invest in automation, a lot of the staff would no longer be needed. Media veteran Peter Lam Yuk-wah agreed lack of funding was the station's main problem, but he said that after Mr Wong's brief reign it could be more difficult for his successor to impose any changes. "Can they find another man like Ricky to fill his shoes? It's going to be very difficult," Mr Lam said, adding that ATV's situation was bad enough to scare off potential talent. "Perhaps ATV should learn from other corporations to look for talent from around the world," he said. Chinese University journalism professor Anthony Fung Ying-him said ATV urgently needed to reform its management team, come up with a new approach for programming and stabilize its news department to assure its credibility and integrity. "What Hong Kong people fear the most is the loss of press freedom," Professor Fung said. In his statement, Mr Wong also apologised for rudeness in asking if some Miss Asia contestants had had breast surgery, admitting he had made a very careless mistake and saying he hoped the contestants and the public could forgive him. Former Miss Asia Belinda Hamnett said she respected Mr Wong's apology. She did not comment on whether ATV's staff would feel happier with his departure but said they would "feel happy if ATV can ultimately have a stable boss".
Beauties lash out at ATV over Miss Asia result - Mainland contestants of this year's Miss Asia Pageant have complained about the alleged unfairness of the beauty contest and demanded that the organisers, ATV, explain the voting results. Some of the eight mainland contestants who did not make it to the final five have been voicing their discontent, either on their blogs or in interviews. Danae Shen, an 18-year-old contestant from Liaoning , questioned the results on her blog. "All the mainland contestants lost in this contest and have already returned to their respective hometowns," Ms Shen wrote. "But did all eight of us have so few votes?" The pageant this year scrapped the usual panel of judges in favour of public voting through the internet and mobile phones, to mark its 20th anniversary. There were 20 finalists, including six Hongkongers, eight mainlanders and one Taiwanese. The rest were from elsewhere in the region. Hongkongers Eunis Yao and Belinda Yan were crowned champion and first runner-up, respectively, on December 7. Lene Lai of Taiwan was second runner-up, while the fourth and fifth positions were taken by Hongkongers Bonnie Yuen and Tanya Manifold. But it was discovered that the voting results were different from the final outcome. Votes for some of the contestants were removed in the lead-up to the final after tens of thousands of ballots were found to have been cast for the same contestant at a time. The discrepancies prompted the television station to set up an independent committee to investigate. "All the unhappiness and unfairness that we have experienced during the contest have been kept in our hearts," Ms Shen wrote. "Here are the number of votes and the winners. Whether they will be altering the results, it won't matter any more." Amy Ma from Shandong said she heard the results were pre-determined a few days before the final. She also questioned why she received so few votes. Ada Wang from Yunnan told the mainland press that if ATV failed to give a proper explanation, she would call on other mainland contestants to take action. ATV said no action would be taken until the committee completed its investigation in two months.
Bridge could bring HK$48b in benefits - The bridge linking Hong Kong with Zhuhai and Macau could benefit the city to the tune of 42.8 billion yuan (HK$48 billion) in terms of increased trade, and time and money saved, the government has said. In a paper released yesterday to explain the cost allocation for the bridge, it said the economic value was calculated based on reduced costs of freight operations, shorter travel time and increased freight volume for 20 years after 2016, when construction of the bridge is expected to be completed. The figure of 42.8 billion yuan compares with 24.1 billion yuan for the mainland and 7.1 billion yuan for Macau. Working backwards, this means Hong Kong, Zhuhai and Macau will be responsible for 50.2 per cent, 35.1 per cent and 14.7 per cent of the construction costs, respectively. The costs total 31 billion yuan, after private investments are factored out. The government said the benefit for Hong Kong was higher in part because a higher economic value has been attributed to its time saved, compared to the time saved in the other two cities. More than 23,000 passengers are expected to use the bridge after it is built in 2016, and the number will increase to more than 120,000 in 2035. Raymond So Wai-man, an assistant professor of finance at Chinese University, said the benefits to the city could be more than the official estimate, because the bridge would speed up cross-border economic integration.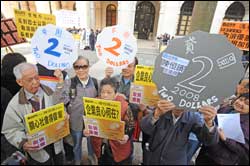 Senior citizens will continue to enjoy holiday fare discounts from the four biggest bus companies until the end of January 2010. The U-turn came just hours before the Legislative Council was due to debate a member's motion on transportation costs, which included the retention of discounted fares for seniors. Spokespersons for Kowloon Motor Bus, Long Win Bus, CityBus and First Bus said Sunday and public-holiday fare discounts for seniors holding Octopus cards will continue for another year even though rising fuel prices, wages and tunnel-toll costs are affecting their operations. KMB and Long Win Bus said they have lost HK$163 million during the first half of the year, while CityBus and First Bus added there is no further room for concessions.
Functional constitutional lawmakers yesterday defeated a motion calling on the government to buy back a 25 percent stake in the Link Real Estate Investment Trust, or Link REIT.
An executive of Hong Kong's newest hotel, which is close to the airport, says the economic crisis may help lure people seeking promotional deals during its grand opening period. Business can flourish despite the troubled times and a drop in passenger and cargo traffic, according to Robert Jensch, general manager of the 658-room SkyCity Marriott near the airport at Chek Lap Kok. "I think we will have a good first year," he said. "The downturn could help as grand-opening promotional deals offered until March could price out competitors. "When times are tough, lower rates matter, and we will have good deals because we are trying to make sure people know about the hotel." A central part of the Airport Authority's HK$2 billion SkyCity project, the Marriott there adjoins a new nine-hole golf course as well as shops and restaurants next to AsiaWorld-Expo. Jensch sees the SkyCity area becoming a transport hub with the completion of the SkyPier and its ferry links to Shenzhen and Macau and the construction of the Hong Kong-Zhuhai-Macau bridge. "The Pearl River Delta has a growing economic base, and Hong Kong is the most convenient hub," he said.

China: China must press forward with market reforms, President Hu Jintao said on Thursday as the Communist-ruled country celebrated 30 years of reforms at a time of deepening economic distress. Mr Hu told ranks of officials seated in the Great Hall of the People that the country owed its three decades of growth to Deng Xiaoping's reforms that tore away the rigid controls of Mao Zedong's time, gradually opening the economy to private and foreign investment. China will continue "advancing the cause of reform and opening up", Hu said. "We adhere to focusing on economic development. "We have constantly expanded opening to the outside, and this has allowed our country to successfully achieve the great historic transformation from a semi-closed one to a fully open one," he said. His speech celebrated China's success since 1978, when a Party leadership meeting agreed to focus on economic development after decades of turmoil and isolation under Mao. But the keynote address also comes as that success is under strain from the global economic downturn that has abruptly slowed growth and lifted joblessness, as export-driven factories either curtail production or shut down.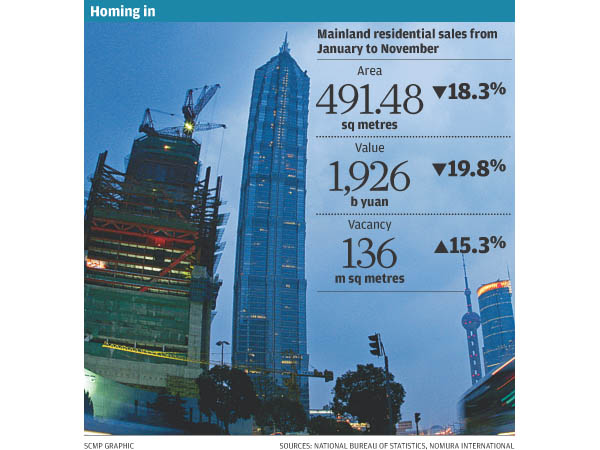 Beijing steps up move to boost property sector - The country's ailing property market was given a fresh boost yesterday with the announcement of tax relief for homebuyers and measures to loosen liquidity constraints for developers. As part of the package of measures unveiled by the State Council, buyers may also acquire a second flat on the same preferential terms as for their first home, if the size of the first property is below the average of the city. Analysts and property consultants said the measures would boost transaction activity in the short term. However, a full recovery was possible only in the second half of next year once cuts in interest rates had flowed through to new demand, and a clearer picture emerged of the nation's economic outlook. In its announcement yesterday, the State Council said homeowners would be exempt from paying sales tax - set at 5.6 per cent of the sales price - on properties sold two years from their purchase date. Previously, the property had to be held for five years to qualify for exemption. For properties sold within two years, the tax base will also be changed and will be calculated on the profit from the resale of the property, rather than the sale price. The provision that will allow the purchase of a second flat on the same preferential terms as the first means that down payments on second homes will be reduced to 20 per cent from 40 per cent, and the mortgage rate will be cut from 1.1 times the benchmark rate to 0.7 times. The measures were formulated after a meeting of the State Council chaired by Premier Wen Jiabo yesterday. The meeting also urged mainland banks to increase loans to developers of low and medium-priced housing and to support mergers and acquisitions by large developers. "These moves are much more significant than those announced in the past few months," said Peng Wensheng, a property analyst at Barclays Capital Research, in a report. Previous measures announced last month included an interest rate cut, a reduced down payment, a cut in deed tax and reduced mortgage costs. Chris Brooke, the president and chief executive of CB Richard Ellis' Greater China division, said the central government had made continued efforts to support the property sector because it was an important component of the nation's domestic growth and sales had fallen 20.6 per cent in the first 11 months. Hurt by recessions in the global markets, the country's economy is projected to expand 7.5 per cent next year, the slowest pace in almost two decades, according to predictions by the World Bank. David Ng, a property analyst at Royal Bank of Scotland, said the latest measures were positive and would give a short-term boost to sales activity. But he said price and volume declines might only stabilise by the middle of next year as buying sentiment gradually improved. The duration of the slump beyond that was still uncertain, and would be subject to the performance of the mainland economy, Mr Ng said. Lee Wee Liat, a senior analyst in the equity research department of Nomura International (Hong Kong), predicted a further reduction of 50 to 100 basis points in interest rates next year, which could help sales activity reach its bottom. Highly geared companies such as China Vanke and Guangzhou R&F Properties would benefit from the looser liquidity measures on low and medium housing development, Mr Lee said. Shares of mainland developers surged after yesterday's positive news. China Overseas Land (SEHK: 0688) & Investment closed up 4.5 per cent at HK$11.60, China Resources (SEHK: 0291) Land increased 4.82 per cent to HK$10, and Guangzhou R&F surged 7.41 per cent to HK$7.83. Separately, the People's Bank of China and China Banking Regulatory Commission last night jointly released a directive granting developers of low-end housing a 10 per cent discount on borrowing rates from corresponding benchmark rates set by the central bank. However, the loan term must not exceed five years. The equity portion of new-build projects' investment must not be less than 20 per cent, while that of renovation projects must not be below 30 per cent, it added.

(click on the picture for full view) Diplomatic strategy paves the way for China's rise - 30 YEARS OF REFORM When British historian Paul Kennedy gave his assessment of the international political scene 20 years ago, his remarks on China were harsh. "The PRC is simultaneously the poorest of the major powers and probably the least well placed strategically," he wrote in his renowned 1988 work The Rise and Fall of the Great Powers. But Professor Kennedy predicted that within a decade or two, this ill-positioned developing nation "must be judged as a candidate superpower in its own right". "Yet if the PRC suffers from certain chronic hardships, its present leadership seems to be evolving a grand strategy altogether more coherent and forward-looking than that which prevails in Moscow, Washington or Tokyo, not to mention western Europe," he said. Today, Professor Kennedy's prediction may sound like stating the obvious. But 20 or 30 years ago things were far from certain. Before China launched its grand reform and opening policy 30 years ago, the country first had to extricate itself from an extremely hostile external environment. In the 1960s and early 1970s, China was on a worse footing diplomatically and strategically than any other country in the world. The memories of its war with the US and other western nations in Korea were still fresh and the once cast-iron Moscow-Beijing axis was shattered, leading to a series of armed border clashes in 1969. It had territorial disputes with almost all its neighbors, fought battles with India and Vietnam and had unfinished business with Kuomintang members who retreated to Taiwan after a bitter civil war. Amid all these crises, the Sino-American rapprochement in 1971 was truly revolutionary. Mao Zedong's strategic alliance with the US was initially to counterbalance the threat of the Soviet Union - which Beijing saw as its chief foreign danger. A Soviet invasion was a real possibility and China's top priority was to nullify this threat. The Sino-US rapprochement stabilised the situation and made war much less likely. When Deng Xiaoping came back to power from political exile after Mao's death in 1976, Beijing was ready to reassess the global situation and redraw its grand strategy. By 1978, Chinese leaders no longer believed that another world war was inevitable or imminent. Deng knew China had to marshal all of its resources to lift the nation out of poverty and this dictated that the nation must keep peace with all its neighbours. "China at last came to realise that the world war was not going to happen. Deng believed China would enjoy a long period of peace and it must take this opportunity to turn things around and modernize the country," said Ni Lexiong , a military expert from the East China University of Political Science and Law in Shanghai. China and the US resumed formal diplomatic relations in 1978 and a year later Deng became the first mainland leader to visit the US. Ties with Japan also improved significantly. Tokyo was to become China's key investor, a leading trade partner and a model to emulate in the next three decades. The 10 years from 1979 were a honeymoon period for China and the west. "The west needed China and was full of curiosity and hopes for Deng's reform. Both the Japanese and American public had a good perception of China," University of Hong Kong international relations professor Richard Hu said. It was around this time that Deng set out his famous tao guang yan hui, or lay-low approach, which would become the guiding principle for China's foreign policy to this day. The main idea was to avoid engaging in controversial issues, develop good-neighborly relationships and focus on nurturing strength through trade and foreign investment. China made steady gains on the diplomatic front in the 1980s. In 1984, it scored a diplomatic coup when it signed a joint declaration with Britain over Hong Kong, with London agreeing to transfer sovereignty of the territory back to Beijing in 1997. But China's honeymoon with the west was soon to end. Five years later, Beijing's brutal crackdown on prodemocracy students shocked the world, leading to international condemnation and a global embargo. A year later, the communist bloc in the USSR and Eastern Europe collapsed, leaving the US as the world's sole superpower. China was isolated, feared and encircled diplomatically and strategically. Its relationship with the west had "almost reversed to the Cultural Revolution period", Professor Hu said. The new party secretary, Jiang Zemin , handed the difficult task of breaking the diplomatic deadlock to his foreign minister, Qian Qichen. Beijing actively courted Southeast Asian countries, assuring them that China would be a benign power. Meanwhile, Russia and China found themselves once again close allies. But the greatest surprise in the post-cold-war era came in 1992, when South Korea switched diplomatic allegiance from Taipei to Beijing. Ties with Tokyo also gradually improved and Japan became the first developed country to end the embargo on China. Gradually, China emerged from the shadow of the June 4 crackdown. In 1997, Mr Jiang's visit to the US marked the full restoration of ties with western powers. Taiwan, Tibet and trade, however, remain thorny issues for bilateral relations. The economic reforms also brought staggering changes to China's international standing. From 1978 to 2005, China's average economic growth was 9.5 per cent - making it by far the world's best performer. Western analysts debated how China's rise would have an impact on the global balance of power. The worry gave rise to the "China threat theory". To counter this, Hu Jintao , Mr Jiang's successor in 2003, came up with the "peaceful rise theory", which later became the "peaceful development theory", for fear that the word "rise" would sound too aggressive. The theory recognises that China's influence in international economic and security affairs is rapidly increasing, but it maintains that China can avoid the historical problems associated with rising powers through active participation in international organizations and institutions, by adhering to the principle of mutual benefit and by promoting world peace through its development. Since 1999, China has played a role in various international organizations and global affairs. It joined the World Trade Organization in 2001, concluded a landmark co-operation agreement with the Association of Southeast Asian Nations the following year and played a key role in stabilizing the Asian economies during the financial crisis in the mid-90s. After 30 years of reform and opening up, China has moved from an isolated country to a "regional power with a global ambition and a global reach". In the coming decades, China's interaction with the world would only grow, Professor Hu said. "Since Jiang's era, the Chinese leadership has realised the importance of globalisation. Now the word `globalization' is always on their lips," he said.
China is to loosen its tight control on the property sector by allowing purchasers of second homes to enjoy the same benefits as first-time buyers, and cutting taxes to help both the ailing property market and wider economy.
December 19 2008

Hong Kong: The former chief editor of East Week magazine yesterday received a six-month suspended sentence for publishing a semi-nude photograph of one of Hong Kong's most famous actresses. Mong Hon-ming, 52, had earlier pleaded guilty to one charge of publishing an obscene article. The photograph of actress Carina Lau Ka-ling, semi-naked, appeared on the cover of East Week on October 30, 2002. The photograph was reportedly taken when Lau was allegedly abducted by triads as a punishment for her refusal to take part in a movie they had funded. The publication sparked a public outcry, including a protest by local film stars against East Week and other magazines that reprinted the image. Three days after the publication of the picture, the magazine ceased publication and apologies were published in five newspapers. In sentencing, Eastern Court Principal magistrate Garry Tallentire said Hong Kong enjoyed free speech but publishers still had a duty to maintain decency within their publications. Mr Tallentire said he gave a suspended jail sentence after considering Mong's guilty plea, his previously clean record and the unlikelihood of him re-offending.Outside court, Mong said he felt the six-month sentence – suspended for two years – was lenient and that the magistrate had given him the opportunity to improve. Earlier in mitigation, Mong's counsel, Wong Ching-yu, told the court the editor was not in Hong Kong when that particular issue of the magazine was published. East Week was shut by its then-owner, Albert Yeung Sau-shing, within days of the edition appearing. It is now owned by Charles Ho Tsu-kwok's Global China Group Holdings. Mr Ho also controls Sing Tao Daily and the English-language newspaper The Standard. In October, the former publisher of East Week, New Media group, was fined HK$100,000 after a review hearing on the same charge.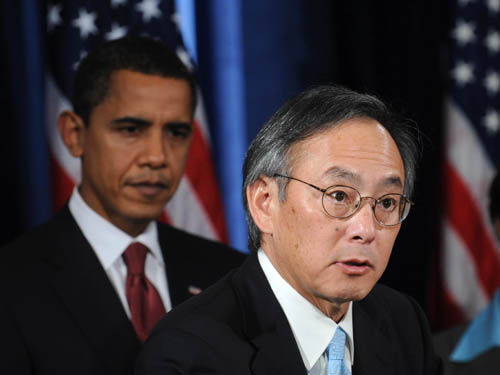 Nobel Prize-winning physicist Steven Chu speaks in Chicago after being unveiled as the energy secretary nominee by Barack Obama. Environmentalists have hailed the appointment. Barack Obama and his nominee as US energy secretary, Nobel-prize winning physicist Steven Chu, have committed themselves to the search for alternative fuels as the president-elect tries to live up to his vow to end US reliance on foreign oil and tackle global warming. Mr Obama unveiled Professor Chu as his nominee, saying the decision should send a signal his administration would "value science". "We will make decisions based on the facts, and we understand that facts demand bold action," Mr Obama added. The Bush administration has had a rocky relationship with the scientific community and was accused of ignoring scientific evidence in its efforts to make political points on issues such as global warming. "I look forward to being part of the president-elect's team, which believes that we must repair the economy and put us on a path forward towards sustainable energy," Professor Chu said. He said the purpose of the Energy Department was to support energy research and development that "will lead to innovation in the private sector, to nurture broad-based scientific research that is essential for our future prosperity, and to provide scientific leadership to minimize the proliferation and use of nuclear weapons". Professor Chu said: "President-elect Obama has set the tone and pace for moving our country forward with optimism and calm determination. I hope to emulate his example. With these virtues, the United States and the world can and will prevail over our economic, energy and climate-change challenges." Professor Chu, director of the Lawrence Berkeley National Laboratory, heads a quartet of appointments including ex-Environmental Protection Agency chief Carol Browner as energy and climate policy coordinator, former New Jersey environmental protection commissioner Lisa Jackson as EPA administrator and Los Angeles deputy mayor Nancy Sutley to run the White House Council on Environmental Quality. With this team, some environmentalists expect Mr Obama's White House to break from what they view as the Bush administration's record of overlooking science in favor of politics. "It's such an incredible contrast, compared to the years of darkness under the current administration, to see a scientist in such a position of authority," said Alan Nogee, who directs the Clean Energy Program for the Union of Concerned Scientists, which has accused the administration of silencing scientists in policymaking. "It's night and day." Professor Chu - whose academic parents left China to study in the US in the 1940s and never returned - would be the second ethnic-Chinese member of the cabinet, after incumbent labor secretary Elaine Chao. The winner of the 1997 Nobel Prize for physics, Professor Chu was an early advocate for finding scientific solutions to climate change. "In the 21st century, we know that the future of our economy and national security is inextricably linked with one challenge: energy," Mr Obama said. The president-elect, who takes office on January 20, pointed out that other presidents over the past three decades had pledged to make America less dependent on foreign energy supplies. "All of us know the problems that are rooted in our addiction to foreign oil. It constrains our economy, shifts wealth to hostile regimes and leaves us dependent on unstable regions. "To control our own destiny, America must develop new forms of energy and new ways of using it. And this is not a challenge for government alone - it's a challenge for all of us." Mr Obama would soon name Colorado Democratic Senator Ken Salazar as secretary of the interior, aides said. The Department of the Interior leases public land for oil and gas drilling.
Homeowners affected by the Kwun Tong town centre redevelopment would be paid compensation of HK$5,937 per square foot of their flats but owners said yesterday that they wanted almost double that.
A Hong Kong police investigation into whether there was any criminality involved in unauthorised foreign exchange contracts at Citic Pacific (SEHK: 0267) would not result in any prosecutions, a mainland magazine reported. The report follows the revelation in the Sunday Morning Post (SEHK: 0583, announcements, news) that Hong Kong's Commercial Crime Bureau was in the early stages of investigating the circumstances surrounding the contracts and a six-week delay in reporting them to the market. The contracts have so far cost about HK$18 billion and forced the company to look to its mainland parent, Citic Group, for extra funding. Citing an unnamed source from within Citic Group, Caijing Magazine said it had obtained confirmation an investigation was under way. But the magazine said the source believed "the relevant parties would not be criminally prosecuted". Citic Pacific issued a statement on Saturday to say it had not been contacted by police. The losses stem from about 24 so-called "foreign currency accumulator" bets on the Australian dollar which oblige it to buy dollars at a fixed price over a period up to 2010. The rapid decline in the currency means it is now paying far more than market value, resulting in massive paper losses.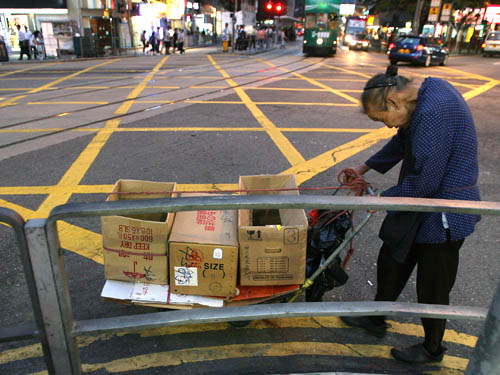 An elderly woman collects cardboard in Wan Chai. Critics claim that, in its current form, the social welfare system is unable to respond quickly enough to emerging needs. Is Hong Kong finally going to fix chronic problems in how it plans and funds social welfare, a system often criticised as "ad hoc", "short term" and hostage to "whoever shouts loudest"? Wilfred Wong Ying-wai believes so. He is confident that another page will be turned for a welfare system under increasing stress from rapid economic and social change. Mr Wong, a senior civil-servant-turned-businessman, recently stood down after six years as chairman of the government's 22-member Social Welfare Advisory Committee (SWAC). It was asked last year to produce a blueprint for Hong Kong's future social welfare system, along with "strategic principles" to guide future planning, a process expected to take another year. Separately, Mr Wong will soon complete an independent review for the government of its problematic "lump sum grant" system, introduced in 2000 as a mechanism for dispensing funds to some 160 non-governmental organisations providing welfare services. He said the committee he chaired would recommend many changes. A key issue is how to reconcile the fact that many NGOs need to plan for the longer term in light of changing welfare demands while the government only commits funds year by year, with amounts varying according to the state of the public coffers.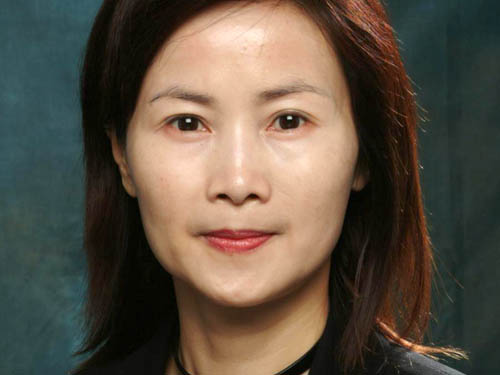 The launch of real estate investment trusts (reits) on the mainland was back on the policy agenda at the weekend in a 30-point program of measures planned by the State Council to revitalise the country's finance sector. Included in the wide-ranging policy initiatives unveiled on its website on Saturday was a restatement from the cabinet of its proposal to develop reits on a pilot basis – a comment that was widely welcomed in Hong Kong. "It makes sense to consider it," said Angela Lee Wai-yin, a partner in the law firm Baker & McKenzie. Talk that the mainland would launch reits as an investment class first surfaced as early as five years ago and there was no commitment in the weekend statement to a time-table for their introduction. But expectations have now been rekindled that their debut could be imminent. Ms Lee said reits – investments written on underlying physical property assets – could provide a more liquid exit point for investors wishing to take a position on property price movements on the mainland. They would also allow investors with a lower risk appetite and a preference for a stable return to participate in property investment at a much lower entry fee, she added. Lee Hing-yin, director of research and advisory at Colliers International, East China, agreed on the importance for investors seeking exposure to mainland property to have an exit strategy. "The availability of an alternative exit mechanism would enhance the attractiveness of property acquisition in China to foreign investors and hence is expected to boost the investment sales market," he said. Reits could also throw a lifeline to the floundering property market, Ms Lee said, citing examples in the United States. "In the early 1990s US property prices were in free fall. Reits provided a floor to the falling prices because they were able to pull investors and funds together to pick up those dirt-cheap assets which provided a return." No matter how depressed sentiment might be, if an asset was able to provide a reasonable return, people would be interested in it, she said, and the China reits would pool funds to pick up those assets and thereby create a floor for the deteriorating market. Some players such as Lead Reits Asset Management – a Tianjin-based investment company that takes positions in yield-bearing properties – had already stepped into the investment proposition, said Ms Lee. These players were positioning themselves as reits with listing plans awaiting approval from Beijing. It was also reported that officials of Shanghai Pudong New Area and Binhai New Area of Tianjin had submitted proposals to the central government and were ready to be the testing sites for the launch of a reit. However, some analysts said the poor market sentiment meant it was not a good time to launch a reit. "I don't think you can launch a reit in a period when asset prices are depressed and yields are abnormally high," said c, a senior resident fellow for real estate finance at Washington-based research firm Urban Land Institute. Assets could be sold to a reit only at low prices in today's depressed market, said Mr Blank. Since the abnormally high yield that resulted was not sustainable it might be better to wait until the market returned to a stable situation before launching reits, he added. Other analysts said it was important to see the fine print of how reits would be launched before commenting. Tax benefits needed to be addressed, they said. Mr Lee said investors would also want certainty over issues such as the types and quality of assets to be injected into the reits, assets and gearing restrictions, capital structures, and tax exemptions. Though these details have yet to emerge, most analysts believe it would be good to line up reits for release on the market, because they would provide an alternative source of funding for developers in the long run. There were also many potential institutional investors such as insurance companies and individual investors looking for investments with stable returns.
PCCW (SEHK: 0008) chairman and major shareholder Richard Li Tzar-kai has no plans to sweeten the offer to privatise the company despite growing opposition to the deal, sources said. Glass, Lewis and Co, an advisory firm to institutional investors, yesterday issued a statement to urge PCCW's shareholders to reject the offer, which it said was too low. "We are not convinced that the financial terms of the proposed transaction are fair for the company's independent shareholders," Glass Lewis said in a statement e-mailed to several institutional investors. David Smith, co-head of Asian corporate governance research at RiskMetrics Group, also said the deal was not in the best interest of investors, according to Bloomberg. However, a source said: "Mr Li wants to maintain the offer price at HK$4.20, as it seems that institutional investors think the price was reasonable." Mr Li's Singapore-listed flagship, Pacific Century Regional Developments, and China Network Communications Group, which together own 45.2 per cent of PCCW, want to buy out all other stakeholders at HK$4.20 a share, a 17.6 per cent premium over yesterday's closing price of HK$3.57. PCCW minority shareholders will meet on December 30 to vote on the deal. It needs support from more than 75 per cent of the votes and cannot get 10 per cent or more veto votes. The deal will also need approval from PCRD's minority shareholders, and sources say Mr Li, who owns 75 per cent of PCRD, has already mustered enough support.
Public hospitals are witnessing a rare influx of nurses amid the financial crisis. In the last week, the Hospital Authority, which runs public hospitals, got more than 10 job applications, which new chief nurse Sylvia Fung Yuk-kuen said is rare. Fung said the cash crisis can help ease a shortage of nurses in public hospitals, where staff turnover hit 5 percent this year and stood at 4 percent in 2007 in brighter economic times, compared with the usual rate of 3 percent. The authority has already seen a rise in patients using accident and emergency services and out- patient clinics. The private Hong Kong Sanatorium and Hospital's director of nursing services Manbo Man Bo-lin said staffing has not been affected by the financial turmoil. He admitted that some private hospitals might lose patients suffering from nonlethal conditions but people seeking specialist treatment will still prefer private hospitals despite the current economic situation. In fact, instead of cutting back on staff, the sanatorium plans to hire 66 nurses it has newly trained. Man added that there is no plan as yet for a nurses' pay rise next year. The authority plans to hire about 700 nurses next year in anticipation of a growing workload brought about by the financial crisis as well as an ageing population. Fung said her priority in her new job is to lift staff morale. "[Poor] morale is a problem. Our nurses work very long hours and spend more time in hospitals than with their families," she said. Fung said pay rises are not a magic panacea. Instead, the authority will seek to ease staff workload. "For instance, some nurses told us the extra work was caused by an excessive number of visitors coming to see patients. So, we have tightened security to control the crowds," she said. The authority has just launched a study to determine a proper nurse-to-patient ratio in different wards to improve its human resources management. A year ago public and private hospitals were raising their game to attract senior nurses in the face of a worsening shortage of frontline medical staff. Some nurses switched from the public to private sector while several others went overseas or left the profession. In a mass recruitment exercise in December last year, the authority offered better salaries to experienced nurses and replaced a relatively rigid pay scale with a more flexible one.

China: China may send naval ships to the seas off Somalia to help the fight against piracy there, state media on Wednesday quoted a Vice Foreign Minister as saying at the United Nations. "China is seriously considering sending naval ships to the Gulf of Aden and waters off the Somali coast for escorting operations in the near future," the official Xinhuanews agency quoted He Yafei as saying. Mr He, speaking at a Security Council ministerial meeting, said that China welcomed global cooperation in the fight against Somali piracy, and supported efforts by other countries to send ships to the region, Xinhua reported. Earlier this month a prominent Chinese military strategist, Major-General Jin Yinan, urged the government to send ships, in comments reflecting debate about combating piracy in a country which has generally confined its navy to waters near home. Mr Jin told a Chinese radio interviewer that "nobody should be shocked" if his government one day decided to send navy ships to deal with the pirates, whose recent victims have included ships from mainland China and Hong Kong. Mr Jin is the head of a strategy institute at China's National Defense University. A surge in attacks at sea this year in the busy Gulf of Aden and Indian Ocean off Somalia has pushed up insurance costs, brought the Somali gangs tens of millions of dollars in ransom and prompted foreign warships to the area. Among the captured vessels are a Saudi supertanker loaded with US$100 million (HK$775 million) of crude oil, the Sirius Star, and a Ukrainian cargo ship carrying some 30 Soviet-era tanks. The victims have also included a Hong Kong-flagged ship with 25 crew aboard and a Chinese fishing boat reported seized off Kenya. NATO ships began anti-piracy operations off the Somali coast in late October, but they have failed to stop the hijackings.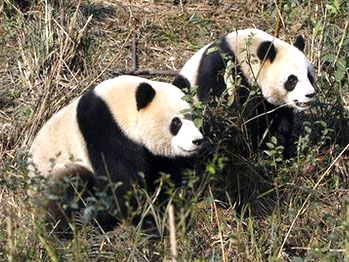 Pandas Tuan Tuan and Yuan Yuan, names together mean 'reunion', are seen at a panda base in Ya'an, southwest China's Sichuan province. The pandas will be sent to Taipei next week. China said on Wednesday it plans to send two pandas to rival Taiwan next week — the latest symbols of warming ties between the two sides. Beijing first offered the pandas to Taiwan in 2005 but Taiwan's former leaders resisted the move, saying it was part of Chinese efforts to persuade the island to unify with the mainland. Taiwan's current President Ma Ying-jeou, however, has tried to nurture closer ties with the mainland and accepted the pandas as a goodwill gesture. "Judging from the circumstances now, the pandas will hopefully be sent to Taiwan on December 23," said Li Weiyi, spokesman for the Cabinet-level Taiwan Affairs Office. Chinese state media said last week that crate training and comfort food were part of the preparations for the trip for the two pandas. The two are named "Tuan Tuan" and "Yuan Yuan," which when linked mean "reunion" in Chinese. State media reported the two will travel to the Taipei Zoo accompanied by a veterinarian and a panda keeper, who will bring along a week's supply of the pair's favorite foods — bamboo, apples and steamed cornbread — to ease the adjustment. In return for the pandas, Taiwan will send to China two Formosan serows, which are goat like mammals unique to Taiwan. China and Taiwan split amid civil war in 1949. Beijing continues to claim the self-governing island as part of its territory, and has been using a blend of threats and diplomacy to try to bring Taiwan back into its fold.

Central bank governor Zhou Xiaochuan yesterday indicated the possibility of more interest-rate cuts on the mainland as the latest data drew a deflationary cloud over the economy, and exports and property investment slowed more than expected. The next few weeks into the beginning of next year would be "full of interest-rate cut pressure" because inflation was cooling faster than expected, said Mr Zhou, the head of the People's Bank of China. He was talking to reporters in Hong Kong where he was attending a meeting of the Financial Stability Forum - a group of national finance leaders from around the world that first convened in April 1999 to promote international financial stability. The rate-cut comments signalled the likelihood of another coordinated global drive to contain the worst financial crisis in 80 years, with the United States poised last night to halve a key interest rate and bring it closer to zero and Japan likely to follow suit later this week. The comments buoyed the mainland and Hong Kong stock markets after they had taken an early fall yesterday. The Hang Seng Index ended up 0.55 per cent at 15,130.21 points and the Shanghai Composite Index rose 0.54 per cent to 1,975.006 points. The November data to which Mr Zhou referred shows that the world's fourth-largest economy has been losing steam. Investment in factories and real estate rose 26.8 per cent in the first 11 months, down from a 27.2 per cent gain through October. Industrial output grew at the slowest pace since 1999, exports fell for the first time in seven years, and the consumer price index hit a 22-month low of 2.4 per cent. "Interest rates will be lowered gradually. We will consider companies' operating costs and the consumer price index while deciding how much to cut. The quicker the index drops, the sooner a rate cut will come," Mr Zhou said. The benchmark one-year lending rate has been lowered from 7.47 per cent to 5.58 per cent after four successive rate cuts since the middle of September. Deposit rates are down from 4.14 per cent to 2.52 per cent. When asked if the mainland planned to depreciate the yuan to help ailing exporters, Mr Zhou said the balance of payments would determine the exchange rate. The mainland trade surplus hit a record high of US$40.09 billion last month as the decline in imports outpaced the fall in exports. Economists widely believe it is to Beijing's benefit not to devalue the yuan. They expect the central bank to lower interest rates next year to battle the global economic downturn, supported by the 4 trillion yuan (HK$4.53 trillion) fiscal stimulus scheme announced last month. UBS economist Wang Tao said Beijing was likely to announce another rate cut before the end of next month. "Prices of foodstuffs, commodities and manufactured products are dropping quickly. The central bank will likely cut deposit and loan interest rates by 27 to 54 basis points before the spring festival," she said. China International Capital Corp yesterday adjusted its forecast for inflation next year from 1 per cent to a 0.7 to 1.3 per cent deflation rate. It expects interest rates to be cut by 108 basis points before the middle of next year. Merrill Lynch said the PBOC could cut both one-year deposit and lending rates by 108 basis points and the reserve requirement ratio imposed on banks by 250 to 300 basis points next year. It would also be possible to lower lending rates by 162 basis points while cutting business tax for banks to compensate for the squeezed interest margin, it said. Banks trimmed their forecasts for mainland economic growth after the November figures were released. Yesterday, JP Morgan cut its 2009 GDP growth forecast from 8 per cent to 7.8 per cent. Merrill Lynch cut its growth outlook from 8.6 per cent to 8 per cent on Monday, and last week Goldman Sachs lowered its forecast to 6 per cent from 7.5 per cent.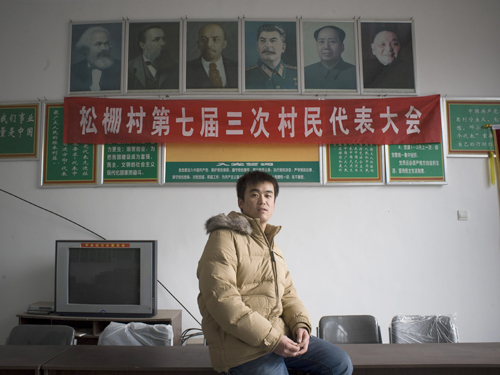 Liu Hao, who moved to the countryside, was one of seven students accepted into Beijing's rural development scheme out of 400 applicants from his college. More than a million Chinese college graduates unable to find work could make coping with unemployment harder now than it was during the Asian crisis, the head of China's largest vocational training organization said. The country will also have to find a way to absorb migrant workers who have lost jobs but are unable to return to farming in their villages, said Chen Guangqing of the National Association of Vocational Education. China is worried that the thousands of factories shutting or laying off workers, especially along the export-dependent coast, could lead to unrest if the unemployed hit the streets, threatening Communist Party rule. "The employment situation may be worse than the 1990s ... This time, college graduates are not finding work, and there are so many of them," Mr Chen told Reuters. In the late 1990s, China's government weathered mass unemployment as the Asian financial crisis and bankruptcies of state-owned enterprises slowed the economy to a crawl. Many college graduates now lacked the skills needed to compete for jobs in a fast-changing economy and were unwilling to take less respected jobs, Mr Chen said. More than six million students will try to enter China's workforce next year, half a million more than last year. Up to a quarter could have difficulty finding jobs, the Chinese Academy of Social Sciences said on Monday. At least four million migrant workers who have lost jobs have left the cities and are looking for part-time work in large towns and county seats, rather than going back to their villages. Urban unemployment is already at 9.4 per cent, according to the Chinese Academy of Social Sciences. Labor strikes, small scale protests and land disputes are already cropping up across the country. Disappointed students who will soon graduate add to the problem. A leading newspaper said on Wednesday that China faced an arduous task to maintain social stability in the face of its economic challenges. "We are facing new contradictions, especially this year with the conflict of the financial crisis and global economic recession, and our economic development faces serious challenges," said the commentary in the Communist Party mouthpiece, the People's Daily. "The factors for social instability have increased, contradictions happen more frequently and more easily, and maintaining social stability is still an arduous task." The commentary said the key was to make sure protests — often termed in official parlance "mass incidents" — did not spin out of control. "If the problem is grabbed early and when it is small, contradictions can be nipped in the bud and will not become big incidents," it said. "Every department must do its job and fulfil its responsibilities; that way social stability can be maintained." Faltering economic conditions have raised the spectre of growth falling below 8 per cent, which the government regards as a benchmark to create enough jobs to sop up excess labor and guarantee social stability.
Quality control and customs officials from China and United States are set to meet in January in a bid to speed up moves to standardize the rules on toy safety. Next month's Toy and Games Fair in Hong Kong will give Beijing and Washington the chance to iron out issues that have dogged the process, say representatives of the Toy Council and Toys Manufacturers' Association. Federation of Hong Kong Industries chairman Lawrence Chan Wing- luen said yesterday that an agreement - which could take years to reach - would help deal with soaring costs. "If we have one set of standards we can have one system of tests," said Chan. "Everyone will be playing by the same rules, and it will make life much easier and less costly." Vice chairman Bernie Ting Wai- cheung estimated that costs had risen by between 300 and 400 percent in the past year due to quality control tests. He added that cutting costs would be the primary challenge for companies in the coming "difficult" year. Toys Manufacturers Association president David Chu Ki-kwan hoped the financial crisis would help them cut labor costs. Representatives are pinning hopes on international toy demand despite the bankruptcy of large US toy retailer KB Toys on December 11 and the fact that an estimated 4,000 toy factories have closed in China over the past two years. Both organizations predicted KB Toys' bankruptcy was unlikely to have a serious impact on SAR companies. "The ones most likely to be affected will be those with contracts with KB and larger companies relying on their brand," Chu said. Chu said strong demand was a sign of long-term growth potential, citing a 2 percent growth this October - a normally slow month. "No matter how big a financial tsunami is, there will always be children and they will always need toys to play with," he said. "So even if we have another year with no growth, I feel confident we can ride this out." FHKI chairman Chan also pointed to local toy companies' advantages in quality and technology. "When the new US laws went into effect in August, many US companies were asking us for advice," he said. "And with quality as important as it has become, that's a great help for companies here."
December 18 2008

Hong Kong: Hongkong Electric (SEHK: 0006), the power supplier to Hong Kong Island and Lamma Island, on Tuesday announced a 5.9 per cent tariff cut — effective from January 1. The reduction stems from a 17.6 per cent drop in the average basic tariff was partially offset by an 11.7 per cent rise in a fuel surcharge.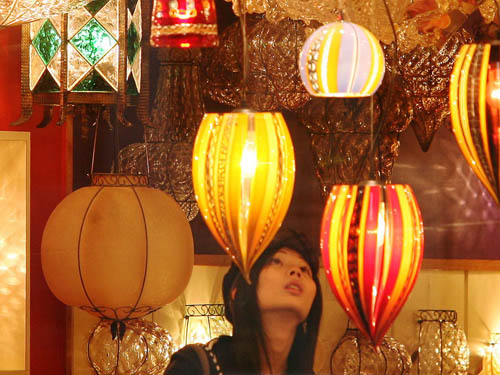 The restaurant trade and lighting and electrical appliance shops on Hong Kong Island said Hongkong Electric (SEHK: 0006)'s 5.9 per cent tariff cut, announced yesterday, was too small. The businesses, which use a lot of electricity, said the company should have announced a double-digit cut. "They have to have a cut of at least 10 per cent," said Catering Industry Association vice-president Thomas Woo Chu. "This will help businesses. Business is so hard right now. Electricity is a very big expenditure."
Hong Kong's unemployment rate probably rose to 3.8 per cent in September-November, its highest level in more than a year, as companies hit by the global economic downturn shed jobs to cut costs, a Reuters survey shows. The jobless rate, calculated on a three-month seasonally adjusted average, stood at 3.5 per cent in August-October and economists see it peaking at 5.5 per cent in the first half of next year, as more businesses are expected to slash staff with Hong Kong now in recession. "Hong Kong has been hit pretty hard by the financial crisis," said Peng Chen, an economist at JP Morgan. "A lot of companies are laying off workers."

Hong Kong Disneyland managing director Andrew Kam Min-ho pledged yesterday that the theme park would become profitable during his tenure, in his first appearance in the Legislative Council. At the same time, Mr Kam, who took office in August, offered 20,000 free tickets valued at nearly HK$6 million to needy families. Mr Kam refused to say when he expected the three-year-old theme park to generate a return for its shareholders but expressed confidence about its prospects. Hong Kong Disneyland is a joint venture between the government and the Walt Disney Company. "Within my term, we will see a return in our business," Mr Kam said, without giving a time frame. Secretary for Commerce and Economic Development Rita Lau Ng Wai-lan pointed out that the park was not expected to realise a return in the short term and should be allowed a "reasonable amount of time" to become profitable. The government, which holds 57 per cent of the joint venture, was still negotiating with Disney on expansion plans for the park and had yet to finalise any financing arrangements, Mrs Lau said. On Friday, members of Disney's senior management, including its president and chief executive Bob Iger and Jay Rasulo, chairman of Walt Disney Parks and Resorts, met Chief Executive Donald Tsang Yam-kuen. Lawmakers said they wanted assurances of improved performance if more public funds were needed to further develop the park. From Monday, the park will welcome non-Shenzhen residents working in the mainland city as part of group tours. A staff member at the Shenzhen office of China Travel Service, which is organising the tours, said groups would be leaving from Shenzhen every day from Monday. Two-day tours are priced at 1,388 yuan (HK$1,600) per person and three-day tours at 1,988 yuan. Travelers will also visit other locations in Hong Kong.
Seventeen banks have so far paid a total of HK$257 million to settle 616 claims brought by Hong Kong investors in financial derivatives which lost much or all of their value when US investment bank Lehman Brothers collapsed three months ago. The figures were disclosed yesterday by the Hong Kong Monetary Authority, which said banks were in the process of settling a further 1,000 claims involving investments of HK$429 million. The authority did not disclose the amounts involved in individual settlements. Last week, Democratic Party lawmaker Albert Ho Chun-yan said banks had paid HK$30 million in compensation to about 60 investors in financial products issued or guaranteed by Lehman Brothers. The police commercial crimes bureau has received more than 5,000 complaints from investors. The bureau had taken statements from 2,566 of the 5,184 complainants, the Democratic Party said after party lawmaker Kam Nai-wai met the head of the bureau, Chief Superintendent Chan Yiu-kwok, yesterday. The bureau was seeking legal advice on whether any crimes may have been committed, Mr Kam said. He expressed dissatisfaction with the speed with which the bureau was handling the cases, and claimed many of them had obvious evidence of criminality. Some 43,700 Hongkongers invested HK$15.7 billion in derivatives linked to Lehman Brothers, which sought bankruptcy protection amid the global credit meltdown. Most bought minibonds - high-risk, credit-linked products which derived part of their value from the performance of complex underlying assets. Many of those who bought minibonds claim bank staff mis-sold them as low-risk investments in well-known companies. The Monetary Authority has received nearly 20,000 complaints about Lehman Brothers-related products. It has referred more than 200 to the Securities and Futures Commission for investigation of possible misconduct by banks. It is still investigating another 3,700-plus complaints and is seeking more information about a further 11,072.
The Hong Kong Monetary Authority was forced to intervene in the money markets five times yesterday to defend the Hong Kong dollar peg, actions that will cause the liquidity in the banking system to spike to a new record high of more than HK$113 billion.

China: China is unlikely to push down the yuan's value to help spur exports, instead it will rely on fiscal stimulus and further interest rate cuts to reflate its slowing economy, Barclays Capital said on Tuesday. An abrupt fall in the yuan earlier this month sparked speculation that China had shifted its policy towards a weaker currency to lift exports, although such talk has since died down. Peter Redward, head of emerging Asia research at Barclays Capital, said Chinese authorities would focus on the implementation of the 4 trillion yuan (HK$ ) fiscal stimulus unveiled last month and cutting interest rates. "Our feeling that over the next three to six months, they will probably rely on these tools first – they would adjust the currency only as the final step," he said at a briefing. The yuan was likely to hover near the current level of 6.8 to the dollar in the coming months, he said. China's annual growth may slow to 6.3 per cent in the first quarter and 6.4 per cent in the second quarter in 2009, but the expansionary policy would point to a recovery in the second half, bringing the full-year growth rate to 7.8 per cent, Mr Redward said. Mr Redward said he expected further weakness in most Asian currencies in the first half of 2009, but improved balance of payments positions in economies such as Singapore, Taiwan and Hong Kong would gradually lend some support for their currencies. But central banks would probably opt to keep their currencies stable through dollar-buying intervention, because stronger exchange rates would harm their economic recovery, he said. "As this [improvement in balance of payments] occurs, policy makers are likely to show a preference for accumulation of reserves over currency appreciation, leaving those reserves partially unsterilised to boost domestic money market liquidity," he said. Asian currencies have been hit this year by capital outflows, slowing exports and a firmer US dollar, forcing central banks to sell dollars in the market to support their units.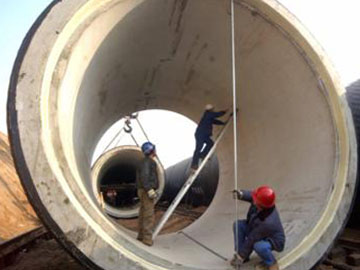 Workers check a pipe for China's south-to-north water diversion project in Beijing. The project, consisting of the eastern, middle and western route sections, was initiated to ease the water shortage in northern China around Beijing, Tianjin, and Hebei province by diverting water from the south of the country. China will accelerate construction of the south-to-north water diversion project next year, the Xinhua news agency quoted the head of the project office, Zhang Jiyao, as saying. The project, criticised by some environmentalists for encouraging the wasteful use of water, will divert water from the Yangtze River in western and central China to arid northern regions through three channels: eastern, middle and western. A number of projects along the eastern and middle routes would start next year, Zhang said, drawing on investment of up to 254.6 billion yuan (HK$288.3 billion) authorised by the State Council, or the Cabinet, for the eastern and middle routes. As of the end of last month, 4.16 billion yuan had been spent on the eastern route and 18.23 billion yuan on the middle route, from a total 45.67 billion yuan that has been earmarked. Sections of the project in coastal Shandong province and eastern Jiangsu province have been completed. A middle section linking Shijiazhuang, capital of Hebei Province, and Beijing, has also been finished, and an emergency diversion was started in September to supply about 300 million cubic metres of water to the capital through March 10. About one billion cubic metres of water could be diverted to Beijing annually, when that part of the project is completed in 2010. Environmentalists say the diversion project encourages wasteful water use in Beijing, reduces the water supply to arid surrounding regions and takes little account of the potential long-term impact. The western route, which would involve drilling tunnels through the high mountains on the Tibetan plateau to bring water from the Yangtze to the Yellow River, is in the planning stage.

State-owned enterprises, whose profits plunged for the first time since 2002, had been mismanaged and needed to be reformed, or else the global financial crisis would exacerbate their problems, a Beijing official said yesterday. Li Rongrong, the director of the State-owned Assets Supervision and Administration Commission, said that mismanagement and haphazard expansion in production capacity left many state firms with poor growth, stagnant sales, tumbling profitability, excessive debt and tight liquidity. According to the commission, profits at about 143 state firms plummeted 26 per cent to 683.04 billion yuan (HK$772.72 billion) between January and last month, the first decline in six years. The drop came despite revenue growth of 20.2 per cent to 10.76 trillion yuan, with 83.2 per cent of the firms recording growth during the 11-month period from a year earlier. The commission blamed the decline on the global financial crisis, the mainland's macroeconomic policies and the companies themselves. "There are still many challenges and problems state-owned firms are facing, especially in the second half of this year," Xinhua reported Mr Li as saying at a meeting of a commission working committee. "As a result of the unprecedented crisis, their deficiency could balloon further and hence restrain their development." Reforming state enterprises and pursuing listings on key stock markets would be the top item on the regulator's agenda next year, he said. Mr Li said state firms must improve management, technology, market research and corporate governance if they were to weather the economic and financial crisis. He warned the oil, petroleum and mining industries should closely track world markets, commodity prices, foreign exchange rates and the impact of the country's macroeconomic measures. A case in point is the "cost-plus" approach to fuel pricing that takes effect on January 1. Under it, refining and operating costs and a "reasonable" margin will be added to the cost of crude oil to arrive at retail prices. The new price-setting regime aims at better matching regulated domestic prices with free-market prices. It could help state-owned oil firms hit by a jump in crude oil prices in the past few years, analysts said. The commission's statistics showed that the oil and refinery sectors incurred a combined 80.4 billion yuan in losses during the first 10 months of this year. Other casualties were state power grid companies, with 4.9 billion yuan in losses, while the nation's five independent power producers recorded 55.1 billion yuan in lost profits as a result of higher coal costs and restrictions on tariff increases. Despite the volatile stock market, Mr Li said the commission would keep pushing state firms to go public and explore the feasibility of the regulator buying stakes in listing candidates. The reorganisation of the assets of enterprises would continue next year to pave the way for public offerings, he said.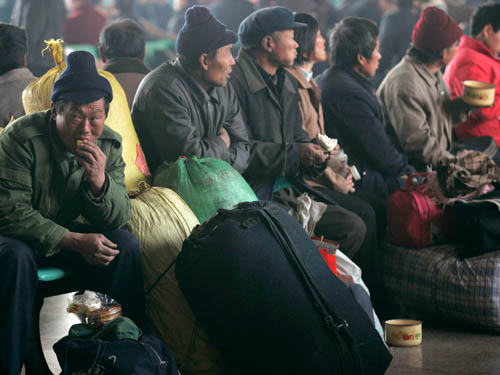 Migrant workers wait to board a train home from Taiyuan, Jiangxi province. Officials in several provinces are voicing alarm about how they will feed the huge numbers of laidoff workers returning home. And a drop in incomes is expected to fuel unrest. Swarms of migrant workers driven back home by the economic downturn in eastern provinces are putting huge social and employment pressure on the governments in their hometowns. In Yunnan province authorities are not only facing the tough task of creating jobs for 510,000 returned workers, but are also struggling to secure enough food to feed the swelling population in some areas, according to the provincial government's website. "The hundreds of thousands of returned rural workers have increased grain consumption by the local population by 500,000 tonnes per day, and we are feeling the strain of preparing enough rice in the bowl," Liu Guoquan, director of Zhaotong's Rural Human Resources Development Office, told fellow officials at a provincial meeting to discuss the crisis. The annual grain output in Zhaotong had fallen well short of local demand and the authorities had to import more from other provinces to make ends meet, the website quoted Mr Liu as saying. Mainland businesses, especially those in the Yangtze and Pearl River Delta areas, have started to feel the crisis bite. Thousands of small and medium-sized companies cut their payrolls or simply closed as overseas orders shrank rapidly. Waves of jobless rural migrant workers began to head home as early as October, three months before the traditional Lunar New Year break. Pressure on grain supplies eased as farmers migrated for work but had abruptly increased as they headed back home.
December 17 2008

Hong Kong: Graft-busters have set up a special group to keep watch on the numerous small projects the government plans to launch to create jobs. The working group was set up by the ICAC's corruption prevention department to advise on project management, purchasing and recruitment for such projects. The Independent Commission Against Corruption is also on the alert for a surge in corruption cases similar to the one that followed the Asian financial crisis in 1997. Laura Cha Shih May-lung, chairwoman of the Advisory Committee on Corruption, said yesterday: "From the experience of the Asian financial crisis, corruption cases are expected to emerge in the two years after the crisis." Mrs Cha said increases in corruption cases of 16 and 23 per cent were recorded in 1998 and 2000, respectively. Despite the warning, she said Hong Kong had maintained its good name as a low-corruption city, ranking 12th out of 180 in a Transparency International survey released in September. In the first 11 months of the year, the ICAC received 3,121 complaints, a drop of 5 per cent over the same period last year. Of these, 2,027, or 65 per cent, were in the private sector. Figures on building management, catering and entertainment, and finance and insurance remained high. Reports against public bodies fell by 8 per cent, from 224 to 207, compared with the same period last year. There were 887 reports against government departments, similar to the 885 received in the same period last year, and 72 cases of misconduct and malpractice of civil servants were referred to the government for disciplinary and administrative actions. A total of 749 election-related complaints were laid, 118 of which involved the Legislative Council election in September.
Hong Kong's imports and exports of goods are expected to contract 6 per cent in value next year as weak overseas demand and shrinking global trade take a heavy toll, the Trade Development Council said. By volume, the forecast year-on-year decline in trade is 3 per cent, effectively wiping out this year's gains. It would be the first time exports had contracted since 2001. Warning of poor prospects next year for Hong Kong's key trading partners - the United States, the European Union and Japan - the council's chief economist, Edward Leung Hoi-kwok, said the relatively robust mainland market offered local firms the best hope in the downturn. Economists generally expect the city's economy to shrink next year. "Given the economic headwinds, the long-running consumption spree in traditional markets, especially the United States and the European Union, has subsided, with consumer confidence hitting an all-time low," he said. The three markets combined made up about 30 per cent of Hong Kong's total exports but a 60 per cent share of the city's exports of consumer goods. According to the council's quarterly export index, which is an indicator of exporters' performance and prospects, the outlook has steadily deteriorated this year. The index has fallen to 22.3 points in the fourth quarter, down from 49.1 in the first quarter, 45.9 in the second and 33.9 in the third. A reading below 50 points to a pessimistic outlook by exporters.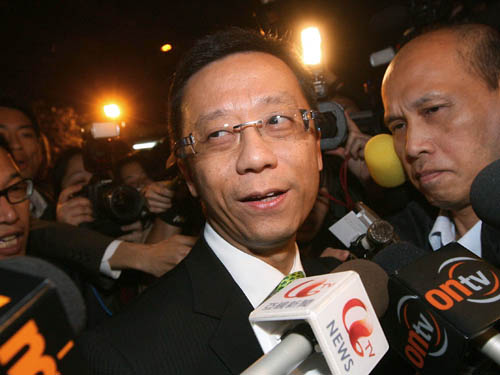 High profile telecom executive Ricky Wong Wai-kay has resigned as chief executive of Asia Television — less than two weeks after his appointment to the position, the private broadcaster's new chairman said on Monday afternoon. Mr Wong's resignation was announced by ATV's executive chairman Linus Cheung Wing-lam, who appointed to his new role on December 4th, the same day that Mr Wong was appointed. At the end of a press conference for the Miss Asia Beauty Pageant 2008 on Monday, Mr Cheung confirmed Mr Wong had earlier tendered his resignation and he had accepted it.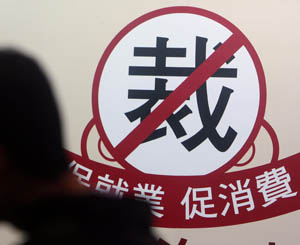 Relief for 50,000 workers after bosses sign 'no-layoffs charter' - More than 50,000 jobs have been guaranteed after more than 100 businesses, including retail and catering firms, signed a charter pledging there would be no layoffs for a year.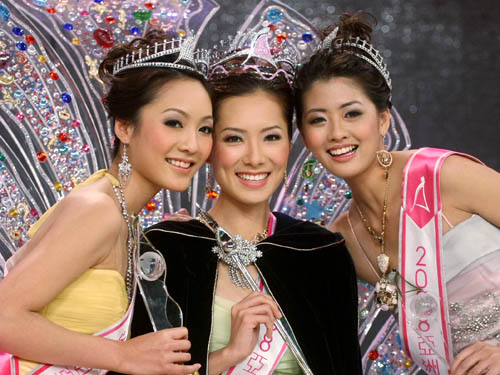 An independent committee will be set up to investigate the outcome of this year's Miss Asia Pageant after it was discovered that the final outcome did not tally with public voting. The controversy broke yesterday after an announcement to news media by Linus Cheung Wing-lam, executive chairman of pageant organizer ATV. The Miss Asia Pageant, which was celebrating its 20th anniversary, was held on December 7. Instead of a panel of judges this year, organizers allowed the public to cast votes by text messages via the internet or by mobile phone. The winner was student Eunis Yao, 23, who secured 137,610 votes; runner-up was student Belinda Yan, 22, on 129,416; and third was Lene Lai, 19, a model from Taiwan on 60,542 votes. Yesterday, however, Mr Cheung revealed that the result of the voting was actually different from the final outcome. "This is an unacceptable issue of trust," said Mr Cheung, who joined ATV only a few days before the beauty pageant took place. "The number of votes [for contestants] shown on TV on December 7 was wrong." He said he apologized to the public, the staff involved in the show and legislative councillor Timothy Fok Tsun-ting, who was invited to monitor the voting on the night. It was understood that Mr Cheung phoned Mr Fok yesterday morning to explain the situation. Mr Fok could not be reached for comment. Mr Cheung said that the discrepancy was discovered when a Miss Asia Pageant evaluation meeting was held last Wednesday, during which Ricky Wong Wai-kay, who resigned from his position as chief executive officer of the TV station yesterday, said he had discovered that there was a possibility that there was a discrepancy between voting and the final outcome. Mr Wong then received all the voting information from staff last Friday and immediately reported the information to Mr Cheung. Mr Cheung said that ATV, conscious of a need to to maintain its corporate image of trustworthiness, had decided it was necessary to reveal the discrepancy and carry out an investigation. Asked if the winners would change, Mr Cheung did not answer directly. He also did not comment on whether bribery or corruption had been involved. Mr Cheung also did not address whether Mr Wong had made comments to one of the contestants. It has been reported that Mr Wong asked one of the contestants if she had had a breast augmentation. Comedy filmmaker Vincent Kuk Tak-chiu, one of the beauty contest hosts, said he was shocked to hear about the voting problems and had no idea about what had gone wrong. "As show hosts we only carried out the organisers' instructions. Even Mr Fok was only reading out the voting results on a piece of paper given by organizers," Mr Kuk said. "I did not see anything unusual happening on the night and we thought the results were acceptable because the quality of the winners was high." He said that he didn't think the incident would hurt the pageant's reputation. "I thought it was a great show and let's hope that this incident will make things better next year," he said, but added that the new voting system might have been a problem. A committee has been set up to investigate the issue. It will comprise former secretary for information technology and broadcasting Kwong Ki-chi, chairman; Andrew Chan Chi-fai, a former committee member of the Consumer Council and a committee member of the Electoral Affairs Commission; and Johnson Cha, director of ATV. The committee will question staff members involved in the organisation of the event and make recommendations to organizers. It is expected to complete its investigation in two months.
Citic Pacific (SEHK: 0267) managing director Henry Fan Hung-ling, who has taken a leave of absence from his public posts, has not been reappointed to chair a civil service advisory body. After Citic Pacific's six-week delay in making an announcement about its massive losses in foreign-exchange dealings, the government approved Mr Fan's request in late October to step away from all public duties. Critics had raised doubts over Mr Fan's credibility amid the public scrutiny. Mr Fan was an executive councillor and chairman of the standing committee on disciplined services salaries and conditions of service, among other appointments. The government announced yesterday that Barry Cheung Chun-yuen, the committee's current acting chairman, had been appointed to chair the advisory body for two years from next month. Lawmaker Ip Kwok-him, who has been reappointed as a member of the committee, agreed with the move to leave out Mr Fan. "I think it is an appropriate decision, as Mr Fan's term would have expired by the end of this year. His company's affairs have attracted a lot of public attention," he said. Asked whether the government should stop Mr Fan's reappointment to other public posts, Mr Ip said each case should be considered individually.
Hong Kong offers flights every hour, so it's still the most convenient for us - Daily direct flights between the mainland and Taiwan are unlikely to have a big impact on the business and travel patterns of Taiwanese living in the Pearl River Delta, even though the mainland says the services will make a one-day round-trip from either side of the strait possible. "The flights are still infrequent; it doesn't change the fact that I can't spend my weekend in Taipei," Shunde plantation company manager Chen Chang-lung said. Given the greater frequency of flights, he would be able to visit his family in Taiwan more often, he said. "Now, I go to Taipei once every three to four months." Direct charter flights between Taiwan and the mainland have been running since July, but only at weekends and on major holidays. The new flights mean expanded services - previously limited to Beijing, Shanghai and Guangzhou - to 13 mainland cities, including Shenzhen, Nanjing and Chengdu. While there will be 41 flights each week between Taiwan and Shanghai, only four weekly services will be available between Guangzhou and Taipei, and six between Shenzhen and Taipei. The first passenger flight departed Shenzhen for Taipei at 7.20am yesterday, with 120 passengers on board, while the first air cargo service left for Taipei from Guangzhou. Direct shipping services have also begun between Taiwan and 63 mainland ports, including Shanghai, Ningbo, Zhuhai and Shenzhen. Hung Chia-sheng, deputy chairman of the Taiwanese Merchants Association in Shenzhen, said Hong Kong would remain an important transit centre for Taiwanese businessmen. "Hong Kong offers flights every hour, so Hong Kong is still the most convenient for us," he said. Mr Hung, who runs a consumer electronics factory in Shenzhen, also said he had no plans to move his factory northwards to cut costs. "We are exporters, our concern is not how many ports are open but more about whether the less developed regions have a supply chain." Chen En , director of Jinan University's Institute of Taiwan Economy, said the biggest benefit of the direct flights and shipments would be lower operating costs. "Most Taiwanese businesses in the Pearl River Delta are exporters who rely on Taiwan for most of their raw materials, so opening more ports for direct shipping will have a significant impact on reducing costs," Professor Chen said. He noted, however, that Taiwanese businesses still faced many trade barriers in the way of full access to mainland markets. There are 21,000 Taiwan-invested enterprises in Guangdong and most are small to medium-sized manufacturers, the institute said. Most are concentrated in Dongguan , Guangzhou and Shenzhen. Nearly 30,000 Taiwanese businesses operate in the Yangtze River Delta.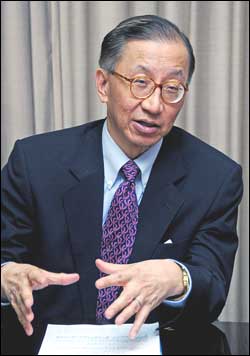 Controversial new stock-exchange rules will prevent listed company directors from trading their firms' shares for half the year and will hurt the Hong Kong market's international competitiveness, influential market participants warn. "Hong Kong will lose its appeal as a destination for companies to go public," Lo Ka-shui, a former chairman of the stock exchange's GEM Listing Committee and chairman of local property developer Great Eagle Holdings (0041), told The Standard yesterday. Starting on January 1, the current one-month "blackout" period that prevents listed company directors from trading in the company's shares just before a results announcement will be extended. The rule will be changed to bar company directors from such share trading between the time the financial period ends and when the results are publicly announced - a gap that is often two or three months, meaning directors cannot trade shares for a total of six to seven months when both the interim and final results are considered. "That would affect the competitiveness of Hong Kong as an international financial center," Lo warned. The rule change has already been approved by the board of the stock exchange and the Securities and Futures Commission, following a market consultation. "The current one-month `blackout' period may fail to ensure that insiders do not abuse the market while in possession of unpublished price-sensitive information," the stock exchange said in a November report following a market consultation on the rule change. The exchange said the proposal to extend the "blackout" period had attracted "considerable debate" but added it had already considered most of the arguments "at length" before it drafted the new rule proposals. "No new significant points were added to the debate as a result of the consultation exercise," the exchange said in the report. Mike Wong, chief executive of The Chamber of Hong Kong Listed Companies, said an extension of the "blackout" period would make it more difficult for directors to exercise stock options they are given as part of their remuneration package. The change will not be good for those companies that use stock options to reward their directors, Wong said. Meanwhile, Lo said a stock- exchange plan to make main board-listed companies issue quarterly management updates could mislead investors. "The move would make management more shortsighted," Lo said. "Releasing unaudited operational information may mislead the market." The stock exchange is considering introducing Britain-style quarterly reporting for main board companies, which would require them to issue quarterly management discussions on the state of the company without providing exact results figures. The stock exchange conducted a market consultation on the proposal last year. In October, the exchange said it "continues to work with the SFC on implementation of the consultation conclusions regarding quarterly financial reporting." Wong said the proposal for quarterly reporting would increase the costs of being a listed company, which he said is not a good idea given the current market environment. "It will also distract management's focus onto preparing the quarterly report, making it harder for them to focus on the business," Wong added.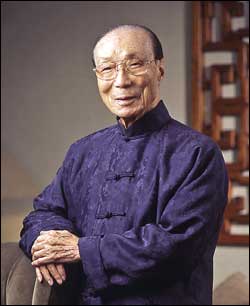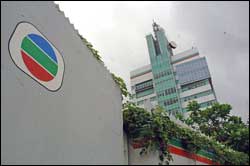 Shaw may offer high premium to take firm private - Centenarian media mogul Run Run Shaw may privatize holding company Shaw Brothers (0080), the firm said yesterday, in a move that could make it easier for it to sell off its stake in Television Broadcasts Ltd (0511). Chairman Shaw may need to spend up to HK$1.5 billion, or HK$15 per share, to buy the 25 percent of Shaw Brothers he does not already own, according to market watchers. They said shareholders may be offered a premium of up to 85 percent to the stock's last closing price of HK$8.13 to get them to accept the deal. Trading in Shaw Brothers was suspended yesterday pending the release of an announcement about a possible privatization by the controlling shareholder. The firm's main asset is its 26 percent stake in TVB, making it the broadcaster's largest shareholder. Shaw Brothers currently has market capitalization of HK$3.24 billion, and its TVB stake is worth HK$2.73 billion. Run Run Shaw will need to offer between HK$10 and HK$15 a share to Shaw Brothers shareholders, a premium of 23 to 85 percent, to show his privatization bid is serious, First Shanghai Securities Linus Yip Sheung-chi said. An offer below HK$10 a share would show that Shaw just wants to stabilize the stock price by signaling to the market he thinks it is undervalued, Yip said. The stock hit a peak of HK$23.50 in June, when Shaw was trying to sell his stake to Guangdong property magnate Yeung Kwok-keung. The shares have since lost 65.4 percent of their value. "Shaw Brothers is not a stock that is actively traded usually," Ample Finance Group director Alex Wong Kwok-ying said. "In this kind of market situation, I think they need to pay a very high premium to attract those long-term investors to give up their shares." For small shareholders to accept the deal, Run Run Shaw will need to offer at least HK$10.98 per share - or twice the firm's unaudited net asset value of HK$5.49 per share as at September 30, said Redford Securities head of research Kenny Tang Sing-hing.
The government is being urged to set up a dedicated statutory body to oversee all charitable fund-raising activities after the ICAC found inconsistencies in the way government departments monitor donations. Hongkongers donate a huge amount every year, with about HK$6 billion being donated in the 2006 financial year. Philip Chen Nan-lok, chairman of the Corruption Prevention Advisory Committee, which monitors the ICAC, said yesterday at a press conference that a report on charitable fund-raising activities had been submitted to the relevant government bureaus. "Hong Kong people are very generous and they donated more than HK$6 billion in 2006," Mr Chen said. "That's not a small matter." He said because Hongkongers donated so much every year, the ICAC's corruption prevention department decided to examine how donations were made and whether there were any irregularities in how the donations were handled by the various departments. "The ICAC took the initiative to look at organizations involved in fund-raising] and see if there are any loopholes," he said. Mr Chen said the rules governing donations in the city were inconsistent. The study found that numerous government departments were in charge of monitoring fund-raising activities. These included the Social Welfare and Inland Revenue Departments, the Television and Entertainment Licensing Authority and the police. The research found that there were different rules for different types of fund-raising activity. And for some activities, such as holding a ball for charity, there were no rules at all. There were also no proper measures for the handling of funds made at these events to prevent them from being stolen. The study recommended that the government introduce a statutory body to oversee all charitable fund-raising activities. Organizations looking to sell flags must be an NGO exempt from tax under the Inland Revenue Ordinance. They are required to apply to the Social Welfare Department to raise funds through flag-selling. But if the same organization wants to hold a lottery, it has to apply to Tela. In the last financial year, HK$107 million was raised from flag days. The Labor and Welfare Bureau said yesterday it would study the ICAC's recommendations for regulations governing fund-raising, as well as measures to strengthen existing mechanisms used by departments. The Financial Services and Treasury Bureau also said it had noted the ICAC's recommendations. The Law Reform Commission is reviewing the law and regulatory framework relating to charities in Hong Kong. The commission recently pointed out that there was no single piece of legislation governing charities in the city, nor was there any system of oversight or regulation to ensure that donations were properly applied to the purposes for which they were solicited.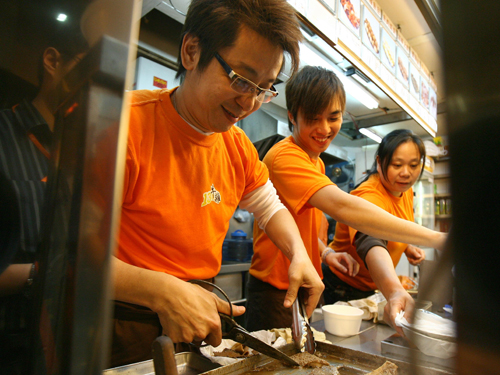 With the economic downturn starting to bite, pavement food vendors are cashing in as Hongkongers rediscover the simple joys of street eats - There's no decor to speak of, service can be brusque and they'll never get a Michelin star. But stalls serving cheap and tasty street food continue to pull in the customers even as smart restaurants are shivering amid the economic chill. Such humble operations may well prove immune to the slowdown. The Tai On Building in Sai Wan Ho is a case in point. Its ground floor shops - a maze of stalls offering everything from curry fish balls to stuffed tofu and noodles - are a long-time haunt for foodies in the neighborhood. The bustle in the evening contrasts with the hush of the harbor front restaurants at nearby Lei King Wan. Yu Hau-yin and her husband run a popular stall selling "cart noodles", so-called because they were originally sold by hawkers from mobile stands. The stall may be small, but customers choose from more than 30 toppings, including braised beef brisket, chicken wings, red sausage and spring rolls. "Lunchtime customers are mainly residents and office workers in the neighborhood and many love our chicken wing tips," says Yu. The evening crowd is mainly night-shift workers who see HK$23 for a bowl of noodles with four toppings as good value for money.

China: Taiwan and the China launched direct transport and postal links yesterday, marking another dramatic step in the improvement of cross-strait ties. Wang Yi, director of the mainland State Council's Taiwan Affairs Office, attended a ceremony in Tianjin yesterday marking the direct sailing of two 10,000-tonne container ships to Taiwan. "The direct links will bring about a new era of comprehensive exchanges, co-operation and developments for cross-strait relations," he said. Fifteen container ships from the two sides set sail for each other's ports yesterday, while 16 cross-strait flights were scheduled, the first since 1949. A Shenzhen Airlines flight carrying 112 passengers from Shenzhen was the first to arrive, landing at Taipei's Songshan Airport at 8.40am. Taiwanese President Ma Ying-jeou hailed the policy he pushed through following his inauguration in May, saying it would lead to further improvement of cross-strait exchanges. "Direct shipping and flights across the Taiwan Strait represents cross-strait rapprochement. From now on, dialogue will replace confrontation," Mr Ma said at a ceremony at Kaohsiung in southern Taiwan. He said direct transport links would save airline operators at least NT$3 billion (HK$700 million) a year, while shipping companies should be able to save at least 16 to 27 hours per voyage. Shippers have estimated that they could save at least NT$1.2 billion a year now they are no longer required to take a big detour through Ishigaki in Japan en route to the mainland. Taiwanese Premier Liu Chao-shiuan attended another ceremony in the northern port of Keelung for the sailing of four freighters bound for the mainland. In Taipei, Taiwan's Chunghwa Post held a ceremony marking the opening of direct postal exchanges. Company chairman Wu Min-yu said it would be possible for mail from Beijing to reach Taipei the same day it was posted. In Beijing, mainland and Kuomintang officials gathered at the main postal sorting office at Beijing airport (SEHK: 0694), symbolically putting greetings cards to Taiwan into a transparent post office box. Eighty-one-year-old Zheng Jian, who was born in Taiwan but grew up on the mainland, was invited to send mail to his relatives in Taipei.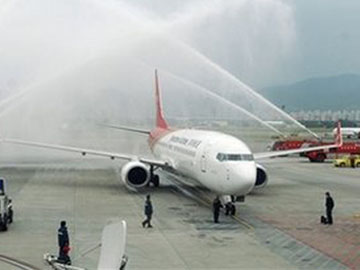 The day's first direct flight from Shenzhen, mainland China arrives at Taipei's Sungshan Airport on Monday. China and Taiwan have started a new era of direct air and shipping services Monday with planes and ships travel directly across the Taiwan Strait, formally ending a nearly six-decade ban on regular links.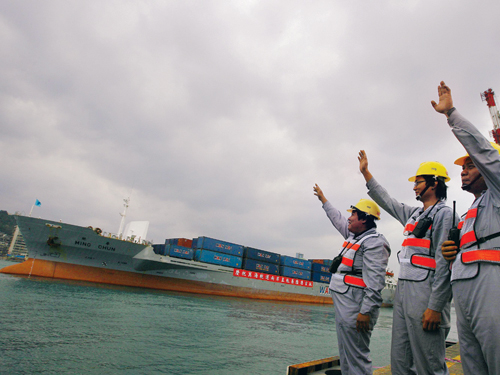 The two sides also signed three other agreements last month to that will allow direct shipping, direct postal exchanges and food-safety co-operation. Six freighters from the island's three major harbours - Keelung in the north, Taichung in central Taiwan and Kaohsiung in the south - set off on direct shipping services at about 10am. Mainland freighters also arrived in Taiwan yesterday. Taiwanese shippers have long wanted the government to lift the ban on direct shipping. "This is good for us, and also for the development of Taiwan's economy. The government should have allowed direct shipping a long time ago," said a crew member of one of the Taiwanese vessels that was leaving Keelung. While the majority of the public welcomed the start of the direct transport and postal links, lawmakers of the pro-independence Democratic Progressive Party lashed out at the Kuomintang government for failing to get approval from the legislature to validate the four agreements. "This is a total disrespect to the legislature, and a sell-out of Taiwan," DPP legislator Lai Ching-te said.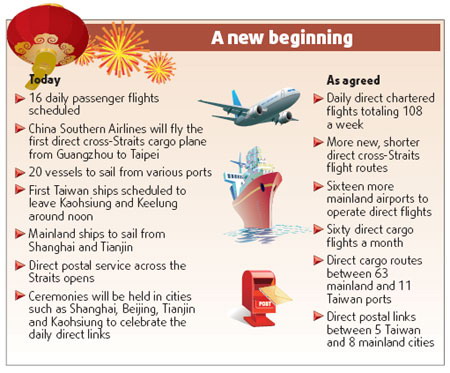 The first ships, from Evergreen and Yang Ming Marine in Taiwan, are scheduled to depart from Kaohsiung and Keelung harbors for the mainland around noon. Two ships of mainland companies China Shipping and China Ocean Shipping (COSCO) will set sail from Shanghai and Tianjin. A total of 20 ships will set sail on the first day. Wang Yi, minister of Taiwan Affairs Office of the State Council, Chen Yunlin, president of the mainland's Association for Relations Across the Taiwan Straits (ARATS), and Lien will attend the Tianjin ceremony to see off the COSCO ship. The ship will reach Taiwan in four days, Liao Xiaoyu, director of Taiwan affairs office of Tianjin, said yesterday. Earlier, a ship taking an indirect route needed seven to eight days to reach the island. Sixteen passenger flights will take off from the mainland and Taiwan on the first day of direct links, expanding the weekend charter services that began in July. China Southern Airlines will be the first mainland carrier to carry cargo across the Straits, from Guangzhou to Taipei. Up to 60 cargo planes will fly across the Straits every month, according to agreements signed on Nov 4.
The central government yesterday blacklisted 17 food additives and named 10 kinds of food that could contain excessive additives. The lists, issued by the Ministry of Health, the Public Security Bureau and seven other ministries under the direction of the central government, were part of a four-month nationwide food-safety campaign to restore consumer confidence. A government notice said food manufacturers and restaurants would be punished for adding illegal chemicals or having excessive amounts of food additives in their products, but companies would have until January 10 to check their products and destroy those that did not meet standards. Food suppliers will also have to ensure that the permitted food additives used are within legal limits and produced by licensed companies. The 17 prohibited items include headline-making additives such as Sudan red, a carcinogenic dye used for coloring egg yolks, and melamine, an industrial chemical used to boost protein readings in milk. Other banned additives include carbon monoxide, industrial methanol for coloring or improving the texture of food, and opium, added to hotpots to get customers addicted. The 10 types of food that the government said could contain too many additives included traditional snacks such as pickled vegetables, mooncakes and pastries. Preservatives and colorings have sometimes been added to these foods to improve their flavor, color and shelf life. The mainland, one of the world's major food producers and exporters, has become notorious for fatal food scandals in recent years. In September, melamine was detected in infant milk powder produced by mainland company Sanlu, and later in other brands. The Health Ministry said at least six babies died of melamine-induced kidney problems after drinking milk formula, while 294,000 others throughout the country were affected. In May last year, the United States' Food and Drug Administration investigated mainland-made, melamine-tainted pet food believed to have killed at least 38 animals. In 2006, duck eggs from Hebei were found to be contaminated with Sudan red dye, while Sudan 1, another type of dye that has been linked to an increased risk of cancer, was found in a spicy bean product made in Hunan.
China's first mass-market hybrid electric car - which you will be able to plug in at home - was unveiled in Shenzhen yesterday. Battery maker-turned-auto-firm BYD showcased the 149,800 yuan (HK$169,470) F3DM - dual mode car - saying it can run up to 100 kilometers on its electric engine, before a back up petrol engine kicks in. The battery can fully charge in nine hours from a regular electrical outlet, or much faster at BYD's own charging stations. US investor Warren Buffett's Berkshire Hathaway has a 9.9 percent stake in the firm, which started off making rechargeable batteries.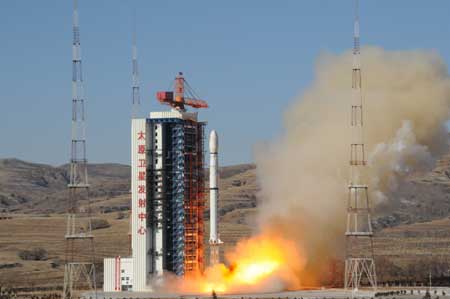 Remote-sensing satellite "Yaogan V" is launched with a Long March-4B carrier rocket from the Taiyuan Satellite Launch Center in north China's Shanxi Province, Dec. 15, 2008. The satellite will be used for data collection and transmission involving land resources surveys, environmental surveillance and protection, urban planning, crop yield estimates, disaster prevention and reduction, and space science experiments.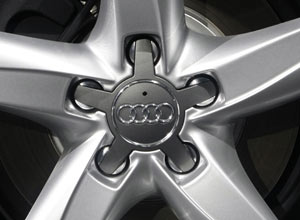 Spokesmen of Volkswagen's two joint-venture auto plants in China on Sunday denied the recent reports that they were suspending production. There were reports that two auto plants, FAW-Volkswagen Automobile Co., based in northeastern Jilin Province, and Shanghai Volkswagen Automobile Co., were planning to partly suspend production lines to conduct maintenance work.
December 16 2008

Hong Kong: The financial meltdown appears to have stimulated people's desire for entertainment, as has often been the case in previous recessions. Box-office receipts at the city's cinemas surged last month despite a smaller-than-usual number of new releases. The Hong Kong, Kowloon and New Territories Motion Pictures Industry Association said receipts in November totalled HK$66,109,249 with 19 new releases, a significant increase from last November's HK$57,239,096 with 26 new films. The top money-earners were Daniel Craig's second outing as James Bond in Quantum of Solace, which took HK$18.4 million, Taiwan's box-office champion Cape No 7 with HK$4.6 million, and local action drama Beast Stalker, starring Nicholas Tse Ting-fung, with HK$2.9 million. Association chief executive Brian Chung Wai-hung said an economic downturn usually had less effect on films than on other forms of entertainment because they were cheaper. "Spending 90 minutes in the cinema gives you a chance to escape from reality. Whether you are watching comedies or action or dramas, you get a chance to release your pent-up emotions," Mr Chung said. Echo Wan Wen, an assistant professor teaching consumer behaviour at the University of Hong Kong's School of Business, agreed that a slowdown was unlikely to stop people from going to the movies because tickets were relatively cheap. She said the cinema could help people deal with stress. "Going to movies to be engaged in stories happening to others is one way to obtain some psychological resources to help us deal with stress," Professor Wan said. "People can watch others' lives and forget about their own unfortunate situation. It helps them psychologically." Mr Chung said the quality of recent movies was one reason they had done well. While Quantum of Solace was a well-publicised Hollywood blockbuster, Cape No 7, a sleeper hit in Taiwan, and Beast Stalker, which was said to be one of the most outstanding Hong Kong films of the year, succeeded because of strong word-of-mouth support. "Online piracy is still a very serious problem. Therefore, only quality films can draw audiences back to the theatre," Mr Chung said. Veii Chan, marketing manager at film publicity agent Kingmart Advertising, said people would still go to the cinema if a film was good enough. She was optimistic about the Christmas box office. "Fewer people will travel because of the financial meltdown and it's very likely that they will go to the movies if they stay in town," she said.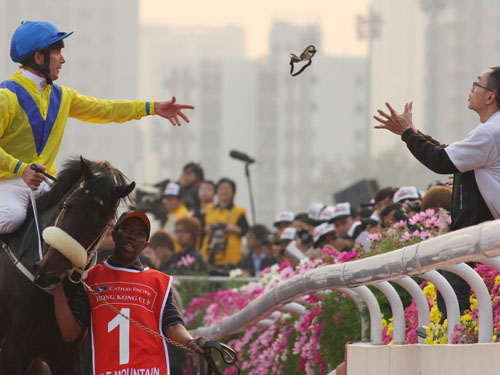 Eagle Mountain's jockey Kevin Shea tosses his goggles into the crowd after winning the Cathay Pacific Hong Kong Cup at Sha Tin. The Cathay Pacific (SEHK: 0293) Hong Kong International Races set a new benchmark for quality yesterday, with the highest betting turnover for six years, repeat wins from two of last year's champions and the anointing of a new middle-distance champion in Cup hero Eagle Mountain. Punters bet more than HK$1 billion on the end-of-year extravaganza, up HK$7.6 million on last year but a significant figure given the economic downturn and current turnover trend - down 3.4 per cent for the season so far. "This has been an absolutely smashing day," said Jockey Club chief executive Winfried Engelbrecht-Bresges. "This was the best atmosphere ever at the Cathay Pacific International Races. This meeting goes from strength to strength and I believe that our visitors from all around the world will be marking the second Sunday in December in their diaries as something not to be missed." He said caps that were given away at the gates were a huge success, and estimated that 80 per cent of the 52,243 crowd wore them. "This day has proved our claim that these are the turf world championships," Mr Engelbrecht-Bresges said. "We had tight, world-class racing, we've had fairy-tale stories coming true, we've had Good Ba Ba establish himself as the best miler in the world and Eagle Mountain confirm that he is the emerging force at the 2,000 metres distance." The HK$20 million Hong Kong Cup was described as " the roughest race I've ever ridden in" by Douglas Whyte, with three jockeys - Christophe Soumillon, Garrett Gomez and Ioritz Mendizabal - later suspended for careless riding by stipendiary stewards.

Public spending will exceed 20 per cent of gross domestic product this financial year and is likely to do so again in the next one, breaching a pledge made by Financial Secretary John Tsang Chun-wah in his budget and violating a principle cherished by finance chiefs for decades and enshrined in the Basic Law. As a guiding rule for financial prudence, the government has held that growth in public spending should not exceed the growth trend in the economy in any year. As spending was about 20 per cent of GDP when the policy was set, this means in practice that it should be held at this level or below. The higher spending will contribute to a surging deficit that some estimate will hit a record HK$88 billion this year - more than 10 times the administration's original forecast. Mr Tsang had kept spending within the target in the 2008-09 budget he announced in February. But, since then, growth has steadily declined while public spending is going up. Public spending was set at HK$332.1 billion, amounting to 19.2 per cent of GDP, forecast by the government to grow 5.5 per cent to HK$1.7 trillion this year. But that was then. A package of handouts and public spending initiatives that is expected to top HK$9 billion in total has since been announced. They include: Handouts of HK$8.5 billion Chief Executive Donald Tsang Yam-kuen announced on July 16; Old-age allowance starting next year, upon approval by the Legislative Council, that is estimated to cost HK$511 million; and Speeded-up recruitment of civil servants and economy-boosting infrastructure projects, the cost of which has yet to be announced. The handouts and old-age allowances alone push public spending up from 19.2 per cent to 20 per cent of GDP. With the likelihood of zero growth or a contraction in 2009-10, and more ambitious spending plans on the drawing board to boost the economy, the target is set to be breached again next financial year. It stands in contrast to the government's approach during the previous recession when Antony Leung Kam-chung, financial secretary at the time, slashed government spending. Donald Tsang told businesspeople at an economic forum last week that he was trying to preserve Hongkongers' way of life and living standards, which would not be achieved by spending cuts. Keeping spending growth in line with the growth trend is a principle in Article 107 of the Basic Law, which also requires the government to keep a balanced budget. But Chinese University associate professor of economics Terence Chong Tai-leung said he would not be too worried if public spending exceeded 20 per cent of GDP for a year or two. "It may not cause a lot of problems ... in fact, this level of public spending is quite low. I would not start to worry until the public expenditure consistently exceeds 25 per cent or more of GDP," he said. Tan Kim Eng, director of sovereign and public finance rating at Standard & Poor's, said the weakness of Hong Kong's public finance was its heavy reliance on volatile sources of revenue. He expected the government would incur deficits in the next year or two, which would raise the possibility of a cut in its sovereign debt rating, making it more expensive to borrow money.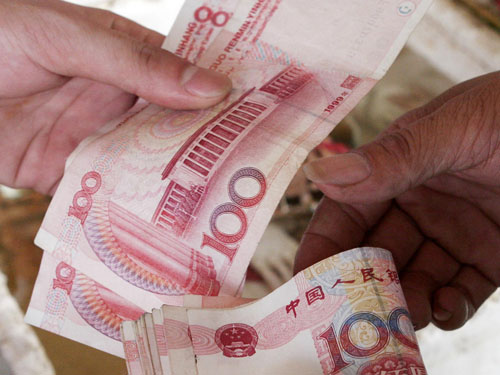 The central government will support Hong Kong's development of yuan business, as it seeks to expand the adoption of the yuan as a settlement currency in trades. As part of a 30-point directive issued at the weekend by the State Council, Beijing said it "supports yuan business development in Hong Kong" and would expand the currency's scale of settlement in trades with neighbouring nations. "This will lower the foreign currency risk in external economic activities," the State Council said. It also said Hong Kong companies and financial institutions with "relatively abundant" business on the mainland would be permitted to issue yuan bonds in Hong Kong. Beijing will study allowing overseas institutions and enterprises to issue yuan bonds on the mainland. Chief Executive Donald Tsang Yam-kuen is due to report this week to leaders in Beijing on Hong Kong affairs and is expected to discuss the expansion of yuan business. Central bank officials last month said Beijing was considering letting Hong Kong banks incorporated on the mainland issue yuan bonds in Hong Kong, conduct currency swaps and use yuan to settle Hong Kong-mainland trades. They said Beijing was exploring the possibility of using Hong Kong as a centre for trade settlement between Taiwan and the mainland. Hong Kong Monetary Authority chief executive Joseph Yam Chi-kwong has called for fewer restrictions on yuan bond issues in the city, saying it would promote wider use of the currency in global markets. Yuan bond sales in Hong Kong have so far been limited to financial institutions. Separately, the State Council said listed banks would be allowed to trade bonds on mainland stock exchanges on a trial basis, as part of policies to develop a "multi-tiered" financial market. It will also encourage insurance firms to "enhance their role as investors" by buying government and corporate bonds, bonds of transport, telecommunications and energy projects, and equity in state energy and resource companies.

HSBC Holdings has no plans to move its group headquarters back to Hong Kong from London "at the moment" although it has put China at the top of its expansion plans, according to executive director and Asia-Pacific chairman Vincent Cheng Hoi-chuen. "At the moment, we have no plans to change the location of our headquarters although we have big expansion plans in China," Mr Cheng told the South China Morning Post (SEHK: 0583). "I should note also that our Asian headquarters has always been in Hong Kong, which is part of China." The Post reported last month that Beijing had said it "would welcome" any consideration by HSBC Holdings - the parent of Hong Kong's biggest lender - of bringing back its headquarters to Hong Kong and was working on incentives to lure the global banking giant back. The comments came from banking sources as well as a central banker in charge of Hong Kong affairs. Although Beijing has not finalised its plans, it is believed that one possible item on the agenda could be an easing of the current restrictions on HSBC's investments on the mainland as well as on its holdings in state-owned banking and insurance institutions. In an interview, Mr Cheng also said that HSBC would consider acquisitions in emerging markets when such opportunities arose. The Hongkong & Shanghai Banking Corporation was founded in 1865 in Hong Kong and Shanghai. It moved its headquarters from Hong Kong to Britain in 1993 after it bought Midland Bank. The relocation was related to Hong Kong's return to Chinese sovereignty in 1997. Mr Cheng would not confirm or deny if mainland officials had approached the bank about the possibility of making a move back to its roots.
Deloitte Touche Tohmatsu plans to hire as many as 2,400 new staff for its mainland and Hong Kong operations next year, a senior executive at the accounting firm said. Kester Yuen Shek-hung, the regional managing partner for southern China at Deloitte, said the big hiring campaign reflected the firm's belief that the country's economy would rebound to strong growth despite the recent poor market environment around the world. About 400 of the vacancies will be in the Hong Kong division, while the rest will be based at the firm's mainland unit. "Short-term uncertainty will not affect our long-term strategy on both the Hong Kong and China market. Also, we haven't cut any staff over the past few months, even though the whole economy has turned worse," Mr Yuen said. The new recruitment will represent increases of 18 per cent and 25 per cent, respectively, in the headcount of the Hong Kong and mainland divisions. Deloitte employs 2,200 and 8,000 staff, respectively, in the two divisions. "The downturn in the global capital market is inevitably affecting every party serving the financial sector. But China's high-growth economy is still offering us tremendous opportunities for future expansion," Mr Yuen said. The central government unveiled a 4 trillion yuan (HK$4.5 trillion) stimulus policy last month to support growth in the fourth-largest economy as the world heads towards a recession. An initial tranche of 100 billion yuan was earmarked for this year and will go towards low-rent housing and infrastructure in rural areas, as well as roads, railways and airports. "The move has delivered a strong signal to every corner in the world that the Chinese government is keen on stabilising the world economy," said Mr Yuen, who added that Deloitte would seek opportunities by offering integrated accounting and advisory services for international firms preparing to pitch for projects in the mainland's infrastructure sector. The firm's auditing division had been the biggest victim of the recent economic slowdown, because of the slump in new share issues, Mr Yuen said, but other divisions, such as human capital, advisory and consultancy, had shown strong revenues during the year, allowing the firm to maintain a healthy balance sheet. Deloitte expected to report revenue growth of about 10 per cent for this year, but that would be far below growth levels achieved in recent years. "Hong Kong's capital market is likely to face another tough year in 2009, as investors are lacking the confidence to put money in the stock market, because of lower earnings and the poor economic environment," Mr Yuen said. "The year now drawing to a close has been disastrous for all professional parties engaged in assisting new listing candidates to come to the market, since such IPOs had fallen dramatically from last year because of the deteriorating market condition." Data compiled by Thomson Reuters shows that, in the first 10 months of the year, 284 initial public offerings in Asia, excluding Japan, raised a combined US$28.2 billion, compared with 439 offerings in the same period last year that raised US$63.3 billion.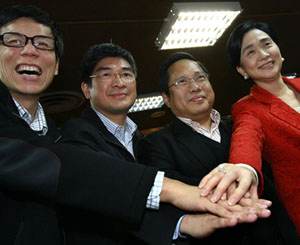 Veteran democracy activist Emily Lau Wai-hing has been confirmed as the Democratic Party's first vice-chairwoman in its near-15-year history, also sealing the merger with The Frontier.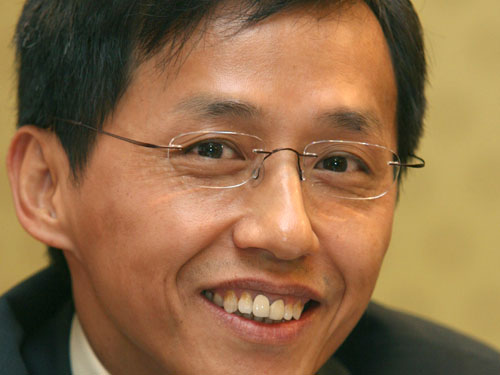 City Telecom HK (CTI), Hong Kong's second-largest provider of fixed-line telephone and broadband services, said the appointment of its chairman, Ricky Wong Wai-kay, as chief executive of Asia Television will not disrupt its ambitious growth plans. "Mr Wong began transferring some of his responsibilities as the company chairman to me several months before his ATV appointment was announced," CTI chief executive William Yeung said last week. Mr Yeung, who was promoted to chief executive earlier this year, added: "I should say he gave 80 per cent of his responsibilities to me when I assumed the post." Mr Yeung said CTI was now on the way to achieving its goal of becoming Hong Kong's largest broadband service provider by 2016. Mr Wong, CTI's founder and chairman, surprised the market earlier this month by accepting the ATV appointment, although he remains executive chairman and a board member of CTI. Mr Yeung, however, said CTI had no plans to co-operate with ATV and Mr Wong's appointment at the free-to-air broadcaster would not change CTI's business direction. Instead, the company would continue to focus on expanding its market share in the local residential broadband market. The company has around 316,000 broadband subscribers and has surpassed I-Cable Communications (SEHK: 1097) to be the city's second-largest broadband service provider. It has set a target of becoming the biggest broadband player by 2016. CTI offers its broadband service through Hong Kong Broadband Network, which provides high-speed home broadband service with transmission speeds of 100 megabits per second. "We are confident we can achieve our target and we are going to add 5 million households to our network coverage in the next two years, which will be our growth engine," said Mr Yeung. In the year ended August, CTI added 69,000 new broadband subscribers, which accounted for a chunk of net market additions. Mr Yeung said over 80 per cent of new additions were from rivals. "With our increasing subscriber base and word-of-mouth promotion among users, more customers have joined our service with fewer leaving us," Mr Yeung said. City Telecom plans to invest HK$650 million in the next two years to expand its network coverage to 2 million households by 2010. In addition to the residential market, the company will also connect to 1,800 commercial buildings in next two to three years. Mr Yeung said the company would still put high-speed broadband service as its core service, while other value-added services such as residential fixed-line and pay-television services would be the supplements for bundled packages to compete with rivals. The company charged users HK$191 per month in average for the broadband service at the end of August, up from HK$175 a year earlier. Mr Yeung said the company would offer a HK$199 monthly tariff for broadband, fixed-line and television service to compete with rival offerings of around HK$137 per month for broadband rental, down from around HK$200.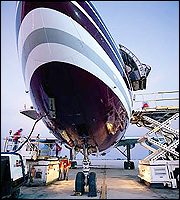 November cargo traffic throughput at Hong Kong International Airport was heavily hit by the threatening global recession, slumping 18.7 percent compared with a year earlier - the largest drop since Chek Lap Kok commenced operations in April 1998.
The Hong Kong Monetary Authority injected US$3.875 billion (HK$30.23 billion) of liquidity into the money markets during New York trading hours on Friday night, selling Hong Kong dollars to keep the currency within its trading band.

China: The central government has unveiled a 30-point plan to encourage lending and stimulate domestic consumption to counter the rapidly worsening economic conditions at home and abroad. Key measures include increasing money supply by 17 per cent next year and boosting total lending by financial institutions this year by 4 trillion yuan (HK$4.5 trillion). The measures were outlined in a directive by the State Council, the nation's cabinet. The directive also says Hong Kong's yuan business will be developed further, but gives no details. The new target for M2 - the broadest measure of money supply, which includes cash and all deposits - is a substantial increase on the 15 per cent year-on-year growth recorded in October, the slowest pace seen in more than three years. The directive follows a pledge by the top leadership last week to take action to stimulate demand as the economy slows, and comes on the heels of a 4 trillion yuan stimulus package announced last month as well as repeated interest rate cuts. The directive was dated December 8 but posted on the State Council's website late Saturday night, hours after the mainland's top banking regulator warned that the global financial crisis was hitting the nation faster and harder than anticipated. The measures were designed to "counteract the blow of the international financial crisis, expand domestic demand, and bolster financial support to ensure stable and relative fast economic development," the State Council said. Other measures reduce the supply of central bank bonds. The move is aimed at encouraging commercial banks to increase lending, as banks normally put funds not used for loans into government bonds or keep them at the central bank as reserves. The directive also raises this year's target for policy-directed loans by 100 billion yuan and total lending by 4 trillion yuan. By the end of October, the financial sector's total loans amounted to 29.83 trillion yuan, up 13.98 per cent since the end of last year. Banks will be given more flexibility in charging lower interest rates on loans and flexibility of the yuan's exchange rate will be enhanced, within "reasonable, balanced and stable" levels, the directive says. The directive also orders banks to provide loans to credit-worthy companies that suffer from temporary cash-flow problems. Loan guarantees and interest subsidies will also be given to small firms. To shore up growth in domestic consumption, the central government will launch initiatives to support first-time homebuyers and low-cost housing projects, and encourage development of the car loan business in a bid to reverse sagging car sales. Citigroup chief Asia economist Huang Yiping said the latest measures were consistent with the stimulus policies announced earlier, with a clear intention of sustaining economic growth at 8 per cent, the minimum required to generate enough jobs for the 20 million people joining the workforce every year. But the mainland was still unlikely to avoid deflation and job losses, he said. "All these measures are likely to ensure that Chinese growth will experience a soft landing. But prices are likely to fall, corporate profits will probably collapse and the unemployment rate may rise. So it's still a challenging picture."
Daily direct flights between the mainland and Taiwan are due to begin this morning, a historic step forward in the improvement of cross-strait relations. Nine mainland airlines and five Taiwanese operators will run a total of 101 flights during the first week of the new arrangements, seen as a major potential boost to tourism and business relations on both sides of the Taiwan Strait. The first direct shipping links since 1949 are also scheduled to start this morning, when six ships set out from three Taiwanese ports and another from the northern mainland city of Tianjin . Direct postal services also begin today, completing the "three mini-links". This comes ahead of the fourth cross-strait economic, trade and cultural forum in Shanghai next weekend. Kuomintang chairman Wu Poh-hsiung will lead the Taipei delegation to the two-day meeting, which starts on Saturday. The party's honorary chairman, Lien Chan, a former vice-president of Taiwan, will join the delegation. The improvement of cross-strait relations has been made at an unprecedented rate since the KMT's Ma Ying-jeou came to power in May. Direct flights between Taiwan and the mainland have been running since July but only at weekends and on major national holidays. The new services also expand the flights - previously limited to Beijing, Shanghai and Guangzhou - to 13 mainland cities. The largest number of flights will be to Shanghai, accounting for 41 in the first week. George Tsai, political science professor at Chinese Culture University in Taipei, said he expected the direct links to "kick-start" the process of a full normalisation of relations between the mainland and Taiwan. Lo Chih-cheng , associate professor of political science at Soochow University in Taipei, said the new links would mean tension between the two governments would ease. "That will mark the beginning of more frequent civil exchanges and business as the cost of transportation between the two sides will be lowered and travelling time cut," Dr Lo said. "Once closer links are in place, they can hardly be stopped or retracted, no matter who becomes the next president. Once that happens, Taiwan will not be able to get out of framework of `one China'." Improving relations between the two governments is also likely to have an economic impact on Hong Kong's tourism. Timothy Wong Ka-ying, associate director of the Hong Kong Institute of Asia-Pacific Studies at Chinese University, said the local aviation industry would lose an estimated HK$1 billion a year as a result of the direct flights. But he said that in the long term the entire economy would benefit as the demand for services such as finance, accounting and international law increased. Hong Kong Association of Travel Agents chairman Michael Wu Siu-ieng expressed concern that the number of Taiwanese tourists to the city would drop by 5 to 8 per cent, and transiting passengers from the island might decrease by a third.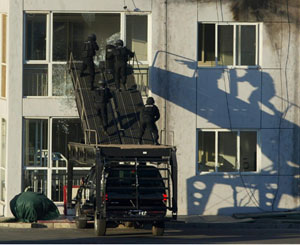 Police carry out anti-terrorism drill at hotel - Armed police have conducted an anti-terror drill at a hotel in the capital to boost their response capabilities against Mumbai-style militant attacks, state media said yesterday.
Slump in car sales forces Volkswagen to suspend production lines - Two mainland auto plants run by German automaker Volkswagen through joint ventures are planning to partly suspend production lines to conduct maintenance work.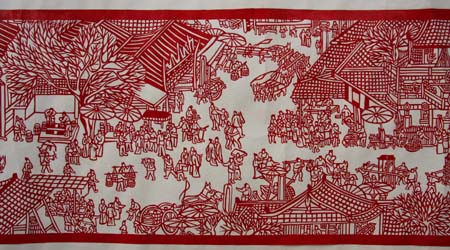 Photo taken on Dec. 13, 2008 shows a part of the paper-cut work of "Riverside scenes at the Qingming Festival", created by Li Tongzhu, a 64-year-old retired man, in Zaozhuang City, east China's Shandong Province. Li has spent 7 months to finish the 3.10-meter-long paper-cut work. "Riverside Scenes at the Qingming Festival" is an antique painting by Zhang Zeduan during the Song Dynasty (960-1279), which vividly depicts the bustling everday life in the Northern Song capital Bianliang (present-day Kaifeng) in extensive details.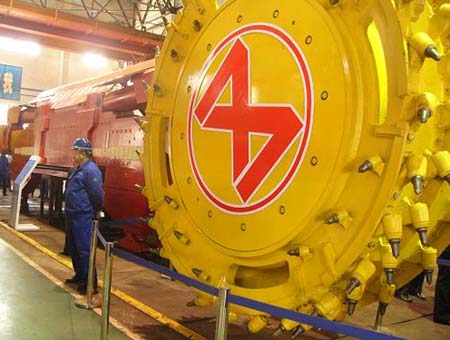 The first China-made 2,210 kilowatt coal mining machine passed check and appraisal on Saturday in the northwestern Shaanxi Province, reducing the reliance on exports. Trial operation showed the remote control machine, produced by Xi'an Coal Mining Machine Co. Ltd, can mine eight million tons of coal annually, according to the Shaanxi Provincial Science and Technology Department. The price for each was 16 million yuan (2.3 million U.S. dollars), more than 40 percent lower than exported ones. China's coal production doubled in the recent decade and reached 2.5 billion tons last year. But it can only produce coal mining machine with power capacity below 1,800 kw. Machines above 2,000-kw were exported from the U.S. and Germany.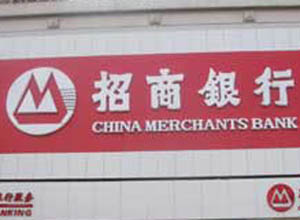 The China Merchants Bank (CMB) plans to lend no less than 5 billion yuan (730 million U.S. dollars) in 2009 to help domestic smaller enterprises develop, compared with a total of less than 10 billion yuan for the purpose in the past two decades, the bank said on Saturday.
December 15 2008

Hong Kong: Bank of China (Hong Kong) said yesterday it would get a US$2.5 billion loan from its parent to shore up capital and issued a warning that further write-downs would cause a "substantial drop" in earnings for the year. Analysts believe it is the first time a mainland-controlled bank in Hong Kong has sought financial assistance from its parent and say it could foreshadow further problems among the city's lenders. BOCHK (SEHK: 2388) is also the first mainland-controlled bank to issue a profit warning this year. "It's an unusual move for a local bank subsidiary to ask for help from the mainland parent bank," Castor Pang, a strategist with Sun Hung Kai Financial, said. "The market already expected BOCHK to perform badly this year. Investors might have to realise the bank is losing even more money than previously expected from buying toxic US securities." Louis Tse Ming-kwong, director of VC Brokerage, said it was the first time a mainland-controlled bank had sought financial help from its parent to strengthen capital. "This is rarely seen in the Hong Kong stock market," he said. "This may well show the banking industry in the city is facing a difficult time amid the global financial crisis." Hong Kong-listed BOCHK, the city's second-largest mortgage lender, will get the US$2.5 billion subordinated loan facility from its parent, Bank of China, one of the mainland's big four state-owned lenders. Bank of China owns 65.73 per cent of BOCHK. The loan would provide BOCHK "with greater operating flexibility to meet its business development and to weather the economic uncertainties arising from the global financial turmoil", the bank said in a statement filed with the Hong Kong stock exchange last night. At the same time it announced the huge loan, BOCHK warned that profit for the full year "is expected to decrease considerably" due to possible further write-downs in its US securities investment portfolio. In the third quarter, the bank said it had HK$3.2 billion in bad investments in the United States credit market after taking a HK$2.15 billion provision in the first half. "The group will also consider making provisions for its investments in the Bank of East Asia (SEHK: 0023)," the bank said. BOCHK bought a 4.94 per cent stake in BEA in November last year for HK$3.95 billion, or HK$51 a share. BEA issued a dire profit warning in October, saying it expected to take a hit of US$451 million from the disposal of its entire portfolio of collateralised debt obligations. Despite taking a loan from its parent, BOCHK emphasised that "the group's overall financial position remains sound". It said its capital adequacy ratio and liquidity position at the end of September remained "well above all regulatory requirements", even though the levels had decreased since June. "Taking into account the increasing uncertainties in the current economic environment ... the board believes that it is in the best interests of the shareholders to adopt a more prudent approach by further strengthening BOCHK's capital base," the bank said. BOCHK's share price closed down 5.16 per cent yesterday at HK$2.39. Its profit warning follows similar moves by other local lenders. BEA, Fubon Bank (Hong Kong) (SEHK: 0636), Dah Sing (SEHK: 0440) Bank and Chong Hing Bank (SEHK: 1111) have issued profit warnings this year as revenue from lending and wealth management business shrinks.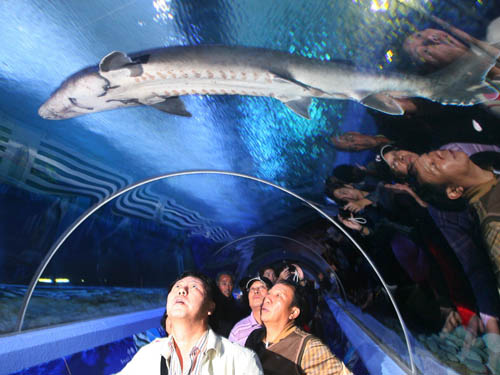 Visitors yesterday look at one of the remaining sturgeon at the aquarium, which will be shut for a check and clean. Ocean Park has lost its second sturgeon, this time from an infection that staff are still trying to identify. Two of the remaining eight sturgeon had shown similar symptoms and were moved out of their aquarium. They were now out of danger, a park spokeswoman said. The fish died on Wednesday after symptoms of an infection that did not respond to treatment, she said. It was 10 years old, about 2 metres long and was bred in captivity. "Right now, I really can't tell what caused the death and the infection. We are still investigating and waiting for results from the laboratory," the spokeswoman said. The six sturgeon still in the aquarium will be moved while it is closed for checking and cleaning, she said. Ocean Park lost a sturgeon in June when one died from a bite by a barracuda kept in the same tank, triggering criticism the park was wrong to house the species together. After mainland experts inspected the facilities, Beijing decided to send five more sturgeons, considered "national treasures", taking the total to nine. Park chairman Allan Zeman pledged at the time they would do their best to ensure their safety. Chinese sturgeon, which have changed little in 140 million years, are rarer than pandas, with fewer than 1,000 in existence.
Workers set up a booth at the brands and products expo. Some exhibitors at the Hong Kong Brands and Products Expo say they are offering "the biggest-ever discounts and offers" to attract people to spend amid the economic downturn. And organisers say they expect bargain hunters to swell the crowds above last year's attendance. The fair, which has drawn 365 exhibitors, opens at Victoria Park today and will last until January 4. One of the largest exhibitors, home appliance brand German Pool, is offering an electric heater, originally costing HK$370, for HK$1 with the purchase of other products costing HK$588 or more. "We have never had an offer as low as HK$1," Karen Chan Ka-yin, the company's marketing and project development vice-president, said. Compared to a 30 per cent product discount at last year's fair, she said the company would cut prices from 40 to more than 60 per cent to counter poor buying sentiment. "We will also give out more free gifts, such as a free pots on purchase of an electric stove, and a free packet of rice and a stainless steel pot on purchase of an electric cooker," Ms Chan said. Having invested HK$4 million to decorate the booth, the company hoped revenue would surge 30 per cent this year compared with last year, she said. Another exhibitor, Sau Tao Noodles, will sell 30 packs of noodles for HK$60 - 40 per cent of the original HK$150 price. "It has never been that cheap," brand manager Colour Tse Lai-ho said. Ms Tse said she expected visitors to the fair to be cautious when spending money, a huge contrast compared to the quick-buying decisions at last year's show. "Before, we were a bit worried that sales would be worse at the expo this year. But [the crowds at] the computer fair last week show that people have strong purchasing power and that gives us a lot of confidence," she said, adding that she still expected a 10 per cent growth in sales this year. Raymond Chow, assistant general manager of two restaurants in Quarry Bay, said his stall would offer South African abalone at HK$18 each, or six slices of ready-to-eat abalone at HK$15. "With such low prices, we are not making money, of course," he said. "Instead, we want to promote our restaurants ... which have been facing a hard time since the economic turmoil began." But not everything at the fair is going for "cutthroat" prices. Many are close to market prices. A spokeswoman for the Chinese Manufacturers' Association of Hong Kong, which organises the expo, said the association was optimistic that the 23-day fair would attract about 2 million visitors, up from 1.9 million last year. "We believe exhibitors will use all means, including price reductions, to attract customers this year," she said. "Thus many people will want to come to buy cheap products."
The legislature passed the government's HK$100 billion loan guarantee scheme for small and medium-sized enterprises yesterday. The initiative to tackle the financial crisis is a revised proposal originating from the chief executive's taskforce on economic challenges. At first, only HK$7 billion was committed, but Chief Executive Donald Tsang Yam-kuen made significant revisions this week. Registered Hong Kong companies, except listed firms, can get up to HK$6 million in loans and have 70 per cent of the loan guaranteed, raised from HK$1 million. The loan period was extended from 30 months to 36. However, League of Social Democrats lawmakers opposed the initiative as merely benefiting banks. They argued that it failed to provide further incentive to lending and did nothing to help people at the grass roots. Unionists Wong Kwok-hing and Lee Cheuk-yan also criticised the government for failing to include an incentive for firms to maintain their number of employees. "The whole society is helping them out, but what are these businesses going to do for society?" Mr Wong said. Mr Lee said the government seemed to think it was acceptable to "sacrifice the foot soldiers of our economy". Liberal Party member Vincent Fang Kang said that in his experience "small and medium-sized enterprises are actually very socially responsible. It's the big corporations you should be more worried about". Permanent Secretary for Commerce and Economic Development Yvonne Choi Ying-pik said businesses' financial health would be assessed by banks when loans were handed out, but it would be unreasonable to enforce a guarantee against job cuts as a condition for a loan.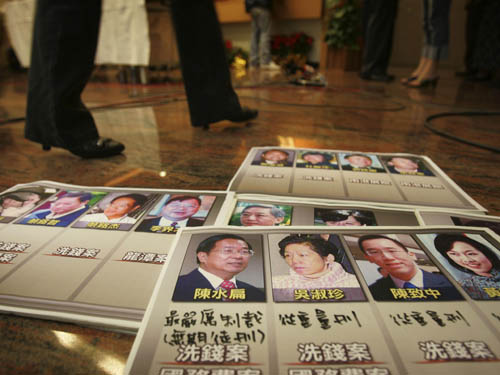 Posters of the former first family and others linked to the corruption case are discarded after the briefing. Eight Taiwanese prosecutors have made history by indicting the former first family, including ex-president Chen Shui-bian, on corruption charges. Standing in line to pose for news photographers in the basement conference room of the Supreme Court Prosecutors Office in Taipei yesterday, they breathed a sigh of relief after the completion of what has been dubbed the indictment of the century. The probe into alleged corruption against Chen and his family has been highly sensitive from the start, especially as Chen is the first of the island's presidents to have such charges levelled against him. Throughout their investigation and write-up of the official indictment, the eight have faced mounting pressure from both Chen's pro-independence camp and politicians from Taiwanese President Ma Ying-jeou's government. While the pro-independence camp has been highly critical of the probe, calling it "political persecution" by the mainland-friendly Ma government, lawmakers in Ma's camp have been equally critical, alleging the prosecutors are on Chen's side and have tried to stall the investigation. "All the prosecutors have been criticised and scolded constantly," prosecutor Wu Wen-chung said. "We go to work in the day and get snubbed at night. Yet we have to face the pressure and achieve our goal in gathering enough evidence to bring up the charges against the guilty parties." He lamented that politicians, however, had attempted to turn a judicial case into a political one. "We have to work hard to gather all the necessary evidence to prove that they [the corrupt politicians] are wrong and to prevent them from using ethnic differences to obstruct justice." Chen was born in Taiwan. The Kuomintang, of which Mr Ma is a member, came to the island at the end of China's civil war. From the beginning, Chen has insisted he is innocent and even claimed that he is the victim of political persecution by Mr Ma, saying Mr Ma wants to placate the mainland by imprisoning him because of his pro-independence stance. Chen was detained on November 12 on suspicion of corruption. Since then he has claimed political persecution and spent his time in detention staging a hunger strike and writing a book to promote the building of a Taiwanese nation, He apparently hopes to garner support from pro-independence groups and build an image of someone who would die for his cause. Prosecutor Lin Tse-wei called on politicians such as Chen to treat the law with respect. "Some politicians in Taiwan have taken the constitution and the vows they have made as if they were nothing," Mr Lin said. "When a president has pledged to abide by the law and the constitution, he is subject to severe punishment if he breaks his pledges." Prosecutor Chen Yun-nan went further by saying that it was inexcusable for the former first family to use the power and influence granted to them by the constitution for wrongdoing. He also criticised the former first lady, Wu Shu-chen, for using her position to "actively interfere in government administration, taking as much money as she could and messing up the government system and order". Prosecutor-general Chen Tsung-ming said the prosecutors were all neutral. "All of us have remained neutral, fair and objective," he said.

China: The central government has pledged to launch more measures to support key industries such as steel and cars after warning that factory output and corporate profits are continuing to weaken. Li Yizhong, the Minister of Industry and Information Technology, said annual industrial output growth fell further last month from October's 8.2 per cent and some industries such as steel, petrochemical and non-ferrous metals were in the red this year. "In solving our growth problem, industry is the focal point," Mr Li said yesterday. "Some companies have stopped or cut production. Some have gone bankrupt or been bought out." He added there had also been some lay-offs and pay cuts for migrant workers, with small and medium-sized enterprises having been particularly hard hit. Senior officials have voiced confidence that the mainland can achieve a growth target of 8 per cent next year despite the economy suffering its deepest slump in a decade. Eight per cent is the minimum growth rate needed to create new jobs. "Overall, the economy will see a low rate of growth in the first quarter next year and then it will gradually stabilise and start to pick up," said Liu He, a deputy minister of the Central Leading Group for Financial and Economic Affairs. Mr Liu said it was possible to achieve a growth rate of more than 8 per cent next year. "We should trust the central government's ability to deal with the economic problems in a flexible and determined manner." Mr Li said industrial production had not bottomed and would take a further hit this month. Industrial output in October reached the lowest level in seven years, a sharp slowdown from the 11.4 per cent growth in September, prompting the government to rush to plans for its 4 trillion yuan (HK$4.53 trillion) stimulus package. The National Bureau of Statistics will release last month's production figures on Monday. Sun Mingchun, the chief China economist at Nomura International, said he expected the production slowdown to continue until the second and third quarters of next year. Mr Li said the government was working out new measures to support industry, including improving the credit environment for businesses and giving targeted assistance to specific sectors. He said the government would expand loan guarantees as commercial banks were still reluctant to lend. He estimated that such guarantees would increase significantly this year from the 800 million yuan it extended last year. Mr Li said the government might take further measures to revive its steel industry, the world's biggest, which could suffer an overall loss in the next half. "We should roll out policy incentives." He added the government would set up a 15 billion yuan fund to support technical upgrades.
Amid concerns about the impact of Beijing's 4 trillion yuan (HK$4.5 trillion) stimulus plan, the mainland's economic managers yesterday stressed that most of the money would go into projects to raise living standards, not industrial output. In a statement broadcast by China Central Television, the National Development and Reform Commission said the money would be spent on five areas - agriculture, public housing, removing transport bottlenecks, environmental protection and renovating schools. The plan to spend 4 trillion yuan in the next few years to save the economy from a catastrophic slowdown has won widespread support from domestic and overseas observers. But the plan is not without flaws. One of the biggest criticisms from economists is that the unprecedented investment will result in excess manufacturing capacity, pushing the economy to the point of overheating when the financial crisis ends. But the commission's statement signalled that the central government had no intention of letting that happen. Investment in large and medium-sized reservoirs, dams, hydropower stations, water pipelines and water diversion projects for irrigation would increase dramatically next year, the statement said. The proportion of the stimulus package to be devoted to the agricultural sector is 370 billion yuan, with the goal of increasing annual production of rice, wheat and corn by 50 million tonnes. In the public housing sector, the government will build up a large stock of low-cost homes for rent. Investment in transport infrastructure will focus on improving connections between existing traffic networks, often the main cause of traffic jams in big cities and road accidents. Beijing plans a 700 billion yuan railway construction boom next year that could create 6 million jobs. The government will also pump money into the environmental sector, particularly projects related to improving the energy efficiency of manufacturing plants. Sewage systems in urban areas, rubbish collection and waste processing facilities will also be built or upgraded. Hundreds of thousands of school buildings will be renovated, especially primary and middle schools in less developed regions where many structures were built decades ago and are in danger of collapse. The statement was in line with the guidelines approved by the central economic work conference, which concluded on Wednesday. At the top-level meeting, policymakers pledged an all-out effort to ensure strong growth next year after exports plunged, domestic demand shrank and the inflow of foreign investment dropped sharply last month. The government will increase spending by a "relatively large margin" and cut taxes next year to increase support for job creation, agriculture, social security, education, energy conservation, and small and medium-sized enterprises.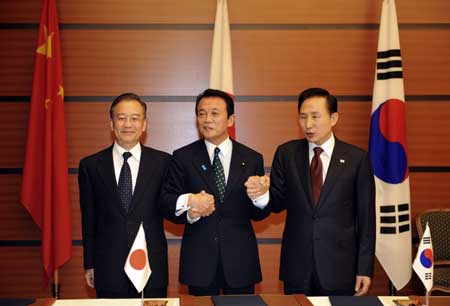 Chinese Premier Wen Jiabao (L), Japanese Prime Minister Taro Aso (C) and South Korean President Lee Myung-bak shake hands after signing a joint statement for Tripartite Partnership after a tripartite meeting in Fukuoka, Japan, Dec. 13, 2008. Leaders of China, Japan and South Korea Saturday signed a Joint Statement for Tripartite Partnership after a tripartite meeting. In the statement, Chinese Premier Wen Jiabao, Japanese Prime Minister Taro Aso and South Korean President Lee Myung-bak said they gathered here to help lay a solid foundation in promoting their tripartite cooperation. The tripartite cooperation will not only contribute to create a peaceful, prosperous and sustainable future for the region and international community, but also be crucial to address the serious challenges in the global economy and the financial markets, said the statement.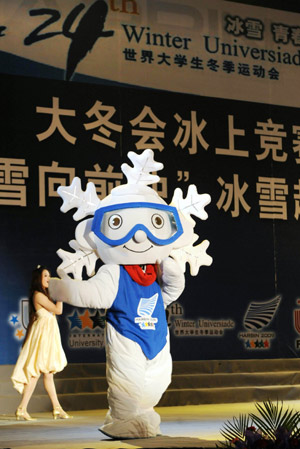 The mascot Dongdong of the game shows up at the ceremony held at the Speed skating Gym for the 24th Winter Universiade, in Harbin, capital of northeast China's Heilongjiang Province, on Dec. 13, 2008. The Game will be kicked off on February 18, 2009.
China will issue the 25th batch of book-entry treasury bonds worth 25.37 billion yuan (3.71 billion U.S. dollars) for this year starting next Monday, according to the Ministry of Finance. The ministry said in a statement here on Friday the issue period would last from Dec. 15 to 17. The ten-year bonds have a fixed yield of 2.9 percent. Interest will be calculated from Dec. 15 and be paid twice a year on every Jun. 15 and Dec. 15. Principal will be paid on Dec. 15, 2018 along with the last interest. China has issued more than 1 trillion yuan worth of book-entry T-bonds this year.
China's Ministry of Health has banned hospitals and doctors from selling insurance to patients to reap profits. According to media reports, some medical institutions and workers in the country have been taking advantage of their jobs and help insurance companies promote anesthesia accident insurance policies to patients to receive kickbacks. The ministry announced the rule on its website on Friday, but didn't identify the names of offending hospitals or doctors, only saying that those who have done so are limited in number. Nevertheless, an official from the ministry said the practice impaired the image of medical service sector and needed a serious probe. The ministry has directed medical facilities to step up their management and has strictly prohibited insurance companies marketing their business in hospitals. Local health bureaux were also ordered to strengthen their monitoring efforts and punish those who were found to have violated the rule. A doctor at a local Beijing Hospital, who declined to be named, told Xinhua she had never heard of such a term as "anesthesia accident insurance", and believed no colleagues of hers had ever been involved in such practice. However, she added that in her opinion those who tried to make money from patients should be given a warning and a fine.
Deutsche Borse, the Germany-based security exchange group, opens its representative office in Beijing on Friday. The runner of Frankfurt Stock Exchange was approved on Sept. 26by the China Securities Regulatory Commission to set up its Beijing office. Wu Jianhong will be the Chief Representative Officer. "The opening under the global financial crisis shows our strong confidence in the Chinese market," the group's deputy CEO Andreas Preuss said. Frank Gerstenschlager, member of the company executive board responsible for the cash market, said the exchange would place China's high-tech companies as its business focus, especially those in the fields of clean energy, renewable resources and environment protection. Currently, 13 Chinese companies have been listed at the Frankfurt Stock Exchange, one of the world's largest stock exchange center whose turnover takes up 90 percent of Germany's total. Deutsche Borse has established business partnership with several financial institutes in China, including major mainland equity centers Shanghai Stock Exchange and Shenzhen Stock Exchange. The group covers the entire security exchange process from trading, clearing, to settlement and securities custody. It also offers market data, indices and analyses.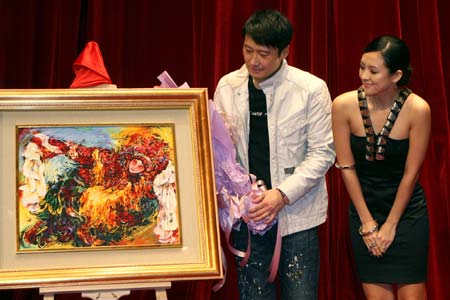 Zhang Ziyi (R) and Leon Lai, who played leading role in movie "Forever Enthralled", view an embroidery painting during the Shanghai premiere of the movie in Shanghai, east China, Dec. 3, 2008. Director Chen Kaige's latest film, "Forever Enthralled," a biopic of the late Peking opera star Mei Lanfang, has had a great opening weekend with a box office income exceeding 42 millon yuan, or about 6.2 millon U. S. dollars. "This is a satisfying result," said Wong Li, spokesperson of the film's co-producer China Film Group. The total box office is expected to exceed 120 million yuan, according to Wong. According to Shanghai United Cinema Lines, the city's largest cinema chain, the movie reaped 3.7 million yuan (537,947 dollars) in the city since its global release last Thursday. "It is a good performance for an arty film without many stunts and action scenes," said Gu Min, a marketing manager for the chain. "Chen's films still have a loyal fan base." So far, Yonghua Cinema at Xujiahui has made more than 350,000 yuan from the film. "The film has attracted many middle-aged people who understand traditional Chinese opera," said Li Lan, the manager of the cinema. The film depicts Mei's 50-year career and his romances. Pop idol Leon Lai plays Mei, with actress Chen Hong playing his wife and Zhang Ziyi playing Meng Xiaodong, a female Peking opera star. This is China's golden screening time. Every year in the run up to Christmas and the Spring Festival, the box offices are abuzz with the year's biggest releases. From Thursday, "Forever Enthralled" will face competition from the romantic comedy "All About Women", made by Tsui Hark, and next week three more films open. "Ip Man" is a semi-biographical account of Yip Man, a master of Wing Chun kungfu. Feng Xiaogang's highly anticipated comedy "If You Are The One" also premieres. On Christmas Eve, action-packed Hong Kong police film "Lady Cop and Papa Crook" will hit mainland screens. Among all these films, Feng's comedy, which stars comedian Ge You, is expected to be the biggest rival to "Forever Enthralled." The movie, which is slated to open on Dec. 18, revolves around a man's attempts to find a wife, but it will be a tight contest. "Chen's film might be more popular in northern China, where there's a strong nostalgic ambience for Peking opera and a large number of Peking opera fans," said Chen Hua, a local movie buff.
December 13 - 14 2008

Hong Kong: Taiwan's top mainland affairs official, Lai Shin-yuan, has played down the impact of direct cross-strait transport links on Hong Kong's economy, as the island's relations with the city have improved sharply this year. "I don't think the impact will be that strong. So far, only 10 per cent of the number of passenger flights are being shifted to the weekend charters," said Dr Lai, chairwoman of the Mainland Affairs Council, in an interview with the South China Morning Post (SEHK: 0583). Hong Kong has long been a transit point for more than 5 million Taiwanese visitors going to and from the mainland annually, but this advantageous and lucrative position has been threatened following cross-strait rapprochement led by Ma Ying-jeou, Taiwanese president of the mainland-friendly Kuomintang. Taipei and Beijing signed an agreement in June to operate 36 weekend charter flights and another deal to allow 3,000 mainland tourists a day to visit the island. Last month they agreed to extend the number of flights to 108 a week, turning the weekend charters into daily charters. The sides also agreed to operate 60 direct cargo charters a month, and direct shipping, which must currently go by way of a third location, usually Okinawa. The tourist industry and airlines in Hong Kong have expressed concern at the direct transport agreement set to be passed by the Taiwanese legislature today in order to become effective next Monday. "Even with the direct daily flights, the impact on Hong Kong will not be as huge as thought, given a passenger occupancy volume of 5 million per year," Dr Lai said. This number amounts to around 500 flights a week, meaning the rest of the passengers will still have to go via Hong Kong after the demand of 108 direct flights a week is met, she said. Hong Kong's acting secretary for transport and housing, Yau Shing-mu, has admitted that the transport agreements between the mainland and Taiwan would have an impact on traveller numbers.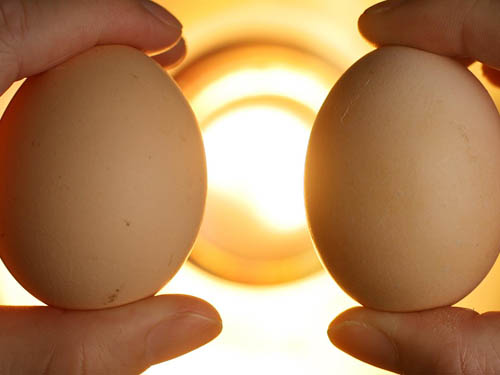 Checks on poultry farms will be mounted by the government in the next few days after a chicken-trade leader blamed smuggled fertilised eggs for causing the latest bird flu outbreak - confirmed yesterday to have been caused by the deadly H5N1 virus strain. Secretary for Food and Health York Chow Yat-ngok said he would not rule out any possibility, including smuggled eggs, as the cause of the outbreak, which killed 200 chickens at a Yuen Long farm early this week and led to the culling of 90,000 birds.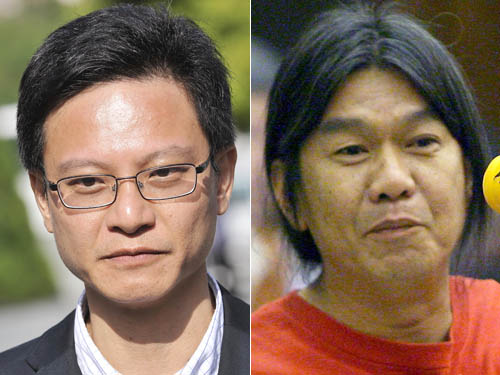 Two League of Social Democrats members, lawmaker "Long Hair" Leung Kwok-hung and district councillor Andrew To Kwan-hang, were convicted yesterday of assaulting a police officer. Magistrate Rickie Chan Kam-cheong deemed the pair had used "illegal force" outside Government House at a protest during the visit of a top Beijing official when they scuffled with police on December 29 last year.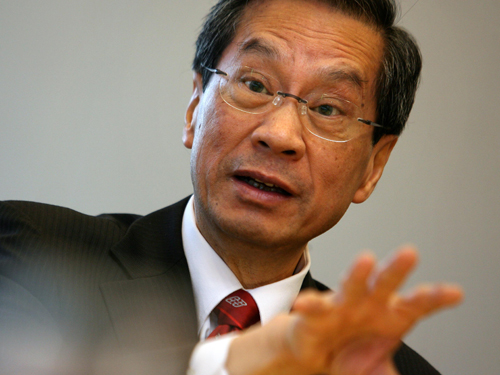 The outgoing president of Polytechnic University says the city is suffering because government officials working under the "accountability system" are too cautious and might have stymied well-intentioned projects. "The political climate is different now," said Poon Chung-kwong. "Government officials in the past were bolder in decision-making ... thinking that no mistakes will be committed if you do nothing, the current government tends to be more prudent." Professor Poon recalled the debacle over the proposed merger between Chinese University and the Hong Kong Institute of Education (HKIEd) to prove his point. "[Former education secretaries] Arthur Li Kwok-cheung and Fanny Law Fan Chiu-fun had good intentions. The merger could have benefited both universities in terms of student admission. But the results, with Mrs Law's resignation, were disheartening." When he was education minister Professor Li was accused of putting pressure on the HKIEd president to merge with Chinese University. Mrs Law, former permanent secretary, was said to have asked the president to curb two academics who were critical of education policy. Professor Poon was sharing his thoughts about politics and education yesterday as he unveiled a book about his four decades in higher education ahead of his retirement at the end of the month. Having served the university for 18 years, Professor Poon, 68, a devout Buddhist, said he would spend more time helping poor university students on the mainland and promoting traditional Chinese values. "I will concentrate more on the work of my charity foundation, the Virya Foundation, which was set up by me and my wife four years ago. Because of the extensive network I built up with the business sector when I served in Legco [in the 1980s], I have so far raised HK$20 million, which will go towards subsidising the university education of poor mainland students." He has also promised to serve as a college head at Xian Jiaotong University, in Shaanxi.
Hong Kong banks are playing down customers' expectations concerning interest rate cuts following a widely expected move by the US Federal Reserve next week. Hongkong and Shanghai Banking Corp said yesterday local lenders - to maintain profitability - may not follow the Fed if it cuts its benchmark rate, an about-turn from comments HSBC executives made just days ago that local lenders might have room to lower rates.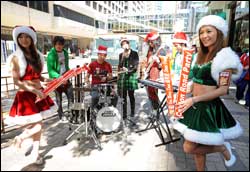 Hongkongers are not letting the financial gloom east into their appetite for Christmas buffets, with hotels reporting increasing reservations for the coming Yuletide feasts. Many restaurants reported a spike in reservation rates despite the rising prices of buffets. At the Palm Court Restaurant in the Kowloon Metropark Hotel, 60 of the 180 buffet seats have already been booked for their Christmas Eve, Christmas Day and New Year's Eve buffets. "At this point last year we didn't have so many bookings, so it's looking to be a good year," manager Nelson Yeung Kwok-fai said. In response to the economic downturn, the restaurant is offering 20 percent off its buffet if tables are reserved before December 15. Prices for the same menu went up from HK$428 to HK$448 due to food price increases, Yeung said. He attributed the brisk business to Palm Court's relatively inexpensive menu. "We are a restaurant at a four-star hotel, so I think people are probably cutting down on their budget and coming to us instead of some of the five-star hotels," he said. Restaurants at five-star hotel restaurants, however, are also enjoying booking trends on par with last year, if not better. At the Sheraton's three restaurants, bookings are already between 70 and 80 percent filled, despite a price jump for its buffet at The Cafe restaurant from HK$548 to HK$728, a spokesman said. Other restaurants at the Island Shangri-La and Harbour Plaza Resort City are also reporting increased bookings. But according to Hong Kong Dining managing director Simon Miller-Jones, the positive Christmas booking trend may have more to do with the city's robust dining industry than its seasonal merriment. "Normally the fourth quarter is the biggest quarter with 20 to 25 percent increases in business over any other, and we are right on target to hit that this year," he said. He said his restaurants had seen little slackening in business amid the downturn. The only challenge this year is that restaurants have had to contend with corporate cancelations or downscaling of Christmas parties, he added. Eclipse Management managing director Clayton Parker agreed. "The extravagant spending from corporate customers with holiday parties has been hollow this year," he said. "(Even) companies that are financially sound seem to feel a bit awkward being extravagant, because it sends the wrong message." Parker said the mid-range business was still there, but some restaurants under Eclipse Management were starting to feel the pinch. He added business was similar to last year, but did not grow as expected. Parker was not as upbeat in his forecast for next year. "Things are still okay, but if we see a real downturn it will come in the first and second quarter of next year," he said.
The Hong Kong Monetary Authority was forced to intervene in the money markets twice in less than 24 hours, injecting HK$2.713 billion of liquidity to defend the peg system. The SAR's de facto central bank sold HK$1.938 billion worth of the local currency against the US dollar during Hong Kong trading hours yesterday. The action was triggered automatically when the exchange rate hit HK$7.75 to US$1. In New York trading late Wednesday, the HKMA sold HK$775 million worth of Hong Kong dollars against the greenback to curb the Hong Kong dollar's appreciation. The renewed strength of the local currency stems from a continuation of global deleveraging, Standard Chartered senior FX strategist David Mann said.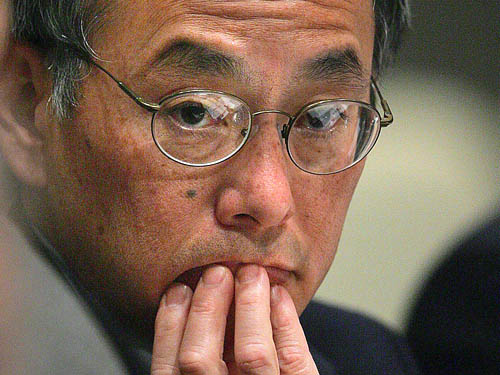 US president-elect Barack Obama has chosen Nobel Prize-winning physicist and green-energy proponent Steven Chu as his energy secretary, Democratic sources said. Dr Chu would become only the second Chinese-American to hold a US cabinet post - after current Labour Secretary Elaine Chao - and the first Nobel laureate. In picking Dr Chu, winner of the 1997 Nobel Prize for physics, to head the energy department, Mr Obama is signalling he will fulfil his pledge to put an emphasis on science when crafting energy policies aimed at transforming the US economy into one fuelled primarily by low-carbon power sources. "He certainly needs somebody who can focus on the science and energy policies and I can't think of a better guy than Steve," said Mike Lubell, a physics professor at City College of New York, who has known Dr Chu for 30 years. Robert Birgeneau, the chancellor of the University of California, Berkeley, said that since taking over as director of Lawrence Berkeley National Laboratory in August 2004, Dr Chu had pushed the scientists there to focus on climate change and on developing new carbon-neutral sources of energy. On a visit to Hong Kong last July, Dr Chu urged the city to improve its energy efficiency by increasing electricity charges and banning incandescent light bulbs. On a 2006 visit, he said it would be a mistake for China to follow the American model and design its cities around the car. Dr Chu played a leading role in Berkeley being selected by BP as the home of a US$500 million research programme to develop a new generation of renewable fuels. Berkeley Labs is funded by the Energy Department. "He has been relentless about addressing the technical challenges of renewable energy in a deep way," said Professor Birgeneau, who has known Dr Chu for three decades since they worked at Bell Laboratories in the 1970s. Michael Loy Ming-tak, chair professor of Hong Kong University of Science and Technology's department of physics, said Dr Chu, who he had known since the 1980s, was a suitable choice, describing him as being very clever and very competent. "He is not only a scientist, he has very good interpersonal skills and a strong character." Dr Chu will be taking on one of the most challenging jobs in government at the Department of Energy. He will be responsible for the maintenance and development of America's nuclear weapons stockpile, as well as for modernising the country's electrical power delivery system. He will also play a central role in directing the research and development of alternative energy sources, needed to replace fossil fuels in an era of constrained carbon emissions.
The Hong Kong Mortgage Corporation has extended its insurance coverage in response to banks' tighter lending policies but has introduced a new rule that in effect brings the days of 95 per cent home loans to an end. The corporation said yesterday that from next Thursday it would extend its coverage limit to 30 per cent of the purchase price from the present 25 per cent. At the same time, however, it will require buyers to put down a deposit of at least 10 per cent. It has also raised its premiums, shortened the allowable term of the mortgage and tightened its debt-to-income ratios that govern how much buyers can actually borrow. Before the credit crunch, banks were lending up to 70 per cent at first and buyers could borrow an additional 25 per cent with the corporation's coverage, meaning they needed only a 5 per cent down payment. But as credit tightened many banks have been unwilling to lend more than 60 per cent, leaving the corporation's coverage limit too tight to close the gap. The corporation said yesterday it had extended its limit to keep pace with banks' tougher lending rules. It will start to accept applications under the new plan from Thursday. Corporation chief executive James Lau said he expected the move would help potential buyers borrow money even after the banks had tightened lending on properties. To cut down the risk of overleveraging, the maximum loan amount has been capped at HK$8 million, down from the existing HK$12 million and the maximum term has been shortened from 40 years to 30 years. And, the corporation has reduced the maximum debt-to-income ratio from 50 per cent to 45 per cent for buyers with monthly household income below HK$60,000 a month, meaning their repayments should be no more than 45 per cent of their income. For those earning more than HK$60,000, the ratio has been lowered from 60 per cent to 50 per cent. Joseph Yam Chi-kwong, deputy chairman of the corporation and chief executive of the Monetary Authority, said the new arrangements "can help to lessen the impact of the credit crunch in the mortgage financing market on potential homebuyers. It also provides banks with a greater degree of flexibility in conducting mortgage business." Ricacorp Mortgage associate director Wong Wing-yan said the problem of tighter bank lending became serious in October. Louis Chan Wing-kit, managing director of Centaline Property Agency's residential department, said that as a result many potential homebuyers had become hesitant. According to the Land Registry, home sales had dropped to 3,786 last month, the lowest in 17 years. This is down steeply from 18,105 at the same time a year ago. Hendrick Leung Lee-chung, director and general manager at Centaline Finance, expected mortgage applications to increase 20 per cent from the level of the last two months after Hong Kong Mortgage Corporation released the plan.

China: The central government promised yesterday to set aside 10 billion yuan (HK$11.3 billion) in subsidies for purchases of agricultural machinery next year, in addition to other policies to buttress employment in rural areas. The initiative, announced by Xinhua, comes as authorities in Beijing are increasingly wary of the potential social unrest simmering among the millions of home-bound migrant workers, most of whom are casualties of the sharp economic slowdown in export-reliant coastal provinces. Flagging global consumer demand, dragged down by the financial turmoil, has dealt a heavy blow to manufacturers in such provinces as Zhejiang , Guangdong and Fujian , all big employers of people from villages and small townships in the economically backward hinterland. "The abrupt influx of an enormous number of disgruntled laid-off workers in the already povertystricken rural areas with limited, if not zero, social welfare could create a nightmare scenario for the government," independent Beijing-based economist Mao Yushi said. "They are now doing everything they can to forestall a social collapse by providing livelihoods for this rapidly growing demographic group." The mainland had 130 million migrant workers at the end of 2006, National Statistics Bureau figures show. Most of them work in the export-reliant manufacturing sector, but an increasing share of the population is facing job insecurity as the economic crisis deepens. There is no official count on the total number of industrial workers who have returned to their rural homes after being made jobless by their struggling or bankrupt coastal employers in the past few months. But Hunan , an important source of labourers for the coastal manufacturing industries, reported that more than 1 million had returned by the end of October and forecast 2.8 million more next year. The new subsidies, up from 4 billion yuan budgeted for this year, are supposed to help this underprivileged group find their feet in the agriculture sector, where most of them originally came from. The overall package also includes job training for a career in either the services industry or more technology-intensive sectors, and microcredit assistance for start-ups in rural areas. The initiative also calls for better protection of the rights of individual rural households to land-transfer revenue. In many cases, villagers have been undercompensated by unscrupulous developers who, with the help of corrupt officials, seize land for commercial development. The package is the second major rural-related economic initiative rolled out by the central government in the past few weeks. In an attempt to stimulate consumption among rural residents, Beijing has offered subsidies to white-goods makers to promote their products in villages and small towns. Professor Mao applauded the policies, saying they would help address social woes aggravated by the financial crisis in underdeveloped villages and small townships, communities that stand in sharp contrast to the sophisticated coastal cities. But he suggested that any aid package should give priority to the non-agriculture sector. "The agriculture industry, with its increasing mechanisation, will not be able to create enough jobs to accommodate the migrant population," he said. "A real solution would be to build a social welfare and services industry."
More than 200 uninhabited islands in Hong Kong remain deserted and the government has shown no intention of exploiting their commercial value. Hong Kong comprises around 260 islands in an area of 1,600 square metres. Yet only a small number have ever been inhabited or used for tourism, public facilities or other government purposes. Despite the policy introduced by the mainland to encourage commercial development on uninhabited islands, the Hong Kong government has shown little interest in such a plan, citing a number of constraints. These mainly include a lack of land to develop, poor access, and inadequate infrastructure and services, including water and electricity. In addition, some of the islands have already been recommended for landscape protection and conservation purposes in view of their ecological and scenic value. Four years ago, the mainland introduced a new law, allowing applicants including Hong Kong, Macau and Taiwan residents to name and develop 100 islands off the coast of Zhuhai for commercial use, including property development, tourism, animal breeding, port development or the storing of explosives. Although there have been periodic suggestions that Hong Kong's uninhabited islands be sold or leased to raise government revenue, the administration has not put any such plan on its agenda.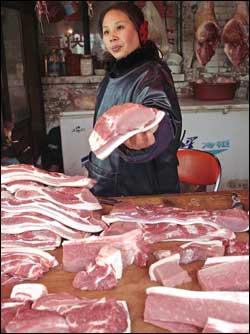 The prospect of deflation has reared its ugly head after mainland consumer prices fell sharply to a 2.4 percent growth rate last month from 4 percent in October. Economists said the deflationary risks and the slowdown in economic activities inherent in the consumer price index data mean Beijing needs to launch more measures to revive confidence. More interest rate cuts and moves to help property investment recover are imminent, they said. Beijing should rely more on bank financing to boost the economy as the world undergoes a deleveraging process, UBS head of China economic research Wang Tao said. The fall in the inflation rate - a 22-month low that followed declines of seven consecutive months - was led by food prices, which fell to 5.9 percent, from October's 8.5 percent. The rise in non-food prices slowed to 0.6 percent from 1.6 percent.
China recorded 114.99 billion U.S. dollars worth of exports last month, down 2.2 percent from the same period last year, the General Administration of Customs said on Wednesday. It was the first time since June 2001, when China's monthly exports were down slightly by 0.6 percent from a year earlier because of slump demand from the U.S. economy after the high-tech bubble burst.
December 12 2008

Hong Kong: Despite government measures to boost lending to help the economy and a drop in bank funding costs, HSBC Holdings (SEHK: 0005), the city's largest issuer of credit cards, is raising interest rates on all its local personal credit cards to 31.86 per cent. The move, which follows those by other banks, will raise the base annualised percentage rate that HSBC charges its more than 3.6 million local cardholders from February 1 next year. The rate now is 26.81 per cent. It is the latest sign that credit is evaporating across an increasingly broad swathe of the economy, and growth prospects are expected to dim further in response.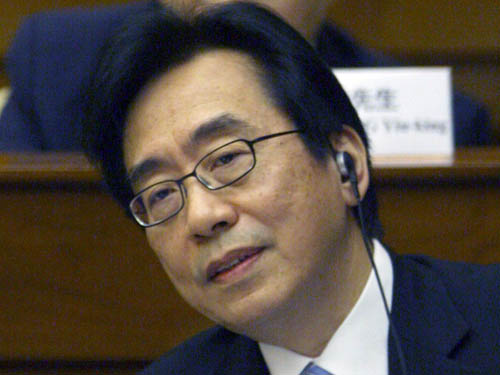 Lawmakers last night vowed to plug loopholes in the civil service system to prevent "collusion between officials and businesses", when they authorized a select committee to probe the Leung Chin-man affair. The 12-member investigation panel, which will be given statutory powers to demand papers and witnesses, will look into the approval process for retired senior officials working for businesses and investigate whether Mr Leung, the former housing director, was involved in any conflict of interest. Mr Leung was cleared last year by the government to work for property developer New World Development, one year after his retirement. But during Mr Leung's time as director of building, director of housing and permanent secretary for housing, planning and lands, he had approved several controversial projects - including one to sell a public housing estate in Hung Hom to New World. The incident sparked a public outcry. "The Leung Chin-man affair made the public realise top officials can still ... make big money after retirement," Democratic legislator Cheung Man-kwong said during the debate. "We will plug loopholes to prevent collusion between officials and businesses." Mr Leung has since resigned from the post. A government review panel on the post-retirement employment process was quickly set up, but it failed to pacify outraged Hongkongers, nor prevent a subsequent plunge in Chief Executive Donald Tsang Yam-kuen's popularity. In yesterday's debate to formalise the creation of the select committee, which was supported by both government allies and pan-democrats, lawmakers were united in saying the integrity of the civil service must be maintained. Lee Cheuk-yan of the Confederation of Trade Unions said the committee should probe whether it was a common practice for officials to provide benefits to businesses and be rewarded by them with positions or other benefits after retirement. "We cannot allow these new forms of corruption to happen," Mr Lee said. Liberal Party chairwoman Miriam Lau Kin-yee said loopholes in civil service rules should be addressed, while independent Cyd Ho Sau-lan said top officials should be banned from joining private businesses after retirement. But Lau Kong-wah, of the Democratic Alliance for the Betterment and Progress of Hong Kong, said: "We should not begin the investigation with a verdict already in mind." Secretary for the Civil Service Denise Yue Chung-yee, who had been criticised for her lack of political sensitivity in approving Mr Leung's post-retirement appointment, said the government would respect the decision to set up the investigation. She said that in light of public concerns, the government's review panel would seek public views soon and submit a report by June.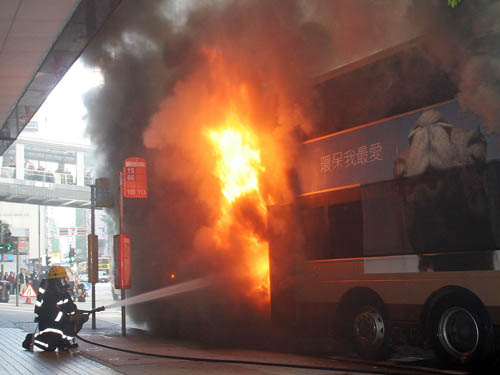 Firemen tackle the bus in Queen's Road East. All 70 passengers were evacuated safely. Police thought a short circuit might be to blame.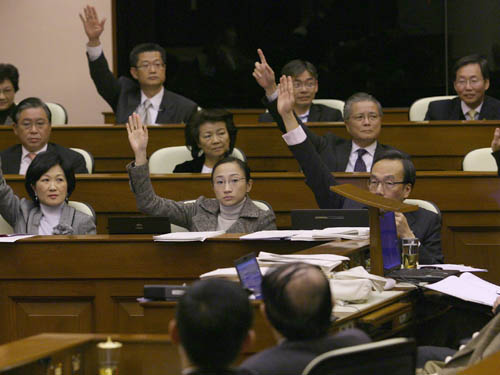 Regina Ip (left) joins other lawmakers in a show of hands in favour of her amendment to abolish the levy on employers of foreign domestic helpers yesterday. Hopes of quashing a levy on employers of foreign domestic helpers were dashed yesterday when lawmaker Regina Ip Lau Suk-yee's proposed amendment to abolish the levy for good was voted down. The failure to pass the proposed amendment meant employers of migrant domestic helpers will only enjoy a suspension of the levy for five years - from August this year to the end of July, 2013. Money raised from the levy, which was introduced in 2003, goes to the Employees' Retraining Board. Twenty-one lawmakers from geographical constituencies voted for Mrs Ip's proposed amendment, while seven objected to it. Only seven legislators from functional constituencies supported the amendment, while 21 voted against it. To pass, it would have needed a majority among both geographical and functional constituency legislators. Mrs Ip said the amendment was voted down after the government had lobbied certain lawmakers. She said she did not feel defeated and would try to have the levy scrapped in the future.
More than 5.8 million migrant workers in Shenzhen will be able to visit Hong Kong Disneyland from Monday. Non-Shenzhen residents who have lived and worked in the special economic zone for a year or more in private enterprises, Sino-foreign joint ventures and foreign-owned enterprises would be able to apply to join group tours to Disneyland organised by some Hong Kong travel companies, a senior official from the city Public Security Bureau's exit-entry administration division said yesterday, according to Xinhua. A visa would allow a three-day stay in Hong Kong within three months. The number of qualified people was estimated at 5.81 million in June. The official said the State Council-approved measure was to help Hong Kong in the financial crisis, part of a new package under the Closer Economic Partnership Arrangement.
The Bank of East Asia (SEHK: 0023) (BEA) has become the second bank to set up a fund for loans to small and medium-sized businesses, announcing that HK$1 billion will be earmarked to support the government's special loan guarantee scheme. "We may increase the top limit [of the fund] if needed," said Adrian Li Man-kiu, the bank's general manager and head of the corporate banking division. The bank said priority would be given to applications relating to the new small and medium-sized enterprise loan guarantee scheme, announced by Chief Executive Donald Tsang Yam-kuen on Monday, under which banks can offer local firms loans of up to HK$6 million with the government guaranteeing 70 per cent. Mr Li said the interest rates would be lower than normal. The bank's move comes four days after HSBC (SEHK: 0005) committed HK$4 billion for loans to local SMEs as part of a US$5 billion global fund to give struggling firms access to credit. BEA said all loan applications would be processed within three business days. It has set up a telephone hotline for SMEs to inquire about the scheme. Ken Chiu Siu-kan, vice-chairman of the Hong Kong Association of International Co-operation of SMEs, welcomed BEA's move to set aside HK$1 billion for loans. But he was worried that small companies in the service sector, which may want to get unsecured loans, would be unable to obtain them from banks.
The Link REIT is planning to create 4,600 construction jobs over the next three years through shopping mall upgrades. The proposal is one of the strategies outlined in a paper it gave to the Legislative Council's housing panel yesterday. Ian Robins, new executive director and chief executive of The Link, will attend a panel meeting on Tuesday. The Link plans to spend HK$1.6 billion on upgrades to 26 shopping centers that would create 4,600 construction jobs. Completed projects amounting to HK$500 million have already created 800 retail jobs. The remaining projects are to be completed over the next three years.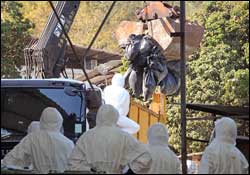 Hong Kong is seeking mainland advice on the need to switch vaccines to safeguard local poultry. The question on whether the current vaccine is effective arose earlier this week when treated chickens were among those found dead at a Yuen Long farm. Secretary for Food and Health York Chow Yat- ngok immediately ordered a "serious" bird flu alert, the culling of more than 90,000 chickens and a three- week suspension of live-chicken imports from the mainland. Yesterday Chow said he has requested academic assistance from the mainland. "We have been using the H5N2 vaccine manufactured in the Netherlands and which was one of the most effective vaccines," Chow said. "Over the past few years it has been proven to be effective." However, possible virus mutation in the six years since the vaccine was first used has prompted a government review. "The mainland introduced an H5N1 vaccine a few years ago and that has been modified every now and then, so we are exploring the option of changing to H5N1 too," he said. Hong Kong University head of microbiology Yuen Kwok-yung suggests looking at mainland vaccines for livestock protection.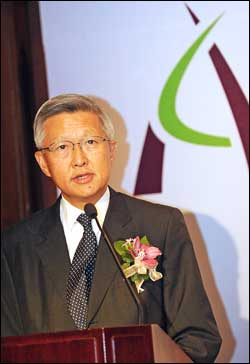 Hong Kong's top judge says the city's social, political and economic problems should be resolved through the political process rather than the courts. Chief Justice Andrew Li Kwok-nang made the comments while addressing the issue of a growing number of judicial review cases here and overseas. He made no direct mention of the most recent controversial case that saw a judge rule this week that prisoners have the right to vote. The ruling came at the end of a judicial review launched by two inmates at Stanley Prison - one of them a convicted robber - and a lawmaker. But, in an opening address to a conference on "Effective Judicial Review: A Cornerstone of Good Governance Today," jointly organized by Chinese University and Britain's Cambridge University, Li said: "It is only through the give and take of the political process after consultation and dialogue that viable solutions may be found." Li added that the legislative and executive procedures are better suited to reconciling society's various interests. "It is to the political process that the citizen must look for an appropriate resolution to these problems," he said. "The judicial review is a cornerstone of good governance," said Li, but he added that the public should understand that the decisions of the courts in such cases are concerned with "what is legally valid and what is not." Li said courts dealing with judicial reviews were "not decision-makers" and warned that the courts of law were not the solution to political, economic or social ills.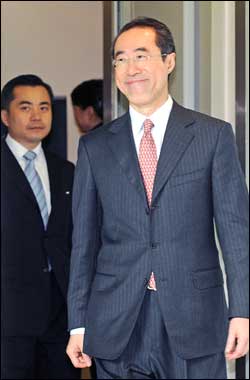 Top civil servant Henry Tang Ying-yen is set for a grilling over the accountability of top officials in the wake of recent public gaffes when he attends the Legislative Council tomorrow. The chief secretary for administration is expected to come under fire from lawmakers over where the buck stops when something goes wrong, and in attempting to explain when a bureau chief can be held accountable for administrative errors or the principle of collective responsibility should come into play. Such issues arise as a result of the government's U-turn on chartered flights for residents stranded in Thailand and the handling of the recent taxi driver blockadeat Hong Kong airport and at Happy Valley. Tang will attempt to explain the role of acting secretaries and why the system went awry in the plane fiasco. He and secretary for constitutional and mainland affairs Stephen Lam Sui- lung will attend Legco's house committee meeting where they are expected to be bombarded with questions by pan- democrats. The government initially rejected sending a chartered flight to Thailand to bring home Hong Kongers stranded by demonstrations at Bangkok airports.
Standard Chartered Bank (Hong Kong) said local lenders may not match a US Federal Reserve interest rate cut because Hong Kong interbank lending rates are not low enough.
Moody's Investors Service yesterday changed its industry outlook for Hong Kong banks to "negative" from "stable," as gathering economic headwinds are expected to hit their earnings and asset quality over the next two years.

China: Top China leaders yesterday pledged an all-out effort to ensure strong growth next year after exports plunged, domestic demand shrank and the inflow of foreign investment dropped sharply last month. In a statement after the close of the central economic work conference, chaired by President Hu Jintao and Premier Wen Jiabao , policymakers said boosting domestic consumption to maintain stable and relatively fast growth was the top priority next year, with the global downturn likely to worsen. "The difficulties in the Chinese economy are growing and the downward pressure on economic growth is increasing," the statement said. Just hours earlier, Beijing released economic data for last month that pointed to a further deterioration in the world's fourth largest economy. Mainland exports tumbled for the first time in seven years, producer inflation slowed to a more than two-year low and incoming foreign direct investment dropped sharply. "With the need to create jobs to maintain social stability, we will stick with a `proactive' fiscal policy and a `moderately loose' monetary policy next year" said a statement broadcast on state television.The government would increase spending by a "relatively big margin" and cut taxes next year to increase support for job creation, agriculture, social security, education, energy conservation and small and medium-sized enterprises. But the statement did not contain detailed new measures expected by investors. Anticipation of more measures from the meeting prompted stock markets on the mainland and in Hong Kong to jump strongly yesterday. The Hang Seng Index finished up more than 5 per cent, while the Shanghai and Shenzhen markets ended up more than 2 per cent. In a sign that Beijing is unlikely to allow the yuan to depreciate to boost exports, the statement said the leadership reaffirmed it would continue to maintain the exchange rate at a reasonable and balanced level.

Thawed cross-strait relations took a dramatic turn yesterday, with the island announcing a plan to simplify its immigration system, with the time required for residency of mainland spouses reduced to encourage more family reunions. Under the plan, mainland spouses of Taiwanese would be allowed to work immediately after they arrived on the island legally, instead of waiting for six years, Taiwan's top mainland policy planning boss Lai Shin-yuan said. Today, the Taiwanese cabinet is tipped to approve rules to help greatly nearly 170,000 mainland spouses living on the island. Many more are set to arrive in the future, with the number of such registered marriages exceeding 260,000 to date. Dr Lai is the architect of the policy breakthrough, which still needs the legislature's approval. She has pushed through revisions to the existing rules despite mounting criticism from the pro-independence camp in Taiwan. "This is a very substantial reform and improvement of our policy," said Dr Lai, chairwoman of the Mainland Affairs Council, in an exclusive interview with the South China Morning Post (SEHK: 0583). "After I took up the post, I found there had been many problems and complaints from mainland spouses over the existing rules, which are highly discriminating and unreasonable." Dr Lai took office on May 20. The rules have long been criticised as being inhuman, have been attacked by human rights groups and have drawn protests from mainland spouses, who have been allowed to live in Taiwan since the early 1990s. "A majority of these spouses are married to grass-roots or lower-class people in Taiwan and they immediately face financial problems in the families once they start living here," Dr Lai said. "What they are most concerned with is getting a job once they arrive." The existing rules also require mainland spouses to live in Taiwan for eight years consecutively before they can apply for Taiwanese identity cards. There is an annual quota of 6,000 such spouses, meaning some may have to wait for more than eight years to obtain the documents. Spouses who have children from former marriages on the mainland have to wait for five more years after obtaining the local identity cards to apply for their children to come to Taiwan. Under the current immigration law, only children below the age of 12 are eligible to join their parents in Taiwan. Practically none of these children can go there because by the time their mainland parents are qualified to file their applications, they will be well over 13. "All these restrictions will be removed because they violate basic [human] rights," said Dr Lai. "It is true that there are bogus marriages, but we can't just use this to [deny] their basic rights." Dr Lai said the council would consider further reducing the number of years required for mainland spouses to obtain local identity cards, possibly to four years, which applies to spouses of foreign workers.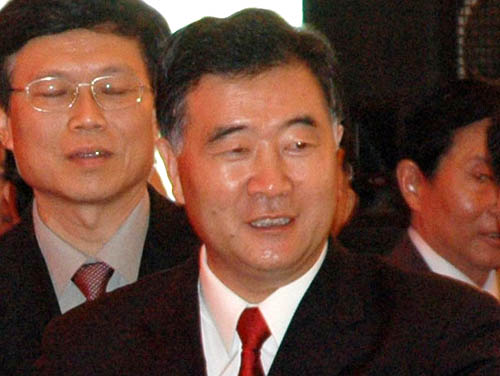 Guangdong party secretary Wang Yang says the province will keep pushing to upgrade its industrial base even though many labour-intensive factories are collapsing amid the financial crisis. The policy has been criticised by small businesses and experts who say it is not friendly to business and is difficult to implement. Guangdong, with roughly 60 per cent of its gross domestic product coming from export-oriented enterprises, has been hit hard by the global financial crisis as consumption in developed countries drops sharply. A further decline is expected next year, with the global economy tipped to enter an even deeper recession. Mr Wang, a Politburo member, said the economic slump should not discourage Guangdong from promoting hi-tech enterprises that used less energy and were environmentally friendly, and encouraging labour-intensive enterprises to move elsewhere. "This crisis offers us the opportunity to change the model of Guangdong's economic development ... and we should be firm in promoting the industrial structure upgrade," Mr Wang said in an article published in the overseas edition of People's Daily. Mr Wang's remarks appear to be in response to a row in the province over whether upgrading its industrial structure or saving labour-intensive enterprises should be its top priority. Zhuang Jian , an economist with the Asian Development Bank, said Mr Wang was focused more on long-term development than bailing out labour-intensive industries, but the policy could be hard to execute.
China researchers published more papers in quality engineering journals than their American counterparts for the first time last year, and the gap would only grow, a government scientific agency said. The mainland made the biggest contribution to the growth of engineering knowledge, by publishing 78,200 papers in academic journals, mostly in English, indexed by Engineering Information, a leading engineering database, last year, according to a study by the Institute of Scientific and Technological Information of China. The figure had increased more than 20 per cent from 2006.
China has greatly stepped up its applications for new patents and will pass Japan, which currently has the greatest volume of new patents, by 2011, research shows. The study found that the mainland was moving away from traditional agriculture and manufacturing and concentrating more on innovation, especially in areas such as chemical engineering. "China is set to dominate the patent landscape by 2012 ... to become the world's leading innovator," said Bob Stembridge, a spokesman for Thomson Scientific, one of the research arms of Thomson Reuters, and which carried out the study. "Inventions from China have been growing at a faster rate than from any region in the world," he said. "This has been driven by government incentives." These included bonuses worth a year's salary given to inventors who received new patents, said Eve Zhou, the consultant who wrote the report.
China, beset by food and drug safety scandals, has blacklisted dozens of websites for making false claims about traditional Chinese medicine, state media said. The 74 websites, most of them targeting Chinese consumers, sell drugs for high blood pressure, diabetes and tumors. Some feature testimonials from Western doctors and medical companies. Despite the ban, many of the websites are still accessible and selling their "cures." Only websites licensed by China State Food and Drug Administration are authorized to sell drugs online to individuals.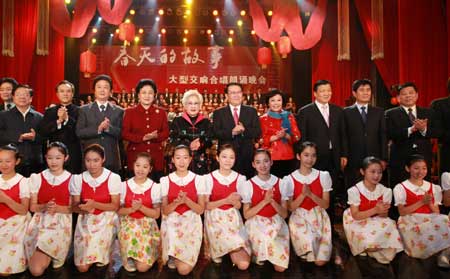 Li Changchun (5th R, 2nd row), member of the Standing Committee of the Political Bureau of the Communist Party of China (CPC) Central Committee, poses for photos with artists after a concert celebrating 30 years' reform and opening-up in Beijing Dec. 10, 2008. Li Changchun, member of the Standing Committee of the Political Bureau of the Communist Party of China (CPC) Central Committee, watched on Wednesday night a performance that marked the 30th anniversary of the country's reform and opening-up. The concert in Beijing featured poem recitation and chorus of songs as an ode to the achievements China has made in the past 30 years. It was one of a series of performances organized by the China Literature and Arts Federation to commemorate the anniversary. Liu Yunshan, member of the CPC Central Committee Political Bureau and head of the CPC Central Committee Publicity Department, and State Councilor Liu Yandong also attended the event.
December 11 2008

Hong Kong: More than 60 investors in Lehman derivatives have received HK$30 million in compensation with help from the Democratic Party. The settlements, involving 14 banks, came as a Legislative Council subcommittee that was formed to look into the saga said it would invoke its powers to call witnesses. "The range of compensation is very wide," party member and district councillor Andrew Fung Wai-kwong said yesterday. "Some of them received full refunds and some even with the interest accrued." The party would not disclose the average percentage of the principals the investors received, but chairman Albert Ho Chun-yan said it was high. Bank of China (Hong Kong) reached 11 agreements, the largest number. DBS and Nanyang Commercial Bank followed with 10 and nine, respectively. The other banks were Shanghai Commercial, Dah Sing (SEHK: 0440), Citic Ka Wah, Wing Hang, Wing Lung, Bank of Communications (SEHK: 3328), Citibank, Chong Hing, Fubon, Standard Chartered and Chiyu. The city's investors lost billions of dollars on minibonds guaranteed by Lehman Brothers when the US investment bank went bankrupt in September. Minibonds consist of high-risk, credit-linked derivatives marketed as a proxy investment in well-known companies. Party member and legislator Kam Nai-wai expressed dissatisfaction that the resolved cases represented fewer than 1 per cent of the total 7,000 requests - with losses totalling HK$4 billion - it received for help. "Resolutions are going at a snail's pace and the Monetary Authority is also moving at a snail's pace," he said. Most of the investors were elderly, less educated, had little investment experience and had invested considerable amounts of their savings. "The banks have told me they will also consider a compassionate factor," Mr Kam said, citing single parents or people who needed to pay for their children's education or family medical bills. Mr Ho said he had no doubt the cases were resolved because the banks knew they had broken sales guidelines. "All had regulation violations," he said, adding that in some cases, bank representatives who were not licensed to sell the derivatives explained the investments to clients, and a licensed salesman simply signed the sales documents. The Legco panel involved decided yesterday to call all its witnesses, as allowed by the law. It may either compel them to give testimony or invite them on a voluntary basis. But a legal adviser present said that if a witness declined to provide certain evidence at a subcommittee meeting open to the public, only the panel's chairman and deputy chairman would have access to the material to decide whether the panel could examine it.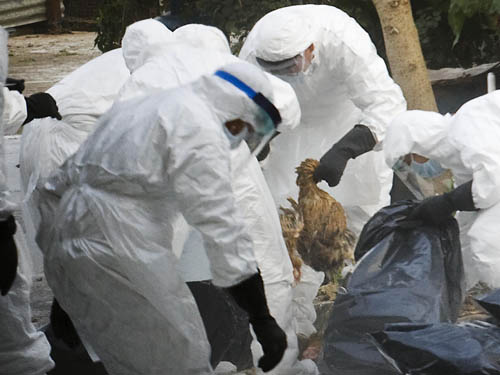 Hong Kong was on alert last night after the dreaded bird flu was found at a farm in Yuen Long. The government immediately shut down all poultry farms and markets, culled 80,000 chickens and halted imports of mainland chickens. The H5 virus killed 200 chickens at the farm, sending the government scurrying to find out what went wrong with its much-vaunted anti-bird flu control program. As results of tests to confirm if the bug is the deadly H5N1 strain were awaited, questions were being raised over whether the virus had mutated or the Dutch-made vaccine being used on local chickens had failed. Of particular concern is the fact that the dead chickens included vaccinated as well as unvaccinated birds. All 68,000 birds on the affected farm - owned by New Territories Chicken Breeders Association secretary Wong Yee-chuen, in Lau Fau Shan, Yuen Long - were killed, together with 12,000 chickens at a nearby uninfected farm. About 10,000 chickens at the Cheung Sha Wan wholesale market will be culled from today. All wet markets will be closed even though they have shown no signs of infection. The Aviary Pagoda in Yuen Long Park has also been shut indefinitely. The outbreak comes seven months after the poultry trade was shut down following the discovery of the virus in wet markets. The overnight keeping of live chickens at markets was banned following the outbreak in June. The last outbreak on farms, in 2003, led to vaccination of chickens. Secretary for Food and Health York Chow Yat-ngok declared a "serious alert", which means a 21-day shutdown of the trade - until December 29 - unless there is another outbreak. He expressed concern that both "sentinel" and vaccinated birds had died since the first death at the farm on Monday.
The government is studying the urban renewal strategies of several countries, including one that will allow residents to have a stake in the redevelopment of their homes. According to sources, the government has commissioned Hong Kong University to study various overseas models. The HKU team, headed by former legislator and associate professor of social work and social administration Law Chi-kwong, has since July examined the urban renewal experience of several "comparable cities," including Singapore, Taipei, Guangzhou and Shanghai and those in Japan and Korea. According to the sources, Korea allows residents to have a share in any redevelopment to ensure their participation. "We are open-minded to all possibilities and do not have a set agenda," a Development Bureau spokesman said. Academics and officials from several cities have been invited to Hong Kong to share their experiences in a seminar on Monday organized by the Urban Renewal Authority, which aims to drum up public discussion before the Legislative Council's development panel discusses the review of the strategy on December 19. Among the guest speakers are academics from Tongji University in Shanghai and Seoul National University, two urban redevelopment officials from Taipei and Guangzhou, Law and his HKU colleague Ernest Chui Wing-tak. Law said his study will be completed by the end of the month. He is not sure when the government will make his full consultancy report public. According to sources, the steering committee on Review of the Urban Renewal Strategy chaired by Secretary for Development Carrie Lam Cheng Yuet- ngor plans to visit several cities early next year. But Sze Lai-shan of the Society for Community Organization described the issue of ownership of old buildings in Hong Kong as complicated and said that it will be difficult to copy from overseas models. "Most owners do not live in those districts but rent their flats out to a number of tenants who share each unit. So I really wonder how many owners and tenants would bother to participate in urban redevelopment. It seems their priority is more about the amount of compensation they will receive," Sze said.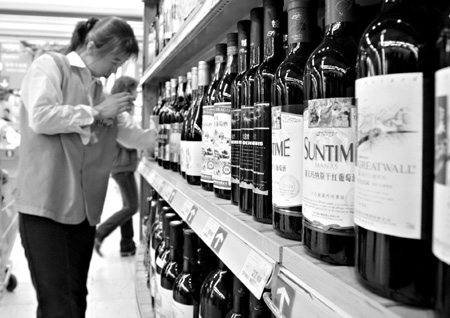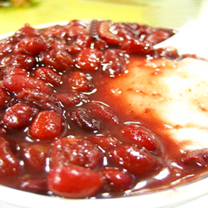 Hong Kong is to host the world's first major platform for pairing wines with Chinese food during the International Wine and Spirits Competition's inaugural Asian event next year. The IWSC, Britain's oldest and most prestigious wine and spirit competition, will tailor the event to meet regional tastes. For the first time, it will include a best China- made wine, director Allen Gibbons said. "We are in a renaissance for Chinese tastes in wines. This is about promoting the Chinese palate and its preferences. We expect the brands that win here next year to be very different from those that win in Australia or San Francisco," said Simon Tam, director of the Hong Kong-IWSC event. "Everyone knows the liaison between steak and certain wines, but what do you drink with Chinese food? It's along that line that we are inviting some of the most celebrated Chinese chefs and wine tasters to help us identify what works with things such as braised abalone. "Wine tastes and descriptions can vary considerably, even within the same language. "The competition is important in nurturing the Asian market's tastes because they differ significantly from those in the West." The competition will rate how various vintages complement dishes such as braised abalone, Kung Pao chicken, Peking Duck and dim sum. Going against prevailing wine dogma, the event will also explore which wines pair well with foods containing chili, Tam said. Hong Kong Trade Development Council assistant executive director Raymond Yip Chak-yan said the arrival of the 40-year-old competition will attract huge international interest from the trade. He added that this year's wine fair drew 240 exhibitors from 25 countries and regions. It was attended by more than 8,700 trade and 10,000 public visitors.
Hong Kong should take steps to boost its fiscal stimulus plan in the next budget to weather an economic downturn, the International Monetary Fund said. "An acceleration of infrastructure investments and possibly a permanent reduction in direct tax rates" will be needed in February's budget, according to the IMF in a report yesterday. "The government should target budget balance or a small fiscal deficit for the year as a whole." However, the government's just- announced plans to boost infrastructure spending would only bring a little help to the local economy as construction is projected to start in 2010 or 2011, said Hang Seng Bank senior economist Irina Fan Yuen-yee. "The government should implement more measures for the short term," she said. "It should provide one-off tax rebates in order to boost consumption in the short term as a permanent reduction in tax rates may bring an adverse effect on the city's fiscal balance." She estimated that a set of tax rebates of HK$50 billion could lift Hong Kong's economic growth by 0.5 percent. The IMF predicts that Hong Kong's growth will slow to 2 percent next year from 3.7 percent for this year. Hong Kong saw 6.4 percent growth last year. "Hong Kong is highly exposed to the unfolding crisis in international financial markets and to the slowdown in the global economy," the IMF said. "There are now clear signs of economic deceleration largely attributable to falling private consumption growth and declines in financial services." Hong Kong Monetary Authority chief executive Joseph Yam Chi-kwong said the body will keep a close eye on global market developments. The IMF reiterated its support for the linked exchange rate system, which "proved to be an anchor of monetary and financial stability in Hong Kong."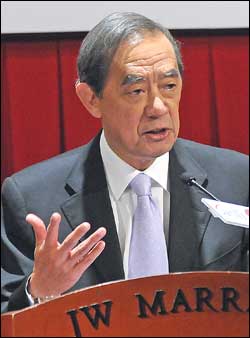 Hong Kong Exchanges and Clearing (0388) said it is ready to introduce the local bourse to mainland investors in preparation for the "through-train" program. HKEx has prepared introductory literature and brochures to explain the Hong Kong market, chairman Ronald Arculli said yesterday. Financial Secretary John Tsang Chun-wah said on Monday the scheme allowing mainland investors to buy Hong Kong-listed shares is still on track. "I think what the financial secretary has said is that, under the current climate it might be a bit difficult but they [the Hong Kong and mainland governments] are still working on it," Arculli said. Currently, mainland funds can buy Hong Kong stocks through the qualified domestic institutional investor scheme. "In our view, it is premature to suggest that the long-awaited through- train program is launching anytime soon," said Citi analyst Bob Leung in a report. A banking and settlement system for dual-currency transaction in Hong Kong dollar and yuan is needed for mainlanders to directly buy shares here, without affecting China's overall capital control, said Leung. And he said the local bourse is not diversified enough for the huge flow of funds from China. As for market speculation that HKEx this year may cut the current 90 percent dividend payout ratio, Arculli said he has not heard of any changes on the policy.
Fast-food chain operator Cafe de Coral (0341) estimated the total revenue of the Hong Kong food and beverage industry would plunge by HK$10 billion this year, pinched by the global financial tsunami.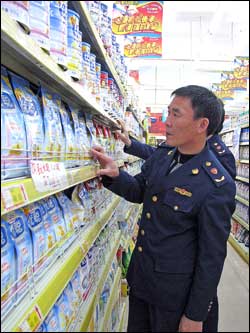 Beijing is launching a four-month food safety campaign today that will include inspections of foodmakers to weed out illegal or excessive chemicals in products, in the latest move to restore trust hurt by the tainted milk scandal. The drive, jointly conducted by nine central government departments, will target food and additive producers across the country, the Health Ministry said. The announcement comes amid efforts to address concerns at home and abroad about how China is tackling its worst food safety crisis in years. The ministry acknowledged last week that six babies likely died and 294,000 infants suffered urinary problems from drinking infant formula contaminated with the industrial chemical melamine. Such campaigns are part public relations drive, part crackdown by the authorities, as they try to address chronic food product safety woes. In January, the government claimed success in an earlier four-month food safety drive that sought to ease worries about the safety of the food supply ahead of the Beijing Olympics in August. Despite that claim, the milk scandal broke in September, with the government later saying the dairy at the center of the crisis knew as early as last year that its products were tainted, and that the firm and local officials covered it up. "The tainted milk scandal shows illegal production of food products and the use of nonfood substances are not isolated incidents," Health Vice Minister Chen Xiaohong was quoted as saying by the China Daily newspaper. Illegal chemicals from past domestic food scares will be among those targeted, including malachite green, a possible cancer-causing chemical used to treat fungal infections in fish, and the cancer- causing industrial dye sudan red, which was found used to color egg yolks.

China: Beijing is looking to lend a total of US$35 billion to help Brazil and Russia develop mega energy projects, taking advantage of increasingly tough global credit conditions to drive the mainland's energy security. Chinese officials have proposed lending state-controlled Petrobras US$10 billion for the development of new deep-sea oilfields off the coast of Rio de Janeiro, Mines and Energy Minister Edison Lobao was quoted by the Folha de S. Paulo newspaper as saying. Reuters reported China would resume talks to provide US$25 billion to Russian state-controlled oil major Rosneft and monopoly pipeline operator Transneft, in exchange for securing oil supplies for 20 years. The talks, previously held in China, had stumbled due to disagreements over interest rates and state guarantees, sources told Reuters last month. Rosneft, Russia's largest oil exporter to China, has a stretched balance sheet, partly because of its US$6 billion acquisition in 2004 of former rival and bankrupt Yukos. In a move seen to help Rosneft finance the deal, China National Petroleum Corp, with the help of China Development Bank, reportedly pre-paid the Russian firm US$6 billion in 2005 for oil to be bought in the future. Transneft, on the other hand, is in talks to build a 600,000 barrels a day oil pipeline from resource-rich East Siberia to the eastern seaboard, targeting the Korean, Japanese and United States markets. Transneft is also in talks with Beijing to build a spur line from Siberia to China. Crude oil's 70 per cent price decline in the past five months and the credit crunch have constrained Petrobras, Rosneft and Transneft's capacity to finance their huge investment plans. Oil is trading at about US$44 a barrel compared with a high of US$147 in July. Petrobras said it discovered 50 billion to 80 billion barrels of oil reserves over the past year and was gearing up to spend hundreds of billions of dollars during the next 30 years to extract the oil. Deep-sea projects were only profitable at crude prices of US$35 to US$60 a barrel, industry officials said. "Such loans are unprecedented and carry significant exploration and political risks," said Gordon Kwan, CLSA's head of China energy research. "But lending money to Brazil and Russia for long-term energy projects is good diversification from investing most of China's foreign exchange reserves in US treasury bonds. This win-win arrangement will also enable China to hedge their bets on the Middle East and Africa." China imports 50 per cent of its oil needs, up from 40 per cent four years ago. It has been aggressively investing in oil projects abroad, especially in Southeast and Central Asia, Africa and South America, where it faces less political opposition. Although Petrobras is the world's 14th-largest oil producer by market value, analysts say Brazil is poised to overtake Venezuela as the largest oil producer in South America within a decade. In the first 10 months of the year, Brazil was the 15th-largest oil exporter to China, while Venezuela was the seventh and Russia fifth. Petrobras' leadership and expertise in deep-sea oil drilling would also be something mainland oil companies could tap into. China National Offshore Oil Corp last month said it planned to spend 200 billion yuan (HK$225.5 billion) with its partners to develop oil and gas in China's offshore virgin deep-sea territories. It has invited Petrobras to jointly explore the oilfields. Petrobras have signed memorandums of understanding with China Petrochemical Corp, the parent of Sinopec Corp (SEHK: 0386), and with China National Petroleum Corp, PetroChina (SEHK: 0857, announcements, news) 's parent, to co-operate on upstream and downstream oil and gas projects.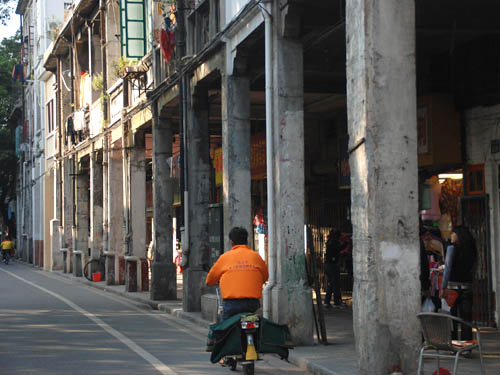 Streets with the arcade-style housing typical of Guangzhou's heritage buildings will be conserved, under a redevelopment plan for the city. The Guangzhou government has revived a massive urban redevelopment project after it stalled for six years because of a lack of funding. Guangzhou's Bureau of Urban Planning uploaded an outline of its redevelopment scheme for 300,000 square metres of downtown Haizhu district on its website yesterday, inviting the public to comment before January 9 on the preliminary scheme drafted by Guangzhou-based South China University of Technology architectural experts. Any demolition work will be paid for by the government and redevelopment will be funded by private developers. Under the plan, the government will pull down or repair all the old buildings in the area on the south bank of the Pearl River, relocating more than 20,000 people in the process. All the streets in the area with arcade-style housing typical of Guangzhou's heritage buildings would be preserved, the government said. Dangerous, termite-riddled arcade houses on Tongfudong Road would be turned into shops. The revival of the scheme was not related to any economic stimulus package but rather stemmed from an announcement by Guangzhou Communist Party secretary Zhu Xiaodan two years ago to improve living conditions, a district official said. He said companies hired to assess the cost of the project estimated that the relocation bill alone would run into the billions of yuan. Once the relocations were completed, the government would invite public bids for the development of the land, the official said. Residents and businesses on Tongfudong Road, one of several streets with arcade housing to be affected by the relocation proposal, welcomed the plan but said they wanted to be treated fairly.
December 10 2008

Hong Kong: The Hong Kong share market yesterday rebounded 8.66 per cent to close above the 15,000-point level for the first time in six weeks, boosted by heavy window dressing attributed to long-only funds.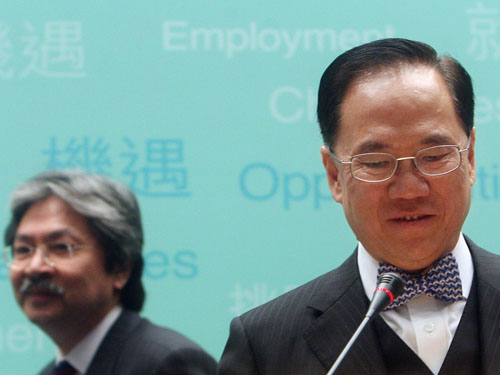 Chief Executive Donald Tsang Yam-kuen yesterday unveiled a rescue plan that will provide HK$100 billion in loan guarantees to businesses, vowing to save struggling firms and protect jobs. The government will also create more than 60,000 jobs through speeding up civil service recruitment and infrastructure projects. "We must be prepared that the next 12 months will be very tough as we see the first economic recession since 1998," Mr Tsang said after a meeting of the Taskforce on Economic Challenges. "As we consider ways to tackle the economic slowdown, there is a recurring theme, and that theme is to preserve employment, to keep people gainfully employed." Saying the government would take a more active role in intervening in the economy, Mr Tsang said he would have "no baggage" when considering new ways to help the city weather the storm until, he believed, a silver lining would appear in 2010. "Small and medium enterprises are the lifeline of our economy. To help them in this difficult time is the key to preventing job loss," he said. Key measures include the expansion of the special loan guarantee scheme for businesses, under which the government will guarantee 70 per cent of loans companies receive from banks. While the guarantee percentage remains the same, the loan ceiling for each application has been raised from HK$1 million to HK$6 million, including up to HK$3 million of revolving credit. All firms except listed companies, which are better able to secure resources, can apply and the loans can be used not only as operating funds but for other purposes such as commercial overdrafts. The government's total commitment for the scheme, which would be launched by Christmas pending approval by the Legislative Council, will be HK$100 billion. To reduce the impact of rising unemployment, Mr Tsang said the government would create more than 60,000 jobs by speeding up infrastructure projects, bringing forward next year's civil service recruitment and opening temporary positions. As well as liaising with mainland authorities to help Hong Kong businesses, the government will also cut red tape in such areas as licensing procedures and improve the funding process for non-governmental organisations. Although he admitted that many of the jobs promised under his earlier stimulus plan of launching 10 major infrastructure projects would not be created until 2010, Mr Tsang denied the measures were "too little, too late" to address what he warned would be an inevitable surge in unemployment next year. "Despite all the difficulties ahead, we must not lose heart. I am confident that once the external environment improves, Hong Kong will be among the first to rebound," he said. Lawmakers and business chambers generally welcomed the measures, although most believed more should have been done. Liberal Party chairwoman Miriam Lau Kin-yee said the expansion of the loan scheme could not adequately address banks' doubts about lending to businesses. She said the government should raise the guarantee percentage in order to save businesses. Civic Party leader Audrey Eu Yuet-mee said the government should pay more attention to helping underprivileged groups affected by the downturn, while unionist Lee Cheuk-yan said that securing loans from banks through the government scheme should be conditional on firms not firing staff. "The number of new jobs created is just too few in light of the number of unemployed," Mr Lee said. But Chinese University political scientist Ivan Choy Chi-keung said: "[Mr Tsang] has taken the right direction because at least he will be seen as doing something by stressing the job creation message." Chief executive's stimulus package
* HK$100 billion loan guarantee for enterprises (except listed firms): loan ceiling raised to HK$6 million, including up to HK$3 million in revolving credit
* Create more than 60,000 jobs next year
* Use various funds to promote innovation, environmental awareness and work skills
* Help various NGOs with their development or removal projects
* Policy secretaries to personally oversee licensing procedures to facilitate job creation initiatives
* Work with mainland to expand renminbi business in Hong Kong, ease difficulties faced by HK enterprises in Pearl River Delta, and increase mainland visitor numbers
Donald Tsang Yam-kuen said yesterday he would seek state leaders' help to shore up Hong Kong's shrinking economy when he makes a duty visit to Beijing this month. The chief executive also said any proposals he put forward would be designed to benefit the long-term economic development of both Hong Kong and the mainland. "When I met President Hu Jintao last month in Lima [during the Asia-Pacific Economic Co-operation forum], President Hu clearly stated that the nation is a strong backer of Hong Kong and will take effective measures to support Hong Kong through the difficulties," Mr Tsang said. "My confidence on the future is also based on the support from the central government." In Beijing, he would "discuss further with the central government various proposals of assistance, which will also benefit the nation's long-term development". "Win-win solutions" he mentioned included co-operation with Guangdong and neighbouring authorities, seeking ways to step up assistance for Hong Kong businesses investing across the border. A government source said financing aid, tax rebates and helping businesses to switch from exports to sales in the mainland markets, would also be discussed, and the Trade Development Council would help. Other measures to be discussed included expanding yuan-related business.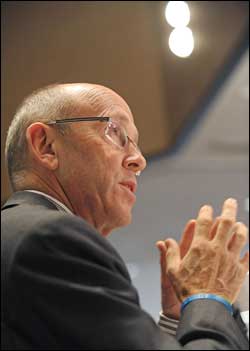 The darkest time for the world economy is yet to come as the first three or four months of next year will be an "extremely difficult" time, Standard Chartered (2888) chairman Mervyn Davies warned yesterday. "The consumer has lost confidence and there's a lot of fear around," Davies said. "I think it's going to be a very tough economic environment for the first few months of 2009." However, the staff cuts in Hong Kong's financial industry seem to be mostly over, he said. Hong Kong is very resilient and jobs will be created in other sectors such as construction, even though jobs have been lost in the financial sector, according to Davies. "Financial services is going through a period of a little bit of shrinkage ... Other industries might grow," he said. "For a period of time, the economy changes a bit." He added these changes will only be short-term and said Hong Kong's financial services industry still has an "extremely bright future." Meanwhile, Davies said Standard Chartered has recently been increasing its lending to small and medium-sized enterprises in Hong Kong despite the financial crisis. November was the second most active month this year in terms of the amount of unsecured SME loans extended by the bank, Standard Chartered Bank (Hong Kong) chief executive Benjamin Hung Pi-cheng explained. Davies said: "It's important that banks like Standard Chartered continue to support their customers ... at a time when things are difficult." Davies, a member of the SAR government's Task Force on Economic Challenges, said Hong Kong should focus on creating jobs and protecting people who have very little money. "It's very important that the government launch some initiatives around infrastructure," he added. Hong Kong should also work to keep tourism numbers up. Davies said governments around the world should focus on four key issues: financial stability, climate change, alleviation of poverty and working out a new architecture for running the world.
DBS Bank (Hong Kong) said the city's mortgage rates may increase further next year as the rates are already at a low level. Chief executive Amy Yip said yesterday that for the level of mortgage rates to be less than the best lending rate is exceptional. "The mortgage business is nearly not profitable now," she said. Asked if DBS will relax lending next year, Yip said it will follow the market but there will be no room for a cut in Hong Kong if the US Federal Reserve lowers interest rates again. She said DBS has no plans to follow HSBC Holdings (0005) and set up a fund to increase credit access for small and medium-sized enterprises during the financial crisis. Dah Sing Bank and Mevas Bank, which are both part of Dah Sing Banking Group (2356), said yesterday they will raise mortgage rates for new customers by 25 basis points. This followed increases by other major players. They will charge prime minus 1.5 percent, or 3.75 percent, for mortgages of less than HK$1 million, with plans including a cash rebate of 0.25 percent. The two banks will charge prime minus 1.75 percent, or 3.5 percent, for loans of more than HK$1 million, and offer a cash rebate of 0.5 percent. The changes, which take effect today, mean new customers taking out a HK$1 million home loan will pay HK$2,500 more each year. Last Tuesday, Bank of China (Hong Kong) (2388) raised its mortgage rates 50 basis points to offer effective rates of 3.5 percent to 3.75 percent. On Monday, HSBC increased its mortgage rates by 50 to 75 basis points to provide effective mortgage rates of 3.5 percent to 4 percent.

50 top managers guilty of HK$3b in deceit in past 5 years, ICAC says - Fifty people from the top management of locally listed companies have been convicted of dishonesty in the past five years, with the total amount of fraud and corruption topping HK$3 billion, the ICAC said. Commissioner Timothy Tong Hin-ming said corporate governance and the integrity of directors should be stressed amid the financial meltdown. The Independent Commission Against Corruption revealed that 18 cases concluded since 2004 involved HK$2.5 billion of fraud or scams on letters of credit. Another HK$200 million involved bribery or kickbacks, and embezzlement totalled HK$300 million. Those convicted included company chairmen, accountants and other top management figures. "Our experience tells us that these serious problems usually occur when top management fails to lay down ethical standards for the corporation," Mr Tong said at the Conference on Corporate Governance in the Financial Sector yesterday. "Even though an ethical framework was laid down, they may have failed to set up a sound mechanism for its implementation. Regardless of the circumstances, every corruption and fraud scam impairs the interests of investors, dampens the confidence of the market and erodes the leading position of Hong Kong as an international financial hub." Mr Tong said there were no signs showing the problem had plagued a particular region, but he stressed the importance of co-operation with the mainland authorities and Macau's anti-graft watchdog. Speaking at the same conference, Secretary for Financial Services and the Treasury Chan Ka-keung said good governance could enhance the risk management of businesses and thereby improve the confidence of investors.
A computer festival that drew 450,000 people to the streets of Sham Shui Po in a scramble for heavily discounted products closed yesterday with buyers having spent more than HK$230 million, the organisers said. Exhibitors said the sales figures were higher than expected, but predicted the outlook would remain grim at least until the Lunar New Year and that prices of electronic products would rebound by about 30 per cent after the festival. Organisers Sham Shui Po District Council and the Chamber of Hong Kong Computer Industry originally expected a total turnout of 400,000, with sales topping HK$180 million. Leung Ding-kau, chairman of the chamber, said the festival had given a boost to firms whose business had been stagnant. He said that during the four-day festival some of the retailers had made what they normally made in a month. He said the businesses could still make a profit despite the goods generally being sold at a 30 per cent discount because retailers could buy cheaper stock from suppliers as orders from North America and Europe dropped amid the economic slowdown. Exhibitor Wong Kwan-shing, marketing manager of a shop selling DVD recorders, said the company had made a profit of about 10 per cent. However, he now expected business to drop by about 30 to 40 per cent. Fellow exhibitor Cheng Hang-ha, director of a shop selling display monitors, said: "We expect a [drop in business] after the festival, but it will be better than doing nothing."
Hong Kong's largest telecommunications operator, PCCW (SEHK: 0008), has partnered technology vendor Huawei Technologies to link their mobile and fibre optic networks to achieve mobile internet connections at transmission speeds faster than the existing 3.5G services or dedicated private data links. Dubbed "Next Gen" mobile technology, the link will provide mobile phone users with internet access through a fibre optic network with a bandwidth of at least 1,000 megabits per second, 500 times faster than the existing internet link offered by standard "E1" connections. The need for speed follows a drive by mobile operators to sign up subscribers for low-tariff mobile broadband services, which has come at the cost of increasing network congestion. Market sources said mobile operators such as Hutchison Telecom (SEHK: 2332) were planning a similar upgrade. The company will reportedly pilot faster mobile internet access in the areas of Hong Kong and Kowloon that circle Victoria Harbour where service demand is the highest. The new Next Gen technology involves connecting mobile base stations with optical fibre networks rather than conventional E1 cable connections. To boost the transmission of mobile traffic between PCCW's mobile network and switching centre the company will use High Speed Packet Access (HSPA+) technology to serve its 3G network. The platform will triple the maximum download speed of 7.2 megabits per second to 21 megabits per second. PCCW is expected to launch Huawei's first compatible modem in the second quarter of next year. Several mobile phone makers also plan to launch handsets with faster transmission speeds next year.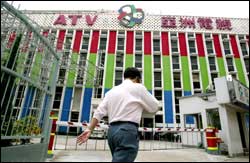 Three senior Asia Television executives and a deputy chief of news have resigned less than a week after high-profile telecom executives were appointed to run the loss-making broadcaster. The resignations of ATV's executive vice president Dewy Ip, senior vice presidents Peter Kwan Wai (news and public affairs) and Howard Ho (engineering) were accepted by ATV. "They have resigned ... to pursue personal interests," an ATV statement said. The company said it respects their decisions and is grateful for their contributions. It was also confirmed that media veteran Leung Ka-wing, once seen as a future head of RTHK, also resigned. Tammy Tam, ATV news controller and a veteran reporter who covered the Iraq war in 2003, will take over Leung's role for the time being. Last Thursday, former Cable and Wireless HKT chief executive Linus Cheung Wing-lam was appointed ATV executive chairman. Ricky Wong Wai-kay, chairman of City Telecom (Hong Kong), was made chief executive. Kwan said his departure has nothing to do with the management reshuffle. It is understood Leung tendered his resignation to Kwan yesterday and both announced their departure in front of 20 to 30 staff from News and Public Affairs and related departments after the 6pm newscast. "They did not explain why or mention anything about being laid off during the meeting," a witness said. "They merely said the new management highly regard the news department." But when ATV admitted it sacked staff earlier this year Leung, described as passionate and demanding, told his subordinates the station needed people to cover news. "If any layoffs are needed, they would have sacked Kwan and I first," Leung was quoted as saying at the time. It has been rumored that the commercial broadcaster, which has lost more than HK$5 billion since the 1980s, would lay off more staff after the Miss Asia Pageant. In response to media inquiries, ATV said last night that the station and Hong Kong Broadband Network are two individual companies. "The news departments of the two companies have their own editorial direction and maintain editorial independence. The operation of the news department will be maintained as usual," it said.

China: The Ministry of Railways yesterday unveiled a seasonal travel scheme with an extra 319 trains planned, 50 days ahead of the Lunar New Year travel peak. This will cater to millions of unemployed migrant workers returning home early because of factory closures amid the economic turmoil. Warning of a "grim transport situation", railway authorities said more than 188 million people were predicted to travel by rail within a 40-day travel peak starting on January 11. Most would be migrant workers, university students and holidaymakers. But the authorities, keen to avoid a repeat of the nationwide snarl-up caused by snowstorms in February, could be less busy this year, as many workers have said they would not have jobs to return to. Economists are predicting that more factories will declare bankruptcies during the holiday period to avoid severance payouts, and that the huge number of laid-off workers forced to return to the countryside could cause social unrest. The livelihoods of millions of migrant workers and their families from major labour-supplying provinces including Sichuan , Hunan , Hubei , Jiangxi and Anhui are threatened. Hubei worker You Min , waiting for a train at Shenzhen station, said her factory, which manufactures transformers, had not received orders for the past few months, although the period before Christmas was usually a busy time. It was the first time in a decade that she had gone home this early. Migrant workers waiting for back pay owed by collapsed factories said they did not have money for travel. Guangxi native Nong Xiumei and her husband have had to take indefinite leave since the crisis began and have received only 100 yuan (HK$113) to cover back pay from a shoe factory in Guangzhou. They have each been given 200 yuan by a local entrepreneur for bus tickets to travel home. More than 2,000 frustrated migrant workers in Guangzhou, Dongguan and Shenzhen are expected to receive money from the same entrepreneur to cover travel, although he has been criticised by netizens for paying 600,000 yuan to advertise his charitable act - 200,000 yuan more than the money given out. Migrant workers have said that regional governments should subsidise train tickets for them to have family reunions as a reward for their hard work and taxes paid in the past year. In previous years, workers had to queue for days for tickets to return home, or pay high prices to buy them from touts.
At the tender age of 25, Yang Bingyang has carved out a career in modelling, in acting, as a casual event host and as a writer. But Yang is better known on the mainland as an internet celebrity under the name of Ayawawa, a name she prefers. Ayawawa shot to virtual fame a few years ago for her unflinching and controversial postings about relationships and her occasional bragging about her beauty and intelligence. Her infamous statement that "all women who are prettier than me are not as smart and all those who are smarter than me are not as pretty" started out as a chat-room signature before drawing a barrage of unflattering comments and the attention of "human flesh searches" in which Web surfers tried to dig up dirt about her. Criticised for being too narcissistic, Ayawawa said she spoke of nothing but a simple truth about herself. "Just as Han Han [a rebellious but popular young mainland writer] once said, Chinese people are used to talking humbly, and you're considered normal speaking that way and you're labelled abnormal if you talk sincerely," she said. After her first taste of the internet 12 years ago, Ayawawa spent many of her formative years online and is at the vanguard of a younger generation that values individuality and freedom of expression. When she graduated from Southwest University's law school in Chongqing in 2005, she decided not to look for a full-time job and opted instead to freelance, an increasingly popular trend among her generation. Ayawawa said the country had come a long way in terms of tangible improvements since her earliest memories. For instance, in the past an ordinary family might have to save for years and even have to borrow some money before they could afford a television set. But she said she was particularly impressed by what she perceived as a gradual move towards democracy and the country's strides towards greater openness. "China has increasingly adopted the mindset of a major nation that is powerful enough to face up to the media glare," she said. On a personal level, Ayawawa said she was not worried that her high profile and sophistication would scare off anybody interested in her, even though she lived in a culture where women were not valued for their wit and self-esteem. "I don't worry - I will marry myself off one day," she said with a grin, adding that she would not let her beauty and wit get in the way of finding that special someone. Ayawawa said she did not particularly oppose sex before marriage as long as there was a loving relationship. "Not every relationship leads to marriage, but we should at least start one with that goal in mind."
The former vice-president of the Supreme People's Court, Huang Songyou , who is under investigation for corruption, has surprisingly won an award recognising his achievements in legal studies, mainland media reported yesterday. Mr Huang won third prize in the official Qian Duansheng Law Achievement Award on Saturday. It is considered the most prestigious of its kind on the mainland. He was given 5,000 yuan (HK$5,640) in prize money for his article "The power of Judicial Interpretation", published in 2005, local media reported. The awards ceremony was held at the Great Hall of the People.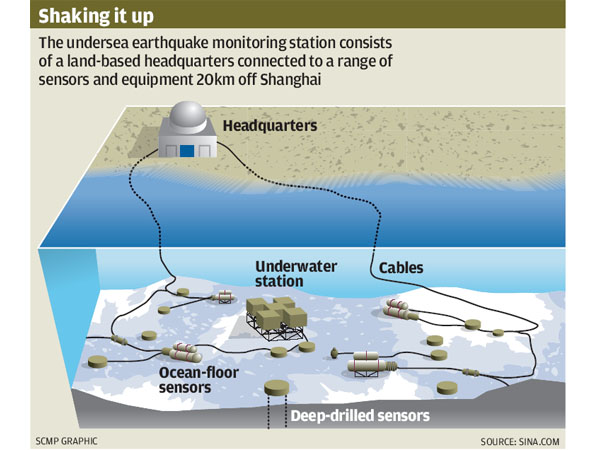 Shanghai will start building a seabed observatory off its southeast coast early next year to monitor earthquakes and tsunamis. The multi-billion yuan facility will give residents at least seven "precious seconds" to find shelter before a quake and several hours in the case of a tsunami, according to a researcher involved in the project. A hub spanning about 4 sq km will be built near Yangshan Island. At the centre will be a metallic tube going 300 metres down into the seabed and connected to hundreds of kilometres of cabled sensors. Shanghai approved the project in 2006, but the central government held back on political and financial support until the Sichuan earthquake rocked the country in May. Beijing hesitated partly because deep-sea projects cannot generate as many political benefits as eye-catching space projects for the same outlay, according to a marine geologist. "But many people are against the proposal because Shanghai does not really need such a fancy scientific facility as the possibility that it may be hit by an earthquake or tsunami is quite low," the geologist said. Shanghai has not recorded any fatalities from earthquakes or tsunamis in the past five centuries. The United States and Canada started to build the world's largest cabled seabed observatory - the 3,000km North-East Pacific Time-series Undersea Networked Experiments (Neptune) - in 2006 with a budget of US$300 million. But the job was more difficult than predicted and the completion of the US side was postponed until 2015. "If there is a place that really needs such a facility it should be Guangdong, Fujian or Hainan . These southern provinces all have dangerous seabed faults and record frequent destructive tectonic activities," the geologist said. "But it is understandable that Shanghai has more resources and a better capacity to protect itself as the nation's most important economic centre." Wang Pinxian , a leading scientist working on the project, told the Xinmin Evening News that each kilometre of cable would cost about 2 million yuan and the observatory would be maintained by underwater robots and manned submarines. Tongji University associate professor Yang Ting , who has also been involved in the project, said the observatory was still an experimental facility facing many technological challenges including how to distinguish low frequency sound waves generated by a ship from those of an earthquake.
The Hebei Supreme Court has refused to accept a lawsuit against a dairy filed by dozens of families whose children were sickened by tainted milk, saying investigations are continuing.
Tang Keshuai has been down in the dumps for months, ever since he began to feel the pinch of a constrictive money supply since mid March. Tang, manager of Langyu Plastic and Rubber Co. Ltd., a plastic and rubber product producer based in east China's Wenzhou, Zhejiang Province, used to settle his accounts with raw material suppliers once every four months, on the traditional Chinese lunar festivals of Dragon Boat, Mid Autumn and Spring Festival respectively. But the rule was changed in mid March when raw material suppliers asked for accounts to be settled once each month. The change was not a good one. The original four-month span allowed Tang to have sufficient active money in his capital chain. Capital pressure from upstream was one part of the story. Tang received smaller orders over the past months. In the first three quarters, Tang's company had only 3 million yuan (439,090 U.S. dollars) sales turnover, compared with 20 million yuan in 2007. Tang had to dismiss 30 out of the 50 staff workers in August and transferred most orders to other plants, in order to lower production costs by 10 percent. Tang was amazed to find it hard to transfer the orders. "I felt curious in the beginning why it was hard to seek processors, since orders became fewer on the market," said Tang. Longgang Town, home to Tang's company, currently has only about 100 plants of his type, while there were about 600 such plants a year ago. In early June, Tang's company had almost exhausted its supply of cash, with only 200 yuan left in the account. Tang had nothing else to do except to driving his three-year-old daughter to the kindergarten. Two days later, he had to borrow money from his sister to "have meals". He continued for 10 days, and only pulled through the crisis when a Russian client remitted 30,000 U.S. dollars to his account. "I was lucky to stick it out. But many companies have closed down because of a broken capital chain," said Tang. During the current Wall Street-ignited global financial crisis, China's small and medium-sized enterprises (SME), largely labor-intensive and vulnerable to fluctuations in domestic and external demand, are affected most. In the first half of 2008, 67,000 SMEs, each with sales income exceeding 5 million yuan, closed down, laying off more than 20 million employees, said the National Development and Reform Commission (NDRC). The figure didn't include service industry firms and SMEs whose sales were less than 5 million yuan, since there were no authoritative figures available on those categories. Industry officials attributed the SME difficulties mainly to high raw material prices (leading to higher production and operation costs), financing difficulties, sharp export plunges and RMB appreciation. Data from the China Association of Small and Medium-sized Enterprises (CASME) showed that compared with the second half of 2007, the country's SMEs have suffered a 20-percent rise in labor costs, an 11-to-15-percent rise in raw material costs, and a 40-percent rise in borrowing costs. But the average product ex-factory price is up only about 5 percent. These factors, accompanied by surging land prices and the appreciation of the RMB, have almost pushed SMEs to the limit. SMEs are an important pillar of the Chinese economy. More than 95 percent of the 4.3 million SMEs are privately owned and many are in the export sector. They generate almost 60 percent of the nation's gross domestic product (GDP), 50 percent of tax revenues, 68 percent of exports and 75 percent of new jobs every year.
Spokesman: Chinese maritime patrol near Diaoyu Islands irreproachable - The patrol of Chinese ships in its territorial waters is irreproachable, said a Foreign Ministry spokesman Monday night. The comment by spokesman Liu Jianchao came in response to a question regarding the reported marine surveillance by Chinese ships in the seas near the Diaoyu Islands on Monday. "The Diaoyu Islands and adjacent islets are Chinese territories since ancient times. The usual cruising of the Chinese ships within Chinese seas is irreproachable," Liu said.
December 9 2008

Hong Kong: HSBC has committed HK$4 billion for loans to small and medium-sized businesses in Hong Kong as part of a US$5 billion global fund to give struggling firms access to credit amid the international financial crisis. Hong Kong's largest lender, which has more than 280,000 SME customers in the city, is the first to take action following calls by the government and Monetary Authority for banks to unfreeze credit and be more supportive of SMEs. The move also comes after industry representatives complained that banks' reluctance to lend was sending some otherwise viable SMEs to the wall. In addition to the HK$4 billion earmarked for Hong Kong, US$1.47 billion has been set aside for SMEs in Britain. The rest will go to supporting other key HSBC SME markets. "This is a difficult time for business in many economies. Customers are rightly looking to see how banks can help," said Michael Geoghegan, HSBC Holdings (SEHK: 0005, announcements, news) ' group chief executive. "I am pleased that HSBC is using its financial strength to help our small-business customers around the world by delivering this new US$5 billion fund." The fund represented new money, "over and above what HSBC would normally expect to lend in the current business environment", and would come from HSBC's own resources, the bank said. A spokesman said the fund was set up in response to the economic downturn and government actions to stimulate lending. The fund will supply working capital to help businesses and support companies that trade or aspire to trade internationally. In Hong Kong, lending from the fund will initially be made to successful applicants to the government's current SME Loan Guarantee Scheme and the planned Special SME Loan Guarantee Scheme. "This additional HK$4 billion of new lending shows how seriously we take our commitment to SMEs in the territory," said Sandy Flockhart, HSBC's Asia Pacific chief executive. Hong Kong Small & Medium Enterprises General Association chairman Chan Shan-ho welcomed HSBC's new fund and hoped other banks would launch similar schemes to improve SMEs' access to credit. Mr Chan also urged the government to do more, such as set up a fund to help SMEs and further increase loan guarantees for SMEs. Margaret Leung Ko May-yee, HSBC's global co-head of commercial banking, said the bank would also review options for lending to SMEs not taking part in the government's loan guarantee schemes. She declined to reveal what interest rates would be charged or forecast how many SMEs would benefit. "[Interest rates] will be set case-by-case as it depends on their own financial and business situation, but in general, borrowing costs for participants of the government-guaranteed lending schemes will be lower." Responding to criticism that banks were refusing to lend, Ms Leung reiterated that HSBC had not tightened lending to SMEs as the total value of SME loans granted in October and last month recorded double-digit growth year on year. She said there was room to increase the amount allocated to Hong Kong from the US$5 billion fund, but the total amount available globally would not be further increased. Following the 2003 Sars outbreak in Hong Kong, HSBC launched a scheme to support SMEs that included measures such as lengthening the loan repayment period and refunding some of the interest paid.

HSBC global fund for small firms has HK flavor - The fingerprints of Hong Kong, whose lifeblood is trade, are all over the US$5 billion global loan fund just announced by HSBC Holdings (SEHK: 0005, announcements, news) to keep credit flowing to small and medium-sized enterprises during the present crisis. Just as SMEs are the backbone of world trade, trade credits through banks and intercompany loans are estimated to underpin 90 per cent of about US$14 trillion in international trade each year. Little wonder that trade finance is both the origin and mainstay of many banks in Hong Kong. In recent weeks, Li & Fung Group chairman Victor Fung Kwok-king spoke passionately about the "clear and present" danger of a contraction in global trade finance. As the first Asian chairman of the Paris-based International Chamber of Commerce, he exhorted world leaders to take Hong Kong as a role model in expanding export credit insurance so that banks would feel more inclined to provide trade finance. The need to unchoke trade finance is urgent. In the current conflagration, manufacturers and traders are being burned at both ends. They don't just produce the consumer products for which demand is now plunging in major markets and orders are being cancelled daily. Many also arrange the finance for the sophisticated supply chain behind the products and for the logistics to get them into overseas stores on time. It's one of the reasons Hong Kong SMEs are so competitive in international trade. Another is trustworthiness, which allows many a deal to be sealed with only a handshake. Yet in these dire times even trust built over many years is being put to the test. The financial turmoil unleashed when banks stopped trusting other banks has landed on the "real economy". With shrinking margins and orders, fear is setting in, corners are being cut and "non-contractual" actions between partners are on the rise, those at the front line of trade and shipping say. They anticipate a surge in disputes over money. For all these reasons, nobody understands better than Hong Kong why the financial knot tightening around the throat of the SMEs that drive international trade must be cut - and quickly. The HSBC fund, of which HK$4 billion is committed to Hong Kong firms, builds on expanded government guarantees for SME loans. It will make working capital available to those already vetted and accepted under the government schemes, among others. This should shorten the time it takes to get credit into the hands of local companies that are crucial to arresting the downward spiral in Hong Kong's economy. They are also well placed to help restart the motor of global production in the Pearl River Delta as external conditions improve. No one can say for sure how much Hong Kong influenced this multibillion-dollar decision by a global bank. But it certainly feels, at least on this occasion, as if the "H" has returned to the fore at "HSBC".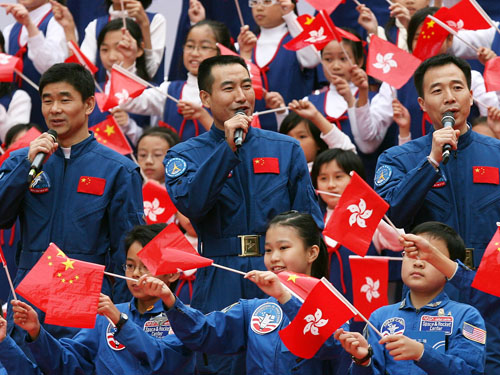 Astronauts (from left) Liu Boming, Zhai Zhigang and Jing Haipeng join the crowd in song at Hong Kong Stadium in So Kon Po. More than 20,000 fans of the Shenzhou VII astronauts packed a variety show at Hong Kong Stadium yesterday afternoon to honor the men to took part in the nation's first spacewalk mission. On the third day of a visit by a 40-strong space programme delegation, the three astronauts soaked up a passionate welcome from the crowd as they were driven around the stadium in golf carts, amid a sea of national flags, so people could get a closer look at them.
The planned high-speed rail link between Hong Kong and Shenzhen airports may hook up with Hong Kong's local railway network in a bid to create a larger pool of passengers and boost development in the northwestern New Territories, sources said. That means the express rail link, originally planned as a direct link taking just 17 minutes to travel between the two airports, would have a stop connecting it to West Rail. The stop would be in Yuen Long or Tuen Mun, and the government is looking at which option would offer the best opportunities. Tuen Mun councillors have been mobilising the community to fight for the station to be built there, but a source said the government was leaning towards Yuen Long.
More than half of the 26 bus routes serving Eastern District may be axed or have the number of their trips cut if a proposal by the Transport Department is approved. And cuts in the other 17 districts may follow. Hong Kong Island could lose at least 163 bus trips a day, or 4,890 trips a month, if the department's latest development plan to remove four routes that either end at or pass by Eastern District wins support from the district council. Another 11 bus routes may be shortened, or run less frequently.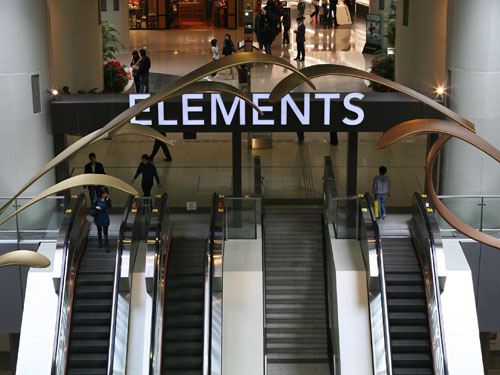 A quiet shopping day at the Elements mall in Kowloon MTR station. Frustrated tenants at the 14-month-old Elements shopping mall in Kowloon station are considering petitioning the MTR Corporation (SEHK: 0066) for temporary rent concessions, sources familiar with the situation say. They want the concessions to help tide them over as they suffer from a drop in customers amid the economic downturn. Many shops and restaurants at the upscale mall, owned by the MTR Corp, are struggling to make money. "Elements has been quiet for more than a year," one source said. An MTR Corp spokesman said customer traffic had grown 12 per cent year on year and that Elements was seeing more tourists, office workers and others with the opening of the W Hotel and the International Commerce Centre development.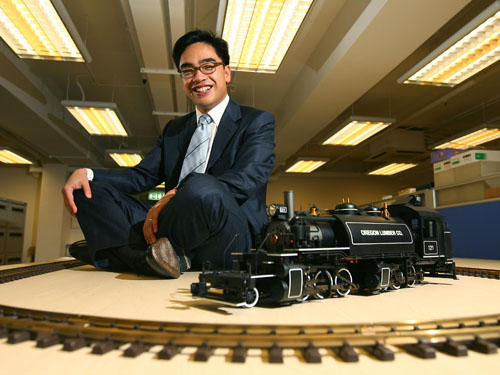 Executive director Ivan Ting says the Sanda Kan takeover will raise production and streamline Kader's labour-intensive operation. Hong Kong-listed toymaker Kader Holdings, the target of a violent protest on the mainland two weeks ago after it sacked nearly 600 migrant workers at its Dongguan factory, is focusing on raising productivity through acquisitions. The process, referred to by executive director Ivan Ting Tien-li as an "economic shortcut", began with last month's US$8.5 million takeover of distressed rival Sanda Kan, one of the few veteran Hong Kong producers of collectable train sets. The purchase would also save the group from building another factory at its Dongguan production base, Mr Ting said. The deal was sealed about a week before disgruntled workers at the Dongguan plant that makes Bachmann brand model trains were sacked and launched a violent protest against the company's management on November 26.
After rising steeply for the past two years, rents for prestigious residential properties in Hong Kong are tumbling, with landlords scrambling to grab good tenants as international investment banks lay off expatriates or cut their housing allowances. Property consultants expect rents for luxury accommodation, which were at record levels earlier in the year, to drop by 15 per cent in the fourth quarter of this year and fall a further 25 per cent next year. "The top-end luxury segment may even fall a bit deeper," said Anne-Marie Sage, regional director of residential at international property consultant Jones Lang LaSalle.

A former Trade Development Council veteran has emerged as the frontrunner to succeed retiring InvestHK director general Mike Rowse, say sources familiar with the situation. Dennis Yau Tat-wang, director general of the Federation of Hong Kong Industries, boasts extensive mainland and overseas experience and business contacts after spending 32 years with the council from 1970 to 2002. Before joining the federation in April last year, he was an executive director at Dah Sing (SEHK: 0440) Banking Group. His employment contract with the federation is for three years. "Dennis is regarded as a very good diplomat with strong public relations and networking skills. He has strong trade links in Europe, Japan and the US and is well liked by Chinese officials," a source said. "At the TDC, he was known as Hong Kong's ambassador." He is also close to key government figures, including Secretary for the Civil Service Denise Yue Chung-yee, whom he first met in Washington, where they were posted in the 1970s, the sources said. It is understood that two of the six candidates vying for Mr Rowse's position have been shortlisted. Both Mr Yau, 60, and Mr Rowse, 59, declined to comment. The latter, who became embroiled in controversy over his role in the handling of the HarbourFest concerts after the outbreak of severe acute respiratory syndrome in 2003, retires on December 19. He was appointed to his position in July 2000 after first joining the Independent Commission Against Corruption in 1974. In 2001, he became the first expatriate civil servant in Hong Kong to become a naturalised Chinese citizen. One obstacle for Mr Yau could be his close ties with the council. As head of InvestHK, he would probably assume Mr Rowse's other duties, specifically as AsiaWorld-Expo chairman, a venue that competes with the council's Convention and Exhibition Centre in Wan Chai. Although it does not appear necessary that both positions be filled by the same person, finding other government candidates without a conflict of interest to be Asia-World chairman would not be easy.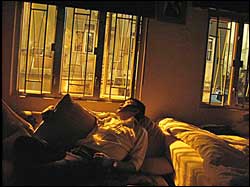 Green groups have called for legislation to curb night-time illumination, citing various studies that suggest prolonged exposure may cause cancer. Studies by the Journal of the National Cancer Institute in England have shown night-shift workers are 60 percent more likely than those on day shifts to develop breast cancer and 35 percent more likely to have gastrointestinal cancer. Israeli researchers have also found causal links between breast cancer and night-time illumination by overlaying satellite imagery of Earth taken at night onto cancer registries. Sleeping in the dark is required for the body to produce melatonin, a hormone essential to regulate many of the body's regular functions. The hormone helps prevent tumors from forming and may also enhance the immune system.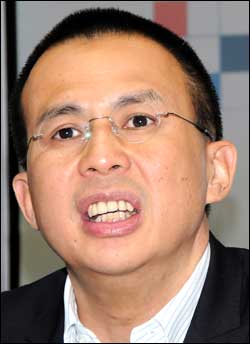 PCCW's (0008) independent board committee and an independent financial adviser have given their blessings for Richard Li Tzar-kai's privatization offer, despite cries from some shareholders they are being short- changed. "We believe the terms of the offer are fair and reasonable," said PCCW independent director Aman Mehta, who recommended PCCW shareholders vote in favor of the proposal on December 30. Independent financial adviser NM Rothschild & Sons recommended PCCW shareholders accept the offer of HK$4.20 per share from Li's Singapore-listed holding company, Pacific Century Regional Developments, and China Network Communications. The offer values PCCW at 7.5 times EBITDA, a 66.7 percent premium to the average valuation of comparable telecoms firms. PCCW shares have consistently closed above the privatization offer price over the past three years. However, Rothschild said PCCW's historical share price may have been inflated by investors' hopes of the company selling assets, being acquired or expanding in China - actions which have all failed to materialize. Sun Hung Kai Financial strategist Castor Pang said most retail investors will still refuse the offer. "Most of the investors ... think they are being cheated," Pang said. "It seems that the benefit to the major shareholder is much larger than to the minorities." If the privatization proposal does not succeed, PCCW shareholders "should be prepared" for the stock to possibly trade at lower levels than before, a PCRD spokesperson warned. "This proposal provides PCCW shareholders certainty of cash in an uncertain market," the spokesperson said. "With a low liquidity company, this offers a chance for shareholders to exit."

China: After recovering from the government-to-government energy accord between Hong Kong and the mainland that saw the demise of its proposed HK$10 billion gas-receiving terminal project, power utility CLP Holdings (SEHK: 0002) is now seeking to raise its nuclear investment in Guangdong. In an exclusive interview, CLP chairman Sir Michael Kadoorie expressed interest in the group investing in the planned seventh and eighth nuclear reactors with a combined capacity of 2,000 megawatts at Daya Bay nuclear station in Shenzhen. CLP's 25 per cent stake in the first two nuclear reactors of the plant was a seed investment that sprouted one of the largest and earliest Sino-foreign joint ventures in 1978 when the country was opened for foreign investment, Sir Michael said. Its mainland partner, China Guangdong Nuclear Power Holding, owns the remaining shareholding. The group's desire to make further investments in the Guangdong power sector followed an accord reached between the Hong Kong and mainland governments in August on importing natural gas from the mainland into the city for 20 years. The deal also extended an agreement allowing CLP to supply 70 per cent of the plant's 1,968 MW capacity for 20 years from 2014. The accord caught CLP off guard. "It was a complete surprise on a government-to-government basis. But on the other side of the coin, it will provide security for fuel supplies for 20 years," Sir Michael said. "It is a challenge for us. Clearly, it has to be commercial or it falls through." The energy pact effectively forced CLP to abandon a plan to build a liquefied natural gas (LNG) terminal on Sokos Island off Lantau, a project the utility has pursued since 2002. It planned to replace depleting supplies from Yacheng gas field in Hainan. Hong Kong's government said that the end of the LNG project eased pressure on tariffs, but the turnaround wrote-off a six-year planning effort by CLP and prompted many analysts to downgrade forecasts for the group's earnings and target share prices. However, in Sir Michael's eyes, losing the project was "yet another challenge of a new chapter" in the saga of the century-old CLP. "I was disappointed simply because of the six years of very hard work. But what could have been stronger than a government-to-government agreement? What could be better? We could have put our time to better use, that's all." CLP is now also keen to invest in LNG receiving terminals across the border. The utility was one of the pioneers of investing on the mainland, with a history dating back to 1937 when the present chairman's late father, Lord Lawrence Kadoorie, wanted to build an 11-kilovolt line to Guangzhou. However, CLP's maiden investment across the border only materialised in 1983 when the communist government approved the Daya Bay nuclear project. Sir Michael did not disclose the potential investment involved in the planned nuclear reactors, but analysts widely expected upfront capital costs would account for 95 per cent of the investment. In 1978, the first two nuclear reactors cost a combined US$4 billion.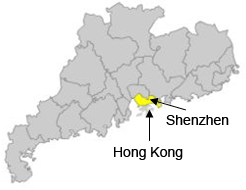 Shenzhen, which has set itself up to become China's innovation centre, has won a strong endorsement from the United Nations after it was given the title of "Unesco City of Design" yesterday - making it the only non-Japanese city in Asia to carry the title. Shenzhen now joins Berlin, Montreal, Buenos Aires, Nagoya and Kobe in the exclusive club after passing a rigorous assessment by experts from the UN Educational, Scientific and Cultural Organisation, the city government announced yesterday. Cities are selected for their creativity, innovation and quirkiness. In August 2005, Buenos Aires became the first Unesco City of Design. The other four cities were named over the next few years, before Shenzhen joined their ranks. To qualify, each had to meet basic requirements laid out by Unesco on cultural diversity and creativity. Hailing the achievement as "a great honour for Shenzhen as well as for China", Mayor Xu Zongheng pledged that Shenzhen would continue to invest heavily in innovation and create a conductive environmental to attract fresh design talents and investments.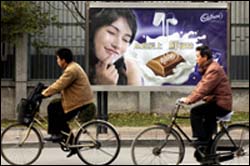 Since March, the lights have burned day and night for overworked judges at one court in the Pearl River Delta, dealing with an increasing number of bankrupt factories. Tangxia Town Court in Dongguan , Guangdong, had come to be regarded as the mainland's busiest this year, with its 13 judges dealing with more than 7,500 cases, the Nanfang Weekend reported. The court had accepted 7,540 cases - most involving labour disputes and bankruptcies - up to November 15. That meant each judge had to handle about 600 cases a year, compared with the mainland's average of 42 cases per judge last year. Gong Qingcai , a senior lawyer from the Tangxia Shangrong Law Firm, said a new labour law and the global financial crisis were to blame. Tangxia is home to thousands of private and Taiwanese- or Hong Kong-funded factories that make toys for export, bags and electronic instruments. Mr Gong said the population of more than 500,000 migrant workers from the factories had contributed to a sharp increase in lawsuits involving labour disputes since January. "You can see a long queue of migrant workers waiting outside the court every day," he said. "Under this new law, workers have been able to challenge unfair pay and working conditions. "They will feel free to try to put the bosses in court, asking for overtime fees, compensation and better working conditions." The enthusiasm of migrant workers to secure their labour rights has seen a doubling of the number of cases at the Tangxia court. Nanfang Weekend said judges were under great pressure to complete their cases. They worked day and night, with no weekends off, no holidays and even no lunch breaks. The report said some judges' assistants had been found weeping with exhaustion. However, the judges were still being pushed by their superiors to speed up their work, Mr Gong said. "The workers will soon launch mass protests or clashes against enterprises and governments if the court does not solve their cases in time. The judges' efficiency also contributes to making society stable," he said. Mr Gong estimates the judges will be just as busy next year if factories continue to fail. But he said the judges might be able to take holidays later, when migrant workers left town.
The Central Economic Working Conference, being held today through Wednesday in Beijing, aims at setting China's policy direction for 2009. The most important topics will center on issues such as determining loan quotas and fiscal policies and exchange rate management, economists say. China's official government website said the conference will focus on how to ensure minimum GDP growth of 8 percent, while striving to achieve a higher number. Credit Suisse said: "[The conference] normally determines loan quota, fiscal stance and exchange rates for the following year ... but with massive fiscal stimulus and monetary easing already launched in November, we think the focal point is the policy nuance from the post-conference statement, instead of specific measures." Currency exchange is expected to be discussed. Last week, the State Council announced nine monetary measures to boost the mainland economy, including improving exchange rate management. "More monetary policy easing is likely for China to support liquidity, before fiscal efforts can pick up more momentum ... [We] continue to believe that a soft landing is the most likely scenario, as fiscal stimulus [will take] time to lift growth next year," Citi's Huang Yiping and Ken Peng wrote in an earlier report. Citi said the yuan's appreciation against the US dollar will slow next year, while depreciation would be unlikely. On Friday, the United States urged China not to roll back its currency reform. US Treasury Secretary Henry Paulson said the main reason for job losses among Chinese exporters was slowing global demand - not currency appreciation. China's Commerce Minister Chen Deming said the mainland will not rely on yuan depreciation to boost the country's export sector.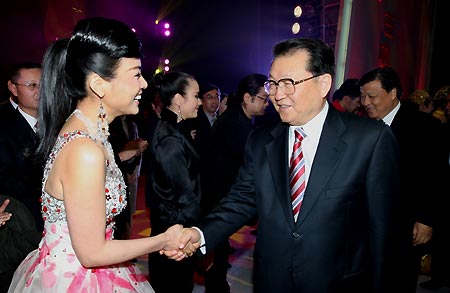 Li Changchun (front, R), a member of the Standing Committee of the Political Bureau of the Communist Party of China (CPC) Central Committee, shakes hands with performers after a concert in Beijing, capital of China, Dec. 6, 2008. Li attended on Saturday night a publishing showpiece exhibition and a concert in celebration of 30 years' reform and opening-up.
The Ministry of Railways (MOR) said here on Sunday that the world's longest high-speed rail line, connecting the capital and Shanghai, is nearing completion. MOR spokesman Wang Yongping said 91 percent of the track length, or 1,203 km, has been completed. Remaining major tasks include bridges over the Huaihe and Yangtze rivers and the main terminal in Shanghai, he said. More than 110,000 workers are busy with the remainder of the project. Trains will take less than five hours to make the run, which is now at least 11 hours. The MOR has said it plans to have 120,000 km of rail lines in service by 2020, of which 16,000 km would be dedicated to only passenger services. By the end of this year, China will have more than 79,000 km of rail lines. To meet the 2020 target will require about 5 trillion yuan (US$732 billion), the MOR said.
The central Chinese province of Hubei is preparing for the construction of the country's first inland nuclear plant, a local planning official said on Sunday. Local authorities have relocated residents from the land designated for the plant in Xianning City, and completed road construction for the project, the official from the city's planning commission said. The cost of the first two phases of the project, with an installed capacity of 4 million kw, is estimated at 50 billion yuan (US$7.3 billion). The third phase could cost 45 billion yuan. Construction will start as soon as the environmental assessment report is approved, the official added. China Guangdong Nuclear Power Group (CGNPG) and the Hubei provincial government agreed in March to jointly build the plant. CGNPG and Hubei Energy Group established a joint venture, known as Hubei Nuclear Power Ltd. Co., in June to develop nuclear power in the province. China has 11 nuclear plants at six sites, all on the east coast, with a combined installed capacity of 9.07 million kw. The capacity of the CGNPG project is equivalent to 43.5 percent of the total. Faced with an energy crunch resulting from fast economic growth, China plans to develop more nuclear power. The country plans to have 40 million kw of installed nuclear capacity by 2020, which would be 4 percent of projected energy supply, or double the current level.
December 8 2008

Hong Kong: Radical speeches and "props" to make a point are inevitable during Legislative Council debates because lawmakers rely on them to grab media and public attention, Legco president Tsang Yok-sing said. Mr Tsang also said his Beijing-friendly background had not stopped him from dealing fairly with pan-democrats, nor had a wish to be seen as even-handed led him to go easy on trouble-making lawmakers. "Using radical words or aiding their speeches with unusual materials is inevitable, because among so many lawmakers, one would have to use surprise tactics to grab media and public attention," Mr Tsang said. He was referring to a changing culture in legislative sessions, where in recent times lawmakers have resorted to brandishing items - including a rice bowl and a paper duck - during debates to make a point. While noting the change, Mr Tsang said the controversial banana-throwing antics of the League of Social Democrats chairman Wong Yuk-man in October during a question-and-answer session with Chief Executive Donald Tsang Yam-kuen would not become a trend. Mr Wong threw a bunch of bananas across the chamber to protest against a suggested means test for the old-age allowance without any promise of an increase. Mr Tsang denied he had deliberately allowed Mr Wong and his colleagues to stage radical acts inside the chamber in a bid to calm concerns that he, as a member of the Democratic Alliance for the Betterment and Progress of Hong Kong, would be biased against the pan-democrats. "I don't have such feelings. My only concern is to allow lawmakers to have ample chance to speak their minds," Mr Tsang said. On relations between the government and the legislature, Mr Tsang said the new Legco would need time to smooth communications with officials, especially as more independents were returned in the election - making it more difficult for officials to lobby for their support. On his own popularity - drastically lower than that enjoyed by his predecessor Rita Fan Hsu Lai-tai, Mr Tsang said he understood some people "do not like me" because of his DAB background, but he would try to fulfil his duty as an impartial referee.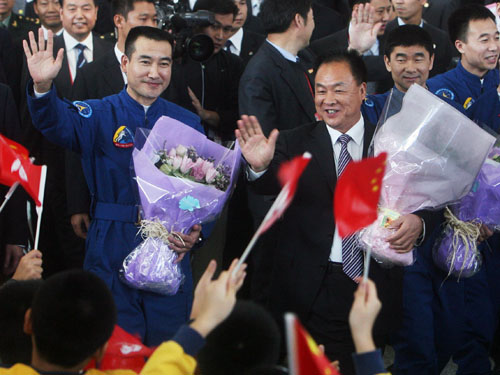 The deputy head of China's space program Zhang Jianqi leads astronauts (from left) Zhai Zhigang, Liu Boming and Jing Haipeng. Hong Kong has received a high-level vote of confidence in its ability to weather the financial storm - from China's spacewalk astronauts. Colonel Jing Haipeng, who arrived in the city yesterday with 39 other members of the Shenzhou VII spacewalk mission team, praised Hongkongers for their "excellent traditions of working and striving hard". "We believe the hard-working and quick-witted Hong Kong people will be able to conquer the temporary difficulties ahead of them," the astronaut said a few hours after their arrival. "I can feel the openness of the Hongkongers and I believe I will love Hong Kong after this trip. I think I will learn from Hong Kong people, their will to keep striving, innovating and excelling." His teammate Zhai Zhigang, who made China's first spacewalk, also said he hoped Hong Kong people would "fly highest and quickest" to a better future. At a press conference, Colonel Zhai, who was hailed as a "Space Flight Hero" after completing the mission in late September, greeted reporters in Cantonese and thanked them for their support. Like all visitors, he said, he hoped to have the chance to savour the city's famous food and shopping. The third Shenzhou VII astronaut, Colonel Liu Boming, said he was prepared to share his flying experience with Hong Kong people. Those who want to take up his offer may take heart: Zhang Jianqi, the delegation head and deputy chief designer of China's manned space programme, said Hongkongers would be welcome to take part in the country's space missions, and encouraged them to undergo training. The team was welcomed by about 300 primary school students and Chief Secretary Henry Tang Ying-yen on their arrival at the airport yesterday morning. They attended a welcome dinner with Chief Executive Donald Tsang Yam-kuen, who said Hong Kong people facing the financial turmoil should learn from the astronauts the spirit of never giving up. The delegation will tour the harbour this morning, on the second day of their four-day visit, before launching an exhibition on the Shenzhou VII mission at the Science Museum. More than 50,000 free tickets to the exhibition had been given out, the Leisure and Cultural Services Department said yesterday. The astronauts will also meet undergraduates at a seminar at Chinese University in the afternoon to brief them on their mission.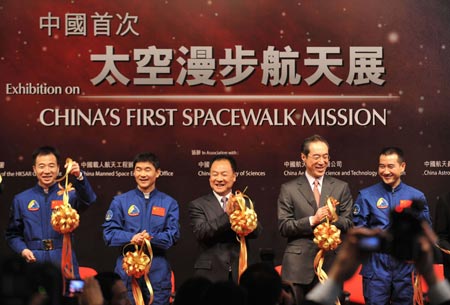 Three taikonauts of the Shenzhou VII manned space mission, Zhai Zhigang (right), Liu Boming (second from left) and Jing Haipeng (left), taikonauts' delegation head Zhang Jianqi (middle) and Hong Kong Special Administrative Region (HKSAR) government's Chief Secretary for Administration Henry Tang cut the ribbon at the opening ceremony of a spacewalk mission exhibition at the Hong Kong Science Museum on Saturday, December 6, 2008.
Johnson Electric chairman Patrick Wang says the firm will not benefit much from lower commodity prices in the second half. Johnson Electric Holdings (SEHK: 0179), a Hong Kong-listed micromotor maker, yesterday announced a 43 per cent drop in first-half net profit as a result of weaker end-user demand in the North American vehicle and power-tool markets. Including a one-off loss of US$27.5 million from the cessation of its mainland-based scrap metal trading business, net profit fell to US$45.5 million in the six months to September, compared with US$79.8 million in the same period last year. Sales rose 3.3 per cent to US$1.13 billion while gross margin remained at about 26 per cent. Excluding the effect of foreign exchange changes, the company's sales fell about 3 per cent as increasing sales in Europe could not offset the decline in the United States. "The sales trend in October and November displayed a marked weakening, showing the drop in economic activity spreading from North America to Europe and Asia," said Johnson Electric chairman and chief executive Patrick Wang Shui-chung. "We are anticipating and preparing for weaker sales and contributions to profit from our automotive division for the second half and well into the following financial year." Mr Wang said the company would not benefit significantly from softening commodity prices, especially copper and steel, in the second half, but anticipated a positive impact in the next financial year if current price trends persisted.
Hong Kong was in violation of its international obligations to fairly assess asylum seekers' claims that they might face torture if returned to their home countries, the High Court ruled yesterday.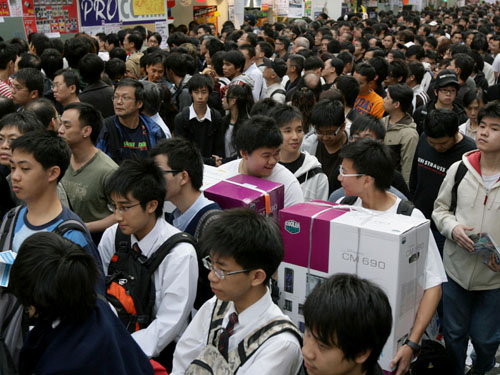 Shoppers line up for bargains at the outdoor computer festival in Sham Shui Po yesterday. The recession may be forcing people to tighten their belts, but who can resist a 4GB memory card for HK$49 or the latest laser printer for half price? The answer is: no one. At least that seemed to be the case at an outdoor computer festival yesterday. Thousands flocked the narrow streets of Sham Shui Po to buy laptops, monitors, printers and cameras at what exhibitors touted as "tsunami prices". The organisers - Sham Shui Po District Council and the Chamber of Hong Kong Computer Industry - said that turnout was larger than expected on the first day, with sales topping HK$50 million. Police had to implement crowd management measures as more than 5,000 people packed the festival in the first two hours. The annual festival, which runs until Monday, has attracted more than 80 exhibitors. The organisers expect total turnout to exceed 400,000, with shoppers spending more than HK$180 million. Eddy Wong, manager of a shop selling display monitors, said most products were selling at cost price, or 40 per cent off regular prices. He has more than a thousand monitors in stock. Some had sold out in the first few hours and he said: "I am confident that all the stock will be sold." Computer salesman Calvin Tse said his shop sold about 10 laptops during the morning. He said most people had stopped spending in recent months. "Business had been so quiet in the past few months, down about 40 per cent." He predicted the outlook would be grim after the festival as "we don't know when the economic downturn will be over". Vincent Leung, who went shopping in his lunch break, said he had been waiting for the festival to buy a monitor and a television set-top box for a total of HK$3,000, saving himself about HK$600. Housewife Portia Li said the sale had encouraged her to spend. "I have bought two extra display monitors because they are very cheap."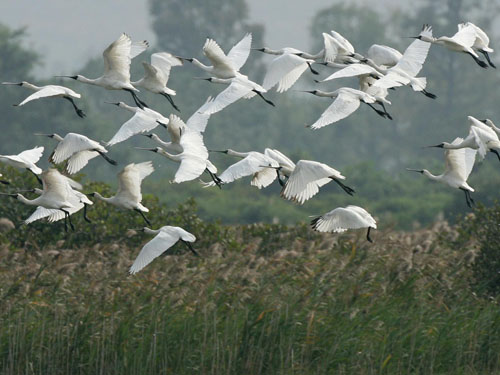 A flock of black-faced spoonbills fly into Mai Po, where they will spend the winter with great cormorants and grey herons, among other birds. So far this season, about 30,000 birds have been recorded at the nature reserve, with more expected to arrive soon. More than 300 endangered black-faced spoonbills have arrived at the Mai Po nature reserve for winter, including one released back into the wild after recovering from swallowing a fishing hook earlier this year. The spoonbills have been flying into the reserve since late October, similar to their arrival time last year, despite fears that global warming could have delayed or disrupted their migration pattern. The spoonbill, which breeds in Korea and travels south in winter, is still on the Red List of the International Union for Conservation of Nature, although its reported numbers, now estimated at more than 2,000, have been increasing in recent years. In all, about 30,000 birds have been recorded at Mai Po this season, compared with the peak of up to 60,000 in January and February. WWF's Mai Po reserve officer Bena Smith said more than 300 spoonbills were in the reserve and he expected more would come as temperatures fell. At the peak last winter, there were 369. Among the returning spoonbills was a young male which was released back into the wild in February after it was found entangled in fishing lines in a nearby fish pond with a hook in its stomach.

China: Beijing has announced it will allow fuel prices to move more in step with the global market as it attempts to boost energy conservation and reduce pollution. The central government yesterday unveiled a long-awaited reform of its fuel price regime, loosening its tight grip on what refiners earn and what millions of mainland motorists pay at the pumps. From January 1, Beijing will allow petrol and diesel prices to move more regularly in step with the global market, ending years of unpredictable price setting by the central government. Beijing will grant state-owned refiners Sinopec (SEHK: 0386) and PetroChina (SEHK: 0857) a guaranteed profit margin by pricing fuel at about 4 per cent above refinery-gate prices plus transport. It will also impose significantly higher taxes at the pump, although those increases are almost certain to be offset by an overall reduction in retail prices to match the more than US$100 or two-thirds fall in crude oil costs since early July. Beijing raised fuel prices in late June but has not lowered them since, even as crude oil prices tumbled to below US$50 a barrel. Mainland drivers now pay much more for their petrol than those in the United States, increasing pressure on the central government to make fuel cheaper. Consumption tax on petrol would rise five-fold to one yuan a litre from 0.2 yuan from January 1, industry regulator the National Development and Reform Commission announced. Diesel tax would go up eight-fold to 0.8 yuan a litre from 0.1 yuan a litre, it said. The tax, currently collected by fuel retailers on behalf of the central government, will be offset by the cancellation of six types of road and waterway maintenance fees levied by local governments. The tax increase is designed to encourage consumers to drive less and use more fuel-efficient and smaller cars, as their tax payments will be directly linked to the amount of fuel they consume. The road levies were charged even if motorists did not use their cars. Gordon Kwan, head of China energy research at brokerage CLSA, said Beijing might raise taxes further if oil continued to trade at current four-year-low prices or fell further. Beijing has tried to introduce a fuel tax for more than 10 years, but wrangling between central and local governments over tax receipt distribution prevented it.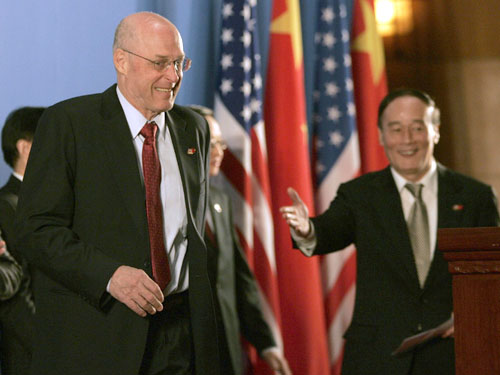 US Treasury Secretary Henry Paulson is followed by Vice-Premier Wang Qishan at the end of the Strategic Economic Dialogue yesterday. When US Treasury Secretary Henry Paulson arrived in Beijing last for the fifth and, for him, final round of the Strategic Economic Dialogue, few people expected substantial results. They turned out to be right because there were few breakthroughs on the thorniest economic and trade issues between the two sides, such as currency, despite all the talk about progress on many important fronts. Although the cabinet-level dialogue is hailed by Beijing as a landmark step and an effective mechanism in bilateral ties, it has been a target of criticism in Washington, being perceived as more about form than content. But for Mr Paulson - who has staked his credibility on the high-level talks, which began in 2006 partially at his instigation - there seems to be little reason to worry. His reputation as China's best US friend and his immense popularity among the Communist Party elite remain high despite his departure next month and a pool of disputes and differences that remain between the two countries, according to analysts. It was laid bare in Chinese hospitality this week and a list of "important consensus and agreements" that both sides announced at the end of the two-day meeting. President Hu Jintao and Premier Wen Jiabao also went out of their way to meet him yesterday, in a mark of respect to his decades-long China experience, his connections with state leaders and his contributions to reducing antagonism towards China in Washington. Fudan University economics professor Zhou Dunren said Mr Paulson was familiar with Sino-US politics and knew co-operation and engagement were the best ways towards an open China market. He had undertaken a difficult task to increase understanding between the countries, calm China bashers in Washington and try to avoid confrontation, Professor Zhou said. "While he won applause on Wall Street by urging China to open its market, he has also earned his name in China by persuading Congress not to impose sanctions over China's alleged manipulation of the exchange rate," he said. The establishment of the dialogue would be a large part of his legacy, analysts said. Mr Paulson also made it clear in his closing remarks yesterday that "through engagement, the United States and China can build a stronger relationship that benefits our citizens and the global economy. The achievements speak for themselves." Tao Wenzhao , American affairs researcher at the China Academy of Social Sciences, said Mr Paulson's case showed how China rewarded foreigners once they were recognised as friends. "Whether he is in office or not, he will always be a friend of Chinese people, and his warm reception is guaranteed," Professor Tao said. Mr Paulson appears to know Chinese tradition well. He paid a tribute to his former counterpart, former vice-premier Wu Yi , who jointly inaugurated the dialogue mechanism. He is also aware of the concerns prompted by his departure about whether the dialogue will be modified under the new US administration. "I don't think I should speculate in terms of what form it will take in the future," Mr Paulson said. "I just have great confidence that when any initiative demonstrates success over a period of time, it is generally continued."
China and the United States yesterday completed their last high-level economic meeting under the Bush administration with vows of US$20 billion of trade financing to boost commerce in a time of crisis. "We are both committed to strengthening the global economy," Treasury Secretary Henry Paulson, the US envoy to the Strategic Economic Dialogue, told reporters, standing with his Chinese counterpart, Vice-Premier Wang Qishan. The two countries' export-import banks will provide the credit to "credit-worthy importers" in developing countries to buy US and Chinese goods, with the US bank giving US$12 billion and China US$8 billion, Mr Paulson said. He said that would help economies where traders have seen credit dry up. "The most pressing task at hand is to quickly take effective measures to contain and curb the spread of the financial contagion and avoid a global recession," Mr Wang said. China has also agreed to allow foreign incorporated banks into China to trade bonds on the inter-bank market for their customers and in their own name on the same basis as mainland-invested banks. It will let foreign banks increase their liquidity through either guarantees or foreign currency loans from overseas affiliates on a temporary basis, though it did not offer a clear definition of "temporary basis". China previously set a quota for how much funding a foreign bank could bring into the country because of fears about an excessive inflow of foreign capital. In return for China's market-opening measures, the US agreed to speed up the approval process for Chinese financial institutions to invest in the country and promised to offer them fair treatment in terms of market operation and regulation. The US said China's sovereign funds would be welcomed to invest in the US, an issue that had drawn flak from US politicians who thought foreign government-backed wealth funds could pose a threat to US economic security. Mr Paulson also said the US would support China joining the Financial Stability Forum, a club of central banks and finance ministries from the world's richest nations, including the US, Japan and Germany. US officials also said Beijing promised to continue reforms that have let its yuan rise against the US dollar. Both governments vowed to combat protectionism amid the financial crisis and agreed to step up co-operation in areas like international trade, energy, environmental protection and food safety. "Both sides believe that in the face of the growing challenges posed by the crisis, we must fully oppose all forms of protectionism," Mr Wang told reporters. He also pledged to work with other countries to promote the early resumption of the World Trade Organisation talks. The last round of the Doha trade talks collapsed in July when the US and India clashed over measures to protect poor farmers against import surges. The dialogue started on Thursday and was the fifth and last for Mr Paulson and the administration of US President George W. Bush before president-elect Barack Obama takes office next month. Mr Obama has not said whether the existing dialogue mechanism would continue under his watch.
Blacklist to be drawn up targeting unsafe food additives - Beijing will issue a blacklist of food additives that could be harmful, state media said yesterday in the wake of a scandal over milk tainted with melamine, believed to have killed six children and made hundreds of thousands ill. The government would also step up testing of foods for banned additives, the official English-language China Daily newspaper reported. "The Ministry of Health is working with related departments on the blacklist, that would be updated constantly," Su Zhi, the ministry's deputy director of the health supervision bureau, was quoted as saying. Mainland dairy suppliers are accused of adding melamine, a nitrogen-rich chemical used in the production of plastics, to milk. It was the latest product-safety scare to hit mainland-made products, prompting stores to pull items from shelves ranging from baby formula to cookies. Awareness of the widespread use of food additives has increased in the wake of the milk scandal. A front-page article last week in the Southern Weekend newspaper questioned whether the addition of bleaching agents to flour was healthy. Mainland officials have been working to restore public confidence in the food production chain. "We will conduct stricter tests on blacklisted substances while checking food production lines," Mr Su was quoted as saying by the China Daily. He made the remarks on China Central Television on Thursday, the paper said. The mainland now has several different standards for food additives, the paper said, but they were not necessarily consistent. The new regulations would start with the dairy industry first, and then modify existing food-safety standards after a draft food-safety law was passed. Premier Wen Jiabao said last month that the melamine scandal would spur the introduction of the mainland's first major food-safety law, which was currently being reviewed. The measure is expected to impose safety standards on food additives, ban all harmful chemicals and allow the government to recall unsafe food if companies fail to do so.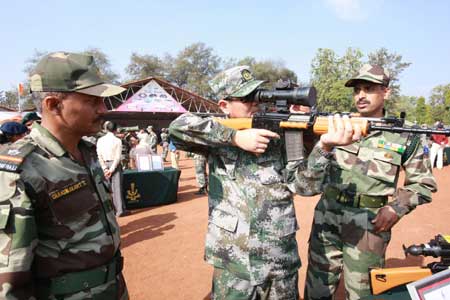 A Chinese officer tries an Indian weapon during the China-India army joint anti-terrorism training in India's Belgaum on Dec. 6, 2008. The China-India army joint anti-terrorism training, code-named "Hand in Hand 2008" was kicked off in India's Belgaum on Dec. 6, 2008. The training is scheduled to end on Dec. 12.

China's first private airline, OK Air, suspended passenger service on Saturday, 10 days ahead of schedule as a result of financial and management problems, according to a spokesman of Junyao Group, a major shareholder of OK Air.
China setting up institutions to help finance smaller enterprises - Smaller enterprises are expected to get better access to loans as new institutions will be set up specifically for that purpose.

China to issue 23.8 bln yuan in treasury bonds - China will issue the 24th batch of book-entry treasury bonds worth 23.82 billion yuan (3.46 billion U.S. dollars) for this year starting Monday.



Siemens yesterday said its sales and new orders in China both saw 19 percent growth in fiscal year 2008 despite the economic slowdown. Last year sales and new orders of Siemens China surged to 57 billion yuan and 65.5 billion yuan, respectively. "In face of a global economic downturn the results of our China operations again contribute significantly to our global performance," said Richard Hausmann, CEO of Siemens Northeast Asia and president & CEO of Siemens Ltd China. The company is mapping out a series of mid-term strategies to sustain its growth momentum and boost market positions, said Hausmann. "Reflecting China's 4 trillion yuan economic stimulus program, we will continue to focus on rural development, environmental portfolio and local innovation," he said. Siemens has recently announced a reorganization of its businesses into three sectors - industry, energy and healthcare. In the last year the company secured big deals in China in all three areas. For instance, in the energy sector, Siemens secured a contract of more than 1.7 billion yuan to build the high voltage direct current transmission (HVDC) link from the Xiangjiaba hydro-electric power plant in southwestern China to Shanghai. With a transmission capacity of 6,400 megawatts and a length of more than 2,000 km, the planned HVDC transmission link will be the longest in the world and will have the highest capacity of its kind. Siemens earlier said its environmental portfolio would generate order intake of 4 billion euros in China in 2010, which equals 40 percent of the company's total orders in China for the year. More than half of the company's 1 billion euro mid-term investment in China until 2010 will go into energy-saving and environmentally friendly technologies and solutions. China now is the third largest market for Siemens, next to Germany and US. The company has a nationwide network of more than 90 operating companies and 61 regional offices.
Container producer cuts production, 22,000 employees on leave - China International Marine Containers (Group) Co suspended its trading on the Shenzhen Stock Exchange Friday, admitting it had stopped the production of dry vans for two months.

China to kick-start fuel tax reform on Jan 1 - China has proposed a reform of the fuel tax that would raise tariffs for gasoline and diesel while eliminating other fees for drivers.
December 6 - 7 2008

Hong Kong: Hong Kong customs seized a record haul of ketamine and methamphetamine with an estimated street value of HK$41.3 million Hong Kong dollars, authorities said on Thursday.

Twenty-four taxi drivers arrested for Wednesday night's blockade had hardly been released from the police station when some drivers were warning of tougher action to come.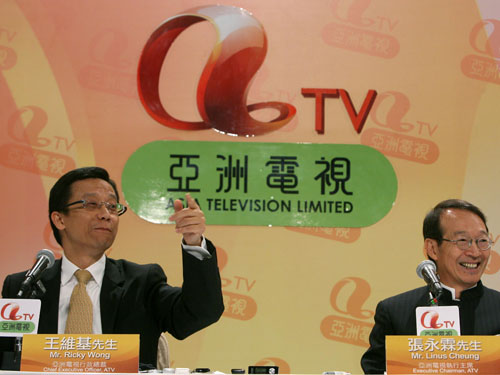 Ricky Wong (left) and Linus Cheung field questions about their new roles at ATV. Asia Television yesterday appointed two high-profile telecom executives to senior roles, in the latest attempt to turn around the struggling broadcaster that has lost more than HK$5 billion since the 1980s. Linus Cheung Wing-lam, the former chief executive officer at Cable & Wireless HKT, was named executive chairman, while Ricky Wong Wai-kay, chairman of Hong Kong listed City Telecom (Hong Kong), will be chief executive officer. The two men are expected to change the focus of ATV's programming to attract wealthier viewers with new lifestyle shows and documentaries. That could make it a more serious rival to TVB, whose popularity is based on a steady supply of drama series. ATV is also seen as more pro-Beijing than TVB. Mr Wong's appointment raised the question of cross-media ownership as City Telecom also operates an online video service with about 150,000 subscribers. But it does not breach government rules because City Telecom does not have a television licence. "As City Telecom does not own a terrestrial or pay television licence, Mr Wong's appointment does not breach the rule on the limitation of cross-media ownership," a government spokesman said. Mr Wong, who is also controlling shareholder of City Telecom, denied ATV would seek a back-door listing through his company. ATV has been trying to list on the Hong Kong stock exchange since 2003 but has failed to meet profitability requirements. Yesterday's move, however, has sparked speculation there could be some amalgamation of content. Vivek Couto, executive director at Media Partners Asia, said Mr Wong's appointment was a good one as he "has many good ideas". "Both ATV and City Telecom may co-operate on content distribution through the latter's broadband network," he said. This is the second major management shake-up at ATV after the Cha family, local property developers, took more than a 50 per cent stake in the broadcaster in April last year. The Cha family appointed former Television Broadcasts (SEHK: 0511) executives Louis Page and Ho Ting-kwan to top management roles last year to lead reforms at the broadcaster. Both Mr Page and Mr Ho resigned recently on speculation they had failed to deliver on improving ATV's operations. ATV launched a new logo in October last year and kicked off digital broadcasting in December. However, its share of the local advertising market still lags way behind TVB's. Research firm Media Partners Asia figures estimated TVB held 75 per cent of the television advertising market, while ATV's was only 15 per cent this year. Total Hong Kong television advertising revenue is expected to reach HK$3.4 billion in 2008. ATV's audience share is similarly estimated to average 15 per cent. Mr Cheung said the new management believed ATV could perform more strongly and break even. The station's latest business plan will be released in two to three months. "ATV has lost around HK$5 billion in the past," Mr Cheung said. "With only two terrestrial TV stations in Hong Kong, it's unreasonable that ATV's performance is so weak." Mr Cheung said ATV needed to grow by itself and could not just seek new funds from shareholders. He added that the Cha family did not rule out putting new cash into ATV, but did not wish to comment on the station's current financial situation. Mr Wong said ATV programming would be aimed at the middle class and top-end market, with an emphasis on non-drama programmes. That strategy is believed to be designed to avoid head-on competition with TVB, which is strong in drama. "We don't treat TVB as our enemy. We need to do something that our rivals are not doing well to tap market share," Mr Wong said, adding that he wanted to expand the audience of terrestrial TV. "ATV will position itself as a Hong Kong people's television broadcaster, with both viewers and advertisers mainly from Hong Kong." Mr Wong declined to say whether the company would lay off staff in the future. ATV now has around 1,000 staff and the company laid off 63 employees last month to cut costs. "If the appointment [as chief executive officer] was to axe staff, I would not have accepted it," he said.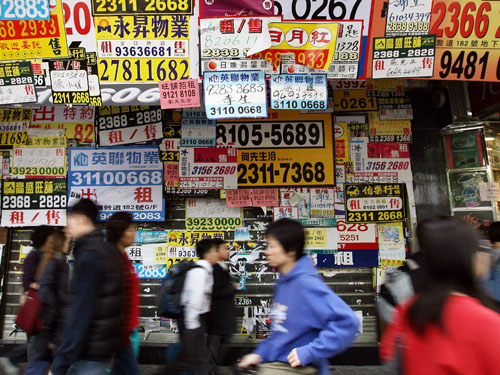 An empty shop is offered for rent in Jordan Road. Despite plunging rental rates in many areas, landlords are having trouble finding retail tenants as the financial crisis hits. Big changes in the Hong Kong shopping landscape are coming as the economic crisis batters the city. Increasing numbers of retailers are either closing down or freezing their expansion plans. Some are going online to try to save on costs. Mr Kwok, who gave only his surname and closed his shop at the Timeplus shopping centre in Causeway Bay last month, said sales were very poor even before the collapse of Lehman Brothers in September. "So I thought of selling my products online to reduce costs. If shoppers are interested in our product after visiting our website, they can either buy online or visit our showroom to view the genuine products." In October, the owner decided to close Timeplus temporarily - to reposition it with larger shops - after only 60 per cent of the 99 tenants agreed to renew their leases, even though rents had been halved. With vacancies set to rise, shop owners have had to lower their rents to compete for tenants, many observers say. "Shop owners in less than prime locations are hit worst," said Pierre Wong Tsz-wa, chief executive at Midland Realty's commercial and industrial division. About 10 units that were leased as restaurants in Austin Road in Jordan have been vacant for two months. Another 10 shops selling jade and jewellery in Reclamation Street in Yau Ma Tei have also closed, and are available at rents 20 per cent lower than under the previous agreements, according to Midland Realty. These shops, ranging from 600 to 1,000 sq ft each, closed because of poor sales. "But lower rents still failed to drum up interest from potential tenants," said Mr Wong. Helen Mak, a senior manager of retail services at Colliers International, believes retailers will watch the level of sales at Christmas and the Lunar New Year in January before making any move. "We think lots of chain stores will review their budgets, and no major expansions are likely to roll out this year," she said. Last December, many owners were pre-leasing their retail properties even though it was traditionally a low season for leasing, she said. "Now the market sentiment has changed. It is very quiet." One case in point is a new 27- storey commercial building catering to beauty salons, bars and restaurants, at 11 Stanley Street, Central, on offer for pre-leasing in September. Last week, a South China Morning Post (SEHK: 0583, announcements, news) reporter posed as a potential tenant interested in leasing a floor of the new building to open a bar. The agent said the monthly rent for the whole floor, with a net area of 700 sq ft, was HK$50,000, or HK$71 per square foot. Asked whether the landlord would provide a rent-free period or discount rate, the agent replied: "The terms are negotiable because of this market condition." So far, only two floors have been leased. Had it come on the market last year, the agent said, this building near Lan Kwai Fong would have leased 70 per cent of its space in the first two months of pre-leasing. Average retail rents on Hong Kong Island last month were down 28.9 per cent to HK$99 per square foot, from this year's peak of HK$128 in June, Midland Realty said. Retail rents in Kowloon have tumbled 48.34 per cent to HK$78 per square foot, from a height of HK$131 in August, the agent said.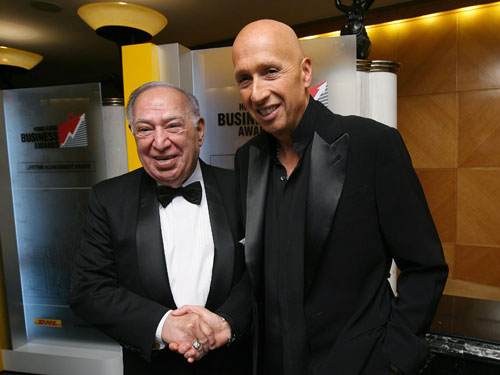 Harilela Group chairman Hari Harilela (left) congratulates Lan Kwai Fong Group chairman Allan Zeman at the awards presentation. Allan Zeman, the chairman of Lan Kwai Fong Group, was yesterday named Business Person of the Year of this year's DHL/SCMP Hong Kong Business Awards. Mr Zeman was credited with turning Lan Kwai Fong in Central into a popular entertainment and tourist destination. Lan Kwai Fong Holdings owns 28 restaurants in Hong Kong, Shanghai and Phuket. The company also has construction and development interests in Asia, British Columbia and North America. "I won a Hong Kong Business award before, so this is a bit of a deja vu for me," said Mr Zeman, who took the Owner-Operator Award in 1998. "I didn't expect to get another one this time." The entrepreneur said: "I love the energy of Hong Kong and its people. Lan Kwai Fong is a street which has become a homegrown brand." He said he had no intention of obtaining a listing for the company at present. "I am happy with the way it is now - being a private company means you can run it the way you want." Mr Zeman was also recognised for his role as chairman of Ocean Park. According to a report released by the Legislative Council, in-park revenue reached HK$242.6 million in the past fiscal year, up 7 per cent on the previous year. Admission revenue reached HK$681.9 million - a 10 per cent year-on-year growth - creating total revenue of HK$924.5 million. This is also the fifth consecutive year the park has broken its attendance record with more than 5 million visitors. "When Walt Disney came to Hong Kong, a lot of people thought it was the end of Ocean Park," Mr Zeman said. "We have shown that we can compete with the rest of the world." Other winners included Maxim's Caterers chairman and managing director Michael Wu Wei-kuo, who won the Executive Award. The Owner-Operator Award was given to Keith Griffiths, the chairman of architectural firm Aedas, which was responsible for the redevelopment of the Hongkong Land buildings in Central, including the Landmark, Alexander House, York House and Chater House. Andy Ann, the chief executive and director of digital media and advertising company New Digital Noise, took the Young Entrepreneur Award. Hongkong and Shanghai Hotels (SEHK: 0045) claimed the International Award at the event. Fast-food chain Cafe de Coral Holdings (SEHK: 0341) took the Enterprise Award and fabless integrated circuits design house AppoTech won the SME Award. Harilela Group chairman and founder Hari Harilela won the Lifetime Achievement Award. Mr Harilela was honoured because of "his contribution to the community both as a businessman and a philanthropist". The awards, now in their 19th year, recognise companies and individuals that have made outstanding contributions to Hong Kong's businesses and industry.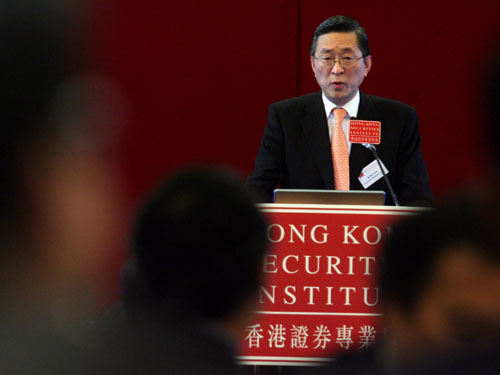 As HKEx faces a slowdown in offerings, chief executive Paul Chow says now is the right time to work with the Shanghai exchange. Hong Kong Exchanges and Clearing (SEHK: 0388, announcements, news) is working with its Shanghai counterpart to harmonise regulations in light of the increasing number of dual listings in the two cities, said chief executive Paul Chow Man-yiu. Mr Chow told about 200 brokers at a Hong Kong Securities Institute luncheon yesterday that now was the right time for HKEx and Shanghai Stock Exchange to work together to exchange information and harmonise rules and regulations for listed companies and other investment products. Market watchers said the plan was aimed at discouraging mainland companies from choosing to list in Shanghai alone, thereby undermining Hong Kong's reputation as a financial centre. The exchange is facing a dearth of initial public offerings, with only 32 new listings so far this year compared with 84 in 2007. "About 50 mainland companies are dual-listed in Hong Kong and Shanghai, and we would like to see more," Mr Chow said, adding that senior executives from the two exchanges had formed a working group recently and would hold their first meeting early next year. However, he said investors should not expect the two markets to adopt the same listing and suspension rules immediately. Different suspension policies have meant some dual-listed companies, such as China Life (SEHK: 2628, announcements, news) Insurance, have had their shares suspended in Shanghai while the stock continued trading in Hong Kong. "Hong Kong and Shanghai are different markets with different regulations," Mr Chow said. "For example, mainland investors open accounts with the clearing house while Hong Kong investors open accounts with brokers. The yuan is not fully convertible while the Hong Kong dollar is freely traded." He said the working group would not be able to achieve cross-border trading immediately but the exchanges were taking their first steps in harmonising rules and regulation to ease co-operation. "This will make it easier for companies to list in Hong Kong and Shanghai for the longer term," he added. Legislator Chim Pui-chung, who represents the financial services sector, said the exchange was heading in the right direction. "Hong Kong is part of China and it is the right move for the exchange to work closely with the mainland exchange. This will strengthen Hong Kong's role as a financial centre in China," he said. Mr Chow yesterday also unveiled several other initiatives, including plans for its clearing house to act as both nominee and custodian for banks which issue over-the-counter traded equity linked notes. He said this would help boost transparency and facilitate the transfer of shares to the note holders at the expiry of the contracts. The exchange next year will also work with the Securities and Futures Commission to push for a scripless market to help settlement efficiencies and prevent fraudulent physical scrip. "We have been talking about the scripless market for 20 years. I remembered when I first joined the stock exchange in May 1989, this was at the top of the agenda," he said. In other plans, Mr Chow said the exchange would work on providing remote access for overseas traders to deal in derivatives products, as well as launch more precious metal futures such as silver contracts. It will also study how to change listing rules to aid resources companies selling shares in Hong Kong.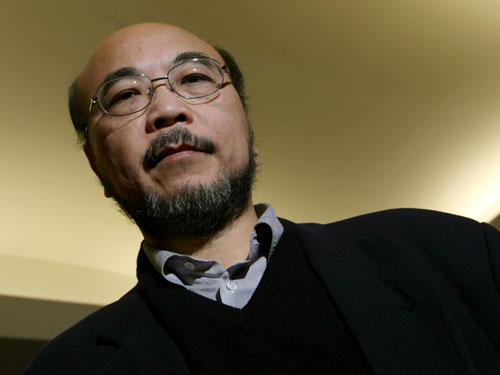 The West Kowloon Cultural District Authority is looking for diverse and long-term partnerships with top museums in Asia so that the city's flagship museum M+ will showcase the continent's best art, the head of the authority's museum committee says. In an interview with the South China Morning Post (SEHK: 0583, announcements, news) , Victor Lo Chung-wing, who will steer the development of the museum in the next two years, said the M+ could not be sustained only by local arts and culture. The authority would not seek just a single international partner for M+, he said. Instead, it would foster many collaborations to showcase the best exhibits from Asian museums, especially those of Chinese arts and culture, to attract mainland tourists. M+ would be the driving force of the arts and culture of East Asia, including Japan, Korea and Taiwan, and of Southeast Asia, Mr Lo said. The museum's other role was to build local audiences and spur the development of creative industries. "I hope the M+ will have a local character," he said. "But it requires time, effort and resources to build up collections of our own. We need top curators to locate and convince collectors of such treasures that they should donate them or lend them for our exhibitions." Addressing concerns the 75,000 square metre museum would become a white elephant, Mr Lo urged patience and expressed confidence that the museum would be built up successfully in stages over time. Mr Lo, who is also chairman of the Hong Kong Design Centre, said the centre would sell the project to internationally renowned architects and curators at the annual Business of Design Week starting on Monday. Held in partnership with the Netherlands, the design week will feature forums, tours and an award gala. Among the top architects attending will be Edward Uhlir from the United States, who designed the popular Millennium Park in Chicago. The park is an open space famous for its mixture of arts facilities. Mr Lo said it might be a good reference for the West Kowloon art hub. Invited participants also include the president of the Centre Pompidou, Alain Seban; Rem Koolhaas, who designed the landmark China Central Television headquarters in Beijing; and Yuko Hasegawa, the sole overseas board member joining the West Kowloon Cultural District Authority. "These people might also be interested in our art hub project," Mr Lo said. Overseas and local designers will also share their expertise in the protection of intellectual property at one of the design week forums. Speakers at the forum will include Richard Mille, a prominent US watchmaker and designer, and Dennis Chan, the Hong Kong-born designer of Qeelin, a mainland jewellery brand.
Home sales in Hong Kong dropped last month to the lowest level in 17 years as the worsening global financial crisis scared away buyers. Only 3,786 properties were sold.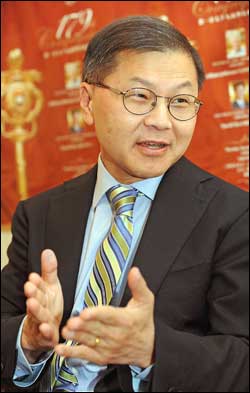 Government medics will visit gay hangouts to take blood samples following the disclosure of 119 new cases of HIV infection from July to September this year, many within the homosexual community. According to the Centre for Health Protectionthere have been 3,941 reported HIV infections since 1984. Senior medical officer Raymond Ho Lei-ming said the Department of Health is planning systematic checks to collect consistent data to help tackle increasing infection among homosexuals. All blood checks will be on a voluntary basis. He said the ratio of male homosexual infections to total cases has increased from around 20 percent in 2006 to 30 percent this year. In laboratory studies between 2004 and 2007, 66 samples were found to have similar DNA to a strain of HIV, with 80 percent of these being gay males. Another study found only 55 to 60 percent of gay men use condoms during sexual contact. The 119 new cases affected 97 males and 22 females. Thirty-five people were infected via heterosexual contact, 34 via homosexual or bisexual contact, 14 through injecting drugs and one via a blood or blood product infusion. The means of transmission in the remaining 35 cases was not determined due to insufficient data. Ho said there were 32 new cases of AIDS in the third quarter, bringing the total number of cases since 1985 to 998. Meanwhile, renowned AIDS researcher David Ho Da-i said the mainland government has to be given credit for its handling of the disease in the past five years. "The Hong Kong situation is also relatively good," said Ho, a pioneer of cocktail therapy treatment. He warned people to remain vigilant and appealed to the media to spread the word and help educate the public on AIDS issues.
A record 307 kilograms of ketamine and 10kg of methamphetamine with a street value of HK$41.3 million have been seized from a shipment from Singapore, the Customs and Excise Department said yesterday.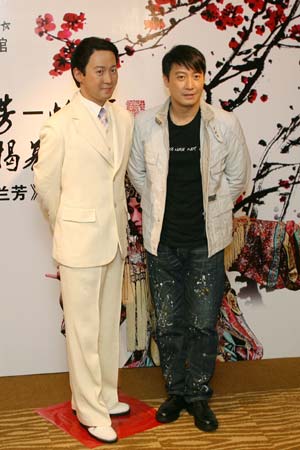 Leon Lai (R), who played the role of late Beijing Opera master Mei Lanfang in movie "Forever Enthralled", poses with the wax statue of his image in the movie at the Shanghai Madame Tussauds Wax Museum in Shanghai, east China, Dec. 3, 2008. The statue's unveiling ceremony was held here Wednesday.

China: Vice-Premier Wang Qishan urged Washington to protect China's investment in the United States and to stabilise its economy, as high-level talks at the fifth semi-annual Sino-US "strategic economic dialogue" meeting in Beijing produced some results in energy and environmental co-operation. Mr Wang made the request as his counterpart, US Treasury Secretary Henry Paulson, praised Beijing's "responsible role" in helping ease the impact of the global financial crisis. Mr Paulson played down the most controversial subject, the currency exchange rate, in his opening statement. "We hope the US side will adopt every necessary measure to stabilise its economy and financial markets, and ensure the safety of China's assets and investments in the United States," Mr Wang said. In a briefing last night, Minister of Commerce Chen Deming said Mr Wang was speaking in general terms as "all governments would be concerned about their countries' investments in other countries at a time of economic crisis". China overtook Japan at the end of September to become the No1 debt holder of US government bonds, with an outstanding balance of US$585 billion. China's commercial banks and government investment vehicles were estimated to have invested roughly the same amount of money in the US market, pushing China's total exposure in the US over US$1.1 trillion. Zhao Xijun , economics professor at Renmin University, said China could legitimately require the US to take care of its financial market. Mr Wang and Mr Paulson, accompanied by more than a dozen officials from both sides, exchanged their opinions on a wide range of issues in yesterday's closed-door meeting. Both nations, the world's biggest polluters, signed seven accords yesterday to co-operate in projects that promote energy and environmental conservation. "Today, we mark the beginning of what I believe will be a powerful model" for future energy agreements, Mr Paulson said at the signing ceremony. In separate briefings after the talks, Chinese and US officials pledged both nations would work together to curb trade protectionism. Mr Chen dismissed speculation that Beijing might let its currency depreciate in an effort to reverse the decline in exports, saying such a move would not help. The yuan dropped on Monday by the most since the nation scrapped a fixed exchange rate in 2005, triggering speculation that the government was switching to a policy of depreciation. "Fluctuations of the yuan's exchange rate have been normal this week, with the yuan depreciating only because the dollar has been so strong," Mr Chen said. "The cause of the current problem with exports is shrinking demand, not problems with currencies." Beijing was committed to maintaining a stable exchange rate, he said. In the US briefing, trade representative Susan Schwab said this was "the worst time for the beggar-thy-neighbour protectionism policy". Both countries have seen the risks of downward spirals in terms of trade protectionism and its international repercussions, and have pledged to resist such policies. National Development and Reform Commission vice-chairman Zhang Xiaoqiang said the two sides had talked about the foreign exchange rate issue yesterday morning, and China promised to maintain its policy of pushing through the reforms.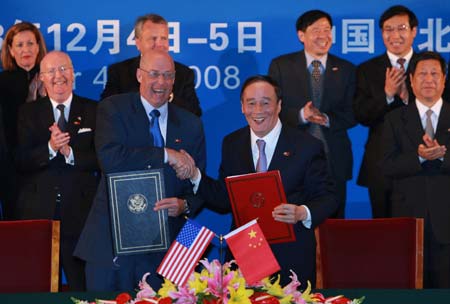 Chinese Vice Premier Wang Qishan (front R) shakes hands with U.S. Treasury Secretary Henry Paulson at a signing ceremony on energy and environmental protection cooperation during the fifth China-U.S. Strategic Economic Dialogue in Beijing, China, Dec. 4, 2008.

A 3 billion yuan (HK$3.4 billion) satellite China built and launched for Venezuela in late October had encountered some serious operational glitches that Chinese engineers were striving to fix, space-industry sources confirmed yesterday. Details of the malfunction are unknown, and satellite experts are divided on the cause of the issue, as only a handful of self-detecting sensors are on board and the information they pass down is limited. The technicians are anxious, as there is little time left for debate. The Simon Bolivar Satellite - a 5-tonne communications device for radio, television and data transmission - was launched at the Xichang Satellite Launch Centre in Sichuan on October 30. It is being tested and official service is scheduled to begin in February. If the handover is postponed or aborted it would be a blow to the Venezuelan government, which has touted the satellite as proof that Latin American countries can achieve a technological breakthrough without US assistance. The incident would also hinder China's ambitious and rapidly growing "space diplomacy", aimed at forging political and economic alliances with developing countries - especially oil- or mineral-rich nations in South America and Africa - by admitting them to the space club at an affordable price. But the reputation of China's space programme would suffer the most, industry experts say, as it represented the second failure of another country's satellite within a month. Nigcomsat-1, a communication satellite built and launched for Nigeria last year, failed on November 11 because of a solar-panel breakdown. The failure was announced by the China Great Wall Industry Corporation, the international outlet of the China Aerospace Science and Technology Corporation, which then sacked a senior official in charge of the program, sending shock waves through the industry. The nation rarely sacks senior officials for satellite failures, as space missions often encounter problems. The unusually severe punishment came partly because Nigcomsat-1 was China's first exported satellite. The country hoped it could open the international satellite market long dominated by the United States and Russia. The punishment was harsh because a product-quality flaw on the solar panel was "utterly unpreventable", a satellite expert with the Chinese Academy of Space Technology said. "In a space project, we can make two kinds of mistakes. One is unpreventable because we might be using a new technology, exploring a new environment or be caught by an issue that we had not heard of before. "In this case, you would not expect to be punished," the professor said. "But if you mess up a mission because of management blunders, such as bypassing necessary quality checks, you must take responsibility." The professor said the Nigcomsat-1 satellite had been hastily built to meet a very tight deadline.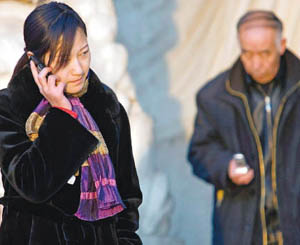 China mobile-telephone services market is entering a new phase of full competition, with China Telecom (SEHK: 0728) introducing its Surfing brand and China Unicom (SEHK: 0762) preparing to launch a 3G trial in seven cities. Although the two operators are pouring billions of yuan into building new infrastructure and subsidising handset sales, their combined market share will still remain small compared with that of market leader China Mobile (SEHK: 0941). Credit Suisse said China Mobile could remain the dominant player for the next seven years as China Telecom and Unicom complete their restructuring and directly challenge the market leader. China Mobile's market share based on service revenue could fall to 79.5 per cent in 2012 from a forecast 83.5 per cent next year. While Unicom and China Telecom could take 14 per cent and 6.5 per cent respectively of the market by 2012, that would still not be a significant threat to China Mobile. China Telecom, which acquired Unicom's CDMA mobile business for 110 billion yuan (HK$125 billion) earlier this year, last week unveiled its subsidiary responsible for mobile device development. The high cost of CDMA mobile devices has long deterred users from signing up for the service. More than 50 handset makers have taken part in sourcing activities for China Telecom's CDMA operations. They include foreign brands Samsung, LG, Motorola and Nokia and domestic brands such as ZTE Corp (SEHK: 0763) and Huawei Technologies. The company targets to reach 100 million mobile subscribers in three years. China Telecom's Surfing is a new brand for the CDMA mobile service, which will be differentiated from Unicom's previous New Horizon brand. Surfing will have its own brand handsets for China Telecom's value-added services such as yellow pages and mobile internet service. China Telecom has 28 million CDMA mobile users. It will need to add 24 million every year to reach the 100 million user target. However, Credit Suisse estimated China Telecom could add only 17.8 million subscribers a year. "[To achieve the 100 million subscriber target] would require substantial marketing and handset subsidies of, say, 700 yuan per subscriber," Credit Suisse analyst Jeffery Tan wrote in a research report last week. China International Capital Corp analyst Chen Haofei estimates that China Telecom may pay a subsidy of about 600 yuan for each new CDMA customer and urge users to pre-pay a lump-sum fee. "Such prepayment and subsidies arrangement could place competitive pressure on Unicom," Mr Chen wrote. China Telecom's CDMA technology can smoothly upgrade from the existing CDMA 2000 network to CDMA EV-DO, which is a 3G standard, and provide faster transmission speeds of up to 2 megabits per second. The company says it could launch 3G services within a month after the government issues a licence. Unicom, the smaller GSM mobile operator, is reportedly preparing to launch 3G commercial trials in Shenzhen, Wuxi, Shanghai, Baoding, Zhengzhou, Foshan and Liuzhou. Unicom will provide 3G services based on the European WCDMA technology. Each city will install 100 base stations. Analysts believe Unicom will focus on the development of the 3G service, as it has the most mature technology, rather than growing its 2G business. One of the catalysts will be the use of so-called asymmetrical regulations such as preferential interconnection charges from China Mobile. An interconnection charge is a charge between telecommunications operators for phone calls.
The governor of China's central bank, Zhou Xiaochuan, has warned the country to be prepared for the worst- case scenario as the global economic crisis deepens. But Zhou also expressed confidence that Beijing can sustain economic growth and financial stability if it adopts "timely, effective and preemptive measures."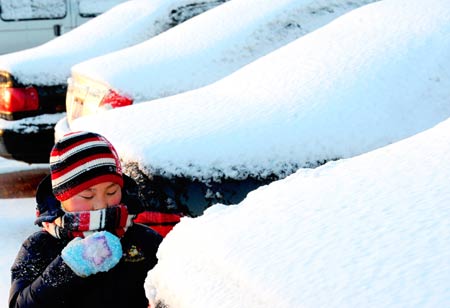 Beijing's city government plans to raise the retirement age next year for female officials to 60 - the same as that for men - from 55, in order to increase gender equality for bureaucrats. A boy plays with snow in Shenyang, capital of northeast China's Liaoning Province, Dec. 4, 2008. The heaviest snowfall and strongest cold front this winter hit Liaoning Province along with many parts of the country since Dec. 3 and brought down the temperatures to between minus 8 and minus 22 degrees Celsius in Shenyang on Dec. 4.
December 4 - 5 2008

Hong Kong: The government would increase spending on public healthcare to strengthen existing services and implement some reforms next year, Secretary for Food and Health York Chow Yat-ngok said.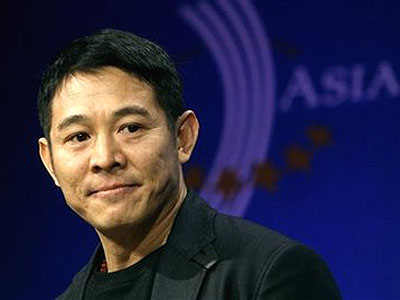 Movie star Jet Li said that China is ready for an explosion of volunteerism amid its growing prosperity at the Clinton Global Initiative Asia meeting on Wednesday. The humanitarian community was still not fully ready to deal with natural disasters, one panellist told Bill Clinton's Global Initiative on Wednesday. "This is maybe a little shocking but I don't believe the humanitarian community is at all prepared to respond the way it should when a disaster strikes," Anthony Banbury, regional director, Asia, UN World Food Programme said. "In the case of the tsunami, when it struck, the different UN agencies, NGOs and government agencies had never prepared together for that and never trained together for that," he said. "That's the biggest priority, in my opinion now for disaster response, is getting organisations to train together in advance under government leadership, not the United Nations. Because the government's going to lead whether it's Indonesia, or Pakistan, or Sri Lanka... China," Mr Banbury added. He was seated with fellow panellists Asean Secretary-General Surin Pitsuwan, actor Jet Li, China's Vice-Minister of Civil Affairs Jiang Li, and Kuntoro Mangkusubroto, who's helping to oversee reconstruction efforts in Indonesia. The group spoke about post-disaster relief, as well as the need to prepare for unforeseen natural events. Dr Pitsuwan discussed the importance of making use of preventative measures – rather than simply reacting to a tragedy once it occurs. "I think not only governments, not only civil society, but also the private sector will have to come together and shift our mindset a little bit," said Dr Pitsuwan. "Rather than wait for disaster to strike we must think about how to prevent it." If a tragedy does strike, countries, affected by disasters, should welcome help from international armed forces, Dr Pitsuwan said. "I think the entire armed forces are important because they have the equipment, they have the training, they have the experiences," said Dr Pitsuwan. "But in some of our countries in the region that is exactly where the problem is – external armed forces, ready, willing, organised, ready to go in, but are not allowed to go in."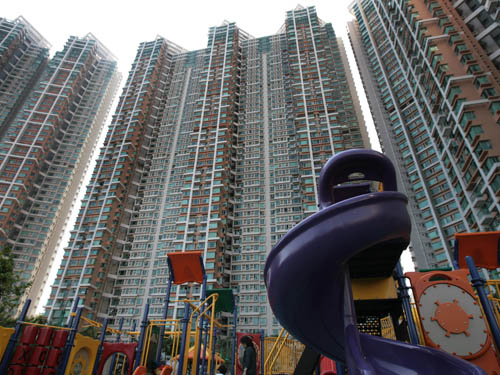 Hit by the global credit crunch and a slumping stock market, Hong Kong banks have tightened lending to the property sector. Home sales in Hong Kong dropped last month to the lowest level in 17 years as the worsening global financial crisis scared away buyers. Only 3,786 properties were sold for a total consideration of HK$10.65 billion, according to the Land Registry. This was even worse than the property market's last big downturn during the Sars outbreak of 2003. Home purchases plummeted 37.46 per cent from 6,054 deals in October and were 79.09 per cent fewer than the 18,105 deals reached in November last year. The value of deals dropped 43.77 per cent from HK$18.94 billion in October and was down 86.92 per cent from the HK$81.39 billion recorded in November last year. Transactions recorded last month dropped to the lowest level since the registry included all property sales in its statistics in 1991, said Wong Leung-sing, an associate director in the research department at Centaline Property Agency. "Transactions in the property market were more active during the Sars outbreak in 2003. There were 4,622 deals in February 2003," he said. The previous record low was 4,035 deals in February 1995. Hit by the global credit crunch and a slumping stock market, Hong Kong banks have tightened lending to the property sector. The city's real estate market thus joins those in the United States, Britain and Australia in feeling the pinch of the subprime crisis. Fredy Wu Yat-fat, the chief executive of Hong Kong Property Services (Agency), said potential buyers hesitated to enter the market after the bankruptcy of Lehman Brothers Holdings in September and the stock market turmoil. "The market has been full of bad news since the second half of September," Mr Wu said. "Average property prices are 30 per cent lower than a year ago." He said some potential buyers had been tempted back into the market in recent weeks, with transactions in the mass and high-end residential sectors rebounding. Many buyers are civil servants or teachers who have job security. He expected transactions this month would rise to about 4,500, but the figure might hit a new low in January.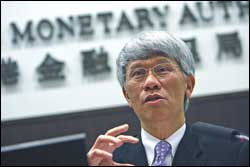 Hong Kong Monetary Authority chief executive Joseph Yam Chi-kwong on Wednesday said he been looking into the financial difficulties facing Hong Kong enterprises in the mainland. On Wednesday morning, Mr Yam visited Guangdong to meet with representatives of the Federation of Hong Kong Industries, Hong Kong General Chamber of Commerce and the Chinese Manufacturers' Association of Hong Kong. During the visit, he also met representatives from the People's Bank of China in Guangdong and the China Banking Regulatory Commission. Mr Yam discussed the challenges facing Hong Kong's small and medium-sized enterprises in China since the recent global financial crisis. After Wednesday's meeting, Mr Yam said the SMEs and banks in China needed to improve their relationship. He said was important to strengthen this in the long-term. Mr Yam said it was difficult for mainland's banks to lend money to Hong Kong-based SMEs because banks could not obtain sufficient collateral and credit data. He said the authorities in Hong Kong and Guangdong were now studying the possibility of implementing cross-border arrangements to make lending easier. The global economic downturn resulted in tighter bank lending and reduced credit. Small and medium enterprises (SMEs) in Hong Kong therefore found their businesses in the mainland harder to operate. Some closed down plants and factories in the mainland and laid off workers. In October, for example, Hong Kong-based toy manufacturer Smart Union closed all its factories in the mainland.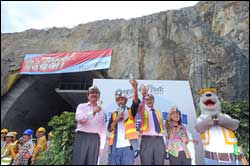 Ocean Park's attendance surpassed five million during the 2007-2008 financial year, park board member and legislator Patrick Lau Sau-shing said on Wednesday.

Michelin bestows 31 stars on HK - Lung King Heen chef first Chinese with 3 stars of MICHELIN GUIDE - A Hong Kong chef has become the world's first Chinese Michelin three-star chef. Lung King Heen at the Four Seasons hotel, whose kitchen is presided over by 40-year veteran Chan Yan-tak, was the city's only restaurant awarded the top three-star accolade by Michelin in its first guide to Hong Kong and Macau, launched yesterday - its first venture into China in 108 years. French restaurant Robuchon a Galera in Macau won the only other three-star ranking, which denotes "exceptional cuisine, worth a special journey". There are only 75 three-star restaurants in the world. The rankings delighted the chosen restaurants but the guide came under criticism from some food critics after it was disclosed that just two of the 20 inspectors who assessed the restaurants were Chinese. Guide Jean-Luc Naret said inspectors had visited the Lung King Heen 12 times and found its quality was consistently high. Seven Hong Kong restaurants were awarded the second-ranked two stars, including Amber at the Landmark Mandarin Oriental, L'Atelier de Joel Robuchon and T'ang Court. Fourteen received one star, including Fook Lam Moon, Forum and Yung Kee. Twenty-four restaurants that didn't make it to the star list were recommended in the Bib Gourmand section, which highlights quality restaurants offering a full three-course meal for HK$300 or less. Also mentioned were less pricey choices, such as Mak's Noodle and Tsim Chai Kee. Macau had one two-star restaurant, four one-star restaurants and two in the Bib Gourmand section. The guide, which goes on sale on Friday, features 169 restaurants from Hong Kong and 33 from Macau, chosen from a shortlist of more than 1,000 visited anonymously by more than 20 inspectors since last year. It also featured 33 hotels in Hong Kong and 16 in Macau. Of the inspectors, one was from Hong Kong and one from the mainland. Questioned about the others' expertise on Chinese food, Mr Naret said: "You don't have to be French to understand French cuisine." But Chua Lam, one of Hong Kong's most famous food experts, said it was "just a joke ... like a dialogue between idiots". "These people didn't know about Chinese cuisines. The guide was only to create controversy so that people would buy it," he said. Lau Kin-wai, food critic and owner of Kin's Kitchen, which was listed in the Bib Gourmand section, also questioned the inspectors' knowledge of Chinese food. He could not agree with some of the choices. Winning restaurateurs were more complimentary. "This guide has a long history and it has international recognition," Michael Au, resident manager for both L'Atelier de Joel Robuchon and Robuchon a Galera, said, adding that the honour might increase the chosen restaurants' business 20 to 30 per cent despite the financial crisis. Alvin Leung, chief chef of two-star Chinese restaurant Bo Innovation, said the uniqueness of the dishes was the key and vowed to make Chinese cuisine more fashionable. "I want to drive Chinese dishes to a fine dining level," he said. Kinsen Kam, director and general manager of Yung Kee, said he was "very happy" that the restaurant had made it to the top 22.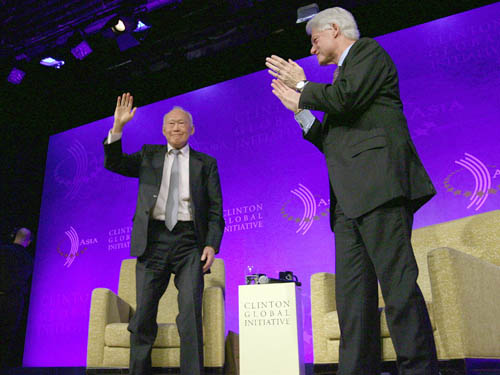 Lee Kuan Yew says farewell to another political titan, Bill Clinton, at the Grand Hyatt Hong Kong. Asians rely on state for answers: Lee Kuan Yew - NGOs did not flourish in Asian countries where people looked to governments to solve their problems, Singapore's Minister Mentor Lee Kuan Yew said yesterday. The founding father of the city state made the comments yesterday in conversation with former US president Bill Clinton and during a question-and-answer session afterwards. He said cultural differences explained why civic groups in Asia were weaker than their European and US counterparts, in response to a question from the floor. "In Japan and the Confucianist societies of East Asia, such as Korea, China, Vietnam and the Chinese communities in Southeast Asia, people have always been looking to the authorities to solve problems," Mr Lee said. He noted that the Chinese system in which an emperor sanctioned his officials and magistrates had existed for 4,000 years. Hence, the idea of citizens mobilising support for causes was often seen as threatening. During the 40-minute session, Mr Lee, who has been outspoken about Hong Kong issues during his previous visits, did not touch on the city's development. But he said Japanese women were "rebelling against becoming slaves of their husbands and in-laws", after Mr Clinton suggested education for women could raise the marital age and curb population growth. "You have to couple the education of women with equal job opportunities," Mr Lee said. "If you just educate them and keep them at home, they are back to the old pattern of life and they are homemakers and they produce children."
Hong Kong tourist Fung Man-wai, whose husband was killed while traveling from Bangkok to Phuket airport, has absolved the driver of the vehicle from blame, saying it was a pure accident.
China's first spacewalker Zhai Zhigang and two fellow Taikonauts land in Hong Kong on Sunday - however it appears the frenzy that greeted the nation's first man to orbit the moon, Yang Liwei, will not be repeated.
HSBC private banking part of US probe - The US Justice Department has launched a criminal investigation into whether HSBC's (0005) private banking division illegally helped American clients avoid paying taxes by hiding their money in undeclared offshore bank accounts, according to media reports.
Bank of China (Hong Kong) (2388) said yesterday it will raise its interest rates for new mortgages by 50 basis points and cut some cash rebates in a move that keeps the lender's rates lower than HSBC's newly-raised charges.

China: Beijing on Tuesday urged mainland consumers to remain calm amid internet calls for an anti-France boycott, but insisted the French government was at fault in an escalating diplomatic row over Tibet. A foreign ministry spokesman reiterated Beijing's position that it was up to France and the European Union to end the dispute that has erupted over plans by French President Nicolas Sarkozy to meet with the Dalai Lama on Saturday. The dispute had resulted in Beijing taking the unprecedented step of postponing a China-EU summit scheduled for this week. France currently occupies the rotating EU presidency. "I believe at present that China-EU relations, especially with the postponement of the China-EU leaders meeting, have been affected," foreign ministry spokesman Liu Jianchao told reporters. "It is because the French leader is bent on meeting the Dalai Lama, disregarding China's wishes." Asked to comment on online calls for a French boycott, Mr Liu urged restraint without actually condemning such action. "We hope our citizens in China will take a calm attitude in viewing China-France relations," he said. Some Chinese blogs have filled recently with anti-French comments. A forum on the government-run China.com website posted a petition condemning Mr Sarkozy that drew more than 82,000 online "signatures" as of Monday. On the popular portal Huanqiu.com, a forum was filled anti-French comments on Tuesday. "Support China forever and boycott French goods! Those who shop at Carrefour are lackeys!" said one entry. Mainland protesters had earlier this year targeted French businesses such as retail giant Carrefour. Those protests were sparked by Mr Sarkozy saying his attendance at the Beijing Olympic opening ceremony was conditional on progress in long-stalled talks between Beijing and the Dalai Lama's envoys on the future of Tibet. There was also anger in the mainland about protests that disrupted the international Olympic torch relay in Paris and several other cities over a Chinese military crackdown on unrest in Tibet. Authorities normally stamp out public protests and online dissent it does not like, but allowed the anti-French sentiments early this year to continue for weeks.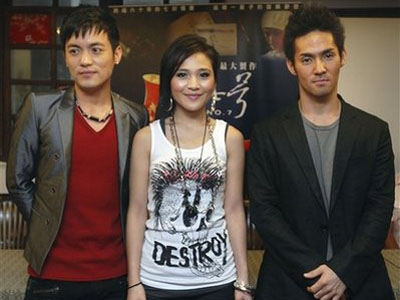 Singers, Kosuke Atari, Liang Wen-yin and Fan Van pose during a press event for Cape No 7 in Taipei in June. President Ma Ying-jeou says Beijing should not ban a hit Taiwanese film because it could help mainlanders better understand their neighbours on the self-governed island. In an interview on Wednesday with Radio Taiwan International, Mr Ma praises Cape No 7 as a film that truly reflects ordinary people's lives. He says he hopes that mainland Chinese will have a chance to view it. Beijing reportedly has reversed its decision to import the Japan-themed film – about a Taiwanese rock musician's love for a Japanese woman – for fear it may be offensive to nationalist sentiment on the mainland.
The United States is hoping for a productive round of high-level economic talks with China, which start from tomorrow amid the global crisis, and the value of the yuan is bound to be discussed again, US officials say. During the next session of the Strategic Economic Dialogue (SED), the US planned to press Beijing to allow the yuan to rise further against the US dollar and to avoid raising trade barriers, Treasury Undersecretary David McCormick said in Washington on Monday. The US believed the need for Beijing to pursue currency reform was "as important now as it has ever been". The US and other major trading partners have long complained that the yuan is undervalued, which makes Chinese exports less expensive. The yuan has risen 20 per cent in value against the US dollar in the past three years, though that climb has faltered in recent months. The top US environmental official also said he expected a fruitful meeting. "I'm very encouraged by the continued co-operation and collaboration with our Chinese partners, and I expect great things from our next SED meeting," US Environmental Protection Agency administrator Stephen Johnson said. He will take part in the talks in Beijing tomorrow and on Friday. President Hu Jintao and US President George W. Bush agreed to create the dialogue in 2006. The meeting this week is the fifth. "Part of our SED agenda, we will be talking about, obviously, the financial system and issues of global economics," Mr Johnson said in Shanghai. The US side will be led by Treasury Secretary Henry Paulson. As for environmental issues, the US and Beijing might reach agreement on an action plan for air quality and launch an initiative to establish "eco-city" partnerships between cities in the two countries, Mr Johnson said. Officials would also discuss other issues regarding energy and the environment. Mr Johnson said the US and China should continue such high-level talks after US president-elect Barack Obama took office on January 20. Other Bush administration officials have called for the SED to continue to help foster bilateral ties. "That relationship needs to and should continue to grow and develop under some form, whether it's the Strategic Economic Dialogue or some other means," he said. "It's important that we work together in a collaborative way to address issues." He also stressed the importance of environmental protection despite the economic crisis and the desire for development. "We are dealing with a global financial crisis, but we should not let that adversely impact the environmental progress that we have made or need to make," Mr Johnson said after a speech to students at Tongji University. "And so again, environmental protection and economic development must go hand-in-hand."
US electronics giant Apple has won a trademark infringement suit against a mainland corporation that used a logo similar to the US company's distinctive symbol.
December 3 2008

Hong Kong: Standard Chartered to lay off 200 staff - Standard Chartered Bank on Tuesday said it has decided to lay off 200 staff in Hong Kong – some four per cent of its local work force in the territory.

Last HK travellers stranded in Thailand to return home - The last Hong Kong travellers stranded in Thailand would be able to take a government chartered flight and return home on Tuesday evening, a government spokesman confirmed.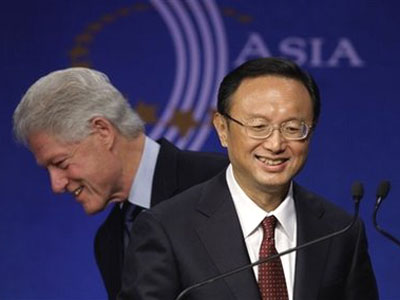 Former US President Bill Clinton and Foreign Minister Yang Jiechi kick off the first overseas Clinton Global Initiative Asia in Hong Kong on Tuesday. Former United States president Bill Clinton launched his first-ever Clinton Global Initiative Asia event in Hong Kong on Tuesday - saying Asia "was an obvious choice for this meeting". Over 400 of Asia's elite, including 11 former and current heads of state as well as nearly 200 business leaders, are attending the two-day event in the Grand Hyatt. The members will try to make commitments to solve problems in the areas of climate and energy, public health and education. Mr Clinton said Hong Kong was an important destination. "We decided to come to Hong Kong because of the region's leadership and capacity to make a difference on the major issues of our time," the former president said. Mr Clinton stuck to the business of the day, remaining silent about the decision by US President-elect Barack Obama to select his wife, Senator Hillary Clinton, as the next US Secretary of State. "In a larger sense, the recent prosperity of Asia, as in America, has not reached every household," Mr Clinton said. "And, therefore, even before the financial crisis, persistent inequality has seemed to be an unfortunate side effect of many of the good things which are happening in the interdependent world. "Over the past 20 years, the rise of India, the mainland and other nations in Asia have impressed the rest of the world," Mr Clinton added. "Asia was an obvious choice for this meeting of the CGI." Beijing's foreign minister Yang Jiechi also made live remarks – before Secretary General Ban Ki-moon was shown on screen delivering a videotaped address. "By choosing to hold this meeting in Asia the CGI has demonstrated the importance it attaches to this region," Mr Yang said. "Indeed Asia is one of the most dynamic regions in the world. "However, while enjoying fast economic growth, Asia is also faced with difficulties and challenges, such as environmental degradation, frequent natural disasters, widening gap between the rich and poor, and underdeveloped public health and education," he said. Mr Yang also joined Philippine President Gloria Macapagal-Arroyo, Hong Kong businessman Victor Fung Kwok-king, Japan House of Councillors Member Yoriko Kawaguchi and Sun Group vice-chairman Uday Khemka for a panel discussion led by Mr Clinton. The group discussed how countries and businesses could balance growth with sustainability. Mr Clinton first asked Mrs Arroyo how the financial crisis has affected her country. "The Philippines is doing relatively well in this global crisis, but that's small comfort to the average Filipino who feels higher prices for the food that he or she has to buy, or the petrol that he or she has to buy," she said. "Therefore, one big challenge that we have to address is how the impact is on the poor and the ordinary Filipino. "So it's very important for us to be able to make sure that the global crisis does not become a crisis in our country," said Mrs Arroyo. A few panelists congratulated Mr Clinton on his wife becoming the next secretary of state. "I would like to join President Arroyo in congratulating Senator Clinton on her being nominated as the next Secretary of State. I've already sent a congratulatory message, but I think that you are even closer to Hillary," said Mr Yang to a roar of laughs and applause. Mr Clinton smiled before taking a sip of coffee. "So please convey my warm congratulations to her, and I'm looking forward to a very good working relationship with now Senator Clinton, but Secretary Clinton later on, and to further our friendship," Mr Yang added.
Former US president unveils philanthropic commitments - Former US President Bill Clinton announced the first three new commitments by his global philanthropic group on Tuesday – including a plan to develop a Hong Kong Beach Authority to keep city beaches clean. During the opening plenary session of CGI Asia, Mr Clinton applauded the efforts of the Café Deco Group – a restaurant group in the city. "They have made a commitment to attempt to establish a Hong Kong Beach Authority to co-ordinate both public and private efforts to clean up Hong Kong's beaches," Mr Clinton said. "There are two components to this commitment," he added. "First, Beach Savers will energise and motivate the community to make a consistent lifetime effort to keeping the beaches clean. "Second, they will attempt to leverage the momentum from the awareness campaign to encourage the Hong Kong government to establish a Beach Authority, tasked with the co-ordinating efforts to clean up all categories of beaches and to arrange for the placement of disposal bins there." Mr Clinton said the commitment would impact on 191,000 students, as well as Hong Kong residents and visitors. "Of whom I am one," said Mr Clinton. "So I'm very grateful for this commitment." Additionally, Standard Chartered Bank has teamed up with a non-governmental organisation called Vital Voices to help improve the financial education of women in China, India, Pakistan, Indonesia and Vietnam. The commitment "will build the capacity of women to become economically literate, to manage their finances, to start and grow small or medium-sized enterprises through an annual training summit," explained Mr Clinton. The other commitment involves literacy in Laos. Big Brother Mouse, a publisher, "aims to improve literacy in Laos by helping 90 per cent of villages in rural areas have access to a wide range of books by 2016," Mr Clinton said. It "will establish a series of locally owned libraries to provide books to five million people in Laos, of which half are children." Nearly 1,200 commitments have been made through The Clinton Global Initiative since it was established in 2005. The commitments are valued at US$46 billion (HK$357 billion) and have helped over 200 million people in 150 countries. "We ask each participant to make a specific commitment to action, to do something new and measurable to address problems like poverty, education, health care, climate change, religious and ethnic conflicts or other challenges which exist today in the world," Mr Clinton said. "We don't require anyone to do anything specific or to spend any particular amount of money," he said. "We don't get involved in the implementing or the funding of the projects except to offer help with our full-time office of implementation when people need it." "Commitments can be of money, time, skills, even changes in core business practices which can have a huge impact on the climate change problem," Mr Clinton added.
Galaxy Entertainment Group (SEHK: 0027), which has delayed the opening of a planned new casino in Macau amid a harsh market for gaming firms, on Tuesday offered to buy back US$350 million worth of bonds at a steep discount to their face value. The deal is intended to reduce the firm's indebtedness, and will be funded with internal sources, Galaxy said in a statement. Late last month, Standard & Poor's lowered its long-term credit rating on the firm's Galaxy Casino unit to 'B' from 'B+', with a negative outlook, citing the delayed opening of the firm's Galaxy Cotai Mega Resort to 2010 from the middle of next year. On Tuesday, Galaxy offered to pay US$530 per US$1,000 in face value for floating rate notes worth US$250 million due in 2010, and will offer between US$375 and US$450 per US$1,000 face value in a modified Dutch auction for up to US$100 million in fixed-rate notes due in 2012. Galaxy said that the maximum amount payable will be about US$180 million. The delayed opening is the third for Galaxy's planned resort since the original target of the end of this year, S&P said, and comes as restrictions on visas for visitors from mainland and fierce competition have battered the development plans of casino operators in Macau. Last month, US gaming giant Las Vegas Sands halted construction on its Macau expansion and laid off most of its 11,000 construction workers there due to a financing crunch. S&P said last month that it believed the delayed opening of Galaxy's new casino would weaken the firm's ability to generate cash to repay US$250 million in notes due in December 2010. Merrill Lynch is handling the deal. Shares of Galaxy have had nearly their entire value wiped out this year. Galaxy's stock hit a peak of HK$9.56 in October last year, the same month that UK private equity firm Permira agreed to pay US$840 million for a 20 per cent stake in the company. Shares of Galaxy opened the year at HK$7.50 and steadily dropped. The shares fell 1.56 per cent on Tuesday morning to HK$0.62 apiece, giving the firm a market value of US$313 million.

Michelin gives first three-star rating to Chinese chef - Culinary bible Michelin on Tuesday gave its coveted three-star rating to a Chinese chef for the first time, as French gastronome Joel Robuchon brought his global total of stars to 24. Launching its inaugural guide to restaurants and hotels in Hong Kong and Macau, Michelin inspectors gave three stars to Lung King Heen, a Cantonese restaurant in the Four Seasons hotel run by Chinese chef Chan Yan-tak. They also awarded three stars to Robuchon's Robuchon a Galera, in the Grand Lisboa casino resort in Macau, and two to L'Atelier de Joel Rubuchon in Hong Kong. Lung King Heen, which translates to "view of the dragon", and Robuchon a Galera were the only restaurants to secure three stars in the new guide. Jean-Luc Naret, director of the Michelin guides, said the company had been monitoring Chan's career very closely, and that the restaurant had been inspected 12 times to give it the three-star approval. "We have followed him for a few years, actually for 10 years.... We have been very impressed by his cuisine," Naret told reporters at the launch of the guide in Hong Kong. "He is the first Chinese chef to get three stars." A total of 40 stars were awarded to restaurants in the two former colonies, with more than 250 dining spots and hotels featuring in the new guide which will go on sale on Friday. More than 30 different types of food ranging from Dim Sum to Swiss will be featured in the guide, which was founded in 1900 as a drivers' companion to restaurants in France, but made the leap to Asian cities last year with Tokyo's first edition. Three stars indicate "exceptional cuisine, worth a special journey" while two stars mean "excellent cooking, worth a detour". One star promises an "very good restaurant in its category". "When we launch a new guide in a city of a country, it's because the gastronomic scene of that city or that country is interesting, diverse, rich," Naret said. "And that is what the Hong Kong and Macau gastronomic scene is all about." Naret said Michelin was hoping to sell 100,000 copies of the Hong Kong Macau guide, following the huge success of the Tokyo edition, which sold 300,000 copies in its first few weeks after the city became the most starred in the world. He said the 12 anonymous inspectors had each visited hundreds of hotels and restaurants during the year in Hong Kong and Macau, and included one inspector from Hong Kong and one from mainland China. Chan started cooking at the age of just 13, and has since worked in top restaurants across Hong Kong in a career that has spanned around 40 years. He was lured out of retirement to open the restaurant in the Four Seasons Hotel three years ago. Robuchon holds the highest number of stars for any chef, with a total of 24 awarded to his various restaurants across the world. Compatriot Alain Ducasse has 16 stars, while British chef Gordon Ramsay has 12, a spokeswoman for Michelin said. Secretary for Commerce and Economic Development Rita Lau Ng Wai-lan on Tuesday praised the Michelin Guide."Michelin Guide Hong Kong Macau 2009 is the first bilingual Michelin guide and is Michelin's second Asian guide. I am delighted that Hong Kong has become one of the first Michelin cities in China. Mrs Lau said the Hong Kong Tourism Board would make good use of the guide to promote Hong Kong.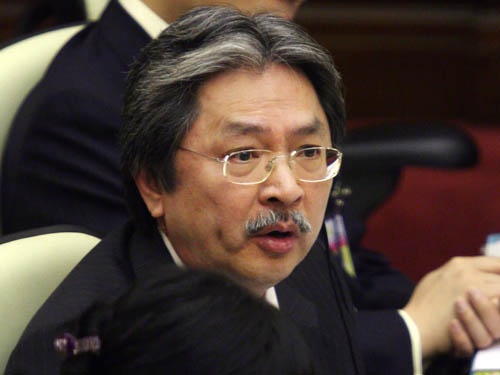 Hong Kong would face an increasingly difficult time in the coming six month as the recession hit businesses and more jobs were lost, Financial Secretary John Tsang Chun-wah said. Amid criticism by lawmakers that the government had not done enough to help sacked workers, Mr Tsang said he doubted a proposal to distribute shopping coupons would stimulate sluggish spending. Briefing lawmakers in a meeting of the Legislative Council financial affairs panel, Mr Tsang said the crisis caused by the financial meltdown in the US would affect Hong Kong's economic growth. "We cannot predict at this point when this financial crisis of the century is going to pass," Mr Tsang said. "The impact of the crisis on Hong Kong's economy is starting to show." The government's economic outlook for the next six months was pessimistic, he said, but "whether it will improve in the second half of the year will depend on how the financial crisis evolves". He said the government's latest estimate for the economy was a slowdown of growth in gross domestic product from the 7.3 per cent in the first quarter of this year to 1.7 per cent in the third quarter, resulting in annual growth of 3 to 3.5 per cent. He said that on top of a drop in exports and consumer confidence, the series of business closures was expected to raise the jobless rate, now at 3.5 per cent. Mr Tsang said the government had introduced measures to facilitate the creation of employment opportunities by speeding up infrastructure projects. "The creation of jobs is our top priority," Mr Tsang said, adding that his budget in February, which would undoubtedly be in the red, would also focus on raising Hong Kong's competitiveness and identifying long-term economic opportunities. On the call by the Liberal Party and unionists for the government to issue shopping coupons to boost spending, Mr Tsang said experiences in other countries had shown consumers might use the coupons on necessities instead of on extra shopping, while continuing to save. "Whether such measures can really stimulate economic growth should be studied. It creates little impact on stimulating the economy ... in some countries," Mr Tsang said. Lawmakers from across the political spectrum criticised the government for failing to introduce adequate measures to help the needy. Ronny Tong Ka-wah of the Civic Party said the jobs to be created by infrastructure projects were not enough. "Are you asking restaurant staff and office clerks who are out of work to roll up their shirtsleeves and dig at construction sites?" Mr Tong said. Democrat Emily Lau Wai-hing said the government should step up measures to help struggling small and medium-sized enterprises. Starry Lee Wai-king, of the Democratic Alliance for the Betterment and Progress of Hong Kong, said the government should not wait until the February budget to introduce measures tackling rising unemployment and the worsening economy.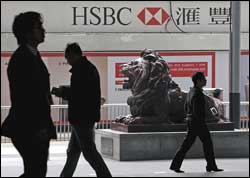 Hongkong and Shanghai Banking Corp has announced it will raise mortgage rates drastically for new home buyers by 50 to 75 basis points. New customers who take out a HK$1 million home loan will pay HK$5,000 to HK$7,500 more per year in interest as a result. HSBC raised its mortgage rate, regardless of loan size, to between prime minus 1 percent and prime minus 1.5 percent - equivalent to 3.5 percent and 4 percent, on a new mortgage - with effect from yesterday. The plan includes a cash rebate of 0.5 percent. It has now cleared its original dividing range of HK$1.5 million loans and unified mortgage rates for loans of all sizes. The rate increase follows the same move by its peers, the bank said. "Hongkong Bank may want to maintain its profitability at a reasonable level," said Industrial and Commercial Bank of China (Asia) (0349) executive director Stanley Wong Yuen-fai.

China: Trust in food exports drops since milk scandal - International confidence in mainland food exports has dived since the scandal erupted over contaminated milk in China, with dairy items the worst affected.

Yang congratulates Clinton on top US envoy role - 12:45pm Beijing's foreign minister congratulated Hillary Clinton on Tuesday on her nomination as US secretary of state under Barack Obama, saying he looked forward to working with her.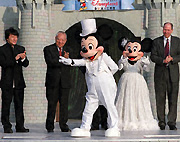 The proposed Shanghai Disney resort had received long-awaited blessing from the central government ahead of a final deal between the entertainment giant and the Shanghai municipal government, sources said. The National Development and Reform Commission, the mainland's top economic planning body, had finally given approval for a Disney theme park, sources said. This came after authorities in the city stepped up their lobbying for the Disney project in the past two months, citing it as a key part of a broader stimulus package to rein in an economic slowdown in Shanghai. A group of top Walt Disney Company executives had scheduled a visit to the mainland this month and "they will probably not return home empty-handed", said a source with knowledge of the matter, indicating the negotiations over the details of an agreement had reached the final stages. But a Hong Kong-based Disney spokesman, repeating a stance the company has taken in recent months, said yesterday: "There is no announcement and there's no deal." Previous media reports estimated the cost of the proposed theme park, to cover an area eight times that of the Hong Kong Disneyland resort, at about 40 billion yuan (HK$45.5 billion), excluding the land. Construction of the park in the suburban Chianti district would be carried out in several phases and was planned to be completed in five years, said a source close to the Shanghai municipal government. The central government approval came partly as a result of hard lobbying in person by senior figures, including the city's party boss Yu Zhengsheng , who hoped the project could create jobs, offsetting the forthcoming economic slowdown to some extent, the source said. The central government launched a 4 trillion yuan stimulus package early last month to sustain growth in the economy. The theme park was first mooted 10 years ago and Shanghai has repeatedly said any decision would depend on the central government. "It's by no means a bargain on Shanghai's part, but it's probably the best terms they could get," said one of the sources, referring to the deal.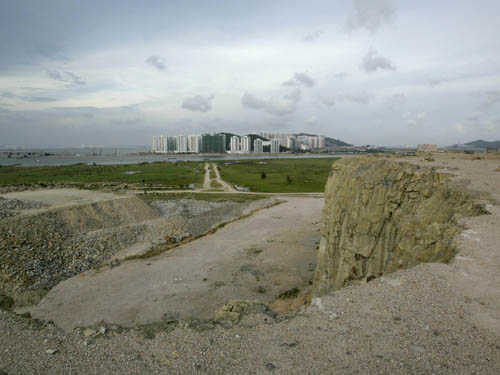 The Hengqin Economic Development Zone on Hengqin Island in Zhuhai, which could soon be home to a theme park featuring giant pandas. Developer sought for giant panda theme park on island near Macau - A decade-old idea to develop an island next to Macau is finally about to get off the ground with Zhuhai tendering the right to build a theme park, which may feature giant pandas, on Hengqin Island. A hi-tech park will also figure in the near-term development of the 86 sq km island to the west of the Cotai Strip. The Land and Resources Bureau of Zhuhai will accept bids from December 12 until Christmas for a 1.3 million square metre site on Hengqin. t appears Guangdong authorities plan to bring pandas onto the island, as "experience in raising and exhibiting giant pandas and koalas" is listed among prerequisites for bidding. Experience in running large theme parks, safari parks and circus venues are also requirements. The minimum bidding price is about 125 million yuan (HK$142 million) and a maximum plot ratio of 0.8 per cent applies to the site. The Guangzhou-based Chimelong Group, which runs a safari park in Panyu district, is believed to stand a good chance of acquiring the site. A panda-themed park will go up on the site, according to the Guangzhou-based Southern Metropolitan Daily. Economist and gaming analyst Zeng Zhonglu said the development in Hengqin would benefit Macau by luring more tourists to the area. "Macau and Hengqin will both be promoting leisure travel, but they will offer different experiences to visitors," said Professor Zeng, of the Macau Polytechnic Institute. "The two sides will be able to complement each other." Macau's policymakers and developers have long been eyeing Hengqin to ease the pressure of population growth at home. The former Portuguese enclave has arguably the world's highest population density, with 557,000 residents sharing 29 sq km of land. Just a few hundred metres from Cotai, Hengqin is three times the size of Macau but has fewer than 7,000 residents. As early as 1992, Guangdong earmarked Hengqin as a key area for the province's further opening to the outside world. An economic zone was planned on the quiet island.
December 1 - 2 2008

Hong Kong: Creating jobs is top priority: The government's top priority is to create jobs and maintain Hong Kong's competitiveness during the global financial crisis, Financial Secretary John Tsang Chun-wah said on Monday.

TVB confirms termination of more than 200 jobs: General Manager of Television Broadcasts (TVB) Stephen Chan Chi Wan said on Monday he hoped the termination of more than 200 jobs would only be a "one off" occurrence.
Workers from removals company Relocasia help a family in Mid-Levels prepare to move abroad. The tinsel and carols have gone up to signal that Christmas is on the way, but for John, a banker, the past few weeks have been "a logistical nightmare". The reason? He lost his job last month and has to head home this week. John has spent the past month in discussions about breaking his lease, taking his children out of school, packing up his home and also saying farewell to friends. "It has been terrible. It was a surprise. It took everyone by surprise," said the Australian, who has lived in Hong Kong for nine years with his wife and two children, aged 9 and 11. "In the current climate, we decided it was the best option," he said. He plans to wait in Australia for the economic turmoil to calm down and apply for jobs in Hong Kong as soon as possible. The Immigration Department, the Trade Development Council and consulates do not keep figures on the number of foreign workers leaving the city permanently, but many expatriates say they are going home. Some predict an exodus and a repeat of the situation during the 1998 financial crisis and the outbreak of severe acute respiratory syndrome in 2003. Restaurants, bars, recruiters and property companies are watching for a major shift in business, while schools are monitoring changes in enrolment and waiting-list numbers. Ben Tyrrell, director of removals firm Relocasia, said: "This is not dissimilar to what happened during Sars, when we had people wanting to move the next day. People don't do that unless they sense dark clouds on the horizon." Mr Tyrrell has seen many foreigners - including chief financial officers, middle-class corporate staff and recent graduates - deciding to move and leaving the city within days. The company, most of whose clients work in banks and live in upmarket areas, saw outbound orders rise by 65 per cent last month and expects a 100 per cent increase for this month, compared to the same month last year. Most of the orders for last month were made by Britons, Australians and Americans. "They're either deciding to take redundancy packages or are being forced to leave," he said. "It's been phenomenally busy." Recruitment agencies predict expatriates will leave when they fail to find jobs. The agencies would be able to source positions for lower-level staff - compliance officers, auditors, product controllers and technical staff - but it would be difficult for senior candidates, said Mark Enticott, associate director of banking and financial services at executive search firm Michael Page. He predicted that many people would move in the next six to 12 months. "Naturally that happens. We saw it during the last two financial crises," he said. Restaurants are bracing for a drop in business. "There's probably going to be a bit of an exodus," said Chris Lenz, founder of Igor's Group of Restaurants, which includes Stormy Weather, The Keg and Wildfire. He said one of his regulars lost a job last Monday, and another last Tuesday. He expects a 20 to 25 per cent drop in income next month and in February compared to the same months in recent years, partly because expatriates would leave. Buggle Lau, chief analyst at Midland Realty, said luxury property rents would drop when expatriates left. "Even those who are lucky enough to keep their jobs upon the expiry of their contracts will relocate or they will negotiate with their landlords," he said. Rents on the south side of Hong Kong Island, in Mid-Levels and in West Kowloon had dropped by 15 to 20 per cent up to October, he said. He expects another 10 to 15 per cent fall in the first quarter of next year. The only places reporting stability are schools, possibly because parents do not want to uproot children mid-term. Hong Kong International School and the English Schools Foundation say enrolment and waiting list numbers have not changed from last year. The ESF even received 10 per cent more applications than last year for first-year spaces, said Peter Craughwell, head of corporate communications. But he said they were monitoring the situation. Businesses say worse is yet to come. HSBC (SEHK: 0005, announcements, news) , Citibank, DBS, Morgan Stanley, Goldman Sachs and Merrill Lynch only announced job cuts last month. They say the period from now until the end of the year will be the lull before the storm as the unemployed seek new jobs. However, some expect fewer people to leave than in 1998 and 2003. "There is a fundamental difference between expats now and then," Mr Lenz said, noting they had started owning property, which was very rare in the 1990s. "A lot of expats see Hong Kong as their home. Even if we see them losing their jobs, they will try to look for work here," he said. Mr Enticott, from Michael Page, even expects new arrivals. "Asia is still seen by banks as an area where they can grow their revenue base," he said. Joe, a broker from Britain, lost his job along with several others at his company last month, and his visa expires in June. He says the mood among his friends has been very grim, but he wants to tough it out in Hong Kong, where he has lived for several years. "I don't want to go back to the UK unless I have to. I will stay as long as I have a visa," he said. He plans to send out CVs in January and hopes to land a job with a visa. "You have to look at the economies in the rest of the world. Our prospects are better here," he said. "There are still firms coming to Asia."
The Hong Kong General Chamber of Commerce (HKGCC) on Monday called on companies to try to refrain from laying off workers.

Half the lots in Christie's evening sales of Asian contemporary and Chinese 20th century art went unsold on Sunday, reflecting the bleak global economic outlook and cooling Chinese art market.
Direct trains to Guangzhou put cross-border links back on track - Choi Wai-hang was one of the frequent travelers on the Guangzhou-Kowloon through trains in the early days of its resumption of service in 1979. He knows well how the service made the cross-border journey less tiresome. After the through service between Guangzhou and Kowloon was suspended in 1949, travelers from Hong Kong had to cross the border on foot to Shenzhen to catch another train to Guangzhou after the Kowloon-Canton train from Hung Hom reached Lo Wu. "We used to catch a train from Hung Hom at 7am and would not arrive in Guangzhou until 3pm or 4pm that day. "It's hard for the younger generation to imagine that a trip between Hong Kong and Guangzhou would take up to nine hours," said Mr Choi, director of Reiss, Bradley and Company, a British trading firm in Hong Kong in the late 1970s. The direct service between the two cities opened in 1911 but was suspended in 1949 after the founding of the People's Republic of China. Starting from the late 1950s, Mr Choi used to travel to Guangzhou to attend the China Import and Export Fair, popularly known as the Canton Fair, held twice a year in the spring and autumn. The Canton Fair, which was inaugurated in 1957, is the mainland's largest trade fair. "Until the late 1970s, you could not return to the mainland unless you held a permit applied for by your relatives on the mainland or an invitation issued by Canton Fair organizers," Mr Choi explains. Cross-border journeys became easier following the re-introduction of direct trains to Guangzhou on April 4, 1979, a few months after the mainland embarked on the path of opening up and reform. Hong Kong 1980, the colonial government's annual report, described the resumption after a 30-year suspension as "the most momentous event" of 1979 for the Kowloon-Canton Railway Corporation. The trains were air conditioned with 640 reclining seats. "There was only a pair of trains operating daily between Hong Kong and Guangzhou in 1979 and the fare for a single trip was about HK$20," Mr Choi said. "Most passengers were Hong Kong businessmen and people visiting their relatives on the mainland." Mr Choi, who is a veteran specialist in China's trade and a former Hong Kong deputy to the National People's Congress, said a journey between Kowloon and Guangzhou on a through train took nearly four hours in the late 1970s. "It was just half the time spent before the resumption of the through train service and we no longer had to get off the train in Lo Wu and walk across the border to catch another train," he said. "From then on, it became more convenient for us to travel to the mainland." There are now 12 pairs of trains operating daily between Hong Kong and Guangzhou and the journey time is 100 minutes. The fare for a single journey is HK$190. However, the travel time to the provincial capital is set to be cut by at least half, thanks to a rail link set to be completed in 2014-2015, under a HK$39.5 billion cross-border project approved early this year. Under the project, Hong Kong will be integrated with the mainland's rail network. Starting in West Kowloon, the link will cut travel time between Hong Kong and Guangzhou by 48 minutes, from the 100 minutes of the Kowloon-Guangzhou link, and will dovetail with all mainland networks from the Guangzhou hub. KCRC operations were merged with those of the MTR Corporation (SEHK: 0066) in December last year.
Mother files writ against Century Legend directors - When business is good in casino-land, every deal is a winner, every partnership a sure bet. But when things go south, watch out for the fallout ...Century Legend - a family-owned Macau real estate investor, and former owner of the Holiday Inn casino hotel and attached Macau Diamond Casino - put out a stock exchange announcement this week saying three of its directors were being sued by their mother. Szeto Yuk-lin has filed a writ against her children - company chairman Samuel Tsang Chiu-mo, his brother and his sister - over their stakes in two holding firms that control a combined 43.36 per cent of Century Legend. Ms Szeto was perhaps the first VIP room operator in Macau, having opened the original Diamond VIP gaming hall inside casino magnate Stanley Ho Hung-sun's original Lisboa back in the early 1980s. Century Legend did not give details about the nature of the legal action, but stated that the matter "is purely a family dispute among family members of the controlling shareholders ... which does not involve the assets of the group".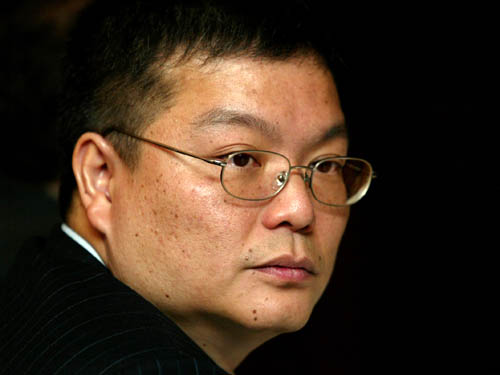 Evergrande sought to raise HK$16.6 billion, but its plan to list on the Hong Kong stock exchange was scrapped due to poor market sentiment. International property consultant CB Richard Ellis has been accused by state-backed mainland valuers of inflating a valuation it provided to support the failed Hong Kong listing bid by Guangdong-based developer Evergrande Real Estate Group (SEHK: 3333). The extraordinary allegation, which marks the first time a mainland professional association has challenged the appraisal standards applied by Hong Kong surveyors, was contained in a letter sent to the Hong Kong Institute of Surveyors by the China Real Estate Valuers Association, a group backed by the Ministry of Land and Resources. "[CBRE] inflated the corporation's total asset scale," the letter charged, citing its approach to valuing an Evergrande site in Qidong, Jiangsu province. The South China Morning Post (SEHK: 0583) has a copy of the letter obtained from sources in Hong Kong. KIS represents the surveying industry in Hong Kong. Its president is Yu Kam-hung, who is the head of CBRE's valuation department and was in charge of the property valuation provided by CBRE for the failed Evergrande listing bid in March. Mr Yu declined to comment on the criticism when contacted by the Post yesterday and said the HKIS would deal with the letter. Francis Leung, the institute's senior vice-president, said it had replied to the mainland association highlighting that it would look into the differences between the practices adopted by the Hong Kong and mainland professional groups. "At the same time, we'll look into the [Evergrande] issue the mainland association has mentioned," said Mr Leung. He did not reveal the details as the institute was in the process of collecting information. Evergrande tried to sell shares to the public to raise HK$16.6 billion, but the plan was scrapped because of poor market sentiment. In September, the developer was said to be mulling a second bid aiming to raise just half the initial capital target. In CBRE's property valuation report accompanying the listing application, the Qidong site, covering 5.98 million square meters, was valued by CBRE at 34.44 billion yuan (HK$39.17 billion). This accounted for 31 per cent of Evergrande's total property valuation, the China Real Estate Valuers Association said in its letter. It noted the valuation was based on an assumption that the proposed residential and commercial project on the site would be completed. But Evergrande had not yet obtained a number of certificates required for the development to proceed at the time the valuation was conducted, the association said. These include a certificate for assignment of the right to the use of land, a construction project planning permit and a building permit. Neither had the company provided the required detailed plan for the development, it said. Some Hong Kong surveyors questioned the mainland association's argument about the valuation, pointing out that the valuation of the property portfolio for Evergrande was based on a legal opinion of Evergrande's mainland legal adviser and therefore, the valuer should not be blamed. According to the preliminary information provided by Evergrande to the Hong Kong stock exchange, the legal adviser confirmed that Evergrande had obtained land-use rights at the Qidong site. "CB Richard Ellis (Hong Kong) had such a disclaimer in the prospectus," the association said. But it nonetheless proceeded to value the property on the basis of a site that was 100 per cent owned by Evergrande and fully developed according to the incomplete proposals. The valuation report also assumed the site could be partly developed as villas, added the association, but the construction of villas on the site had already been outlawed by the central government, betraying CBRE's inadequate knowledge of local regulations. Yang Yubei, the secretary-general and vice-president of the China Real Estate Valuers Association, said: "Valuation methods are based on certain guidelines that are supposed to be applicable in many places such as Hong Kong, the mainland, the US and the UK. But in this case, the valuation is contrary to the guidelines. You cannot do a valuation based on your own principles." Mr Yang insisted, however, the criticism was not intended to be hostile, even though he suggested valuation work for mainland properties should be conducted by mainland valuers, not Hong Kong surveyors. "In a recent visit by representatives of HKIS, we cited this issue as an example of how Hong Kong surveyors did not understand the mainland property market. The representatives asked us to send them a letter to illustrate the case," he said. In the letter, the association said the valuation was already the subject of controversy when Evergrande launched its listing bid in January. "It had attracted the attention of the Ministry of Land and Resources, since all of the assets of Evergrande are located on the mainland," Mr Yang pointed out. The association had therefore taken a detailed look at the valuation in the company's property portfolio.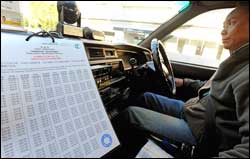 Laminated fare charts returned to taxis across the city yesterday as a new pricing system took effect. Despite the HK$16 flagfall increasing to HK$18, cabbies took to the streets in recent months in slow-drive protests to express dissatisfaction. The adjustment will reduce long-haul fares and increase those of short journeys. A cabbie surnamed Wong said he had received about 10 percent less income than normal and attributed it to the changes. "I don't like the new policies at all. At this rate I'll lose HK$1,000 per month," he said.
A HK$32 billion proposal to stimulate the economy that includes tax rebates, free homes, one-year free transport passes and the creation of 20,000 jobs has been unveiled by the leading pro- establishment political party.
Financial deleveraging in the West could easily exceed US$12 trillion (HK$93.6 trillion), analysts said, and the phenomenon could spread to Asia as hedge funds are forced to unwind their trades and dump their holdings on the market to quickly raise cash.

Telecommunications giant PCCW Ltd (0008) has no plans to lay off staff and remains confident of maintaining its usual capital expenditure level despite the financial tsunami, the group's managing director Alex Arena assured yesterday.
Hongkong Post issued a set of special stamps to salute the Judiciary in the special administrative region on Thursday, the first of its kind in the city. The stamps feature the Statue of Justice, the Court of Final Appeal, judicial robes of the various court levels and the Chief Justice's mace, with their par varying from 1.4 HK dollars to 5 HK dollars. Also on sale at all post offices across Hong Kong were official first day covers for one dollars each and other associated philatelic products. At the special stamps' launching ceremony, Chief Justice Andrew Li said the stamps highlight the importance judges attach to the administration of justice and the maintenance of public confidence in the judiciary. According to Li, there are 180 judges in Hong Kong, half of whom sit at the magistracy and tribunal level while the others sit at the District Court, the High Court and the Court of Final Appeal.
Hong Kong's total goods exports grew 9.4 percent year on year to 276.9 billion HK dollars (35.73 billion U.S. dollars) in October, also up from 3.6 percent in September, revealed the Census and Statistics Department here Thursday. However, the department indicated that the global financial crisis has mutated into a synchronized global economic downturn, whose impact on Hong Kong's trade is likely to show up more fully in the coming months. Within the total exports, re-exports grew 10.9 percent to 268.9billion HK dollars (34.7 billion U.S. dollars) while domestic exports rose 23.1 percent to 8.1 billion HK dollars (about 1 billion U.S. dollars). The visible trade deficit for the month was 16 billion HK dollars (2.06 billion U.S. dollars), equivalent to 4.9 percent of the city's goods imports, according to the department. Taking the first 10 months this year together, total goods exports grew 8 percent over the same period last year while goods imports grew 9.4 percent. The 10-month period saw a visible trade deficit of 181.6 billion HK dollars (23.4 billion U.S. dollars), equivalent to 7.1 percent of the goods imports. The department said the notable year-on-year growth in October was mainly driven by an exports rebound to the Chinese mainland and some major markets in Asia.

China: Yunnan province will buy 1 million tons of base metals to help smelters in the region that are struggling with weak domestic demand and low prices, a report on the Ministry of Land and Resources' website said on Monday. Yunnan will buy 150,000 tons of copper, 300,000 tons of aluminum, 150,000 tonnes of lead, 300,000 tons of zinc and 100,000 tonnes of tin, the report said. The reserves will be kept for one year. Analysts estimated that at current prices, the plan could cost nearly US$3 billion. "Copper I can see, and maybe lead and zinc. But the tin number doesn't make sense – that's over a quarter of world production," a metals trader in Singapore said. "There should have been a huge reaction in prices on this news, but it looks to me like the market doubts it will happen." Tin was trading at US$12,450 a tonne on the London Metal Exchange, up 1.2 per cent from Friday. Before the news, tin stood at US$12,275. A report posted on the Yunnan e-government website dated November 26, said the global financial crisis had caused base metal prices to fall sharply, adding pressure to smelters in Yunnan and forcing them to cut production. Yunnan, a major base metals producing province, houses Yunnan Copper, Yunnan Aluminium, Yunnan Tin, Luoping Zinc and Chihong Zinc. The Yunnan report said the provincial government also encouraged firms to buy reserves of iron ore and copper concentrates at low prices. Beijing is also looking at buying base metals as state or commercial reserves to take advantage of the lowest prices for years and bolster weak demand, industry sources have said.
China Mobile (SEHK: 0941) Peoples, the Hong Kong operation of the mainland's largest mobile operator, said yesterday it would offer unlimited free incoming mobile telephone calls in Hong Kong and Guangdong in a move to expand its market share. The new monthly plan comes before a change in April next year in the city's fixed-mobile interconnection fee settlement, which governs the collection and delivery of calls between operators.
The securities regulator will not allow China State Construction Engineering Corp, the country's biggest home builder, to proceed with plans for a large initial public offering in the near future given the weak market conditions, the Shanghai Securities News reported. A China Securities Regulatory Commission official denied rumours that the listing - which at US$6 billion would be the country's biggest this year - would soon go ahead. The regulator approved China State Construction's share offer application in early June but has since put the process on hold, as the market tumbled amid an economic slowdown and worries about a heavy supply of new equity from share issues and reforms of state shareholdings. "The CSRC is keeping a firm grip on the pace of issuance in line with the demands of the market," the official was quoted as saying. The Shanghai Composite Index is down about 70 per cent from its record high in October 2007.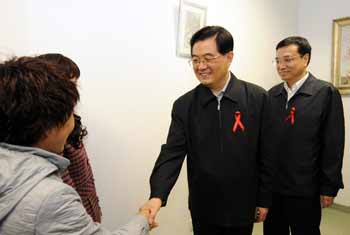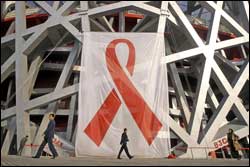 Beijing and the United Nations AIDS agency have pledged to fight discrimination against people with the disease. A massive red ribbon, the symbol of AIDS awareness, was unveiled yesterday - the eve of International AIDS Day - at the Olympic Bird's Nest stadium in the capital. Organizers said the fear of being stigmatized at work or in their communities is discouraging many people at risk of HIV infection from being tested. After years of denying that AIDS was a problem, Beijing has shifted gears in recent years, confronting the disease more openly and promising anonymous testing, free treatment for the poor and a ban on discrimination against people with the virus. The topic, however, still remains sensitive and authorities regularly crack down on activists and patients seeking more support and rights. "About half of all Chinese would not want to share a meal with a person with HIV/AIDS, and a quarter would not want to shake hands," said Bernhard Schwartlander, country coordinator of UNAIDS in China. "People will not come forward to be tested. They won't talk to their partners about HIV/AIDS - putting themselves and others potentially at risk for HIV." Premier Wen Jiabao has visited a village hit particularly hard by AIDS in Anhui province. State TV showed him holding hands with children orphaned by AIDS and speaking to patients in beds. Estimates put the number of people living with HIV in the mainland at about 700,000, with about 85,000 people with full-blown AIDS, UNAIDS said.
China will launch a new remote sensing satellite "Yaogan " on Monday at the northwestern Jiuquan Satellite Launch Center in the northwestern province of Gansu, an official with the center said on Sunday. The satellite was to be aboard a Long March-2D carrier rocket into the space "at an appropriate time", the official said. At present, both the rocket and the satellite were in good condition and the preparation went on well. The satellite would be used for scientific research, land resources surveying, crop yield estimate and disaster prevention and relief. "It will play a positive role in the country's economic development," he said. Its predecessor "Yaogan III" was launched from the Taiyuan Satellite Launch Center in north China's Shanxi Province on Nov. 12, 2007. The "Yaogan I" satellite was launched from Taiyuan on April 27,2006, and the "Yaogan II" was launched on May 25, 2007 from Jiuquan.
Singapore and eastern China's Jiangsu province have increased their bilateral ties by signing 20agreements worth about 2.03 billion U.S. dollars and identifying economic cooperation areas on Friday. Among the 20 agreements signed on the sidelines of the second Singapore-Jiangsu Cooperation Council meeting is a landmark memorandum of understanding (MOU) by both sides to support a commercially-driven project by a Singapore consortium to develop an eco high-tech city in Nanjing, the capital of Jiangsu province. Both sides agreed to deepen bilateral economic cooperation in key areas of business process outsourcing, logistics and environmental services among others. As the top recipient of Singapore's foreign direct investments among the provinces in China, Jiangsu has enjoyed close bilateral economic relations with Singapore since the early years. Singapore has invested 3,150 projects and a total paid-in capital of about 14 billion U.S. dollars in Jiangsu. This year, the trade between Singapore and Jiangsu will exceed 10 billion U.S. dollars.

*News information are obtained via various sources deemed reliable, but not guaranteed