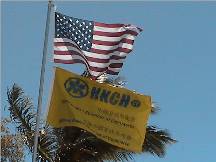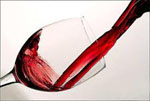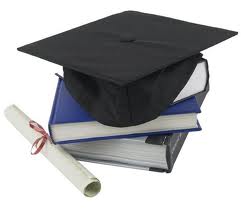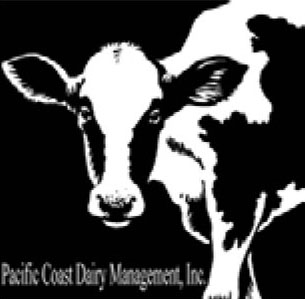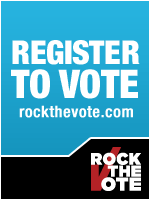 Biz-Video

Hawaii's China Connection

Doing Business in Hong Kong & China
Hong Kong, China & Hawaii Biz*



Skype - FREE Voice Over IP

View Hawaii's China Connection Video Trailer
Do you know our dues paying members attend events sponsored by our collaboration partners worldwide at their membership rates - go to our event page to find out more! After attended a China/Hong Kong Business/Trade Seminar in Hawaii...still unsure what to do next, contact us, our Officers, Directors and Founding Members are actively engaged in China/Hong Kong/Asia trade - we can help!
Are you ready to export your product or service? You will find out in 3 minutes with resources to help you - enter to give it a try


Listen to MP3 "Business Beyond the Reef" to discuss the problems with imports from China, telling all sides of the story and then expand the discussion to revitalizing Chinatown - Special Guest: Johnson Choi, MBA, RFC. President - Hong Kong.China.Hawaii Chamber of Commerce (HKCHcc) and Danny Au, Manager, Bo Wah Trading

Holidays Greeting from President Obama & Johnson Choi
http://www.youtube.com/watch?v=pNk4Z4lUV-k

http://www.facebook.com/video/video.php?v=219896871983&ref=mf
Wine-Biz - Hong Kong
Brand Hong Kong Video
May 27 - 31, 2009

Hong Kong: Hong Kong's government said Tuesday it will spend an additional 16.8 billion Hong Kong dollars (US$2.15 billion) to boost the local economy, but economists said the measures might not be enough to quickly rescue the city from a recession. Financial Secretary John Tsang said at a briefing the new spending will include an increase in one-time tax-relief measures, and waivers on public housing rentals for up to two months and property taxes for up to two additional quarters. The measures are partly aimed at expanding some of the tax breaks introduced by Mr. Tsang in February, when he presented the government budget for the current fiscal year. Mr. Tsang said the latest measures will be adequate for this year, but didn't rule out taking further action. "If the economic situation around the world should deteriorate ... I don't deny any possibility that we may need to do something further," he said. The latest measures raise the government's stimulus spending pledge to a total of HK$87.6 billion, or 5.2% of the city's gross domestic product. The stimulus plan includes an increase in income tax rebates of up to HK$8,000 per person, and waivers on property rates for up to two additional quarters, Mr. Tsang said. The government's stimulus package announced in February also included one-time tax-relief measures. Mr. Tsang said the plan will help raise domestic demand and create jobs. He said the stimulus spending will boost the city's GDP by two percentage points for the current fiscal year ending March 31, 2010. However, he also said the government is maintaining its forecast for a 5.5% to 6.5% decline in the city's GDP for the 2009 calendar year. The expanded spending package comes as Hong Kong battles a recession, and follows criticism from economists and lawmakers that the stimulus measures taken by the government so far haven't been sufficient. Hong Kong's economy shrank 7.8% in the first quarter from a year earlier, the biggest year-to-year decline since the third quarter of 1998, when the city was hit by the Asian financial crisis. The measures announced Tuesday are still "too little, too late," said Kevin Lai, senior economist at Daiwa Institute of Research. He said the government's stimulus measures weren't timely enough to prevent a deterioration in economic conditions in the face of the global financial crisis. "By now, the slowdown has spilled over to the domestic economy and thus the government needs to expand the size of the stimulus package to compensate for the lost time," said Mr. Lai, adding the new spending measures should have been in the range of HK$40 billion to HK$80 billion. Daniel Chan, senior investment strategist at DBS Bank, said the government measures alone can't fuel an economic rebound, though they can help prevent the downturn from worsening. "The new measures aren't enough and can't make a big boost to the economy, but it's better than nothing," Mr. Chan said.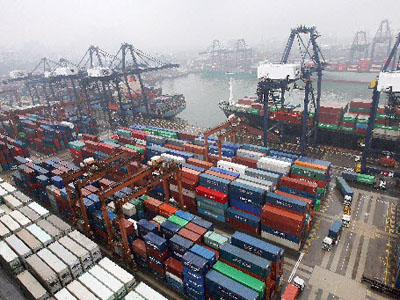 Exports from Hong Kong plunged again last month, dropping 18.2 per cent year-on-year for April and nearly 21 per cent over the first four months, figures released on Tuesday revealed. Hong Kong's exports plunged again last month, dropping 18.2 per cent year-on-year for April and nearly 21 per cent over the first four months compared with last year, the government said on Tuesday. But an official spokesman pointed out that the rate of decline had slowed from March, when exports year-on-year were off 21.1 per cent. "It will take several more months of data to see if this trend of relative improvement will continue," the spokesman said. "Going forward, the external environment will remain challenging." The latest figures from the statistics department showed imports were down 17 per cent in April year-on-year and down 21.2 per cent over the first four months of the year. Export figures in Asia underlined the impact the global slowdown has had on the region. Hong Kong exports in April were down more than 30 per cent to Malaysia, Thailand and Singapore, as well as 27.5 per cent to South Korea, 19 per cent to India and Japan, and 12.5 per cent to the mainland.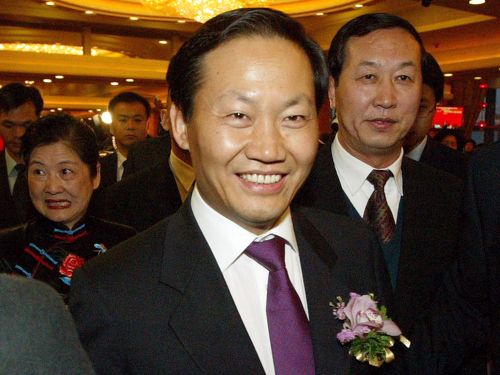 Peng Qinghua, who took up the post of deputy director of the central government's liaison office in Hong Kong after 500,000 people protested against the national security legislation in 2003, has been appointed as Beijing's new top man in the city. Xinhua reported yesterday that the State Council had appointed Dr Peng to succeed Gao Siren, 65, as director of the liaison office. Wang Fengchao will step down as deputy director of the liaison office. Dr Peng, 52, has been highly regarded since he joined the liaison office in 2003. He was appointed as party secretary of the office in August 2007 and elected as a member of the Central Committee of the Communist Party in October that year. Dr Peng, who has a business doctorate, said yesterday he would continue to implement the "one country, two systems" formula and support the Hong Kong government. Dr Peng was once principal secretary to Song Ping , one of the party elders who headed the powerful Organisation Department of the Communist Party in the late 1980s and early 1990s, and who was responsible for reviewing and recommending appointments of senior party officials to the leadership. Chief Executive Donald Tsang Yam-kuen said he was impressed by Dr Peng's work with the Hong Kong government on promoting exchanges and communication between the mainland and Hong Kong. "I believe that, under the leadership of Dr Peng, the liaison office will continue to support the work of the Hong Kong government in accordance with the Basic Law and ... `one country, two systems'," he said.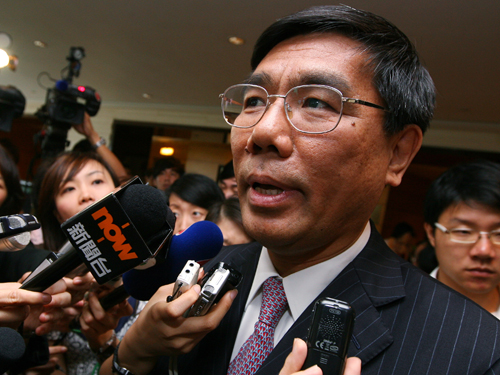 Industrial and Commercial Bank of China chairman Jiang Jianqing expects the bank's margins to bottom out in the second quarter. Industrial and Commercial Bank of China (SEHK: 1398) chairman Jiang Jianqing yesterday said the mainland lender's net interest margin was showing signs of recovery. However, lending by the world's largest bank has significantly moderated since the start of last month following robust loan growth in the first quarter. New lending slowed to 51.5 billion yuan (HK$58.5 billion) last month, after new loans surged to 636.4 billion yuan in the first quarter, Mr Jiang said at the bank's annual general meeting in Hong Kong. "While net interest margin narrowed significantly in the first quarter, it is relatively stable and we expect margins to bottom somewhat in the second quarter," he said. "The impact of last year's interest-rate cuts has largely passed through under a moderately loose monetary policy. There is also a significant increase in demand deposits in the second quarter that helps to offset margin pressures." The bank is the first state-owned lender to confirm that net interest margin, which reflects a lender's interest earning capability, had stopped falling in the second quarter and was beginning to pick up. The squeeze in net interest margin was to blame for the negligible growth or even a drop in first-quarter earnings by mainland lenders. ICBC posted a 6.2 per cent rise in profit to 35.1 billion yuan in the first quarter from the same period last year, while net interest margin fell to 2.34 per cent from 2.82 per cent in the fourth quarter. Discounted bills, a special form of short-term lending with lower interest margins, accounted for about 30 per cent of the total loan portfolio. Mr Jiang said that portion remained at a near historically high level. Analysts said ICBC would experience faster margin recovery than its counterparts because of its large deposit base that could provide a low-cost source of funds. "Larger lenders usually benefit from stronger pricing power," said Ivan Li Sing-yeung, an analyst with Kim Eng Securities. "Together with moderate loan growth, that could justify better than expected earnings for the full year." According to the People's Bank of China, new loans last month shrank to 591.8 billion yuan from the record high of 1.89 trillion yuan in March. However, the year-on-year growth rate remained strong at 29.72 per cent, barely changed from March. Many economists have forecast the central bank would step up regulation of new lending to minimise the risk of rising non-performing loans. "Last month's loan growth was healthy," Mr Jiang said. "It showed that the nation's stimulus measure is taking effect and [loan] demand in the second half would remain strong." Meanwhile, Mr Jiang said, there was no need to worry about the potential stake sale by its foreign strategic investors, given their relatively low shareholdings. "Foreign investors make up only about 7 per cent of our equity holdings," he said. "Many international investors are interested in buying our shares, which is evident in the small discount and rising share price after Allianz and American Express sold half of their stakes last month."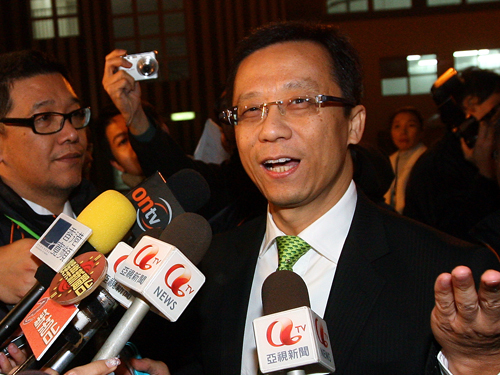 City Telecom (CTI), Hong Kong's second-largest broadband service provider, said net profit grew 57.5 per cent to HK$75.3 million in the six months to February as it signed up more subscribers who spent more on services. Turnover rose 15.6 per cent to HK$721 million, driven by a 25 per cent increase in broadband subscribers to 350,000, with each on average spending HK$196, up 10.7 per cent. It also had 352,000 fixed-line telephone and 170,000 digital television customers at the end of February. The company declared an interim dividend of 3 HK cents per share. CTI has an 18 per cent market share in broadband service in Hong Kong, ranking second after PCCW (SEHK: 0008)'s more than 50 per cent. "Competition in the broadband business is heating up but it doesn't mean we have to cut prices to protect our customer base," chief executive William Yeung Chu-kwong said. "We will raise the average tariff later to further push up total customer spending." Chairman Ricky Wong Wai-kay (pictured) said the company had set a target to overtake PCCW in market share by 2016. "We have a dream, but in the meantime, we shall strictly maintain our premium-price strategy to achieve the goal," he said. "The broadband business is highly profitable and there is still room for margin expansion. Hong Kong users are smart and in our case, most customers opt for quality service instead of spending less for low-speed broadband service." CTI withdrew from a plan to form a consortium to bid for a nationwide broadband network in Singapore last year. It would spend about HK$600 million to build a fibre optic network in the next two years with an aim of raising the coverage to two million households from 1.5 million.
The new chief of CITIC Pacific (0267) told investors yesterday the conglomerate was financially sound and operating normally, after months of distraction owing to misplaced forex bets last October. New chairman and managing director Chang Zhengming said the firm had no plans to raise funds through stocks. "We have a few short-term loans [set] to expire in couple of years, but with the parent company's support and our good track record with banks, it [refinancing] would not be a problem," Chang said, adding the conglomerate has enough cash on hand. He added that CITIC Pacific will sell non-core assets, but was not in a hurry. "Low-return and non-controlling assets will sell, but holdings in Cathay Pacific (0293) and three tunnels which have been profit contributors and core components of CITIC Pacific will remain. The same applies to CITIC 1616 (1883) and Dah Chong Hong (1828), which have leading market shares," he said. Chang did not disclose which loans would expire but the HK$15 billion capital expenditure would remain. Chang met investors and the press for the first time yesterday, more than a month after taking office. He assured that the "disappointment and distraction of the past seven months cannot change what was achieved in the past 20 years." "Any fluctuations in the Aussie [dollar] will not affect the firm's balance sheet anymore," he said. Chang, who is also the vice chairman of CITIC Group, said there was a lot of room to enhance synergies between the Hong Kong conglomerate and the parent company, as well as its sister company CITIC Bank (0998). There will be business restructuring as some of the firm's business was in overlap with the parent firm, such as mainland property investment, he said. "Talks have been held between teams of the two firms, we need to find the best way for cooperation," he added.

China: President Hu Jintao and Taiwan's ruling party leader agreed in Beijing on Tuesday to begin discussing a broad trade deal this year that would lead to tariff cuts and other measures seen boosting the island economy. Mr Hu and Nationalist Party (KMT) Chairman Wu Poh-hsiung said they would ask their negotiators, who are set to meet formally in late this year, to pursue a "Cross-Strait Economic Co-operation Framework Agreement", a KMT official with Mr Wu told reporters. The Xinhua news agency quoted Mr Hu as telling Mr Wu: "Both sides should push forwards the preparation work for signing the agreement". The free trade agreement-style deal would lay the groundwork for more specific trade pacts and let Taiwan, which is mired in recession as exports slump in the global downturn, benefit from China's trade agreements with other parts of the world. Tthousands of Taiwan investors have poured about US$100 billion into the mainland, where they are lured by a common language and culture as well as relatively low labour costs. The two sides have signed other landmark trade and transit deals since China-friendly Taiwan President Ma Ying-jeou took office in May on pledges to ease tension.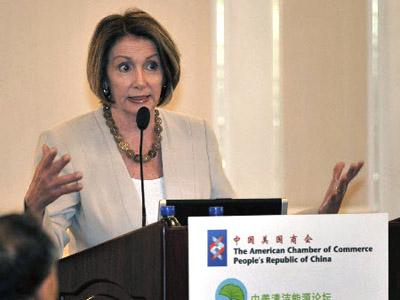 US House Speaker Nancy Pelosi delivers her keynote address at the US-China Clean Energy Forum in Beijing on Tuesday. Ties between the United States and China could be transformed by co-operation on climate change, US House of Representatives Speaker Nancy Pelosi said, linking environmental concerns to human rights and the rule of law. Mrs Pelosi told an audience in the Chinese capital on Tuesday that the two nations – the world's top emitters of greenhouse gases – must work together to fight global warming. "China and the United States can and must confront the challenge of climate change together," she said at a meeting organised by the American Chamber of Commerce in Beijing. "I think that this climate change crisis is a game-changer in the US-China relationship. It is an opportunity that we cannot miss." Mrs Pelosi was speaking during a visit to China with a group of US lawmakers examining how the two powers can co-operate better while governments seek to agree on a new global treaty on fighting global warming from greenhouse gases. But Mrs Pelosi, a Democrat well known as a critic of China over human rights and its rule in Tibet, also obliquely linked that concern to rights concerns, calling it a matter of "environmental justice". Fighting global warming would require political transparency, rule of law and accountability, Mrs Pelosi told the audience, which included former Chinese Foreign Minister Li Zhaoxing and its current ambassador to Washington, Zhou Wenzhong. Mrs Pelosi, however, did not mention specific human rights issues in her speech. Whether Washington and Beijing can agree on how each will help contain greenhouse gas emissions will be crucial to negotiations aimed at striking a new treaty by the end of the year in Copenhagen. While the two sides have struck up-beat notes since President Barack Obama took office, much still divides them. Many US lawmakers want China to make firm commitments to contain its growing greenhouse gas output before they back any deal. Mrs Pelosi's visit comes on the heels of the House Energy and Commerce Committee approving a climate change bill on Thursday that would cut US emissions of carbon dioxide, the main greenhouse gas from human activity, by 17 per cent from 2005 levels by the year 2020. But Beijing has said that in a new climate change pact all developed countries should agree to cut their greenhouse gas emissions by a much steeper 40 per cent by 2020 from 1990 levels. As the world's biggest emitter of these gases, China also faces pressure to begin cutting them soon. But it says developing nations should not accept mandatory emissions caps to solve a problem caused over the centuries by wealthy countries, which still have much higher per capita emissions.
Outspoken China critic and US House Speaker Nancy Pelosi toured Shanghai yesterday on the first leg of a mainland tour - but made no public comments on human rights. Mrs Pelosi is leading a delegation from the United States to discuss co-operation on clean energy and action to combat climate change. She is due to arrive in Beijing today, where she is to meet President Hu Jintao and address university students. The trip comes just a week ahead of the highly sensitive 20th anniversary of the June 4, 1989, Tiananmen crackdown on pro-democracy students. The visit may potentially embarrass mainland authorities, given Mrs Pelosi's past comments on Beijing's human rights record. However, she chose to focus on improving Sino-US ties yesterday. "On this trip to China, I can visit old friends and meet many new friends," she said, during a meeting with Shanghai mayor Han Zheng , adding that there were various topics of "mutual interest" to discuss. While not stepping on Beijing's toes, she did issue a strong condemnation of the nuclear test in North Korea, stating that it was a "clear violation of United Nations Security Council Resolution 1718". "Such action by North Korea is unacceptable and cause for great alarm," she said, adding that the US delegation would urge mainland authorities to try to persuade Pyongyang to return to six-nation talks. Mrs Pelosi's delegation consists of four other Democrats and one Republican from the House Select Committee on Energy Independence and Global Warming. Mrs Pelosi, who arrived in Shanghai on Sunday night, issued a statement saying climate change provided "a crucial opportunity for dialogue between our two nations". "The urgency of the global climate crisis requires that critical choices be made now that are bold and based on the clearest understanding of how to achieve our goals of preserving the planet and protecting the health of the world's people," she said. Mrs Pelosi has a long record of rankling Beijing by criticising the mainland's human rights policies. She waved a banner in Tiananmen Square in 1991 in support of the students who "died for democracy in China" there two years earlier. She also visited the Dalai Lama last year. In March she introduced a resolution in the US Congress to urge the mainland to end repression in Tibet - drawing a swift response from Beijing, which told the US not to "interfere with our internal affairs". State media appeared to play down the visit. Xinhua did not report the delegation's arrival on either its Chinese or English websites. The Shanghai government's news site eastday.com posted a short report of Mrs Pelosi's meeting with Mr Han, but it made no mention of her reputation as a China critic.
A mainland university said on Tuesday it had started to build the world's largest quake simulator, a week after the first anniversary of the deadly earthquake in southwest China. It will be used to accurately test the designs of bridges, tunnels, subways, stadiums and skyscrapers, Shanghai's Tongji University said in an emailed statement. The four vibrating platforms, capable of carrying 200 tonnes, will generate a simulated quake to test a model's capacity to withstand the destructive power generated by the movement of the Earth's crust. Currently the world's largest quake simulator is at the University of Nevada in the United States, but it can only handle about half the capacity of the Tongji simulator, Xinhua news agency reported. "With a larger total bearing ability, we can set up a bigger and more elaborate model of a structure to put on the vibrators," civil and structural engineering professor Li Jianzhong was quoted as saying by Xinhua. It will take two years to complete the construction of the Tongji centre. Last year's 8.0-magnitude Sichuan earthquake left nearly 87,000 dead or missing. At least 5,335 students were killed or went missing when their classrooms crumbled on them. Nearby structures stood firm, and devastated parents have blamed local cadres for pocketing construction money and building low-quality schools.
China is planning a 3 trillion yuan (HK$3.41 trillion) stimulus package to expand its renewable energy use, state media said yesterday. The investment will be partly focused on wind power, the Beijing Morning Post said, citing Liang Zhipeng, a State Energy Administration official. Under the plan, China's wind power capacity will reach over 100 gigawatts by 2020, the report said, more than triple a goal of 30 gigawatts announced in 2007.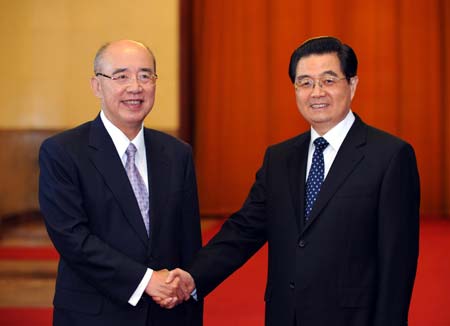 Hu Jintao (R), general secretary of the Communist Party of China (CPC) Central Committee, meets with Kuomintang (KMT) Chairman Wu Poh-hsiung in Beijing, capital of China, on May 26, 2009. The two agreed to further implement the common prospects for peaceful cross-Strait development, agreed by leaders of the two parties in 2005, said a statement issued after their meeting. Both sides will maintain the political foundation that they oppose "Taiwan independence" and stick to 1992 Consensus, the statement said. "They will work to intensify the mutual trust." They will begin talks about the economic cooperation agreement as early as possible and promote exchanges between culture and education sectors on both sides, it said. "Both sides held that they should avoid internal struggle in foreign affairs and work for the interests of all Chinese." Wu arrived in Beijing Monday for an eight-day visit to the mainland. Wang Yi, director of the State Council Taiwan Affairs Office, said Monday that Wu's visit is the most important event in this year's cross-Straits relations. Hu and Wu first met in Beijing on May 28 last year, days after the Kuomintang's Ma Ying-jeou was inaugurated Taiwan leader. They met again in August 2008 when Wu was invited to attend the opening ceremony of the Beijing Olympic Games.
South China's Guangdong Province will host a trade fair from June 18 to 20 to help foreign-funded businesses cope with the economic downturn, a provincial official said Monday. The downturn has taken a toll on foreign-funded companies in China's "Factory of the World," said Wu Jun, deputy director of the Guangdong Provincial Foreign Trade Bureau. The fair, the first of its kind, will provide about 2,500 booths free for businesses selling appliances, consumer electronics, toys, food, kitchen ware, clothing and construction materials. More than 1,000 companies have applied to attend the fair in Dongguan, Guangdong. Organizers will offer free hotels and meals for the exhibitors and buyers.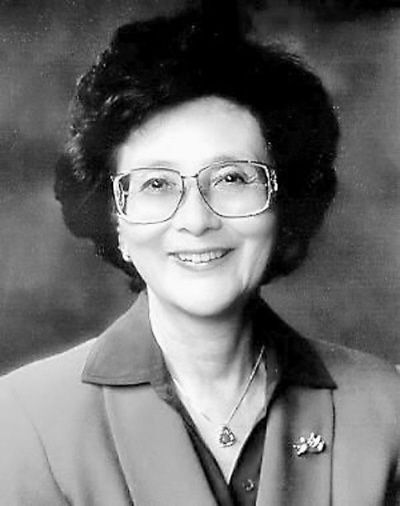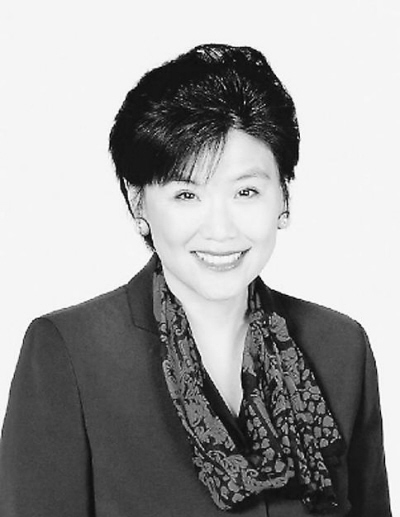 Who will be first Chinese-American woman to serve in US House of Representatives? The primary election for a statewide special election was held in California, US on May 19. During the election, the battle for the congressional vacancy in the 32nd congressional district, situated in Los Angeles, was particularly captivating. Due to President Obama's recent nomination of Hilda Solis, the female representative of this district, as US Secretary of Labor, the question of who will take over the vacancy left by her departure has become the focus of attention to all parties concerned. According to the election results released on the night of May 19, Judy May Chu, a female Chinese-American Democrat aged 55, won nearly one-third of all votes. Because of her failure to win half of all votes, however, Judy May Chu will have to run for the vacancy against the Republican candidate winning the most votes in July, in the second round of the election. In view of the fact that the 32nd congressional district has always been a stronghold of the Democratic Party, it is very likely, if there are no surprises, that Judy May Chu will win in the second round, thereby becoming the first female Chinese-American representative to represent California and the first Chinese-American congresswoman to serve in Congress. Judy May Chu's rival is Betty Tom Chu, the Republican candidate who won the most votes in the May 19 election. Betty Tom Chu is also a female Chinese-American candidate and happens to be Judy May Chu's sister-in-law, meaning the sisters-in-law will run against each other in the second round of the special election. No matter who wins in the end though, there will surely be a first Chinese-American congresswoman in the US House of Representatives. In recent years, although Chinese-Americans have conspicuously stood out in the mainstream political arena, only one Chinese-American senator and one Chinese-American representative have served in Congress up to now. Since the retirement of Hiram Leong Fong, Republican Senator of Hawaii, from his Congress position, David Wu, Democratic Representative of Oregon, is currently the only Chinese-American congressperson in Congress. There are 435 positions in the US House of Representatives. So, if they are distributed equally among the US population, each representative represents 700,000 people. Compared to the total population of Chinese-Americans across the US, which is nearly 3 million, the fact that there is only one Chinese-American to serve in the House of Representatives is not in proportion to the Chinese-American population. Judy Chu's family originates from Guangdong Province, China and her parents are immigrants from Hong Kong. She graduated from University of California, Los Angeles (UCLA) in 1979 and received a PhD degree in clinical psychology. She then began to work in the education field. She entered politics in the 1980s. Judy Chu lives in Monterey Park, a suburb east of Los Angeles, one of the cities with the highest population of Chinese-Americans. Over the past 23 years since she entered politics, Judy Chu has dedicated herself to providing services for her constituents. She started off as a local government Councilwoman and then went on to become the Vice Chairwoman of California State Board of Equalization. She had been in the running nine times in total and was elected mayor of Monterey Park, California three times. In 2003, she was elected the representative for California. She is now the Vice Chairwoman of the California State Board of Equalization. She hopes to strive for greater achievements and acquire more resources to service the public. Betty Chu was the mayor of Monterey Park; she is now the Monterey Park Councilwoman.
May 25 - 26, 2009

Hong Kong: A couple who have fled New Zealand after millions of dollars were accidentally transferred into their bank account are believed to be in Hong Kong, police said on Friday. The couple left New Zealand after taking NZ$3.8 million (HK$18 million) from a Westpac bank account after being mistakenly given a NZ$10 million overdraft instead of NZ$100,000. News reports have named the couple as Leo Gao and his girlfriend Kara Yang, although neither the police nor the bank has confirmed their identities. Police said two people they were seeking were believed to have travelled to Hong Kong. "Enquiries to locate those individuals are continuing through Interpol in Hong Kong and official channels in Beijing," Detective Senior Sergeant Harvey of Rotorua police said. Gao was the owner of a petrol station, which closed this month and has been put in receivership, in the northern tourist city of Rotorua. Australian-owned Westpac said Friday an overdraft of up to NZ$100,000 had been approved for Gao, but somehow a NZ$10 million limit was applied accidentally instead. The customer had attempted to transfer amounts totalling around NZ$6.7 million, but the bank said it had been able to recover around NZ$2.8 million. "Westpac is continuing to vigorously pursue the outstanding amount of NZ$3.8 million," it added in a statement. Yang's mother, Suzanne Hurring, told commercial television her daughter's actions were hard to believe, describing her as "beautiful and honest". "This was the crazy thing, she has never pinched a thing in her life – probably as a little girl, yes – but she is so honest, so honest." Ms Hurring said she was angry with Gao and would like to "wring his blimmin' neck".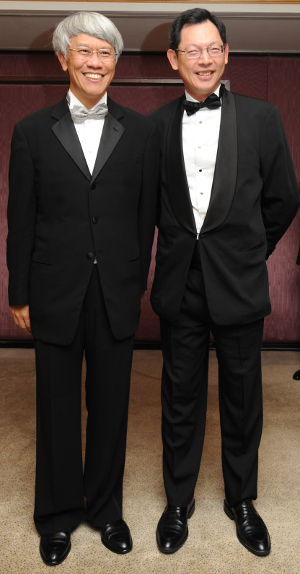 Hong Kong will appoint Norman Chan Tak-lam as the next head of its central bank in the summer, but on a much lower salary than outgoing chief Joseph Yam Chi-kwong whose high remuneration drew sharp criticism, sources said. The government is likely to appoint Chan, a former deputy of Yam at the Hong Kong Monetary Authority and now director of Chief Executive Donald TsangYam-kuen's office, on a five-year contract. The government announced on Tuesday that Yam would leave the HKMA on October 1 after 16 years in charge. He was criticized by legislators for his annual salary of HK$7.78 million, which a local legislative paper said made him the world's highest paid central banker. Including bonuses and other payments, Yam took home HK$11.93 million last year. In contrast, US Federal Reserve chief Ben Bernanke earns an annual salary of US$191,300 (HK$1.49 million) per year while Bank of England governor Mervyn King is paid 275,000 (HK$3.4 million) per year. Yam had no fixed term when he was appointed the first chief executive in 1993 and also drew criticism from some legislators for staying in the post for too long. Chan, pictured with Yam on his left at Sing Tao News Corp's Leader of the Year Awards in March, resigned from the HKMA in 2005 and spent two years as Asia vice-chairman at Standard Chartered before being appointed director of Tsang's office in July 2007.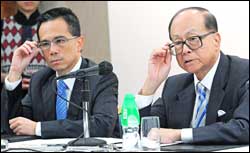 "Superman" Li Ka-shing says real estate remains a good investment as inflation is inevitable, while stock investors should exercise caution. "Following low interest rates, inflation will come," the chairman of Cheung Kong (Holdings) (0001) said. "When it comes, it will increase the cost of home financing. If you have stable income, it's pretty good to buy property." He added: "If you hold your property for three to four years, you don't need to worry about property investment." Regarding other investment options to combat inflation, Li said: "I'm also asking myself that question." The richest man in Hong Kong warned that an economic recovery may not be imminent, even after the recent upswing in the stock market. "Recovery of the stock market usually comes before [that of] the economy, but it's hard to be sure every time." The Hang Seng Index has surged more than 20 percent from two months ago, but Li said investors should exercise caution. "If you ask me whether the stock market can go higher, it's highly possible. But be careful, the economy still has many problems," he warned. He dismissed fears about the huge amounts of capital leaving Hong Kong, saying that the impact on the economy should still be slight given the huge market capitalization of companies. Li, also chairman of ports-to-telecom conglomerate Hutchison Whampoa (0013), said export businesses everywhere are performing badly, recording more than 20 percent declines from early this year. However, he expects some growth over the coming months. In the wake of the recent controversies over the privatization of other listed companies, Li said it is difficult to privatize firms in Hong Kong because of its complicated laws. "The easiest way to do it is to announce a complete closure of the company," he said. "Anyone who wants to stir up trouble will make privatization absolutely impossible." "I am not referring to PCCW," the father of PCCW (0008) chairman Richard Li Tzar-kai added. Li said Hong Kong laws related to privatization are complicated as they were drawn up with reference to the United States and Britain. "If there's anything wrong or unreasonable, change is needed," he said. The billionaire also expects China to be the first country to recover from the financial crisis. Though earnings from his hotel businesses in Shanghai and Beijing have dropped between January and March this year, Li expects occupancy rates in June and July to increase 20 percent from today's levels. Li also thinks the mainland real estate market's recovery will be gradual. He said he is still buying land there and has never sold any undeveloped land in the mainland.


How the West Kowloon site's appearance would change under the Planning Department's proposal to scale back the density. Planners have proposed slashing the density of development at the future cross-border railway station in West Kowloon and using it only for high-grade offices, with no residential buildings. Even with the reduction, the site would still provide enough floor area to form a new office hub, together with the International Commerce Centre above Kowloon station and the cultural district to the south of the new station, the Planning Department says. In a paper to be discussed by the Town Planning Board today, the department proposes reducing the plot ratio - the ratio of the maximum potential gross floor area to land area - from 8.89 to 5. This would mean four planned office towers - two of which cannot be seen on the accompanying artists' impression - would be reduced from more than 300 metres to under 115 metres, and the gross floor area cut by 43 per cent to 294,000 square metres. The development right rests with the government, which will later put the site up for sale or invite developers by open tender. Savills Valuation and Professional Services managing director Charles Chan Chiu-kwok estimated - taking HK$4,000 per square foot as the value of office land - the site would generate revenue of HK$12.68 billion. The 5.88-hectare site, now occupied by a golf club and bus terminus, will accommodate the terminus of the Guangzhou-Shenzhen-Hong Kong Express Rail Link, which will have a ticketing hall above ground, leaving about half of the area for office development. The department expected the site to offer grade A offices, and attract enterprises and companies with strong business ties with the mainland. Retail space should not dominate the site, it said, as the shopping mall Elements at Kowloon station already provided a large area of such space. The original density would have resulted in four massive towers, even higher than the building cluster above neighboring Kowloon station. "The high-intensity development would breach the Kowloon ridge line when viewed from Hong Kong Island ... and, together with adjacent buildings, would create a wall of towers blocking views from the harbourfront," the department said. The building mass would also stand in sharp contrast to the medium-rise character of the cultural district, and might lead to strong public criticism, it said, noting that the community was becoming more concerned about the quality of the built environment. The department also suggested the site should supply open space of 8,900 square metres. A pedestrian passage will be provided to link it to the cultural district. Footbridges and subways would connect the site to neighbouring ones. Wong Kam-sing, vice-president of the Institute of Architects, said the scaling down was reasonable, but the government must take care with the urban design work to ensure the site would connect well with the arts hub and the old districts of Jordan and Yau Ma Tei.
A Hong Kong-based regional magazine on Friday appealed a Singapore High Court ruling that it defamed Prime Minister Lee Hsien Loong and his father Lee Kuan Yew, the city-state's former leader. Peter Low, a lawyer for the Far Eastern Economic Review (FEER), argued there was nothing in the article, published in 2006, that defamed the Lees. The Lees had sued editor Hugo Restall and Review Publishing over the article, based on an interview with Chee Soon Juan, secretary-general of the opposition Singapore Democratic Party (SDP). The piece entitled "Singapore's 'Martyr,' Chee Soon Juan," described the SDP secretary-general's battle against the ruling People's Action Party. In the article, Mr Restall also touched on the success of Singapore officials in libel suits against critics. Singapore's High Court last September ruled that the magazine defamed the Lees by suggesting they were corrupt. The magazine is now asking the three-judge Court of Appeal to overturn the High Court's ruling. Decisions by the Court of Appeal are final and this will be theFar Eastern Economic Review's last legal avenue. "The article is more about misgovernance than corruption," Mr Low, the FEER lawyer, said in court. Singaporean leaders have won hundreds of thousands of dollars in damages in defamation cases against critics and foreign publications. They say the cases are necessary to protect their reputations from unfounded attacks. US media giant Dow Jones, which owns FEER, sent a representative from its New York offices to observe the hearing. In March, a senior editor of the Wall Street Journal another Dow Jones publication, was fined 10,000 Singapore dollars (HK$53,500) for contempt of court over three articles allegedly insulting the city-state's judiciary. The High Court also ordered Melanie Kirkpatrick, a deputy editor of The Wall Street Journal's editorial page, to pay US$10,000 (HK$77,500) in legal costs. The ruling followed a judgment against the business newspaper's publisher Dow Jones Publishing Company (Asia) Inc. last November. In October 2007, London's Financial Times newspaper apologised to Lee Kuan Yew and other members of his family and agreed to pay damages for false allegations in a column about sovereign wealth funds.
China Aircraft Services (CASL) on Friday announced the opening of a new aircraft maintenance hangar at Hong Kong International Airport at Chek Lap Kok.

Macau is consulting the public on construction of a 5km rail link through the city's Inner Harbour area, which would be an extension of a planned 20km elevated rail line. The government's Transport Infrastructure Office yesterday met social groups to explain some options for building the "phase two" link of Macau's light rail system. Options of an underground line, an elevated line and an undersea coastline tunnel are being considered for this phase. An underground line would cost 5-5.5 billion patacas, an elevated line 3.5-4 billion patacas and an undersea tunnel 6-6.5 billion patacas, according to government estimates. The 5km line will run along the western side of the peninsula to form a loop with phase one, linking the Border Gate checkpoint, Ilha Verde, Ponte 16 and the A-Ma Temple. Preparatory work has started on the first phase, the 20km line that will run along the eastern and southern fringes of the Macau peninsula and onto Taipa Island via a bridge, linking casinos with the Border Gate checkpoint, the Hong Kong-Macau ferry terminal and the airport. The government estimates the first phase will cost about 4 billion patacas. Michael Lam Soi-hoi, consultant for the office, said project management had recently started for phase one. This phase was planned to ease traffic congestion, which rose amid the casino boom. But work has been repeatedly delayed. The first-phase plan was finalised in 2007 after rounds of consultations, and was scheduled to start last year and be completed in 2011. The second-phase line will run through Macau's lower-income areas, in response to criticism that the first phase favours casinos and bypasses poor areas. Mr Lam said the government had not set a construction timetable for construction of phase two. He said it might choose one of the three options or combine them after further studies. Residents are invited to send their views about phase two to the government before July 9. Sin Chi-young, a community leader and deputy head of the government's consultation agency on Taipa and Coloane islands, said construction of phase two should start as soon as possible to ease traffic jams. "Phase one has started and we hope phase two will quickly get off the ground," Mr Sin, vice-director of the General Union of Neighbourhood Associations, said. "There are too many vehicles and too little land in Macau," he said. Mr Sin also said the tunnel option was preferred for part of the Inner Harbour area that directly faced the sea, while the elevated line was preferred for Fai Chi Kei and Ilha Verde. Government experts said an elevated line would be the easiest to build and cost the least, but might affect views and the environment. An undersea tunnel would be less functional than elevated or underground lines, but it would minimise the impact on city views. It would also be the most complicated to build.
Cheung Kong (Holdings) chairman Li Ka-shing said privatising a company in Hong Kong these days was so difficult that it would be easier to close it down.
Hutchison Whampoa (0013) said its port business has been adversely affected by the economic slowdown and drop in export demand, while 3G telecommunications has performed weaker than expected.
International bank HSBC Group said on Friday it has acquired nearly 89 per cent of the shares in Indonesia's PT Bank Ekonomi Raharja for US$607.5 million cash.

China: Hainan Airlines, mainland's fourth largest carrier, will receive a cash injection of 3 billion yuan (HK$3.4 billion) from a local government and its parent group, the official China Securities Journal said on Friday. In exchange for the funds, the airline will issue about 300 million new shares each to the Hainan provincial government and HNA Group at about 5 yuan per share, the newspaper said. Hainan Air's debt ratio will be around 81 per cent after the cash injection, it added. Hainan Air's shares have been suspended from trading since it said on May 19 that it was planning a share placement deal. Earlier in the year, the local government of Hainan provided an 800 million yuan loan to the HNA group. China Eastern Airlines (SEHK: 0670) and China Southern Airlines have received cash aid from the central government to cope with a downturn in air travel demand and volatile fuel costs.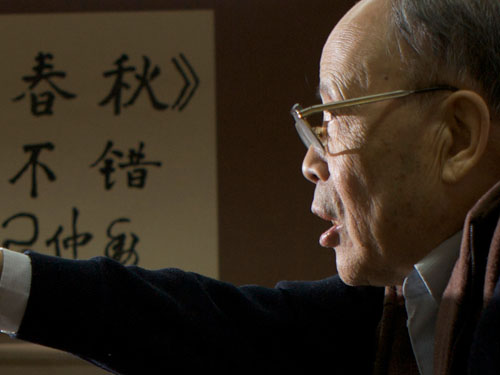 Du Daozheng, 85, helped preserve Zhao's memoirs. Ousted party secretary Zhao Ziyang and four retired party heavyweights worked against all odds to record Zhao's memoirs as a historic legacy for future generations. According to the preface titled "History is written by the people" by Du Daozheng for the Chinese-language edition of Zhao's memoir, Zhao only agreed to write his account and reflections on the bloody June 4 Tiananmen Square crackdown after Du told him in 1992 that he had a responsibility to leave a historical record. Du, now 86, was former director of the General Administration of Press and Publications and one of four party veterans who co-operated to help Zhao outmanoeuvre the Communist Party's security apparatus and record his memoirs. Zhao took his mission and the need for accuracy so seriously that he once sent his secretary to the general office of party's Central Committee for some published party documents. "He was very hurt when he was turned down," Du writes. A veteran journalist and editor, Du carefully chose the title of his preface to echo a famous saying by ousted party chairman Liu Shaoqi , who was labelled by Mao Zedong as a traitor and died under torture and harsh treatment during the Cultural Revolution. Liu was "rehabilitated" by the party in 1980, 11 years after his death, and his widow Wang Guangmei said Liu always had faith in his belief that "fortunately history is written by the people" - and that he would be vindicated one day because party propaganda could not dictate how history was written. The preface by Du also provides important details concerning why Zhao was prepared to pay the price for not taking a hardline approach against the students gathered in Tiananmen Square weeks before the crackdown. "If the conflicts [between the government and students] intensify, it would not be acceptable to history. Since I am sitting in this position, I will not agree [to the government's line]," Du quoted Zhao as telling his wife and children on May 17. "But I may be jailed because of that and you may be implicated. "You will have to be psychologically prepared." After the bloody crackdown, the party twice sent Zhao's associates, including former deputy premier Wang Renzhong, to persuade Zhao to support the party's stance publicly in return for keeping his seat in the Politburo. But Zhao turned down the offers, Du said. He said Zhao, a practical man who had worked his way up through local government administration, had repeatedly expressed regrets at being politically too conservative during his tenure in the party after years of soul-searching under house arrest. "He told me several times in a very sincere manner: `Old Du, you know I was very conservative in the past. But now I really regret it and I want to take a new path,'" Du writes. In his memoir, Zhao confesses that political reform had not occurred to him during his political career, but after years of contemplation, he believed that only parliamentary democracy could help China develop a healthy and modern market economy.
China will ban smoking in all hospitals and medical facilities from 2011, the Health Ministry said on Friday.
China has called upon rich nations to cut greenhouse gas emissions by at least 40 percent by 2020 from 1990 levels as part of a new global climate change pact.
May 23 - 24, 2009

Hong Kong: Despite the increasing spread of human swine flu around the world, Hong Kong people should continue with their usual travel and business activities, Health Secretary York Chow Yat-ngok advised on Thursday. After meeting representatives of the travel industry to discuss the impact of swine flu, Dr Chow advised people to remain calm. This comes as the number of cases internationally passed 10,000 and Japan's national total reached 267. "Although new swine flu cases continue to be reported across the world, the virus only has mild symptoms. Therefore, other than those who have chronic diseases, long term illnesses or low immune systems, people should continue with their travel as usual," Dr Chow said. The health secretary said swine flu had hurt the travel trade. "But anybody can still come to Hong Kong to travel as usual, because we have enough facilities to take care of them," he said. Ronnie Ho Pak-ting, chairman of Travel Industry Council of Hong Kong told local radio that he would have to wait to find out how badly businesses had been affected. Mr Ho said he believed Hong Kong's travel trade could return to normal if the government promoted a positive message about combating swine flu. Last week, Mr Ho said the travel sector's business would suffer because of the global spread of swine flu. He estimated outbound travel from May to July would drop by half compared with the same period last year. He also expects tourist arrivals in Hong Kong in the same period to fall by 70 per cent. "If the situation continues we will have no choice but to lay off staff," Mr Ho added.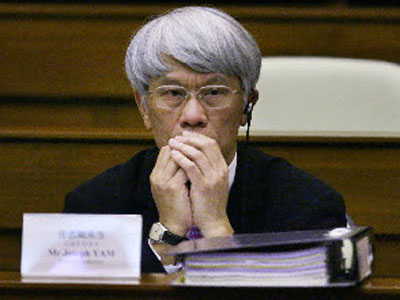 HKMA chief Joseph Yam on Thursday warned Hong Kong investors of the market taking a reverse turn despite the recent rallies as the gains were out of step with economic fundamentals. Hong Kong's central bank chief Joseph Yam Chi-kwong on Thursday said he did not foresee a recovery in the global economy in the short term and warned of possible risks for investors in Hong Kong as recent stock market gains were out of step with economic fundamentals. Mr Yam, who is to retire as head of the Hong Kong Monetary Authority (HKMA) on October 1, also reaffirmed that there would be no change in monetary policy as there was no reason to change the territory's currency peg with the US dollar, despite growing economic links between Hong Kong and mainland. The territory's stock market has rallied in recent weeks on signs of a recovery in mainland's economy and hopes that the worst is over for the global economy, but Mr Yam said fund flows could reverse. "Market inflows and outflows might be volatile," he told legislators. "In the short term, the financial market may perform out of step with the economy but … if the market takes a reverse turn there could be a slump and there could risks." The decline in the global economy had eased but was not over, he said. "I don't think the global economy will recover soon," he said, during a quarterly briefing on the HKMA's activities to the Legislative Council. On the currency matters, Mr Yam said there was no reason to change the Hong Kong dollar's link to the US dollar despite Hong Kong's expanding economic links with mainland and the growing internationalisation of yuan. "I see no reason to change the monetary system in the near term," he said. "Of course it's best if [our currency] can be pegged to the currency of our most important trading partner," Mr Yam said, adding that Hong Kong's business cycle was still much more closely tied to the US business cycle and the yuan was not freely convertible.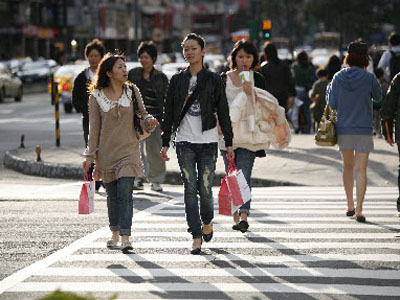 People cross the street in a trending shopping area in Taipei. Experts say Taiwan's economy shrank by about 10 per cent in the first quarter from a year earlier, the worst decline on record. Taiwan's export-led economy shrank a record 10.24 per cent in the first quarter, worse than expected, due to poor exports and dismal private investment, prompting the government to cut its full-year growth forecast. The government deepened its 2009 forecast for an economic contraction to 4.25 per cent from a previous forecast of 2.97 per cent. The data comes amid a growing consensus that while the world economic downturn may have found a bottom it is still too early to expect anything resembling a rebound in demand and growth. Earlier on Thursday, Singapore's trade ministry said it saw signs the country's worst-ever recession was bottoming out after the economy shrank less than expected in the first quarter. Taiwan's government cut its full-year this year forecasts for exports and imports as well as those for private consumption and private investments. "It was a bit weaker than we thought. There's been a severe hit to exports, but I suspect its spread is probably to the domestic side of the economy. All that's probably weighing on consumption. Firms are probably not in the mood to expand investment right now," said Rob Subbaraman, an economist at Nomura Securities in Hong Kong. Economists in a Reuters poll had expected gross domestic product to shrink by 9.2 per cent, reflecting the trade-dependent island's exposure to the world economic slump. GDP has been logging annual falls since the third quarter of last year, with the contraction widening in general as the tech-reliant economy's key exports slumped during the worst global downturn in decades. The first-quarter figure compared with a revised 8.61 per cent annual decline in the fourth quarter, which was also a record. Some economists expect the island's economy to keep shrinking until late in the year, when there is more evidence that the global economy was recovering. Reflecting the plight of Asia's exporters, South Korea's GDP fell 4.3 per cent in the first quarter from a year earlier, Hong Kong's dropped 7.8 per cent, while Singapore's slumped by 10.1 per cent. Taiwan, together with Japan, Hong Kong and Singapore, are in recession. For the full year of this year, Taiwan's economy, totalling about US$400 billion, will likely shrink 4.25 per cent, the worst showing since records began in 1962, the statistics agency said, versus its previous forecast for a 2.97 per cent fall. Any pickup in the economy will depend on a clear turnaround in technology demand since the island is a tech powerhouse with the world's two biggest microchip makers, TSMC and UMC. It also makes about 80 per cent of the world's laptop computers and more than 40 per cent of its liquid crystal displays or LCDs, used in flat-screen TVs. An improvement in mainland and US demand will also help boost Taiwan's exports since these are its two biggest markets. On Thursday, the statistics agency revised its 2009 exports fall to 21.81 per cent from its February forecast of 20 per cent. The weak economy has prompted the central bank to cut interest rates seven times to a record low of 1.25 per cent, though it kept rates steady in March partly due to signs that the global economy was bottoming out.
Singapore's export-driven economy contracted 10.1 per cent in the first quarter from the previous year, the government said on Thursday, warning it saw no clear signs of a recovery in the immediate future. The trade ministry maintained its forecast for the economy to shrink between 9.0 and 6.0 per cent for the whole of this year as the city-state grappled with its worst recession since independence 44 years ago.
From January 2011, owners' corporations in Hong Kong must procure third party risk insurance, a spokesman for the Home Affairs Department on Thursday. He said this was required under the amended Section 28 of the Building Management Ordinance, "After consulting the Legislative Council Panel on Home Affairs in December last year, we have decided to appoint January 1, 2011 to allow more time for owners' corporations to procure third party risk insurance for their buildings," the spokesman added. "The third party risk insurance will help ease the burden of owners in cases of accidents in the common parts of the building where injury or death of a third party occurs. The minimum insured amount of each policy shall be HK$10 million per event," he said. The spokesman said that since April, about 93 per cent of buildings with owners' corporations had already procured third party risks insurance. "The government will continue to encourage and assist owners' corporations which have not procured third party risk insurance to do so by providing them with the necessary assistance," he said. In most countries, liability cover is taken out by an insured [the first party] from an insurer [the second party] for protection against the claims of another [the third] party. Usually, the first party is responsible for its own damages or losses whether caused by itself or the third party.
Two US naval vessels turned away from Hong Kong in a storm 18 months ago have been cleared to visit the city next week. The port call by the minesweepers USS Guardian and USS Patriot had been approved by the Ministry of Foreign Affairs, US Consulate spokesman Dale Kreisher said yesterday. Due to standard operational secrecy, he was unable to confirm the exact itinerary of the ships. The two ships were at the centre of tensions between the Pentagon and Beijing in November 2007 after the USS Kitty Hawk aircraft carrier battle group was initially denied entry to Hong Kong for a break to celebrate the Thanksgiving holiday. Days before the Kitty Hawk was turned away - angering hundreds of sailors' relatives waiting in Hong Kong - the Patriot and the Guardian were denied access despite formally requesting safe harbour from a storm in the South China Sea. Admiral Timothy Keating, commander of the US Pacific forces at the time, described the Kitty Hawk denial as troublesome, but said turning down the minesweepers' request in a storm was "more disturbing". Other officials said it was a violation of international maritime agreements to deny any ship safe harbor. Beijing later gave the Kitty Hawk permission, citing "humanitarian considerations" but US officials said it was too late, as it was already en route to Japan. It sailed via the Taiwan Strait in a potentially provocative move. Beijing has never fully explained the reason for the rejections. The military relationship has been restored in recent months. US naval port calls to Hong Kong have returned to normal levels, with about 40 ships passing through annually. "Hong Kong remains a very popular port with our sailors and we're very pleased our ships continue to stop here," Mr Kreisher said.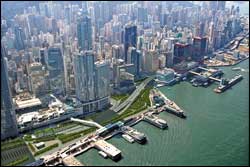 Construction of the long-planned Central-Wan Chai bypass will start by the end of the year, the government announced yesterday. It said the HK$28 billion project, after clearing all its legal obstacles, was approved by the Executive Council on Tuesday and would be submitted to the Legislative Council, to seek funding. But the Society for the Protection of the Harbour, which has mounted a series of legal challenges to the project, warned it would not rule out further legal action unless the government explained clearly why the project was not being co-ordinated with the Sha Tin-to-Central rail link, part of which would follow a similar route. The 4.5km bypass, along the northern shore of Hong Kong Island, consisting mainly of a six-lane tunnel, will involve permanent reclamation of 12.7 hectares of the harbour and temporary reclamation of the Causeway Bay typhoon shelter. The route will go underground at the Rumsey Street flyover near the Two IFC tower, pass Admiralty and the Hong Kong Convention and Exhibition Centre, emerge near the typhoon shelter and connect to the Island Eastern Corridor. "There is a compelling need for the bypass to ease the serious traffic congestion along Connaught Road Central, Harcourt Road and Gloucester Road," a government spokesman said, adding that a journey from Central to Causeway Bay took at least 15 minutes, and much more during peak hours "If nothing is done, by 2017 the route will take 45 minutes." A byproduct of the bypass will be a HK$4.6 billion package of developments in northern Wan Chai and North Point on the reclaimed land after construction is completed. Most of the land along the waterfront would be developed into a public promenade, the spokesman said, and would join the new Central harbourfront, now under construction. To improve pedestrian links between the adjoining land and the waterfront, five footpaths, a footbridge and three landscaped decks would be built in Wan Chai and North Point. The bypass project was halted last year after a court ruled, in a judicial review sought by the Society for the Protection of the Harbour, that the government had failed to establish "an overriding public need" for the temporary reclamation work at the Causeway Bay typhoon shelter. The government was then forced to scale down the reclamation size and conduct an extensive public consultation to establish such a need. The amended scope of reclamation was the smallest possible, Secretary for Development Carrie Lam Cheng Yuet-ngor said, adding: "I hope the project can commence as all disputes are now coming to an end." But the harbour society's adviser, Winston Chu Ka-sun, said the dispute was not over yet. He said the Sha Tin-to-Central link, now being planned, should share the same tube as the road to avoid further reclamation, and the government owed the public and lawmakers an explanation on why this would not happen. "Litigation is the last thing I want to do, but if there is no other way, I will do that," he said. The government spokesman said the rail project was still subject to public consultation and objections, while the bypass could not wait. "If the railway requires any reclamation in future, it will have to justify the need," he said, adding that the government had been co-ordinating with the MTR Corp on the design. Democratic Party lawmaker Lee Wing-tat said he basically supported the project but in seeking funding approval the government should communicate with concern groups. The Democratic Alliance for the Betterment and Progress of Hong Kong and the Liberal Party also supported the project.
The Hong Kong government's Exchange Fund, which is used to back the Hong Kong dollar, posted a loss of HK$33.5 billion in the first quarter, the HKMA said on Thursday, following a full-year loss for last year. The fund made a HK$4.2 billion loss on Hong Kong equities, a HK$16.7 billion loss on other equities as well as losses on foreign exchange and bonds, the Hong Kong Monetary Authority said. By the end of March, the fund's accumulated surplus was down HK$43.4 billion.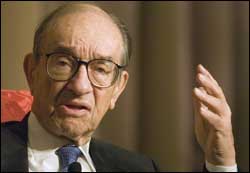 In a rare admission of error, former US Federal Reserve chairman Alan Greenspan said he was wrong to criticize Joseph Yam Chi-kwong's 1998 intervention in the stock market. "[Yam] was one of the most effective central bankers in the world for a long period of time," Greenspan told Bloomberg. "They're going to miss him. He's not going to be easy to replace." Yesterday marked the first time for Greenspan to backpedal on the scathing comments he made nearly 11 years ago about the Hong Kong Monetary Authority chief executive. "It was a risky action, but he pulled it off," Greenspan said. "It turned out that his timing was exquisite." Stock prices rose for two to three years after Yam spent HK$118 billion buying Hong Kong blue chips, Greenspan noted. In September 1998, Greenspan told a public hearing of a US congressional committee that the HKMA was beginning to "veer off and do things which do not make any sense." Greenspan charged at the time that the intervention would fail and "erode some of the extraordinary credibility that the Hong Kong monetary authorities have achieved over the years." Yam then wrote to Greenspan and said he was "surprised, and indeed somewhat hurt" by his comments. "Your support has been very important to all of us here," Yam wrote. "I hope your good wishes on Hong Kong are still there - I need them." Greenspan said he called Yam six to eight months after his original comments and told him "he was right, and I shouldn't have been concerned." "He was able to pick the bottom of the market," Greenspan said. But he added: "I wouldn't recommend that as a general rule for central banks." Greenspan said his concern at the time was that it is very risky for a central bank to intervene in the domestic market. "You may end up with a very large share of the outstanding securities." On Tuesday, the government finally confirmed Yam will retire on October 1 after 16 years at the helm of the HKMA. Recent events may have humbled Greenspan, who has himself been under fire for his role in encouraging loose credit and unregulated markets during his almost 19-year tenure as the head of the US central bank.
Chief Executive Donald Tsang Yam-kuen has received an invitation to visit Taiwan from President Ma Ying-jeou. Hong Kong-born Ma also said he would like to make a long- delayed trip to the territory. His last visit was in 2001 when he was mayor of Taipei. Tsang had said he would like to visit Taiwan, where he spent his honeymoon in 1977. Meanwhile, an official organization for the exchange of economic and cultural affairs with Hong Kong will be set up soon in Taiwan. The Trade Development Council - a statutory body - set up an office in Taipei last October. "After the warming of cross- strait relations, the relationship between Hong Kong and Taiwan has also changed," Ma said. He hopes for stronger educational and cultural ties as well as visa-free visits for Taiwanese to the SAR. During an April visit, Taoyuan County Commissioner and Kuomintang vice-chairman Chu Li-lun personally invited Tsang to visit the island. The Bauhinia Foundation, a pro-government think-tank, has called for the development of a common Hong Kong-Taiwan- mainland market within the next 30 years. And it predicted that the Hong Kong will lose 60 percent of its air transshipment business and up to 40 percent of cargo importing with mainland-Taiwan direct flights.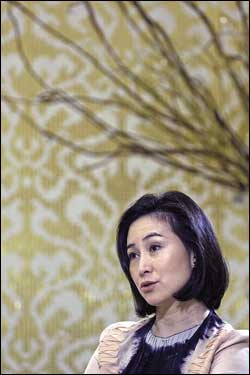 Pansy Ho Chiu-king, the daughter of Macau casino mogul Stanley Ho Hung- sun, said yesterday she needs time to study a ruling that she is an "unsuitable" partner for MGM Mirage. A report by the New Jersey Division of Gaming Enforcement to the state's Casino Control Commission, which has the power to revoke gaming licenses in the United States, recommended MGM's Macau joint-venture partner be found "unsuitable" and that MGM "be directed to disengage itself from any business association" with Ho. The division, which is responsible for investigating licenses and prosecuting matters before the commission, also suggested the Las Vegas-based casino operator's due diligence on Ho had been deficient and urged the commission to hold a hearing on the findings. MGM outlined these elements of the otherwise confidential report in a filing to the United States Securities and Exchange Commission in Washington DC on Monday. The daughter of Macau's "casino king" said she was aware of the report. "I and my advisers will need time to read and consider the contents of the report and decide how best to respond to it in due course," she said. "The report is merely a recommendation and is not binding on the New Jersey Commission, which has sole responsibility and authority for deciding all regulatory and licensing matters," MGM said in its filing. It said no action had yet been taken by the commission, "including whether or when a hearing should be scheduled." The division's investigation into the relationship between MGM Mirage and Stanley Ho's daughter took nearly four years to complete. Ho and the US gambling giant invested US$1.25 billion (HK$9.75 billion) to build the MGM Grand Macau, which opened in December 2007. It was the first project in their 50-50 joint venture.
The world's total number of confirmed A/H1N1 flu cases has risen to 11,034, including 85 deaths, the World Health Organization (WHO) said in a latest update on Thursday.

China: A quarter of mainland's 4 trillion yuan (HK$4.5 trillion) economic stimulus package is going to rebuilding from last year's devastating earthquake in Sichuan, the government said on Thursday in an outline of how the programme is being carried out. The report by the National Development & Reform Commission, the country's main planning agency, was the first detailed outline of how mainland intends to spend the stimulus funds and what it has done so far. Questions remain, however, over how much of the money is newly allocated and how much predates the package's launch in late November. Spending related to rebuilding from the May 12, last year, earthquake in Sichuan totals 1 trillion yuan, the report said. The 7.9 magnitude quake, which left nearly 90,000 people dead or missing and another 5 million homeless, caused such devastation across the area centred in Sichuan province that it is unclear if the region will ever fully recover. But the authorities have sought to showcase the reconstruction effort. The NDRC report showed another 1.5 trillion yuan, or 37.5 per cent of the package, going to other construction of roads, railways, airports, irrigation and other basic infrastructure across the country. Such programs are meant to help stimulate demand, improve the country's overall productivity and to help provide jobs for the tens of millions of workers who were laid off from industries hammered by a downturn in demand due to the global economic crisis.
Chinese students studying overseas are under increasing pressure to stay away from home during their summer holiday for fear of spreading the swine flu virus. Mainland authorities are urging caution and restraint as an estimated 400,000-plus overseas students - including those in flu-affected countries such as the United States and Japan - make plans for their annual break. In an open letter to overseas students, a top official asked students to impose a seven-day quarantine on themselves if they decided to return home instead of staying in their host countries. Han Qide, the vice-chairman of the Standing Committee of the National People's Congress, asked students to co-operate with their nation in its fight to contain the fast-spreading H1N1 flu strain. Earlier, the Chinese consulate office in Osaka asked students there to postpone their trip home if they were ill. "If you have plans on going home, please make sure you are physically fit. If you are unwell, please see a doctor and only go home after you are fully recovered," the consul general in Osaka said. In his letter published by Xinhua, Mr Han said: "For the health of yourself and others, I suggest you try to avoid visiting relatives and friends, meeting schoolmates and public places within the first seven days of your arrival. I hope you will plan your holiday well. And if you decide to come home, please submit to our health authorities' demands on disease control." He also reminded them to avoid crowded places, and people who had fever or other flu symptoms while they were still overseas. Three of the mainland's swine flu patients are students studying in the US who flew home for the summer, while the latest one, a 59-year-old patient in Guangzhou, contracted the virus while visiting America. Many netizens are angry with the returning students, accusing them of being selfish. Some even proposed suing them, claiming their return could lead to the deaths of millions of people, while others suggested the government ban overseas Chinese from returning home.
Shares in Tencent Holdings, a Hong Kong-listed mainland internet portal, rose 9.82 per cent to close at a record HK$79.95 yesterday as investment bankers revised their earnings forecasts upwards.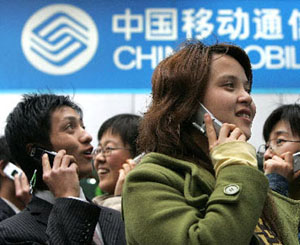 China government plans to scrap basic phone charges and offer incentives to boost usage of high-speed mobile services, according to a media report. China's top economic planning body wants to boost consumer spending on telecoms services, Dow Jones Newswires quoted a source close to the agency as saying. The National Development and Reform Commission submitted proposals to the State Council calling for the elimination of roaming fees for mobile-phone customers and a scrapping of basic service charges for fixed-line users, the report said. The plan also calls for measures to increase usage of third- generation (3G) mobile services, the source said. But it is difficult to say when the new measures will be adopted as the State Council needs to first consider input from other departments, according to the report. China Mobile (0941) said yesterday its growth slowed dramatically in April as it added the least number of new subscribers in almost two years. The mainland telecoms giant added only 5.82 million new subscribers in April, bringing its total subscriber base up to 482.99 million. It had added 6.49 million subscribers in March and 6.75 million in February. The last time it added fewer than six million customers in a month was August 2007. The company said the number of customers using its high- speed 3G mobile services during the month rose 40 percent to 514,000, versus 366,000 in March. Rival China Telecom (0728) said it lost 1.90 million fixed- line customers in April, bringing its subscriber base down to 202.10 million, while adding 720,000 broadband internet subscribers during the month for a new total of 47.49 million. It also added 1.87 million new mobile customers during the month, bringing its number of users up to 34.71 million. China Unicom (0762) said yesterday it signed up 1.14 million new mobile customers in April, for a total subscriber base of 138.83 million. Unicom lost 171,000 fixed-line users during the month, for a new total of 109 million. It added 540,000 new broadband internet customers, for a total of 33.15 million. Merrill Lynch yesterday raised its target price on China Unicom shares to HK$12 and upgraded it to "buy" from "underperform." This year will mark the bottom of Unicom's earnings decline, and the firm will resume growth next year as it boosts data usage from a low base, analyst Cynthia Meng said.
May 22, 2009

Hong Kong: The Executive Council has approved the HK$35 billion Central-Wan Chai bypass project and phase two of the Wan Chai development project, Secretary for Development Carrie Lam Cheng Yuet-ngor said on Wednesday. The projects were first envisaged in a 1985 plan by the then colonial government. They will provide an approximately 4.5km-long trunk road along the north shore of Hong Kong Island and connect the existing Rumsey Street flyover at Central with Island Eastern Corridor at North Point. The projects, when completed, will alleviate traffic congestion along Gloucester and Harcourt Roads and Connaught Road's central corridor. After the projects are completed by 2017, it has will only take about 10 minutes driving from Rumsey Street to Island Eastern Corridor. Mrs Lam also said the projects could create some 8,700 jobs. She noted that some people opposed the reclamation work because it would reduce the size of the harbour and worsen pollution. The Society for Protection of the Harbour applied for a judicial review on September 25, 2003. This was to prohibit the government from continuing with the third phase of the Central reclamation project. However, Mrs Lam said harbor reclamation was inevitable. She said the government had already scaled down the size of the reclamation. "The 12.7 hectares represents the minimum area of reclamation which we are confident that will meet the overriding public need as laid down by the Court of Appeal."
Hong Kong Television Broadcasts (SEHK: 0511) (TVB) laid off 110 staffers, TVB general manager Stephen Chan Chi-wan confirmed on Wednesday. Mr Chan said this was necessary because TVB, one of the territory's leading broadcasters, had to "re-allocate human resources". "As the company has recently finished some digital broadcasting projects, we decided to re-allocate human resources – starting from today. "About 110 staff at different levels in the engineering and production departments are affected," he said. But Mr Chan said the restructuring was not due to cost-saving measures. TVB plans to create 200 new positions in future. "The company is planning to carry out a series of new projects, such as establishing a digital data storage system. TVB would also further develop its website and the build a new film production centre," he explained. Mr Chan said these new projects might create around 200 vacancies. "The company will give its first priority to re-hiring staff if their skills match requirements for the new positions, and if they are willing to take up the jobs," he added. Mr Chan said around 30 staff might be suitable. This is the third time TVB has cut its workforce in the last six months. In February, TVB axed about 50 employees. Last December, it shed about 200 workers. Forty of these staff members were from the engineering department. The lay-offs were after Hong Kong's economy started to feel the impact of the global financial crisis, along with tighter credit conditions and weaker business confidence.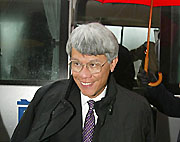 The retirement of Joseph Yam Chi-kwong as head of the Monetary Authority marks the end of a remarkable career. Yet, he has prepared the public for this day for so long that it came as no surprise when the move was finally announced yesterday. Few public officials can claim such a depth and breadth of experience in monetary affairs; none has been more personally identified with the Hong Kong dollar peg to the greenback, the linchpin of our financial system. Whoever succeeds him must not only have the trust of the government and Beijing, but the confidence of market participants. As a mid-ranking official, Mr Yam helped set up the linked exchange rate in 1983 to restore confidence in the Hong Kong dollar at a time of profound uncertainty about the city's future after 1997. He remains its staunchest defender and has spoken out whenever doubt or criticism has been raised over the peg. After more than a quarter of a century, the peg has proved to be robust and resilient; it has helped Hong Kong weather many financial storms, from the Asian economic meltdown a decade ago to the current global financial crisis. But now, concerns have been raised about the credibility and status of the US dollar as a reserve currency. Mr Yam's successor is likely to operate in a more challenging environment in running the linked exchange rate. Paradoxically, the currency board system under which the Hong Kong dollar is fully backed by foreign currencies is, at least in theory, meant to be an automatically self-adjusting mechanism, which leaves very little for officials to do in maintaining the peg. It was usually when Mr Yam tinkered with its workings that the most controversy was generated. The most contentious was his partnership with the government to use the authority's Exchange Fund to intervene in the stock and futures markets in 1998 to fend off repeated attacks on the Hong Kong dollar by overseas speculators. Many locals still consider the unprecedented HK$118 billion intervention an heroic act; foreign traders and academics tend to regard it as a violation of free-market principles. However, such criticism has been muted in recent times following massive interventions by major western governments and central banks in their own economies amid the financial meltdown. Before merging the then monetary affairs bureau and Office of the Exchange Fund into the authority in 1993, Mr Yam helped introduce many reform measures from the mid-1980s onwards to strengthen the banking and financial systems. Among these was the 30 per cent standard deposit for taking out a housing loan. By discouraging excessive lending, it has helped preserve the stability of local banks over the years. We have just witnessed the damage irresponsible lending has inflicted on leading overseas banks in the current crisis. In recent years, Mr Yam has taken to warning about growing asset bubbles, but not necessarily to many people who would listen. He is that rare technician with political skills. These have helped the authority preserve its independence, which is guaranteed by law. But his reputation as the world's highest-paid central banker has made him an easy target. The Lehman Brothers minibond saga has also raised questions about his supervision of banks. But even his critics acknowledge his intelligence, technical mastery and the special skills he has brought to the job from a lifetime specialising in monetary affairs. His successor has a tough act to follow.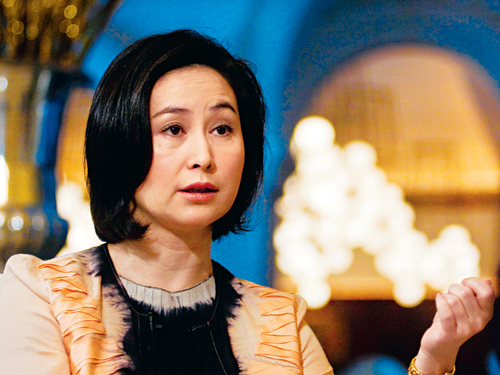 Casino regulators in the US state of New Jersey have ruled Pansy Ho Chiu-king an "unsuitable" partner in MGM Grand Paradise, her US$1.25 billion Macau joint venture with MGM, following a four-year investigation. The New Jersey Division of Gaming Enforcement (DGE) has recommended the financially troubled United States gaming giant "be directed to disengage itself from any business association with its Macau joint venture partner", according to a US stock exchange filing yesterday by MGM Mirage. It did not say why regulators frowned on the partnership. New Jersey formally launched its investigation into the partnership in late 2005. "Stanley Ho [Hung-sun] is a wealthy Chinese businessman who has been the subject of numerous public allegations suggesting that he has ties to Asian organised crime," the New Jersey attorney general's office said in its 2005 annual report. "The investigation focuses on the relationship of Pansy Ho and her father." Mr Ho has repeatedly denied any links to organised crime. MGM Mirage, which is more than US$10 billion in debt and struggling to avoid the risk of bankruptcy, said the New Jersey finding "is merely a recommendation and is not binding". The company, controlled by billionaire Kirk Kerkorian, said it did not believe the finding "will have a material adverse effect" on its business. Ms Ho issued a statement late last night saying she was aware that the DGE had submitted a confidential report and that it reccommended she be found unsuitabile. "I and my advisers will need time to read and consider the contents of the report and decide how best to respond to it in due course," she said. In the meantime, I will not be making any further comment on the matter," she said. The Macau contract between MGM and Ms Ho contains a series of complex procedures to be followed in the event their partnership is found unsuitable by US regulators. Chief among those provisions is Ms Ho's right of first refusal on MGM's 50 per cent stake in the joint venture. The ultimate decision rests with the state's politically appointed Casino Control Commission. The DGE, an arm of the New Jersey attorney general's office, has recommended a public hearing on the matter. It has also recommended that MGM's "due diligence and compliance efforts be found to be deficient" with regard to the Macau venture. MGM's overseas venture falls under the jurisdiction of regulators in the US, where it also operates casinos. It comes under New Jersey's jurisdiction because of its 50 per cent stake in an Atlantic City casino hotel. Gaming regulators in the US states of Nevada and Mississippi have previously approved the Macau partnership with Ms Ho. MGM and Ms Ho opened the US$1.25 billion, 600-room MGM Grand Macau in December 2007. The resort has struggled amid fierce competition and the joint venture booked a net loss last year. It became technically insolvent in December, with its US$818 million in outstanding debt exceeding its assets. Ms Ho's brother Lawrence Ho Yau-lung went through a similar suitability probe in Australia, and their father resigned as chairman of Melco International Development (SEHK: 0200, announcements, news) in favour of his son before gaming regulators in the state of Victoria signed off on Lawrence Ho and Melco's casino joint venture with James Packer's Publishing and Broadcasting.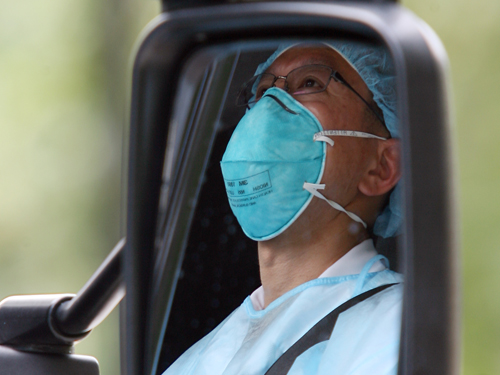 The development came as five passengers on Cathay Pacific Airways (SEHK: 0293) flight CX507 from Osaka, Japan, were reportedly taken to Princess Margaret Hospital last night because they had a fever and were coughing. There were 189 passengers and 17 crew on board. The new strategy will mean that anyone who fails to follow the rules will be taken to a quarantine camp, said Thomas Tsang Ho-fai, controller of the Centre for Health Protection. Meanwhile, if the flu reaches the pandemic stage, hospitals will aim to keep admissions under 100 a day by taking in only high-risk flu patients. The four cases of swine flu in Hong Kong have involved people who had been in infected countries. But the government believes scanning the temperatures of people arriving and requiring them to fill in health declarations will become futile, as more than 13,000 a day fly in from North America and Japan. Still, Undersecretary for Food and Health Gabriel Leung said the border measures would remain even if swine flu starts spreading in the community. Once the first such case is confirmed, nurseries, kindergartens and primary schools would be shut for two weeks, he also said. Four government clinics will begin administering health checks and Tamiflu tomorrow. University of Hong Kong microbiologist Yuen Kwok-yung said the new policy was safe and would cause the least disruption. He said the "viral load" in the first two Hong Kong swine flu patients had dropped notably after they were given Tamiflu. "Hong Kong is moving to treat swine flu as a disease a bit more serious than a seasonal flu, Professor Yuen said. The strain worries doctors because it combines human and bird flu genes with swine flu from three continents and people have no natural immunity to it. Hospital Authority director Leung Pak-yin said it would open a designated flu clinic in each of its seven regional "clusters" once the first local case was confirmed. If there were widespread outbreaks, only flu patients with complications would be admitted. The authorities would cease tracing those in contact with flu patients and laboratories would no longer conduct tests to avoid overburdening them. "We have studied the experience in Japan, which has almost 100 new cases a day. If the same situation happens ... our hospital system will face big pressure. We need to make the best use of hospital beds and drugs." Medical sector legislator Leung Ka-lau supported the change in flu strategy but questioned the wide use of Tamiflu. "There is no need to use Tamiflu on close contacts with no symptoms ... Overusing the drug would lead to drug resistance."
Hong Kong's jobless rate has risen to 5.3 per cent, the highest level in 41 months, but the increase was the mildest since the financial slowdown began in September.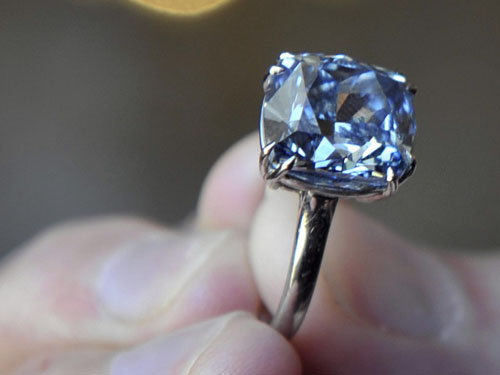 Tycoon Joseph Lau Luen-hung paid HK$74 million for a rare blue diamond at an auction and has named the 7.03-carat stone the Star of Josephine, believed to be the name of his youngest daughter. According to auction house Sotheby's, Mr Lau - chairman of Chinese Estates Holdings (SEHK: 0127) - paid a record US$9.48 million for the fancy vivid-blue, internally flawless cushion-shaped diamond on May 12 at an auction in Geneva. The sale set a world record per carat for any gemstone at auction and a world record for a fancy vivid-blue diamond at auction. Before the auction the stone had been estimated to sell for between US$5.8 million and US$8.5 million. The buyer of the stone has the right to name the diamond, and it was announced by Sotheby's that Mr Lau had named it the Star of Josephine. Josephine is believed to be the English name of Mr Lau's youngest daughter, Lau Sau-wah, whom he had with Chan Hoi-wan, a former entertainment reporter and Mr Lau's assistant. However, Mr Lau's office did not return calls to comment on why the stone had been named the Star of Josephine. According to a Next Magazine report in March, both Mr Lau and Ms Chan registered their daughter Lau Sau-wah with the Births and Deaths Registry. She was born in October. Ming Pao Daily News reported in March that Mr Lau had bought a HK$40 million yacht for his second daughter, who was born in 2002 to his long-time girlfriend Yvonne Lui Lai-kwan. The diamond that Mr Lau bought was cut from a 26.58 carat rough stone that was discovered last year at Petra Diamonds' Cullinan mine in South Africa. It earned the highest possible grading when the Gemological Institute of America labelled it fancy vivid-blue and internally flawless in clarity.

China: China banking regulator is tightening rules to prevent the embezzlement of bank loans after a huge burst of lending was unleashed to support the economy, domestic media reported on Wednesday. The China Banking Regulatory Commission will require banks to temporarily hold in escrow any loan bigger than 5 million yuan (HK$5.68 million) or exceeding 5 per cent of the overall investment, instead of directly giving them to the applicants, the official Shanghai Securities News reported. Once the borrower has worked out contracts or agreements for the funds, the bank will disburse the money to third parties. The rule is intended to make it more difficult to misuse bank loans, it said. Caijing magazine reported that an unnamed senior regulator told a recent internal meeting that new risks were mounting in the banking system because of the wave of big investment projects initiated by local governments. Mainland banks lent a record 5.17 trillion yuan in the first four months of this year, more than Beijing's minimum target of 5 trillion yuan for the whole of the year. Fixed-asset investment growth in urban areas shot up 30.5 per cent in the first four months, the fastest rate in nearly three years. Although officials have welcomed the loan surge as vital for boosting the economy, there have also been signs that they are increasingly uncomfortable with how some of the money has been used. The National Audit Office said on Monday that some companies had used fake documentation to obtain low-rate discounted bill financing from banks and redeposited the money at a higher interest rate, which had affected support for the real economy and bloated bank loans and deposits. The National Audit Office said local governments had stumped up only 48 per cent of their share of funding in some cases, as part of Beijing's 4 trillion yuan stimulus package.
Premier Wen Jiabao and European Union officials are holding talks on keeping trade open and preventing climate change. Five months ago China cancelled a meeting with the EU because French President Nicolas Sarkozy met Tibetan leader the Dalai Lama whom Beijing accuses of seeking Tibetan independence from Chinese rule. Sarkozy restored French contacts with China at an April meeting with President Hu Jintao. The 27-nation EU is China's largest export market. Beijing wants to prevent the bloc from adding new trade barriers but pleads for time to deal with problems such as caps on foreign investment and intellectual property rights violations that European businesses say lose them sales.
Luiz Inacio da Silva and Hu Jintao at a welcome ceremony at the Great Hall of the People in Beijing. China agreed to lend US$10 billion to Brazil's Petrobras in return for a guaranteed oil supply over the next decade, in a deal cemented yesterday as Brazilian President Luiz Inacio "Lula" da Silva ended a state visit. Also, China and Brazil are researching how the two nations can conduct trade in yuan and real, the latest signal that developing nations are seeking to reduce their reliance on a weakening US dollar. "The discussions have focused on how to improve the financial service system," Celso Amorim, Brazil's foreign minister, said yesterday at a briefing in Beijing. "In terms of what currency to use, we are still discussing." China is seeking to promote the yuan as an international currency after signing 650 billion yuan (HK$740 billion) in swap agreements with Argentina, Indonesia, South Korea, Hong Kong, Malaysia and Belarus in recent months. The yuan has gained 21 per cent against the US currency since a dollar peg was abolished in 2005, eroding the value of exporters' dollar-denominated profits. Mr da Silva and President Hu Jintao signed 13 agreements in all, covering science, space, law, ports and farm products, Xinhua said. It did not provide details. The loan will come from the China Development Bank, state-controlled oil company Petrobras said in a statement released in Beijing. Brazil will guarantee the supply of 200,000 barrels of oil a day to China's state oil firm Sinopec (SEHK: 0386) for the next 10 years, it added. Petrobras and Sinopec also signed a memorandum of understanding on exploration, refining and petrochemicals. The agreement for Brazil to supply China with oil was largely clinched in February, along with a memorandum of understanding on long-term financing for Petrobras. The firm needs funds to help extract massive, newly found oil reserves deep beneath the ocean floor off Brazil's southern coast. The discoveries of high-grade light oil and natural gas are in the Santos Basin, which analysts estimate could hold up to 80 billion barrels of oil, but it is very costly to extract. China for the first time displaced the United States as Brazil's top trading partner last month, a trend that is expected to continue. Trade has boomed since Mr da Silva visited China during his first term in 2004. Brazil's two-way trade with China reached US$3.2 billion in April, surpassing the US$2.8 billion trade total with the US. Exports to China grew by 65 per cent from January to April compared with the same period a year ago, government data show. Beyond trade, Mr da Silva met Premier Wen Jiabao and discussed boosting co-operation to tackle the global economic crisis, Xinhua said.
May 21, 2009

Hong Kong: Chief Executive Donald Tsang Yam-kuen on Tuesday said pay adjustments for civil servants would not be affected by a revision of salaries for political appointees. He stressed that these were two separate issues. "I am aware of the public concern about the issue of civil service pay adjustments," Mr Tsang told reporters. "Pay adjustments for political appointees is separate from the civil service. That is why when senior civil servants got a pay rise of 6.3 per cent last year, political appointees' salaries remained unchanged," he said. Mr Tsang said the government had a set of established procedures to deal with pay issues. "The Civil Service Bureau will listen to the views of the civil servants' associations. Then the chief executive in council will take into account all relevant factors before deciding whether pay adjustments are necessary," he explained. According to the latest survey of annual pay trends, 160,000 civil servants could face pay cuts of between 0.96 per cent and 5.38 per cent this year. This follows government's findings of annual pay trends in the private sector. The survey found pay in the private sector had dropped by 0.17 per cent for lower-paid workers, by 1.34 per cent for those in the mid-range, and by 4.79 per cent for high-income earners.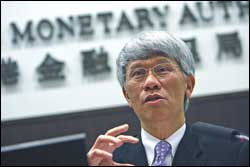 The government said on Tuesday Hong Kong Monetary Authority chief executive Joseph Yam Chi-kwong would step down on October 1. Announcing the date, Financial Secretary John Tsang Chun-wah said Mr Yam had made an outstanding contribution. "Joseph has served as the chief executive of the Monetary Authority since 1993 and has worked diligently over the years to perfect our monetary system," Mr Tsang said. Mr Tsang said Hong Kong's monetary system was "stable and sound". Mr Yam's departure would not affect Hong Kong's monetary policies, or the stability of the financial system. He said the government was in the final stages of identifying Mr Yam's replacement at the helm of the HKMA. The financial secretary said an announcement would be made after a final decision on Mr Yam's successor had been taken. Chief Executive Donald Tsang Yam-kuen also paid tribute to Mr Yam. "Under his leadership, the HKMA has established a sound mechanism and has enhanced Hong Kong's status as an international financial centre by actively taking part in world financial affairs," he said. "Mr Yam was also devoted to developing yuan-based businesses so as to expand the scope of financial activities in Hong Kong." Joseph Yam said on Tuesday it had been "a great honour to serve the people of Hong Kong". "Hong Kong has been through considerable change in the past 16 years and has weathered a series of crises and challenges," he noted. Mr Yam, who was born in 1947, has been HKMA chief executive since it was established in April 1993. He graduated from the University of Hong Kong with a Bachelor of Social Science degree. Throughout his career, he has worked as a statistician for the Civil Service, in the Economic Services Branch, with the Monetary Affairs Branch and as Director of the Office of the Exchange Fund.
Guests entering the Royal Plaza Hotel, where the man from Guangdong with suspected flu stayed, have their temperatures taken. Five people who had close contact with a 59-year-old swine-flu patient were now under quarantine at the Lady Maclehose Holiday Village, Centre for Health Protection (CHP) controller Thomas Tsang Ho-fai said on Tuesday. The man, a resident of Guangdong province, had stayed two nights at the 18th floor of Royal Plaza Hotel. This was after returning from a trip to Canada and United States via South Korea with his wife last Wednesday evening. Dr Tsang said the man developed a sore throat and cough last Thursday afternoon. He said the couple then checked out of the hotel last Friday morning. The couple took a taxi from the hotel to Hunghom station about 3.30pm that day. They then left for Guangzhou via through-train in Hong Kong last Friday afternoon, Dr Tsang said. The man felt chills and had a fever while on the train. He was then isolated in a hospital ward, upon arriving at Guangzhou. Speaking at a press conference, Dr Tsang said the CHP had confirmed there were 51 people living on the 18th floor with the 59-year-old man. "Among them, 37 have already left Hong Kong, but other people may still be in the city. "Currently, three visitors who stayed on the same floor and two other hotel staff have been sent to Lady MacLehose Holiday Village for quarantine until May 22," he said. Dr Tsang said the CHP had started to trace the taxi driver and others who might have had contact with the patient. In other developments, Secretary for Food and Health Gabriel Leung said Hong Kong was continuing to prepare for more swine flu cases. "We should be more cautious because over 40 countries have now confirmed swine flu cases," he stressed. "There are community-level transmissions occurring in United States and Japan, and the people in Hong Kong have had frequent interaction with people in these countries. Therefore, we have to be more cautious," added Mr Leung. Although swine flu had spread internationally, he said people should remain calm. There are drugs that are still effective against it. "From the information that Secretary for Health York Chow Yat-ngok obtained from the meeting with the World Health Organisation (WHO), it revealed that the swine flu virus was relatively mild," said Mr Leung. "The chance of virus mutation was limited. Moreover, the antiviral drugs were still effective," he added. But Peter Cordingley, a WHO spokesman, said swine flu needed to be taken very seriously. "You can see the way it moves explosively from Mexico to California and now around the world." "This virus is very infectious," stressed Mr Cordingley, who is a spokesman for the WHO's Western-Pacific region. Mr Cordingley told local radio he did not think implementing exit screening would prevent the spread of the virus. "It is still our view that exit screening does not make a big difference. What needs to be done now is exactly what Hong Kong is doing now – which is responding at a local level," he added.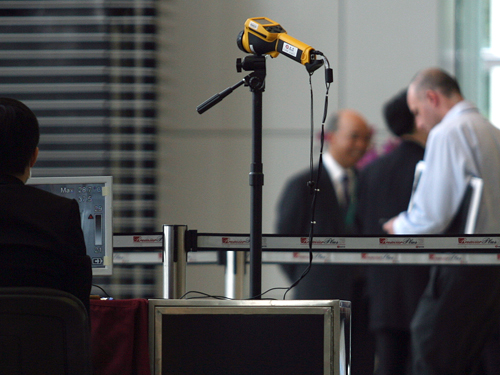 A body temperature measuring device in the lift lobby of Two IFC in Central. All office workers in the building must submit to having their temperatures checked. Office workers entering Two IFC now have to pass through a temperature checkpoint similar to the temperature screening process at border checkpoints in a bid to prevent the spread of swine flu. An infrared temperature scanner has been set up in the lift lobby of the 88-storey building in Central. Security guards have been deployed to watch for irregular temperatures on the monitoring screen as people pass through. "We implemented the measure because the government has raised the pandemic response level to `emergency' - the top grade - on May 2 after recording the first confirmed swine flu case," said a spokesman for the MTR Corporation (SEHK: 0066), which manages the building. The temperature screening only applies to people working in offices in the building. Shoppers at the IFC shopping mall will not be screened. A mall spokesman said temperature-taking services and information about swine flu were available at its concierge counters. "Face mask provisions, sterile alcohol prep pads and sterilising gel for cleaning hands will also be provided on shoppers' requests," the spokesman said. Meanwhile, as the number of swine flu cases soared in Japan, Hong Kong tourists to the country appeared unperturbed. Jacky Hui Chung-ki, public relations and marketing department senior manager for EGL Tours, the major Japanese tour agency in Hong Kong, said a 32-member tour group stayed in Kobe last night, where a number of swine flu cases had been confirmed. "They will continue their journey without any amendment," he said. "Also, they are staying in a hotel which is far from where the cases were found - at least 10 kilometres and in between the two locations, there is also a harbor." The company has another group in Osaka and its tour would continue uninterrupted. Despite the outbreak in Japan, Mr Hui said only two tourists who had planned trips to Hokkaido next week had backed out. "Other than these two tourists, most tourists have urged us not to call off the tours." A Travel Industry Council spokesman said it had received about 150 calls from people who wanted to withdraw from package tours. The spokesman said that as the World Health Organisation had not issued any travel warnings, travel agencies had to pay hotels and airlines even if a tour was called off, so it was hard for agencies to allow people to withdraw from package tours.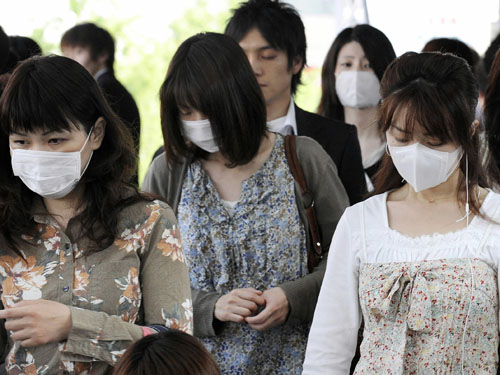 Commuters wear masks at a railway station in Kobe, one of two Japanese cities where most swine flu cases are concentrated. Hong Kong should refer to the swine flu outbreak in Japan in preparing a response plan because of similarities in population density and public transport systems, an expert says. University of Hong Kong microbiologist Ho Pak-leung said the outbreak in Japan rang alarm bells in Hong Kong because of similarities. The number of swine flu cases in Japan suspected to have spread domestically has jumped from eight on Saturday to 163 yesterday. That came only days after four travellers from the United States were detected with swine flu. Japan has closed more than 4,000 schools and kindergartens, and health authorities have warned that the real number of infections could already be in the hundreds. Most cases were reported in Kobe and Osaka, after two schools met for a volleyball tournament. Professor Ho said Hong Kong should prepare for a similar outbreak if swine flu broke through the border. "Hong Kong's environmental hygiene situation and public awareness is in general not as good as that in Japan. The number of infections in Hong Kong could be even higher if there is a community outbreak. "Our public health care system has to face a big [potential] challenge: taking care of almost 100 new cases in a day. The health authorities should also keep a close eye on school activities where students have very close contact with each other." Professor Ho said that Tamiflu had been widely used in Japan and there was a risk that the virus would develop drug resistance. David Hui Shu-cheong, an expert in respiratory diseases at Chinese University, believed that Hong Kong would soon follow the path of Japan. He said Japan was a much bigger place, but transport was comparable. "Many Japanese travel every day on a very crowded railway system, which is similar to the MTR." University of Hong Kong virologist Malik Peiris said scientists needed more information about Japan's outbreak to see if it was merely a cluster of cases. "Sooner or later the virus will spread to Asia, and international traffic hubs including Japan, Hong Kong and Singapore cannot be isolated from that. What we can do is to delay the arrival of cases." Undersecretary for Food and Health Gabriel Leung said yesterday that institutions that had close contacts with overseas, including international schools, stood a higher risk of catching swine flu. But he said students and teachers had become more aware of the need for personal hygiene since the pandemic began. "If every school follows our guidelines to combat the flu, the outcome should be quite good," he said.
The number of exhibitors attending the Asian Aerospace International Expo and Congress in September is expected to be about 500, roughly the same as for the first Hong Kong show in 2007, despite the economic woes affecting the global aviation industry, organiser Reed Exhibitions said. However, the number of visitors this year is estimated to be about 10,000 compared to more than 11,500 at the first Hong Kong show. The 2007 show attracted 575 exhibitors. Airlines have been among the hardest hit companies as businesses and households cut travel budgets amid the global credit crunch and financial meltdown. "We haven't stopped selling," Paul Beh, president of Reed in Asia-Pacific, said. "Companies may take longer to make up their mind but I expect the final number of exhibitors to be about the same as last time." An agreement was signed yesterday for the AsiaWorld-Expo venue to host the show again in 2011. Preecha Chen Han Wen, Reed Exhibitions Greater China president, said there would be greater participation by mainland companies this year, but all the major aviation brands from the 2007 show would be returning. However, Mr Beh said unlike overseas aviation companies, mainland exhibitors did not like to be positioned together. Asked about competition from the mainland, he said there was an emphasis on the military element at air shows such as the one in Zhuhai , whereas Asian Aerospace focused solely on civil aviation. Director general of civil aviation Norman Lo Shung-man said no application to fly an aircraft over Hong Kong as part of the show had been received. In 2007, the world's largest passenger plane, the Airbus A380, flew over Victoria Harbor. This year's show will take place from September 8-10.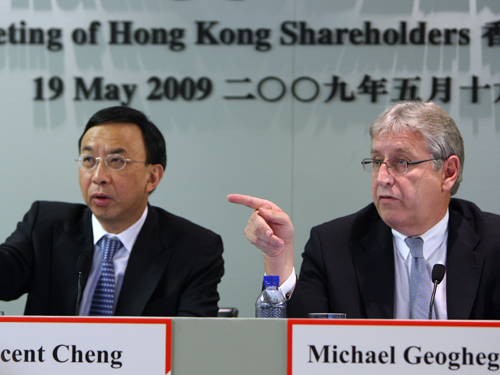 Vincent Cheng says HSBC hopes to issue yuan bonds as quickly as possible. With him is bank chief executive Michael Geoghegan. 2 lenders cleared to sell yuan bonds - HSBC Holdings (SEHK: 0005) and Bank of East Asia (SEHK: 0023) yesterday confirmed they had received Beijing's approval to be the first foreign banks to issue yuan-denominated bonds in Hong Kong - a development that could help globalise the yuan and improve the city's stature as an international financial centre. Hong Kong will be the only city outside the mainland where a foreign bank can issue yuan bonds. The two banks said their mainland-incorporated units had obtained approval from Beijing for the proposed yuan bonds, giving them additional yuan funding sources for their business in the country. "This will boost the circulation of yuan outside China," said Nicholas Kwan Ka-ming, the regional head of research at Standard Chartered Bank. He said Beijing might have believed internationalising its currency had become more important amid the global financial turmoil. Since June 2007, there have been seven yuan bond issues totalling about 22 billion yuan (HK$25 billion), all by mainland lenders such as China Development Bank and Bank of China. Market sources expect HSBC and BEA could sell 2 billion to 3 billion yuan of bonds each as early as late next month or in July. Earlier, Beijing rolled out other yuan-liberalising policies including the possible sale of yuan bonds in Hong Kong by the Ministry of Finance and a pilot scheme for using yuan to settle cross-border trade. Hong Kong banks have been able to conduct other yuan business since 2004, including deposits, remittance and card business. Stuart Gulliver, HSBC's head of global banking and markets, said the bank would issue yuan bonds as quickly as the authorities approved them and market conditions allowed. He said the issue size would be in line with other mainland banks that had sold yuan bonds in Hong Kong in the past. Sandy Flockhart, the chief executive of HSBC Asia-Pacific, said the proceeds from the planned yuan bonds would be used for the bank's mainland business. Vincent Cheng Hoi-chuen, the chairman of HSBC Asia-Pacific, said the bank hoped to issue yuan bonds as quickly as possible, although it had no urgent funding need. "We will strive to play an active role in yuan business," Mr Cheng said, adding that the bank would also hope to take part in globalising the yuan if government policy allowed. Chan Kay-cheung, a vice-chairman at Bank of East Asia (China), said the bank received approval from regulators, the State Council and the People's Bank of China for the bond issue. He said issuing the bonds would give BEA another channel to absorb yuan funding in the city. "It also reflects the [financial] liberalisation of the country," he said, adding the move could help develop Hong Kong's bond market and promote the city as a yuan offshore hub. Billy Mak Sui-choi, an associate professor at the department of finance and decision science at Hong Kong Baptist University, said he expected Hong Kong yuan deposits, at 53.1 billion yuan as of March 31, to rise if yuan bonds were attractive and the unit was used more in the city. HSBC shares rose 6.3 per cent yesterday to HK$68.35 while BEA added 5.59 per cent to HK$24.55.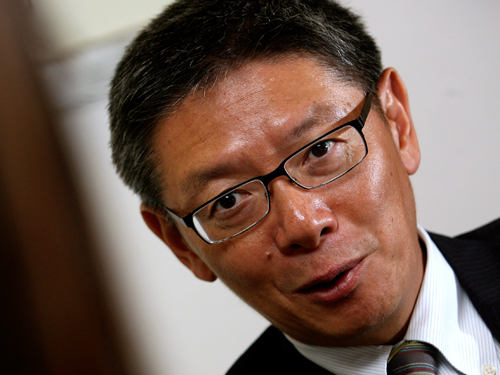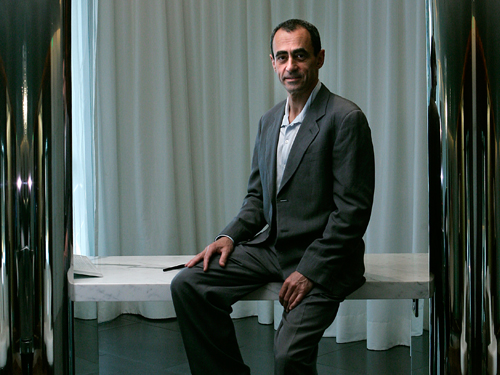 Clement Kwok was a prime mover in the Peninsula's expansion in Tokyo, Shanghai and Paris. Keith Griffiths attributes Aedas' rise to become the world's second-biggest architectural firm in a short time to its talent pool. Businessmen Clement Kwok King-man and Keith Griffiths have barely crossed paths on their way to bringing their companies on to the global stage, but they have one thing in common - an ability to build their brands. Mr Griffiths is the Asia and Middle East chairman of architectural design firm Aedas. He helped found the Aedas brand seven years ago and presided over its rapid emergence as the world's No 2 architectural practice. Mr Kwok is the chief executive of Hongkong and Shanghai Hotels (SEHK: 0045), owned by the Kadoorie family. Although an accountant by training, he, too, is an architect in another sense - helping design the international reach of the 143-year-old Peninsula hotel group. Hongkong and Shanghai Hotels won the international award at the 2008 DHL/SCMP Hong Kong Business Awards, while Mr Griffiths won the owner-operator award. Last Friday, they both addressed South China Morning Post (SEHK: 0583) readers at Meet the Corporate Architects, a series of monthly events run by this newspaper, DHL and the Hong Kong General Chamber of Commerce, revealing how they grew their businesses beyond their home turf of Hong Kong. Hongkong and Shanghai Hotels is the owner and operator of eight Peninsula hotels in Asia and the United States, a golf lodge in California and prime investment properties in Hong Kong. Elegance and exclusivity are trademarks of the Peninsula, which in the popular mind is perhaps best known for having one of the world's largest fleets of Rolls-Royce limousines - a total of 18 in its Hong Kong, Tokyo and Beijing hotels. "Globalisation happened late in the company's life and at a slow pace," said Mr Kwok, a prime mover in Peninsula's expansion in Tokyo, Shanghai and Paris since joining the group in 2002. Other global hotel firms take minimum risk by acting as a hotel operator and then maximising the number of properties, many of which resemble office complexes. "We look for an exceptional and prime location that can house 200 to 400 rooms, offer grand and gracious services that reflect a strong local culture," Mr Kwok said. "We want guests to wake up in the morning and know where they are." A case in point is the 100 per cent-owned Peninsula Tokyo, a 13 billion yen (HK$1 billion) project opened in 2007 after more than five years of planning of every detail. Property developer Mitsubishi Estate was looking for a high-end hotel to be a key component in its rejuvenation of the Marunouchi, the business district neighbouring the Imperial Palace and the popular Ginza shopping district. The landlord was betting on the "Peninsula effect", which comes from the hotel being the popular see-and-be-seen place, especially during its British afternoon teas. This autumn, Hongkong and Shanghai Hotels is due to return to its Shanghai origins when a 235-room Peninsula will serve its first guest at the historic Bund. "Everyone knows all the existing buildings on the Bund are protected as heritage structures," Mr Kwok said of the US$361 million project. "The Peninsula is the only new building along the Bund. It is a very meaningful project to the Kadoorie family, which first settled down and traded there before heading for Hong Kong." In 2012, the Peninsula will set foot in Europe for the first time with the opening of a €250 million (HK$2.7 billion) hotel in a century-old building adjacent to the Champs-Elysees in Paris. The Peninsula's conservative expansion strategy does not mean it lagged in technology. "We were the first hotel to have televisions in bathrooms 15 years ago," he said. "We had hands-free phones in the bathrooms as well, which automatically mute the sound of running water and the television. When you pick up the phone, nobody knows you are having a bath and watching the television." All the attention to luxury and detail has paid off over time, said Mr Kwok. "As the owner of the hotels, we create long-term value." In 1929, a year after it opened, the Peninsula Hong Kong was valued at HK$4 million. Having grown with the economy and emerged as a landmark in Kowloon, it was worth HK$8.9 billion at the end of last year. But for Mr Griffiths of Aedas, 81 years is a bit too long. After a humble debut in 1985, Aedas transformed itself in 2002 through mergers into a global firm with 40 offices in 18 countries, employing 2,500 architects. It generated US$239 million in revenues last year, up 48.4 per cent from 2007. Aedas is the architect of the Sunny Bay MTR station on Lantau and is redeveloping the White Swan Hotel in Guangzhou - the mainland's first foreign hotel. "When I started my office in 1985, I wanted the company to be international but never thought it would become the world's second-largest," said Mr Griffiths, a well-groomed Welsh architect who studied the subject at Cambridge. "But there were setbacks, many setbacks." After losing one of three core clients in 1989, Mr Griffiths said he woke up to the fact that his practice had to diversify - both in geography and in the number of clients. "By 1989, we had a considerable amount of high-profile commercial projects," he said. "But we were heavily reliant upon one client for much of our work and this client fired us from all his projects while I was on holiday. "It was a severe setback and taught me to diversify and not to rely on one client in future." In 2002, Aedas went global, taking the company to the US, Europe, Asia and the Middle East through three main rounds of mergers. Still, the group operates without any headquarters as part of its "creative management", designed to maximise flexibility by mobilising the intellectual talent at its offices. "This works well on an operational level, but drives accountants nuts," Mr Griffiths said. "They asked me where the tax should be accounted for. I don't know!" A rail design project in London, for example, could call in architects from offices in Dubai, Singapore and especially the Hong Kong office, which has accumulated experience in railroads. The free flow of brains at Aedas will play a crucial part in designing the Tsim Sha Tsui terminus of the Hong Kong-Shenzhen-Guangzhou express rail link, which the company won after beating international rivals such as Britain's Norman Foster. In another maverick move begun two years ago, Aedas sometimes shuts the top talent from its global offices in a remote place - sometimes bringing a chef along - for an annual meeting to brainstorm designs for key projects. In March, about a dozen top architects from seven offices including Britain, New York and Hong Kong, underwent an intensive four-day meeting at a holiday resort in San Remo, France. They were divided into teams competing for designs for three key projects, including one for the Hong Kong stadium and sports district in the site of the former Kai Tak airport. "We got the best designs," Mr Griffiths said. "The results yielded were far beyond the money spent." In Mr Griffiths' corporate philosophy, the company's most valuable asset is human talent. "The value of a company is brain power, it has nothing to do with finance," he said. That proved a stumbling block when it sought to expand into the mainland market. "A large Chinese architectural firm was interested in merging with us," said Mr Griffiths. "But it was talking about a listing following the merger. "I don't understand why they wanted a listing so much. A listing will kill the company. And we turned it down."

China: China will subsidize purchases of cars and home appliances to replace older models, expanding a programme first introduced in rural areas to major cities, the government said on Tuesday in its latest move to stimulate the economy. The decision by an executive meeting of the State Council is meant to pump up the country's domestic demand, supporting domestic industries hit by a slump in demand for exports and encouraging use of more energy-efficient, less polluting cars and appliances, said a statement on the government's website. Areas qualifying for the "swapping old for new" subsidies, as they are dubbed, include Beijing, Shanghai, Tianjin and several provinces in the affluent coastal regions. The earlier programme focused mainly on boosting sales of small vehicles and appliances in the rural areas. The plans were announced a day after the government outlined plans for revitalising and restructuring the country's light industries and its often loss-making petroleum refining sector. Those plans, issued by the State Council late on Monday are meant to create about 3 million jobs. The government gave no specific dollar amount for those programmes, and it was unclear whether or not some costs are included in a 4 trillion yuan (HK$4.5 trillion) economic stimulus package announced late last year, which focused on construction projects. But leaders had promised additional help if the earlier package failed to give the economy the oomph it needs to overcome the blow to its export sector from the global downturn. According to the State Council's announcement, Beijing will spend a total of 5 billion yuan on subsidies to consumers who trade in older vehicles for new ones. It will devote 2 billion yuan to the appliance subsidy programme, which will pay rebates of 10 per cent of the purchase price. Expanding domestic demand is a top priority for Beijing, and the measures announced on Tuesday reflect the leadership's determination to keep mainland shoppers spending. So far, retail sales growth has remained in the double digits. The government's plans for the light industrial sector call for upgrading technology and providing more support for small- and medium-sized businesses that dominate the sector but suffer from a lack of access to back loans and other financing. Light industries such as home appliance, apparel, shoe, furniture and plastics products makers employ some 35 million people and once dominated the country's export sector. Although mainland has been keen to shift export manufacturing to higher value-added industries, light industries provide crucial support for the country's rural majority, with roughly half producing agriculture-related products that provide a livelihood for some 200 million farmers and migrant workers.
Brazil's president began a day of meetings with leaders in Beijing on Tuesday, during which analysts said he could broach a plan to ditch the US dollar in his nation's trade with China. Luiz Inacio Lula da Silva was due to meet with his counterpart Hu Jintao and other leaders in talks focused on boosting business with China and promoting closer co-operation to fight the global financial crisis. But all eyes were on whether China and Brazil would come to an agreement on ditching the US dollar in their bilateral trade and replacing it with each nation's currency – the yuan and the real. Mr Lula first discussed the idea with Mr Hu at the April G20 summit in London and said he would broach the issue on his visit to China, in what would be another challenge to the US dollar's special status as the leading global currency. Already in March, China's central bank governor Zhou Xiaochuan made waves when he suggested ditching the dollar as the global reserve currency and replacing it with a different standard run by the International Monetary Fund. "Everybody has realised... that the currency and debt crises in many countries and the global economic crisis are linked to the dollar standard," said Zuo Xiaolei, a Beijing-based economist with Galaxy Securities. Mr Zhou and his Brazilian counterpart were due to meet soon to discuss the matter, the Financial Times reported Tuesday, citing an official at Brazil's central bank. Andy Xie, an independent economist, said an initial agreement to conduct some trade in renminbi and real could materialise after Mr Lula's talks with mainland leaders on Tuesday. Mr Zuo was more cautious on the timing of an agreement, but said the plan was feasible. "It's unlikely for them to change the global currency system overnight, so what they are trying to do now is something regional and defensive," she said. China – an energy-hungry nation that is hugely interested in Brazil's natural resources – in March became the Latin American nation's biggest trading partner, ahead of the United States. Brazilian exports to China – mainly iron ore and soya products – so far this year have grown 65 per cent over the same period last year, a jump from US$3.4 billion to US$5.6 billion. Mr Lula's visit, which comes between a trip to Saudi Arabia and Turkey, was also expected to stress political co-operation in an era that has seen a rise in the role of key emerging nations in fighting the global financial crisis. Mr Lula said in a comment piece in the China Daily on Tuesday that strengthening diplomatic and economic alliances with other key developing countries was a pillar of Brazil's foreign policy. "The systemic challenges facing the world economy underscore the growing responsibilities of emerging economies," he wrote. "Concerted efforts and dialogue will be required among developing countries for their voice to be increasingly heard on the global stage." Mr Lula was also due to meet with Chinese Premier Wen Jiabao and other leaders on Tuesday.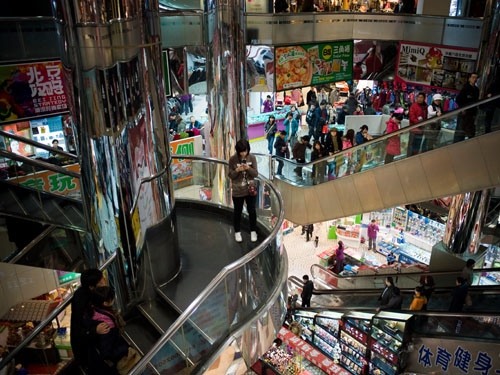 Top-end luxury brand retailers have shown caution in expanding on the mainland since the outbreak of the global financial crisis, prompting landlords to offer unprecedented subsidies to retain tenants. Beijing Intime Lotte Department Store is offering a subsidised lease to Gucci Group to enable the fashion house to pursue its expansion plans, sources say. Gucci was unavailable for comment. He Yong, Intime's manager of investor relations, said yesterday: "Gucci Group planned to open the shop in Intime Lotte Department Store by the end of last year. But the opening has been delayed to next month because of their own reasons and the global financial crisis." Mr He declined to comment on any subsidy. Gucci will open its sixth store in Beijing next month. The company has leased a duplex store in Intime Lotte Department Store on Wangfujing Street, a prime location in the city centre. Sources said Gucci had considered putting the plan on hold in the wake of the global financial turmoil. Decoration work at the shop was suspended for a couple of months last year but has since resumed. A source said the landlord offered 20 million yuan (HK$22.75 million) to Gucci as a subsidy to carry on with the expansion plan. "It is the first and only case in the Beijing retail leasing market," the source said. "Gucci is one of the popular international luxury brands on the mainland, and its presence would enhance the attractiveness of the department store. "It is not easy to find another popular international luxury brand, as the retail leasing market is competitive and plenty of new shopping malls are available in the market. That's why the landlord is willing to offer attractive leasing terms to Gucci." Another source said the shopping mall at Beichen Building in the Asian Games Village had closed for two months to review the tenant mix. The shopping mall opened in August last year. Ermenegildo Zegna, a well-known men's clothing brand from Italy, had signed an agreement to lease a shop in the mall. Although decoration work began last year, the shop has not yet opened. "Many international luxury brands are no longer as aggressive in expansion as we have seen in the last few years. Some of the brands are reviewing their expansion plans, particularly the new shops that have yet to open. They are apparently reviewing whether or not the new shop can contribute to expanding their market share," the source said. But Ada Nip, the head of retail at property consultant DTZ in North China, said mature shopping malls located in prime locations such as Beijing apm and Oriental Plaza at Wangfujing Street and China World Trade Center in the core business district had not shown signs of being hurt by the downturn. "Our rents at Beijing apm are still firm," said Ian Choy Chi-keung, the chief representative of Sun Hung Kai Properties (SEHK: 0016) (Beijing). The mall posted higher turnover in the first quarter compared with the fourth quarter of last year, Mr Choy said. Spanish luxury clothing chain Zara, European make-up retailer Sephora and a Hong Kong food and beverage company have also leased shops at Beijing apm after the outbreak of the global financial crisis. "With the current market sentiment, retailers have become more picky in choosing the locations of their new shops. They would prefer to expand in a shopping mall in a prime location and with good management," Mr Choy said. "Some of the retailers remain aggressive in expansion. Louis Vuitton is one example. We will see the brand open one or two new shops in Beijing in the next three years," Ms Nip said. She believes many retailers will review their expansion plans in the second half or by the end of this year. International retailers are also cautious about expanding in Shanghai. According to research by Colliers International in that city, the slowdown in the pace of expansion of some international retailers is due more to the negative business climate in their home countries than the consumer market on the mainland. Local retailers, including Best Buy, 7-Eleven, Ikea and Uniqlo, are still keen on expanding. Carlby Xie, an associate director of the research and advisory department at Colliers International in North China, said retail rents in the capital city had been facing downward pressure since the first quarter. The rental collection method for food and beverage shops was also changing, as businesses had been hit by the financial crisis. "Recently, we have seen some shopping malls charging Chinese restaurants and high-end food and beverage shops turnover rent only instead of a usual fixed rent plus charge based on turnover," Mr Xie said. For example, a landlord used to charge a tenant a fixed monthly rent of 1,000 yuan per square metre and also a turnover rent equivalent to 12 per cent of the total turnover of the shop. However, under the new collection method, the landlord has cancelled the fixed rent and charges a rent equivalent to 12.5 per cent of the turnover.
May 20, 2009

Hong Kong: Government engineers would eight install surveillance cameras near the scene of an acid attack in Mong Kok, the Electrical and Mechanical Services Department said on Monday. Department communication manager Wong Wai-man said the surveillance cameras, costing around HK$1.7 million, would be installed within a month. The decision comes after another worrying attack on Saturday – when two bottles of acid were thrown into a busy pedestrian area. About 30 shoppers were burnt with acid. A 16-year-old girl remains in Kwong Wah Hospital on Sunday night in a stable condition, local media reported on Monday. It was the second incident in the area in recent months. On December 13, 46 pedestrians were splashed by two bottles of acid – hurled into Sai Yeung Choi Street South. After investigations, police said Saturday's acid attack could have been carried out by the same person or persons. Using computer analysis, police noticed common factors in the two attacks. Officers were continuing to search several buildings and conduct door-to-door inquiries in the area on Monday. Wong Wai-man was speaking to reporters after a meeting with the district councillor of Mong Kok's Yau Tsim Mong District and police. He said the government would try to install the surveillance cameras as soon as possible. "This involves security concerns – so it is not suitable to discuss the exact day of completing installation work,'' Mr Wong said. "But our engineers will speed up installation of the cameras and it would not exceed a month," he said. Hau Wing-cheong, chairman of the Yau Tsim Mong committee on pedestrian zones, said the cameras would be installed at Park-in Commercial Centre and Hollywood Plaza, They will monitor Sai Yeung Choi and Argyle streets. Edmond Chung Kong-mo, chairman of the Yau Tsim Mong District Council, said police should patrol the district more frequently. He also suggested manufacturers of the surveillance cameras install temporary ones.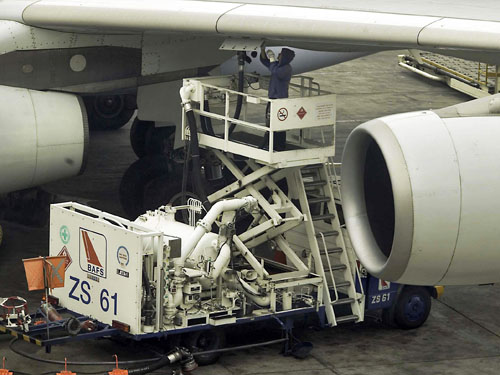 Major airlines are unlikely to waive fuel surcharges, even though Japan Airlines and Air Nippon Airways are to waive the levy for long- and short-haul flights for the first time in four years from July 1. Singapore kerosene - a type of jet fuel used by the aviation business - has dropped from its peak of US$164.85 per barrel last June to US$52.98 in March and US$59 last month, but so far, only JAL and ANA have decided to abolish the levy. ANA has already informed Hong Kong's Civil Aviation Department of the news, while JAL will do so this week. Singapore Airlines and Nepal Airlines asked to continue the tariff, while other major airlines, including Cathay Pacific (SEHK: 0293) and Dragonair, are expected to file similar requests this week. All carriers flying to and from Hong Kong must notify the department of any surcharge change every two months. The current levy will expire on May 31. While the move by JAL and ANA may exert some pressure on Cathay and Dragonair - both of which fly to Japan - other airlines may simply lower the tariff rather than abolish it. Major carriers, including Cathay, Dragonair, British Airways and Qantas, first imposed the tariff when jet fuel was hovering at about US$43.21 a barrel in mid-2004 - a level much lower than the US$54.56 per barrel at which the two Japanese airlines introduced theirs. Both JAL and ANA explain on their websites how they reached their decision - by averaging out the fuel price every three months. If that average falls below US$60 per barrel, they remove the surcharge. Such clarity is absent from almost every other airline. Former civil aviation director general Peter Lok Kung-nam said the department should publicise how oil prices determine the surcharge level. "The surcharge should only be affected by fuel prices," he said. "The Civil Aviation Department should disclose the information in an open and transparent manner. There is nothing to hide." Bus fares, MTR fares and fuel surcharges for air cargo are all regulated by an open formula. The government also updates the import price and retail price of diesel and petrol weekly so people can monitor whether they are being gouged by oil companies. A Civil Aviation Department spokesman said that in assessing airlines' applications on the tariff, it considered not only changes to jet fuel prices, but also individual airlines' justifications and the levies that are charged elsewhere. He said Hong Kong's aviation surcharges were about 30 to 40 per cent lower than those in other countries. The associate director of the Aviation Policy and Research Centre at Chinese University, Michael Fung Ka-yiu, said he would soon begin a study to find out whether aviation surcharges tracked fuel price changes. Although crude oil prices have rebounded to about US$60 a barrel over the past two weeks, the International Energy Agency - adviser to 28 industrialised nations on energy policy - has forecast that global oil consumption will fall this year at the fastest rate since 1981.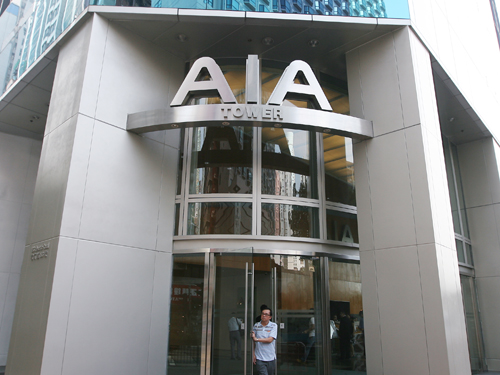 AIG said it would accelerate plans to separate its Asian subsidiary through an initial public offering as the bailed-out US insurer seeks to raise cash and list the unit as soon as possible. The offering could raise at least US$4 billion based on targets set by AIG executives, making it one of the largest Hong Kong IPOs to hit the market in the last two years. The IPO would allow AIG to raise money to pay back the US government and allow the profitable Asia life insurance subsidiary, American International Assurance (AIA), to break from its ailing parent. AIG said it has asked for requests for proposal to select global co-ordinators and bookrunners for the IPO. The lead manager of the IPO will be The Blackstone Group, AIG's global financial adviser for its restructuring. Hong Kong-based AIA has more than US$60 billion of assets under management. During last year, AIA said it recruited more than 52,000 agents, bumping its representation up to about 250,000 agents, and it has about 20,000 employees across 13 Asian markets. It's known as AIG's Asia crown jewel, providing coverage to about 20 million customers, or close to a third of AIG's total customer base. Still, analysts say that even with bright prospects, the IPO faces plenty of obstacles. AIG itself said the offering depends on market conditions and regulatory approvals. "We need to remember that AIA will be up against the China growth story. Anybody who wants exposure to the insurance sector has the choice of buying China Life (SEHK: 2628) and Ping An," said Patrick Yiu, associate director with CASH Asset Management. "So, unless the terms of the IPO are very attractive, it may not be a huge success." AIG said it would seek a listing on an Asian stock exchange for AIA, though it did not specify which one. CEO Edward Liddy has said the company is leaning toward a Hong Kong IPO in the first half of next year. The spin off would result in a separate board of directors and management team for AIA and AIG. "Today's announcement represents a clear and formal roadmap for our independence," Mark Wilson, President and CEO of AIA Group, said in a statement late on Sunday. AIG first tried to sell AIA in a private transaction for up to US$20 billion last year, but failed to find a buyer willing to pay a high enough price. AIG previously suggested it could initially sell up to 20 per cent of AIA's market value in an IPO. On that basis, the size of AIA's public listing could raise more than US$4 billion. "Markets are very sensitive right now, especially with US corporations. Although AIG's Asian business [has] almost nothing to do with the US, its tradition is with AIG," said Alfred Chang, chief dealer with Cheer Pearl Investment. "I think in general, though, because liquidity is still good in Asia, this IPO will be successful." AIG was founded in 1919 in China, and was the first foreign insurer given the green light to reestablish itself there when the Communist government began to reopen the borders to outside business.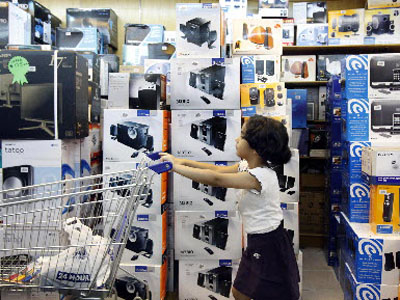 A young girl pushes a trolley inside a shpping mall in Singapore on Monday. Figures released on Monday by the government showed the country's export fell nearly 20pc in April and analysts say the economy is now expected to shrink by between 6.0 and 9.0 per cent this year. Singapore's main exports fell 19.2 per cent year on year in April, government data released on Monday showed, as the city-state struggles to find a way out of its worst recession in decades. Shipments of electronics extended their sharp fall from March and petrochemicals accelerated their decline to weigh down a strong showing by pharmaceuticals, the figures showed. Non-oil domestic exports (NODX) totalled S$11.32 billion (HK$59.63 billion) in April, the trade development agency International Enterprise Singapore (IE Singapore) said. NODX was down 17.3 per cent in March and 23.8 per cent in February. Global demand for Asian exports, including goods from Singapore, has been dwindling as the economic crisis forces consumers to tighten their belts. IE Singapore said April's decline was "due to contractions in both electronic and non-electronic" exports. "The bottom line, together with the China, Taiwan and South Korean data, is that Singapore's April NODX data is a reminder that the road to recovery is a bumpy one," said Song Seng Wun, a regional economist at CIMB-GK Research. Electronics exports tumbled 25.6 per cent in April, almost identical to the March decline, largely due to lower demand for personal computer parts, integrated circuits and disc drives. But shipments of pharmaceuticals, another major export, surged 41.16 per cent, reversing a 3.8 per cent shrinkage in March. However, this was not enough to turn exports around as petrochemicals dived 39.2 per cent in April, following a 31.6 per cent fall the previous month. "If not for a strong pharma showing, overall NODX would have declined by a larger magnitude," Mr Song said. Exports to Singapore's top 10 overseas markets declined, notably to the European Union, to which shipments contracted 31 per cent from 24 per cent in March, and the United States which fell 35 per cent after a 31 per cent drop in March. Mr Song said this highlighted the "still fragile state of global demand" for exports. Total trade in April reached US$58.84 billion, down 28.5 per cent year on year. Singapore fell into recession in the third quarter last year as the global downturn sparked by the collapse of the US sub-prime, or risky, mortgage market intensified and spilled over into the larger economy. The country's trade-dependent economy is expected to shrink by between 6.0 and 9.0 per cent this year as the country grapples with its worst economic downturn since independence 44 years ago.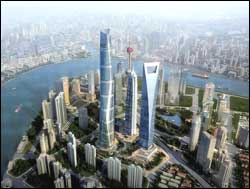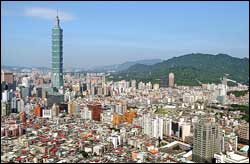 Powered by solar energy generated on its roof, Taipei 101, the world's tallest completed building, is not only a leader for its breathtaking height but also for its ecofriendly features. Finished in 2004, the skyscraper is a rare example of green design in Asia, a region with the world's busiest construction sector yet one of the poorest records for ecofriendly building. The mainland alone is said to be building half of the world's new floor space, but the vast majority of these new projects will be energy guzzlers. Environmentalists worry these buildings will produce high carbon emissions for decades to come. "Energy efficiency is fast becoming one of the defining issues of our times, and buildings are that issue's 'elephant in the room'," said Bjorn Stigson, president of the World Business Council for Sustainable Development. "Buildings use more energy than any other sector and, as such, are a major contributor to climate change," he added. In the mainland, 80 percent of the nearly one billion square metres of new buildings constructed every year are buildings that consume two to three times more energy per unit of floor space than buildings in developed countries, according to a report by the Asia Business Council. Beijing and other governments in the region are trying to encourage green construction, but Asia lags far behind Europe, which has a 2019 deadline for all new buildings to produce the same amount of energy they consume. Office buildings use at least 30 percent of an average country's total energy consumption and produce a similar proportion of their greenhouse gas emissions. Turning buildings green could reduce carbon emissions by 1.8 billion tonnes per year worldwide, according to the United Nations Environment Programme. That is easier said than done, especially in Asia, where the bottomline is often all that counts. Asia's price-sensitive builders balk at the steeper materials and construction costs for green buildings, about 5 percent higher, for features ranging from alternative energy systems to fixtures such as low-energy lights and reinforced glass that cuts down on heating and air-conditioning costs. Despite the initial higher cost of environmentally friendly construction, architects say that it pays for itself after five or 10 years due to lower energy and water bills. Apart from the energy savings, developers usually get higher rent yields if their buildings are "green." "Asia is the latecomer," said Peter Halliday, vice-president of Siemens Taiwan. "It's true that the developers are still holding back on green buildings, though over the life of a building you get your money back". Experts hope that pressure from Western firms for "green" office space, which includes features ranging from low-energy lights to waste recycling, may change that in the coming years. "There are an increasing number of multinationals and large overseas corporations that require green-rated buildings," said Tan Loke Man, head of the Malaysian Architects Association. "This will be the case as more and more companies become more environmentally concerned." China aims to reduce energy use by 60 percent in new buildings, offering tax rebates as incentives. But "enforcement is always an issue in China", said Janet Pau, from the Asia Business Council, which monitors green construction. "China needs to do more. They need a more coordinated building policy," she added. "Buildings last for decades and just by being there, they will slowly be damaging to the environment." The government's efforts, as well as demand from foreign firms for green office space, has spurred several high- profile projects that may kindle interest in low-energy buildings across the region. Shanghai Tower will minimize wind resistance and energy consumption when it is completed in 2014 at a cost of US$2.2 billion (HK$17.16 billion). The building will house 54 wind turbines to power heating and air- conditioning, along with a rainwater collection system. China has 166 projects registered by the Leadership in Energy and Environmental Design. By contrast, India has LEED certificates for 56 building projects and South Korea 49. LEED criteria include bike storage, low-water landscaping, recycled materials in new construction and waste reduction. Other energy-efficiency measures include simple improvements such as window insulation. Windows, for example, are the greatest sources of heat loss and air leakage, accounting for 11 percent of total losses of energy in buildings. Developers can reduce the carbon footprint of buildings by using zero- carbon materials, such as recycled wood, bricks and metal. Opting for local materials rather than those that require transportation also helps reduce the environmental impact. The message is slowly seeping in, helped by corporate responsibility programs and government aid. Taiwan's Chinatrust Bank broke ground this year on a super-green NT$15 billion (HK$3.52 billion) new headquarters in Taipei. Of that, NT$852 million is for ecofriendly features. The complex, due to open in 2012, will include low-power air- conditioning, site selection designed to reduce car trips and a campus that's 52 percent open space, including a public park, said Chinatrust secretary-general Thomas Chen. Chinatrust will offset the costs of making the complex green in three to four years and rent out a third of the space, likely to multinationals. "As far as I know, no space in Taiwan is as green as this one will be," Chen said. Singapore offers incentives of up to about US$4 per square meter for new energy-efficient buildings. It, too, hopes to win multinational tenants. "Once a government gives more incentives, things get done," said Kendrew Leung, a managing director with Savills Property Management in Hong Kong. "Now green building is a trend but not a must... It takes time to make it a habit."

China: China, whose stock market is the world's third-best performer this year, has from 300 to 400 companies waiting to hold initial public offerings, says CITIC Securities chairman Wang Dongming. That backlog will take two years to clear, added Wang, who heads China's biggest brokerage by market value, while speaking yesterday at a forum in Shanghai. China has not had an IPO since September. The decision on who to list and how to price the listing should be given to the investment bank, company and investors, Wang said. On that, the nation's securities regulator planned a new system for pricing IPOs and could soon end a moratorium on them, Fan Fuchun, vice chairman of the China Securities Regulatory Commission, said in March. Listings were halted because the market needed a rest, he added. The benchmark Shanghai Composite Index tumbled 65 percent in 2008, reaching last year's low in November. As Fan saw it, a mechanism is needed to narrow the difference between the IPO price determined through bids by institutional investors and the price when it starts trading. Social stability would also be a factor when deciding when to resume IPOs, the state-run Securities Times reported on April 27. CITIC Securities was the biggest underwriter of Chinese shares in 2008. The Shanghai Composite Index is the third best performer this year among about 92 equity benchmarks tracked by Bloomberg, gaining 45 percent.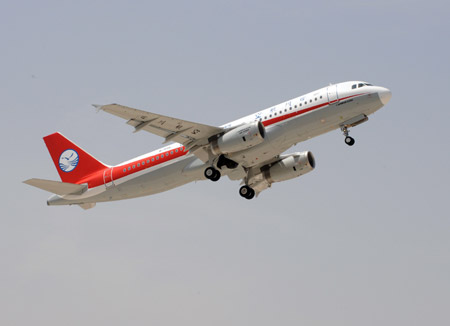 The first Airbus plane built outside Europe made a successful four-hour maiden flight on Monday in mainland, European consortium EADS said. Airbus began assembling some A320 jets in Tianjin near Beijing in September from fuselage parts shipped from Europe, increasing its presence in the world's fastest growing markets for large aircraft. "This A320 assembled in China unquestionably demonstrated the same quality and performance as those assembled and delivered in Hamburg or Toulouse," Fernando Alonso, senior vice-president at Airbus, said in a statement. Airbus aims to reach output of four A320s a month in mainland by the end of 2011. Airbus has estimated that mainland would need more than 3,000 large aircraft between 2006 and 2025, including 180 super jumbo passenger planes. The first aircraft will be delivered to Dragon Aviation Leasing in June and be operated by Sichuan Airlines. Mainland firms have ordered more than 700 aircraft from Airbus, the majority of which are from the A320 family of planes, it said. Airbus and US rival Boeing have been turning to Asian markets, led by mainland, for growth as demand weakens at home. But Airbus faces criticism from European unions who say the move adds to outsourcing fears amid the recession and could result in the loss of European technology to a potential jet-making rival. Beijing may need an estimated US$30 billion to realise an ambitious goal to manufacture passenger jets with more than 150 seats and freighters capable of handling more than 100 tonnes of cargo to take on Boeing and Airbus by 2014.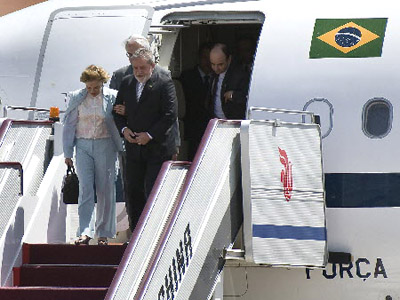 Brazil's President Luiz Inacio Lula da Silva and his wife Marisa arrive at the Beijing airport on Monday. Brazil's President Luiz Inacio Lula da Silva arrived in Beijing on Monday with 240 business leaders for a visit aimed at boosting trade with China and promoting what he called a "new economic order." He was due to meet President Hu Jintao and other leaders during the three-day visit, and promote oil contracts, sales of Embraer aircraft, meat exports and biofuel technology for cars, officials in Brazil said. Mr Lula and Mr Hu, who were set to meet for dinner later Monday, could also touch on a proposal made by the Brazilian president to conduct bilateral trade through each nation's currency, cutting out the US dollar as an intermediary. Mr Lula's visit, which comes between a trip to Saudi Arabia and Turkey, will also stress political co-operation in an era that has seen a rise in the role of key emerging nations to fight the global financial crisis. "I think the trip that I am about to embark on... is one of the most important I am going on to defend a new economic order and a new commercial policy in the world," Lula told reporters before leaving Brazil. Roberto Jaguaribe, a Brazilian foreign ministry official, said last week the trip represented a "reorganisation of the international scene" in which the top emerging economies were playing a bigger role in world affairs. Jiang Shixue, vice president of the Chinese Association of Latin American Studies, said Mr Lula could follow up on the G20 summit in London in April, which agreed that global cooperation was essential for economic recovery. "Lula may want to discuss how to reform the international financial order and promote developing countries' role, on which the two countries should develop a common stance," he said. In comments carried Monday by Xinhua news agency, Mr Lula emphasised that a strategic partnership set up with China in 1993 "may... lead to a new global economic, scientific and trade landscape in the 21st century." Boosting bilateral trade would also be high on the agenda for Lula as he met with Hu Monday, and China's Premier Wen Jiabao and other top leaders on Tuesday. China – an energy-hungry nation that is hugely interested in Brazil's natural resources – in March became the Latin American nation's biggest trading partner, ahead of the United States. Brazilian exports to China – mainly iron ore and soya products – so far this year have grown 65 per cent over the same period last year, a jump from US$3.4 billion to US$5.6 billion. Jiang said that Brazil was also an important country for China on other aspects, such as its advanced biofuel technologies and aviation co-operation. "The trade relationship that China enjoys with Brazil is more complementary than with any other Latin American country," he said. On Brazil's part, state-run oil company Petrobras would be interested in winning deepwater exploration contracts in China, Trade and Industry Minister Miguel Jorge said last week. Brazil's BNDES development bank was also keen on negotiating an 800-million-dollar credit line with mainland officials. Mr Lula is due to leave Beijing for Turkey on Wednesday, a day after an official ceremony presided by Mr Hu where several cooperation documents will be signed.
Beijing said on Monday it hoped the new US ambassador would help develop a "new era of relations between the two nations, two days after President Barack Obama unveiled his pick to the critical post. Mr Obama revealed on Saturday he had chosen Jon Huntsman, the current governor of Utah, a rising Republican star and a fluent Mandarin speaker, to take up the posting in Beijing – one of the most important for the United States. "We hope the new ambassador to China will play a positive role in promoting the development of a new era of Sino-US relations and friendship between the two peoples," the foreign ministry said. Relations between the two nations have taken on rising importance in the last decade as China has embraced its role as a leading global economy and has pushed for regional security amid tense standoffs with North Korea. But Mr Huntsman, the Mormon son of a billionaire chemical businessman, will face tough challenges in his new position on issues such as trade and human rights. Mr Huntsman, who was a national campaign co-chair of Mr Obama's rival John McCain in the last year election, and had plans to run for president in 2012, replaces the current long-serving US envoy Clark Randt.
Looting attacks on Chinese-owned shops spread across Papua New Guinea over the weekend as a wave of anti-Asian sentiment swept the country, reports said on Monday. Shops in Madang on the north coast and Goroka in Eastern Highlands province of the Pacific nation were ransacked by mobs of men, women and children, The National newspaper said. The looting follows attacks on Chinese-owned shops in the capital Port Moresby and the coastal town of Lae last week. Looters said the businesses should be run by locals and that the Chinese owners were overcharging for their goods, the National has reported. Four Asian shops in Goroka were stripped of deep freezers, radios, TVs, washing machines and groceries in early morning raids on Sunday, Eastern Highlands provincial police commander Augustine Wampe told the paper. In Madang on Saturday, one shop was looted and two damaged before police arrived and drove off the mobs, The National said. Police in several other towns, including the Western Highlands capital of Mount Hagen, were patrolling the streets to prevent rioting or looting aimed at Chinese traders. The governor of the National Capital District which includes Port Moresby, Powes Parkop, blamed agitators for stirring up sentiment against Asian merchants and assured the traders they were safe and should reopen their shops. He told a news conference that Papua New Guineans should understand that the right reaction to the alleged influx of Asian merchants was not expelling them or restricting their ability to trade, the newspaper said. "What would happen if all our Chinese businessmen and women closed shop and left tomorrow, will it solve the problem?" he asked. "If tomorrow all our Chinese merchants leave, it will still not get us into business." The violence against the traders followed a rampage by local mine workers on May 8 at a major nickel project in which several Chinese staff were injured and vehicles and equipment trashed. The violence temporarily halted construction work at the US$1.37 billion Chinese-run Ramu mine's Basamuk refinery site in Madang. The Chinese government-owned Metallurgical Group Corporation, known as MCC, is the majority owner of the mine, which has been troubled by allegations of mistreatment of local labor.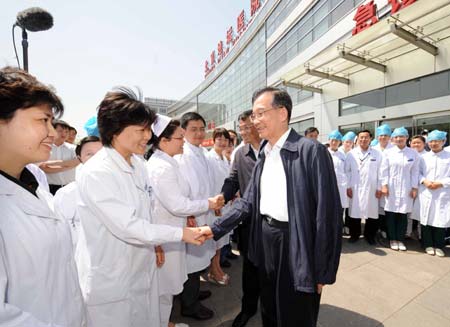 Chinese Premier Wen Jiabao (R) and Vice Premier Li Keqiang (2nd R) shake hands with medical staff of Beijing Ditan Hospital in Beijing, capital of China, May 17, 2009. Wen Jiabao and Li Keqiang on Sunday visited Beijing's first diagnosed A/H1N1 flu patient and medical staff at Beijing Ditan Hospital, and inspected the Chinese Center for Disease Control and Prevention.
Even as China undergoes one of the most rapid urban transformations in the world, the Chinese government is promoting sustainable development to curb the country's growing rate of carbon emissions, a World Bank urban specialist said in Beijing on Friday. "China is moving faster" than most governments in adopting sustainable urban development, Daniel Hoornweg, the World Bank's lead urban specialist, told Xinhua at the launch of a World Book annual report that compiles statistics on environment-related issues. "The government is encouraging that cities be developed to follow a low-carbon path." The World Bank report, the Little Green Data Book 2009, found that cities are the key to the cause and abatement of global warming. The distinction lies in density. Cities derive 72 percent of their energy from fossil fuels; however, people who live in more dense city-centers, on average, often produce 30 to 50 percent less greenhouse gas emissions than their suburban neighbors. For example, New Yorkers produce one-third to one-half less greenhouse gasses than someone living in Denver, said Hoornweg. As urbanization continues to spread around the world, an estimated 70 percent of the earth's population will live in cities by 2050. Therefore, the World Bank argues that sustainable urban planning offer the best means to slow the rate of global warming. Approximately 90 percent of China's gross domestic product will come from urban infrastructure that is not yet built, said Hoornweg, who added that cities and development are inextricably linked. "There is a backlog of urban work that needs to be done," Katherine Sierra, the World Bank's vice president for sustainable development told reporters. "Climate change adds to the urgency."
May 19, 2009

Hong Kong: A top Guangdong official said yesterday he hopes to see further breakthroughs in cooperation with Hong Kong on economic development and environmental protection. The new spirit of cooperation came on the third day of a four-day visit by 25 members of the Legislative Council's panel on economic development and environmental affairs. The delegation will end its Guangdong visit today after visiting the landing point in Zhuhai of the Hong Kong- Zhuhai-Macau Bridge. During a session with Guangdong deputy governor Wan Qingliang, the most senior official the delegation has met on the trip, League of Social Democrats' Albert Chan Wai-yip raised the issue of the 1989 Tiananmen Square crackdown. "I asked him as a provincial leader the best way to advocate the vindication of the June 4th Movement, how we can raise the public's historical awareness, and how to help make the central government admit responsibility for the bloodshed," Chan said. "Wan said he could discuss the issue with me in a private meeting, but that the topic was beyond today's scope of discussion." Chan said he took with him two books about the movement that were handed to Wan's assistant by Legco secretary general Pauline Ng Man-wah. "I appreciate Wan's sense of humor and tolerance in responding to my question, and there was no hostility. He handled the issue better than our Chief Executive Donald Tsang Yam-kuen," said Chan, adding he had achieved what he set out to do, which was to raise the issue during a formal occasion. On Thursday, when asked whether he supported the vindication of those who took part in the movement, Tsang talked about what the mainland had accomplished since 1989, and said this represented the community's views. His response sparked outrage among the pan-democrats, who stormed out of the Legco chamber. Legco president Jasper Tsang Yok- sing, who is leading the delegation in Guangdong, described the atmosphere of the Wan meeting as "very cordial." "I can understand why the legislator raised such an issue, as they seldom have the opportunity to meet a provincial leader. But I hope they will not bring up a political issue when we have working level meetings in the future," Tsang said. Wan spent more than an hour talking about the development of Guangdong. "The reason why Hong Kong is successful and has achieved such glorious results is because of the people's pragmatic spirit," Wan said. "I hope we can have more co- operation on the economic and environmental fronts, and I look forward to more consensus and new breakthroughs for the benefit of the people in the two places." Only five legislators were given a chance to raise questions owing to time constraints. The delegation also visited incinerators and saw the management of solid waste in Guangzhou.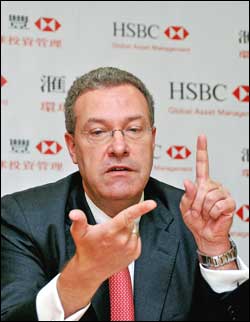 HSBC Jintrust will launch a large-cap Chinese equity fund today to offer a more stable investment option for mainland retail investors, HSBC Global Asset Management's regional chief executive told The Standard. The fund from the Shanghai-based joint venture between HSBC (0005) and Shanxi Trust & Investment Co will invest in large-cap A-share stocks, HSBC Global Asset Management Asia-Pacific chief executive Rudolf Apenbrink said. "We think large-caps will give investors greater stability going forward," Apenbrink said. "We expect a stable, long-term return with this fund." HSBC Jintrust hopes to launch two or three funds in the mainland this year. Apenbrink is cautious on global markets and thinks a recovery will take longer than most people expect. There are signs of the economy bottoming out and some recovery may come in the second half, but the world will still see "very low, slow growth" for the next two or three years, Apenbrink warned. "The uncertainty will stay with us, and ... that means more volatility." HSBC Global Asset Management's Chinese equity and Indian equity funds will be revenue drivers for the group this year as they are likely to see the biggest inflows, according to Apenbrink. In March, HSBC Global Asset Management launched Taiwan's first on- shore Chinese equity fund, which raised US$94 million (HK$733.2 million) in its initial subscription period. It also launched a Chinese equity fund in Japan the same month that raised nearly US$60 million in the initial offering. In the wake of the Lehman minibond fiasco, many local investors have turned away from investment funds and bought more insurance products, according to Apenbrink. Hong Kong's asset-management industry needs to work to rebuild investors' confidence, he said. "That means ... creating very simple products, and being very transparent when it comes to things like costs," he said. HSBC Global Asset Management recently launched an investment-grade corporate bond fund in Hong Kong that aims to offer investors annual returns of 4 to 5 percent.
Powerlong Group, a commercial and residential developer, plans to submit a new listing application to the Hong Kong stock exchange within a month and hopes to raise as much as HK$1.8 billion by reviving a long-awaited initial public offering in the fourth quarter, sources said. The Fujian-based company is likely to become the first property listing candidate in Hong Kong in 11 months as it seeks to take advantage of the recent pick-up in property prices and transactions. Powerlong cancelled a share sale in July last year because of weak market sentiment and poor valuation. Sources said Goldman Sachs walked away from the deal and the company hired another bank as a replacement. Australian bank Macquarie was still part of the syndication group. "The company has been aggressively paying down debt over the past 12 months and it now has a healthy balance sheet and is asking banks for more credit lines to strengthen its capital reserve," a source said. Powerlong develops residential, commercial and hotel projects in Fujian and owns several investment properties in other provinces. Sources said other mainland property firms that shelved listing plans last year could come back again this year as the sector advanced because of the gradual market recovery. Hangzhou-based Zhong An Real Estate, a company about the same size as Powerlong, surged 40.18 per cent on Friday to HK$2.88. However, it would take mainland property firms about six months to prepare an application for a new listing as they have to draft new sets of financial data. Companies that have deferred their listing plans include developers such as Shenzhen-based Excellence Group and Guangzhou Fineland Real Estate. Lee Wee-liat, a senior property analyst at Nomura International (Hong Kong), saw a buying frenzy during the Labour Day holiday on May 1, with strong sales reported in cities including Beijing, Shanghai, Guangzhou, Shenzhen and Chengdu. As developers continue to record strong sales and clear inventories, Mr Lee said land acquisitions would be a key catalyst in lifting their net asset values and stock prices. "This is particularly the case, given that land prices across major cities have fallen 30 to 50 per cent from their peaks in the second half of 2007. Any developer buying land bank this year should see margin protection moving into 2011 and beyond," he said. Liao Qun, the chief economist of Citic Ka Wah Bank, said the fact that developers were digging deeper into their pockets to buy land indicated their optimism for the market. "Last year, developers were happy not to buy land, but the situation is quite the opposite now," he said.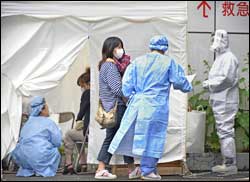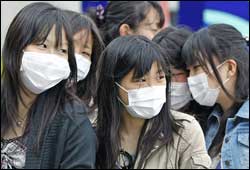 Get your act together! That's the message to the United States from health chief York Chow Yat-ngok today following the third confirmed case of human swine flu (H1N1) in the SAR. The latest case, confirmed yesterday, is a 23-year-old mainland student who flew in from New York on Saturday night. This comes less than a week after a 24-year-old man returning to Hong Kong from San Francisco on May 11 was confirmed to have H1N1. Hong Kong's first case was a 25-year-old Mexican tourist who has since been discharged. Chow is in Geneva for a meeting of the World Health Organization at which Hong Kong and several other jurisdictions are expected to press the United States to step up its pandemic controls. Three infected areas - the United States, Canada and Mexico - are expected to update the world body on steps they have taken to stop the spread of the disease. "Dr Chow has already sent a letter to the United States calling for exit- screening measures to prevent infected passengers from boarding flights to Hong Kong," Undersecretary for Food and Health Gabriel Leung said yesterday. "I strongly believe there are other jurisdictions besides Hong Kong that will want to discuss the issue at the WHO conference." The man involved in the third confirmed case comes originally from Guangdong. He was detected during temperature screening at Chek Lap Kok and sent by ambulance to Princess Margaret Hospital. He had no contact with the community upon his arrival. The patient had a running nose and cough on Thursday. The following day, he boarded Cathay Pacific flight CX831 - code-sharing with American Airlines' AA 6091. The aircraft arrived in Hong Kong at 7pm on Saturday. The man started to develop a fever on the aircraft and wore a mask during the flight. He also declared his symptoms on his health declaration form, according to Centre for Health Protection controller Thomas Tsang Ho-fai. All passengers who sat three rows in front and behind the man's 60B seat are being traced. Hong Kong authorities have also informed Guangdong about the confirmed case. "The patient was wearing a mask on the plane which helped control the spread of the virus on board. However, we are also aware that it was a long-haul flight of more than 10 hours and that has also increased the health risk," Tsang said. According to Cathay Pacific, there were 63 passengers sitting near the patient. Of these, 37 landed in Hong Kong and 26 have since left for Manila, Shanghai, Beijing, Taipei, Hangzhou, Dhaka, Kota Kinabalu and Bangkok. A total of 293 passengers, four aircrew and 16 cabin crew were on board. Health authorities are contacting all crew members to determine if a medical follow up is necessary, the airline said. Asked if Hong Kong will beef up measures at checkpoints, Leung said: "The third confirmed case shows our measures are effective in picking up patients." In Beijing, Premier Wen Jiabao yesterday visited - via the hospital's audio-visual communications equipment - the capital's first patient confirmed with human swine flu. The 18-year-old woman's condition has improved. The woman, who studied in a university in New York State, is the country's third confirmed case. Wen said China is well prepared and all students who study overseas can return home. Meanwhile, Japan has reported 82 infections in Kobe and Osaka, of which 78 are local and four imported. Travel Industry Council executive director Joseph Tung Yao-chung said he is not aware of any cancellations of outbound tours from Hong Kong to Japan. But some agencies have offered customers the option to change itineraries. In a radio interview recorded earlier, Chow admitted the swine flu scare has delayed the SAR's long-awaited health- care financing reform. Many of those involved in the reform have been tasked with handling the flu outbreak so the second round of public consultation, originally scheduled for the middle of the year, will be delayed, Chow said.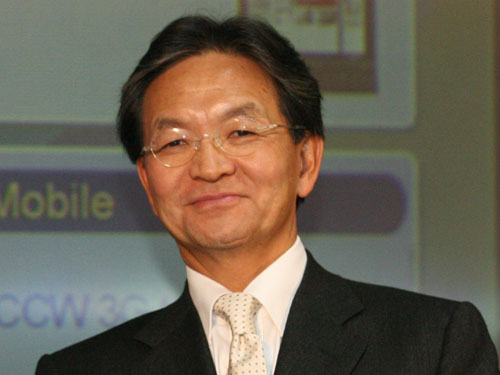 Hong Kong's movie industry should look beyond the mainland and open up markets in Europe, the head of the city's film development body said in Cannes yesterday. Jack So Chak-kwong, speaking before the Trade Development Council's annual cocktail reception, said he had met several European delegations. He said French producers expressed great admiration for Hong Kong films. Indeed, the relationship between the two markets has been growing stronger. Unifrance, the 60-year-old organisation responsible for promoting French cinema worldwide, was the third-largest foreign contingent at Hong Kong's Filmart in March. Johnnie To Kei-fung's Vengeance, which premiered yesterday at Cannes as one of 20 films pursuing the festival's top prize, the Palme d'Or, is a co-production between Hong Kong's Media Asia and France's ARP Selection. The film, shot on location in Macau and Hong Kong, stars rock icon Johnny Hallyday as a former hitman who comes out of retirement to avenge the death of his daughter. Mr So, who chairs the Film Development Council and the Trade Development Council, was upbeat about the fortunes of Hong Kong's film industry, saying he hoped this year would yield at least 60 films. "It is important that the industry should not just rely on its old glories and simply recycle cops-and-robbers thrillers or gangster films," he said. But it also appears eyes are shifting to the mainland: the council has changed the name of its big bash at Cannes from Hong Kong Night to China Night: Celebration of 100 Years of Hong Kong Cinema. Mr So said people "should not read too much" into the change, but added the mainland's State Administration of Radio, Film and Television (Sarft) had approached him about co-running the reception. In a speech that evening, Rita Lau Ng Wai-lan, secretary for commerce and economic development, said the international success of many films jointly produced by Hong Kong and the mainland made the city an ideal gateway for overseas filmmakers looking to tap into the Chinese market. "With China's economic growth in the last 10 years, we have witnessed a rapid growth of mainland-Hong Kong co-productions, from about 10 titles per year in 2004 to about 30 titles a year now," she said. "The sustained box-office success of co-produced films has encouraged Hong Kong filmmakers to invest more in the China market. This experience is invaluable to overseas film companies keen to develop the China film market. I encourage you to look to Hong Kong as the gateway to a successful China entry. The mainland authorities and the Hong Kong government will continue to work together closely to draw up more measures to facilitate the development of co-productions." Mrs Lau said the international recognition of co-productions like Crouching Tiger, Hidden Dragon and If You Are The One bode well for the development of Hong Kong's film market. If You Are The One grossed US$46.2 million at the box office on the mainland, making it the country's top Chinese-language film last year. Co-productions are treated as domestic films by the mainland under its Closer Economic Partnership Arrangement free-trade pact with Hong Kong. Compared to films imported directly from Hong Kong, such co-productions enjoy preferential profit-sharing arrangements. Between seven and nine of the mainland's top 10 Chinese-language films over the past three years were co-productions with Hong Kong filmmakers. Vengeance is not the only Hong Kong film in official competition at Cannes. Mainland director Lou Ye's Spring Fever is nominally a French-Hong Kong co-production, as it is partly funded by a company he set up in Hong Kong last year. Sarft gave Lou a five-year ban after he showed his last film, Summer Palace, at Cannes in 2006 without first clearing the censors. Lou secretly filmed Spring Fever in Nanjing last year. Neither of the two films are seen as frontrunners for the Palme d'Or, however. With the festival now halfway over, French director Jacques Audiard's A Prophet remains the critics' favourite, followed by Jane Campion's Bright Star - about the 19th century English poet John Keats and his lover Fanny Brawne. More big hitters are to come this week, with films by Pedro Almodovar, Ken Loach and Michael Haneke making their bows this week. The jury is presided over by French actor Isabelle Huppert, who will give out the awards on Sunday.
Hong Kong companies are expected to keep busy in the small and medium-sized merger and acquisition space for the rest of the year and in 2010 with potential activity including privatisations, stake sale and overseas acquisitions, bankers say. "Hong Kong companies will opt for privatisation because of lower corporate valuations while there will be fewer leveraged transactions across the region in the coming two years because of credit tightening," said Edward Lam, head of Hong Kong investment banking at Citi. Recent transactions include the 40 HK cents a share offer by Crocodile Garments chairman Lam Kin-ming in February to shareholders to delist the company. That represented a 92.3 per cent premium to the company's last traded price. He raised the offer to 42 cents in April. The shares are trading at 41 cents each and a shareholder vote on the deal is set for May 26. Hong Kong Catering Management on May 7 announced the company would be bought out. Its shares doubled in pre-market trading that day and have dropped 8.25 per cent since. The restaurant and bakery operator has a market capitalisation of HK$307.44 million. Acquisitions focusing on what a company does best are more likely. "We expect firms will seek to capitalise on existing market conditions by simplifying their corporate structures and strengthening their core businesses ahead of a return to previous growth rates throughout the region. "The recently announced offer by Shui On Construction and Materials (SEHK: 0983) (Socam) for China Central Properties is an example of the type of corporate actions that we expect to see more of in coming months," said Gordon Paterson, Deutsche Bank head of mergers and acquisitions, Asia. Socam raised its offer for China Central, a London-listed firm that invests in distressed property firms on the mainland, by 21 per cent on Tuesday. The independent directors of China Central recommended the revised offer, which gives shareholders the option of an all-stock or cash-and-stock deal that could value the company at as much as US$383 million. Li & Fung, which supplies clothing and other products to some of the world's largest retailers, on Wednesday said it was seeking a major acquisition to meet its 2010 earnings targets. The company is raising US$348 million from a share sale to fund such a purchase. Techtronic Industries (SEHK: 0669), a power-tool maker, also crops up occasionally as a potential acquirer overseas. The company bought troubled US vacuum maker Hoover in December 2007 for US$107 million. That move helped the company add depth to its floor product business that already included Dust Devil, Royal and Regina. Companies in Hong Kong are also bringing in fresh cash by selling stakes to private equity groups and sovereign wealth funds. Such deals are called private investment in public equity. Li & Fung raised HK$3.88 billion in September when it sold a 4.62 per cent stake to Temasek Holdings, an investment arm of the Singapore government. Total outbound merger and acquisition activity from Hong Kong totalled US$5.68 billion, just over half the volume at this time last year when deal values stood at US$10.74 billion, according to Dealogic data. Overseas companies buying into Hong Kong are about even year on year with US$1.15 billion in deals so far this year.
Hong Kong is committed to assisting entrepreneurs to succeed with the help of innovation and technology, through provision of infrastructure facilities and funding programs, an official of Hong Kong Special Administrative Region government said on Saturday. Speaking at the opening ceremony of Innovative Entrepreneur of the Year 2009, Andrew Lai, deputy commissioner for Innovation and Technology (ITC) of Hong Kong, said that the Small Entrepreneur Research Assistance Program (SERAP), funded by ITC, provided start- up capital for technology entrepreneurs and companies. "With a maximum funding of 4 million HK dollars for each approved project on a dollar-for-dollar matching basis, SERAP helps entrepreneurs to undertake technological research and development projects with business potential," he said. Lai said the ITC also caters to different funding needs by providing various funding programs such as the Internship Program, Patent Application Grant and Design Smart Initiative. "In the ever-changing global market, entrepreneurs have to grasp the opportunity to build our own brands and forge ahead towards high value-added businesses with creativity and innovative technology," he added. The theme for the 13th Innovative Entrepreneur of the Year this year is "Better Future by Innovation". A total of 112 entrepreneurs have been awarded over the past 12 years.
Director Ang Lee (C) and his wife Janice Lin (L2) have a group photo taken with US actors Demetri Martin (R2) and British actress Imelda Staunton (L) on the red carpet as they arrive for the screening of the film "Taking Woodstock" at the 62nd Cannes Film Festival in Cannes, France, May 16, 2009. "Taking Woodstock" competes with other 19 films for the prestigious Palme d'Or which will be awarded on May 24.
Cheung Kong Infrastructure (1038) said it has HK$13 billion earmarked for acquisitions mainly in countries where the firm already has investments. Chairman Victor Li Tzar-kuoi said it set no timetable for any deal. "We are working hard to seek new projects," Li said yesterday. "Our capital is adequate with about HK$13 billion cash for new projects but it is our tradition to be careful." "We are eyeing many projects, mainly in places where we already have business and would be more likely to be put in consideration," said Li. The company currently has infrastructure investments in China, Australia, New Zealand, United Kingdom and Canada. Before any acquisition is completed, Li said the company will put some money into corporate bonds as a short-term investment. He said CKI bought corporate bonds of sister companies under the Cheung Kong Group umbrella in the secondary market, due to its familiarity with those companies' credit standings. The company announced in April it may acquire connected debt securities of up to HK$2.2 billion issued by Hutchison Whampoa (0013). When asked if the company would distribute a higher dividend amid the current liquidity level, Li said shareholders are happy with the cash position which would potentially generate more returns. Li said CKI's capacity to make construction material is adequate to cope with the additional demand coming from the government's new infrastructure projects. CKI's foreign exchange losses should be lower than the HK$631 million recorded at the end of December due to the lower Japanese yen, Li said. The firm's net income declined 7.3 percent to HK$4.42 billion last year, mainly due to an unrealized mark-to- market loss on the 30-year loan of 30 billion yen (HK$2.45 billion) borrowed in 2002. Shares of CKI rose 0.54 percent yesterday to close at HK$28.20.
A 23-year-old male student returning to the mainland from New York has become Hong Kong's third confirmed case of swine flu. The confirmation came yesterday as Secretary for Food and Health York Chow Yat-ngok met World Health Organisation chief Margaret Chan Fung Fu-chun and Health Minister Chen Zhu in Geneva ahead of a session of the global health body's governing assembly, where Dr Chow is expected to press the United States to screen outgoing air passengers. Two of Hong Kong's three confirmed cases of swine flu have travelled from the US. In the latest case, the student, a Guangdong resident who travelled on a Cathay Pacific (SEHK: 0293) flight from New York, was picked up by an infrared temperature screener on arrival at Chek Lap Kok at about 7pm on Saturday after he indicated on a health declaration form that he had a cough. He had a fever of over 38 degrees Celsius and was immediately sent to Princess Margaret Hospital, Centre for Health Protection controller Thomas Tsang Ho-fai said. The man had a cough and runny nose on Thursday and developed fever on the plane. He wore a mask during the flight. The centre is tracing 63 passengers who travelled in the seven rows closest to the man, who sat in seat 60B. Cathay Pacific said 37 of the 63 passengers had landed in Hong Kong, while 13 travelled on to Manila, three to Dhaka, and others to cities including Beijing, Taipei and Bangkok. Six crew members had served the affected area. Dr Tsang said although the patient had worn a mask during the flight, passengers and crew members who had close contact with the man would still needed to be quarantined as it was a long-haul flight. He said the people concerned would be quarantined for seven days in the Lady MacLehose Holiday Park, if they were still in Hong Kong. CX831, a code share with American Airlines flight AA6091, carried 293 passengers, four pilots and 16 cabin crew aboard a Boeing 777-300. At their meeting yesterday, Dr Chen gave "full support" to Hong Kong's action against swine flu and said the city had done an "excellent job", a spokesman for Dr Chow said. Dr Chan, meanwhile, told Dr Chow she appreciated, and was confident in, Hong Kong's effort to combat the disease. Dr Chow and Dr Chen are scheduled to have a side meeting today with US Secretary for Health and Human Services Kathleen Sebelius, at which Dr Chow will repeat his appeal for more stringent measures to be taken by the US to stop an export of swine flu cases. "At least health advice should be given by the US to outgoing air passengers that people who feel sick should not get on board," Dr Chow's spokesman said. Dr Chow will attend the assembly's briefing on the swine flu situation by the three most-affected countries - Mexico, the US and Canada. The WHO has said it did not recommend entry or exit screening "because the virus has already spread to too many countries". But the WHO's pandemic response plan published in April recommended that the first countries affected "consider implementing exit screening as part of the early global response". Meanwhile, the centre said 12 people who had been tested for swine flu, officially called influenza A(H1N1), were cleared yesterday, with results pending for two others.

China: China Yangtze Power plans to pay its parent 107.5 billion yuan (HK$122.07 billion) for the remaining 18 generators of the Three Gorges Dam project it does not yet own, in what would be the largest asset injection deal by a mainland energy firm. The proposed acquisition by the listed flagship of the nation's largest hydropower projects operator, China Yangtze Three Gorges Project Development, will be funded by a combination of cash, debt and new shares. Yangtze Power announced the plan as trading in its shares was due to resume today after being suspended for just over a year. It would be among the largest asset injection deals by mainland firms, including China Mobile (SEHK: 0941, announcements, news) 's 256.15 billion yuan telecommunications network acquisition in 2000 and a 101.4 billion yuan deal in 2001. The proposed deal comes much earlier than the 2015 date at the latest that Yangtze Power indicated for acquiring all the generators when it listed in Shanghai in 2003. "The transaction allows Yangtze Power to expand its hydropower business quickly, raise profits and better manage risk," it said in a statement to the Shanghai exchange. The purchase will be paid for in 37.5 billion yuan cash, 20 billion yuan by Yangtze Power issuing 1.55 billion new shares to the parent, and the balance by the listed unit assuming 50 billion yuan of the project's debt.
Beijing yesterday unveiled a raft of measures aimed at helping Taiwan cope with the economic crisis. Closer agricultural co-operation, the promotion of Taiwanese produce on the mainland and more visitors from it to the island were among the policy directions in the eight-point plan announced by Wang Yi , director of the Taiwan Affairs Office of the State Council, while addressing a cross-strait conference. "This international final crisis, the likes of which has not been seen for many years, has had a severe impact on the whole world's economy," Mr Wang said. "But we believe that if compatriots on both sides of the strait work hard together and support one another, we will definitely be able to defeat current difficulties." Other measures Mr Wang announced include sending mainland companies to Taiwan to discuss investment in sectors including electronics, telecoms and car manufacturing; assisting Taiwanese firms expand their presence on the mainland and bid for major infrastructure projects; and allowing more Taiwanese professionals to sit for technical qualifications on the mainland. He also pledged to push for establishing a mechanism for cross-strait economic co-operation. Taiwanese law firms will also be allowed to set up offices in Xiamen and Fuzhou , both in Fujian province. Mr Wang said he hoped 600,000 mainland tourists would have visited Taiwan by the end of the year. He was delivering his keynote speech to the inaugural Straits Forum, attended by political figures, business leaders and representatives of community groups from both Taiwan and the mainland. The forum, which began on Saturday, is a week-long programme of events intended to promote closer relations between Taiwan and the mainland. The semi-official event is intended to be held annually, with the two governments taking turns as hosts, a sign of the blossoming relationship between the two former rivals over the past year. Chu Li-lun, deputy chairman of the Kuomintang, told the conference that achievements of the past 12 months were down to a "conceptual change". "One year ago, the Taiwanese people chose to make a change," he said, referring to the election of Taiwanese President Ma Ying-jeou. Mr Chu said this reflected concepts US President Barack Obama expressed in his inaugural speech in January. Jia Qinglin , chairman of the Chinese People's Political Consultative Conference, said recent progress in cross-strait relations was "completely unprecedented". Mr Jia said exchanges between ordinary people on both sides of the strait such as were taking place this week would help understanding to develop, "heart touching heart, hand linking with hand", between the two communities. The forum continues in Xiamen, Fuzhou, Quanzhou and Putian until Saturday.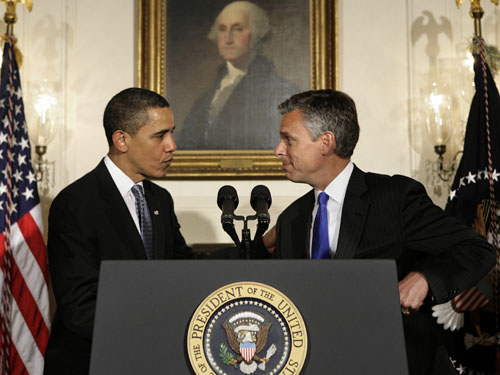 Barack Obama greets Jon Huntsman at the White House. US President Barack Obama's choice for ambassador to China seems a natural fit for the job - he speaks fluent Putonghua, has adopted a child from China and has served as an ambassador in Asia. Jon Huntsman, 49, governor of Utah and a former US trade official with deep personal and family business ties to China, takes on a delicate diplomatic role with a vital trading partner and one of the biggest sources of financing for the growing US government debt. "This ambassadorship is as important as any in the world because the United States will best be able to deal effectively with the global challenges of the 21st century by working in concert with China," Mr Obama said. But he also used his nomination of Mr Huntsman, a former ambassador to Singapore who was co-chairman of Senator John McCain's presidential campaign and has been mentioned as a potential Republican presidential candidate in 2012, to send a message to Beijing. "Improved relations with China will require candour and open discussion about those issues where we don't always agree, such as human rights and democracy and free speech, and will require that each of our nations play by the rules in open and honest competition," Mr Obama said. Mr Huntsman is the son of billionaire philanthropist Jon Huntsman, and his family founded chemical company Huntsman Corp, which has operations in China, including a factory in Shanghai. One of Mr Huntsman's seven children, daughter Gracie Mei, was adopted from China. Mr Huntsman quoted a Chinese aphorism as he accepted the nomination, which he translated as: "Together we work, together we progress." "This, more than anything else, I think, captures the spirit of our journey going forward," he said. A senior administration official said Mr Huntsman was seen as a problem-solver rather than a dogmatist, and called him a "no drama Obama type" who was fluent in the language and culture and well versed in critical issues affecting the region. Eswar Prasad, a senior fellow at the Brookings Institute, said Mr Huntsman's diplomatic skills "will be tested to the limit as there are many potential sources of conflict between China and the US, especially on trade, currency and environmental policies". "Once the world economy stabilises and the worst of the crisis is behind us, these simmering tensions will come bubbling back to the surface," he added. Mr Obama, like his predecessor, George W. Bush, has been mostly low key in any criticism of China's human rights record. Mr Huntsman made a name for himself in Utah by advocating a moderate agenda in one of the most conservative states. He drew the most attention for supporting civil unions, despite backing a state constitutional amendment banning same-sex marriage that passed in 2004. Before becoming governor in 2005, Mr Huntsman made millions as head of Huntsman Corp, a global chemical manufacturer with more than 12,000 employees. Revenues last year exceeded US$10 billion. Mr Huntsman served as deputy trade representative in the Bush administration from 2001 to 2004, and was ambassador to Singapore from 1992 to 1994, appointed by Mr Bush's father. Mr Huntsman dropped out of high school to play in a rock band, and spends his spare time playing in a band and mountain biking. He also rides a motorcycle and is a fan of motocross. His appointment, which requires Senate approval, gives him a chance to burnish his credentials and position himself as a viable presidential contender in 2016, if Mr Obama appears to be a strong candidate for a second term in 2012. Mr Huntsman will be 56 in 2016, still young enough to handle the rigours of a national campaign. Republican strategists say serving as US envoy to China will improve Mr Huntsman's reputation. LaVarr Webb, a Republican strategist in Utah, said the appointment was a plus for Mr Huntsman. "Clearly Governor Huntsman does have major political ambitions, and serving as ambassador to China certainly gives him foreign policy credentials," Mr Webb said.
Huawei Technologies, taking advantage of the mainland's expansion in telecommunications infrastructure, has unseated market leader Alcatel-Lucent to become the world's top supplier of optical networking equipment. The company posted revenues of US$790 million in the first quarter, compared with Alcatel-Lucent's US$639 million, from sales of switching, routing, transmission and access systems used mostly by telecommunications service providers to build their networks. "Huawei appears to have gained significantly from 3G mobile network builds in China, as well as subscriber growth in India," said Dana Cooperson, a vice-president for optical networking research at Ovum. He noted that the Shenzhen company also benefited from scant exposure to the weak North American market, which made it "largely impervious to the macroeconomic slowdown that its rivals blame for their continuing weak sales". Ovum data showed optical networking sales for Huawei, founded in 1988, rose 42 per cent in the past quarter from US$557 million a year earlier, while Paris-based Alcatel-Lucent's sales dropped 18 per cent from US$777 million. ZTE Corp (SEHK: 0763), the mainland's No2 telecommunications equipment manufacturer after Huawei, also gained in the quarter. It recorded a 21 per cent year-on-year increase in sales to US$109 million from US$90 million, enough to knock Cisco Systems from the ranks of the world's top 10 optical networking equipment suppliers. Global first-quarter spending on optical networking equipment reached US$3.6 billion. The Asia-Pacific accounted for more than US$1.2 billion of that total.
Beijing Capital Agriculture Group, which is centered on the city's major milk supplier Sanyuan Group and two poultry product makers, opened for business here on Saturday. Sanyuan has absorbed the asset of Huadu Group and will manage the operation of Beijing Dafa Chia Tai Co., the other party in the regrouping, Xue Gang, general manager of the new company, told a press conference to mark the event. He served as chief manager of Sanyuan. Total assets of the new company reaches 15 billion yuan (2.2 billion U.S. dollars) with the employee total nearly doubled to 40,000. The diary group alone has a company asset of 10 billion yuan. Sanyuan will serve as the listed company of the new agriculture group, according to the deal. The regrouping would help enhance the company's capacity in fields such as poultry raising, food processing, and bio-medicine development, according to Xue. Group President Zhang Fuping said the new company will make full use of the capital market and seek more ways to raise capital. In March, Sanyuan acquired the core asset of Sanlu Group at 616.5 million yuan, which went bust in the wake of the baby milk scandal that left six children dead and some 300,000 children sickened. It later gained 95 percent of the shares in Sanlu's company in Shandong Province for 49 million yuan. Sanyuan was one of the few large dairy producers whose products had been tested as being clear of melamine contamination. "One of our major task at this stage is business restructuring. We will not rule out the possibility of purchasing other assets," Zhang said. Huadu and Dafa, the other two parties of the new company, were two major domestic chicken product suppliers.
Singapore Airlines (SIA) said on Friday that it is not reviving talks on taking a strategic investment in China Eastern Airlines. However, SIA's chief executive officer Chew Choon Seng said that the airline is still keen to participate in China's airline sector, according to local radio 938live. In 2007, SIA and Singapore's state-owned investment company Temasek Holdings agreed to take a combined 24 percent stake in China Eastern, but the deal was called off as China Eastern's minority shareholders voted against the sale. SIA announced on Thursday that its net profit dived 92 percent on-year in the fourth financial quarter ended March. But the airline said that it will take delivery of five Airbus A380 super jumbos this year despite the downturn.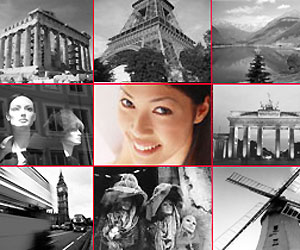 The flow of outbound tourists has almost come to a halt because people are afraid of contracting the A(H1N1) flu virus during travel. "Tours to almost all overseas destinations have seen a big drop, though many of these places have not reported even a single case of H1N1 infection," Zhang Qingzhu, marketing manager of China Comfortable Travel Services, said in Beijing on Friday. Group tours to Chinese mainlanders' favorite destinations such as Hong Kong, Japan, South Korea, the US, Europe, Australia and Southeast Asia have dropped the most, she said. "I can't think of any destination that has escaped the slump The decrease (in the number of tourists) is so shocking that I wouldn't like to give any figure," she said. Xiao Hong, manager of Hong Kong tours with China Travel International, said the number of mainlanders signing up for tours to Hong Kong in the first two weeks of May, "has fallen by 80 percent". Many tour agencies have cancelled group tours to the US, said Zhang Wei, manager of the China International Travel Service's outbound tourism department. "Very few people now come to travel agencies to enquire about tours. And most of those that come want to either delay or cancel their trips," he said. The sluggish business has given many travel agency employees a forced holiday. Shen Dahai, manager of Beijing-based China M&R Special Tours, said about 40 percent of his firm's tour guides and group leaders have no work because of the flu scare. "Last May, our firm had to borrow tour guides and team leaders from other tour operators," he said. People are afraid to travel abroad for fear of contracting the virus, Zhang Qingzhu said. "They're worried that taking a train or plane could expose them to danger. Their fear has hurt domestic tourism, too." Zhang Qingzhu was referring to the two H1N1 cases on the mainland. One of the patients flew from Beijing to Chengdu in Sichuan province, and the other took a train from the capital to Jinan in Shandong province. The two cases have forced health authorities to quarantine more than 200 people in Beijing. Beijing resident Gao Jingying, 68, who changed her plan to visit Taiwan with her husband this month, said: "No one likes being isolated in a hotel for a week after returning from a trip that is supposed to be a happy experience." Most industry insiders, however, said the H1N1 flu would not hurt tourism as much as SARS did. "At least we are getting some business now. During the SARS outbreak, tour agencies had to shut down operations," said Shen, who has been in the business for two decades. Li Xinjian, a professor in the School of Tourism Management of Beijing International Studies University, corroborates Shen. Transparent government reporting on the H1N1 flu has helped tourists choose the right destinations, Li said, and they know what the safest places are. Till Friday, the H1N1 virus had killed 71 people in Mexico, the US, Canada and Costa Rica.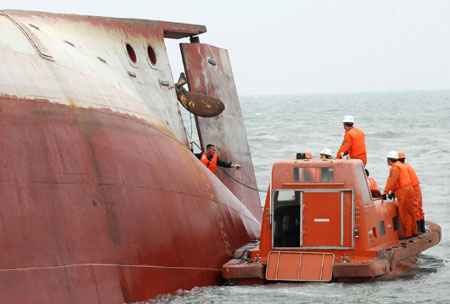 Survival chances are slim for the 11 missing people after a boat sank off the coast in northeast China's Liaoning province, a local maritime official said Sunday. "Survival chances for the 11 missing people are slim 60 hours after the boat sank," said Xu Hongbin, head of the marine search and rescue center in Huludao City. The boat was a sand carrier, coded Haida No. 8 and from Wuhan, capital of the central Hubei province. It capsized Thursday night. Xu said strong wind, high waves and improper operation might have led to the boat's sinking. There were 11 men and one woman on board. One body was found Friday.
May 18, 2009

Hong Kong: Hong Kong medical experts and officials have expressed growing frustration at the lack of action by the World Health Organisation to stop the spread of swine flu from North America to Asia. The agency - which is maintaining a level-5 alert, meaning it considers a swine flu pandemic imminent - has said it did not recommend entry or exit screening "because the virus has already spread to too many countries". But a check of the WHO's pandemic response plan published in April shows the first few countries affected should "consider implementing exit screening as part of the early global response". A Hong Kong-based expert called its explanation unconvincing. University of Hong Kong microbiologist Ho Pak-leung said the WHO had ignored Asian countries' interests. Hong Kong's health minister, York Chow Yat-ngok, last week called on the US to screen outgoing air travellers after a 24-year-old man who returned from San Francisco was confirmed as the city's second swine flu case. Dr Chow will appeal to US officials to introduce the measure when he attends the World Health Assembly tomorrow in Geneva. City health officials fear the US will export more cases to Hong Kong during the summer holidays. Of the 8,451 cases worldwide, 4,714 have been in the US. Mexico, where the first infections with the new flu strain were found, is the second-worst- affected country. The first swine flu cases in Hong Kong, the mainland, Japan, Thailand, South Korea, Malaysia and India all involved patients who flew from North America after being infected. Yesterday eight students in Kobe, Japan, tested positive for swine flu - the first infections in the country of people who had not travelled abroad. Nine students in nearby Osaka are also suspected to have swine flu. The WHO's previous pandemic plan, published in 2005, said areas with human infection should conduct thermal scanning of travellers or measure their ear temperatures. The 2009 plan does not include such detailed suggestions. A senior medical source involved with Hong Kong's response plan said the action by the WHO against swine flu - officially called influenza A(H1N1) - "failed to match its level-five pandemic response". He said some health officials agreed with him. "Exit screening is a basic health measure to delay the spread of the virus ... as long as [the WHO] says a pandemic is likely, it should act according to that response level." During the 2003 severe acute respiratory syndrome outbreak, exit measures were recommended by the WHO in four affected areas, including Hong Kong. WHO spokesman Dick Thompson said: "Sars is different from flu. Sars did not transmit from well persons. We know that flu is transmissible before an infected person develops symptoms. Exit screening for flu would therefore produce only a false sense of security." Professor Ho said: "We need a basket of measures in an outbreak. Exit screening is useful because it can raise people's awareness and deter sick people from travelling." Mr Thompson said the WHO urged the unwell not to travel.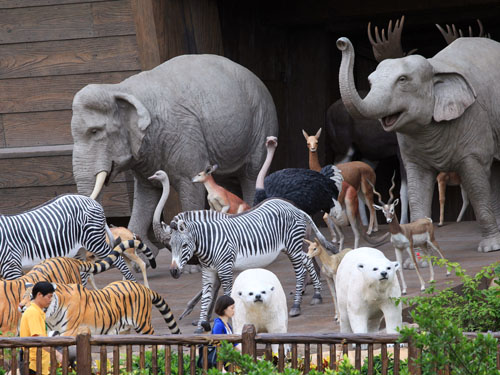 When it started raining at 9.30am yesterday, it wasn't exactly coming down in biblical proportions but it was still fitting, as the gates were opening on Hong Kong's own version of Noah's Ark. Under the Tsing Ma Bridge, the 25,000-square-metre "full-size replica" of the ark was open for a special preview after more than 10,000 invited patrons - mostly from community groups - put the facilities through their paces in the past four months. The ark is the centrepiece of the HK$1 billion Ma Wan Park - built by Sun Hung Kai Properties (SEHK: 0016) and now operated by an advisory committee set up by the construction giant and the government. "We think this is different from anything else in Hong Kong," said Spencer Lu Chee-yuen, Sun Hung Kai's project director. "The feeling in here is of love and harmony." Noah's Ark was a ship that featured in Genesis in the Bible. God decided to destroy all sinners with a flood, but allowed Noah to save his family and two of every animal on an ark to later repopulate the Earth. As for the latter-day ark, a few of the attractions proved a little too "Old Testament" for some. Secretary for Development Carrie Lam Cheng Yuet-ngor - officiating at the opening - questioned whether such sights as footage from New York's September 11, 2001 calamity (shown in the "4D" film The Future Ark, on the problems facing the planet), or images of human sacrifice (shown during the screening of The Great Flood, which includes a vibrating floor, flashes of lightning and gusts of wind) were what the government might wish youngsters to see. Mrs Lam, however, was adamant that people should see the bigger picture and focus on the complex's themes of "family, nature and moral values", as park staff described them. "I think this project has special benefits, in a number of ways," Mrs Lam said as she ducked into the ark, out of the rain. "First, it signifies a new form of partnership between the government and the private sector - particularly developers - that through making use of the expertise of the private sector, we could create many more wonderful facilities. "Number two, the developer has chosen to operate it on a non-profit-making basis, and to bring in the further expertise of Hong Kong's non-governmental organisations. "Thirdly, having spent two hours here myself, it really gives you an uplifting experience." Mrs Lam said she believed the complex was all about positives. "This is really a park that has a worthwhile rationale behind it that is trying to build up family cohesion," she said. "So I really would encourage families to come." When they do come - and management is expected tomorrow to announce the exact date from when they will be able to - families will be greeted by 67 life-size sculptures of some of the world's most threatened species in the Ark Garden. Inside, there will be films, an interactive children's museum called the Treasure House - operated by Angela Luk's Education Foundation - and an Ark Life Education House. The top floor of the ark is Noah's Resort, with hostel and hotel-style accommodation, while the Adventureland park outside features ropes and swings. Noah's Ark is the latest attraction at Ma Wan Park, which already includes a nature park, while work has begun on a "Solar Tower", which will focus on Chinese astronomy and solar energy.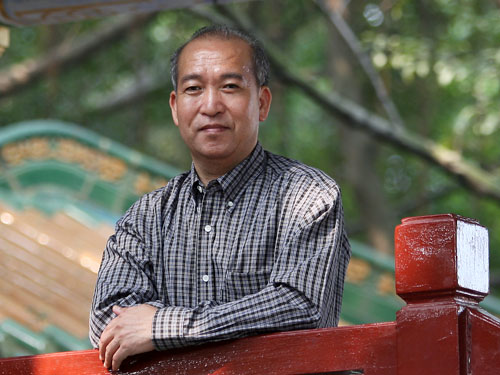 Tycoon Chiu Tai-Loy says he would not have taken part in the auction of the two bronze heads. Chiu Tai-loy, 55, is the most prolific donor of historical relics to China since 1949. He has donated more than 60,000 artefacts since 1991 - conservatively valued at more than HK$800 million - to various mainland museums. Mr Chiu, a British-Chinese who lives in Guangdong, plans to donate more relics to Beijing's Old Summer Palace.
Twenty-one lawmakers yesterday started their first mainland tour of their current term, describing the visit as somewhat hasty but still rewarding. Although five pan-democrats only managed to get one-off home return permits, Legislative Council president Tsang Yok-sing said the trip was a "good start" and he was optimistic pan-democrats would get regular 10-year permits in the future. Members of the Legco economic development panel and the environmental affairs panel toured Shenzhen's Yantian port and the Tea Dream Village in the OCT East Resort, an ecotourism zone. In a 45-minute closed-door meeting, the city's Tourism Bureau chief Li Xiaogan then briefed them on Shenzhen's latest tourism developments. They also attended a dinner with Hong Kong entrepreneurs running businesses on the mainland. Democratic Party chairman Albert Ho Chun-yan, one of the lawmakers who joined the tour with a one-off home return permit, said he was not surprised that his application for a 10-year visa was turned down. Fellow Democrat James To Kun-sun said he was also disappointed that he had not been able to obtain a regular home return permit. Mr Li told delegates that since the introduction of a new Individual Visit Scheme rule on April 1 allowing multiple journeys by Shenzhen residents to Hong Kong, 170,000 people had applied to visit Hong Kong under the scheme. He estimated the number would be 1.1 million by the end of the year, a figure later quoted by Mr Tsang. Concluding the first day of the four-day trip, delegation leader Mr Tsang said it generally went smoothly, despite the busy program. League of Social Democrats legislator Albert Chan Wai-yip, who is on the four-day duty visit to Guangdong, said he hoped to hand a letter to President Hu Jintao through the province's vice-governor Wan Qingliang when they met tomorrow. In the letter, the league called on the central government to disclose all facts about the Tiananmen crackdown, to compensate the families of those who died in the June 4 incident, and to release political dissidents from jails. "One party rule cannot last for ever. This is a historic law which no one can change," the league wrote. On pan-democrats' plan to raise the 1989 Tiananmen Square crackdown in talks with provincial leaders, Mr Tsang said it would not harm communication. "I don't see any problem. I believe the officials meeting us, from vice-governor to officials of various departments, are well prepared and will be able to give rewarding responses to questions raised by legislators." Four more lawmakers will join the group today, as the tour proceeds to Guangzhou. They will then visit Nansha and Zhuhai.

Hong Kong's economy shrank a worse-than-expected 7.8 per cent year on year in the first quarter. It was the biggest contraction since the Asian financial crisis 11 years ago and three times as bad as the previous quarter's drop. Economists' average forecast was for a contraction of 5.2 per cent. The quarter-on-quarter contraction was 4.3 per cent, the worst since at least 1990. Goods exports fell the most since 1954, plunging 22.7 per cent year on year. Services exports fell 8.2 per cent. Fixed-asset investment was 12.6 per cent lower than a year earlier. The unemployment rate rose to 5.2 per cent. With the global downturn hitting the city harder than feared, the government yesterday doubled its forecast for economic contraction this year. It now expects output to shrink by 5.5 per cent to 6.5 per cent, rather than the 2 per cent to 3 per cent it forecast three months ago. Still, Financial Secretary John Tsang Chun-wah believes the city is facing the worst of the crisis now. "You need not worry too much about our economic outlook. We have now come to a clearer understanding of the impact on Hong Kong of the financial tsunami and the external environment has stabilised. In the second half of the year, we hope that the contraction will narrow," he said. He expects the current quarter to remain difficult, but denies the situation is worse than during the severe acute respiratory syndrome outbreak in 2003. However, in that year the economy contracted in only one quarter, and by only 0.9 per cent. Charles Li Kui-wai, associate professor of economics at City University, said the situation was certainly worse than in 2003. "This time [the trouble] is global. A small economy like Hong Kong will have to prepare for a very difficult time ahead," he said. If the government's revised GDP projection is accurate, the economy will shrink by a similar extent as at the height of the Asian financial crisis in 1998, when it contracted for five straight quarters. In the third quarter of 1998, the economy shrank 8.1 per cent year on year. The government will announce further economic relief measures next month, which a source has said will be worth less than HK$10 billion. The need for more handouts on top of the multibillion-dollar measures rolled out since late last year to help struggling firms stay afloat and boost employment prospects shows just how deep and widespread the global economic downturn is. "The new measures will directly benefit the public ... [and] create favourable conditions for economic revival," Mr Tsang said yesterday. Kevin Lai, economist with Daiwa Institute of Research, said: "This is much worse than anybody expected. There was a lack of fiscal support in Hong Kong compared with anywhere else and this fiscal timidity is showing in the GDP numbers. The government has already promised to do something within a month, but I'm afraid it is too little too late." Dong Tao, chief regional economist at Swiss bank Credit Suisse, said: "What is really hurting is corporate spending and trade." Daniel Chan Po-ming, senior investment strategist at DBS Bank, said: "It is due to the contraction in private consumption, jobs and investment." The release of Hong Kong's GDP data coincided with news that Europe sank to what may be the recession's low point in the first quarter. Output shrank 2.5 per cent quarter on quarter in the 27-country European Union. German GDP fell more than in any quarter since reunification of the country in 1990, diving 3.8 per cent quarter on quarter.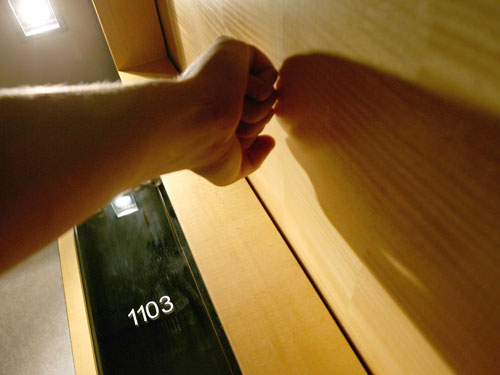 Wan Chai's Metropark Hotel reopened yesterday after a week-long clean-up, and management and staff there weren't shy about remembering the enforced quarantine. In fact, memory of the "elephant in the room" - swine flu and a week-long quarantine of 283 people in the hotel - was embraced openly. In the morning, before check-in, there was an event in the lobby to mark the hotel's reopening. Flowers from well-wishers, including a bouquet from Health Secretary York Chow Yat-ngok, were placed near the glass lobby doors. Snapshots of quarantined guests were prominently posted around the lobby, as were letters of support from the Health Department and local businesses. When three South China Morning Post (SEHK: 0583) reporters posed as tourists and checked into their room around noon, one hotel staffer spoke fondly about the ordeal. "Actually it was a happy time for us - both for the staff and the hotel guests," said the receptionist when asked about his isolation with the guests. The quarantine began on May 1, when hospital tests confirmed that Aleman Arcadio Gutierrez, 25, an occupant of Room 1103, was ill with the H1N1 virus. As a result of Mr Arcadio's illness, everybody in the hotel was quarantined. At the end of the week's quarantine, the hotel was cleaned from top to bottom - even the mattresses were sanitised. The halls now smell of flowers and cleaning polish and room rates have been reduced. As of yesterday afternoon, a two-person standard room, which normally cost HK$1,600 per night, was now up for grabs at HK$660, a manager said. Still, many rooms were expected to remain empty the first night. The occupancy rate was estimated to be only 20 to 30 per cent, staff said. "We still need some time to pick up the bookings because we just opened up the [online] booking engine," another manager explained. On the plus side, the Spanish dinner promotion appeared to be a hit as there were no reservations left, he said. One room not available for hire yesterday was the triple where the sick traveller stayed. That floor was still being readied, staff said. Post reporters checked into the triple directly below that. It appeared identical to 1103, which two reporters looked at during a management inspection. The front room held a TV, a single bed with a white comforter and pillows and grey striped carpeting. Guests, old and new, aren't concerned about the hotel and its recent history. One quarantined guest may even return to Hong Kong and stay in the hotel today. Yesterday's guests were confident that Metropark staff and government officials have taken care of any and all problems in the hotel. "I don't understand why there is so much panic?" Hamid Bouheraoua, 55, of Algeria, said. Mr Bouheraoua compared the swine flu scare to the Sars outbreak. "At the time there was a big panic and then nothing," he said. The hotel is "disinfected and everything". "What is the problem?" said Jim Wellings, 68, of England, who also wasn't worried about his stay. "The real danger is not very grave, I think."
Taller buildings will be allowed in Quarry Bay after the Town Planning Board accepted a developer's suggestion to ease height limits on redevelopments in Taikoo Place. The decision will benefit plans by Swire Properties, approved in the 1990s, to redevelop Somerset House, Cornwall House and Warwick House into two commercial high-rises. The board yesterday agreed to Swire's counterproposal to relax the height limits for both high-rises to 225 metres and 195 metres. The developer had initially wanted those buildings to be 295 metres and 160 metres high, but the Planning Department last year proposed height limits on new commercial developments in Quarry Bay ranging from 100 metres to 200 metres. The board's decision was challenged by residents and the district council on the grounds that the relaxed restrictions would undermine the protection of ridgeline views: some "free building zones" - the proportion of visible hilltop to building height - would be reduced from 20 per cent to just 5 per cent. The board received about 300 objections after the Planning Department's proposal. It relaxed the rules for Taikoo Place after listening to objectors' views yesterday. But the developer is required to reserve a 10-metre-wide, non-building area on the site of Somerset House to allow better movement of air. The board rejected Swire's request to confine the non-building area to the ground level. Swire had opposed the proposed height restrictions, under which the two high-rises could not exceed 200 metres. The department had said the limits were meant to avoid a negative impact on the district's visual quality and to preserve views of the ridgelines of Tai Tam Country Park and Mount Parker from the vantage point at Kai Tak. It said the height limits and other requirements were based on an air ventilation study. A spokeswoman for Swire Properties said the proposed height restrictions had affected their redevelopment projects in Taikoo Place, Sai Wan Terrace and Cityplaza. "We were not properly consulted on the new restrictions," the spokeswoman said. "Taller buildings allow more open space on ground level." A spokeswoman for the board noted that it was a "balanced decision" to relax the height limits as suggested by Swire, but to uphold the Planning Department's plan for a non-building area. "Swire promised to provide an open space of 6,500 square metres for the redevelopment," the spokeswoman said.
A call by Hong Kong for the United States to screen outgoing passengers to stop swine flu cases being exported has failed to win strong backing from the World Health Organisation. The WHO's western Pacific regional office, in response to a South China Morning Post (SEHK: 0583, announcements, news) inquiry, said the agency "does not recommend any entry or exit screening because the swine flu virus has already spread to too many countries". The office's spokesman, Peter Cordingley, said the WHO noted that swine flu patients could show no symptoms, and health screening might not be able to pick up cases. "But it is also up to individual countries to put in place measures as long as those measures are in line with the International Health Regulations." On Wednesday, Secretary for Food and Health York Chow Yat-ngok wrote to US Secretary for Health and Human Services Kathleen Sebelius, calling for stringent screening of passengers leaving the US. A 24-year-old Hong Kong man who returned to the city from San Francisco on Monday was confirmed as Hong Kong's second swine flu case. Dr Chow said yesterday he had not received any reply from the US. "No matter which country, as a member of the World Health Organisation, it has the responsibility to prevent infection going outside its territory," he said. Dale Kreisher, a spokesman for the US consulate in Hong Kong, said the US had adopted an "aggressive response" to swine flu. "Our actions are in accordance with WHO recommendations, among which is that the WHO is not recommending travel restrictions related to the outbreak of the influenza A(H1N1) virus," he said. "Today, global travel is commonplace and large numbers of people move around the world for business and leisure. Limiting travel and imposing travel restrictions would have very little effect on stopping the virus from spreading, but would be highly disruptive to the global community." However, some local experts have expressed frustration over the WHO's "inaction" against the US, which has the highest number of swine flu cases. University of Hong Kong microbiologist Ho Pak-leung said exit measures, such as temperature screening and asking outgoing passengers to wear masks, were effective in stopping flu cases spreading. "The WHO has ignored the interest of those unaffected areas who are on guard to stop cases." David Hui Shu-cheong, a respiratory disease expert at Chinese University, said the US should ban passengers with fever and flu-like symptoms from boarding flights. "Although this measure cannot pick up patients in the incubation period, it is still effective to some extent. Travellers also have a civic responsibility not to get on flights if they are sick." The Centre for Health Protection yesterday tested five people with flu symptoms. The 24-year-old man was in stable condition at Princess Margaret Hospital. His 13 close contacts will remain quarantined until Monday. Dr Chow is to meet chambers of commerce today on preparations to cope with a pandemic. Hong Kong's economic and trade affairs office in the US has appealed to Hong Kong students to defer trips to the city during the summer holiday if they are sick.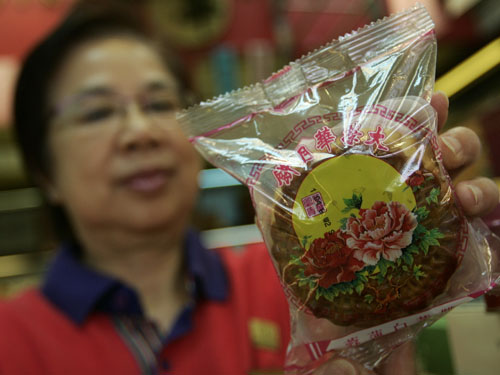 A Guangdong court has ordered three companies to stop infringing the trademark of Hong Kong mooncake bakery Wing Wah. One of the companies, Jin Ming in Zhongshan city, had to pay 100,000 yuan (HK$114,000) to Wing Wah Group and its subsidiary in Dongguan for causing them economic losses, Guangzhou's Nanfang Daily reported yesterday. The other two affected companies are Hao You Duo in Guangzhou city and its subsidiary Shibo. With the ruling, the provincial court of Guangdong put an end to a case Wing Wah filed nearly three years ago. The verdict reaffirms the Hong Kong company's right over its famous mooncake trademark, although it has not been registered on the mainland. "Although Wing Wah mooncake does not register its trademark on the mainland, it is a well-known brand and should only be applied to the Hong Kong company," the court said in its judgment. Media reports said Wing Wah had received consumer complaints in recent years that several versions of its mooncakes were available on the market. Those brands were called Macau Wing Wah, Zhongshan Wing Wah and Shunde Wing Wah. The complaints prompted the Hong Kong company to take the three companies to court in October 2006. It first filed the case with Dongguan Intermediate People's Court, asking the court to stop the companies infringing its trademark and to recognise that the Hong Kong brand was famous although it had not registered on the mainland. Wing Wah also asked that Jin Ming pay 1 million yuan in compensation and make a public apology. The court ruled in favour of Wing Wah and ordered Jin Ming to pay compensation of 100,000 yuan. The three companies appealed against the ruling, but the higher court also ruled in favour of Wing Wah. The company could not be reached for comment.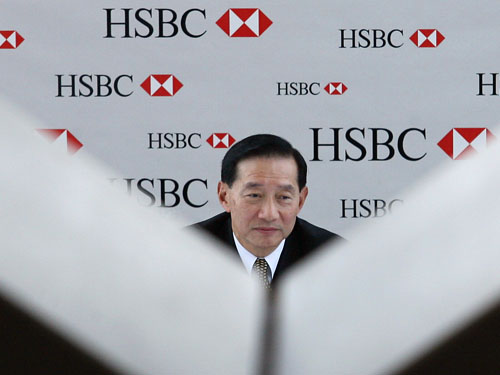 HSBC Asia-Pacific director Peter Wong says the issuance of Hong Kong government bonds will help deepen the local bond market. HSBC Holdings (SEHK: 0005, announcements, news) said bond sales to individual investors doubled in the first four months of the year, indicating increasing demand for quality paper. Peter Wong Tung-shun, an executive director at HSBC Asia-Pacific, expected the proposed Hong Kong government bond would be well received by investors when it was launched in the coming months. The government plans to issue up to HK$100 billion in bonds in the next five to 10 years, with about HK$10 billion to HK$20 billion over the course of a year, to spur the local bond market. It hoped that the first bonds could be launched in the third quarter of the year if related measures are approved by the Legislative Council. Mr Wong said the government's initiative would help deepen the local bond market and strengthen Hong Kong's status as an international financial centre. As the government plans to issue bonds in a consistent manner, that would build up a yield curve and financial institutions can launch other financial products based on that. However, he said the bond issue of about HK$10 billion a year was too small. "It should let market demand determine the size," he said. Anita Fung Yuen-mei, the bank's treasurer and head of global markets, said demand from institutional and retail investors for bonds had increased substantially in recent months. She added that investors were looking for high-quality products with a steady return after the global financial turmoil. She also expected the planned government bond would be easily absorbed by the market as Hong Kong dollar deposits amounted to HK$3 trillion and there was demand from institutional investors. There is some concern that the bond programme might not boost liquidity in the secondary market since investors, particularly retail investors, tend to hold the bonds till maturity. Ms Fung said the secondary market was not liquid enough as many Hong Kong investors were medium-term investors. What was needed was channels in place where investors could buy or sell bonds whenever they wanted. She expected there would be adequate channels and mechanism for trading of government bonds in the secondary market after it was launched.
Pacific Century Regional Developments, the Singapore-listed flagship of Richard Li Tzar-kai, yesterday said it would distribute a HK$1.35 billion interim dividend to shareholders after receiving a special payout from subsidiary PCCW (SEHK: 0008) next week. Mr Li, who holds a 75 per cent stake in PCRD as well as holdings in PCCW, will pocket more than HK$1 billion from the payout. The news came as PCRD announced a first-quarter net loss of S$16.18 million (HK$85.48 million), compared with a net profit of S$2.22 million a year earlier. However, the results did not include the contribution from PCCW. PCRD said in the results announcement that it would receive a special dividend payment of HK$2.01 billion from PCCW on Monday. PCCW said last month it would distribute a special dividend of HK$1.30 per share to shareholders on Monday after the proposed HK$15.93 billion buyout deal was blocked by the court and the deal lapsed. PCRD will distribute a cash dividend of 8.3 Singaporean cents per share to shareholders on June 10, which will be worth HK$1.35 billion. Mr Li (pictured) will be entitled to about HK$1.01 billion of that. He also holds a 5.4 per cent stake in PCCW personally and will receive HK$463 million from the special dividend payment. Mr Li will pocket HK$1.473 billion from the PCCW's dividend payout. PCRD will retain about HK$654 million in cash from the dividend payment after the payout. Its operating and administrative expenses for the first quarter of the year amounted to S$10 million, compared with S$1.97 million last year. The increase was mainly due to professional and legal expenses involved in the proposed privatisation of PCCW amounting to S$9.4 million incurred in the quarter. PCRD also saw an increase in net finance costs in the reported period to S$2.52 million from S$1.2 million previously. "The increase was mainly due to the inclusion of a commitment fee of S$2.52 million in the first quarter on a bank facility made available in connection with the proposed PCCW privatisation," PCRD said. Meanwhile, Goldman Sachs said PCCW might prioritise debt repayments over shareholders' returns in the future. PCCW is unlikely to maintain its previous dividend payout ratio of 20 HK cents per share paid from 2007 earnings. "We estimated the dividend per share of 10 HK cents this year with a 5 per cent yield," Helen Zhu, Goldman Sachs' analyst, said in a note. "We prefer other telecommunications stocks in Taiwan, Singapore and Malaysia, which offered a higher yield with less uncertainty." Shares in PCCW yesterday rose 1.4 per cent to close at HK$2.18.

China: Developers spent 15.65 billion yuan (HK$17.78 billion) buying land at auctions in major mainland cities last month, the most since January, after local governments cut floor prices to drum up sales, Centaline China said. Centaline's research report, which tracked land sales in 12 cities, said the total sale revenue last month was still far below last year's peak of 23.36 billion yuan in December. "Last month's land transaction value has returned to the level of April 2008," said Song Li, an analyst at Centaline China. In that month, land sales fetched 15.67 billion yuan in those cities, including Beijing, Shanghai, Guangzhou, Shenzhen and Hangzhou. "Sales revenue surged [last month] because governments in different cities released more land for auction," said Ms Song. Analysts said a strong property market was important to local governments' coffers, as land sales accounted for about 30 per cent of their revenues. Last year, land revenue in Shanghai tumbled 60 per cent to 15.42 billion yuan, according to mainland-based website ehomeday.com. "A sound property market will boost the economy, as developers will hire more people to speed up construction," said Albert Lau Tak-yeung, a managing director at property consultant Savills in Shanghai. Tianjin ranked No 1, with auction sales of 4.9 billion yuan last month, followed by Shanghai with 3.6 billion yuan and Beijing with 1.25 billion yuan, Centaline said. A commercial site in Hangzhou sold for 700 million yuan or 46,284 yuan per square metre, a mainland record. Mr Lau said Shanghai had released more land for sale at lower reserve prices. "Developers will regain interest when sites on offer cost as much as 30 per cent cheaper than a year ago," he said. Last week, Greenland Group won a 186,000 sqmetre residential site on the outskirts of Shanghai for 957 million yuan, about 36 per cent above the floor price of 703 million yuan. But the floor price was marked down by 30 per cent from a year earlier, when it was withdrawn for lack of bidders. Next month, the Shanghai city government will offer a 15.95 hectare residential site in Qingpu district in an auction at a floor price of 282.62 million yuan - about 40 per cent lower than November last year, when the auction was cancelled. Improved balance sheets at developers also helped boost land sales, analysts said. "The explosive growth in property sales for the past two months will definitely strengthen developers' confidence in replenishing their land," said Mr Lau.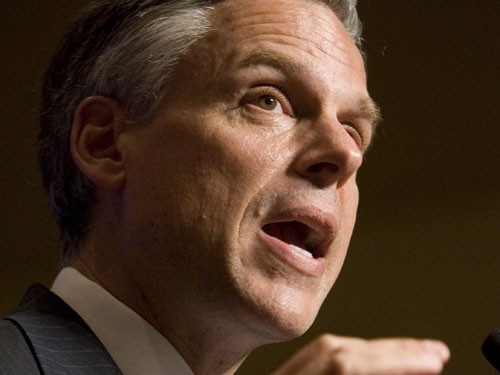 US President Barack Obama reached across the political divide yesterday and named Utah Governor Jon Huntsman, a potential Republican presidential contender in 2012, to the sensitive diplomatic post of ambassador to China. Fluent in Putonghua from his days as a Mormon missionary in Taiwan, the 49-year-old is a popular two-term governor who served in both Bush administrations and was national co-chairman of Senator John McCain's campaign last year. Mr Huntsman has advocated a moderate agenda in one of the most conservative US states. With Mr Huntsman by his side, Mr Obama said in brief remarks in the White House diplomatic room that he made the appointment "mindful of its extraordinary significance". "Given the breadth of issues at stake in our relationship with China, this ambassadorship is as important as any in the world because the United States will best be able to deal effectively with global challenges in the 21st century by working in concert with China," Mr Obama said. Mr Huntsman made headlines recently for encouraging the Republican Party to swing in a more moderate direction if it wanted to bounce back from the 2008 elections, angering some conservatives. Mr Obama's campaign manager, David Plouffe, said Mr Huntsman is a Republican who "seems to understand the party has to adjust - not stubbornly believe that everything is OK and it is the country that has to change". Mr Huntsman's positions on the environment and other issues have led some to consider him a potential contender for president in 2012. He signed an initiative that would set up a regional cap-and-trade effort to reduce global warming. In a 2006 speech at Shanghai Normal University, he spoke of the need for China and the US to work together on environmental issues. "The United States and China must be good examples and stewards of the Earth. We must match economic progress with environmental stewardship. The effects of industrialisation are felt worldwide," Mr Huntsman said then. If confirmed by the Senate, Mr Huntsman will succeed Clark Randt as US ambassador to China.
Schools across the mainland will conduct health checks on students every morning as Beijing steps up measures to prevent swine flu from taking root. Teachers had to inform their local education departments within two hours of detecting cases of flu, the Ministry of Education said. The ministry made the announcement on Thursday after the mainland confirmed its second case of swine flu, a person from Shandong who had just returned from studying in Canada. That case came hot on the heels of the first - a 30-year-old man surnamed Bao who was taken to hospital with a fever after arriving in Sichuan from the United States via Tokyo and Beijing last Saturday. Chengdu health officials remained cautious on when Bao could be released from hospital, though they insisted his health was improving and his temperature was normal. Xinhua said the hospital had not decided when he could be discharged as he was suffering from a new virus, which meant the decision must be made by a group of health experts after a thorough assessment. A total of 292 people were under medical observation for having contact with the two patients, the ministry said. It wanted to track down all people who had had contact with the flu patient from Shandong. However, among those on board Northwest Airlines flight NW029 with Bao, 10 passengers and 12 crew had left the mainland. The authorities had not been able to contact four other passengers. Although none of the flu cases originated from the mainland, education authorities were taking no chances. Their order included asking schools to keep a record on every student absent from school and finding out the reason. They also demanded that special attention be paid to boarding schools, especially those in rural areas, on what preventive measures they would take in the face of the swine flu virus. Meanwhile, a new interpretation on how to define whether a person is suffering from a fever may lead to more suspected cases. The deputy head of Beijing's health department, Deng Xiaohong , said that a body temperature of at least 37.5 degrees Celsius signalled a fever. The benchmark was 38 degrees in previous guidelines.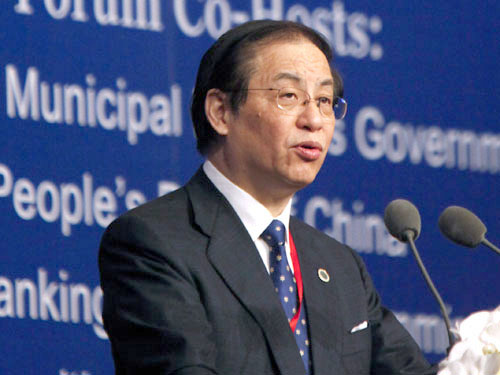 Banking regulator Liu Mingkang urges mainland lenders to return to their traditional business of lending and taking deposits. Mainland banks are facing huge pressure to post profit growth this year as successive interest-rate cuts reduce the margins earned from lending money, China Banking Regulatory Commission chairman Liu Mingkang said yesterday. The regulatory chief urged banks to get back to their traditional business of lending and deposits and reduce spending on human resources and information technology. "It is increasingly important to reduce costs and enhance efficiency," Mr Liu told a financial forum in Shanghai. "At this juncture, our main task is ... to increase productivity." Net interest margin, the difference between what banks make on loans and pay out to depositors, has narrowed this year after the central bank slashed interest rates five times between September and December last year. To increase profit and support government efforts to stimulate economic growth, lenders have approved a soaring number of loans in the first four months of the year, adding to concerns of a significant increase in bad debts. Mr Liu said banks should focus on deposits, loans and other related traditional businesses as they pursued higher profits. Mainland financial institutions have over the past few years chased high-risk structured and derivative products that offered handsome returns. But Mr Liu said the global financial crisis had taught banks a lesson, prompting them to shift focus to their core businesses of deposit and lending. Banks were the nation's profit stars last year as they benefited from high interest margin and rapid expansion of non-banking services. Industrial and Commercial Bank of China (SEHK: 1398), the largest bank, became the most profitable lender, earning 111.1 billion yuan (HK$126.15 billion) last year, up 35.2 per cent from 2007. However, its profit growth slowed to 6.16 per cent in the first quarter, dragged down by a drop in interest income. ICBC said interest income declined 12.88 per cent to 57.75 billion yuan in the first quarter, squeezed by the rate cuts. The easy credit being provided amid the stimulus spending was a primary concern as increased bad loans would eat into banks' profits. Bank of China chairman Xiao Gang predicted that lenders would extend new loans worth 8 trillion yuan this year. Banks extended new loans of 5.17 trillion yuan in the four months of this year, exceeding the full-year target of no less than 5 trillion yuan. Also speaking at the Shanghai forum, Mr Xiao said banks were expected to post smaller profit growth or report unchanged earnings from a year earlier. Xiang Junbo, the chairman of the Agricultural Bank of China, said business in rural areas would be the new growth engine, helped by the 4 trillion yuan stimulus package. "Rural businesses are the top beneficiaries of the government's plan to stimulate domestic demand," Mr Xiang said. "As long as the risks are under control, we can earn more profits in villages than cities."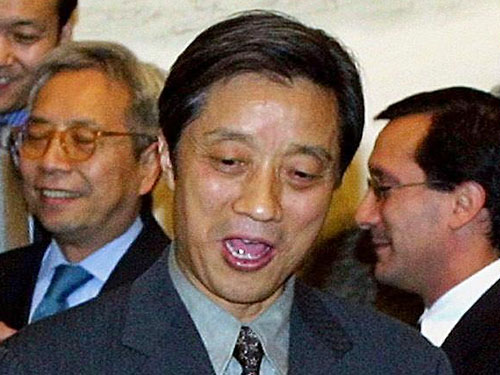 The president of China Central Television, Zhao Huayong, is to step down three months after a massive fire gutted a hotel building at the national broadcaster's new complex in downtown Beijing. Mr Zhao's departure comes amid growing calls for the central government to widen the investigation into the blaze. Mr Zhao, 61, will be succeeded by Jiao Li , deputy head of the publicity department of the Communist Party's Central Committee, sources close to the matter said. A source at CCTV said the management would call an emergency meeting today to announce Mr Zhao's resignation. The fire, on the night of the Lantern Festival on February 9, killed one firefighter and gutted the 30-storey building with losses estimated at several-hundred-million yuan. While many expressed dismay at the death of the firefighter, few had any sympathy with CCTV and its management. The fire was made the butt of online jokes, with millions of bloggers and netizens using it to vent their frustration over the mainland's propaganda policy and the arrogance of the state broadcaster. The initial investigation found CCTV had hired staff from a fireworks company to light several-hundred large festive fireworks in an open space outside the nearly completed building, which was to house the 241-room Mandarin Oriental hotel. Investigators said the fireworks were much more powerful than those available at roadside stalls during Lunar New Year and needed approval from the municipal government before being set off in downtown areas. Police tried to intervene when the fireworks were set off, but CCTV ignored their warnings. CCTV has apologised for the fire, but it insisted that it was the CCTV construction office, a powerful department within the broadcaster's hierarchy, and not CCTV management that had flouted rules. Police arrested 12 people including a senior CCTV official, Xu Wei , who was in charge of the 5 billion yuan (HK$5.69 billion) construction project. Mainland prosecutors were reported to have launched an investigation into the blaze over possible dereliction of duty. While Mr Xu is certain to face criminal charges, some accused CCTV and the State Administration of Radio, Film and Television, the broadcasting industry watchdog, of using Mr Xu as a scapegoat to cover up rampant irregularities at CCTV. In an open letter posted online on Wednesday to Liu Yunshan , head of the Communist Party's powerful publicity department, outspoken Peking University economics professor Xia Yeliang pressured Mr Liu to at least apologise for the fire. "It has been 104 days since the CCTV building fire, when can the world know the verdict about the blaze?" Professor Xia asked. The CCTV source said Mr Zhao planned to retire more than a year ago and Li Ting, a deputy CCTV department head in charge of overall programming, had been tipped to succeed him. The appointment of Mr Jiao is seen as a dressing down to the incumbent CCTV leadership. Little is known about Mr Jiao, but he was recently seen in public when he was sent to Sichuan in January to drum up support for reconstruction efforts in quake-stricken areas.
US President Barack Obama has raised the prospect that China could stop buying American debt and said the United States needed to tackle its deficit to avoid economic damage. "The long-term deficit and debt that we have accumulated is unsustainable. We can't keep on just borrowing from China or borrowing from other countries," Mr Obama said. China is the largest holder of US debt and owned US$744 billion worth of US government securities at the end of February, according to the US Treasury. Mr Obama said the debt would create greater problems if countries lost their appetite for US treasuries. "What's also true is at some point they're just going to get tired of buying our debt," he said. "And when that happens, we will really have to raise interest rates to be able to borrow and that will raise interest rates for everybody." Meanwhile, members of the House of Representatives in Washington unveiled four bills to foster closer relations with China on matters like trade, climate change, energy and to boost US teaching of Chinese. The goal was "to expand America's influence in China and increase American competitiveness in the global marketplace", said Congressman Mark Kirk of the 55-member US-China Working Group. One piece of legislation would help individual states set up offices in China to promote exports, help small businesses launch trade missions and authorise government help for Chinese business education programmes. The bill would provide the tools firms needed "to tap into the China market and create good-paying jobs here at home", said Congressman Rick Larsen. Another proposal would increase the number of diplomatic missions in China and increase contributions to the Asia-Pacific Economic Co-operation forum. "By deploying more Chinese-speaking diplomats and commercial officers to cities with more than 5 million people, we can create new opportunities for US exporters and speed up our economic recovery," Mr Kirk said. Another bill would fund joint climate change education programmes as well as research on "carbon capture" programs.
Foreign direct investment on the mainland fell 22 per cent to US$5.89 billion last month, the seventh consecutive monthly decline, as overseas investors tightened their belts.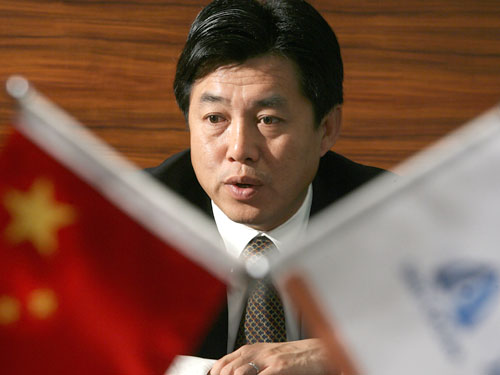 Sino-Ocean Land Holdings chief executive Li Ming says the company has generated 5 billion yuan from contract sales so far this year. Sino-Ocean Land (SEHK: 3377, announcements, news) Holdings, the largest developer in Beijing, has set a record by achieving more than 60 per cent of its sales target of 8 billion yuan (HK$9.08 billion) this year. Chief executive Li Ming said yesterday the company had generated 5 billion yuan from contract sales so far, the most in a comparable period since it was established in 1993. The developer said it had no plans to adjust the sales target at the moment but would review it later. Last year, the company recorded contract sales of 7.24 billion yuan. "The average sales price of our residential projects in Beijing has risen more than 10 per cent from the end of last year. The capital had the fastest growth of any city," Mr Li said. He added that he believed the consolidation of property prices had come to an end at the turn of the year. According to the National Development and Reform Commission, average property prices in 70 major cities dropped 1.1 per cent last month from April last year, slower than the 1.3 per cent fall in March. Mr Li was hopeful that the mainland real estate market was on the road to recovery. "I'm sure the worst for the property market has passed," he said. Property sales in many mainland cities have increased sharply in the past few months, setting records along the way, and Mr Li expected the trend of strong sales to be sustained. "The growth in property sales volume in the second half of this year may not be as strong as in the first half, but I still expect total sales volume in the second half to exceed that in the first," he said. Sino-Ocean Land has more than 10 billion yuan cash on hand to buy new sites this year. "We have strong affordability to acquire sites as our net gearing ratio is only 38 per cent," Mr Li said. However, the firm has no plans to invest in Taiwan as Mr Li said he was unfamiliar with the island's market. Shares in Sino-Ocean Land rose 7.82 per cent to close at HK$7.58 yesterday.
Two revised rules involving a planned Nasdaq-style stock market, the Growth Enterprise Market (GEM), will take effect on June 14, according to the China Securities Regulatory Commission (CSRC) Thursday. The two rules involve establishing an independent committee to approve listings for the GEM and the management of sponsors of IPOs. The two rules are taken as a key step closer toward introducing the much-anticipated GEM, a board intended to nurture innovation-driven start-ups as the government tries to help smaller companies get financing and encourage technological advances. The rules are the same as the drafts issued on April 17 to solicit public opinions, said the CSRC. Under the rules, the new panel will have 35 members. Five will come from the CSRC and the others from the accounting, law and other sectors. The panel won't include members of the review panel for IPO application on the main board. Under the rules, the sponsors of IPOs on the GEM are required to monitor the companies' performance for three years, up from two for companies on the main board.
May 16 - 17, 2009

Hong Kong: Additional economic relief measures worth several billion dollars would be announced within a month to ease the plight of the needy, the chief executive told lawmakers yesterday. A source said the measures, which would cost less than HK$10 billion, were expected to include an extended waiver of public housing rents and property rates and payments to social security recipients. The source said the one-off sweeteners were measures that had been used before and would not trigger controversy. There was a slim chance of a further injection into employees' Mandatory Provident Fund accounts and an extra subsidy on electricity bills. Donald Tsang Yam-kuen told lawmakers further measures were needed because the outlook for the second quarter was not optimistic. Speaking in a Legislative Council question-and-answer session, Mr Tsang said economic data so far this year was not encouraging, and Hong Kong's economic performance had worsened steadily. He said gross domestic product figures for the first quarter, scheduled to be released today, would show there had been a noticeable slide in the economy. A government source said the contraction of the economy in the first quarter had been much worse than that of the fourth quarter of last year, when gross domestic product shrank by 2.5 per cent year on year. "The second quarter will not be optimistic. The global economy has not stabilised. The human swine flu has introduced more uncertainties," Mr Tsang said. He said the annual economic forecast would be adjusted downwards. The government originally expected the economy to shrink by between 2 per cent and 3 per cent this year. In the first three months of the year, exports dropped by about 22 per cent and the drop in retail sales worsened to 5.5 per cent, Mr Tsang said. He said the administration was discussing a series of relief measures, and pledged to announce them within a month. Financial Secretary John Tsang Chun-wah said last month he would introduce further measures to help small and medium-sized enterprises, the middle class and the needy, and to relieve unemployment "if the situation deteriorates rapidly". The chief executive reiterated that the government was pushing ahead with long-term plans to further develop the testing, medical services, innovation, creative services, environmental services and education sectors into new economic pillars. Since the financial crisis began last year, the government has tried to help smaller firms stay afloat by guaranteeing the majority of bank loans to them. Some 6,500 small and medium-sized enterprises employing 120,000 staff, have benefited from the scheme, which has covered about HK$17.6 billion in lending. The chief executive said he would consider waiving licence fees for businesses after Liberal Party lawmaker Tommy Cheung Yu-yan called for more action to help the struggling tourism and retail sectors. Travel agencies and retailers have been hit hard both by the global downturn and the recent swine flu outbreak. Funding for more than HK$100 billion worth of projects will also be sought. "We expect, as key infrastructure projects come on stream, the economy and employment situation will eventually improve," the chief executive said.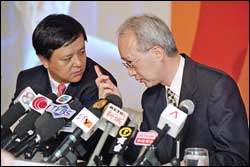 Investment banker Charles Li Xiaojia is tipped to be the first mainlander to become the chief executive of Hong Kong Exchanges and Clearing (SEHK: 0388). Mr Li is widely expected to soon resign from his current job as JP Morgan Chase China chairman and replace HKEx chief Paul Chow Man-yiu, who will retire in April next year. Mr Li told the South China Morning Post (SEHK: 0583) yesterday: "I am still an employee of JP Morgan Chase." The US-educated banker and lawyer is well respected in the industry. He does not speak Cantonese. Legislators questioned why a mainlander is a front runner for the post and not a local candidate. They expressed fear the central government wanted to increase its control over the local bourse and urged the exchange to explain its choice. Brokers, meanwhile, were worried that Mr Li, who speaks only English and Putonghua, might not be able to communicate easily with the local investment community. They also questioned why Mr Chow was not involved in the selection process. An exchange source confirmed Mr Li had been the candidate chosen by the selection committee, headed by HKEx chairman Ronald Arculli and other four independent directors, as a potential successor to Mr Chow. He met members of the board on Wednesday. Several other directors, who were not on the selection committee, said they did not know if other candidates were being considered. They said the first meeting with Mr Li went well but emphasised the board had not yet voted for the appointment. "No offer has been made to any candidate yet. If the board confirms the choice, it needs to get approval from the Securities and Futures Commission," a director said. Christopher Cheung Wah-fung, the chairman of the Hong Kong Securities Professionals Association, said Mr Li's mainland connection and his background as an international investment banker would make him qualified as a candidate to take the helm of the exchange. "As JP Morgan is an international investment bank which copes with the current global financial crisis very well, it has a very good international reputation. If Mr Li would be a successor to Mr Chow, it would be good for the international image of HKEx," Mr Cheung said. But he also said HKEx could also consider other local and international talent with regulatory background. "HKEx and the SFC have many staff who have worked in the local regulatory field for a long time. Many of them also have good mainland connections. They could also be good candidates to replace Mr Chow," Mr Cheung said. Legislator Chim Pui-chung, who represents brokers, said the mainland connection would be important to choose Mr Chow's successor but he wanted the newcomer to stress communication with brokers. "The local brokerages are playing an important role in the local financial markets and we want the new HKEx chief executive to have good communication with and understanding of the local brokerage community," Mr Chim said. A director denied the exchange was under any political pressure to choose Mr Li. "Although Mr Li was born on the mainland, he has been working in Hong Kong for many years and knows the local financial industry well. We need to be open-minded and not exclude a candidate just because he is a mainlander. This is why Hong Kong can be an international financial centre," he said. Another director, who sat on the selection committee, said the choice was to have someone with good China connections and a good understanding of mainland politics. Hong Kong Stockbrokers Association chairman Kenny Lee Yiu-sun said many local brokers had expressed worries about the candidate. "The major worries are Mr Li's lack of regulatory background. He is a good investment banker making a lot of successful deals. But deal making is different from regulating," Mr Lee said. "A regulator needs to communicate with local brokers, investors and government officials. There are many local talented people with regulatory skills and China connections." The Financial Services Committee, the Treasury and the SFC declined to comment.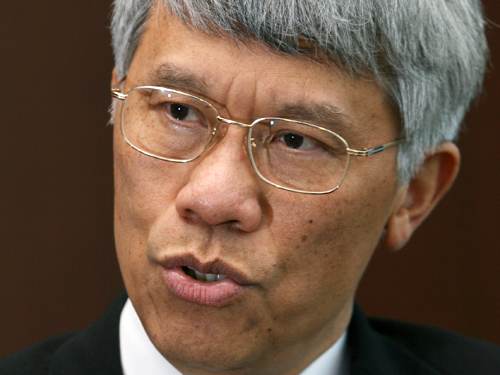 Joseph Yam Chi-kwong will be appointed an adviser to the People's Bank of China after he retires as chief executive of the Hong Kong Monetary Authority in September, a mainland magazine reported yesterday. The website of Caijing magazine quoted a source saying that Mr Yam would advise on mainland financial reform after becoming the central bank's adviser. There has been speculation that the administration will probably announce Mr Yam's retirement this week. But a Hong Kong government source said there was no sign of an imminent announcement. Norman Chan Tak-lam, director of the Chief Executive's Office, is expected to be the authority's next chief executive. Financial Secretary John Tsang Chun-wah praised Mr Chan in February as a "very intelligent person, and a very capable person". The Monetary Authority said it had no comment on the report. Lam Woon-kwong, former director of the Chief Executive's Office, has been tipped to succeed Mr Chan as the top aide to Chief Executive Donald Tsang Yam-kuen. Mr Lam, who resigned from that post in January 2005, declined to comment on whether he would take up the job. He is a former secretary for home affairs and was appointed chief executive of the Equestrian Company in 2006. The South China Morning Post confirmed in February that Mr Yam, 60, had agreed in 2007 to step down this year. Hong Kong's de facto central banker has held the position since 1993. Donald Tsang suggested in October that it was time for Mr Yam to step down. But the next day he said Mr Yam would neither retire nor resign. Andrew Sheng, chairman of the Securities and Futures Commission from 1998 to 2005, has been serving as the chief adviser to the China Banking Regulatory Commission.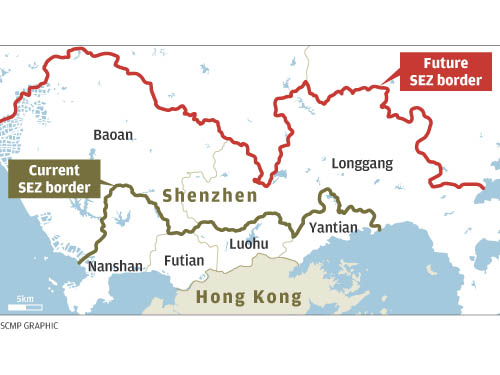 Shenzhen authorities said yesterday that Beijing had endorsed their proposal to grant the city more economic privileges and allow closer integration with Hong Kong as it seeks to develop as a centre for finance and innovation. Jiang Shean, a spokesman for the policy research office under Shenzhen's Communist Party committee, confirmed that the State Council had recently approved a plan to grant Shenzhen greater freedom to collaborate more closely with Hong Kong on the economic front. The proposal said the two cities should be developed jointly into a mega-metropolis and a global centre for finance, trade, logistics, innovation and cultural industries. Meanwhile, Shenzhen's position as a reform laboratory has been consolidated after the State Council said "Shenzhen should play its role as an experimenting ground and has the privilege to carry out reforms ahead of other regions", the 21st Century Business Herald reported yesterday. The report said the size of the special economic zone would soon increase five-fold, from 395 sq km to 1,948 sq km. Political experts believe the State Council is also trying to reassure Hong Kong that, despite its endorsement of Shanghai as a financial and shipping centre, its perception of Hong Kong as a global financial centre is unchanged. It also sanctioned Fujian province's bid to set up a new economic zone. Shenzhen-based economist Jin Xinyi said giving Shenzhen a free hand in cross-border affairs showed the central government's support for Hong Kong. Researcher Xiao Jincheng from the National Development and Reform Commission said the Shanghai and Shenzhen-Hong Kong centres were not on a collision course. "China is such a huge country that no single financial centre can cover the entire territory," he said. "The planned Shenzhen-Hong Kong financial centre will focus on cities in the Pearl River Delta while Shanghai will serve the Yangtze River Delta." According to the proposal, Hong Kong and Shenzhen will more closely collaborate in the shipping, ports, logistics, exhibition and tourism industries. The plan, which includes 37 detailed reform proposals, also asks Beijing to grant Shenzhen the freedom to try administrative reforms. Experts predict Shenzhen will soon introduce taxation reform for businesses and personal incomes, and launch new futures and debenture markets. Shenzhen University professor Su Dongbin said the city's overall economic output could expand five-fold once the economy was restructured. Many Shenzhen scholars believe the city has been held back by administrative restrictions and only a limited part of its area enjoys the privileges of being part of a special economic zone. In January, the National Development and Reform Commission unveiled guidelines for the Pearl River Delta in the next decade, vowing to upgrade Guangdong's industrial structure. They said Shenzhen would continue as a testing ground for economic and political reforms.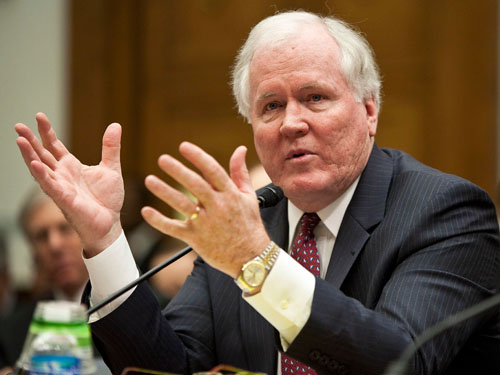 AIG chief executive Edward Liddy says Hong Kong is the logical place for an initial public offering of AIA, its largest Asian subsidiary. American International Group is expected to soon begin the process of launching the initial public offering of its largest Asian subsidiary, according to sources, in what could be one of the largest Asian listings to hit the market since early last year. American International Assurance, the Hong-Kong based unit of AIG, has more than US$60 billion of assets under management and has said it would separate from its embattled parent. AIG first tried to sell AIA in a private transaction for up to US$20 billion last year but failed to find a buyer willing to pay a high enough price. The parent has suggested it could initially sell up to 20 per cent of AIA's market value in an initial share offer. On that basis, AIA's public listing could raise up to US$4 billion. The process is expected to begin soon. Requests for proposal will go out in three to four weeks, said an investment banking source. The company is eyeing Hong Kong for the public sale of this prized life insurance business, seeing more strength in the Hong Kong market than in New York, where AIG is based. Chief executive Edward Liddy said that to float shares to public investors in Asia would also make sense because AIA is already a household name in the region. AIG was founded in 1919 in China and was the first foreign insurer given the green light to re-establish itself in the country when the communist government began to reopen the borders to outside business. While AIA is considered AIG's crown jewel, the company is trying to divest it and other properties as quickly as it can to repay part of a US federal bailout that has swelled to about US$180 billion. In March, AIG said it would put the shares of AIA into a specially created and independent legal entity, giving the US government a preferred stake that would help reduce the amount AIG owes to taxpayers and possibly making it easier to launch an initial public offering, said Mr Liddy. AIG was rescued with taxpayer funds in September last year after bad mortgage bets left it deeply in the red and on the brink of bankruptcy. Mr Liddy said that with an initial share issue, the company would not be dependent on a single buyer, but he added that the business could still be sold outright if a buyer emerged in the coming months. "My instinct is that we would probably register it [AIA's share offer] in Hong Kong," said Mr Liddy. "We have not made any decision on that, but it is a logical place to start. "AIA is an Asian-facing business, it is headquartered in Hong Kong, and all of its businesses are in Southeast Asia." Mr Liddy said that, based on current market conditions, he would expect to stage an initial public offering in the first half of next year. Like any process, the time line could get pushed back, ahead or pulled altogether, if market conditions changed drastically. But sources say that for now, AIG is pushing ahead quickly with its plans. AIA said it recruited more than 52,000 agents last year, bumping its representation up to about 250,000 agents, and the insurer has a total of about 20,000 employees across 13 Asian markets. It provides coverage to about 20 million customers, or close to a third of AIG's total customer base. AIG is also considering public share sales for another international life business, Alico, and its global property-casualty business, AIU Holdings. "It assumes the financial markets stay where they are or get better. I think that is a good assumption, but you just never know," said Mr Liddy.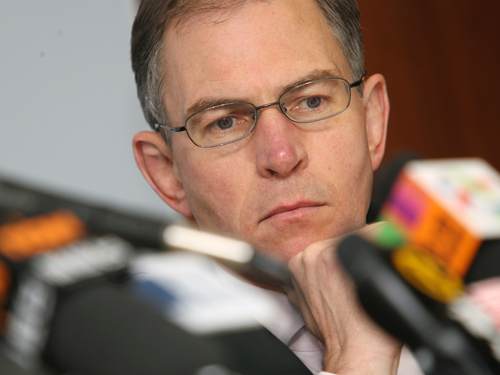 Martin Cubbon says Swire has been expanding its mainland portfolio while remaining very interested in the Hong Kong market. Swire Pacific (SEHK: 0019) said it would focus more on developing homes in Hong Kong over the next three years while building up a large investment portfolio on the mainland. Group executive director Martin Cubbon said Swire planned to offer the residential project at Seymour Road for sale in two to three years. "The residential market is where we want to expand in future. We will have more activity in the residential segment and have some potential [projects] going forward, but not everything is in place," he said. "We have been expanding our portfolio [on the mainland], while we are still very interested in the Hong Kong market. The market has gone through quite a rocky period in the past five to six months, but we can see that it is picking up again." Swire plans to increase its investment properties to 24 million square feet by 2013, of which 8 million sqft will be on the mainland and 16 million sqft in Hong Kong. The company now owns 15 million sqft of office and retail properties in Hong Kong and 1 million sqft in Beijing. Mr Cubbon said no formal decision had been made on the development plan for the Tai Sang Commercial Building in Wan Chai. Swire's property unit acquired the building at an auction in December 2007 for HK$1.36 billion or HK$7,334 per square foot, extending the footprint of its Pacific Place in Admiralty. Commenting on Swire's office rentals, Mr Cubbon said demand for office space remained strong. "Rental is off its peak, which appeared in the middle of last year. The rate of decrease in rental is not as significant as what the market has been talking about," he said. Chairman Christopher Pratt said the company had no immediate plan to seek a listing on the mainland stock market.
A major travel agency yesterday decided to cancel 31 study tours because of the human swine flu (H1N1) threat, a move the head of the Travel Industry Council suggested was premature. A Hong Thai Travel spokesman said it had decided to cancel 31 study tours to 11 overseas destinations in July and August after "thorough consideration of the concerns of parents and the health risk of human swine flu on young children." He said Hong Thai contacted the 300 affected customers, offering them a full refund or the option of joining local study tours. However, TIC executive director Joseph Tung Yao-chung said Hong Thai's step may have been premature, pointing out that no other travel agency had arrived at the same decision. At a Legislative Council meeting yesterday, Liberal Party lawmaker Tommy Cheung Yu-yan said the number of both outbound and inbound tours between Hong Kong and the mainland had dropped about 70 percent since May 3, a few days after the first case of human swine flu was confirmed. Secretary for Education Michael Suen Ming- yeung said the government could not prevent parents from sending their children overseas but urged them to be more careful when selecting tour destinations. After a one-hour meeting with school principals, Secretary for Food and Health York Chow Yat-ngok also brought up the issue. "There is another concern about the summer activities of schools, particularly those that have arranged overseas study groups. If they do that, they have to understand where they are going, and what they are doing when they get there, and whether they have sufficient supervision, and also preparation such as protective gear and antiseptics, and things that they have to carry with them," he said. Chow also reiterated stricter measures may be required to protect younger schoolchildren in the event of a swine flu outbreak. He said overseas reports suggest children under 15 might have a higher incidence of transmission and infection. "Our consideration is to try to have the primary schools and the kindergartens put into one group, and the high schools into another group," Chow said. "I think students in the universities are adults. As I have said earlier if we have to go down the route of mitigation and also social distancing, then of course we have to address those questions. But if we have to close universities, we have to close many others too." Hong Kong Aided Primary School Heads Association chairman Cheung Chi-hung said schools are prepared for a suspension of classes once there is a local case of swine flu. Should this happen, schools will put teaching material online to allow students to study from home. Up to noon yesterday, five people who had fulfilled the criteria for reporting human swine were referred to the Centre for Health Protection. All were in stable condition. So far, 87 of the 94 such cases have tested negative for the virus.

China: The central government has expanded on plans to develop a major economic zone on the coast of Fujian province aimed at further strengthening blossoming ties with Taiwan. Communications, shipbuilding and robotics are among the industries that will form the basis of a trade co-operation agreement covering the region, according to an 11,000-character statement released by the State Council yesterday. Over the next three years, the region is to accelerate infrastructure projects, raise incomes and living standards, focus on becoming a "national leader" for scientific innovation and specialise in direct links with Taiwan. A second phase of the "Straits West Coast Economic Zone" extends to 2020, with the aim to "increase the prosperity (SEHK: 0803, announcements, news) of the people and [build a] harmonious society". The new zone is to extend as far as the Yangtze delta in the north and the Pearl delta to the south - effectively creating a superzone running from Guangdong province to Jiangsu province. In addition to economic activities, the "experimental zone" - centred around the port city of Xiamen - is also intended to foster cultural links across the Taiwan Strait and promote environmental tourism. The development zone plan has long been advocated by local officials and businessmen as a way to help the region catch up with the Pearl River and Yangtze River deltas, but only received State Council backing last week. The document released yesterday fleshes out the skeletal plan included in the cabinet's earlier approval, but also acknowledges that there are still challenges to fully integrating economic growth in the area. Transport infrastructure needed to be modernised, towns and cities would need to co-ordinate their efforts and agricultural methods had to be improved, the statement said. It also noted that greater efforts would need to be made in regions where economic development had been falling behind, particularly in island communities and regions with ethnic minorities. It also stressed the importance of protecting the environment during the process of economic development, and the need to preserve built heritage and intangible cultural heritage. The announcement came on the eve of a week-long meeting starting in Xiamen. The Straits Forum, which is expected to draw more than 8,000 Taiwanese delegates from all walks of life, will focus on cross-strait links ranging from economics to culture to the academic. The forum follows a year that has seen a dramatic softening of Beijing's stance on Taiwan, with the establishment of direct shipping, air and postal links and agreements on closer economic ties. Ties between Beijing and Taipei plunged to new depths during the eight-year presidency of Chen Shui-bian.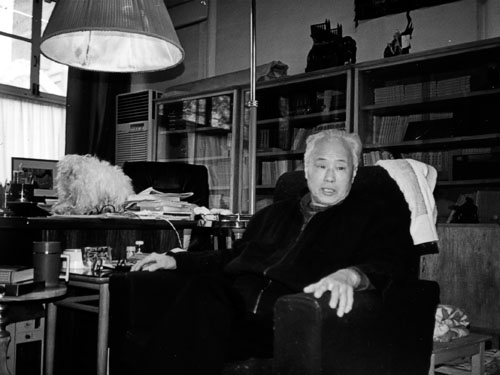 Zhao Ziyang in his study at home in central Beijing in 1993 where he wrote his memoirs during a house arrest that lasted until he died. In memoirs that are largely objective but calm, Zhao Ziyang opens his heart to recount the pain of his isolation after the bloodletting at Tiananmen when he was put under a house arrest that was illegal and extremely secretive. The reformist leader was stripped of all party posts soon after the crackdown. On September 3, 1989, the party set up a special group to investigate his "crimes". He was accused of manipulating the turmoil to undermine paramount leader Deng Xiaoping . As party general secretary, Zhao "was the ideal candidate to lead counter-revolutionary forces at home and abroad to restore capitalism". The investigation lasted a year and made no solid findings. However the Central Committee dragged it out and continued to use it as an excuse to keep Zhao under house arrest. He re-emerged in October 1990, when he decided to go golfing. At the time neither party general secretary, Jiang Zemin , nor premier Li Peng were in Beijing and after much struggle the security bureau allowed Zhao to play at a Japanese joint-venture golf course. But Japanese media found out and the story spread around the world. But it also frightened party heavyweights Mr Jiang, who succeeded Zhao after the crackdown, and Mr Li. "They condemned the decision and began an investigation to find out who had allowed me to go out to play golf," Zhao writes. "After this disturbance, they notified me verbally in the name of the Central Committee that I was prohibited from going out during investigation." When the investigation finally ended in 1990, Zhao sought the restoration of his personal freedoms by the party, but received no answer. The party had secretively imposed six rules to limit his freedoms, although they did not tell him face to face - "possibly because they felt guilty and feared being caught with evidence that could be exposed to the outside world and get media attention", Zhao writes. The paranoia of the party leaders was such that they did not allow Zhao to visit Guangdong on the grounds that then Hong Kong governor Chris Patten was instituting democratic reforms in Hong Kong. "As the investigation was over, I asked to take a trip to Guangdong for the winter because of my trachea problem, which causes me to cough severely in the dry northern winter," Zhao writes. "They responded by saying that Chris Patten was attempting to extend democratic elections in Hong Kong, so the situation was delicate and it was not convenient for me to go ... I thought that was ludicrous!" Gradually, after his repeated protests, they allowed Zhao limited outings. But all such excursions from his home were closely controlled. He was not allowed to meet old friends and all his movements had to be approved beforehand. "With the addition of so many rules and procedures, it has become too troublesome for many people [to visit me]. As a result, the entrance to my home is a cold, desolate place," he writes. "I receive even fewer visitors when I travel outside of Beijing. Besides service personnel and top provincial leaders, no one is allowed to know about my arrival. They are kept secret." The reformist leader, who was never convicted of any crime, repeatedly wrote to party leaders, including Mr Jiang, asking for his liberty to be restored. "I hope my house arrest will be lifted and my personal freedoms restored, so that I will not spend the rest of my years in these lonely and despondent conditions," he wrote in one letter to Mr Jiang. But Mr Jiang never answered his letters and Zhao's confinement lasted until his death.
A meeting at Deng Xiaoping's house in the summer of 1989 after the Tiananmen crackdown. It is the only known visual record of a meeting at the place where the crackdown decision was made. Li Peng panicked and fled from Tiananmen Square, Jiang Zemin was overwhelmed by the demonstrations in Shanghai and Hu Yaobang was careless and sometimes hasty, according to ousted party boss Zhao Ziyang . Zhao's memoirs make many claims about top state leaders and shed light on the power struggles at the royal court of the Communist Party. His depiction of then premier Mr Li, a key figure in the June 4 crackdown, is of a man who was a coward, personally repulsive and incompetent. Zhao writes that Mr Li, having tried and failed several times to stop him meeting the students, went to Tiananmen Square with him in the early morning hours of May 19, but fled soon after their arrival. "I insisted on going, saying that if no others went, I would go alone," Zhao writes. "Once he [Li Peng] saw that I was intent on going and could not be deterred, he changed his mind. But he was terrified and fled very soon after we arrived at the square." Even before Zhao's famous meeting with students in the square - televised in Hong Kong and abroad - Mr Li was already preparing for "leadership changes", Zhao writes. After a meeting with Soviet leader Mikhail Gorbachev, Zhao called a meeting of party leaders on the night of May 16 to discuss issuing a public statement in the name of the politburo standing committee to ask students to stop the demonstrations. But Mr Li was not willing to include the word "approve" in the statement which attempted to assuage students' anger by describing the "passionate patriotism" of the students as "admirable". Zhao said: "I was quite repelled by Li Peng's attitude, and said: "If we don't mention `approval', it's as if we'd said nothing at all ..." "After a meeting at Deng Xiaoping's home on May 17, Li Peng and his associates acted abnormally in many ways," Zhao writes. "Whether I was going to the hospital or to the square to visit students, he repeatedly attempted to block me. "When I arrived and I exited the van, he rushed out in front of me, which was contrary to custom. Someone later told me that he instructed people to hint to the cameramen not to include images of me, because it would become `inconvenient' in the event of future leadership changes." Zhao writes that the decision on who should be premier (the role went to Mr Li before Tiananmen) had taken a long time because Mr Li had no experience in managing the economy. Deng was hesitant about appointing him and had to ask Zhao to continue overseeing the economy although Zhao had already been promoted to party boss. Deng had acknowledged that Mr Li had "a bad reputation" and that he had once visited the Soviet Union without informing anyone during a visit to Europe. The memoirs also challenge conventional wisdom that former president Jiang was decisive when handling the 1989 student demonstrations in Shanghai and that his actions caught the attention of Deng, who later elevated by him to replace Zhao. Instead, Zhao says that Mr Jiang was overwhelmed by the demonstrations in Shanghai and sought his help. Unhappy with Zhao's advice, he later cited the incident in condemning him. "On May 10, Jiang Zemin came to Beijing and talked to me about plans to reduce tensions. I told him the matter should be resolved in Shanghai without the interference of the Central Committee ... Jiang Zemin was unhappy about this," Zhao writes. Zhao writes that while Hu Yaobang, his predecessor as general secretary, was reform-minded and tolerant, he was careless and his slips of the tongue on public occasions and during interviews, including during an interview with Hong Kong journalist Lu Keng, upset Deng and was the true reason for his downfall.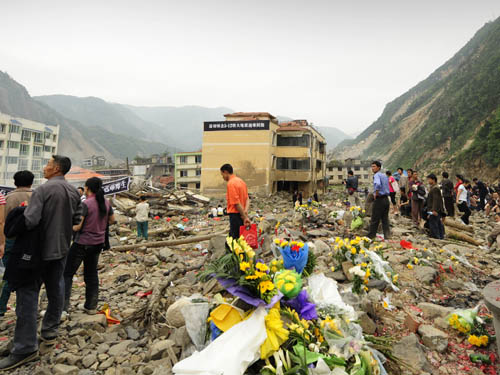 Under overcast skies, against a sad, haunting melody, President Hu Jintao yesterday presided over a memorial service on the first anniversary of the Sichuan earthquake, which claimed more than 87,000 lives. The 30-minute service was held in Yingxiu town at the quake's epicentre and broadcast live on television across the country. At 2.28 pm - the exact moment when disaster struck the province - a solemn-looking president led a minute's silence and then laid a white chrysanthemum - the traditional mourning symbol - at a commemorative site, followed by other state leaders, foreign ambassadors and representatives of students and rescue workers. While pledging more efforts for reconstruction and disaster prevention work, Mr Hu described the quake as an event that brought the entire country together and demonstrated the nation's resilient strength. "During the quake rescue and reconstruction, the whole country has strived with one heart," Mr Hu said in a low voice in front of a stone carving of a clock showing 2.28. "The great task of earthquake rescue and recovery reminds us again that unity is strength, that victory can only be gained through struggle." In Beichuan , the town worst-hit by the quake, traffic was heavy on narrow mountainous roads leading into the ruins of the old town, as tens of thousands of mourners flocked there to pay their respects to the dead. Police said it was hard to calculate how many people had arrived yesterday, although one official estimated up to 100,000 were walking among the ruins of the town. At the destroyed Beichuan Middle School, where about 1,300 students and staff died, white and yellow flowers were piling up, white candles burned and incense was lit. Many parents brought pictures of their dead children and pasted notes to a metal fence surrounding the rubble. There were no protests against authorities recent denial of sloppy school construction. Police and armed soldiers were everywhere inside and near the ruined school, trying hard to stop bereaved parents from airing their grievances to overseas reporters. Mainland media have been strictly prohibited from touching on the topic of "tofu buildings", considered one of the most politically sensitive issues in the past year. Authorities say claims of shoddy schools are unfounded. Xie Xinghe , 43, is the father of a 16-year-old killed when his classroom at Beichuan Middle School was reduced to rubble. "All we want now is justice," the Beichuan resident said. "We will keep fighting till the day we find out whether our kids have been killed due to poorly constructed `tofu buildings'." Elsewhere across the quake zone, mourners wept and knelt for their lost ones in the ruins, lit incense, burned paper money and set off firecrackers to ward off evil spirits. Crowds of mourners, most of them young people in white T-shirts, started to gather in Beijing's Tiananmen Square in the early afternoon. They chanted "Go China" slogans, they cried for lost lives and observed a minute's silence when the clock stood at 2.28. In Shanghai, main streets erupted into a cacophony of car horns at 2.28pm. At a kindergarten in Chengdu , the Sichuan provincial capital, students decorated paper hearts before hanging them from trees in a city park, the China News Service reported.
China will spend 62.8 billion yuan (HK$71.3 billion) this year and next on new technology as part of government efforts to stimulate economic growth, the State Council said yesterday. The cabinet said it would provide 32.8 billion yuan this year and 30 billion yuan next year for 11 technology projects, including the development of a large China-made aircraft, the building of high-speed mobile-telephone networks, and the creation of drugs for Aids, hepatitis and other infectious diseases. Among the sectors to be given support would be biotechnology, genetically modified products, large aircraft, broadband wireless technology and new oil, gas and coalbed methane exploration, the cabinet said after a meeting chaired by Premier Wen Jiabao. "It is important to strengthen the role of technology in driving economic growth, which is also part of a series of government plans to tackle the global financial crisis," the State Council said in a statement posted on the government website. However, the statement did not say whether the investment was new or part of previously announced fiscal spending packages. It also said the cabinet approved a number of policies aimed at boosting the mainland's biotechnology sector, with the government determined to create big companies that could compete internationally, as well as encourage the development of small firms in the sector. The mainland has invested in infrastructure projects, cut taxes and offered subsidies in an attempt to spur domestic consumption as the collapse of demand for its exports dragged economic growth in the first quarter to the slowest in almost 10 years. Beijing introduced a 4 trillion yuan stimulus package in November to bolster growth.
May 15, 2009

Hong Kong: Hong Kong has called on the United States to screen outgoing air passengers to avoid exporting swine flu cases - after a Hong Kong resident who returned from San Francisco was yesterday confirmed as the city's second swine flu case. Thirteen people who had been in close contact with the 24-year-old-man were yesterday placed in quarantine for a week at a Sai Kung holiday camp. They are three relatives who met him at the airport upon his arrival on Monday on Cathay Pacific (SEHK: 0293) flight CX879, six passengers from the flight, three members of the cabin crew and an immigration officer. Health officials meanwhile warned swine flu would be a bigger threat to the city in the summer when many Hong Kong students overseas return home. The mainland also confirmed its second case of swine flu, in a man newly returned from studying in Canada, and strengthened screening to ward off an outbreak. In a letter to US Secretary for Health and Human Services Kathleen Sebelius, Secretary for Food and Health York Chow Yat-ngok called for stringent screening of passengers leaving the United States. "As a responsible global citizen, we are mindful that every country has a duty to reduce as much as possible the probability of travellers spreading infectious pathogens as a result of our interconnectedness. This is indeed the very spirit of the [World Health Organisation] International Health Regulations promulgated in 2005, of which your country is a signatory," Dr Chow wrote in the letter. University of Hong Kong microbiologist Ho Pak-leung said the US - where more than 3,350 people have caught swine flu and three have died - should stop passengers with a fever boarding flights. Undersecretary for Food and Health Gabriel Leung appealed to people with fever or flu-like symptoms not to travel. Professor Ho advised visitors to Hong Kong from affected areas to wear masks for at least a week. The patient, who went to the US in late April, developed a fever last Wednesday and a cough and sore throat on Friday. He took Virgin America flight VX1961 on Sunday from Las Vegas to San Francisco before catching the flight to Hong Kong. Cathay Pacific spokesman Dane Cheng Ting-yat said the patient did not tell crew members he felt ill before boarding. "He did, however, [tell health officials at the hospital he wore] a mask on board the plane most of the time, other than [when] eating," Mr Cheng said. The man consulted a doctor at an airport clinic after meeting his relatives. He was sent to Princess Margaret Hospital by ambulance. Thomas Tsang Ho-fai, controller of the Centre for Health Protection, said the patient was in a stable condition and had had no contact with the wider community. The man sat in row 62 of the plane on the flight from San Francisco. The Immigration Department said 45 of the 51 passengers who sat in the same row or within three rows of the patient had left Hong Kong. The six still in Hong Kong were those placed in quarantine at the Lady MacLehose Holiday Village. The government wants passengers who took either flight to call its hotline, 2125 1111, to arrange a health check. The patient travelled with a girlfriend in the US from April 29 to May 10. The woman, also a Hong Kong resident, flew to the city from Toronto on Tuesday. She tested negative for swine flu but has been put in isolation at the same hospital.
Troubled broadcaster Asia Television announced its fourth staff layoff in seven months with 36 staff, including long-serving news anchors, ordered to leave the company yesterday. The news department was the worst hit, with 26 people sacked - including reporters, editors and directors. The 10 others dismissed were from the engineering division. Sports news anchor Wong Man-kit was among the longest-serving journalists laid off. He had worked on the desk for more than 10 years. Other axed reporters included Joey Chiu Ya-ching, John Lau Ho-chun and Frankie Chan Kam-fan, who had served in the broadcaster's general news section for between two and five years. All five members of a typists' team were laid off, including a staff member who had served for 18 years. The station said 70 per cent of those sacked had served for less than five years. ATV senior vice-president Kwong Hoi-ying said the employees were sacked due to reduced demand in workload after it cut a 24-hour news channel last month.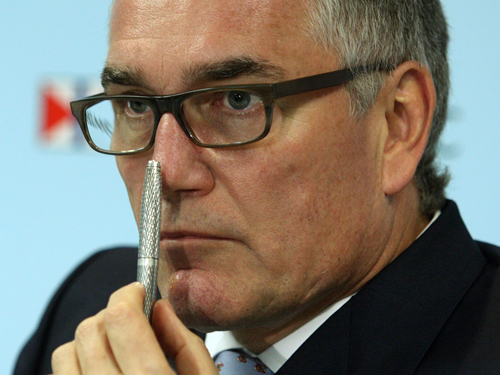 Cathay chairman Christopher Pratt sees no need for the carrier to raise capital on the market, given its strong balance sheet. Cathay Pacific Airways (SEHK: 0293) denied yesterday it was considering selling down its 27.45 per cent stake in Hong Kong Aircraft Engineering Co (Haeco (SEHK: 0044)) or planning to tap the capital markets. Shares in Cathay and Haeco rose sharply on Monday on speculation a major shareholder would be disposing of shares in the aircraft maintenance and modification business. "We have no knowledge of any major shareholder selling shares, while Cathay is not considering to dispose of its stake," Cathay chairman Christopher Pratt said after a shareholders' meeting yesterday. Although the current operating environment was difficult, Cathay did not expect to raise any capital on the stock market, given its strong balance sheet, he added. Meanwhile, Cathay chief executive Tony Tyler said official plans to more than double the direct flights between the mainland and Taiwan to 270 a week as early as June would have an impact on the airline. But that would partly be offset by an agreement signed over the weekend between Beijing and Hong Kong to allow mainland tourists to use the same visa to visit Hong Kong and Taiwan, he said. Cathay flew 8.8 per cent more passengers last month, the first increase for several months, because the Easter holiday fell in April this year after falling in March last year. However, the airline said it still saw no sign of a turnaround, given the disappointing mainland export figures for last month. Price-fixing proceedings instituted against Cathay by the Australian Competition and Consumer Commission would be vigorously defended, Mr Tyler said. "We remain subject to the antitrust investigation by several jurisdictions, including Australia, New Zealand and the European Union ... but we are not in the position to assess the full potential liability of the fine," he said. Last year, the airline made a US$60 million provision for the settlement of a price-fixing investigation by United States regulators.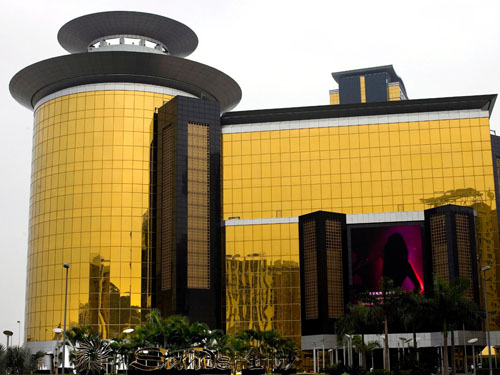 Las Vegas Sands plans to slash the equivalent of 3,000 to 4,000 more full-time jobs in Macau and Hong Kong by September, executives say. The owner of the Venetian and Sands casinos in Macau aimed to cut payroll via a combination of layoffs, pay cuts, attrition and transfers of staff to the company's soon-to-open Singapore resort, Asia-region president Stephen Weaver said yesterday. "We've been looking at staffing levels across our properties in Las Vegas, Macau and Singapore, and the bottom line is that this is part of an ongoing process to reduce costs." The staff reductions are part of a US$270 million annual Macau cost-cutting exercise. Las Vegas Sands revealed the measures last week after reporting a net loss of US$87.68 million for the first three months of the year. The cuts are deeper than the US$125 million in reduced Macau expenses that the company had announced in February. The measures are part of a campaign to maintain compliance with leverage requirements built into agreements on a total of US$10.27 billion in long-term debt as of March. "We will continue to align our headcount with the current rather than future needs of our business," new president and chief operating officer Michael Leven said last week. The full-time headcount in Macau would be slashed to between 13,000 and 14,000 by September, down from about 17,500 at present and a peak of 20,000 last year, Mr Leven told Bloomberg yesterday. "Macanese workers will not be affected that much; it will affect the expatriate population more." "Some of those people are transferred to Singapore, some are no longer required, and some are redundant," he said. Las Vegas Sands is building a US$5.2 billion, 2,600-room casino resort complex in central Singapore that is targeted to open from the end of this year. Transferring employees there would coincide with a Macau government campaign to cut the number of non-resident workers in the city by several thousand this year. The company has eliminated about 1,000 jobs held by non-resident workers through layoffs and attrition in recent months. It laid off about 11,000 construction workers in Macau in November after the credit crisis forced it to suspend work on a 6,400-room Cotai hotel complex. It also implemented unpaid leave from January 1 equal to a 13.3 per cent pay cut for 6,800 Macau gaming staff.
Dongguan has picked 61 companies - most of them Hong Kong-invested - to take part in a national pilot scheme for the settlement of cross-border trade in yuan, the city government said yesterday. Ye Haopeng, director of Dongguan's financial service office, said: "All I can tell you is most of the companies are Hong Kong firms and they have good records with the government. We are waiting for the provincial government's approval." Hong Kong and Macau companies will be allowed to use yuan to settle trade in goods with partners in Guangdong and the Yangtze River Delta, in a push by the central government to strengthen the yuan's role as a regional currency. The pilot scheme will be launched in Shanghai and four cities in Guangdong - Guangzhou, Shenzhen, Zhuhai and Dongguan. For a start, 300 companies in Guangdong will be picked for the scheme. Mr Ye said Dongguan and Zhuhai were to propose 50 companies each for participation. But he was confident the provincial government would approve all 61 companies Dongguan had nominated. Guangzhou and Shenzhen will each propose 100 companies. Meanwhile, up to 300 Hong Kong exporters with factories in Guangdong will join a product expo the provincial government is hosting next month to help manufacturers tap the mainland market, as global demand plummets. To keep costs down, the Guangdong government is waiving the charges for booths and subsidising decoration. To attract buyers, the organisers are offering them two nights of free accommodation at a hotel, said Chen Zhongqiu, the mayor of Dongguan's Houjie town, which will co-host the trade fair. He said up to 1,500 Guangdong exporters - including 600 from Dongguan - would join the expo. "Since Hong Kong firms have a strong presence in Dongguan, 200 to 300 Hong Kong firms in our city will participate in the expo," he said. Only exporters that market their own products can join the trade fair. Inexpensive and low-tech products are excluded. So far, 18 overseas retail chains, including Wal-Mart and Tesco, and the mainland's leading retailers have been invited to join the trade fair.

China: Production growth in mainland factories slowed last month, while power generation slipped, stemming hopes for a swift recovery in the world's third-largest economy. Confirming fears that the green shoots of an economic revival may be struggling to grow, the data overshadowed a surge in spending by mainland shoppers buoyed by the country's stimulus package. Factory output rose 7.3 per cent from April last year, the National Bureau of Statistics said, down from March's 8.3 per cent expansion and lower than market expectations of an 8 per cent gain. Power output fell 3.5 per cent, extending a 1.3 per cent decline in March. Electricity generation slipped for the sixth month since October last year. The grim figures add to doubts that the trade-driven economy can bounce back as quickly as expected. "Worsening export growth and further inventory drawdown" had created the slowdown in production, said Ting Lu, an economist at Bank of America Securities-Merrill Lynch. On the positive side, retail sales rose 14.8 per cent last month, exceeding analysts' expectations and marginally up from the 14.7 per cent gain in March. Industrial growth had been expected to show improvement after signs of a nascent recovery in some parts of the economy. Still, some economists cautioned against reading too much into the slowdown. "Extremely high industrial output growth in March was mainly because many companies postponed production as they halted operations for an extended period in February after the Lunar New Year holiday," said Ziqiang Xing, an economist at China International Capital Corp. Sun Mingchun, an economist at Nomura International, said he was not concerned about the slowdown as the data for last month also suggested an improvement over the past two quarters. "As the economic recovery gains more momentum, we expect industrial production growth to resume an uptrend as early as May," he said. Despite the slowdown from March, industrial production growth was still much faster than the 3.8 per cent expansion seen in the January-February period and the 5.1 per cent surge in the first quarter. Between January and last month, output rose 5.5 per cent from a year earlier. Jing Ulrich, the chairman of China equities at JP Morgan, said the mainland's fiscal stimulus package would spur demand in a wide range of industries and support increased production in the coming months. Mrs Ulrich also said the recent rapid expansion in loans would lift industrial production in the coming months. New yuan loans by commercial banks peaked in March at 1.89 trillion yuan (HK$2.15 trillion). Data from the statistics bureau yesterday also showed that power production nationwide totalled 271.29 billion kilowatt-hours last month, while output in the first four months fell 3.2 per cent to 1,049.16 billion kWh. Still, the latest decline is more moderate than the 4.64 per cent tumble in this year's first two months, as well as declines of 7.9 per cent in December and 9.6 per cent in November last year. CLSA utilities analyst Dave Dai said mainland power demand had declined since mid-March, when the lower-base effect caused by snowstorms early last year disappeared, adding lower steel output might also partly explain the weakness. Mr Dai expected demand growth to turn positive from July and tipped full-year growth of 3 per cent.

China's hopes to cut its greenhouse gas emissions - just as soon as it figures out how to do it, a senior central government official says. The mainland is the world's biggest emitter of carbon dioxide and is often criticised for its large role in global warming. Nonetheless Li Liyan , deputy director of the Climate Change Office of the National Development and Reform Commission, told Reuters that the government would not set a specific reduction target for mainland industries. "We want to, we just don't know how to do it yet," Ms Li was quoted as saying. Developed countries should instead take more aggressive steps to cut their emissions by 25-40 per cent by 2020, she said. Xie Zhenghui , deputy director of the Chinese Academy of Sciences' International Centre for Climate and Environmental Sciences, agreed with Ms Li. "To cut or not to cut is not the question. Most researchers agree that there is a bit more CO2 than is necessary in the air. It would be great if we could bring it down," Professor Xie said. "The question is how much to cut and how to cut it. No scientist can answer this." He said the emission targets adopted under the Kyoto Protocol were produced by flawed mathematical models. The complexity of the Earth's atmosphere was beyond the grasp of the human mind, and computers were not fast enough to track carbon flows in the atmosphere. "The Earth is an integrated system. If you miss one element - say, the breathing of seaborne bacteria - the results might be very different," he said. "If you ask two scientists what will happen to the world if China's CO2 emissions double, one may say `hell' and the other `heaven', and both answers can technically hold water because the things that they take into account vary. "Therefore, no serious scientists can tell the Chinese government how much CO2 emissions need to be cut to save the world." Even if a goal were set, there were many ways to achieve it, according to Professor Xie. For example, while some countries wanted the mainland to shut down factories and get cars off the roads, it had planted more trees in the past six decades than any other country, and had exercised a population-control policy no other nation wanted to adopt. Both had contributed to slower growth in CO2 emissions. Li Hongbin , the China project development manager of Areva Renewable Energy, said energy shortages, environmental pressures and the need for more competitive industries were internal forces slowing the growth in emissions. For instance, the central government required the power sector, one of the biggest emitters, to switch a considerable proportion of its electricity output from coal-generated to renewable sources, Mr Li said. "Big companies in the mainland power industry are very interested in renewable energy projects, including those that require enormous investment," he said. "They have the money and political incentives, and they are quick in terms of decision-making and execution. China will be the world's biggest renewable energy producer and consumer."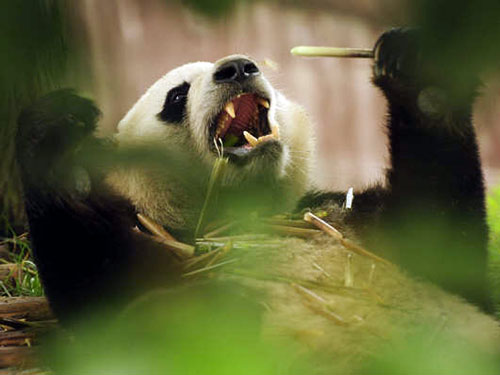 A cub plays at the giant panda breeding centre in Sichuan. A new breeding centre four times the size of the original is being built. Six new pandas arrived at Beijing Zoo last month from Sichuan , but few of the visitors flocking to see them would suspect the hardship the animals have endured in the past 12 months. Four of them - Xiangge, Shuiling, Qingfeng and Wenyu - experienced first-hand the catastrophic earthquake that hit Sichuan a year ago when their home at the Wolong Giant Panda Breeding Centre was laid to waste. The centre was just 30km from the epicentre and the quake destroyed much of the site, killing five employees and at least one panda. When a South China Morning Post (SEHK: 0583, announcements, news) reporter visited the breeding centre a week after the earthquake, the four pandas sat listlessly on the ground. They appeared shell-shocked and tired - they had even lost their appetite for bamboo leaves. "It took a while for them to recover from the shock," a breeder at the centre said. "For the first few days, they just hid in the trees and refused to come down." China has more than 1,590 pandas, according to a 2003 survey, and 76 per cent of them are in Sichuan. The centre was home to more than 140 before the quake, making it the largest of its kind in the country. But its location meant it was vulnerable to earthquakes and landslides. It sits by a river on a narrow strip of land between two steep mountains. During the earthquake, falling rocks destroyed most of the facilities and killed one adult panda. Much of the bamboo forest was wiped out and critical breeding grounds were buried under mudslides. Zhang Hemin, director of the China Conservation and Research Centre for the Giant Panda at Wolong, said the damage was particularly severe at the foot of the mountains, where the pandas sought shelter in the colder months. Considering the scale of the disaster, it is fortunate more were not harmed. Now, most of the pandas have been transferred elsewhere and the centre remains temporarily closed. Even though a year has gone by, Li Desheng , deputy director of the centre, still remembers the moment the quake struck. "All I could think about was the pandas. I wasn't able to relax until all the pandas were transferred to safety." In the aftermath of the disaster, international organisations such as WWF launched campaigns calling for government help for the pandas. Most were transferred to the safer Yaan Panda Centre nearby. Seven were left behind - officials said they were kept there to show the centre was still functional. The four sent to Beijing were picked because they were physically healthy and recovered relatively quickly from the mental stress caused by the earthquake. A new breeding centre is being built 10km away in Shenshuping, where the 27 hectare site is four times the size of the original Wolong centre. But the reconstruction process is proving slow. Hong Kong is playing an important role. The government is providing financial and technical support to 122 reconstruction projects in Wolong . This includes a new road linking Yingxiu and Wolong, 23 projects inside Wolong nature reserve, 57 new schools, 30 medical centres and 11 social-welfare projects. Construction is expected to start this summer, but the poor state of the road to Yingxiu - the quake epicentre - is hampering the effort. The 45km road was destroyed by landslides, and an unpaved mountain road only suitable for high-clearance vehicles is the only link. According to breeding centre official Deng Linhua , the new road cannot open soon enough. "Until the road is fixed, the construction will be slow, because most building materials have to be sent in from there," Mr Deng said.
May 14, 2009

Hong Kong: Travellers perceive Hong Kong as the best spot in the Asia-Pacific region for vibrancy, nightlife and shopping, according to a CNN Global Travel and Tourism Survey. The Big Bauhinia bested Australia and Japan in the "most vibrant city life" category, topped Japan and Thailand to secure "best nightlife" honors, and beat Singapore and the mainland to bag "best shopping" in the region, the CNN release said. "The survey didn't probe the reasons respondents scored destinations in a particular way," said Duncan Morris, vice-president for research with Turner International Asia Pacific. "They were simply asked to select the 'activities', 'mood' or 'environment' they thought applied for a list of destinations. More respondents linked 'vibrant city life', 'good for nightlife' and 'good for shopping' with Hong Kong than any of the 18 other Asia-Pacific destinations." Hong Kong also performed well in other categories. It ranked second in the region for "good food" and "good facilities for meetings and conferences", and landed in the top five in the "tourist-friendly" and "safe to visit" categories, Mr Morris noted. More than 5,300 people around the world took part in the survey in December and January - even those who had never visited the place they were voting for. Vibrancy, nightlife and shopping "are image attributes that Hong Kong has long been associated with, and clearly they persist in the minds of global travellers today". The online consumer survey also asked about people's travel plans for this year, and many respondents seem to be packing their bags - global financial crisis or not. The survey found that 46 per cent of business travellers in the Asia-Pacific region "claim the economic environment has had no impact on their business travel plans" - and nearly 80 per cent of Asia-Pacific respondents said they would "likely" vacation somewhere in the region this year, CNN said. "Overall, the survey indicated that more people would travel for holiday over the next 12 months than last year, but one in five would make fewer trips," the release said. Meanwhile, when it comes to air travel, 58 per cent of travellers in the Asia-Pacific region were "willing to pay more" to fly with their trusted carrier rather than shell out money for a flight with another airline. This figure is 8 percentage points higher than the global average and 17 points higher than the North American average, the release said. Asia-Pacific travellers spent a little more than US$4,000 for their last vacation on average - compared with a worldwide average of US$3,700.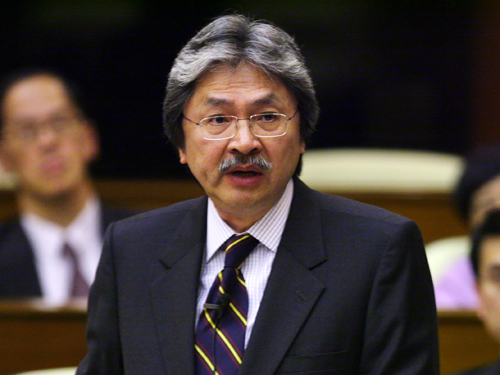 Influential chambers of commerce and business associations have urged the government to help struggling companies as economic indicators point to a dismal year for doing business. Many in the business community are unhappy over the near absence of any mention of small and medium-sized enterprises in February's budget speech and warned of dire consequences. Such firms account for about 98 per cent of companies, employing the bulk of the workforce. "There is a strong need for further measures to revive the Hong Kong economy," Hong Kong General Chamber of Commerce chief economist David O'Rear said. "Hong Kong is too small an economy to be very well affected by spending" on infrastructure and public works projects. The chamber, which usually sides with the government, was particularly vocal in its dismay over the budget. The administration should return taxes paid on provisional profits and waive charges such as the business registration fee for one or two years to help companies conserve cash, Mr O'Rear said. The government did extend 2007/08 tax rebates of 75 per cent - capped at HK$25,000 - to companies and waived business registration fees for 2008/09. Public pressure for more handouts has been mounting, but Financial Secretary John Tsang Chun-wah has largely confined consultations on a supplementary mid-year budget to political parties. Last week, he pledged to unionists fresh concessions that would be "less controversial, instantly effective and focused". KPMG tax partner Jennifer Wong How-yee said the priority for the supplementary mid-year budget lay mainly with political parties and the Hong Kong General Chamber of Commerce, given the need for Mr Tsang to secure votes in the legislature for any new measures. Economic data so far this year is not encouraging. As of March, the jobless rate worsened to 5.2 per cent, exports shrank more than one-fifth and retail sales have deteriorated.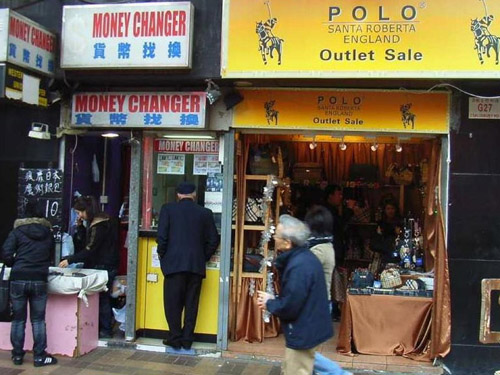 The shop space bought by Ricky Yeung is about as large as two standard parking spaces. Worries about a worsening economy did not deter at least one property investor, who set a new mark for the city's second-most expensive shop - in terms of price per square foot. Ricky Yeung, the chairman of Jewellery City Group, recently bought a 134 sq ft store in Star House in Tsim Sha Tsui for about HK$60 million, said Tony Lo Chin-ho, a director of property agency Midland Shop. That comes to HK$447,800 per square foot. Mr Lo said Mr Yeung, the younger brother of entertainment tycoon Albert Yeung Sau-sing, would hold the shop as a long-term investment. The deal established the shop, which is about as large as two standard parking spaces, as the second-most expensive in the city in terms of unit price, and it is the highest in three years. Property agents said that while there were no detailed surveys globally, the shop on a unit basis was likely to be one of the most expensive in Asia. The Hong Kong record was set in March 2006, when a 40 sq ft unit at Mong Kok shopping centre SIM City sold for HK$515,000 per square foot. The shop, located at the corner of Shantung Street and Sai Yeung Choi Street South, has been combined with the adjacent shop and the underground area and leased by a single tenant. Ranked third is a 111 sq ft shop in Mong Kok on the ground floor at 2Y Sai Yeung Choi Street, which sold for HK$324,300 per square foot in June 2005, according to data compiled by Midland Shop. In fourth place is shop B at 50-52 Russell Street in Causeway Bay, which occupies 649 sq ft and sold for HK$297,400 per square foot in May 2007. The new No 2, located in Star House, faces Canton Road and is just opposite the soon-to-open hotel and retail complex 1881 Heritage, the former Marine Police headquarters. It is near the Harbour City shopping arcade, which is often packed with mainland tourists looking for high-end luxury products. Mr Lo said the shop should benefit from increased traffic on Canton Road when 1881 Heritage opens in October. The shop is occupied by three tenants under short-term leases: one selling groceries, another purses and the third, a money changer. "There are now three interested parties negotiating with the landlord to rent the area as a whole to sell sunglasses, dried seafood or as a foreign exchange shop." He said the shops might fetch a monthly rent of HK$200,000, a rental yield of 4 per cent per annum.
An ex-policeman has filed a request for a judicial review against a disciplinary ruling that forced him to resign 11 years ago - after a landmark case in March overthrew a ban on police hiring lawyers to defend them in disciplinary hearings. In a writ filed in the Court of First Instance on Monday, Johnnie Tsui Kin-kwok, 55, asked the court to order the police commissioner to review two of his convictions from 1997 and 1998. Mr Tsui received severe reprimands on 14 charges in 1997. The penalties for four of the charges were later increased to compulsory retirement. He received another severe reprimand from a separate conviction in 1998. He was forced to retire in October 1998 at the age of 44. "The disciplinary proceedings involved were procedurally unfair and unconstitutional," his writ said. "The resulting convictions and sentences must be quashed." After the disciplinary hearing, Mr Tsui had tried to get a lawyer's help to file an application for a judicial review, but he was denied legal aid. More appeals from sacked policemen are reportedly in the works. Tony Liu Kit-ming, chairman of the Police Inspectors' Association, said about 80 to 90 former officers had contacted the union since the landmark ruling in March and were now seeking legal aid for their appeals. "Not being allowed to use lawyers was a problem in the system," Mr Liu said. "The legal aid application results may not come that soon, but we can expect more of such cases in the future." Mr Liu said Mr Tsui may not be expecting to get his job back, but rather to receive financial compensation. "[Compensation] can be up to HK$2 million for a constable, taking into account the lost salary and other benefits for the past 10 years," he said. In March, Constable Lam Siu-po, 38, won a landmark victory in the Court of Final Appeal after a seven-year legal battle, quashing a misconduct conviction that had forced him to retire. In its 70-page judgment on Constable Lam's case, the top court ruled that a police regulation barring officers from hiring lawyers during disciplinary proceedings was unconstitutional. "The fundamental question is whether our constitution permits legislation that brings about unfairness at disciplinary proceedings," the judgment said. "Our constitution does not permit that." Constable Lam, it ruled, had not received a fair hearing because his request for a lawyer was denied. Constable Lam had been convicted of breaking police rules by racking up more than HK$600,000 in stock market losses in 2002. After the March ruling, Mr Lam was reinstated as a constable and claimed HK$1.6 million in compensation. The force has said it would suspend all proceedings against officers facing bankruptcy, as Constable Lam was when he was disciplined.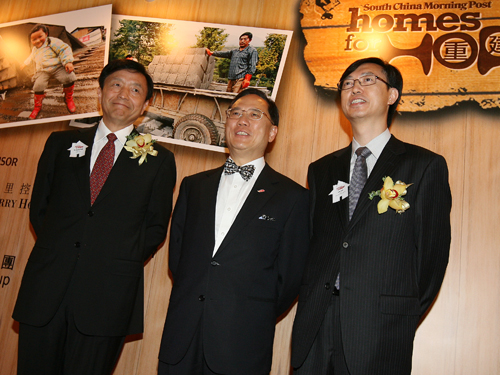 SCMP Group chairman David Pang, Chief Executive Donald Tsang and Post editor C.K. Lau greet attendees at last night's event. A gala dinner hosted by the South China Morning Post (SEHK: 0583, announcements, news) Homes for Hope programme raised more than HK$3 million last night to help victims of the Sichuan earthquake rebuild their houses. More than 300 community supporters, corporate sponsors and government officials, including Chief Executive Donald Tsang Yam-kuen, attended the event at the Island Shangri-La on the first anniversary of the devastating earthquake. The dinner was a fund-raiser by the Homes for Hope project, a charity initiative by the Post to help two quake-hit villages - Qingquan and Shengnan new village - rebuild houses and infrastructure. To launch the event, Mr Tsang and SCMP Group chairman David Pang Ding-jung raised a sign carrying the Homes for Hope logo and nailed it to a picture of a house. In his speech, Dr Pang said the project had received tremendous support from the government, corporate sponsors and individuals since it was launched. "I've been to Sichuan many times. I've seen looks of desperation on many faces. With your help, I think we can put big bright smiles on such faces - we have already begun building homes for them," he said. "This project will bring not only homes but also hope, to help these people build a bright future." "We will try to ensure all your contributions go to Homes for Hope and make sure all the houses built in Sichuan are quake-resistant." A charity auction was held during the evening, which saw energetic bidding for five artworks donated by local and mainland artists and galleries. A grey pottery horse donated by Dragon Culture Charity Fund was sold for HK$500,000, the highest price of the five pieces. The other works were an oil painting called Love by Sichuan-born painter Guo Jin (HK$HK$400,000); a lithography, Memory No.1, donated by the Kwai Fung Hin Art Gallery (HK$150,000); a hand-printed painting, Water, given by the Schoeni Art Gallery (HK$130,000); and a bronze sculpture called Old Boat by Sichuan artist He Liping (HK$130,000). Sotheby's director Ian McGinlay, head of client development for Asia, held the auction hammer. Kevin Ching, chief executive officer of Sotheby's, who helped contact the galleries and artists who joined the project, said: "The Post is a reputable and reliable newspaper and the project is a meaningful one to support." Guests enjoyed a series of shows conveying the cultural flavour of Sichuan, one of which brought in another hefty donation. As pop singer Coco Lee moved around the audience singing, William Fung, group managing director of consumer goods exporter Li & Fung Ltd, passed her a note offering a HK$500,000 donation if she would sing him a song. She then stood before him to sing, adding to the coffers. Award-winning performer Wai Shui-kwan amazed the audience with the "face-changing" skills he learned in the province, while the Hong Kong Chinese Orchestra performed a beautiful Sichuan folk song, The Love Song of Kangding. Zheng Danyi, a poet originally from Sichuan, recited the poem But tonight I should even refuse..., which he wrote for the occasion, expressing the pain and loneliness of Sichuan quake victims. The highlight of the night came when pop singer Coco Lee performed two touching songs for the guests.
Footwear giant Yue Yuen Industrial (SEHK: 0551, announcements, news) (Holdings), the world's largest supplier of branded athletic and casual shoes, is seeking a judicial review in a HK$1.29 billion tax dispute with the Inland Revenue Department. The group filed an application with the High Court yesterday, asking it to quash the tax authority's more than HK$1 billion assessment, as well as the HK$432.91 million in tax reserve certificates for eight subsidiaries in six consecutive financial years starting in 1997. The judicial review application said that beginning in March 2004, the Inland Revenue issued a series of notices of tax assessments on Yue Yuen's eight subsidiaries whose manufacturing operations were outside Hong Kong. The firm objected to the tax assessments, which amounted to HK$1.29 billion for the six financial years, saying its operations were conducted outside of Hong Kong. Nevertheless, it paid HK$314.53 million to buy so-called tax reserve certificates for the first five years as requested by the tax authority until a final decision was made, the application said. Yue Yuen described the purchase as a strain on the company's cash flow. Earlier last month, the Inland Revenue notified Yue Yuen that it needed to buy an additional HK$118.39 million worth of tax reserve certificates, which was half of the HK$236.77 million in tax being demanded for the financial year 2002-03. "The decision of the respondent [Commissioner of Inland Revenue] ... would increase the financial burden upon the Yue Yuen Group, particularly in the difficult global economic environment which has arisen in the last year," the applicant stated. Yue Yuen, which makes shoes for Nike and Adidas, said it was suffering a downturn in orders from these big clients. Yue Yuen's revenue fell 1.2 per cent last month to US$424.97 million after sales declined 3.4 per cent to US$377.3 million in March. Earlier this week, Hang Seng Indexes said Yue Yuen would be removed from the blue-chip Hang Seng Index on June 8. Shares of Yue Yuen closed up 0.87 per cent at HK$16.16 yesterday.
Chief Executive Donald Tsang Yam-kuen on Tuesday afternoon marked the first anniversary of China's 2008 Sichuan earthquake – recalling the role Hong Kong people played in helping victims of the disaster. "The Sichuan earthquake happened a year ago and cost over 69,000 lives – millions lost their homes. After a year, although many homes have been rebuilt, many of the victims still feel devastated," he said. Mr Tsang was appearing in a photo exhibition at the Cultural Centre in Tsim Sha Tsui. He was accompanied by Secretary for Home Affairs Tsang Tak-sing and Secretary for Constitutional and Mainland Affairs Stephen Lam Sui-lung. The Central Government's Liaison Office director in Hong Kong, Gao Siren and vice-director Li Gang, were also present. Mr Tsang observed a minute's silence at 2.28pm – saying Hong Kong "would never forget the Sichuan earthquake". He noted that people in the territory had been quick to help. "Hong Kong people were actively involved in helping. From providing emergency medical and other services a year ago – to re-construction work later." Mr Tsang recalled that the Legislative Council had passed the bill donating HK$6 billion – together with a HK$1 billion donation offered by the Hong Kong Jockey Club. "In all Hong Kong donated about HK$7 billion to help Sichuan earthquake victims," he said. The chief executive said he would try to organise another visit to quake-hit areas with a Legco delegation. The massive earthquake – which measured around 8 on the Richter scale – struck on May 12, 2008 in Sichuan province. It killed at least 69,000 people. It damaged countless homes, buildings, hospitals, schools and other buildings. It has left many thousands homeless, orphaned or without families. Many were also seriously injured – losing limbs and suffering great trauma. The tragedy occurred less than three months before the mainland hosted the 2008 Beijing Olympics.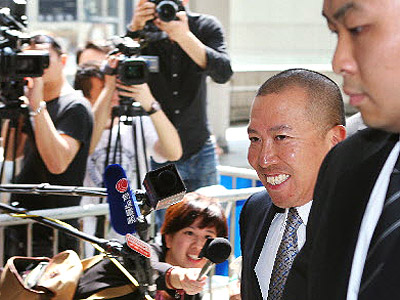 Fung shui master Tony Chan Chun-chuen arrives at the High Court on the second day of his trial to fight for the estate of Nina Wang on Tuesday. A supposed will that left the multibillion dollar estate of Asia's richest woman to a feng shui adviser was likely part of a traditional Chinese ritual to improve her health and not a real will, a lawyer said on Tuesday. An opposing attorney, however, said his client and the late Nina Wang Kung Yu-sum were lovers and that she wanted to bequeath her estate to him out of genuine affection. On the second of a 40-day trial to rule on competing wills for Wang's fortune, barrister Denis Chang, who represents the Chinachem Charitable Foundation, said the late businesswoman was deeply superstitious and sought advice on fung shui — the traditional Chinese art of improving fortunes by actions like placement of objects — especially after she was diagnosed with cancer in January 2004. The 2006 will that businessman and feng shui adviser Tony Chan Chun-chuen claims leaves Wang's estate to him uses language that "has the flavour of a traditional life-extending ceremony," lawyer Denis Chang told the High Court. Wang also made three payments of HK$688 million to Chan in 2005 and 2006 as part of the same effort to improve her health, Chang said. The number eight is considered a lucky number in Chinese because it rhymes with the character that means "prosperity (SEHK: 0803, announcements, news) ." Wang also ordered holes dug at properties developed by her company, Chinachem Group, to bring good luck, the lawyer said. Wang died in April 2007 at age 69 of cancer. Tony Chan's lawyer, Ian Mill, argued Mr Chan and Wang were romantically involved and the will and cash payments were genuine gestures, because "he had been her confidante, her companion when possible and the object of her love for the last 15 years of her life." He said Mr Chan has letters, videos and tape recordings of their conversations — even a pair of her pigtails — to back up the relationship, adding he frequently visited Wang at the hospital when she was dying. "He was her companion to the end," Mr Mill said, adding Wang wanted to have children with Chan and got fertility treatments. In 2007, Forbes magazine ranked Wang as the world's No 204 richest person with a fortune of US$4.2 billion, but it isn't clear how much it is currently worth. Chinachem is a private company and isn't required to disclose its finances, but media estimates of her net worth range from HK$50 billion to HK$100 billion. Known in Hong Kong as "Little Sweetie" for her girlish outfits and hairdo, Wang inherited Chinachem from her husband after an eight-year court battle against her father-in-law, Wang Din-shin. In his absence, she built Chinachem into a massive property developer, with office towers and apartment complexes throughout Hong Kong. During the final appeal hearing in that court battle, Wang asked fung shui masters to pray over the court transcripts and asked her staff to wear clothing of a certain colour for good luck, Mr Chang said on Tuesday.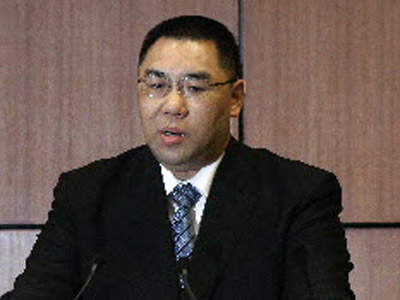 Secretary for Social and Cultural Affairs of Macau Fernando Chui at a press conference on Tuesday in Macau announces that he will be a candidate for the position of Macau Chief Executive. Macau's Secretary for Social and Cultural Affairs Fernando Chui Sai-on said on Tuesday he would participate in the enclave's chief executive elections – and was ready to resign from his ministerial post. Dr Chui declared his bid for the top job at a press conference on Tuesday afternoon. He said he would set up an election office after the central government approved his resignation. He pledged to fight against graft if he became Macau's new leader, while admitting to "mistakes and negligence" during his 10 years as the cultural minister. "In the future, clean governance will be the basis for the whole administration," Dr Chui said. A 2-billion-pataca (about HK$2 billion) budget overrun for the East Asian Games in 2005 has hurt the popularity of Dr Chui – who was chief organiser of the event. The cultural minister said he had been learning from his mistakes and could accept criticism. "In my 10 years' work, I often reflected on my mistakes. There were mistakes and negligence in my work," he said, "I am very happy to listen to criticism… I'll collect people's views for reform and innovation." Dr Chui said he had so far asked four people to join his election campaign – a personal assistant, two secretaries and a driver. He said Chief Executive Edmund Ho Hau-wah would soon report his resignation to the central government. Dr Chui said he was confident about running for the top job. He said he had not talked to the central government about the chief executive election. Election day will be July 26.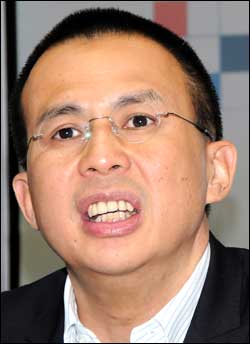 Tycoon Richard Li on Tuesday lodged an appeal against a court decision that blocked his controversial US$2.1 billion (HK$15.9 billion) buyout bid for telecoms giant PCCW (SEHK: 0008), a spokesman said. The PCCW chairman, through his investment vehicle Pacific Century Regional Developments (PCRD), gave notice that it will challenge the Court of Appeal's decision to halt the privatisation, a PCRD spokeswoman told reporters. Mr Li's move came a day after a written judgment concluded that a February shareholder vote to take the city's largest fixed-line operator private had been unfairly manipulated. The judgment, which fleshed out an earlier decision, had been keenly awaited by market-watchers to assess what effect it may have on future privatisation bids. Mr Li dropped the buyout plan after last month's decision, but has not ruled out a future move. The long-running saga has gripped the financial hub, as it pitted one of the city's richest families – Li's father is Hong Kong's richest man Li Ka-shing – against minority shareholders and the Securities and Futures Commission (SFC), a regulator. The central question for the three-judge Court of Appeal panel was whether a February shareholder vote to approve the privatisation scheme had been unfairly rigged by some of Mr Li's associates. The judges ruled that Lam Hau-wah, a senior manager at Fortis Insurance Company (Asia), dished out shares to insurance agents and others in return for them approving the controversial vote. The ruling said this was unfair to minority shareholders and therefore a decision by a lower court clearing the privatisation should be overturned. "Vote manipulation is nothing less than a form of dishonesty. The court cannot sanction dishonesty," Justice Anthony Rogers wrote in the decision. The SFC said in court the manipulation plot was hatched by Lam and Francis Yuen, a close Li associate and deputy chairman of PCRD, through which Mr Li is making the privatisation move. Following phone conversations between the two, Mr Lam bought 500,000 shares in PCCW and handed them out to his agents, under the guise of a bonus, and on the condition they support the vote, the SFC said. At the time, the buyout bid was struggling to meet the so-called "head-count" requirement that more than 50 per cent of individual shareholders vote in favour of any privatisation. Mr Rogers said there was not enough evidence to implicate Mr Yuen, but he said that because Mr Lam had given the shares away and paid for some associated costs, "he was in effect buying the votes." A group of minority shareholders, many of them elderly, fiercely opposed the buyout bid after seeing the value of their shares plummet from more than HK$100. Mr Li and his partner China Unicom (SEHK: 0762) were offering HK$4.50 per share. PCCW, PCRD and Fortis have denied any knowledge of the manipulation. Although vote-rigging is not illegal in Hong Kong, if it is found that some voters had a relationship with the major shareholders, they are not counted as independent and can be ineligible to vote in such shareholder meetings.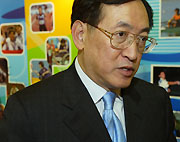 Hong Kong would no longer rely on confinement measures - such as quarantining the hotel where a swine flu patient stayed - to combat the deadly disease if it spread rapidly in the city, government sources said. The government steering committee on pandemic preparedness met yesterday to work out strategies to combat the disease, especially if there were cases of local infection. Its risk assessment found that kindergartens, instead of flights, were likely sources of an outbreak. Hong Kong government last week declared victory in stopping swine flu from spreading to the community after quarantining more than 300 guests and staff at the Metropark Hotel, where a Mexican tourist, the index patient, had stayed. But health officials believed that such drastic measures might not be sustainable in the future, especially if there were multiple cases. The government believes that Hong Kong should go from "confinement" to "mitigation" once the former method becomes futile. A government source told the South China Morning Post (SEHK: 0583) that "mitigation" referred to measures such as shutting down schools and suspending public activities to stem the spread of swine flu and avoid a rapid increase in cases that would overwhelm the health system. "Instead of having a big number of cases in one month, we want to flatten out these cases in three months so [as] to minimise the crash to the public health care system," the source said. "The aim is to buy time for the community to build up herd immunity. The summer holiday will be a cushion for us, if Hong Kong can successfully delay the [swine flu] peak to the winter, vaccines could be available by that time and the mortality will be lower." The source said the United States, with more than 2,500 swine flu cases, had given up confinement measures and Hong Kong would gradually follow this path. Hospitals and borders were regarded as the battle lines to stop the virus from spreading to the community. Once the virus got through these battle lines, schools would be the place where local outbreaks would be generated. The source said kindergartens would be the first to be shut down. "Kindergartens rate as the highest risk as young children can easily pass the virus around. Homes for the elderly rate a lower risk as many residents are not that mobile ... We can see that transmission of the swine flu virus on planes is not effective." Another government source said new measures to be announced this week would detail what to do if cases were found in workplaces, schools or residences. The government hoped that by informing the public of the "rules of the game", it could reduce fear and confusion during an emergency. The committee would also work out guidelines on the use of Tamiflu. Secretary for Food and Health York Chow Yat-ngok said yesterday the review would also clearly define "close contacts" with a patient. Dr Chow visited Princess Margaret Hospital, the city's main hospital for infectious diseases, and assured medical staff that the government would provide sufficient resources. Medical sector legislator Leung Ka-lau said the government could scale down its quarantine operation if there was a second swine flu case, as mortality and infection rates for the virus were not high. He was also concerned about Tamiflu use. "In the Metropark Hotel case ... all 300 guests and staff were given Tamiflu for just one index case. There should be a clear policy on the drug's use or it will be used up."

The University of Hong Kong has been named the best in Asia in the first regional ranking by a company that regularly rates the world's tertiary institutions. Chinese University and the University of Science and Technology, were ranked second and fourth on the ladder, sandwiching the University of Tokyo on the list produced by Quacquarelli Symonds. The company compiles The Times Higher Education World University Rankings, which last year rated HKU 26th, or third if only Asian institutions were counted, behind Tokyo and Kyoto universities. Managing director Nunzio Quacquarelli said the results focused on regionally relevant measures of excellence. "The top performing universities are distinguished not only by quality but also by high productivity of research, compared to their regional peers," he said. Head of research Ben Sowter said additional factors were considered in the regional rankings, as distinct from the world rankings, and the position of institutions in Hong Kong, Japan and Singapore was to be expected. "For example, [universities in] countries with a first language other than English use student exchanges as a key approach to internationalisation. It is reflected in the rankings." HKU's vice-chancellor, Tsui Lap-chee, said the result was recognition of their direction, which focuses on research and teaching and internationalisation of staff and students. "While it is obviously gratifying news for the University of Hong Kong, I am especially heartened ... to see that three Hong Kong universities are regarded amongst the top institutions of higher learning in Asia," Professor Tsui said. A spokesman for HKUST said it was an encouragement to be ranked fourth, but the institution believed it was even more important to perform its tasks well. "We haven't paid much attention to rankings; it is not that important," he said. "But such a pretty good rank is still an encouragement for us." Four countries dominate the top 10 places in the rankings, which are to be released today. The National University of Singapore and Peking University ranked 10th equal. In front of them were three Japanese universities and two South Korean institutions.
A pro-government think-tank has called for the development of a common Hong Kong, Taiwan and mainland market within the next 30 years despite possible short-term financial losses for the city. The Bauhinia Foundation yesterday released a report recommending a three-stage approach that will ultimately allow people in the three places visa- free access with a free flow of goods and capital. The stages would be: "Three Direct Links" (2009-2018); "Free Trade Economic Zone" (2019-2028); and "Common Market" (2029-2038). The foundation called on Hong Kong and Taiwan to take the lead in forming an economic zone. This would cover 11 southeast mainland coastal provinces and cities such as Guangdong, Fujian, Zhejiang, Shanghai, Hainan, and Jiangsu. In the short term, Hong Kong will be the loser and during the "three direct links" stage it will lose 60 percent of its air transshipment business and 40 percent of its cargo importing business. The total volume of freight movement between Hong Kong and Taiwan would also drop by about 40 percent. But with the formation of a common market in 2038, the foundation estimates Hong Kong's GDP will grow by HK$64.3 billion and the mainland's by 2,222.5 billion yuan (HK$2,524.9 billion). Taiwan's could grow by as much as NT$433.2 billion (HK$102.1 billion), they say. "Hong Kong's transit role will inevitably be weakened. But from a long-term perspective, our economy will benefit from the cross-strait developments given our prime location, sound legal system, international business reputation and competitive strengths," foundation chairman Anthony Wu Ting-yuk said. The foundation put forward a series of recommendations. The include the implementation of reciprocal visa-free arrangements between Hong Kong and Taiwan; establishing a "Hong Kong-Taiwan Economic, Trade and Cultural Exchange Committee"; and signing a economic cooperation framework agreement to encourage tariff-free movements of commodities. The foundation noted Hong Kong's potential to become the cross-strait yuan clearing center and suggested that it offer financial derivatives for the region. In response the Constitutional and Mainland Affairs Bureau said the government would not rule out the possibility of setting up an official or semi- official office in Taiwan following the opening of the Hong Kong Trade Development Council Taipei Office in October last year. Officials from Hong Kong will visit Taiwan at the appropriate time.
Hong Kong banks' potential market for deposits has doubled now they are allowed to open sub-branches across Guangdong province without going through a lengthy approval process, analysts said yesterday. "We see this as another landmark event for Hong Kong banks, given the rising integration between Hong Kong and the Pearl River Delta," Goldman Sachs analyst Roy Ramos said. Proposals in the sixth supplement to the Closer Economic Partnership Agreement with the mainland allow Hong Kong banks with some presence in Guangdong to open sub-branches in any prefecture-level city in the province without first establishing a separate outlet there. Banks in Guangdong have U$800 billion (HK$6.24 trillion) in deposits compared to US$777 billion in Hong Kong, Ramos said. Deposits in the province have grown at a 15 percent compound annual growth rate over the past four years. Before the change, it took Hong Kong banks up to four years to apply to open a full branch in a Guangdong city. Ramos said six local lenders are best placed to take advantage of the new measures due to their relatively strong levels of recognition and extensive customer network in China. The six are HSBC (0005), Standard Chartered (2888), Hang Seng Bank (0011), Bank of East Asia (0023), Wing Hang Bank (0302) and DBS Bank (Hong Kong). JPMorgan analyst Joseph Leung said the new measures will add to the attractiveness of smaller Hong Kong banks, which could become takeover targets for foreign banks that do not have a direct presence in China. Meanwhile, Citi analyst Bob Leung said China Everbright (0165) will benefit from the proposal to allow Hong Kong brokers to establish joint ventures in Guangdong. "The announced CEPA 6 additions will broaden its role in the longer term as a leading asset management brand in China, specializing in Hong Kong and alternative investments," Leung said.

China: The suffering caused by the Sichuan earthquake last year - 88,000 people killed and tens of thousands more injured - was so immense, it was felt the world over. Even those nations usually considered China's rivals cast aside political differences to offer money and experts to help with the rescue effort. The tragedy galvanised Hong Kong in a way that nothing before it had. People from all backgrounds - taxi drivers, grandmothers, schoolchildren - gave money, raising more than HK$1 billion in the first week alone. The city's doctors, engineers and aid workers immediately began to organise teams to send to the disaster zone. For many volunteers, it was the start of a deep connection with the area and the quake survivors, one they would describe as the most significant work they had done in their lives. "It has been deeply encouraging to see my patients stand up again after all the physical and psychological trauma," said Poon Tak-lun, an orthopaedist who every weekend packs his suitcase with medical equipment and flies 1,400km to a hospital in Deyang , Sichuan. Many of the patients he saw had been left physically disabled by the disaster and the care they needed was often beyond the resources available in the area, Dr Poon said. After the quake, Hong Kong's media organisations launched campaigns to collect funds. The South China Morning Post (SEHK: 0583, announcements, news) began its Homes for Hope project, aiming to raise HK$18 million for rebuilding two communities in Sichuan. Aside from the billions of yuan given by foreign governments, individuals, corporations and international groups also offered their help. The Ministry of Civil Affairs said it had received 2.1 billion yuan (HK$2.4 billion) from individuals, civil groups and overseas-Chinese organisations by July. The Red Cross Society of China was given 2.6 billion yuan from its sister groups around the world. And for the first time, Beijing opened the doors to foreign rescue teams and military. Nine medical teams from such countries as France, the US and Britain helped treat more than 6,000 patients in Sichuan and Gansu . Although there were complaints that their rescue efforts were delayed by mainland authorities, their involvement stood in sharp contrast to China's attitude when Tangshan , Hebei , was hit by a similarly devastating earthquake in 1976. Rescuers from Japan were among the first from overseas to arrive in Sichuan. Their compassion and professionalism won the admiration of mainlanders, no easy feat given the traditional suspicions between the two nations. The United Nations Development Programme has spent US$2.8 million on a scheme to help 19 villages in Sichuan, Shaanxi and Gansu get their local economies working again. So far, more than 25,000 people have been covered by the UNDP's projects, including 15,000 women and children. Oxfam Hong Kong, the first and only local NGO to sign an agreement with the State Council Leading Group Office of Poverty Alleviation and Development, has spent HK$33 million, a bit less than a quarter of what it received in donations, on 12 projects. Instead of putting resources into areas that are already receiving help, Oxfam has focused on the outlying areas where survivors were being neglected by the outside world, said Howard Liu, director of Oxfam's China Unit. The Chinese University of Hong Kong's faculty of medicine has signed an agreement with local health officials to train up to 1,000 rehabilitation professionals and provide treatment for 10,000 quake victims in the next three years. The government also plans to set up the Sichuan Hong Kong Rehabilitation Centre by 2011 to provide counselling for quake survivors via teleconference equipment. Medical experts in Hong Kong such as physiotherapists, psychologists and orthopaedic specialists will use the facility to provide services without the need to travel there. According to Bao Xiaojing , the deputy head of Deyang Municipal Eye Hospital where Dr Poon visits every weekend, Hong Kong doctors had performed more than 20 operations there since September. And their help extends beyond immediate care. "Apart from bringing us new medical equipment and medicine, more importantly, Hong Kong doctors have also introduced a new mindset to our medical staff about dealing with patients," Ms Bao said. "Hong Kong doctors help patients to get over their apprehension before operations." Liu Chunyan is one of the patients at the hospital. Her left leg was amputated and she is partly paralysed after a severe injury to her waist. But she is recovering faster than she had hoped. With assistance, she can now walk very slowly. "I think I would not have been able to stand up like this if I had not come here. I'd been living in a rehabilitation centre in Chengdu since September. The only doctor there had to care for over 40 amputee patients, including me," she said. "I really hope I can visit Hong Kong at least once in my lifetime. I want to be there to see the place where so many volunteers and doctors who have helped me live." Despite its name, the hospital treats all kinds of patients. Two Hong Kong doctors are volunteering, Dr Poon and former Hospital Authority director Ko Wing-man. Dr Poon is affiliated with the Hong Kong Red Cross, which now has about 30 regular volunteers at the quake zone, according to Philip Chan, director of Hong Kong Red Cross Rehabilitation, Prosthetic and Orthotic Centre. The centre, a five-storey building put into operation in July, is the only institute in the quake zone that provides all-around rehabilitation services for disabled survivors. It has 27 beds for patients and is staffed by eight medical experts from Hong Kong, including two clinical psychologists, two occupational therapists, a physiotherapist, a prosthesis expert and a management staff. Volunteers from Hong Kong also help to man the centre, a co-operation between the Hong Kong Red Cross and the Deyang Disabled Persons Federation. The outpouring of donations and volunteering was significant from within the mainland, as well. Analysts pointed to the public support as a demonstration of a shared sense of collective responsibility. Jia Xijin, deputy director of the Institute of Non-Governmental Organisations at Tsinghua University's School of Public Policy and Administration, agreed. "The milestone development is that the earthquake-relief effort has awakened somewhat people's sense of political participation and social responsibility." While millions donated to the Red Cross and other big official charities, many have also organised their own charity collections, driven convoys of deliveries to remote towns and offered help at tent camps for quake victims. These actions exhibit a striking turn in an authoritarian country where charities are strictly controlled.
China and Kuwait have signed a long-awaited agreement on a US$9 billion oil refinery in Guangdong province, said to be the country's largest such venture so far. The deal was signed late on Monday in Beijing by Kuwait's oil minister, Sheik Ahmed al-Abdullah al-Sabah and Zhang Guobao, director of mainland's energy agency, the official Kuwait News Agency reported on its website on Tuesday. A preliminary agreement was reached in 2005, but the deal was delayed due to disagreement over its location. The refinery was originally meant to be located in Guangzhou, but the mainland wanted it moved due to environmental concerns. The deal between Kuwait's state-owned Kuwait Petroleum International and refiner Sinopec (SEHK: 0386) calls for the refinery to be built in Zhanjiang, a city on Guangdong's coast, the Kuwait News Agency report said. The refinery will help Kuwait, which sits atop 10 per cent of the world's proven oil reserves, to achieve its goal of exporting 500,000 barrels of crude oil a day to mainland by 2015, it said. Kuwait will hold a 30 per cent stake in the venture with Sinopec holding 50 per cent. Dow Chemical of the US and Royal Dutch Shell each will take a 10 per cent stake in the venture, which is due to begin operations by 2013, the report cited the Kuwaiti oil minister as saying. "This agreement comes in an excellent time with signs of the global economic recovery, and it will also take the bilateral energy cooperation between Kuwait and China to a new level," it quoted him as saying. The refinery is to have an initial capacity of 300,000 barrels per day and an ethylene cracker unit with annual capacity of 1 million tons, it said.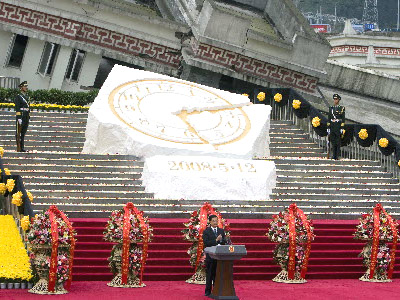 President Hu Jintao attends a ceremony commemorating the first anniversary of the Sichuan earthquake in Yingxiu, Sichuan province on Tuesday. President Hu Jintao led the nation in a minute's silence on Tuesday at the epicentre of the powerful Sichuan earthquake that flattened homes and communities one year ago. At 2.28pm the exact moment the disaster struck this southwest province, a grim-faced Hu presided over the period of silence in the town of Yingxiu. He and other leaders laid a white chrysanthemum – a symbol of mourning – at a commemorative wall in a ceremony broadcast live on state television. Nearly 87,000 people died in the 8.0-magnitude earthquake or remain missing after a disaster that galvanised the nation but left deep emotional scars. "Gradually, the reconstruction efforts have had important results, and the people in the disaster-hit areas are striding toward a new life," Mr Hu said in a speech after the Chinese flag was hoisted over the ruins of Yingxiu. Life is slowly returning to normal as new homes, schools and factories are being built at a feverish rate at construction sites across this mountainous region, although entire communities have been relocated. But in spite of all the efforts to move on, it remains an area of unmarked graves with nearly 18,000 people still listed as missing – presumably buried under the rubble of China's worst natural disaster in three decades. "One year may be long enough for the most serious wounds to recover but not for broken hearts," the China Daily said in an editorial.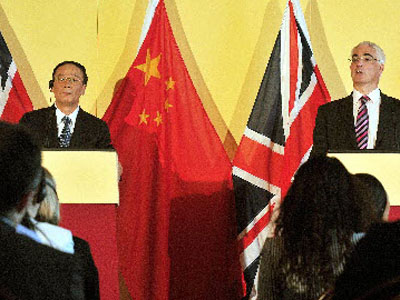 British Chancellor of the Exchequer Alistair Darling, right, during a meeting with Vice-Premier of China, Wang Qishan at Lancaster House in central London on Monday, after the second UK-China economic dialogue meeting. China and Britain agreed on Monday to prioritise opening mainland's stock markets to foreign companies and to arrange for more mainland firms to list on London exchanges. No timetable has been set for liberalising the stock markets but British officials said HSBC (SEHK: 0005, announcements, news) bank was at the forefront of negotiations. They emphasised an urgency to make it easier for mainland firms to float in London within months. Authorities in Shanghai had said earlier they would allow overseas firms to list on the Shanghai Stock Exchange at an appropriate time. "We have agreed actions to support British companies listing in China and Chinese companies listing in the UK," British finance minister Alistair Darling told reporters after meeting Vice-Premier Wang Qishan in London. There are about 70 mainland firms listed on London's stock exchanges and Britain wants to raise that total to 100 by next year. One obstacle in the way of foreign companies listing in Shanghai is that, because the yuan is not freely convertible, firms face difficulty in switching the proceeds from listing into other currencies. "We'll consider opening the forex control when foreign companies are allowed to list and trade," Hu Xiaolian, head of mainland's State Administration of Foreign Exchange, told reporters. "But we also have to consider the overall balance of foreign currency flows." Britain and China have a bilateral trade target of US$60 billion by next year and Mr Wang highlighted sectors such as aerospace, biotechnology, pharmaceuticals, electronics and environmental protection as areas that were key to achieving that goal. In a speech later, Mr Wang said the greed of Wall Street and the City of London had led to the financial crisis. "Are we reaching the bottom of the crisis yet? No one I have spoken to can confidently say so. This is because the credit markets have not restored their confidence," he said. Mr Hu, who is also a vice-governor of the People's Bank of China, said there were still "elements of uncertainty" in the global economy. "Although there are signs of recovery, it is yet to be concluded whether these are the results of governments' stimulus measures or the outcomes of a systematic recovery," she added. "For China, it's a different story. Our banking system remains healthy," she said. Mr Darling said his talks with Mr Wang showed the importance of the UK-China relationship. The two pledged to push ahead with promises made at the London G20 crisis summit in April to do whatever is necessary to restore growth, to expand the International Monetary Fund's emergency funds and to overhaul the financial system. "We urge the IMF and World Bank to expedite governance structure reform, work out an explicit timetable and roadmap," they said in a joint statement outlining their agreements. Mr Wang also held talks with British Prime Minister Gordon Brown, focusing on world trade negotiations, climate change and G20 commitments.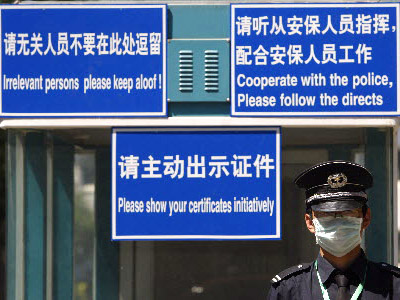 A security guard guards the entrance of a hotel designated as a quarantine facility for those who have been in contact with swine flu cases in Beijing on Tuesday. China health officials have tracked down and quarantined most of the passengers who were on flights with the China's first case of swine flu, the health ministry said on Tuesday. After swine flu was diagnosed in a 30-year-old student surnamed Bao who had just returned from the United States, authorities made TV and radio announcements asking those on two flights with him to call a hot line. Mobile phone text messages were also sent out asking them to report to disease prevention centres. Mr Bao left St. Louis, Missouri, on Thursday on a journey that took him through St Paul, Minnesota, Tokyo and Beijing before his final destination in Chengdu in southwestern China. Local health departments across the country tracked down 201 out of 233 passengers who travelled on a Northwest Airlines flight from Tokyo to Beijing on Friday, and all but two on a Sichuan Airlines flight Saturday from Beijing to the southwestern city of Chengdu, the Health Ministry said in a statement. The ministry said Mr Bao, who remains hospitalised, has improved noticeably and his temperature is normal. Beijing vowed to strengthen disease monitoring and reporting systems, while the health minister said the country's reserve of antiviral drugs and flu vaccines must be increased. "We must attach great importance to the fact that the flu epidemic is still spreading in some countries and regions, and that China has discovered one case," said President Hu Jintao. Beijing was heavily criticised during the late 2002 outbreak of severe acute respiratory disease, or Sars, for failing to release details about the epidemic, feeding rumours and fear. Since then it has been more open and aggressive in responding to disease outbreaks, although some of its current measures have been criticised as excessive.
China exports plunged 22.6 per cent in April from a year ago, the sixth straight monthly decline, the government said on Tuesday, while a torrent in bank lending meant to boost the economy lifted spending on factories and other fixed assets. April's decline in exports, to US$91.9 billion, is bigger than March's 17 per cent drop and suggests mainland's trade sector has yet to see much relief from the prolonged drought in demand brought on by the global downturn. But there were some glimmers of positive news even in the trade figures. While exports of heavy machinery and other industrial equipment continue to fall, recent increases from the previous month in exports of clothing, shoes, plastics and other labour-intensive consumer goods suggest some recovery in demand, economists say. American retailers have begun ordering to restock low inventories, amid signs that consumer spending may be stabilising, Jing Ulrich, chairwoman for China equities at JP Morgan said in a note to clients. "Nevertheless, operating conditions for Chinese exporters will remain challenging for some time," Mr Ulrich said, noting that orders at the recent Canton Fair fell 17 per cent compared with the previous show. Demand for imports remains weak. Imports fell 23 per cent to US$78.8 billion, the Customs Administration reported, putting mainland's trade surplus for April at US$13.1 billion. That compared with an US$18.6 billion surplus in March. Meanwhile, mainland's investments in factories and property development jumped 30.5 per cent from a year earlier in the first four months of the year to 3.71 trillion yuan (HK$4.22 trillion), thanks to a slew of bank loans for government stimulus projects. The growth rate was 1.9 percentage points higher than in January-March, the National Statistics Bureau said. Mainland's banks issued about 5.2 trillion yuan in new loans in January-April of this year, heeding government orders to finance infrastructure projects aimed at boosting employment and stimulating demand. The surge in investment reflects that trend. But a two-thirds drop in new lending in April compared with March, to 591.8 billion yuan, suggests that spending may moderate in coming months as the economy absorbs the huge inflows. Investment in the private sector remains relatively weak, economists say, and concern is mounting over potential risks of bad debt and waste from excess investment in factory capacity and other projects. Still, given the protracted weakness in overseas demand for mainland's exports, the spending is seen as necessary for a recovery. "Although much of the new bank lending has not yet turned into faster growth in economic activity, because of the time lag between lending and actual demand, we do expect fixed investment to accelerate in the coming months," Tao Wang, an economist with UBS, said in a report on Monday. "As a result, we expect orders to rise and industrial production to rebound," she said.
General Electric has given US efforts to raise US$60 million (HK$468 million) to ensure a national pavilion at the 2010 Shanghai World Expo a massive boost. Fund-raising problems have meant the United States is one of only three nations - along with Andorra and Colombia - that have diplomatic relations with China but have not confirmed participation. USA Pavilion said it was the largest donation yet but declined to give a figure. The previous largest known donations were from Dell and 3M, at US$1 million and US$250,000, respectively. Shanghai is preparing to hold the biggest World Expo in a year's time, which, alongside the Beijing Olympics, aims to show China's rising global clout. The event is expected to draw 70 million visitors - 95 percent of them Chinese - and despite the financial crisis, most major countries have seized it as one of the biggest public diplomacy opportunities in decades. But US law prohibits using taxpayer dollars to pay for such events and private fund-raising got off to a shaky start last year.
May 13, 2009

Hong Kong: The vote manipulation during the failed HK$15.9 billion buyout bid of PCCW (SEHK: 0008) was "a form of dishonesty" which hurt minority shareholders' interests, the Court of Appeal's judgment issued on Monday has stated. Mr Justice Anthony Rogers, together with Mr Justice Johnson Lam Man-hon and Mr Justice Aarif Barma on April 22 had rejected the buyout bid. But the full judgment has been keenly awaited by market-watchers to assess what effect it may have on future privatisation bids. "Vote manipulation is nothing less than a form of dishonesty. The court cannot sanction dishonesty," Mr Justice Rogers wrote. The judges also suggested there was room for making appropriate amendments to the terms of the legislation to keep up with changes in shareholding mechanisms for listed shares. PCCW will have 28 days to consider whether to take the case to the Court of Final Appeal. "We will study the judgment before we make any response," a PCCW spokesman said on Monday. But soon after the judgment was delivered last month, PCCW chairman Richard Li Tzar-kai announced that he was withdrawing the bid to privatise the Hong Kong telecom giant. PCCW shares on Monday afternoon fell 0.48 per cent to HK$2.09. The Securities and Futures Commission had approached the Court of First Appeal after the Court of First Instance gave approval of the privatization deal. The SFC alleged that Fortis Insurance Asia's regional director Lam Hua-wah bought 500,000 PCCW shares and distributed them to over 400 agents and their friends as bonuses. This was after phone calls with Pacific Century Regional Developments' deputy-chairman Francis Yuen Tin-fan. PCRD was the company through which Mr Li was trying to buy PCCW. The SFC alleged Mr Lam's move was to boost votes in favour of the deal at a shareholder meeting on February 4 — under the direction by Mr Yuen. Mr Justice Rogers also said the company did not explain the reason for loss in share value during the past nine years when company shareholders were forced to sell the shares at historical low level prices. Ronny Tong Ka-wah, a legislator and barrister, said Mr Rogers' point was more a moral than a legal perspective. "The linking of commercial issues such as the rationale of the deal could be an argument point for further appeal," he said. The court also seemed to believe that Mr Yuen and Mr Lam did not tell the whole truth to the SFC regarding allegations of vote manipulation. This was especially in regard to Mr Yuen's submission to the SFC saying he did not know Mr Lam's purchase of PCCW shares until he learned it from the SFC's submission to the court. Mr Justice Rogers wrote in the judgment that multiple phone calls between Mr Yuen and Mr Lam, together with the evidence that Mr Lam's secretary collected in the PCCW's proxy forms from Mr Yuen's secretary "casts a shadow of doubt over whether and to what extent Mr Yuen had influenced or was involved with Mr Lam's activities in distributing the PCCW shares". A source said Mr Yuen would not face a criminal investigation because vote rigging during a privatisation is not a breach of anti-graft laws. "Vote rigging is only a criminal offence in political election, but not in commercial deal like this," he said. Mr Justice Lam wrote in the judgment that the lower court judgment by Madam Justice Susan Kwan Shuk-hing "fell into error by adopting an approach to fact finding as if one is dealing with ordinary adversarial litigation". Mr Tong said the judgment by the Court of Appeal was under a different approach, as "Madam Kwan only looked for the fact of the evidence".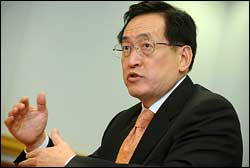 Health Secretary York Chow Yat-ngok said on Monday Hong Kong health authorities were now discussing the first confirmed case of swine flu in the mainland. He told a Legislative Council meeting health experts in Hong Kong were anxious to find out more about it. Mainland health authorities on Monday reported China's first confirmed case of the H1N1 involving a man in Sichuan province. The 30-year-old man, surnamed Bao, had just arrived in the Sichuan capital of Chengdu after returning from the United States via Tokyo on Saturday afternoon, Xinhua news agency reported. He was found to have a fever in a Sichuan hospital and was diagnosed in preliminary tests with swine flu, Xinhua reported. Mr Bao had travelled on Northwest Airlines flight NW029 from Tokyo and arrived at Beijing International Airport before flying on to Chengdu on a connecting flight, it said. Dr Chow said health authorities were trying to find out if any Hong Kong passengers were on the same flight as Mr Bao, local media reported. "We will start tracing those people who might actually pass through Hong Kong. Once we have the list of names, the Immigration Department will check whether they have passed through Hong Kong, whether they have entered Hong Kong, or just arrived in Hong Kong airport as transit passengers," the health secretary told reporters. Dr Chow was asked whether Hong Kong would follow other countries and impose stricter controls on visitors from North America.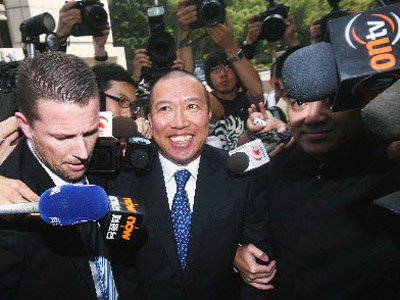 Fung shui master Tony Chan Chun-chuen arrives at the High Court in Admiralty on the first day of trial over control of the late tycoon Nina Wang's estate on Monday. A court battle over the fortune of eccentric Hong Kong tycoon Nina Wang Kung Yu-sum' began on Monday, pitting a charitable foundation against a feng shui master for her estimated HK$100- billion estate. The eight-week trial will decide whether Wang, who at one stage was Asia's richest woman, left her entire fortune to businessman and feng shui master Tony Chan Chun-chuen, when she died of cancer in 2007 at age 69. Opposing Mr Chan's claim is Wang's Chinachem Charitable Foundation, which is now controlled by her siblings, who say a will awarding Mr Chan the huge fortune is a fake. In a city obsessed with the behaviour of tycoons, Wang's story – a heady mixture of kidnap, feng shui, sex, money, family rows and fried chicken – has gripped the local attention. Queues formed for seats in the courtroom's public gallery on the first day of the trial, while a scrum of photographers and cameramen tried to grab a shot of the star lawyers and a shaven-headed Mr Chan as they entered the High Court. Opening the trial, Chinachem lawyer Denis Chang said the court should ignore Mr Chan's claim and instead recognise an earlier will, which awarded the estate to the foundation that Wang had set up with her husband Teddy. "This is a court of law, not a court of feng shui," Mr Chang told the court.
Hong Kong and Taiwan should create a cross-straits economic zone – which would also include some mainland cities, the Bauhinia Foundation Research Centre said on Monday. The think-tank said in a new report the future economic zone could include mainland provinces and cities – such as Guangdong, Guangxi, Hunan and Hubei. "A cross-straits common market could emerge as one of the world's most competitive and vibrant economic zones," the report noted. It said the zone could allow the free flow of labour through reciprocal visa-free access. There could also be tariff-free movements, liberalisation of aviation and tourism and the expansion of the yuan business. "This will help pave way for the ultimate development of a 'common market' among the mainland, Taiwan and Hong Kong over the next three decades," the report ventured. Bauhinia Foundation Research Centre chairman Anthony Wu Ting-yuk the economic zone could ultimately reduce business costs. "The implementation of direct flights, trade and mail, as well as improvements in the relationships between the mainland and Taiwan will lead to a significant reduction in the cost of doing business across the straits," he said. Mr Wu said promoting closer economic ties was important for Hong Kong. "This is supported by a clear consensus amongst the communities of Hong Kong and Taiwan," he added. The long-term economic growth predictions were impressive. "With the formation of the cross-straits economic zone in 2038, it is estimated that Hong Kong's gross domestic product [GDP] will grow by HK$64.3 billion, the mainland's GDP by 2,222.5 billion yuan (HK$2,524 billion) and Taiwan by NTD433.2 billion (HK$102 billion)." added Mr Wu.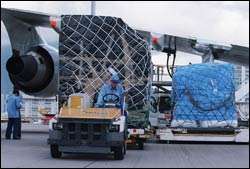 Air cargo throughput via Hong Kong fell more rapidly in April, dropping 22.5 per cent from a year earlier, indicating still very weak global demand despite signs of a pick-up in mainland's economy, data released by Hong Kong Air Cargo Terminals (Hactl) showed on Monday. Hactl warned that the global spread of the new flu strain H1N1 could further delay recovery of the air cargo market. "Further to the already gloomy global economy, the current Influenza A (H1N1) poses another challenge to the overall market confidence, which may further delay the recovery of the air cargo industry," Hactl said. "Though this is a difficult time for the whole industry, we strongly believe that Hong Kong and Hactl both have the good foundation to face the current challenge and the air cargo industry will rebound quickly upon economic recovery." Hong Kong is a re-export centre for trade between Asia and the rest of the world. The data showed that air cargo volumes through Hong Kong in April totalled 174,809 tonnes, down 22.5 per cent for the worst performance in three months.
The University of Hong Kong law school should have a "sense of mission" towards upholding the rule of law in the city and should contribute towards legal reform on the mainland, says its dean, Johannes Chan Man-mun. Professor Chan's term as dean is due to expire next year, and he is the subject of a review regarding a possible extension of three years rather than the usual five. The review process involves presentations to university members and consultation with lawyers and judges outside the university, and is expected to be completed at the end of this month. In an interview with the South China Morning Post (SEHK: 0583, announcements, news) , Professor Chan, who has been at the centre of many key constitutional debates as a member of both the Article 23 and Article 45 concern groups, stressed that the law faculty in the city's oldest university had an important role to play in the community. "Law is a very important institution in Hong Kong, and the law school is a pillar for that." He said that while the basic requirement for a dean was good administration of a quality law school, the post of dean of law at HKU was "more than just an administrative job". "Beyond that I think there is always a sense of mission in Hong Kong. We have the duty to contribute to the upholding of the rule of law in Hong Kong and contribute to the development of the rule of law in China. We are more than just a teaching institution. We have a peculiar role to play, and we would be failing our duty not to meet those challenges." In February, Professor Chan was denied entry to Macau, a move believed to have been linked to his outspoken stance against Hong Kong's controversial national security bill in 2003. He noted that many in his department were outspoken over policy issues related to their field. "Some of the most outspoken people come from our faculty. I encourage all of this. That's what makes our research and HKU relevant to the community," he said. Professor Chan has been dean since 2002 and, should his tenure be extended by three years beyond 2010, he will have led the law school for more than a decade - something he regards as problematic. "No one should be in a leadership position for too long. You start to become less sensitive and run out of ideas. Certainly, you do not want a rule of man." He said he was originally inclined to step down after this term but felt obliged to continue because the faculty was facing major changes in 2012, such as relocation to a new building, as well as curriculum changes to adapt to education reforms. Professor Chan said that in addition to instilling a sense of civic duty and public service in his students, he hoped to establish the faculty on the international map. "There's no point being top in Hong Kong or top in China. The world is much larger than that." However, Professor Chan said he fully intended this to be his last stint as dean should he be successfully reappointed, since he wanted to return to research. "Inevitably, my research has suffered because I simply do not have time."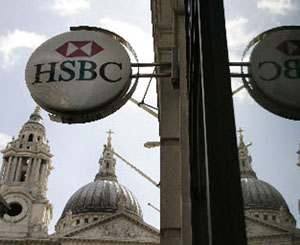 Global banking giant HSBC (SEHK: 0005) said on Monday that profits were rising strongly on the basis of first-quarter data and it saw "robust" growth in mainland and India, while remaining cautious for the year. First-quarter pre-tax profits were "well ahead" of the figure for the same period of last year, the bank said, bouncing back despite the world financial crisis. The group gave a cautious outlook for the year ahead amid concerns about the tough trading environment and a spreading global recession – but also cited "robust" growth in mainland and India. "HSBC has made a resilient start to this year," the group said in an interim management statement, noting that "underlying pre-tax profit was well ahead of the first quarter of last year". "Revenue recovered strongly from the fourth quarter of last year, with record results in Global Banking and Markets which benefited from improved market share and margins in a number of key areas. "The group's costs were held flat overall. Operating trends were in line with our expectations." HSBC, while escaping the need for a British government bailout, recently raised US$18 billion via a sale of new shares.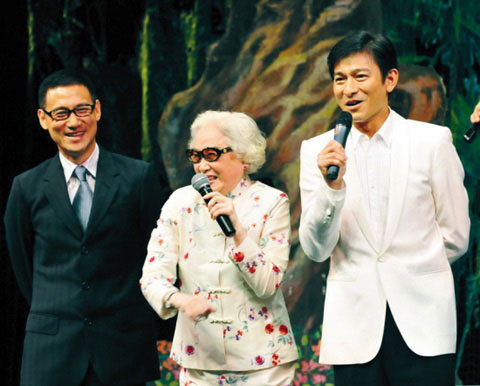 Andy Lau (R) and Jacky Cheung (L) with Cantonese opera master Hong Xian Nu (C). Renowned master of Cantonese opera, Hong Xian Nu, is promoting the world's first Cantonese opera cartoon in Hong Kong. Entitled "The Obstinate Princess and Her Honest Husband", the animation features the 85-year-old's singing. Local celebrities, opera fans and media packed in to see the premiere of the movie. Singer and actor Andy Lau and superstar Jacky Cheung also showed up. Lau and Cheung presented Hong Xian Nü with bouquets and spoke of their admiration for the veteran star. At the ceremony, Hong Xian Nü appeared in good health, showing off her good figure and skin. The master says her heart is as young as an 18-year-old's. Despite her age, she still works at the Hong Xian Nü Art Center, and continues to practice her singing everyday. She performed a segment of her repertoire to thank the fans.

China: On the eve of the first anniversary of the devastating Sichuan earthquake, the central government said on Monday it has worked to bolster China's disaster prevention and emergency response system. China dealt with several major natural disasters last year, including the deadliest earthquake to hit the country in decades – a 7.9-magnitude quake that ravaged southwestern China on May 12 and killed nearly 90,000 dead or missing. Another 5 million were left homeless. Earlier last year, freak snow and ice storms paralysed much of the country's south and east at the height of the Lunar New Year travel rush. "Based on the lessons we learned and problems we found in rescue and relief work for the snowstorms in southern China and the May earthquake, we have made efforts to improve the country's disaster management system," Zou Ming, director of the disaster relief department under the Ministry of Civil Affairs, said Monday. China is building a system to collect statistics on disasters and the damage inflicted, Mr Zou said, launching an experimental satellite remote-sensing system to help construct forecasting models, and shoring up emergency reserves of supplies at local and provincial levels. China's rapid response to the quake last year was largely praised at the time by international donors, who contributed 4.4 billion yuan (US$645 million) in cash, along with relief materials. Domestic donors gave another 71 billion yuan (about US$10 billion) in funds and supplies, according to a report on disaster relief released Monday by the state council. Mr Zou said China still has much work to do but pointed to progress being made to strengthen capacities to monitor, forecast and prevent natural disasters, and to conduct rescue and relief efforts, the report said. The report warned that China will likely see an increasing number of natural disasters in the future as part of global climate change. The task of preventing and responding to natural disasters has become "more serious and complicated," it said. "China is one of the countries that experiences the most natural disasters," the report said. "More than 70 per cent of Chinese cities and more than 50 per cent of the Chinese population are living in areas vulnerable to serious earthquakes, or meteorological, geological or marine disasters."
China's top energy official said yesterday a controversial petrochemical joint venture with Kuwait may be moved to the port city of Zhanjiang from the originally planned site in Guangzhou, confirming a South China Morning Post (SEHK: 0583) report that it might be resited. Zhang Guobao, head of the National Energy Administration, also said an overseas, third-party oil producer would join China's Sinopec (SEHK: 0386) and the Kuwait Petroleum Corp in building the US$9 billion petrochemical plant in Guangdong province. The third company was either BP or Royal Dutch Shell, Mr Zhang said in Beijing after the Chinese and Kuwaiti governments had signed trade accords. Kuwaiti Emir Sheikh Sabah al-Ahmed al-Sabah will be in Beijing until Wednesday. He held brief talks with President Hu Jintao yesterday before the two leaders presided over the signing of five agreements. Among them are agreements on energy and Kuwaiti financing for a US$24 million cleanup of polluted Bosten Lake in the Xinjiang Uygur Autonomous Region , which is heavily Muslim. Negotiations on the massive petrochemical project, which would be the single largest Chinese-foreign joint venture, have plodded along for more than four years. The location for the complex, which will include an oil refinery and an ethylene plant, was originally chosen in the Nansha district of Guangzhou. Nansha is at the heart of the heavily populated Pearl River Delta region and is only 37km from Hong Kong. Also, the Hong Kong-Macau-Zhuhai bridge would have passed within 40km of the project, which has sparked strong opposition from Hong Kong and Macau over environmental concerns. A Post report in March said Zhanjiang, a port city in the far west of Guangdong, was one of the sites being considered for relocation, quoting a senior mainland environmental official.
China real estate developer Beijing Capital Land said revenues from flat sales in the first four months rose 200 per cent from a year ago, as the outlook for the mainland property market improved. The company sold about 2.54 billion yuan (HK$2.9 billion) worth of flats in the first four months, with the contracted sales area surging 270 per cent from a year ago to 281,000 square metres, according to a newsletter from the developer. The developer said sales in the January-through-April period were derived from projects that are scheduled to be completed this year in major cities in Beijing, Tianjin, Chengdu and Shenyang. Growth momentum accelerated in April with contracted sales amounting to 1.13 billion yuan, up 24 per cent from March, it added. The company had said earlier this year it had set an ambitious sales target of 6 billion yuan this year, counting on a boost from government measures aimed at stabilising the property market. The company shares, which rose nearly 27 per cent in the first four months of this year, fell 3.06 per cent to HK$1.90 in mid-morning trade on Monday.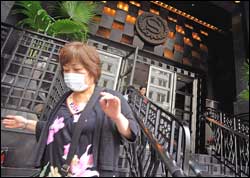 China's Ministry of Health last night announced the mainland's first human swine flu (H1N1) case in Chengdu, Sichuan province. The 30-year-old student who went directly to hospital on landing in Chengdu on Saturday twice tested positive. He had taken a flight from St Louis, Missouri, to Tokyo last Thursday, then took a NW029 flight from Tokyo to Beijing on Friday and then U8882 from Beijing to Chengdu on Saturday. He had fever, sore throat, blocked and running nose while on board. After two tests, the results were found to be "weak positive" and the health authority has defined the case as suspected. The Ministry of Health has sent a team of experts to Chengdu and also called on passengers on the two flights to contact the authority. The ministry has informed the World Health Organization and other countries and regions. Meanwhile, the Hong Kong government will shift its strategy in dealing with swine flu but it will not relax vigilance at border checkpoints, a source said. The change comes after the Department of Health sealed off a room and closed an entire floor at the Sheraton Hong Kong Hotel and Towers in Tsim Sha Tsui into which a guest - who traveled on the same flight as four confirmed swine flu patients - checked in on Friday. The man had been on the Northwest Airlines flight from Canada to Tokyo before continuing his journey to Hong Kong. He was traced yesterday after Japan issued an advisory. Another man who traveled on the same flight was intercepted on Saturday when he arrived from Taiwan. The department said both men have tested negative for H1N1. Centre for Health Protection controller Thomas Tsang Ho-fai said last night a search has been launched for 16 other passengers who were on the flight to Tokyo. "The government was eager to look for these passengers even though they did not sit close to the four [who had H1N1]," he said. Ho also said two locals and one foreigner who shared the same flight had been traced. The three were quarantined at North District and Princess Margaret hospitals for seven days and so far have shown no symptoms. A source told The Standard yesterday the government is shifting strategy from preventive measures at checkpoints to one which minimizes harm to the community as a whole. Secretary for Food and Health York Chow Yat-ngok said new measures would be announced following last week's quarantine of nearly 300 guests and staff at the Metropark Hotel in Wan Chai. Action was taken after a Mexican with swine flu checked into the hotel.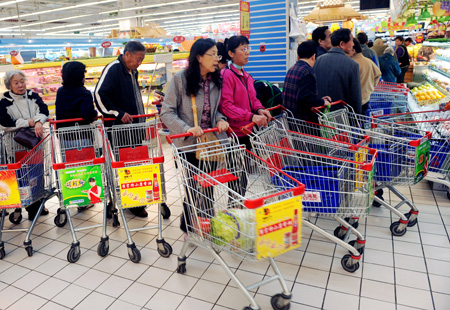 China's consumer price index (CPI), the main gauge of inflation, fell 1.5 percent year on year in April, the National Bureau of Statistics (NBS) said Monday. It was the third decline in a row since February, when the CPI dropped 1.6 percent, which in turn was the first fall since October 2002. The result was in line with market expectations and analyst forecasts. Food prices, which comprise one-third of the CPI, dropped 1.3 percent, dragged down by a 28.6-percent decline in pork prices as demand plummeted amid a global flu outbreak thought to be connected with pigs. Non-food prices fell 1.5 percent. The index was down 0.2 percent from a month earlier, and the figure for January-April fell 0.8 percent from the same period last year. Lian Ping, chief economist with the Bank of Communications, said the weakening reflected the high base of comparison, since the CPI soared by 8.5 percent last April. The consecutive declines did not presage deflation, and the figure was expected to rise starting at mid-year. China's producer price index (PPI), a major measure of inflation at the wholesale level, fell 6.6 percent in April, the fourth monthly decline in a row. Li Huiyong, analyst with the Shenyin & Wanguo Securities said falling iron and steel prices pushed the PPI down. However, Lian said the figure was expected to rise from May forward, at least in month-on-month terms, as global commodity prices had begun rising again amid signs of economic recovery. Last month, domestic prices of copper, aluminum and zinc rose by 10 percent to 20 percent on average. Oil product prices also edged up.
May 12, 2009

Hong Kong: A wide range of market players, from hedge funds to tycoons, will today be looking closely at the written judgment in the PCCW (0008) privatization case to see what exactly will, and will not, be allowed in the Hong Kong market.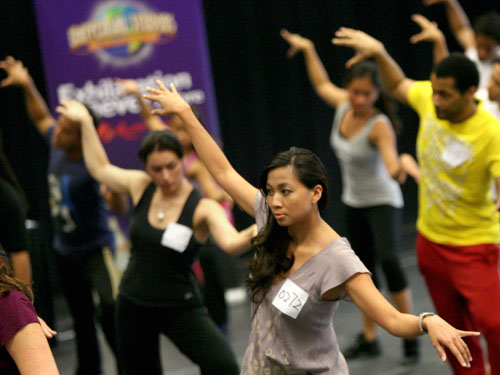 Regional performers audition for Universal Studios Singapore at the Academy for Performing Arts in Wan Chai yesterday. Some of the region's best stunt performers, stilt walkers and singer-dancers gathered in Hong Kong yesterday for auditions to join Universal Studio's theme park in Singapore, which opens early next year. "I want to dance, sing and be a monster - Frankenstein's monster," said Ian Hinden, a Los Angeles native who works as a gondolier at the Venetian Macao resort. "I dreamed about being a monster when I was small." The 24-year-old singer-guitarist joined about 200 people to attend the theme park's two-day audition at the Academy for Performing Arts. Hong Kong is the third stop of an 11-city tour to hunt for talented performers. Gregg Birkhimer, creative director of Resorts World Sentosa, where the new amusement park will be housed, said it planned to recruit about 170 to 200 performers from around the world. He said the reason Hong Kong was chosen as an audition stop was that there were a lot of talented performers in the city. Asked whether the park was competing for talent with Hong Kong Disneyland and Ocean Park, Mr Birkhimer replied: "We are very mindful of the competition, as they will be mindful of us. "We are looking for the best talent. At the same time we understand that entertainers are transitory by nature - they will always go where work is and where the most exciting opportunities are to be found." He did not reveal details of the remuneration on offer but said it would be competitive. Mr Birkhimer expected that about 15 to 20 performers would make it to a shortlist. Stevenie Fu Tik-wan, a dancer and singer who has been working at Hong Kong Disneyland since 2005, was among those at the audition. "I came because it will offer an opportunity to go overseas and the experience will be great," said Fu, 24. But if the salary offered was 30 per cent less than her current pay, she said she would not consider the job. Margaret Ho Hiu-nam, another local performer at the audition who previously worked for Hong Kong Disneyland, said performers had a short career life, and for that reason many wanted to move to different places if possible. The US$4.3 billion Singapore park will be the first Universal Studios theme park in Southeast Asia. Of the 24 rides, shows and attractions, 18 will be either new concepts or popular themes redesigned specially for the Singapore park. The auditions continue today and the recruitment team will then move on to Manila. Other cities on the itinerary include Auckland, Melbourne and Toronto.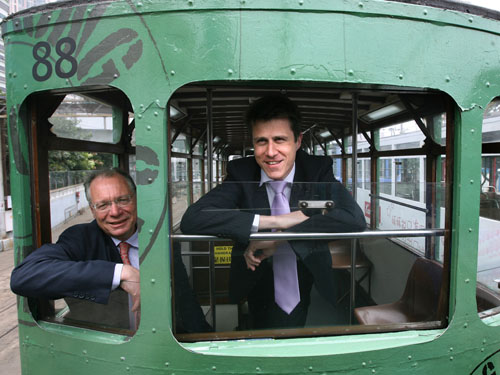 Daniel Cukierman (left) of French transport giant Veolia and Bruno Charrade, the new head of Hongkong Tramways. Hongkong Tramways' new management says it will strive to improve the system's technical quality and management to make it a showcase for the company's expansion into the Asian market. Veolia Transport senior vice-president and Asia chief executive Daniel Cukierman said the central government had high regard for enterprises with business experience in Hong Kong. "When we tell China officials that we operate a tramway in Hong Kong, they are all fascinated ... If you are in Hong Kong, you are good," Mr Cukierman said. When the French multinational announced its deal last month to buy a 50 per cent stake in Hong Kong's iconic tramway from local conglomerate Wharf, the company said the purchase would help provide the know-how for it to build an urban rail business on the mainland. "We are interested in Hong Kong as it is," Mr Cukierman said. "But Hong Kong is no doubt a strategic location and an important step" for the company's development in China. Veolia Transport, a subsidiary of Veolia Environment, operates public transit systems including trains, metros, light rails, monorails and buses in 28 countries. The transport giant is relatively new to Asia, but in the past year it has gained ground quickly by entering the public transport market in Nanjing , Hong Kong and Seoul. Mr Cukierman said trams had a lot of potential in China because they were sometimes the best traffic solution for districts a metro line could not reach. "You need a lot of money and a certain amount of population to support the building of a railway; that's when buses and trams can come in," he said. In Hong Kong, the company faces a different challenge in how to improve a system established for more than a century. Hong Kong Tramways managing director Bruno Charrade said this was something he was here to find out about. "There will not be a revolution," he said. "We will focus on small changes first and make them one at a time. Altogether there will be big changes." The company is conducting a poll on passengers' expectations, which will be completed by summer. Mr Charrade said the company had no plan to increase tram speeds, but would rather talk to the government about the possibility of giving the tramway more right of way. "The number of reserved lanes for trams has dwindled over the years as vehicle traffic grew fast. We hope to gain higher traffic priority at key locations to increase trams' efficiency." Mr Charrade said Veolia would strive to make Hongkong Tramways a success before considering creating new tram routes or bidding for other public transport licences. No decision had been made on the style of tram for the new loop proposed for the waterfront promenade between Central and Wan Chai, but Mr Cukierman said a monorail was probably not among the options. "A monorail runs on a viaduct, and that would block harbour views," he said.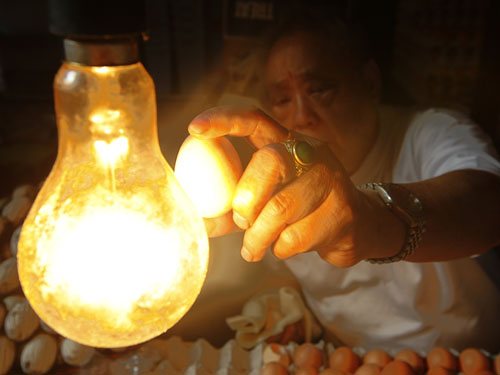 Mr Chow, 80, has used a tungsten light to check the quality of fresh eggs for more than 45 years at the street market in Spring Garden Lane, Wan Chai. Hong Kong's aim is to develop product quality testing as a pillar industry. Given the intense interest of regulators and the public in recent food and medicine scares - from melamine in milk and malachite green in fish to fungus in gout pills - moves by the government to make product testing a new "pillar" of the economy have come at an opportune time. The pillar in question - one of six listed by Chief Executive Donald Tsang Yam-kuen late last year in response to the declining economy - refers to product testing and certification in general. But the initial focus will be on development of quality testing and certification services for food and pharmaceutical products, and in the circumstances, that could make for plenty of work. Long-term, the scope will be extended to other consumer products such as household electrical appliances, toys and textiles. But industrialists see benefits beyond the development of a certification industry, saying the moves will also bring economic benefits by helping build an image for Hong Kong products abroad. At present, there are 163 accredited laboratories and 14 certification bodies under the Hong Kong Accreditation Service, which is administered by the Innovative and Technology Commission. In the area of food products in particular, the Food and Health Bureau says new legislation is being introduced to step up quality control. One million food tests were conducted each year, and this was expected to surge to 2 million after July next year when the new regulations impose more rigorous legal standards on such additives as preservatives, artificial colouring, pesticide and veterinary drug residues, and other substances, a bureau spokeswoman said. Nutrition labelling will also be implemented, while health authorities will be empowered to prohibit the import and supply of foods, and to order food recalls. The bureau says this will create immediate tangible opportunities for business growth. The spokeswoman said that from this year, the government would help promote the sector by outsourcing HK$9 million worth of regular food-surveillance tests to private laboratories.

Most Hong Kong factory owners with manufacturing plants on the mainland believe the operating environment there will worsen but say they are prepared to keep their businesses going during the global economic troubles, according to leaked findings of a survey by the Federation of Hong Kong Industries. The survey, which polled the views of some 3,000 Hong Kong producers in the Pearl River Delta region in March, found about 80 per cent of the respondents were pessimistic about the short-term outlook of the business environment but expected a period of stabilisation thereafter. Dust from the shake-up that has been under way since the end of 2007 in the "world's factory" is likely to begin subsiding later this year, 70 per cent of the respondents felt, but not before Hong Kong investors' dominance in the area is dented. The more pessimistic among the respondents feared that the global financial crisis would hurt the Pearl River Delta's international competitiveness. The survey was the first large-scale inquiry conducted by the trade organisation among its members since the onset of the global credit crisis in October last year. To the surprise of the trade association, more than 90 per cent of the respondents rated insufficient orders as their biggest headache, followed by shrinking profitability, higher operating costs and challenges with collecting receivables. Contrary to expectations before the poll, few members expressed concerns about raising credit, underlying a marked improvement in liquidity supply. Some economists saw signs of the financial storm starting to abate and said order books of manufacturers would hinge on the restoration of consumer confidence rather than export-friendly policies. Several nationwide policy initiatives and measures of local government in Guangdong such as a freeze on mandatory salary rises and contributions to the social welfare fund, and cuts in local government-related administration charges, were welcomed by the majority of owners. However, they did not think the measures would lead to more new orders. There is no official data on how many of the 55,200 Hong Kong-owned processing trade factories on the mainland have fallen victim to the shake-up in the sector, but about half of those polled felt as many as 30 per cent of factories had closed since the beginning of last year. However, the rate of factory shutdowns is now likely to slow to a trickle, as the majority of respondents said they would avoid folding their businesses by employing such strategies as shortening work hours, retiring some production lines, and trimming workforces temporarily. More than 60 per cent of respondents said they would explore new markets such as eastern Europe and the Middle East, while about 40 per cent wold seek to expand in the mainland market. Morgan Stanley chief economist Wang Qing said he was hopeful that the worst of the trade decline was over for the mainland manufacturing sector, after witnessing strong credit growth returning to normal levels and the mainland economy realised the stimulative effect of the government's 4 trillion yuan (HK$4.54 trillion) spending package. Mr Wang forecast that data would show China's exports dropping at a slower 15 per cent rate last month compared with a 17.1 per cent fall in March, while imports would likely be down 22 per cent against a previous 25.1 per cent decrease. The April trade figures are due out today. Executives in other parts of the supply chain were relatively upbeat about the outlook. Bruce Rockowitz, an executive director and the president of trade exporter Li & Fung, did not think the economic downturn would sink further as improved liquidity worldwide eased some of the pain of manufacturers and retailers. "We do think we are at the bottom of the economic cycle," Mr Rockowitz said in an interview. "We don't have the same catastrophic feeling as we had in October." But despite the signs of a thaw, the battle on price bargaining shows no sign of easing. The uncertain outlook for consumer spending meant overseas retailers ranging from discounters to high-end players were keeping minimum to no inventory at all, Mr Rockowitz said. As a result prices could fall a further five to 8 per cent on average from a year ago. But despite the continuing cloud hanging over the battered manufacturing sector, stock markets were looking ahead to profitable times.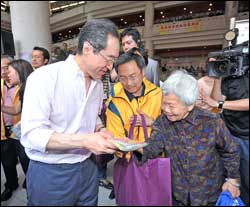 Government officials yesterday pitched in to help clean up transport centers and public venues amid reports of new human swine flu cases around the world. Chief Secretary for Administration Henry Tang Ying-yen was at Sham Shui Po and Cheung Sha Wan markets to promote better hygiene and give away free face masks and disinfectant. Commissioner for Transport Alan Wong Chi-kong, meanwhile, joined MTR deputy operations director Li Yun- tai at Central station in kicking off an eight-week initiative to keep the exteriors and public areas of stations clean. "When the influenza pandemic response level was raised in Hong Kong, we immediately stepped up the cleaning of MTR trains and station facilities, especially the surfaces that passengers most frequently touch such as escalator railings, to help prevent the spread of flu," Li said. He said the cleaning frequency of some MTR properties would be doubled. From May 24 to June 21, travelers will be offered small gifts to be reminded not to eat or drink on board, he added. Bus companies also stepped up cleaning schedules, with Citybus posters notifying passengers to be vigilant of flu and not leave dirty tissues on the bus. Secretary for Home Affairs Tsang Tak-sing visited a commercial and residential building in Mong Kok to hand out sterilized wet tissue and alcohol disinfectant to residents to remind them to be aware of personal hygiene. Secretary for Labour and Welfare Matthew Cheung King-chung was in Ngau Tau Kok upper village advising senior citizens how to put face masks on properly.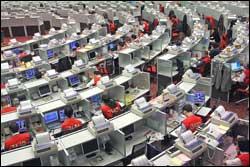 Hong Kong stocks are expected to continue rallying this week, with the Hang Seng Index testing 18,000, thanks to improving sentiment overseas and new CEPA agreements with the mainland. "Markets outside are all performing well and investor sentiment is driving the stock market up," said Emperor Securities head of research Louie Shum Chun- ying. Shum predicts the Hang Seng Index will trade between 16,800 and 18,000, but also warned of a correction later in the week on profit taking and fears about the economic climate. "Nothing shows that the global economy is actually improving, and US banks are under pressure to sell assets," Shum said. "HSBC (0005) has been a little bit overdone." He said HSBC would rise to HK$70 at most. But Ample Finance Group director Alex Wong Kwok-ying cautioned investors have started to take profit from leading stocks. "Mainland property stocks are expected to drop this week following a big increase last week," Wong said. Market watchers expect a plan to allow mainland investors to put money into Hong Kong for index-tracking exchange-traded funds would boost the market, but not significantly. According to the sixth supplement of the Closer Economic Partnership Arrangement, the mainland will actively explore the introduction of ETFs constituted by Hong Kong-listed stocks. Branches established by Hong Kong banks in Guangdong can also set up cross-location sub-branches within the province. Qualified Hong Kong and mainland securities firms, in joint venture, could set up securities investment advisory companies in Guangdong. The Hong Kong firms could own up to a third of the shares in such joint ventures.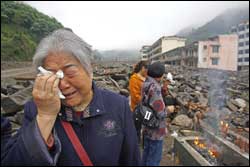 Chief Executive Donald Tsang Yam- kuen will attend a dinner and charity auction tomorrow to mark the first anniversary of last year's Sichuan earthquake that left 68,712 dead, 17,921 still missing and 7,000 disabled. Another top official, Secretary for Constitutional and Mainland Affairs Stephen Lam Sui-lung, will officiate at a function hosted by the Young Engineers for 512 and the Association of Engineering Professionals in Society on the progress of reconstruction of the affected areas. Flags at government buildings and schools flew at half-mast last year for three days and a three-minute silence was observed on May 19 to mourn the victims. Meanwhile, Oxfam Hong Kong is calling for more support for people living in remote villages in Gansu and Shaanxi provinces. Howard Liu Hung-to, Oxfam Hong Kong's China unit director, said the signing of a framework agreement on post-disaster recovery and reconstruction pilot projects with the State Council has helped Oxfam to put forward more aid plans. But its plan to build 10 village schools in Gansu has been delayed due to a change in government policy. "The state government prefers bigger schools instead of village schools for better management. But it costs over 5 million yuan (HK$5.68 million) per school, compared with 500,000 to 600,000 yuan for a village school for 30 to 40 students," Liu explained. "We prefer village schools as learning opportunities for children in remote villages," Oxfam Hong Kong director general John Sayer said. The students are not affected at this time as they are studying in temporary schools. Oxfam has received more than HK$158 million in donations and is working on 37 projects for more than 637,776 people who are mostly in remote villages. The Hong Kong Alliance in Support of Patriotic Democratic Movements of China will march to the Central Liaison Office tomorrow calling for truth over allegedly shoddily built school buildings in the earthquake zone.

China: Beijing last night reported the mainland's first suspected case of H1N1 human swine flu in a 30-year-old male student who had just returned to Sichuan province from studying in the US. The patient, only given the surname Bao, travelled from St Louis in Missouri to Chengdu , Sichuan's capital. He flew from St Louis to Tokyo via St Paul, Minnesota, on May 7, then boarded Northwestern Airlines flight NW029 on Friday and arrived at Beijing international airport early on Saturday. He started to develop flu-like symptoms on a flight from Beijing to Chengdu on Saturday and was checked into Sichuan Provincial People's Hospital upon arriving in Chengdu early on Saturday afternoon. He twice tested mildly positive for the new flu virus yesterday in tests by Sichuan's disease control centre, and the provincial health authorities tentatively classified him as a suspected case. "According to clinical appearances and the results of laboratory tests, the initial diagnosis is that it is a suspected case of type A H1N1 flu," a statement by the Ministry of Health said. The patient has been quarantined in a Chengdu contagious disease control hospital, and people who had direct contact with him during the diagnosis had been placed under observation, the ministry said. The ministry sent an emergency taskforce to Chengdu to supervise monitoring and prevention work in Sichuan. It also sent a circular to local governments in an effort to find those who shared the flight with the patient. It urged those who had direct contact with him to report to health authorities. The ministry said it had reported the case to the World Health Organisation and health authorities in relevant countries. On Saturday, Premier Wen Jiabao warned against any relaxation in preventing the spread of swine flu to the mainland. He said Beijing was treating the "global health incident" with the utmost care, and praised officials at all levels for doing a good job. "I believe that the victory will be ours, but we must not relax," he said during a visit to Fujian province , where he chatted with a quarantined patient via a video link at a hospital in Xiamen. In Hong Kong, the Department of Health said it had received notification of the suspected case and was monitoring the situation closely. The Hong Kong government also sent another three passengers who were on the same flight from the US as four Japanese infected with swine flu to hospitals for observation. They were two Hong Kong residents and a foreign traveller. The Hongkongers were admitted to Princess Margaret Hospital after officials contacted their families. The foreign traveller was intercepted at the Lo Wu control point as he was leaving the city. He was placed under observation in North District Hospital. None of the three have shown flu symptoms. Officials are still trying to trace another 16 travellers who had said they intended to come to Hong Kong. Two passengers from the same flight who had been taken for observation on Saturday have been cleared following tests. But they would continue to be quarantined for seven days, the Centre for Health Protection said. Centre controller Thomas Tsang Ho-fai said it would step up precautionary measures. "We will approach every passenger in economy class who came to Hong Kong," he said. "With three confirmed infections, there is a bigger chance of virus circulation on the plane." Japan intensified follow-up checks to prevent the spread of the disease after its health ministry announced its fourth confirmed case, a secondary school student who returned from a trip to North America. He was among 49 passengers quarantined after arriving at Tokyo's Narita airport on a flight from Detroit on Friday because they were seated close to the first three Japanese people found to have the virus. Taiwan's health authorities said early today a woman and her baby daughter who had returned several days ago from the US were the island's first suspected cases of swine flu.
Staff of a flower store prepare flowers in Taiyuan, capital of north China's Shanxi Province, May 10, 2009. Many local residents send flowers to their mothers as a gift on Mother's Day which falls on May 10 this year.
Shanghai plans to announce details today of policy measures in a bid to develop the city into a larger regional shipping hub, sources said. The measures include tax incentives, an infrastructure upgrade and inauguration of the country's first arbitration court to decide international disputes. The measures will be in line with the Shanghai government's stated ambition to attract more shipping agencies from around the world to use the city's suburban Yangshan port as a transshipment site for Asia-wide trade. The tax adjustments could help attract more shipping firms and other companies that move cargo by land transport to use Shanghai's ports, while the arbitration court would be a required feature for a shipping hub, analysts said. But the city's attempt to become an international shipping centre could put its ambitions of becoming an international financial hub on a policy backburner, some observers said. "At this stage we will devote most of our efforts to seeking breakthroughs in the shipping sector while remaining cautious about rolling out major financial market innovations," said a government official with direct knowledge of the policy blueprint. "A lot of sensitive issues need to be settled at the central government level before any meaningful progress can be made on the financial front." In March, the central government endorsed Shanghai's ambition to transform itself into an international hub for both the financial and shipping sectors by 2020 by promising to authorise groundbreaking policy initiatives in the city's jurisdiction. "Obviously, shipping, at least for now, takes the front seat from the more-hyped financial liberalisation in Shanghai's drive to enhance its global economic status," said an executive at a state-owned bank in the city who has seen the first batch of policy initiatives on the shipping front, expected to be released today. The People's Daily reported in March that Shanghai cargo throughput rose 3.6 per cent last year to 582 million tonnes, making it the world's busiest port for the fourth consecutive year. It ranks second for container throughput to Singapore. The removal of sales tax on shipping agencies registered in Shanghai is on the cards along with faster delivery of export tax rebates for all domestic shipments using Shanghai's Yangshan port as a transit site. A range of enticements and infrastructure-building plans are also expected to lure Yangtze Delta cargo owners - currently contributing the majority of tonnage to the Yangshan port's turnover - to use more waterways instead of expensive, congestion-causing road transportation. "To move domestic shipments to the Yangshan port before transferring them onto international liners, cargo owners have to pay a lot of extra bucks in loading and unloading costs incurred on trucks and barges required," Liu Wei, a professor at Shanghai Maritime University, said. "The new measures would help reduce these fees by providing more convenient and cheaper inner waterway thoroughfares to Yangshan."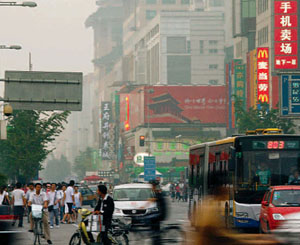 Chongqing has earmarked up to US$8 billion for buying overseas assets in an unprecedented attempt by a Chinese municipality to expand abroad. In an attempt to hone its competitiveness, Chongqing - one of the four municipalities under the central government's direct administration - wanted to capitalise on falling asset prices during the global financial crisis, according to executive vice-mayor Huang Qifan. High on the shopping list are the acquisition of more than 333,000 hectares (5 million mu) of farmland, an iron ore mine and machinery equipment, and high-tech equipment. "Assets valued at 10 yuan previously are worth 2 yuan now," Mr Huang said in a seminar over the weekend. "It will be foolish not to buy anything right now. However, it will be even more foolish to buy assets which do not help profitability." Chongqing is the first municipality to follow the state's "go abroad" policy. The country's big corporations are usually in the vanguard of any overseas expansion. Headed by former commerce minister Bo Xilai, Chongqing is keen to buy farmland, which runs counter to a recent Ministry of Agriculture statement denying speculation that the mainland was contemplating amassing agricultural land globally to ensure security of food supply. For Chongqing, the most populous municipality with 32 million people, buying farmland outside the country would reduce its dependence on imported edible oil, for example, and the trouble of growing crops, Mr Huang said. "If we spend US$2 billion for 5million mu of agricultural land, compared with Chongqing's 30 million mu area; it is equivalent to buying agricultural products," he said. The municipality, home to one of the mainland's largest steelmakers, Chongqing Steel, wanted to buy an iron ore mine to supply the 10 million tonnes of ore needed annually, he said. "Buying an iron ore production base will resolve the problem of soaring prices of the raw material," Mr Huang said. Chongqing's leaders also saw acquisition opportunities in the rash of factory closures, which meant machinery would be up for sale at discounted prices, he said. "Three years ago, machinery could be worth US$1 billion [but] now they could fetch US$100 million or US$200 million," he said. "Therefore, if we pay US$2 billion for these assets, we are in fact buying something worth US$10 billion." The acquisitions would lift the competitiveness of the machinery and equipment sector in the central and western parts of China, he said. "The overseas spending [is a demonstration of] Chongqing's openness," Mr Huang said. "It also means the creation of an open platform in the central and western parts of the country." Chongqing, which had gross domestic product growth of 10.3 per cent in the first four months of the year, would also increase efforts in enticing foreign investment. A core project was to set up a production base for laptop computers with a manufacturing capacity of 20 million units and generating US$30 billion in trade annually, he said. Mr Huang said a portfolio of petrochemical investment projects each involving US$2 billion would be launched for foreign investors. The municipality aimed at bringing in 33 per cent more foreign direct investments to US$3.5 billion this year. Last year, Chongqing trailed Sichuan, the most popular location for foreign direct investments in western China, he said.
More than 5 million masks are being shipped overseas from Yiwu, Zhejiang province, each day according to Xinhua. The trade is providing a rare boom for a city that has seen many factories close because of dwindling orders amid the global economic crisis. Medical saleswoman He Ronghua told Xinhua she had been bombarded with inquiries about face masks and her mobile phone was "about ready to explode". "In the past we sold only a few pairs a week. We sold 100,000 pairs of just one brand yesterday," she said. "Most customers are from America and Europe. Japanese and Koreans have also ordered a lot." In response, factories have pushed workers and facilities to their production limits, Xinhua said. But mainland consumers have not been contributing to the surge in demand for masks, despite vivid memories of severe acute respiratory syndrome six years ago. Five mainland shop owners interviewed said their sales had not increased much since the outbreak. "I can't see that individual citizens are showing much interest," one said. "Most buyers are wholesalers or drug stores who are building a stockpile so they can make a big profit if the virus really hits."
China National Chemical Corp (ChemChina), the mainland's largest chemicals maker, has placed a bid for billions of dollars in assets that Dow Chemical plans to sell.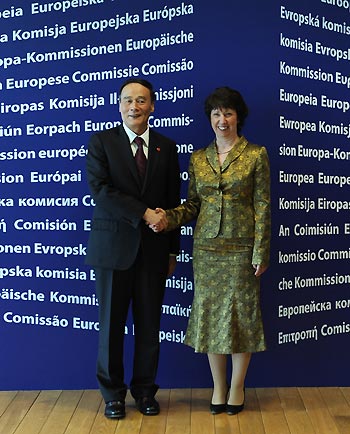 Chinese Vice Premier Wang Qishan (L) shakes hands with European Union Commissioner for Trade Catherine Ashton prior to the Second China-EU High Level Economic and Trade Dialog at the EU headquarters in Brussels, capital of Belgium, May 7, 2009. The European Union (EU) and China should work together to ward off potential surge of protectionism amid the global economic slump, Chinese Vice Premier Wang Qishan said on Thursday. "China and the EU should stand firm against any form of protectionism for the sake of a global economic recovery," Wang said in an opening remark at a high-level economic and trade dialogue between the EU and China, two major trading powers in the world. The EU is now China's largest trading partner, while China is the second largest of the EU. Trade volume between them grew to 425.58 billion U.S. dollars in 2008, an increase of 19.5 percent over the previous year despite the impact of the financial crisis, according to figures from China's customs authorities. Wang said the two sides have every reason to avoid protectionism, either for the urgent need to work out of the current crisis or due to the irreversible trend of globalization.
The Chinese central government will further ease authorization requirements for Hong Kong banks to expand their existing network in the neighboring mainland province of Guangdong, under an expanded economic and trade agreement signed Saturday. Subsidiaries of a Hong Kong bank in Guangdong shall be able to expand its network not only in the city of registration, but also in other cities in the province without first establishing separate subsidiaries there, according to the Supplement VI to the Mainland and Hong Kong Closer Economic Partnership Arrangement (CEPA). "This will enable the banks to expand their business network, and improve the quality and efficiency of banking services provided to enterprises," said Donald Tsang, chief executive of the Hong Kong Special Administrative Region (HKSAR). Securities firms in the mainland and Hong Kong shall also be allowed to set up joint venture securities investment advisory companies in Guangdong. The Hong Kong securities firm can hold up to a third of the stakes in the joint venture companies, according to the supplement agreement, which was signed by John Tsang, financial secretary of the HKSAR government, and the central government's Vice Minister of Commerce Jiang Zengwei in Hong Kong on Saturday. Qualified mainland securities firms, upon approval by regulatory authorities, can set up subsidiaries in Hong Kong. The introduction of open-end index-tracking exchange-traded fund based on Hong Kong stocks will also be explored in the mainland. The supplement shall come into effect on October 1 this year, three months ahead of the usual schedule for previous supplements, to help fight the ongoing economic downturn.
May 11, 2009

Hong Kong: Eighteen months after the "stocks through train" was derailed, Beijing is to "actively explore" another way for mainland investors to put money into Hong Kong shares. The proposal, included in the latest supplement to the Cepa free-trade pact, involves an "index-tracking exchange-traded fund" backed by portfolios of Hong Kong-listed stocks, the agreement says. The idea of launching such funds, called ETFs, was raised two years ago by the Shanghai Stock Exchange and by Financial Secretary John Tsang Chun-wah, but this is the first reference to it in a formal agreement by the two sides. The agreement, the sixth supplement to the Closer Economic Partnership Arrangement, contains several measures to boost Hong Kong's financial sector. Banks will be able to expand more easily in Guangdong, and securities companies will be able to offer investment advice there. ETFs have an investment structure similar to mutual funds. Ben Kwong Man-bun, of securities house KGI Asia, said it might be easier for Beijing to introduce ETFs, as opposed to direct buying of Hong Kong stocks via the "through train", because it could better control the outflow of capital to Hong Kong. Hong Kong's stock market regulator, the Securities and Futures Commission (SFC), will explore with its mainland counterpart the introduction of ETFs once the measures announced under the Cepa supplement take effect in October. A government spokesman said the discussion would cover legal and regulatory changes needed to bring in ETFs. The spokesman cautioned that nothing had been decided yet. Kenny Lee Yiu-sun, chairman of the Hong Kong Stockbrokers' Association, welcomed Beijing's exploration of ETFs. "Mainland investors can buy Hong Kong stocks indirectly through ETFs," he said. That would boost turnover on the Hong Kong stock market as issuers bought local stocks to package into ETF products. The Cepa supplement was signed in Hong Kong by Mr Tsang and Vice-Minister of Commerce Jiang Zengwei . It has 29 liberalisation measures covering 20 services sectors. The agreement on banks means they no longer have to open a full-fledged branch in each city in order to open sub-branches there. Opening a branch requires central government approval and each must have working capital of 300 million yuan (HK$341 million). Opening a single branch in Guangdong will let banks run sub-branches province-wide. Peter Wong Tung-shun, chairman of the Hong Kong Association of Banks, said: "This [is] another strategic step in the development of Hong Kong as the international financial centre for [the] mainland."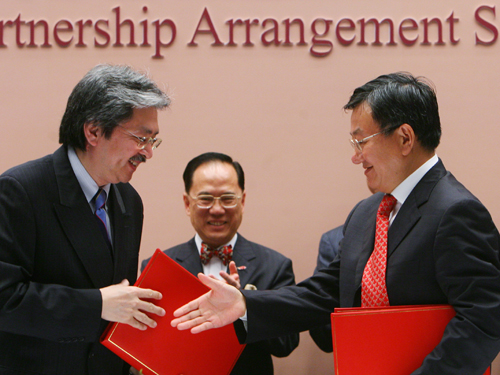 Donald Tsang looks on as Financial Secretary John Tsang Chun-wah (left) and Vice-Minister of Commerce Jiang Zengwei shake hands at the signing ceremony of the latest Cepa deal. Hong Kong's legal and tourism sectors welcomed measures that were announced yesterday to make it easier for them to do business on the mainland, but they cautioned that some hurdles remained. Chief Executive Donald Tsang Yam-kuen said the measures agreed under the sixth supplement to the Closer Economic Partnership Arrangement marked a great leap forward in economic co-operation between the mainland and Hong Kong, and reflected the central government's support for Hong Kong. It would promote development on both sides of the border, he said. Under the pact, mainland visitors to Taiwan will be allowed to stop in Hong Kong for up to a week on the way there and on the way back. Hong Kong permanent residents who are Chinese nationals will be allowed to work as tour guides on the mainland, leading outbound tours to Hong Kong, Macau and elsewhere. Hong Kong Tourism Board chairman James Tien Pei-chun said the measure on Taiwan visits would help the city's tourism sector. "The [board] has already started discussions with the mainland travel trade to devise more itineraries featuring Hong Kong and Taiwan," he said. Yang Jiaqi, manager of Nanhu International Travel Service in Guangzhou, hailed the concession to Hong Kong tour guides. "It will be beneficial to our outbound tour groups. Hong Kong has decades of experience in organising outbound tours. Our history is much shorter, and so is our experience. So opening [the service] to Hong Kong people will [help improve the standard of our] service." Joseph Tung Yao-chung, executive director of the Hong Kong Travel Industry Council, said the measure would provide more job opportunities for the city's tourism practitioners, given the limits of the Hong Kong market. Yi Xianrong, a professor of finance and banking at the Chinese Academy of Social Sciences, said: "The most important liberalisation for Hong Kong is allowing Guangdong people to visit on multi-entry permits. They have allowed people in Shenzhen [to do so]. I hope they can open up the entire Guangdong province and other mainland cities too. "By liberalising the flow of people, people will know where to find business opportunities and how to make money." The Cepa supplement makes it easier for Hong Kong lawyers to practise on the mainland. A lawyer who has passed the National Judicial Examination and has five years' experience will be allowed to practise over the border after one month's training instead of a year-long internship. Lester Huang, president of the Law Society of Hong Kong, welcomed the moves but was still concerned that the legal professional examination posed a barrier to entry. "The pass rate is in single digits," Mr Huang said. "The Law Society had suggested that Hong Kong practitioners could have exemptions from certain subjects." The pact will allow a Hong Kong law firm's representative offices to operate in association with a mainland law firm in Guangdong that has been established for a year or more, as long as at least one person who established the firm has practised law for at least five years. Iris Chang, president of the Practising Pharmacists Association of Hong Kong, welcomed a new arrangement allowing Hong Kong pharmacists to obtain qualifications on the mainland, but she said language would be an issue. "We have been trained in English, which is mainly used in the profession. But the qualification examinations require heavy use of Chinese. This would pose a difficulty, as we need to relearn all the technical terms in Chinese," she said. She also said pharmacists on the mainland were trained differently to those who studied in Hong Kong. "For example, pharmacist training on the mainland includes certain elements of pharmaceutical production. So it may be difficult to fulfil all the mainland requirements [to become qualified]."
Since the Closer Economic Partnership Arrangement was launched in the aftermath of Sars in 2003, Hong Kong officials have never missed an opportunity to trumpet its success in creating new jobs, promoting cross-border trade and bringing about closer ties. Their enthusiasm has not, however, been widely shared among local people. The introduction of Cepa programmes has been gradual and piecemeal over the years, so progress has been spread out and difficult to track. Even the initial lifting of tariffs on hundreds of products failed to create much excitement, as Hong Kong is no longer a manufacturing hub. But now, as Cepa opens up more mainland service sectors, the opportunities created for business people and professionals are more readily appreciated. Yesterday's announcement of new measures to liberalise 20 services sectors, especially in banking and finance, will bring new and immediate benefits to the city. Services, after all, make up 80 per cent of our gross domestic product - they are our bread and butter. Under new Cepa arrangements, local banks with subsidiaries on the mainland will more easily be able to open sub-branches in Guangdong. Bankers who have been working to expand their businesses on the mainland suddenly see a major barrier being lifted. They will be able to tap yuan liquidity as a significant source of business and funding. Coupled with recent ground-breaking initiatives to liberalise the use of the yuan to settle cross-border trade and services, Hong Kong is in a unique position to reap the benefits. On the financial front, mainland officials are exploring the introduction of exchange-traded funds with exposure to Hong Kong-listed stocks. ETFs have become hot investment products around the world; they have also gained increasing popularity among local investors since the introduction of the Tracker Fund, the city's first ETF. It is time that mainland residents were able to take advantage of such trading instruments. Perhaps more importantly, ETF products can also work as a substitute for the shelved investment "through train" scheme - under which mainland residents were to be allowed to buy Hong Kong-listed stocks directly. The scheme caused much excitement in the summer of 2007. It was, however, subsequently put on ice, apparently because of fears of triggering capital flight from the mainland's A-share market. ETFs will allow investors to park their money outside the mainland while offering liquidity to the Hong Kong market. By controlling the number of available ETFs, mainland officials who may be worried about capital flight can put a cap on the buying of Hong Kong shares. After six years and a lacklustre start, Cepa measures are translating into concrete and substantial benefits, not only for Hong Kong but the mainland as well. The government estimates Cepa created 43,200 new jobs between 2004 and 2008 and brought in HK$46 billion worth of business. It also led to a similar number of jobs being generated on the mainland. The individual traveller scheme has been an especially impressive revenue generator for the city; tourist spending amounted to HK$58 billion. The bundling of package tours for mainlanders to Taiwan with up to two weeks' stay in Hong Kong, announced yesterday as another Cepa initiative, will further boost local tourism. Cepa may not have generated the excitement that has greeted other cross-border projects. But it is taking shape as a series of trade initiatives that offer meaningful mutual benefits.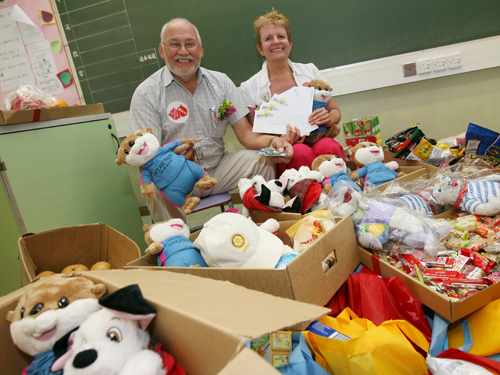 Ron Bailey and Anne Bowling sit surrounded by donated and unused gifts they collected during their enforced stay at the Metropark Hotel. The Hong Kong quarantine touched off the spirit of generosity as two Metropark Hotel guests visited a Salvation Army event for Mother's Day yesterday, and helped distribute 41 boxes of unused and donated gifts to a group of local mothers. During their government-enforced isolation in the Wan Chai hotel, Ron Bailey and Anne Bowling made the best of their week-long stay and started a charity drive from their room. The couple from northern England, who have been dating for 18 months, gathered up donated and unused stock and urged the other 283 guests to do the same. With the help of dozens of guests and the blessing of the Food and Health Bureau, Mr Bailey and Ms Bowling collected about HK$33,000 worth of items and coupons, said Mr Bailey and Simon Wong Kwok-ching, of the Salvation Army in Hong Kong. The 41 boxes were collected from the Metropark early yesterday and delivered to the Salvation Army Lam Butt Chung Memorial School, a primary school in Tung Chung. At the school, 40 underprivileged mothers from the Yat Tung Estate were recognised for their strength and courage during a special Mother's Day event. The women will receive certificates and gift packs. At the start of the ceremony Mr Bailey and Ms Bowling, who were supposed to leave Hong Kong last Sunday, stood before the crowd and spoke. "During the week we had many, many gifts from the tourism people, from various businesses and from the Hong Kong government," Mr Bailey said. "And we were delighted to be able to collect some of those gifts together that we could not use and hand them through Rotary International to the Salvation Army for giving to the mothers here today." "So from this problem has come some good and we hope that you appreciate the little that we can do to help here." The hotel guests contributed items ranging from fruit and toiletries to stuffed animals and vouchers for local attractions. Their stay in the hotel, enforced as a health precaution after a Mexican visitor was found to be suffering from swine flu, ended at 8.30pm on Friday. A mother from Macau separately donated HK$20,000 worth of gifts, including rice, cooking oil, noodles and towels, along with bookshop and supermarket coupons, said Mr Wong and Sue Kwok, a Salvation Army community relations officer. One of the honoured women, Xiao Lin, 37, said she never thought she would be a recipient of items donated by hotel guests. "It's very surprising and touching," she said.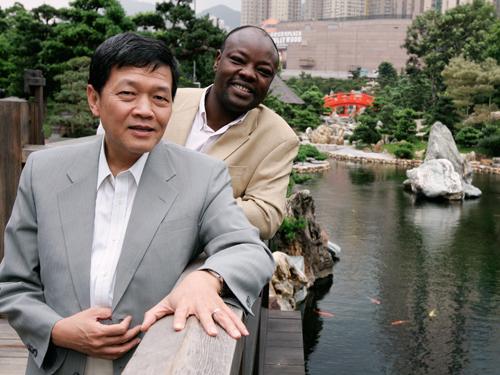 Chinese University's Lam Kin-che and Lawal Marafa at Nan Lian Garden, Diamond Hill, which they find is easy on the ear. There are many parks in Hong Kong's urban areas but you might not want to stay for long, as they are so noisy. But a research team has been working in recent years to save us from this noise pollution. It is pushing for the creation of pleasant sounds - bird song, the whisper of a breeze and running water. Lam Kin-che, director of the Centre for Environmental Policy and Resource Management at Chinese University, found the word "sound" had a negative, unpleasant connotation in Hong Kong. "When we talk about sound, it is always about traffic noise. Talking only about noise reduction is not enough. We need to create a quality sound environment as well," Professor Lam, who has been researching sound for 20 years, said. He said the focus of most parks was on the visual landscape, but sound should also be an important factor. Using sound barriers, planting certain trees to attract song birds and building fountains were ways to create pleasant sounds. "Without consideration for sound, standing in a park is like standing in front of a picture. A waterfall or fountain is enough to create a garden with a desirable sonic feature," he said. A survey of more than 100 sites in Hong Kong by Lawal Marafa, a colleague of Professor Lam's, found that the sounds of nature was one of the three key factors in attracting people to rural areas. "When we went to Mong Kok, we found out that eight out of 10 people were wearing earphones. But only one in 10 people wore earphones hiking in rural areas," Dr Marafa said. "Instead of buying CDs to listen to the sounds of nature at home, why not go out for the real thing?" Professor Lam said. Recordings of natural sounds - such as waterfalls, thunderstorms, rainforests and dolphins - cost about HK$130 to HK$150, with some selling for as much as HK$550. The researchers agreed that Nan Lian Garden in Diamond Hill was a good example of a pleasant-sounding garden in a supposedly noisy area. "Nan Lian garden is surrounded by Lung Cheung Road, one of the busiest roads in Hong Kong, but it is still a place with nice scenery and natural sounds because of its proper design," Professor Lam said. "The sound barrier here is pretty. It is not that ugly noise barrier we are used to seeing. The fountain and waterfall here help keep out noise as well. It could be done in other parks in the same way." A landscape consultant and an architect agreed that sound was usually given a low priority in construction work in Hong Kong. "Sometimes we recommend building a waterfall to our clients, as it is attractive to have the sound of running water in a busy city," Patrick Lau Hing-tat, chairman of the Association of Landscape Consultants, said. "However, there are many constraints because of management, finance, maintenance, cleaning, urban planning and even safety concerns." Mr Lau said the luxury residential complex Hong Kong Parkview made good use of the idea of soundscape. "There is a big waterfall outside the entrance of Hong Kong Parkview. This provides a country-park feel but that site is quite close to the city." Wong Kam-sing, vice-president of the Hong Kong Institute of Architects, said: "There are no sound-level requirements for parks in Hong Kong, so it doesn't matter [legally] if a park is noisy or not." The Leisure and Cultural Services Department said it balanced different needs of people in the community when planning an urban park. Recording companies said the demand for natural-sound recordings had been increasing. "There are customers of all ages coming in every day for natural sounds like waterfalls, the sea and streams. Some listen to natural sounds in their office to calm them down," Antona Tang Shuk-man, manager of Classical & Jazz of Hong Kong Records, said. One wholesale record company has also seen such recordings grow in popularity. "During Sars, the demand for natural-sound recordings was popular. Now, we can sell 50 to 60 records of natural sounds in one week," Alan Wan Pak-lun, sales manager of Master Music, said.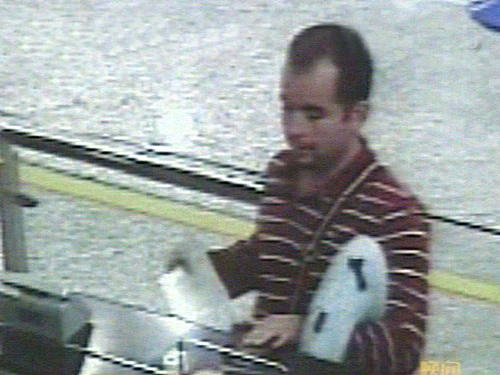 Hong Kong's first swine flu patient walked out of Princess Margaret Hospital last night, ending an eight-day confinement made a little less arduous by a taste of the city's famous egg tarts. Aleman Arcadio Gutierrez left the hospital with Mexican consular representatives at 9.15pm. The Hospital Authority said Mr Arcadio, his relatives and the consulate had "clearly and strongly requested that the hospital decline any media interviews and filming". Despite his inability to sample the delights of Hong Kong as planned, Mr Arcadio managed to taste the city's famous dessert. Mexican acting consul general Hector Huerta said Mr Arcadio fell in love with the tarts after a nurse offered him a taste. "He asked for more egg tarts every day, with a cup of milk," Mr Huerta said. The consulate had also delivered a variety of Mexican foods to Mr Arcadio during his isolation, including tacos, quesadillas and tortilla soup. He had also requested Spanish movies, magazines and a Bible. Mr Arcadio flew with his younger brother and a friend to Hong Kong on April 30, where they met a Mexican woman and went to the Metropark Hotel in Wan Chai. He developed a cough there, was admitted to Ruttonjee Hospital and tested positive for swine flu.
Hang Lung Properties (SEHK: 0101) said it would invest 4.5 billion yuan (HK$5.11 billion) to develop a "world-class" shopping centre on a newly acquired commercial site in Dalian, its first land acquisition since February 2007. The company said it plans to develop the site, currently occupied by a sports stadium, into the city's largest shopping complex, with a total gross floor area of 220,000 square metres. Executive director Terry Ng Sze-yuen said Hang Lung won the site at an auction for 1.2 billion yuan or 5,382 yuan per square metre. "Sky-high land values have kept us away from attending auctions for more than two years," he said. "Now is our best opportunity, as there are not many competitors." Mr Ng said he expects the project, to be named Dalian Hang Lung Plaza, to provide an annual rental return of 5 to 8 per cent. As the city government needed about 18 months to deliver the site, he said it would be five years before the development would be operational. So far, Mr Ng said, Hang Lung had committed 25 billion yuan to develop six shopping complexes on the mainland, more than 60 per cent of its 40 billion yuan investment target. The other five, due to be completed between next year and 2012, are in Shenyang, Tianjin, Wuxi and Jinan. "Frankly speaking, Hang Lung has no competitor at all, as domestic developers lack expertise in building shopping malls to international standards," said Raymond Ngai of JP Morgan Securities. "The local government prefers a landmark project to be developed in the city centre." But he noted that developers' recent acquisitions in a variety of cities indicated a vote of confidence in the property market's prospects. In less than two weeks, Hang Lung, Greenland Group, Gemdale Corp and Shimao Property Holdings (SEHK: 0813) have spent more than 3.6 billion yuan to buy land in Shanghai and Qingdao. Greenland has secured a 186,500 sq metre residential development site on the outskirts of Shanghai for 957 million yuan in the city's biggest land deal this year. Another mainland developer, Gemdale Corp, outbid nine competitors to win an 83,645 sq metre residential site in Shanghai's Qingpu district for 560 million yuan, about 82 per cent above the opening bid. Shimao made its first acquisition in 15 months by securing a Qingdao commercial and residential site through a partnership for HK$920 million. Separately, Soho China (SEHK: 0410) yesterday announced the company had generated 635 million yuan from sales of Zhong Guan Cun Soho commercial project on the first day of sale. The average sales price of the office space was 33,000 yuan per square metre, while the average price of retail space was 90,000 yuan per square metre.

China: Premier Wen Jiabao on Friday visited Xiamen, a southeastern port city which faces Taiwan across the sea, urging cooperation for a win-win result for the mainland and Taiwan. With more than 3,300 Taiwan-invested companies, Xiamen, in Fujian Province, is a frontier platform for cross-Straits exchanges. While touring Chenhong Technology Company, Wen was pleased to learn the Taiwan-invested high-tech company registered a strong growth last year despite the global financial crisis. He said the current peaceful development of cross-Strait ties had benefited both sides. "Recently, we have initiated new policies and measures to support the development of an economic zone on the western side of the Taiwan Strait. Taiwan-invested companies will have more development opportunities," Wen said. At Prima Electronics, another company with Taiwan investment, Wen was attracted by the company's slogan which urges the two sides to "join hands."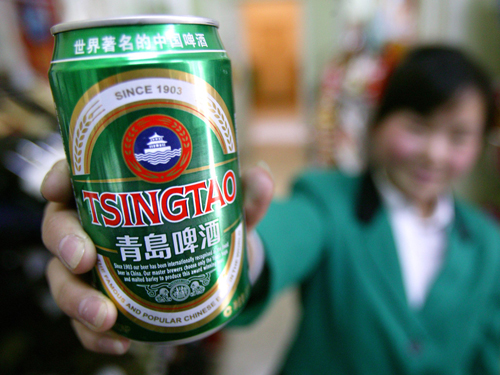 Chen Fashu, one of the mainland's richest men, has agreed to pay Anheuser-Busch InBev US$235 million for its 7 per cent stake in Chinese beer maker Tsingtao Brewery (SEHK: 0168). The deal will not only help AB InBev - the world's biggest beer maker - cut its huge debt but will also reduce recent public concern on the mainland that a historic brand could fall into foreign hands. Belgium-based AB InBev said in a statement yesterday Mr Chen had agreed to buy 91.64 million H shares in Tsingtao at HK$19.83 each, a 9.86 per cent discount to yesterday's closing price of HK$22. The sale of shares came on the heels of AB InBev saying it would raise US$1.8 billion by selling South Korea's Oriental Brewery to private equity firm Kohlberg Kravis Roberts. The owner of Budweiser and Stella Artois is trying to sell off units to help pay off the loans that funded InBev's US$52 billion takeover of Anheuser-Busch. In January, it announced it was selling 19.99 per cent out of its 27 per cent stake in Tsingtao to Japan's Asahi Breweries for US$667 million. "The deal has cleared the uncertainty in foreign ownership that has hung over Tsingtao since the merger of AB and InBev last year," said Olive Xia, an analyst at Core Pacific-Yamaichi International. "Although Mr Chen has no prior investments in the beer sector, the public would be happy to see a Chinese investor." A personal assistant to Mr Chen, the richest man in Fujian, said the deal was the tycoon's personal investment but declined to provide further information. The 48-year-old Mr Chen was the mainland's 31st richest man in 2008, with a personal wealth of US$945 million, according to Forbes' 400 Richest Chinese list. He controls a 75.87 per cent stake of Shenzhen-listed Fujian New Hua Du Supercenter, which is the second-largest shareholder of dual-listed Zijin Mining Group (SEHK: 2899). Qingdao-based Tsingtao Brewery said it was informed of the deal yesterday but the company had no prior contact with Mr Chen. Analysts said the change in ownership was not expected to affect Tsingtao too much. Its foreign partner had not played a big role in decision-making. According to its website, AB InBev has 35 breweries in China, including the wholly owned Harbin Brewery Group and Sedrin Brewery. There is speculation that the next target for a selldown might be its 28.56 per cent stake in Guangzhou Zhujiang Brewery. An AB InBev spokesman declined to comment yesterday on that speculation but stressed that as an important player in China for more than two decades, AB InBev remains committed to investing in its brands and operations. Snow beer, made by a joint venture between China Resources Enterprise (SEHK: 0291) and SABMiller, holds the top spot on the mainland, with a market share of 17.7 per cent by sales volume last year. Tsingtao had the second-largest share. Sedrin had the sixth-biggest, with sales of 1.3 million kilolitres, according to Tsingtao data.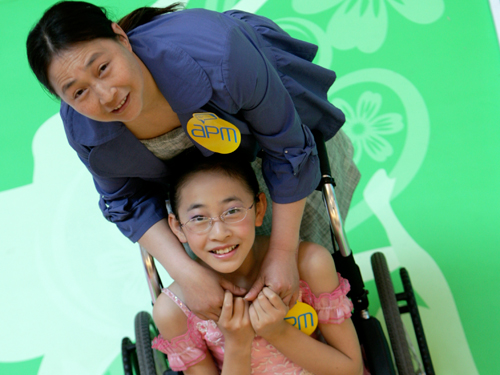 Li Yue with her mother Li Jiaxiu. A mother's promise kept 12-year-old Li Yue going through the darkest 70 hours of the Sichuan girl's life, as she lay buried in the cruel debris of last year's magnitude 8 earthquake. Now the strong will of her mother, Li Jiaxiu, sustains the girl's pursuit of her dream to dance - although she lost her left leg in the quake. Just before the killer quake, Ms Li had promised to send Li Yue to ballet class when she reached Primary Five this year. That promise became Li Yue's mantra as she lay trapped under the debris of Beichuan primary school with six classmates crushed below her. "I told myself as long as I survive, I can dance," she said. But when the rescue team found her, they had no choice but to remove her left leg below the knee at the scene - with just two shots of painkiller. Two further amputations removed her entire left leg. "I have so many regrets about my little girl because I cannot keep my promise to send her to ballet class," said her mother, 45, while watching her dancing wheelchair ballet on the stage with other dancers in Hong Kong yesterday, at Kwun Tong's APM shopping mall. The two were among four pairs of mothers and children invited to Hong Kong as part of a campaign to raise funds to provide artificial limbs for quake victims. Ms Li said she was keen to "make it up to her daughter" by supporting her dancing dream because she had not been at her daughter's side during the quake or the first two amputations. "I was running a Sichuan restaurant in Xinjiang and was unable to return immediately," she said. A single mother, Ms Li only managed to get back to Sichuan four days after the quake. "My daughter dreamed of becoming a ballet dancer but because we are of Qiang ethnicity, I sent her to learn Qiang folk dance instead when she was seven," she said. "Last year, her teacher said Yue was talented in ballet, so I promised I would send her to ballet class in September this year." But the earthquake intervened - a subject that brings out Ms Li's stoically pragmatic side. "It's worth exchanging a leg for a life," she said. Li Yue had her third amputation in Beijing in July. And just three weeks later, then 11-year-old Li Yue performed a wheelchair ballet with a group of deaf dancers at the opening ceremony of the Paralympic Games in August - despite the lingering, acute pain of her wounds. "I am so proud of my little girl," Ms Li said yesterday. She closed her restaurant in Xinjiang to care for Li Yue full-time and has since taken her to ballet practice, performances and charity events. Now, on the eve of Mother's Day, Li Yue said the love of her mother kept her going. "As Mother's Day is coming, I would like to say: `I love you' to my mama," she said. "I will study hard and live happily because I know it's the best reward to people who love me." The earthquake claimed 11 in Ms Li's family, including her mother. Mother and daughter are both supported by the generosity of donors, but Ms Li said she wanted to make her own living. She is now planning to borrow money to start a small restaurant in Beijing. Despite their suffering, self-reliance is the dream shared by all the "quake mums". Yang Lan, 31, also in Hong Kong with her daughter, lost both her legs and her husband in the quake. "I should thank God because my three-year-old daughter still has her mother. I hope I can stand up again and be capable of looking after my girl by myself," the wheelchair-bound mother said.
Taiwan chief negotiator Chiang Pin-kung, who had tendered his resignation as chairman of the Straits Exchange Foundation (SEF) earlier, on Friday agreed to stay on. Chiang told a press conference here he was willing to stay and finish the ongoing work. He said when he met Chen Yunlin, president of the mainland-based Association for Relations Across the Taiwan Straits(ARATS) in Nanjing last month, he had invited him to Taiwan for a new round of talks, and he would keep the promise. Chiang, who will turn 77 this December, told the media on Wednesday that he decided to resign because of his "age" and "physical strength". Taiwan leader Ma Ying-jeou, however, said he wouldn't endorse the decision and had returned Chiang's written resignation. Ma paid a visit to Chiang and SEF members Friday afternoon, praised their work and persuaded Chiang to stay on. Chiang said he would act in the general interest and make the right decision. Chiang was appointed chairman of the Taiwan-based SEF, a non-governmental organization authorized to handle cross-straits affairs, after Ma became the leader of Taiwan in May 2008. Chiang and Chen had held three talks since June 2008, leading to the signing of the historic agreements allowing direct flights, shipping and postal services across the straits, and opening the island to mainland tourists. In the latest round of talks between the SEF and the ARATS held in Nanjing of eastern Jiangsu Province in late April, the two sides also agreed to cooperate in finance and justice.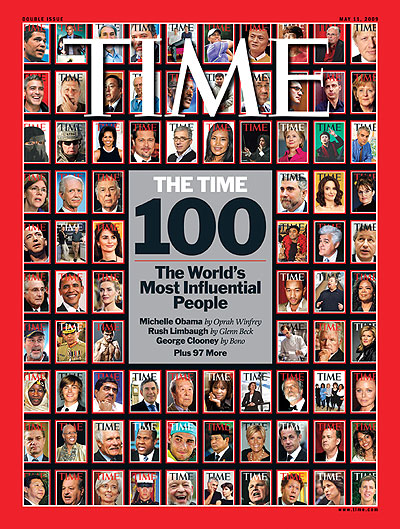 Four Chinese nationals made it into Time Magazine's 2009 "100 Most Influential People in the World", including Chinese Vice-President Xi Jinping, Vice Premier Wang Qishan, Alibaba.com founder Jack Ma, and pianist Lang Lang. Among the others named are US President Barack Obama and his wife Michelle Obama, US Secretary of State Hilary Clinton, German Chancellor Angela Merkel, the co-founders of Twitter, Jack Dorsey, Biz Stone and Evan Williams, and the world-famous golfer Tiger Woods. Wang is "the man China's leaders look to for an understanding of the markets and the global economy" and "decisive and inquisitive," said his long-time friend and former US Secretary of Treasury Henry Paulson. Running one of the world's biggest B2B online marketplaces, the soft-spoken Jack Ma "did so well that in 2006, eBay shut down its own site in China," the magazine writes. If Jack Ma influences the world through his business instinct and acute vision, Lang Lang, who has been playing the piano since he was around 2 years old, is influencing others through his humane sensitivity and prodigal talents. "You hear him play, and he never ceases to touch your heart," according to Time. It also calls him "the new phenomenon". "The Time 100 is not a list of the most powerful people in the world, it's not a list of the smartest people in the world, it's a list of the most influential people in the world," says Executive Editor Rick Stengel. "They're scientists, they're thinkers, they're philosophers, they're leaders, they're icons, they're artists, they're visionaries.'" First published in 1999 as a result of a debate among several academics, the Time 100 has become an annual event since 2004.
May 10, 2009

Hong Kong: Amid cheering, waving, and even some street dancing, Hong Kong on Friday night finally ended its last quarantine — allowing around 300 guests and hotel staff at the Metropark Hotel in Wan Chai to leave. The controversial seven-day quarantine was to stop the spread of swine flu in Hong Kong. Hotel guests and staff have been under quarantine since last Friday after a 25-year-old Mexican — who briefly stayed in the same hotel last week — contracted swine flu. Local television reported the first batch of excited guests stepping out of the hotel at 8.30pm. They were greeted by a hundreds of photographers, journalists, family, friends and on-lookers. Special coaches arranged by the government were waiting. The buses are to take some directly to the airport to leave Hong Kong and others to designated hotels or train stations in the city. Around 9pm, Chief Executive Donald Tsang Yam-kuen greeted guests and hotel staff. He praised them for their patience, co-operation and hard work over the last week. "For those who are going to leave, I hope you have a safe journey and come back again. "For those who are going to stay in Hong Kong, I hope you have a wonderful time and will enjoy it," he added.

The Hong Kong Monetary Authority (HKMA) on Friday urged investors to be cautious, saying hefty fund inflows could inflate asset prices in the territory, while local economic conditions remained difficult. Heavy demand for the Hong Kong dollar, which is said by the market to be heading into the stock market, has forced the city's central bank to inject funds into the money market in recent weeks to keep the local currency within its trading band against the US dollar. "This will affect Hong Kong asset prices on all fronts, including stocks. There is no [fundamental] economic support yet, so we hope people will carefully manage their risks," HKMA chief Joseph Yam Chi-kwong told reporters. Hong Kong's benchmark Hang Seng Index rose for a sixth consecutive day on Thursday to close at 17,217.89, its best closing level since October last year. Hong Kong stocks have risen 18 per cent so far this year. The HKMA stepped in again overnight, selling US$550 million worth of Hong Kong dollars during New York trading hours, lifting the total balance – the sum of balances on clearing accounts maintained by banks with the HKMA – to a record HK$211.033 billion by May 11. The authority had issued extra exchange fund bills to absorb some of the funds, otherwise the aggregate balance would have been about HK$300 billion, Mr Yam said. The market has been flooded by equity-related funds as signs of economic recovery in mainland lifted sentiment and attracted foreign investors, dealers said. Since April 21, the HKMA has injected a total of HK$58.67 billion into the banking system, including Thursday's intervention.

Each kindergarten, primary and secondary school in Hong Kong will receive a special grant of 3, 000 HK dollars (about 387 U.S. dollars) to support their A/H1N1 flu prevention work, Hong Kong Secretary for Education Michael Suen said here Friday. In a letter issued to all schools, Suen said although there is no sign of the spread of the disease in Hong Kong, the city should not slacken its preventive work. He urged schools to maintain precautionary measures and keep campuses clean. The Education Bureau will announce disbursement details next week. Suen also reminded parents to pay close attention to students' personal hygiene and keep their homes clean. Parents' participation and support will enhance the precautionary measures' effectiveness, he added.

China: Olympic champions Guo Jingjing and Wu Minxia of China won the women's synchronised three-metre springboard at the USA Diving Grand Prix on Thursday. Guo and Wu scored 335.10 points to easily head off Kelci Bryant and Ariel Rittenhouse of the United States. Tania Cagnotto and Francesca Dallape of Italy got the bronze medal. David Boudia and Thomas Finchum of the United States won the men's synchronised platform in a field of five teams without Olympic champions. Britain's Max Brick and Thomas Daley took the silver medal and Canada's Reuben Ross and Riley McCormick placed third.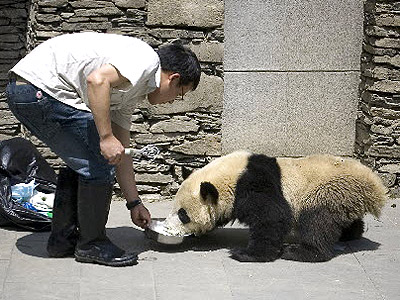 China's quest to save the giant panda has been hit hard by last year's massive Sichuan earthquake, which destroyed a vital food source, inhibited its sex drive and sent tourism revenues diving. While it is unclear how many pandas living in the wild were killed by the quake, it felled entire bamboo groves in their mountainous habitat and often rendered inaccessible those forests left standing. For pandas being bred in captivity meanwhile, the earthquake coincided with a baby boom that is stretching resources and making it tougher for carers to find enough bamboo to go round. "The biggest impact has been on the food source of the panda, as a lot of bamboo was destroyed," said Wang Chengdong, the director of the Chengdu Giant Panda Breeding Centre. "The food supply is very, very tight," Mr Wang told reporters. "The disaster has had a huge impact on our centre and brought big difficulties too for our national treasure." The 8.0-magnitude quake struck Sichuan province last May 12 leaving nearly 87,000 people dead or missing in this rugged, southwest region where China's endangered panda population is concentrated. At a nursery at this breeding centre, near the provincial capital Chengdu, staff in blue medical gowns looked after two baby pandas while on a platform outside a couple of slightly older ones wrestled merrily. The cubs came from a recent baby boom among pandas which has boosted demand for the species' favourite food, bamboo, just at a time when supplies are low due to the earthquake. In turn, it has made it harder for the centre's staff to find food for the finicky animal, while wild pandas have in many cases been cut off from their usual food sources. "The panda is a picky eater and is accustomed to eating bamboo from the same habitat, but now this is harder to find," Mr ang told reporters at the centre, which is home to 83 pandas. Providing the right diet has been vital to China's success in breeding the species, Mr Wang said – there are nearly 300 in captivity, but only around 1,200 estimated to be living in the wild. "Food is important for relaxation," he added. "The panda breeds better when it is relaxed so in this way the earthquake has had an impact [on the panda's sex drive]." In recent years, panda breeding programmes in China have led to a mini-baby boom – a record 25 pandas were born at nearly 50 breeding facilities in 2007 and preliminary figures suggested that continued last year. "Last year at our centre we produced 18 pandas. This was our historical best," said Hou Rong, head of research at the Chengdu centre – while adding that it meant over-crowded conditions and more animals to care for. Meanwhile tourist income – an important revenue stream for the centre at Chengdu – fell almost to half last year due to the quake, with visitor numbers dropping from 600,000 in 2007 to 300,000 last year, she said. The global economic downturn could also hit the number of visitors, while donations may also drop. Exacerbating such financial woes, the Chengdu centre last year took in 40 pandas from the Wolong Giant Panda Breeding Centre, China's biggest, which was largely destroyed by the quake, Wang said. Much of the Wolong centre, which sits nestled in the Himalayan foothills near the epicentre of the quake, will have to be rebuilt, and its efforts to reintroduce captive pandas back into the wild have also suffered. Although the 40 pandas housed at the Chengdu centre have been returned to Wolong, nearly 100 others from Wolong remain in other breeding centres around China. The baby boom has also made efforts to return captive pandas to the wild – crucial to the species' survival – more pressing, Mr Wang said. The Chengdu centre is to build a separate facility to research methods on re-introducing the notoriously shy animals into the wild, including training them to forage for food, seek shelter and cope with wild pandas. "We need to protect the panda and its habitat," Mr Wang added. "But this is still going to take a long time."
Merrill Lynch China Investment Banking chairwoman Margaret Ren, a star China banker and relative of former premier, has left the bank, sources close to the matter said on Friday. The sources did not say why she left, or what avenues she planned to pursue. Her departure is another loss of a top banker at Merrill, which was bought earlier this year by Bank of America. BoA's purchase of Merrill rescued the New York brokerage from near collapse. But the financial struggles of BoA since the deal have led to a large wave of defections by top Merrill talent across the globe. BoA declined to comment. Ms Ren, daughter-in-law of former premier Zhao Ziyang, could not immediately be reached for comment. Merrill hired Ms Ren in February 2007, at a time when mainland investment banking revenues were soaring past the US$1 billion mark for the industry. Prior to Merrill, Ms Ren was a star banker at Citigroup, although she was suspended by the bank in June 2004 over an inquiry into the December 2003 US$3.5 billion IPO of China Life (SEHK: 2628, announcements, news) Insurance, in which she played a key role. Ms Ren left Citigroup soon after the suspension and was cleared of any wrongdoing in issue by the US Securities and Exchange Commission in 2006. Media reports at the time of her Merrill hiring said Ms Ren holds a master's degree from Princeton University in the United States, and is the daughter of former Guangdong Party Secretary Ren Zhongyi.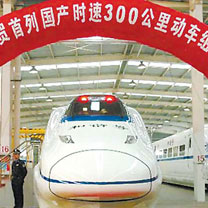 China began Thursday to lay tracks for the first high-speed passenger line in its western region, which will ultimately shorten trips between the ancient capital of Xi'an and Beijing to four hours from the current 11. The 500-km line linking Xi'an in northwestern Shaanxi Province with Zhengzhou in central Henan will run at up to 350 km per hour. "When it becomes operational at the end of this year, a ride between the two cities will take less than two hours compared with the present six," said Li Hengman, deputy manager of the Zhengzhou-Xi'an Railway Company, operator of the 10.3-billion-U.S.dollar project. He said the track-laying would be completed by June 10 and the railway was scheduled to be operational on Dec. 28. Construction began in late 2005. It involved building tunnels in the craggy mountains and reinforcing the loose, sandy earth to support tracks and trains on the loess plateau. The new route will connect to trunk railways including the north-south Beijing-Guangzhou Railway, while a trip from Shanghai to Xi'an will take only five hours compared with the current 15. China's first inter-city express railway, the Beijing-Tianjin line running at more than 300 km/hr, opened in August. A trip takes 30 minutes. Last month, China launched two 250-km-per-hour inter-city passenger lines, one connecting Hefei, capital of eastern Anhui Province, with Wuhan in central Hubei Province and the other, linking Shijiazhuang city near Beijing with Taiyuan in Shanxi Province. The Beijing-Shanghai high-speed railway will be completed by 2012 and halve travel time to about five hours.
China's leading trade fair, known as Canton Fair, ended Thursday with export orders down almost 17 percent, a sign of troubles ahead for China's exporters amid the financial crisis, organizers said.
China puts ceiling on output of minerals

China said Thursday it would impose a ceiling on the output of mineral resources like tungsten, antimony and rare earth in 2009 amid shrinking demand.

Avoid risky derivatives, SOEs told - The government has become increasingly concerned about the financial derivatives trading by large State-owned enterprises after some of them incurred huge losses.
New spending sprees in Europe mulled

China promised Thursday to send its companies on new multibillion dollar spending sprees in Europe as it called on the bloc, its largest export market, to resist new trade barriers.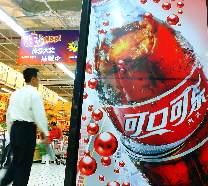 After failing to acquire a stake in Chinese juice maker Huiyuan Juice Group, Coca-Cola, the world's largest beverage maker is back in the limelight for its association with the 2010 Shanghai World Expo. As the global sponsor, the soft drink giant has recently started a new marketing campaign to ensure better participation for the event. "We are planning to utilize the opportunity to upgrade our marketing expertise and system resources in China," said Howard Lam, general manager of 2010 Shanghai World Expo Project Group of Coca-Cola China Beverages Ltd. According to Lam, the company plans to host a series of promotional activities in China to ensure better participation at the expo. For instance, from this month, Coca-Cola will manufacture and sell its soft drink products with a new packaging highlighting the sponsorship for the Shanghai World Expo. According to Chen Chao, a senior official from Shanghai World Expo Coordination Bureau, Coca-Cola has finished design work for 3,000 square meters of the Coca-Cola Corporate Pavilion in the Expo garden. Besides using energy-saving materials for the pavilion, the company will also consider its unique experience of sponsoring the Beijing Olympic Games, in order to better run the Coca-Cola Pavilion and manage all the activities during the Shanghai World Expo, said Lam. "It will be a great opportunity for Coca-Cola to connect with the 70 million visitors estimated to attend the Expo," Lam said. In addition, as the official soft drink sponsor for the Expo, Coca-Cola will be the only drink available in all the Expo pavilions. "This will help generate another sales spurt during the event," Lam said. The company has also finished the construction of a world-class research and development (R&D) center in Shanghai. According to the company, the new R&D center will help promote Coca-Cola services and provide higher-quality drink products to visitors during the Shanghai World Expo. "The sponsorship for Beijing Olympic Games helped Coca-Cola generate a sales spurt of 25 million bottles. We are now looking at participating in the Shanghai World Expo," Lam told China Daily, explaining that he was confident the 187-day Shanghai World Expo would attract at least 70 million consumers and contribute a strong sales revenue to the company. To inspire individual actions for supporting Shanghai World Expo's theme "Better City, Better Life", the company is also launching an environment protection innovation campaign among students from over 100 universities across the country. "Moreover, I think the Shanghai World Expo will just be the starting point for Coca-Cola, in terms of our business strategy in China and in our efforts to promote better life," Lam said.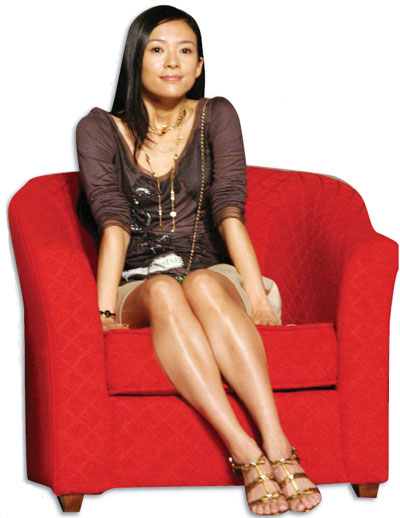 Zhang Ziyi, the internationally famous actress, often draws flak from netizens for her roles that they believe offend Chinese sensibilities. She is said to "have offended Chinese sensibilities" by appearing in a kneeling position in her latest movie The Horsemen. I haven't seen the movie yet, but from publicity materials, Zhang seems to play the role of a killer named Kristen. It's not clear whether Kristen is even Chinese or ethnic Chinese. But I guess such details would not bother those intent on painting the Chinese actress as "a traitor to her own country". In 2005, Zhang starred in another Hollywood production, Memoirs of a Geisha, in which she played a geisha who sleeps with a client, played by a Japanese actor. A lot of egos were bruised in China, which gathered enough momentum to have the movie banned in her motherland. According to one Internet posting, Zhang's "sins" are numerous. In a Sino-South Korean co-production called Sophie's Revenge, which is now in post-production, Zhang complimented her co-star but he supposedly bad-mouthed China. By extension, Zhang has been found guilty as well. In a series of publicity shots a few years ago, Zhang wore a gown that revealed the upper part of her back. The photos were plastered all over Tokyo, which some netizens reckoned "debased the Chinese race". She also appeared in a shampoo commercial in Japan but turned down a similar product endorsement deal in China because "the money is too little". Very "unpatriotic", claimed some. In 2007, she appeared on the cover of Brio, a Japanese magazine, looking buddy-buddy with a Japanese man. In 2006, she was featured on the cover of the Japanese edition of Playboy. Though alone, she obviously played to Japanese male fantasy. What should these "seven deadly sins" get her? I will not quote the online suggestions. Suffice it to say, it's not pretty. Sometimes I have the feeling that Zhang gets her hefty fees not for her performances, but for all the mud thrown at her. She is as quickly deemed here a symbol of a hundred years of Chinese humiliation as she is seen as the archetypal Chinese porcelain doll in Hollywood. Why are Chinese youths -netizens are predominantly young - so easily affronted? Moreover, when they feel displeased, they purport to represent the whole Chinese nation, not just themselves. What gave them the power to make such a bombastic claim?
May 9, 2009

Hong Kong: Hong Kong's official foreign- currency reserve assets rose to 193.4 billion U.S. dollars in April, up 7.1 billion U.S. dollars on March, the Monetary Authority of Hong Kong said on Thursday. Including unsettled forward contracts, foreign currency reserve assets stood at 194 billion U.S. dollars. The total foreign-currency reserve assets represent about eight times the currency in circulation, or 45 percent of Hong Kong dollar M3. Hong Kong is the world's seventh largest holder of foreign currency reserves, after the Chinese mainland, Japan, Russia, China's Taiwan, India and South Korea.
Thawing cross-strait relations have spurred growing interest from Hong Kong investors in Taiwan stocks and related mutual funds. The interest comes as the mainland and Taiwan mull plans to allow trading in each other's share markets, building on increasingly warm economic ties. The cross-trading platform would widen investor access to both markets but could face serious regulatory hurdles, analysts said. Under the plan, investors could trade as many as 30 stocks from each market, Taiwan Stock Exchange Corp chairman Schive Chi was quoted as saying by Bloomberg. Mr Chi said an agreement on dual listing of exchange-traded funds would be signed this year. The Taiwan Weighted Index has risen 17.44 per cent since April 29, making it the world's second-best performer during the period. "Many have been caught up by the recent buying euphoria," said Ben Kwong Man-bun, the chief operating officer of KGI Securities in Hong Kong. Mr Kwong said more clients had expressed interest in investing in Taiwan stocks following the recent market rally. Besides investing in the 54 Taiwan firms listed in Hong Kong, investors could also open an account to trade Taiwan stocks or invest in Taiwan-related fund products. Younger Chen, a director of the asset management division of Polaris Securities (Hong Kong), a unit of the largest ETF issuer in Taiwan, said the firm's Taiwanese fund in Hong Kong had seen modest asset growth in the past week. The net asset value per unit of the Polaris Fund, the first Taiwan equity fund sold by a Taiwanese financial firm in Hong Kong, gained 20 per cent to US$10.05 from April 29 to Wednesday, he said. "Instead of a bear market rebound, we think it's just the beginning of the bull market in Taiwan," Mr Chen said, adding that the Polaris Fund was expected to reach US$10 million by the end of the year from US$2 million. While the authorities from both sides appear keen to push links between the two markets, analysts played down expectations of a flood of funds on to any new platform. "ETFs are feasible and imminent," said Xav Feng, the head of China and Taiwan research with Lipper. However, "the cross-trading platform is a far cry, based on the present regulatory climate". A spokesman for the Shanghai Stock Exchange declined to say when any agreement with its Taiwan counterpart would be signed. The cross-trading platform would be more radical than the "through train" scheme the central government announced in August 2007, under which mainland residents were to be allowed to buy Hong Kong stocks directly, analysts said. Beijing later shelved that plan amid concerns it would spark a capital flight from the A-share market. "The two sides might take time to work out more details, such as an investment quota and supervision of capital," said a Taiwan brokerage official. "The trading platform plan is more symbolic than substantive."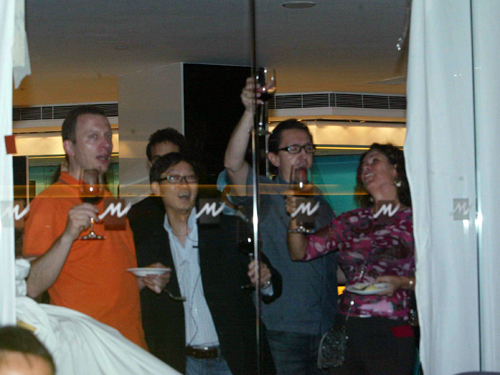 Dozens of people partied in the lobby of the quarantined Metropark Hotel in Wan Chai last night to celebrate their impending release today, as guests told tales of love, lust and laughter from the week-long internment. Sheets that had covered the windows of the locked-down hotel for days were ripped down amid the festivities, revealing smiling guests raising glasses of wine, beer and other liquor and kissing one another. Earlier, the first people sequestered in the swine flu scare that broke out last week were freed from other quarantine centres. Of the 35, some went straight to the airport, while others went shopping. But the man who sparked the lockdown, a Mexican tourist who stayed at the hotel and became Hong Kong's first confirmed case on Friday last week, remains in stable condition in Princess Marget Hospital. On the mainland, the seven-day quarantine on passengers who were on the same AeroMexico flight as the Mexican man, who flew to Shanghai before boarding another plane to Hong Kong, also ended, with all but one of 128 people released. At the Metropark, the sheets were later put back over the windows, but that did not stop people inside from lifting the veil on what had gone on among the 283 people, most of them strangers, who were thrown together for a week. The time they had wasn't all bad, according to one source, speaking by telephone, who said at least two new couples had formed. Another story going around is that at least one of the women caught behind closed doors is a prostitute. She remained stuck in one of the hotel's 173 rooms with the guest who brought her in because the management refused her a separate room, guests said. "I think it's true," said one guest. "I think I met the guy, and I talked with him." Earlier, officials had declared the health of 35 tourists and local residents quarantined elsewhere to be "100 per cent satisfactory", freeing 29 people from the Lady MacLehose Holiday Village in Sai Kung, three from the Lei Yue Mun Park and Holiday Village and three from Princess Margaret Hospital. The 35 comprise travellers who arrived in Hong Kong on the same flight as the 25-year-old Mexican man who has the virus, and the two taxi drivers who came into contact with him. One of the drivers, Mr Tam - who drove the sick tourist from the Metropark to Ruttonjee Hospital - said: "It was boring. You could wander around to kill time, but after all you were still locked in the camp." He had no quarrel with the quarantine, though. "The disease is contagious. I am relieved I am fine." A score of released tourists checked into the Royal Plaza Hotel in Mongkok for a two-night free stay offered by the government as compensation for their loss of freedom, while 14 went straight to the airport. A Shanghai tourist described the release as like "returning to reality". "I am so excited to be able to get out," she said. "You know what, I have not done any shopping at all." At the airport, mainland secondary student Zhang Ruirao complained that the situation in the quarantine camp was chaotic. At first, there was no television and no telephone, she said. On the mainland, the Ministry of Health website said the person still in quarantine had shown symptoms of fever, redness in the eyes and a sore throat on Wednesday, but did not give any details of the person's gender, age, nationality or whereabouts. The Centre for Disease Control and Prevention in that city had sent a biological sample to the provincial-level CDC for testing, but no result had been determined, the statement said. AeroMexico Flight 98 landed at Pudong airport in Shanghai on Thursday last week with 176 passengers on board. Health authorities tracked them down and put them under quarantine and medical observation in 18 provinces and cities. Thirty-eight of them, all Mexican nationals, were taken back to their home country on Monday.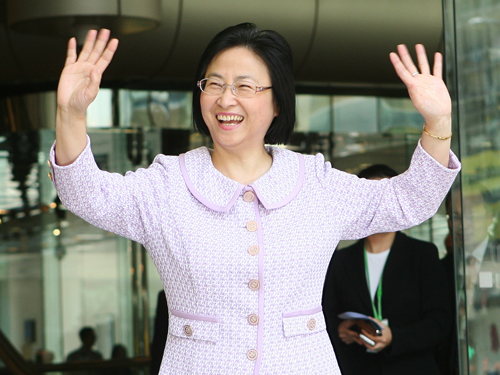 Margaret Leung meets the media for the first time since becoming Hang Seng's new chief executive. Shares of Hang Seng Bank (SEHK: 0011) rose above HK$100 yesterday for the first time since early January, tracking big gains by other lenders as investment funds flowed into the market and optimism about the banking sector increased. Hang Seng rose as much as 8.14 per cent before closing at HK$102.60, up 3.79 per cent. The stock was last above the HK$100 level on January 12 when it closed at HK$100.40. Other banking stocks also surged. HSBC Holdings (SEHK: 0005, announcements, news) rose 5.6 per cent to HK$65.05, more than doubling its March 9 low of HK$30.558, after adjusting for the rights issue. Standard Chartered jumped 8.72 per cent to HK$153.30 and Bank of East Asia (SEHK: 0023) rose 10.42 per cent to close at HK$24.90. The sharp rise in bank stocks was mainly driven by institutional investors and their massive inflow of capital recently, said Margaret Leung Ko May-yee, the new vice-chairman and chief executive of Hang Seng Bank, on her first official day in the new job. Evidence of the inflow was clear. The Hong Kong Monetary Authority has pumped more than HK$55.95 billion into the banking system since last month, lifting the aggregate balance of the banking system to HK$206.77 billion. Mrs Leung said the stock market usually rebounded ahead of the recovery of the economy but investors should still be cautious as there were uncertainties in the market. "The worst of the US economy could be over, but there are still uncertainties," she said, adding that it was difficult to predict what would happen after US regulators announced the result of their stress tests on banks. She also said it was difficult to know whether the pace of economic recovery would be as fast as the rebound of the stock market. Kenny Tang Sing-hing, the head of research at Redford Securities, said bank stocks also surged because recent news about the stress tests had led the market to believe that the results would not be as bad as feared. This in turn would give investors more confidence in the balance sheets of other lenders. Mr Tang said the shares of international banks, such as HSBC and Standard Chartered, were benefiting from the change in sentiment. But so were other lenders such as Hang Seng, which had investments in corporate bonds, because there would be less pressure for them to add to their bad-debt provisions for such exposure. He added that another factor boosting its stock was that the payout ratio for Hang Seng was relatively high compared with its peers. JP Morgan upgraded its earnings estimates for the bank by 27.3 per cent for this year and 12.1 per cent for next. It said the bank had a strong treasury business in the first quarter and expected its credit cost this year would be lower than expected. "The bank's decision to maintain its first-quarter dividend has also sent a comforting signal to the market," it said. JP Morgan has also upgraded its price target on HSBC to HK$52 from HK$40 this week. It said the bank's capital position was solid, while the asset-backed securities market had stabilised.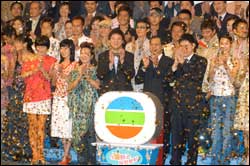 Employees of TVB (SEHK: 0511) and HSBC (SEHK: 0005, announcements, news) have made calls to unionists claiming some staff will be dismissed soon, fuelling fears of more layoffs in the banking and broadcasting sectors. The Confederation of Trade Unions received four calls from employees of TVB's engineering department yesterday, claiming that a third of their team - or about 100 people - would be laid off on Monday or Tuesday, the union's organising secretary Ng Koon-kwan said. Separately, the Banking Employees Association - which is affiliated to the Federation of Trade Unions - said it had received "three or four calls" from HSBC staff in the afternoon, claiming that about 40 people at the trade services department had been asked verbally by their managers to resign, the association's chief executive Wu Yiu-fung said. The bank could not be reached for comment. HSBC slashed a total of 550 jobs in September and November, while talk of another mass layoff of 1,000 employees from the information technology and other backroom administrative sections had been circulating since February. A senior source close to TVB said last night that layoffs were being planned after the broadcaster shed 212 people - or 5 per cent of its workforce - in December and about 50 in February. The company declined to comment. TVB management, during the redundancy exercise in December, described it as "necessary steps" to cut expenses amid the financial crisis. The sacked workers were mainly from the production resources department. In the February round, 40 of those laid off were from the engineering department, which had finished preparations for digital broadcasting, and the remainder were from the news department. Lau Shun-on, chairman of the TVB Staff Association, urged the broadcaster to seek cost-cutting alternatives. "The company should talk to the employees about other solutions, such as no-pay leave or restructuring." It had not talked to staff in recent months, Mr Lau said.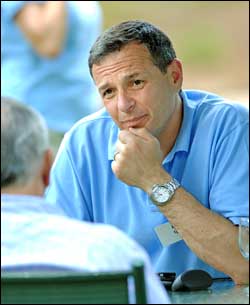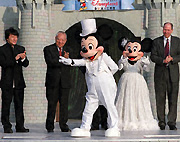 Experts are being appointed to work out the details of a planned Hong Kong Disneyland expansion after talks between the government and Disney management representatives resulted in substantial progress, according to the financial secretary. "We've had some pretty good discussions on a number of areas. We're now getting experts to study the details. Hopefully, we'll have something to announce very soon," John Tsang Chun-wah said. Mr Tsang met Jay Rasulo, chairman of Walt Disney Parks and Resorts, and chief financial officer Jim Hunt in Los Angeles a week ago. The meeting came six months after Secretary for Commerce and Economic Development Rita Lau Ng Wai-lan reviewed expansion plans with Disney in Los Angeles. The government owns 57 per cent of the theme park and Disney holds the rest. A source at a local Disney supplier said tenders for some of the expansion projects that were supposed to have been ready in January were pushed back to March. Last month the supplier was told more information would be available in October. The company makes animatronic figures used in Disney's "It's a Small World" attraction. Informed sources said the proposed expansion plan included new "lands" and rides based on wilderness, Arctic and adventure themes. The largest area would be a nature wonderland. A roller coaster would pass through mine shafts and a wilderness area complete with audio effects and animatronic animals. The Arctic environment would include real snow slopes in enclosed temperature-controlled areas. A train ride would also feature. A third land would be based on the "unexpected" with computer-controlled rides.
Taiwan's exports fell at a slower pace last month as mainland demand for electronic products provided some relief for the recession-stricken economy. Overseas shipments slid 34.3 per cent from a year earlier, following a 35.7 per cent drop in March, the Ministry of Finance said yesterday. The median estimate of eight economists surveyed was for a 28.3 per cent decline. The island posted a trade surplus of US$2.14 billion as imports slumped. Victoria wineries were keen to pry open the competitive wine market on the mainland, with the country's demand expected to surge by as much as 600 per cent annually in the next few years, Mr Brent said.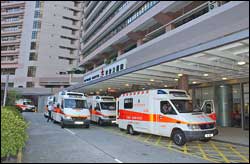 The alertness and vigilance of frontline medical staff at Ruttonjee Hospital may have saved Hong Kong from an outbreak of human swine flu (H1N1), according to the head of the Hospital Authority. Authority chairman Anthony Wu Ting-yuk said yesterday the index patient had a normal body temperature and did not display serious flu symptoms when he arrived at the hospital's accident and emergency unit, together with his friends, last Thursday evening. But the medical staff became fully alert when the group said they had come from Mexico. Wu said there was a communication problem, as the Mexicans spoke limited English, but a nurse decided to put on a full set of protective gear when she was assigned to take the man's temperature and conduct a physical check-up. The medical team then sent the Mexican to an isolation ward, while waiting for a junior doctor to examine him further. The doctor too wore protective gear. Even though the Mexican initially tested negative to the virus, the doctor insisted he remain in hospital for further diagnosis by two consultant doctors. The senior doctors concurred on further tests, and strongly insisted the man remain in hospital overnight for observation. A specimen taken from the Mexican was sent to the Department of Health, and then to Hong Kong University, where lab tests confirmed he had swine flu. "In fact, the medical team at Ruttonjee Hospital went beyond the guidelines," Wu said. "With their high level of alertness, they have helped prevent the spread of the disease from the index patient. Imagine what could have happened if the hospital had allowed the man to leave after the initial test was negative." Last Friday evening, when the man was confirmed to be the first case for human swine flu, health chief York Chow Yat-ngok immediately raised Hong Kong's medical alert from serious to emergency. And there have been no further cases since then. As of last night, the index patient remained in a stable condition at Princess Margaret Hospital.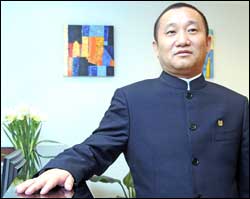 There was a lackluster response to China Zhongwang (1333) yesterday on the gray market where the stock closed at HK$6.80, sliding 2.85 percent from its offer price of HK$7, according to Phillip Securities. China's largest manufacturer of aluminum extrusion products makes its debut on the Hong Kong bourse today. Only 70 million shares changed hand in the gray market on turnover of HK$4.84 million. The stock traded between HK$6.78 and HK$7.10. Prudential Brokerage associate director Kingston Lin King-ham said Zhongwang's performance was worse than expected. "However, it is not likely to drop below HK$7 on its trading debut because of the recent market rally and the fact that its offer price is near the low end of the price range," Lin said. He said the price-to-earnings ratio of Zhongwang is about 11 times its earnings forecast of about 2.6 billion yuan (HK$2.95 billion) for 2009. The firm raised HK$9.49 billion from its initial public offering. But local investors covered only 68.6 percent of the retail tranche. They subscribed for 96.1 million shares, the company said in a statement yesterday. The remaining 43.9 million uncovered shares in the local tranche were reallocated to the international offering. This increased the size of the institutional tranche to about 1.304 billion shares - 93.14 percent of the total number of shares offered. "The international offering was moderately oversubscribed," the firm said. Zhongwang granted the overallotment option to issue up to 210 million additional shares to international subscribers. Chairman Liu Zhongtian, who has a 74.1 percent stake in Zhongwang, is on his way to becoming the richest person in the mainland. His four billion shares are worth HK$28 billion, putting him above the current No 1, animal feed producer Liu Yongxing, who according to Forbes magazine had US$3 billion (HK$23.4 billion) last year. Separately, Hutchison Telecommunications Hong Kong Holdings (0215) will list in the local bourse today by way of introduction.

China: Countries planning to take part in next year's Shanghai World Expo must start building their pavilions by the end of next month or change their plans, organisers told state media yesterday. The new deadline for breaking ground casts further doubt over US participation in the international showcase event, already in question due to funding problems. "If work on a pavilion starts after June 30 this year, it can't be completed before May 1 next year. This will affect the operation of the whole World Expo Park and support facilities," Zhong Yanqun , deputy head of the organising bureau's executive committee, told Xinhua. Ms Zhong's comments appear to signal a tougher stance by the bureau on participants that are dragging their feet on preparation work. Director general Hong Hao stated last week that organisers were prepared to wait "until the last minute" for the US to sign up. However, he also urged the US to come "as soon as possible" and ruled out a financial bailout if it failed to raise funds in time. "They have to come up with the money themselves," Mr Hong said on Friday. Less than 12 months before the opening, the US is the only major nation yet to commit to Expo participation, with the delay largely due to its reliance on sponsorship. Organisers said last week that the US had so far secured only US$1.5 million of the projected US$61 million needed. Frank Lavin, steering committee chairman for the US pavilion, insisted fundraising efforts were on track but said building work might not begin until "before the end of the year". He declined yesterday to comment on the new deadline, which was almost six months earlier than what they had believed it to be. "I have not seen that particular document," Mr Lavin said. "I have got to look at exactly what they are saying before I can comment on it." He said the US team had excellent relations with Expo authorities, and even if the deadline was accurate, "that's almost two months off now". Mr Lavin, a former ambassador to Singapore and US commerce undersecretary, previously said that the bulk of the budget was needed for operating costs, and only US$20 million needed to be raised this year. Expo organisers say none of the 234 countries or organisations that have formally signed have pulled out due to the financial crisis. However, Mr Hong admitted last month that the US was not the only country facing difficulties. The director said several countries, including Argentina and Brazil, had abandoned self-built pavilions, opting instead for rented or shared structures. The Shanghai World Expo aims to be the biggest and most expensive in the event's 158-year history. The sprawling site, which spans the Huangpu River south of the city centre, is now a hive of activity as workers race to complete facilities in time for the May 1 opening. Organisers estimate more than 70 million people will visit the 5.28 sq km site during its six-month run - although just one in 20 is expected to come from outside the mainland.
Sichuan releases final toll for schoolchildren in quake: 5,335 - The Sichuan government has released the final tally of students killed or missing in the magnitude-8 earthquake on May 12, blaming their deaths on the scale of the disaster.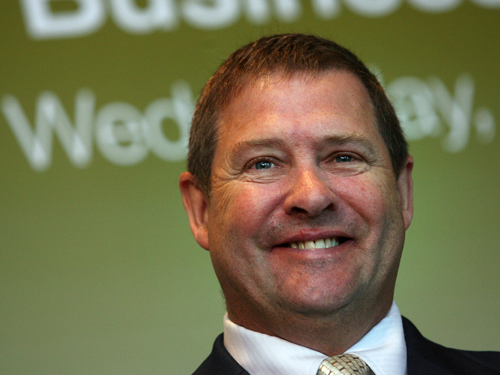 Trade commissioner Charles Brent says Victoria state's exports are expected to grow by 5 per cent to A$35 billion this year. China may have an insatiable demand for Australia's mineral resources and fuels but it also has a strong appetite for food, wine and technology from Down Under despite the mainland's slowing economy, according to a senior official of the Victoria state government. Last year's tainted-milk scandal, the mainland demand for seafood such as abalone and lobster and a weaker Australian dollar have helped Victoria's exports, said Charles Brent, the Victorian Trade and Investment Office's commissioner for Greater China. And business looked set to intensify once negotiations on a free trade agreement between the two countries were concluded, he said yesterday. "The China markets, especially the expanded economy as a result of the integration of the Pearl River Delta cities, are the driving forces of Victoria's export growth," said Mr Brent, who is leading a 48-strong Victorian delegation to a hotel and food services trade show in Hong Kong. "The mainland is not just an importer of goods but techniques, such as rearing cattle and raising lobsters." The Victoria state government expects its exports of goods and services to grow about 5 per cent to A$35 billion (HK$205.37 billion) this year, down from 7 per cent last year. Australia shipped 29 per cent, or A$837 million worth of its food exports to the mainland, Hong Kong and Macau last year, 60 per cent of which was sourced from Victoria. Analysts say that a significant proportion of the A$65 million worth of abalone and A$22 million worth of lobster that were shipped from Victoria to Hong Kong last year were then re-exported to the mainland. The mainland's demand for seafood grew so fast that some Chinese firms have been investing in lobster farms using Australian techniques. One such case was a Jiangsu firm that formed a joint venture with a Victorian company to learn how to breed yabbies, a freshwater crayfish. "The success rate of breeding yabbies is 5 per cent in China but 95 per cent in Victoria, hence the partnership," Mr Brent said. "This kind of co-operation is being extended to cattle rearing, for example, with Australian techniques helping to improve the quality of herds and hence dairy products." Mr Brent added that technology transfer in areas such as bio-technology was thriving in the Pearl River Delta region, where the provincial government was pushing companies to upgrade technology levels and add value to their products.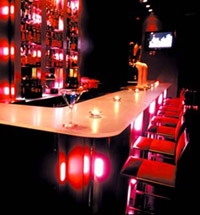 Shanghai will spend 5 billion yuan (HK$5.65 billion) sprucing up its historic Bund waterfront ahead of the 2010 World Expo, including turning the whole area into a pedestrian-only zone, state media said yesterday. The two-kilometer-long strip will be closed in phases and eventually have "a pedestrian-only promenade featuring restaurants and other tourist attractions," the city's government- run Shanghai Daily said. Traffic will be moved underground into a tunnel, though tour buses will be allowed to use special lanes to drive down the Bund. Some of the improvements will be completed by October.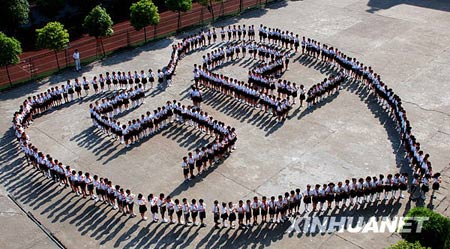 Pupils in Leping No.1 Elementary School in Jiangxi Province stand in circle to form a Charriol with 5.12 in it in order to commemorate the Sichuan earthquake on May 12 last year.
According to China's Ministry of Commerce, a total of 2.7 million units of "home appliances going to the countryside" have been sold in the first quarter of 2009 for 4 billion yuan. Of these 2.7 million units, 1.485 million units were sold in March for 2.24 billion yuan, representing an increase of 70 percent and 72 percent year-on-year, respectively.

China surpasses U.S. to become Brazil's biggest trading partner - China replaced the United States to become Brazil's biggest trading partner, said Brazil's Ministry of Development, Industry and Exterior Trade on Monday.
A US court has sentenced two Chinese officials and their wives, who fled China eight years ago after hatching a plot to embezzle $482 million from Bank of China, to up to 25 years in prison. A federal judge in Las Vegas sentenced Xu Chaofan to 25 years and Xu Guojun to 22 years in prison on Wednesday. The two were managers of Bank of China's Kaiping branch in Guangdong province. US court metes out justice to corrupt Chinese officials. Their wives were sentenced to eight years each, and the quartet was ordered to pay $482 million in restitution.
May 8, 2009

Hong Kong: China tourists planning to visit Taiwan and Hong Kong will be able to travel to the two destinations with a single permit in new measures under the free-trade pact between Hong Kong and the mainland. Hong Kong's tourism industry is one of the biggest winners in the latest phase of the Closer Economic Partnership Arrangement that will also benefit shipping firms and the financial services sector. A well-placed source said the sixth supplement to Cepa, set to be signed on Saturday, would ease visa restrictions on mainland tourists travelling to both Hong Kong and Taiwan. "Currently, mainland travellers are required to use separate permits for visiting Hong Kong and Taiwan," the source said. "The arrangement of 'single visa, multiple destinations' will be implemented under the latest supplement to Cepa." Chief Executive Donald Tsang Yam-kuen announced after his meeting with Premier Wen Jiabao at the Boao Forum in Hainan last month that Beijing would allow cruise tours from mainland ports to stop in Hong Kong en route to Taiwan. Other new Cepa measures will allow Hong Kong shipping firms and agents to set up wholly owned enterprises at all second-tier ports in Guangdong - such as Shunde and Zhongshan - to provide clerical and administrative services. Shipowners would also finally be able to hire their own mainland sailors after years of lobbying, sources familiar with the negotiations said. While the first measure will greatly increase the catchment area of Hong Kong's shipping agent business, the second move will solve longstanding recruitment problems for shipowners, who were forced to go through mainland agents. Hong Kong Shipowners Association assistant director Gilbert Feng Jiapei welcomed the news. "We are particularly happy that we can finally hire our own people," he said. "Right now, we cannot keep the seafarers we like and we have to accept those whom we dislike." Mr Feng also welcomed the expansion of local shipping agents' business to second-tier ports in Guangdong because it gave ships more choice of services. Maritime insurance brokers in Hong Kong have also been fighting to operate in the mainland market directly. However, it appears that the latest Cepa supplement will not include any good news for them. Another government source said Financial Secretary John Tsang Chun-wah and Vice-Minister of Commerce Jiang Zengwei were scheduled to sign the sixth supplement in Hong Kong on Saturday. An announcement on the signing is expected to be made tomorrow. The deal is also expected to ease restrictions on entry to the mainland market for Hong Kong firms involved in tourism, logistics, banking, securities and futures, audiovisual, printing and publishing and cultural services. Many of the provisions may be introduced in Guangdong first.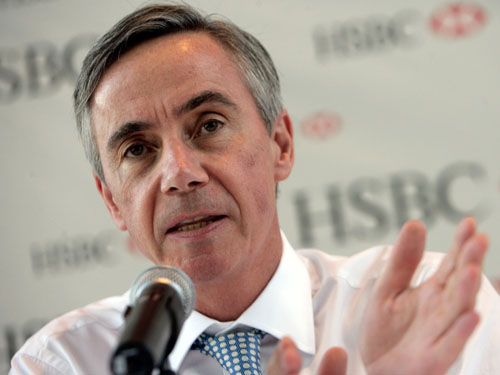 HSBC's Sandy Flockhart is confident the group's US unit should be able to pass the stress test. Bank stocks shot up yesterday after Standard Chartered said on Tuesday it posted record earnings in the first quarter, but analysts and insiders warned that other lenders might not produce similar results. Sandy Flockhart, HSBC Holdings (SEHK: 0005, announcements, news) ' chief executive for the Asia-Pacific, said investors should not make a direct comparison between HSBC and Standard Chartered since the two lenders were different. He said HSBC would issue a first-quarter management update on May 11. Standard Chartered rose 7.38 per cent to close at HK$141, due to its strong first quarter, and investors chased other banking stocks on the theory that it pointed the way for its peers. HSBC, the city's largest banking group, gained 6.3 per cent to close at HK$61.60. Its subsidiary, Hang Seng Bank (SEHK: 0011, announcements, news) , climbed even more at 9.96 per cent to end at HK$98.85. Both lenders rose in part because they issued first-quarter dividends in line with market expectations. Bank of East Asia (SEHK: 0023) climbed 6.12 per cent to close at HK$22.55, while Fubon Bank (Hong Kong) (SEHK: 0636) gained 12.99 per cent to finish at HK$4. The banking stock rally led the Hang Seng Index to add 404.49 points to close at 16,834.57, the highest in seven months. The British style of quarterly reporting only requires firms to give management updates rather than a full set of financial results in the first and third quarter. Both HSBC and Standard Chartered are listed in London and Hong Kong. Mr Flockhart also said the group's subsidiary in the United States should be able to pass the stress test that had been conducted by banking regulators. While many US lenders performed well in the first quarter, Mr Flockhart said first-quarter performance should not be seen as an indicator of full-year results because it was too early to say whether the global recession was over. Standard Chartered said it earned record revenue and profit in the first three months, driven by a strong wholesale and consumer banking business. The bank also said it would book a US$248 million pre-tax profit in the second quarter after buying back portions of two large bond issues. Louis Wong Wai-kit, a director of Phillip Capital Management, said investors chased banking stocks because they believed Standard Chartered's results might indicate other lenders would do well in the first quarter. But he warned that they might be disappointed. "Standard Chartered is a very unique bank that focuses on emerging markets in Asia, Africa and the Middle East, and it has no exposure in the US and Europe," he said. "As a result, its performance would be different from other lenders which have different exposure." Mr Wong said HSBC had a wider international network and had exposure in Europe and the US. Any increases in bad debt in its US credit card and consumer loan portfolios will have a negative impact on HSBC. The bank rally would continue in the short run because overall market sentiment had become stronger, he said. But for the longer term, the direction of the stock market outlook will depend on when the US is finally able to fully recover from the recession.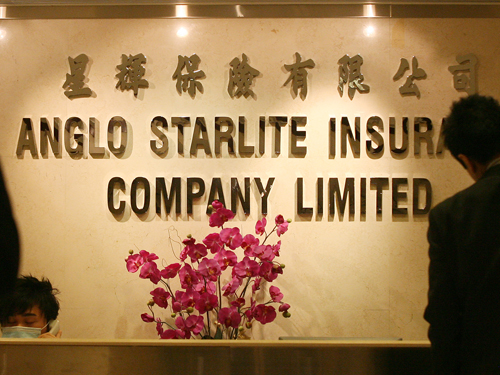 Police have arrested three directors and a senior manager of an insurer taken over by the government on Tuesday after investigators suspected forgery and false accounting. A police spokeswoman said three directors of Anglo Starlite Insurance and an accountant had been arrested and were under investigation. A police source said the firm's founder and managing director Atu Balani was among those arrested. Anglo Starlite had 16,000 policyholders. It specialised in motor insurance, and is believed to have insured between 40 per cent and 50 per cent of the city's taxi owners, who were attracted by the low premiums it charged. On Tuesday the Insurance Authority appointed managers to run the insurer after finding some of its deposit receipts may be forged and it was at risk of becoming insolvent. Peter Whalley, of PricewaterhouseCoopers, one of the managers appointed to run the company, said a preliminary review of its solvency should be completed tomorrow, after which a recommendation about whether to begin insolvency proceedings could be made. The company was still running and policies it issued were not affected. The company has outstanding claims of HK$272 million and had been delaying payment of claims since March, customers had told the Insurance Authority before it sent in Mr Whalley and a colleague. Taxi owners insured by Anglo Starlite worried they would pay a lot more if they switched insurers. "What we are worrying about most is if this large batch of taxi owners have to buy new policies, other insurance firms may even double the premium," one owner told an RTHK radio program. Commissioner of Insurance Clement Cheung Wan-ching said if Anglo Starlite had to cease operations, the Insurance Authority would seek "reasonable arrangements" for policyholders. "About the premium, I believe Hong Kong is a [free] market and we can't control that," Mr Cheung said on the same program. "But we can negotiate with the insurance firms and hope they can make ... reasonable arrangements so that this group of policyholders can continue to be insured." Insurance sector lawmaker Chan Kin-por said some insurers had been using the premiums they collected to invest in the property and stock markets to subsidise underwriting losses. The authority said it did not know if Anglo Starlite had done so.
Hong Kong attracted about 168,500 more mainland visitors in March than a year ago, more than offsetting double-digit declines recorded in virtually every other market, Tourism Board data shows.
Macau casino revenue was 8.3 billion patacas last month, down 8.97 per cent from a year ago and 12.63 per cent from March, according to preliminary data.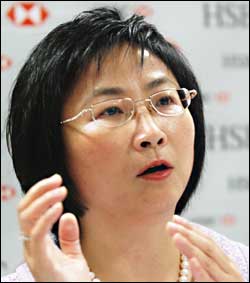 Hang Seng Bank (SEHK: 0011) has no plans to lay off staff and could even increase hiring if necessary, Margaret Leung Ko May-yee, the bank's new vice-chairman and chief executive, said. Mrs Leung, the successor of Raymond Or Ching-fai, who retired after the bank's annual general meeting yesterday, said she hoped the bank could continue to outperform its peers under her leadership. "Hang Seng has a very strong working team, and we will strengthen it further," she said. "I will get to know the working teams and see if we need to hire more talent [to facilitate business growth]." She said the bank had no plans to lay off employees, but she did not rule out the possibility that there could be some redeployment according to the demands of the bank's businesses. Mrs Leung said Hang Seng could continue to focus on its Hong Kong operation but would also explore business opportunities elsewhere, particularly on the mainland. "We have 34 outlets on the mainland, and definitely there is still room for further expansion," she said. The bank would like to expand into other businesses on the mainland such as securities, asset management and insurance. The lender is also interested in listing its shares on the mainland and issuing yuan bonds in Hong Kong, though these moves would depend on still unspecified details. Beijing said last week it would allow foreign firms to list in Shanghai and use the yuan for trade settlements on a trial basis. Both moves are part of a plan to fashion the city into a Hong Kong-style international financial centre. Mrs Leung said the bank was still recording good loan growth in Hong Kong and that approved loans for small and medium-sized enterprises under government guarantee schemes came to HK$4.8 billion at the end of last month. Meanwhile, she said there were signs of capital inflows but it was difficult to say whether this was hot money or funds for long-term investment. She said demand for higher-return investments had risen in the current low-interest-rate environment, so she was optimistic about the non-interest-income business. Separately, some small shareholders asked why Mr Or was retiring, as he was one of the key people who helped boost the bank's shares to more than HK$100 at one point. Mr Or did not respond directly, but he told reporters in March that this year he would reach 60, the normal retirement age, and thought it an appropriate time to step down. Hang Seng chairman Raymond Chien Kuo-fung also praised Mr Or's contributions and hoped Mrs Leung would help the bank to grow further. He said he hoped the bank's performance in the coming financial year would not let shareholders down. Mr Or said Hang Seng's return on equity, which stood at 26 per cent last year, was one of the highest in the local banking sector, and hoped such a good record would continue.
For all the advantages Hong Kong offers as Asia's leading financial-services centre, its bid to create a strategic information-technology industry comparable to California's Silicon Valley is still a work in progress. But dramatic changes could soon be afoot after Chief Executive Donald Tsang Yam-kuen included innovation and technology in the six economic areas where opportunities need to be realised amid the economic downturn. Eddy Chan Yuk-tak, the commissioner for innovation and technology, said the government had already done plenty of spade work to build the infrastructure for science and technology development. "But we want to further enhance our existing infrastructure, activities and policies," he said. With the steady exodus of manufacturing to the mainland, the Hong Kong government set out to cultivate key service industries. In 1998, the Digital 21 strategy was formed to provide a sustainable IT environment in the public and private sectors. In 1999, the government stumped up HK$5 billion in seed money for the Innovation and Technology Fund with an eye to creating more jobs for researchers and supporting the creation of high-end technology fit for commercial development. In 2000, the government began a study on innovation and technology in Hong Kong. From that, policies were developed and programs kick-started to give shape to a world-class infrastructure for technology start-ups, academic research and support for companies. That set in motion the establishment of the Hong Kong Science Park, Cyberport, the Hong Kong Applied Science and Research Institute, and five industry-focused R&D centres. Mr Chan said the five centers had so far conducted about 310 projects at a cost of some HK$13 billion, part of which was funded by the private sector. "Towards the end of the year and early next year, up to 30 projects are expected to be completed." Chuck Cheng, founder and chief executive of chip-design company AppoTech, said: "Hong Kong already has a good infrastructure to foster innovation, but more efforts to support this area will certainly further speed up development." AppoTech received funding, set up shop at the Science Park and successfully sold its home-grown technology to the world.
A mainland businesswoman who blew HK$53 million on a two-year gambling spree in Macau - and then threatened to sue a casino to get her money back - has just pocketed the territory's second- highest slot-machine jackpot from the same casino. The self-proclaimed billionaire, who insists she is not addicted to gambling, received a payback of sorts on Monday when she scooped a HK$5 million jackpot at the Wynn Macau casino. A spokeswoman for Wynn confirmed to The Standard that a VIP customer had hit a seven-figure jackpot, but refused to give details. She said the guest is welcome back anytime. The woman yesterday told East Week, a sister publication of the The Standard, that she won HK$5 million, the second-highest slot-machine payout in Macau's history. The biggest stands at HK$10 million. Her win comes a day after she threatened to sue Wynn Macau over the fortune she has lost on slot machines since 2007 on the grounds that payout rates are too low. The woman, from Zheijiang province, is also unhappy because Wynn staff refused to let her, family and friends play 20 machines at the same time in a calculated attempt to beat the odds. The woman's account of her huge losses and her attempt to sue over them was published in The Standard yesterday. Still unhappy, the woman said HK$5 million is just a fraction of what she has lost and she maintains the payout rate is unfairly low. She repeated her demand for Wynn to hand over its payout and betting records and renewed her threat of legal action. She believes that if a person bets on just one machine, they should hit the jackpot and come out on top unless it has been programmed to pay out less. The Wynn spokeswoman said there is nothing wrong with the company's "state-of-the-art" slot machines. "Our machines are continuously monitored and maintained to ensure peak performance and the highest possible level of accuracy. Also, our machines are approved by the Gaming Inspection and Coordination Bureau in Macau." The government has not been in contact regarding the complaint, she said. There is no set payout rate for slot machines in Macau since legislation regulating the sector has not been enacted. A bureau spokeswoman said the average payout rate of slot machines is around 85 percent to 95 percent. However, the bureau expects a law governing slots to be enacted in the near future. Hong Kong Gamblers Recovery Centre chief executive Wu Ping-chuen said the button-operated designs of modern slot machines make it easy for gamblers to lose large sums of money in a short time without realizing it. "The older models had arms. You had to pull the arm down after every bet and the chances were you'd get tired after a while," Wu said. He added many addicts are drawn by the multimillion jackpots offered by slot machines which card games like baccarat do not offer.
Hong Kong Monetary Authority chief executive Joseph Yam Chi-kong's 16 years in office and his near HK$12 million annual salary came under attack yesterday in a motion demanding comprehensive reform of the financial regulation agency.

China: The United States embassy in Beijing was at a loss yesterday to explain why the mainland has suspended fast-track processing of visa applications by US citizens. Beijing has not given a reason for the move. The change was announced on the website of the Chinese embassy in Washington. "The Chinese visa processing time will be changed to six business days, while the express and rush service for visa applications will be suspended," the statement said. On Tuesday, a Foreign Ministry spokesman declined to answer when asked whether the measure was linked to the swine-flu virus and whether the mainland was making similar changes for applicants from other countries. A spokeswoman for the US embassy in Beijing said the US had been informed of the change but said she was unaware of the reason. Travel industry sources told the South China Morning Post (SEHK: 0583, announcements, news) last month that mainland authorities were tightening visa procedures for foreigners in the run-up to October's 60th anniversary of the founding of the People's Republic. Officials denied there had been a tightening-up. Under the policy, introduced last month, all new business visas issued recently would expire on September 15, three mainland visa agents said. Applications for the business visas, also called F visas, beyond September 15 would be put on hold pending further government clarification, they said. Visa procedures for tourists and students had not been affected yet, they said. However, information remained sketchy, with some foreign applicants saying they had already had problems applying for visas. After repeated denials, Beijing last year acknowledged adopting more stringent visa requirements in the months preceding the Beijing Olympics in August, saying they were meant to ensure a "safe environment" for the Games. China faces a number of sensitive anniversaries this year, including the 20th anniversary of the June 4 crackdown on Tiananmen Square democracy protests.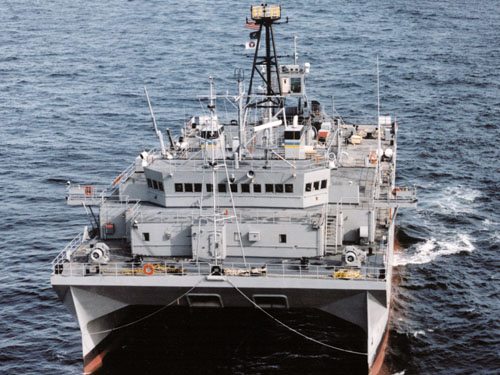 China said yesterday it was concerned that a United States naval surveillance ship had entered its exclusive economic zone in the Yellow Sea without prior consent, accusing the American military of breaking the UN Convention on the Law of the Sea. "We express our concern about this and demand the US side take effective measures to ensure a similar incident does not happen again," Foreign Ministry spokesman Ma Zhaoxu said. It came after two Pentagon officials on Tuesday revealed that a confrontation between a US submarine-hunting surveillance ship, USNS Victorious, and two Chinese vessels had occurred in the Yellow Sea last Friday. A Pentagon spokesman called the Chinese ships' action "unsafe and dangerous". The incident was the second of its kind in two months. US defence officials said there had been five such incidents since March, and insisted that Friday's incident took place in international waters. An Associated Press report earlier said it happened about 190km from the mainland coast. Reuters yesterday said it was about 270km from the coast. Both quoted US defence officials. The Foreign Ministry did not disclose more details yesterday, but said the incident happened inside China's exclusive economic zone. It accused the US of breaking the UN convention. Under the UN Convention on the Law of the Sea, foreign ships must get prior consent from the coastal country to conduct scientific activities, such as surveillance, in its exclusive economic zone. But the United States is among a handful of countries that have not yet ratified it. Retired PLA general Xu Guangyu said that the US refusal to ratify the convention was the source of the frequent Sino-US naval confrontations. So far, 152 countries have ratified the convention and 22 have not, including the US, North Korea and Iran. "The UN Convention on the Law of the Sea would definitely restrict US hegemonism. It is so used to going anywhere it wants," Mr Xu said. The former general also believed the confrontation was engineered by US defense officials to help the Pentagon preserve its military budget. "They want to play up the `China threat' theory to justify their spending. US President Barack Obama plans to cut military spending. This is not in the interests of the military industry," he said. Andrei Chang, chief editor of the Canada-based Kanwa Defence Review, said the Yellow Sea confrontation was no surprise because the PLA had just held a large naval parade in the region. It provided a good opportunity for the US navy to collect data about Chinese warships. The confrontation has caused an uproar among mainland netizens. An online survey found more than 97 per cent of respondents supported Beijing's response.
PetroChina (0857), the world's second- largest company by market cap, is seeking approval to issue corporate bonds worth 100 billion yuan (HK$113.68 billion) to support capital spending this year.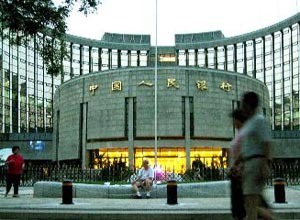 China central bank pledges "ample" liquidity to sustain growth - central bank said Wednesday the economy is doing "better than expected" in the first quarter, and pledged to maintain "ample" liquidity in the financial system for economic recovery.
May 7, 2009

Hong Kong: Bank of America will need US$33.9 billion in extra capital from the US government to remain financially stable, The New York Times reported overnight on Tuesday. The bank may sell 13.5 billion shares in China Construction Bank (SEHK: 0939, announcements, news) , worth around US$8.3 billion, when a lock-up period expires on Thursday, the Financial Times reported. Raising money by selling the CCB stake would help BoA boost its capital at this critical time. The US government has informed the banking giant of its decision, the New York Times said, citing a bank executive, but the amount is greater than what executives think the bank needs. "We're not happy about it because it's still a big number," said Steele Alphin, the bank's chief administrative officer. "We think it should be a bit less at the end of the day." The report came ahead of results on Thursday from "stress tests" conducted by US authorities on 19 top banks, including their capital adequacy levels. The Wall Street Journal meanwhile said 10 of the 19 banks subject to the tests may need to raise more capital. The exact number of banks required to raise more funds has not yet been determined, the financial daily said, but those affected could include banking giants Wells Fargo, Bank of America and Citigroup. Bank of America would gain an extra dividend of US$200 million if it holds its stake in China Construction Bank until June 17, the FT said on Wednesday. Bank of America is allowed to sell 13.5 billion shares in CCB, – a 6 per cent stake worth around US$8.3 billion – when a lock-up period ends on Thursday. That would draw down BoA's stake in the mainland bank to 10.6 per cent, a level CCB has already said is reasonable. Western banks are aware that selling out of mainland banks is not always well received by Beijing politicians. Three Hong Kong-based investment bankers said it is not yet clear how much, if any, of its CCB shares BoA will sell when the lock-up ends. The bankers were not authorised to speak publicly about the matter. "Bank of America intends to remain a long-term shareholder and strategic partner in China Construction Bank," said BoA spokesman Scott Silvestri. "There has been healthy short selling in CCB shares in recent days so the market is factoring in a very high chance that BoA will sell part of its shares this week," said Philip Chan, head of research at CAF Securities, the research arm of Agricultural Bank of China. "With the stress test results also due on May 7 and the market expecting BoA to raise capital there will be pressure on the management to divest some non-core assets," he said. Shares in CCB have risen 12.2 per cent so far this year, in line with the increase in ICBC shares, but underperforming a 39 per cent jump at Bank of China. Industrial and Commercial Bank of China (SEHK: 1398) is the largest bank in the world by market value, while CCB is second.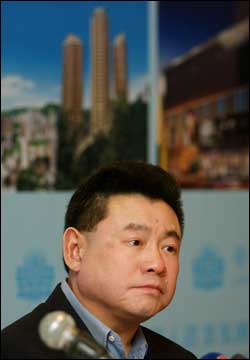 The former Hong Kong managing director of fast food giant McDonald's was on Wednesday jailed for four years and five months for taking almost US$300,000 (HK$2.3 million) in kickbacks from a supplier. The District Court also ordered Joseph Lau Si-sing to pay HK2.3 million to his former employer, the same amount he had accepted in bribes from the corn supplier. Judge Johnny Chan said it was a "serious case of corruption" and had been driven by Lau's "insatiable demand for money". "He was supposed to lead all those who were under him," Mr Chan told the court. "However he abused his position and what he did, in asking for and accepting bribes, was a breach of trust." Lau started work for McDonald's as a trainee in the United States in 1984 and worked his way up to become the head of the restaurant chain in Hong Kong, the court heard. In 2005, as McDonald's was increasing the amount of fruit and vegetables on offer in its restaurants, Lau asked someone from Siam Ready, a Thai firm that was then a potential supplier, to pay him kickbacks equivalent to 10 per cent of future deals. Lau gave the firm the contract to supply McDonald's with corn in June 2005. Hong Kong's Independent Commission Against Corruption, which investigated the case, said the supplier had agreed to the payments as he believed that this was how McDonald's did business. Over the next two years the money was paid into the bank account of Lau or his wife as McDonald's purchased more than 25 million Hong Kong dollars of goods from Siam Ready. Lau had been found guilty at an earlier hearing of two counts of conspiracy, including asking the supplier to lie to police.
Health Secretary York Chow Yat-ngok said on Wednesday the government had made special arrangements for quarantined guests and hotel staff to leave in an orderly manner on Friday night.
Secretary for Financial Services and the Treasury Chan Ka-keung on Wednesday urged Hong Kong investors to take advantage of the expanding yuan business in the territory.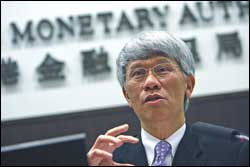 A call for Monetary Authority chief Joseph Yam Chi-kwong to step down is likely to fail today because of a lack of support from legislators. Wong Yuk-man, chairman of the League of Social Democrats, is urging Mr Yam to quit over the fact he received a 15 per cent pay rise even though the Exchange Fund recorded an investment loss, and that "such behaviour should be subject to strong condemnation". He will make the call today in the Legislative Council as an amendment to a non-binding motion by the league's Albert Chan Wai-yip. The Democratic Party and the Civic Party will vote against Mr Wong's amendment, saying that backing such a call was inconsistent with the legislature's inquiry into Lehman Brothers-linked derivatives. On Friday, Mr Yam will face the Legco subcommittee again to study issues arising from the minibonds saga. Ronny Tong Ka-wah of the Civic Party said yesterday that supporting the league's amendment might affect the legislature's credibility. "We are still investigating the Lehman Brothers issue and he [Mr Yam] is at the centre of the row. [If we ask him to resign] the public may misunderstand and think we are ... making a judgment on him before the end of the hearings," Mr Tong said. Referring to Mr Wong's amendment, Mr Tong said Mr Yam's pay rise was not a good enough reason to call for his resignation. Democratic Party veteran lawmaker James To Kun-sun echoed Mr Tong's remarks, saying it might be wrong of the league to call on Mr Yam to resign if the only reason for doing so was the salary increase. "Mr Yam did not decide on his remuneration. If somebody has to step down for this, it should be the financial secretary [John Tsang Chun-wah]," Mr To said. A motion by league legislator Albert Chan Wai-yip demanding an overhaul of the Hong Kong Monetary Authority's management is also likely to be rejected. Tam Yiu-chung, chairman of the Democratic Alliance for the Betterment and Progress of Hong Kong, said the authority could improve but disagreed with the league's call. "In face of a financial tsunami, we should not send a message to the public that our supervising institution is having many problems. This does not help us stabilise our economy," Mr Tam said.
People quarantined in the Metropark Hotel are getting free food from two restaurants in nearby Lockhart Road. "It is not about money. We want to show the community cares and let tourists have a good feeling about Hong Kong," said Clayton Parker, managing director of Eclipse, which runs Coyote Mexican Bar and Grill. Hong Kong is well known for its hospitality, Parker added. Each room will get one free meal from the restaurant's regular menu before the quarantine ends on Friday. It includes appetizer, main course, dessert and a drink. Parker said some regular customers are also "trapped" in the hotel. "We also want to show something good about Mexico, such as its food." The idea came after news reports about guests' complaints about food. The restaurant has distributed pamphlets about their free meal service to the hotel. Spanish restaurant Uno Mas Barcelona Tapas and Bar also got in on the act, delivering free snacks. Executive chef David Izquierdo Jover said the restaurant will have a party with the Spanish tourists stranded in the hotel when they complete the quarantine. Meanwhile, Undersecretary for Food and Health Gabriel Leung said the Social Welfare Department has added more items to its menu. "Some Western guests want pizzas and some Japanese tourists want instant noodles, so we have tried our best to meet their requests," he said.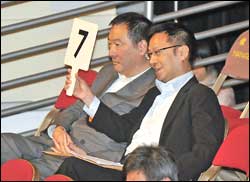 The government's first land auction in nearly a year attracted fierce competition as a small site in Sheung Shui was sold for HK$61 million - 103 percent higher than the starting price. However, developers and surveyors said the better-than-expected result does not reflect the state of Hong Kong's property market, although the sale will help the area develop. "The sale result doesn't show that developers were overly optimistic about the market's outlook as this is only a small site in Sheung Shui," said Charles Chan Chiu-kwok, managing director of valuation and professional services at property consultant Savills. The 3,292-square-foot non-industrial site was sold yesterday to Successful Properties, a company under Coda Properties, chaired by veteran investor Richard Tong Kwan-ming. The starting price was HK$30 million. Property analysts had earlier estimated the site would be sold for between HK$39 million and HK$50 million. "Our company intends to develop the site for commercial leasing," Tong said. He expects total investment in the building, which will feature a mix of shops and offices, to be about HK$90 million. Tong projects annual rental income to reach HK$6 million, a yield of 7 percent. The site has a buildable gross floor area of 22,000 sq ft, with a plot ratio of 6.7 times. The accommodation value is HK$2,766 per square foot, according to Midland Surveyors director Alvin Lam Tsz-pun. Bidding at the hour-long auction was hectic, with 90 bids from 11 parties, mostly small-to-medium developers. The bids were lowered to increments of HK$200,000 from HK$500,000 when the price reached HK$52 million. Auctioneer Chris Mills, also assistant director of lands, skipped HK$52.4 million - jumping to HK$52.6 million directly from HK$52.2 million. He admitted it was not normal practice, but said it was "not a mistake." Bidders included the consortium of Haw Hong (Holdings) and Simsen International (0993), and Wang On Group (1222). "The transaction price was higher than our expectations," Simsen chairman Haywood Cheung said. "The sale will be able to boost the market in Sheung Shui." Meanwhile, home sales in Hong Kong rose to the highest level in 10 months, according to figures released by the Land Registry. The number of residential transactions rose 38.8 percent to 9,856 in April from March. The value increased 24.1 percent to HK$31.6 billion.
Li & Fung plan to boost war chest lauded even as stock sinks - Analysts yesterday praised plans by Li & Fung (0494) to tap HK$2.68 billion in a share placement, saying the potential benefit from big acquisitions would outweigh the small dilution on earnings.

Banks set to nurture cash as margins tighten - Mainland banks may make capital preservation a major priority this year as the growth in new loans moderates in coming months, experts say.

PCCW write-up wait goes on - An expectant market may need to wait another 2 weeks to see the written judgment in the appeal case on the PCCW (0008) privatization, according to a legal expert.

HK tops Asia hedge funds - Hong Kong remains the largest hedge fund center in Asia, with managers in the city overseeing US$22 billion (HK$171.6 billion) in assets as of December 2008, the Alternative Investment Management Association Hong Kong said.

China: The central government has so far spent 420 billion yuan (HK$478 billion) of its stimulus package, more than a third of the total it has promised to invest by the end of next year, the National Development and Reform Commission (NDRC) said on Wednesday. Of the 4 trillion yuan, two-year stimulus plan announced on November 9, the central government has committed to provide 1.18 trillion yuan from its coffers, with the rest coming from local governments, banks and companies. Mu Hong, a deputy director of the NDRC, a powerful planning agency that is overseeing the stimulus spending, said the central government had already invested 300 billion yuan on major infrastructure projects and other initiatives from health care to affordable housing. Beijing has also spent 120 billion yuan on post-earthquake reconstruction in Sichuan and neighbouring provinces, according to the statement posted on NDRC website. "With the country entering the construction season in the second quarter, the results of the central government's investment will show through more clearly," Mr Mu said. Tracking how Beijing has disbursed its stimulus funds has been complicated by confusion about whether post-earthquake spending has been included in investments announced so far by Beijing. Local press had previously reported that Beijing, in three tranches, had lined up 300 billion yuan of stimulus investments to date. The NDRC statement appeared to show that this total was too low because it excluded earthquake spending. But it did not say how much stimulus investment has come from mainland's banks, companies or local governments, another major question mark hanging over the stimulus package. The country's economy grew at an annual pace of 6.1 per cent in the first three months of the year, its slowest quarter on record, but analysts said the figure pointed to a recovery on a quarter-on-quarter basis. Mainland will next week announce economic data for the month of April.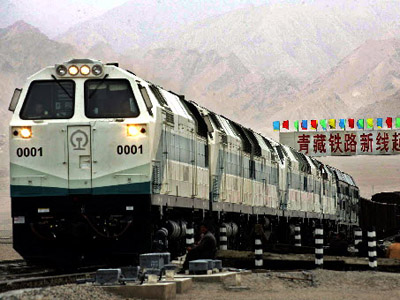 China's controversial railway to the remote and restless mountainous region of Tibet could be threatened by global warming, which may melt the permafrost on which the tracks are built, state media said on Wednesday. "In Tibet, the mercury has climbed an average of 0.32 degrees Celsius every decade since records began in 1961," China Meteorological Administration head Zheng Guoguang was quoted as saying Xinhua news agency. "This is much higher than the national average temperature rise of 0.05-0.08 degrees Celsius every 10 years," Mr Zheng added, speaking at a meeting in the Tibetan regional capital of Lhasa. Tibet, being so high, acted as a "magnifier" for global warming, Mr Zheng said. "The impact of global warming has accelerated glacial shrinkage and the melting glaciers have swollen Tibet's lakes," Mr Zheng added. "If the warming continues, millions of people in western China would face floods in the short term and drought in the long run. "In the worst case, such warming could cause permafrost to melt and threaten the plateau railway linking Tibet with [neighbouring] Qinghai province," the report paraphrased him as saying. Beijing has said it wants to combat climate change yet ensure China's economic development is unimpeded. Xinhua said the government believes the railway will be safe to use for the next 40 years if the thaw continues at its present speed. Over the last two decades it has spent more than 1 billion yuan (US$146.6 million) reinforcing the main highway to Tibet, where the permafrost is also melting, Xinhua added. China says the 30 billion yuan rail line, opened in 2006 and passing through towering mountains and vast deserts, will help bring economic development to ethnically distinct Tibet. Tibetan activists, however, say it speeds the immigration of Han Chinese to Lhasa and the plateau, and allows increased exploitation of Tibet's significant mineral resources.
Singapore's PSA International and Wharf Holdings (SEHK: 0004)' container terminal unit have put on hold their multi-million dollar investment plans in container terminal projects in mainland as the financial crisis hurts global trade, a mainland port official said on Wednesday. Modern Terminals, 68-per cent owned by Hong Kong's Wharf Holdings, had initially agreed to build 9 container terminals as part of the Ningbo-Zhoushan Port expansion, the official, who declined to be identified due to the sensitivity of the issue, said. Separately, PSA had also expressed an interest to seek government approval earlier this year to build 7 terminals. The terminals cost roughly 800 million yuan (HK910 million) each, the official said. "Both have put their projects on hold till the global economic downturn eases," said the official. Other potential investors that had expressed an interest to join Ningbo-Zhoushan Port's expansion scheme included APM Terminals, the port arm of Danish oil and shipping giant AP Moller-Maersk, the official said.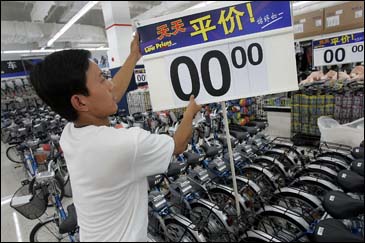 Wal-Mart, the world's top retailer, said on Wednesday it has launched a pilot programme to open convenience stores in mainland, seeking to boost its presence in one of the world's fastest growing retail markets. Wal-Mart, better known for its mega stores and hypermarkets, opened three convenience stores in December in Shenzhen under the programme in a low-key initiative. "The three shops, which are roughly 300 square metres each, are aimed at providing service to local communities," Vivi Mou, a company spokeswoman said. Wal-Mart will observe market acceptance and customer preferences for the stores, named "Smart Choice" or Hui Xuan in Putonghua, before deciding on future development plans, Ms Mou said. She would not give any details about the business performance of the three stores so far. An unnamed company source was quoted by local media saying Wal-Mart plans to open 100 of the convenience stores across the country this year and 1,000 in five years. Ms Mou declined to comment on that report. Mainland's US$824 billion retail sector is one of the world's fastest growing. Smaller than Germany's in 2003, the market could be almost twice as big by 2013, according to Euromonitor. Wal-Mart now operates 227 outlets and employs over 70,000 workers in mainland, according to its website. The US retail giant has set up similar stores in other markets, including Britain, Japan and Mexico, Ms Mou said. Wal-Mart will benefit from its clout as the world's biggest retailer in the new convenience store initiative, said a retail analyst at a major western brokerage, speaking on condition his name not be used. "We will see an immediate impact in terms of competition for prime locations for store operations," he said. "It is a good move in the longer term for collecting market intelligence such as consumer behavior. It will be useful for its other retail operations."
Hubei county stubs out local cigarette law - Leaders of a rural county in Hubei have backed away from a rule that sought to make government workers smoke a certain amount of locally produced cigarettes to boost tax income.

Line leads to women-only cars - A Beijing politician has suggested setting up "women only" subway carriages on the city's crowded public transport system to curb sexual harassment and alleviate overcrowding.
May 6, 2009

Hong Kong: Chief Executive Donald Tsang Yam-kuen on Tuesday apologised to nearly 300 guests and staff who are quarantined at the Metropark hotel in Wan Chai.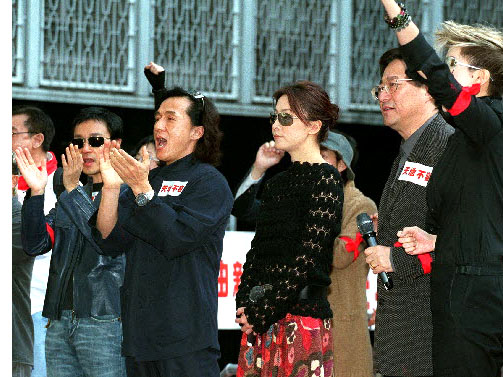 Hong Kong stars Leslie Cheung Kwok-wing, Jackie Chan, actress Carina Lau Ka-ling, director Ng See-yuen and singer Anita Mui Yim-fong show their support for Lau in the protest against the publication of the Eastweek magazine's front-page photo of a naked actress. The protest was held outside Central Government Offices on November 3, 2002. The Court of Appeal on Tuesday handed out a five- month jail sentence to the former chief editor of East Week magazine for publishing a semi-nude photo of a kidnapped actress. Mong, 52, who now works in Beijing, had earlier received a six-month suspended sentence after he pleaded guilty last December to publishing the obscene photo. It depicted a semi-nude photo of actress Carina Lau Ka-ling on the cover of the East Week on October 30, 2002. Court of Appeal vice-president Mr Justice Michael Stuart-Moore on Tuesday ruled that the magistrate had been misled during mitigation. He said the original sentence had been too lenient. Mr Justice Stuart-Moore said Mong would receive a five-month jail sentence. It is no longer suspended sentence, local radio reported. The sentence was to be given on Monday, but Mong was still in Beijing. Mong's lawyer apologised on his client's behalf to the judge, saying Mong could not book a ticket to fly back to Hong Kong on Monday. The publication of the East Week magazine photo caused an outcry in Hong Kong in 2002. It led to a public protest on November 3 of that year by the city's leading celebrities – including Jackie Chan, and the late Leslie Cheung Kwok-wing and Anita Mui Yim-fong. The stars demanded greater respect should be shown to people's privacy by the media. The incident also generated a debate over journalistic ethics. The photo is believed to have been taken while Carina Lau was in captivity after being kidnapped in 1990. It was alleged the kidnapping was carried out by triads to punish the actress for refusing to take part in a film they were funding. Carina Lau, 43, is one of Hong Kong's most well-known actresses, having appeared in such films as Days of Being Wild(1991) and Infernal Affairs II (2003). Last year, she married longtime boyfriend Tony Leung Chiu-Wai.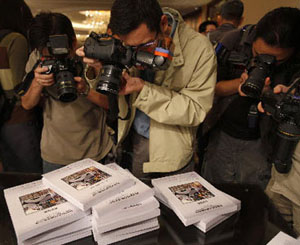 Two more mainland companies are close to launching IPOs in Hong Kong, sources said on Tuesday, aiming to raise a total of about US$1 billion as the public stock markets come to life here after months of weak activity. BBMG, one of the top construction materials makers in the country, plans to begin marketing a US$500 million-US$700 million Hong Kong initial public offering next week, according to sources involved in the deal. Herbal shampoo maker Bawang International also plans to list in Hong Kong, hoping to raise around US$300 million through an IPO in the next few weeks, separate sources involved said. None of the sources were allowed to speak publicly about the deals because the offers have yet to trade. Hong Kong's IPO market is returning to life, although still nowhere near the levels reached at the height of the bull market more than a year ago. China Zhongwang Holdings priced in Hong Kong last week, the world's largest IPO so far this year. Zhongwang raised US$1.3 billion, pricing its IPO toward the low end of the indicative range thanks to lower-than-expected demand from skittish retail investors. Improving US and emerging market economic data have led to a broad, global market rally. The increased risk appetite has fuelled a surge in Asian stocks that has lasted for two months. UBS AG and Macquarie Group were mandated to manage the BBMG offering, the sources said. Morgan Stanley was managing the Bawang offering, the sources said. The three banks declined to comment. BBMG could not immediately be reached for comment. Bawang also declined to comment. "Pre-marketing will begin next week," said one of the sources involved in the BBMG deal. Beijing-based BBMG is one of the largest building materials manufacturers in mainland, a leading property developer and a large-scale property investment and management company, according to its website.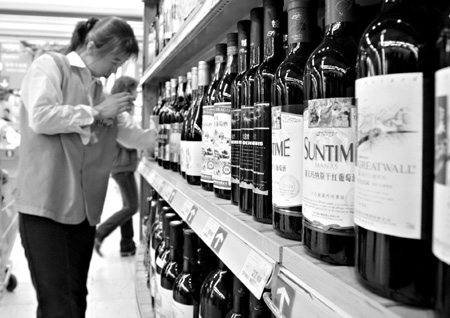 Financial Secretary John Tsang Chun-wah said on Tuesday that the since the abolition of sales tax on wine in Hong Kong early 2008, wine imports to the territory had increased significantly. Mr Tsang was speaking at a luncheon of Hong Kong Canada Business Association (HKCBA) National Canada-Hong Kong Business Forum during a visit to Canada. Mr Tsang noted that Hong Kong was now importing a lot more wine from Canada. "Last year, the total value of our wine imports almost doubled year-on-year to more than CA$400 million [HK$2.6 billion].The value of imports from Canada rose almost 250 per cent to nearly CA$1 million [HK$6.6 million]," he said. He cited Hong Kong's first urban winery – 8th Estate Winery – as an example of a Hong Kong-Canada partnership which is developing a dynamic wine business in the city. During his visit in Canada, Mr Tsang also met the Chinese ambassador to Canada, Lan Lijun. Wine increased in popularity in Hong Kong – which has a population of 6.9 million people – after the sales tax on it was phased out by John Tsang in his February 2008 budget. Government figures showed that the price of wine subsequently fell by 20 per cent and imports of wine to the territory increased by 78 per cent.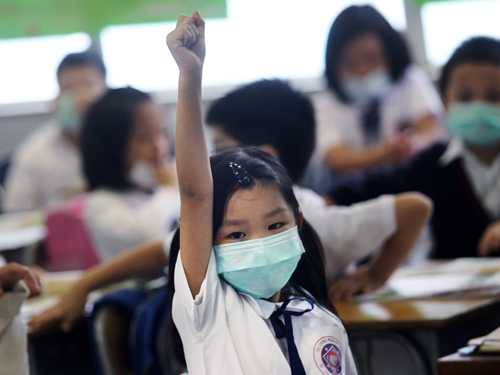 Primary One pupils at Pui Ching Primary School in Ho Man Tin mask up yesterday as government anti-flu measures went into effect. Hong Kong should stay alert for a "second wave" of the swine flu outbreak even though the killer virus has slowed its pace in North America, the World Health Organisation and medical experts warned yesterday. As Mexico, epicentre of the outbreak, claimed to have contained the H1N1 epidemic, WHO director general Margaret Chan Fung Fu-chun said that while the first wave might be subsiding, the virus could return with a vengeance and "would be the biggest of all outbreaks the world has faced in the 21st century". In a newspaper interview, Dr Chan also suggested the WHO would raise its pandemic alert to the top of its six-point scale and declare a pandemic. But UN Secretary General Ban Ki-moon said later that Dr Chan had told him "if the situation remains as it is, WHO has no plan to raise the alert level to six at this moment". Local experts said, meanwhile, it was too early to tell whether the first wave of the flu was over and warned that Hong Kong commonly faced a second flu peak in the summer. They were speaking as the Mexican tourist who on Friday became Hong Kong's first confirmed victim remained in isolation in Princess Margaret Hospital and 274 guests and staff of Wan Chai's Metropark Hotel, where he stayed, passed the midpoint of a seven-day quarantine. Hong Kong had three new suspected cases yesterday but no confirmed cases. Of 38 passengers who sat near the 25-year-old Mexican man on a flight from Shanghai to Hong Kong on Thursday, 23 were cleared. University of Hong Kong head of microbiology Yuen Kwok-yung said it was too early to say if the first wave was over. "We need to watch out for a second wave in the summer," he said. Another microbiologist from the university, Ho Pak-leung, said the mortality rate of the new H1N1 virus so far was not high. "But if it attacks Hong Kong in the second wave and infects people in the community with no travel history, it would be very difficult to identify cases and control the transmission." Dr Chan yesterday told Spain's El Pais newspaper it was important to avoid a "wave of panic" when the alert level was raised to the maximum, saying such a move would not mean "the end of the world". Asked about the quarantine order at the Metropark Hotel, which has been criticised by the Mexican government, WHO Western Pacific regional office spokesman Peter Cordingley said it was "not surprising" given the history of Sars in 2003. "The WHO has no position on any individual government's quarantine policy but is in favour of any government decisions to stop the transmission of the emerging virus," he said.
Regional brokerage CLSA Asia-Pacific Markets on Tuesday said its chairman will retire on June 30, following a ten-year tenure at the company in the roles of chairman, CEO and COO.
Merrill Lynch, the United States investment bank controversially acquired in January by Bank of America Corp, is planning to quit its investment in three Hong Kong properties.
Hong Kong residents owe the government more than HK$7 billion in unpaid taxes for 2008-09 and the Inland Revenue Department predicts total revenue collection will plunge by HK$42 billion next year because of the global financial crisis.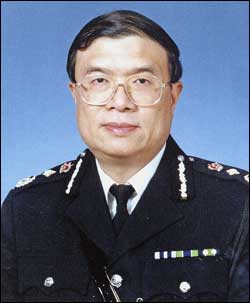 Tributes poured in last night for former commissioner of police Eddie Hui Ki-on who has died after a year-long battle with cancer. Hui, who was 65, passed away on Sunday in Queen Mary Hospital. During a long and distinguished career, Hui took Hong Kong's crime fighters through the 1997 change of sovereignty and was only the second Chinese to lead the force after Li Kwan- ha. Both Chief Executive Donald Tsang Yam-kuen and present Commissioner Tang King-shing expressed profound sadness over Hui's death and sent their deepest condolences to his family. Describing him as an outstanding leader, Tang paid tribute to Hui for the manner "he professionally steered the police force through the 1997 transition of sovereignty." Tsang said: "Hui was held in high regard by both his colleagues and the public. He was at the helm of the police force during Hong Kong's transition into a Special Administrative Region of China. His leadership provided stability and enhanced professionalism in the police force during that critical period." Tsang added that Hui had also pioneered a service-oriented culture in the police, which has helped earn wide community respect and support for the force. Hui had 38 years of distinguished service after joining as an recruit inspector in 1963, aged 19. He was promoted to superintendent in 1972 and chief superintendent in 1982. In 1984 he became assistant commissioner before rising to senior assistant commissioner in 1989 and deputy commissioner in 1993. He rose to the top job in 1994 and held the position until 2001. He was awarded Hong Kong's highest honor, the Gold Bauhinia Star, upon his retirement. Earlier in his career, Hui served in the highly sensitive Special Branch unit, which operated under British rule. He also headed the Sham Shui Po district and the Narcotics Bureau during a period of significant success against drug-trafficking. After retiring from the force, he joined property developer KWah Group in April 2003 as executive director and as acting managing director in September 2006 before retiring in January this year. He was diagnosed with cancer last year. KWah Group chairman Lui Che-woo said Hui's leadership skill was widely recognized by the group, and that his amiability also had deeply impressed his colleagues. A keen horse racing enthusiast and member of the Hong Kong Jockey Club, Hui owned horses and often met friends and ex-colleagues at the race course. He leaves behind a wife and two sons.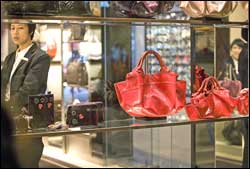 The slide in local retail sales continued in March as a gloomy jobs outlook kept shoppers at bay. Fears that sales will continue to slide rose following the confirmation last Friday of the territory's first case of human swine flu (H1N1). Some Wan Chai restaurants reported lower turnover and shopping malls had fewer visitors over the long holiday weekend, said Hong Kong Retail Management Association chairwoman Caroline Mak Sui-king. "More cases of H1N1 flu and fatal cases can drag retail sales down by 5 percent to 10 percent," Mak said. Local retail sales are expected to decline by 3 percent to 5 percent this year, even if the swine flu is contained, she said. "In the near term, domestic consumption remains weak, with job market conditions continuing to deteriorate," JPMorgan economist Qian Wang said. The value of retail sales in March dropped 7.7 percent to HK$20.8 billion year on year while volume fell 9.3 percent, official figures showed. The market had forecast a 7.5 percent drop in sales value and an 8.8 percent fall in volume. The larger-than-expected decline in March "suggests that the growth momentum is likely to remain subdued in the near term," Wang said. Sales value and volume slid 3.9 percent and 5.5 percent, respectively, in the first quarter. "Although the improved performance of the stock and property markets since the beginning of the year rendered some support to consumer sentiment, uncertain job and income prospects continued to weigh on consumption spending," a government spokesman said. Big-ticket items such as cars, furniture and jewelry were hit most, with the sales volume of vehicles plunging 32.6 percent year on year, furniture 14.9 percent and jewelry 9.7 percent. Products favored by tourists fared best. Electrical goods rose 0.6 percent while cosmetics were up 2.9 percent.

Li & Fung (0494) is seeking to raise about US$350 million (HK$2.73 billion) through a share placement, a term sheet sent to investors shows. The consumer goods exporter will use the proceeds to fund potential acquisitions and to strengthen its balance sheet. Citigroup and Goldman Sachs are the bookrunners. Li & Fung aims to sell around 120 million share at between HK$22.55 and HK$23.28 - a 3 percent to 6 percent discount on yesterday's closing price of HK$24. The company's shares surged 10.8 percent from HK$21.67 on Thursday. Morgan Stanley, meanwhile, is selling HK$865 million of shares in China High Speed Transmission (0658). The investment bank is offloading 65 million shares at around HK$13.03 to HK$13.30 per share, an 8.3 percent to 10.1 percent discount on yesterday's closing price. According to a Hong Kong Stock exchange filing, Morgan Stanley has an 8.04 percent stake in China High Speed, equivalent to 100.1 million shares. Should the transaction be closed, Morgan Stanley's stake will be cut to around 2.8 percent. China High Speed closed 3.6 percent higher at HK$14.50 yesterday.

China: China's new bank lending in April was likely above 600 billion yuan (HK$682.49 billion), sharply lower than the record trillion-plus yuan loans in earlier months of this year, a state-run newspaper said Tuesday, citing unnamed industry figures. Mainland's banks ramped up lending early this year with government encouragement as Beijing fought to revive flagging economic growth. New loans in March totaled 1.9 trillion yuan, with new lending for the first quarter totaling 4.58 trillion yuan. Lending became moderate in April to above 600 billion yuan and is likely remain at a similar level in May and June, the China Securities Journal, a government affiliated newspaper reported. Such reports often match later official data announcements. The plentiful supply of credit accompanying a 4 trillion yuan government stimulus package has helped reinforce expectations that mainland's economy is already recovering from the worst of the slump that hit late last year as demand for exports plunged. It is also typical of lending patterns in mainland, where credit often peaks early in the year and then tapers off as the government exerts control. But it has also raised concern over the hazards of wasteful investment and bad debt, given the country's still relatively weak economic activity. "Clearly, new lending in the rest of the year at the same pace … or half as fast … as in the first quarter would be unthinkable and too fast," UBS economist Tao Wang said in a report issued last week. Apart from the risk of spurring inflation by pumping too much money into the economy, "Growth may not be sustainable if demand is mainly driven by the government and easy credit, and the risk of massive resource misallocation rises," she said. While recent surveys suggest a mild rebound in export and domestic industrial demand, mainland's 6.1 per cent growth in the first quarter fell short of the leadership's 8 per cent goal for the year. Electric power generation – a key indicator of industrial activity – likely fell by 4 per cent in April from a year earlier, Xue Jing, director of the statistics department of the China Electricity Council, told the state-run newspaper China Daily. So far, there has been no big recovery in industrial power consumption, which accounts for a large part of the total power usage, the newspaper said in a report on Tuesday. Power generation is still "fluctuating at the bottom level", Mr Xue was quoted as saying.
Beijing defended its ban on imported pork from areas hit by swine flu, saying on Tuesday that it was consistent with World Trade Organisation rules and necessary to stop the virus spreading. China banned pork imports from Mexico, the US states of California, Kansas and Texas, and the Canadian province of Alberta after the outbreak of A(H1N1) influenza which has sickened more than 1,000 people worldwide. Foreign ministry spokesman Ma Zhaoxu said the measures had been necessary, although some experts have questioned their validity in halting the spread of the disease. "In order to protect the safety of our animal husbandry and the people's health, the Chinese government has no choice but to take temporary preventive and protective measures," Mr Ma told reporters. "These urgent protective measures are... consistent with WTO regulations on strict quarantine measures in emergencies and the principle of minimising the impact on trade." Mr Ma insisted the bans were only temporary. Earlier Tuesday, Canada threatened to file a complaint to the WTO if China did not lift a ban on pork from Alberta, where a herd of pigs tested positive for the H1N1 flu virus. The Canadian Food Inspection Agency insisted Canadian pork was still safe, and that the animals had likely contracted the disease from a Canadian who had recently returned from Mexico. "China is operating outside of sound science," Agriculture Minister Gerry Ritz told parliament, noting that Beijing had received safety assurances from the World Health Organisation and the World Organisation for Animal Health. The WHO's representative in China has said the measure against Alberta pork is probably redundant, since the feared virus is not transmitted through pigs or pork products but from human to human.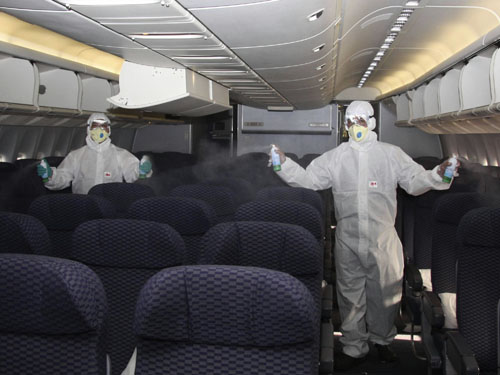 Health personnel disinfect an aircraft that landed at Beijing International Airport yesterday. A charter flight left Guangzhou at 10pm yesterday, bound for Mexico to pick up 200 Chinese nationals a day after China and Mexico became locked in a diplomatic row over the mainland's swine flu quarantine measures. Xinhua said yesterday that agreements had been made for the two countries to pick up their nationals. The China Southern Airlines plane will stop in Mexico City and Tijuana, and is expected to return to Shanghai at 9am tomorrow, the airline said. Beijing also said that although it had isolated Mexican citizens to keep the swine flu virus from spreading, its quarantine measures were not discriminatory. Canada's public broadcaster said about 25 Canadian students had been quarantined. Despite showing no symptoms of infection, they were told they would be quarantined for seven days at a hotel in Changchun , in Jilin province , Canadian Broadcasting Corporation said. The World Health Organisation supported China, saying quarantine measures aimed at curbing the spread of the disease were in line with steps being taken worldwide. Hans Troedsson, the WHO's China representative, said: "There are other countries that are taking similar action like China, so I don't think China is standing out in this respect." Foreign Ministry spokesman Ma Zhaoxu said: "The measures concerned are not targeted at Mexican citizens, and there is no discrimination. It is purely a medical quarantine issue." Mexico also chartered a plane yesterday to take home 70 of its citizens who were seized and quarantined on the mainland, saying the swine flu outbreak was no reason for "repressive and discriminatory measures". Mexican Foreign Minister Patricia Espinosa Cantellano had said on Saturday that China's quarantining of some Mexican citizens with no symptoms was discriminatory and lacked scientific evidence. The Mexican Foreign Ministry had told its citizens not to travel to China. "We have got the report that they are being quarantined for the sole fact that they are presenting a Mexican passport," Mexican ambassador to China Jorge Guajardo said. A 25-year-old Mexican man, who arrived in Shanghai on Thursday was later diagnosed with the H1N1 virus in Hong Kong. He became Hong Kong's and Asia's first confirmed swine flu victim. The central government ordered the checking of body temperatures of people arriving from affected areas, such as Mexico, the US and Canada, at airports. It also demanded that visitors fill in medical record forms, which included stating whether they had contact with pigs. Mexico's consul in Guangzhou was among the people checked at Guangzhou airport, Guangdong's health department said. "It has nothing to do with his nationality; it is merely a standard procedure to ensure people arriving from the infected areas are not infected," a department spokesman said. Many mainlanders said they were trying to avoid contact with Mexicans or others resembling them. A Guangzhou taxi driver said: "I won't carry people who look like Mexicans."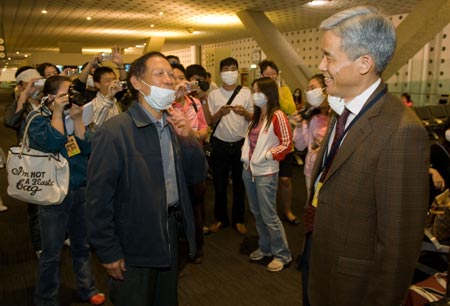 Chinese ambassador to Mexico Yin Hengmin (R) says good-bye to Chinese citizens waiting for boarding at Benito Juarez international airport in Mexico City, capital of Mexico, May 5, 2009. A total of 79 Chinese citizens left Mexico City early Tuesday aboard a chartered flight sent by the Chinese government. The plane took off from Mexico City, heading towards Tijuana, northern Mexico, to lift 20 more Chinese before returning to China. China and Mexico Monday agreed to send chartered flights to each other's countries to fetch their citizens, dampening a row that stemmed from Beijing's quarantine of Mexican nationals in the country amid the global H1N1 flu outbreak. On Sunday, China Southern Airlines canceled a chartered flight meant to pick up more than 200 Chinese citizens stranded in Mexico as it could not secure landing permission from Mexican airports. The plane finally left Guangzhou for Mexico City at 10 p.m. Monday and is expected to return to Shanghai at 9 am Wednesday, the airline said. The Mexican government Monday accused China of singling out its citizens for forced isolation despite the fact they showed no symptoms of the virus.
China's retail sales climbed 9 percent from a year ago to about 12 billion yuan (1.76 billion U.S. dollars) during the three-day May Day holiday, the Ministry of Commerce said Sunday. The estimate was based on sales from May 1 to May 3 at 1,000 major domestic retailers monitored by the ministry. The ministry said robust sales were reported for gold, jewelry, home appliances and autos, as retailers launched promotion campaigns. Sales of gold and other jewelry rose 19.6 percent, the ministry said, without giving specific figures. However, it said the Beijing Caishikou Department Store, a major gold retailer in the capital, saw its sales nearly double to 14.3 million yuan on May 1 alone. Sales of appliances, such as LCD TVs, air conditioners, refrigerators and lap-tops, increased 11.4 percent, while those of automobiles grew 9.2 percent.
May 4 - 5, 2009

Hong Kong: More than 200 private doctors have volunteered to work at public hospitals in the event of a flu pandemic, the Hong Kong Medical Association said. The volunteers enlisted a few years ago when the association drew up pandemic contingency plans. "Some private doctors also volunteered to work at public hospitals during the Sars outbreak. "In a difficult time, private doctors are committed to help," association president Tse Hung-hing said yesterday, adding the association would soon update the volunteers list. Dr Tse said some private doctors would be asked to join district councils in giving free talks on swine flu. "We have met health officials regarding a pandemic preparation and it is clear that private doctors will not treat any suspected cases.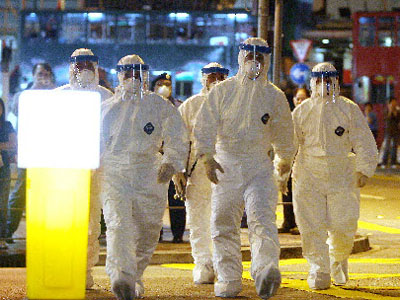 Medical staff wearing protective gear and masks enter the Metro Park Hotel in Wan Chai after a guest staying there was confirmed to be suffering from swine flu. The first confirmed case of H1N1 influenza A, or swine flu, in Asia was recorded in Hong Kong on Friday after a Mexican man who arrived via Shanghai tested positive, Chief Executive Donald Tsang announced. Guests and staff at the hotel where the patient had briefly stayed were placed under quarantine for seven days as officials announced "draconian" measures in a bid to contain the disease. "We have our first confirmed swine flu case 9 in Hong Kong. He is Mexican," Mr Tsang. The 25-year-old Mexican arrived in Hong Kong on Thursday from Mexico via Shanghai on China Eastern Airlines (SEHK: 0670) flight 505, Mr Tsang said. He was admitted to hospital on Thursday night suffering from a fever and tested positive on Friday for swine flu. He was in stable condition, Mr Tsang said. The Metropark Hotel in Wanchai district where he had been staying had been cordoned off, he said. "I will raise the alert level from serious to emergency," the chief executive said. Despite putting Hong Kong on the highest level of alert, Mr Tsang said all social activities and exhibitions would go ahead as normal and schools would remain open in the city, which is still scarred by memories of the SARS epidemic in 2003. "I stress we don't need to panic," he said. Police wearing face masks cordoned off the Metropark Hotel and a group of blue-gowned and masked health workers was seen entering the hotel in the bustling bar and nightclub district on Hong Kong island. Health Secretary York Chow said guests and staff at the hotel would be quarantined for seven days. "We have also exercised the authority... so that we will first isolate the hotel and also... ensure the relevant people are quarantined for seven days," Mr Chow said. "Since this is the first case in Hong Kong we must be very careful as the chance of controlling and containing this infection is limited, we will try to be more draconian in our policy," Mr Chow said. "We will also prescribe Tamiflu for them, which is proven to be an effective prophylactic for this disease." He said around 200 guests and 100 staff would be affected by the quarantine order, issued under the control and prevention of disease ordinance. Hong Kong authorities were trying to find the two taxi drivers who were in contact with the man and passengers on the flight from Shanghai. "We are also tracing the passengers who were on the same flight as this patient, particularly the three rows in front and three rows behind," Mr Chow said. "We're prepared to have them sent to hospital for inspection and also for quarantine," he said. He appealed for other passengers and cabin crew to come forward for health checks. "With this I hope that we can minimise the spread of this possible virus to our community," the health secretary said. Hong Kong, at the forefront of the SARS epidemic in 2003 and already on alert for bird flu, had previously announced a series of tough measures to combat any threat from swine flu. The southern Chinese city has stepped up its protection measures, including the use of temperature screening machines at airports and other entry points. Authorities have said they would detain anyone showing symptoms of the virus after arriving from an infected area. Health officials have also advised against all non-essential travel to worst-hit Mexico.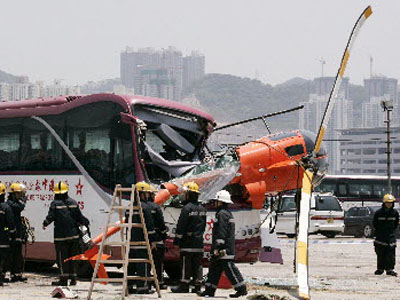 Firefighters work at the scene on Friday where a "Robinson R-22" helicopter crashed into a parked bus near the HK Aviation Club Headquarters at Old Kai Tak Airport in Kowloon.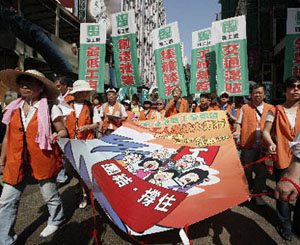 Trade unions claimed the turnout for Labor Day marches on Friday hit record numbers to over 6,000 as frustrated employees voiced their worries over job security.
The government will give HK$10 million in extra funds to district councils to protect against swine flu, the Health chief York Chow Yat-ngok said yesterday.
The government yesterday announced it expected to show a surplus of HK$1.4 billion for the year to March instead of the expected HK$4.9 billion deficit - bringing a cry of "shame" from a lawmaker. The surplus shown in the provisional account for the last financial year represented a HK$6.3 billion improvement over the revised estimate in the budget speech in February, a government spokesman said. The original estimate was for a HK$7.5 billion deficit. The spokesman said revenue was HK$3.6 billion better than expected, largely as a result of higher receipts of salaries tax and profits tax, while spending was HK$2.7 billion lower than forecast, mainly because of lower requirements. Unionist lawmaker Lee Cheuk-yan said the inaccurate estimate was a shame on the government as it seemed to be getting a reputation for miscalculation. Mr Lee was referring to an earlier miscalculation in wage figures used in the bus fare-adjustment formula. He said as the deficit had turned to profit, the government should strengthen its efforts to create jobs and give relief to people in real need, such as unemployment assistance and travel allowances for low-income earners. In February, Financial Secretary John Tsang Chun-wah said while the economy had grown 7.3 per cent in the first quarter of last year, it shrank 2.5 per cent in the final quarter. Mr Tsang also predicted a HK$39.9 billion consolidated deficit in the 2009-10 financial year, and a HK$25 billion deficit in 2010-11 - a trend that would gradually ease, with the budget getting out of the red by 2013-14. This year's budget was criticised for offering too few handouts and failing to provide enough relief measures to troubled industries in the global financil meltdown. He offered a salaries tax rebate of 50 per cent, with a HK$6,000 ceiling. Property rates are being waived for the first two quarters this year, at a cost of HK$4.2 billion, subject to a ceiling of HK$1,500 per quarter. Government rents will be reduced by 20 per cent, with other fees and charges frozen until March 2010. Last year, salaries-tax payers were given a 75 per cent rebate capped at HK$25,000.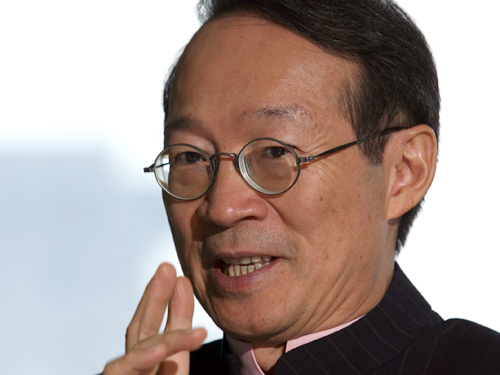 Former high-flying telecommunications executive Linus Cheung Wing-lam has relinquished his executive role at Asia Television in the latest sign his short and troubled career at the struggling broadcaster is waning. Appointed in December last year to great fanfare, Mr Cheung joined the same day that fellow telecommunications executive Ricky Wong Wai-kay got the job of chief executive. The two men were widely expected to lead a revival at the city's smallest and loss-making terrestrial broadcaster. However, Mr Wong lasted just 12 days in the job after what was believed to be an instant and fatal clash of wills and style with Mr Cheung. Mr Cheung confirmed yesterday that he voluntarily asked the board of directors last month to drop the executive chairman title following the appointment of chief executive Nancy Hu in February. He will remain as chairman. Ms Hu, a former Taiwan movie star, now handles all the daily operations of the broadcaster, as well as overseeing the sales team. The management reshuffle was signalled after Tsai Eng-meng, the founder of Taiwan snack-food company Want Want Group, acquired a stake in the broadcaster in January from ABN Amro and former ATV chief executive Louis Page for about HK$1 billion. Mr Tsai holds a 23 per cent stake in the broadcaster while the Cha family's Mingly Group holds the controlling stake. "I don't need to explain the reason [for dropping the role]. But I was at the ATV office in Tai Po in the morning even though I am on leave," Mr Cheung said yesterday. Market watchers say Mr Cheung's move shows that Want Want is gradually increasing management control of the broadcaster. Mr Tsai appointed Ms Hu and Rebecca Huang as directors of the broadcaster in February. Ms Hu is a former deputy chairman of Taiwan cable channel Videoland, while Ms Huang partnered with Mr Tsai in a venture called Bullish Want International Media, which handles Mr Tsai's media business including China Times Group. Meanwhile, Mr Tsai's Hong Kong-listed flagship, Want Want China Holdings, was planning to use part of the proceeds raised from the issuing of Taiwan depositary receipts last month to invest in the Taiwan media industry, the company's chief financial officer, Everett Chu, said yesterday. Want Want China raised NT$3.4 billion (HK$796.3 million) through the issue and Mr Tsai decided to donate NT$500 million to a charity fund operated by China Television, a channel owned by Mr Tsai, and donate another NT$500 million to set up a fund for Want Want employees. "The remaining proceeds may be used to invest in China Television, or any other profitable business in Taiwan," said Mr Chu. Shares in Want Want China yesterday rose 1.83 per cent to HK$3.89.
Merrill Lynch, the United States investment bank controversially acquired in January by Bank of America Corp, is planning to quit its investment in three Hong Kong properties.
Singapore's once high-flying property market remained depressed in the first quarter of the year amid a deepening recession, government data and company results show. Private residential home prices dived 14.1 per cent, the sharpest quarterly fall since 1975 when the government began compiling data, the Urban Redevelopment Authority said. The decline surpassed a 13.2 per cent fall in private home prices recorded in the third quarter of 1998 during the Asian financial crisis, it said. "The momentum of the primary market will depend on what projects the developers are going to launch and at what price points," said Li Hiaw Ho, an executive director of CB Richard Ellis Research. "We expect price moderation to continue for both new and relaunched projects." News of tumbling home prices came as CapitaLand, one of Asia's biggest property firms, said its first quarter net profit fell 83 per cent from a year ago as the global economic crisis hit home sales and commercial rentals. "Homebuyer sentiment in the group's key markets of Singapore, China and Australia remained cautious in the first quarter and, as expected, were reflected by low transaction volumes," said chief executive Liew Mun Leong. "We do not expect a quick and sharp turnaround in global property markets." Revenue from overseas operations accounted for 68 per cent of CapitaLand's overall first quarter turnover, with Australia and China remaining the main contributors. Separately, Keppel Land, one of Singapore's leading property developers, announced a rights issue to raise about US$712.3 million. It said the issue would strengthen its balance sheet and "provide additional financial flexibility ... to pursue strategic opportunities in its core markets, as and when opportunities arise". The company, which reported a 38.8 per cent drop in net profit in the first quarter, said it was "in a strong financial position to weather the current downturn". Stung by falling demand for its exports because of a global economic slump, trade-dependent Singapore faces its worst recession in more than 40 years this year. The last time the local property market was hurt was during the Asian financial crisis from 1997 to 1998. The slump lasted until 2005, when the government approved the building of two multibillion-dollar casino complexes. By 2007, Jones Lang LaSalle was describing Singapore's market as the world's hottest, and the city-state's property prices surged 31 per cent overall.

China: China manufacturing activity expanded in April to its highest level for a year, according to data released on Friday, in an indication that the nation's economy might be showing signs of recovery. The official Purchasing Managers' Index, or PMI, for the manufacturing sector rose to 53.5 in April, up from 52.4 in March, the China Federation of Logistics and Purchasing said in a statement on its website. A reading above 50 means the manufacturing sector is expanding, while a reading below 50 indicates an overall decline. This was the highest level since April last year, when the official PMI reached 59.2, investment bank Goldman Sachs said in a note, quoting official data. It sank to a record low of 38.8 in November due to the global financial crisis, but has improved continuously in the five months since, although it only moved above 50 in March. This "sends a clear signal that real economic activity growth has been improving on a sequential basis from its trough last November", Goldman Sachs said. Manufacturing accounts for more than 40 per cent of the economy in mainland, which has been hit hard by evaporating demand for its products in key export markets such as the United States and Europe.
Beijing announced rules that ease controls on foreign financial information providers yesterday under an agreement with the United States, Europe and Canada but said those already operating in China must apply for permission to continue. The rules drop a requirement that foreign providers must work through a Chinese agent and reduces the amount of information they must disclose about their operations. Beijing agreed to the changes in November last year to end a WTO complaint that it improperly helped state-run news agency Xinhua compete to supply financial data to banks, brokerages and other clients. Trade officials said the settlement would help Thomson Reuters Corp, Bloomberg and Dow Jones & Co. Xinhua was replaced as the industry regulator in February with a cabinet body, the State Council Information Office, after complaints that Xinhua should not be allowed to regulate its competitors. Foreign providers that already operate in China must apply to the new regulator by July 1 for permission to continue, said a cabinet statement. It said the regulator had the power to reject applications but gave no grounds on which permission might be refused. Foreign governments and business groups complain that Chinese authorities sometimes misuse regulatory decisions to protect domestic companies from competition. The American Embassy in Beijing referred questions to the US Trade Representative's office in Washington. A spokesman for the European Union mission in Beijing said it had no comment. Spokesmen for Thomson Reuters, Bloomberg and Dow Jones did not immediately respond to requests for comment. China and its trading partners have wrangled over access to its market for financial information since 2006, when the government began requiring foreign providers to funnel data through Xinhua to banks, securities firms and other clients. Washington and other governments complained that arrangement curbed access to the Chinese market. Beijing promised when it joined the World Trade Organisation in 2001 not to close markets that it already had opened. Foreign providers will be required to give the cabinet office details of products, according to the regulations. It said the office would keep confidential any business secrets. That was a condition of November's settlement after companies resisted providing information to Xinhua, a potential competitor. Xinhua, best known as the mouthpiece of the ruling Communist Party, is trying to transform into a competitive, profitable company but has had only limited success. It began competing with foreign financial information providers in 2007 with the launch of its own service, "Xinhua 08". The agency's president expressed hope it would overtake western companies in the financial information sector.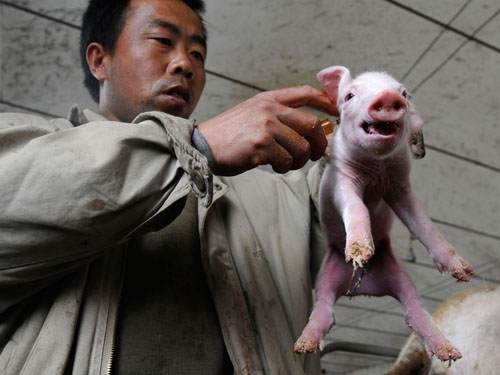 A farmer injects a piglet with a flu vaccine at a farm near Changzhi, Shanxi, amid an import ban on pigs from Mexico and three US states. The swine flu outbreak has had only a limited impact on the mainland's growth, but a prolonged outbreak could hinder the recovery of the flagging economy, economists say "Only a prolonged outbreak would have material and sustained economic consequences, beyond mere short-term interruptions of certain business activities as currently observed," said Sun Mingchun, chief China economist with Nomura. Mr Sun said the company has not considered revising its forecast of mainland economic growth for this year because it sees the swine flu outbreak having limited impact on the world's third-largest economy. The most immediate - but limited - impact would be on the travel industry and pork sales because "there would be fewer international visitors coming to China and fewer Chinese people going to foreign countries affected by the epidemic disease during upcoming Labour Day holiday, and also fewer people consuming pork," said Yi Xianrong, an economist with the Chinese Academy of Social Sciences, a government think-tank. As the swine flu outbreak had become a global concern, Professor Yi said that it would make recovery more complicated and difficult, affecting almost all business sectors. "An outbreak on the scale of Sars would shake the financial, property and investment markets, hurt consumption spending, and add to business challenges across almost all business sectors," he said. Mr Sun said the most severe impact of a wider swine flu outbreak would be the added inflationary pressure on the economy because it would hinder the production and sales of pork, a Chinese staple food. Rising prices of pork in 2007 contributed to decade-high inflation. Economists remember well the financial damage the Sars outbreak inflicted on the mainland economy in 2003. They warned that an epidemic of that scale or greater could inflict severe damage on an economy that is already troubled. The mainland economy grew at its record slowest pace - 6.1 per cent - in the first quarter, down from 9 per cent last year, as the global downturn hit mainland exports. The recent outbreak of swine flu in Mexico and its rapid spread to other countries could interrupt trade and investment, exacerbating the worldwide recession for an uncertain period, www.Moody'sEconomy.com said. It said that in Asia the spectre of a pandemic had already revived painful memories of Sars, which originated in China in late 2002 and took a heavy toll on its economy in the first half of 2003. "Yet, the lessons learned during the Sars outbreak may help China better prevent an outbreak," Professor Yi said. www.Moody'sEconomy.com said that although Sars reached as far as Canada, the places hit hardest were the mainland, Hong Kong, Taiwan and Singapore. Moody's said Beijing was blamed for letting the disease grow out of control because the government concealed information from the public, limited media coverage and delayed reporting it to the World Health Organisation. Professor Yi said Beijing has gained more experience from handing Sars and was in a better position to prevent the outbreak and limit its negative impact on the economy. "The chance of a Sars-like outbreak of swine flu on the mainland is very small."
China health authorities have released three herbal medicine prescriptions they claim can block and cure swine flu. The Ministry of Health posted the formulas on its website yesterday and told public health departments in every province to be aware of the worth of traditional treatments. The prescriptions describe the H1N1 virus as a "fiend" that will spread from the lungs, to the stomach and then to the blood. The first remedy was to "rinse the lung" by drinking the mixed soup of sunburn ephedra, almond, fresh gypsum, bupleurum, scutellaria, fructus arctii, notopterygium and liquorice. But if the virus "stormed the stomach", the patients would vomit and a different treatment would be needed. Puerarin, baicalin, berberine, Atractylodes, Agastache, ginger banxia, suye and honokio would drive the virus into faecal matter. The ministry said the worst stage was when "the fiend infests the blood", when patients would encounter high fever, restlessness, difficult breathing and even coma. Blood-cleansing ingredients including sunburn ephedra, almond, gualou, rhubarb, fresh gypsum, chishao, and water buffalo horn could then be used. A news release from the State Administration of Traditional Chinese Medicine said yesterday the prescriptions were developed by a team of herbal specialists on Wednesday. "They analysed symptoms reported in Mexico and other countries and concluded that the disease was just a kind of flu," it said. "So the experts developed formulas based on their rich experience with flu treatment." The ministry said last week traditional medicine doctors must be represented on decision-making bodies at every level of the government during public health emergencies. But some critics said the prescriptions were total nonsense and put the public at risk. Biologist Fang Shimin said herbal medicine had never cured any pandemic. "When Sars [severe acute respiratory syndrome] broke out, the Ministry of Health also released so-called traditional prescriptions and sold them to the entire population," Dr Fang said. "Many people reported being poisoned after drinking the soup. "Those herbal doctors were in Beijing and have never seen a single swine flu patient. How can they develop reliable prescriptions based on the imagination? "This time the mainland government is using administrative power to plant a herbalist into every contingency task force, whose opinions can only impede scientific medical measures. It is reckless."
May 1 - 3, 2009

Hong Kong: Health Secretary York Chow Yat-ngok said on Thursday afternoon Hong Kong would raise its swine flu alert level to the emergency level when the World Health Organisation (WHO) raises its alert level to six. Dr Chow was speaking after meeting with the Steering Committee on Pandemic Preparedness on Thursday morning. He said Hong Kong would also hoist the emergency level if there was a confirmed swine flu case in the territory. "We will raise the emergency level immediately," Dr Chow stressed. He made the comments after WHO director-general Margaret Chan Fung Fu-chun on Thursday announced the organisation was raising its alert level from phase 4 to 5. "All countries should immediately activate their pandemic preparedness plans. It really is all of humanity that is under threat from a pandemic," Dr Chan told reporters. She said this was because of the flu's capacity to spread rapidly to every country. Meanwhile, York Chow said that starting from Thursday all in-bound passengers at the airport would be required to complete health declaration forms. Help stations would be provide assistance to in-bound land travellers.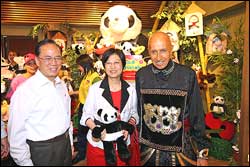 Four cuddly red pandas from Sichuan were the stars of the show at the launch of Ocean Park's Amazing Asian Animals attraction yesterday. Sure to pull in the crowds, the feature - which cost more than HK$100 million to construct - is the first new facility to be completed as part of the park's HK$5.5 billion master redevelopment project. Other endangered species housed under its 25,000-square-meter roof along with the red pandas - also known as firefoxes - are giant pandas Ying Ying and Le Le, a Chinese giant salamander, Chinese alligators and Asian small-clawed otters. Space has also been reserved for the future offspring of Ying Ying and Le Le. Along with smaller attractions such as Goldfish Treasures, which houses blue phoenix eggfish that were bred at Ocean Park, Amazing Asian Animals opens to the public today. A material used to build the Beijing Olympic Water Cube - ethylene tetrafluoroethylene, which lets in natural light to save electricity costs - was also utilized at the Giant Panda Adventure attraction. The material allows plants to undergo photosynthesis, a vital process in which energy from sunlight is converted to sugar. Ocean Park chairman Allan Zeman expects Amazing Asian Animals to produce more record-breaking attendances, noting that numbers for the first quarter of this year have been the best on record. He does not think attendances will be affected by the swine flu outbreak. But park managers have increased precautionary measures by placing more sanitizing mats and sanitizing stations, though Zeman said they have not relaxed hygiene supervision since the dark days of SARS in 2003. The open air and non-enclosed design of the park is an advantage in maintaining a healthy environment, he added. Zeman also said five sturgeon returned to Xiamen as they were sickly are now in good condition, and some will return to Hong Kong this summer. China has also pledged to donate another giant salamander.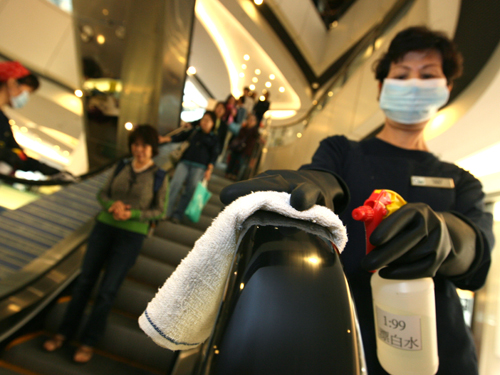 A worker disinfects a hand rail at a shopping mall in Kwun Tong yesterday in preparation for Labour Day weekend crowds. Hong Kong Tourism Board chairman James Tien Pei-chun hopes the outbreak of swine flu will not hurt travel within the region too much given the relatively low incidence of the disease in Asia so far. Mr Tien said Hong Kong's experience with severe acute respiratory syndrome in 2003 might prove a positive factor in attracting visitors, such as those from Taiwan, where the board recently launched special weekend packages. "Taiwanese visitors are more concerned about Hong Kong - having experienced Sars - having adequate measures at the airport and the border checkpoints to manage swine flu better," Mr Tien said. Meanwhile, supplies of surgical masks, household bleach and antiseptic towels are dwindling as Hong Kong people gear up to guard against a potential outbreak of swine flu. Pharmacists said customers had been flocking to shops to stock up on these items.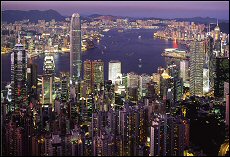 Professional worriers in Hong Kong recently worried themselves when the State Council endorsed Shanghai's ambitions to become a financial centre. They need not have been troubled. A closed capital account and concerns about the rule of law remain in the way. The closed capital account simply means that no one on the mainland can freely convert yuan into another currency and then invest the money abroad. Some people are permitted to do it, of course, but the crucial word here is permitted. They cannot freely do it. No place in the world can really be a financial centre unless the people who live there can freely move their money. A financial centre without freedom of finance is like a transport centre without roads, railways or ports. It is a thing that cannot exist. A financial centre must have an open capital account. This is no small thing. For the mainland, it would mean that anyone in even the remotest farm community, let alone in Shanghai, could walk into a bank with a bundle of yuan notes and exchange them for US dollars. He or she could then freely arrange to wire these dollars to a broker's account in New York with instructions to buy shares of Motorola and pay the dividends to a bank account in Vienna. What is more, no government official or agency would take any interest in this transaction other than ask the bank to report it for the purpose of collecting balance of payment statistics. The implications are profound. A planned economy cannot co-exist with an open capital account. When capital accounts are opened, financial markets quickly supplant government as the arbiter of where money is invested. If favoured government projects are not commercially viable, then bankers who advance money to these projects will not enjoy sufficient returns to satisfy their depositors, who, with plenty of options now at hand, will move elsewhere. A government can, of course, always pay for its favoured projects by levying new taxes and can thus continue to evade market disciplines. But what it cannot do in the environment of an open capital account is make itself a special case in the market. It no longer sets the underlying rules. It now has to play by the rules of money. These rules only tolerate play on a level playing field where the referee is every individual member of the population deciding what player he or she likes best. As an example of democracy in action it is even better than the ballot box. Does the State Council realise this? Do its members really know what they invite when they talk of opening the capital account? Will they really want to go all the way when they finally understand where they are headed? Opening the capital account is the ultimate reform, the big leap that marks the transition from a centrally planned to a market economy, and it is entirely likely that the authorities in Beijing will shrink from the prospect when they realise what it entails. They will then just revert to the talk they presently employ of gradual steps - the sort of steps that step around a destination rather than towards it. The capital account will then remain closed. But even an open capital account is not enough to create a financial centre. Financiers must also be confident that any contract they write will have the full protection of the law. If they don't have this in Shanghai, then Shanghai will not be their base. Shanghai, of course, promises that they will have it, but here is the acid test. Has a judge in any court of law on the mainland ever ruled that an edict from on high, including from the National People's Congress, contravenes the constitution and is invalid? It is only where judges are confident they can make such rulings that confidence in the rule of law can really prevail. This is essential to a financial centre because financiers need the confidence that no pampered pet of a government agency or high-placed official can blithely tear up contracts when events turn adverse. This confidence exists in New York and London and it is a reason that these two are recognised financial centres. It exists in Hong Kong, too. But has a judge on the mainland ever defied a Beijing boss? At some point in the future it will undoubtedly happen. The mainland's capital account will also be opened at some time in the future. But set your time horizons to a long, long time and a different China from the one you see now.
All lanes of Tai Hang Road in both directions are closed to traffic near Tai Hang Drive due to road subsidence, a spokesman for the Transport Department said on Thursday.
Australia's competition watchdog said on Thursday it was launching legal action against Cathay Pacific, accusing the airline of price-fixing in the cargo market.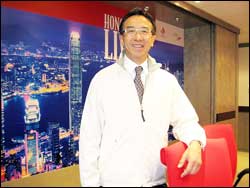 A Taiwan airline has teamed up with Hong Kong hotels to offer return tickets, including one night's stay, for just HK$1,039 in an attempt to lure visitors from the island. Hong Kong Tourism Board chairman James Tien Pei-chun said records show each Taiwan tourist usually spends HK$5,000 during their stay, but declined to project figures for the promotion. Tien, who returned yesterday from a promotional visit to Taiwan, said he hopes islanders will opt for a short-haul trip to Hong Kong with their parents as a gift for Mother's Day, which falls on May 10 and is held in high regard by people in Taiwan. Under the special May packages, the charge for one night's stay will be between HK$1,039 and HK$1,796 and between HK$1,259 and HK$1,924 for two nights. Holidaymakers will have a choice of six hotels, including Disney's Hollywood Hotel, Langham Place Hotel, the Kowloon Shangri-La, and on board a Star Cruise liner when it is berthed in the harbor. Tien said the board acted as a "facilitator" between the hotels and China Airlines. But he said he is unhappy with the government for not doing enough to promote Hong Kong tourism. "A lot of events and activities are organized by the community instead of the government," he said. Board executive director Anthony Lau Chun-hon said the Hong Kong promotion will continue in Taiwan because the city has felt the impact of the direct commercial flights between the mainland and Taiwan since December. He said the number of Taiwan tourists transiting Hong Kong dropped 11 percent in the first quarter of the year compared to last year and those staying overnight decreased by 3 percent. While the board tries to make up for the loss of passengers from Taiwan, it is also trying to attract more of them to spend a few days in the city. Tien said the promotion targets travelers who have never been to Hong Kong. "Many Taiwan people feel Hong Kong does not welcome them," he said. "But we believe they will start to change this perception with the recent political progress between the mainland, Hong Kong and Taiwan, such as the recent visits by our senior officials to Taiwan." Some 2.24 million Taiwan tourists visited Hong Kong last year, with 30 percent staying overnight and the remainder leaving the same day.

China: Taiwan stocks closed 6.74 per cent higher on Thursday in active trade, their best daily one-day percentage rise in 18 years, after the Taiwanese government said it will allow institutional investors.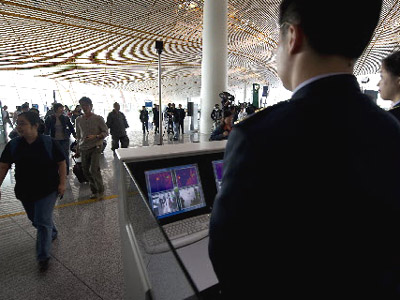 Customs officers monitor passengers through a thermal detector machine at the arrival hall of Beijing International Airport in on Tuesday. The likelihood of swine flu spreading to the mainland is very high, a senior health official said on Thursday, as millions of people prepare to travel around the country for a long-weekend public holiday. "It is very hard for me to predict exactly when the first case of swine flu will appear in China," said Yang Weizhong, deputy director of China's Centre for Disease Control and Prevention, in comments broadcast on state television. "But I can say that the risk of swine flu spreading to China is very high." His comments came after authorities urged extra caution as millions of holiday-makers prepared to travel outside and within China for the Labour Day long weekend starting on Friday. Swine flu is believed to have killed 84 people in Mexico, where the virus emerged, and one person in the United States, although no cases have been reported in China. The virus has swept across the globe with cases reported in nations including New Zealand, Britain, Israel and Peru, and the World Health Organisation has raised its flu alert to phase five, signalling a pandemic is imminent. The National Tourism Administration said on Wednesday the travel industry should prepare for a potential epidemic during the holiday as people who had just come back from affected areas could travel to many places in the mainland. "Travel agencies, hotels, scenic spots, tour buses and boats... must strengthen epidemic prevention and control measures, and make preparations to deal with a possible epidemic," the NTA said on its website. The head of the health department in Guangdong province also said the probability of human cases of swine flu in the area during the May 1 holiday was "very high," the Southern Daily newspaper reported on Thursday. "During the May 1 holiday, there will be a frequent flow of people, so the possibility of human cases of swine flu is very high, and one must be highly vigilant," the report quoted Yao Zhibin as saying. Feng Shaomin, the head of the foreign affairs section of the Guangdong health department, confirmed Mr Yao's comments. "We have adopted a number of measures, and have urged tourists to avoid crowded places," he told reporters. Mr Feng said the provincial government had stored 10,000 doses of Tamiflu, one of the drugs given to those suffering from swine flu, and had asked drug factories to be on stand-by for further production of the medicine.
After a six-month drought, foreign investors have been sending billions of dollars back to Asia, a trend some expect to continue on hopes mainland will lead the region out of the global economic recession. Foreigners have poured a net US$6 billion into six major Asian markets since early March, according to BNP Paribas, helping to boost mainland, Taiwan and South Korean stocks by up to 35 per cent this year and making them the world's best performers. Regional government efforts to drive their economies out of recession by aggressively cutting interest rates and spending billions of dollars on stimulus packages, especially the 4 trillion yuan (HK$4.5 trillion) one implemented by Beijing, are fuelling international investor appetite for risk after months of caution. "I think it's time to be in risky assets. The rally we've seen since March is the start of a new bull market," said Anthony Bolton, president for investments of Fidelity International, an affiliate of the world's top mutual fund firm Fidelity Investments, on a trip this week to Taiwan. "I started to put in money in September, November, and then January and March. We are buying China-focused funds," said Mr Bolton, whose contrarian bets made him a top UK fund manager for more than two decades. Mainland's official Purchasing Managers' Index (PMI) for March, rose to 52.4 from 49.0 in February, marking its first time in expansionary territory since September, a rebound that Beijing said the economy may have bottomed. The index is a key survey of the manufacturing sector, showing managers felt cautiously optimistic about the next few months. The massive inflows to mainland plays and other emerging markets contrast with outflows from developed markets, a sign foreign investors bet mainland will lead Asia out of the global recession. Emerging market equity funds have received inflows of US$7.3 billion so far this year, compared with outflows of US$56.1 billion for developed market equity funds, fund flow tracker EPFR Global said in a recent report. In the past week alone, foreigners purchased US$1.6 billion worth of Asian equities, their second-highest buying level in 48 weeks. Meantime, mutual fund buying was at a 50-week high of US$946 million, Nomura International said in a report. China equity funds absorbed another US$243 million and Taiwan equity funds posted their highest weekly inflows in nearly a year, said EPFR. Fund managers said they favoured shares of infrastructure, raw materials, personal computer makers and mainland plays on expectations they will continue to benefit from the country's massive economic stimulus. "China's determination to sustain 8 per cent-plus GDP growth remains the cornerstone of the latest surge in risk appetite," EPFR Global senior analyst Cameron Brandt wrote in the report. Bratin Sanyal, head of Asian equity investment for ING Investment Management in Hong Kong, shared a similar view. "We believe the bigger economies in Asia are going to come out of the downturn more quickly. China, India and Indonesia remain our favourite markets along with Singapore and Hong Kong because they add some stability to our portfolios with companies that are liquid.

Taiwan's president says the island's newly acquired observer status in a UN health body will help it combat swine flu. Ma Ying-jeou's statement on Thursday comes a day after the UN's World Health Organisation announced that the island will be permitted to participate as an observer at this year's meeting of the World Health Assembly (WHA) WHO's top decision-making body. Mr Ma said that Taiwan "will be able to get information and resources from WHA" on the swine flu issue.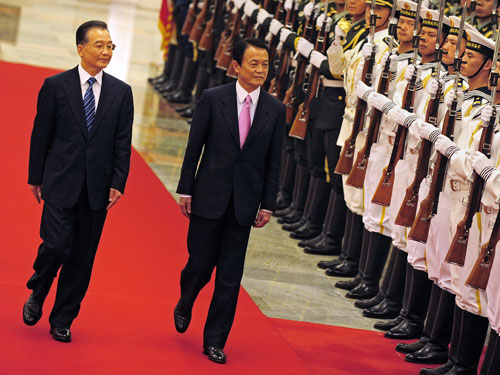 Premier Wen Jiabao and Japanese Prime Minister Taro Aso in the Great Hall of the People yesterday. China and Japan put aside last week's bickering over a Tokyo war shrine to reach multiple agreements in the areas of climate change, information technology and economic co-operation on the first day of Japanese Prime Minister Taro Aso's visit to Beijing. Mr Aso also told his Chinese counterpart Wen Jiabao during their 2-1/2 hour meeting yesterday that Tokyo wanted to co-operate with Beijing to prevent the swine flu epidemic from spreading further, said Kazuo Kodama, press secretary for the Japanese foreign minister. Mr Wen, meanwhile, reminded Japan about the sensitivity of issues related to history at the talks in Beijing, which took place shortly after Mr Aso drew China's ire by sending an offering to the war-related Yasukuni Shrine in Tokyo. The history issue was "very sensitive", said Mr Wen, adding that he hoped Japan would "adhere to agreements and appropriately deal" with the issue. "The improvement in our bilateral ties is hard-won; we should cherish it. Both countries should observe the four key Sino-Japanese communiques and carefully handle the direction of the two countries' development," he said. Mr Aso replied that Japan's position had not changed from the view expressed in a landmark 1995 statement, in which then Japanese prime minister Tomiichi Murayama expressed remorse for Japan's atrocities during the second world war. But the two East Asian countries largely managed to avoid the thorny historic issues yesterday to focus on mutually beneficial co-operation. A pollution-combating mechanism entitled "The Japan-China Plan for Comprehensive Co-operation in Environment and Energy Conservation" would be launched soon, Japan's Ministry of Foreign Affairs said after the meeting. The new mechanism would facilitate environmental approaches that mutually benefit the two sides in the areas of coal, water and waster management. The leaders also reached a consensus on promoting new types of co-operation regarding regulatory frameworks of information and communication technology, it said. It was reported earlier that a joint development of a next-generation cellphone network for the Chinese market would be discussed during the summit. Japan uses third-generation (3G) cellphone standards while second-generation technology dominates on the mainland. Japan's minister of internal affairs and communications, Kunio Hatoyama, was scheduled to visit China next month and sign a memorandum with the Ministry of Industry and Information Technology, the ministry said. On the issue of making a joint effort to combat the financial crisis, the second Japan-China high-level economic dialogue would be held on June 7 in Tokyo, it said. The leaders also agreed to work together to deter protectionism and focus on expanding domestic demand. An early implementation of a capital injection to the Asian Development Bank was also promised. Further promotion of bilateral personnel exchanges was also discussed at the meeting between Mr Wen and Mr Aso. Mr Aso proposed the launch of a "Japan-China future leaders dialogue" framework to foster a "mutually beneficial relationship based on common strategic interests" through future generations. Other "achievements" of the meeting included more exchange programmes for youngsters and teachers, expansion of mutual visits by tourists, more direct flights between Beijing and Tokyo and further enhancing of cultural exchanges, the ministry said. Mr Aso arrived in Beijing earlier yesterday for a two-day visit to the country. He is scheduled to hold talks with President Hu Jintao this afternoon.
The government has started building a fifth civil airport in restless and mountainous Tibet, hoping to boost the number of visitors to the remote region, state media said on Thursday.

*News information are obtained via various sources deemed reliable, but not guaranteed