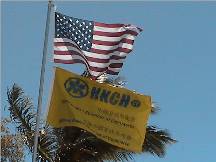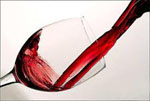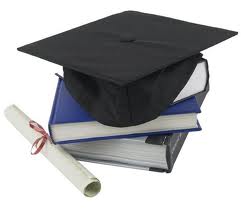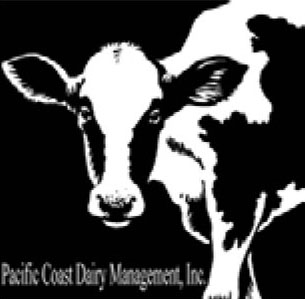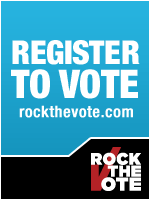 Biz-Video

Hawaii's China Connection

Doing Business in Hong Kong & China
Hong Kong, China & Hawaii Biz*



Skype - FREE Voice Over IP

View Hawaii's China Connection Video Trailer
Do you know our dues paying members attend events sponsored by our collaboration partners worldwide at their membership rates - go to our event page to find out more! After attended a China/Hong Kong Business/Trade Seminar in Hawaii...still unsure what to do next, contact us, our Officers, Directors and Founding Members are actively engaged in China/Hong Kong/Asia trade - we can help!
Are you ready to export your product or service? You will find out in 3 minutes with resources to help you - enter to give it a try


Listen to MP3 "Business Beyond the Reef" to discuss the problems with imports from China, telling all sides of the story and then expand the discussion to revitalizing Chinatown - Special Guest: Johnson Choi, MBA, RFC. President - Hong Kong.China.Hawaii Chamber of Commerce (HKCHcc) and Danny Au, Manager, Bo Wah Trading

Holidays Greeting from President Obama & Johnson Choi
http://www.youtube.com/watch?v=pNk4Z4lUV-k
http://www.facebook.com/video/video.php?v=219896871983&ref=mf
Wine-Biz - Hong Kong
Brand Hong Kong Video
(approximate $ exchange rates: US$1 = HK$7.8, US$1 = RMB$6.8)
July 31, 2009

Hong Kong: Hong Kong's Exchange Fund, which is used to back the territory's currency peg with the US dollar, rebounded in the second quarter to post a HK$25 billion investment gain for the first half, the central bank said on Thursday. The second-quarter gain, of HK$58.5 billion according to Reuters calculations, reflected a rebound in Hong Kong equities, which have rallied more than 50 per cent since March, and follows a HK$33.5 billion investment loss for the first quarter. In last year, the fund recorded a HK$74.9 billion loss, its first full-year loss since at least 1994, as financial markets plunged in the wake of the global financial crisis. However, while financial markets have been buoyed recently by hopes the global economy could soon start to pick up, Joseph Yam Chi-kwong, chief executive of the Hong Kong Monetary Authority (HKMA), warned that there was no guarantee the fund could produce a gain in the second half. "On several occasions … in the past couple of months I have drawn attention to the possible disconnection between financial-market performance and economic performance, and pointed to the risk that, as economic reality [in the form of continued economic weakness and a slow recovery] sinks in, we may see disappointments in the financial markets in the months ahead," Mr Yam wrote in a weekly column on the HKMA website www.info.gov.hk/hkma/eng. The Hong Kong government also draws a portion of its annual revenue from the Exchange Fund, based on the fund's rolling six-year average return. For the first half it would receive HK$17.6 billion, the HKMA said. Unaudited results from the HKMA showed the Exchange Fund made a HK$26.1 billion gain on Hong Kong equities in the first six months of this year and a HK$9.2 billion gain on other equities. It made a HK$12.3 billion loss on bond investments. Exchange Fund assets totaled HK$1,833.2 billion at the end of June this year and its accumulated surplus increased by HK$8.5 billion in the first half.
The Internship Program for University Graduates (GIP) would be launched on August 1, programme director Raymond Ho Kam-biu said on Thursday.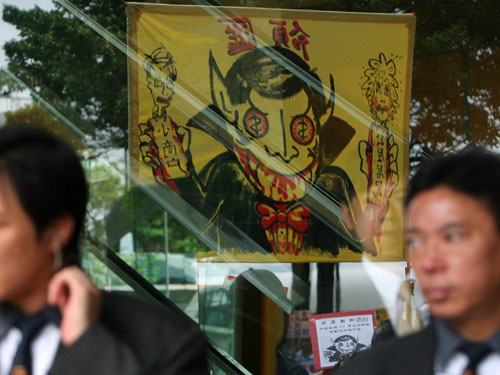 Members of The Link Watch and other groups angered by rent increases for shops protest outside The Link Management's annual general meeting in Wan Chai yesterday. The Link Management defended its policy on rent rises yesterday as more than 100 tenants in its shopping centers protested at charges they said were driving them out of business. During the protest, organized by various retail groups and political parties, tenants chanted slogans and waved banners outside the Renaissance Harbor View Hotel in Wan Chai where The Link was holding its annual general meeting. After the meeting, Nicholas Sallnow-Smith, chairman of The Link Management, defended the company's strategy. "On average, our rents are not going up tremendously fast," he said. "The Link team is dedicated to running the greatest business in Hong Kong that is constructively engaged in the local community in Hong Kong. Yet what I read in the press makes me feel you don't believe that. However, this is absolutely the case." Chief executive Ian Robins said rents had increased by 25 per cent over the past three years - an annual rate of 8.3 per cent - which he described as "a responsible level". The Link, a publicly listed real estate investment trust, took control of 180 shopping centres, fresh-food markets and car parks when the Housing Authority privatised the commercial spaces on public-housing estates and sold them to the company in 2005. The Link has since implemented a series of major renovation projects in a strategy to attract more shoppers and boost profits. Rents have also gone up. Mr Sallnow-Smith said: "If we want to be a successful business in Hong Kong, we have to be financially successful first ... then we can invest in assets, improve shopping centres and gradually improve the economy of the community." The Link pledges to be a responsible employer, but many small retailers say they are under mounting pressure in dealing with rent rises amid a grim economy. Lau Ma-hong, 52, who sells hardware on Lung Hang Estate in Sha Tin, said he struggled after The Link raised his monthly rent from HK$29,500 to HK$36,000 in 2007. "Residents in our estate are getting old. Many families are receiving government financial assistance and the economy is not good, yet no matter what the market is like, The Link is set to charge us more," he said. Pressure group The Link Watch, which joined the protest yesterday, said it surveyed 14 of The Link's shopping centres last month and found that 20 per cent of small traders had closed over the past year, and had largely been replaced by chain stores. Fred Li Wah-ming, a Democratic Party lawmaker, said the management of The Link was ignorant of the needs of the community and only knew how to make "fast money". He said the only way to give tenants a say was for the government to buy back control from The Link. Last month, The Link announced a 13.75 per cent rise in earnings. It said distributable income for the year to March was HK$1.82 billion. Mr Sallnow-Smith said The Link had earmarked HK$1.17 billion for 11 asset-enhancement projects in the next two years and HK$1.39 billion for another 11 from 2011 onwards.
The Trade Development Council is hoping the launch of fairs featuring tea and lifestyle products next month will attract more buyers and tourists despite the challenging economic environment. The three-day Hong Kong International Tea Fair and the four-day Lifestyle Showcase will run alongside the Food Expo and the International Conference and Exhibition of the Modernization of Chinese Medicine and Health Products. The fairs will be held at the Convention and Exhibition Centre in Wan Chai. "We hope these fairs can become a tourist activity to attract mainland visitors," Raymond Yip Chak-yan, the council's assistant executive director, said. The council might arrange for buses in Guangzhou to bring visitors to the tea fair or work with travel agencies to help bring them in, he said. It has also sponsored about 200 overseas buyers to attend the show. The move is part of an HK$80 million effort to subsidize about 10,000 overseas buyers to come to the council's shows this year. It is trying to court first-time buyers from emerging markets such as India, Russia and the Middle East to help offset the fewer buyers coming from the US and the European Union. The council helped arrange for 25 overseas buying missions from 21 markets around the world to attend the tea fair. Mr Yip said he hoped the subsidies could last until March, as cheaper airfares and hotel discounts meant the council had spent just over half of the funds so far. Despite the subsidies, buyer numbers have fallen. In January, the Toys and Games Fair, the largest in the region, reported a 3.5 per cent drop, while the number of buyers at Fashion Week fell by almost 10 per cent. The International Jewellery Show in March had about 5 per cent fewer buyers. Despite signs of stabilization in the economy, the downturn continues to depress demand, especially for luxury goods. Hong Kong relies on established markets such as the US and the EU for about 60 per cent of its exports.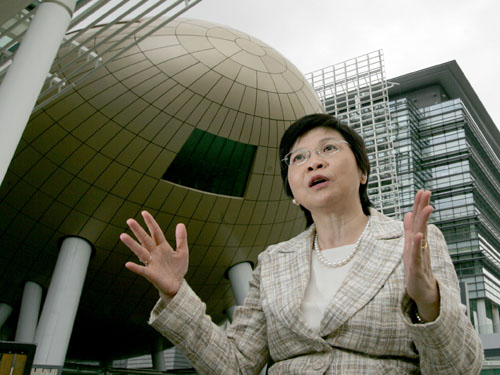 Commerce minister Rita Lau Ng Wai-lan says she would welcome a free-television licence application from Cable TV after it expressed interest in becoming the city's third free-to-air station.
Secretary for the Civil Service Denise Yue Chung-yee said on Thursday the government intended to deal with the disciplined services' concerns about salary reviews.
Primus Financial Holdings, founded by former top Citi Asia banker Robert Morse, plans to team up with a Hong Kong battery maker to bid for AIG's Taiwan unit Nan Shan Life, sources with direct knowledge of the matter said on Thursday. American International Group, bailed out by the US government in the financial crisis, is selling its Asia assets to shore up its capital base and the sale of Nan Shan could fetch over US$2 billion, sources have said. Little-known China Strategic Holdings, whose major businesses include battery production and securities investments, issued a statement on Wednesday saying it had entered into a non-legally binding agreement with Primus to jointly bid for a controlling stake in an insurance firm. China Strategic also said it plans to raise about HK$7.8 billion to fund the possible joint acquisition, though the Hong Kong-listed firm did not name the deal target. Primus declined to comment, while a representative for China Strategic could not be immediately reached for comment. The sources declined to be identified as the bidding process is confidential.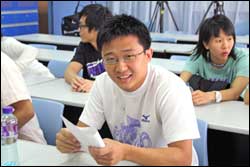 A graduate of Christian Zheng Sheng College, a drug rehabilitation school, has won a place at Lingnan University - but still fears his past might catch up with him. Wong Wing-san, 25, who will take up accountancy, is one of the lucky applicants in the Joint University Programs Admissions System. Wong achieved a B in Economics and a D in Accounting and Chinese in his A-Level exams. However, his dream could be shattered because of his criminal record. "Even if I can't be an accountant, the knowledge I acquire will still be very useful for my future career," said Wong. He thanked his family and teachers and those who helped him. College principal Alman Chan Siu-cheuk said Wong's success is a clear message to fellow students, adding he hopes society will accept reformed young criminals. Wong is the second Zheng Sheng student to have won a university place in eight years. Lingnan University president Chan Yuk-shee praised Wong's persistence and ambition. Hong Kong Institute of Certified Public Accountants president Paul Winkelmann said those with criminal convictions may not be rejected as accountants, adding that the institute will consider all the facts and circumstances. The institute is the only body authorized to register and grant practicing certificates to certified public accountants. Meanwhile, 17,613 out of 35,318 JUPAS applicants received offers, with 12,038 for degree courses and 5,575 associate degrees and higher diplomas. Last year, there were 17,068 with offers. Hong Kong University admitted 1,844 applicants this year, with more than 50 percent achieving three to six As in their exams. Chinese University admitted 2,325 candidates, with more than 40 percent achieving four As and three with five As.
Bubble fears mar stocks - IPO fever in Hong Kong and the mainland saw BBMG Corporation (2009) and China State Construction Engineering soaring by nearly 60 percent on their debuts yesterday.

Cool reception for Cable TV - Sustained profitability will be a hard target for Cable TV to achieve if it enters the free-television market, because it would need to invest a huge amount to grab only a small slice of the advertising pie from Television Broadcasts (0511), analysts said.

China: China central bank pledged to maintain loose monetary policy and use market tools, not quota-style controls, to ensure sustainable credit growth that will support economic recovery. In a statement that analysts said was intended to calm skittish markets, the People's Bank of China vice-governor Su Ning said the central bank "will unswervingly continue to apply appropriately loose monetary policy and consolidate the economic recovery momentum". The statement was posted on the bank's website after Wednesday's 5 per cent fall in the mainland stock market, its biggest daily drop in eight months, which was sparked in part by worries that Beijing will push banks to restrict their lending. "They are responding to an incorrect interpretation by the market," Ting Lu, economist with Merrill Lynch in Hong Kong, said. Mr Su's comments helped push the benchmark Shanghai stock index up in early trade, but worries that a roughly eight month-long rally has run out of steam pushed it down 1.15 per cent at the close of the morning session. "There will not be credit quotas this year, though there could be window guidance," Lu said, referring to more informal directions that Beijing gives banks to influence their decisions. Media reports on Wednesday said that the country's two biggest banks had decided themselves to put a lid on their 2009 lending targets in a move that would significantly slow overall mainland's credit growth in the second half. Industrial and Commercial Bank of China (SEHK: 1398) (ICBC) and China Construction Bank (SEHK: 0939) (CCB) both planned to grant loans in the second half that would be just about one-quarter of the total that they issued in the first half, Caijing magazine said. Beijing has in the past used a quota system to control lending, telling banks not to exceed specific ceilings. This credit management was a key prong of mainland's monetary tightening last year and it was subsequently blamed for contributing to the economy's marked slowdown in the fourth quarter. Mr Su's comments appeared to rule out an imminent return to a strict, central bank-directed quota system. "We will focus on market tools, not quantitative-style control methods, flexibly using many kinds of monetary policy instruments," he said. "We will guide appropriate monetary and credit growth, strengthen the sustainability and do what is necessary to drive the economic recovery and to ensure stable and quite fast economic growth," he said. But Dong Xian'an, chief macro-economist with Industrial Securities in Shanghai, said firm lending quotas were still very much on the table, because they are a direct way to manage the underdeveloped and occasionally unruly financial system. "Credit quotas are still an effective, if not the ideal, way to control credit growth," he said, adding that moving to a more market-oriented system would take time. Lu at Merrill Lynch said that while Beijing was unlikely to impose hard-and-fast loan caps on banks, the central bank could well use a blend of moral suasion and punitive bill issuance to coax them into lending less. It has already started down that path. Earlier this month, the People's Bank of China told a group of banks that have been particularly aggressive in lending that they would be required to buy 100 billion yuan (HK$113.60 billion) in one-year special bills. The special bills will carry a punitive yield of 1.5 per cent and the banks were ordered to buy them in September – a clear move to stem lending bursts that tend to come at quarter-end. Overall, mainland banks made a whopping 7.37 trillion yuan in new loans in the first six months, easily topping the full-year figure of 4.91 trillion yuan last year and igniting concern that excess liquidity was leading to stock and property market bubbles. Mainland regulators have left banks largely unhindered in their rampant lending in the belief that the economy needs ample money to recover, but in recent weeks they have warned of mounting credit risks to the banks themselves and demanded that loans be put to use for productive purposes. The country's top leadership and the central bank last week both reaffirmed the country's "active fiscal policy and appropriately loose monetary policy" after meetings to discuss their priorities for the second half.
China's Zhang Lin holds the gold medal of the men's 800m freestyle at the Fina Swimming World Championships in Rome on Wednesday. Zhang Lin oblitreated the world record to steam to victory in the men's 800 metres freestyle and become China's first male swimming world champion on Wednesday. Zhang finishing in a breathtaking time of seven minutes 32.12 seconds, taking more than six seconds off the mark of 7:38.65 set by retired former world champion Grant Hackett of Australia in 2005. "This is a breakthrough for Chinese men's swimming," Zhang told reporters. Zhang was the first Chinese man to win an Olympic swimming medal with his silver in the 400 freestyle last year. Tunisia's Olympic 1,500 champion Oussama Mellouli, the pre-race favourite, was well beaten into second place even though he too went below Hackett's old best. Canada's Ryan Cochrane was third. Mellouli set the swift early pace but he had no answer when Zhang upped the tempo. It was the Tunisian's second silver medal of the week after he was also the runner-up in the 400 freestyle on Sunday.
A controversial oil refinery project in southern part of the mainland will be relocated after it was criticized by environmental groups, a senior mainland official confirmed on Thursday.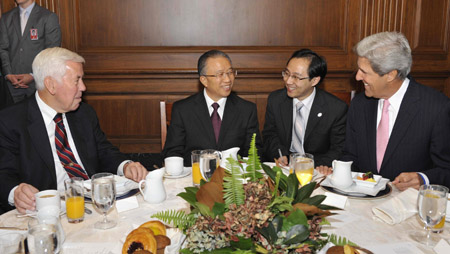 Chinese State Councilor Dai Bingguo (2nd L) has breakfast with U.S. senators John Kerry (1st R) and Richard Lugar (1st L) in Washington on July 29, 2009. Chinese State Councilor Dai Bingguo said on Wednesday that the world's peace and prosperity would benefit from a positive, cooperative and comprehensive China-U.S. relationship for the 21st century. During his meeting with Senator John Kerry and Senator Richard Lugar in the Capitol Hill, Washington, Dai said China and the United States share important responsibilities and have common interests for human's peace and development.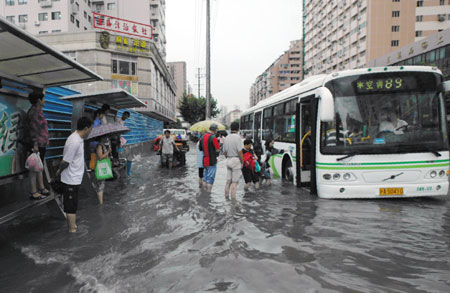 People get on the bus at a flooded section of the Xietu Road in Shanghai, China, July 30, 2009.
People watch the index screen at a stock market in Shanghai, China, July 1, 2009. The CSRC said it is planning to take steps to safeguard individual investors' interests. The securities watchdog is mulling further measures to plug the loopholes that showed up in the latest round of initial public offerings (IPO), according to Shang Fulin, chairman, China Securities Regulatory Commission (CSRC). The CSRC is generally satisfied with the results of the recent reforms, but also identified a number of areas that need to be improved. One of these areas is the lack of a provision to block institutional investors from taking advantage of the new allotment system by masquerading as personal investors in their IPO applications. "Some institutional investors were known to have circumvented the subscription limits on their accounts by making applications through personal investor accounts opened with borrowed ID cards," said Lu Junlong, analyst, China Finance Online. "Stockbrokers keen on earning commission fees usually turn a blind eye to such irregularities," he said. This has defeated, to some extent, the primary objective of the reform, of increasing the allotment of new shares to personal investors. In the past, the deluge of applications from well-financed institutional investors had largely crowded out applications from individual investors. Because of the loophole, the ratios of allocation of newly issued shares to personal investors in the past several IPOs were still deemed too low. for example, the ratio of allocation in the IPOs of Guilin Sanjin Pharmaceutical, one of the first companies to obtain a stock exchange listing after the lifting of the IPO suspension, was only 0.17 percent. The ratio of allocation in the Sichuan Expressway IPO was 0.26 percent, while it was 2.83 percent for China State Construction Engineering Corp's public float. "The ratio of allocation to subscription is at a low level, similar to the lottery system in the past," said Zhu Hongbin, an investor with over 10-year experience in the market. Considering the wide price gap between the primary and secondary markets, many institutional investors borrowed heavily from banks to subscribe for new shares. Easy credit and cheap money have given institutional investors a much greater edge over small investors in the fight for IPO allotments. "As long as the interbank seven-day repurchase rate stays below 3 to 4 percent, we can make profits by subscribing to new shares," a Shanghai-based fund manger said, who refused to be named. The investors' feverish penchant for newly listed stocks saw Sichuan Expressway Co soar 202 percent on debut. The bourse suspended trading in the scrip for two times to allow for a cooling off period on the first day. The company's issue price was 3.6 yuan, nearly 20 times the PE (price-to-earnings) ratio. After collective bidding, the opening price soared to 7.6 yuan and the shares finally closed at 10.9 yuan after touching a high of over 15 yuan. The high price was beyond the expectation of many analysts. According the reports from 23 securities firms, most analysts thought the reasonable price could be around 5 yuan. Guotai Junan Securities Co was the most optimistic, which estimated the shares could be worth around 7 yuan. The shares subsequently began to slump and closed at 9.81 yuan, with many individual investors burning their figures. According to the Shanghai Stock Exchange, individual investors were the main buyers for the new shares of Sichuan Expressway on its first trading day. Among the 74,000 accounts that bought shares on that date, about 99.9 percent was personal accounts. Institutional investors, including fund mangers, securities firms and insurance companies, did not join the speculation. According to CSRC Chairman Shang Fulin, the regulators are working on a plan to educate individual investors and also exploring effective mechanisms to protect investors' rights.
July 30, 2009

Hong Kong: The performance of the Legislative Council in the 2008-2009 year did not satisfy 90 per cent of Hong Kong people, according to a survey released on Wednesday.
More than 100 public housing estate residents, retailers and members of the Link Concern Group staged a protest in Wan Chai against recent rent rises by the Link Reit.

The government would support a plan by Cable TV to offer a free-to-air television service, Secretary for Commerce and Economic Development Rita Lau Ng Wai-lan said on Wednesday.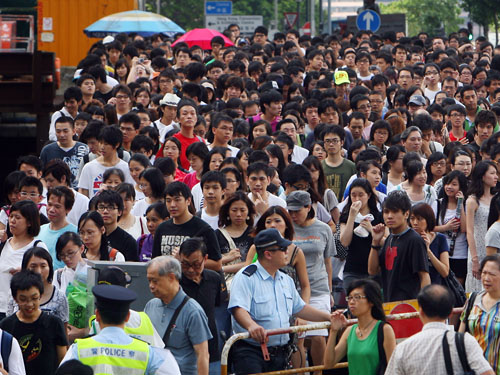 This year's Book Fair attracted a record 900,000 visitors, but they did not bring big business, major local publishers say. Although the number of visitors to the week-long fair, which closed yesterday, increased from last year's 830,000, some publishers were disappointed at the unexpectedly minimal growth in sales. They said the overexposure of pseudo-models and their racy photo albums at the fair scared away real bookworms. Commercial Press' retail director Anita Wan said the publishing house expected 10 per cent growth in business, but did not achieve this. "The growth in the number of visitors was not in proportion to the increase in the size of the fair," Ms Wan said. With the completion of the Convention and Exhibition Centre's atrium expansion, this year's fair increased in area by one-third. Despite the increase in number of visitors, "there were fewer people attending the night fair over the weekend", Ms Wan said. "The venue became very quiet at 9pm on Saturday." Ming Pao Publications' general manager William So said he was surprised by the low turnout over the weekend, a period that has usually been extremely crowded in the past. He said there were more youngsters than families and working adults coming to the fair this year. "There was too much coverage on models at the fair in its first couple of days," Mr So said. "Families and working adults were under the impression that the fair was dominated by their photo albums, so they'd rather not come this year." He said Ming Pao's book sales had increased by 10 per cent, but the increase in booth size and manpower increased operating costs by 40 per cent. Kimmy Fong, Crown Publishing's marketing manager, said sales were similar to last year, which was unexpected. But she said sales of books on self-improvement and spirituality improved. Meanwhile, the Trade Development Council said the fair was a success. "We have had a record attendance and we have had more than 40,000 people attending more than 200 cultural events," council assistant executive director Raymond Yip said. A council survey of 887 visitors found each spent an average HK$469 at the fair, and nearly 60 per cent said they spent the same or more than last year. The number of tourists visiting the fair increased from last year's 7,000 to 10,000, with more than half of them coming to the city especially for the fair. In response to Taiwanese exhibitors' threat not to return because of their decline in business, Mr Yip said the situation had improved over the last days of the fair and the council would evaluate the situation. However, Dymocks' retail operations manager Matthew Steele said sales for English-language titles were very good, and credited a new "English Avenue" section. Page One said business had increased by 10 per cent, with 80 per cent of the stock brought to the fair being sold. Economic Digest Publishing, which produced the pseudo-model photo book Kissy Chrissie, said its stock of 20,000 had sold out on Sunday and redemption vouchers were being sold. Many mainland exhibitors had cut their prices further on the last day. One was offering discounts of up to 35 per cent for spending more than HK$300. Another offered selected books at HK$1.
The number of mainland women giving birth in Hong Kong's public hospitals has dropped by about a tenth in the first five months of this year compared with 2006.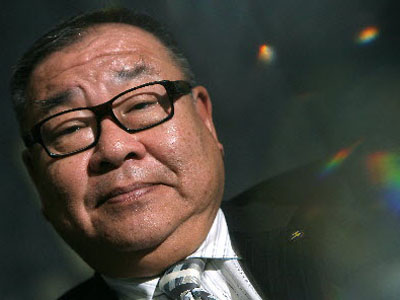 Cliff Sun Kai-lit, chairman of the Federation of Hong Kong Industries. The new chairman of the Federation of Hong Kong Industries has launched a rare attack on the government for not paying enough attention to the industrial sector and has urged it to set up a development council to lend better support. "We hope the government can establish a council similar to the Trade Development Council for the sector ... which can offer a platform for officials and industrialists to formulate and discuss related policies," Cliff Sun Kai-lit told the South China Morning Post (SEHK: 0583, announcements, news) . He was elected chairman of the federation, one of the city's biggest trade organizations, earlier this month. "We have a feeling that the government has not attached enough importance to the industrial sector," said Mr Sun, who is also a committee member of the government's business facilitation advisory committee and the Hong Kong Productivity Council. The sector had complained about the administration abolishing the Commerce, Industry and Technology Bureau two years ago and replacing it with the Commerce and Economic Development Bureau, with the word "industry" omitted from the title, the veteran industrialist said. Mr Sun said setting up a council for the sector could enhance closer government ties, especially when the bureau oversaw "too many areas". He was supported by Paul Yin Tek-sing, president of another large trade group, the Chinese Manufacturers' Association of Hong Kong. Mr Yin criticized the government for having no industrial policy and said it should at least set up an industrial development committee, if not a council. Mr Sun said that despite many factories relocating to the mainland, the sector was still vital to Hong Kong. A spokeswoman for the bureau said it maintained close and frequent contact with the sector and always welcomed any views. It provided support measures through eight relevant departments and agencies, such as the Trade and Industry Department, which had the expertise and resources to offer appropriate help. Mr Sun also said government officials should have more vision, in an apparent criticism of Chief Executive Donald Tsang Yam-kuen for his brief presence at a forum in which Guangdong Vice-Governor Wan Qingliang and leaders of the nine Pearl River Delta municipalities also took part in Hong Kong last week. "Mr Tsang ... left right after giving the opening speech. He should have at least sat for another three minutes and listened to the vice-governor's speech before leaving. Then I'd feel he showed some respect," he said. "He chose to come but did not give the vice-governor face. Others will treat us Hong Kong businessmen the way they are treated." Chief Secretary Henry Tang Ying-yen and other officials stayed until the end of the program. The Chief Executive's Office said the event schedule and Mr Tsang's participation had been agreed by the Hong Kong and Guangdong governments. Chinese General Chamber of Commerce chairman Jonathan Choi Koon-shum, who also attended the event, said Mr Tsang's appearance showed that he respected it. Mr Choi noted that Guangdong Governor Huang Huahua , who held the same rank as Mr Tsang, had been absent.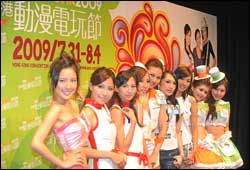 The popular Ani-Com and Games Hong Kong fair will be used as a platform for the city's war on drugs. Microsoft, in cooperation with Polytechnic University and Hong Kong University of Science and Technology, will set up an Xbox 360 free play corner designed to educate youngsters on the dangers of drug abuse. Attendance at the comics fair - at which there will be no restrictions on sexy models promoting products like at the just-closed book fair - is expected to top last year's 600,000 attendance. Microsoft senior marketing manger Anna Chow Sui-nar said: "Seeing the seriousness of the drug abuse problem, we hope to convey a positive message. We think it is effective as video games speak their language." Microsoft will also provide a free Human Swine Flu game designed by Hong Kong University students to raise hygiene awareness. The 11th ACGHK 2009 chief executive Leung Chung-poon said there would be no specific restrictions for young models. "Our fair has a more relaxing and fun function. As long as it is legal, there will not be any restrictions." U1 Digital Entertainment Group president Oscar Chu Chung-ho said first arrivals will be given a gold robot, but did not reveal its value. The first 300 visitors to the fair, to be held from Friday until August 4, will be given early bird cards to help them negotiate the first-round of shopping. Admission tickets are priced at HK$25 and the fair will open from 10am to 9pm. Although the event will start on Friday, 10 teenagers have already camped outside the Hong Kong Convention and Exhibition Centre in Wan Chai. In first position is a 16-year-old Secondary Five student surnamed Chan who has been there since Sunday. He stands to win a golden robot but is prepared to spend HK$2,000 on limited edition products. Nine candidates will be taking part in an ACGHK Image Girl Pageant, including popular model Lavina Chung Wai-chi. Gamania sales and marketing manager Lau Man-wai said the company has recruited 17 promotion models, most of them pseudo-models.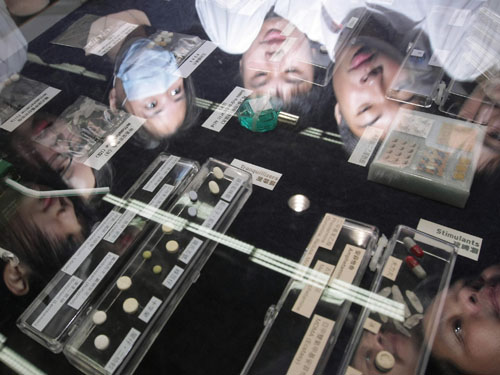 SKH Chan Yong Secondary School students in Sheung Shui check out various drugs. Debate rages about whether or not the planned testing regime will send drug users underground or destroy ties between youth and social workers. Hong Kong has never been a drug-free society. But after a number of cases of students abusing ketamine were widely reported, Chief Executive Donald Tsang Yam-kuen intervened personally this month to speed up the introduction of anti-drug initiatives. Mr Tsang told the Legislative Council that the situation among young people in Hong Kong was "much worse than expected" and announced a pilot scheme of voluntary testing at secondary schools in Tai Po, starting in September, which would then be implemented in other areas. But now there are worries that drug-taking youngsters will be driven away from schools under the new scheme. And those who try to help young drug abusers fear the new tests will merely make it harder to do so. The Security Bureau's narcotics division said schools had pledged not to expel students or prosecute them if they tested positive for drugs. Officials said the Tai Po trial was designed to prevent drug abuse and identify young users early. But what if drug users just decide to skip school? Fifteen-year-old Joey Leung, a Form Four student in Tuen Mun, said that young drug takers would just stay away from school if there was a danger of being tested. "I would not go to school; I'd just say I am sick. There are many excuses to skip school," she said, adding that she had taken ketamine. She said drug testing might not be an effective way to single out student drug users. "Usually, we don't take drugs at school. We take them on the backstairs of a building or at a friend's house," she said. "We usually go to the disabled people's toilets or those that are rarely used," she said. "Those toilets are spacious, allowing a few people to take ketamine inside and then we separate afterwards." She said she thought student drug takers would not tell others about their habit. But social workers disagree. They say many talk to them about their drug habits because they trust them. "It is important to gain the trust of these students. When they trust you, they will tell you about their drug-taking habits," Jessica Ng Lai-man, a social worker in Tuen Mun, said. But Ms Ng is worried that such relationships will be more difficult to build once testing begins. "Once the drug tests start, those youngsters who have tested positive will be forced to have treatment. Instead of having the motivation to change, they will think you are testing them. It is difficult to build up a trusting relationship with students under these circumstances," she said. Many in the social services sector are worried, given the experience of testing in schools overseas. A report by the Australian National Council on Drugs in 2008 found that most drug tests were not reliable enough for use in schools. Half of those interviewed said there would be no advantage from such testing and nearly all respondents said it would lead to mistrust between students and staff. Lynn Law, of the Hong Kong Council of Social Service, said she had studied various jurisdictions. She had found no reports suggesting that drug testing was effective but it did increase schools' legal liabilities and was costly to implement. "Even Australia, which did so much research and preparation work in advance of introducing testing, did not find tests at school effective," she said, adding that she was worried about the situation in Hong Kong schools because there had been so little time to prepare. "For example, there are so many ways to affect the accuracy of a urine test," she said. In a drug rehabilitation centre, a worker of the same sex has to be present, to monitor the process. "Will it be insulting to those who have not taken any drugs but were chosen to be tested?" Ms Law asked. "It would make helping young people with a drug problem more difficult because some of them will leave school once the tests start. In the past, we could go to rave parties or discos to get these young people out. But it is going to be tougher, as some of them will stay at home and become marginalised. There seems to be no research findings from the US or the UK to support that drug tests in school are an effective tool in drug detection and screening. Though some might cite Singapore as an example, Hong Kong is just a different society," Ms Law, who has lived in Singapore, said. A Hong Kong government task-force report on youth drug abuse last year noted that, in Singapore, schools did not need government approval for testing. If a US school decided that drugs were a significant threat, it could seek federal, state and local funding to run tests. The British government supported random testing in 2004, but schools still need the consent of students and parents for testing. In Hong Kong, social-sector representatives did not question the intention to fight drug abuse, but said they believed more preparation was needed before the trials. "The chief executive asks us to cross the river by groping for each stone. However, [this is just like] prescribing drugs with a trial-and-error approach. It may cure the patient, but it may also kill him," said Max Szeto Ming-wong, superintendent of Hong Kong Christian Service Jockey Club Lodge of Rising Sun, a drug treatment centre in Tuen Mun. Mr Szeto, who has been involved in drug rehabilitation services for more than 30 years, said he envisaged many problems without thorough preparation and other follow-up measures. "Who is going to pay for the urine test? Parents or schools? Which institution is going to conduct the tests and how are they going to be handled?" he asked. The government will pay testing costs during the Tai Po trial, but the issue will be revisited in relation to future schemes. "How long is that data going to be stored? Mr Szeto said. "Who has the right to hold this data? Even if a student tests positive, we would not know how long the student had been a drug taker. There is a need for lots of follow-up, for further assessment. Consider Tai Po. There are 22,000 secondary school students there. Statistics show that 2 to 6 per cent of students might be drug takers. If we consider 4 per cent of these students will test positive, that's about 1,000 students. This would outnumber the total youth drug rehabilitation places in Hong Kong." There are about 500 rehabilitation places for young drug takers in Hong Kong. One social worker who works with youth drug users in Tai Po, Billy Tang Kam-piu, a supervisor at Hong Kong Lutheran Social Service, said he expected that only a few "party drug users" would be identified. "The measure might affect 5 per cent of `silly students'," he said. "What will happen to these students? We know that some schools use different reasons, like smoking, to kick students out once they are found to be a drug taker." Hong Kong International School, widely cited as a school which already tests students for drugs, was unwilling to disclose the details. However, one person familiar with the situation said students were expelled if they tested positive. "According to my understanding, students who test positive in international schools will be kicked out at once," the person said. "Before being expelled, a student can go back to school after attending a [rehabilitation] course that lasts six months. It cost hundreds of thousands of dollars. Not many Hong Kong parents can afford this." Mr Szeto suggested that clear guidelines be set up for schools to follow. "It is important to state what the school should do once students test positive. It is impossible to depend solely on the judgment of different principals." But Kwok Wing-keung, chairman of the Association of Secondary School heads of Tai Po district, pointed out that the government should have faith in schools. "Every school has experience in handling misbehavior," she said. The Security Bureau's narcotics division advises that those in the early stages of experimentation should continue normal schooling, and also receive counselling. For heavy abusers, arrangements should be made with one of the 39 residential rehab centers. After completing a programme, the student should return to normal schooling or otherwise reintegrate into the community.
Sinopharm Holdings, majority owned by state-run China National Pharmaceutical Group, has been granted approval by mainland officials to list in Hong Kong, sources said on Wednesday, in an IPO that could raise up to 7 billion yuan (HK$7.95 billion). The parent company plans to list drug distributor Sinopharm in September and is waiting for the Hong Kong Exchange's approval, said the banking sources who were not authorised to speak publicly about the deal. Shanghai Fosun Pharmaceutical, a unit of Hong Kong conglomerate Fosun International, owns 47 per cent of Sinopharm, according to a spokeswoman from Fosun International. UBS, CICC and Morgan Stanley are among the banks handling the offering, the sources said. China National Pharmaceutical Group Corp is the country's largest pharmaceutical group, incorporating research with production and in charge of national centralized reserves and the allocation and supply of emergency and relief medicines. Sinopharm Holdings is the largest distributor in the mainland pharmaceutical market. It owns majority stakes in fellow drug distributors China National Medicines and Shenzhen Accord Pharmaceutical.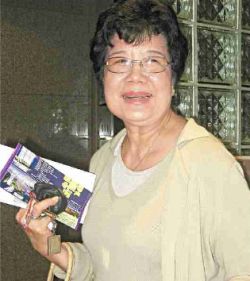 An elderly woman who claims to have lost nearly HK$260 million on high-risk financial products is taking a Swiss- based investment bank to court. Chan Wai-yee, 77, says UBS advisers talked her into buying an equity accumulator package just months before last year's market crunch. The High Court writ filed by Chan comes less than a week after 16 Hong Kong banks agreed to buy back Lehman Brothers minibonds at 60-70 percent of their original value. She claims she did not understand the documents she signed because they were in English, and no one from UBS informed her of the risks and nature of the investments. The writ states that Chan was a client of Hang Seng Bank for four decades, and she opened a Prestige account there in January 2003. She was advised on investments by managers Wong Mei- lun and Shirley Cheng. Chan says her nest egg was accumulated through hard work, and she had limited experience in stock investments. As she did not understand English, she relied on advice from Wong and Cheng. She was only interested in low-risk investments because she wanted to preserve her capital, Chan says. So she never went into any risky investments while her money was with Hang Seng Bank. Then, during the market boom in mid-2007, Wong and Cheng left Hang Seng Bank to work for UBS. Chan claims that Wong then approached her and invited her to move her assets to UBS. She signed various documents from time to time to open an account at UBS, but never indicated to Wong, Cheng or any staff member at UBS that she was interested in changing her investment strategy. In June 2007, Chan signed different documents, all in English, that included a client acknowledgement form, an "acceptance to be treated as a professional investor" and a "request for subscription of equity-linked notes and blocs." Chan then transferred shares and cash from her Hang Seng account to UBS, totaling HK$260 million. In September 2007, Chan says, Wong telephoned and persuaded her to buy a financial product known as an UBS OTC Equity Accumulator. She claims to have been "induced" into 25 equity accumulator transactions between September 2007 and February 2008. Last October, a total of nine equity accumulators had not been knocked out, meaning that the stock-price ceiling set in the contract with the bank had not been breached. After taking losses of more than HK$200 million, she told UBS she wanted to terminate all investments. As of July 23 this year, her UBS account balance was only HK$1.6 million. Besides recovering the money, she is seeking interest, damages and costs.
The first contract - worth HK$350 million - to build the infrastructure at the Kai Tak project has gone to the engineering firm Ove Arup & Partners Hong Kong. The Civil Engineering and Development Department said work will begin on Friday and is scheduled to be completed in December 2012. A total of 306 jobs will be created, comprising 243 workers and 63 professional and technical staff. The contract involves building about 2.6 kilometers of road in the Kai Tak north apron area, including traffic control, maintenance and diversion of existing roads and two footbridges. Associated drainage includes box culverts, sewerage and water mains and enhancing and extending existing subways, landscape and environmental mitigation measures. The infrastructure will serve public housing and government office development at Kai Tak. The waterfront site has stood empty since the airport moved to Chek Lap Kok in 1998. The project, which will cost more than HK$100 billion will be completed in three phases. Phase one, to be finished in 2013, includes 13,000 public housing flats, three schools and a government offices. It will also contain the first berth of a cruise terminal, a park and a 200-meter long waterfront promenade. The second phase will see the completion of the second berth of the cruise terminal, underground streets connecting the new development to Kowloon City and San Po Kong, and a heliport. The final phase is due to be completed by 2021. It will include a multipurpose stadium with more than 45,000 seats, sites for residential and commercial development. A metro park is also planned and possibly a monorail and bridge link to Kwun Tong waterfront.

China: The United States and China pledged to work together on a raft of issues from climate change to free trade to Iran as they set the stage for an era of closer co-operation. The mood was upbeat as the Pacific powers wrapped up two days of in-depth talks on Tuesday, with top officials playing at a news conference with a basketball signed by hoops-loving President Barack Obama. But even Secretary of State Hillary Clinton acknowledged that the dialogue was more about ideas than specifics, with the two sides mostly agreeing to hold more talks on a broad swath of issues. "Laying this groundwork may not deliver a lot of concrete achievements immediately, but every step on this path to create confidence and understanding is a very good investment," Mrs Clinton told reporters.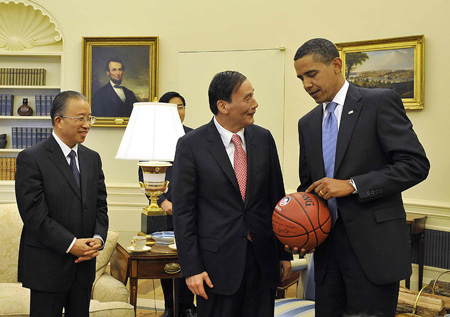 U.S. President Barack Obama (R) presents a basketball to Chinese Vice Premier Wang Qishan (C), special representative of Chinese President Hu Jintao, as Chinese State Councilor Dai Bingguo (L) stands by in the Oval Office of the White House in Washington, on July 28, 2009. Obama met with Chinese Vice Premier Wang Qishan and State Councilor Dai Bingguo, special representatives of Hu, here on Tuesday. Wang Qishan and Dai Bingguo were in Washington to participate the two-day US-China Strategic and Economic Dialogue concluded here on July 28.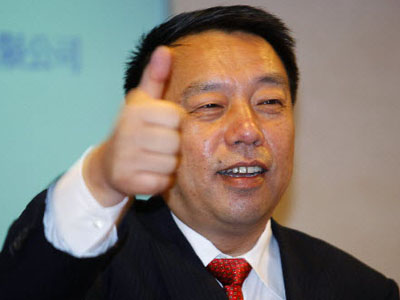 Jiang Weiping, chairman of BBMG Corp signals a thumbs up during their debut at the Hong Kong Stock Exchange on Wednesday. The stronger-than-expected debut for China State Construction Engineering Corp's US$7.3 billion IPO showed mainland's booming markets are drawing investors, but it heightened concerns about a speculative stock market bubble forming. The IPO, the world's largest in a year, surged 56 per cent in its Shanghai debut on Wednesday, while building materials group BBMG Corp enjoyed the strongest listing in Hong Kong this year as ample investor funds chased exposure to Beijing's infrastructure stimulus spending. Despite the strong debut, the mainland's benchmark Shanghai Composite Index fell 5 per cent in its biggest one-day drop this year, after a 90 per cent year-to-date surge that had prompted Beijing to reopen its IPO pipeline last month.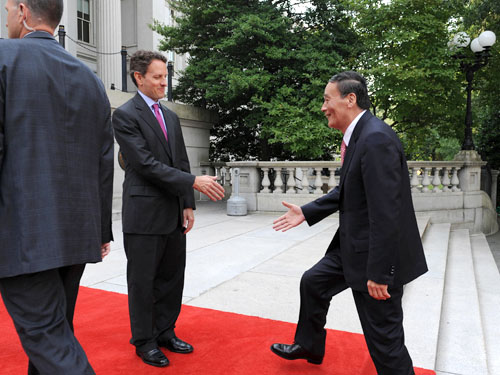 US Treasury Secretary Timothy Geithner greets Vice-Premier Wang Qishan yesterday as he arrives at the Washington headquarters of the Treasury Department. The United States and China are striking a conciliatory tone in their public comments during economic talks, but that has not stopped China from posing pointed questions behind closed doors about such issues as the soaring US budget deficit. The two countries wrapped up two days of high-level talks yesterday, with a joint communique expected that would lay out a work plan for both sides to tackle in future meetings. US Treasury Secretary Timothy Geithner and Secretary of State Hillary Rodham Clinton were leading the US team. The Chinese delegation was led by State Councillor Dai Bingguo and Vice-Premier Wang Qishan. US and Chinese officials played down the prospects of any breakthroughs this week on the major issues that separate the two nations, such as the massive US trade deficit with China, the largest imbalance with any country. US President Barack Obama dispatched his top economic officials - Mr Geithner, National Economic Council director Lawrence Summers, White House budget director Peter Orszag and Federal Reserve Chairman Ben Bernanke - to try to reassure China that the US would not let deficits or inflation jeopardise the value of Chinese investments. US briefers said that the president's team told the Chinese that the US was committed to making sure the economic and monetary stimulus being used to fight the recession did not fuel inflation. US officials said the US side stressed to the Chinese that the United States had a plan to bring the deficit down once the economic crisis had been resolved. They said that Mr Bernanke emphasised that the Fed was being careful to guard against future inflation. The Chinese, who have the largest foreign holdings of US Treasury debt at US$801.5 billion, have been expressing worries that soaring deficits could spark inflation or a sudden drop in the value of the dollar, thus jeopardising their investments. Beijing officials said those concerns were raised during Monday's talks.
Privately run Chinese carrier Spring Airlines aims to boost its fleet of aircraft to 100 by 2015 from just 13 now, and is only looking at adding planes from the Airbus A320 family, its chairman said on Wednesday. Spring Airlines plans to list its shares in Shanghai in the second half of next year to help fund aircraft purchases, Wang Zhenghua told reporters on the sidelines of an event to celebrate the carrier's fourth anniversary. "We are talking to underwriters and financial advisers now and we want to have two or three eventually help handle our A-share IPO," Mr Wang said. He declined to give a fund raising target but said the carrier could have a market capitalisation of 8 billion yuan (HK$9.09 billion), citing an estimate provided by Citigroup in 2006. Spring Air owns only one of its 13 planes currently in operation, but it may own as many as 30 of its aircraft in 2015 when it has a much bigger fleet, he added. Mainland's airline industry was hit hard last year as the global financial crisis dented air travel demand. The country's three major carriers, including Air China (SEHK: 0753, announcements, news) and China Eastern Airlines (SEHK: 0670), all racked up hefty losses. But domestic air traffic has been picking up since the beginning of the year, with June air passenger volume rising 24.6 per cent to 17.72 million, the fastest growth rate in at least three years, according to official data. From January to June, Spring Air carried 1.62 million passengers, up 40 per cent from a year earlier. Its net profit tripled to 41.17 million yuan, with sales up 20 per cent at 894 million yuan, company data showed. For the full year, net profit is estimated at roughly 100 million yuan, up sharply from 21.04 million yuan last year, Mr Wang said. Spring Air, which provides domestic service only, recently received regulatory approval to launch flights to destinations outside the mainland, like Hong Kong, Taiwan, Japan, South Korea, Russia and Southeast Asia. The only other non-state carrier permitted to fly out of mainland is East Star Airlines, which filed for bankruptcy protection in June after it was grounded by the aviation regulator in March.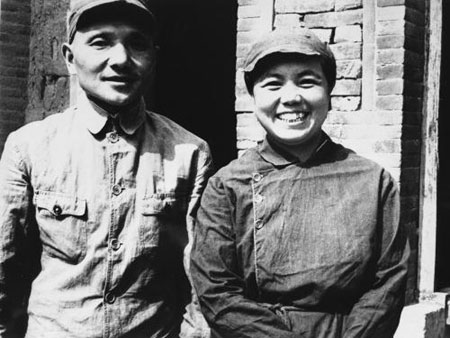 File photo shows Zhuo Lin (R) poses with her husband Deng Xiaoping in the Taihang Mountains, after they married in Yan'an. Zhuo Lin, a former consultant of the Central Military Commission General Office and widow of China's late leader Deng Xiaoping, died of illness at 12:30 p.m. July 29 after medical treatment failed in Beijing, at the age of 93.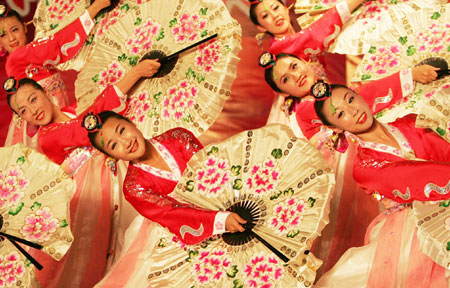 Dancers perform Korean dance during a performance celebrating the 60th anniversary of the founding of the People's Republic of China, in Changchun, capital of northeast China's Jilin Province, July 28, 2009.
July 28 - 29, 2009

Hong Kong: Rich newcomers pump HK$30 billion (US$4 billion) into Hong Kong economy - Wealthy Chinese from China and foreigners who qualified to come to Hong Kong under a special migration scheme have invested more than HK$30 billion in the city in the past six years. Since the Capital Investment Entrant Scheme was launched in October 2003, the SAR has approved 4,350, or more than 55 percent, of the total applications for people to become permanent residents. Forty-five percent of the investments were in stocks and property accounted for 28 percent. The rest were in bonds and other financial products. Besides Chinese nationals who have obtained permanent resident status in a foreign country, the scheme is also open to residents of Macau and Taiwan as well as foreign nationals. One needs to invest at least HK$6.5 million in Hong Kong to qualify. Mainlanders with permanent residency overseas have accounted for 70 percent of all applications since the scheme's launch. Principal immigration officer (visa control) Wong Yin-sang said the financial crisis has affected numbers. An average 500 applications per quarter were received between October 2008 and March this year. However, the pace picked up in the second quarter with 793 applications, close to pre-crisis figures. One of the successful mainland investors spent more than HK$30 million to buy a house in December. The oldest entrant is an 83-year-old Indonesian, while the youngest is a 19-year-old mainlander. The government Quality Migrant Admission Scheme, launched in 2006 to mainly attract mainland talent to become Hongkongers, is no longer limited to musicians, actors, athletes and artists, Wong said. Among the applicants are pharmacology experts and scientists, as well as environmental engineers, recruited by local corporations and overseas companies with offices in Hong Kong. Famous mainland pianists Lang Lang and Li Yundi, Olympic gold medalist- turned-businessman Li Nang and Hollywood star Zhang Ziyi have all become Hong Kong residents under the scheme. More than 3,600 applications have been received for another scheme launched in May last year, the Immigration Arrangements for Non-local Graduates. It aims to allow non-local graduates who have received higher education or other professional qualifications in Hong Kong to work here. More than half of the applicants have completed master's programs and 12 percent hold PhDs, Wong said. Ninety seven percent are mainland students.
The Transport Department said on Monday it planned to install better speed detectors in Hong Kong minibuses after another fatal crash involving one of the vehicles occured at the weekend.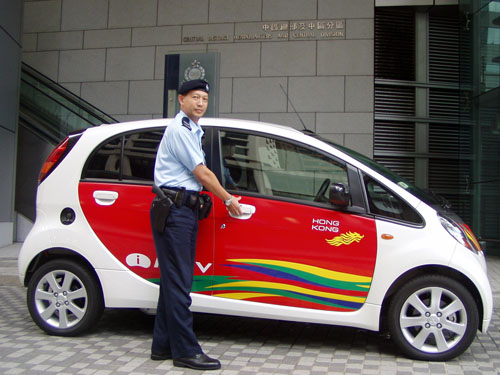 The iMiEV electric car that police will use. Hong Kong is set to be the second place in the world, after Japan, to have electric police cars patrolling the streets by the end of the year. A successful three-week trial this month of Mitsubishi's highly rated electric car, the iMiEV, should ensure they are added to the police fleet when they come into mass production. Some of the cars are already scooting around Kanagawa prefecture in Japan. The iMiEV - short for Mitsubishi innovative electric vehicle - boasts zero emissions by using a lithium-ion battery and an electric motor. It can travel 160 kilometres after an eight-hour charge with a household plug, and has a top speed of 130km/h. The government has been promoting the car's use in Hong Kong since February, when it signed a memorandum of understanding with the carmaker and the distributor. Mitsubishi has agreed to supply 10 of the vehicles to the government from its first batch by the end of this year or early next year, a source said. Three are expected to go to the police fleet as the first step to replacing 500 patrol cars, Senior Inspector Joe Li Tung-cheung, of the police transport division, said. "The test drives have been very satisfactory and we are confident that its performance will be on par with patrol cars," he said, but added that electric cars would not be used as "response vehicles". During the trial, the vehicles were used on patrol duties by police stations in Central and The Peak, but they would probably be deployed to outlying islands and at the border. "Electric cars have advantages on islands such as Cheung Chau and Lamma, where no gas stations are available," Mr Li said. "The minicars can also get through those narrow trails in the New Territories." Mr Li said the 70 to 80 kilometres covered during patrol shifts would not be a problem, and fuel costs would be cut by about two-thirds. Junior Police Officers' Association chairman Chung Kam-wa said the stability of electric vehicles was a concern because electric scooters had broken down.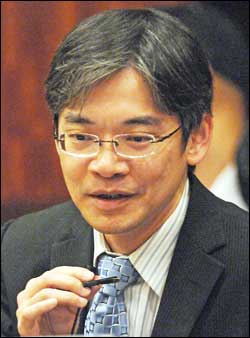 Small urban plots rather than large tracts of land in remote areas should be released by the government for the building of private hospitals. That's the view of medical sector legislator Leung Ka-lau. Speaking on RTHK's Letter to Hong Kong yesterday, Leung said schools left vacant would prove ideal. Instead, the government has suggested sites at Wong Chuk Hang, Tseung Kwan O, Tai Po, and Tung Chung that are too remote and will not attract either investors or patients, he said. Hong Kong Sanatorium & Hospital deputy medical superintendent Kwong Kwok-hay agreed with Leung, saying his hospital had tried to get the old site of Lingnan University on Stubbs Road, but gave up after getting bogged down in government bureaucracy. "The site has been vacant for years. Its location is good for our expansion, as it is rather close to our hospital," Kwong said. "When we asked for the land, we were shuffled from one department to the other, including the Lands Department, the Education Bureau, and the Food and Health Bureau. So we eventually decided to give up. "We would be happy if Dr Leung, as a lawmaker, could help us and push the government to cut the red tape." Leung said common sense dictates private hospitals should be built on convenient sites. Union Hospital manager and medical director Anthony Lee Kai-yiu agreed hospitals should be situated in areas with good transportation facilities, so those who are sick may easily reach them. He said the proposed sites at Tai Po and Tung Chung fail to meet these requirements. Leung also criticized the sizes of the proposed areas, saying they are too big, and will make investment more costly as well as risky. "The four pieces of land being offered by the government range from 2.2 hectares to 4.8 hectares, areas large enough for three to six football fields. No wonder it says such areas cannot be found in the urban areas," he said. "But in reality, land occupied by existing private hospitals range from 0.06 hectares to 0.7 hectares. "Most of the hospitals occupy less than 0.4 hectares. It is quite obvious an area of around 0.5 hectares should be good enough, and there should be plenty of such choices in the urban areas." Lee, however, said some hospitals find their current sites too small, restricting their expansion plans. "St Teresa's Hospital on Prince Edward Road is a typical example. The location is very convenient but the hospital can hardly find more space for expansion," Lee said. Both Lee and Leung criticized the government for suggesting new hospitals limit their charges to an affordable level in order to bid for the new land. "The government seems to have forgotten the new private hospitals are supposed to further develop the medical services industry, and consequently, their charges should be commercially based," Leung said.

China: Per capita consumption in China's urban areas, a key measure of the country's consumer spending, rose 8.9 per cent in the first half of this year compared to a year earlier.
President Hu Jintao sent Taiwan counterpart Ma Ying-jeou a telegram on Monday applauding his election as ruling party chief, the first direct communication between the rival leaders.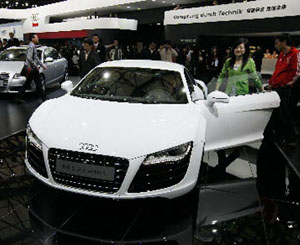 German auto maker Audi plans to open a new plant in mainland in September to meet fast-growing demand for premium cars in the Asian country, state media reported on Monday.
The United States appealed on Monday for far-reaching cooperation with China to combat the global economic crisis ahead of the most in-depth talks between the two sides since Barack Obama's election. Mr Obama was set to inaugurate the two-day dialogue, part of the US president's push to build a broader relationship between the biggest developed and developing economies. With China increasingly uneasy about its massive exposure to the US economy, Secretary of State Hillary Clinton and Treasury Secretary Timothy Geithner made a joint appeal to Beijing to work together to spur global growth. "Simply put, few global problems can be solved by the US or China alone. And few can be solved without the US and China together," Mr Geithner and Mrs Clinton wrote in an article published on Monday in The Wall Street Journal. The duo, who will lead the US side in the talks, argued that measures by Washington and Beijing to create and save jobs helped the world at large weather its worst economic turmoil since the Great Depression. "The success of the world's major economies in blunting the force of the global recession and setting the stage for recovery is due in substantial measure to the bold steps our two nations have taken," they said. "As we move toward recovery, we must take additional steps to lay the foundation for balanced and sustainable growth in the years to come." No major announcements were expected in the Washington talks but a flurry of press briefings could shed some light on the sometimes fraught relationship of the two intertwined goliaths. State Councillor Dai Bingguo and Vice Premier Wang Qishan are heading the Chinese delegation to the "Strategic and Economic Dialogue," which broadens talks with China on the economy set up Mr Obama's predecessor George W. Bush. Charles Freeman, a China expert at the Center for Strategic and International Studies, a Washington think-tank, said the dialogue's main purpose was to build confidence between Washington and Beijing. "While the United States and China have developed an increasingly close relationship over the years, there still remains a fundamental sense of mutual strategic mistrust," Mr Freeman said. The United States, along with close US ally Japan, has voiced concern about Beijing's rapid military build-up; Chinese and US ships have repeatedly confronted each other at sea. Beijing's human rights record has also long been a sore point, with many US lawmakers dismayed over recent ethnic violence in China's Muslim-majority Xinjiang province that left at least 192 people dead. China is the largest creditor to the United States and has voiced growing concern about the fragility of the dollar and the safety of its more than 750 billion dollars invested in US Treasury bonds. Zhu Guangyao, assistant finance minister, told reporters in Beijing that China would press the United States to ensure the safety of its investments. "As an important investor, China is deeply concerned about the US economic situation and hopes the US stimulus policy could make effective progress," Mr Zhu said. He Zhicheng, a senior economist at the Agricultural Bank of China, expected the two sides to talk less about economics than about strategic issues, including Xinjiang. But Mr He said that the economic crisis has weakened US leverage over China. "The US are more dependent on China than during the Bush period," Mr He said. "In the financial crisis, China was in a better position than the US." At the same time, both sides have indicated that long-standing trade and currency frictions will figure prominently in the discussions. The massive US trade deficit with China, Washington's second-largest trading partner, swelled to an all-time high of US$266.3 billion last year and keeps growing. US critics accuse Beijing of keeping its yuan currency artificially low to gain a trade advantage and protect its crucial export sector. The dialogue is also expected to touch on global warming. The United States and China are the world's top carbon emitters and have been at loggerheads in the countdown to a December meeting in Copenhagen aimed at drafting a new global climate treaty.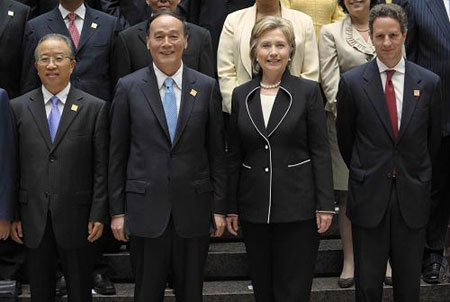 Chinese Vice Premier Wang Qishan (2nd L), State Councilor Dai Bingguo (1st L), U.S. Secretary of State Hillary Clinton (2nd R) and U.S. Treasury Secretary Timothy Geithner (1st R) pose for a photo before the opening of the China-U.S. Strategic and Economic Dialogue (S&ED) in Washington, the United States, July 27, 2009. The China-U.S. Strategic and Economic Dialogue (S&ED), the first of its kind between the world's biggest developing country and biggest developed country, opened here on Monday.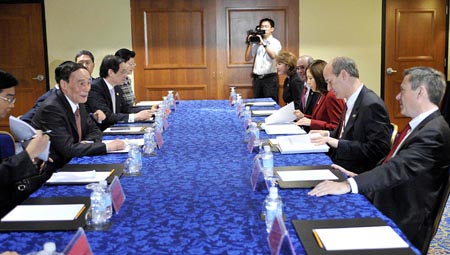 Chinese Vice Premier Wang Qishan (L2) meets with U.S. Congressmen in Washington, D.C., on July 26, 2009, the day before the first round of the China-U.S. Economic and Strategic Dialogue, which is to be held in Washington, D.C. from July 27 to 28.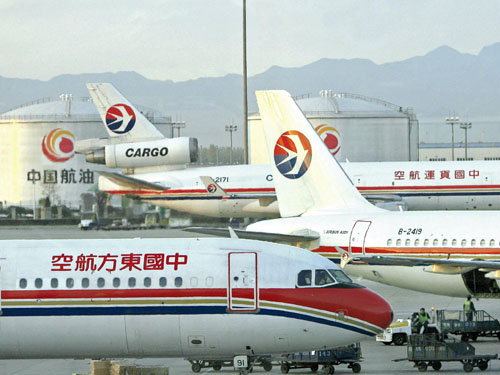 The state-run parent of China Eastern Airlines (SEHK: 0670) swung to a profit in the first half of this year after cutting costs while market conditions improved, the official Shanghai Securities News reported on Monday, citing an internal company meeting. China Eastern Air Holding Co cut controllable costs by 12 per cent, or 113 million yuan (HK$128.38 million), after adopting measures to stem losses, the newspaper said. The listed unit posted a 212.5 million yuan net loss for the first half of last year and a 15.3 billion yuan loss for the full year, based on international accounting standards.
Japan's Mori Building aims to join a new development project in Shanghai to build a shopping complex, while it sees growing signs of recovery in the property market at home, its president said. Mori Building, which completed the Shanghai World Financial Centre last year, also plans to start a daily helicopter service this autumn between Tokyo and Narita airport, president and CEO Minoru Mori said in an interview. "We've also been asked [by Shanghai city] to come up with redevelopment ideas for the post-Shanghai Expo site and airport expansion plans there," said Mori, 75, an influential building tycoon in Japan who was ranked 19th on Forbes list of the nation's richest people this year. The developer of the 492-metre Shanghai World Financial Centre, which at its opening in August last year surpassed the neighbouring Jin Mao Tower as mainland's tallest building, is known for a number of major projects in central Tokyo's Minato-ward.
July 27, 2009

Hong Kong: The Hong Kong Monetary Authority, Hong Kong's central bank, intervened for a second time on Friday, injecting another HK$3.875 billion (US$496.8 million) into the money market to stem an appreciating Hong Kong dollar and keep it within its fixed trading band. By 4.53pm the central bank had injected HK$7.75 billion in total into the market on Friday. The Hong Kong dollar hit the top of its trading band at 7.7500 during the day as money continued to flow into the territory, much of it heading toward the stock market, dealers said. According to data on Reuters page, the latest intervention will lift the aggregate balance – the sum of balances on clearing accounts maintained by banks with the HKMA – to a HK$209.517 billion by July 28. The Hong Kong dollar is pegged at 7.80 to the US dollar but can trade between 7.75 and 7.85. Under the linked exchange rate mechanism, the HKMA is obliged to intervene in the market to keep the trading band intact if the currency hits 7.75 or 7.85. By 4.54pm, it was quoted at 7.7500/01.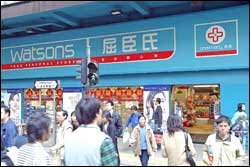 The city's 500 pharmacies and dispensaries may be required to have full-time pharmacists - instead of them being present for just a third of their business hours - under a looming overhaul of the industry. Under current laws, a pharmacy need only have a pharmacist working 6.7 hours if it is open for business 10 hours a day. But members of a top-level committee, formed after a spate of drug contamination blunders that have killed six people, have reached a consensus that fully staffed pharmacies is the way to go, The Standard has been told. The government proposal means dispensaries will have to create an additional shift for a pharmacist. The 20-member committee, chaired by Permanent Secretary for Food and Health Sandra Lee Suk-yee and including representatives from the medical and pharmaceutical sectors, is handling the review that will lead to the first major overhaul of the industry in decades. Iris Chang, a committee member representing the Practising Pharmacists Association of Hong Kong, said there is urgency to reform the licensing requirements of dispensaries and pharmacies because illegal practices are "prevalent especially in smaller outlets." These include the selling of prescription and counterfeit drugs without the knowledge of their pharmacists. She noted that two pharmacists will appear in court today with one facing a charge of possessing counterfeit drugs. Sabrina Chan So-kuen, executive director of the Hong Kong Association of the Pharmaceutical Industry, supports the government initiative requiring pharmacists to be around during drugstores' entire business hours. "It is now very inconvenient for patients as they may not be able to buy the prescription drugs when the pharmacists are not in the store," Chan said. Pharmaceutical Society of Hong Kong president Benjamin Kwong Yiu-sum said more logistical details are being mapped out to make sure dispensaries remain viable if they hire more pharmacists. Chan said she also supports the proposal `in principle' but expressed fears there may not be enough pharmacists to meet a surge in demand. There are only around 1,500 licensed pharmacists in the city. However, the committee is divided over whether at least half of the pharmacies' top management should be registered pharmacists. Chang is batting for pharmacies to be majority owned by registered pharmacists, saying it would be difficult for pharmacists to keep an eye on pharmaceutical items and product sources unless they have full management control. Such a requirement has been adopted for years in the United States, Canada, United Kingdom, Australia and New Zealand, he said. Kwong doubts if having pharmacists as sole owners or majority shareholders would improve business ethics and operations. Under the current system, anyone who sells prescription drugs without doctors' prescriptions or improperly stores products faces a HK$100,000 fine and two years in jail.
Despite more than 2,350 swine influenza cases in Hong Kong, the Leisure and Cultural Services Department said on Friday that children's playrooms could re-open next Monday.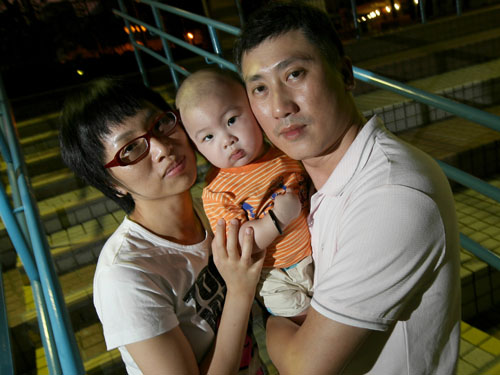 Flora Kwok, who received a liver transplant, and her husband Kelvin Tong with their eight-month-old son Kiu-fung at On Yam Estate, Kwai Chung, where they live. First-time mother Flora Kwok Wing-mui sat feeding her eight-month-old son with a radiant smile, and spoke of her miraculous awakening. Suffering from acute liver failure, Ms Kwok, 34, slipped into a coma late last year, just weeks after giving birth to the boy. She awoke to find she had been given a new lease on life thanks to a liver transplant from a total stranger. "I woke up to a pleasant surprise," she said. "It seems that everything had been pre-ordained." Ms Kwok and 43-year-old husband Kelvin Tong Ka-chun said it was more than a miracle. "It is even more extraordinary than winning the Mark Six," Mr Tong said. "We are so grateful. Not everyone can live long enough to wait for a suitable liver." A hepatitis B carrier from the age of 12, Ms Kwok suffered liver failure three weeks after giving birth in late November. She immediately became the most urgent case in her blood group awaiting a transplant. Her mother was the only one in the family with the same group, but doctors said the 55-year-old was unsuitable because of her age and high blood pressure. After an appeal through the media, a woman, who wished to stay anonymous, came forward. The transplant was in early December. Seven months on, Ms Kwok said she could not yet do heavy physical exercise and needed plenty of rest. But she has no problem walking up and down stairs and carrying the baby, who is now learning to walk. "We are now anticipating the baby's first word," Mr Tong said. They said they had met the donor, a Christian, a few times, and kept in contact. "I am extremely grateful for her selfless act," Ms Kwok said. Mr Tong hoped his wife's case would encourage more strangers to consider donation, despite the risk. "Not only could it save a person's life, but also keep a family whole," he said. Ms Kwok was the second patient to receive liver from a total stranger. Last September, a 19-year-old girl received a donation from a 37-year-old, also a Christian.
Construction of a new MTR line between Admiralty and South Horizons was expected to begin in 2011 and be completed by 2015, the government said on Friday.
The watershed decision forcing banks to pay more than HK$6 billion compensation to Lehman minibond victims has given hope to thousands of investors burned in meltdowns of similar structured products.

A 16-year-old form three schoolgirl on Friday received a three-year jail sentence in the District Court for possessing and trafficking in ketamine.

China: China has set benchmark on-grid tariffs for wind power plants at 0.51, 0.54, 0.58 or 0.61 yuan per kilowatt-hour (kWh) depending on region, the National Development and Reform Commission said on Friday. As in the past, grid firms which pay the premium of wind power prices over on-grid rates for coal-fired plants will be compensated by surcharges levied nationwide on electricity use. China's on-grid tariffs for power generated by five major power generating groups averaged 0.347 yuan per kWh last year, in which rates for coal-fired power plants, the staple of electricity supplies, ranged from less than 0.3 yuan to slightly more than than 0.4 yuan, and output from hydropower stations was below 0.2 yuan. "The standardised rates will help change current inconsistent pricing, foster clear expectations and faciliate investments in the sector," the commission said. On-grid prices for electricity generated in offshore wind power farms will be set separately based on construction progress, the commission said in a release on its website. "The prices will give more insurance to wind power developers," said Wang Haisheng, an analyst at Everbright Securities in Shanghai. "But as China's wind power industry is already saturated, the prices will not give much incentive to attract new comers." Suppliers to China's wind sector include China Wind Systems, China High , Hansen Transmissions, Siemens, Vestas, Suzlon and local leader Goldwind Science & Technology.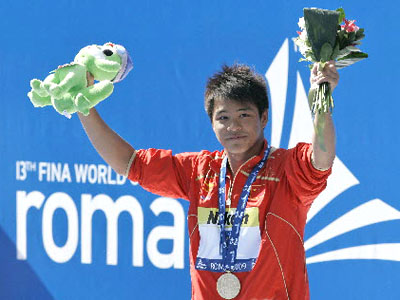 He Chong celebrates winning the gold medal of the men's 3-metre springboard event in Rome on Thursday. Olympic champion He Chong held his nerve on his final dive to take the gold medal at the World Championships in Rome on Thursday. The 22-year-old came into the final round in the lead but picked a trickier dive to perform than his rivals. Although his final dive was not perfect, it was enough to push the US's Troy Dumais and Canadian Alexandre Despatie into second and third respectively. The line-up on the podium was an exact reverse of that at the World Championships in Montreal four years ago.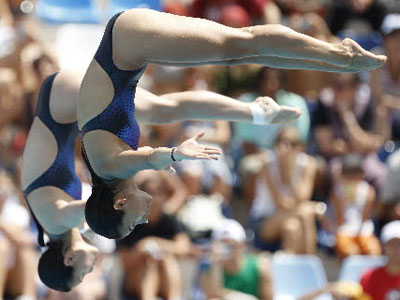 Guo Jingjing and Wu Minxia dive at the women's 3-metre springboard at the FINA World championships in Rome on Thursday.
Zhu Yicai, the chairman of China Yurun Food Group, the mainland's biggest hog processor, sought yesterday to raise as much as HK$961 million from a share placement through Morgan Stanley and UBS.
Alibaba Group, the parent company of mainland e-commerce site Alibaba.com (1688), said it will partner with Bank of China (3988) to provide up to 6 billion yuan (HK$6.8 billion) of loans this year to its beleaguered customers, many of whom are small exporters hit hard by the credit crisis.
July 25 - 26, 2009

Hong Kong: Banks will repay at least HK$6.3 billion to 29,000 people who bought Lehman Brothers minibonds in what is likely to be the world's largest compensation package for retail investors. The agreement involving 16 banks, announced yesterday by the Securities and Futures Commission, means 90 per cent of investors will get back more than 70 per cent of their money from September. This will effectively allow the banks, who were accused of understating the risks of minibonds, to escape regulatory penalties. Individual investors who do not accept the payout can still sue banks. Under the agreement, banks will have to hire independent inspectors to check their internal controls to prevent further mis-selling. "The agreement is a watershed in the regulation of financial services in Hong Kong," SFC chief executive Martin Wheatley said. More than 33,000 Hong Kong investors bought HK$12 billion worth of high-risk Lehman Brothers minibonds that became virtually worthless when the US bank collapsed in September. Angry investors have since lobbied the government through street marches and other protests for the return of their money. Despite their name, minibonds are not corporate bonds but credit-linked derivatives whose worth depends on the health of the underlying assets. While the deal is expected to be accepted by most, about 80 unhappy investors kept up their protests at the SFC's offices. They said the bank payout fell short of the full refunds two brokerages have made to minibond buyers. Sun Hung Kai Financial agreed to fully repay HK$85 million to 310 clients, while KGI Asia fully repaid five clients their HK$1.6 million. Mr Wheatley said the deal was a "reasonable compromise" and pointed out it involved banks repaying more money and more customers than the brokerages. The Hong Kong Monetary Authority and SFC will cease investigating the complaints of investors who accept the payout. The 16 banks are ABN AMRO, Bank of China (Hong Kong), Bank of Communications (SEHK: 3328), Bank of East Asia (SEHK: 0023), Chiyu Banking Corporation, Chong Hing Bank (SEHK: 1111), Citic Ka Wah Bank, Dah Sing (SEHK: 0440) Bank, Fubon Bank (Hong Kong) (SEHK: 0636), Industrial and Commercial Bank of China (SEHK: 1398) (Asia), Mevas Bank, Nanyang Commercial Bank, Public Bank (Hong Kong), Shanghai Commercial Bank, Wing Hang Bank (SEHK: 0302) and Wing Lung Bank. The banks will send letters to investors next month. They will have 60 days to decide if they want to accept the deal. Those aged under 65 will receive 60 per cent of the value of their initial investment. Those over 65 will get 70 per cent back. The banks will also need to repay their combined commission of HK$200 million from selling minibonds to fund legal action to recoup from the liquidators of Lehman Brothers any collateral left in them. Provided the residual value of the collateral is at least 10 per cent, investors will receive at least a further 10 per cent of their initial investment. A banker involved in the negotiations said: "We believe most investors will accept our proposals because they do not have to wait for a long legal process before getting back their investment." HKMA executive director Raymond Li Ling-cheung said the agreement would allow the authority to shift resources to investigate about 9,000 complaints of alleged mis-selling of other investment products.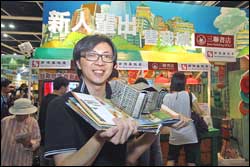 Avid readers and starstruck fans came out in full force for the opening of the 20th Hong Kong Book Fair, forking out huge sums despite the financial crisis. By 4pm yesterday, at least 70,000 people had visited the fair which boasts 10,000 titles from more than 500 exhibitors from 19 countries, said organizer the Trade Development Council. Chief Executive Donald Tsang Yam-kuen led the opening-day crowd at the Hong Kong Convention and Exhibition Centre, spending HK$319 on two books. After opening the fair, he bought In Love With Pandas - The Story of Qing Qing & I, by Ocean Park Conservation Foundation chairwoman Judy Chen Qing; and Hong Kong Pop Up, a book about the city's interesting housing styles by award- winning young illustrator Kit Lau. "The book fair has established itself as a platform for cultural exchange, an occasion for communication and education as well as commerce," Tsang said. "Events such as this are an integral part of our expanding creative industry." The council earmarked two special areas for autograph sessions by stars and teen models promoting their books of photographs, easing fears their presence would prove a distraction. Most people say that the arrangement is satisfactory since it separates starstruck fans from genuine book lovers. But others disagreed. "Animation Fair [another exhibition] might be a more suitable place for them since the book fair is a place for selling books," said 13-year-old Cheng Ka-sin, who nonetheless was seen queueing up for teen model Chrissie Chau's autograph. Avid readers came in droves to enjoy the shopping atmosphere and exclusive discounts. Hui and Cheung, female friends in their 30s, have been visiting the fair for more than 10 years. "There are more books here and there are more discounts," they said. The women said they came to buy fiction books and planned to spend a few thousand dollars this time around. Parents were also prepared to spend despite the economic gloom. Toting wheeled suitcases many searched for cheap books for their children. "The financial tsunami has no influence on my spending at the book fair because we will not pinch on the money spent on the children," a Mrs Lam said. A regular for the past four years, she planned to spend HK$1,500 on Chinese books for her five- year-old son, who studies in an international school. Deputy manager of Joint Publishing Teresa Leung Lai-han said readers spent an average of HK$200, the same as last year. "Maybe the readers have been hungry for books for so long. The summer holiday is longer for many students. So the financial turmoil has had little effect on the sales this year," Leung said.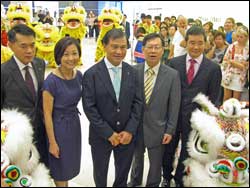 Sun Hung Kai Properties (0016) expects annual rental income from its new shopping mall in Singapore to exceed HK$800 million. The property developer said more than 90 percent of stores at the mall ION Orchard, which is part of its first integrated development project in Singapore, will begin operations in October, according to Sing Tao Daily, sister publication of The Standard. As many as 70 percent of the stores in the development had a trial opening this week. The residential part of the project, Scotts Residences, has only about 30 units left for sale, at prices starting from HK$32.2 million each, said Jimmy Wong Chin-wah, Sun Hung Kai Real Estate Agency executive director. Eighty-four percent - 145 units - have been sold already. The remainder of the units, mostly in middle to high floors, are expected to be sold before June of next year due to the high demand for housing in Singapore. SHKP in partnership with Singapore- listed CapitaLand built the composite project in Orchard Road. The shopping mall will be fully operational in October. About 96 percent of the stores in ION Orchard have been rented, Wong said, and tenants who start business now can get a 70 percent discount on their rents. He is confident of renting 90 percent of the stores by October. ION Orchard is an eight-story mall with gross floor area of 650,000 square feet. It is in the central business area in Singapore and can contain up to 335 stores. Wong believes the shopping mall can attract 200,000 visitors per day. The average rent now stands at about HK$100 psf. He expects rentals of HK$815 million in a 12-month period. The company's IFC mall in Shanghai is to open for business in April next year, with gross floor area of 900,000 sq ft. Nanhai Square II in Foshan is under renovation now. SHKP bought the square in 2006.
First the private jet went, and now a luxury pad on The Peak. An associate of fung shui master Tony Chan Chun-chuen says the house sale has nothing to do with his legal battle over the estate of late property tycoon Nina Wang Kung Yu-sum - which lawyers estimate will cost him tens of millions of dollars. But it is the third property he has sold in five months - and property agents note that he accepted a lower price for the Peak home than a neighbor who sold last month. "Prices of luxury residential are picking up ... it shows he tried to sell as soon as possible," one agent said. Two agents said Mr Chan and his younger brother Bobby Chan Chun-hung bought the three-storey, 5,067 sq ft Peak property - House No3 at Severn 8 - from developer Sun Hung Kai Properties (SEHK: 0016) for HK$167 million in early 2007. The house, in which Bobby Chan had been living, sold in the past few days for HK$230 million, netting a profit of HK$63 million. The agents said the pair accepted HK$45,000 per sq ft, compared with the HK$47,000 per sq ft, for which House 21 in the Severn Road estate sold last month. A business associate of Tony Chan with knowledge of the transaction said the house had been on the market for nearly a year, and the brothers had sold because prices were rising. However, agents said Tony and Bobby Chan had put the house on the market in May along with another at 16 Bowen Road, Mid-Levels. Tony Chan bought that property in 1992 for HK$50 million, the agents said, and had lived there for several years with his wife, Tam Miu-ching. A three-storey house being built on the site is on sale for more than HK$200 million. He sold Sheung Shui and Mid-Levels homes for HK$170 million in February. Tony Chan said during the recently concluded court hearings in his battle with the Chinachem Charitable Foundation that he had sold a private jet he bought in 2006 for US$30 million. The foundation's barrister had pointed to the jet as an example of his lavish lifestyle. The Court of First Instance heard Wang had paid Tony Chan more than HK$2.7 billion, some of which he had used to buy 17 properties.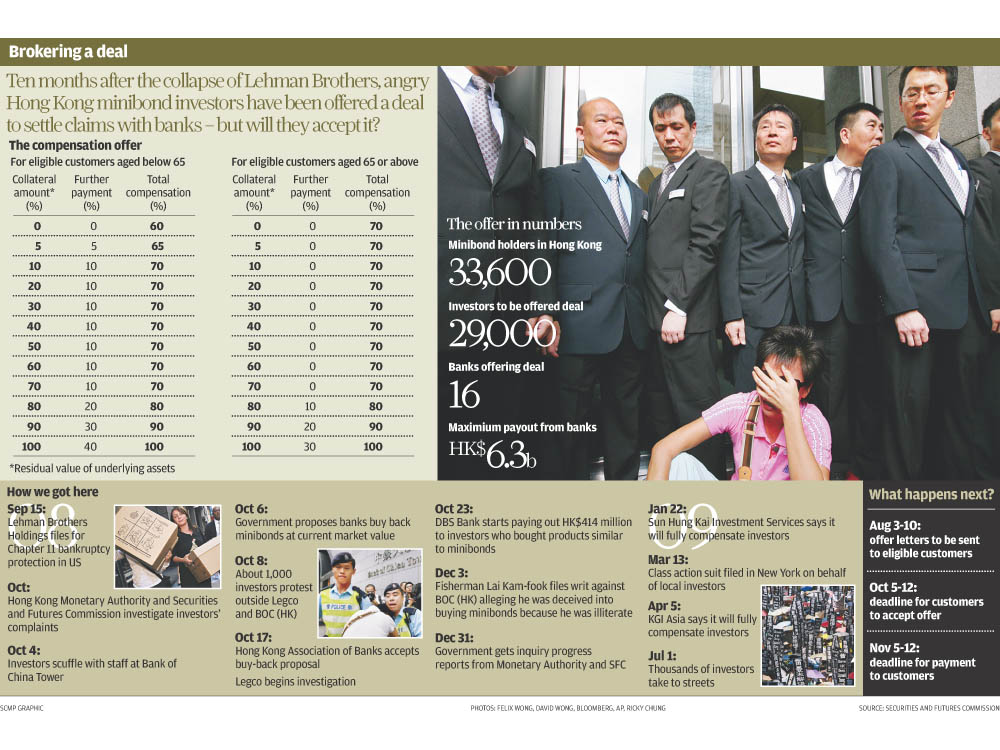 Bank of China (Hong Kong), the biggest distributor of Lehman Brothers' minibond products, is set to lose the most in settling claims with disgruntled investors. BOCHK (SEHK: 2388) said the estimated cost of the repurchase exercise would be about HK$3.19 billion if all eligible customers accepted the offer, almost half of the total HK$6.3 billion package accepted by 16 lenders in the city. Added to provisions made last year, the total cost to BOCHK would be about HK$3.62 billion. Under the agreement with the financial regulators, BOCHK will also commit as much as HK$160 million - the total commission income it received through selling the minibonds - for legal costs to recoup underlying collateral. Investors will be paid an additional amount if the minibonds recover their residual value. The settlement offers an insight into the impact on banks. Ivan Li Sing-yeung, an analyst with Kim Eng Securities, said: "The hits will mean a lot to smaller banks who had aggressively sold minibonds to retail customers. Profits will be hard hit, but the strong core lending businesses in the first half will provide a sufficient cushion." Bank of East Asia (SEHK: 0023), which made provisions of HK$29 million last year for a minibonds settlements, said yesterday that it estimated it would need to pay a maximum of HK$108 million in the repurchase exercise. It would commit up to HK$3.9 million on top of that to fund collateral recoveries, the bank said. BEA chairman David Li Kwok-po said that the repurchase programme would help reinforce public confidence in the banking, financial and regulatory systems. "We will continue to work with the Securities and Futures Commission and the Monetary Authority to maximize the confidence of our customers in Hong Kong's banks, and to ensure that the standards maintained by Hong Kong's banks will be in line with international best practice," he said. Analysts said that compensation losses would be minimised if the market value of the underlying collateral bounced back amid the recent market recovery. Bonnie Lai, an analyst with China Construction Bank (SEHK: 0939) International, said: "The value of the underlying assets will bounce back as the trading in [the] derivatives market becomes more liquid. Some banks may eventually be able to offset the losses they made compensating investors." The credit crunch brought about a liquidity squeeze in the derivatives market, but the rally that began in the second quarter has breathed new life into the financial trading sector, and now banks may suffer less after repaying part of the minibonds' principal to investors. Of the 28 series of minibonds issued by the collapsed Lehman Brothers, 19 have a residual value of about 64 per cent, according to a report conducted by Ernest & Young in November last year. Five recorded a residual value of 0.82 per cent, while the remaining four series had a residual value of less than 13 per cent. Billy Mak Sui-choi, finance professor at Baptist University, said the compensation proposal struck a middle ground between banks and minibond investors who had waited for several months for a resolution. "Aside from cases that involve mis-selling of investment products, the level of compensation is acceptable," he said. "Investors could redeem more than half of their principal, with an upside of getting more from the residual value."
The government says it is willing to pay more than half the costs in a HK$70 million project to convert the historic Haw Par Mansion into a wine centre or banqueting venue. It hopes the sweetener will attract businessmen to invest in the project. But a lawmaker has raised doubts about the plan and a key player in the wine industry says he has no interest. Secretary for Development Carrie Lam Cheng Yuet-ngor said yesterday the government would take account of the financial crisis and pay HK$45 million towards the revitalization project, which calls for investment of HK$70 million. A tender exercise will be launched by the end of the year. The mansion, in Tai Hang, was retained when the Tiger Balm Garden was demolished to make way for a luxury property development. Mrs Lam's bureau has proposed it finance works in the project, which include repairing the building and installing electricity, water supply, access facilities for the disabled and fire-safety devices. The operator will perform these tasks and be reimbursed up to about HK$45 million. The minister defended the proposal of subsidising a business. "It's normal for a landlord to renovate his flat before renting it out. This is market behavior." The mansion needed complex and costly maintenance work, she said. It will be up to the bidder to suggest the building use and monthly rent. The term of the lease had yet to be decided, Mrs Lam said, but it would be more than seven years to enable the operator to recover costs. Considering a lease of 10 years, the future operator would need to recoup around HK$600,000 a month to recover the initial investment. The mansion would not have to be a wine centre, as suggested in the policy address last year, she added, and it could be used for wedding banquets or a restaurant. She said the operator would be required to open parts of the building to the public. "It would not be a private clubhouse." Lawmakers will be consulted next week. Alan Leong Kah-kit of the Civic Party said the government had to explain the rationale behind the cost estimates. "The government has a bad track record of commercial undertaking, as in the deal with Disney. How can it persuade us this will be a good deal?" Gregory De'eb, managing director of Crown Wine Cellars, said he was not interested in turning the mansion into a wine centre. Wine storage space in the basement and alfresco dining areas could be incorporated as part of a community-based facility, he said, but a fine-wine centre did not make much business sense.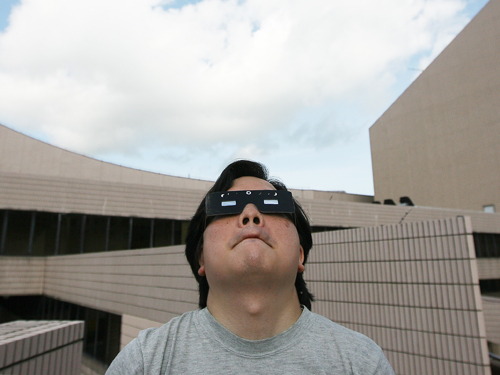 Holding eclipse shades above his glasses and sporting a wide grin, 11-year-old Yenco Man Yin-hang was the first to step on to the observation platform at the Hong Kong Space Museum to view the longest solar eclipse this century. He and his grandfather stood in line from 6am, spending two hours in the morning sun to be the first to get a chance to see that very sun partially eclipsed. "I've never seen one before," Yenco said. "I'm quite excited about astronomy." Across Hong Kong, the young and old gathered yesterday to watch the rare phenomenon - some waking up early, others taking special time off work. At least 1,000 people lined up for the rooftop observation platform at the Space Museum in Tsim Sha Tsui. The museum provided eclipse shades, telescopes and projection devices for safe viewing of the sun, which was 67 per cent obscured by the moon by 9.25am. "The sun becomes the moon. It's funny and beautiful," five-year-old Keith Lai Kiu-chit said. Through the eclipse shades, the sun was a fiery orange ball amid a dark sky, with the moon's curved shadow inching over it. The audience ooh-ed, aah-ed and cheered, some groaning every time a cloud blocked the view, some waving and yelling "bye-bye!" to the moon as the sun emerged whole by 11am. In Tuen Mun, a primary school and the Hong Kong Astronomical Society spent thousands of dollars and prepared for almost four months organizing a similar viewing, which required pre-registration for up to 1,000 people. Many who travelled to the event were unaware of the website pre-registration option. "It would be a pity if we can't see the eclipse," said a woman surnamed Tam, who woke up at 6am and drove for 45 minutes to stand in line with her family. "My daughter wants to tell her teacher after seeing it." Some who could not enter these events or buy filters simply turned the naked eye to the sun or looked at reflections of it, ignoring experts' warnings of eye damage. The Hong Kong Eye Hospital set up a hotline for those concerned about experiencing symptoms. Symptoms of damage include blurred vision, central visual field loss, seeing an after-image, and reddening of the image. As of yesterday evening, the hotline had received six inquiries. "All are trifling cases for now, not serious," a spokesman for Chinese University's department of ophthalmology and visual sciences said. At the Space Museum, visitors were limited to 15 minutes on the top deck. resulting in many pleading with staff to be allowed to take the eclipse shades with them when they left. Those who arrived after the queue quota was filled had to go to a separate room and watch a live broadcast of the mainland's total solar eclipse instead.
The government has axed Chief Executive Donald Tsang Yam-kuen's idea of turning the 74-year-old Haw Par Mansion over to the wine industry and will call for tenders for its preservation and future use. Secretary for Development Carrie Lam Cheng Yuet-ngor said the government is now more open-minded about the use of the historical mansion on the Tiger Balm Garden complex. The mansion has remained vacant since being surrendered to the government in 2001. "We have come up with different ideas for the commercial use of the mansion, such as an event venue for Chinese-style wedding celebrations and banquets, or even restaurants," Lam said. "However, it is best left to the market to decide." The issue will be discussed by the Legislative Council's development panel on Tuesday, its last meeting before the summer recess. The three-story Haw Par Mansion was built on a 2,030-square-meter site and includes a 1,290sqm private garden. It was built in 1935 by Aw Boon Haw, who perfected Tiger Balm heat rub, for the princely sum at the time of HK$16 million. The government now says it has decided not to put the mansion under its regular revitalization scheme, and will instead invite proposals through a public tender. This will provide "greater diversity" to the mansion's heritage revitalization work while adding to the potential commercial value to the building. Lam admitted the renovation would be expensive, with the basic upgrading works costing HK$45 million. This includes connecting electricity, water pipes, maintenance of the mansion, structural strengthening, installation of fire service facilities and access for the disabled. She said the delay in the building's revitalization plan was due to the financial tsunami and poor market sentiment. Under the proposed arrangement, the government will cap its renovation costs at HK$45 million, with the successful bidder paying the balance. The bidder will enjoy more flexibility in the renovation of the mansion and have more certainty about its investment. Lam insisted the government will retain ownership on the heritage of the building. It will carefully assess the proposals put forward by the bidders to achieve proper conservation and will not be guided purely by commercial considerations, Lam said. "We consider that it is not a desirable option to turn Haw Par Mansion into a boutique hotel, considering its location and the size of the building," she said. "The mansion isn't spacious enough to turn into a hotel, and we think tourists will not be interested in spending a night on Tai Hang Road [a residential area]."

China: Beijing is willing to discuss ethnic unrest in Xinjiang with Washington if the US raises the issue at high-level talks next week, a vice-minister of foreign affairs said yesterday.
Watching from a statue of Houyi, a legendary hero, silhouetted against a partial eclipse in Shanxi. The skies above Shanghai began to darken just after 9am, but it was not clear if this was due to the solar eclipse or the massive rainstorm that coincided with the cosmic alignment. The heavens opened a few minutes before totality was due, drenching thousands of hopeful sun-gazers, many of whom had been waiting for hours or travelled long distances. Bang on cue, at 9.36am, the entire city was plunged into almost six minutes of total darkness. The thick cloud cover and unrelenting rain meant the sun and the moon never put in an appearance, but that did not deter eager spectators from crowding onto pavements and into public parks to take part in a once-in-a-lifetime experience. All along the Bund, the city's iconic colonial riverfront, people poured out of offices and shops to huddle under umbrellas and in doorways staring across the Huangpu River at the suddenly darkened silhouettes of the financial district. "It's even darker than nighttime," one spectator cried out as the gloom set in. "There isn't even a single star." But for most, the longest solar eclipse of the century was an anticlimax. "We got up at 5am and have been waiting here since 7am," said Zhang Wen , who was there with his wife. "The weather wasn't too bad when we first arrived, and there were occasional glimpses of the sun. But then, at the crucial moment, the clouds closed in and we couldn't see anything. It's a real disappointment." In the end, a few glimpses of a partially eclipsed sun were all that city residents were able to snatch, some time after the full eclipse had passed. But even if it was not directly visible, the eclipse brought its fair share of chaos to the city. Hundreds of car accidents were reported during the abnormal darkness - even though local authorities switched on street lights on main roads and placed extra traffic police on patrol. Shanghai was the last major city to fall under the moon's shadow before it raced out across the ocean. It had crossed into Tibet from Bhutan 30 minutes earlier, before sweeping over more than 40 mainland cities. From the Himalayan foothills, the arc passed over the whole Yangtze River basin - one of the most populated regions on the planet - making this probably the most-witnessed eclipse in human history. From Chengdu to Hangzhou, millions got out their safety specs and cameras to take part in the phenomenon. But as in Shanghai, the weather just refused to play ball in most areas. Spectators in Chongqing fared better than most, with clear views of the eclipse breaking through the patchy cloud cover. A group of true eclipse enthusiasts had decided not to leave it to chance. They boarded a specially chartered aircraft in Chongqing and chased the lunar shadow from above the clouds. Other enthusiasts boarded scheduled flights travelling eastwards along the Yangtze during the eclipse. Tao Ying, a reporter for the West China City Daily, said the pilots of her Sichuan Airlines flight from Chengdu to Shanghai had circled during the eclipse so that all the passengers had a chance to see it. "Most of us saw a partial eclipse that was very clear, and the passengers were very excited," she said. "Only a small minority were on board solely for viewing the eclipse. Most of them were on a business trip or travelling, but they were all prepared with safety glasses."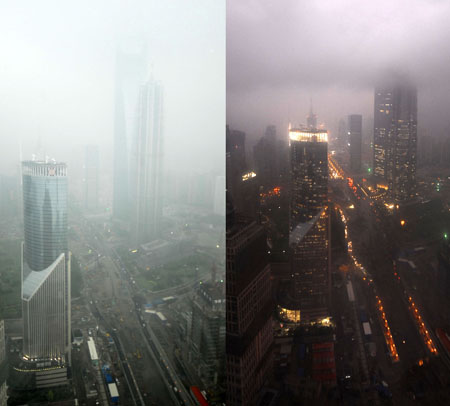 Combo photo taken on July 22, 2009 shows the landscape of Shanghai before (L) and during the full solar eclipse occurring over east China's Shanghai. As full solar eclipse occured, the city illumination of main roads and airports were switched on for safe traffic.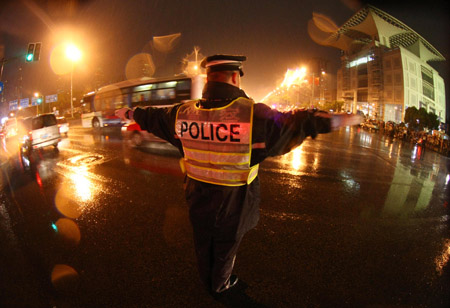 A traffic policeman works on the illuminated road when full solar eclipse occurred over east China's Shanghai, July 22, 2009. As full solar eclipse occured, the city illumination of main roads and airports were switched on for safe traffic.
The Shanghai municipal government plans to give district-level authorities the power to clear foreign investment projects with an investment of up to 100 million U.S. dollars from August 1, up from the previous threshold of 30 million U.S. dollars. The move is expected to attract more foreign investment to Shanghai, which aims to position itself as a global financial center, said Thursday's China Daily. Sha Hailin, director of Shanghai Municipal Commission of Commerce (SCOFCOM), said foreign investors have set up 16 regional headquarters, five investment companies, and 10 research and development centers this year, taking the total number of international companies in the city to 708. As the biggest industrial and financial metropolis in the mainland, the city has taken a much heavier toll from the financial crisis as its economy is largely dependent on foreign firms, the newspaper said. The city posted a year-on-year growth of 5.6 percent in gross domestic product in the first half of the year, which was lower than the national average increase of 7.1 percent during the same period, according to the newspaper. test data from SCOFCOM show that Shanghai attracted 5.15 billion U.S. dollars of foreign investment during the first six months of this year, up 2.5 percent from the same period last year.
The Chinese government adopted Wednesday a plan to promote the country's cultural industry, which encourages private and foreign capital to flow into the industry. The plan was discussed and adopted in a meeting of the State Council, or Cabinet, presided over by Premier Wen Jiabao. A statement of the meeting pointed out, "During the current financial meltdown, the cultural industry's development is significant in meeting with people's cultural needs, expanding domestic demand and consumption and promoting economic restructuring." "Market access threshold should be lowered to encourage private and foreign capital to enter the cultural fields that the government permits and let them take part in state enterprises' share-holding reform," it said. More efforts were needed to develop key sectors such as cultural innovation, film production, publication, advertisement, entertainment, exhibition, digital content and animation, it said. It added that multimedia broadcasting and Web and mobile TV should be actively promoted to upgrade the industry. Cultural products and services should be improved to adapt to the needs of rural and urban residents, the meeting heard, adding trans-regional integration of cable television network, cinema lines, digital cinemas and publications should be enhanced. Government investment in the industry should be increased. More talents should be trained. Taxation and financial policies as well as legal and market environment should be improved to support its development," it said.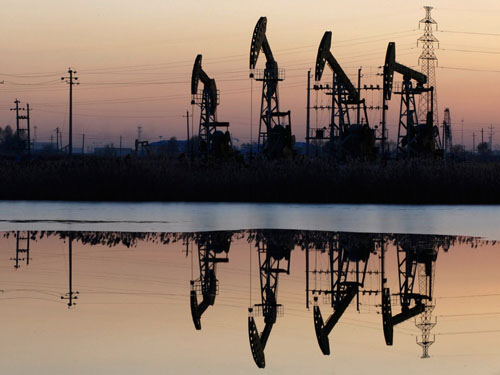 Mainland refiners posted a profit of 45.4 billion yuan in the first half, compared with a loss of 57.2 billion yuan a year earlier. China Petroleum & Chemical Corp (Sinopec (SEHK: 0386)), the country's second-largest producer of oil and gas and Asia's largest oil refiner, saw its share price rise as much as 7.04 per cent yesterday after brokerages issued bullish forecasts of its first-half profit. The company is expected by four analysts to post a year-on-year net profit increase of 167.6 to 203 per cent for the first six months of this year. The forecasts were made on Tuesday, when Sinopec announced operational data showing a marked improvement in refining throughput on higher fuel demand, largely propelled by higher passenger car sales. The most optimistic forecast was made by Nomura Securities, which was looking for a more than 200 per cent jump in net profit. Bank of America-Merrill Lynch estimated second-quarter earnings at 18 fen (20.42 HK cents) per share. This is equivalent to a net profit of 15.6 billion yuan, according to calculations by the South China Morning Post (SEHK: 0583) , 7.1 times the profit a year earlier. Adding first-quarter net profit of 11.19 billion yuan, the forecast for first-half net profit is 26.8 billion yuan, up 184.7 per cent year on year. Mirae Asset Securities head of regional energy research Gordon Kwan projected Sinopec would post second-quarter net profit of 14 billion yuan and first-half profit of 25.19 billion yuan, making a 167.6 per cent year-on-year gain. The improvement was largely thanks to a marked turnaround of its refining division on the back of three retail fuel price rises in the half. In last year's first half, fuel prices were raised only once despite a surge in crude oil prices, resulting in huge losses for refiners. Mr Kwan said a key determinant for second-half profit was refining profit margin, which depended on oil prices and Beijing's price policies. The central government implemented a new pricing system in December last year that aimed to give "reasonable" profit margins to refiners as long as crude prices stayed below US$80 a barrel. "If profit margin remains as good as the second quarter in the second half, with sales volume growth accelerating, we could see consensus earnings estimates moving higher," Mr Kwan wrote. Sinopec's share price ended yesterday 3.76 per cent higher at HK$6.63. Separately, the National Development and Reform Commission said in a statement that the country's oil and gas production sector recorded a 75.8 per cent fall in profit to 49.4 billion yuan in the half, while the refining sector posted a profit of 45.4 billion yuan, compared with a loss of 57.2 billion yuan a year earlier.
China fledgling 3G mobile network is struggling to attract customers as the homegrown technology used to run a part of the system remains incompatible with many mobile phones.
Chery Automobile, which makes the QQ minicar, is going ahead with plans to list in either Hong Kong or Shanghai after the mainland regulator ended a nine-month moratorium on new share sales.
A Chinese pharmaceutical firm is using volunteers for a two-month test of the first domestically produced vaccine against human swine flu (H1N1). Hualan Biological Engineering completed the vaccine last month and is trying it out on more than 2,000 volunteers in Taizhou city, Jiangsu. The vaccine could hit the market in September if trials succeed. Hualan could make 600,000 doses daily.
July 24, 2009

Hong Kong: Hong Kong would invest in more convention and exhibition infrastructure, Chief Executive Donald Tsang Yam-kuen said on Wednesday morning.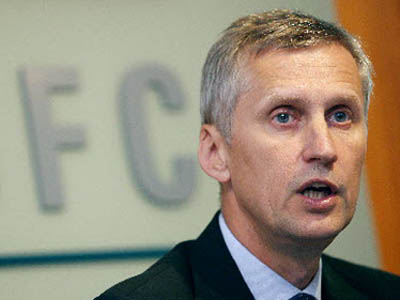 Martin Wheatley, chief executive of the Hong Kong Securities and Futures Commission( SFC) announces a buy-back scheme for minibond investors in Central on Wednesday. The Securities and Futures Commission (SFC) said on Wednesday most minibond investors who suffered losses when Lehman Brothers went bankrupt, could recoup up to 70 per cent of their money. SFC chief executive Martin Wheatley announced on Wednesday that the commission had reached an agreement with the Hong Kong Monetary Authority and 16 banks. He said they had agreed to re-purchase Lehman Brothers minibonds from eligible investors in a scheme that will be implemented in two stages. During the first stage, the banks will re-purchase minibonds at a price equal to 60 per cent of the original principals for investors below the age of 65, or 70 per cent for those 65 or above.
Customs officers yesterday said they seized 196 kilograms of ketamine with a street value of HK$23 million at the airport, amid government concern of a spike in the use of the party drug. The shipment arrived from Bombay on July 11, with its contents marked as "bags" which roused the suspicion of officers. It is the second largest ketamine trafficking attempt to be foiled in Hong Kong. Customs group head (drug investigation) Wong Sui- cheung said usually goods of higher value are transported by air, adding many drug trafficking attempts foiled in the past were from India. X-rays showed the boxes containing the 196kg of ketamine, 6kg of rice and 5kg of sugar. Wong said mixing sugar with ketamine increases its weight and is a common practice for street sales. Group head (air cargo) Wong Hung-san said it is not surprising for drug traffickers to use Hong Kong as a stopover because of its well-developed transportation network.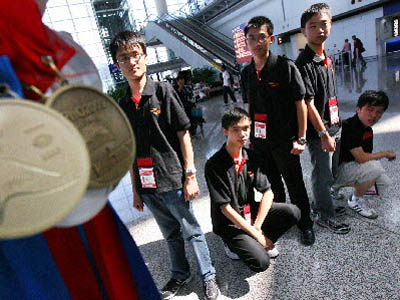 Medal winners: Hong Kong form six students pose with their medals at Hong Kong International Airport after returning home from the 40th International Physics Olympiad in Mexico, Five Hong Kong secondary school pupils won medals at a prestigious international physics competition, giving the territory its best-ever results since it began competing in 2004, a government spokesman said on Wednesday. The five secondary six pupils, competing in the 40th International Physics Olympia held in Merida, Mexico, from July 11 to 19, won a gold, two silver and two bronze medals.The 2009 competition attracted more than 400 contestants from about 96 countries and regions. The five Hong Kong pupils returned home on Wednesday. Yu Lik-hang of S.K.H. Lam Woo Memorial Secondary School, who won first prize in the Pan-Pearl River Delta Physics Olympiad in February, won Hong Kong's gold medal. He told SCMP.com he was surprised to win a gold medal, but loved physics because of an inspiring class teacher. "It is closely related to daily life," Yu Lik-hang added. Professor Wong Kwok-yee of the Department of Physics at Hong Kong University of Science and Technology (HKUST) helped train the team. He was also in Mexico to support them. He told SCMP.com some of the questions were as difficult as those asked at university level. "This proves Hong Kong pupils are comparable with those in other regions," he said. Sing Yin Secondary School's Jeffrey Poon Ting-fung and Lam Kin won silver medals. Yeung Wing-ki of S.T.F.A. Leung Kau Kui College and Lee Tak-yan of S.K.H. Lam Woo Memorial Secondary School brought home bronze medals. About 60 pupils were selected from the Hong Kong Physics Olympiad. They received a year of training provided by HKUST, the Education Bureau and the Hong Kong Academy for Gifted Education. Only five were selected to represent Hong Kong. The syllabus of the Physics Olympiad covers questions on mechanics, thermodynamics, molecular physics, electric and magnetic fields, matter, some quantum physics and relativity. Each participating country or region sends a team of five pupils. They are expected to solve theoretical and experimental physics problems. Medals are awarded according to number of marks scored by participants in the examination papers. Every year, approximately 50 per cent of contestants win gold, silver or bronze medals, with only eight per cent of contestants taking home a gold one. In the last five years, Hong Kong teams had won three gold, six silver, 12 bronze medals and three honourable mentions in five years. Hong Kong students continually perform well in international maths and physics competitions, frequently winning them. Secondary schools in the territory place considerable emphasis on science and mathematics. Examinations in these subjects are often very demanding. The annual International Physics Olympiad was first held in Warsaw, Poland in 1967 for secondary students.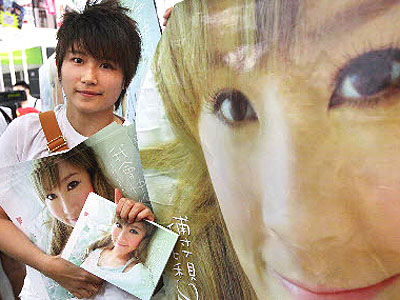 A fan shows the posters and new book by Canto-pop singer Theresa Fu Wing's at the 20th Hong Kong Book Fair which opens on Wednesday. Crowds of young people on Wednesday morning flocked to booths at the Hong Kong book fair – after it opened at 9am at the Hong Kong Exhibition and Convention Centre at Wanchai. Teenagers eagerly snapped up books in Chinese and English. Many were particularly enthusiastic about finding celebrity books and photo albums, local television footage showed. Some said they had been queuing up outside the venue for several days, even when the typhoon signal No 9 was hoisted on Sunday. One girl said she bought 80 photograph albums of Canto-pop singer Theresa Fu Wing. These had cost her HK$4,352, local television reported. Others rushed to queue up for tickets for autograph sessions. Well-known Hong Kong celebrities and writers will visit the fair during the seven-day period to give talks and sign books.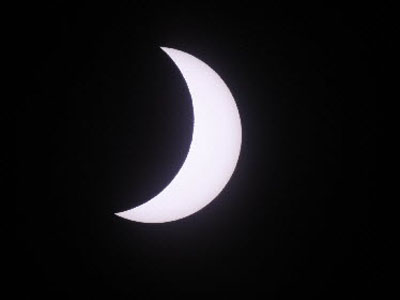 The moon covers the sun during a partial solar eclipse in Hong Kong on Wednesday. Hong Kong citizens were able to enjoy a long-awaited partial solar eclipse on Wednesday morning – as the moon moved between the earth and the sun, blocking its rays. It was the most complete solar eclipse observed in the territory for more than 50 years. The event started at 8.15am and ended at 10.46am. The weather was fine with some clouds, but most observers still had a clear view. The height of the eclipse occurred at 9.26am. At that time, approximately three quarters of the sun was obscured by the moon. The Hong Kong Observatory recorded a slight drop in the ultraviolet light index and in the temperature as measured at the King's Park Meteorological Station. A special observation was held at Po Leung Kuk Leung Chow Shun Kam Primary school in Tuen Mun. It was jointly organised by The Hong Kong Astronomical Society and the National Astronomical Observatories – part of the Chinese Academy of Sciences. Television footage showed hundreds of spectators visiting the Tuen Mun school, where they were able to view the eclipse through telescopes provided by staff. Some had prepared light-filtering equipment, using paper, cardboard or aluminium foil, allowing them to view the eclipse without being dazzled by the sun's rays. "I bought a basket with some holes in to observe the eclipse. It was suggested by a programme on television," one woman told local media. Hong Kong's television stations broadcast the whole process. The Hong Kong Space Museum opened early at 7am to provide telescopes and projection equipment. "People queued-up before the museum opened its doors. We recorded over 2,000 visitors on Wednesday morning," a spokeswoman told SCMP.com. "If anyone missed this morning's solar eclipse, the next one here will not be until January 15, 2010. "But it will only be visible only as a partial eclipse," an Observatory spokesman revealed. The eclipse could be seen from across Asia, with sightings reported in India, Nepal, Japan and in the mainland.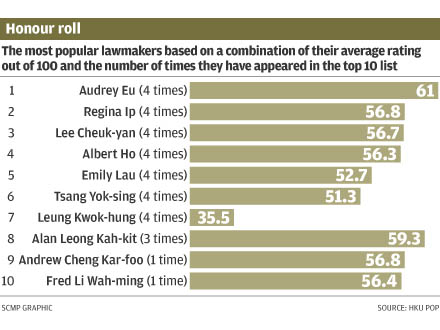 Rookie lawmaker Regina Ip Lau Suk-yee has been ranked the second most popular lawmaker for the past legislative session - a remarkable turnaround for a woman who was the most unpopular principal official six years ago. The University of Hong Kong released its latest poll results on the popularity of lawmakers yesterday, revealing an increase of 4.3 marks for Mrs Ip since the last survey in April, taking her to 60.9 marks. She has been in the top 10 in all four surveys in the past year, with an average of 56.8 marks, leaving her in second place overall. Civic Party leader Audrey Eu Yuet-mee, who was also in the top 10 in all four surveys and had an average rating of 61 marks, was the most popular lawmaker. Filling out the top five were unionist lawmaker Lee Cheuk-yan, Democratic Party chairman Albert Ho Chun-yan and its vice-chairwoman, Emily Lau Wai-hing. Legco president Tsang Yok-sing was sixth, followed by two lawmakers from the League of Social Democrats - Wong Yuk-man and Leung Kwok-hung. In July 2003 Mrs Ip was given a rating of 34.6 marks, a plunge of 18.4 marks on the previous month, making her the most unpopular principal official as she felt the public's wrath for her hard-sell of the unpopular national security bill while secretary for security. Mrs Ip resigned that year and went to study at Stanford University in California. But she returned to politics last year as an independent lawmaker for Hong Kong Island. Yesterday Mrs Ip said she had not studied the poll but found the result very gratifying. "I have worked very hard, and from the reaction I see from the public every day, they do warm to me ... I receive letters of appreciation. I'm glad my efforts have been recognised," she said. Mrs Ip had always stated she wanted to be an independent voice in Legco, and said this seemed to have paid dividends. "In my experience in the past nine months, I do think there is a market for independent lawmakers." A City University political analyst, James Sung Lap-kung, said he was not surprised and agreed she had performed well over the past year. "She has an advantage over the other lawmakers since she starts with a blank slate. But at the same time, she has the advantage of being a former top official, and so when she asks questions she can really hit the mark," he said. "But next year will be much harder for her, especially as she will have to take a stance during the consultation for constitutional development." The rankings were previously topped by Rita Fan Hsu Lai-tai when she was Legco president, with Liberal Party lawmakers James Tien Pei-chun and Selina Chow Liang Shuk-yee second and third. But Mrs Fan did not seek re-election last year and Mr Tien and Mrs Chow lost at the polls. Respondents were first asked to name a number of lawmakers, then rank the top 12. There were 1,010 respondents to the latest survey, which had a margin of error of 1.8 percentage points.
A large number of long-awaited "mega projects" is poised to move from drawing boards to construction sites in Hong Kong and no fewer than 40 smaller projects will commence in earnest next year, including escalators, walkways, road improvements, sewers and the replacement of 3,000 kilometers of water mains. The explosion of activity looks set to begin a watershed decade for Hong Kong's infrastructure development. To illustrate the sheer scale of upcoming public works, a useful comparison can be made with the Airport Core Programme of the 1990s, Hong Kong's largest infrastructure project to date. In the next few years, according to Secretary for Development Carrie Lam Cheng Yuet-ngor, infrastructure spending could rise from a recent low of HK$20 billion to reach HK$50 billion annually and we could see close to HK$300 billion spent between next year and 2019. This sum will dwarf the Airport Core Programme's total cost of HK$160 billion, even accounting for inflationary pressures. As such, the next decade looks set to witness the largest development programme in Hong Kong's history. Despite the timing, labelling the so-called Ten Mega Projects "stimulus measures" is inaccurate. They were originally proposed in October 2007, when the economy was booming, and should instead be considered an exercise in catching up after 10 years of infrastructure stagnation and under-spending. With the mainland in the ascendant when it comes to appealing to foreign investors, the Hong Kong government rightly recognises the importance of competitiveness, connectivity and relevance to China, and responded with 2007's impressive shopping list of major infrastructure improvements. Yet as with any massive use of public funds, there must be some probing questions. For example, will the government's works programme succeed in overcoming the impediments that have thwarted large-scale development in Hong Kong over the last decade? Also, will this massive spending genuinely enhance Hong Kong's competitiveness, as illustrated by tangible economic benefits? Regarding historic impediments, the recession may provide a smoother passage through the Legislative Council for large infrastructure projects, since they provide needed jobs and economic stimulus. As the economy warms, however, and unemployment becomes less of a political issue, Legco may revert to its traditional role as a "party of opposition", challenging the government at every turn. Considering the sheer scale and diversity of projects on the drawing boards, however, administrative streamlining, project management and co-ordination must aim to synchronise progressive development in a manner similar to the New Airport Projects Co-ordination Office. Never a glamorous industry, construction will also suffer as the economy picks up, since graduates will again covet office jobs in finance or professional services. While significant slumps in development in the Middle East and Macau will likely fuel a return of experienced, silver-haired engineers and development consultants, a stagnant and ageing site workforce may struggle to cope with such a major works programme, possibly leading to the need for imported labour, reminiscent of the Airport Core Program. This is particularly true in demanding specialist fields - such as tunnelling - where locally based expertise is thin on the ground, and in turn could lead to disputes with local trade union representatives. From an economic perspective, some critics may decry the government's failure to provide adequate proof of return on the massive public funds investment. But with Guangdong developing so rapidly, Hong Kong has no choice but to keep pace to avoid the risk of being supplanted by rivals. Infrastructure development, and seamless "super-connectivity" with the mainland and beyond, should therefore be viewed as a prudent insurance policy to guard our position of comparative advantage in traditional roles such as logistics, trade, aviation and shipping. Overall, infrastructure development represents a necessary investment in the foundations of our future prosperity (SEHK: 0803) , as cost benefit analysis supports future gross domestic product growth. This will occur directly, through provision of construction jobs and opportunities for the myriad associated development sectors, and indirectly, by better facilitating trade, tourism and remote manufacturing. Yet despite such an expansive and complex development decade ahead, there is a risk that historic impediments may resurface. Hong Kong must never again be allowed to lurch from infrastructure feast to famine, and future major development planning must stretch not just 10 years, but towards a vision for Hong Kong 20 to 30 years ahead.

China: China remains cautious about the industrial outlook for the rest of the year even though a recovery is under way, a government official said on Wednesday.

Yang Jiechi and other foreign ministers join hands at the start of the 42nd Asean summit in Phuket, Thailand on Wednesday. Beijing urged East Asian countries to use the global economic crisis to boost regional trade on Wednesday and get a US$120 billion liquidity fund in place by the end of the year. Foreign Minister Yang Jiechi told a meeting of the Association of South East Asian Nations (Asean), Japan, South Korea and the mainland to boost economic co-operation and move faster to set up the currency swap deal – known as the Chiang Mai Initiative. "The measures we have each taken to meet the crisis have produced initial results and we have seen signs of confidence returning to global financial markets," Mr Yang said in a speech to his counterparts in Phuket. "We should turn the crisis into an opportunity for deepening financial cooperation... and vigorously intensify co-operation among finance departments, central banks and financial regulatory authorities." In May the 10-member Asean joined Japan, South Korea and the mainland in agreeing to launch the US$120 billion currency pool, the first such facility in the region to be governed internally. The scheme is an upgrade of an agreement launched in the Thai town of Chiang Mai in 2000 between the 13 countries to help avoid a repeat of the 1997-1998 Asian financial crisis. The initiative expands an existing network of mostly bilateral currency swap arrangements between Asean and Japan, South Korea and the mainland. Mr Yang said East Asian nations should rely on each other to revive their economies and reduce "external dependence". "We should bring into full play the role of the bilateral currency swap agreements and enhance the capacity of countries in the region to fend-off financial risks," he added. The Beijing-Asean bilateral trade is worth US$231.1 billion, with two-way investment around US$60 billion. Asean comprises Malaysia, Thailand, Singapore, Indonesia, Vietnam, Cambodia, Brunei, Laos, Philippines and Myanmar.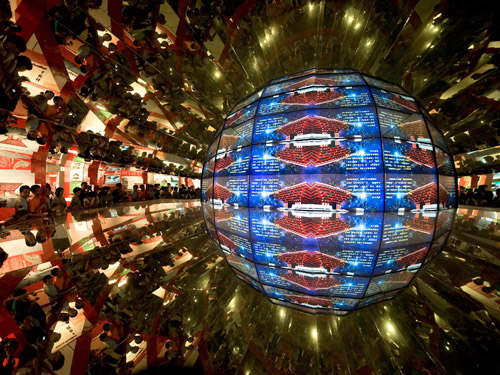 Visitors to an exhibition in Beijing are reflected in mirrors forming a sphere that will be displayed at the China pavilion at the Shanghai World Expo 2010. Meanwhile, Expo organisers have returned sponsorship funds of 200 million yuan (HK$227 million) to a tobacco firm. The Shanghai World Expo 2010 has handed back 200 million yuan (HK$227 million) in sponsorship funds from a tobacco company, state media reports. If confirmed, the move would be a major coup for anti-smoking activists on the mainland, who have been pressuring authorities to live up to their commitments to international health treaties. The Southern Metropolis News reported yesterday that the Expo organising committee had decided to return the Shanghai Tobacco Group's contribution to the China national pavilion to promote a "healthy World Expo". The paper quoted anonymous sources in the Expo bureau as saying the decision had been reached in a document ruling out gifts from firms linked to the tobacco industry. When the Shanghai Tobacco Group made the donation in May, it was the largest single contribution the national pavilion had received since fund-raising began in 2007. No one at the Expo organising bureau could be reached for comment, and no announcement that the sponsorship money had been returned was on the fair's website. However, the company is no longer listed among the fair's 13 global partners, 12 senior partners or 14 project sponsors on either the Chinese or English versions of the site. Campaigners submitted a petition to the Expo organisers arguing that the sponsorship was in breach of the World Health Organisation's Framework Convention on Tobacco Control, the South China Morning Post (SEHK: 0583, announcements, news) reported last week. China ratified the convention in 2005. The 20 signatories included medical experts, prominent anti-smoking activists and health officials. Jiang Yuan , a tobacco- control official at the Ministry of Health, said she had not heard confirmation that the campaign was successful, but welcomed the news. "This would be a huge step forward," she said. "The Shanghai government has the chance to set a positive example to the rest of the country, to show that a change in attitude is needed. "This is not just about the Shanghai World Expo. There are many other public events that have received money from tobacco companies, and I am certain the Shanghai government's decision will have an impact." She said she believed that the initial decision by organisers to accept the money had been made "without fully understanding the issues and the implications". "The Expo is an international event, and so it should keep with international standards," she said. "After this, there will be more room for understanding." With 350 million smokers, the mainland is the largest tobacco market, accounting for one-third of the world's smokers. About a million mainlanders die each year from smoking-related illnesses, Ministry of Health figures show. The anti-smoking lobby is still in its relative infancy, but has begun making inroads - despite state-run cigarette manufacturers' political influence. The mainland has already banned direct tobacco advertising and plans to implement a total ban on promotions in 2011.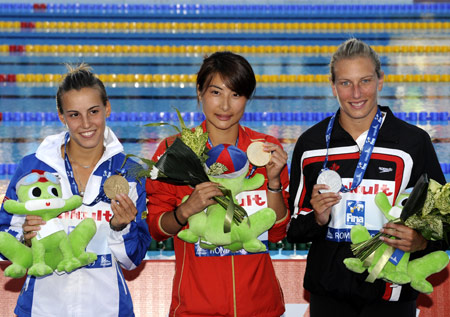 China's Guo Jingjing, center, winner of the women's 3-meter springboard diving event, celebrates on the podium with second placed Canada's Emilie Heymans(R), and third placed Tania Cagnotto of Italy(L), at the FINA Swimming World Championships in Rome, Tuesday, July 21, 2009.It's her fifth straight women's 3m springboard gold medal at the World Championships.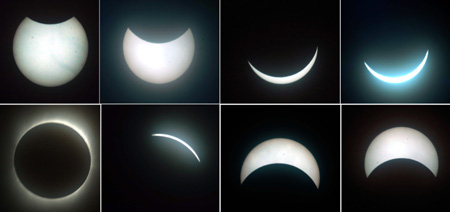 Combo photograph taken from 8:20 to 9:46 (from L, Upper to R, Bottom) on July 22, 2009 shows the process of the total solar eclipse seen in southwest China's Chongqing Municipality.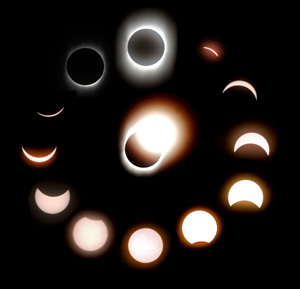 Combo photograph taken from 8:09 a.m. (seven o'clock position) to 10:30 a.m. (six o'clock) on July 22, 2009 shows the process of the total solar eclipse seen at Chongqing University in southwest China's Chongqing Municipality.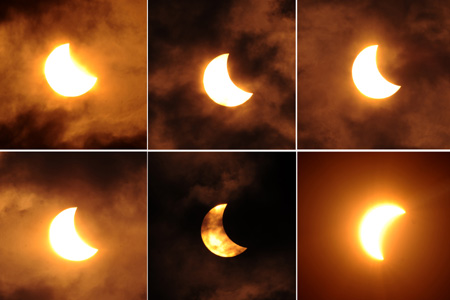 Combo photograph taken at 8:30, 8:36, 8:37, 8:38, 8:41 and 9:05 (from L, Upper to R, Bottom) on July 22, 2009 shows the process of the solar eclipse seen in Hohhot, capital of north China's Inner Mongolia Autonomous Region.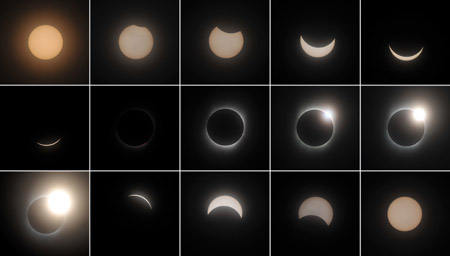 Combo photograph taken from 7:29:56 a.m. (1st L, Upper) to 10:30:37 (R, Bottom) on July 22, 2009 shows the process of the total solar eclipse seen at a park in southwest China's Chongqing Municipality.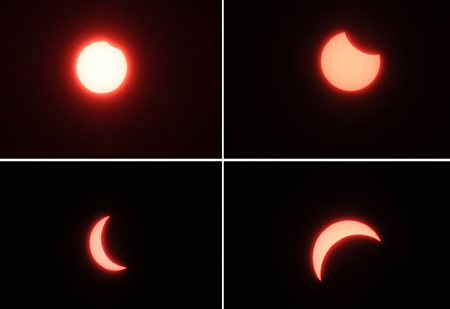 Combo photograph taken at 8:30 a.m. (L, Upper), 8:50 a.m. (R, Upper), 9:25 (L, Bottom) and 9:50 (R, Bottom) on July 22, 2009 shows the process of the solar eclipse seen in Jinan, capital of east China's Shandong Province.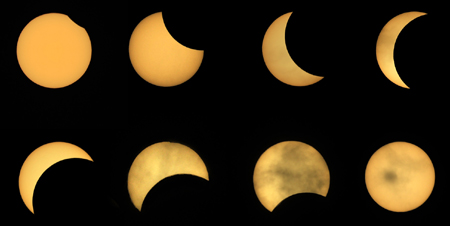 Combo photograph taken on July 22, 2009 shows the process of solar eclipse in Yinchuan, capital of northwest China's Ningxia Hui Autonomous Region.

The Baily's Beads of solar eclipse is gradually formed in this combo photograph taken from 9:16:45 to 9:16:47 a.m. (from L to R) in southwest China's Chongqing Municipality on July 22, 2009.

Combo photograph taken from 8:19 a.m. (1st L, Upper) to 10:27 (5th R, Bottom) respectively on July 22, 2009 shows the total solar eclipse observed in Wuhan, capital of central China's Hubei Province.
Spot iron ore vessel bookings from Brazil to China jumped to a record in July as Australia suspended spot sales following detentions of Rio Tinto's top sales officials in China and as falling freight costs made longer haul trade attractive. Chinese authorities this month detained four employees of Rio, including its top iron ore salesman in China, Australian Stern Hu, over allegations of stealing state secrets during annual iron ore negotiations. Vessel bookings from Australia's main iron ore ports to China have collapsed to 12 so far this month from an average of 40 in the second quarter and a record 55 in March, according to fixtures data from freight broker AXSMarine. Shipments from Brazil, the second-largest iron ore supplier to China after Australia, have surged to a record 31, suggesting China's insatiable demand for overseas ore remained intact to feed its record steel production rates. Strong demand from China, which consumes more than half the globally traded iron ore, drove spot prices to eight-month highs, with Indian ore leading the rally, boosted by shrinking Australian supplies. Iron ore prices of benchmark 62 per cent iron content delivered in China rose to US$84.4 a tonne on Tuesday, adding nearly US$3 in a week, according to the Steel Index, while another compiler, Metal Bulletin, said prices of 62 per cent iron content delivered in China also rose to US$85.80 a tonne on Tuesday. Indian ores with 63/63.5 per cent iron content for August delivery are quoted at $91-$93 this week, up from US$87-89 last week, according to industry consultancy Mysteel. Analysts expect spot prices would continue to stay above this year contract prices but upside would be also limited due to prospects of a potential reopening of China's high-cost mines and as Chinese overbuying and heavy port stocks could lead to a lull in shipments going forward. China's iron ore imports soared 29 per cent this year to a record 297.2 million tonnes and imports from Australia, the biggest supplier to China, jumped 43 per cent to 122 million tons. BHP Billiton said on Wednesday restocking of commodities in China may have ended, coinciding with fresh inventory building in other markets. The Baltic Exchange's Capesize freight index, which tracks costs for vessels hauling 150,000 ton cargoes, tumbled nearly 4 per cent on Tuesday, taking one-month fall to around 30 per cent and making longer-haul vessels more attractive. It comes as port congestion problems in China eased and concerns grow over the rising number of ships set to hit the market this year, which is likely to weigh on freight rates given weak global appetite for commodities and an economic slowdown.
Moscow and Beijing launched massive joint military drills on Wednesday aimed at fighting terrorism and ethnic separatism, Russian news agencies reported.
Bored of the Bund? Tired of the Pearl Tower? Shanghai has a new tourist destination - the 13-storey apartment building that spectacularly toppled over last month.
An artist's impression of the four billion yuan (US$590 million) Zhuhai Yanlord Marina Centre. InterContinental Hotels Group, the world's largest hotel chain by number of rooms, is likely to open its first InterContinental luxury hotel in Zhuhai in Guangdong province. Betting on the benefits likely to flow from closer economic ties in the Pearl River Delta region and further economic growth following the construction of the Hong Kong-Zhuhai-Macau Bridge, the Singapore-listed Yanlord Land Group is building a four billion yuan (HK$4.55 billion) integrated residential-hotel and commercial development, Zhuhai Yanlord Marina Centre, in the city. "We are in talks with InterContinental to run the hotel," said Zhong Shengjian, the chairman of Yanlord Land Group. Mr Zhong was speaking after the ground-breaking ceremony for the development on Friday. InterContinental was not available for comment. When completed in 2014/2015, the five-block development, comprising 300,000 square metres of gross floor area, will provide high-end residential apartment units, a retail mall, grade A office space and a five-star hotel. It is adjacent to the Zhuhai-Macau immigration checkpoint at Gongbei and will become the first luxury hotel in Zhuhai, which now has only the three-star Holiday Inn, also part of InterContinental. The economy of Zhuhai is expected to get a boost once the proposed 29-kilometre Hong Kong-Zhuhai-Macau Bridge is built, according to Mr Zhong. Construction of the bridge is expected to start by the end of the year and or no later than 2010. On completion in 2016, it will cut travelling time from Hong Kong to Macau or Zhuhai to just about 30 minutes. InterContinental was the first international hotel company to open on the mainland and is now the largest international hotel operator in the country, which generates about 5 per cent of the hotel group's total business. That contribution could grow to 15 per cent in two years, it says. The group employs some 23,000 staff in Greater China and plans to create another 100,000 jobs over the next five years. It has 12 InterContinental brands on the mainland and 20 more are in the pipeline, including the InterContinental Shanghai Expo, which will open next year and will be the only international hotel in the 2010 World Expo Park.
July 23, 2009

Hong Kong: The government said on Tuesday it donate HK$9.18 million to relief projects in China based on recommendations made to it by the Disaster Relief Fund Advisory Committee.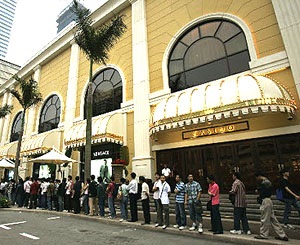 Las Vegas casino company Wynn Resorts has submitted an application to list its Macau unit on the Hong Kong exchange, sources said on Tuesday, hoping to raise between US$500 million and US$1 billion.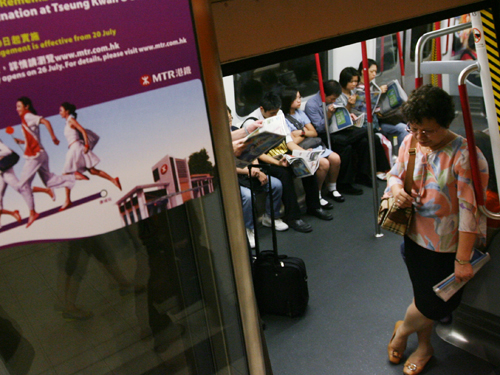 Passengers at Po Lam station on the Tseung Kwan O line get to grips with the new arrangements. Passengers using the MTR's Tseung Kwan O line say the new schedule is confusing and want it changed. Under the "3+1" arrangement that started yesterday, for every three trains going from North Point to Po Lam, the fourth one will stop at Tseung Kwan O. From this Sunday, Lohas Park station will be the terminus of one train in four. Currently, there are stickers on the platform screen doors with the 3+1 logo, and eight "ambassadors" to assist passengers. Nevertheless, some people still got on the wrong train. In a 90-minute stretch, every train that stopped at Tseung Kwan O had passengers who had to use another train to get to Hang Hau or Po Lam. Some of them blamed the MTR Corporation (SEHK: 0066) for a lack of signs. "I didn't know until I was told by the staff on the train that I have to transit to another train for Po Lam," one passenger said. A man, who gave his name as Mr Lai, in his 70s, complained about the increasing complexity of MTR arrangements. He said the arrangements deterred him from taking the MTR. "I may turn to buses in this case." A couple, Mr and Mrs Law, said they knew about the arrangement, but not the reason behind it. Mr Law said: "There is not even a poster telling us why we have to stop here." Mrs Law said the MTR should inform the public better. A Liberal Party survey that interviewed 463 passengers also found many respondents were unhappy with the arrangements. According to the party, more than half of the passengers polled expressed discontent, with the majority grumbling about the increasingly crowded carriages and the extended waiting times. A MTR spokesman said the first day of the arrangement went smoothly and staff would provide enough assistance to passengers to adapt to the change. Measures include providing staff for four weeks to answer passengers' questions, and LCD and LED displays to show the train schedule and destinations during peak hours.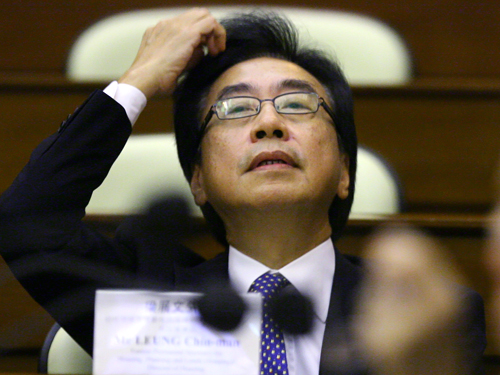 Former housing chief Leung Chin-man testifies at the hearing yesterday of the Legislative Council inquiry into his post-retirement job. Former housing director Leung Chin-man yesterday said he had suggested to his boss in 2003 that the Hunghom Peninsula housing estate be sold at almost HK$300 million below the Executive Council's bottom-line price of HK$1.15 billion. This was the first time that Mr Leung described in detail his role in the controversial sale since the row over his post-retirement job last year. He was testifying in a Legislative Council inquiry into the controversy over his employment with New World China Land (SEHK: 0917), a subsidiary of one of the developers that was involved in the sale. Mr Leung said he had recommended in an e-mail to then secretary for housing, planning and lands Michael Suen Ming-yeung in December 2003 that he should accept the HK$864 million offer as he foresaw a decline in land premiums after the severe acute respiratory syndrome outbreak. "It was in line with the public interest to accept the offer," Mr Leung told lawmakers. Mr Leung added that his recommendations to Mr Suen were largely based on suggestions by John Corrigall, a former deputy director of the Lands Department who led the negotiating team, as he did not have the professional knowledge to assess land premiums. Lawmakers criticised Mr Leung's actions. Margaret Ng Ngoi-yee of the Civic Party asked why he did not facilitate the negotiations at an earlier stage, when the government sought HK$2.5 billion for the estate in January 2003. Mr Leung said the early negotiations were presided over by a deputy of John Tsang Chun-wah, who was a permanent secretary of the bureau at the time and is now the financial secretary. Democrat Lee Wing-tat criticised Mr Leung for not seeking Exco approval of the deal, as the offer was far lower than the bottom line. Mr Leung said, however, that Mr Suen had final say over the deal. He added that Exco had authorised Mr Suen to accept an offer if it was less than the HK$1.15 billion bottom line. The retired housing chief said nine other options, including a buy back proposal, on the property were considered but all had been dropped. He also stressed that managers, including Mr Suen, oversaw the talks. The never-occupied, subsidised housing estate, Hunghom Peninsula, was sold to Sun Hung Kai Properties (SEHK: 0016) and a New World Development subsidiary in 2004 for HK$864 million. Mr Leung said yesterday that he found the developers' offer was better than expected and "rather amazing". This was despite the fact that in November 2003, the Executive Council had set HK$1.15 billion as the minimum that should be accepted for the housing estate, which was left vacant after the Home Ownership Scheme was shelved. The inquiry earlier heard that the developers were willing to pay HK$600 million to HK$700 million for the estate when they contacted the government in late 2002. Mr Leung said that since the nine-member government negotiating team was in a weaker position because of the falling property market, the administration was "at the mercy of the developers". Initial negotiations appeared close to breaking down in March 2003, and he started overseeing the progress of talks after that. But he had not been directly engaged in the talks. The "single-buyer" option was among the nine proposals. It involved the government nominating a developer to buy the entire housing estate and resell it to individuals.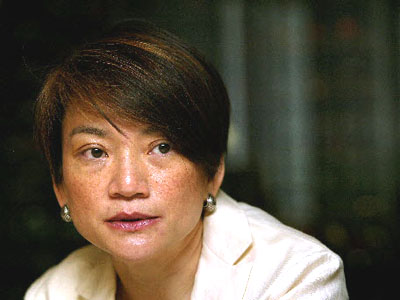 Standard Chartered Bank on Tuesday said it had appointed Katherine Tsang King-suen as the bank's chairwoman for greater China. Ms Tsang, who is the sister of Chief Executive Donald Tsang Yam-kuen, was previously the bank's chief executive for greater China. As head of the bank in the mainland, Ms Tsang's responsibilities will include trade, capital investment and recruitment. Ms Tsang said last month the bank remained strongly capitalised in its' mainland operations. She said the bank was planning to issue up to RMB3.5 billion (HK$3.97 billion) worth of financial bonds. Ms Tsang will be succeeded by Lim Cheng-teck as the new chief executive and executive vice-chairman for Standard Chartered China. Mr Lim was an executive for Standard Chartered Bank in Singapore. Ms Tsang, 52, is the younger sister of Mr Tsang. She has worked with Standard Chartered Bank since 1992. She was appointed a chief executive of Standard Chartered Bank in China in March 2005. Before becoming a chief executive officer, Ms Tsang was the bank's group head of organisational learning, responsible for the training and development of human resources. Ms Tsang was born in Hong Kong. She holds a Bachelor of Commerce Degree from The University of Alberta in Canada. Standard Chartered Back is one of the three note-issuing banks in Hong Kong. In other developments involving the banking sector, HSBC (SEHK: 0005) (China) has became the first foreign bank to open a branch in Jinan — the capital of eastern Shandong Province. HSBC Asia-Pacific chief executive officer Sandy Flockhart said on Tuesday the bank plans further expansion. The bank has also obtained approval to establish a branch in Taiyuan, the capital of northwest China's Shanxi Province, he said.
Consumer prices in Hong Kong fell by 0.9 per cent in June compared with the same period last year, statistics released on Tuesday showed.

The annual Hong Kong book fair celebrates its 20th anniversary this Wednesday – and for the first time will provide online technology to help people search for books.
China Post E-Commerce (Holdings), a Hong Kong-based company formerly known as Intcera High Tech Group, has increased plans to establish its online operations on the mainland with support from the state-run postal service provider and strategic investor, China Post. Chairman Joseph Lau Chi-yuen said the firm had been granted exclusive rights to use the direct mailing database of about 130 million Guangdong province residents for its direct marketing and e-commerce services. The Guangdong Postal Bureau, a subsidiary of China Post, owns 4.56 per cent of the Growth Enterprise Market-listed e-commerce firm. China Post E-Commerce aims to provide online marketing services to Hong Kong and foreign businesses looking to expand into the mainland. Using Guangdong Postal's database, the company can help customers target market segments and other business opportunities in the province. It can also help send the relevant brochures or product catalogues to targeted households. Mr Lau said the firm had launched its system on Guangdong Postal's internet shopping portal, allowing clients to sell their products online and through the provincial post office network. "We have an imported goods page on Guangdong Postal's online shopping site. We will also send out direct marketing materials to relevant residential households to boost sales," he said. The firm has also installed liquid-crystal display monitors in 1,500 post offices to support customers' online marketing initiatives. The membership fee for the marketing programme starts at HK$38,000 for three months and services include the production and delivery of direct marketing materials to at least 8,000 households and a promotional video to be shown on the post office monitorss. Members can also put at least 15 products for sale on the e-commerce platform. The firm provides a toll-free customer hotline for corporate clients and the Guangdong post offices help collect orders. However, it does not manage their product inventory. Mr Lau said: "We notify members about orders from Guangdong, but they need to get their products ready to deliver to China Post's warehouse in Hong Kong. China Post then delivers the products to their customers." He said the direct marketing unit had managed to break even since starting operations two months ago. At present, it has 24 corporate customers, including Jebsen Group, which sells wine, and Super Star Seafood Restaurant, which sells mooncakes through the network. The company, which has also teamed up with the Hong Kong Productivity Council to conduct seminars promoting its online trading platform, has a target of sending a million direct marketing materials per month by next year. Internet commerce has been one of the fastest-growing sectors on the mainland. Alibaba (SEHK: 1688, announcements, news) Group's online retail site Taobao.com, for example, has recorded 100 billion yuan (HK$113.4 billion) in annual transaction volume, has more than 100 million registered users and more than 30,000 merchant users. But the lack of a regulatory framework has led to online platforms becoming channels for fake goods.
All schools will reopen after the summer break as scheduled and will only be closed for seven days in the event of a human swine flu (H1N1) outbreak under new flu guidelines.
West Kowloon Cultural District "canopy" designer Norman Foster is back on the project again as a consultant, backed by Chief Secretary for Administration Henry Tsang Ying- yen. But no canopy is allowed for the masterplan this time.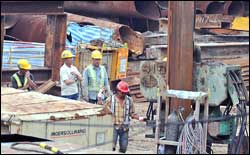 A leading construction employers' group has agreed "in principle" to set up a minimum wage system to attract new blood in anticipation of a manpower shortage. Industry leaders predict there will be a shortage of workers in 2011 when construction is expected to boom again. There are 70,000 to 80,000 workers in the industry, with half aged 50 or older. Hong Kong Construction Association president Conrad Wong Tin- cheung suggested a minimum wage of HK$8,000 a month would be fair but this needs to be fine-tuned with the industry. The association has 320 members, many of whom are major contractors in the city. Wong said the association's initiative is generally supported by the companies, which foresee a severe shortage of manpower in the coming years. He admitted it is difficult to attract new workers partly due to the instability of their income. Also young people are opting for more a comfortable and steady work environment such as in the retail sector, instead of working in construction. So the sector needs to offer higher pay and stable income to attract newcomers, Wong said. Construction workers are usually paid on a daily or job basis, which means those who are not skilled enough to work fast may not be able to make a decent living. The move for a minimum wage system was initiated for workers who have just finished training at the Vocational Training Council. It would cover the first few months at work before workers gained enough experience to go it alone. "The first step is to attract young people to become interested in joining us. We are reluctant to import workers as that could create social problems," Wong said. Wong sees a construction boom in the next few years due to government infrastructure projects and work in the private sector. To stimulate the economy, the government estimated in January it would spend HK$29 billion in public works and another HK$10 billion in Housing Authority projects to create 55,000 jobs in the next financial year. Wong also believed private developers will need more construction workers to build private flats in anticipation of a property boom.
Hong Kong's red-hot listing market may raise as much as HK$90 billion in coming months as more firms prepare to launch initial public offerings. They follow BBMG Corporation, which has attracted hundreds of billions of dollars.



The owners of Li & Fung (0494) will invest US$30 million (HK$234 million) for a stake in Future Logistic Solutions Ltd, an Indian supply-chain and logistics firm. Fung Capital, the private-equity firm controlled by the families of Victor Fung Kwok-king and William Fung Kwok-lun, will take a stake of up to 26 percent in FLSL so it can expand its supply-chain network and logistics infrastructure. The deal marks Fung Capital's first investment in India. FLSL is controlled by Future Group, a retail-focused conglomerate that operates 15 million square feet of retail space across India through its Pantaloon Retail arm. The deal will be completed in three to four weeks, Future Group founder and chief executive Kishore Biyani told The Standard. FLSL may consider an initial public offering in two to three years, Biyani said. The company operates a warehousing network covering 3million square feet in 30 major centers in India, plus a fleet of over 500 vehicles to transport products. Indian media reports previously said FLSL was courting a private- equity investor so it could acquire 10 million square feet of additional warehousing space in 12 cities. The company may also want to boost its trucking fleet.

China: China coal imports hit a new record high of 16.07 million tonnes, up 70 per cent from the previous month, according to Reuters calculations based on data released by the Ministry of Industry and Information Technology. China's net coal imports in the first half of the year hit 36.6 million tons, the ministry said in a statement on its website. The relatively low prices of imported coal have spurred the massive coal inflow since earlier this year, making China a net importer since February. "It is a surprise that June imports were much higher than May. July's figure is expected to remain high, while August imports may decline as anticipation of high temperatures should ease by then," said Judy Zhu, an analyst at Standard Chartered. The ministry did not give details such as the breakdown of different types of coal, but analysts and traders said that the ratio of coking coal, a key ingredient in steel production, could rise, thanks to buoyant demand from the steel sector. The General Administration of Customs is expected to release a breakdown of coal trade on Wednesday. Coal use in China, the world's largest producer and consumer, is expected to recover in the second half of this year, after power plants connected to major grids consumed nearly 9 per cent less coal in the first half versus a year ago, an industry body has said. The recovery of the steel sector, however, pushed coal consumption at steel mills up 1.6 per cent in the first six months, the China National Coal Association said.
China's stock regulator said on Monday it had approved an application by China International Travel Service (CITS) to launch an initial public offering (IPO) worth around 1.7 billion yuan (IS$249 million) for a listing on the Shanghai Stock Exchange. China Travel, the country's top tourist agency, is now among about 30 companies on a list awaiting the final go-ahead from the China Securities Regulatory Commission to launch its IPO, which is typically granted within a month after regulatory approval. Beijing-based CITS plans to issue as many as 220 million yuan-denominated A-shares, or 25 per cent of its expanded capital after the IPO, as it needs 1.7 billion yuan mainly to establish new branches, it said in a draft prospectus published on the regulator's website, www.csrc.gov.cn. It posted a net attributable profit of 221 million yuan for last year, up slightly from 217 million yuan in 2007, on earnings per share (EPS) of 0.34 yuan last year compared with 0.31 yuan in 2007. If the company wants to raise 1.7 billion yuan on an issue of 220 million shares, it will have to issue the shares at 7.73 yuan each, according to Reuters calculations. Its IPO at its maximum issue will dilute its EPS to 0.255 for last year, meaning a 7.73 yuan per share issue would put its IPO price at slightly more than 30 times of its last year earnings on a full diluted basis – a PE ratio considered quite high for domestic IPOs, according to Reuters calculations. China Securities, a Beijing-based brokerage, was appointed the lead underwriter, China Travel said in the prospectus. The stock regulator has pushed a slew of companies to launch IPOs since it resumed IPOs last month as the Shanghai Composite Index has jumped nearly 80 per cent so far this year, propelled by huge liquidity in the system, which is threatening to create an asset bubble for the country.
Nearly half of the chief judges at provincial level do not have solid judicial backgrounds or had never worked in the courts prior to their appointment - a finding that Xinhua hailed as it said the judges injected fresh ideas into the system. A Xinhua survey said yesterday that 14 of the 30 provincial chief judges worked as administrative officials before taking their current job. Another 14 were promoted from within the system, and two were law professors. The seat for Qinghai's chief judge has not been filled since Liu Xiaoyang died in April. Xinhua praised provincial chief judges for instilling fresh ideas into the judicial system, using the experience of their previous administrative jobs to connect with people more closely in their new role. But their appointment was harshly criticised by mainland law professionals who said having bureaucrats act as judges, especially in a judicial system as complicated as that on the mainland, was a huge obstacle to judicial reform. He Weifang , a law professor at Peking University, said appointing "outsiders" to run courts reflected the bleak state of the mainland's judicial reform, which he called fragile. "They run the court system the way they run the party or government branches," Professor He said. "There are no consolidated, respected practices that people can rely upon to deliver justice, only orders and instructions that judges think are best to maintain social stability." From a group of newly appointed judges, Professor He listed Chief Justice Wang Shengjun as the best indication that the country was drifting away from the concept of the "rule of law". Rule of law means the restriction of the arbitrary exercise of power by subordinating it to well-defined and established laws. It is contrasted by "rule by law", under which the law is an instrument of the government, and the government is above the law. This is the situation, most scholars agree, in which the mainland currently finds itself. Mr Wang, who was appointed as chief justice in March with only a bachelor's degree in history and little judicial background, proposed "three priorities" as guidelines for mainland judges. He said judges must keep in mind the "three priorities" - namely the interests of the Communist Party, the interests of the people and respect for the constitution - when handling cases. "If, as a judge, you consider the party's or whoever's interests before you even take a case, the spirit of the rule of law is gone," Professor He said. One of the provincial chief judges that the Supreme Court considers a model is Zhang Liyong , of Henan , who had little judicial background but did have experience as the party's disciplinary official. Mr Zhang promoted the "Ma Xiwu judicial model" in Henan, a practice that the Supreme Court praised. Simply put, the model asks judges to flexibly solve civil cases regardless of what laws say. The model, popular in the Communist Party's revolutionary base in the early 1940s, was praised by former leader Mao Zedong as an ideal way to solve people's disputes. But Professor He said the historical context was the Communist Party's reluctance to follow the laws set by the then ruling Kuomintang. Yu An , a law professor at Tsinghua University, agreed that the court system needed more professionals. "If most of a provincial chief judge's work is dealing with administrative duties, why don't they just put an official rather than a professional judge in that position?" he asked.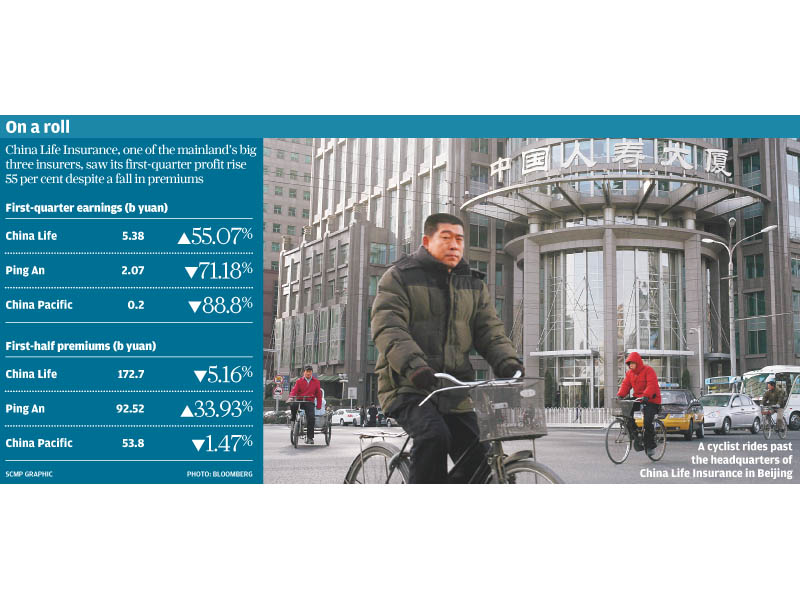 Earnings of the mainland's insurance companies might have doubled in the first half because of higher investment income and lower funding costs, the industry's regulator said. Total profits of about 26.1 billion yuan (HK$29.61 billion) were expected to be announced for the six months to June, the China Insurance (SEHK: 0966) Regulatory Commission said yesterday on its website. Shares of the top three insurers have surged since last week, while the mainland stock market has gained more than 75 per cent so far this year. As the largest institutional players in the domestic stock market, mainland insurers are benefiting from the stunning rally that began in March. Ping An Insurance (Group) (SEHK: 2318), the mainland's second-largest, jumped 10.27 per cent to HK$65.50 yesterday. Bigger rival China Life (SEHK: 2628) Insurance rose 6.49 per cent to HK$32.80. China Pacific Insurance (Group) added 0.87 per cent to 29.06 yuan in Shanghai. "The guidance [by the CIRC] is conservative, given that mainland insurers made hefty investment losses last year," said Tony Tong, an analyst at China Everbright (SEHK: 0165) Research. "As the mainland stock market continues to soar, so do insurance companies, as they are very leveraged to it." Investors in the mainland market held the second most bullish view in the Asia-Pacific last quarter, according to the latest survey by ING. Its reading for the mainland jumped to 158 from 124 on a scale of 0 to 200. ABN Amro expects China Life to report a 28.3 per cent rise in earnings to 27.29 billion yuan for the full year, while Ping An is expected to see yearly earnings up more than 48 times to 12.91 billion yuan - the company had to make huge provisions last year for its ill-fated investment in Fortis. "The industry is well placed for growth [given] the current macro policy backdrop," said the brokerage in a recent report. "Reform initiatives should improve underlying profitability, and investment liberalisation should fit sustainable valuations in the longer term." The CIRC said the moderately loose monetary policy had benefited insurers by lowering funding costs of longer-term insurance policies. While demand for general insurance is propped up by the country's infrastructure stimulus programme, the regulator said the industry needed to be mindful about the chances of such demand being sustained in the second half. Total invested assets were valued at 3.4 trillion yuan at the end of last month, a 10.4 per cent rise from a year earlier, the CIRC said. Stocks and equity mutual funds accounted for 16.6 per cent of the invested assets, up 3.3 per cent from the start of the year. Bond investment accounted for 50.2 per cent, down 7.7 per cent. The CIRC also said a total of 598.61 billion yuan in premiums were collected in the first half, an increase of 6.6 per cent, less than the 19 per cent rise in the first quarter.
Singapore's Minister of State for Trade and Industry Lee Yi Shyan officiated at the opening of Li-Ning's badminton flagship store in Singapore, its first store in Asia outside China. The sportswear giant Li-Ning, founded by top China gymnast Li Ning, set up its Southeast Asia regional headquarters in Singapore's newest shopping mall, Ion Orchard, according to a statement by Singapore's Ministry of State for Trade and Industry. The minister said that over the last five years plus, the number of Chinese companies in Singapore has increased by more than two folds, from 1,300 to 3,000 in March 2009. He added that Singapore offers locational and unparalleled access to the growing market for sports and lifestyle products and services in the region. In thanking Li-Ning for their sponsorship of the Singapore Badminton Association's players and tournaments for 2009, he said, "We are happy that Li-Ning has chosen Singapore for the same reasons. Li-Ning's confidence in Singapore as base for its first foreign venture is truly a testament to our strength as a platform for internationalization."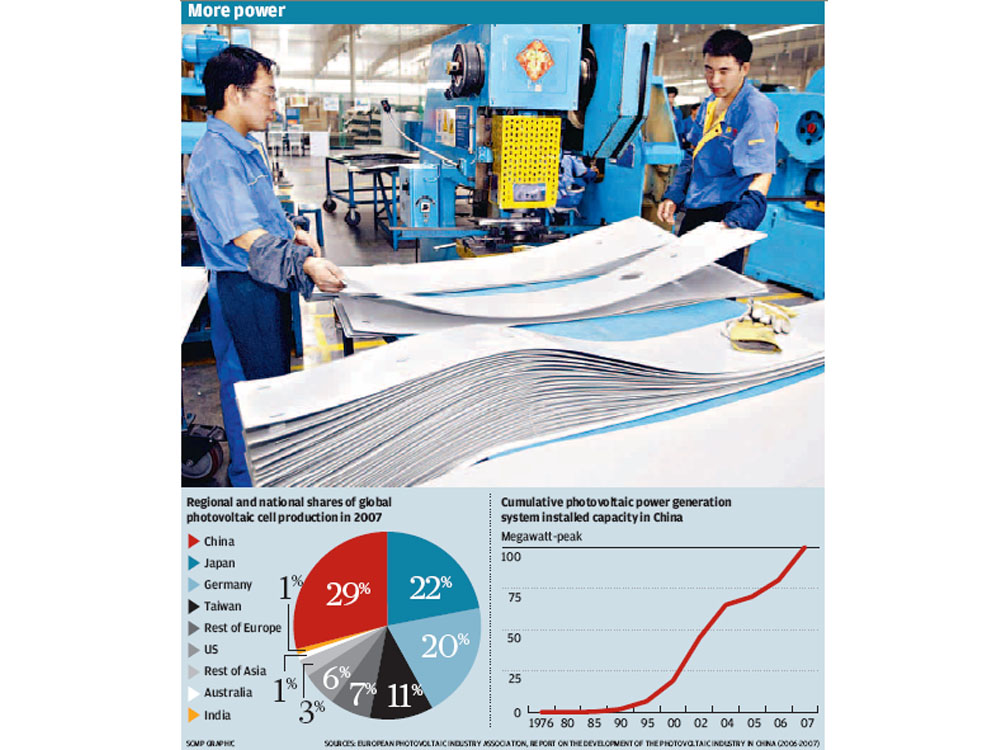 The Chinese government started a pilot program on Tuesday to provide subsidies to solar-power projects to boost the solar industry as a new growth point for the country's economy. The Ministry of Finance said on its Web site that it will offer50 percent of investments for solar power projects of more than 500 megawatts and the transmission and distribution network over the next two- to- three years. The solar power projects in the remote regions will receive subsidies of 70 percent of the investment. The total generating capacity of such pilot projects in each province should not exceed 20 megawatts, the ministry said.
July 22, 2009

Hong Kong: Health Undersecretary Gabriel Leung said on Monday swine flu was now spreading internationally with "unprecedented speed". He said ordinary flu took six months to spread around the world, but swine flu took only six weeks. This was because most people had no immunity against the virus.According to a simulated statistics done by the University of Hong Kong in the past 10 days, every H1N1 patient spread the disease to 1.3 "second generation" patients on average. Mr Leung said told reporters these second generation patients then had a 14 per cent of chance of infecting others. Despite this, Mr Leung said that more than 99.5 per cent of swine flu cases in Hong Kong were mild. Moreover, 36 per cent of swine flu cases in the territory were made up of different kinds of flu, Mr Leung – who was Professor of Translational Public Health at the University of Hong Kong from 1999 to 2008 – explained. Mr Leung said the eight designated flu clinics selected to handle swine flu patients would re-open to cater to chronic patients on August 17. Hong Kong on Monday reported 76 more cases of swine flu – bringing the total number in the territory to 1,886. The new cases involve 36 males and 40 females aged between one and 81 years old. Out of the current cases, 33 patients have been hospitalised and eight cases were serious, with five patients remaining in a critical condition. Meanwhile in Europe on Monday, airlines were becoming concerned about the growing number of swine flu cases. British airlines early on Monday (HK time) stepped up restrictions on suspected swine flu carriers, as a report said four more British students quarantined in the mainland have the H1N1 infection. Britain is Europe's worst-hit country with an estimated 55,000 new swine flu cases reported in the past week. British Airways and Virgin Atlantic said they have both put in place measures to turn back passengers showing symptoms of swine flu. "If we have concerns about a customer or the customer is concerned, then we have a 24-hour medical service we can call to give advice to staff," said a British Airways spokeswoman. "There have been a number of cases where we have advised customers not to fly on the basis of their diagnosis of symptoms of H1N1." Britain's health authorities are advising people with symptoms to delay journeys if they are feeling unwell. China has reported more than 2,000 cases so far and the number of total cases around the world were heading to 100,000.
Hong Kong's jobless rate rose to 5.4 per cent of the workforce in the April-June quarter –up 0.1 from 5.3 per cent in March-May, latest statistics released on Monday showed.
Hong Kong court on Monday jailed a former banker at regional brokerage CLSA and an ex-fund manager for insider dealing offences, the latest action under the city's crackdown on market misconduct.

Chief Secretary Henry Tang Ying-yen on Monday announced the four advisory companies that would consult on the design of the West Kowloon Cultural District project. The four companies are Foster and Partners, the Office for Metropolitan Architecture, local firm Rocco Design Architects, and UK-based Mott MacDonald. The first three companies will be "conceptual-plan" consultants and the fourth company will be a project plan consultant for the reclamation site. Mr Tang said the selection process had been very rigorous. The four companies were selected from among 40 applicants. "It was a long process and was difficult because many submissions were world-class,'' Mr Tang said. "But we ended up with companies that we think provide a good mix as well as good choices for the community," he added. The three conceptual plan consultants will work together to come up with a single design proposal for the site. The project plan consultant will advise on the technical feasibility of that design. The panel will start a public consultation in September to collect views on the project design. It will then complete a draft for the design next year and put that into a second phase of public consultation. Construction for the site is estimated to begin in 2012. The West Kowloon Cultural District is an ambitious plan to create a cultural and entertainment hub on reclaimed land west of Yau Ma Tei. Planning, design and construction of the project has been estimated to cost HK$21.6 billion. The idea for the project was first suggested in the 1998 policy address by then Chief Executive Tung Chee-hwa. In 2001, an international design contest for the site was held. Architects Sir Norman Foster of the Foster and Partners, and Rocco Yim Sen-kee of the Rocco Design, who were both appointed advisers for the site on Monday, won prizes in the 2001 contest. Foster's HK$24 billion plan to build the world's largest canopy for the site came first out of 161 entries. However, Foster's canopy concept was scrapped in 2006 due to doubts about financing and a lack of planning. The government then re-launched another selection process for consultants, culminating in Monday's announcement by Henry Tang. Mr Tang, who is also the head of the project's board of directors and had met with the four selected companies on Monday morning, said he had complete faith in Foster and Partners despite earlier controversy. Previously, Foster's old canopy concept for the project had sparked concern, with critics questioning its practicability and cost. Mr Tang told reporters: "I am not worried that he [Foster] will be burdened by what he has done in the past [on this project]. Actually he knows that site quite well because he has worked on it already," Mr Tang said. Foster and Partners, established by Sir Norman Foster, is one of the world's most well-known architectural firm. It has previously worked in Hong Kong on the Chek Lap Kok airport design in the 1990s and on the Hong Kong and Shanghai Bank in the 1980s.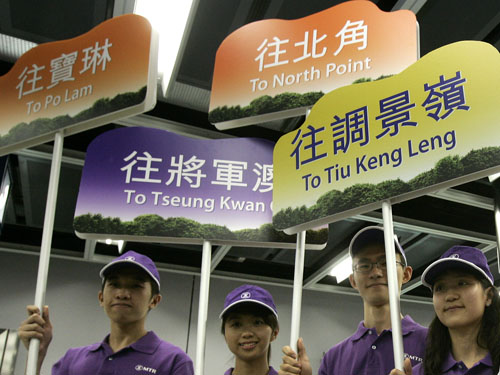 The MTR Corp will deploy 400 part-time station ambassadors to help passengers with the new scheduling on the Tseung Kwan O line. A new arrangement on the MTR's Tseung Kwan O line starts today to prepare for the opening of the Lohas Park station on Sunday. To get passengers used to the new "3+1" peak-period scheme this week, for every three trains departing North Point for Po Lam, a fourth will stop at Tseung Kwan O. Starting next Monday, every fourth train departing for Tseung Kwan O will run to the Lohas Park station, said Choi Tak-tsan, the MTR Corporation (SEHK: 0066)'s head of operations. The frequency of trains running between Tseung Kwan O and North Point stations will be increased to a train every two minutes and 30 seconds, meaning, Mr Choi said, the new arrangement would not affect capacity. The previous frequency was two minutes and 40 seconds. During non-peak periods, the frequency of service between North Point and Po Lam stations will remain four or five minutes between trains. A shuttle train service will run every 12 minutes between Tiu Keng Leng and Tseung Kwan O during the first phase of the new scheme. It will be extended to the Lohas Park station from Sunday and is initially expected to serve 1,000 passengers a day. LCD displays have been installed on the platforms along the Tseung Kwan O line to show the destinations of trains. The displays will show the destination of the next four trains. Purple queuing lines will be marked on the platform at Tseung Kwan O Station for the convenience of Lohas Park passengers. About 400 part-time station employees will help passengers on the platforms. Despite the waiting time on every third train departing Po Lam for North Point increasing to five minutes, passengers showed little concern about overcrowding in stations. "I have confidence in the new arrangement, but I will arrive at the station 10 minutes earlier than normal," said Stelly Chau, a Tseung Kwan O resident who works in Central.
Hong Kong schools would start the new school year as usual despite the increasing number of confirmed human swine influenza cases, the Education Bureau (EDB) said on Monday.
The government on Monday invited architects, interior designers, other professionals and the public to submit ideas to help restore the former residence of Bruce Lee.
Hong Kong's role as the principal ocean hub serving the mainland will be tested this month with the opening of an eight billion yuan (HK$9.08 billion) bonded port and logistics park in Shenzhen.
Singapore-based agribusiness group Wilmar International has elected to float shares in its mainland subsidiary on the Hong Kong market in preference to a Shanghai listing, according to a source. Wilmar, which mainly produces cooking oils, has asked its financial advisers, Bank of China International, Goldman Sachs and Morgan Stanley, to prepare the Hong Kong share sale, which is tipped to raise US$3 billion to US$4 billion. "The deal has moved from a feasibility study to 'let's execute this as soon as we can'," said the source. The offering is expected in the first half of next year. The company said in May it was studying the feasibility of selling 20 to 30 per cent of its mainland business in either Shanghai or Hong Kong. The choice of Hong Kong is likely to delight local regulators and disappoint Beijing, which is vying with Hong Kong to encourage large foreign multinationals to sell shares on the Shanghai Stock Exchange to build the city's credentials as a modern financial hub. Deputy Commerce Minister Chen Jian said earlier this month that his ministry would "actively guide high-quality foreign firms to go public in China", and HSBC (SEHK: 0005) chief executive Michael Geoghegan has committed publicly to a Shanghai listing. The New York Stock Exchange is studying plans to list in Shanghai. But Hong Kong has many advantages including allowing foreign investors easy access to its market, which they cannot do in Shanghai. "Most of the major investment funds are based in Hong Kong and it is an easier place to get [initial offerings] done," the source explained. In Hong Kong, firms can go public any time as long as they meet a minimum HK$50 million profit threshold and the deal is structured acceptably. The Shanghai exchange, which was shut in September last year, has just reopened for new listings and China State Construction Engineering Corp will soon launch the mainland's first jumbo listing of the year, aiming to raise US$6.3 billion. Foreign investment funds wishing to buy into Shanghai flotations have to go through a complex and time-consuming approval process as qualified foreign institutional investors, and retail investors outside the mainland are barred from taking up A-share initial public offerings. Wilmar is one of the world's biggest agribusinesses, employing 70,000 staff in 20 countries. Its largest businesses are in Indonesia, Malaysia, China, India and Europe. The group owns vast swathes of palm oil plantations, processes edible oils and sells consumer products. Its Arawana brand is China's best-selling cooking oil. Its mainland business posted sales of US$14.33 billion last year, up from US$8.48 billion in 2007. Net profit was US$600 million. The Hong Kong share sale may value the China subsidiary at up to US$14 billion. Wilmar, like the South China Morning Post (SEHK: 0583, announcements, news) , has strong connections to the Kuok family. Wilmar's second- and third-biggest shareholders are PPB and Kerry Group, which owns the majority of the Post.
Analysts say the main tasks of Hong Kong's new de facto central banker will be to handle the SAR's increasing linkage with the mainland financial system while maintaining its status as a regional financial center. The long search for the next head of the Hong Kong Monetary Authority ended when Norman Chan Tak-lam - currently the director of the Chief Executive's Office - was appointed to succeed Joseph Yam Chi-kwong. Chan, a founder of the HKMA with good connections in Beijing, was closely involved in the introduction of yuan banking services in Hong Kong, Credit Suisse analyst Tao Dong said. "We believe greater integration between Hong Kong's financial systems and the mainland's will be crucial to the prosperity of the SAR's economy," Tao said, and Chan will be a "key driver in this important process." Chan has "considerable experience in HKMA operations and is a good appointment for the post," added Tao, who believes it is SAR policy to keep the US dollar peg system unchanged over the medium term. Li Kui-wai, an associate professor of economics and finance at City University of Hong Kong, said Chan himself will not be driving new policies for financial integration with the mainland. Rather, politicians and the market will lead those decisions, Li said, and Chan will implement them and come up with appropriate regulations. "Things are changing," he said. "Obviously, trading renminbi will be important, and he will handle this." In his first stint at the HKMA starting in 1993, Chan, now 55, contributed to Hong Kong's financial development in a low-profile manner. Working closely with Yam, Chan helped fend off speculators during the Asian financial crisis in 1998 by intervening in the stock market and later disposing the shares through the Tracker Fund of Hong Kong (2800). Chan had been widely tipped to succeed Yam when he reached retirement age. But he quit as HKMA deputy chief executive in 2005 and went to work for Standard Chartered (2888). That year, Chan said of his unexpected decision, was a "mid-life sabbatical." "Many people told me I can't be chief executive if I go," Chan was quoted as saying. "Yes, you are right. If I want to get that, I should not have left. But that's a `life without punctuation' - not the thing I desire." Chan returned to government in July 2007. Last year, he came under fire from lawmakers, who said he mishandled the controversial appointments of undersecretaries and political assistants.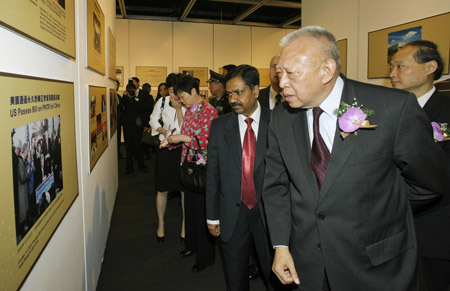 Tung Chee-hwa (Front), vice-chairman of the National Committee of the Chinese People's Political Consultative Conference, visits a photo exhibition marking the 30th anniversary of the establishment of the China-U.S. diplomatic relations in Hong Kong, south China, July 20, 2009. Nearly 300 photos were displayed in the exhibition, opened on July 20.

China: This month's uptrend in mainland bill and bond yields quickened on Monday, driving some bill yields to their biggest daily climb in more than three years as traders scrambled for funds before a huge initial public equity offer. The weighted average seven-day repo rate rose sharply to a seven-month high of 1.6936 per cent by midday from 1.5334 per cent on Friday. That helped to spur the indicative 90-day central bank bill yield in the secondary market to a seven-month high of 1.3470 per cent bid on Monday from 1.2940 per cent on Friday, according to Reuters Reference Rates. It was the biggest daily rise in the yield in at least three years. Traders believe the repo may climb to about 2 per cent later on Monday or early on Tuesday as investors rush to borrow funds to participate in China State Construction Engineering's huge IPO, the world's largest so far this year, which takes subscriptions on Tuesday and Wednesday. ING Bank forecast in a research note on Monday that China State Construction's IPO would absorb around 1.5 trillion yuan (US$220 billion) in subscriptions. "Banks are selling heavily in the short end, given that big banks are reluctant to lend because of the massive IPO," said a trader at an Asian bank in Shanghai. But even after the IPO, the repo is unlikely to fall back significantly, traders believe, because the central bank may continue to guide the yield on its one-year bills and the rates on its repo operations higher at this week's open market operations as it steps up fund drains. Onshore and offshore interest rate swaps, which have risen at a faster pace than bill and bond yields in recent months, slipped on profit-taking, although traders did not believe the uptrend was coming to an end. "It's very scary the way IRS have been rising recently. Some banks took profits in a panicky market. But the peak for IRS is not yet on the horizon given that the seven-day repo has not stopped rising," said an IRS trader at a European bank in Shanghai. The onshore three-year IRS slipped to 2.88 per cent bid on Monday from a nine-month high of 2.94 per cent on Friday. In the government bond market, the curve flattened because of expectations that the central bank will continue to tighten liquidity policy in coming months but refrain from raising interest rates, in its effort to prevent a massive lending surge from fuelling inflation or a rise in bad loans. One trader believed the five-year government bond yield, which rose sharply to 2.8640 per cent bid on Monday from 2.8127 per cent on Friday, according to Reuters Reference Rates, would hit 4.0 per cent by year-end, although he conceded that the long end would rise at much slower pace. "People are expecting deflation to be only temporary, especially with the massive loan surge. But long-end yields are likely to remain quite stable until deflation actually becomes inflation," said a trader at a US bank in Shanghai. Liu Mingkang, the head of the China Banking Regulatory Commission, on the weekend warned of the risks from surging bank lending, singling out the dangers of unhealthy growth in the property market. "We must control the risk of real estate loans," said Liu, adding that measures must be taken to better evaluate the creditworthiness of borrowers. His warning followed last week's news that new lending in June hit 1.53 trillion yuan, exceeding analysts' expectations.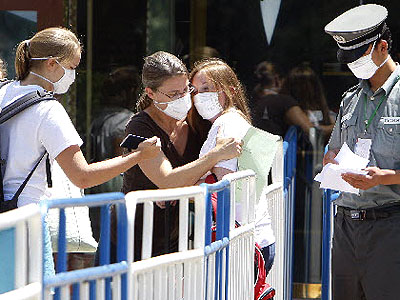 A mother hugs her daughter as she and a classmate are released from quarantine at the Yanxiang Hotel in Beijing on Monday. The number of British students and teachers quarantined in Beijing over swine flu has leapt to at least 85, while four more have been hospitalised with the virus, the UK's embassy in the capital confirmed on Monday. The new tally marks an increase over the 52 originally quarantined last week for a seven-day period at a Beijing hotel after they arrived for a study tour. "We can confirm that a group of over 85 British schoolchildren and teachers are being held in quarantine in a hotel in Beijing," the British embassy said in a statement that also indicated the figure could grow further. "We have had reports that two more groups of British schoolchildren with approximately 25 children are now being taken to quarantine in the hotel." The statement also said eight British children had now been hospitalised with symptoms of the virus, up from four reported over the weekend.

China Investment Corporation (CIC), the country's US$200 billion sovereign wealth fund, has agreed to invest HK$2 billion (US$258.1 million) for a 40 per cent stake in private equity fund manager CITIC Capital, sources said on Monday. CITIC Capital, backed by the powerful CITIC Group, which is directly led by the cabinet, will issue new shares only to CIC, and the deal could help the fund manager boost its capital base to HK$5 billion from the current HK$3 billion, said the sources with direct knowledge of the matter. The alliance with CITIC Capital is CIC's first investment in a Chinese asset manager. It will give the young sovereign fund, whose main focus is to invest abroad, a channel to tap domestic deal opportunities. CIC's investment is only for the fund management firm and will have no impact on several funds worth about US$2 billion in total now managed by CITIC Capital, said the sources. Many institutional investors, also known as "limited partners" (LPs) of CITIC Capital's China-focused buyout and real estate funds, welcomed the deal, said the sources. "LPs definitely welcome the deal, given CIC's government background, which can help CITIC Capital to do domestic deals easier in the future," said one source. The sources, which declined to be identified before an official announcement is made, added the deal was expected to be announced this week or next. Both CIC and CITIC Capital declined to comment. Beijing's influential Caijing magazine first reported the alliance between CITIC Capital and CIC at the weekend. Reuters reported in February that CIC was in talks to buy up to half of CITIC Capital. Steel-to-property conglomerate CITIC Pacific (SEHK: 0267) and CITIC International Financial Holdings Ltd, whose parents are the same CITIC Group, each now hold 50 per cent of CITIC Capital. After CIC's investment, the shareholding of CITIC Pacific and CITIC International Financial, will drop to 30 per cent each as they decided not to buy new shares of CITIC Capital this time, the sources said. CIC will appoint new directors on CITIC Capital's board but CIC representatives will not interfere in CITIC Capital's decisions in regards to future deals, said the sources. CITIC Pacific stunned markets in October when it warned of a potential US$2 billion loss, which later rose to nearly HK$19 billion, from wrong-way bets on the Australian dollar. CITIC Capital is well known for its expertise to restructure big mainland state-owned enterprises including Harbin Pharmaceutical Group, one of China's biggest drug firms, and Fushun Excavator, the country's largest manufacturer of hydraulic crawler cranes. Foreign funds such as Carlyle have complained for a long time about the difficulties in securing approvals to buy state-owned firms in the world's fastest growing major economy. CITIC Capital was in talks with China's national pension fund to launch a yuan-denominated private equity fund, Reuters reported in August.
The Shanghai banking regulator has issued a stern warning to local lenders, ordering them to comply with the down-payment requirements on second homes, adding evidence to reports of Beijing's determination to rein in the unbridled housing market. The Shanghai branch of the China Banking Regulatory Commission said yesterday it had issued a notice to local lenders, asking them to strictly review mortgage applications to ward off potential defaults. Shanghai followed Guangzhou and Shenzhen in curbing the property buying euphoria displayed in a swelling number of transactions and a surge in housing prices.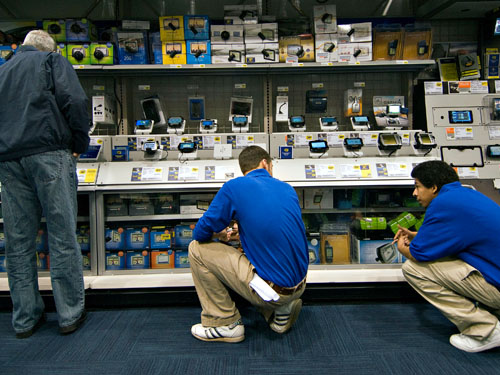 Changzhou Asian says Best Buy and the other US retailers infringed its dashboard mount patent. Best Buy, Wal-Mart Stores and other American companies are facing lawsuits over dashboard mounts for navigation devices in a rare case of a Chinese company seeking to enforce patent rights in a United States court. Changzhou Asian Endergonic Electronic Technology, based in Changzhou in Jiangsu province, has sued the retailers, claiming they are infringing its patent on a design for the dashboard mounts by selling products made by a competitor. The firm wants cash and a court order to prevent further use of the design. The patent was issued in March. The closely held company wanted to build a market in the US and filed the complaint to deal with "the typical Chinese knock-off", said Chad Nydegger, a lawyer for Changzhou Asian. It was also suing the manufacturer in China, accusing it of infringing two Chinese patents, he said. The complaint, filed on July 2 in US District Court in Texarkana, Texas, reflects the rising use of the American patent system by Chinese firms. US patent applications by mainland China residents surged 12-fold between fiscal years 2000 and last year, the Patent and Trademark Office said. "The Chinese are becoming sophisticated enough to take advantage of the patent system in the US," said Brian Nester, a lawyer at Fish & Richardson who often represents South Korean companies in US patent fights. "You will see more Chinese companies filing suit in the US." Michelle Bradford, a spokesman for Wal-Mart, said the firm had not been served the complaint and had no comment. Best Buy spokesman Kelly Groehler did not return messages seeking comment. Mr Nester said the case could be the first time a Chinese company has sued in the US over a patent obtained by a Chinese resident. Lenovo Group (SEHK: 0992, announcements, news) has sued companies over patents it acquired when it bought International Business Machine Corp's personal computer division in 2005. Mr Nydegger said Changzhou Asian, which makes Asianbag GPS mounts, lost a bidding war to a company that makes the Nav-Mat mounts sold by the retailers. He said his client was willing to negotiate with the stores. "They were bidding against this other company that has copied their design," he said. "Their goal is to capture US market share." Mr Nydegger said his client was predicting there would be more patent-infringement lawsuits by Chinese companies in the US. "The Chinese government is taking steps to assist companies into enforcing their patent rights both inside China and elsewhere," Mr Nydegger said. "My client's view is China is starting to emerge as a first-world country. There's been a significant influx of technology and they are starting to make improvements - they are becoming innovators, not just copiers." China's applications for industrial patents rose 22.5 per cent to more than 110,000 last year, Vice-Minister of Industry and Information Technology Lou Qinjian said. Chinese residents filed 5,129 US patent applications in fiscal 2008, according to preliminary patent office figures. That puts it eighth in the number of filings by residents of foreign countries, behind Japan, Germany, Korea, Taiwan, Canada, Britain and France. This might be the case of a Chinese firm "dipping a toe in the water" to see how the US legal system deals with intellectual property issues, said lawyer Robert Krupka of Kirkland & Ellis, who has represented Japanese companies in US courts. "They're very carefully picking and choosing their battles. This is a licensing play, not a real desire to go to court," he said. He pointed to the location of the court where the suit was filed and the types of firms that were sued - retailers are frequent targets of patent-infringement complaints over products sold in their stores. Other companies named in the complaint include Target Corp, Office Depot, RadioShack Corp, Staples and TomTom. Staples spokesman Owen Davis and Office Depot spokesman Brian Levine said their companies do not comment on pending litigation, as did RadioShack's media relations department. Taco Titulaer, a spokesman for TomTom, did not return messages seeking comment. Target spokesman Joshua Thomas said the company had "yet to be served with a lawsuit so it would be inappropriate for us to provide any comment". Changzhou Asian filed the complaint in Texarkana, part of the Eastern District of Texas, the most popular jurisdiction for patent-infringement litigation. There were 322 suits filed there in the year to September, or 11 per cent of all new patent suits in the US, the Administrative Office of the Courts said. The Changzhou Asian patent, with two Chinese residents listed as inventors, is for a unique, non-functional design and so has a shorter term of protection than a patent on an invention.
The China Securities Regulatory Commission (CSRC) granted approval to China International Travel Service Corporation Limited for an initial public offering (IPO) on the Shanghai Stock Exchange, the securities regulator said Monday. The company will sell up to 220 million shares to raise about 1.7 billion yuan (248.9 million U.S. dollars) for expansion of travel network and duty free shops, according to its prospectus. Net profits of the company in 2008 totaled 221.23 million yuan, compared with net profits of 217 million yuan in 2007. Before the IPO, the China International Travel Service Group, the parent company, held 84.62 percent-stake and the Shenzhen Overseas Chinese Town Holding Co. took the other 15.38 percent. After the IPO, the China International Travel Service Group will hold at least 61.35 percent of the listing vehicle.
July 21, 2009

Hong Kong: The government said on Friday work on the Kai Tak Cruise Terminal project was likely to start in December – amid expectations that the terminal's first berth could be receiving vessels by 2013. The Civil Engineering and Development Department said it was now seeking tenders for site formation work. "The scope of the 'Site Formation for Kai Tak Cruise Terminal Development' comprises construction of an 1,100-metre-long seawall, two alongside berths and necessary mooring and fender systems," a department spokesman said. "This includes 850m-long berthing structures and about 150m-long associated transition structures at two ends, for berthing of cruise vessels," he explained. The ambitious new project is being built on the site of the former airport at Kai Tak in Kowloon City. The airport stopped operating in 1998, when Hong Kong opened one of the world's largest airports at Chek Lap Kok. The government hopes the project will enable the city to become a regional cruise hub. "It will also provide for a 35m-wide apron area along the berthing length, and dredging of adjoining seabed to allow manoeuvring and berthing of cruise vessels with deep drafts," the spokesman said. "The work is scheduled to begin this December, with the target commission of the first berth to receive cruise vessels in mid-2013. The remaining work would be completed in 2014," the spokesman added. The Civil Engineering and Development Department has commissioned international design and engineering consultancy Scott Wilson to supervise the construction work. "The invitation to tender was gazetted on Friday and the closing time of the tender will be noon on August 28, the spokesman said. The government announced development of new cruise terminal facilities at Kai Tak in 2006. The cost was estimated to be HK$7 billion. At the time, Stephen Ip Shu-kwan, then secretary for economic development and labour, said the project would make Hong Kong a regional cruise hub. The government said demand for such a terminal had risen in recent years. It was also expect to boost tourism. Hong Kong currently has two berths operating at Ocean Terminal in Tsim Sha Tsui – but the facility can only accommodate vessels of up to 50,000 tonnes. In 2007, an incident occurred which led for calls for a bigger cruise terminal. When the world's second largest liner , the 148,528-tonne Queen May II, arrived it was forced to berth near Kwai Chung container terminal and passengers had to take barges to go ashore. The planned operation date of the Kai Tak cruise terminal was moved from 2012 to 2013 as the project needed to be re-tendered in 2008. This was after the submissions received did not meet the necessary requirements. Despite support from the tourism industry, others oppose the project – saying it is too expensive. Lawmaker Fred Li Wah-ming told the Legislation Council late last year the project could turn out to be a white elephant. "We are worried that the terminal will become a replica of Disney. The government boasted how the theme park would boost the economy and attract many tourists, but it has fallen short of expectations," he said.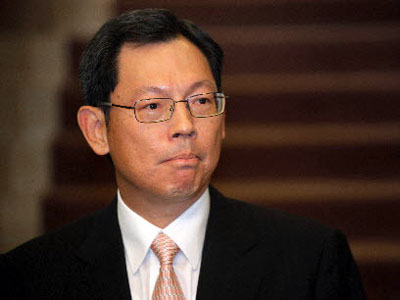 Norman Chan speaks to reporters after the announcement of his appointment as the head of the HKMA on Friday. Financial Secretary John Tsang Chun-wah confirmed on Friday the appointment of Norman Chan Tak-lam as new chief executive of the Hong Kong Monetary Authority. Mr Chan will replace Joseph Yam whose term ends on October 1. Mr Tsang pointed out that Mr Chan had considerable experience and understanding of Hong Kong's financial markets and banking system. "He is also conversant with the operation of financial markets overseas and on the mainland. He is the right person for the job," Mr Tsang told reporters. Outgoing HKMA chief executive Joseph Yam, who has worked with Mr Chan for 14 years, said "Norman is an appropriate person to be appointed... He is a person of great ability."Mr Chan, 55, who is currently director of the chief executive's office, will serve a five-year term at the HKMA, where he was appointed executive director in 1993 and deputy chief executive in 1996. He left the authority in 2005 to become Donald Tsang Yam-kuen's campaign manager when Mr Tsang ran for chief executive in 2005. Mr Chan said the HKMA would continue to focus on maintaining the stability of the monetary and banking systems. "And also the normal functioning of credit markets and prudent management of the exchange fund," he added. Mr Tsang announced that the annual salary of Mr Chan was fixed at HK$6 million. His performance-linked variable pay for the first year will be HK$1.5 million at the most. This figure was 32 per cent less than that paid to Mr Yam, who has been head of the HKMA since April 1993 when it was established as Hong Kong's central bank and currency board. The post-termination employment control period of Mr Chan was extended from six to 12 months. Mr Tsang said Mr Yam and he had agreed in August 2007 that Mr Yam's term would end in September 2009. Raymond Tam Chi-yuen, under-secretary for Constitutional and Mainland Affairs, will take over from Mr Chan as the director of the chief executive's office in August. Mr Tam, 45, joined the administrative service in 1987 and served as press secretary to former financial secretary Antony Leung Kam-chung.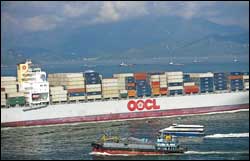 Orient Overseas (International) Ltd (0316) plunged 32 percent in the final minutes of trading yesterday, triggering questions from brokers who said the now-scrapped closing auction session would have prevented such wild swings. OOIL, a shipping firm controlled by the family of former Hong Kong chief executive Tung Chee-hwa, shed HK$10.80 to close at HK$23. About 148,000 shares worth about HK$3.3 million changed hands at prices below HK$30 a share in the last few minutes. The sharp drop followed a surprise jump on Wednesday in an exchange- traded fund, the WISE-CSI 300 China Tracker (2827), which rose 51.4 percent in the final minutes of trading. Ample Finance Group director Alex Wong Kwok-ying said this kind of sudden movement could be avoided if the closing auction session were reintroduced. "A big market order pushed down the share price," Wong said. "If we had the closing auction system, then we would not have this kind of phenomenon." Independent stock commentator Kingston Lin King-ham warned that some foreign "big crocodiles" may be testing the limits of the Hong Kong market, to see what they can get away with, in preparation for a full-scale attack. Lin called on the Securities and Futures Commission to launch an investigation to see who is behind the share- price swings. "I think somebody is testing the trading platform of the market," Lin said. When asked about the drop in OOIL shares, a SFC spokesman said: "We are aware of this situation, but we do not comment on individual cases." Market rumors pegged the big drop in OOIL to some over-the-counter derivatives, Redford Securities head of research Kenny Tang Sing-hing said. Bourse operator Hong Kong Exchanges and Clearing (0388) said the stock exchange had noted sharp price moves in various transactions involving OOIL shares before the market close. "The exchange has been in contact with the relevant exchange participants and no report of trading errors has been received," HKEx said. "The exchange is not in a position to comment on whether individual trades involve unusual market activities." An OOIL spokesman said he was surprised about the share-price movement and thinks it is "totally unrelated" to the firm's fundamentals. The benchmark Hang Seng Index rose 0.6 percent, or 103.21 points, paring earlier gains to close at 18,361.87. The China Enterprises Index added 0.4 percent, or 41.81 points, to 10,902.47.
With high rentals and costly overheads – as well as the impact of the global financial crisis – running a small business or restaurant in Hong Kong has never been harder. In recent years, some of Hong Kong's leading restaurants and shops have been forced to close, re-locate to cheaper areas, or streamline their businesses. Recent examples include Yugamama restaurant and bakery, the Lok Heung Yuen Coffee Shop, also known as "Snake Pit"; Tai Chueng Bakery, Japanese restaurant Arigato's and the Hard Rock Cafe. This year, with unemployment rising, Hong Kong's restaurant and catering sector has already shed 1,029 jobs, latest statistics show. But Billy Chung Wai-hung, managing director of Hakka Delicious, believes he may have found a way to prosper during tough times. Hakka Delicious is located in Yuen Long in a shopping centre owned by the Link Reit (SEHK: 0823, announcements, news) - Hong Kong's first REIT – which includes 180 shopping malls and carpark facilities. Mr Chung told SCMP.com he had increased restaurant profits by over 20 per cent since last year. This is despite one the worst economic climates in Hong Kong for years. Mr Chung worked as a Hakka and Cantonese chef for over 30 years. In 2007, he decided to open the Hakka Delicious restaurant. It is located in the Link's shopping centre at Tin Shui Wai in the New Territories. He felt the timing for a new restaurant – specialising in the distinctive cuisine of southeastern China – was right. "I felt it was a good time to open a Hakka restaurant," he recalled. Popular Hakka dishes include Dung Gong Yam Guk Gai – salt-baked chicken and Noh Mi Ap – duck stuffed with rice. Mr Chung said a reason for his subsequent success was the restaurant's simple menu. He said he was fortunate to meet Chua Lam – one of Hong Kong's most famous food critics. Mr Chua's advice was to specialise and keep things simple. "He told me to remove any dishes not supposed to be included on a Hakka menu – such as Sichuan and Cantonese dishes. "He advised me to be more focused," said Mr Chung. "I drafted another menu immediately and it included only authentic Hakka cuisine. The idea worked and business increased – despite the economic climate. "Our profits reached about HK$2.2 million to HK$2.3 million per month. Even after the global financial crisis – we still had a profit of about HK$1.8 million," Mr Chung said. "I am preparing to open another Hakka Delicious this year," he added. Mr Chung said another reason for his success was he avoided doing something everyone else was doing. "There were already too many hot pot restaurants in Tin Shui Wai [near Yuen Long] at that time, so and I had to do something different to make my restaurant stand out," he said. Despite Mr Chung's achievements, Germaine Lui Suk-man, the general manager of the Link Reit, said success stories were rare. High rentals and costs, too much competition, and the global credit crisis, made it hard to survive. The last year in Hong Kong had been particularly adverse, she noted. Yuen Fuk-wo, chairman of Hong Kong Federation of Restaurants and Related Trades, said over 28 restaurants closed last year, and at least 600 employees had been affected. "Most were Chinese restaurants, including the Lucky Fellow Restaurant Group that owned two hotpot restaurants, and Chiu Hei, a seafood restaurant in To Kwa Wan which had been operated for only few months. Some of them were Cantonese tea restaurants [cha chaan teng]. Even this year, 20 restaurants were closed," Mr Yuen told SCMP.com. Germaine Lui said the Link Reit would ask Mr Chua to give them advise about other restaurants. She said over 1,100 small business owners and their staff had joined the Link Tenant Academy's seminars since last year. "The Link Tenant Academy was formally set up last year. We have invited different experts to deliver 16 practical seminars and workshops. Ms Lui said these would cover things ranging from business issues, customer service, retailing and food handling.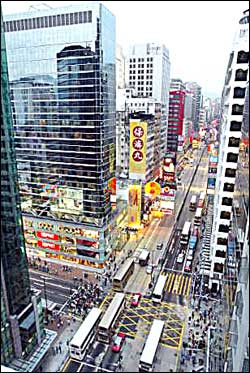 Hong kong, slowly but surely, is going with the flow of the green revolution sweeping across the world. Our air-cons in summer and fan heaters in winter may not be operating on power from renewable sources and our roads may not hum with hydrogen buses, but bad-air days are no longer being greeted with resignation but with demands for change. The chronic polluters are responding too. Cars, buses, taxis, vans and trucks and power companies are switching to cleaner fuels. Recycling bins are popping up everywhere and plastic bags now come at a price at supermarkets and shops. And Hongkongers may soon be able to make a difference in the comfort of their own homes. That is the thrust of the latest initiative by the Council for Sustainable Development, a government advisory body. Until late October, the public can bring its collective experience to bear on the issue of "Building Design to Foster a Quality and Sustainable Built Environment." Special focus is on three main areas: How to achieve sustainable design in terms of building separation, setback from narrow streets and greenery; How to balance the need for essential, green and amenity features of buildings against the increase in building height and size that they create; and Improving energy efficiency through more effective building design. The council is hoping to get all sectors of the community to participate in the public discussion, which it launched last month, including professional groups, green groups, property developers, academia, and, of course, the end users - the property owners and tenants. An Invitation for Response document from the council outlines the background and current situations of the built environment in Hong Kong, information on potential solutions and how these solutions, if implemented, will affect the built environment and eventually living quality. There is plenty to consider. Summer, for example, can bring out the worst in Hong Kong's most built- up areas, creating the canyon or heat island effect on wide swaths of road that leave pedestrians crying out for a cooling breeze. Boxed-up roads and narrow sidewalks ensure fumes from peak-hour traffic have nowhere to dissipate before reaching the suffering pedestrian. In buildings, a balcony or sky garden lifts the living environment, but these green features bump up a building owing to the concessions granting policy. The government now gives developers extra gross floor areas for amenities such as clubhouses, plant rooms and car parks. Withdrawing the concessions could scale down building sizes to ease the wall effect that has sparked public outcry in recent years. But the trade-offs are smaller flats and less facilities. To be green from inside out, energy efficient building design can help cut energy bills and the emission of greenhouse gases. Glass windows and solar panels enhance the use of daylight while shades and rooftop greening reduce heat. But these extras may add bulk and height to a building. So to help the process, the council is planning a series of forums, seminars and workshops to engage stakeholders. A report putting forward the community's views and council recommendations on the way forward will be submitted to the government in early 2010. More information is available on a dedicated website, www.susdev.org.hk.
Sniffer dogs may be deployed in Hong Kong schools as the war against youth drug abuse is ratcheted up. A respected government advisory body has called on Chief Executive Donald Tsang Yam-kuen to send the sniffer dogs into schools across the territory to scare youngsters off drugs. The proposal, from the Action Committee Against Narcotics, comes after customs boosted the number of sniffer dogs it deploys at border checkpoints and the airport. Committee chairman Daniel Shek Tan-lei said: " We hope that regular demonstrations [using sniffer dogs] showing how they detect drugs can act as a warning to students so that they dare not become drug traffickers." Shek said a proposal has been put to Tsang to increase the number of detector dogs, currently deployed at cross-border points, and also to " use them for school visits as a deterrent." Shek said some members also called for a night curfew for youths under 16 years old who visit internet cafes where they can easily get illicit drugs. He made the appeal after a meeting between Tsang, ACAN members and district councillors from all 18 districts on the way forward in the battle against youth drug abuse. Tsang, who is personally leading the war on drugs, said the government will hold large-scale seminars for teachers and parents this year. The government will earmark HK$9 million for the campaign and is studying ways to get individuals and companies to make donations.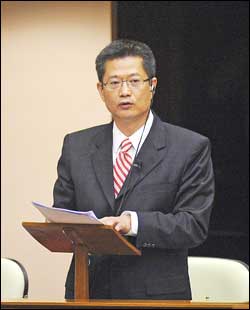 Accountant Paul Chan Mo-po has become the latest legislator to receive a death threat. Chan, who represents the accountancy sector, said the letter accused him of being "the sinner of the nation" for which he would be turned "bloody and messy". He said he did not take the letter - which he received on June 2 - too seriously though the matter was reported to the police. He has turned down a police offer of protection. Chan said he was not sure whether the letter was in response to his speech in the Legislative Council in which he said he would never forget the June 4, 1989 crackdown on students, or because he had abstained from voting in the May 27 motion calling for all those involved in June 4 to be vindicated. Chan, 54, the former president of the Hong Kong Institute of Certified Public Accountants, became a legislator last September. Chan said he received the hand- written note containing the words "sinner of the nation." "The letter said I will be killed and made `bloody and messy'," Chan said. "It is the first time I have received what appears to be a death threat." Chan said it could be just a prank though he did pass it on to the police as a precautionary measure. It is understood the letter was opened by one of his assistants. In the Legco motion, which was discussed before the 20th anniversary of the June 4 crackdown, Chan broke the usual silence by the pro-establishment camp on the subject by saying he had not forgotten the June 4 incident. He also joined the one minute's silence advocated by the pan-democratic lawmakers in the Legco chamber together with medical representative Leung Ka-lau. "I will not forget June 4 and it cannot be forgotten," Chan said. He said the central government had not given a frank account of what had happened 20 years ago, adding that the Chinese authorities had used guns against students. In 2007, former chief secretary Anson Chan Fang On-sang received a letter in which a razor blade was enclosed less than a week after she won a Legco by-election. Earlier this month two men, Huang Nanhua, 50, and Ho Wai-kan, also 50, were jailed for 16 and three years respectively for their part in a plot to harm former Democratic Party lawmaker Martin Lee Chu-ming which involved underworld gun smuggling.

China: Sichuan Expressway said on Friday that its initial public offering, China's first major IPO in 10 months, was 414 times subscribed for the key retail portion. The offer, which was priced at the top end of an indicated range and raised 1.8 billion yuan (US$264 million), locked up 684.6 billion yuan of investor funds, including the smaller institutional portion. The retail portion accounted for 70 per cent of the toll road operator's offer of 500 million A shares at 3.6 yuan a piece, it said in a statement. The indicated range was 3.25-3.6 yuan per share. The institutional portion, comprising the remaining 30 per cent, was 302 times subscribed. Money is returned to unsuccessful applicants on Friday for institutional investors and on Monday for retail investors. The price implies a premium of about 27 per cent on the closing price of Sichuan Expressway's H shares on Thursday, after exchange rate adjustments. The Hong Kong-listed shares were up 1.2 per cent on Friday, tracking the rise in the benchmark Hang Seng index. Some analysts and money market traders said that China's recent reform of the IPO system has succeeded in reducing some of the uncertainty about the volatile fund flows caused by IPOs. During the last surge of IPOs in 2007-08, the resulting fund flows shifts drove the key weighted average seven-day repo rate sharply higher, sometimes up to 5 per cent or 10 per cent. But Chinese IPOs still have their reputation as an easy means to make quick money, and the investor enthusiasm to participate in the listings has played a role in the steady rise in money market rates over the past month. "Strong demand for funds to participate in IPOs is helping cause a steady climb in the repo rate, even though uncertainty in fund flows has fallen," said Qian Bingzhong, liquidity management officer at Bank of Communications (SEHK: 3328). With the recent restart of two other small offerings since last month, the seven-day repo has climbed to 1.5299 per cent on Friday, out of its 0.9-1.0 per cent rate range during the first half of this year. The central bank's move to slightly tighten liquidity in the banking system has also nudged up money market rates.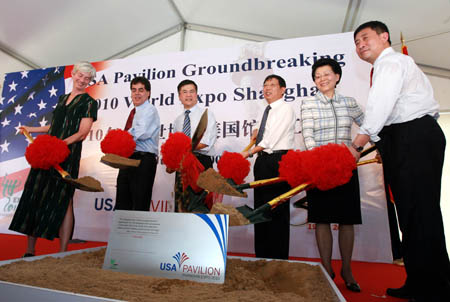 U.S. Commerce Secretary Gary Locke (3rd L), Chinese Commerce Vice Minister Ma Xiuhong (2nd R), and Shanghai Vice Mayor Yang Xiong (3rd R), attend the ground-breaking ceremony for the construction of the U.S. pavilion at the 2010 Shanghai World Expo in east China's Shanghai, July 17, 2009. Construction of the U.S. Pavilion at the 2010 Shanghai World Expo started here at 10:00 a.m. Friday. Visiting U.S. Commerce Secretary Gary Locke and Ma Xiuhong, Chinese vice minister of commerce, and Yang Xiong, vice mayor of Shanghai attended the ground-breaking ceremony. "The Haibao doll that sits in my office is looking forward to reports on your progress - as are the rest of us back in Washington," said a congratulations letter from U.S. Secretary of State Hillary Clinton to the event. "The United States is proud to participate, and President Obama and I are committed to doing everything we can to support your work," said Clinton in the letter read by Jose H. Villarreal, the U.S. Commissioner General to the 2010 World Expo, at the ceremony. The United States was the 240th country (organization) to confirm participation in the 2010 World Expo Shanghai and the 212th country (organization) to sign the participation contract on July 11, according to the Shanghai World Expo Bureau. Zhou Jun, an official of the International Exhibition Division of Shanghai World Expo Bureau, said the global economic slowdown had effects on the fund-raising of the U.S Pavilion since late 2008, which made the country a late comer to confirm its participation to the expo. "U.S. laws make it clear that the government can't participate in the World Expo with federal budget," he said. Several companies including Wal-Mart, the NYSE Euronext and Intel on Thursday announced sponsorship of the U.S. Pavilion, after Locke encouraged all American companies to donate money to the country's Expo showcase during a speech to the American Chamber of Commerce-China in Beijing on Wednesday. "Our commitment to leading on the development and employment of clean energy technologies will be on display in Shanghai next year as a city prepares to receive some 70 million visitors to the 2010 World Expo," said Locke at the ground-breaking ceremony. The expo organizer has reserved a 6,000-square-meter land for the U.S. Pavilion, whose construction would cost 61 million U.S. dollars. However, half of the funding goal has been fulfilled, upon the signing of the participation contract on July 11, according to the organizer. The Shanghai World Expo will be a six-month-long event that starts on May 1 and ends Oct. 31 next year.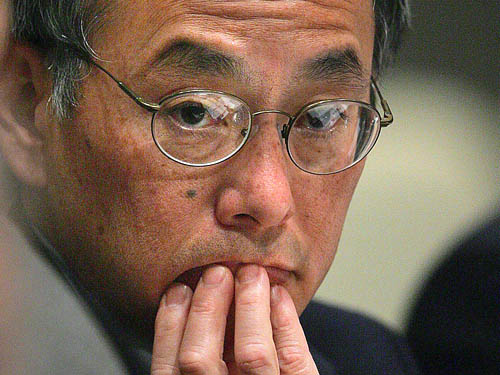 U.S. Energy Secretary Steven Chu pledged Thursday to boost clean energy cooperation with China. "We are going to develop ideas (with China), such as how to build energy-efficient buildings, how to build cleaner power plants, especially the use of cleaner coal," Chu told Xinhua in an exclusive interview. He cited the technology of carbon capture and sequestration that would help to cut emissions of carbon dioxide generated in coal-fueled power plants. "If we developed those ideas, then China can use these ideas in China and we could use these ideas in America" which would eliminate the need to pay the tariff because they could produce all the energy-saving products in domestic factories, Chu said. This year marks the 30th anniversary of the signing of the China-U.S. agreement on scientific and technology cooperation. Chu's three-day China tour would focus on research on environment-friendly "clean" energy, he said. Chu defended a U.S. congress bill to levy the so-called carbon tariff on imports from countries that have no statutory restrictions on greenhouse gas emissions. The U.S. House of Representatives passed the bill last month, which contained tough provisions to impose carbon tariffs in a bid to ensure that U.S. companies would not lose competitive advantage. The bill was not designed to establish trade barriers, but to encourage green economies in other states, Chu said. China, along with other countries, has voiced objections to the carbon tax, saying it was a new kind of trade protectionism under the guise of preventing climate change. The construction of trade barriers "isn't really good to many many things and isn't good for the overall prosperity of all the countries involved," he said. Chu, a Chinese American, urged China to step up its efforts in cutting emissions of greenhouse gases. "The United States and China are two great countries and we are emitting together 42 percent of the carbon dioxide of the world," he said. The stances of China, the largest developing country, and the United States, the biggest industrialized state, on the decrease of greenhouse gas emissions were crucial for the United Nations' climate change conference, which was slated for December in Denmark's capital Copenhagen. A new agreement on climate change is expected to be ironed out at the conference to replace the Kyoto Protocol that set a limit for developed countries' greenhouse gas emissions, but will expire this year. The principle of "common but differentiated responsibilities", a stance held by most developing countries on the reducing of greenhouse gas emissions, was "a sound one", Chu said. The developing countries, with much lower per capita carbon emissions than the industrialized states, were urging developed nations to reduce greenhouse gas emissions and provide technology and assistance to jointly cope with climate change. "Should we respect those developing countries whose standard of living was much poorer?... Should they have a right to do that? Absolutely correct," Chu said. "But I think it is possible for even a developing country to gain prosperity and to have a better living standard and wealth for its people and still decrease their carbon emissions," he said. Along with Chu, U.S. Secretary of Commerce Gary Locke was also here to meet Chinese trade and energy officials, as well as Chinese leaders to discuss cooperation on energy and climate change. "We are both Cabinet officials in President Obama's administration and we are both Chinese Americans as well. Our roots are in China," Chu said. "I'm a friend of Secretary Locke so we said we should go together (to Beijing)...This visit shows the world how important the U.S.-China relationship really is," he said. Chu and Locke Thursday together visited the U.S. Future House, a pioneer energy-efficient building in a model park funded by the Chinese government and foreign embassies in northern Beijing. Chu applauded the green-energy projects in the Future House, including a solar panel that generates electricity for the two-floor American-style wooden house, and the energy-saving heating and water recycling systems. In the 400-square-meter home, Chu pointed at an LED lamp and said he was looking for such products in the United States. "He asked me whether the lighting system in the house was made or designed in the United States, but I told him, no, it's all made in China and we hold the intellectual property rights. He was a little bit surprised and nodded," said Chai Guosheng, president of the Cnlight Co. Ltd, China's largest producer of energy-efficient lights and a contractor of the house. "It set a new standard of construction, will benefit not only China and the United States, but also every other country," Locke said on his one-hour tour. Locke also visited a Wal-Mart store that had energy-saving systems in downtown Beijing's Wangjing District. Chu and Locke arrived in Beijing on Tuesday afternoon for discussions with China on climate change and clean energy.
Beijing called on Russia not to overreact on Friday to its clampdown on a Moscow bazaar, home to tens of thousands of Chinese traders and well-known for its thriving contraband trade.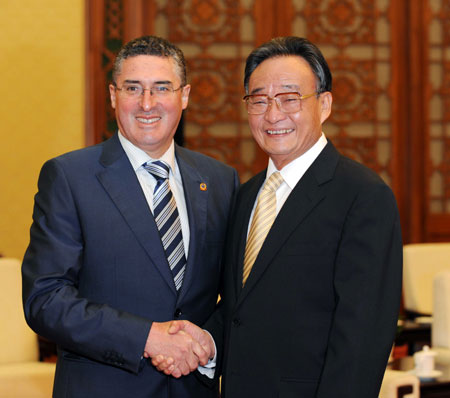 Wu Bangguo, chairman of the Standing Committee of the National People's Congress (NPC), meets with President Jorge Pizzaro of the Latin American Parliament (Parlatino) in Beijing on July 17, 2009. China's top lawmaker Wu Bangguo met with President Jorge Pizzaro of the Latin American Parliament (Parlatino) here on Friday, vowing to further step up China's parliamentary exchanges with Latin America. Wu, chairman of the Standing Committee of the National People's Congress (NPC), China's top legislature, said China and Latin American countries had carried out remarkable cooperation in trade, culture, education and environmental protection. As developing countries, China and nations of Latin America shared increasing interests in the development of economic globalization and multi-literalism, he said. "China always deals with its relations with Latin America from a strategic height," said Wu. China was ready to cooperate closely with Latin America to explore cooperation, jointly face up to challenges, and strengthen cooperation. Calling the Parlatino the most important and representative inter-parliamentary organ in the Latin American and Caribbean region, Wu said China's NPC valued relations with the Parlatino, and was willing to expand exchanges and cooperation. Pizzaro said China played an increasingly important role in the world, and the Parlatino hoped to expand friendly exchanges with the Chinese NPC and contribute to closer relations between Latin America and China.
Hoteliers in secondary cities are benefitting more from China's stimulus measures, with larger markets in Beijing and Shanghai weighed down by past construction booms, said Jones Lang LaSalle Hotels on Friday. Tier-two and tier-three cities are benefiting from massive infrastructure spending, while the massive hotel expansion ahead of the last year Olympics saturated the Beijing market, said Andreas Flaig, Beijing-based managing director at the consultancy, a unit of Jones Lang LaSalle. "Certainly for Beijing and Shanghai, one ought to be very cautious," he told Reuters, referring to investors and developers looking at the hotel market. From 2006 to last year, the number of hotel rooms doubled in Beijing and will grow another 23 per cent through 2011, said Flaig. That buildout has pushed occupancy rates in Beijing to 47 per cent for five-star hotels, and 50 per cent in the four-star market. "Once you drop below 50 per cent occupancy, then you start to seriously impact the profitability of a hotel," said Flaig. "We are way off the 75-ish occupancy the city has enjoyed before." But the economies in secondary cities such as Sanya, Dalian and Hangzhou are still growing around 15 per cent, bouyed by domestic demand, central government stimulus measures and a lower reliance on export industries, he said. "It is a reflection of the government stimulus and banks pumping in trillions of renminbi (yuan)," said Flaig. "Therefore, buying land to start new projects is easier now than six or nine months ago." Global hoteliers are betting on Asian growth markets such as India and China to offset falling revenue as vacationers and business travellers cut back during the global downturn. China represents approximately 5 per cent of the total business of Intercontinental Hotels, the world's largest hotelier, a figure that could grow to 15 per cent in two years.
July 18 - 20, 2009

Hong Kong: Hong Kong people should prepare for the possibility of a typhoon over the weekend – maybe on Sunday, the Hong Kong Observatory advised on Friday afternoon.
Former Walt Disney creative designers - including 30 who were sacked four months ago after Hong Kong Disneyland expansion talks stalled - are being recruited to rejoin the theme park now that expansion plans have been approved. Letters were sent out on Monday to all former "imagineers" who had worked on the park since it opened almost four years ago, including those who were laid off in March. They have been asked to submit their resumes by next Friday if they want to rejoin. Sources familiar with the situation said that while all the imagineers were previously paid by parent corporation The Walt Disney Company, based in Burbank, California, some would now be paid by Hong Kong Disneyland. The move, which came just three days after the Legislative Council approved the park's expansion, has raised suspicions that at least some of the dismissals were a tactical move to put pressure on the government. In March, Disney halted all creative and design work related to expanding the theme park and laid off more than 30 imagineers. The drastic job cuts reduced the size of the Hong Kong-based imagineering team to a skeleton crew of only about 10 staff. Events have left some of the sacked staff feeling used and doubtful about whether they want to return. "I'm still thinking about it," one of the former imagineers said. Disney expert Dennis Speigel, president of Cincinnati, Ohio-based consultancy International Theme Park Services, said he believed the dismissals were partly tactical and partly to help Disney trim overheads during the economic downturn. "To some degree, it was calculated," Mr Speigel said. "When the imagineers were laid off, it sent a signal over the bow of the government that it had to do something." The government has a 57 per cent equity stake in the joint venture that runs the Hong Kong park, with Disney holding the rest. Under a new structure that is part of the expansion deal, the government will retain about 52 per cent while Disney's stake will rise to 48 per cent. Imagineers are responsible for planning, creative development, design, engineering, production, project management, and research and development of Disney's theme parks. Given the highly specialised nature of their work, many former imagineers are expected to take up Disney's offer, although some are understood to have found other jobs already. As much of the design work for the expansion's three new themed "lands" had already been completed, the locally based imagineering team would focus mainly on managing and co-ordinating construction, overseeing show quality and handling architecture and other projects, the sources said. "We have begun approaching the former imagineers, and re-employment will be considered according to the newly approved expansion plan," a Hong Kong Disneyland official said. Expatriate pay packages, which usually feature full housing allowances and other benefits, will be included in the HK$3.63 billion estimated cost of the expansion plan. The Walt Disney Company is paying almost HK$3.5 billion of the expansion's HK$3.63 billion cost. The company has budgeted about HK$162 million for project and construction management expenses, including the cost of hiring imagineers.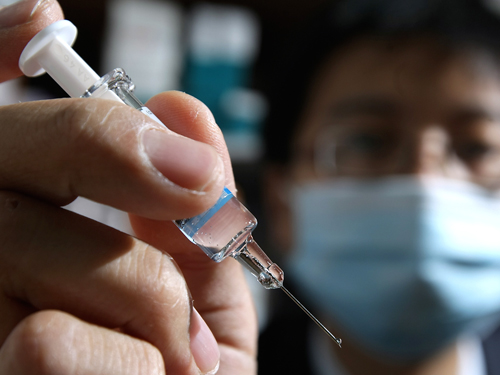 Dr Lau Hon-chung says a price tag of HK$50 for a flu shot would be the cost price only and would not help cover expenses such as rent and salaries at his clinic in Tsuen Wan. "Everything costs money." That was what private doctor David Hsu Kwok-fai had to say yesterday about the seemingly simple process of giving a flu shot. "When patients come in for a vaccine injection, our nurses will register them and ask them about their allergic history and if they have any symptoms, like fever or a cough," said Dr Hsu, who practises in Diamond Hill. "All of these create costs. In addition, we need to store the vaccines in a dedicated refrigerator, causing extra costs in electricity and equipment maintenance." Although he was unable to say exactly how much it would cost to administer a vaccine shot, the general medical practitioner said he believed many clinics would sustain a loss if they were paid only HK$50. Dr Hsu's clinic charges HK$150 for a vaccination for seasonal flu. "I don't know how the government has come up with this HK$50 figure, but I am pretty sure they have not taken into account the rents paid by private clinics," he said. For his clinic, which he has run with another doctor for two years, the rent alone is HK$50,000 a month - half of their operating costs. Dr Hsu said the government should leave it open for private doctors to set their own fees for vaccinations, as it had in the past. "The public hospitals should offer free vaccinations for unprivileged people while others, who can afford to pay for a flu vaccination, can go to private clinics," he said. Another private doctor, Lau Hon-chung, who practises in Tsuen Wan, shared Dr Hsu's views. "We cannot make any money charging HK$50 a shot," he said. "The government last year paid HK$80 for a seasonal flu shot. Why have they cut it this time?" Dr Lau estimated that HK$50 was just the "cost price" for a shot at his clinic in Riviera Garden, for which he pays about HK$40,000 to HK$50,000 a month on rent, staff salaries and other operational expenses. "The government can provide free vaccination services, with their staff able to continue enjoying a reasonable salary every month, but we have to make every cent by ourselves to pay for our staff and everything else," he said. "In my opinion, HK$60 or HK$70 would be reasonable payment for a jab."

The government will announce today the appointment of Norman Chan Tak-lam as the next Monetary Authority chief executive and Raymond Tam Chi-yuen as director of the Chief Executive's Office. People familiar with the situation said Mr Chan would be paid between 10 and 20 per cent less than that earned by retiring Monetary Authority chief Joseph Yam Chi-kwong. It means the fixed part of Mr Chan's salary in his new job - at present he is director of the Chief Executive's Office - will be between HK$6.2 million and HK$7 million a year, compared with Mr Yam's HK$7.78 million. The variable part of Mr Chan's pay package in his new job will also be less than that which Mr Yam receives. Mr Yam, dubbed the world's best-paid central banker, was paid HK$10.9 million last year. Of that, HK$3.17 million was variable pay. Mr Chan will also have his tenure fixed at five years while Mr Yam never operated under a specific term. The source said Mr Chan's tenure would be renewable and the government would not set a retirement age for the next de facto central banker. Mr Chan previously served as Mr Yam's deputy. The South China Morning Post (SEHK: 0583, announcements, news) reported in February that Mr Yam had reached an agreement with the government in 2007 that he would step down this year. Financial Secretary John Tsang Chun-wah announced in May that Mr Yam would retire on October 1. Mr Chan, 55, became an executive director of the Monetary Authority in 1993 and was appointed deputy chief executive in 1996. After leaving the Monetary Authority, he was campaign manager for Donald Tsang Yam-kuen when the latter ran for chief executive in 2005. Mr Tam, 45, the new director of the Chief Executive's Office, joined the administrative service in 1987 and served as press secretary to former financial secretary Antony Leung Kam-chung. He built a close working relationship with Donald Tsang when, as principal assistant secretary for constitutional affairs, he helped the then chief secretary promote the electoral reform package for 2007 and 2008.

China: China has once again become home to the world's second-biggest stock market as a 75 per cent rally this year helped it regain the runner-up spot lost to Japan 18 months ago. The total market value of the Shanghai and Shenzhen stock exchanges topped US$3.21 trillion on Wednesday, against Japan's US$3.2 trillion, according to Bloomberg data. The total market capitalisation for the mainland was valued at US$3.206 trillion yesterday. But the mainland may not be able to keep the title for long, with predictions the equity market is over-bought. The Shanghai Composite Index nudged down 4.809 points or 0.15 per cent to 3,183.742 yesterday while the Nikkei-225 Index edged up 74.91 points or 0.81 per cent to 9,344.16. The Japanese indicator rose 5.47 per cent this year. In August 2007, China for the first time got the better of Japan in terms of market value, becoming the world's second-largest stock market behind the United States. The volatile market last topped Japan in January 2008, according to Bloomberg. Analysts said the mainland market risked entering a new period of volatility although they admitted that the current inflow of hot money may help it consolidate the No2 position over the short term. The Shanghai Composite Index has advanced 74.9 per cent this year following a 65.4 per cent slump in 2008, the biggest one-year drop in its 18-year history. Mainland commercial banks have accelerated loan approvals this year to capitalise a large number of infrastructure projects, but some of those funds have been illegally pumped into the stock markets to chase short-term gains, sources said. Nearly 1.2 trillion yuan of loans are suspected of having been invested in the stock market, said Wei Jianing, an official at the State Council's Development and Research Centre. A Shenyin Wanguo Securities report said that a large amount of overseas hot money would continue to flood the mainland in the coming months as investors look for handsome returns in China. "An increasing number of investors are betting on further gains in the stock market," said Shenyin Wanguo analyst Wei Daoke. "Since the upward momentum is irreversible, it is difficult to predict where the key index will peak." The China Securities Regulatory Commission reopened the initial public offering market last month after a nine-month suspension. Sichuan Expressway said yesterday that its 500 million initial public offering shares drew subscriptions of 684.6 billion yuan (HK$777.7 billion). The 375 million shares offered to the general public were 387 times oversubscribed. Last Friday, China State Construction Engineering Corp, the mainland's largest housing contractor, received the green light to float 12 billion shares and is expected to raise nearly 50 billion yuan, potentially the largest listing in the world this year. "The new IPOs will help China retain the No 2 position in the near future," said Citic Securities analyst Sun Chao. "But some investors are beginning to feel queasy about the stock valuations."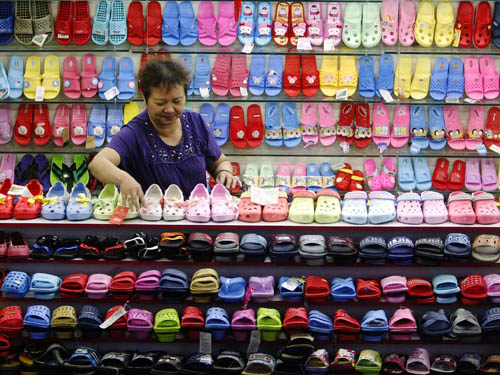 Consumer and producer prices dropped more than expected last month, indicating lingering deflation risks despite a solid rebound in gross domestic product in the world's third-largest economy. The consumer price index shrank further to 1.7 per cent last month from 1.4 per cent in May. For the first half, the CPI fell 1.1 per cent year on year, dragged down by lower food, clothing and telecommunications prices, the National Bureau of Statistics said yesterday. Meanwhile, the producer price index fell 7.8 per cent, worse than a 7.2 per cent decline in May. The deterioration came despite a rebound in global commodity and energy prices. "The sharper than expected deflation in June will likely delay the return of CPI inflation until November or December this year," said Sun Mingchun, an economist at Nomura. Mr Sun said the mix of a strong economic recovery and prolonged deflation would pose a challenge to policymakers, placing leaders in Beijing in a dilemma over which problem to tackle - inflation or deflation. The CPI and PPI deterioration suggests Beijing should maintain its current loose monetary policy, while the economic recovery and rising asset prices indicate the proactive fiscal policies are no longer necessary. In the second quarter, the mainland's GDP grew a robust 7.9 per cent from a year earlier, helped by soaring fixed-asset investment mobilised by the nation's stimulus package and skyrocketing loans made by banks. "Policymakers may start worrying about excess liquidity, overinvestment and asset price inflation [next year] and beyond," said Mr Sun. "However, prolonged deflation - a reflection of not only the base effects but also overcapacity and still insufficient demand - may tie their hands on any potential aggressive tightening." Statistics bureau spokesman Li Xiaochao said the nation wanted neither inflation nor deflation. "We want prices at reasonable levels. Inflation and deflation can do harm to the economy." The mainland CPI had been falling since February, while the PPI has been dropping since January, with the declines becoming steeper every month, he said. He also noted signs of inflation, saying M2, the broad money supply, grew a stunning 28.5 per cent year on year in June. "We will pay attention to elements leading to price declines and increases. We will try to figure out the future trend," said Mr Li. The country's top leaders have obviously tried to keep the economic recovery on track by repeatedly saying they would maintain the expansionary fiscal policy. However, the rally in the stock and property markets since the beginning of the year is intensifying concerns about asset bubbles and looming inflation. The People's Bank of China resumed one-year bill issuances recently to mop up liquidity after an almost eight-month halt. And a central bank research team released a report last week saying that banks' reserve requirement ratio and interest rate increases should be in its tool box. Ha Jiming, an economist at China International Capital Corp, said: "The government still intends to ensure policy consistency and stability since the economic stabilisation is not solid enough and the 8 per cent full-year economic growth target has yet to be reached." Most economists agree Beijing will not tackle inflation this year because deflation is still the real threat at the moment.
Lenovo Group's shipments of personal computers grew in the second quarter, rebounding from six months of decline, as sales picked up in its core mainland market and across Asia.

Unicom chases China Mobile's high-end users - China Unicom aims to go up against market leader China Mobile for high-end users as early as October, thanks to its exclusive sales agreement for the popular Apple iPhone handset.
July 17, 2009

Hong Kong: A spokesman for the Consumer Council said on Wednesday it was concerned some travel agents were trying to force consumers to buy specific types of travel insurance. A spokesman for the council said consumers who refused to purchase travel insurance with some agents had been told they would not be allowed to join tours. Following consumer complaints, the council conducted a survey of 17 travel agents. This was in relation to three selected package tours to Beijing, Bangkok and Tokyo. They found four out of 17 agents had adopted the sales practice of arranging package tours with designated travel insurance. The four agents singled out were Sig Holiday, Smart Holiday, Miramar Travel and Kwan Kin Tours. Of the four travel agents, two required the mandatory purchase of their designated travel insurance, even if customers were already covered by their own annual travel insurance. The spokesman criticised this practise because it would deprive consumers of the right to buy their own travel insurance. They may also be forced spend more money on insurance than they had wished. "For example, if you joined a five day tour to Beijing with one of these four travel agents, you have to spend between HK$181 and HK$198 buying their designated travel insurance,'' he said. "But if you buy a basic travel insurance to the mainland from other insurance companies, you pay a premium as low as HK$84," he explained. A Travel Industry Council spokesman said the government did not have any specific guidelines or codes of practice on the issue. He said travel agents should be free to develop their own business policies.
Professor Ron Hui Shu-yuen of the Consumer Council in North Point on Wednesday. The Consumer Council warned on Wednesday some household bleaches being used in Hong Kong were not effective as disinfectants. This comes at a time when consumers are anxious for effective disinfectants to help control the spread of human swine influenza. Tests by the council showed that 21 out of 29 samples of bleach were not suitable for use by consumers because they were too weak to kill germs. "Disinfectants are effective on a dilution ratio of 1:99 only if they contain 5.25 per cent of active ingredient. If it is lower than this concentration, the germ killing property will be weakened," the spokesman explained. The council also found that 11 types of bleach were found to contain less active ingredients than what was claimed on their labels. The council noted that sodium hypochlorite, the active ingredient of bleach, was unstable and could decompose over time. Bleach which has been placed on supermarket shelves for long periods may not be powerful enough to fight germs. The spokesman also said nine samples of bleach were found without any manufacturing or expiry dates. Four samples had no bilingual safety warnings. The test findings were passed to Customs and Excise Department. This was to see if the samples had violated the Trade Description or Consumer Goods Safety Ordinance.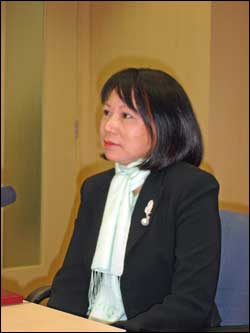 A former assistant police commissioner has challenged the policy of suspending the pensions of senior civil servants who take up posts in government or subvented organizations after retirement. Bonnie Yee-lo Smith yesterday filed for a judicial review in the High Court against Secretary for the Civil Service Denise Yue Chung-yee, challenging the validity of the pension policy. Smith complained her pension was suspended after she took up a new post with the Privacy Commission in 2006. Her legal challenge came after Privacy Commissioner Roderick Woo Bun announced on Monday Smith would be replaced as deputy commissioner by former legal counsel Margaret Chiu Sai-fong. Smith says in her writ that in or about 2006, she applied to the secretary for civil service for permission to retire early from her police position to become deputy privacy commissioner. In or about about 2008, Smith was alerted to the Pensions Ordinance, which stipulates that the payment of a retiree's pension may be suspended should he or she accept an appointment with a subvented organization and if they had previously given their consent to such a suspension. Smith claims she did not recall having given such consent. In the writ, Smith argues she is entitled to the pension and that the suspension is not a pre-condition for government approval for her to take up the post with the Office of the Privacy Commissioner for Personal Data. She also insists such a suspension would be unfair because it would be "procured by improper and undue influence exerted by the secretary for civil service." The writ goes on: "The secretary for civil service's decision to suspend the applicant's (Smith's) payment of pension is vitiated by the absence of fairness in not allowing the applicant to exercise her free choice in whether to give consent to such suspension." The Civil Service Bureau last night issued a statement citing its Pensions Ordinance and Pension Benefits Ordinance which reads, in part, "a pensioner re- appointed to the public service or appointed to service in a subvented organization determined to be public service by the chief executive by notice in the Gazette may have his pension suspended during the period of his service in the public service or the organization as the case may be; and a pensioner taking up post-service outside work without prior permission may have his pension suspended." In 2006, Smith filled a vacancy left by Tony Lam Wing-hong whose contract was not renewed in September 2005 following allegations he had misused public funds during family and official trips when he was acting commissioner in early 2005. In May last year, 60-year-old Lam was jailed for nine months after he was convicted on three counts of using documents to deceive his principal and one count of misconduct while in public office.
The impact of global credit crisis on Hong Kong's economy was not as severe as some had predicted, Constitutional and Mainland Affairs Secretary Stephen Lam Sui-lung said on Tuesday in Vancouver. Mr Lam, speaking to the Hong Kong-Canada Business Association in Vancouver, expressed some optimism about the territory's economic situation. He noted that while Hong Kong's jobless rate had risen the present level of 5.3 per cent of the workforce - up from 3.2 per cent in 2008 - unemployment was "now stabilising". Some commentators predicted earlier this year the jobless rate in the territory might hit the high of 8.6 per cent reached during the Sars outbreak in early 2003. Mr Lam also said Hong Kong's banking system remained in a strong position to cope with the fallout of the global credit crisis. Most Hong Kong banks and institutions were not heavily exposed to the sub-prime mortgage crisis in the United States. He stressed that Hong Kong had very large amounts of financial reserves. "Our fiscal reserves stand at HK$530 billion (US$4,123 billion) and our foreign exchange reserves at HK$1.380 trillion," Mr Lam said. He told his Canadian audience the 1997-98 financial crisis had prepared Hong Kong for today's problems. "Because our banks and financial institutions had survived the Asian financial crisis in the 1990s, their balance sheets were relatively healthier than those of their American or European counterparts." He said the business and lending activities of Hong Kong institutions were generally more conservative than those of other countries. "Their business practices are relatively more prudent. Thus, no banks in Hong Kong have failed, nor do any require government capital injections," Mr Lam said. The mainland affairs secretary said Hong Kong's future economic prosperity (SEHK: 0803, announcements, news) was closely tied to China's economy. Hong Kong service industries were in great demand in the mainland, he explained. "Our strategy is very simple. At the moment, about 90 per cent of Hong Kong's gross domestic product [GDP] is composed of services,'' Mr Lam said. "We wish to take two steps to extend our horizons. Firstly, we need to go beyond our local Hong Kong market of seven million people to the 50 million in Guangdong's Pearl River Delta. "Thereafter, we intend to extend the market for our professional and service providers to cover more than 400 million people in the nine Pan-Pearl River Delta provinces in southern and western China," he said. Discussing constitutional development in Hong Kong, Mr Lam said public consultations on universal suffrage would be held in the fourth quarter of 2009, and they would focus on chief executive and Legislative Council election proposals for 2012. "According to the timetable of universal suffrage, the chief executive may be elected by universal suffrage in 2017 and that thereafter, in 2020, all members of the Legislative Council may also be returned by universal suffrage, " he added.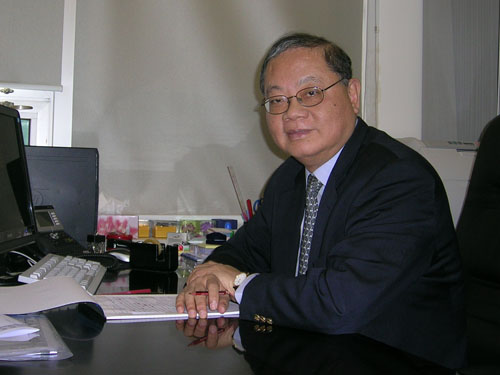 HKU Space considers government site for its private university plans - The HKU Space Community College, which is applying to run a private university, may bid for one of two pieces of land the government has set aside for such development. The college, the University of Hong Kong's continuing education arm, said yesterday that it would start by offering five to six degree programs for undergraduates with a four-year curriculum, mainly in the humanities subjects. The new university, which will be run separately from the college, is expected to accommodate about 2,000 students, the college's director, Lee Chack-fan, said. It expects to admit its first batch of students by 2012 - even if its premises are not ready by that time. The university would recruit students from the mainland, as well as local graduates with associate degrees, Professor Lee said. Its annual course fees would be an estimated HK$60,000, nearly 50 per cent more than the cost of degree courses funded by the University Grants Committee, at HK$42,100. The announcement came weeks after the Chief Executive, Donald Tsang Yam-kuen, said that two sites would be reserved for private universities run by local or overseas education institutions. The sites - one on Hong Kong Island and one in Kowloon - will provide a floor area of 200,000 sq ft to accommodate at least 2,000 students. Details of the land grant are expected to be announced by the end of this year. Professor Lee said the college would study if the land on offer - and other locations available - was suitable for its university. The college's chairman, Linus Cheung Wing-lam, said the college had been planning to run a private university for the past three years. Founded in 2000, HKU Space - also known as the HKU School of Professional and Continuing Education - offers sub-degree education for Form Five and Form Seven graduates. The college would continue to offer these programs, Professor Lee said. He said the college would soon start seeking private donations for the new university, as well as government grants and loans. Professor Lee said courses on offer at the new university would not duplicate those at HKU. The new university would offer a program in the management of arts and cultural facilities, he said, as people with such training would be needed when the West Kowloon Cultural District started operating. Postgraduate courses in arts and cultural subjects are also in the pipeline. The university would recruit its teaching staff from retired scholars in the city, on the mainland and in Taiwan, Mr Cheung said. One other institution was also eyeing the government land on offer. The Hong Kong College of Technology said it might bid for the site, as its premises were overcrowded. Meanwhile, the Hang Seng School of Commerce in Sha Tin, which is also planning to become a private university, said it was in talks with the government about plans to expand its campus to nearby locations.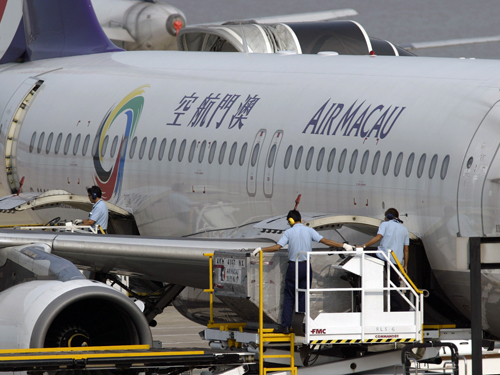 Macau chief executive's family firms sell stake in Air Macau - Two companies controlled by the family of Macau Chief Executive Edmund Ho Hau-wah have sold their combined 1.25 per cent stake in financially troubled Air Macau to a subsidiary of mainland flag carrier Air China (SEHK: 0753), according to sources. The private sale for an undisclosed sum to Air Macau majority shareholder CNAC (Macau), confirmed yesterday by sources at Air China and wholly owned subsidiary CNAC, came just weeks after shareholders of the loss-making and technically insolvent Macau airline voted to approve a government-backed 507.3 million pataca rescue package. Air Macau's financial rescue plan includes an injection of 200 million patacas in taxpayer funds from the Macau government, which Mr Ho heads. Disposal of his family's stake would appear to alleviate potential concerns over conflict of interest regarding the bailout plan and rescue the family from having to inject further capital into the struggling airline. "Being a politician, especially in a small region like Macau, [Mr Ho] should be very careful about doing these kind of things, even though his family owns only a small share," said Larry So Man-yum, an associate professor of public administration at Macau Polytechnic Institute. Air Macau notified its shareholders of the transaction in a private letter on June 22, according to the Macau-based Portuguese-language newspaper, Ponto Final, which first reported details of the sale on July 10. Following the sale of the Ho family stake, CNAC's voting interest in Air Macau rises to 52.25 per cent. Other substantial voting shareholders include Portuguese airline TAP, with 15 per cent, and Sociedade de Turismo e Diversoes de Macau, with 14 per cent. Locally incorporated Portuguese-owned lender BNU, Taiwan's Evergreen Airways and the Macau government each hold a 5 per cent stake. Mr Ho, whose term as Macau's top official expires in December, was a founding shareholder of Air Macau when it was established in 1994 through two local companies he controlled together with his wife: Tenways and Tengood. On taking office in 1999, Mr Ho transferred control of the two firms to other family members. According to Ponto Final, Tenways is now controlled by Mr Ho's mother, Chan King, while control of Tengood was transferred on June 6 to Mr Ho's son, Justin Ho King-man. The bailout plan passed by a two-thirds majority of shareholders on April 15 called for existing shareholders to inject 307.3 million patacas to recapitalise the airline. That was to be partly matched by a 200 million pataca contribution from the Macau government. Not all shareholders were happy with the bailout plan, as it called for them to contribute new capital to a money-losing business. TAP took legal action and won an injunction from a Macau court this month that has temporarily suspended the plan. A spokesman for the Macau government referred inquiries to Air Macau. A spokesman for Air Macau declined to comment.
Greater China is expected to see an almost fourfold increase in demand this year for mini-notebooks, commonly known as netbooks, as computer makers aggressively market the low-cost devices amid the economic downturn, analysts say. That growth spurt is likely to boost sales for the market's leading notebook personal computer suppliers - including mainland technology giant Lenovo Group (SEHK: 0992), Hewlett-Packard, Dell, Toshiba, Acer and AsusTek Computer - and operators of high-speed 3G mobile networks. Netbook shipments on the mainland, Hong Kong and Taiwan are forecast to hit 3.9 million units, up nearly 260 per cent from 1.1 million units last year, says DisplaySearch. The market research firm said total industry shipments would reach nearly 33 million units, up from its earlier estimate of 27 million units. That would result in a global netbook penetration of about 20 per cent and flat year-on-year demand for pricier, full-featured laptops. John Jacobs, the director of notebook market research at DisplaySearch, said many buyers were adjusting their discretionary spending and were buying netbooks as lower-priced alternatives to traditional laptops. Netbooks are smaller than typical laptops, carry few software applications and are mainly used for wireless internet access. According to Gartner, that shift in demand will result in netbooks accounting for 24.5 per cent of all laptop computer shipments in Hong Kong this year. "The falling cost of mobile broadband, along with the continued rollout of 3G services in countries such as China will encourage more desk-based personal computer users to switch to mobile replacements, stimulating purchases of mini-notebooks," said Lilian Tay, a principal research analyst at Gartner. On the mainland, all three state-owned 3G network operators are already subsidising domestic netbook sales with lower-cost data plans to attract more fixed-line internet subscribers to adopt their mobile broadband services.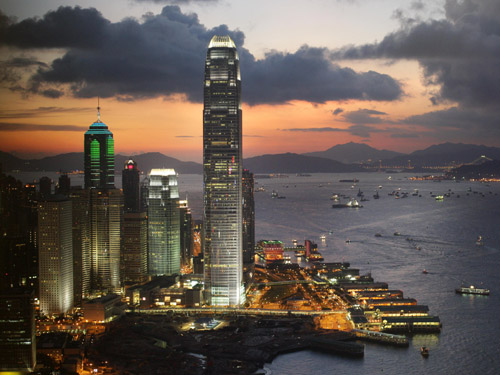 In Central, rents fell 2.4 per cent in June to an average HK$75.30 per square foot per month. That compared with a 4.9 per cent dip in May. Overall office rents in Hong Kong declined at a slower pace last month as some landlords held firm and refused to accept lower lease rates. However, property analysts say the outlook for the market in the second half of the year remains downbeat, with continued concern about weak economic prospects. Office rents fell 1.6 per cent month on month in June to an average HK$39.50 per square foot, international property consultancy CB Richard Ellis (CBRE) said. Rents declined 3 per cent in May, compared with the previous month. Rents dropped about 20.5 per cent over the first half of the year and were 39 per cent lower than the peak reached in August last year. In Central, rents fell 2.4 per cent over the month to average HK$75.30 per square foot per month. That compared with a 4.9 per cent decline in May. "Central landlords continued to adjust rents downwards in June, given the underlying weak demand for office space in Hong Kong and the still significant discrepancy in rents when compared to other districts on Hong Kong Island," said Benedict Ma, an associate director of CBRE Research. Office rents in Central have already fallen about 28 per cent over the first half of the year. Rents in Hong Kong East increased 1.2 per cent in June from the previous month. Rents in Swire Properties' portfolio in Hong Kong East remained unchanged. Other landlords in Hong Kong East have experienced a continued take-up of space as tenants moved from higher-rent buildings in the central business district, according to CBRE. In terms of vacancies, the pace of increase also slowed in Central/Admiralty, according to another international property consultancy, DTZ. Vacancy rates in the district rose 0.4 percentage point from the previous quarter to 4.1 per cent in the three months to June. They jumped 1.6 percentage points from the fourth quarter of last year to the first three months of this year. Alva To, DTZ's head of consultancy in North Asia, said the vacancy rate in Central/Admiralty stabilised in the second quarter, partly because financial companies finished downsizing. Mr To said the general outlook for the office market remained unclear, owing to weak economic prospects. "The market may be getting close to stabilising, but there are still no clear signs of a recovery yet," said Mr To. Companies would remain sensitive to costs, prompting more to consider cheaper premises, he added.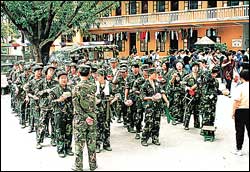 A popular holiday destination in Guangzhou for Hong Kong students has suspended its summer camp program after several students came down with human swine flu (H1N1). The Huangpu Military Academy on Changzhou Island said the suspension was to allow for disinfection after about 123 students developed mild fever in the past two weeks. Some of them are confirmed to have contracted the H1N1 virus. Nine students are under observation in hospital. It is not known if any Hong Kong student has been infected. Founded in 1924 and declared a key historical relic in 1988, the academy runs summer camps each year. Several Hong Kong travel agencies have canceled tours to the site and will offer refunds. China Travel Service canceled 13 five- to seven-day group tours planned from Monday until July 28, while a Wing On spokeswoman said 120 students who paid for seven-day tours will no longer be taking their trips. Hong Kong Tours Centre said the trips of 400 students starting next Tuesday had been called off. Hong Kong meanwhile reported 62 newly confirmed human swine flu cases, among them a 22-month-old toddler. A total of 420 people were treated yesterday at flu clinics. So far, 1,389 people in the city have contracted the disease. In Geneva, World Health Organization chief Margaret Chan Fung Fu- chun admitted yesterday that poverty will prevent developing countries from gaining access to swine flu vaccines. Her comments came a day after the UN agency said the new H1N1 virus is "unstoppable" and all countries need access to vaccines. Chan, former Hong Kong director of health, said the manufacturing capacity for flu vaccines is inadequate for the 6.8 billion people worldwide. "The lion's share of these limited supplies will go to wealthy countries. Again we see the advantage of affluence. Again we see access denied by an inability to pay," she said. A new study released yesterday found that the H1N1 virus that sparked the Spanish flu of 1918-1919 circulated in swine and humans well before the pandemic started. The findings by Hong Kong and US researchers are considered important because of the lack of studies of the virus in animals before the current H1N1 pandemic, which has so far sickened over 94,500 people globally, with 429 deaths. Guan Yi, a virologist at the University of Hong Kong and member of the research team, said the viruses of 1918 and 1957 went through at least two rounds of reassortment before the pandemics occurred.
The West Kowloon Cultural District Authority will announce on Monday that heavyweight architects Rocco Yim Sen-kee, Norman Foster and Rem Koolhaas now lead the way in setting the look of the project at the heart of the harborside. The three will be formally named as consultants on the conceptual plan for the SAR's cultural and artistic hub - a selection revealed by The Standard. Consultation committee chairman Stephen Cheung Yan- leung said yesterday the three will take part in all five public forums on the overall look, ambience, facilities, programs and activities. Art groups and others will be talk about specifics of the 15 cultural facilities at 50 small meetings, looking at seating needs, acoustics and style of the Xiqu center. Asked whether the appointment of Foster - who with a giant canopy won a design competition for the complex in 2002 - would be controversial, Cheung said it was good to have someone familiar with the project. "It is also good to have some fresh ideas," he added. The consultants will reflect community expectations in their conceptual plans, and a winner will be chosen early next year. The selected plan will then be developed into a final blueprint, which will go for public consultation again before it is submitted to the Town Planning Board in the second quarter of 2011. Meanwhile, following the surprise resignation of Angus Cheng Siu-chuen last month, the authority is now looking for a new chief executive.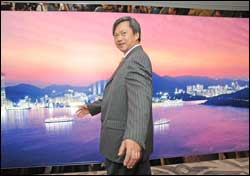 Le Prestige flats to go for $5,000-$6,000 psf - The first batch of apartments to go on sale shortly at Tseung Kwan O residential project Le Prestige will include not less than 20 homes, said developer Cheung Kong (Holdings) (0001). Executive director Justin Chiu Kwok-hung said Cheung Kong has presented the preliminary price list to co-developers Nan Fung Development and MTR Corp (0066) for Le Prestige, the second phase of the massive Lohas Park project. The developers will launch seaview flats first, at prices from HK$5,000 to HK$6,000 per square foot, Cheung Kong Real Estate director Francis Wong See-chung said. Wong also revealed that flats with hill views will be launched within this month for between HK$5,200 and HK$5,300 psf. Prices will start from nearly HK$4 million a flat. "The price difference between seaview units and hill-view ones is 10 percent," Wong said. Separately, Wing Tai Asia plans to launch its 9 Seymour Road project in September, Karen Li Fung-ling, director of corporate development, said yesterday. The Mid-Levels luxury residential development offers a total of 82 homes, with sizes between 2,000 and 2,400 sq ft. The developer expects to complete construction in the third quarter of 2011. Prices will be set in reference to Mid-Levels projects such as The Albany and The Harbourview, where unit prices stand at more than HK$20,000 psf, Centaline Property Agency said.

China: Money supply growth in the mainland surged in June on the back of breakneck bank lending ordered by the government to pump up the world's third-largest economy. In a new sign of its worry that rapid lending could fuel inflation, the central bank responded with the latest in a series of baby steps to absorb surplus cash washing through the economy by requiring banks to buy 100 billion yuan (US$15 billion) in special bills. The economy is awash with liquidity in part because money is flowing back into China in anticipation that Beijing's economic stimulus efforts will succeed. The central bank reported that its foreign exchange reserves leapt by US$177.9 billion in the second quarter to US$2.13 trillion. China is the only country to have amassed more than US$2 trillion in currency reserves. "We think a gradual policy tightening in an early stage would be a positive move, especially in light of the expected very strong GDP growth in [the second quarter] and rapidly dissipating deflationary pressures," Yu Song and Helen Qiao, economists at Goldman Sachs, said in a research note. Traders said the central bank would issue the bills in September at a punitively low interest rate to a clutch of banks that have been responsible for a growing share of new loans. The operation means those banks will have less money to lend out. Other steps in recent weeks by the central bank indicating that monetary loosening is over, even if outright tightening has not yet begun, include the resumption of one-year bill sales and an increase in yields in its open market operations. The broad M2 measure of money supply grew at a record pace of 28.5 per cent in June, blowing past forecasts of a 26 per cent rise and accelerating from a 25.7 per cent increase in May. Money is being created at a faster clip because banks, which are nearly all state-owned in China, have been lending at a frantic pace in response to the ruling Communist Party's drive to secure at least 8 per cent economic growth this year. "China has achieved impressive results in reviving economic activities," said Gao Shanwen, chief economist with Essence Securities. "The basic tone of the appropriately loose monetary policy is unlikely to change, but there will be fine-tuning." There is no question that China's economic is humming again after nearly stalling at the end of last year; more homes are being built, record numbers of cars have been sold and the governments says that millions of jobs have been created. Analysts polled by Reuters forecast that the economy grew 7.5 per cent in the second quarter from a year earlier. China will report its gross domestic product figures on Thursday. Yuan loans outstanding were 34.4 per cent higher than a year earlier, also the highest on record, up from May's year-on-year reading of 30.6 per cent. The PBOC had already published preliminary figures on July 8 showing that banks extended 1.53 trillion yuan in new local-currency loans in June, up from 664.5 billion yuan in May. It confirmed that total on Wednesday. "Probably the smaller lenders are expecting a credit tightening in coming months, so they rushed to lend out money in June. Everybody – the regulators and the banks – knows that the lending spree can't go on like this," said He Weijiang, an analyst with Central China Securities in Shanghai. For now, though, the big jump in foreign exchange reserves was a register of confidence abroad in the Chinese revival. In a statement on its website, the People's Bank of China said reserves rose US$55.14 billion in April, US$80.6 billion in May – a record for a single month – and US$42.1 billion in June. The cumulative total far exceeded combined proceeds of China's trade surplus and foreign direct investment inflows in the second quarter. FDI fell for the ninth-straight month in June, though at a slower pace than in May. Changes in reserves are clouded by a host of undisclosed transactions and swings in the valuation of the non-dollar part of the stockpile, but the surge points to inflows of foreign capital betting on a strengthening economy, soaring stock prices, a property market rebound and, perhaps, yuan appreciation. That was in stark contrast to the first quarter, when reserves rose just US$7.7 billion, as the global credit crisis caused banks to call in loans and multinational firms to repatriate profits. "Now we all know that it's almost impossible for the RMB to depreciate and people since March actually expect appreciation of the RMB against the dollar," said Ting Lu, an economist with Merrill Lynch in Hong Kong.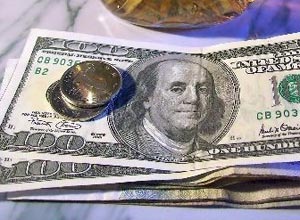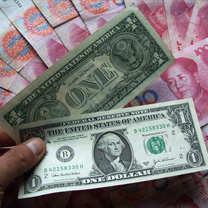 About 185.6 billion U.S. dollars were added to the world's largest official foreign exchange reserves in the first half of the year, but that figure is about 95 billion U.S. dollars less than the same period a year ago.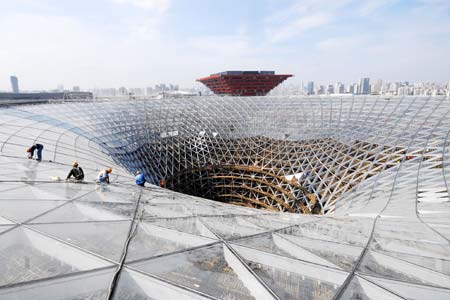 Workers install glass wall at the Sun Valley in the Shanghai Expo Site, Shanghai, east China, July 14, 2009. The glass wall installation of the Expo Axis Sun Valley was about to complete soon. The project of Expo Axis is scheduled to be completed by the end of this year.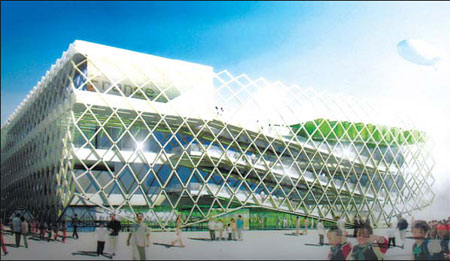 This artist's rendering shows the French Pavilion to be built for the 2010 Shanghai World Expo. The French government will send for the first time historic artwork from pioneers such as Auguste Rodin and Vincent Van Gogh to China for the 2010 Shanghai Expo. But whether or not French officials can convince expo organizers not to demolish the innovative pavilion that will display the pieces remains to be seen. The pavilion, dubbed "the Sensual City", will showcase not only artwork but the sights, smells, and sounds of France, said Franck Serrano, director of the French Pavilion. A latticed structure forms the faade of the 6,000 sq m building, which will have a roof garden and a large pond built underneath. Historic pieces include Jean-Francois Millet's The Angelus, Edouard Manet's The Balcony, Paul Cezanne's Woman with Coffee Pot, The Age of Bronze sculpture created by Auguste Rodin, Vincent Van Gogh's The Dance Hall in Arles and Paul Gauguin's The Bananas, among others. The artwork comes from collections at the Musee d'Orsay in Paris. "The 2010 Shanghai World Expo is one of the most significant events in the 21st century and an opportunity for the whole world," Serrano said. He added that the French Pavilion will be a gift to China akin to France's gift of the Statue of Liberty to the US in 1886. But French officials are still trying to convince Chinese organizers to preserve the pavilion after the 184-day expo. Except for four permanent structures of China pavilion and a central boulevard, all foreign pavilions and exhibition halls are scheduled to be demolished post-expo. France is spending 50 million euros on the Shanghai exhibition, a hefty commitment that signals that Sino-French relations are getting back on track. The relationship was put to the test over so-called "human rights issues" in Tibet during last year's Beijing Olympics. But the "Olympics is not about politics; neither is the expo," Serrano said. "The Olympics has its competition in sports, while the expo is all about open communication The expo is a joyful, peaceful and environmentally friendly event," he said. The French Pavilion prepares to offer grand wedding ceremonies for 2,010 couples during the six-month event. Newlyweds will tie the knot inside classical French-style gardens. A seven-year-old cat named "Leon" has been selected as the mascot of French Pavilion.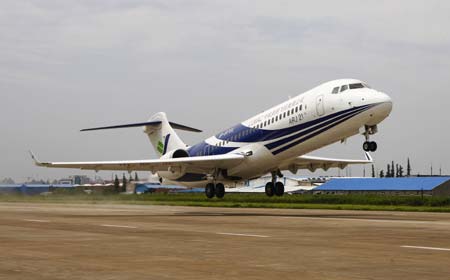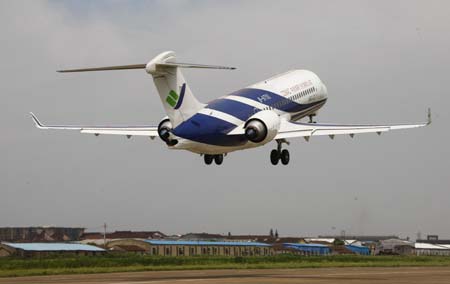 China's first domestically-developed regional ARJ21-700 jet made its longest trial flight of 1,300 kilometers in about two hours from Shanghai to Xi'an, capital of northwestern China's Shaanxi Province, Wednesday. The jet moved from its production site in Shanghai to Xi'an-based Chinese Flight Tests Establishment (CFTE) of the Aviation Industry Corporation of China (AVIC), the country's only institute qualified to issue flight certificates for military aircraft, helicopters, aircraft engines or other aircraft equipment. The jet was expected to make further trial flights before gaining approval certificates from the CFTE. The jet made its first trial flight in November 2008 and had made 18 trial flights totaling about 34 hours up to an altitude of 9,000 meters. The flight Wednesday was the jet's 19th trial flight. It left Shanghai at 10:34 a.m. and reached Xi'an at 12:53 p.m. reaching an altitude of 7,800 meters. The flight was smooth, said Zhao Peng, the pilot in charge of the flight. ARJ21-700, short for "Advanced Regional Jet for the 21st Century", is the first regional jet that China has fully developed on its own. It is designed with a range of 2,225 kilometers for a standard journey, and 90 seats. The first batch of ARJ21 jets is expected to be delivered to clients by 2010.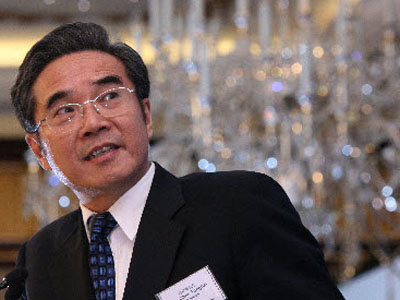 Chen Tonghai, chairman of Sinopec, speaks at a news conference in Hong Kong in 2007. The former chairman of China's second-largest oil company, Sinopec (SEHK: 0386), was convicted Wednesday of corruption and taking bribes and received a suspended death sentence, state TV reported. Chen Tonghai was convicted of illegally receiving 190 million yuan (US$27 million), China Central Television said on its website. Chen resigned abruptly as Sinopec chairman in June 2007 and was later expelled from the ruling Communist Party. Chen joins a string of high-level Chinese officials and leaders of state industry who have been convicted of corruption. Chinese leaders see simmering public anger over official abuses as a threat to communist rule and have launched repeated crackdowns. Chen was sentenced to death with a two-year reprieve by the No 2 Beijing Intermediate People's Court, CCTV said. Such sentences usually are commuted to life in prison if the convict is deemed to have repented. The government has released no details of Chen's offences and the report on Wednesday gave no additional information. Sinopec, also known as China Petroleum & Chemical, is Asia's biggest oil refiner by volume and China's second-biggest oil company after China National Petroleum Corporation. Hong Kong newspapers reported earlier that Chen's case might have been a factor in the surprise resignation of China's then-finance minister, Jin Renqing, in August 2007. One report said mR Jin introduced Chen to a woman who became Chen's mistress.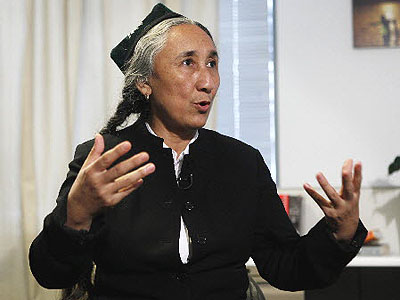 Uygur leader rejects al-Qaeda support - The exiled leader of China's Uygur minority on Tuesday firmly distanced herself from al-Qaeda, condemning the group's threats to attack Chinese interests in retaliation for the Muslims' deaths. Rebiya Kadeer, the Washington-based head of the World Uygur Congress, said she opposed the use of violence in her campaign to bring greater rights for the ethnic group in China's northwestern Xinjiang province. "I do not believe violence is a solution to any problem," Ms Kadeer said in a statement. "Global terrorists should not take advantage of the Uygur people's legitimate aspirations and the current tragedy in East Turkestan to commit acts of terrorism targeting Chinese diplomatic missions or civilians," she said. Algerian-based offshoot al-Qaeda in the Islamic Maghreb has threatened to target Chinese interests, according to international consultancy Stirling Assynt. Hundreds of thousands of Chinese work in the Middle East and North Africa, including 50,000 in Algeria, estimated the group, which has offices in London and Hong Kong providing risk advice to corporate and official clients. It marks the first time Osama bin Laden's network has set its sights on the Asian power, which has sought warm relations with the Islamic world. Beijing has accused Ms Kadeer or masterminding recent violence in Xinjiang and said she is backed by "terrorists." Ms Kadeer denies the charges and US lawmakers have introduced a resolution demanding that China stop its "slander" of the 62-year-old former businesswoman and mother of 11, who spent six years in a Chinese prison. Chinese authorities have said that riots in the Xinjiang city of Urumqi by Uygurs on July 5 left 184 people dead – most of whom were Han, China's dominant ethnic group – and more than 1,600 injured. Uygur leaders accuse Chinese forces of opening fire on peaceful protests and say that Uygurs have been killed in subsequent mob attacks. Uygurs generally practice a moderate brand of Islam influenced by Sufi mysticism and earlier shamanistic traditions.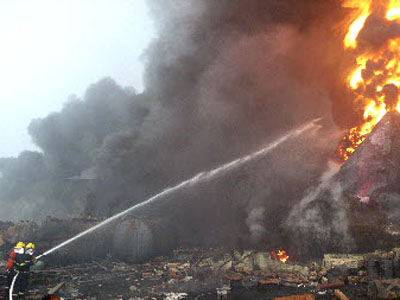 Firemen try to extinguish a fire after an explosion at a chemical plant in Yanshi, Henan province on Wednesday. An explosion at a chemical plant on Wednesday in the central province of Henan killed one worker and hospitalised 108 others, state media reported. The early morning blast at the Luoran chemical plant in Luoyang City, Henan province, was followed by a fire, the Xinhua news agency reported, citing the local government. Seven of the people in hospital were seriously injured, the report said. No other details were immediately available.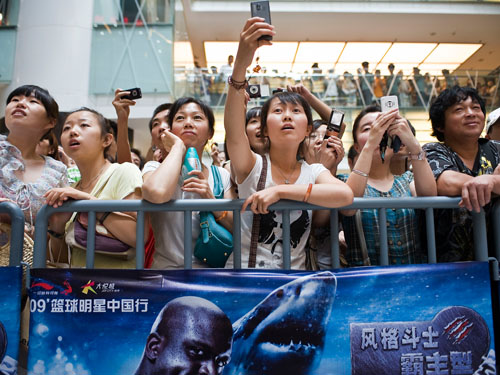 China Mobile's preference for domestic vendors and homegrown technologies enables ZTE, Huawei and Datang to take a bigger market share. ZTE Corp (SEHK: 0763), a Shenzhen-based telecommunications equipment provider, has captured the bulk of the latest 8.6 billion yuan (HK$9.77 billion) 3G network expansion tender by China Mobile (SEHK: 0941) Communications Corp. ZTE won about 34 per cent of the tender, China Mobile said on Monday. Huawei Technologies won 22 per cent while partner Nokia Siemens Networks claimed 7 per cent. Datang Mobile Communications Equipment and domestic partner FibreHome Technologies ranked third with a 21 per cent share. The rest went to China Putian, New Postcom and Ericsson, each winning five to six per cent. "Vendors with a self-developed capability in TD-SCDMA technology score higher marks in all three phases of TD-SCDMA tenders," said 3Tel Consulting, a mainland telecommunications industry research firm. ZTE and Huawei were helped by their offers of a free upgrade in China Mobile's existing TD-SCDMA equipment, which was installed in the previous two phases of network construction, analysts said. Industry watchers said China Mobile's preference for supporting domestic vendors and homegrown technologies also enabled ZTE, Huawei and Datang to take a bigger share. As a result, foreign vendors' share was shrinking, they said. The latest tender was the third by China Mobile for a network covering 200 cities or 70 per cent of the areas on the mainland. The original contract size was about 8.6 billion yuan for the installation of 39,000 base stations. Credit Suisse said ZTE's reported market share of 34 per cent was higher than its expected 20 per cent share for this year. "However, due to price competition, the actual third-phase contract size may be lower than 8.6 billion yuan," Credit Suisse analyst Wallace Cheung wrote. "Assuming the contract size is seven billion yuan, ZTE should receive 2.3 billion yuan worth of contracts, higher than our expected 1.5 billion yuan revenue in the second half this year," he said. Mr Cheung expects ZTE to help its customers maintain gross margins at 35 to 36 per cent this year and next.
Air China (SEHK: 0753), the country's second-largest carrier, said first-half profit increased more than 50 per cent on lower fuel costs and solid growth in travel demand, signalling a rebound in the mainland aviation market. Earnings were also helped by a 56.7 per cent surge in oil prices between the end of last year and last month, which reduced paper losses on hedging contracts, Air China said in a statement filed with the Shanghai Stock Exchange last night. Oil prices, which skyrocketed to US$147 a barrel in July last year, have been trading at about US$60 recently. They were quoted at as low as US$45 a barrel in late December and hit more than US$70 last month. Air China, which had a 7.7 billion yuan (HK$8.73 billion) paper loss from fuel-hedging contracts last year, recorded a gain of about 40 million yuan in the first quarter this year. Citigroup estimates the company could book a 1.2 billion yuan hedging gain for the first half. The Beijing-based carrier did not reveal exact first-half figures yesterday. In the first six months of last year, the company earned 1.28 billion yuan, under mainland accounting standards. Citigroup expects Air China to report 1.57 billion yuan in profit for the first half and a full-year profit of 3.59 billion yuan, rebounding from last year's 9.27 billion yuan loss. Profitability at the mainland's Big Three airlines, including China Eastern Airlines (SEHK: 0670) Corp and China Southern Airlines, is improving as domestic air traffic recovers from the swine flu scare. Citigroup said passenger numbers had surged about 20 per cent since last month, boosted by rising consumer sentiment and loosened credit. Some carriers raised ticket prices by 10 per cent last month and early this month as they gained pricing confidence, Citigroup said. The expected resumption of fuel surcharges on domestic routes would also help offset the increase in jet fuel prices, it said. Beijing raised the jet fuel price 13 per cent or 460 yuan per tonne in May, followed by a 1,003 yuan per tonne increase last month.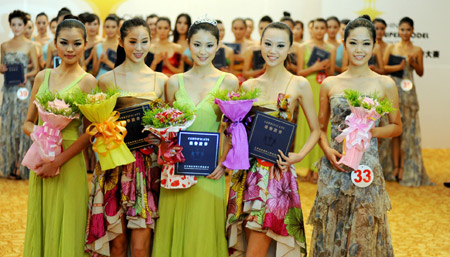 Top five models pose for group photo after the Chinese final of the Asian Super Model Contest in Tianjin, north China, July 14, 2009.
July 16, 2009

Hong Kong: Volkswagen AG, Europe's largest carmaker, said on Monday that vehicle sales in China and Hong Kong during the first half of this year jumped 22.7 per cent from a year earlier, benefitting from a revival in the world's third-biggest economy. Volkswagen and its two China joint ventures sold a record 652,222 units, including 538,969 Volkswagen-branded vehicles during the January-June period, the company said in an e-mailed statement.
Yau Shing-mu, second from the left, Under Secretary for Transport and Housing and Stanley Hui Hon-chung, helps to inaugurate the new ferry service between Hong Kong airport and Nansha Port in Guangzhou on Tuesday. A new ferry route operating between Hong Kong International Airport at Chek Lap Kok and Nansha Port in Guangzhou was launched on Tuesday by Under Secretary for Transport and Housing Yau Shing-mu. Speaking at Nansha Port, Mr Yau said the new direct ferry route would offer considerable benefits. "The new ferry service increases the number of Pearl River Delta ports and weekly cross-boundary ferry trips served by SkyPier at Hong Kong International Airport to other mainland cities as well," he said. The new ferry route is operated by Panyu Nansha Passenger Terminal Transport and TurboJET, the operating brand of Shun Tak (SEHK: 0242, announcements, news) -China Travel Ship Management. Ferries will depart from Nansha Port at 9.30am and leave the Hong Kong International Airport at 15.30pm each day. The journey will take about 60 minutes. Airport Authority Hong Kong chief executive Stanley Hui Hon-chung said the new routes would allow people living in the Pearl River Delta to reach Chek Lap Kok more easily.
Chief Executive Donald Tsang Yam-kuen said on Tuesday the government would allocate HK$9 million to organise activities for young people to help keep them away from drugs.
Small and medium-sized enterprises (SMEs) in Hong Kong are becoming more optimistic about business, a new survey released on Tuesday by HSBC showed.
Legal advice will be sought by the government to determine whether proposed restrictions on post-retirement work for top civil servants contravene the Basic Law and the Bill of Rights, Secretary for the Civil Service Denise Yue Chung-yee said. The recommendations, if implemented, will affect 1,200 directorate- grade officials and are opposed by a senior civil service association. It has threatened to apply for a judicial review to protect members' employment rights after retirement. The committee reviewing post- service outside work for directorate- grade officials had recommended extending the period during which retired top civil servants must seek permission to take up private employment. Committee chairman Ronald Arculli believes the recommendations can enhance transparency and allay fears officials may "collect" deferred rewards during their terms of office. But he said they cannot impose a total ban on post-service employment, as suggested by Democratic Party lawmaker Cheung Man-kwong. Yue said she will need two to three months to consult civil servant groups before the final version is submitted to the chief executive for approval. She added the existing Prevention of Bribery Ordinance and the Common Law would provide adequate legal safeguards to prevent civil servants from taking undue advantages in retirement. Under current rules, political appointees, including government ministers, undersecretaries and political assistants, need only to wait a year before they seek approval for employment after leaving the government, and three years for directorate-grade civil servants. "Senior government officials feel they are being treated unfairly and unjustly. How can the political appointees and the civil servants maintain good cooperation and build mutual trust?" Federation of Trade Unions lawmaker Wong Kwok-hing asked. Lawmaker and former security chief Regina Ip Lau Suk-yee asked whether the recommendations were too harsh. Meanwhile, the government announced the appointment for one year of Moses Cheng Mo-chi as chairman of the Advisory Committee on Post-service Employment of Civil Servants. Cheng will succeed Justice Pang Kin- kee. Simon Ip Sik-on and Marina Wong Yu-pok were reappointed as members of the advisory committee.

China: Executives of five Chinese steelmakers are being questioned in a widening espionage probe of four detained Rio Tinto employees, news reports said on Tuesday, as Australia pressed for details of the case. The Rio employees, including an Australian, were detained July 5 amid iron ore price talks with Chinese steel mills. State media say they are accused of bribing Chinese steel company employees to obtain confidential information on China's negotiating position in the talks. The chief iron ore negotiator for Baosteel Group, China's biggest steel producer, was questioned but allowed to return to work, the newspaper 21st Century Business Herald said. It gave no indication whether he was suspected of wrongdoing. Executives of Anshan Iron and Steel Group, Laigang Group and Jigang Group also are under investigation, the China Daily newspaper reported. It gave no other details. An executive who oversees iron ore purchases for major steelmaker Shougang Group, was detained last week, according to news reports. Spokesperson for Shougang and Anshan said they had no information. Phone calls to Baosteel spokespeople were not answered. Australia's government called in the acting Chinese ambassador on Monday and pressed for details about the case against the detained Australian, Stern Hu, Foreign Minister Stephen Smith said. Australia has warned the affair could discourage foreign companies from doing business in China. "We have again pressed Chinese officials yesterday to do two things: firstly to provide us with more detailed information about the circumstances relating to Mr Hu's detention, and secondly, to urge them that this is a matter that needs to be dealt with expeditiously," Smith told Australian Broadcasting Corp. radio. The Chinese government has confirmed that Hu and his co-workers are accused of "stealing state secrets" but has given no details. The accusations reflect the communist government's sensitivity about fields such as steel and energy that it deems strategic and its intense secrecy about a wide array of economic and industrial information. Prime Minister Kevin Rudd, a Mandarin-speaking former diplomat, faces pressure from Australia's opposition to intervene with Chinese leaders. China is Australia's biggest trading partner. Rio, based in London and with executive offices in Melbourne, was acting as lead negotiator for global iron ore producers in talks with Chinese mills on the price for annual supply contracts. Rio is the world's third-largest mining company. The two sides have yet to announce an agreement to replace supply contracts that expired June 30. China, the world's biggest steel producer, has criticised iron ore suppliers for repeated price hikes and is pressing for reductions. The other major suppliers are Australia's BHP Billiton Ltd. and Brazil's Vale SA. Mr Hu, based in Shanghai, manages Rio's Chinese iron ore business. It is unclear what role he played in the price talks. The Rio employees are accused of bribing Chinese steel company personnel to obtain summaries of the Chinese negotiators' meetings, according to Chinese news reports. The maximum penalty for an espionage conviction is life in prison. "It's quite clear the focus here is on economic and commercial matters related to the iron ore industry, and that's what we need to get more information on," said Smith, the Australian foreign minister. "It's not about our wider economic and trade relationship." Earlier news reports said employees of the group negotiating for Chinese mills, the China Iron & Steel Association, also are under investigation. Australian diplomats visited Mr Hu on Friday, and Mr Smith said he appeared to be well and raised no health or welfare concerns. Diplomats will be allowed to see Hu again in one month.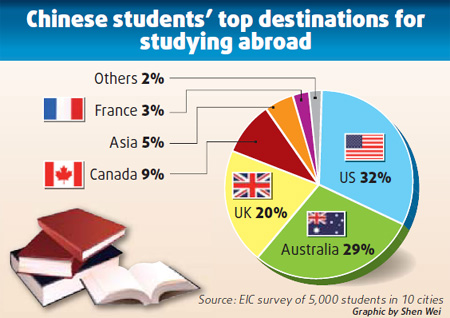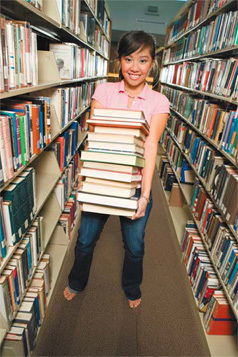 College abroad becoming a bargain - Increasing affluence and currency appreciation are behind the spike in Chinese students traveling abroad for their undergraduate studies, industry insiders said. The Ministry of Education last month reported that a record 840,000 high school graduates did not register for the gaokao (university entrance exam) this year. Those numbers are fueling speculation that this was due to the increasing number of Chinese students wanting to study abroad. The total number of students traveling abroad to study increased from 144,000 in 2007 to 170,000 last year. his figure will probably top 200,000 this year, said Feng Jishang, marketing manager of Wiseway, a consulting firm that advises students and their parents about overseas schools. Years ago, most Chinese students who went abroad would first complete their undergraduate studies in China before applying to an overseas graduate school. But this trend is changing. According to industry estimates, the proportion of students seeking their first degree abroad has risen to 30 to 50 percent of all overseas-bound students. That means there could be as many as 60,000 to 100,000 such students this year -- triple the number in 2003. Foreign college campuses are beginning to notice the trend. A source at the University of San Francisco told China Business Weekly that the campus used to accept three or four Chinese undergraduate students every year. Today, the number has hit 80, the university source said. Rapid economic growth, coupled with a currency that has risen by more than 20 percent against the US dollar over the last four years, is making an overseas education more affordable for Chinese students. That's making US campuses such as the University of San Francisco, or USF, more of a bargain. College abroad becoming a bargain - "Students used to tell me that they did not have the money to go to USF, and they needed full scholarships. That is not the case now," said Stanley Nel, vice-president of international relations at the San Francisco campus. Another reason is that there simply aren't enough places in Chinese colleges, especially the higher-rated ones, to satisfy the demand for a university education. "Four in ten students taking the gaokao won't get university places. Furthermore, of those that do, many don't get into the schools of their choice. That is why more are going abroad," Feng of Wiseway said. A widespread perception among students is that going overseas for college improves their career prospects, sources said. "For Chinese students, capability is not a problem, but they need work experience and communication skills," said Alan McNeilly, assistant dean at Teeside University in the United Kingdom. "If they get a degree overseas, they can expect higher salaries and better positions when they return," McNeilly said. His university will set up an office in China next month to attract more students, McNeilly added.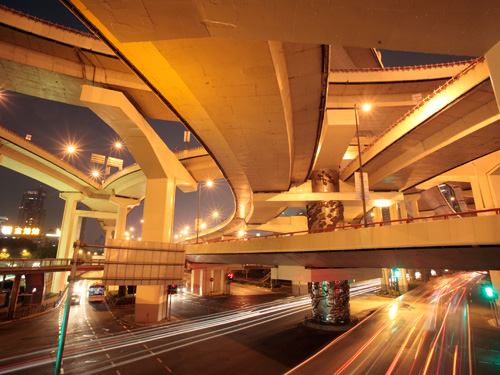 Shanghai hopes to attract red chips to its exchange in its bid to become a global financial center. The initial public offering market is humming on the mainland after a nine-month hiatus, with high-profile red chips in Hong Kong among those eyeing a domestic listing. Starting the roll call of big flotations will be toll-road operator Sichuan Expressway, which has received approval from the China Securities Regulatory Commission to float 500 million shares on the Shanghai Stock Exchange, the nation's biggest. China State Construction Engineering Corp and Everbright Securities are expected to launch even bigger share sales, siphoning off billions of yuan from eager investors. Beijing is attempting to tap growing confidence in mainland markets by allowing more companies to list their shares. It is also suspected of resorting to its old trick of using flotations to prevent asset bubbles and irrational exuberance by investors. New listings were suspended in September last year when the global crisis sent stocks into a tailspin. The tide turned earlier this year, with inflows of increasingly speculative capital sending the benchmark Shanghai Composite Index up 62.53 per cent in the first half. Allowing an influx of fresh equity through the fast-tracking of listings will help absorb excessive funds, analysts say. Sichuan Expressway is likely to raise more than two billion yuan (HK$2.27 billion) from its share issue, while Everbright Securities plans to net 10 billion yuan on the A-share market. China State Construction is eyeing a massive 43 billion yuan. While these offerings may be big enough to whet the appetite of even the most eager stock punter, analysts say even more listings are on the way, in the form of heavyweight Hong Kong-traded red chips. The CSRC has long encouraged companies with H shares to list on the Shanghai exchange as well, believing it improves the overall quality of mainland stocks. However, the CSRC's ambitions now extend beyond H shares - Hong Kong-listed companies incorporated on the mainland - to red chips, mainland firms incorporated overseas but traded in Hong Kong. Red chips are still viewed as foreign companies and have not been allowed to list their shares on the mainland because of regulatory hurdles. On the other hand, H share companies, including Sichuan Expressway, can sell A shares as long as they get the CSRC's permission. On the Hong Kong stock exchange, a dozen of the mainland's biggest money spinners, including China Mobile (SEHK: 0941) and oil giant CNOOC (SEHK: 0883), are traded as red chips. With their healthy corporate governance, more credible balance sheets and profitability, H shares and red chips are viewed by regulators as solid additions to mainland stock markets. Shanghai has unveiled ambitions to transform itself into a global financial centre by 2020, with the city's government saying it would continue to lure both red chips and foreign companies to its exchange. More than 50 H shares are now listed in Hong Kong and Shanghai, with the A shares trading at an average 45 per cent premium to the Hong Kong-traded shares. But the more significant plan is to bring the red chips home. The CSRC began seriously to plan this homecoming in 2007 and hoped to float the first stock in Shanghai in last year's first half. However, the plan was postponed by the State Council after the Shanghai Composite Index fell prey to the global crisis, sliding 65.4 per cent last year. "On the mainland, IPOs are a tool by the regulator to intervene in the market," said TX Investment Consulting analyst Qiu Yanying. "When the index jumps wildly, large IPOs are needed to curb abrupt gains." In 2007, Hong Kong-listed industrial and banking heavyweights PetroChina (SEHK: 0857) and Bank of Construction Corp took advantage of a market boom to launch multibillion-yuan A-share listings. The Shanghai index climbed 97 per cent that year. So far this year, the Shanghai gauge has advanced almost 70 per cent. Worryingly to regulators, a suspected 1.2 trillion yuan of banking loans were illegally channelled into equities, according to Wei Jianing, an official at the State Council's Development and Research Centre. A Shanghai fund manager who attended the Sichuan Expressway roadshow said that by picking a toll-road operator for the first post-hiatus share offer in the city, the CSRC is sending a clear message that it is concerned about looming volatility. "Toll-road operators generate stable income," he said. "The CSRC can rule out wild swings in the stock when it gets listed." Whether Beijing can control irrational exuberance in the listing market remains to be seen. The first two flotations in Shenzhen approved after the suspension - Guilin Sanjin Pharmaceutical and Zhejiang Wanma Cable - soared last week, 81.9 per cent and 125.5 per cent, respectively. When Beijing will embark on the plan to bring the red chips home is unknown. Analysts believe a large company such as China Mobile is unlikely to make its Shanghai trading debut soon. Minzu Securities forecast flotations in the pipeline are poised to raise a combined 100 billion yuan. Hong Kong lobbied aggressively against the plan in 2007 because of fears it would diminish the city's role as a financial hub. But Hong Kong's opposition is unlikely to hold much sway in Beijing, which appears determined to bolster its own domestic markets.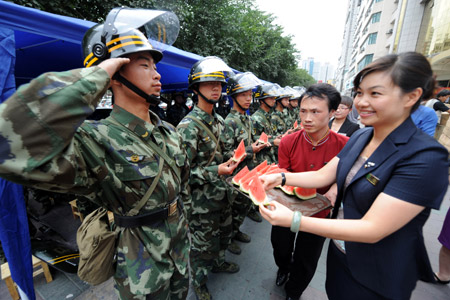 A policeman salutes when an employee of Rongdu Hotel sends watermelons to him in Urumqi, capital of northwest China's Xinjiang Uygur Autonomous Region, July 13, 2009. All walks of life in Urumqi have kept sending fruits, food and water to policemen who are ensuring the security here in recent days.
Property developer Shimao Property (SEHK: 0813) on Tuesday said its unit, Shanghai Shimao, will raise about 2 billion yuan (US$293 million) by selling up to 150 million new shares in a placement. The yuan-denominated A shares, to be sold privately to 10 institutional investors including mutual funds, brokerages and insurers, would be priced at least at 13.81 yuan each, the company said in a statement to the Hong Kong stock exchange. The proceeds would be used to develop property projects in China, including the Qingdao Shiao Tower project, and to replenish working capital, it said. The shares will be subject to a 12-month lock-up after which the Shanghai company will apply to the authorities to list them on the Shanghai Stock Exchange.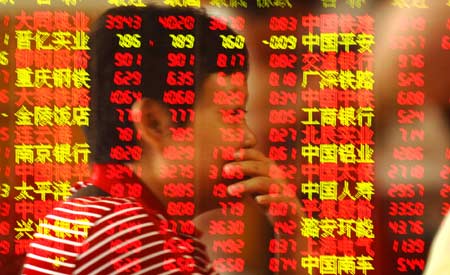 This multiple exposure picture shows an investor at a stock brokerage in Haikou, capital of south China's Hainan Province, on July 14, 2009. The benchmark Shanghai Composite Index on Tuesday closed at 3,145.16 points, up 64.6 points, or 2.1 percent to hit a new 13-month high led by banking shares.
Up to 700,000 Chinese tourists are expected to visit Taiwan this year amid improving ties, a report in Taipei quoted president Ma Ying-jeou as saying on Tuesday. With mid-July marking the start of peak holiday season, Mr Ma told the Commercial Times that Taiwan is set to welcome 700,000 mainlanders – or 2,000 a day – by the end of the year, citing a tourism bureau estimate. "I believe many people would be willing to invest [in tourism] if the number can stay to 2,000," Mr Ma said. Taiwanese authorities temporarily increased the quota on Chinese visitors to 5,000 a day in April as a response to a sharp rise in demand for the May 1 Labour Day holidays, but the number has been dropping since then. Mr Ma attributed the decline to June being the traditional low season, worsened by the spread of swine flu, which dissuaded some mainlanders from travelling to the island. Some 360,000 mainlanders have visited Taiwan since July last year, after Mr Ma's Beijing-friendly government trebled the daily quota to 3,000. Ties have improved dramatically since Ma took office last year pledging to boost cross-strait trade links and tourism.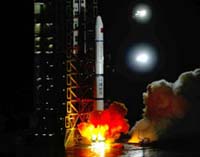 A Chinese businessman has bought the British satellite television channel Propeller and plans to use it to broadcast programmes promoting China in Europe, media reports said yesterday. Ye Maoxi, chairman of advertising company Xiking Group, acquired Propeller last month after six months of talks, the City Express newspaper reported. Propeller, broadcast from Yorkshire via digital provider Sky TV, is a non-profit channel launched in 2006 with a public-funded investment of £5.2 million (HK$65 million), according to the channel's website. Mr Ye learned that Propeller was looking for strategic investment due to the financial crisis when he visited Britain as part of a contingent of Chinese businesspeople with Premier Wen Jiabao earlier this year. The entrepreneur, from Wenzhou in Zhejiang , plans to overhaul the channel and produce programmes promoting Chinese culture, brands and people, possibly with some broadcasts in Chinese, previous reports said. "[The new programs] will help local people know more about China and Chinese people in Europe, to know about what is happening in the motherland," Mr Ye said during a business trip to Portugal. This is not the first time a Chinese businessman has bought into an overseas media company, a sector that is tightly controlled by the central government. Wang Weisheng, also from Wenzhou, bought a state-owned television station in United Arab Emirates and relaunched it in August 2006. Mr Ye's reported purchase coincides with a drive by state media companies to expand overseas as part of efforts to improve China's international image. Earlier this month, Xinhua said it had launched an international English-language television news service in Europe. The government's English-language China Daily newspaper has also launched a US edition.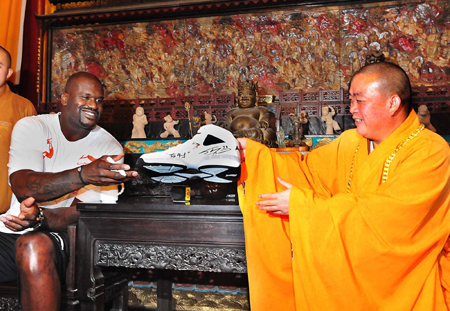 NBA Cleveland Cavaliers center Shaquille O'Neal (L) presents a basketball shoe with his signature to Shi Yongxin, abbot of Shaolin Temple, during his promotional tour in Shaolin Temple, central China's Henan province, July 13, 2009.
July 15, 2009

Hong Kong: The government is expected to ease its stringent swine flu policy for schools when the new academic year begins next month. This follows calls by some medical experts and educators for the government to scale back measures against the disease to minimise disruption when schools reopen in the coming weeks. Speaking after a meeting of the Legislative Council's health services panel yesterday, Secretary for Food and Health York Chow Yat-ngok said the government would soon work out new swine flu guidelines, which would be issued at least one week before schools reopen. The Australian International School, the first to end its summer break, is due to reopen on July 27. Twenty per cent to 30 per cent of kindergartens are also due to resume classes next month. The University of Hong Kong's head of microbiology, Yuen Kwok-yung, said yesterday that guidelines on swine flu for schools should be a "bit more stringent" than for seasonal flu. "There are effective vaccines for seasonal flu but not for swine flu," Professor Yuen said. Under existing guidelines for seasonal flu, closure of a school depends on several factors: if more than 10 per cent of its students are taken ill; if the hospital admission rate is more than 1 per cent; if there are two or more students in intensive care; or if a death occurs among healthy students. Those guidelines were issued by the Centre for Health Protection in April last year, well before swine flu became a global issue. The measures for swine flu, officially known as A(H1NI) flu, are much tougher - a school is shut if there is a single confirmed infection. This resulted in the closure of all primary schools and kindergartens on June 12 after the first local cluster of the disease was confirmed. Several secondary schools were also shut after students were infected. Hong Kong reported 62 new swine flu cases yesterday, bringing the total to 1,327. Meanwhile, a 37-year-old Filipino domestic helper infected with swine flu remained in critical condition yesterday. Her pregnant employer was also in hospital. Dr Chow said whether Hong Kong had a fatal case or not would not affect its flu measures. University of Hong Kong microbiologist Ho Pak-leung, medical sector legislator Leung Ka-lau and two other medical experts said that as swine flu was very mild in most cases, the government should simply treat it as seasonal flu. "The school guidelines on seasonal flu can be adopted in the new school year, while the government should be more careful in managing parents' sentiments in case there are deaths or severe complications," Professor Ho said. "The government should be ready to adjust its strategies in case the new virus becomes more virulent in the winter." Another senior medical source said: "The government measures should be made based on evidence, and we should not overreact. "The government should tone down its measures for schools but at the same time maintain a high level of surveillance for any genetic change in the virus." Alex Cheung Chi-hung, chairman of the Aided Primary School Heads' Association, agreed that swine flu should be treated like seasonal flu. "If we suspend classes for too long it will adversely affect teaching," he said. u Fung-heung, vice-chairwoman of the Hong Kong Kindergarten Association, said young children were more vulnerable, and kindergartens should consider suspending classes even if one pupil was infected.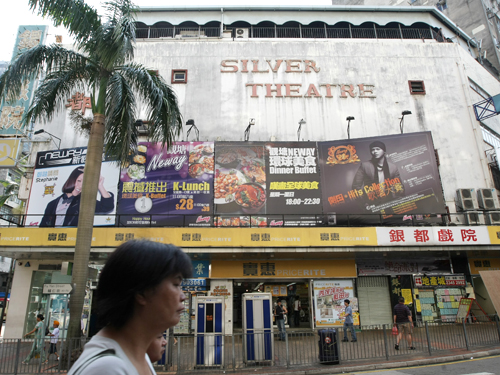 After almost half a century, the credits roll for Silver Theatre, last of the red flag cinemas - Without fanfare, and barely noticed by nearby residents, the curtain has been quietly lowered on the last pro-Beijing cinema in Hong Kong, closing a chapter in the city's movie history. Opened on September 7, 1963, the Silver Theatre in Kwun Tong closed on Thursday after 46 years, during which it showed films about the lives of local people under colonialism, patriotic mainland movies and, later, mainstream films. But many did not realise it had gone until they saw a notice posted at the cinema's entrance in Yue Man Square yesterday, declaring: "Due to redevelopment of the district, we announce our glorious closure after 46 years of service." Sil-Metropole Organisation, which owned the cinema and had a 70 per cent interest in the building, said it had shut down in a deal with the Urban Renewal Authority, which plans a massive rebuilding of Kwun Tong. "We have lost quite a lot of money in the cinema's operation," a spokesman for the company said. There were once four pro-Beijing cinemas in Hong Kong, but the Silver was the last. Yesterday, knots of people gathered outside the building, reading the notice and reminiscing about the theatre. "This cinema brought me many good memories," said a Mr Chu, who is in his late 50s and has lived in Kwun Tong since he was a child. "I went to the cinema a lot when I was small," he said. "What a pity that it has folded. All I have now is memories of some fine moments of my childhood relating to the cinema." But Mr Chan, a stall owner in his early 50s who sells baby clothes in a nearby market, said it was time to move on. "Without demolishing old buildings, how can we have new ones? The redevelopment has already dragged on for too long," he said. After a delay of more than 10 years, the authority announced its redevelopment plan, which includes the Silver Theatre Building, last year. The HK$30 billion project, to be carried out in five phases spanning more than 12 years, affects about 5,000 residents, 520 shops and 1,656 property owners. An honorary adviser to the Museum of History, Cheng Po-hung, said the Silver Theatre experienced its best times before the 1970s.`"It used to show many good films depicting the reality of Hong Kong, like the lives of fishermen and people in squatter areas. These films were produced to criticise the British government for failing to take care of the people," he said. "Later, it showed many patriotic films of China without many patrons. Since the 1980s, it has changed its direction again as it tried to integrate with the mainstream due to market concerns. "It is the last cinema of its kind. Other pro-Beijing cinemas - South Pacific Theatre, South China Theatre and Astor Theatre - closed a few years ago. I will say its mission as a pro-Beijing theatre has ended." Perry Lam, a film and cultural critic, agreed. "The cinema has ended its days as a propaganda machine for the promotion of mainland China. Nowadays, there are so many other ways and so many organisations doing the job," Mr Lam said. Fung Lam, 84, a veteran actor and former director of the actors' division at the Sil-Metropole Organisation, said the cinema would be sadly missed. She recalled that it had screened many famous films produced by pro-Beijing filmmaking companies, such as Those 72 Tenants and Sha Chia Pang.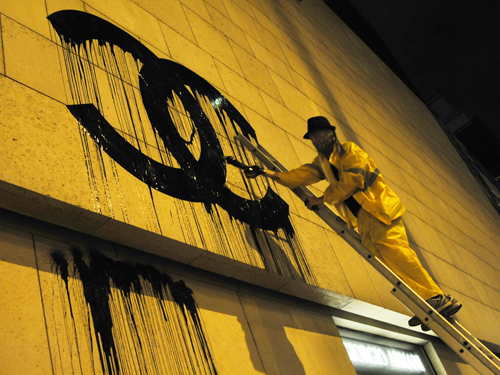 French graffiti artist Zevs - known for "liquidating" famous logos by pouring paint over them - was arrested early yesterday after a Chanel logo appeared on the facade of a Central building in his style. He was one of three people arrested over the incident at Chater House at 3.30am. Police did not name the three, saying only that they were a 32-year-old Western visitor and two Hong Kong residents aged 27 and 26. But the owner of Art Statements Gallery, Dominique Perregaux, who invited Zevs, confirmed his arrest. The logo was painted on the A-grade office building in brown paint, with blurring of its outline in a style the artist - who took his name from Zeus, a regional train that almost hit him in Paris - dubbed liquidation. A police spokeswoman said a man called the emergency hotline shortly before 3.30am after he saw a man get out of a van parked near the building and paint graffiti on the wall. "Police went to the scene. Officers found the vehicle and arrested three men inside for alleged vandalism," the spokeswoman said. They were still being detained last night. Speaking from Singapore, Mr Perregaux said his assistants called him at about 4am. "They were with Zevs. I have not been able to reach them since. I am trying to get hold of them." He did not understand why police had arrested the artist. "I do not think it is a big deal. After all, he has performed such art forms in many places before, in Berlin, in New York and Paris," he said, adding that Zevs had used water paint for the work, which would be easy to remove. The artist has said his technique makes even the powerful economic signature brands look as if they are melting. His previous targets have included McDonald's, Yves St Laurent and Chanel. Hongkong Land, which owns and manages Chater House, said there was no Chanel store in the building, which houses another international brand, Armani. "But as police are investigating the case, we cannot comment further," a spokesman for the company said. Chanel could not be reached for comment yesterday.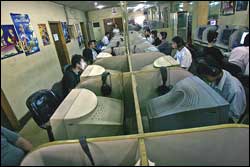 There is overwhelming public support for tighter monitoring of the internet, lawmakers reviewing the control of obscene articles have been told. A Hong Kong University public opinion poll found three-quarters of 1,500 respondents want the government to step up internet regulation by increasing penalties and improving the existing regulatory system. The poll was conducted for a consultants' report commissioned by the government on the Control of Obscene and Indecent Articles Ordinance. Less than 10 percent regard the Obscene Articles Tribunal as doing its job, with 40 percent in favor of abolishing it for the classification of articles by a magistrate. About 60 percent support the establishment of a new independent adjudication system and replacing adjudicators by jurors. The Legislative Council panel on information technology and broadcasting is concerned about the prevalence of indecent and obscene internet content easily accessible by the young. Permanent Secretary for Commerce and Economic Development Duncan Pescod told the panel that the government's objective is to strike a balance between safeguarding the free flow of information and freedom of expression and to protect minors from obscene materials. The government intends to begin the second round of public consultation before the end of the year. "A phenomenon that concerns many people is compensated dating which sprang from the internet," Chan Kam-lam of the Democratic Alliance for the Betterment
and Progress of Hong Kong said. Independent Priscilla Leung Mei-fun said she understands internet users do not want to be restricted, but the web is no longer separate from reality. "Online activities should be supervised like the real world activities," Leung said.

China: China has toughened its anti-corruption regulations towards senior managers in state-owned enterprises (SOEs) to stave off misconduct and stop the loss of state-owned assets.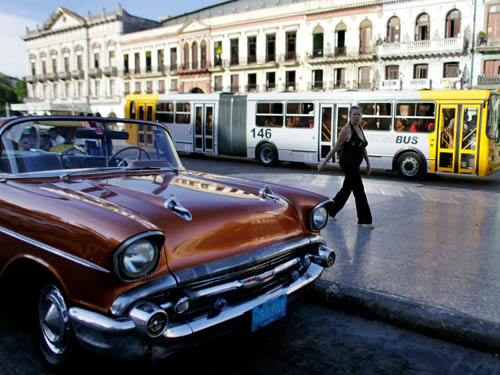 A public bus in Havana, where a US$170 million investment has renovated the Cuban capital's public transport network, with the once-famous "camel" buses pulled by Russian tractor-trailer cabs giving way to modern buses from China. All but invisible in Latin America a decade ago, China is now building cars in Uruguay, donating a soccer stadium to Costa Rica and lending US$10 billion to Brazil's biggest oil company. It has supplanted the United States to become the biggest trading partner with Brazil, South America's biggest economy. China has moved aggressively to fill a vacuum left by the US in recent years, as Washington focused on wars in Afghanistan and Iraq, and the global downturn sapped its economy. "China is rising while the US is declining in Latin America," Riordan Roett, a professor of international relations at Johns Hopkins University, said while visiting Sao Paulo. "China is all over this region. They are following a state-driven policy to expand their peaceful presence." China is beefing up its embassies throughout Latin America, opening Confucian centres to expand Chinese culture, sending high-level trade delegations throughout the region and opening the door for ordinary Chinese to visit Machu Picchu, Rio and other tourism hot spots. Yuan Aiping came to Rio de Janeiro from Beijing in 1997 on a whim, fell in love with the city and decided to stay. She studied Portuguese, and when Brazilian President Luiz Inacio "Lula" da Silva made his first visit to China in 2004, she opened a small school in Rio to teach Putonghua. She began with six students and today has 300, including senior executives at Petrobras, the country's biggest oil company, and Vale do Rio Doce, the biggest mineral producer. Both have growing business with China. "Chinese is the language of the future for Brazil," she said.
China State Construction Engineering Corp kicked off its public offering yesterday to raise 42.6 billion yuan (HK$48.32 billion) in the A-share market, the biggest public offering in more than a year, after the mainland regulator, in a surprise move, approved the deal on Sunday.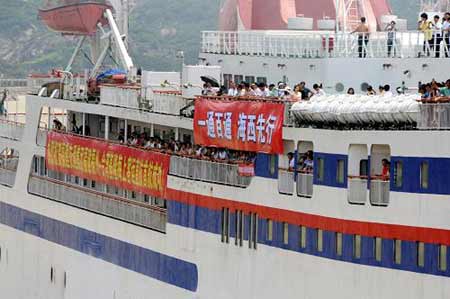 The combined passenger-cargo vessel "New Golden Bridge II" leaves port in Fuzhou, capital of southeast China's Fujian Province, July 13, 2009. The first combined passenger-cargo vessel left the Chinese mainland bound directly for Taiwan Monday morning. It is the maiden voyage after the mainland and Taiwan started direct air and sea transport and postal services last December.
July 14, 2009

Hong Kong: Daewoo Securities, South Korea's second-largest brokerage by market capitalisation, is setting up a full-service investment bank in Hong Kong.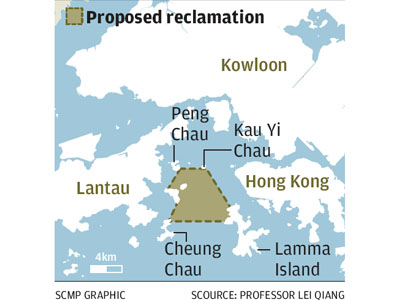 Two mainland academics say they have the answer to the city's land shortage - reclaiming the waters between Lamma, Cheung Chau, Peng Chau and two smaller islands. The reclamation would create 25 sq km of extra land - roughly the amount of built up land on Hong Kong Island, they say. The ambitious plan would cost HK$11.2 billion. The proposal comes from Lei Qiang, professor at the Centre for Studies of Hong Kong, Macau and the Pearl River Delta at Zhongshan University in Guangzhou, and Qian Zhaojun, a former deputy director of the Navigation Design and Survey Institute in Guangzhou. They argue that Hong Kong faces an acute shortage of land and their plan would create plenty of valuable land for future development. Professor Lei said reclamation of the waters near the islands, which have an average depth of seven metres, was technically feasible. "It would create space for comprehensive development," he said. "Development on such a vast piece of land would be more cost-effective than on scattered pieces of land in other parts of Hong Kong." Chief Executive Donald Tsang Yam-kuen promised last month that the government would adopt "new thinking" to tackle the land shortage and enable development of six new economic "pillars". Victor Sit Fung-shuen, director of the Advanced Institute for Contemporary China Studies at Baptist University, said: "[Their] holistic approach ... merits discussion but the plan is unrealistic in the short run." He does not believe it could be carried out in the next 20 years. Christine Loh Kung-wai, chairwoman of the Society for Protection of the Harbour, said: "The obvious question to ask is: is Hong Kong short of land? How much factory land is there in Hong Kong that is not being used or reused for commercial and residential uses? "There is also the issue of costs. Reclamation doesn't come 'free'. I doubt vast reclamation like they suggest will stand up to scrutiny." Professor Lei said one of the aims of the proposal was to stimulate discussion in Hong Kong on the city's future development.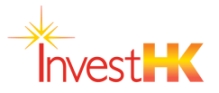 InvestHK best in Asia at drawing foreign investment, report shows - Hong Kong outranks Asian countries and cities in the ability to attract foreign investment through its promotion agency, InvestHK, and is 22nd in the world, a World Bank report reveals. It is also the only place in Asia to rank among the world's top 25 for their handling of investment-related inquiries. The Global Investment Promotion Benchmarking 2009 report, prepared by the Investment Climate Advisory Services of the World Bank Group, evaluates how well countries and their cities are able to market themselves and influence foreign investors' decisions to base their businesses and investment there. The report examines the performance of agencies or departments responsible for business promotion and assistance to foreign companies in a country or selected cities. Factors such as the ability to provide relevant, accurate and timely information to potential investors are examined. Austria's ABA-Invest is ranked first in overall performance, followed by its counterparts in Copenhagen, Sweden, Germany and Canada. Top performers in Asia are Hong Kong, Singapore and Malaysia. Assessments were conducted on 213 foreign-investment promotion bodies in 181 places between March and September last year. Assessors posed as software developers and representatives of a beverage-manufacturing company seeking to expand operations. More than 70 per cent of government investment-promotion bodies missed out on investment and job-creating opportunities by failing to provide accurate and timely information to potential investors, and only 10 of the 181 places followed up with potential investors to secure projects, the report says. InvestHK's director general of investment promotion, Simon Galpin, said he was pleased to note that the body was the only investment-promotion agency in Asia to be included in the World Bank's top 25. "Competition is increasingly fierce," he said. "So we will have to work hard to improve on this next year. We need to constantly look at how we can improve our responsiveness and the service offering we provide to companies." Mr Galpin said InvestHK would improve after-care services to companies that were already in Hong Kong to help them to expand and upgrade their presence.
Ausnutria China Group, a Sino-Australian joint venture that imports and distributes its own-brand milk powder formula on the mainland, has mandated Macquarie Capital as the new sponsor of a proposed HK$500 million Hong Kong offering. The initial public offering is planned for later this year, following a failed attempt to be listed in the United States last year, sources said. The company had planned to sell its shares on the New York Stock Exchange in 2007 and hoped to complete the transaction early last year, but the application was turned down by US regulators. After the setback the firm switched the listing proposal to Hong Kong and appointed ICEA Capital to handle the offering, sources said. However, Australia's Macquarie Capital is now leading the offering. "ICEA has quit and Macquarie is now leading the deal," said a source. "It has also recruited BOC (SEHK: 3988) International to join the syndicate." The source added that Macquarie had promised to grant a loan facility for the original controlling shareholder to buy back the stakes earlier sold to a consortium in 2007. Founded in 2003, the Hunan-based Ausnutria China is 70 per cent owned by a group of investors based on the mainland with the remaining 30 per cent owned by Australia Ausnutria. In the middle of 2007 before the planned US share offer, the controlling stake owned by the China-based investors was sold to a consortium led by several investment institutions in the US. However, this holding was bought back by the founders after the failed listing attempt with the loan from Macquarie. According to its website, Ausnutria is the first Australian brand to be introduced on the mainland. Different from other foreign brands including Danone Dumex that part-produces its products on the mainland, Ausnutria's milk powder is claimed to be 100 per cent made in Australia, which boosted its quick rise on the market. It is reported that sales rocketed to 300 million yuan (HK$340.29 million) in the first three years of the firm's establishment. Investment bankers said the latest listing bid would be a test for professional investors' attitude towards the country's dairy sector after the melamine contamination scandal last year. Mainland dairy players were hit hard by the scandal, which led to a number of children dying after drinking tainted milk. Products from 22 mainland dairy makers including the biggest liquid milk producer, China Mengniu Dairy (SEHK: 2319), were found to be laced with melamine, a chemical used to make plastics. Sanlu Group, which was at the centre of the scandal, is now bankrupt while Mengniu recently sold shares to state-owned company Cofco.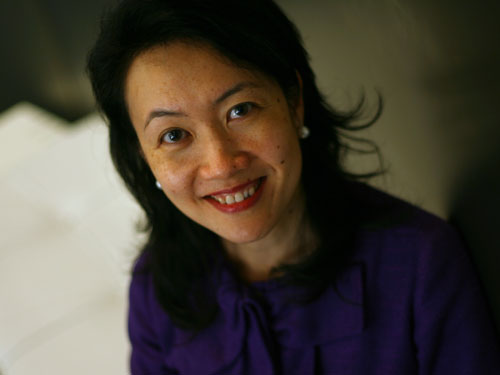 Teresa Ko wants to simplify listing procedures to ensure Hong Kong becomes more attractive for mainland and overseas companies. Teresa Ko Yuk-yin, the new chairman of the Hong Kong stock exchange's influential listing committee, has her work cut out as she attempts to rebuild the somewhat tarnished reputation of the body. Priority number one is to convince investors that the committee is not at the beck and call of the city's powerful tycoons. Earlier this year, the panel got the regulatory equivalent of a bloody nose when it recommended extending the blackout period for directors trading shares in their companies before earnings announcement to up to seven months a year. Largely designed to prevent insider trading, the proposal angered many tycoons including Li Ka-shing. The result was a substantial watering down of the ban to only three months a year - compared with two months under the old rule. The 48-year-old China managing partner of law firm Freshfields Bruckhaus Deringer, is the first woman head of the committee that until the blackout controversy kept a low profile. The 28-member listing board is composed of lawyers, stockbrokers, accountants, fund managers and listed companies' representatives. The body approves new listings at its weekly meetings and every quarter decides policies governing listed companies. The committee is part of the Hong Kong exchange, but the bourse's board has no power to intervene in its decisions. Rather, the committee shares powers with the Securities and Futures Commission which co-vets new listings and changes to listing policies. This year marked the largest reshuffle of the body on record, with eight new members replacing seven who had served the maximum six years and one person who did not seek reappointment. The new chairman is now facing a call from former Securities and Futures Commission head Robert Owen who suggests the HKEx (SEHK: 0388, announcements, news) board should have more control over the committee by sending board members to sit on it or letting the board vet decisions on policy. But Ms Ko is a firm believer in the independence of the committee and says a resounding "no" to any interference. She wants to simplify listing procedures to ensure Hong Kong becomes more attractive for mainland and overseas companies. She is also leading a charge to turn part of the exchange's listing rules into hard law that can attract severe fines, jail and other penalties. At present, companies that breach the rules only receive a public reprimand. The government by the end of this year will consult the market on giving some of the rules statutory backing. The Hong Kong-born lawyer is no stranger to tough jobs. She was among the first legal eagles involved in advising mainland firms listing in the city in the early 1990s. Shanghai Petrochemical, the first mainland company dually listed in New York and Hong Kong, was among her clients. Since then, she has been involved in many mega initial public offerings and merger and acquisitions from the mainland, including the US$21.9 billion fund-raising for Industrial and Commercial Bank of China (SEHK: 1398) in 2006. All this high-level corporate moving and shaking is a far cry from Ms Ko's original career hopes. The young Ko fostered a girlhood dream to be a fashion designer but her father vetoed the plan. "I then picked law as I knew he wouldn't argue with law as a profession," she recalls. After reading law in Britain and qualifying as a solicitor in Hong Kong, England and Wales, she received a master's degree from Cambridge University. When not in the boardroom, the mother of two is busy juggling family commitments and attempting to relax. On the weekend, she switches off her computer and spends time in her garden or cooking for her husband, 14-year-old son and 12-year-old daughter. "I like cooking, which is a very family activity and everyone can muck in. I always insist on someone else doing the washing up," she said.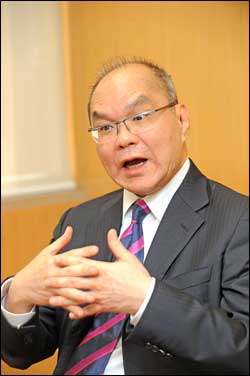 One of Hong Kong's leading education providers has gone on the offensive in an attempt to prevent its 26,000 students from falling prey to drugs. The Tung Wah Group of Hospitals, which runs 18 secondary and 15 primary schools, has commissioned a center dealing with drug addicts to hold a workshop in September that will train teachers to identify students with problems. Tung Wah has yet to decide whether it will join the government's voluntary drug-testing scheme, which begins on a trial basis in 23 secondary schools in Tai Po the same month. "We want to conduct the workshop first before we decide on whether to join the drug-testing scheme," Tung Wah's new chairman John Lee Sam-yuen said yesterday. The scheme is among a series of measures announced by Chief Executive Donald Tsang Yam-kuen last month to combat the problem of young drug abusers. However, many schools are hesitant to join on fears it may damage their reputation. In an interview with The Standard, Lee admitted drugs have become a serious concern as many Tung Wah schools are in the New Territories where teenage drug abuse is more prevalent. "Fortunately, none of our schools has been known to have a drug problem so far," Lee said. "However, early detection is better than cure. It will be better for us to take precautions and have a clear picture about the situation instead of just waiting for problems to happen. So it is important to train our teachers in how they can identify students with drug problems at an early stage." Owing to restrictions, only 10 teachers from each Tung Wah school will be able to attend the workshop organized by the group's Cross Centre. The center will invite social workers and psychiatrists to brief teachers on the symptoms of drug abuse. Recovering drug addicts will also share their experiences, said center supervisor Brenda Chung Yin-ting. Chung hopes teachers attending the workshop will share their knowledge with colleagues before the school term begins. She said the center has helped around 300 young drug abusers each year since it opened in 2002. The youngest was a 10-year-old boy hooked on ketamine. Most of those who seek help are aged between 16 and 21 but the center has also come across some in their mid-20s. Meanwhile, Tung Wah said it is launching a job-matching program to help young school leavers whose academic qualifications are not good enough for university places. Jobs will be provided to such "borderline" students from the Tung Wah Group of Hospitals Community College in 2011. "When young people have a proper job... they become more confident in themselves. That will also help prevent them from falling prey to drugs or picking up other behavioral problems," Lee said.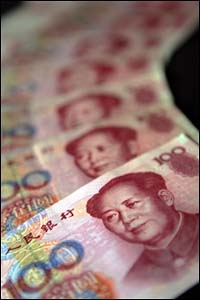 Hong Kong financial officials are urging Beijing to give local yuan business more freedom, after cross-border yuan trade settlements began last week. Since last Monday, the central government has allowed a total of 400 mainland firms in Shanghai and Guangdong to settle trade in yuan with some 20 banks across Asia. The scheme resulted in a modest 30 transactions worth 30 million yuan (HK$34 million) in five days. China Times, citing a Shanghai banker, suggested the volume could expand up to 1.3 trillion yuan annually in the future, benefiting all 10 members of the Association of Southeast Asian Nations. However, financial officials still think there is a need to relax yuan business in Hong Kong. Hong Kong Monetary Authority chief executive Joseph Yam Chi-kwong wants the use of yuan in local share transactions, while HKMA executive director Arthur Yuen Kwok-hang shared this view. "If you can have bond transactions in yuan in Hong Kong, why can't you buy equity in yuan?" Yuen said. "This is an idea that is worth pursuing." Yuen also urged Beijing to allow SAR companies and international financial institutions to issue yuan bonds.

China: Beijing is considering a major adjustment to its economic policy for the rest of the year, amid concerns the mainland's recovery is still on shaky ground despite recent positive signs. A meeting of the Politburo, the nation's leading decision-making body, is scheduled for this month and will discuss policy initiatives aimed at consolidating the progress made in the first half of the year, sources say. Topping the agenda will be new initiatives to spur domestic consumption and boost household income, as well as crucial structural reform aimed at narrowing the urban-rural wealth gap. In the lead-up to the meeting, senior leaders have undertaken fact-finding missions to the mainland's economic powerhouses and poorer inland provinces. Eight members of the Politburo Standing Committee - the top nine-man inner circle of the Communist Party - have fanned out across the country on an unprecedented scale, making a total of 18 trips to provinces in the past month. "The Politburo meeting will be called after leaders read second-quarter data and complete their fact-finding missions ... which were planned earlier to give them first-hand information on the latest developments in the various economic regions, either the economic powerhouses or the underdeveloped inland provinces," a government economist said. The National Bureau of Statistics will issue second-quarter data on Thursday. But top leaders usually get primary data much earlier. The meeting had been scheduled to be held after President Hu Jintao's return from the meeting in Italy of the Group of Eight leading industrialised nations. But another source said Mr Hu's sudden departure from the G8 meeting on Wednesday to deal with the outbreak of violence in Urumqi might cause the economy meeting to be postponed for a few weeks, if the situation in the restive western region remained unstable. "The new policy measures and initiatives will be the latest effort to shift growth from focusing on capital investment to a more sustainable model that gives domestic consumption a more important role in boosting economic growth," the government economist said. The action is also being taken in response to calls by the world's major economies for China to boost growth to help the world out of recession. The mainland's economy has shown signs of strengthening in recent months, as investment rebounded and consumption held steady. That has been largely due to the 4 trillion yuan (HK$4.54 trillion) stimulus package, which appears to have had an effect after gross domestic product growth sank to a 10-year low of 6.1 per cent in the first quarter. On June 17, the State Council said the economy was showing signs of stabilising and was at a critical phase of recovery. "Still, the foundation for the economy's recovery is not solid enough and there are many uncertainties," the cabinet said in a statement issued after the meeting, which was chaired by Premier Wen Jiabao. Zuo Xiaolei, chief economist with Galaxy Securities, said she expected policymakers to make significant changes in the second half, as the recovery so far was largely driven by massive state-led investment. "The leadership will come up with a major policy adjustment, shifting the focus away from capital investment to the promotion of domestic consumption amid shrinking external demand," Ms Zuo said. She said the government had achieved the primary goal of its stimulus package, but decision-makers also believed growth could not be sustained unless they could succeed in reviving domestic consumption and restructuring the economy, which would become the policy focus for the second half.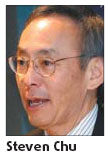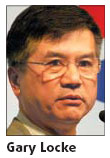 Clean energy to be focus of Sino-US talks - Stronger Sino-US cooperation on clean energy will be the goal of two US officials who will be visiting China this week. Clean energy to be focus of Sino-US talks. US Commerce Secretary Gary Locke and Energy Secretary Steven Chu will be in China from Tuesday to Friday. The two countries are planning to discuss building a Sino-US clean energy center during the two secretaries' visit, a source told China Daily. It would be the first nation-level center between China and the US to promote the use of clean energy, he said, asking not to be named. Clean energy to be focus of Sino-US talks. The US Commerce Department earlier said the two secretaries will highlight the potential for mutually beneficial relationships in the clean energy sector. China and the US have made great progress in cooperation on the clean energy sector. There will be opportunities for American green technology companies to fill a critical need in China, a win-win for both countries, Locke said in a statement on the visit. Clean energy will drive the economy of the future, both in the US and around the world, said Chu in the statement. "It's in our interest and China's to explore ways to cooperate for our mutual benefit - by promoting renewable energy, encouraging energy efficiency and cutting pollution," Chu said. Priorities would include clean coal technology, carbon capture and storage, a smart grid, hybrid and electric vehicles, energy efficiency and renewable energies, said Yang Fuqiang, director of global climate change solutions at the World Wildlife Fund for Nature. A report from the Center for American Progress, a US think tank, has proposed a joint carbon capture and storage program, which would include geological assessment and demonstration projects in both China and the US, as the two countries would share an abundance of coal reserves and a similar reliance on coal as a major energy source. China and US both face "great challenges and opportunities in clean energy use," said Dennis Bracy, chief executive officer of the US-China Clean Energy Forum. "The two countries have much to gain by working together on improving energy efficiency and curbing pollution."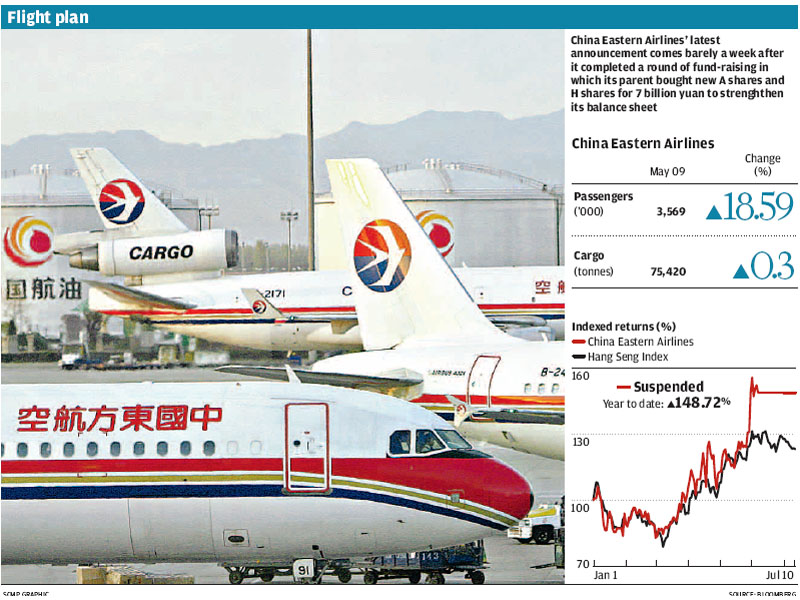 China Eastern Airlines (SEHK: 0670) has unveiled a plan to issue new shares to its parent and up to nine investors within 12 months to raise about HK$7.96 billion to bolster its financial position amid a tough global aviation market. The nation's third-largest airline also said yesterday that it would issue up to 1.69 billion A shares to Shanghai Airlines in exchange for 1.3 billion Shanghai Airlines shares in their merger. At a swap ratio of 1.3 China Eastern A shares for each Shanghai Airlines share, this gives shareholders a 17 per cent premium based on the last traded price of the two firms. The announcement came barely a week after it completed a round of fund-raising in which its parent bought new A and H shares for seven billion yuan (HK$7.94 billion) to strengthen its balance sheet. China Eastern said its board would ask shareholders of A and H shares to give it mandates to issue the new shares, after getting approval from the China Securities Regulatory Commission. Under the proposed mandate, it wants to raise about 6.41 billion yuan by issuing up to 1.35 billion new A shares to 10 investors, including its parent at no less than 4.75 yuan each. This represents a 10.71 per cent discount to the average closing price of 5.32 yuan in the five consecutive trading days before its A-share trading was suspended on June 5. The new A shares represent 17.44 per cent of the company's issued share capital. Parent China Eastern Air Holding will pay cash for up to 490 million shares at no more than 4.75 yuan each for HK$2.33 billion, or 6.33 per cent of the A shares to be issued. The rest will be sold to up to nine other specific investors at no less than 4.75 yuan each. The company did not name the potential investors as it would need time to identify and negotiate with them. "The board believes it is reasonable to have the specific mandates valid for a 12-month period." The proposed H-share issue will allow it to raise HK$686 million from 490 million new H shares at no less than HK$1.40 each to China Eastern Air Holding. This represents 6.33 per cent of the issued share capital of the company, and the subscription price is at a 20.45 per cent discount to the HK$1.76 average closing share price in the five trading days before the June suspension. After the planned merger with Shanghai Airlines and the share issuances, China Eastern Air Holding will hold 59.93 per cent of the listed unit, down from 74.65 per cent. China Eastern Airlines reported a net loss of 13.9 billion yuan for last year, blaming a decline in domestic demand. It will seek to resume trading of its shares in Hong Kong today. The parent will be locked into the A shares for 36 months while the other nine investors will be locked in for 12 months. No lock-up arrangement for the H-share issue was given.
Alternative asset fund manager CDH Investments has joined with venture capital firms Qiming Venture Partners and Jafco Asia to invest US$20 million in Shanghai-based car rental company, eHi Car Rental. EHi said in a statement that it would use the proceeds to expand its fleet and increase its number of outlets nationwide. Ray Zhang, the company's founder and chief executive, said the second round of fundraising by eHi would help the firm fine-tune service and offer corporate clients better prices as it vies for a bigger share in the mainland's highly competitive car rental sector. EHi, which was founded in 2006, received US$5 million from Qiming in May last year, and it is facing fierce competition from a host of rivals including Shenzhen TopOne Car Rental and Anji Car Rental and Leasing, a joint venture between Avis Europe and Shanghai Automotive Industrial Sales. CDH Investments was established in 2002 by the former private equity group of China International Capital Corp and has since become a joint-venture unit of China Jianyin Investment. "Scale holds the key to a car rental firm's success," said Lu Liang, a manager at Hotung Venture Capital. "Only car rental firms with a larger network in the vast mainland market can generate profits." According to the China Automobile Dealers Association, the mainland has more than 3,000 car rental firms, 80 per cent of which own less than 50 cars. Industry officials pointed out that most of the companies are unable to post profits owing to high maintenance costs and low sales. China Auto Rental, one of the mainland's leading car rental companies, has predicted that total revenues in the rapidly expanding car-hire business will reach 18 billion yuan (HK$20.42 billion) by 2015. EHi, which says it has operated at a profit since 2007, has a presence in 30 leading cities and runs a fleet of 2,000 cars. A company spokeswoman said it was considering a stock market listing but had no firm plans yet. The company has also secured loans from China Merchants Bank (SEHK: 3968) and Industrial Bank, but did not specify the size of the loans. The investment by CDH followed its purchase of a stake in Chery Automobile, one of the mainland's largest carmakers, last month. China surpassed the United States to become the world's largest car market for the first time in January this year as car sales soared because of various incentives.
Retailers resume business in Xinjiang - China's Ministry of Commerce said Sunday that main retailers in Urumqi, Yili, Kashi and other cities in northwestern Xinjiang Uygur Autonomous Region have resumed business.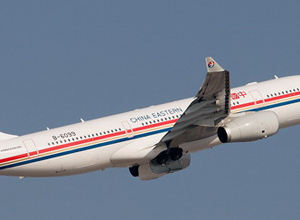 Airlines to merge in share swap deal - China Eastern Airlines on late Sunday announced that it will merge Shanghai Airlines through a shares swap and the two will resume stock trading in Shanghai Monday. Shanghai Airlines will exchange one of its A shares for 1.3 shares of China Eastern after the former's shareholders are given a 25 percent risk premium.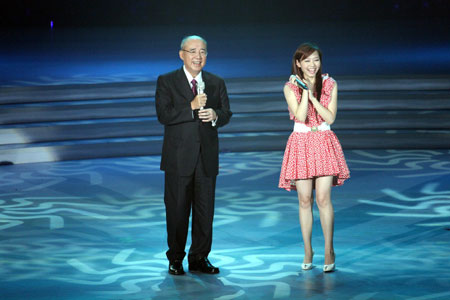 Kuomintang (KMT) Chairman Wu Poh-hsiung (L) sings a song named "The Moon Represents My Heart" with mainland singer Zhang Liangying during a soiree to mark the fifth Cross-Straits Economic, Trade and Culture Forum in Changsha, central China's Hunan Province, July 11, 2009.
Tesco's chairman says world needs China - There have been tremendous changes and development in China following the adoption of the reform and opening-up policy, and the world today needs China more, David Raid, chairman of the world's third-largest retailer Tesco, has said. In a recent exclusive interview, Raid told Xinhua that he is very familiar with China. Nearly 30 years ago, Raid paid his first visit to China. In recent years, he has been visiting China three or four times each year. The chairman said he just went to China in March this year, and planned to visit Shanghai in October. Tesco entered the Hong Kong market in the 1970s, when China just adopted its reform and opening-up policy. Raid said that over the period, "China absolutely sets a good example among the countries." Tesco is witnessing a fast-growing business in China, and "the mayors of the cities we visited are all very helpful," said Raid, adding that Tesco has benefited a lot from China's reform and opening-up policies. According to Tesco's 2009 first quarter management statement, its global sales increased by 12.6 percent while the international operations, particularly those in Asia with an encouraging growth of 43.8 percent, have delivered another strong start to the year. Raid described China's development as "huge." At the beginning, Tesco just imported products from China worth some 200 million pounds (320 million U.S. dollars). The figure has now increased to1.2 billion pounds (1.92 billion dollars). "Many foreign companies are same as Tesco," Raid noted. Tesco purchased a great deal of clothing, toys, electrical appliances and luggage from China, Raid said. Chinese products are quite popular around the world because of their high quality and exquisite technique, he added. Referring to China's retail market, the chairman said it is a very professional industry with a fierce competition. Therefore, the retail enterprises have to own a fast-learning capacity. Many Chinese supermarkets have a strong competitive power, Raid said. Calling the ongoing global financial crisis "the biggest problem" for all countries, Raid praised China for "playing a leading role" in the globalization process and the international efforts to tackle the crisis. As a result of China's rapid development in the past decades, the world now needs China more, he stressed. Raid pointed out that the Chinese market means a huge opportunity for Tesco. Now Tesco has 70 stores in China, and it will build more in the future. "Britain is much smaller than China. We have over 2,000 stores in Britain, so we can see a big potential in China," said the chairman, adding that 20 new Tesco stores will soon open in China. "If the economic condition is good, I'm sure we will start 10 or more new stores in China per year," said Raid, adding that he is highly confident in China's future.
July 13, 2009

Hong Kong: A pioneering television show airing in Hong Kong next month hopes to break one of the biggest taboos in Chinese society - euthanasia. The weekly programme will feature debates and euthanasia cases from around the world. Associated with the series, which will be streamed live on the internet, will be an online "will bank" where members of the public can say how they want their lives to end - including whether they want assisted suicide. They can choose whether to let the public, and their doctors, read their wishes or restrict them to family. "The show is not to advocate that euthanasia is right, or legalise it, but for people to talk about it," said television veteran Robert Chua, founder of the Health and Lifestyle Channel producing the show, Euthanasia?. Euthanasia is illegal in Hong Kong, and in most other places. Only five countries - Thailand, The Netherlands, Luxembourg, Belgium and Switzerland - and the US states of Washington and Oregon have legalised some forms of euthanasia. A survey of doctors and the general public in Hong Kong 10 years ago found support for legalising euthanasia. Two-thirds of 618 members of the public questioned said mercy killings should not be unlawful, and 60 per cent supported active euthanasia - such as by lethal injection. Doctors were similarly supportive of mercy killing, but much less supportive of active euthanasia. The survey researchers recommended the government create a forum to initiate discussion on euthanasia. But 10 years on, nothing has changed. The series' producer, Lancelot Chan Wing-tai, hopes it will provide a platform for people to discuss it. Euthanasia shot onto the public agenda five years ago when quadriplegic Tang Siu-pun, known as "Ah Bun", wrote to the then chief executive, Tung Chee-hwa, pleading for the right to die. "People pretend such a problem doesn't exist and avoid talking about it," Mr Tang said. "If all you can do is lie in bed and look at the ceiling, what does that mean to you? Why can't people die peacefully with dignity?" His letter and subsequent media appearances ignited discussion of euthanasia, but it soon cooled. Kwong Kwok-hay, deputy medical superintendent of the Hong Kong Sanatorium and Hospital, laments the city's extreme conservatism on the issue. He said that even if someone stated that they did not want artificial support if they fell unconscious, doctors dared not take action if their family objected. Mr Chua favours allowing euthanasia. "I have been to ... hospital. I have seen people being kept alive for the sake of it. But some people just can't take the pain and suffering from a serious illness," he said. Democratic Party lawmaker Wong Sing-chi, a Christian who has spoken out against euthanasia, said it was always good to have rational discussion of the subject. But he feared the show might encourage viewers who were depressed to think about killing themselves. Another lawmaker, Paul Tse Wai-chun, who is a lawyer, doubted there would be a legal challenge to the TV show and online "will bank". The show begins airing on Cable TV on August 9.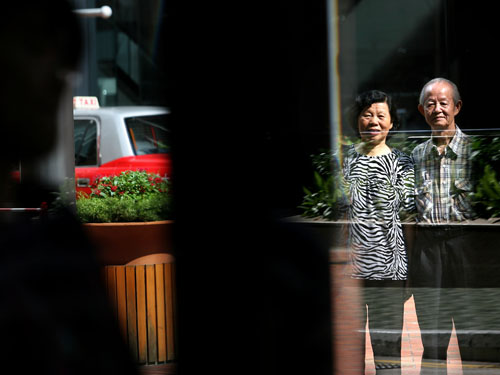 Wang Wenjin, with his wife Wong Ah-chun, is wanted by the mainland police over unpaid business debts - an allegation he denies. Hong Kong businessman Wang Wenjin thought his long ordeal was over when an arbitration commission on the mainland backed him in his fight with a company over millions of yuan. Instead, he is a broke and wanted man. Police in Yuncheng, Shanxi province, last month issued an arrest warrant for Mr Wang, 65, saying he had unpaid business debts - an allegation he denies. Whatever the truth of the claim, he cannot go back to the mainland to try to get the money the arbitrators say he is owed. Mr Wang's saga stretches back to the early 1990s when, just as many Hong Kong entrepreneurs were doing, he went to the mainland looking for business opportunities. He used his knowledge of international metal trading to set up Grow Sight Industries, which in 1992 won the sole right to develop a copper mine in Yuan Qu county in Shanxi. According to papers filed in what has become a decade-long legal battle, Mr Wang put in HK$12 million and his investment appeared to be paying off, with everything going smoothly for the next four years. But then the county government "compelled" him to set up a joint venture - "Otherwise, I would have been a traitor to China." He would soon be muscled out. In September 1999, the county transferred the assets of the joint venture, worth more than 100 million yuan, according to the legal documents, together with four state-owned enterprises to a private firm set up by officials, the Yuan Qu County Wulon Company. Mr Wang never received any money, the papers say. A visiting legal professor in Hong Kong supports this claim. Wang Youjin of the China University of Political Science and Law has described this as "a nil transfer". "It was entirely a scandal between government officials and private enterprise to misappropriate the state's assets and foreign investments," he wrote. Wang Wenjin went to the county government for help, but to no avail. So in 2004, he went to the China International Economic and Trade Arbitration Commission. In May 2006, the commission ruled in his favour. It ordered the company to be wound up and said Mr Wang's firm had contributed 8 million yuan (HK$9 million) to the joint enterprise and that he was owed compensation. The Wulon company went to the Beijing Second Intermediate People's Court, but the court dismissed the appeal. Wulon then went to the arbitration commission seeking to have its ruling overturned, but the commission let the ruling stand. "I am now using my son's and daughter's money to go on fighting." Mr Wang has contacted the Hong Kong government's office in Beijing and the city's deputies to the National People's Congress. He tried to petition leaders, including Hu Jintao and Wen Jiabao, but was detained by police. "They heard my case and expressed sympathy. Before they released me, a policeman bought me food and asked me to take care. "The Hong Kong government only asks Hong Kong businessmen to invest in the mainland but cannot help them solve problems."
The first phase of the HK$30 billion Kwun Tong bus terminal redevelopment project has attracted expressions of interest from 15 developers, reflecting renewed interest in land acquisition following a rebound in the property market. The developers include Sun Hung Kai Properties (SEHK: 0016), Cheung Kong (Holdings) (SEHK: 0001), Sino Land, Henderson Land Development (SEHK: 0012), Kerry Properties (SEHK: 0683), Nan Fung Development, China Overseas Land (SEHK: 0688), New World Development, K Wah International, Kowloon Development (SEHK: 0034) and Wheelock Properties (SEHK: 0049). The Urban Renewal Authority's Yuet Wah Street project will be put up for tender after the qualified developers have been shortlisted. Surveyors estimated the investment cost of the project to be about HK$1.5 billion. The 46,565 square foot site at the junction of Hip Wo Street and Yuet Wah Street could become a 40-storey residential building with a total gross floor area of 299,562 sq ft, providing about 300 units. The winning bidder will be responsible for building a public health centre as part of the project. The Kwun Tong redevelopment project is the biggest undertaken by the Urban Renewal Authority. There was expected to be some aggressive bidding as the eventual winner was likely to have an advantage when the second and largest phase of the project came up for grabs, said surveyor Albert So Chun-hin. "Another reason is developers have found it difficult to trigger land sales from the government's land application list. Bidding for the URA project is the only way for them to replenish their land banks," he said. Sun Hung Kai Properties' Latitude development in San Po Kong was the last project to be launched in Kowloon East when average property prices reached about HK$7,800 per square foot in April. Mr So believes the property prices of the Yuet Wah Street project would be more than HK$8,000 per square foot as the location is better.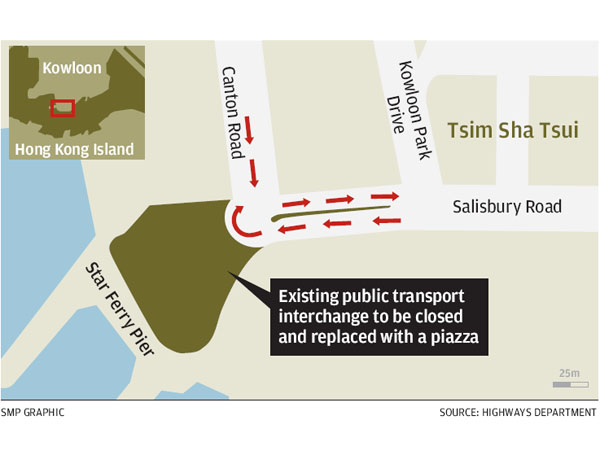 Leslie Chan Ka-long, the head of pressure group Our Bus Terminal, says the piazza will not properly integrate with the environment. Star Ferry terminus is more than just a bus stop for some admirers - There have been petitions, Facebook campaigns and even an appeal for the Tsim Sha Tsui Star Ferry bus terminus to be Unesco-listed. But these calls have not influenced the government. The terminus that has stood since the 1920s will now fade into history and be replaced by a piazza. The plans mean the construction of a roundabout to divert all traffic away from the area and a new terminal will be built in Tsim Sha Tsui East, about 15 minutes away. While plans have been in place to remove the terminal since 2002, with the government's decision two months ago to gazette the changes formally, there is now no going back. Winifred Chung, for the tourism commissioner, has promised that the piazza, whose design will be decided by a competition, will offer a landscaped leisure space, seats and a venue for public activities. Ms Chung has said the project will also preserve the existing Star Ferry Pier, the clock tower, the five flagpoles and graffiti by the "King of Kowloon", Tsang Tsou-choi. However, many are not happy with this. Nearly every week, Yip Tsz-ching, 41, brings her five-year-old son Chan Cheung-yin to the Tsim Sha Tsui Ferry Pier by bus. Living in Kwai Chung, she is always happy to make the 45-minute trip because of the reward at the end. "I usually bring my son to take the ferry. It does not require much money, but it means so much to us. I know many kids who are my son's age who never take the ferry. "In about half an hour, we can travel across the harbor to Central and back again. It is a very good entertainment for me and my son," Ms Yip said. Her son agreed: "I like taking the ferry. I can see the harbor." Ms Yip said there was already a piazza outside the Cultural Centre, so there was no need for one outside the Star Ferry. "When I think of walking from the new bus station in Tsim Sha Tsui East, which takes me 15 minutes, under hot sun like today with my son, I am just not going to do it. It is a bit too much." Many in Hong Kong of a similar age to Ms Yip would feel the same way, she said. "It is just an affordable leisure activity for people from the lower classes like us. "Taking the bus and ferry does not cost us much, but we can come here and feel the sea breeze." Her husband Chan Shui-hing, 40, said he supported his wife in regards to the preservation of the bus terminus. Concerned citizens have formed a group, Our Bus Terminal, to try to save it. Four of them even went to Hanoi in Vietnam in April to attend a Unesco forum, where they argued for the cultural significance of the terminus. Leslie Chan Ka-long, 29, chairman of the concern group, said the new piazza was not going to be a properly integrated part of the city as the existing terminus is. "The bus terminus, where it is now located, is actually at the centre of Hong Kong's transportation history," Mr Chan said. "When the bus terminus is removed, the piazza will become another Golden Bauhinia Square, which only tourists will visit. They will come, take pictures, and leave by coach again. "Now, the bus terminus is actually at the centre of Hong Kong's transportation history. "The United Nations says conservation is everyday life. The train station is nearby and the ferry pier is right there," Mr Chan said. "People commute here from early morning to late at night. This is the real Hong Kong." And then there is Star Ferry. "Our projection shows that the daily patronage will drop 11 per cent once the bus terminal is moved," a company spokesman said.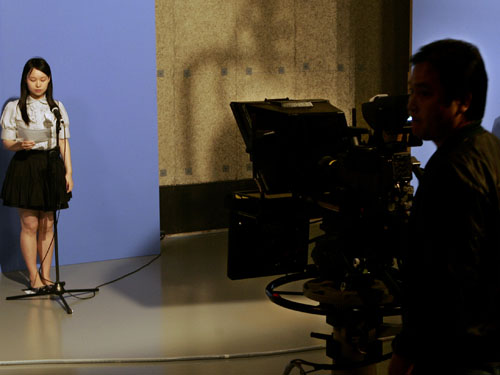 Would-be newsreaders and journalists had to do a 30-second screen test and sit a 30-minute written test. After four rounds of layoffs, ATV is hiring again. More than 500 people tried their luck at a recruitment day hosted by Asia Television yesterday at its Tai Po headquarters. It was the station's first recruitment push since it sacked more than 300 people in several waves up to May. People from all walks of life showed their interest in becoming reporters or anchors, among them fresh graduates, journalism students and professionals - some of whom had worked in their fields for more than 10 years. "ATV has been through a lot of changes in the past few months," ATV senior vice-president of news and public affairs Leung Ka-wing said. "But because the situation became more stable in June, we started to think about future developments again." Mr Leung said the station was planning to hire 20 to 30 people but could take on more if the talent was there. It was unlikely there would be more layoffs in the near future among the approximately 600 staff. Twenty-six news staff, including long-serving sports anchor Wong Man-kit, were sacked in the station's latest layoff in May. Tsai Eng-meng, founder of Taiwan snack-food company Want Want Group, acquired a stake in the broadcaster in January. The company did not intend to replace experienced staff with fresh faces, Mr Leung said. "News standards will not deteriorate," he said. "Colleagues have a firm grip on news quality." As to whether the station would restore some of the channels it scrapped - including a 24-hour news channel - Mr Leung said he would not rule out the possibility. Interviewees had to sit a 30-minute written test and a 30-second screen test. Reading a news script on camera proved to be a challenge for many. Some could not resist repeatedly looking at their scripts, while one nervous candidate read "$2.5 billion" instead of "$5.2 billion". Mimi Wong Im-im, 25, an airport ground staffer, said she was interested in joining the media because "Hong Kong news is more down to earth than in other places". Wilson Chow, 27, said he returned from Australia two months ago and had yet to get a job. He worked in the financial industry in Australia. "I want to meet people, see more people and maybe travel when reporting," he said. ATV chairman Linus Cheung Wing-lam said last month that he hoped the station would become profitable and secure a stock-market listing within two or three years. ATV had halved its deficit in the first six months of the year, he said.
Police raided more than 100 entertainment venues in Tsim Sha Tsui and Mong Kok in an anti-drug sweep targeting teenagers. Twenty-eight people, aged between 17 and 40, were arrested on suspicion of drug possession and trafficking. Officers seized ketamine, cocaine, Ice, Ecstasy and cannabis, with a combined value of about HK$54,000. Superintendent Joseph Yeung Chi-choi of the Kowloon West Region Police said not many of those arrested were students. The operation was aimed at deterring teenagers from taking drugs in the summer. Among the venues raided were upstairs pubs and discos in Tsim Sha Tsui, Yau Ma Tei, Mong Kok, Kowloon City and Sham Shui Po. More than 260 officers from the Kowloon West anti-triad squad and special-duty squad were involved in the operation, called "Vanquisher". The suspects remained in detention last night. Meanwhile, customs officers arrested a 42-year-old suspected ketamine courier in Yau Ma Tei on Friday. Seventeen packs of the drug, weighing 232 grams and with an estimated value of HK$27,000, were allegedly found in his bag. The man was charged with one count of trafficking in a dangerous drug and appeared at Kwun Tong Court yesterday. Under the Dangerous Drugs Ordinance, traffickers are liable to a maximum penalty of life imprisonment and a fine of HK$5 million.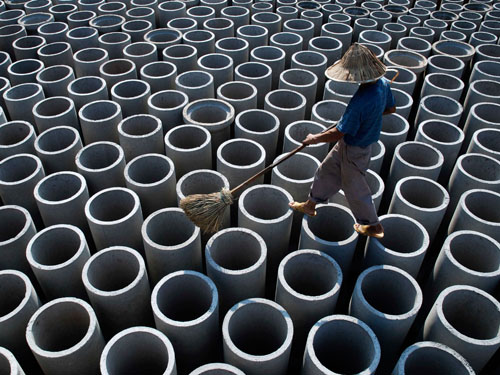 BBMG will use 75 per cent of the IPO proceeds to buy small cement plants in Beijing and start a new production line for building materials. Institutional investors will buy more than half of BBMG Corp's US$700 million initial public offering, making it the hottest listing among professional investors in Hong Kong this year. Sources said the Beijing-based building materials firm had attracted big-name investors including mainland sovereign wealth fund China Investment Corp and tycoons Joseph Lau Luen-hung and Robert Kuok. China Life (SEHK: 2628) Group, the country's biggest insurer and BOC (SEHK: 3988) Investment, a unit of the nation's third-biggest lender, have been confirmed as two of the five cornerstone investors. In its first investment in an offering since the financial crisis, China Life had planned to spend US$100 million, but had to cut that by half because of the overwhelming response from other investors, according to sources. Each of the cornerstone investors will buy US$50 million worth of shares and be subject to a six-month lock-up period. Cornerstone investors have largely been absent from the market since September last year. "This is different from previous hot IPOs which only drew strong demand from retail investors," one fund manager said. "BBMG has excited institutional investors because it is positioned to capture opportunities created by the mainland government's stimulus measures." The deal, the first H-share offering in the past nine months, is being arranged by JP Morgan, Macquarie, UBS and ICBC International. UBS was busy recruiting mainland investors while JP Morgan was targeting Hong Kong investors, sources said. The valuation on the sale had narrowed to 15-17 times the company's earnings for this year, compared with an initial 13-19 times, they said. The book of cornerstone investors would be closed soon, with pricing expected to be announced today. Apart from cornerstone investors, BBMG will also sell US$20 million worth of shares to each of five anchor investors. American and European funds and two building material firms in Southeast Asia are expected to be anchor investors, who are not subject to lock-up restrictions. Mainland funds, such as units of China Cinda Asset Management and Bank of Communications (SEHK: 3328), are also expected to invest between US$5 million and US$10 million. "This is the most popular IPO so far this year," one mainland fund manager said. "We planned to invest US$50 million, but only secured between US$8 million and US$10 million." The company started pre-marketing last Monday and hoped to take orders from institutional investors on Monday. Retail subscription will open on July 17, while trading is scheduled to begin on July 29. BBMG plans to sell 933.33 million new H shares. It would use 75 per cent of the proceeds to buy small cement plants in Beijing, start a new production line for its building materials division and develop a residential project in Beijing, sources said.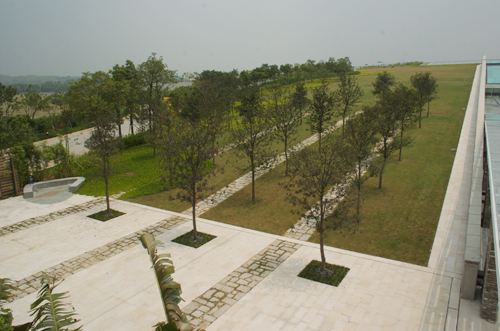 The green roof of the visitors' centre at Hong Kong Wetland Park reduces the need for energy-hungry air conditioning - Concrete bungle: Hong Kong playing catch up in sustainable design - There's clearly some confusion in Hong Kong about sustainable living. It was evident on World Environment Day last month, when images of nature were plastered all over town but few organisations heralded any changes in their long-term behavior. One Tsim Sha Tsui hotel's campaign to "go green in style" and "save the world" had guests writing down a wish about the environment, with the winner of the best wish promised two free and very environmentally unfriendly long-haul flights. "A 'green' apartment building in most advertisements here means a few plants on the balcony," says Christian Masset, who chairs local NGO Clear the Air. That's not always the case, but it appears that "greenwashing" - talking up ecological credentials for commercial gain - is in vogue. But Hong Kong is about five years behind the times. "They don't actually use the term `green' as much now in America or Europe - they use `sustainable', which is clearly defined in codes and regulations," says David Chan, who works with The Link Management. "The problem in Hong Kong is that there are not really any rules governing what's sustainable or green." So what should we be demanding for truly sustainable properties? Masset reels off a list of basics: wind turbine generators, photovoltaic panels, solar convectors ... but there's much more. Design ideas that seem radical in Hong Kong are becoming part of the everyday in Europe, where there's talk of ground source heat pumps (geothermals), wormeries and air-conditioning units that use seawater - all aimed at reducing the energy we use and a response to ever-tougher building regulations. So will solar panels or even a couple of mini wind turbines be enough to let you wear your "sustainable" badge? "An eco-friendly building and a sustainable building are two different things," says Chan. "You could spend several million dollars on solar panels with some expensive energy management system that's friendly to ecology, that recycles water, using expensive current technology, but that might not be sustainable. You probably get your smallest carbon footprint in a mud hut." Many architects will say that a home's most important green qualities are in its simplest details. "Passive energy design is probably more important nowadays than people realise," says Kris Yao, a Taiwanese architect. "Plan the site well. Locate the building in a sensible way. You'll do much more good than using mechanical add-ons." If a building faces southwest, he says, more mechanisms are needed to reduce the heat from the sun. But if it's in constant shade, more electricity will be needed for lighting. On the mainland, unlike in Hong Kong, sun-shade diagrams must be submitted to the planning bureau before any building begins, to make sure that the most is made of sunlight and cross ventilation, and that other buildings are not overshadowed. Good low-energy homes have better insulation - denser walls with windows carefully placed and double or triple glazed - with dynamics to pick up wind for air circulation. In Hong Kong that means ensuring living spaces are out of direct sunlight and making good use of blinds and overhangs. It also means having windows double-glazed, with tints or film to block UV and infrared rays, lattice screens and doors inside to allow natural ventilation, non-toxic materials such as timber, cork, wool and coconut fibre to insulate walls and indoor plants, which cool and dehumidify the air. Studies have found that room temperatures can be cooled 4 to 5 per cent in the upper levels of buildings with grass roofs, which also absorb pollutants from the air. A report by the Architectural Services Department in 2007 noted that Hongkongers simply needed to be more "amenable" to the idea for it to work on a grand scale. Government buildings have been used as role models since. A green roof has been built over the visitors' centre at the Hong Kong Wetland Park. "I've seen walls of plants, and that could be the right direction here," says Paul Eilbrecht, a Dutch designer and developer of bio materials, recently in town to run a sustainability workshop at the Hong Kong Design Centre. "In new buildings in Europe now we'll have a green layer around the building as insulation for and against the heat." It's all happening very slowly, however, and a lack of regulations is seeing Hong Kong lag where others are leaping. Singapore studio Woha won a flurry of awards last year for its use of community gardens in its Newton Suites apartments, which boast a garden on every floor and a 100-metre-high vertical garden. More than a decade ago, Penang welcomed the Menara Umno by Ken Yeang. It was the country's first naturally air-conditioned skyscraper, with a wind-catching form that channels air currents, hanging gardens for wind breaks and shade and photovoltaics for extra energy. It also uses run-off water for flushing toilets. The architect has since become famous for his eco-skyscrapers. David Chan puts Hong Kong homes about five years behind much of the developed world. In Europe and North America eco-titans such as William McDonough are rethinking buildings, putting them in "closed cycles", in which every by-product is used. The first mainland city to be designed using McDonough's template is Liuzhou, in the Guangxi Zhuang Autonomous Region. The plan gives every apartment direct sunlight and connects waste systems to habitat-restoration projects, gas cookers and agricultural roofs, across which farmers will be able to move via a series of bridges. The central government has asked McDonough to design 11 more cities like it. The mainland has acted swiftly on its pledges to cut emissions, with strict building regulations. There are signs that it may also soon adopt a US-style Leed (Leadership in Energy and Environmental Design) rating. Hong Kong by contrast, has made no international promises, and its architects find little such thinking coming from authorities or big developers, although the HK Beam Society, which applies a Building Environmental Assessment Method, does its best to nudge them along. We rarely see more than environmental appendages on existing housing models, ostentatiously talked-up in marketing brochures. "When you buy property in Hong Kong you're buying square footage," says architect Frank Yu, who heads Hong Kong's Gravity Partnership. "Elsewhere, the product is much more important, whether there's enough air and sunlight, but in Hong Kong they just want to know that they've squeezed out every last bit of area allowable."
Taiwan property prices will continue to fall until the first quarter of next year, a government survey shows. The property market's leading indicator dropped 1.76 per cent in the three months to March, the fourth consecutive decline, the Ministry of the Interior said in a report. "Housing demand hasn't improved because of the record unemployment rate and record jobless people," said Chang Chin-oh, a director of the Taiwan Real Estate Research Centre at the National Chengchi University, which produced the survey. "The supply side may experience some recovery as developers bet on warming ties between [the mainland] and Taiwan. Still, the health of the property market depends on demand, not supply." Taiwan's unemployment rate climbed to a record high of 5.84 per cent in May. Consumer prices fell for a fourth straight month in May as job losses and salary cuts discouraged spending. Taiwan's central bank has kept its interest rate unchanged at a record low for a second straight meeting and said it might take time for the economy to return to the level of last year. "The comment showed that the central bank is concerned about the economic recovery," said Alan Liao, an economist at Chinatrust Commercial Bank.

China: Celebrated linguist, scholar of ancient languages and writer Ji Xianlin died yesterday in Beijing at age 97, according to Peking University, where Professor Ji had worked since 1946. Frequently referred to in the media as a "national treasure", Professor Ji dedicated much of his working life to studying linguistics and wrote a huge collection of works on literature, culture and the arts. He was fluent in 12 languages. He was given a lifetime achievement award by the government in 2006 for his contributions to the field of translation. Internationally, he was recognised for his research on ancient Indian aboriginal languages, primeval Buddhist languages and Sanskritic literature. In June last year, he was awarded a prestigious Indian government prize to honour his outstanding contribution to cultural exchanges between the two countries. In the Cultural Revolution, he secretly translated the epic poem Ramayana from Sanskrit into Chinese. Ji Xianlin was born on August 6, 1911, into a poor family in Qingping county, known as Linqing today, in Shandong province. He was admitted to Tsinghua University as a western-literature major. He went to Germany in 1935 to study ancient languages including Sanskrit, Pali and Tocharian, and received his doctorate in 1941. Professor Ji looked more like a worker than a prestigious scholar, wearing bleached khaki suits and cloth shoes and carrying an old case. He was an unabashed patriot, saying: "Even when I am burned down to ashes, my love for China will not change." Professor Ji was also highly regarded for his moral values and personality. Premier Wen Jiabao is reported to have told Indian Prime Minister Manmohan Singh that Professor Ji was his mentor. In recent years, he became almost blind, and his hearing was severely impaired. He lived in a military hospital in Beijing for about the past five years, attended by a government- appointed medical team. Professor Ji is survived by his son, Ji Cheng , whose relationship with his father was tumultuous for more than a decade.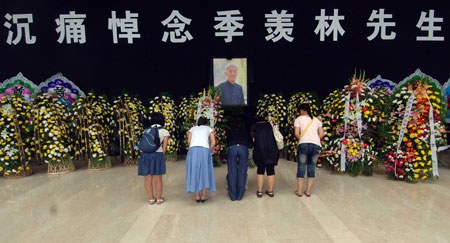 People mourn for renowned Chinese scholar Ji Xianlin in a mourning hall set up at Peking University in Beijing July 12, 2009. Ji died of illness in Beijing Saturday at the age of 98. Ji Xianlin was best remembered for his achievements in research on ancient Indian aboriginal languages, primeval Buddhist languages and Sanskrit literature. He also translated works from ancient Indian and primeval Buddhist languages. Ji was well-versed in 12 foreign languages. He served as a professor with the oriental studies department of Peking University from 1946 to 1983. He also served as deputy president of the university between 1978 and 1984.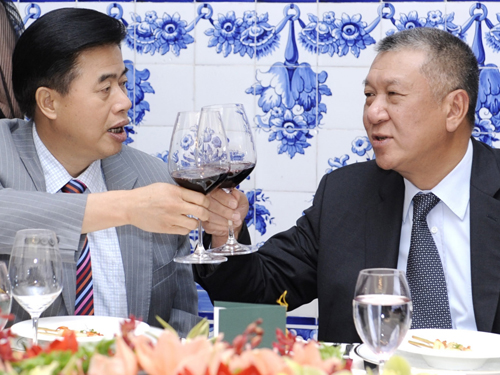 Guangdong Governor Huang Huahua (left) shares a toast with Macau Chief Executive Edmund Ho Hau-wah. Guangdong Governor Huang Huahua pledged support for the University of Macau's relocation to an island in Zhuhai - a controversial project hailed as a new model for cross-delta co-operation. Mr Huang yesterday wrapped up a two-day trip to the city to hold discussions about Guangdong-Macau relations. The two governments said Hengqin Island, an 86 sq km island west of Macau, would serve as a model zone for co-operation among Guangdong, Hong Kong and Macau. And the relocation of Macau's top university would become a model for future projects. The central government last month gave the green light to a pilot joint development project between Macau and Zhuhai on Hengqin Island, to make it a key base for commerce, tourism, scientific research and hi-tech industries. Mr Huang assured university directors that Guangdong and Zhuhai officials fully supported the relocation plan. "Don't worry. Now that the central government is so supportive of it, Guangdong and Zhuhai will fully back the running of your university in Hengqin," he said during a visit to the university. The relocation plan has stirred controversy in both Zhuhai and Macau. A proposal that the university would still operate under Macau's laws after moving to Zhuhai has drawn the ire of officials and lawmakers in the mainland city, highlighting an area of friction between the neighbors. In an earlier interview, a Zhuhai lawmaker called it an insult to allow such use of the city's land, while a Zhuhai scholar said the relocation plan showed Macau's lack of respect for its neighbour. In Macau, residents are puzzled about why their top university has to be moved to another city. Critics said it would be as absurd as moving the University of Hong Kong to Shenzhen. The University of Macau said the relocation could solve a land shortage at the existing campus, which sits on a small hill in Taipa Island with very limited space for classrooms, offices, laboratories, dormitories and student recreation areas. Mr Huang said he understood the university's need for a much larger campus. "If the university is moved to Hengqin, its student number could grow from 6,000 to 10,000," he said. The two governments hailed the relocation plan as a "great gift" from the central government to mark the 10th anniversary of Macau's handover to Beijing. Just a few hundred metres from the Cotai Strip, Hengqin is three times the size of Macau but has fewer than 7,000 residents. Macau's policymakers and developers have long been eyeing the island as a possible solution to the pressure of the city's population growth. Macau has arguably the world's highest population density, with 557,000 residents sharing 29 sq km of land. Economist and gaming analyst Zeng Zhonglu of the Macau Polytechnic Institute said Guangdong was keen to get Hong Kong involved in the development of Hengqin. "I haven't seen any clear role that Macau can play in Hengqin's development," Professor Zeng said. "But Hong Kong has strong economic power and management talent." He said there was a lack of detailed plans for how Guangdong and Macau would co-operate in developing Hengqin.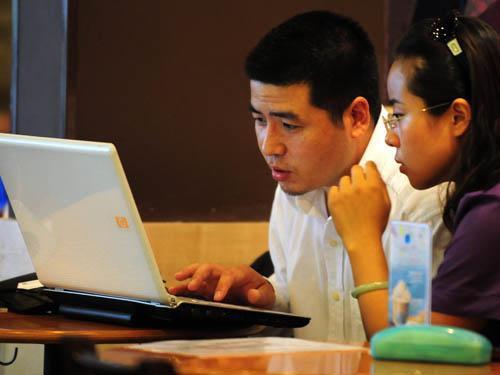 'China's Facebook' all fun, no funding - Kaixin001 yet to turn millions of fans into cash - Every night, computer programmer Li Zhifeng routinely takes a break from his work to visit kaixin001.com - China's answer to Facebook - and begins tending to his cyber ranch. There, 28-year-old Mr Li ploughs his cyber fields and feeds his cyber animals, and when he finds that his crops and livestock are growing too slowly, the unreal world even allows him to steal from other ranches when their owners are fast asleep. Kaixin001 - kaixin means fun in Chinese - ranks 12th among China's top websites, according to California-based web information provider Alexa Internet. Launched in 2005, it claims to have 35 million registered users, the most of any Chinese social networking website. In this cyberworld, where people can trade commodities and provide services as well as have fun, kaixin001.com users run across familiar brands such as KFC, Audi and BMW. But whether these imbedded advertisements - usually provided free to advertisers on many social network service (SNS) websites - attract more customers is unclear, say analysts. Nonetheless, Chinese SNS websites with their surging page visits are attractive to advertisers and are in some ways considered more effective than traditional and more costly television and print promotions. "So far, the effectiveness of online advertising is still incomparable with that of traditional media. But we also have to recognise the eye-catching growth of online advertising," said Jacky Huang, an analyst with IDC. Figures from the State Administration of Industry and Commerce show that total advertising spending in the mainland climbed 9.11 per cent to 189.96 billion yuan last year. This compares to a staggering 67.4 per cent increase in spending on online advertising to 11.8 billion yuan, according to estimates from research firm Analysys International. "Kaixin001 is quite successful if success can be defined as attracting a large number of page visits and holding a majority of them as constant and active users," said Li Zhi, an analyst at Analysys. Kaixin001 began an aggressive marketing campaign a year ago, targeting office workers with up to 10 e-mails a day. Through the website's games platform, users can experience surreal but coveted lifestyles including farming in scenic mountains, buying luxury cars and homes and flirting with dream lovers. Of particular interest to bored office workers is a game that involves booting out employers or turning them into slaves. The website's popularity has encouraged copycats such as kaixin.com, sparking lawsuits. The public spotlight on kaixin001.com reached a peak last month when Xinhua news agency linked its video news channel to the website, believing "it a superb outlet for targeted and interactive news broadcasting". Still analysts warn that the financial sustainability of such sites is in doubt until reliable sources of income are found. "Until now, we have not been able to find any clear-cut business models incorporating reliable income flows for SNS websites in China," said Sandy Shen, an analyst at Gartner. "This is a problem not only in China, but also for the whole of the internet world." Free gaming has been the main tool to draw visitors, a tactic borrowed from Facebook. The bad news is that the latest research from Analysys shows that the growth rate for page views via mobile handsets to kaixin001.com has slid since April after peaking in March, a worrying sign that expansion is plateauing. Unsteady growth in page visits may sway companies' decision whether to place advertisements. Moreover, the majority of users "only looking for fun" could be particularly sensitive to intrusive ads. Kaixin001.com is therefore cautious to not irritate users by bombarding them with ads. "We are still exploring the unique way of SNS advertising and are not making earning money as the first priority of our operation at the moment," said website spokesman Ding Xuefeng, adding that they had even rejected some ads to ensure the quality of users' surfing experience. Mainland media reported last month that kaixin001.com received an additional injection of US$20 million from Qiming Venture Partners and Northern Light Venture Capital. Northern Light also invested about US$5 million in 2008. The firm's managing director, Elton Jiang Haotian, said it was normal for SNS websites to lack a proven business model, especially in the early stage of development. "If everyone can see where the right business models are for an emerging industry, then there might not be many investment opportunities left for venture capitalists like us," he said. Mr Jiang said compared with a year ago, kaixin001.com had found a workable model and was gradually realising it.
China to issue 50 bln yuan e-savings bonds, 25 bln yuan T-bonds next week - MOF announced Friday that it will launch two more batches of electronic savings bonds of up to 50 billion yuan (7.32 billion U.S. dollars) since next week.
July 12, 2009

Hong Kong: The MTR Corporation (SEHK: 0066) on Friday announced ticket fares for its new Kowloon Southern Link. The 3.8 kilometres new line would link the existing East Rail Line's East Tsim Sha Tsui Station with the West Rail Line's Nam Cheong Station, with one intermediate station – Austin Station, an MTR spokesman said. Fares for travelling from Tuen Mun Station to Austin Station, or vice versa, would be HK$15.8 for an adult Octopus card, he said. The fare for travelling between Austin and Central station is HK$7.7. The fare for travelling between the new Austin station and Hung Hom station is HK$5. A new monthly ticket for travelling between Tuen Mun and Hung Hom would cost HK$470, the spokesman said. Austin Station would be available for public use in the third quarter of the year. It would only take 36 minutes travelling from Tuen Mun to East Tsim Sha Tsui - 40 minutes faster than travelling by bus. Trains running on West Rail Line during rush hours would be increased from every three and a half minutes to every three minutes.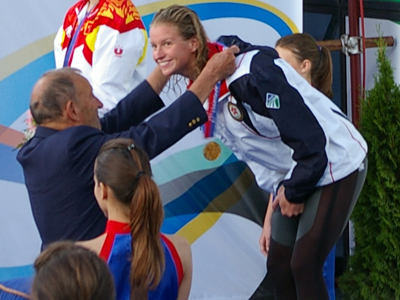 Hannah Wilson recieving the gold medal on Friday after winning the 100M butterfly in record time at the World Student Games in Serbia. Hong Kong's Hannah Wilson on Friday morning (HK time) brought home the second gold medal at the World Student Games in Belgrade, Serbia - where she broke the games' record again in the women's 100-metre butterfly. The 20-year-old finished the 100m butterfly in only 58.24 seconds, 0.28 seconds ahead of the games' record she earlier set in the semifinals on Thursday morning. Asian swimmers dominated the top three in the event, with Chinese swimmer Hong Wenwen finishing second and Japan's Kuroki Ayano placed third. It was the third time Hannah broke the games' record this year's World Student Games. She earlier set a record of 58.52 seconds in women's 100m butterfly semifinals on Thursday morning. Wilson also won a gold medal in the women's 100-metre freestyle and set a games' record of 54.35 seconds on Wednesday morning. Patrick Chan Ping-cheung, head of the Hong Kong delegation in Serbia told SCMP.com "I am pleased to see Hannah has been working hard continuously with self-confidence and perseverance." "Of course, I am very delighted and excited to witness these fruitful moments again and again in the World University Games - for her good self as well as Hong Kong," he added. Wilson indicated on Thursday that she still needed to concentrate on upcoming competitions in Belgrade. She told SCMP.com through Mr Chan that she was proud to win a second gold medal with a games record again. Head coach Chan Yiu-hoi told SCMP.com he was not surprised about Wilson won a second gold. "She is young and talented. I think she has unlimited potential," coach Chan said. He also predicted Wilson would be among top two swimmers in 100 metre butterfly and freestyle events in the upcoming East Asian Games. Secretary for Home Affairs Tsang Tak-sing also praised the swimmer. "Hannah Wilson fully demonstrates the spirit of excellence in sports. Her outstanding performance sets a good example for youth sports in Hong Kong," he said. The 20-year-old had given up the 200 metre freestyle held earlier to concentrate on the finals. She would appear in women's 4x100 freestyle relay on Saturday. But coach Chan said the he did not expect too much from the Hong Kong relay team because other contestants were stronger. Wilson, who earlier renounced her British citizenship to represent Hong Kong at the games, is a student from University of California, Berkeley. Previously, she had been granted special permission to represent Hong Kong at the 2004 Athens Olympics and last year Beijing Olympics and retain her British citizenship. A recent rule change made a similar arrangement impossible. She has now set her sights on December's East Asian Games in Hong Kong and the 2012 London Olympics.
The Race Discrimination Ordinance (RDO) - Hong Kong's controversial new anti-racism legislation - came into effect on Friday, the government said. A spokesman for the Constitutional and Mainland Affairs Bureau (CMAB) said the new law was important for the territory. "This represents a major milestone in reinforcing the legal protection against racial discrimination and promoting racial equality in the community," he said. From Friday, the Equal Opportunities Commission (EOC) will handle all complaints over racial discrimination and conduct investigations where necessary. The CMAB earlier granted funds to four non-governmental organisations to establish and operate four support service centres for ethnic minorities in Hong Kong. The spokesman said the Race Relations Unit of the CMAB would provide other services, including radio programmes in ethnic minority languages. Hong Kong, though predominantly Chinese, is home to many other ethnic groups. Some of these groups have complained of racial discrimination, especially in the workplace or when dealing with officials. Some people say the new law is long overdue. Raymond Tang Yee-bong, chairman of the Equal Opportunities Commission, last month singled out racism in the workplace as a particular concern. "Even though the applicant can fulfil all the job requirements, he or she may be treated differently because of his or her ethnicity," he said. The first race discrimination consultation paper was introduced in 1997. It was based on a study paper produced by the EOC. The government said it would legislate against racial discrimination in 2004. The Race Discrimination Bill was introduced in the Legislative Council in 2006. It was finally passed and gazetted last July. This was after considerable amendments were made. The new law brings Hong Kong into line with other countries, such as the United States, Britain, Australia and Singapore.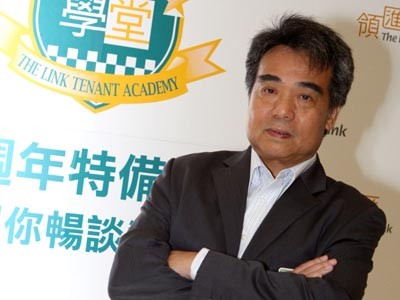 Billy Chung Wai-hung, the managing director of Hakka Delicious. With high rentals and costly overheads – as well as the impact of the global financial crisis – running a small business or restaurant in Hong Kong has never been harder. In recent years, some of Hong Kong's leading restaurants and shops have been forced to close, re-locate to cheaper areas, or streamline their businesses. Recent examples include Yugamama restaurant and bakery, the Lok Heung Yuen Coffee Shop, also known as "Snake Pit"; Tai Chueng Bakery, Japanese restaurant Arigato's and the Hard Rock Cafe. This year, with unemployment rising, Hong Kong's restaurant and catering sector has already shed 1,029 jobs, latest statistics show. But Billy Chung Wai-hung, managing director of Hakka Delicious, believes he may have found a way to prosper during tough times. Hakka Delicious is located in Yuen Long in a shopping centre owned by the Link Reit (SEHK: 0823, announcements, news) - Hong Kong's first REIT – which includes 180 shopping malls and carpark facilities. Mr Chung told SCMP.com he had increased restaurant profits by over 20 per cent since last year. This is despite one the worst economic climates in Hong Kong for years. Mr Chung worked as a Hakka and Cantonese chef for over 30 years. In 2007, he decided to open the Hakka Delicious restaurant. It is located in the Link's shopping centre at Tin Shui Wai in the New Territories. He felt the timing for a new restaurant – specialising in the distinctive cuisine of southeastern China – was right. "I felt it was a good time to open a Hakka restaurant," he recalled. Popular Hakka dishes include Dung Gong Yam Guk Gai – salt-baked chicken and Noh Mi Ap – duck stuffed with rice. Mr Chung said a reason for his subsequent success was the restaurant's simple menu. He said he was fortunate to meet Chua Lam – one of Hong Kong's most famous food critics. Mr Chua's advice was to specialise and keep things simple. "He told me to remove any dishes not supposed to be included on a Hakka menu – such as Sichuan and Cantonese dishes. "He advised me to be more focused," said Mr Chung. "I drafted another menu immediately and it included only authentic Hakka cuisine. The idea worked and business increased – despite the economic climate. "Our profits reached about HK$2.2 million to HK$2.3 million per month. Even after the global financial crisis – we still had a profit of about HK$1.8 million," Mr Chung said. "I am preparing to open another Hakka Delicious this year," he added. Mr Chung said another reason for his success was he avoided doing something everyone else was doing. "There were already too many hot pot restaurants in Tin Shui Wai [near Yuen Long] at that time, so and I had to do something different to make my restaurant stand out," he said. Despite Mr Chung's achievements, Germaine Lui Suk-man, the general manager of the Link Reit, said success stories were rare. High rentals and costs, too much competition, and the global credit crisis, made it hard to survive. The last year in Hong Kong has been particularly adverse, she noted. Yuen Fuk-wo, chairman of Hong Kong Federation of Restaurants and Related Trades, said over 28 restaurants closed last year, and at least 600 employees had been affected. "Most were Chinese restaurants, including the Lucky Fellow Restaurant Group which owned two hotpot restaurants, and Chiu Hei, a seafood restaurant in To Kwa Wan which had been operated for only few months. Some of them were Cantonese tea restaurants [cha chaan teng]. Even this year, there were 20 restaurants have been closed," Mr Yuen told SCMP.com. Germaine Lui said the Link Reit would ask Mr Chua to advise about other restaurants. She said over 1,100 small business owners and their staff had joined the Link Tenant Academy's seminars since last year. "The Link Tenant Academy was formally set up last year. We have invited different experts to deliver 16 practical seminars and workshops. Ms Lui said these would cover things ranging from business issues, customer service, retailing and food handling.
Hong Kong overtakes EU as leading source of mainland's service imports - The Assistant Minister of Commerce Wang Chao, said on July 8 in Hong Kong that Hong Kong remained the largest service export destination for mainland in 2008, and surpassed EU as the biggest source of service imports for the mainland for the first time. Wang said, in the context of the financial crisis, the service trade between Chinese mainland and Hong Kong SAR (Special Autonomous Region) increased notably last year, reaching 68.16 billion USD. Exports of service trade from mainland to Hong Kong was 41.9 billion USD, which accounted to 28.6% of the total export amount of the mainland's foreign service trade and was up 35.1% year-on-year. Mainland's service imports from Hong Kong reached 26.28 billion USD, increasing by 28.1% over the same period last year, and accounted for 16.6% of the mainland's total service imports. Wang said although the foreign trade of the mainland and Hong Kong were both in severe difficulty in the first five months of 2009, it can be expected that the trade between them will keep growing. Wang indicated China will upgrade the level of openness to the rest of the world, and improve policies and regulations so as to promote the development of the service trade. Liu Zhenhua, an official from the Department of Taiwan, Hong Kong and Macao Affairs, Ministry of Commerce, said that the six priority industries in Hong Kong such as education, medicare etc., are also possible areas for cooperation.

China: Shares in China's first initial public offerings in 10 months more than doubled in their debut on Friday, boding well for coming IPOs even as a flood of new offerings poses risks for existing investors. Shenzhen-listed A shares in Guilin Sanjin Pharmaceutical, a traditional Chinese medicine maker, kicked off trading at 32.50 yuan from their IPO price of 19.80 yuan (HK$22.50) and jumped as high as 39 yuan in early trade. Shares of industrial cable maker Zhejiang Wanma opened at 22.50 yuan, nearly double their IPO price of 11.50 yuan, and climbed as high as 27 yuan. Their prices fell off the highs after the Shenzhen Stock Exchange exercised new circuit-breaker rules for newly listed shares, suspending trading for 30 minutes after they rose 20 per cent in intraday trading. "Such strong debuts will be very encouraging for future IPOs," said Zhou Lin, senior analyst at Huatai Securities in Nanjing. "But I simply don't understand how investors can ignore risks by trading at such high valuations. There have been so many cases of huge losses by speculating in new shares." A Reuters survey of six analysts and fund managers on Thursday had predicted the massive rises, forecasting the shares would jump as much as 100 per cent from their IPO prices. While impressive by global standards, such strong gains are not unusual for mainland firms, especially small caps with a limited number of shares offered and following the recent pause in listings that began at the height of the global crisis last year. In other IPO news, shares of Amber Energy zoomed on their trading debut in Hong Kong, climbing to HK$2.98 versus an IPO price of HK$1.66. Around 30 firms have won initial approval but have been waiting for up to a year to go public in mainland after a slumping market led the stock regulator to quietly suspend new offerings last autumn as global stock markets tanked. Hong Kong-listed toll road operator Sichuan Expressway said on Monday it planned to raise up to 2 billion yuan in a public sale of new shares on the Shanghai Stock Exchange in mid-July to become mainland's first major IPO since last September. State media also said this week that China State Construction Engineering Corp, the country's largest homebuilder, would raise as much as 42.6 billion yuan in a Shanghai IPO next month. Analysts estimate at least 100 billion yuan in new shares will enter the market this year. "Huge interest in new shares makes it very difficult for us to obtain IPO shares," said Lao Li, a middle-aged punter at a crowded securities trading office in downtown Shanghai. Mr Li, who won a lottery allowing him to buy 500 shares in Guilin Sanjin, was surprised by its high debut price. "Now I would rather wait to sell the shares at a price over 40," he said. "Sentiment is so strong!"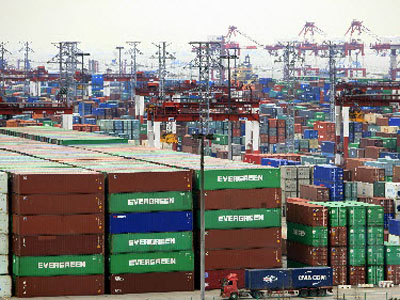 Piles of containers stored up at Waigaoqiao Container Port in Shanghai. Figures released on Friday showed mainland's exports fell 21.4 per cent in June from a year earlier. But the slump was less than May's record 26.4 per cent decline. China's exports and imports fell again in June but the declines were much less severe than in May, data showed on Friday, adding to signs the world's third-largest economy is recovering from its slump. Exports fell 21.4 per cent in June from a year earlier, the government's Xinhua News Agency reported, citing the central customs agency. That was an improvement over May's record 26.4 per cent decline. Mainland's trade collapsed in late last year as the global economic crisis cut demand for mainland goods, wiping out millions of factory jobs. Conditions have improved in recent months, but analysts say a full-fledged recovery will not begun until the country's key US and European export markets rebound. Beijing is trying to shield its economy from the global downturn by boosting domestic consumption with a 4 trillion yuan (HK$4.5 trillion) package of spending on public works construction and other initiatives. The government is due to report quarterly economic growth figures next week and analysts are forecasting an expansion of about 7 per cent from a year earlier. That would be an improvement over first-quarter growth of 6.1 per cent. Other indicators of mainland's economic health including retail sales, housing prices and factory activity also are improving. June imports also fell, declining 13.2 per cent from a year earlier, Xinhua said. That was an improvement over May's 25.2 per cent fall and far better than January's record 43.1 per cent plunge. Stronger import numbers suggest mainland's appetite for foreign iron ore, industrial components, consumer goods and other products is picking up as companies buy supplies for stimulus-financed projects. Global commodity prices are down from last year's highs, so imports have declined in financial terms even as they rise in volume.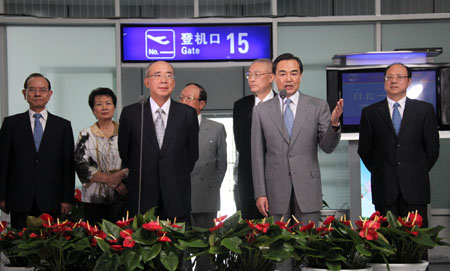 Wang Yi (R, front row), chief of the Taiwan Affairs Office of the Chinese State Council, welcomes Kuomintang Chairman Wu Poh-hsiung (L, front row), at the airport in Changsha, central China's Hunan Province, July 10, 2009. Wu arrived on the Chinese mainland to attend the Fifth Cross-Straits Economic, Trade and Culture Forum set for July 11 and 12 in Changsha.
Though fierce in competition, mainland travel agencies pin high hopes on tourism market in Taiwan, after the travel ban was lifted a year ago. This was because mainland-to-Taiwan tour has been soaring, against the downward trend of visits to and from the United States and European countries as a result of the spread of A/H1N1 flu and economic meltdown. Chen Zhichao, deputy general manager of Guangdong Nanhu International Travel Service (GNITS), said "It's a life-saving straw for the tourism industry of Guangdong," Warming mainland-Taiwan ties and key policy changes over the past year have boosted the cross-Straits tourism business. Statistics from the Guangdong China International Travel Service (GCITS) showed mainland travel to Taiwan accounted for one fifth of the volume of the company's business. GCITS organized 25,000 mainland visitors to Taiwan over the past year, an average of 2,000 per month. "At the beginning of its opening, most mainland tourists were over 50, but now some young consumers have also added to the rank," said Ai Si, the Taiwan tour guide with GCITS. Wang Chunbao, director of the Hong Kong Office of Taiwan Visitors Association, said the number of mainland tourists to Taiwan was expected to reach 1 million at most this year. Around 415,000 mainland tourists visited Taiwan in the first five months of this year. However, most mainland trips to Taiwan were "quick and rough" as the number of mainland tourists soared. The island's famous tourist attractions often got overcrowded. Mainland travel agencies said they were trying to further explore the market and offer routes with "depth and quality". GNITS was promoting theme tours such as "health care travel", "food and wine travel" and "wedding photo travel" to cater to different needs. Mainland tourists have made more than 350,000 trips since the first cross-Straits weekend charter flights kicked off on July 4, 2008.
EU Ambassador to China, Mr. Serge Abou, Shanghai on 10th July signs the participation contract for the 2010 Shanghai Expo on behalf of the European Commission. President of the European Commission, Jose Manuel Barroso, announced the decision to participate in the Shanghai Expo to Premier Wen Jiabao during their meetings in Brussels in January 2009. The decision, which breaks with the general policy of the Commission not to participate in any world fairs outside of the EU, reflects the importance that the Commission attaches to the strategic partnership between the European Union and China, as well as the strength and vitality of the European business and cultural community in Shanghai municipality itself. In April, the EU decided to share 1000m2 of the Belgian pavilion, since Belgium will also hold the revolving presidency of the EU during the second half of 2010. The general theme of the EU pavilion will be "Intelligent Europe". Just as human intelligence works through building connections through different parts of the brain, building an "intelligent" Europe evolves and develops by creating connections across the national boundaries of its member countries. The result is a body of common rules and standards, of joint projects and a high standard of living in a Europe that respects and promotes diversity, while preserving cultural heritage and the environment. The EU's cities perfectly demonstrate how the integration process works for the everyday life of Europeans. The Expo will therefore concentrate on examples of key achievements and skills that create common features in all EU cities. For example, the exhibition will showcase the EU's environmental protection and energy-saving models. It will display cutting edge technology, with a focus on how such technology can create harmonious and sustainable living in cities. It will also highlight how EU policies have increased people's mobility between EU cities, for example with transport networks, common product safety standards or education exchange programmes, such as ERASMUS. For specialized audiences, the specific governance model of the EU will be highlighted. For example, events will stimulate debate on how EU public policies bring together governmental and non-governmental organizations as well as businesses and media to achieve efficient economic and social solutions. And the exhibits will also illustrate in concrete terms the EU's commitment to peace, security and sustainable development in the world.
July 11, 2009

Hong Kong: Hong Kong was preparing a new law to stop money laundering activities in the financial sector, a Treasury Bureau official said on Thursday. This is in the wake about growing international concern about money-laundering and other dishonest activities – sometimes involving financial institutions and individuals operating in Asia. From Thursday, a three-month public consultation on an anti-money-laundering regulatory regime for the financial sector will be held. The consultation will last until October 8. Angelina Kwan Yuen-yee, a principal secretary for the Financial Services and the Treasury Bureau, said the legislation followed a call from the Financial Action Task Force (FATF). "The proposal is intended to address the deficiencies identified by the FATF in Hong Kong's anti-money laundering regime in its evaluation completed last year," she added. According to the report by FATF last July, Hong Kong lacks enforceable provisions against financial institutions carrying out money laundering activities. The proposed legislation includes prescribing customer due diligence and record-keeping requirements for financial institutions. Regulators such as the Hong Kong Monetary Authority, the Securities and Futures Commission and the Insurance Authority would be empowered to supervise compliance under the proposed legislation. The proposed law would also introduce a licensing system for remittance agents and money changers. This would be administrated by the Customs and Excise Department. "The legislation will help maintain Hong Kong's status as an international financial centre," explained Ms Kwan. Hong Kong Money Changer and Remittance Association chairman Edwin Shiu Man-chak has said he supported the proposed legislation. Mr Shiu said similar laws have been introduced elsewhere in Asia.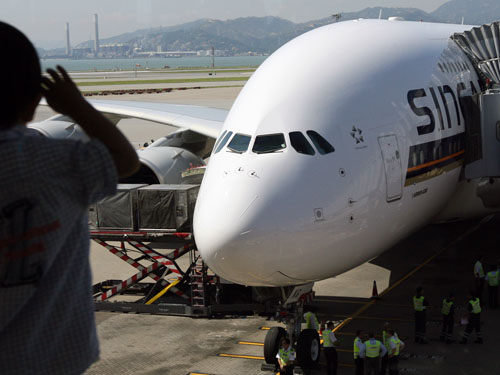 Passengers look on as the Singapore Airlines Airbus A380 arrives at the terminal at Hong Kong International Airport yesterday. Incessant camera flashes lit up the cabin of the world's largest passenger aircraft as excited travellers posed for photos on the Airbus A380 inaugural flight from Hong Kong to Singapore yesterday. The Singapore Airlines aircraft had earlier been met with a round of applause from waiting passengers and ground crew as it touched down at Hong Kong International Airport at around 1.30pm. David Cheung, an aircraft maintenance mechanic, said he took leave so he could make the flight. Mr Cheung was travelling together with 10 other members of the Hong Kong Aviation Discussion Board, a group of aircraft enthusiasts. "I travelled in economy class. The space was more or less the same as other aircraft, but the A380 was considerably more smooth and quiet," he said. However, business class passengers looking to connect to the internet were disappointed yesterday as the service was not operational. An airline spokesman explained the vendor for the services had gone out of business and an alternative was being sought. Huang Chen Eng, executive vice-president of Singapore Airlines, said the fact that Hong Kong was chosen to be the second Asian destination after Tokyo to be served by the new aircraft was another milestone in the firm's relationship with the city. "We began flying to Hong Kong with a twice-weekly DC4 skymaster that took nine and a half hours to make the journey and carried 55 passengers," he said. "Today, our 471-seat A380 arrives in less than half that journey time." A spokesman for the airline said it had invested US$360 million on a fleet of 19 A380 aircraft. Nine had been delivered. Airport Authority chief executive Stanley Hui Hon-chung said HK$100 million had been spent on improvements to receive the new Airbus. However, the inaugural flight experienced a minor delay due to difficulties in locking one of the connecting bridges onto the aircraft door. Airbus carried out two test flights in Hong Kong in 2006 and 2007 and a low flying demonstration over Victoria Harbor two years ago.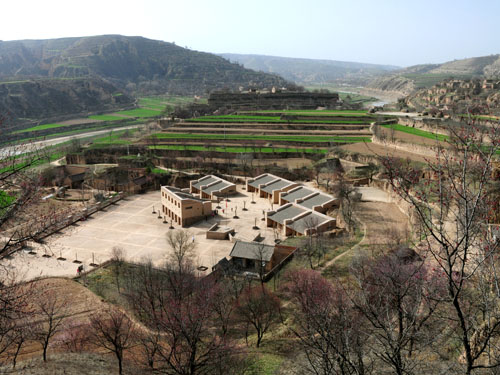 A modest school project designed by a team at the Chinese University of Hong Kong is one of the 15 winners of a prestigious international architecture award. Among the other winners of this year's RIBA International Award are the "Bird's Nest" National Stadium and the "Water Cube" National Aquatics Centre in Beijing. The Maosi Ecological Demonstration Primary School has also been adopted by the Ministry of Housing and Urban-Rural Development to serve as a design reference for more than 200,000 schools in Gansu province. The school, designed by a team led by Edward Ng Yan-yung from the Department of Architecture at Chinese University, is in Maosi village in the Loess Plateau region, a six-hour drive from Xian. Some 200 students, who once struggled in extreme climate conditions, now enjoy studying in a comfortable school where temperatures are kept more constant than before. The 10-classroom school cost about 450,000 yuan (HK$511,000) to build, according to Professor Ng. The school is designed to maximise daylight and natural ventilation and was made of materials like mud bricks, rubble, straw and reed, which were sourced locally, thus saving on transport expenses. Instead of buying and using cheaper factory-made red tiles, Professor Ng told the village head to ask villagers for un-used roof tiles. Construction was carried out by villagers under the supervision of Professor Ng's team. They used no sophisticated tools, so manpower and equipment costs were much lower than for other buildings built using conventional methods. The school, though cheap, performs better in terms of thermal comfort, energy consumption and environmental impact. The school's headmaster is pleased with the project because temperatures inside the school building stand at five degrees Celsius in winter while temperatures drop to minus 10 degrees outside. Professor Ng, who won the same award in 2006 for a bridge in Maosi, said he was delighted that he could help the needy with his practical and ecologically sound designs.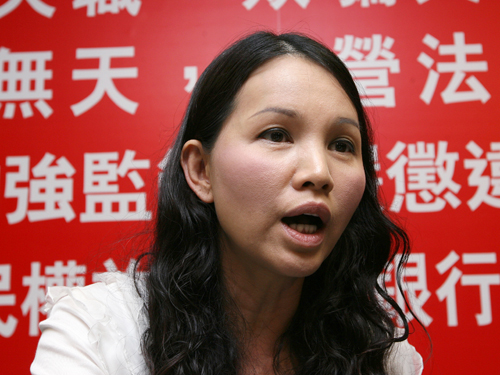 Joyce Tsang Yue, who suffered huge losses, said she believed the SFC's action proved she can seek claims against Goldman Sachs. Hong Kong's regulators showed their teeth yesterday as the Securities and Futures Commission took action on a former adviser of Goldman Sachs (Asia) while the stock exchange won a legal battle. The SFC banned former Goldman adviser Ronnie Wong Wang from entering the investment industry for two years for unauthorised trades of a derivative product called accumulators. The commission said she traded HK$13.8 million of accumulators in November 2007 for a client without her consent. A month later, Ms Wong showed the client an inaccurate spreadsheet overstating the earnings by US$1.72 million. The SFC did not identify the client but a source confirmed that it was Modern Beauty Salon Holdings founder and former chairman Joyce Tsang Yue, who last year publicly said she had suffered HK$60 million in losses from Ms Wong's unauthorised trades. Ms Wong admitted to the SFC that she conducted the transactions without proper authorisation. "However, she [Wong] claimed it was a good investment and the client normally accepted her recommendations," the SFC said. Ms Tsang had signed a confirmation of the transactions in January last year but filed a complaint with the SFC two months later. She sued Goldman and sought compensation in May last year. Ms Tsang said yesterday she believed the commission's action proved she had the grounds to seek claims against Goldman. "I want Goldman to pay my money back," she said. A Goldman spokesman yesterday said "we reported this matter to the SFC last year and co-operated fully with its subsequent investigation". Regarding Ms Tsang's claims, the spokesman said: "We will continue to defend strongly unsubstantiated claims and allegations made against Goldman Sachs." Separately, Hong Kong Exchanges and Clearing (SEHK: 0388, announcements, news) won a legal battle yesterday as the Court of Appeal ruled that the bourse has the right to decide whether a listed firm can resume trading from suspension. The hearing presided over by Justices Anthony Rogers, Doreen Le Pichon and William Stone lasted only an hour before they overturned a High Court ruling last year that Sanyuan Group could re-apply for a resumption of trading after the exchange rejected its application. Appeal court judges said the exchange had the right to exercise subjective professional judgment in determining whether a company's resumption of trading proposal was qualified. Mr Justice Rogers said the exchange, as the regulator, had the right to enforce the listing rules. A HKEx spokesman said the exchange welcomed the appeal court's decision. The High Court ruling in June last year marked the first time a Hong Kong-listed company had successfully sued for the right to resume trading. The court ordered the decision by the listing appeal committee quashed and remitted the case to a newly constituted listing appeal committee for reconsideration.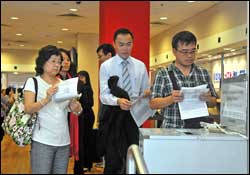 Amber Energy (0090) became the best performing IPO in the gray market this year as it surged 36.14 percent before officially listing on the local bourse today. The gas-fired power plant operator closed at HK$2.26 in the gray market, after jumping 47.59 percent to an intraday high of HK$2.45 yesterday, according to Phillip Securities. Investors earned a paper gain of HK$1,200 per board lot of 2,000 shares. The stock opened 38.55 percent higher at HK$2.30 from the offer price of HK$1.66. Turnover amounted to HK$15.86 million with 6.86 million shares changing hands. Despite the recent market correction, market watchers expected the share price of Amber Energy not to be adversely affected and think it may soar as much as 40 percent. "The IPO market is still hot and speculators turn to the new listing markets amid the volatile market when they have no idea which stock to pick," said First Shanghai Securities strategist Linus Yip Sheung-chi. He expects Amber Energy to rise at least 20 percent on its trading debut. Kenny Tang Sing-hing, Redford Securities head of research, said: "The stock can jump 30 percent to 40 percent on its trading debut because of its low price-to-earnings ratio and huge subscription." However, stock buyers are advised to take profit if share price climbs above 40 percent, which results in a valuation of about 13 to 14 times PE ratio. "Business fundamentals of this company are not attractive, with its small size and as a private power plant operator it may face more difficulties in acquisitions when compared with its state-owned peers," Tang said. The firm announced it reaped net proceed of HK$127.4 million from floating 100 million shares at HK$1.66 each, which is 9.5 times its earnings forecast for this financial year. Its retail tranche of 10 million shares was about 1,250 times oversubscribed and a clawback mechanism was applied to boost the public offering to 50 million shares. Meanwhile, BBMG Corporation seeks to raise as much as HK$5.95 billion by floating 933.33 million shares at HK$5.80 to HK$6.38 each, market sources said. The company is expected to open for subscription next Friday. Prudential Brokerage said it received margin financing orders for BBMG of more than HK$4.5 billion.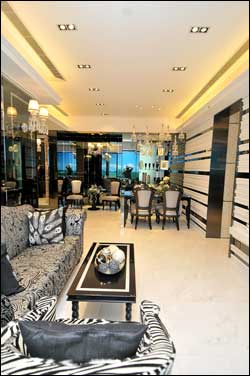 Amid a rebound in the property market, Cheung Kong (Holdings) (0001) is about to start selling homes at its Le Prestige project in Tseung Kwan O. Agents believe Cheung Kong will have units on sale by this weekend now that the Lands Department has granted the company presale consent on the project. The developer will sell 150 three- bedroom units with seaviews, from 898 square feet each, at prices starting from HK$4.5 million at the initial stage, according to Cheung Kong Real Estate director Francis Wong See-chung. It will also sell 100 four-bedroom apartments with seaviews. They are sized between 1,070 and 1,300 square feet. Prices at Le Prestige - a joint project involving MTR Corp (0066) and Nan Fung Development along with Cheung Kong - will be selling at an average HK$5,500 psf, Wong said, which is unchanged from its previous target. But Wong did not rule out the possibility of adjusting the prices later. There would have to be a meeting with the MTR Corp and Nang Fung to set a price list, Wong said yesterday. "We have not finalized a date yet. Any time is possible." Crystal Tam Kwai-ching, the Tseung Kwan O sales director at Centaline Property Agency, said the initial prices Cheung Kong is offering are about 5 to 10 percent lower than Tseung Kwan O homes in the secondary market, referring to HK$4.5 million minimum prices for three-bedroom flats with seaviews. Secondary market units in the same district are selling from about HK$4,270 to HK$4,704 psf, Centaline said. Cheung Kong will hold a press conference today on Le Prestige, which is the second phase of the mammoth Lohas Park project. Secondary market units at The Capitol - the first phase of the Lohas Park project - are selling from HK$4,300 to HK$6,000 psf, Centaline said. For Le Prestige buyers, Standard Chartered Bank (Hong Kong) is offering mortgage interest rates linked to a Hong Kong interbank offered rate for the first three years. This will allow buyers to just pay HIBOR for the initial period.
The government will listen to calls from the community regardless of how many people turn out for July 1 demonstrations, Chief Secretary Henry Tang Ying-yen said yesterday. He also said lawmakers should be realistic and accept that universal suffrage will not happen in 2012 following a decision by the National People's Congress standing committee. Tang was speaking at a Legislative Council debate calling on the government to face up to the aspirations of those who tool part in the July 1 march. "I would like to stress that no matter how many people took part in the march and no matter what the themes of the march are, the government will safeguard citizens' freedom to assembly and respect their freedom of lawful expression of their opinion," Tang said. Secretary for Constitutional and Mainland Affairs Stephen Lam Sui-lung said the administration had reflected to Beijing the public's view over constitutional reform. He also reminded lawmakers that a survey showed 70 percent of the public accepted universal suffrage by 2017. "It's a difference of five years, a mere five years. If we act for the better future of Hong Kong, we should try to introduce more democratic elements in the two elections for 2012," he said. Democratic Party lawmaker James To Kun- sun, who moved the non-binding motion, said the government could not raise its popularity by giving sweets to the public. "During the 2003 July 1 rally, people called for (then-chief executive) Tung Chee-hwa to step down, this year it's Chief Executive Donald Tsang Yam- kuen," To said. However, the motion and all amendments were voted down by the functional constituency. Independent lawmaker Cyd Ho Sau- lan said the government should not use the NPC's standing committee decision as an excuse. "It is not that the decision cannot be changed. It is because the government dares not tell the central government," Ho said. Civil Party lawmaker Margaret Ng said Tsang's falling popularity showed the public was completely disappointed in Tsang and the government. However, Democratic Alliance for the Betterment and Progress of Hong Kong chairman Tam Yiu-chung said many of the grouses at the July 1 rally were related to economic issues. "The fact that Lehman Brothers investors kept a distance from the rally indicated the public was cautious about their demands being politically hijacked," Tam said.

China: The number of US companies featured in the annual Fortune 500 list of top global companies fell to lowest level ever, the business magazine said, while more mainland firms appeared than ever before. Signalling the effects of the devastating financial crisis on the US economy, a non-US firm topped the list for the first time in over a decade, with Anglo-Dutch energy giant Royal Dutch Shell coming in first. The firm brought in US$15 billion more in sales than second place oil rival Exxon Mobil of the United States. Mainland, Asia's ever-soaring powerhouse economy, saw its fortunes rise across the board with oil giant Sinopec (SEHK: 0386) appearing in the top 10 for the first time, the magazine reported on Wednesday. Sinopec, also known as China Petroleum & Chemical Corp, supplies 80 some per cent of mainland's fuel. Overall, mainland had an unprecedented total of 37 companies featured on the list, with nine new entries and the others climbing in the rankings. The business publication meanwhile said US-based Wal-Mart Stores slid from last year's top spot to third, with revenues of over US$405 billion. But the number of US firms in the top 500 fell to 140, the lowest since Fortune began the list 1995. Japan was in second with 68 firms, while France and Germany narrowly edged out mainland with 40 and 39 firms respectively. In full, number one Shell had US$458 billion in revenue, and Exxon Mobil had US$442.8 billions in revenue. In fourth place came British oil giant BP (US$367 billion), followed by US oil firm Chevron (US$263 billion); French oil firm Total (US$234.6 billion); US oil firm ConocoPhillips (US$230.7 billion); Dutch insurance conglomerate ING Group (US$226.5 billion), Sinopec (US$207.8 billion) and Japan's Toyota Motor (US$204 billion). Seven of the top ten were oil firms and only one was an automobile company. Of the US firms to disappear from the list entirely were household names slammed by the global economic crisis – among them AIG, Freddie Mac and Lehman Brothers, while the rising US firms were Google, Amazon and Nike. In announcing the rankings, Fortune noted a US National Intelligence Council report called Global Trends 2025 that said if the current trends continue "by 2025 China will have the world's second largest economy". According to a last year study by the US research organisation Carnegie Endowment for International Peace, mainland's economy will overtake that of the United States by 2035 and be twice its size by mid century. The Fortune ranking is based only on revenues, while other rankings use profits or other factors. Among the biggest losers was the Detroit, Michigan auto stalwart General Motors – currently undergoing mammoth bankruptcy proceedings after reporting a net loss of more than US$30 billion last year.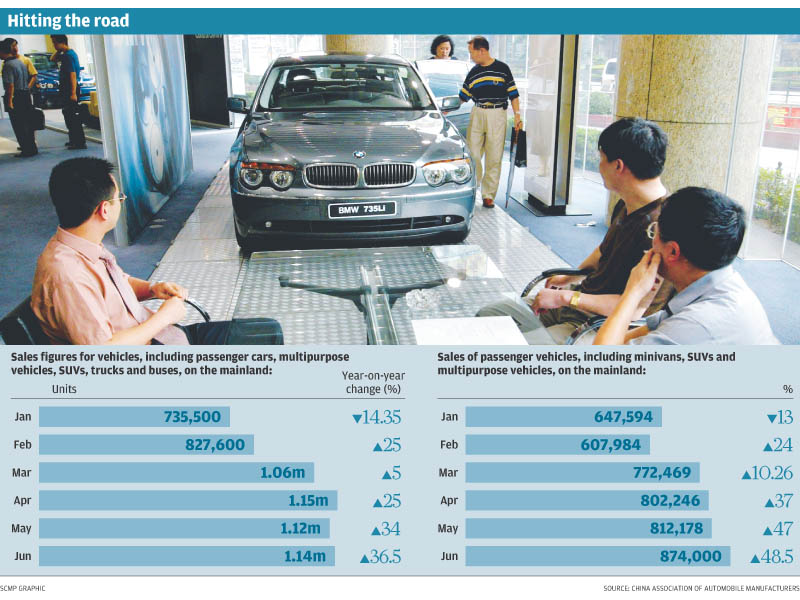 China vehicle sales surged at a record rate last month, helped by generous state subsidies to rural villagers to boost buying. China Association of Automobile Manufacturers statistics yesterday showed total sales, including passenger cars, multi-purpose vehicles, sports-utility vehicles, trucks and buses, exceeded 1.14 million units in June, as the government implemented support measures to stimulate sales to a record 36.5 per cent increase from last year. It was the fourth consecutive month sales had surpassed 1.1 million units. Sales of passenger vehicles reached 874,000 units, up 48.5 per cent from a year ago. Mainland vehicle sales beat United States figures for the first time in January, making it the world's biggest car market. Beijing's drive to boost car ownership in rural areas, which runs from March to December, offers villagers up to 5,000 yuan (HK$5,670) to buy a car priced at 50,000 yuan or below. "In the next two to three years, we believe 42 per cent of the country's second and third-tier cities will have purchased a car for family use," said analyst Wang Zhihui at China International Capital Corp. "The growing sales momentum of passenger vehicles, especially own-brand small cars, will be sustained." For the first six months, total vehicle sales in the country rose 17.69 per cent from last year to 6.1 million units. The passenger vehicle segment, the main driver of growth for overall sales, increased 25.62 per cent to 4.53 million units. The association said it was cautiously optimistic about the second half, estimating total vehicle sales to climb to 11 million units over the full year, up from its April prediction of 10.2 million. Boosted by the bullish outlook, FAW Car closed 9.95 per cent higher at 18.23 yuan yesterday, SAIC Motor Corp rose 8.63 per cent to 19 yuan and Chongqing Changan Automobile gained 7.1 per cent to 9.95 yuan. Hong Kong-listed Geely Automobile Holdings (SEHK: 0175) gained 10.95 per cent to HK$1.52, while Denway Motor closed 8.01 per cent higher at HK$3.37. China, which is the only growing vehicle market in the world, is expected to be one of the most important profit drivers for global carmakers in the years to come. US vehicle sales tumbled 28 per cent last month, the narrowest decline in nine months, as Ford Motor stole market share from its rivals. GM China, a joint venture of General Motors Corp, SAIC Motor Corp and Guangxi commercial vehicle maker Wuling Automobile, will build its ninth manufacturing plant within four years and plans to meet its five-year goal of doubling annual sales in the country to two million units. Italy's Fiat, which has just signed an agreement with Guangzhou Automotive Industry Corp, hopes to restart sales on the mainland soon. "Consumption power has shifted to the inland from coastal regions," said analyst Wang Liusheng at China Merchants Securities. "Moreover, demand for commercial vehicles will mount." Car sales in Tibet, Shanxi, Sichuan, Shaanxi, Hunan, Jiangxi, Ningxia and Gansu recorded robust growth last month.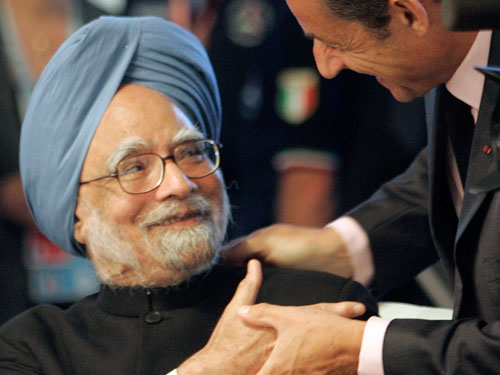 The sudden departure of President Hu Jintao from the G8 summit is pinching India, an official said yesterday. Speaking to The Times of India, a senior government official called Mr Hu's departure a "setback" for the common stand that India and China have taken on the democratisation of international financial institutions and climate change. He said that in Mr Hu's absence, Prime Minister Manmohan Singh is having to take on the west alone on global issues that China and India have previously tackled together. Arati Jerath, a foreign policy expert accompanying Dr Singh, wrote that Mr Hu's exit has "left a big hole" and Dr Singh, "now the main voice from Asia at the high table of emerging economies, may find himself pretty much alone in fending off demands from developed nations for stringent emission curbs to offset effects of climate change". "Climate change is one of the few issues on which India and China see eye to eye, with both insisting that western industrialised nations should follow stricter emission norms than emerging economies, which are fighting to catch up with their richer counterparts." China is now represented by State Councillor Dai Bingguo - who is also the chief negotiator with India in a boundary dispute - but that is no consolation for New Delhi, which says that he lacks Mr Hu's "international stature".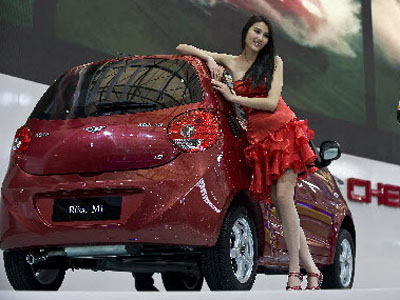 A model poses next to a Chery Riich M1 on display at the Shanghai International Auto Show on press day in Shanghai earlier this year. Figures released on Thursday showed the sales of cars in mainland soared 36.5pc in June. China auto sales soared 36.5 per cent in June from a year earlier to 1.14 million vehicles, boosted by government incentives, an industry group said on Thursday. Passenger car sales hit a monthly high of 872,900 units, the China Association of Automobile Manufactures said. That outpaced US sales of 859,847 units. The monthly total was the second-highest to date after April's 1.15 million vehicles. Global automakers are looking to mainland to help drive revenues as they struggle with falling demand in North American and other markets. Total sales for the first half were 6.1 million vehicles, up 17.7 per cent from a year earlier and a six-month record, said the association, which is authorised by the government to release industry data. "It was really hard for our auto industry to achieve such a proud result against a backdrop of general gloom in the international auto industry," the association said in a statement. General Motors reported earlier that its mainland sales soared 38 per cent in the first half from a year earlier. Ford said its first-half sales in the country were up 14 per cent. After weakening last year as the global financial crisis hit, mainland's auto sales have rebounded this year, driven by sales tax cuts, government subsidies to trade in older cars and other incentives. "The government took a series of policies in the first half of the year to promote the development of the auto industry," the association said. "Auto sales and production pulled out of their trough to show a good development trend."
Beijing could launch the nation's first woman into space as early as 2012. Astronaut Yang Liwei said the search for the first woman in space is under way, the China Daily reported. Yang became China's first astronaut in 2003 and is now in charge of new recruits for the space program. "I believe Chinese women will soon be seen in space," he said. Sui Guosheng, an officer in charge of recruitment with the air force, said the female "taikonaut" is expected to blast off in 2012. Potential female astronauts will be recruited from among 16 fighter pilots who graduated in April, Sui said. The pilots, who were chosen from 150,000 high school graduates, were the first batch of Chinese women qualified to fly jet fighters. China became the third nation to put a man in space when Yang piloted Shenzhou-5 - a one-man mission - in 2003. That mission reflected China's rising ambitions in space exploration. The Chang'e-1 probe was launched in 2007 and is the first stage of the country's lunar program. The program includes landing an unmanned rover on the moon by 2012 and a manned mission by around 2020. The world's first female astronaut was the Soviet Union's Valentina Tereshkova, who stayed in space for three days in 1963.
U.S. President Barack Obama said on Thursday that he was looking forward to visiting China later this year. Obama made the remarks when meeting with Chinese State Councilor Dai Bingguo, who was here to attend the leaders' meeting of the Group of Eight (G8) and five leading emerging economies (G5) on behalf of Chinese President Hu Jintao. During the meeting, Obama said the U.S. side attached importance to the U.S.-China relations, and he hoped that the upcoming U.S.-China Strategic and Economic Dialogue could generate fruitful results, according to a press release issued by the Chinese delegation. It is important for the United States and China to enhance cooperation on major international issues, Obama said, adding that it benefits both countries and both people. The two also exchanged views on bilateral relations and other major international and regional issues, said the press release. Dai conveyed Hu's greetings to Obama while Obama asked Dai to pass on his greetings and good wishes to Hu. Hu cut short his stay in Italy and skipped the G8 meeting due to the situation in China's Xinjiang Uygur Autonomous Region. He returned to Beijing Wednesday.
July 10, 2009

Hong Kong: The government secured approval from the Legislative Council yesterday to set up a bond fund and issue up to HK$100 billion worth of debt in a first step towards developing a local bond market. The motion won broad support from legislators but not before several had called for legally binding limits on how proceeds could be used amid concerns the funds might be mismanaged. Financial Secretary John Tsang Chun-wah, who has keenly promoted the city as a centre in which to raise funds by issuing debt - including Islamic bonds and yuan-denominated bonds, said developing a bond market would contribute to Hong Kong's financial stability. "And developing a local debt market is a very important step," he said. Democrat lawmaker Albert Ho Chun-yan sought to establish a bond fund consultation committee with a management oversight brief. Fellow democrat James To Kun-sun urged the government to require that proceeds be injected into the Exchange Fund and invested prudently. But the government argued that spelling out the bond programme's policy objectives and investment arrangements in law would invite legal challenges or litigation about interpretation of whether the objectives could or would be met. Under the plans, funds raised, capped at HK$100 billion, will go into a bond fund, which will make investments to cover the principal amount and interest payments. Any surplus that remains after paying off bondholders and expenses may be transferred to government revenue subject to Legco approval. "We believe that the total size of the programme is an important indicator for the market to assess the determination and effort of the government in promoting the development of the local bond market," Mr Tsang said. He said the proposed borrowing ceiling was reasonable and necessary. "It fully reflects the long-term and ongoing nature of the programme. It also provides enough room for the public debt market to grow to critical mass ... enabling the programme to bring about its intended effect." Mr Tsang said the proposed ceiling represented a long-term target of five to 10 years and provided the flexibility to make necessary adjustments to the size and tenure of individual tranches in response to market needs. Legco's approval meant the government would go ahead with developing the programme, including details such as the size of bond issues, their tenure and the frequency of issues, he said. Bonds would be available to both institutional and retail investors. Fixed-rate bonds issued in the local currency for institutional investors would be offered through competitive tenders to primary dealers. Individual investors could subscribe to these bonds at participating banks and brokerage firms.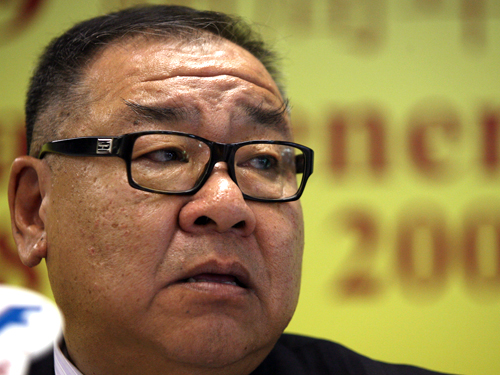 Most mainland-based Hong Kong exporters have obtained more orders in the past couple of months, but the improvement is still fragile, according to the new chairman of the Federation of Hong Kong Industries. Cliff Sun Kai-lit, elected yesterday as chairman of one of Hong Kong's largest trade organisations, said the slump in overseas orders eased recently from the worst period in January and February, during which orders commonly tumbled by 60 per cent or even 90 per cent in extreme cases. While chasing after new orders, the federation was lobbying the Guangdong provincial government and Shenzhen municipal government to allow Hong Kong exporters to sell their products in a designated distribution centre to tap the domestic market. The location is under discussion. "We felt the order situation is warming up from the deep frost in the first two months of this year," said Mr Sun, whose family produces Kinox cookware in Guangdong for exports. "We hope the distribution centre will open a gateway for exporters looking to expand into retailing on the mainland." Despite the improvement, Mr Sun said the central government should not recall the policies it had introduced to stem sliding exports since the onset of the global financial crisis in September last year. "We need the policies especially during the existing ordering season, or we will lose business to Southeast Asian countries," he said. He meant policies such as freezing minimum wage rises on the mainland, lifting value-added tax rebates on exports and reducing government-related administrative charges. He said new orders came in a smaller volume and value and the duration between production and shipment was shorter. The federation's deputy chairman, Stanley Lau Chin-ho, said signs of marked improvement in orders were seen in electronics, toys, watches and apparels. Mr Lau said it would take 12 months before the export sector returned to normal or the pre-crisis level. There are about 55,200 Hong Kong factories in the Pearl River Delta importing raw materials to produce or assemble consumer goods for export, or processing trade manufacturing, making them the largest contributor to the mainland's exports. The recession in the United States, European Union and Japan - the top three consumers of China-made goods - forced many Hong Kong exporters to go bust. Trade insurer Hong Kong Export Credit Insurance Corp revealed yesterday its total claims surged 121 per cent to HK$145.42 million in the fiscal year to March, due largely to bankruptcies of exporters' overseas clients. The United States, Britain and the mainland were the top three insured markets last year. Wang Zhao, the assistant minister at the Ministry of Commerce, said Hong Kong firms could leverage on the sixth supplement of the closer economic partnership arrangement, a trade agreement allowing greater and easier access to the mainland market for Hong Kong firms.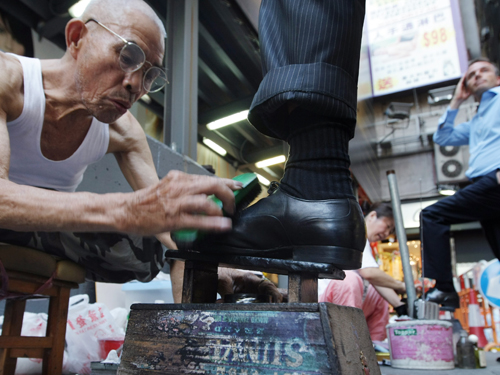 Veteran shoeshiner Li Kwong in Theatre Lane in Central was facing eviction but should receive a hawker licence as the Food and Hygiene Department takes the issue to Legco. Shoeshiners in Central and Western District will soon be issued hawker licences, allowing them to practise their trade legally for the first time. The move follows wide community support for the shoeshiners after they were threatened with eviction and prosecution by the Food and Environmental Hygiene Department, which had accused them of operating without licences and obstructing public roads. In a paper to be discussed on Tuesday by the Legislative Council's panel on food safety and environmental hygiene, the government said it would soon issue the shoeshiners with hawker licences. "In view of the special circumstances of these unlicensed hawkers, their limited numbers, and the fact that their operation seldom causes an environmental hygiene nuisance, and they have operated in the districts for many years, the department agrees in principle to issue fixed-pitch-hawker licences to them," the paper said. The department said it had already contacted the eight shoeshiners in Central and Western District and all of them intended to apply for hawker licences. Lau Wing-ming, 53, who has been polishing shoes in Theatre Lane for 16 years, said: "I feel really happy." Another shoe polisher, Li Kwong, 80, who worked next to Mr Lau, was also pleased. "It is always better to have a licence, as we do not need to run away from officials anymore," he said. Mr Li also thanked the lawmakers and the public for their support. It was not just the eight shoeshiners who were happy with the news - their customers were also pleased. Ricky Law, who had his shoes polished by Mr Lau last night, praised the move. "They could then have a stable life," he said. The department said in the paper that the government would consult the Central and Western District Council before making a final decision on issuing licences. Tanya Chan, a Civic Party lawmaker who is also on the district council, said members would meet next Thursday to discuss the issue. "I have contacted many councillors and we will definitely approve it as these shoe polishers are a distinct feature of the district," she said. "They have been here for so long and we [would] all love to have them in Central and Western District for the years to come."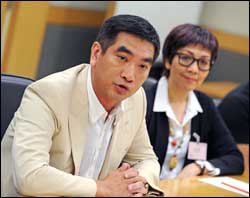 Create Hong Kong has come up with a HK$10 million plan to breathe new life into the design industry - including a local reality TV program modeled on the award-winning American fashion show Project Runway. The eight-episode series will be in Cantonese, English and Putonghua and will be fronted by a yet-to-be-announced celebrity host. It will pit eight design teams each from Hong Kong and the mainland - each comprising a designer, model and photographer - against each other. Starting at the end of the year, the 16 teams will be whittled down to 10 for the semifinals and then to six for the finale, to be aired early next year. Judges will be drawn from local experts and possibly international judges, says the Hong Kong Apparel Society's Felix Chung Kwok-pan. "We are still working out the details with TVB Pearl to air the show and talking to sponsors before we announce what the grand prize will be," he said. The show's consultant and coordinator, Hong Kong Fashion Designers Association co-founder Judy Mann Lai-yin, said contestants must have at least two years experience and be under 35. The government's multimedia stimulus package also includes awards, seminars and internship programs to provide opportunities for local design firms to foster a new generation of talent, Create Hong Kong acting head Alan Siu Yu-bun said yesterday. "Local fashion and design industries can have a competitive edge in the region and by exploring markets and organizing mega events we can further develop it, helping Hong Kong become the region's hub for creative design," he said. According to Hong Kong Designers Association chairman Winnif Pang Chi-kong, the timely collaboration with the government comes as job prospects for new graduates look bleak. "We will have some 2,000 design students graduating this year and while last year's uptake was rather good, the majority of design firms are seeing their hiring budgets squeezed this year," Pang said. Although the government plans a wider internship program for a larger number of design students, CreateHK will be starting off with about 50 placements for graduates with higher degrees and accredited courses. They will be entitled to a salary subsidy subject to a cap of HK$4,000. CreateHK will also send local design and branding consultants to a series of seminars from July through September in Shenzhen, Foshan, Guangzhou and Zhongshan to showcase the territory's expertise to Pearl River Delta enterprises.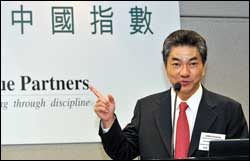 New lending in the mainland swelled to 1.53 trillion yuan (HK$1.74 trillion) last month, more than double the figures in May. This sets a firmer platform for economic recovery despite rising concerns about asset bubbles. Total loan growth since the beginning of the year was 7.4 trillion yuan. JPMorgan chief economist Frank Gong said growth in lending this year will definitely be higher. "Total new loans this year could be as much as 10 trillion yuan, even more than the 8 trillion yuan I forecast earlier this year," Gong said yesterday. He shrugged off worries that swelling bank loans would lead to asset bubbles, particularly in the property market, or a larger budget deficit. "Previously bank lending only accounted for about one-third of total fixed-asset investment but now it can make up almost half of the spending, replacing private financing which is shrinking," Gong said, suggesting that money supply was not out of control. He added that the pending home demand in third-tier cities will start another property market boom, which can support solid economic growth. Credit Suisse and fund house Value Partners both concurred with JPMorgan on a bullish outlook for the mainland economy. Gong revised his China GDP forecast for the current year to 7.8 percent, from 7.2 percent, and for next year to 9 percent, from 8.5 percent. Credit Suisse Private Banking's Asia Pacific head of research Fan Cheuk-wan forecast the mainland's economic growth this year and next would be 8 percent and 8.8 percent respectively. Value Partners chairman Cheah Chang Hye also foresees 8 percent growth this year. But Cheah warned of bubbles developing in the real estate sector. However, the fund manager does not think the central government would do much to manage it.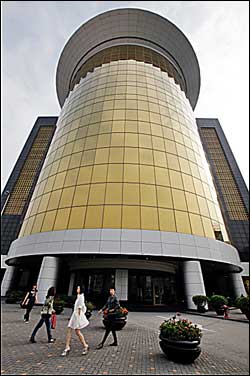 The Hong Kong listing market is expected to heat up in the third quarter, driven by larger transactions involving state-owned companies. Sinopharm Medicine Holding is expected to be the second state-owned listing candidate after BBMG Corporation to list as an H share in the SAR. The company is 51 percent owned by China National Pharmaceutical Group, a leading state-owned drug firm, and 49 percent by Fosun International (0656). It aims to float by the end of this year to raise less than US$1 billion (HK$7.8 billion), a market source said. The company is expected to go public in October but the source said there is not a concrete timetable amid the recent market correction. BBMG, a leading building material maker in China, aims to reap as much as HK$5.46 billion by floating 933.33 million shares. It is expected to attract eight to 10 cornerstone investors including China Life (2628) and a investment management arm of Bank of China (3998), sources said. The Beijing-based firm is set to start a roadshow for institutional investors on Monday and the retail book will open on July 17. It plans to list on July 29. US casino operator Las Vegas Sands Corp will decide whether or not to put forward an IPO deal in Hong Kong to raise funds to resume construction projects in Macau, Bloomberg reported yesterday, citing chief operating officer Michael Leven. "It will have to be in the US$2 billion, US$2 billion-plus area to make it work for us," Leven said. The firm, controlled by billionaire Sheldon Adelson, plans to resume its US$12 billion casino- resort project in Macau. Due to a 347 times oversubscription, retail investors who sought one board lot of Chigo Holding have a 8.5 percent chance of being alloted one. The air- conditioner maker aims to raise HK$164.6 million, with trading to start on Monday. Amber Energy, which will list tomorrow, was 1,247 times oversubscribed for its retail tranche. It received about 77,000 subscriptions, with each having a 5 percent chance of being allotted one board lot.
Hong Kong reported its first serious human swine influenza case on Wednesday, Centre of Health director Thomas Tsang Ho-fai confirmed. The patient is a 76-year-old man. He developed mild flu symptoms on July 5 and was later confirmed to be infected with swine flu. His condition deteriorated on Wednesday morning, and he began losing consciousness and showing an increase in blood carbon dioxide concentration. The man has a record of chronic emphysema. He also showed shortness of breath on Wednesday morning. The 76-year-old was receiving treatment in Prince of Wales Hospital. Dr Tsang said only four out of a 1,000 confirmed cases in Hong Kong involved elderly people. He did not rule out the possibility of Hong Kong having more serious cases in future. This was because July was traditionally the peak period for seasonal influenza. In other developments, the World Health Organisation said on Wednesday the discovery of Tamiflu-resistance virus cases was only "sporadic".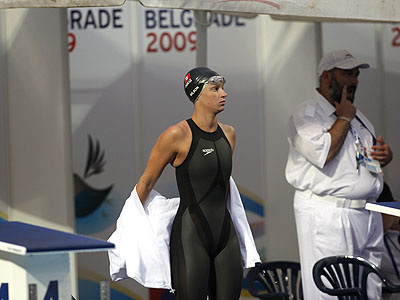 In a first ever for Hong Kong - a woman from the territory has won a gold medal at the 2009 Universiade World Student Games on Wednesday morning (HK time) in Belgrade, Serbia. Hannah Wilson, 20, won the 100 metres women's freestyle in only 54.35 seconds – and broke the universiade record by 0.01 seconds. Wilson represented Hong Kong at the 2004 Athens Olympic Games and 2008 Beijing Olympic Games. She was also a bronze medal winner at the 2006 Asian Games in the women's 4x100m freestyle relay. Wilson told local media she was "very excited". She said her victory had been a surprise. Her mother told SCMP.com she was very proud of her daughter. "It shows Hong Kong can produce top level athletes," Mrs Wilson said.Hannah Wilson has now set sights on December's East Asian Games when Hong Kong will be the hosts. Patrick Chan Ping-cheung, head coach for the Hong Kong student delegation, said Wilson won because of her strength and stamina at the finishing line. He said the gold medal was a great prize for Hong Kong. She has already broken another Hong Kong record in the 50m butterfly in Belgrade with a time of 26.66 seconds in the semi-finals. Wilson reached the final, but managed only sixth place. Wilson, who was born in territory, is currently a student at the University of California, Berkeley. She had earlier attended Island School in Hong Kong. Wilson, who renounced her British citizenship prior to the Games for a Special Administrative Region passport to be eligible to represent Hong Kong, will also pocket a HK$250,000 cash incentive from the Hong Kong Sports Institute. Wilson became the first Hong Kong woman to swim under one minute in the 100-metre butterfly when she finished second in the heats at last year's Olympics with a time of 59.35 seconds.
Hong Kong's economy is projected to continue to contract – despite positive signs the global financial crisis was stabilising, a new study released on Wednesday showed. The report was produced by the APEC Study Centre of the University of Hong Kong (HKU). It said Hong Kong's real gross domestic product (GDP) in the second quarter of 2009 was projected to fall by 4.9 per cent compared with the same period last year. This was slight upward revision of the previous forecast of 5.1 per cent fall made in April. Professor Richard Wong Yue-Chim, Professor of Economics at HKU, said: "The rate of contraction in Hong Kong's real GDP decelerated in the second quarter. This was mainly due to rebounding stock and property prices – as well as a pickup in export orders. "The contraction is broad-based, but the drop is restricted from the previous quarter to reflect some stabilisation from the global financial tsunami final quarter last year," he added. Inflation was 0.1 per cent in May. The study predicted Hong Kong was entering a deflationary cycle of falling prices. The deflation rate would drop to 0 per cent in the third quarter. Private consumption expenditure decreased by 5.5 per cent in the first quarter due to the global financial crisis. The fall was estimated to be 5.8 per cent and 4.8 per cent in the second and third quarter, respectively. The deceleration in the fall of private consumption spending was due to the rebounding stock and property markets and a more positive economic outlook. There was a 5.4 per cent decrease in the volume of retail sales in Hong Kong in May. Because of swine flu, it is projected that fewer visitors are coming to Hong Kong. This was hurting retail sales in the current quarter, by 7.3 per cent. Dr Alan Siu, director of the APEC Study Centre at HKU said in the report the labour market would remain weak for the rest of 2009. "The unemployment rate is projected to rise to 5.9 per cent in the third quarter. Some 17,000 more people would probably become jobless, bringing the number of unemployed workers to 220,000," predicted Dr Siu. The Hong Kong Macroeconomic Forecast is based on research conducted by the APEC Study Centre of the HKU's Faculty of Business and Economics. Since 1999, it released a macro forecast of Hong Kong quarterly economic statistics.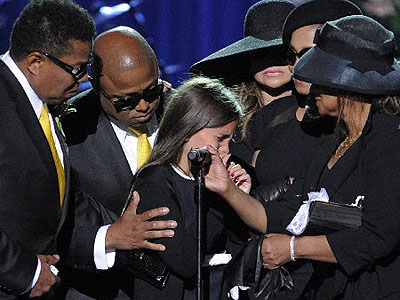 Paris Jackson is supported by family members after speaking at the memorial service for her father Michael Jackson in Los Angeles on Tuesday.
Secretary for Food and Health York Chow Yat-ngok said on Wednesday the recent extension of the non-smoking ban in Hong Kong would not lead to business closures or job layoffs.
A former investment banker and a former fund manager pleaded guilty to insider dealing in connection with the trading of shares of Media Partners International Holdings.
More than one in 10 Hongkongers intend to delay their retirement because of the economic downturn, a poll has found. HSBC (SEHK: 0005, announcements, news) 's Future of Retirement Survey, in which 1,000 local people were interviewed through the internet, showed that about 12 per cent, or 120 Hongkongers, said they intended to postpone retirement due to the financial crisis. "The economic downturn has eroded the value of people's wealth and savings, forcing people to delay retirement to earn back the financial security they aspire to," said Jason Sadler, managing director of insurance in Hong Kong for HSBC Insurance for Asia-Pacific. One per cent of respondents said the crisis had made them want to come out of retirement and return to work, the study found, while 3 per cent said they planned to work part-time and phase their retirement. About one-fifth said they might need to change their plans, depending on how long the recession lasted. Some 11 per cent said they had stopped paying into their pensions as a result of the recession. "Clearly, the priority for people is to cover immediate financial obligations and support daily subsistence. People have pushed saving for retirement to the back burner and are looking at other options to address retirement needs, such as working longer," Mr Sadler said. Of the financial concerns arising from the economic turmoil, most people said they had pressure in meeting mortgage payments (15 per cent), followed by worries about repaying credit card bills or bank loans (13 per cent) and managing the household budget (10 per cent). Asked what they would do on receiving their retirement funds, a majority of respondents said they would save the cash. The study also interviewed 14,000 people from 14 other places. Only about 2 per cent of the South Koreans interviewed said they felt well prepared for retirement, compared to 3 per cent in Japan and 9 per cent on the mainland. Hong Kong, at 11 per cent, was far behind India, at 42 per cent. No margin of error was given for the survey.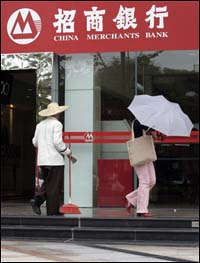 China Merchants Bank (SEHK: 3968) is planning a rights share offer to raise about US$3 billion before year-end, as it seeks to boost its capital after overpaying for a recent purchase, investment banking sources said on Wednesday. The bank had begun talks with several investment banks about the offer, which would be split between holders of China Merchants' Shanghai-listed A shares and its Hong Kong-listed H shares, they said, speaking on condition they not be identified. The bank, mainland's sixth-largest lender, earlier this year said it would book a provision against its US$4.7 billion acquisition of Hong Kong's Wing Lung Bank last year. Meanwhile a local newspaper reported that China National Pharmaceutical Group (Sinopharm) plans to float its drug-making and distribution businesses, raising about 7 billion yuan (HK$7.95 billion) in an initial public offering of H-shares in Hong Kong in October.P> Set up in 2003, the listing unit Sinopharm Holdings is 51 per cent owned by China National Pharmaceutical Group and 49 per cent by Hong Kong pharmaceutical and steel products distributor Fosun International, the Wen Wei Po newspaper reported on Wednesday, citing Zhu Jinjin, a spokesman for the pharmaceutical group. It gave no further listing details. The spokesman said Song Zhiping, chairman of mainland's top cement maker China National Building Materials, had also become chairman of China National Pharmaceutical Group in June. China National Pharmaceutical Group, which controls Shenzhen Accord Pharmaceutical and China National Medicines, had originally planned to spinoff its medicine making business in Hong Kong as early as the fourth quarter of last year, raising about US$750 million. Activity in the Hong Kong IPO market has picked up in recent months as the stock market rallied, with listing hopefuls reviving plans that had been put on hold last year amid the financial crisis.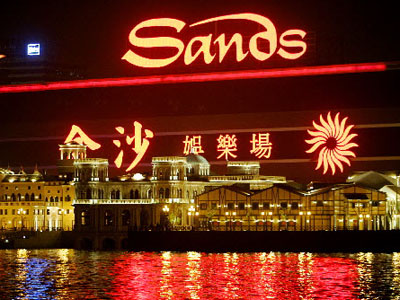 Sands Casino may raise cash through an IPO of its Macau assets in Hong Kong, chairman and CEO Sheldon Adelson said on Wednesday. Las Vegas Sands, the world's largest casino firm, wants to raise US$3 billion to US$4 billion and is considering several options including an IPO of its Macau assets in Hong Kong, chairman and CEO Sheldon Adelson said on Wednesday. "We are looking at a Hong Kong Stock Exchange listing, among 5 or 6 options," Mr Adelson told an interview in Singapore, adding that the firm hopes to get a total of US$3 billion to US$4 billion through various fund raising initiatives. Sands may also raise cash by selling stakes to private equity firms or getting construction companies involved in its projects to assemble their own financing, he added. He denied reports that the firm was considering a bond issue in the United States. The global casino industry has been hit by a drop in leisure spending and Sands has cut staff in the United States and postponed construction projects in Macau to conserve cash. Analysts estimate the firm needs to raise about US$1.5 billion to US$2 billion to complete its developments in Macau. In May reports had said that Sands had hired Goldman Sachs to look at a potential Hong Kong listing for its Macau operations and the firm planned to cut around 4,000 jobs or about 20 per cent of its workforce in Macau. Mr Adelson, however, said the global economy appears to have bottomed and that the firm's Las Vegas casinos had exceeded budget projections for May and June. The Macau properties have also performed better than the industry average in terms of visitations and revenues. "We are at the trough of the recession … From this point on, I think we are going to see an improvement," he said. Mr Adelson said Sands has put on hold plans to sell the retail component of its Venetian casino in Macau because of the weak financial markets, and it hoped to resume construction in Macau at the end of this year. Sands owns and operates the Venetian and Palazzo casinos and Sands Expo in Las Vegas as well as the Sands Casino Resort Bethelem in eastern Pennsylvania. In Macau, it owns the Venetian Macau and Sands Macau, and is involved in the development of several casino-resorts on a piece of reclaimed land known as the Cotai Strip. Turning to Singapore, where Sands is currently building a waterfront casino on the edge of the central business district, Mr Adelson said the Marina Bay Sands is now expected to open in either January or February next year instead of at end-this year as earlier announced. The Singapore casino will cost US$5.25 billion to US$5.5 billion against an original forecast of US$3.2 billion when the project was conceived, and will go into operation at a time when tourism is shrinking.

China: Japan yesterday welcomed the first Chinese tourists traveling individually rather than on tours, under visa changes aimed at luring more wealthy foreigners amid the recession. Chinese visitors earlier had to travel in groups, with tour guides from both nations.
Beijing laid out guidelines yesterday for expanding health-care reform in the first year of a three-year plan. The blueprint comes three months after the official release of a medical reform plan, which has hardly begun because of a lack of supporting documents and the current battle against swine flu on the mainland. A few public-health initiatives under the reform, such as free hepatitis B vaccinations for children 15 and under, were started last month. "We must focus on the key tasks, make clear the responsibilities and implement the reform practically to make sure it gets off to a good start," a regular State Council meeting chaired by Premier Wen Jiabao was told yesterday. The meeting was aimed at expanding the coverage of basic medical insurance, one of the five major reform tasks. The number of urban residents on medical insurance, with or without employment, should increase by 72 million to 390 million, and some 6.07 million retirees of bankrupt state-owned companies should also be included in the scheme, the meeting was told. The country aims to establish a basic medical insurance scheme within three years that covers all rural residents and 90 per cent of the population. Currently, 91.5 per cent of farmers have joined the new rural co-operative medical system, which provides basic care. The basic insurance scheme, which varies from province to province or even county to county, usually imposes a cap on the reimbursed amount and reimbursement ratio for inpatient bills and treatment of serious diseases. Despite much progress compared with the days when farmers and urban residents had no medical insurance at all, the consensus of experts is that the basic medical reform is a far cry from what citizens need. Patients have been complaining about expensive medicine and hospital bills, inaccessible service and low compensation under the basic insurance scheme. Hospitals are also under pressure to increase revenue because of limited government input. The maximum reimbursement amount and compensation level for inpatient bills would be raised, state councillors were told yesterday, but no details were given. They were also told that a system for pharmaceuticals, which includes a catalogue of the most basic drugs, would be set up by this year and implemented in 30 per cent of community clinics and county government-run grass-roots clinics. An earlier plan stipulated that drugs were to be produced and distributed under government control and covered by medical insurance, with a special administration for the system to be established. A senior official of the Ministry of Health had said the catalogue would be announced to the public by April, but it has yet to be released. Medical standards on the local level would also be increased with improved medical institutions built and better training of staff, the meeting was told.

Soldiers, some armed with crossbows, on the streets of Urumqi. Independent media have been given uncommon access to report on the unrest. The decision to allow independent media to stay in Urumqi was correct and it was crucial that Beijing kept Xinjiang open to world media, experts said yesterday. As of last night, reporters were allowed to stay in the city even as armed police and soldiers patrolled the streets, and there were reports of some confrontations between Han and Uygurs. Reporters were generally unhindered in their work, though they remained barred from sensitive areas, such as Uygur neighbourhoods, and some news organisations complained of brief detentions. Beijing has shown a determination to create an open environment for overseas media in the aftermath of Sunday's riots that left at least 156 dead and over 800 injured. Xinjiang's local government also co-operated by arranging regular news briefings and a media tour, and providing internet access in the media centre, the only place in the region that has access after authorities shut down Web access to control the spread of information. A Xinjiang spokesman promised to provide assistance and convenience for overseas media so long as it was safe to do so, Xinhua said. Experts said it was crucial that the situation remained like this otherwise the mainland's attempts to improve its image and be seen as open and responsible would be harmed. "It is already a great improvement for central authorities and media administrators to tolerate free reporting by foreign media in the city, compared with the total shut-down to the outside world in Tibet last March," Zhan Jiang , a professor at the journalism and communication department of the China Youth University for Political Sciences, said. "As we could see, despite different news angles and news language, most of the overseas media has reported the Urumqi riots in a balanced way, which would help the world understand the damage caused by the rioters and earn more sympathy and support. "The presence of foreign media would also help both sides keep calm in the chaotic situation," Professor Zhan said. "In front of the foreign media's cameras, the police would try to maintain maximum self-control and the protesters would probably stop displaying their anger and thirst for revenge." But Professor Zhan cautioned that as the situation in the city remained complex, coping with foreign media was a major challenge for local authorities. "If they allow reporters to stay, they should try to ensure their reporting freedom and avoid actions such as detaining reporters or confiscating equipment." "Central authorities have made great efforts to come up with sensible and transparent press policies for big emergencies, especially in the wake of the Tibet riots and the Beijing Olympics in 2008," Zhang Zhi, from the School of Literature, Journalism and Communication at Minzu University, said. "In many propaganda officials' minds, they have realised that international media would actually help the world understand more about the real China, as their reports are more professional, more advanced and more easily received by overseas audiences than those from propaganda mouthpieces," Professor Zhang said. "To allow foreign media to report freely in the city would greatly help the world get a sense of the damage the riots caused in Urumqi and what really happened," he added. Professor Zhang suggested another reason the foreign media has been granted greater freedom was that the nature of the riots was already obvious. "The maintenance of social stability is a more important and challenging task for the government and propaganda officials, and that is why the unofficial channels of information on the internet were strictly controlled," he said.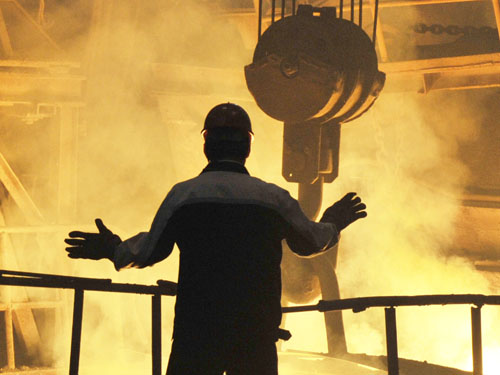 Hebei Iron & Steel Group has overtaken Baoshan Iron and Steel as the industry leader after a string of domestic mergers, the Ministry of Industry and Information Technology said. The ministry also said on its website that crude steel production in May rose 7.02 per cent from April and 0.57 per cent from a year ago to 46.46 million tonnes. Hebei province, the largest steel producer in the country, had an output of 11.6 million tonnes in May, up 10.8 per cent from the same period last year, it said. Hebei Steel, which was formed in June last year under a government-directed merger between Tangshan Iron & Steel Group and Handan Iron & Steel Group, has been injecting steel assets into listed company Tangshan Iron & Steel. Analysts said Tangshan Iron & Steel's annual output has reached 27 million tonnes, which is larger than Baosteel's 24.93 million tonnes, after the injections. Premier Wen Jiabao reiterated last month when he visited the province that steel industry leaders should foster domestic mergers and acquisitions as a way to curb oversupply.
China steel mills have agreed to a 33 per cent cut in iron ore prices after failing to win a bigger reduction than their Asian rivals, but only for a six-month period rather than a full year, the Chinese Business News said on Wednesday, citing informed sources it did not name. The deal, which could not be immediately confirmed, would conclude some nine months of tense negotiations that threatened to scupper the decades-old annual pricing ritual, and which took an unexpected turn this week when four Rio Tinto employees in Shanghai were detained by mainland authorities. Several steel officials on Wednesday said they were unaware of any settlement, but two sources not directly involved in the discussions said they had had heard of a possible agreement, but could not confirm it. "All news should be subject to the statement from CISA and Baosteel. I have nothing to say about the news," Chen Xianwen, head of the market research department at the China Iron and Steel Association industry body, said. The Shanghai-based business newspaper, backed by a local government agency, said China had agreed to pay US$0.97 per dry metric tonne unit for Pilbara blend fines and US$1.12 per dmtu for Pilbara Blend lump, but only for April through October. It said negotiations were already underway for the following period. But the newspaper said its sources could not say which of the big iron ore suppliers had signed the deal. A 33 per cent cut would be in line with what analysts have been expecting as Rio Tinto showed no inclination to let up its "take it or leave it" stance on the initial deal, and an economic recovery lifted spot market prices above new contract levels, leaving mainland with little leverage. If confirmed, it would mean mainland's steel sector had conceded to the same price that Japanese and South Korean rivals accepted from Rio and BHP Billiton, but for only half the time, giving mainland's mills the chance to argue for cheaper rates if a tentative economic recovery that has revived steel prices falters. Mainland, the world's biggest steel producer and buyer of more than half of all traded iron ore, had initially sought a bigger price cut of up to 45 per cent versus last year, but last week softened those demands after the June 30 deadline for agreeing terms lapsed, giving miners the right to suspend term deals. An agreement would provide more certainty for mills' costs and miners' earnings, but is a setback in mainland's effort to play a bigger and more influential role in commodity markets; this suffered another blow last month when Rio scrapped a US$19.5 billion deal with mainland's state-owned metals group Chinalco. With a mechanism to review prices more frequently, the vast 800 million tonne a year trade in iron ore moves a small step toward becoming a more liquid commodity market, which would give miners more opportunity to profit from rising prices and open up trading and hedging opportunities for global banks.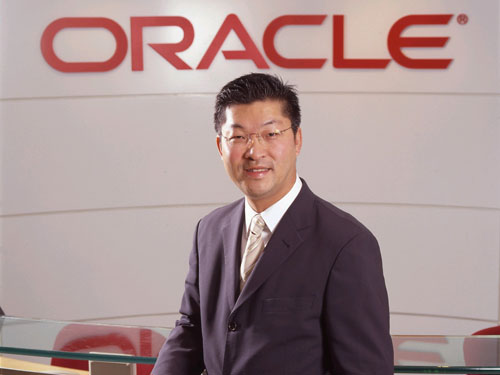 Oracle Corp, the world's largest business software supplier, is expected to commence its most important marketing campaign on the mainland this year following the global launch yesterday of its long-anticipated Fusion Middleware 11g suite of products. On the back of the mainland's economic stimulus initiatives, enterprises in various industries are expected to be well positioned to adopt the software release, which includes key technologies brought by Oracle from its many acquisitions. Roger Li, the group vice-president for Oracle's Fusion Middleware business in the Asia-Pacific, forecast "balanced growth across industries". That take-up will start in the telecommunications sector, where mainland network operators are building their nationwide 3G mobile infrastructure, and in the public sector, thanks to continued government spending, Mr Li said. The central government announced in November last year a 4 trillion yuan (HK$4.5 trillion) economic stimulus package, including support to 10 strategic industries. In May, the State Council approved 20 billion yuan in interest-rate subsidies on bank loans this year to encourage information technology upgrades in the telecommunications, carmaking, food, textile, steel, alternative energy and petrochemical sectors. Fusion Middleware 11g suite is designed to tie together and boost the performance of complex business-automation applications used mainly by large firms, including enterprise resource planning and customer relationship management systems. "As China's leading information-technology solutions and services provider, Neusoft is looking forward to deepening our relationship with Oracle," said Zhang Xia, the senior vice-president and chief technology officer at Shenyang-based Neusoft. Oracle has trained about 40,000 partner-system integrators globally on the new software suite. Mainland users of Oracle's previous middleware product included home appliance giant Haier, China Life (SEHK: 2628, announcements, news) Insurance, China UnionPay and Guangdong Telecom.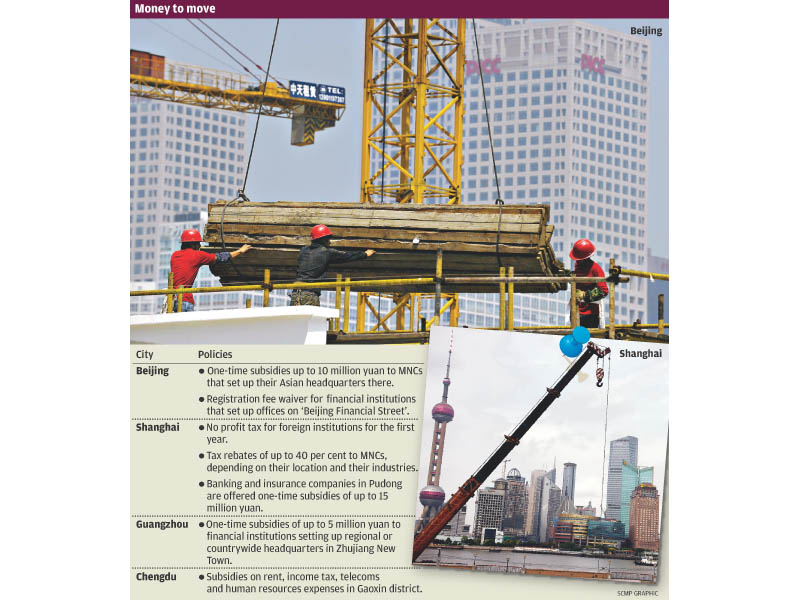 Beijing offers cash to foreign firms - Capital city dishes out incentives in rivalry with Shanghai as regional business hub - The race between Beijing and Shanghai to attract international firms to open offices in their central business districts is hotting up and set to intensify with the capital city's offer of cash subsidies to firms investing there. In what some believe might pose a challenge to Hong Kong's attractiveness as a business location, the mainland's two principal cities are competing to establish clusters of skills and services to boost their bids to become alternative locations for the Asian regional headquarters of international firms. On June 30, Beijing announced it would offer a one-time cash subsidy to multinational corporations that set up their Asian headquarters in the capital city this year, backdated to January. The subsidy will range from five million yuan (HK$5.68 million) to 10 million yuan, depending on each firm's registered capital. The move came a few months after the State Council announced plans to turn Shanghai into a global financial hub by 2020. Shanghai's government is planning incentives such as lower tax rates to lure financial services professionals. With its cash subsidy, Beijing now probably has an edge over Shanghai. "If there was no overriding commercial reason for locating in Shanghai, then the 10 million yuan incentive could be attractive and might tip the decision," said Nicholas Brooke, the chairman of Professional Property Services Group. But it would not be enough to persuade those already established in Hong Kong to relocate, he said. "I do not think it would influence the choice of Hong Kong in that neither Beijing nor Shanghai can offer the fundamental business infrastructure that Hong Kong provides, such as the rule of law, transparent business practices and a wide range of international business and professional expertise," said Mr Brooke. Beijing's announcement, made on state-owned CCTV, followed its decision in May to lower the capital threshold for multinational firms setting up regional headquarters there and to make it easier for foreign staff to obtain working visas and residence permits. Meanwhile, a drop of as much as 20 per cent in office rents because of a glut arising from the building boom over the past few years has done little to ease the vacancy rate in the city's office buildings, now running at about 23 per cent. Meggie Qin, the head of research in Beijing at Jones Lang LaSalle, said the subsidy was equivalent to a 15 per cent discount on a standard three-year lease on a 10,000 square metre office space at current market rates. "While the new policy will undoubtedly be positive for the city's office market, its full effect remains to be seen," she said. Kelvin Chow, a director in the commercial department at Colliers International in Beijing, expected the subsidy to be positive for its office market and said the effects should become visible next year. The vacancy rate of the Beijing office market reached 23 per cent last month, CB Richard Ellis research shows. Margaret Ng, a senior director of research at CBRE in Greater China, said Beijing was not alone in offering incentives to attract multinational companies, as cities like Guangzhou, Chengdu and Shanghai were offering their own perks. But rents and subsidies aside, international firms required a network of skills and services to draw on, and for these reasons they were attracted by the labour quality and banking system in Hong Kong and Singapore, Ms Ng said. A European investment banker added that tax issues could also be a major hurdle for firms considering relocating their Asian headquarters to the mainland. In Hong Kong, profit tax is just 16.5 per cent per year, compared with 25 per cent on the mainland. "It is totally agreed that the mainland offers faster growth potential than other cities," the banker said. " But the question is whether relocation can be justified, as the mainland charges higher profit tax. Can the additional business we make enable us to offset an increase in tax expenses?" Jing Ulrich, the managing director and chairman of JP Morgan China equities, said Beijing's subsidy announcement was unlikely to threaten Shanghai's ambition to become a global financial centre and shipping hub by 2020. "Major Chinese banks are headquartered in Beijing. Companies competing in highly regulated industries may benefit from their proximity to government decision-makers in Beijing," said Mrs Ulrich. She said the State Council's recent document on Shanghai's development into a global financial hub stated that joint-venture securities and asset management firms in the city would have the right to expand their business scope and proportion of ownership - a major advantage. The Shanghai municipal government also plans to implement policies to lower the effective income tax rate for senior financial services professionals, a move that should help increase the city's attractiveness relative to financial centres such as Hong Kong, she said.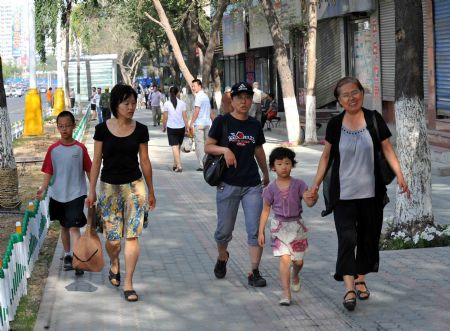 Parents take their children to a park in Urumqi, capital of northwest China's Xinjiang Uygur Autonomous Region, on July 8, 2009. Urumqi appeared to be calm under heavy paramilitary police presence Wednesday after an overnight traffic curfew, but sporadic standoffs and clashes were still reported. The capital city of Xinjiang region in northwest China adopted a "comprehensive traffic control" from 9:00 p.m. Tuesday to 8:00 a.m. Wednesday to avoid further chaos amid the ongoing unrest.
China's new yuan-denominated loans stood at 1.53 trillion yuan (about 223.96 billion U.S. dollars) in June, the People's Bank of China said Wednesday.
Only 68 percent of college graduates this year had landed a job by July 1, a hard-won achievement against the background of the global financial crisis, China's Education Ministry said here Wednesday. Among 6.11 million college graduates this year, 4.15 million have got a job, said the ministry. "It is not easy to achieve the 68 percent of graduate employment, considering a shrinking job market under the financial crisis and an increasing number of graduates," said Zhang Haoming, deputy director of the ministry's college student department. Last year 4.05 million out of 5.59 million college graduates, or 73 percent, found a job. Zhang said the government had given priority to graduate employment since the end of last year, issuing plans such as offering training courses and preferential loans for start-ups.
China's gross domestic product (GDP) growth in the second quarter this year is forecast to accelerate close to 7.8 percent, Goldman Sachs Asia and the Beijing-based Gaohua Securities Company said in a report Wednesday. "The figure is above our previous forecast of 7.0 percent year on year," said Song Yu, one author of the report and Goldman Sachs Asia's economist on China's macro-economy. According to the report, economic performance of China in June will show robust improvements, with the industrial output expected to rise about 10 percent in June from 8.9 percent in May. Fixed asset investment in June is forecast to grow 42 percent year on year, up from 38.7 percent in May. Exports is expected to decline 22 percent in June from a year earlier, smaller from a 26.4 percent dip in May, while imports may post a eased drop at 18.0 percent from a 25.2 percent fall in May. The consumer price index is expected to fall 1.5 percent in June from a year ago, compared with a 1.4 percent drop in May. Producer price index would decline 7.6 percent year on year, compared with a slide of 7.2 percent in May. Zhou Xiaochun, governor of the country's central bank, said in late June that the second quarter is expected to be better than the first, when the gross domestic product grew 6.1 percent. The National Bureau of Statistics said in June that China's GDP will grow close to eight percent in the second quarter. China is due to release its second-quarter GDP data in mid-July.
July 9, 2009

Hong Kong: Chief Executive Donald Tsang Yam- kuen will personally lead the war on drugs, describing it as a "tough enemy." Scores of Hong Kong youngsters have been arrested for drug abuse in Shenzhen in recent months. "The enemy we are facing is tough, but I don't know how tough it is. We will step up to fight against it anyway," Tsang said. "The problem is more severe than I imagined. I will lead the administration to fight the battle." The administration will escalate its anti-drug campaign and provide necessary resources. According to government sources, the Beat Drugs Fund has HK$23 million to subsidize 68 anti-drug activities. Secondary schools in Tai Po will be invited to join the pilot scheme for school-based drug testing. Meanwhile, voluntary drug testing services at the community level will be launched as soon as possible, and the government will study the introduction of hair-testing facilities. Community service, rehabilitation, and collaboration with the Shenzhen government will also be enhanced. Tsang said the crackdown on the drug problem was one of the issues that he discussed with Shenzhen acting mayor Wang Rong whom he met earlier in Hong Kong. Commenting on the 300 youngsters who were arrested in Shenzhen for drug abuse at the weekend, Tsang said the Shenzhen government has been helping them to recover. Meanwhile, the administration will also liaise with their parents to help the youngsters. A government source said he realized the difficulty for the youths in returning to Hong Kong, but hoped Shenzhen authorities will provide information on those arrested so that Hong Kong can follow up the cases. Four large-scale talks for teachers will be held during the summer, with experts to be commissioned to train them to identify students with drug problems at an earlier stage. The pilot testing was welcomed by the Tai Po Association of Secondary School Heads, which believed the scheme would deter teenagers from drug abuse, but it hoped the administration will provide more resources. Action Committee Against Narcotics chairman Daniel Shek Tan-lei expressed concern the drug abuse problem will worsen during the summer vacation. Shek said the government should make clear who should be responsible to carry out the drug tests, and what should be done with students who are found to have abused drugs.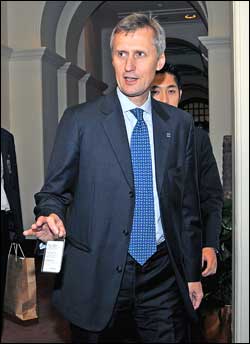 The Securities and Futures Commission will include a revision of the commission system in consultations later this year on the code of conduct for bank staff who sell investment products. "Any revision of the current system would be a complicated issue but a revision of the payment method certainly would be part of the consultation," SFC chief executive Martin Wheatley told lawmakers yesterday. There might be a conflict of interest when bank staff sell investment products to clients and receive commission at the same time, Wheatley said. Appearing at the Legislative Council for the fourth time in connection with the Lehman minibond controversy, he admitted the regulator is now working toward settlement with some banks. The government has urged the SFC to speed up the process. "The financial secretary has [shown his] concern about the issue taking too long and asked [us] to do whatever we can to expedite the process," Wheatley said. "But the lengthy process we now have with banks is not in investigation but in settlement. We do not have power over banks, therefore the settlement process is slow." He said the regulator prefers banks to settle rather than take other means to resolve the issue. But SFC acceptance of any settlement proposal would depend on three conditions - minimum loss to clients, punitive action and measures to prevent a repeat. Wheatley would not comment on recent reports that banks have proposed to pay an average of 60 percent to 70 percent of the principal invested to Lehman minibond investors, saying he would not negotiate through the media. He wondered whether some parties are intentionally leaking details of talks in order to put pressure on the SFC. The regulator would not use the 100 percent payback model as the only means of settlement, he clarified, nor accept an offer to repay less than 60 percent of the principal invested. Wheatley declined to disclose the investigation process involving 19 banks, saying any comment at this stage would not be fair. The SFC executive director of corporate finance division Brian Ho will attend the Legco hearing next Friday.
Chief Executive Donald Tsang tells lawmakers it is "not constructive" to demand universal suffrage in 2012. The government had no plan to recycle the reform proposals for the 2007-08 elections - put forward in 2005 - for the elections in 2012, Chief Executive Donald Tsang Yam-kuen said yesterday. He rejected the pan-democrats' call for legislators to visit Beijing to discuss the introduction of universal suffrage with officials, saying it was not constructive to insist on full democracy in 2012. Mr Tsang opened his address at yesterday's Legislative Council question-and-answer session with his first comments on the July 1 march. "We have analysed different demands raised by members of the public, which can be divided into two major categories," he said. "The first category comprised concrete calls, regarding policies ranging from universal suffrage, the Lehman Brothers minibonds saga, and unemployment to the minimum wage." Mr Tsang said the second category covered the core values of civil society - human rights, the rule of law, liberty and democracy. The government would listen carefully to the protesters' opinions, he said. Asked whether the blueprint for the election of chief executive and Legco in 2012 would be modelled on the 2005 package, Mr Tsang said the administration did not have a preconceived position and hoped to make the arrangements more democratic than they were now. "We have no established principle to recycle the 2005 package, which you did not accept," he told Democratic Party legislator James To Kun-sun, who raised the question. Under the reform package of 2005, all 529 district councillors - 102 of whom are government appointees - would be included on the Election Committee that would then select the chief executive. The 2005 package, which lawmakers rejected, also proposed adding 10 new Legco seats - five directly elected from geographical constituencies and five that would be returned by the district council functional constituencies. Mr Tsang said he would not try to persuade Beijing to overturn its rejection of universal suffrage for Hong Kong in 2012 as it was not in line with the decision by the National People's Congress Standing Committee in December 2007. "It is not constructive to insist on universal suffrage in 2012," he said. Unionist legislator Lee Cheuk-yan criticised Mr Tsang for forcing Hongkongers to endure an endless wait for full democracy after he said "democratic development requires the efforts of many generations". Mr Tsang said the community should concentrate on working out a proposal for the 2012 elections that would pave the way for the direct election of the chief executive in 2017 and of Legco in 2020, in accordance with the Standing Committee's timetable. Pan-democratic lawmakers later criticised Mr Tsang for failing to reflect Hongkongers' wishes to Beijing. They were not optimistic that the next reform package proposed by Mr Tsang would be more democratic than that of 2005. "It is clear that the chief executive has declined to fight for a timetable in 2012," Mr Lee said. "Electoral reform proposals for 2012 will surely be conservative and we cannot expect to see a more democratic package."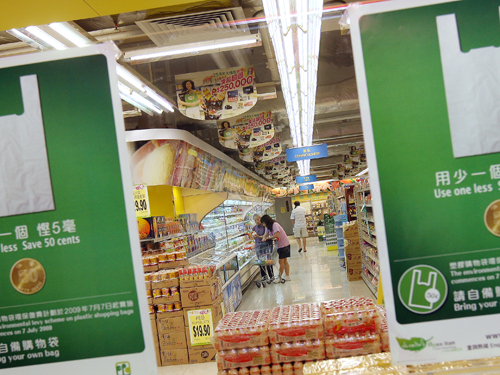 Notices about the 50-cent levy are displayed at CR Vanguard supermarket in Shau Kei Wan yesterday, the first day of the implementation. The battle to cut plastic bag waste got off to an encouraging start yesterday, with 70 per cent of shoppers bringing their own bags, retailers estimated. But retailers also reported a drop in both the volume of sales and the number of shoppers, although they would have to wait for the figures. The percentage of shoppers that retailers said brought bags varied widely. Department stores reported a rate of 90 per cent, followed by supermarket chains at 80 per cent. Convenience stores and a toy retailer reported just 40 and 15 per cent. The Retail Management Association said few people had refused to pay the levy, with only two cases reported so far. However, in 16 instances, retailers were troubled that shoppers either decided to buy less when they got to the cashier or to buy nothing at all. "The retailers observed that the shoppers bought less, and this is understandable as some might have cut down on their purchases to fit fewer bags," Caroline Mak Sui-king, chairwoman of the association, said. It was difficult to gauge the true impact on business so far, but the experience in Taiwan after it introduced a fee for bags suggested sales volume could drop by up to 10 per cent, Ms Mak said. "As only a small number of retailers are required to pay the levy in Hong Kong, it is hard to tell if the impact here will be greater than Taiwan, where all retailers have to collect the levy," she said. The law requires customers to be charged the levy by any retailer that operates at least five stores, or a single outlet larger than 2,000 sq ft, simultaneously selling items from a list including food, personal care and medicine or first-aid goods. Sales might be affected by the fact that some registered outlets are beside non-registered ones, prompting shoppers to shop there instead. Over a period of 30 minutes at Wellcome's Hung Hom branch, just 4 per cent of shoppers asked for a bag. Its rival Ka Bo, which is not required to collect the levy, gave free plastic bags to up to 68 per cent of its customers. Some shoppers admitted the free bags had influenced where they shopped. When they did not bring a shopping bag, stores not registered would be their top pick. Apart from the impact on sales, the association also said the elderly, foreign domestic workers and tourists were the least aware of the levy. It suggested stepping up publicity at the airport and train stations, and targeting maids. It also raised concerns over hygiene if people reused plastic bags or put both fresh and cooked products in the same bag. There were also reports that some shoppers were asking for bigger bags. Some convenience store operators said some shoppers were unhappy no free bags were offered for breakfast or newspapers. After inspecting shops yesterday, Environment Secretary Edward Yau Tang-wah said the levy had started smoothly, with few people asking for bags. "All over the world in places where the plastic bag levy is introduced, there has been significant reduction in plastic bag abuse. But whether the abuse will be stopped will largely depend on how consumers change their behaviour." Friends of the Earth also applauded the initial success, saying it showed that rather than being incapable of cutting use of plastic bags, people had been unwilling to do so.
Chief Executive Donald Tsang Yam-kuen yesterday hit back at critics of his policies to reduce greenhouse gas, saying Hong Kong was doing much better than Britain, for example.
A Hong Kong economic and trade office would soon be set up in Taiwan, the chief executive said yesterday. However, Donald Tsang Yam-kuen said an official visit by him to Taiwan this year was unlikely as it would be difficult to arrange, adding that it would have to match an "appropriate occasion". Late last month, Mr Tsang declined an invitation from Taipei mayor Hau Lung-bin to visit the city in September, but said he still hoped to visit Taiwan before his term ended in 2012. He said the establishment of an economic and trade office in Taiwan would function in the same way as the city's offices in Chengdu, Shanghai and Beijing. Asked by a lawmaker when he would make an official visit to Taiwan to foster ties between the city and the island, Mr Tsang said it would be difficult to do so in coming months. "I am willing to do so ... but it will be difficult for this year, as I need several months to prepare for the policy address," he said. During his official visit to Hong Kong, Mr Hau said he wanted Mr Tsang to attend the opening ceremony of the Deaflympics, a sports tournament for the hearing-impaired, which Taipei is hosting in September. Mr Tsang promised at the time to send government officials to the event.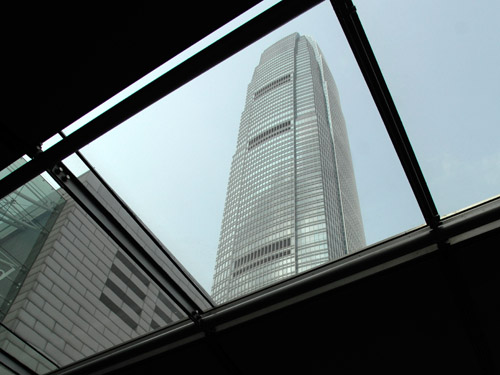 Standard Chartered Bank has taken up 38,000 square feet of space at Two International Finance Centre (Two IFC) in Central to consolidate its enlarged global markets team in a single office after its takeover of Cazenove Asia. More than 400 staff will move into the new offices, including about 100 former Cazenove employees who at present occupy an office floor at Exchange Square in Central. The bank declined to say what would become of the Exchange Square premises. "The relocation allows us to put the global markets team on to the same floor for better communication and thus increased efficiency," a spokeswoman said. Sundeep Bhandari, the managing director and regional head of Northeast Asia for global markets at the bank, told Bloomberg the staff would move into Sun Hung Kai Properties (SEHK: 0016)' Two IFC by September or October. Property agents said the bank leased the space on the 11th and 12th floors of the building. The space was previously occupied by Ernst & Young, which halved its space at Two IFC and moved some departments to offices in Taikoo Shing. The average rents for a whole office floor at Two IFC had fallen to below HK$100 per square foot from about HK$160 per square foot a year ago, agents said. According to property consultant DTZ, average office rent in Central dropped 22 per cent to HK$82 per square foot by the end of last month from HK$105 per square foot in early January. The vacancy rate increased to 4.1 per cent from 2.1 per cent during the same period. "We have seen some companies take advantage of the low office rents to move into Central in recent months," said David Ji Yanxun, the head of research at DTZ in North Asia. Samsung Securities is one of the companies that have taken up space in Central recently. The firm leased a floor with a total floor area of 11,700 sq ft in Three Exchange Square, according to a report by Jones Lang LaSalle. The floor was previously leased by Morgan Stanley, which has moved into International Commerce Centre at Kowloon Station. Matsunichi also reached an agreement to expand in-house by adding one floor with a lettable floor area of 23,600 sq ft in Two IFC. However, Marcos Chan, the head of research at Jones Lang LaSalle for the Greater Pearl River Delta, said quality cost-effective space in decentralised areas continued to draw tenants' interest. Central's office leasing market had improved in the second quarter, while negative take-up of office space in Central had decreased in the second quarter compared with the first quarter, Mr Ji said. "The fall in office rents slowed down in the second quarter. But it is too early to predict if the office rents will bottom out in the short term or not, as foreign companies haven't returned to the office market yet, and they are the major sources of demand," he added. He expected office rents to fall moderately in the second half. Alan Lok Ying-ming, a senior director of office services at CB Richard Ellis, said he expected office rents in Central to fall a further five to 10 per cent in the second half.

China: Chinese President Hu Jintao cut short his stay in Italy after concluding a state visit to the country and left for home early Wednesday due to the situation in northwest China's Xinjiang Uygur Autonomous Region. State Councilor Dai Bingguo will attend the summit of the Group of Eight and major developing countries later this week in the central Italian city of L'Aquila on Hu's behalf. The date for Hu's state visit to Portugal will be fixed by the Chinese and Portuguese sides some time later. Hu arrived in Rome on Sunday for a state visit at the invitation of Italian President Giorgio Napolitano. He was originally scheduled to attend the summit of the Group of Eight and major developing countries and pay a state visit to Portugal. During the visit, Hu held talks with Napolitano, and met with Italian Prime Minister Silvio Berlusconi and parliament leaders on bilateral relations. At least 156 people were killed during a riot Sunday evening in Urumqi, capital city of Xinjiang. More than 1,000 others were injured. Police in Xinjiang have said they have evidence that the separatist World Uyghur Congress led by Rebiya Kadeer masterminded the riot.
China Telecom Corp (SEHK: 0728) has slashed its mobile-telephone internet fee by up to 75 per cent to lure users to its third-generation service, according to the company's Beijing subsidiary. The company said it cut the standard monthly internet usage fee to 0.5 fen (0.57 HK cent) per kilobyte from 2 fen per kilobyte. It has also offered a new tariff plan for low-spending users, charging 50 fen a day for 3 megabytes of internet traffic. "China Telecom needs to add 3 million users per month for the remainder of the year to meet the target of adding 30 million users this year," said Credit Suisse analyst Jeffrey Tan. "But the company has only 270,000 3G handsets, which is short of an earlier target of 20 million available for sale." China Telecom started offering more free internet usage in all its 3G plans this week than current 2G plans in an effort to push subscriptions to the new service. The 49 yuan 3G monthly plan includes 100 megabytes of internet usage, compared with 20 megabytes for the comparable 2G plan. The 189 yuan 3G plan comes with 200 megabytes as against 50 megabytes in the 2G plan. China Telecom recently announced it would procure 3.6 million 3G mobile phones that cost less than 1,000 yuan each, paving the way to expand to the mass market. Nomura International quoted China Telecom's management as saying that 300 different handset models would be available in the next few months. "Aided by the upcoming handset model launches, we expect to see monthly net additions rising to 3 million in the coming few months," Nomura analyst Danny Chu wrote.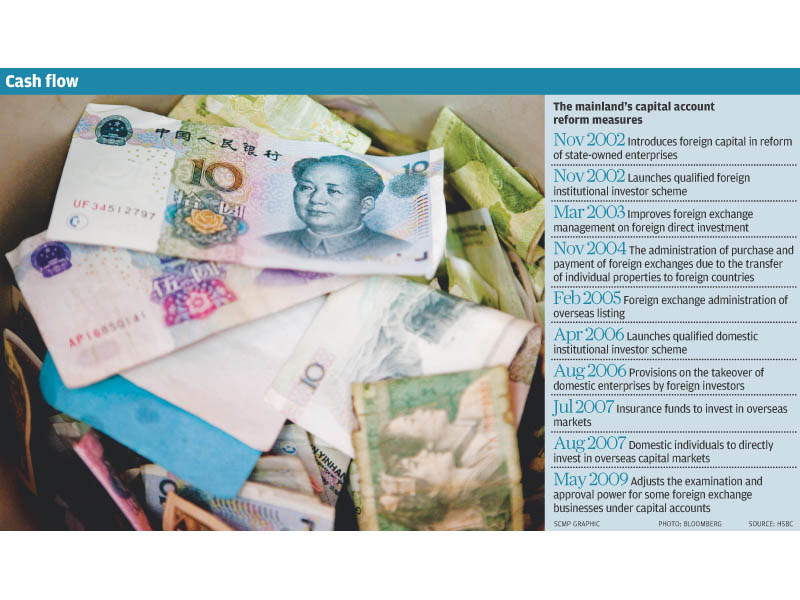 Cross-border yuan trade settlement could result in almost US$2 trillion of the country's annual trade being conducted in the mainland currency within three years, HSBC (SEHK: 0005) says. The bank said that would equate to up to half of the mainland's total trade and make the yuan, currently not freely convertible, into one of the world's top three currencies. As part of a pilot scheme, Beijing from this week allowed designated mainland firms to settle export and import contracts with companies in Hong Kong, Macau and members of the Association of Southeast Asian Nations in yuan rather than in foreign currencies such as the US dollar. The scheme is part of a long-term ambition to make the yuan an international currency and reduce the country's reliance on the dollar. "The pace of [internationalisation of the yuan] is likely to be faster than many expect," said Qu Hongbin, an economist at HSBC. Mr Qu said the mainland authorities had introduced a series of measures, including tax breaks, trade finance and currency swap deals, with other central banks to encourage wider use of the yuan. He expected exporters and importers would benefit from lower costs and exchange rate risks under the yuan trade settlement scheme. Historically, the international acceptance of a nation's currency goes hand in hand with its economic power. China's gross domestic product is set to reach US$4.7 trillion this year and it may overtake Japan as the world's second-largest economy next year. Mr Qu said greater uncertainty about the dollar's future following the global financial crisis was likely to lead to greater use of the yuan. "This could potentially lead to nearly US$2 trillion worth of annual trade flows, or 40 per cent to 50 per cent of the mainland's total trade, to be settled in yuan each year by 2012." He estimated that over 70 per cent of the mainland's US$2.6 trillion trade flows last year were settled in the greenback. He expected yuan trade settlement over the next three to five years could be extended to cover all mainland trade with Asia excluding Japan and other emerging markets making up nearly 50 per cent of the mainland's total trade. Billy Mak Sui-choi, an associate professor at Hong Kong Baptist University, said HSBC's estimate was "too optimistic" unless more yuan lending overseas was allowed. Mr Mak agreed that yuan trade settlements, which allowed overseas banks to provide trade finance, a form of lending, for the first time was a breakthrough and could help the internationalization of the currency over the long term. However, the scope of lending was still limited and only 400 companies at this stage were qualified to settle trade in yuan. That indicated Beijing was very cautious and did not want to see a surge in international use of the yuan, which could induce unnecessary volatility. Daniel Chan Po-ming, a senior investment strategist at DBS Bank, said there would be increasing acceptance of the yuan in the light of the country's strong economy. Meanwhile, banks are on the hunt to attract more yuan deposits by offering higher interest rates for customers after the launch of the cross-border yuan trade settlement. Standard Chartered said it would offer cash rewards for personal and small enterprise clients if they put at least 20,000 yuan (HK$22,686) in their deposit accounts, lifting the savings rate to an annualized 1.5 per cent from 0.45 per cent.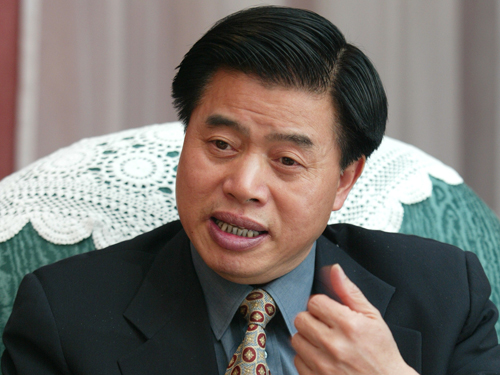 Governor Huang Huahua says the scheme brings closer cross-border trade ties and allow firms to expand business amid the recession. At least 12 cross-border trades were carried out in yuan yesterday between companies in Hong Kong and Guangdong under the central government's new scheme to encourage a wider adoption of its currency. The transactions were all in the form of trade remittances, involving a total of 7.72 million yuan (HK$8.76 million), according to the Guangzhou branch of the People's Bank of China. Industrial and Commercial Bank of China (SEHK: 1398), Agricultural Bank of China, Bank of China, China Construction Bank (SEHK: 0939) Corp, Bank of Communications (SEHK: 3328)' Guangdong branch and China Citic Bank (SEHK: 0998) 's Guangzhou branch acted for their clients in Guangdong. The transactions came one day after the launch of the pilot scheme on Monday for Hong Kong and Shanghai companies. Under the scheme, 300 firms in Guangdong are allowed to use yuan to settle their trades. The firms operate from Guangzhou, Shenzhen, Dongguan and Zhuhai. Guangdong governor Huang Huahua described the scheme as "a significant move" towards closer trade ties with Hong Kong. He said by reducing currency risk, enterprises would be able to expand their trades to soften the impact of the global economic recession. Li Simin, the deputy governor of the central bank's Guangzhou branch, said only firms endorsed by the provincial government could join to ensure deals were genuine. She said the scale would not be substantial at the start as only a small number of firms were qualified. "We are providing an alternative for enterprises to settle their cross-border trades; it is their decision on whether they will use it. Also it is a pilot scheme, only a few hundred enterprises are allowed to do so," Ms Li said. She remained cautious on the timetable for the scheme's expansion. The central bank was closely monitoring the transactions and would make revisions if needed, she added. "It all depends on the experience we gain from here. It is too early to say when it will include more companies," she said. Cao Licong, a vice-president of Bank of China's Guangdong branch, was upbeat on the prospect of cross-border yuan trade settlement. But he declined to estimate the proportion of yuan-denominated trades in his bank's business. The People's Bank of China issued detailed rules last week to allow qualified firms in Shanghai and four Guangdong cities to settle trade in yuan with Hong Kong and Macau. The arrangement also allows Hong Kong banks to provide trade finance for the first time.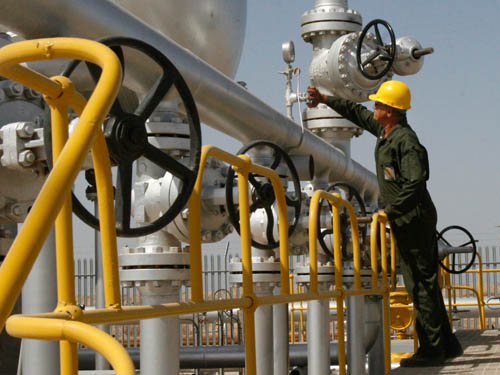 About US$30 billion of the investment Iran seeks will be for seven new refineries in the country's west. Iran is inviting China to get involved in deals in several huge oil projects worth more than US$42.8 billion, as the Islamic nation seeks to boost its crude refining capacity. The projects touted by Tehran comprise upgrades and expansions of refineries, construction of seven new ones and building a 1,640-kilometre oil pipeline from Neka on the Caspian Sea in the north to Jask on the Gulf of Oman in the south. The bulk of the investment - US$30 billion - being sought by the National Iranian Oil Refining & Distribution was for the seven new refineries in the west of the country, the Ministry of Petroleum of Iran told an investment promotion event in Beijing yesterday. "We are definitely going to get contacts with Chinese oil companies from today's event," said Shahnazi Zadeh, the deputy petroleum minister and president of National Iranian Oil. "They will come to Iran to get in touch with us and invest in the oil refining sector, and we are also ready to invest in China by building new refineries here." The Iranian government is offering sweeteners to attract investment for its projects, such as a 5 per cent discount on the price of crude fed to the refineries, an eight-year tax exemption, and free and unlimited transfer by foreign investors of their profits from the projects. The most attractive component is that foreign investors will be entitled to raise their equity holding by up to 80 per cent in all the new refinery projects and even higher for existing refineries that will be privatised. China is actively hitting the international market for commodities such as copper, iron ore and oil to feed the country's roaring economic growth and better preserve the value of its US$2 trillion foreign exchange reserves against the volatility of major world currencies. Last week, China National Petroleum Corp (CNPC (SEHK: 0135)), the mainland's biggest oil company, won a bid with BP to help boost the output in Iraq's largest oilfield. That deal came after Sinopec Corp (SEHK: 0386)'s US$7.2 billion successful bid last month for Addax Petroleum Corp, which has oil assets in Africa and Iraq. Over the past few days, CNPC has been said to be seeking to buy a majority interest in the Argentine unit of Spanish energy giant Repsol-YPF for US$17 billion. China National Offshore Oil Corp, the mainland's largest offshore oil company, was also reported to be interested in acquiring a 25 per cent stake in YPF. Through its projects, Iran hopes to boost its petrol production capacity to 190 million litres per day by 2012 from 44 million. Iran's oil industry is expected to need US$136.26 billion of investment between now and 2026, its gas industry US$236.84 billion, and its petrochemical industry US$50 billion. But not all potential investors were convinced yesterday. "The projects look impressive, but we need time to consider new policies and watch the trend of the political environment in the country before making any decision," said Gao Yang, a project manager at the foreign co-operation office of Sinopec. Last month's disputed presidential election in Iran triggered political turmoil that has not yet completely settled down.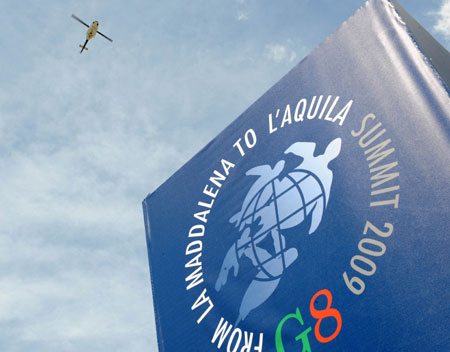 A helicopter is seen flying above the makeshift media village for 2009 G8 summit in L'Aquila, Italy, July 7, 2009. Media personnel from across the world began to swarm into the media village in L'Aquila, the quake-stricken capital of central Italy's Abruzzo region where 2009 G8 summit and other related international meetings will be held from July 8 to 10.
July 8, 2009

Hong Kong: Chinese Yuan trade deals take off - Banks yesterday kicked off a long- awaited scheme allowing firms to settle trading transactions with the yuan - a major step to Hong Kong becoming the Chinese currency's offshore center. At least 16 pairs of enterprises settled cross-border transactions in yuan yesterday. Bank of Communications (3328) was the leading institution, processing eight of the deals. Bank of China (Hong Kong) (2388) was the second most active institution with seven deals, while HSBC (0005) and Industrial and Commercial Bank of China (Asia) (0349) also began cross- border yuan-denominated trade settlement services. Fang Xinghai, director general of the Shanghai municipal government's financial services office, said three firms in the city - Shanghai Electric, Shanghai Silk and Shanghai Huanyu Import & Export - signed contracts worth 14 million yuan (HK$15.87 million) with customers in Hong Kong and Indonesia. "I do not expect the volume of yuan trade settlements to be strong at the initial stage as only 400 mainland corporate customers are under the pilot program," said Stephen Chan Man, deputy general manager of corporate banking and financial institutions at BOCHK. Sources said BoCom's eight deals included six in Shanghai and two in Shenzhen. ICBC (Asia) said it completed one deal. Ten companies have signed a clearing and settlement agreement with the BOCHK, which is the sole clearing bank in Hong Kong for yuan trades. Trade between Hong Kong and the mainland surged from HK$1.53 trillion in 2003 to HK$2.78 trillion in 2008, with average annual growth of 12.7 percent, Chan said, quoting data from the Census and Statistics Department. The Hong Kong Monetary Authority yesterday issued a circular to banks participating in the program reminding them to employ internal and risk controls. Meanwhile, Bank of China (3988) president Li Lihui said Hong Kong is ready to become an offshore yuan center, Bloomberg reported. And Wong Kai-man, a member of the Hong Kong Ideas Centre's yuan study group and non-executive director of the Securities and Futures Commission, suggested the mainland increase the number of pilot cities and enterprises with which Hong Kong companies can do yuan business.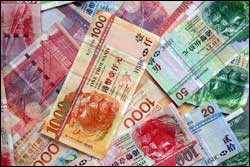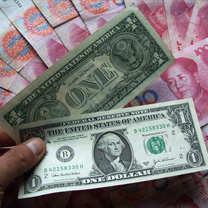 Hong Kong's official foreign currency reserve assets rose to 207 billion U.S. dollars in June, up 1.9 billion on May, the Monetary Authority of Hong Kong said Tuesday. Including unsettled forward contracts, foreign currency reserve assets stood at 208.2 billion U.S. dollars, up 3.1 billion on May, said the authority. Hong Kong is the world's seventh largest holder of foreign currency reserves based on the latest published figures, after the Chinese mainland, Japan, Russia, Taiwan, India and South Korea. The total foreign currency reserve assets of 207 billion U.S. dollars represent over eight times the currency in circulation, or47 percent of Hong Kong dollar M3.
Hong Kong consumers on Tuesday began paying a 50-cent levy on plastic bags at supermarkets for the first time. Under the government new scheme, people pay 50 cents per plastic bag or have the option of bringing their own bags. The scheme aims to help the environment as plastic bags are often considered harmful to the environment as they are non-biodegradable. However, the scheme is unpopular with some consumers who feel it makes shopping even dearer. Environment Secretary Edward Yau Tang-wah defended the levy scheme, saying that it "provides a direct economic incentive to discourage the indiscriminate use of plastic shopping bags". "More and more people in Hong Kong now bring their own shopping bags and use fewer plastic shopping bags as they know more about the importance of the environment to the future of Hong Kong," Mr Yau said. Over 50 registered retailers - such as large supermarkets, convenience stores, and personal health and beauty product stores - began charging for plastic bags on Tuesday. Some retailers reported a considerable drop in the number of plastic bags issued. A cashier of Wellcome supermarket at Quarry Bay told SCMP.com that many customers either brought their own shopping bags or carried goods with their hands. "I only gave out only 18 plastic bags to customers on Tuesday morning. I used to give out about a 100 or so during this time," said the cashier, who did not want to be named. "Years ago before all the talk about a plastic bag levy, I would have given out more than 200 bags during the same period," she added. Another cashier at Circle K in Quarry Bay said the shop provided considerably fewer bags on Tuesday. "Normally newspapers are pre-bagged, but, on Tuesday, few, if any people, asked us to give them a bag when buying newspapers," said the woman, who also preferred not to give her name. Another woman, surnamed Li, said she knew from television the levy would be imposed on Tuesday. Therefore, Ms Li said she brought some plastic bags with her before going to the supermarket. Another customer, surnamed Lai, and aged 20, said she had taken a bag of her own so she did not have to pay for plastic ones. "I support the idea of preserving the environment, but it is quite inconvenient because you may not have so many plastic bags with you when you go out," Ms Lai explained. Details about the levy can be found at www.epd.gov.hk, or by calling: 3187 0333.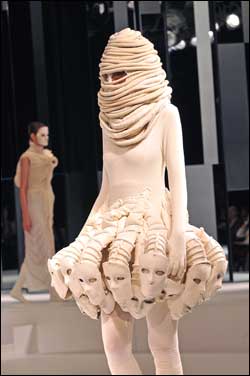 Exporters move to fashion fresh trade in new markets - The Trade Development Council hopes emerging economies can make up for export drops in mature markets hard hit by the financial crisis. One area of concern is Hong Kong's fashion and textile industry where exports slumped 12.9 percent worldwide to HK$65.8 billion during the first five months of the year. Shipments to the United States fell 14.4 percent to HK$21.7 billion, according to TDC figures. Exports to the European Union slid 9.6 percent to HK$24.7 billion - shipments to Spain recording the biggest drop in the trade zone, 20 percent to HK$1.2 billion. "Hong Kong still depends on the mature [Western] markets with 60 percent of exports going to them, but they are having their own difficulties. Consumers are not confident, they are not spending," TDC assistant executive director Raymond Yip Chak-yan said. Speaking at the launch of Spring Summer Fashion Week at the Hong Kong Convention and Exhibition Centre yesterday, Yip went on. "Fortunately we are also diversifying into emerging markets and are seeing good growth in markets such as Brazil, Eastern Europe and the Middle East." He said exports to Poland jumped 22.5 percent to HK$227 million, while Saudi Arabia was up by 13.2 percent since January to HK$242 million. The council is also subsidizing airfares and accommodation for 3,300 Buyer Sponsorship Scheme visitors, 80 percent of whom are from emerging markets. Yip said Hong Kong is poised to take advantage of the mainland's encouragement of domestic consumption and imports, while lawmaker Vincent Fang Kang said benefits will come from the central government's stimulus package and tax-free exports through the Closer Economic Partnership Arrangement.
A pilots' union has lost a legal challenge against a Civil Aviation Department decision to let Cathay Pacific operate a flight with two instead of three pilots on board.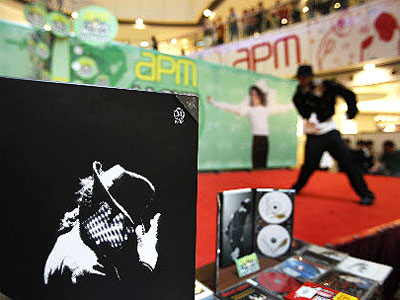 Michael Jackson fans around in Asia said on Tuesday they would join in mourning the pop legend in solidarity with the thousands attending the official memorial in Los Angeles. From Tokyo to Melbourne, Asian fans braced for a late night to watch the event, where entertainers like Stevie Wonder, Mariah Carey, Usher and Lionel Richie were due to pay tribute to Jackson, who died June 25. In Hong Kong, a shopping mall will tune its TV screens to the event at 1am as part of a celebration featuring performances of Jackson's signature "moonwalk" and a nonstop broadcast of his videos. At another mall, Taiwanese newcomer Judy Chou was to perform Jackson classics as fans lay flowers at a wax statue of the singer on loan from the local Madame Tussauds museum. Among those staying up will be singer Aaron Kwok, considered Cantopop's most accomplished dancer. "Michael is my only idol," Kwok said on Tuesday. "MJ inspired me so much from the time I first joined the entertainment industry to when I first performed on stage." In Australia, the memorial will be broadcast live on a giant screen in the southern city of Melbourne at 3am local time. Several Australian TV stations will also carry the event live. In Kuala Lumpur, Malaysia, 34-year-old actor and magician Henzi Andalas said he wants to watch the memorial as closure. "It gives a sense of OK, now he's no longer here," he said. "He's one of my biggest influences in becoming an artist." In the Philippines, the country's longest running noontime television variety show, "Eat Bulaga," will hold a Michael Jackson dancing contest on Wednesday in honour of the pop icon after the Los Angeles memorial, organisers said. Even in the reclusive, military-controlled Myanmar, a dance group held a memorial service for Jackson as nearly 200 fans held a candlelight vigil in a Yangon park last week, the local Weekly Eleven News journal reported. "Michael Jackson is my teacher. I learned dancing by watching Michael Jackson's movements. I am profoundly saddened by his death," said dancer Min Min Htun, who arranged the service during his regular show at the Happy World Entertainment park.
Some 41 new human swine flu cases in Hong Kong were confirmed in the last 24 hours – bringing the total number of cases in the territory to over 1,000, the Department of Health said on Tuesday.
Hong Kong has climbed to the fifth world's most expensive city, and ranked third among Asian cities, for expatriates, according to a global survey released on Tuesday by consultants Mercer.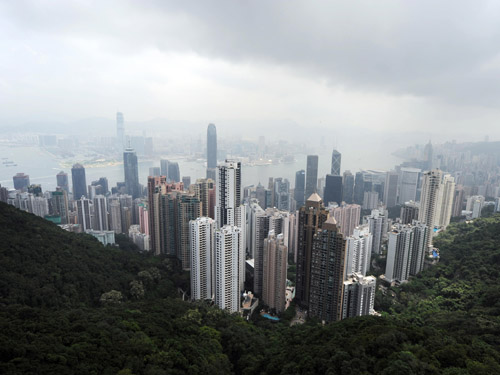 With near record-low mortgage and savings rates helping fuel a rebound, home prices have surged 19.31 per cent since September last year. Average home prices in major housing estates in Hong Kong have rebounded to the level seen before the collapse of Lehman Brothers in September last year, according to an industry measure. The Mass Centa-City Leading Index, which tracks secondary transactions of less than HK$10 million in major mass housing estates, reached 65.49 on June 21. That was higher than the 65.44 on September 14, 2008, the day before Lehman's collapsed, data compiled by Centaline Property Agency shows. Analysts attributed the quick rebound in prices and deals to the sharp price decline of 16.12 per cent in the fourth quarter of last year. With almost record-low mortgage and savings rates helping fuel a rebound, prices in the surveyed housing estates had surged 19.31 per cent from last year. Seven of the 10 blue-chip housing estates monitored by Centaline have already erased last year's price decline. Taikoo Shing topped the chart with its average home prices now 8.8 per cent higher than September, followed by City One Shatin and Mei Foo Sun Chuen, which registered 7.7 per cent and 7.1 per cent growth, respectively. Kornhill on Island East, Laguna City and Sceneway Garden at Lam Tin and Whampoa Garden are 1.8 per cent to 6.6 per cent above the level seen in September last year. However, Kingswood Villa in Tin Shui Wai, Heng Fa Chuen and South Horizons have yet to recover, trading at 0.4 to 4.2 per cent below the mid-September level. "With low mortgage costs, savings rates and ample hot money flowing into Hong Kong, the market outlook is positive and we believe prices will continue to rise steadily," said Wong Leung-sing, an associate director at Centaline. However, other analysts hold a more cautious view. They believe a correction will occur in the short term because the rebound had been too fast and too much and the economy has yet to recover.

China: The Asian Development Bank is helping to finance a pioneering private-sector wind farm in Inner Mongolia, officials said on Tuesday. The Manila-based ADB is lending about US$24 million towards the overall cost of US$73 million for the facility, the country's first wind farm to be built as a joint venture between mainland and Japanese companies. "The lack of finance on reasonable terms has held back the development of clean energy projects in [China]," ADB investment specialist Hisaka Kimura said in a statement. "This project could become a model for future collaborations between state-owned enterprises and foreign investors in renewable energy projects, and may encourage [mainland's] private sector to invest in wind power projects." The 12sqkm wind farm in Inner Mongolia will produce about 133 gigawatt-hours of electricity a year, and will cut the country's carbon dioxide emissions by 140,000 tonnes annually, the statement said. The development at Chifeng City is a joint venture between the state-owned China Datang Corp. and three Japanese firms -- Kyushu Electric Power, Sumitomo and Sumitomo Holdings.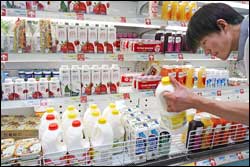 China Mengniu Dairy (2319) said yesterday it will get a HK$3.06 billion cash infusion from selling shares to COFCO and Hopu Investment Management. The dairy faces fierce competition as it tries to recover from its first full-year loss since going public. A consortium of COFCO - the mainland's giant state-owned food import- export company - and Hopu will spend HK$6.12 billion buying new and existing shares of Mengniu. The consortium will become Mengniu's largest shareholder, with a 20.03 percent stake. Hopu, the Beijing-based domestic private equity fund, will contribute HK$1.84 billion of the investment. "They actually need money urgently," UBS analyst Chen Lei said. "They need money to push up sales." Mengniu said it will issue 173.8 million new shares at HK$17.60 apiece to a special- purpose vehicle, which will be 70 percent owned by COFCO and 30 percent by Hopu. The vehicle will also buy a combined 173.8 million existing shares from Jinniu Milk Industry and Yinniu Milk Industry, which are controlled by Mengniu founder Niu Gensheng and his top lieutenants, and a charity owned by the Inner Mongolia government. The placement price represents a 7.85 percent discount to Mengniu's Friday closing price. Mengniu said the partnership with COFCO could create operational synergies in the long run and could help the company enhance its food safety standards. The deal will be the largest in the mainland consumer sector so far this year, beating Asahi's US$667.82 million (HK$5.2 billion) investment in Tsingtao Brewery (0168), according to Dealogic. Niu and related parties will see their stake reduced to 15.18 percent, from 22.07 percent. Mengniu's total debt burden probably rose to more than 2 billion yuan (HK$2.27 billion) by the end of June, UOB Kay Hian analyst Jason Yuan estimated.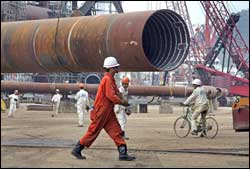 China oil producer CNOOC (0883) said yesterday the first commercial cargo of liquefied natural gas has left the Tangguh LNG project in Indonesia for South Korea. CNOOC has a 13.9 percent stake in the US$5 billion (HK$39 billion) project which started production last month. "The successful startup of Tangguh is a remarkable achievement for a world- scale project," said Yang Hua, president of China National Offshore Oil Corp "We are glad to see that the project has started to contribute to the company's business." Tangguh is operated by BP Indonesia which has a 37 percent share. The other partners are MI Berau with a 16 percent stake, Nippon Oil Exploration (Berau) (12 percent), KG Berau/ KG Wiriagar (10 percent), LNG Japan Corporation (7 percent) and Talisman (3 percent). Tangguh is Indonesia's third-largest LNG center. It comprises six gas fields within three areas - Berau, Muturi and Wiriagar in Papua Berat. The production facilities in phase one of Tangguh include two platforms and one LNG plant. Separately, CNOOC is proceeding with two coal-to-natural-gas projects in China, chairman Fu Chengyu said. He said last week the two projects would have a total annual output capacity of 10 billion cubic meters of gas within five years. CNOOC shares fell 2.2 percent to HK$9.17 yesterday.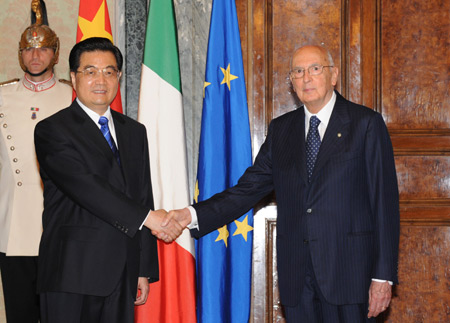 Chinese President Hu Jintao (L) shakes hands with Italian President Giorgio Napolitano prior to their talks in Rome, capital of Italy. Chinese President Hu Jintao held talks with Italian President Giorgio Napolitano on Monday, calling for a boost to ties between the two countries. During the talks, Hu said Chinese-Italian relations have witnessed healthy and stable expansion over the past 39 years since the two countries established diplomatic relations. In 2004, the two countries agreed to establish an all-around strategic partnership, unveiling a new page for Chinese-Italian friendly cooperation, Hu said. As next year will mark the 40th anniversary of the forging of bilateral diplomatic relations, China is willing to join hands with Italy to lift bilateral ties to a higher level, Hu said. According to a press release issued by the Chinese delegation, Napolitano agreed with Hu, saying cooperation between Italy and China has seen smooth expansion in a wide range of fields. Napolitano said Italy is willing to further increase its economic cooperation and trade with China, exert every effort to host the "Chinese Culture Year" in Italy and push forward the development of bilateral ties at large. In order to boost the ties, the Chinese president offered a five-point proposal, according to the press release. Firstly, Hu said the two countries should increase communications, exchanges and mutual visits between high-level leaders. Hu proposed that both sides host various events to mark the 40th anniversary of the establishment of diplomatic relations, adding that much attention should be attached to the "Chinese Culture Year" next year in Italy.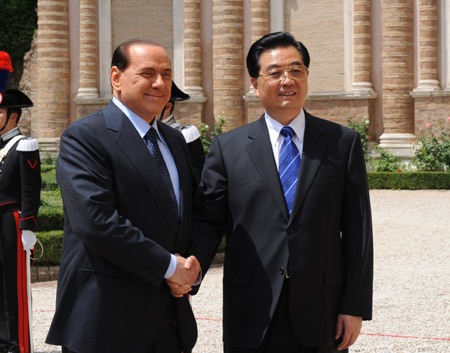 Chinese President Hu Jintao (R) meets with Italian Prime Minister Silvio Berlusconi in Rome, capital of Italy, July 6, 2009. Next year marks the 40th anniversary of diplomatic ties between the two countries and China is ready to work with Italy to strengthen communication and coordination on major international and regional issues and promote mutually beneficial cooperation in various fields so as to bring their all-around strategic partnership to a higher level, Hu said. President Hu also offered a three-point proposal for boosting bilateral ties, including deepening economic and trade cooperation, exploring new areas of cooperation and enhancing cultural and human exchanges. Agreeing entirely with Hu's views and proposals with regard to the development of bilateral ties, Berlusconi said Italy is ready to join hands with China to further bilateral cooperation in a number of fields.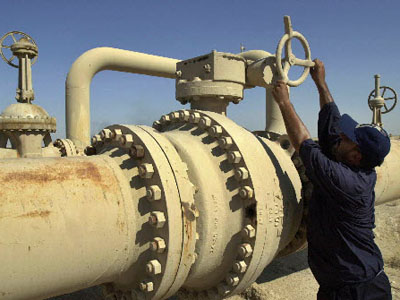 An oil refinery in the outskirst of the southern port city of Basra, Iraq. Reports by mainland media on Tuesday indicated that three largest mainland oil companies may take part in Iraq's second auction of oil and gas fields to be held later this year. China three largest oil companies may take part in Iraq's second auction of oil and gas fields, as the Asian giant seeks to strengthen its foothold in the oil-rich nation, state media said on Tuesday. The country's top oil producer China National Petroleum Corp (CNPC (SEHK: 0135)), Asia's largest refiner Sinopec (SEHK: 0386), and China National Offshore Oil Corp, all bid last week in Iraq's first auction of oil contracts since 2003, the China Daily said. Only CNPC, in a tie up with British energy giant BP, won a service contract to develop the Rumaila oil field, which was also the only contract awarded in the auction. CNPC and Sinopec may take part in the second auction, reported to be scheduled for the end of this year, as they "cannot neglect the rich oil and gas reserves in Iraq", the China Daily said, citing an unnamed source. Fu Chengyu, president of China National Offshore Oil Corp, has said that the company might participate in the second round of bidding as well, the report added. "Domestic oil companies will not miss this unprecedented opportunity," said the source, adding the firms may again join forces with foreign companies for the second round of bidding to reduce risk. Mainland has been active in gaining a share in the oil market in Iraq, which has the world's third largest proven petroleum reserves. Last year, CNPC signed a three-billion-dollar deal to develop the Al-Ahdab oil field, marking the first major oil development deal that a foreign firm has secured in Iraq since the fall of Saddam Hussein in 2003. Service contracts offered by Baghdad are based on companies accepting a fixed fee for the oil or gas extracted rather than an equity stake.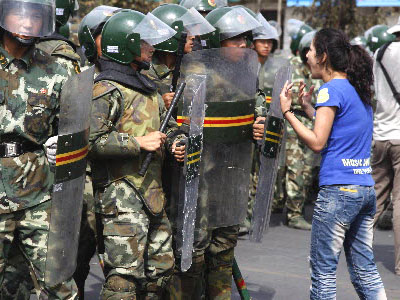 Xinjiang authorities will slap a curfew over the capital of China's Muslim region of Xinjiang on Tuesday night after trying to break up protests with tear gas two days after bloody ethnic clashes killed 156 and wounded more than 1,000. The curfew would run from 9pm on Tuesday to 8am on Wednesday, Xinhua news agency quoted the region's Communist Party boss as saying in a televised speech.
An appeal court in Shandong yesterday upheld the death penalty of a former head of Beijing Capital International Airport (SEHK: 0694) who was convicted of bribes and embezzlement totaling more than 100 million yuan (HK$113 million). Li Peiying was originally sentenced to death with immediate effect in February by the Jinan Intermediate People's Court, which convicted him of taking 26.61 million yuan in bribes and embezzling another 82.5 million yuan. Although he returned all the embezzled money after he was suspended from duty and placed under investigation in 2007, the Shandong High People's Court rejected his appeal because "the bribes he accepted were particularly large and caused significant economic damage to the country", Xinhua said. The court found that Li had accepted nearly 19 million yuan in bribes from Tan Hui , the boss of Zhuojing Investment Holdings. In return, Li arranged unauthorised investments and provided guarantees to help Tan obtain loans. Tan was later granted 630 million yuan in loans, one-third of which he failed to repay. Although Li was sentenced to execution with immediate effect, the sentence will not be carried out until yesterday's ruling is reviewed by the Supreme People's Court in Beijing.
The world's largest chemical maker BASF and its partner Sinopec have won approval from the central government for a US$1.4 billion expansion of their joint chemical site in Nanjing.
China has widened a scheme that allows big electricity users to buy power directly from generators, a tentative step towards reform of the power market.
July 1 - 7, 2009

Hong Kong: The accomplice of a Shenzhen man convicted of planning an attack on politician Martin Lee Chu-ming and publishing tycoon Jimmy Lai Chee-ying was sentenced yesterday to three years in jail.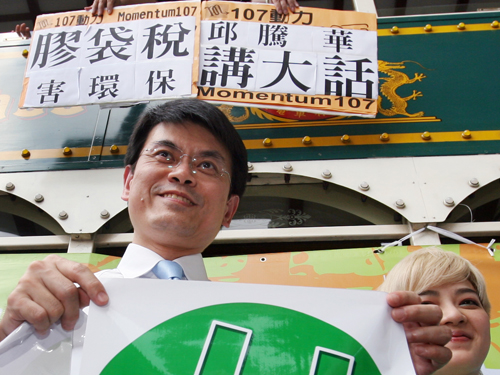 Environment Secretary Edward Yau publicises the levy at a tram parade, while a protester behind waves a placard criticising him for promoting a levy that some activists claim will harm the environment. Retailers affected by the 50-cent levy on plastic bags, which came into force at midnight last night, have come up with a variety of alternatives - baskets and paper bags for use, shopping bags for loan and even cash coupons - to keep shoppers happy. Some of these measures may help shoppers evade the levy, or may in fact be violating the levy law. More than 50 registered retailers - with more than 2,800 outlets, or about 5 per cent of the city's total - start today to collect a levy of 50 cents for every plastic bag. The levy is expected to cut the use of plastic bags by half, or around one billion a year, and generate revenue of about HK$200 million. On average, a Hongkonger throws away three plastic bags a day. Environment Secretary Edward Yau Tang-wah, speaking yesterday at a tram parade organised to publicise the levy, urged people to take their own shopping bags when they went out, and called on retailers not to find ways to evade the levy. Wing On Department Store, for one, said yesterday it had already switched to using paper bags instead of plastic bags, while Yue Hwa Chinese Products said it would hand out paper bags to shoppers who refused to pay the levy. Bargain food store Yu Kee would also issue free plastic bags without handles to shoppers in need. Some retailers would introduce incentives to encourage shoppers to use reusable shopping bags. Major supermarket chain Wellcome said it would offer discounts to shoppers who used environmentally friendly bags. City'super would also offer a 10 per cent discount on shopping bags for any purchases of more than HK$300, while ParknShop said it would offer promotional prices for shopping bags from today. But one retailer's promotion had raised eyebrows. Japan Home Centre and its sister stores were offering every shopper who buys a HK$10 reusable bag the same amount in cash coupons that can be used in the next purchase. Officials from the Environmental Protection Department have questioned the promotion's legality because, under the law, any rebate or discount directly offsetting the price of a reusable bag is not allowed. Japan Home Centre yesterday defended its move. "We would carry out such promotion only if it is legal," a Mr Woo from the company said, acknowledging that departmental officials had asked the company to cancel the promotion. Principal environmental protection officer Kenneth Chan Shu-to said: "We have already clearly told them about the law requirements and have informed them our concerns. We believe the retailer will take the appropriate move" by the time the law kicks in today. Other retailers, including The Link, Circle K, CR Vanguard and Sa Sa, will offer shopping bags on loan upon payment of a deposit. Jusco department store will provide baskets for shoppers who do not want to pay the levy. Until the end of July, the store's supermarkets will lend up to two baskets to each shopper who registers for the loan. "This is to offer some convenience to shoppers... We hope they would come back with their own shopping bag next time," a spokeswomans said. At yesterday's tram parade, district councillor Ho Man-kit, from the group Momentum 107, protested against the levy, calling Mr Yau a "liar" for promoting the levy, because he said the levy's meagre benefits would be outweighed by excessive product packaging.

The financial secretary has warned of uncertainties despite Hong Kong's economy beginning to show signs of recovery. John Tsang Chun-wah forecast that the year-on-year economic contraction in the second quarter would be narrowed from minus 7.8 per cent in the first quarter. "What we've seen now is already the worst situation because looking at the coming [second] quarter, the drop rate will be reduced ... if you look at the quarter-on-quarter figure, yes there might have been a positive growth," he told a meeting of the legislature's financial affairs panel. His comments were backed by government economist Helen Chan, who said the city had recently seen an increase in export orders, a less pessimistic business outlook and a rebounding capital market compared with a few months ago. Mr Tsang said Hong Kong had already benefited from the global economic sentiment and the mainland's relief measures, and this external situation had given the city a ray of hope. "But then we can't afford to be complacent, because if you look at the situation in the US and in Europe, the figures are not that good," he said. "We may have a second wave of the problem. That's something we need to keep an eye on and that would also have an impact on Hong Kong." Adding to the fact that there had been no structural improvement in the US and European economies, Mr Tsang said swine flu, which had already had an impact on the tourism industry, posed uncertainty for the local economy. He also warned that mobile capital had caused fluctuations in global markets, including in Hong Kong, and the city had to remain vigilant. But when asked by legislator Starry Lee Wai-king if the city's property and stock markets had created a bubble and remained healthy, he said the bubble was not as big as the one experienced during the Asian financial crisis in 1997-98. "It's true that our stock market has gone up a lot recently and the property [market] is bullish. I think for the capital market, the fluctuation will continue, but our affordability ... has increased," Mr Tsang said, adding that the capital market did not reflect the actual economic situation. "I believe Hong Kong investors will be cautious about investment risk, and invest according to their ability, which is important," the financial secretary said. Both Mr Tsang and Mrs Chan said that although the unemployment rate in the three months to the end of May held steady at 5.3 per cent after rising for eight months, it was a lagging indicator and could still go up again. Mrs Chan said: "It's just a relatively steady figure after a huge rise. There is still some time before a real and consistent recovery." Mr Tsang said the government would announce new relief measures if necessary. In mid-May, the administration forecast the economy would shrink by 5.5 per cent to 6.5 per cent this year. But the HK$16.8 billion in handouts, which were announced by the government in late May, would see the contraction ease by 0.5 percentage points. Hong Kong's economy has been shrinking, quarter on quarter, since the second quarter of last year. The 4.3 per cent contraction in the first quarter of this year was the worst since quarterly record-keeping began in 1990.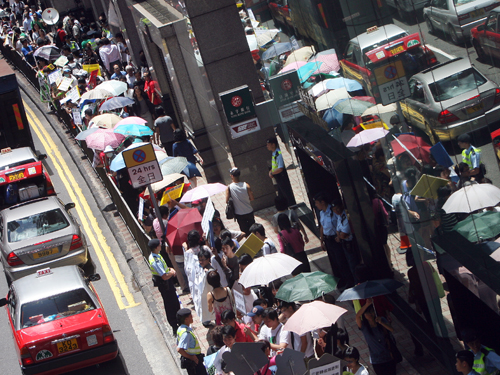 Security guards, backed by the Confederation of Trade Unions, march to The Link's office yesterday over its plan to lengthen their shifts. Security guards who are demanding that their employer, The Link Management, drop plans to extend their working week from 48 hours to 72 hours have won a partial victory. The company said yesterday that it would not extend the shift of guards working in car parks, shortly after more than 100 of them mounted a protest at the real estate investment trust's headquarters in Central. Ian Robins, The Link's chief executive, said it was heeding "concerns voiced by employees of the contractors running its car parks and members of the community amid the current challenging economic times". Union representatives were to meet the company today for talks on the change from eight-hour to 12-hour shifts, which employees said would lead to job cuts. Unionist legislator Lee Cheuk-yan, who led yesterday's protest, hailed the company's decision. "We feel very glad. It is a victory, though only a partial one. We will continue our fight, as the arrangement for guards working at The Link's shopping malls is still unclear." Tsang Chi-yan, spokesman for the Building Management and Security Workers General Union, said 600 of the 1,200 guards in car parks and 1,200 of the 3,000 guards in shopping malls would be laid off if shift hours were extended, since less manpower would be needed. "It is such a shame. Of course, workers sacked would be severely affected. Those who survive the sack will then be required to work long hours, meaning that they will have less time with their families. Their quality of life will also be compromised," Mr Tsang said. Protesters yesterday surrounded The Link's offices on Queen's Road Central for 45 minutes during lunch hour, but dispersed peacefully after handing their petition to a company representative. The guards have so far held four protests - including yesterday's - and one strike against the plan to extend work hours.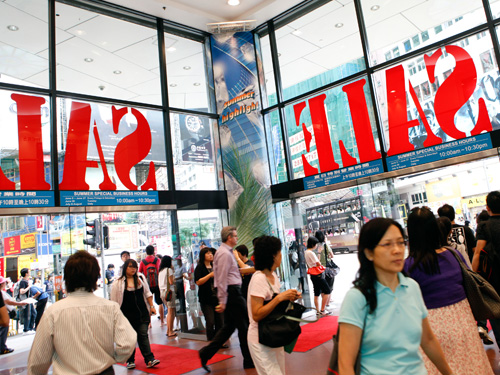 With the economic crisis putting the squeeze on consumer spending, more retailers in Hong Kong and major mainland cities have turned to advanced customer tracking and sales analysis technologies to learn what works best for their target shoppers. "The economic downturn has stimulated interest in solutions that allow retailers to determine which stores are drawing traffic and which are not," said Michael MacMillan, the managing director at Hong Kong-based retail performance monitoring systems provider Vizualize. "That is something you cannot see purely from sales transactions." Over the past six months, other information-technology suppliers have formed alliances to tackle requirements in the retail sector. Microsoft Corp joined forces with technology service consultancies Accenture and Avanade in a global initiative to help retailers respond to changing consumption behaviour by providing social networking, mobile and cross-channel shopping choices. IBM Corp, the leading global computer services company, teamed up with Beijing firm eFuture Information Technology to introduce online subscription-based software designed for the mainland's retail industry. Their system allows retailers to exchange business information with their suppliers, arrange payments online, access purchase orders and inventory levels and analyse sales data. "To survive or succeed in the downturn, retailers will be looking for efficient ways to generate revenue by managing the demands of the customer, while at the same time making cost savings across the organisation," said Christine Bardwell, the retail technology analyst at Datamonitor. Vizualize uses a mix of small sensor technologies - including 3D, thermal and vision sensors - deployed at a retailer's strategic locations, such as entrances and displays, to gather real-time data on shoppers' traffic, demographics and behaviour and the staff's interaction with them. The data is then processed by its retail analytics software to help client retailers change aspects of a store's layout, product displays and staff placement, with an eye to converting potential sales opportunities into actual purchases. "We now have more than 1,000 sensor locations installed in Hong Kong, including at the city's most popular shopping malls," Mr MacMillan said. "We also have sites installed on the mainland, from Chengdu to Dalian and most first and second-tier cities in between." United States-based sports footwear maker New Balance Athletic Shoes, a Vizualize customer that has its own-brand store at Times Square in Causeway Bay, has seen the intelligence gathering pay off. "The return on investment has been rapid, not just through increased dollars in the cash register but also through insight into promotional activity," said Bob Neville, the head of international retail at New Balance. Mr Neville said the system "now forms the base of our international retail strategy".

China: The trigger for the riots in Urumqi appears to have been a recent deadly brawl in Guangdong between Uygurs and Han Chinese working at a Hong Kong-owned factory.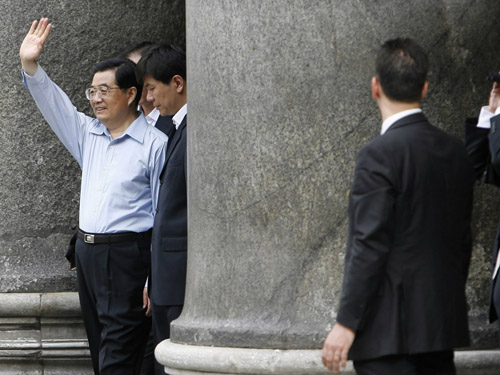 President Hu Jintao waves after being escorted on a tour of Rome's ancient Pantheon yesterday. Beijing and Rome have extended their list of rapidly growing trade links by signing a series of economic co-operation pacts, as the deadly ethnic violence in Xinjiang threatened to overshadow President Hu Jintao's state visit to Italy. After signing agreements on economic co-operation, Mr Hu and Italian Prime Minister Silvio Berlusconi held a carefully controlled news conference in which they played up bilateral relations and China's participation in this week's Group of Eight summit in L'Aquila. After speeches by the two leaders, Mr Berlusconi said he was "under orders" to allow only one question to Mr Hu and one to himself. No questions were asked about the violence in Xinjiang. An Italian reporter asked Mr Berlusconi what contribution he expected from China at the G8 meeting. A Chinese reporter asked Mr Hu a question about how Italy and China could co-operate to combat the economic crisis. Earlier yesterday, Mr Hu and Italian President Giorgio Napolitano spoke briefly to reporters after holding talks. Mr Napolitano was the only one to touch on issues concerning human rights in China, although he did not directly mention the violence in Urumqi . "We agreed that the development and economic and social progress that China is realising pose new human rights requirements," he said. Xinhua said Mr Hu's meetings with top Italian officials focused on the development of the "comprehensive strategic partnership" between Beijing and Rome. China and Italy were to sign as many as eight further economic deals during Mr Hu's visit, according to Assistant Foreign Minister Wu Hongbo, who is accompanying Mr Hu. The deals cover a wide range of fields such as purchasing Italian goods, economic co-operation, investment, education, tourism and cultural exchanges, Mr Wu said. Italy is the mainland's fifth-largest trade partner in the European Union. Last year, the total trade volume between the two countries was more than US$38 billion. Next year marks the 40th anniversary of diplomatic ties between the countries. They have also expanded co-operation in culture, science and environmental protection in recent years. "China and Italy both attach great importance to the visit [by Mr Hu]. We hope to consolidate political trust through the visit, continue to respect each other's major concerns and promote closer co-operation in dealing with international affairs," Mr Wu said. Antonino Laspina, the Italian trade commissioner in Beijing, said closer economic exchanges between Beijing and Rome could benefit both countries' economies. "President Hu Jintao's visit will bring about a huge opportunity for the Sino-Italian economic and trade co-operation to leap forward."
China National Petroleum Corp (CNPC (SEHK: 0135)), the mainland's largest oil and gas producer, has offered between US$13.2 billion and US$14.5 billion for a 75 per cent stake in the Argentine unit of Spanish oil company Repsol-YPF. Sources said executives from CNPC, the parent company of publicly listed PetroChina (SEHK: 0857, announcements, news) , and Repsol were in talks over the offer and the initial reaction from Repsol's board members had been receptive. CNOOC (SEHK: 0883), meanwhile, is understood to be eyeing up to a 25 per cent stake in YPF and has reportedly proposed injecting at least US$15 billion into a joint venture that will own some of Repsol's core exploration and production assets. After CNOOC's high-profile failure in 2005 to take over United States oil firm Unocal Corp, mainland energy companies have turned to targets in Africa, Latin America and Central Asia, which have warmer political relations with China. Some of these nations are shunned by western oil companies because of human rights concerns. National Development and Reform Commission vice-chairman Zhang Guobao confirmed to Bloomberg last week that CNPC was in talks about a potential investment in YPF. The NDRC is believed to be co-ordinating the offers from CNPC and CNOOC. CNPC's spokesman did not return calls while a CNOOC spokesman declined to comment. A Repsol spokesman would not comment further yesterday. The Spanish company last Thursday said it had received proposals from a number of companies for a stake in its 84.14 per cent-owned YPF, but they were not firm offers. An analyst said CNPC's offer, valuing YPF at about US$18.47 billion, although much higher than the valuation given by another buyer early last year, was reasonable. "The 75 per cent stake being talked about is a majority stake, which should be more valuable than a minority holding," said Mirae Asset Securities head of regional energy research Gordon Kwan. Argentine banker Enrique Eskanazi bought a 14.9 per cent stake in YPF for US$2.23 billion in February last year, implying a valuation for YPF of US$15 billion. International oil prices were fetching about US$95 a barrel in February last year, compared with about US$64 yesterday. Analysts said CNPC's offer might run into challenges given Buenos Aires was reportedly keen on domestic investors owning a majority stake in YPF. But if it is successful, the deal could be a win for both the Chinese and Argentine companies. CNPC will acquire a sizeable oil-producing asset while YPF's ageing oilfields will be helped by mainland experience in rehabilitating its more than 40-year-old Daqing oilfield in northeast China. Owing to the maturing of its fields, YPF's oil and gas output last year fell 4.6 per cent to 619,000 barrels of oil equivalent per day. In 2007, it declined 4.1 per cent from 2006. YPF's output last year was 16 per cent that of CNPC and 16 per cent higher than that of CNOOC. In some cases, to avoid a political backlash, mainland firms have sought to enter into joint ventures on projects instead of launching corporate takeovers. "Another factor differentiating the Chinese state-owned acquirers from western oil firms is that China is eager to reduce its US dollar assets through overseas acquisitions to hedge currency risks," Mr Kwan said. YPF, almost all of whose output is from Argentina, accounted for 22.8 per cent of Repsol's operating profit last year. Excluding YPF, Latin America contributed about 80 per cent of Repsol's output, while North Africa and the Middle East accounted for the rest.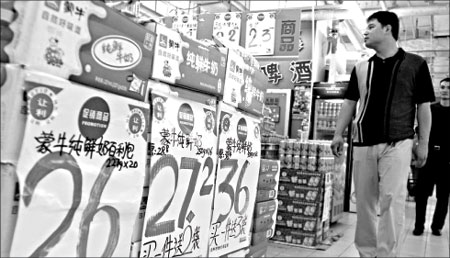 China Mengniu Dairy (SEHK: 2319), the nation's largest dairy, will sell shares to state-owned Cofco and private equity fund Hopu Investment Management as it seeks to recover from last year's tainted milk scandal. Hopu and Cofco, the mainland's largest food importer and exporter, will hold 20.03 per cent of Mengniu after buying shares from the company and shareholders. They will pay HK$6.12 billion for the shares. They will become the biggest shareholders in the company, which was among 22 dairies whose products were found contaminated with melamine in September last year. The deal comes as part of efforts by Beijing to restore consumer confidence in dairy products after milk was found contaminated by the industrial chemical. The scandal sparked calls for increased food safety through tighter laws and higher manufacturing standards. Mengniu was suspended from trading yesterday and will resume trading today. The stock closed at HK$19.10 on July 3. Hopu and Cofco bought the shares at HK$17.60 each, a discount of 7.85 per cent to the stock's close on Friday. They will buy 173.8 million shares from Jinniu Milk Industry, Yinniu Milk Industry and Inner Mongolia Laoniu Community Welfare Development Association. Mengniu will also issue 173.8 million new shares to Hopu and Cofco. Some analysts said Cofco's decision to invest in Mengniu made business sense, with the deal allowing the producer and distributor of agricultural and livestock products instant access to the massive yet competitive dairy market. With its own plantations and distribution network around the country, Cofco's investment in Mengniu will fill a missing piece in its product portfolio covering tea, wine, carbonated drinks and fruit juice. "The deal yields more synergies in business development than the immediate impact on Mengniu's bottom line," CIMB-GK Securities analyst Renee Tai said. "The proceeds will help Mengniu's cash flow and help fund its capital expenditure." Ms Tai said there had been concerns about Mengniu's business development after the melamine scandal. Some analysts are expecting Mengniu to spend the new funds to boost production capacity and marketing, and acquire smaller regional dairy farms. According to Mengniu's statement, the special purpose vehicle buying the shares has a right to nominate two, and up to a maximum of four, non-executive directors for every 10 per cent issued share capital in the company. But sources said the daily management would remain with chief executive and founding shareholder Niu Gensheng. They said Ning Gaoning, the chairman of Cofco, and Mr Niu, had been the key people pushing for the alliance. Mr Niu is expected to become the chairman of Mengniu. Mr Niu vowed in April to turn around Mengniu from a 948.6 million yuan (HK$1.08 billion) net loss last year, its first red ink since going public in 2004. In 2007, its net profit stood at 935.8 million yuan. The Mengniu deal is the latest by Hopu, a US$2.5 billion private equity fund that recently made headlines for its purchases of shares in China Construction Bank (SEHK: 0939, announcements, news) Corp and Bank of China.

*News information are obtained via various sources deemed reliable, but not guaranteed