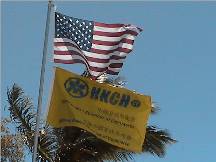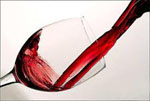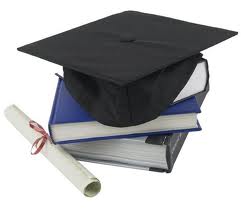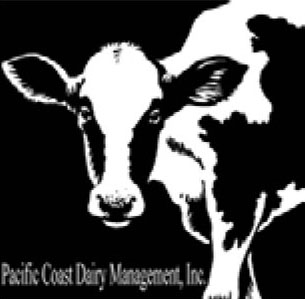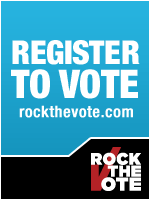 Biz-Video

Hawaii's China Connection

Doing Business in Hong Kong & China
Share Hong Kong, China & Hawaii Biz*



Skype - FREE Voice Over IP

View Hawaii's China Connection Video Trailer
Do you know our dues paying members attend events sponsored by our collaboration partners worldwide at their membership rates - go to our event page to find out more! After attended a China/Hong Kong Business/Trade Seminar in Hawaii...still unsure what to do next, contact us, our Officers, Directors and Founding Members are actively engaged in China/Hong Kong/Asia trade - we can help!
Are you ready to export your product or service? You will find out in 3 minutes with resources to help you - enter to give it a try


Listen to MP3 "Business Beyond the Reef" to discuss the problems with imports from China, telling all sides of the story and then expand the discussion to revitalizing Chinatown - Special Guest: Johnson Choi, MBA, RFC. President - Hong Kong.China.Hawaii Chamber of Commerce (HKCHcc) and Danny Au, Manager, Bo Wah Trading

(approximate $ exchange rates: US$1 = HK$7.8, US$1 = RMB$6.8)

View China 60th Anniversary Video and Photo online

Holidays Greeting from President Obama & Johnson Choi

http://www.youtube.com/watch?v=pNk4Z4lUV-k

http://www.facebook.com/video/video.php?v=219896871983&ref=mf

Wine-Biz - Hong Kong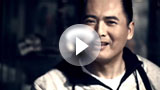 Brand Hong Kong Video

Mainland and Hong Kong Closer Economic Partnership Arrangement (CEPA) http://www.tid.gov.hk/english/cepa/index.html
May 31, 2010

Hong Kong*: Prudential Plc halted trading in its Hong Kong listed shares on Friday as the British insurer sought to cut the US$35.5 billion price tag it originally negotiated for AIG's main Asian assets. Prudential is trying to lower the price of the planned deal to purchase American International Assurance (AIA) amid rising pressure from investors, a source familiar with the situation said on Thursday. Prudential in Hong Kong declined to comment on the reason for the suspension in trading, but the company was likely to issue a clarification statement to the HK exchange in the due course, one source told reporters.
A month after university graduates were told to expect up to HK$2,000 less on joining the civil service from October, civil servants are being told they can expect pay hikes of up to 1.6 percent.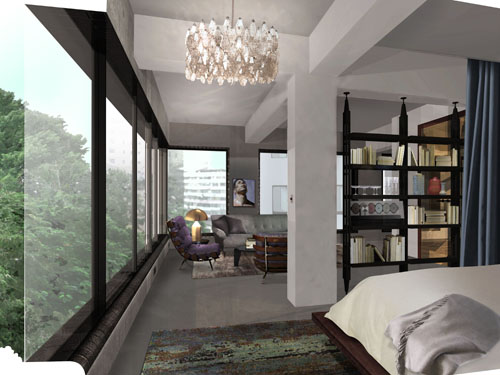 An artist's impression of the interior design of a suite in the TwoTwoSix project at Hollywood Road. A nearly 50-year-old tenement building on Hollywood Road in Sheung Wan is due to get a new lease of life. Rather than knock down the vintage residential building or tong lau and replace it with what he calls a "toothpick skyscraper", new owner Alan Lo, a co-founder and executive director of developer Blake's, says he will refurbish it into a "hip" development with just five large-sized apartments. "One of the biggest draws of the area is its sense of community and village-like quality. Walk the streets and you find a mix of neighbourhood restaurants, cafes, antique shops, high-end stores and boutiques," Lo said. "I would like to do something that will maintain that character rather than build a toothpick skyscraper." Lo and his partner Darrin Woo acquired the old five-storey building in 2008 for HK$50 million and their project, named TwoTwoSix after its street address on Hollywood Road, will be their first development. Lo, 30, an architect by training, and Woo, 33, a town planner, set up the firm in 2007 with a vision of reviving local neighbourhoods by celebrating an area's history and character, and incorporating this rich heritage into their properties. Their company's name, Blake's, reflects this philosophy and is derived from Blake Garden, the name of a Sheung Wan park. "It is an old building and we will need to make extensive structural changes to ensure the safety, and add a lift, which is a basic requirement for modern users. The refurbishing cost will be as much as creating a new building," Lo said. Lo is also a co-founder of Press Room Group, which opened the Pawn restaurant in Wan Chai. The restaurant was established in a renovated pawnshop. Woo, executive director of the company, said the Hollywood Road building was formerly owned by a single landlord, who leased out 15 units - three on each floor. Given the demographics, the area was dominated by smaller flats of about 500 sqft. "Our project will be in a good position, supplying larger units." With only one residence per floor and only five in the building, the partners believe the development will appeal to like-minded individuals who share an appreciation for beauty and design integrity. They have teamed up with Ilse Crawford - who heads Studioilse in London with clients such as Gucci Group, Volvo and Marks & Spencer - to design TwoTwoSix. Woo said the units would have an efficiency rate of 70 per cent, as the building only had five units and each would have to share a higher proportion of common area. But with one unit per floor and an area of 1,280 to 1,450 sqft each, the five apartments would be spacious, he said, with enough room for a second bedroom. Given its proximity to Central, the project will target young couples who work in the core business district and couples from overseas looking for a second home in Hong Kong. Lo said the units were expected to be available for sale in November and would be priced in line with deals done at new projects in the surrounding area. In March, units at nearby Island Crest sold for between HK$11,000 and HK$19,000 per square foot, which would price the units at TwoTwoSix at about HK$14 million.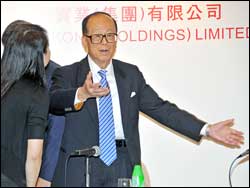 Li Ka-shing, chairman of Hutchison Whampoa (SEHK: 0013), is confident the Hong Kong-based conglomerate's business this year will be better than 2009 despite the European debt crisis. "The world is getting smaller and any nation failing will have an impact on the rest of the world," he said after the general meetings of his two corporate flagships - Cheung Kong (Holdings) (SEHK: 0001) and Hutchison. "But I am not overly pessimistic." He said the company's "retail operations in Europe will see profit slightly affected by the weakening euro, but the impact will not be significant as it is made up by the Asia operations". "I remain confident that the businesses [of Hutchison] this year are highly likely to be better than last year," he said. Hutchison Whampoa operates in 54 countries with investments in ports, telecommunications, retail and infrastructure businesses. Li, Hong Kong's richest man, said he might buy shares in Agricultural Bank of China's initial public offering and more land in the city, betting China would withstand the impact of Europe's debt crisis. China's economy is "looking good" and the Hong Kong property market is a safe long-term bet for homebuyers, the 81-year-old billionaire said. Li, known as "Superman" for his investment acumen, correctly forecast in 2007 that China's stock- market bubble would burst and last year predicted the rally in Hong Kong home prices. Li said Husky Energy, the Calgary oil producer of which he is a controlling shareholder, planned to spin off its Asian operations for a separate listing in Hong Kong. "The plan is not yet finalised but it would be a benefit on all fronts if the Asian business is listed," he said. In March, Hutchison managing director Canning Fok Kin-ning indicated Husky could complete the separate listing of its Asian assets this year. Oil prices would pick up when the economy stabilised, Li said, adding that Husky would continue to develop the oil sands business. Commenting on the Hong Kong property market, Li said people who could afford to buy, could consider buying. Inflation would follow after the European debt crisis stabilised. Cheung Kong sold HK$12.5 billion worth of flats in the city during the first four months of the year, Li said. Shares of Cheung Kong rose 2.28 per cent to HK$87.5 yesterday while Hutchison climbed 3.11 per cent to HK$48.1.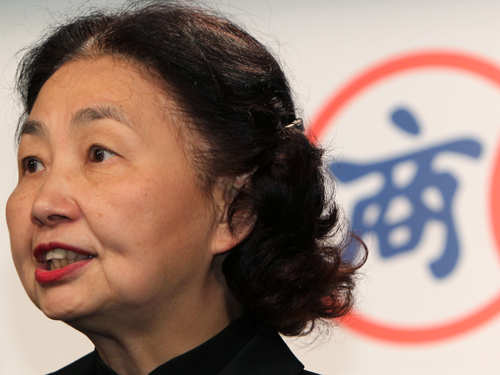 Elsie Leung warns of crisis over trade seats - A former top government legal official has warned of a possible constitutional crisis over moderate pan-democrats' proposals to reform the functional constituencies as the proposals sparked intense debate in the Beijing-friendly camp. Former justice minister Elsie Leung Oi-sie, now a vice-chairwoman of the Basic Law Committee, said the proposal, for the public to elect six seats designated for district councils, would "upset the 50-50 balance" between directly and indirectly elected seats. If the government bowed to pressure from lawmakers threatening to veto its political reform package unless the proposal was included, there was a real possibility the package could be vetoed by the national legislature, which would "trigger a constitutional crisis and undermine social stability", she said. Leung was speaking a day after former committee member Ng Hon-mun said in a newspaper article that the proposal would not contravene the National People's Congress Standing Committee's 2007 decision, which set a timetable for election of the chief executive and the legislature by universal suffrage. In the Ming Pao Daily article, Ng said the decision stipulated only that the 50:50 ratio of directly and indirectly elected seats should remain in 2012 and did not lay down any rules for functional constituencies. "Election of district council functional constituency seats by 'one man, one vote' does not contravene the NPC decision," Ng said. But Leung said she agreed with the views of Li Gang, a deputy director of the central government's liaison office in Hong Kong, that the proposal would trigger doubts over whether it was in line with the NPC's decision. The Democratic Party, which met Li on Monday, proposes increasing the number of Legco seats from the present 60 to 70 in 2012, with six seats for district councils that would be nominated by district councillors and elected by all registered voters. The Alliance for Universal Suffrage, a coalition formed by 13 moderate pan-democratic groups, suggests increasing the number of seats from 60 to 80, with 11 seats for district council functional constituencies. "The NPC's decision in 2007 stated that functional constituencies and those elected by direct election should be equal in number. By having six seats designated for district councils directly elected, then you upset the 50:50 balance," Leung said. The Standing Committee was empowered not to register legislative amendments to Basic Law Annex II, which governs the Legco elections, if the changes deviated from the policies and principles set out in the mini-constitution, she said. "If the electoral package is vetoed by the Standing Committee, it would trigger a constitutional crisis and undermine social stability," she said. Leung added that the pan-democrats' demand for reassurances of "genuine" universal suffrage for election of the chief executive and the legislature in 2017 and 2020 as a precondition for supporting the Hong Kong government's proposal for 2012 was also unacceptable to Beijing. Former Legco president Rita Fan Hsu Lai-tai, a member of the Standing Committee, also said the proposal was not in line with the NPC's decision. "The proposal cannot be implemented for the 2012 election but there is room for further discussion after 2012," she said. Basic Law Committee member Albert Chan Hung-yee said the proposal amounted to a de-facto direct election and was not in line with the NPC's decision. "The NPC decision aims at maintaining the existing methods for electing Legco in 2012 and does not authorise the invention of new electoral methods," said Chan, a professor at the University of Hong Kong's faculty of law. Functional constituencies - electorates based on trade and professional sectors - were introduced by the colonial government in 1985. They were at the centre of a massive row between the colonial administration and Beijing after then- governor Chris Patten pushed through amendments for the 1994-95 elections - dismantled after the handover - that turned the trade-based seats into de-facto directly elected seats by giving everyone in the sectors a vote. In early 1994 - a few months after talks on the issue broke down - Beijing declared that the Chinese and British sides had an understanding that the functional constituencies were a form of indirect election and they must not be turned into de-facto direct elections on an occupational basis.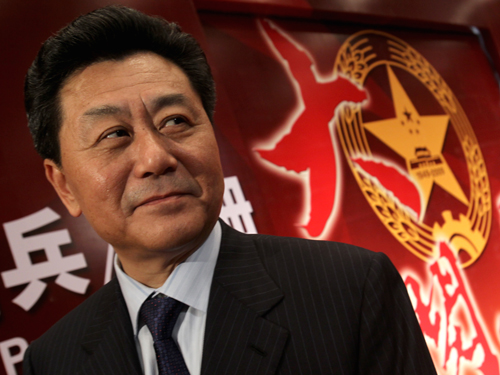 Li Gang, the deputy director of the central government's liaison office in Hong Kong, attends a book launch at the Hong Kong Central Library in Causeway Bay on Friday after meeting with members of the Association for Democracy and People's Livelihood.
Veteran politician Rita Fan Hsu Lai-tai is not confident that the Legislative Council will pass the 2012 political reform package. The National People's Congress Standing Committee member and former Legco president hopes the rapport between pan-democrats and the central government will continue, but doubts a consensus can be reached within a month, with the scrapping of functional constituencies the main sticking point. Fan also said it is hard for the central government to accept the pan-democrat idea of allowing people to choose lawmakers directly from district councils in 2012. "How can the central government ask the National People's Congress to eat its words?" Fan said. She said the proposal is not viable at this stage, but could be considered for election methods beyond 2012. Fan noted the pan-democrats' views on the Legco election methods are still very different from the government's though the proposals regarding the election of the chief executive are less controversial. Earlier this week central government liaison office deputy director Li Gang said the pan- democrats' proposal to let people choose lawmakers directly from district councils in 2012 was against the Basic Law and could raise doubts as to whether it was in line with the decision of the National People's Congress. Basic Law Committee vice chairwoman Elsie Leung Oi-sie said that allowing certain electors to choose some functional constituency lawmakers directly from the district councils is against the 2007 National People's Congress Standing Committee decision. Meanwhile, property tycoon Li Ka-shing, the chairman of Cheung Kong (Holdings) and Hutchison Whampoa, weighed into the debate, saying the functional constituencies should not be done away with without a lot of thought.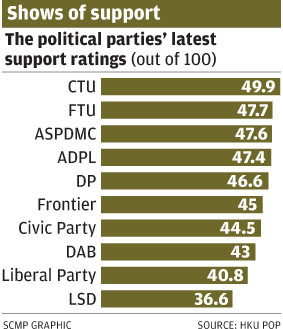 Public support for all major political groups in the city has declined significantly amid the debate on constitutional reforms, a university poll has found. In the latest random telephone survey of 1,015 people by the University of Hong Kong's Public Opinion Programme between Tuesday and Thursday last week, popularity ratings for all 10 of the most widely known political groups dropped compared with the previous poll in February. The Beijing-friendly Democratic Alliance for the Betterment and Progress of Hong Kong saw the largest slip in ratings by 5.1 points, from 48.1 to 43 on a zero-to-100 scale. The smallest drop was for the Hong Kong Alliance in Support of Patriotic Democratic Movements in China, going down by 2.4 points to 47.6 from 50. The ratings for three organisations, the Civic Party and the League of Social Democrats - both pan-democratic groups that launched the "de facto referendum" movement - and the pro-business Liberal Party, dropped to historic lows since they were formed. Their latest ratings were 44.5, 36.6 and 40.8, respectively. The pan-democrat Confederation of Trade Unions continued to top the list as the most popular political group, with a rating of 49.9, compared with 52.8 in February. Dr Robert Chung Ting-yiu, director of the programme, said: "The ratings of all groups have dropped significantly. Many of them are either at a new or record low. The row over political reform and full-fledged by-elections has apparently taken its toll on all political parties." The sampling error for the ratings was below plus or minus 1.9 points.
SKH St. Simon's Leung King Nursery School in Tun Mun on Friday was advised to suspend classes for two weeks starting from Saturday after a hand, foot and mouth disease (HFMD) outbreak there. Centre for Health Protection director Thomas Tsang Ho-fai said six pupils at the school had symptoms of HFMD. But he said their symptoms were relatively mild. Tsang said a 34-year-old woman, whose three-year-old son was studying at SKH St. Simon's Leung King Nursery School, had also showed symptoms of the disease. "She was now in a stable condition,"Tsang said. Another 43-year-old man also showed symptoms of HFMD. He too was in a stable condition. The man's seven-year-old son also showed symptoms of HFMD. The boy was studying in the St Francis of Assisi's English Primary School in Sham Shui Po. The school was also advised to suspend classes for two weeks from Friday. Tsang said it was now the peak season for HFMD and that he expected more children would be infected with the disease. "Children are particularly vulnerable to the disease. We will continue to closely monitor the situation.... I want to stress that there has been no mutation of the virus so far," he said. The CHP has recorded over 200 HFMD cases since January.

China*: Beijing will have more than 1,000 km of rail transit lines in operation by 2020 according to a new construction plan, Beijing vice mayor Huang Wei said Thursday. The Chinese capital plans to have 15 rail transit lines in operation with a total length of more than 561 km by 2015, Huang told a forum on urban rail transit in Changchun, capital of northeast China's Jilin Province. Beijing had 228 km of subway and light rail transit lines in operation by 2009, and total rail length will exceed 330 km by the end of 2010 with five new lines being put into operation this year, Huang said. China is witnessing a boom in urban rail transit construction as many cities struggle to tackle traffic congestion in wake of fast growth in private car ownership. Shanghai, the nation's business and financial center, plans to have 970 km of rail transit lines by 2020. Li Bingren, chief economist with the Ministry of Housing and Urban-Rural Development, said: "The most effective way to ease traffic congestion is by investing more in public transport, especially urban rail transit lines, and by reducing the number of vehicles on the road." China had 962 km of rail transit lines in operation by 2009 and the total length will exceed 2,500 km by around 2015, said Tan Qinglian, president of China Civil Engineering Society.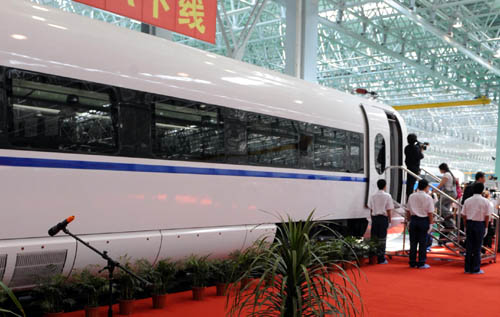 China's fastest high speed train "380A" welcomes its first batch of visitors when it comes off the production line in Changchun, northeast China's Jilin province, May 27, 2010. China's fastest high speed train rolled off the production line Thursday in Changchun, capital of the northeast China's Jilin province, a company executive said. Dong Xiaofeng, chairman of Changchun Railway Vehicles Co., Ltd., said the new generation train "380A" has the maximum operating speed of 380 km per hour. Changchun Railway Vehicles Co., Ltd. is a subsidiary of China CNR Corp, one of the country's two big train makers. The trains, which China has the independent intellectual property rights of, will run for the first time on the Beijing-Shanghai high speed railway that is to be completed and opened in 2011. On March 16, China's Ministry of Railways signed a contract to buy 100 new generation trains from China CNR Corp. High speed trains with the maximum operating speed of 350 km have been running on three lines that link Beijing and Tianjin, Wuhan and Guangzhou, Zhengzhou and Xi'an.
The Taiwanese electronics company buffeted by a spate of suicides at its mainland factories said on Friday it will raise workers' salaries by an average of 20 per cent.
Lending by Chinese banks may drop to 600 billion yuan (88 billion U.S. dollars) in May as the central government winds down its stimulus program and cools the property market to prevent the economy from overheating.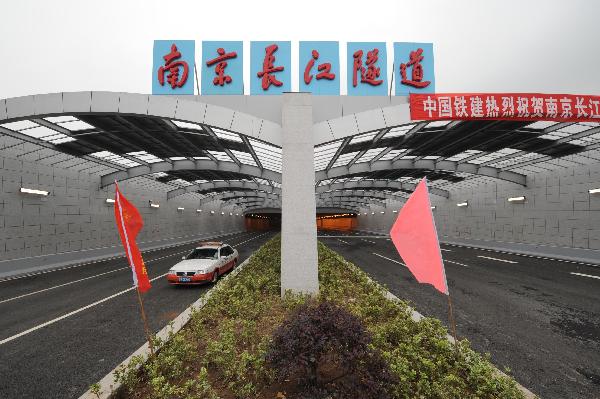 A car gets through the six-lane traffic tunnel under the Yangtze River in Nanjing, east China's Jiangsu Province, May 28, 2010. The tunnel, connecting the city of Nanjing on both sides of the river, is the third traffic tunnel built under the Yangtze River, China's longest river. The tunnel opened to traffic on Friday.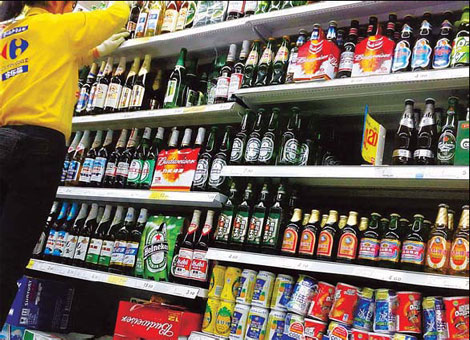 A variety of brews are on display at a supermarket in Chengdu, Sichuan province. The average beer consumption per person in southwestern China is 29 kilograms annually. The nights are certainly getting longer and louder in Jinli. No, it is not any geographical phenomenon, but the hustle and bustle of a typical summer night as more and more revelers head to the streets to chill out. Loud banter, music and sounds of "ganbei" ring the air in Jinli in Chengdu, one of the largest cities in southwestern China. With the mercury sizzling, it is the chilled beverages that are selling like hot cakes. And for several years now beer has been the most popular beverage in Sichuan province. The taste for beer also has its roots in the relaxed and easy life style of the region. So much so, that there is tremendous competition among the beer majors to boost investments and corner bigger market shares in the premium beer segment. The popularity of beer can also be seen in the clutter of billboards displaying various brands dotting the streets. "Most of our clientele come to have a drink after 7 pm, and we usually sell around 200 bottles of premium beer, priced at 15 yuan each, every day, even though our main business is food," said Xiao Li, a waiter at the Guan Jin bar in Jinli. Molson Coors, the world's fifth-largest brewer is one of the biggest that have stepped up their investment pace here. The company recently spent $40 million to buy a 51 percent stake in a new joint venture with the Hebei Si'hai Beer Company. The joint venture plans to launch premium beers with lower production cost in China. "Chengdu and Chongqing are among the cities that had the best sales figures last year for our premium brand Coors Light. We will consider making another new investment if the market keeps on growing," said Peter H. Coors, chairman of Molson Coors. Companies like Molson Coors are also encouraged to expand as premium beer sales in southwestern China are five times larger than the Northern regions, said John Zhang, general manager (operations), China of Molson Coors. The Guangzhou-based Molson Coors has been selling its premium brand, Coors Light, mainly in bars and night-clubs in southwestern China. The brand now accounts for 10 percent of China's premium beer market. Molson Coors' competitor, Carlsberg, the world's fourth-largest brewer, is also planning new investments in the southwest. The brewer is currently waiting for the outcome of a bid to acquire 12.25 percent stake in Chongqing Brewery Company. Carlsberg has also shown interest in the nation's southwestern market. Jorgen Buhl Rasmussen, president of Carlsberg, said he was planning to move the headquarters of Carlsberg China from Chengdu to Chongqing. With competition heating up, there is also a price war. Both Carlsberg and Coors Light are priced the same, and sell at around 180 yuan per dozen in Guan Jin bar. "Carlsberg and Coors Light are the two best-selling brands due to their reasonable price and good taste," said Li. The world's largest brewer Anheuser-Busch InBev's China arm started work on a new brewery in Ziyang, Sichuan province, this year. Fu Meikai, president of Anheuser-Busch Asia-Pacific region, said: "Anheuser's production in southwestern China will mainly focus on the premium restaurants and bars. Average beer consumption per person in southwestern China is 29 kilograms annually, below that of northern cities like Beijing, where beer consumption is 91 kilograms, according to China Jianyin Investment Securities. "The beer industry in southwestern China is focused on premium beer due to the more relaxed and easy lifestyle here. In addition, the local economic growth and relatively low consumption base signifies huge growth potential," Huang Wei, a food and beverage analyst with China Jianyin Investment Securities, said.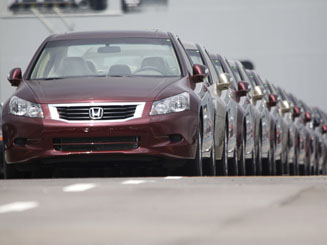 A 10-day-old strike at a key Honda component factory outside Guangzhou has forced Japan's No 2 carmaker to suspend production in China, the world's largest and fastest-growing car market.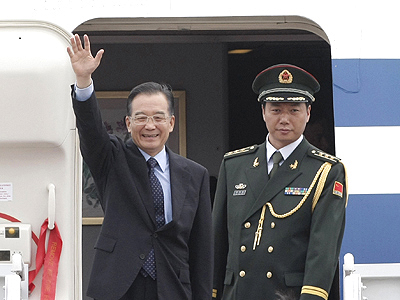 Prime Minister Wen Jiabao waves upon his arrival at the Seoul Military Airport in Seongnam, South Korea on Friday. Premier Wen Jiabao told South Korean President Lee Myung-bak on Friday that he condemned all acts that threaten peace and stability on the Korean peninsula and would not "harbour" anyone over the sinking of a South Korean naval ship in March. "China objects to and condemns any act that destroys the peace and stability of the Korean peninsula," Wen said during a meeting with Lee in Seoul, according to a South Korean official citing the Chinese leader's comments. Wen is on a three-day visit to South Korea.
A landmark China-Taiwan trade deal scheduled to be signed in June could be pushed back as the two sides wrangle over import tariffs, the government and analysts said on Friday.
China's one-time richest man and the founder of a major retail chain has appealed his 14-year jail sentence for bribery and insider trading, the Legal Daily reported on Friday.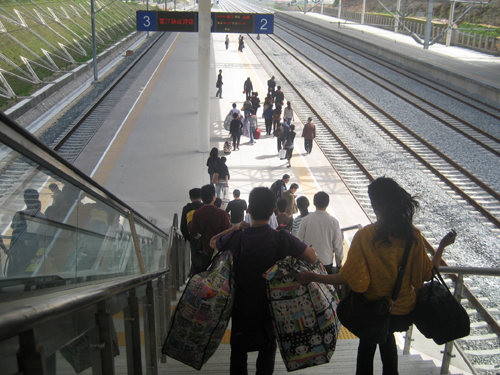 Jinjiang residents can travel to Xiamen in 30 minutes and Fuzhou in an hour on the 250km/h high-speed rail service. Just 12 months ago, the railway station in Jinjiang, Fujian province, part of the mainland's new high-speed rail network, was an untidy construction site. On April 26, when the inaugural high-speed train from Xiamen in the south to Fuzhou in the north passed through Jinjiang, the station was still far from completed, with its unpaved entrance area, stationary escalators and blank television information panels. But every day the train service runs, it is weaving Jinjiang - the country's shoe capital - closer into the economic fabric of the rest of the province. The city is the production base for 40 per cent of the nation's sports shoes - or 20 per cent of the world's total. The 250 km/h rail service has cut the journey time between Jinjiang and Xiamen to only 30 minutes whereas before it took one-and-a-half hours by road; and it is only an hour to Fuzhou, previously a two-and-half-hour road trip away. Adding to the Jinjiang's makeover was the opening of its first international hotel in March - Hong Kong conglomerate Wharf Group's 296-room Marco Polo Hotel.
Mission Hills Group, owner of the world's largest golf club in Shenzhen, will boost investment sixfold in a golfing complex on Hainan island which is undergoing a tourism and property boom. Mission Hills will spend a further 25 billion yuan (HK$28.5 billion) by adding more golfing, retail and community facilities at its five billion yuan club in Haikou, the island's capital, vice- chairman Ken Chu said. "We have confidence in the rise in Chinese consumption and them having a holiday mentality," Chu said. Mission Hills is switching its focus from foreigners to Chinese golfers as the nation's newly wealthy seek aspirational leisure pursuits, he added. Mission Hills opened a 12-course club, the world's largest, in 1992 in Shenzhen.
May 29 - 30, 2010

Hong Kong*: An application for compensation by four mainland parents whose babies fell ill in China's tainted-milk scandal two years ago was rejected by the Small Claims Tribunal on Thursday.
The Octopus company has set a December launch for a new smart card for use in both Hong Kong and Shenzhen Tong networks. The cutting-edge card integrates the functions of both smart cards but works in separate accounts for Hong Kong dollar and yuan. The card will contain no personal information like names of cardholders, said Octopus chief executive director Prudence Chan Bik-wah. "Hong Kong transactions will only be settled in Hong Kong and it is the same case for Shenzhen. The two systems are currently disconnected," Chan said. "Therefore inter-transaction is not available. Cardholders can only add value to the account with relevant currency." The Octopus company said talks are still underway with Shenzhen Tong on card repairs and deposit amounts. Octopus is widely used on public transport in Hong Kong, as well as in convenience stores and restaurants. It is also accepted in over 10 outlets operated by Cafe de Coral and Fairwood in Shenzhen, as well as in Shenzhen Dutyfree Group's outlets at Huanggang and Luohu ports. Shenzhen Tong can be used on Metro lines and public buses in Shenzhen, as well as in 10 retailers including Jusco and Vanguard. So far, Octopus is available in three major types: on-loan cards, sold cards and bank-issued cards. On-loan cardholders have to pay a refundable deposit, while a sold card requires no deposit. Chan expects the new card's selling price will not be higher than the current cost of Octopus cards. However, one passenger expressed concern over possible charging errors while another said he was worried about its security features. The Octopus company issued over 20 million cards last year, a 10 percent increase compared with 2008. It handled 11 million daily transactions worth HK$100 million a day, or around HK$36.5 billion a year, an 8 percent increase from 2008. Meanwhile, the Octopus PC Reader service will be available next month. Octopus cardholders can check their 10 latest transactions by connecting the reader - worth HK$210 - to a personal computer. Visually impaired users can also check their records with screen- reading software.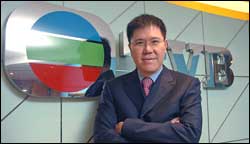 A senior TVB (0511) official yesterday sought to discourage more free-to-air stations, saying any new operators are likely to face tough limitations. Cheong Shin-keong, broadcasting general manager, said new FTA broadcasters will have to carve out niche markets in order to secure advertisements. "If they can come up with targeted programs or what the existing market lacks, and gain support from advertisers, then there is probably boundless space," Cheong said. "But honestly, such [niche] space is limited." Multiple broadcasters offering similar programs cannot co-exist easily, he said. He said TVB's focus on local and drama productions faces no direct competition but it will be ready to take on newcomers. City Telecom (1137) chairman Ricky Wong Wai-kay expects the government to issue FTA licenses in the fourth quarter at the earliest and sees much room for cross-media integration. TVB will spend hundreds of millions of dollars on a new studio covering 140,000 square feet in Tseung Kwan O, said group general manager Mark Lee Po-on. Cheong said there will be a mix of paid and free online services in the market in time. He noted all media groups recorded high double-digit growth in advertising income, adding TVB outperformed the market average as advertising rates returned to the level before the global economic crisis. "Many clients have been investing in their brand image, for which television has an edge," Cheong said. Lee said general manager Stephen Chan Chi-wan remains an "executive" at the station but cannot carry out his duties, pending further investigations into bribery allegations. TVB will review its internal system and evaluate the results of the ICAC probe, he said. He added that the broadcaster has always told its employees to abide by the law.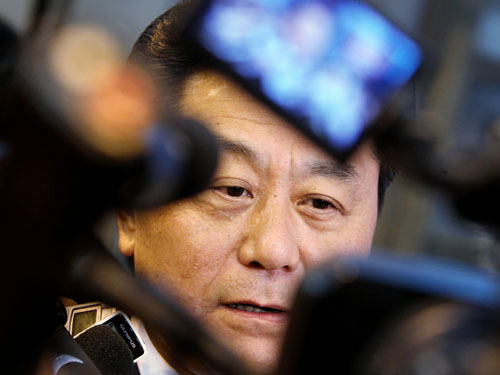 Li Gang, a deputy director of the central government's liaison office in Hong Kong, remains optimistic in his talks with pan-democrats on the city's constitutional reform. A Beijing representative in Hong Kong held his latest groundbreaking negotiations on constitutional reform yesterday - and rejected a proposal by moderate pan-democrats to allow the public to elect district council sector lawmakers in 2012. Li Gang, a deputy director of the central government's liaison office in Hong Kong, told the Alliance for Universal Suffrage in their first meeting that its suggestion was inconsistent with the legislative intent of the Basic Law regarding functional constituencies. He also made it clear that neither his office nor the Hong Kong government had the power to handle electoral arrangements beyond 2012, unless there was another decision by the central government. The alliance said the talks ended in stalemate because of substantial differences between the two sides. Under two proposals earlier released by the Democratic Party and the alliance, the number of seats in Legco would be increased from the present 60 to 70 or 80, with six or 11 seats for the district council sector respectively. Both groups suggested that candidates for the sector should be nominated by district councillors and elected by all registered voters in the city.

Rita Fan Hsu Lai-tai said on Thursday she did not think the government's latest political reforms would be passed by the Legislative Council this year. Fan was speaking after Li Gang, a deputy director of the central government's Liaison Office in Hong Kong, met representatives of the Democratic Party and the Alliance for Universal Suffrage on Monday and Wednesday. She said the meetings between the pan-democrats and Li would help improve relations. "But I am not optimistic the 2012 electoral reform package could be passed by a majority of the members in the Legco,'' said Fan, who is a member of the Standing Committee of the National People's Congress of the People's Republic of China. "Based on my own dialogue with the pan-democrats, they want the central government to assure them that functional constituencies would be abolished. But this is not something the central government can do,'' she explained. "So under these circumstances, it would be very difficult for the pan-democrats to support the government's reform package," said Fan. Asked whether she believed the central government was trying to divide the pan-democratic camp by only meeting some of its representatives, Fan said she did not think this was the case. She said the meetings ultimately showed the central government was willing to communicate with political parties, who respected the Basic Law and constitutional development in Hong Kong. On Friday, Li will continue with the consultation process and meet with members of the Hong Kong Association for Democracy and People's Livelihood, including legislator Frederick Fung Kin Kee.
Billionaire and Cheung Kong (Holdings) (SEHK: 0001) chairman Li Ka-shing said on Thursday his company and foundation might underwrite a total of US$200 million (HK$1.5 billion) of Prudential's rights issue. "My foundation and the company (Cheung Kong) may set aside US$100 million each for the [Prudential] deal," Li said . "It was a deal proposed by our finance manager and would be very small in dollar value," he said, referring to the potential investment in Prudential's US$21 billion rights issue.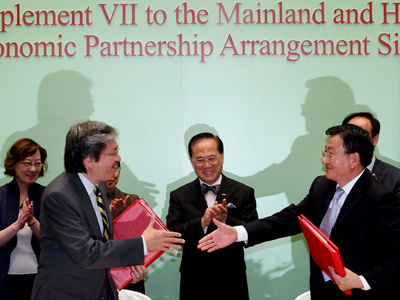 Hong Kong signs latest Cepa deals - Financial Secretary John Tsang Chun-wah (left) and the Vice-Minister of Commerce Jiang Zengwei (right), exchange documents after signing the seventh supplement to the Closer Economic Partnership Arrangement (CEPA) on Thursday. The seventh supplement to the Closer Economic Partnership Arrangement (Cepa) between Hong Kong and the mainland, was signed at the Central Government Offices in Hong Kong on Thursday. The supplement was signed by Financial Secretary John Tsang Chun-wah and China's Vice-Minister of Commerce Jiang Zengwei, with Chief Executive Donald Tsang Yam-kuen and other guests as witnesses. Thirty five measures will come into effect next year to improve cross-border trade. The new supplement also relaxes market access conditions in 14 service sectors, such as medical services, tourism, banking and air transportation. The supplement will enable Hong Kong service industries to develop in the mainland market and allow professional exchanges between the two sides. More information on Cepa is available on the Trade and Industry Department's CEPA website http://www.tid.gov.hk/english/cepa/index.html.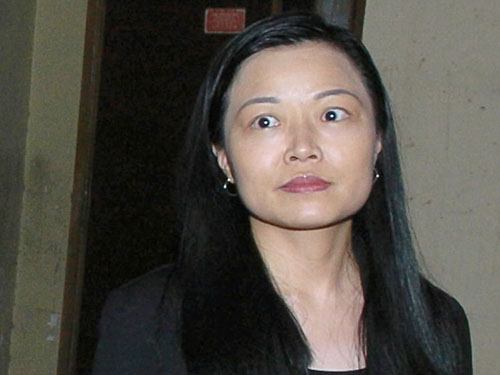 The ICAC could soon have its first woman chief of operations. Prominent graft investigator Rebecca Li Bo-lan, who has led several high-profile cases, is set to be promoted next week as one of two directors in the department. This makes her one of two deputies to current chief Daniel Li Ming-chak, who is expected to retire at the end of next year. The other director, Ryan Wong Sai-chiu, who oversees government services, is expected to retire in 2012, leaving Rebecca Li a strong candidate for the top post. Li, who is in her mid-40s, is now the acting director for private-sector corruption, and is due to formally succeed Francis Lee Chun-sang on June 1, when Lee begins his retirement leave. Li is regarded as a high-flyer. In 2000, she became the first officer from the anti-graft watchdog to be sent to the Federal Bureau of Investigation for training, alongside crime fighters from around the world. She made her name after leading the investigation of several high-profile corruption cases over the past decade, including the arrest of Mo Yuk-ping, the wife of the jailed Shanghai tycoon Chau Ching-ngai, who was convicted of manipulating the shares of her husband's former company. Li was also in charge of the probe of former deputy inland revenue commissioner Agnes Sin Law Yuk-lin, who was convicted of defrauding the government of HK$330,000 in rental allowances. She also earned acclaim for cracking an international fake passport syndicate. Li was promoted to her current position of assistant director of operations in 2002. The 800-strong operations department is the core unit of the anti-graft agency and its largest. It is its investigative arm, responsible for looking into various corruption offences. Before she became acting director, Li was the most senior among the four assistant directors. A senior officer at the agency said that Li had a "very high chance" of taking up the directorship next week, and she is on the path to be "the first female head of operations in ICAC history". The departure of Lee, the outgoing director, signals the start of a wave of retirement involving the first generation of graft investigators. Many had been with the agency since it was set up in 1974. Lee took part in the investigation into the infamous "Four Great Sergeant" case in the 1970s that targeted the "HK$500 million Sergeant" Lui Lok. Lee was also involved in the probe into notorious drug lord "Limpy Ho" Ng Sik-ho. It is understood that Lee intends to enjoy his retirement in leisure and will not work in the private sector. A spokeswoman for the Independent Commission Against Corruption said yesterday that the appointment of operations director would be announced at an appropriate time.

China*: Lenovo returned to the black in its fiscal fourth quarter helped by strong growth in its home market in the mainland, but its earnings lagged expectations as its margins fell.
One-third of Chinese billionaires have businesses in real estate and the companies are mainly located in big cities such as Beijing, Hangzhou, Guangzhou and Shenzhen, a latest research report has found.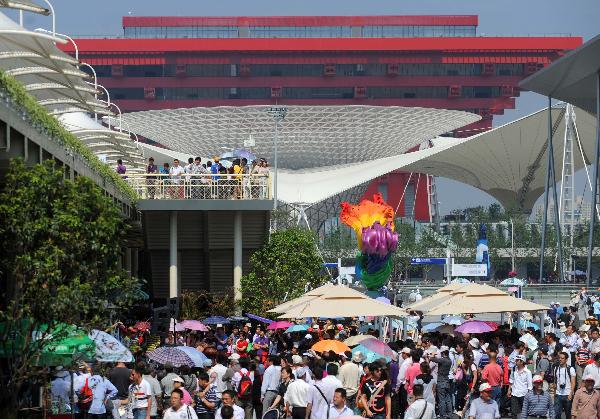 Swarms of people visit the 2010 World Expo Park in Shanghai, east China, May 27, 2010. Some 367,400 people visited the World Expo on Thursday , setting a new record of the daily number of visitors since the Expo opened on May 1, according to official statistics.
Foxconn boss Terry Gou (center) is surrounded by journalists as he arrives at the Shenzhen factory. He said the company could not interfere if workers had personal problems. Xinhua quoted the Foxconn press office as confirming a worker had jumped to his death. The news agency said it had received a call at 11.32pm from a Foxconn worker saying a man had been found lying on the ground at the Longhua plant. Gou, chairman of Foxconn's Taiwanese parent company Hon Hai Precision, said earlier the 11 suicide attempts since January, nine of them successful, were more of a social problem and Foxconn should not bear the blame. He said the suicide rate was bound to rise as society became more affluent. "Generally, the suicide rate in a society will increase when its GDP rises," Gou told some 200 mainland and foreign reporters during a rare press tour of the sprawling Longhua plant. "I've consulted psychologists and they told me the suicide rate at Foxconn is much lower than the country's average." Gou, the third-richest person in Taiwan with a fortune estimated at US$6 billion, said affluent Japan also had a high youth suicide rate.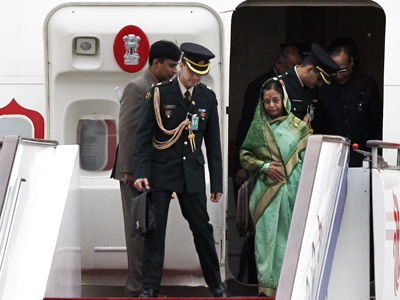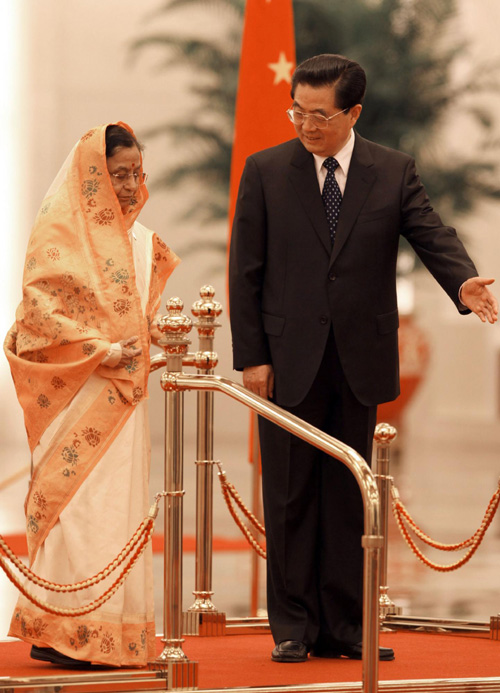 Indian President Pratibha Patil arrives at Beijing airport for a rare state visit on Wednesday. ndian President Pratibha Patil will seek to soothe trade disputes and recent border tensions in meetings with Chinese leaders in Beijing on Thursday. Patil is the first Indian head of state in a decade to visit her country's giant neighbour, an illustration of how ties remain cool almost 50 years after the countries fought a brief but bloody border war. Patil was scheduled on Thursday to meet with Premier Wen Jiabao and President Hu Jintao before attending a signing ceremony for a number of bilateral agreements. Her six-day visit will also take her to the India pavilion at the World Expo in Shanghai and to the central city of Luoyang, where she will attend a temple ceremony commemorating the arrival of Buddhism from India 2,000 years ago. Such activities mark a push to strengthen ties between the two beset by mutual suspicion and a sharpening rivalry over resources and global markets to fuel their surging economies.
Mainland developer Longfor Properties has seen its contract sales drop by 40 per cent to 1.5 billion yuan (HK$1.7 billion) so far this month from April as buying interest is dampened by central government efforts to cool the market. The firm has sold 2.5 billion worth of properties in April. "With the market clouded by the uncertainties, property sales for the next two to three months will remain unchanged," chairwoman and chief executive Wu Yajun said. However, Wu said the developer had no immediate plans to offer discounts to perk up buying interest. Some developers have offered discounts in response to a sharp fall in sales since the April 16 crackdown on credit to the housing market, with measures that included higher initial down payments and tighter loan conditions for buyers of second homes. Guangzhou-based Evergrande Real Estate Group (SEHK: 3333) fired the first salvo in the latest discount war on May 5 when it said it was slashing prices in 40 projects in 20 cities by 15 per cent. Other developers followed suit and prices of units in projects being launched in Shanghai, Beijing and Nanjing have been cut by as much as 19 per cent. Wu said the firm would release more projects in cities less affected by the austerity measures. She said property prices in the western region remained stable with sales mainly driven by end-users. Wu declined to comment if she thought Beijing would impose tougher measures in coming months, although she believes measures to contain spiralling home prices have started to take effect. She is confident Longfor will achieve its 24.8 billion yuan sales target this year. On land acquisitions, Wu said the firm was actively looking for opportunities but its land bank was sufficient to cover the next five to seven years. Shares of Longfor increased 3.48 per cent to close at HK$7.72.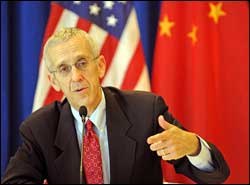 US climate change envoy Todd Stern said it is "hugely important" that all countries accept outside review of their greenhouse gas emissions. His comments came during a trip to Beijing, which has rejected such calls. "With respect to the issue of transparency, I think it's hugely important and we do put a lot of emphasis on it," said Stern, who also led US negotiators at December's Copenhagen climate summit. "Countries need to be able to see what track the world is on generally, where we are going." Stern was in Beijing as part of a large US delegation for high-level strategic and economic talks. At a climate change seminar at Tsinghua University yesterday, he said nations also need to be able to have confidence that other countries are doing their best to meet climate change goals. The mainland, the world's top source of gases blamed for global warming, says it will not accept outside reviews of its efforts to slow emissions. Beijing has pledged to reduce its carbon intensity - the measure of emissions per unit of gross domestic product - by 40 to 45 percent by 2020 based on 2005 levels. Under that plan, however, emissions would continue to climb for many years. More than 190 nations are negotiating a successor treaty to the Kyoto Protocol to fight climate change, which United Nations scientists warn could bring growing disasters and threaten entire species if left unchecked. Stern did not give details of the US team's three-day talks on climate change with mainland officials.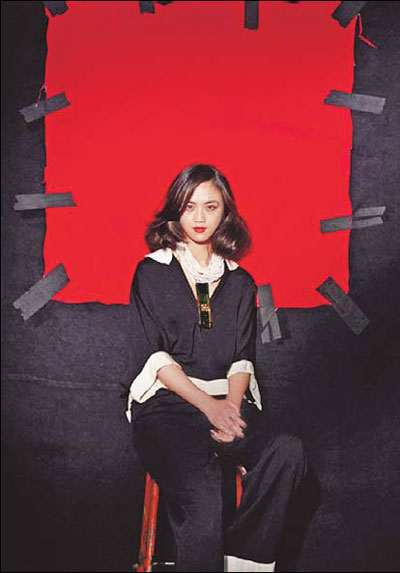 Tang Wei will appear on the cover of next month's Chinese Vogue. "Girl next door" Tang Wei is the new face of China after making her comeback in the film Crossing Hennessy (2010). Following a two-year hiatus since appearing in the controversial Ang Lee flick Lust, Caution, she has become the most sought-after actress by a host of fashion brands. She appears to have replaced actress Zhang Ziyi as the image ambassador for fashion magazines and product endorsements, reckons Cosmopolitan China's fashion critic Wang Xiaoyuan. Tang's agency, EDKO Films, said companies are lining up for Tang to be their brand ambassador, or get involved in their advertising campaigns. She was invited to Christian Dior's fashion show in Shanghai earlier this month and appeared in a simple black evening dress, wavy hair, light cosmetics and without any accessories. She is also the cover girl of fashion bible, Vogue (China version), next month. Tang smiles sweetly in a Dior floral one-piece dress. Stylist Emmanuel Sammartino says the look is endearingly natural. Tang is one of the few actresses to have appeared more than once in Vogue, twice in the past two years, signaling what an important fashion industry figure she is. "Tang is pretty. Compared with Western actresses who always deliver sexy images, Chinese women still prefer a traditional sweet face," Vogue's editor-in-chief Angelica Cheung explains. Esquire feature editor Liang Dong says Tang has also done spreads for the magazine. "She certainly is hot. She has her own style, sweet and soft, unlike the other cold faces in fashion industry. It is the new trend," he says. Tang has also built up a good relationship with fashion brands and the deals she's making are worth millions. Tang's status as a fashion icon earned her a deal with cosmetic brand Unilever in 2008, which was worth 6 million yuan ($880,000), according to Xinhua Net. Her relationship with Dior started last year, when Tang wore a black, silk, polka-dotted dress from the label's autumn/winter collection, bringing a touch of glamour to the opening of the Dior store at ION Orchard, Singapore. It seems Tang is winning the marketing battle with Zhang Ziyi, possibly China's best recognized actress and one of Ang Lee's other favorite film stars. The two are often linked by local media as "Ang's girls". Salvatore Ferragamo introduced both of them onto the fashion stage. While Tang took a break from filming from 2007 to 2009, Zhang was the country's favorite actress and represented various international brands, including Emporio Armani and Mercedes Benz. Now the situation is reversed, as Zhang has been troubled by a charity donation scandal, while Tang is back bigger than ever. This year, Zhang has only appeared in local magazine iLook. As for Vogue, though its China version was launched in 2005, it took Zhang three years to become its cover girl in the 2008 April issue. But according to an article in Southern Entertainment Weekly, Tang still needs to work hard to beat Zhang. Her biggest problem is Trends Media Group, the largest fashion media company in the mainland. Tang has only appeared in Cosmopolitan among its stable of titles, while Zhang's face has been on the cover of all its major fashion magazines, including Harper's Bazaar. Even so, the trend is away from Zhang's cold and sexy look, to Tang's demure image, Vogue's Cheung says. "Tang's sweet style is traditional, and it will never be abandoned by the fashion industry," Cheung says. The fashion battle reminds many onlookers of the former rivalry between Gong Li and Zhang, who were known as "Mou's girls", in reference to director Zhang Yimou. Now its Ang's girls and a face-off between Tang and Zhang.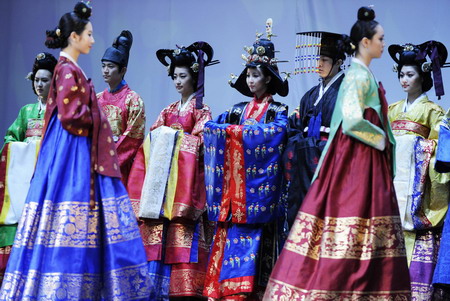 Performers in traditional Korean royal costume put on a culture show inside the Republic of Korea Pavilion at the Shanghai World Expo site, on Wednesday, May 26, 2010, its National Pavilion Day.
May 28, 2010

Hong Kong*: Rewards in pipeline for developers to save water - In the government proposal, developers who include waste-water and rainwater-recycling systems in new projects could be rewarded with floor-area concessions, enabling them to build more flats. The deal would come under a policy that grants concessions for supposedly green features that is already under review after it was found that some canny developers had used it to almost double the size of their projects. Secretary for Development Carrie Lam Cheng Yuet-ngor said yesterday a water-saving system, which collects rainwater and waste water from the kitchen sink and bath to flush toilets and irrigate gardens, was being studied by a consultant. "If the system is feasible, we will not rule out considering offering incentives, as we have done in exempting some features from gross-floor-area calculations," Lam said. Legislator Lee Wing-tat, the Democratic Party's spokesman on housing affairs, said the government should be very cautious in granting any more floor-area concessions. "It is now the community's consensus not to give any more gross-floor-area exemptions to developers," Lee said. "If it is good for the environment the government should simply make the system compulsory." Roy Tam Hoi-pong, of Green Sense, said he would not object because the system was genuinely green, unlike clubhouses or car parks, for which developers had previously won concessions. The system has already been introduced in some new government buildings as a pilot scheme. Director of Water Supplies Ma Lee-tak said a consultancy study was looking into ways to incorporate the scheme in high-rise buildings. "A key point to consider is whether we can introduce the system to public housing estates, which often come with a large site, so it can function more efficiently," he said. According to a paper the department prepared for legislators, two blocks of 30 storeys would require a 1,000 square metre basement to house the system, including pumps, tanks and facilities for filtration, disinfection and biological treatment. The department said it would be considered particularly for areas still using fresh water not seawater for toilet flushing, which covered 20 per cent of the population. It could serve as an alternative to extending the seawater-supply system to the areas. Lam said cost-effectiveness was a key factor, as water from the Dongjiang, or East River, in Guangdong, Hong Kong's main source, was cheap to import. The idea has been floated at a time when the government is expected to announce shortly the results of its review of the practice of granting extra floor areas to developers for green features and amenities. Over the past decade, developers have been allowed to build podium gardens, clubhouses, car parks and other features, and to exclude them from the gross-floor-area calculations of the residential development. This has resulted in tall and bulky buildings. Wong Kam-sing, Green Building Council director and architect, said the new initiative would do good as long as it did not add to the bulk of a building. He said the system would benefit an estate with a big garden, which needs a lot of irrigation water, citing the example of Lohas Park in Tseung Kwan O.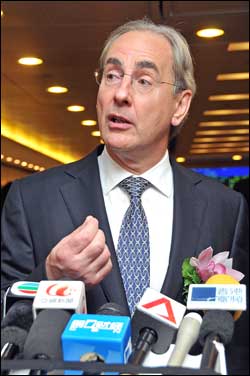 Shares of Prudential (2378) plunged 4.19 percent on its Hong Kong trading debut, but the UK insurer says it is optimistic of gaining shareholders' approval for the acquisition of American International Assurance and its US$21 billion (HK$163.8 billion) rights issue. "I am confident that the shareholders will see the value and we will get their approval," chairman Harvey McGrath said in a teleconference in Hong Kong. He said there was "substantial support" from investors since the prospectus was released on Tuesday last week. Prudential needs the approval of 75 percent of its shareholders to buy out AIA for US$35.5 billion. Shareholders will vote on the issue on June 7. McGrath, who has 297,574 shares, or a 0.012 percent stake, said most Prudential directors including himself will take up their rights. Chief executive Tidjane Thiam, chief financial officer Nicolaos Nicandrou and Robert Devey, chief executive of Prudential UK and Europe who was appointed to lead the integration with AIA, will also take up their rights issue, he added. McGrath declined to comment on a Financial Times report that AIA chief executive Mark Wilson would resign if Prudential acquires AIA. Shares of Prudential dropped 4.19 percent to close at HK$57.20 after opening at HK$59.70. The opening price was set according to Monday's close in London at 5.30. Prudential started trading in Hong Kong and Singapore yesterday by way of introduction to raise funds for the acquisition. It closed in Singapore at US$7.41 after opening at US$7.72. McGrath said low trading activity was expected for a company listing by way of introduction, due to the limited pool of shares. Transaction value was thin with 1.07 million shares changing hands for HK$62.3 million. "I won't be surprised to see between 10 and 20 percent of shares being transferred to Asia," he said. A total of 50.97 million shares, or 2.01 percent of the issued share capital, were registered in Hong Kong as of Monday, according to the company.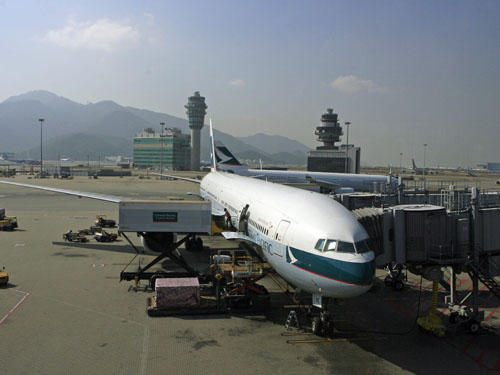 Cathay Pacific and Singapore Airlines passengers flying to other countries will have to pay 20 percent more in fuel surcharges. The Civil Aviation Department yesterday approved the increase. Cathay Pacific will increase its short-haul fuel surcharge from HK$92 per journey in May to HK$110 in June, and for long-haul flights a 21 percent rise from HK$434 to HK$524. The surcharges are the highest imposed in a year. Last June the surcharges were HK$52 and HK$239, for short-haul and long-haul flights respectively. Though global fuel prices are falling now, the increases are based on a fare mechanism which Cathay Pacific argues has a cumulative effect. "There is a time-lag element from the time we submit our application to the time when the new fuel surcharges become effective," a Cathay Pacific spokeswoman said. "In fact, our passenger fuel surcharges continue to be significantly lower than those of other international airlines on comparable routes outside Hong Kong." Fuel surcharges were first introduced in 2004 when oil prices surged.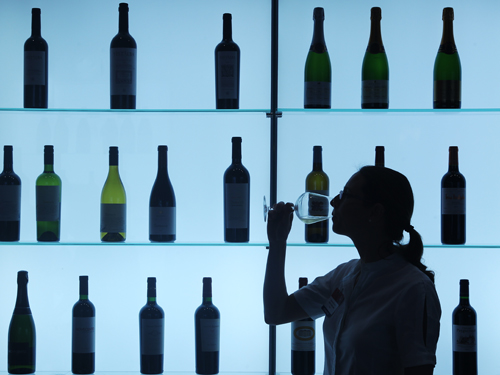 A visitor samples wine at an exhibitor's booth at the Vinexpo Asia-Pacific at the Convention and Exhibition Centre. Some 840 exhibitors from 32 countries are attending. Wine dealers suspect Chateau Lafite fraud - Suspicions are being raised that some customers on the mainland have been duped into buying 2009 Chateau Lafite Rothschild wine before prices and allocations have been determined. In what is being viewed as a direct consequence of the seemingly unquenchable thirst for Chateau Lafite on the mainland, some wine dealers have reported anecdotal evidence that unsuspecting customers may be buying wine that might not be delivered as promised. As early as the end of March, Michael Hundebol, purchasing and trading director of Veyret Latour, a major Bordeaux fine wine merchant, heard from two clients on the mainland that they had been offered 2009 Chateau Lafite for about €1,000 (HK$9,506) a bottle. Hundebol said he tried to explain that this was not possible as the wine was not yet priced or even bottled. Another of Hundebol's clients, in Hong Kong, wanted to pre-order the 2010 and 2011 vintages after being unable to secure any of the 2009. "I told the client that I cannot do this and that this is not how it works," he said. "I'm not sure if any money has changed hands but I hope not." Hundebol said this was the first time he had come across anything like this and that many Bordeaux wine producers scoffed at the idea that the sale of wine en primeur was being exploited on the mainland. En primeur, or wine futures, is an established way of offering substantial amounts of Bordeaux wines for sale while the vintage is still in the barrel. This effectively allows customers to invest in a particular wine early in its life. This means the 2009 vintage, which was harvested around October last year, is expected to be priced by late next month and bottled for delivery between late next year and early 2012. As such, it won't be known whether the suspicious trades on the mainland are actually fraudulent until the wine is delivered in about 18 months' time. Prices are set by the chateaux while merchants and wholesalers determine how the stocks of wines are allocated. Sam Gleave, sales director of Bordeaux Index, the largest fine wine distributor in Britain, said he had also heard about customers on the mainland being offered the 2009 Chateau Lafite and worried that such developments would kill the market. On the mainland, Chateau Lafite, of any vintage, is the preferred tipple, largely because of the estate's renown, while a bottle or case of the wine is customarily given when sealing a business deal. "I don't think there's really much you can do about it," Hundebol said. "All I know is that the 2009 Chateau Lafite will be expensive." Major producers from Bordeaux and merchants are in Hong Kong this week for the Vinexpo wine and spirits exhibition and are waiting until after it to set their prices. Although many said they were not aware Chateau Lafite was already being offered for sale, the fact that it happened on the mainland did not surprise them.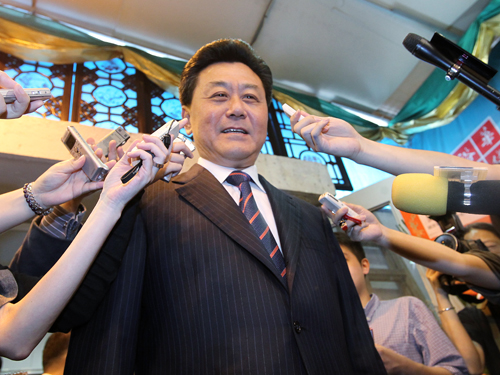 Li Gang, deputy director of the central government's liaison office in Hong Kong, speaks to the media before his meeting with members of the Alliance for Universal Suffrage on Wednesday. In that meeting, Li met with the Democratic Party's chairman Albert Ho Chun-yan, deputy chairwoman Emily Lau Wai-hing and legislator Cheung Man-kwong to exchange views. Wednesday's meeting with the alliance, which comprises 13 moderate pan-democratic groups, lasted two and a half hours. Those who met Li included convener of the Alliance for Universal Suffrage Fung Wai-wah, alliance deputy convener Helena Wong Pik-wan, Civic Party lawmaker Ronny Tong Ka-wah, alliance vice-convenor Richard Tsoi Yiu-cheong, and alliance member, Chan Kin-man. Li and the alliance members said the meeting had been conducted in a frank, open manner. Both parties made statements outlining their views on political development in Hong Kong. But Li said the alliance's suggestion to allow all voters to elect six legislative members from the district councils in 2012 did not conform with the Basic Law, or the decision made by the central government's Standing Committee of National People's Congress (NPCSC) 2007.
The Taiwan-Hong Kong Economic and Cultural Co-operation Council is inaugurated in Taipei today and will kick off with talks with its Hong Kong counterpart on aviation rights and tariff exemptions. The planned talks, unprecedented on such an official basis between Taiwan and Hong Kong, would begin soon after the inauguration, its secretary general James Chu Shi said. "There are many topics, such as aviation rights, which require an official channel for talks, and also the tariff issue that the Hong Kong government has raised," Chu said. Talks on the current aviation pact, which will expire next month, have been done by Cathay Pacific Airways (SEHK: 0293) and the Taipei Airlines Association, because Hong Kong has avoided official contacts with Taiwan. That has changed thanks to warming cross-strait relations that resulted in Beijing largely lifting its hands off the Hong Kong government's dealings with Taipei. Official contacts between Taipei and Beijing have become more frequent since the mainland-friendly Ma Ying-jeou took office as president in May 2008. Last year Hong Kong and Taipei started discussing forming semi-official bodies that could represent them in mutual talks. Hong Kong set up the Hong Kong-Taiwan Economic and Cultural Co-operation and Promotion Council on April 1, reciprocated by the island officially opening its counterpart today. Both councils consist of senior government officials. Taiwan's council, Chu said, was set up within the Mainland Affairs Council, Taiwan's top mainland-policy-planning body, under which he doubles as the director of Hong Kong and Macau affairs. He said the Taiwanese side would propose to discuss health and food safety issues, given that there were 2.86 million travellers between Taiwan and Hong Kong last year. "With such an intensive exchange of visits, there is a big concern about health." He said it was unlikely the two sides would cut flights, despite direct air links between Taiwan and the mainland. Hong Kong used to be a median port between Taiwan and the mainland before Taiwan forged direct links in late 2008. Chu also expressed welcome for any visit by Hong Kong's financial secretary, John Tsang Chun-wah, the honorary chairman of Hong Kong's body, who says he hopes to lead a delegation for economic talks. Chu said this could help increase official visits between the two sides.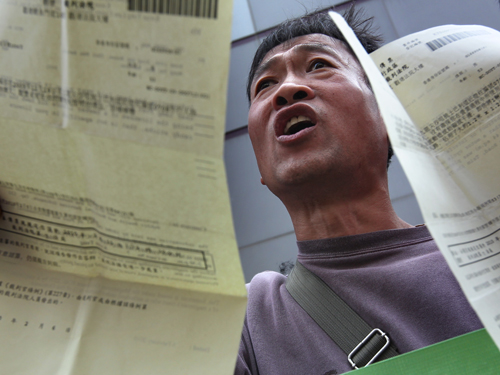 An ice-cream hawker left court yesterday with a HK$100 fine and a pat on the back from the magistrate for providing an invaluable service on a hot day, while the bureaucrats that sent him there got a rap on the knuckles for overzealous policing of rules. "I hope I can be your patron next time. I will be very happy to see you on a hot day," magistrate Jason Wan Siu-ming told Chu Chung-wah in Kwun Tong Court. Chu, 53, was charged with obstructing the pedestrian area at the Tsim Sha Tsui Star Ferry pier on December 19 and selling an item not allowed under his hawker licence. The obstruction charge was dropped when the prosecution indicated it would offer no evidence, but the prosecution proceeded with the charge that Chu had been selling candy sticks, which his licence did not allow him to sell. Chu pleaded guilty. In fining him HK$100, Wan questioned the need to prosecute him for such a minor offence and suggested the Food and Environmental Hygiene Department be considerate and flexible when determining whether to press such charges against ice-cream hawkers. He described Chu as a hardworking hawker whose offence was not serious. "The defendant has been working hard to make ends meet," he said. "Don't be daunted and don't change your working attitude because of the conviction." Wan said he admired Chu for selling cold drinks and ice cream on hot days. Chu thanked the magistrate. Chu was one of the 61 successful applicants out of about 3,700 for an ice-cream hawker licence when the department started issuing them last year for the first time since 1993. Chu, who earns about HK$6,000 a month selling ice cream and drinks, said he would renew his licence when it expired in October. Dairy Products, Beverage and Food Industries Employees' Union chairman Cheung Chee-hung said the union was glad the obstruction charge was dropped and that he was happy with the judge's comments. "Many of us sell lollipops, other candies, chewing gum and biscuits along with ice cream and beverages," he said. "Business is tough and we hope the government can also show some compassion." When Chu, the first of the new hawkers to faces charges, first appeared in court in March, the union sought a meeting with the department on issues raised by the case. Cheung said that after two meetings, the department's attitude changed - "and we are so glad to say that there is now less harassment from hygiene officers". "Before the meetings, we were often accused by officers of blocking thoroughfares. Now there is more mutual understanding between the officers and us," he said. "We have to do our business in busy areas, but we will refrain from going into areas that are too busy, like in peak hours or when there is a big demonstration." The Food and Environmental Hygiene Department said Chu had been warned several times before he was prosecuted. It had decided to drop the charge against him after taking into consideration that he was a new hawker and not familiar with the law.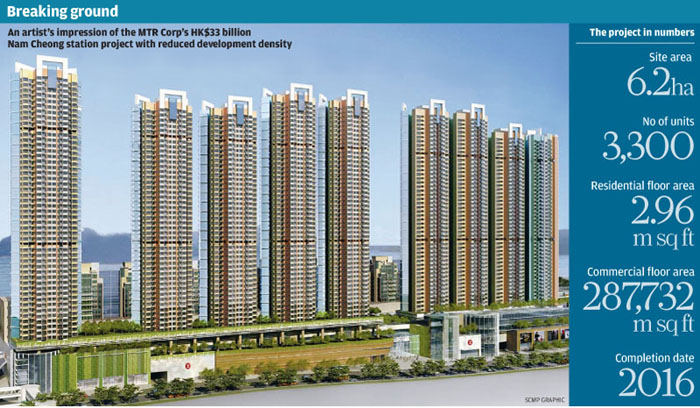 The stock market slump did not discourage the city's three biggest property players from joining the bidding for the MTR Corp's HK$33 billion Nam Cheong Station project in Sham Shui Po yesterday. Cheung Kong (Holdings) (SEHK: 0001), Sun Hung Kai Property and Henderson Land (SEHK: 0012) yesterday all submitted bids for the project despite stock market jitters over the euro zone debt crisis and tensions on the Korean peninsula. "The response was better than my expectations," Charles Chan Chiu-kwok, managing director at Savills Valuation and Professional Services, said. "I was originally worried none of the developers would submit bids as the land premium was expensive and it is restricted to a mass residential development project." The Lands Department imposed a land premium levy of HK$13 billion, or HK$6,582 per square foot, for the first phase of the project. That is close to the property prices of nearby new housing estates. Prices at Park Avenue and One Silver Sea range between HK$7,316 and HK$12,423 per sq ft, according to Centaline Property's transaction data. The winning bidder of the project will have to discuss the land premium amount of the second phase of the project with the government.

China*: China's powerful pricing regulator, the National Development and Reform Commission, has announced four measures aimed at cracking down on collusion between pharmaceutical firms, irresponsible government agencies and hospitals that keeps drug prices artificially high. At a national conference of pricing bureau chiefs, the NDRC announced it would improve scrutiny of drug prices set by pharmaceutical companies. For drugs subject to government price controls, it would strengthen cost verification, Xinhua reported yesterday. It would also establish a mechanism to adjust prices of basic drugs and study methods to improve the regulation of drug prices. The commission plans to increase the surcharge ratio for cheap drugs and reduce the ratio for expensive drugs to encourage hospitals to sell more cheap drugs. The government allows hospitals to impose a 15 per cent surcharge, but cheap drugs are scarce in hospital pharmacies because of their low surcharge return. "Price-regulating authorities will reinforce investigation of the purchasing and selling prices of drugs whose prices the pharmaceutical companies have the liberty to set," an unidentified official at the meeting told Xinhua. "The crackdown on those who maliciously increase prices during circulation and make huge profits will be strengthened." The official said the NDRC would verify the real factory-gate price of drugs covered by the basic medical insurance network, the government guidance price of which is related to the price set by the manufacturer, and would strictly scrutinise the cost breakdown to prevent pharmaceutical companies from inflating costs and making prices artificially high. China Central Television reported last week that a bottle of asparagus tablets, an auxiliary drug for cancer survivors, was being sold for almost 14 times its factory-gate price at Hunan's Second Xiangya Hospital. The report caused a nationwide uproar. The drug, bought by one pharmaceutical dealer in Hunan for 15.50 yuan (HK$17.70) a bottle, was sold to other dealers for no more than 40 yuan. But it could not be sold to the hospital for less than 136 yuan because that was the guidance price set by the Hunan health authorities. Central government policies allow the hospital to impose a 15 per cent surcharge but it imposed a 56 per cent surcharge and sold the drug to patients for 213 yuan a bottle. Liao Xinbo , deputy chief of Guangdong's health department, said in his personal blog that hospitals were only the end link of the profit chain. The key was the artificially high prices set by pricing authorities. Liao said the NDRC and provincial pricing authorities set "ridiculously high" guidance prices for drugs, while provincial-level health authorities that invited bidding set prices a little lower, but still very high. "Without reform on these two links and the current drug pricing mechanism in place, drug prices will still be high," Liao said. Feng Zhanchun, a professor at Huazhong University of Science and Technology's college of medicine and health management, said drug prices could be lowered if cost verification was reinforced and price rises in the supply chain controlled. "The asparagus scandal reveals how drug prices can be raised alarmingly high during circulation," Feng said. "The price increased each time it changed hands and it was hardly regulated. There are market and also administrative reasons for that. "Verifying cost is a measure that could bring prices down but ... it can only work with good execution."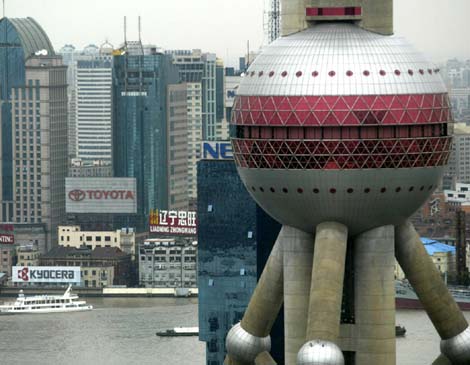 The State Council has approved a regional development plan for the Yangtze River Delta, which aims to build the area into a major international gateway in the Asia-Pacific region, and a center of modern service and manufacturing industries around the globe.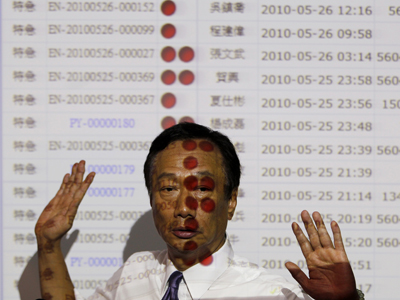 Foxconn Technology Group Chairman Terry Gou stands in front of the screen showing the names of his staff looking for help at the staff care centre at the company's complex in Shenzhen on Wednesday. The head of the giant electronics company whose main facility in Shenzhen has been battered by a string of worker suicides opened the plant's gates to scores of reporters on Wednesday, hours after saying that intense media attention could make the situation worse. Foxconn Technology Group Chairman Terry Gou led the media tour at the sprawling Foxconn complex in Shenzhen – an unprecedented move from the normally super-secretive Taiwanese company still struggling to come to terms with the suicides of 10 young workers this year. On Tuesday Li Hai, 19, became the latest victim of the suicide surge, jumping to his death from a building at the world's largest contract maker of electronics, which counts among its products Apple iPods, Dell computers and Nokia phones. Police said Li killed himself after working at the plant for only 42 days, Xinhua news agency reported. The suicide is the ninth at Foxconn's massive plant in Shenzhen, which employs more than 300,000 people. Two other workers have tried to kill themselves by jumping from buildings in Shenzhen but they survived. Another suicide occurred at a smaller plant in northern Hebei province in January. The highest-profile Foxconn death happened last July when Sun Danyong, 25, jumped to his death after being interrogated over a missing iPhone prototype. Speaking to reporters early on Wednesday in Taipei, Gou said continuing media interest in the suicides could make a bad situation even worse. "The media's continuing reports will help generate a suicide cluster among these young people who have just entered the job market," Gou said. Labour activists say the string of suicides back up their long-standing allegations that workers toil in terrible conditions at Foxconn. They claim shifts are long, the assembly line moves too fast and managers enforce military-style discipline on the work force. But Foxconn has insisted that workers are treated well and are protected by social responsibility programmes that ensure their welfare. The Shenzhen factory is perennially a popular place to work, with hordes of applicants lining up for jobs during the hiring season. Foxconn is a major manufacturer for Apple, and the American company said that it has talked to Foxconn's senior management about the suicides and believes the firm is taking the matter seriously. "We are saddened and upset by the recent suicides at Foxconn," Apple spokesman Steve Dowling said. "Apple is deeply committed to ensuring that conditions throughout our supply chain are safe and workers are treated with respect and dignity." "A team from Apple is independently evaluating the steps they are taking to address these tragic events, and we will continue our ongoing inspections of the facilities where our products are made," he said. Dell also said it was also looking into Foxconn's situation. "Any reports of poor working conditions in Dell's supply chain are investigated and, if warranted, appropriate action is taken," Dell spokesman Jess Blackburn told the reporters via e-mail. "We expect our suppliers to employ the same high standards we do in our own facilities," Blackburn said. Nokia spokeswoman Louise Ingram declined to comment on specific suicide cases. "Nokia firmly believes that all employees have the right to ethical and legal treatment. We set strict requirements to all our suppliers, including Foxconn, and follow-up on them regularly," she said. Tuesday's reported death came just three days after a 21-year-old man who worked in the logistics department jumped from a four-story building shortly after finishing the night shift on Friday. His motivations were still not known.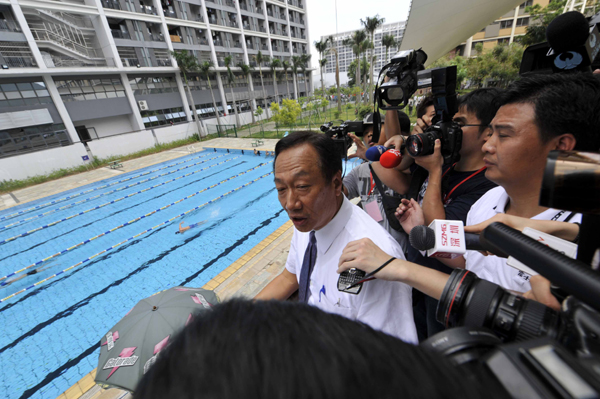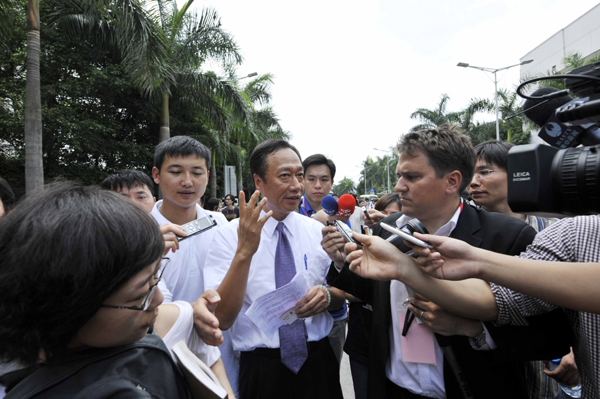 President of Foxconn Terry Gou (C) speaks to media at the company's plant in Shenzhen, a city of south China's Guangdong Province, May 26, 2010. Terry Gou initiated a media tour at the plant of Foxconn Technology Group in Shenzhen. In the past five months, 11 employees of Foxconn's Shenzhen factory had jumped from high buildings and nine died.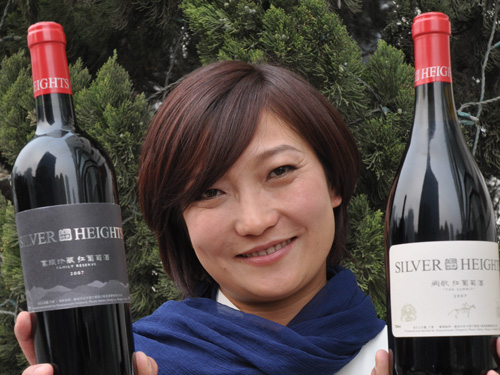 Experts who taste wine from the Silver Heights estate usually nod with approval, expressing surprise that a small winery in Ningxia province can produce such a smooth drop. When they discover who the winemaker is - a young Chinese woman little known in the industry - they are amazed. Emma Gao Yuan, one of the few female winemakers on the mainland, is creating French-style reds that are on the wine lists of five-star Aman resorts in China, alongside grand crus such as the 1982 Chateau Lafite, priced at HK$66,000. "I had heard of Emma Gao, so I ordered the wine to try and was very impressed," says Crystal Edgar, cellar master for Aman resorts in Asia. "I think it has incredible potential; the wines have depth and complexity, real structure, balance and muscle." Making the Aman wine list is no small feat for a fledgling producer. The only other Chinese wines offered at the group's luxury retreats in Beijing and Hangzhou are from the Hong Kong-owned Grace Vineyard, the long-established Changyu Castel and an ice wine from Golden Valley Vineyards.
China and the United States have launched an initiative aimed at allowing 100,000 Americans to study in China over the next four years and boosting other "people-to-people" exchanges. State Councillor Liu Yandong and US Secretary of State Hillary Rodham Clinton announced the agreement yesterday on the sidelines of the strategic and economic dialogue meeting in Beijing. "The relationship between our two countries will shape the 21st century. We want it to be positive, co-operative and comprehensive," Clinton said. Under the programme, which will see a 25 per cent increase in the number of Americans studying in China, Beijing will offer 10,000 scholarships for US nationals wanting to pursue their studies in Putonghua. Washington will offer the same number of scholarships for Chinese students wishing to study in the US. Liu said there were currently more than 300 million Chinese learning English, and about 100,000 Chinese students studying in the US, while about 20,000 US students were studying in China. Clinton and Liu also launched a series of consultations, expected to become annual, on "people-to-people" exchanges in the areas of education, culture, science, technology and sports.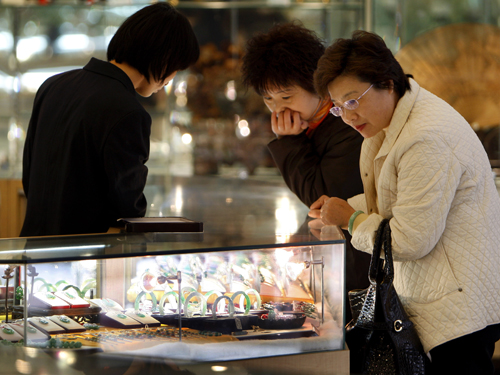 The global downturn has not dented mainland's thirst for luxury goods, according to a survey by global consultancy KPMG that found the crisis had little impact on most respondents' spending habits. The survey, which interviewed more than 900 people in 15 cities, found that 62 per cent maintained their spending on expensive goods last year and this year, as the country emerged from the effects of the downturn. "Despite a tougher economic climate, respondents demonstrated their brand loyalty, as they chose to stick with existing brands rather than downgrading to less prestigious options," KPMG said. It also said more respondents cited self-reward and pampering as strong factors for buying luxury items than in a similar 2008 survey. Buying luxury brands to be shown off at formal occasions also was cited as a key factor. Mainland has the world's second-highest number of dollar billionaires after the United States, and a new class of wealthy mainlanders created by the country's three-decade boom has seized on foreign luxury brands as status symbols. While the global economic downturn that began in late 2008 brought recession to the United States and Europe, mainland's economy has slowed but has continued to post some of the world's fastest growth rates. According to the report, 71 per cent of respondents were educated to university level or above. Those polled were between 20 and 44 and earned at least 4,500 yuan (HK$5,131) per month, with a minimum income of 6,500 yuan in the larger cities of Beijing, Shanghai and the southern industrial hubs of Guangzhou and Shenzhen.
China will levy a 5 per cent resource tax on crude oil and natural gas sales and a 2-5 per cent tax on coal in the Xinjiang region, raising over 2 billion yuan for the region.
Datang International Power said on Wednesday it planned to raise up to 8 billion yuan (HK$9.12 billion) via a share placement to help fund several natural gas and power projects.
Reports that mainland will cut export tax rebates on flat steel products is "rubbish", a senior official at the China Iron and Steel Association said on Wednesday.
Mainland's Yingli Green Energy Holding Co has delayed a decision to open its first US plant because of market uncertainty, a potential snag in the company's growth plans.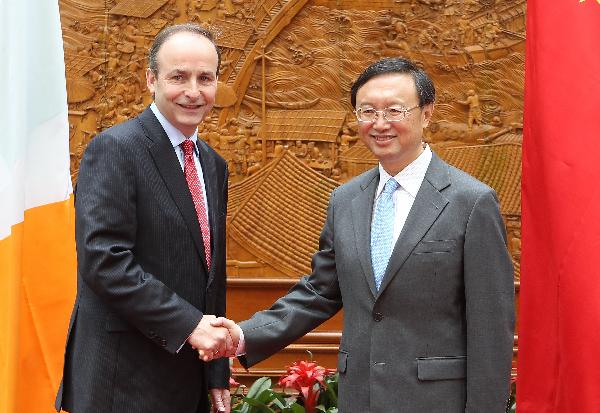 Chinese Foreign Minister Yang Jiechi held talks Wednesday here with Irish Minister of Foreign Affairs Micheal Martin. Yang said China-Ireland relations had made headway thanks to concerted effort by both sides. China appreciated Ireland's adherence to the one-China policy and the support for China's core interests and major concerns. "China hopes Ireland can play a bigger role in promoting China-Europe ties," said Yang. Martin said his country had treated China as an important partner in Asia over the past decade. He hoped both sides could cooperate more in trade, agriculture, education, culture and tourism to fight protectionism. Ireland supported the EU in actively developing relations with China and would play a constructive role in promoting the EU's recognition of the full market economy status of China, Martin said. Martin is on an official visit to China from May 24 to 28 at the invitation of Foreign Minister Yang Jiechi. They also exchanged views on regional and international issues of common concern.
May 27, 2010

Hong Kong*: Hong Kong stocks fell sharply to their lowest level in more than 10 months on Tuesday as investors shunned risk on rising financial market volatility.
Democratic Party chairman Albert Ho Chun-yan said on Tuesday he was confident the central government would hear the pan-democrats' views on political reform.
Swire Pacific (SEHK: 0019), Citic Pacific (SEHK: 0267) and Cathay Pacific Airways (SEHK: 0293) said they have agreed to sell their combined 40 per cent stakes in Hong Kong Air Cargo Terminals (HACTL) and HACTL Investment Holdings (HIHL) for a total HK$2.56 billion. The stakes would be sold to existing shareholders of HACTL and HIHL, including Jardine, Matheson & Co, Wharf (Holdings) (SEHK: 0004), Hutchison Whampoa (SEHK: 0013)'s Mosgen, Hutchison Port Holdings and China National Aviation Corporation (Group), the statement said. Citic Pacific would sell its entire 10.002 per cent holding for HK$640 million. Swire would sell its 19.998 per cent interests for HK$1.28 billion, and aviation associate Cathay would sell its entire 10 per cent interest for HK$640 million, it said. It added that each company would use the proceeds for general working capital. The sale of interests in HACTL by Cathay fulfils an undertaking made to the Airport Authority Hong Kong in March 2008, when the company was awarded a franchise to invest, construct and operate a new air cargo terminal at Hong Kong International Airport, Swire and Cathay said in a separate statement. Cathay, a unit of Swire Pacific and 29.9 per cent held by Air China (SEHK: 0753), said it had resumed development of a HK$5.5 billion air cargo terminal in Hong Kong, suspended in January last year because of the economic downturn. "The new cargo terminal is an important investment not just for Cathay Pacific, but also for Hong Kong," Swire and Cathay chairman Christopher Pratt said in the statement. "We are continuing to look at ways to develop our network and freighter frequencies out of Hong Kong." China is pushing the country's three major airlines, Air China, China Eastern Airlines (SEHK: 0670) and China Southern Airlines, to merge their cargo operations in a bid to claw back business in a market dominated by foreign carriers, the South China Morning Post (SEHK: 0583) had reported earlier on Tuesday. The plan may put a cargo venture by Cathay Pacific and Air China at risk, according to a source familiar with the cargo talks. A Cathay spokeswoman said a preparation team for the cargo venture had been set up since March and its target of having the joint venture carrier become operational this summer remained unchanged. In February, Cathay agreed to take a 49 per cent stake in Air China Cargo. The venture is still subject to final approval by the central government. Shares of Cathay Pacific had dropped 3.5 per cent by midday break, Citic Pacific lost 3.9 per cent, and Swire was down 2.3 per cent, compared with a 2.4 per cent fall in broader Hang Seng Index. Hong Kong-listed shares of other airlines were also under pressure. China Southern was down 3.9 per cent, Air China was off 3.3 per cent, and China Eastern had dropped 7.2 per cent.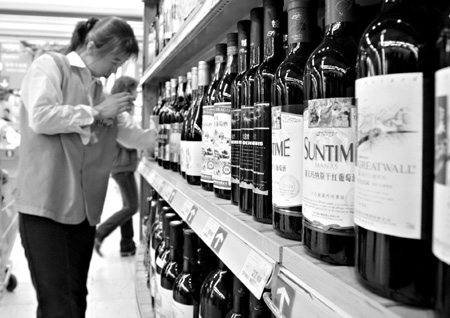 China drives world wine market - The fourth Asian Vinexpo featuring 840 exhibitors from 32 countries opened on Tuesday in Hong Kong as the global economic crisis pushed exporters to focus on the world's most promising market: China. "A little like last year vintage Bordeux, this Vinexpo is exceptional. There are more exhibitors and we expect more than 10,000 professionals, including a large number from China," said chief executive Robert Beynat. The annual wine and spirits fair is key to Hong Kong's bid to turn itself into a wine trading centre that sits on the doorstep of the vast Asian market with Chinese consumers showing a growing demand for foreign products. French wines occupy almost half the 8,500 square metre site, confirming their place as a favourite among Chinese consumers. "China and Hong Kong are the most dynamic Asian markets with per capita consumption rising and strong import growth [8.7 million cases in 2008]," Beynat said. "European and US producers are turning towards these markets to recover from the [economic] crisis." Italian, Spanish and German wines round out Europe's offering at the fair, with the US doubling the number of its exhibitors and Australian and New Zealand vintners boosting their presence by 30 per cent. Asia-Pacific accounts for 50.6 per cent of world spirits consumption with an expected 4.7 per cent increase between last year and 2013. Although Japan remains the region's biggest wine importer, China will have nearly caught up in the next three years, according to Vinexpo. China is expected to be the world's seventh-largest wine consumer by 2013, it said. "There are 100 to 150 million people in China who can afford to drink wine. It is these people, and not only millionaires, that we must reach," said Alain Vironneau, president of the Bordeaux Wine Council. Added Beynat: "Our challenge is to explain to Chinese consumers that there are good wines at all prices and they're not reserved just for the elite".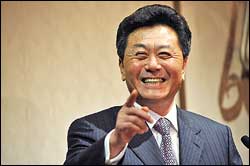 A senior Beijing official yesterday appealed directly to the Democratic Party to vote responsibly on the government's 2012 political reform package. Speaking about three hours after the ice-breaking formal talks, central government liaison office deputy director Li Gang described his talks with party chairman Albert Ho Chun-yan, vice chairwoman Emily Lau Wai-hing and lawmaker Cheung Man-kwong as "frank." But Ho was forced to deny at a press briefing hours later that his party's political principles have been compromised, saying the three legislators repeatedly stated their opposition to plans for limited reforms for the 2012 election. The meeting with a Beijing representative was the first since the party was set up in 1994 and the first formal talks between the democrats and the central government since the June 4, 1989, crackdown. In his press conference at the Four Seasons Hotel, Li called on the democrats to pluck up the courage to vote responsibly to create favorable conditions for universal suffrage. Li said the SAR government is not authorized to deal with electoral methods beyond 2012 and the community is split over whether functional constituencies should be scrapped. But he made it clear that public opinions aired in the earlier consultation on the issue are all there in government records for any future reference. He said it is important for all sides to put Hong Kong interests first and to try to reach a consensus through rational dialogue. Li said the revised political package set out by the government is the one most likely to bring about a consensus. Li made it pointedly clear that one of the key reasons why the party's request for a meeting was accepted was because it did not take part in the so- called "de-facto referendum" on May 16 that was triggered by the resignations of five lawmakers. He said he is willing to meet with any responsible, rational and sincere political group. Last month in Beijing, National People's Congress Standing Committee deputy secretary-general Qiao Xiaoyang called on Hongkongers to support the political reform package. Asked if the party will be able to meet with higher-ranking Beijing officials in the coming months, Li said he has neither received such a request nor does he know if Qiao will visit Hong Kong. Li also brushed aside suggestions the liaison office was acting as a second government in Hong Kong. For his part, Ho said arrangements for yesterday's meeting had started from as early as March. However, he said the party stood firm on its call for changes to the government's reform package, failing which the party would vote against it. "The party stands firm. If the central government cannot accept our humble proposal, which is to clearly explain the definition of universal suffrage and improvements to the 2012 proposal, we will vote down the package," he said. "There will be no retreat. I don't think our proposals are hard to accept. If the central government cannot agree, how can I persuade my party members to support the constitutional reform package?" Asked if he would accept a partial agreement, Ho said the party's proposals have to be viewed in their entirety. Lau said the party will hold a meeting to discuss the vote two days before the package is submitted to the Legislative Council. Party co-founder Szeto Wah said the dialogue is not the end result and can only be regarded as successful if a consensus is reached. Political commentator Lau Yui-siu said it was clear Beijing wanted to take the initiative to show it is willing to communicate and put the blame for any failure on the democrats. City University political scientist James Sung Lap-kung said Beijing's move will garner more public support for the reform package. A government spokesman said the administration welcomed the meeting. Earlier in the day, six Alliance for Universal Suffrage representatives met Feng Wei, the liaison office's legal affairs director, to prepare for a meeting with Li - to be held probably later this week. Democrats' demands - Amend the Basic Law and formulate the second '10-year universal suffrage agenda and road map' If the central government cannot do this in half a year, it has to set out: A clear definition for universal suffrage on the principle of fairness and commonness; Set the threshold for nominating the chief executive higher than that in 2007; Agree to increase the number of geographical constituency seats only for the 2016 Legco election. Make improvements to the 2012 constitutional reform package by: Opening the five additional district council functional constituency seats to direct election so that each eligible voter can have two votes; Canceling all appointed seats in the district councils. The Election Committee in 2012 should include the 400 elected district councillors, and the number of nominations should not be more than 150. The central government to continue to engage the party, as well as other pan- democrats and all sectors, in dialogue in order to reach a consensus.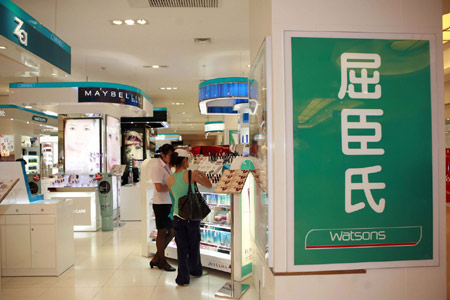 Watsons currently has more than 600 stores and more than 11,000 employees in the mainland after entering the market in 1989. It plans to have a total of 1,000 outlets in 100 cities by the end of next year. A.S. Watsons & Co Ltd, owner of the largest health and beauty retailer in Asia, said on Monday it will open four stores in Shandong province, part of the company's plan to open 400 more stores in China by the end of next year. The four new Watsons retail units will be in Jusco outlets, a department store chain owned by Japan's Aeon Co. They will be located in Qingdao, Yantai, Weihai and Zibo cities in Shandong province. Watsons unveils big expansion strategy - The company also plans to expand to other cities in Shandong, it said in a company statement. "We are really confident of our future in Qingdao. This cooperation will not only push forward our expansion plan in this region but also play an important role in our nationwide strategy of '1,000 Stores in 100 Cities' by 2011," said David Inglis, general manager of Watsons North China. Analysts said more cooperation between international retailers and domestic companies is expected. International firms can reduce costs through cooperation and the network of domestic retailers can offer a growing customer base, said Gao Kun, a researcher with Dongxing Securities. "They always sign a 15 to 20 year contract, which will reduce rental expenses," said Gao. After entering the Chinese market in 1989, Watsons currently has 600-plus stores and more than 11,000 employees on the Chinese mainland. The company has 160 stores in Hong Kong, which has a total population of seven million. Considering the population and consumption capacity of China, the company has a lot of opportunities in the mainland market, according to Watsons. The company is planning more than 1,000 stores in 100 large- and medium-size cities in China by the end of 2011, including second-tier and third-tier cities, it said. Under the "1,000 Stores in 100 Cities" plan, the company will open about 400 stores within one year. Analysts said Watsons rush to expand will require the company to focus more attention on human resources management, information management and cash flow issues.

China*: Shares in Denway Motors fell as much as 7 per cent on Tuesday, despite news that Templeton, its largest minority shareholder, is supporting a plan to take the company private.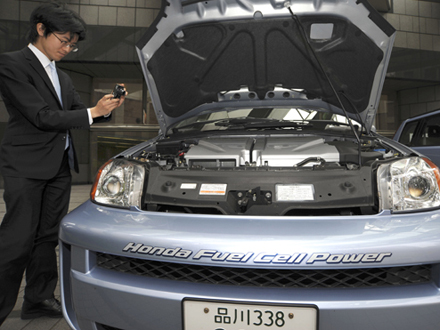 Japan's Honda says it plans to expand production at several factories in mainland to keep up with strong demand, raising its total capacity by more than a quarter.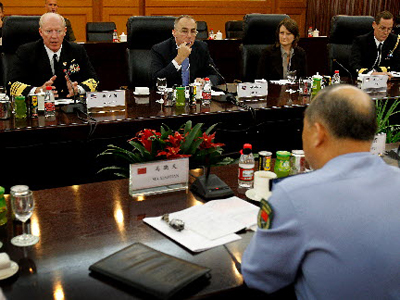 Senior US and Chinese military commanders met in Beijing on Tuesday - their first high-level contact in months - amid regional tensions over the deadly sinking of a South Korean warship. The meeting was the first high-ranking military talks between the two sides since Beijing in January suspended all such exchanges in protest over US arms sales to Taiwan. US Pacific Command chief Admiral Robert Willard met with General Ma Xiaotian, the deputy head of the People's Liberation Army general staff, on the sidelines of key Sino-US political talks, a US embassy spokeswoman told reporters. "Admiral Willard is in Beijing for the Strategic and Economic Dialogue, but this meeting is not part of the dialogue," said the spokeswoman, Susan Stevenson. The two sides were likely to discuss mounting tensions on the Korean peninsula, after a multinational panel of investigators said a North Korean submarine torpedoed the South Korean warship in March, killing 46 sailors. Seoul has cut off trade with the North and pledged to take the matter before the UN Security Council. Pyongyang has denied any involvement in the sinking of the Cheonan and threatened "all-out war" if it is punished. US Secretary of State Hillary Clinton, in town for the strategic talks, said Monday that Washington was "working hard" to contain inter-Korean tensions. Clinton was expected to press China's top leaders to back a UN move to slap further sanctions on the North, on top of those already in place over its nuclear program. Beijing is North Korea's closest ally and its support as a veto-wielding member of the UN Security Council is viewed as pivotal for any tough response against Pyongyang. "We are working hard to avoid an escalation," Clinton told reporters. "This is a highly precarious situation that the North Koreans have caused in the region, one that every country that neighbours or is in proximity to North Korea understands must be contained," she said. "I can say the Chinese recognise the gravity of the situation we face," Clinton said, noting that Beijing officials also "understand the reaction by the South Koreans".
China Telecom, the country's largest fixed-line operator, said it expects this year's fixed-line revenue to fall, as users continue to migrate to mobile services.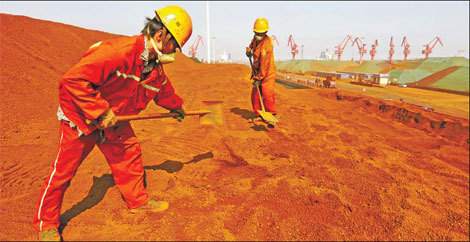 China's third largest steelmaker Wuhan Iron and Steel Group on Monday received approval from the National Development and Reform Commission (NDRC) for two overseas acquisition deals in Africa that are expected to contribute nearly 2 billion tons of iron ore deposits. The government cleared Wuhan Steel's plan to acquire the Soalala iron ore deposit in Madagascar with two other companies and the company's stake buy in a Liberian iron ore project. The exploration license for the Soalala iron ore project was granted to Hong Kong-based Wisco Guangxin on May 8, a joint venture company 42 percent owned by Wuhan Steel, 38 percent by the Guangdong Foreign Trade Group Co and 20 percent by Kam Hing International Holdings, according to a statement released by Hong Kong-based Kam Hing International Holdings. The project involves an area of more than 430 square kilometers and contains more than 800 million tons of reserves available for exploitation. Wuhan Steel also signed an agreement on March 12 to pay China-Africa Development Fund $68.46 million for a 60 percent stake in China Union Investment Co, which owns an iron ore deposit located in central Liberia. The project is the largest overseas investment in Liberia, with a deposit of 1.31 billion tons of iron ore reserves and is connected to ports via an 80-kilometer railway. Wuhan Steel has been seeking to invest in more overseas iron ore assets to cut reliance on expensive imports. "We aim to be self-sufficient in iron ore supplies in three to five years," Deng Qilin, chairman of Wuhan Steel, said in March. Wuhan Steel acquired a 21.52 percent stake in Brazilian iron ore miner MMX Mineracao e Metalicos SA for $400 million last year. The company also received approval from the Australian government for a A$271 million ($249 million) investment in Centrex Metals Ltd in November, and also for a 60-percent stake in the iron ore rights of five Centrex projects in South Australia that could contain up to 2 billion tons of resources. "Africa has huge iron ore resources. But iron ore transportation requires advanced infrastructure development due to the large quantities involved," said Yu Liangui, a senior steel analyst with Mysteel.com. "It will require huge investment to build railways and ports in Africa, which might be the reason why Africa is not the first choice for Chinese enterprises." "However, with the ore prices surging, China needs to diversify its iron ore supplies to break the monopoly of the three global miners - Rio Tinto, BHP Billiton and Vale," he said. Rio Tinto has increased ore prices by $10 per ton in the second quarter compared with the first quarter. Accordingly its 63.5 percent grade iron ore powder now costs $123 per ton (Free On Board), while iron ore lumps are at $138 per ton. The price increase in the second quarter is expected to push costs for Chinese steelmakers by an additional 40 billion yuan based on the import volume in April.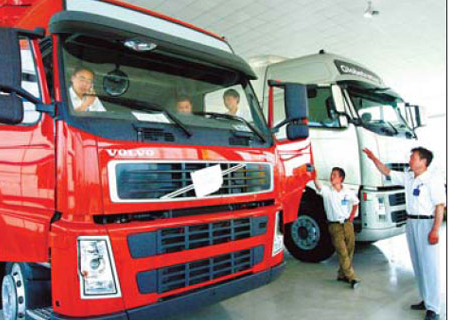 With China's high-end, heavy-duty truck market not expected to boom for at least 10 years, global truck makers are now seeking opportunities in China's special-purpose vehicle segment in hopes of grabbing a foothold in the world's fastest growing economy. "Although our major business in China still targets imports of heavy-duty trucks for logistics, we also have had breakthroughs in fire-fighting vehicles in the last two years," said Mats Harborn, managing director of Scannia China, the local branch of Swedish commercial vehicle producer under Volkswagen AG. The company has also began providing construction and engineering trucks to the local market this year, said Harborn. The world's second-largest truck maker Volvo Group, which exited a failed joint venture project with China National Heavy Duty Truck Group Co last year, also said that they were now focusing on China's booming construction machinery market through its acquired local company Shandong Lin'gong Construction Machinery, and a manufacturing tie-up with China's Dongfeng Motor Group which it took over from Nissan Motor. "The demand for construction machinery is quite strong here in China as infrastructure construction is big and has huge potential, thanks to China's booming economy," said Leif Johansson, chief executive officer of Volvo Group. China sold 630,000 heavy-duty trucks in 2009, up 17 percent over the previous year. And in the first four months, sales grew 132 percent to 383,000 units over last year, which made investment bank China International Capital Corp lift its full-year sales growth prediction from 10 to 15 percent previously, to 31 percent, with 838,000 units to be sold. Johansson of Volvo also expects 25 to 30 percent market growth in China's heavy-duty truck segment. That compared with 10 percent growth in Europe and 15 percent recovery in the North America. However, foreign truck makers still only control a small share of the world's biggest heavy-duty truck market, with more than 98 percent of the segment dominated by domestic manufacturers of medium- and low-end trucks, priced below 500,000 yuan ($73,210). "Scania is still far from forming a joint venture with a Chinese partner to produce our trucks priced over 1 million yuan each," said Harborn. "We will consider local production when we can reach 10,000 units sales someday." He told China Daily that the company sold hundreds of trucks last year, occupying nearly 20 percent of the premium truck market in China. "But we have to develop here steadily now for long-term existence, before China's modern logistics will, in the future, finally require the high-end heavy-duty trucks for their high efficiency and safety appeal." The company launched its R-series heavy-duty trucks, the International Truck of the Year 2010 in China last week, with a price tag of 1.6 million yuan per unit. "Although China's market is still small, we will always bring our latest and best products to maintain our establishment here for long-term development," said Harborn. Johansson also sees the Asian market, led by China and India, as his company's future growth engine, while growth has begun to stagnate in mature markets in Europe and North America. "We expect Asia to overtake Europe as our top market by 2015, with China and India contributing 60 or 70 percent to total Asian sales," said Johansson. As one of the top two high-end heavy-duty truck producers in China, Volvo sold almost 1,000 trucks last year across the country.
May 26, 2010

Hong Kong*: The requirement that a permanent resident had to be living in the city almost continuously for a year before being eligible to apply for welfare was unconstitutional, the Court of First Instance heard yesterday. The argument was made by barrister Hectar Pun, for George Yao Man-fai, an unemployed man who was denied the dole after he was sacked from his job on the mainland and returned to Hong Kong. Pun said the requirement undermined a resident's freedom to travel and to choose their occupation. It also violated Article 36 of the Basic Law, which guaranteed residents the right to social welfare, and was therefore discriminatory because it treated residents differently. But counsel for the Social Welfare Department said the rule was important for controlling the distribution of the resources of the welfare system. Yao, a permanent resident, worked on the mainland for four years. He returned to Hong Kong in September 2008 after he was fired, with only enough savings to live for two months. Yao - who under the rule would not be eligible for the dole until July last year - applied for it in December 2008 and was rejected. He applied again with the same result. Under the Comprehensive Social Security Assistance Scheme, an applicant for welfare must be a permanent resident, pass a means test and have lived continuously in the city for at least one year immediately before the date of application. The applicant is allowed to have been away from the city for up to 56 days in that period without losing eligibility. If absent for more than 56 days, he has to live in the city to make up for the extra days he was out of it before his application will be considered. The Social Welfare Department can exercise discretion in cases of genuine hardship. Pun suggested to the court residents should not be "penalised" for "wholly innocent reasons", such as having to take care of a family member who had an accident overseas.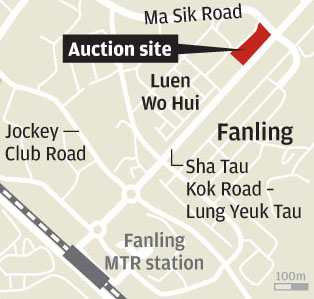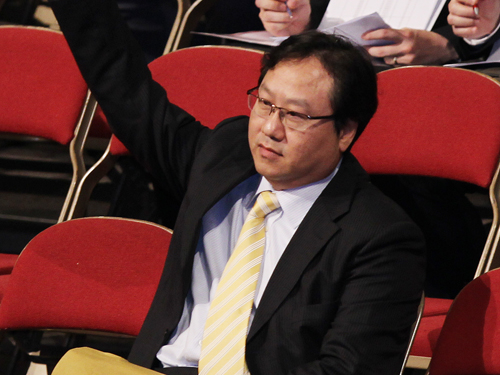 Lacklustre bidding yesterday for a building site in Fanling confirmed that developers remain pessimistic about the upside of mass residential projects. Hong Kong Ferry (Holdings), a subsidiary of Henderson Land Development (SEHK: 0012), outbid Cheung Kong (Holdings) (SEHK: 0001), Chinachem Group and an anonymous contender to buy the site for HK$1.33 billion - HK$2,414 per square foot - which was at the low end of the market's forecast of HK$1.32 billion to HK$1.6 billion. "It showed that developers do not expect property prices in the area to have substantial growth in the next few years," Knight Frank executive director Alnwick Chan Chi-hing said. "The winning offer indicates the developer is expecting to sell the project for HK$4,300 to HK$4,500 per square foot, which is slightly higher than the current property price of 10-year-old housing estates nearby," he said. It was the second land auction in two weeks that failed to live up to surveyors' expectations. A site in Tung Chung was bought by Nan Fung Development for HK$3.42 billion or HK$2,378 per square foot, far below market forecasts. But there were twice as many bidders for the Fanling site. It was the first time Hong Kong Ferry had taken part in a government land auction. When Cheung Kong withdrew after the bidding reached HK$1.27 billion, the other developers were reluctant to go much higher, and Hong Kong Ferry made its winning bid. Nicholas Brooke, chairman of Professional Property Services, said the price reflected weak sentiment in the economy and the market. "There are a lot of problems in Europe. Developers are uncertain about the economic climate. At the same time the Hong Kong government intervened in the market," he said. "The price also indicated that developers are cautious about the mass residential market, as [Home Ownership Scheme] flats may come back into the market." However, Brooke expects bidding at the next two auctions, involving luxury sites in Ho Man Tin and the Peak, to be a lot more aggressive. "Luxury residential still has strong demand and upside potential," he said. His views were echoed by Savills valuation and professional services managing director Charles Chan Chiu-kwok, who believes developers have become more conservative about future residential prices. "The [land] price is affected by the developers' concerns about possible changes in government policy on land supply," he said. Hong Kong Ferry general manager David Ho Chi-shing said his firm was the sole party involved in the purchase and that it would pay cash. "It is within our budget and reasonable. Property development is also one of our main businesses," he said. Henderson Land will be involved in the planning of the project only. Hong Kong Ferry plans to build three residential blocks on the site, offering 700 units with an average size of 600 sq ft. Ho estimated the total investment cost at about HK$2.3 billion. Shares in Hong Kong Ferry rose 2.47 per cent to close at HK$6.64 yesterday.
Urgent talks to contain a government debt crisis in Europe has forced the French finance minister to postpone the ratification of a bilateral tax treaty between France and Hong Kong.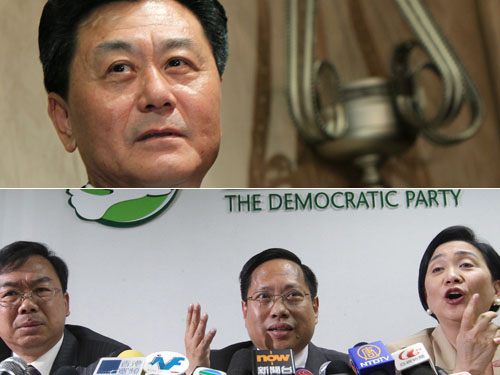 Li Gang holds a press briefing after the first meeting between the Democrats and Beijing since the Tiananmen Square crackdown in 1989. He urged party leaders to act responsibly on reform.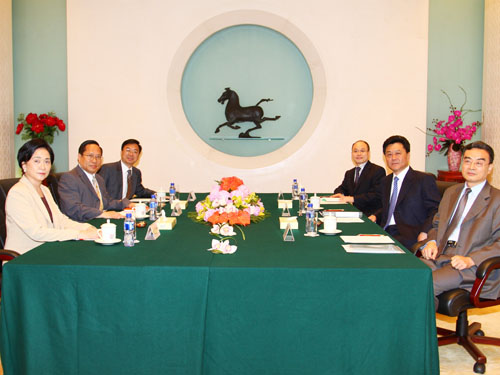 From left: Democratic Party vice-chairwoman Emily Lau, chairman Albert Ho and legislator Cheung Man-kwong with Legal Affairs Department vice-director Liu Chunhua, deputy director of the central government liaison office Li Gang and legal affairs director Feng Wei at the high-level talks in Hong Kong yesterday.
HK's thirst for wine increases - Hongkongers drank 1.4 million more bottles of wine last year than in 2008, amid cheaper prices and the removal of the wine duty, an annual survey shows. The lure of more affordable alcohol, coupled with a booming fine wine auction business, was responsible for the increase in wine consumption. Last year, more than 10 million bottles of wine were sold in Hong Kong, up 16 per cent by volume and 11 per cent by value, according to the Nielsen Co survey. The government scrapped its 40 per cent duty on wine in 2008. "In 2009, we have seen an obvious price polarisation within the wine categories, with a stronger skew towards wines priced below HK$130 per bottle. This segment has outgrown premium wines in the past year with its volume increasing 21 per cent. This phenomenon echoes back to the sentiment of frugal consumers during the first half of 2009," Oliver Rust, managing director of the Nielsen Co Hong Kong, said. Price comparisons show the average price per bottle last year was 12.30 per cent cheaper than in 2007. Given continuing improvements in the local economy this year, the demand for wine was expected to remain robust, Rust said. The consumption of red wine by volume jumped 16 per cent last year, compared with the year before, with Australian and American vintages responsible for much of the growth. Sales of white wine, mostly from New Zealand and Chile, grew 12 per cent while sparkling wines rose 7 per cent. Rust also pointed to the strong emerging trend of wine being purchased as gifts for family and friends during festive seasons. Almost one-third of annual wine sales took place during over the Lunar New Year holiday and Christmas, the survey found. The findings are based on weekly data compiled by major supermarkets, drug stores and convenience stores.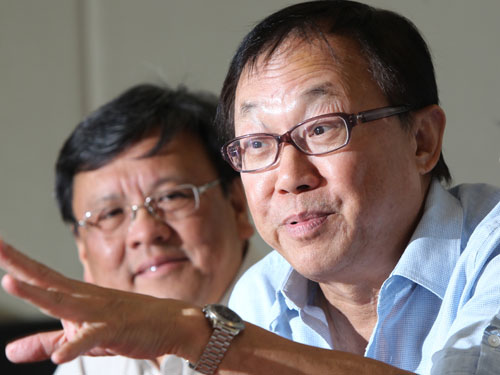 Stephen Shin (left) and Michael Hui at a briefing yesterday on the film festival set for Guangzhou. The city's film industry hopes a festival in Guangzhou will help cultivate a market for local films in their original form, so filmmakers will not have to twist their works to please a mainland audience. Twenty movies from the 1980s to recent productions by a new generation of local directors will be screened uncut on the mainland for the first time at the Hong Kong Films Retrospective 2010. Organised by the Hong Kong Film Development Council, the festival runs for five days from today. Classic films, including comedy The Private Eyes, action comedy Aces Go Places, action dramas Prison on Fire and A Better Tomorrow, fantasy A Chinese Ghost Story and Wong Kar-wai's star-studded Days of Being Wild, will be screened with their original Cantonese soundtrack. Some of the violent scenes and others related to supernatural subjects managed to pass the mainland censors. Films by young directors, including Eye in the Sky by Yau Nai-hoi and Magic Boy by Adam Wong Sau-ping will also be shown. Council member and veteran filmmaker John Shum Kin-fun said the council had been working on finding a way to tap the Guangdong market. He hoped that by showing these classics, the brand of Hong Kong cinema could be re-established among audiences in the region. With more than 100 million people in the Guangdong area, and more than 70 per cent of them speaking Cantonese, Shum sees the potential market as equivalent to two South Koreas and four Taiwans. Because of close cultural ties to Hong Kong, and the fact more cinemas were being built, it would serve as a great market for small to medium local productions, he said. Veteran filmmakers were finding it difficult to persuade investors to fund films, as they were getting more conservative and only wanted to make films for mainland audiences. But not all of these films would please the mainland audience, and certainly local audiences won't like treatments catering for mainlanders. "Investors don't believe in [local] films. They want to target the whole of China," veteran filmmaker Stephen Shin Gei-yin said. Directors hope censorship in filmmaking can be stopped, allowing filmmakers to make films that they believe in. "It's just like cooking a dish. If your family doesn't like it, how can you expect other people to like it?" said Michael Hui Koon-man.

Hong Kong Dragon Airlines, which celebrated its 25th anniversary yesterday, will add more flights to Wuhan and Kaohsiung in July as the recovery in air traffic demand for regional destinations continues. Dragonair, 100 per cent owned by Cathay Pacific Airways (SEHK: 0293), has come a long way since 1985, when it operated with only one aircraft. Today it connects the city with 29 destinations in the Asia-Pacific, including 17 on the mainland, with a fleet of 28 aircraft. The carrier's passenger yield - an industry measure of sales per passenger per mile - has returned to the level of 2008, chief executive James Tong said. "But it is still a bit lower than the pre-crisis level," he said. Growth in the leisure and business travel market has been in double digits in the first four months, against the same period in 2009. "It has been boosted by the World Expo in Shanghai, with advance bookings for Shanghai growing around 40 per cent for the next two to three months," Tong said. Dragonair is awaiting the delivery of two Airbus 320s by August to cater for the additional services. It is also considering leasing more aircraft next year, depending on growth in the second half, Tong said. The airline provides 400 weekly flights to and from the mainland and will upgrade its service to Wuhan to daily flights in July from four a week at present. Tong said some passengers from Wuhan would fly via Hong Kong to long-haul destinations such as Australia, the route competing with the three-hour high-speed train service which connects Wuhan to Guangzhou. Dragonair will also increase flights to Kaohsiung to 32 per week, up from 28, even though there has been a 37 per cent capacity increase for direct flights across the Taiwan strait. "We were hit hard when the direct flights were first introduced [two years ago] but the market has grown," Tong said. The carrier currently operates four daily flights to both Taipei and Kaohsiung. Meanwhile, Dragonair has been named the world's best regional carrier in a Skytrax survey which polled 18 million passengers from over 100 countries from last June to April.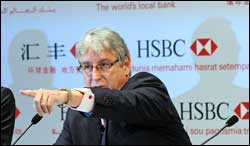 HSBC Holdings (0005) has a succession plan for senior executives but has nothing to announce yet, said group chief executive Michael Geoghegan. Geoghegan reassured shareholders yesterday that executive chairman Stephen Green has no plan to step down, refuting a Sunday Telegraph report that Green would leave the bank later this year. But he noted that the lender had decided to gradually shift the responsibility for strategy to the chief executive when Green became chairman in 2006. HSBC (China) chairman Vincent Cheng Hoi-chuen also rejected a local report that he is going on a two-month holiday or decided to retire in 2012. Geoghegan said HSBC sees a Shanghai listing as a top priority but is still waiting for the necessary regulations. He noted the lender will continue to add branches in the mainland as fast as the regulators allow. Asia-Pacific chairman Peter Wong Tung-shun said official measures to cool the mainland property market are the "right measures." He expects them not to have any major impact on economic growth, or its expansion plans. He said HSBC has already agreed to subscribe to the rights issue at the Bank of Shanghai and is entitled to increase its stake when the Shanghai bank goes public. Geoghegan said HSBC will use Hong Kong as a base to develop its Greater China businesses and boost Asian investments. In particular, it will strive to lead the market in yuan trade settlements and develop yuan deposit insurance. Elsewhere, Geoghegan said the American card business showed no sign of worsening in the first quarter, with dropping outstanding card payments. The bank is working off US$20 billion worth of loans per year in the US Household Finance Corp unit to gradually handle its US$70 billion worth of liabilities, he said. Chief executive of global banking and markets division Stuart Gulliver said apart from US$1.5 billion worth of Greek bonds, the rest of the PIIGS countries have a limited effect on HSBC, which sees no increase in impairments from the euro-zone debt crisis. "Our major business is in the UK," said Geoghegan. "And the UK economy is in better shape than the EU." He noted Britain has an independent monetary policy and may even benefit from the crisis in continental Europe. He believes the crisis will not bring about a global double dip because emerging market economies are still strong.

China*: China and the United States will hold their first high-level military talks in months today against the backdrop of a looming security crisis on the Korean Peninsula.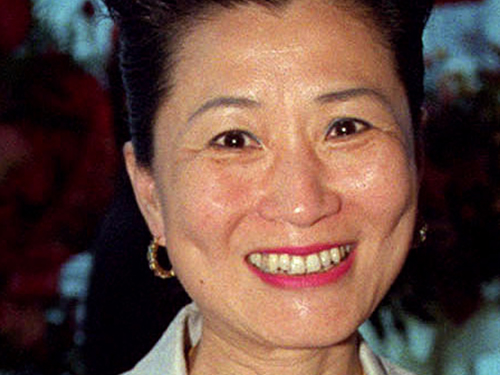 Zhu Yanlai, daughter of former premier Zhu Rongji, has been promoted to assistant chief executive of BOC Hong Kong (Holdings) (SEHK: 2388). The promotion was made on Thursday, the Hong Kong-listed bank announced yesterday. In her new role, Zhu will report to the bank's chief executive He Guangbei. BOCHK is majority-owned by Bank of China. "In her position, Ms Zhu will assist the three deputy chief executives overseeing personal banking, corporate banking and financial markets, to drive the execution of their business strategies," the bank said. A banking analyst said: "My understanding from inside sources is she is more interested in her banking career than politics. She has a good reputation among insiders, as she's quite easygoing and easy to talk to. She has quite a low profile." Her father has also kept a low profile since retiring in 2003 as premier, a post he held from 1998 to 2003. The fact that Zhu had worked such a long time at BOCHK since her father retired suggested her promotion was based on her ability rather than any connection to her father, said Bruce Richardson, a China-based US financial consultant. Before her promotion, Zhu Yanlai had been general manager of the economics and strategic planning department of BOCHK since the bank was incorporated in 2001. She joined BOCHK's parent BOC (SEHK: 3988) in 1997, where she was head of business development of BOC (Canada), and assistant general manager of the Hong Kong and Macau regional office of BOC. Before joining BOC, she worked for the Royal Bank of Canada and Nesbitt Burns, Bank of Montreal Group. Zhu Yanlai's brother, Levin Zhu Yunlai, has been chief executive of China International Capital Corporation since 2004. CICC is China's first joint venture investment bank. The Chinese government is the largest shareholder with 43.35 per cent, while Morgan Stanley holds a 34.3 per cent stake and the Government of Singapore Investment Corporation owns 7.35 per cent.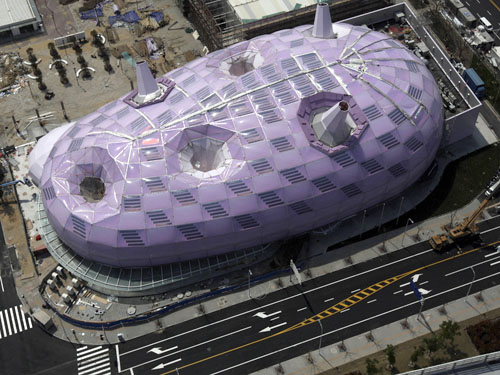 Japan's World Expo pavilion has become known as the "purple silkworm island" because of the membrane covering it.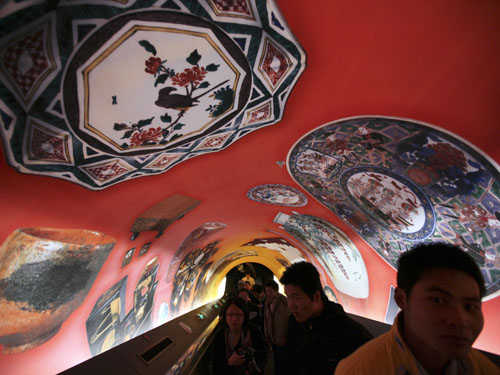 Visitors take the escalator in Japan's World Expo pavilion. The designers of the Japan pavilion at the World Expo in Shanghai, aware of lingering anti-Japanese sentiment stemming from the 1937-45 Sino-Japanese war, found inspiration in a co-operative tale about a bird. Japan's Hinomaru national flag, often seen in China as a symbol of Japan's past militarism, does not fly over the pavilion. Instead, visitors get to see two performances based on a joint effort by Chinese and Japanese scientists to save the crested ibis, Japan's national bird, from extinction.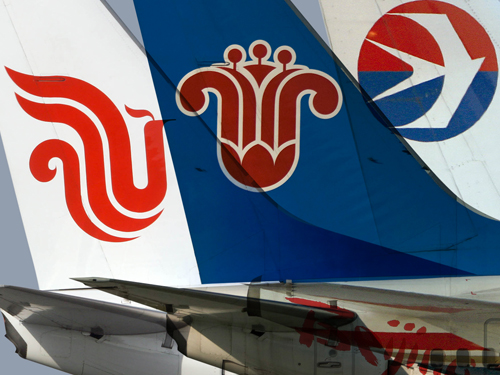 Beijing is pushing Air China (SEHK: 0753), China Eastern Airlines (SEHK: 0670) Corp and China Southern Airlines to merge their cargo operations to claw back business in a market that is dominated by foreign carriers. A source familiar with the situation said some headway had been achieved in the move to a united cargo airline. "A preparation team has been formed recently to work out the details of the consolidation," a senior management official from China Southern told the South China Morning Post (SEHK: 0583). A task force formed by State-owned Assets Supervision and Administration Commission (Sasac) officials and airline executives was establishing the form and shareholding structure of the new cargo airline, another source said. The proposed airline would be based in Shanghai, the mainland's most lucrative air cargo market. Preliminary talks between the chairmen of the Big Three airlines and Sasac, the carriers' ultimate owner, started last year, but stalled due to another government-led initiative - the merger between China Eastern and Shanghai Airlines last year. "Consolidating the airlines' cargo operations would raise questions over the cargo joint venture between Air China and Cathay Pacific Airways (SEHK: 0293)," said a source familiar with the cargo talks. Cathay Pacific signed an agreement with Air China in February to take a 49 per cent stake in Air China Cargo and is scheduled to transfer two freighters to the Shanghai-based joint venture later this summer. The industry source said it was uncertain whether Sasac would let a foreign airline participate in the mega consolidation of the mainland's air cargo business. "The [joint venture] between Cathay and Air China may be stalled if Sasac wants to simplify the consolidation between the mainland carriers." A Cathay spokesperson said a preparation team for the cargo project had been set up since March and the target of having the joint venture carrier coming into operation in late July or August remained unchanged. However, the joint venture is still subject to final approval by the central government. Singapore Airlines failed to get a 25 per cent stake in China Eastern in 2008 after running into opposition from rival suitor Air China, which also wanted to buy into China Eastern. The challenge by Air China was rumoured to have been supported by Sasac which did not want a foreign carrier to acquire a stake in China Eastern at the time. The mainland, which is a manufacturing base for hi-tech products such as Apple's iPhone and iPad and Sony's Playstation, is one of the world's major air cargo exporting regions. But about 70 per cent of the international air cargo is carried by foreign carriers like Air France, Lufthansa and Cargolux, a Luxembourg-based cargo carrier. The Big Three mainland carriers account for only 30 per cent of the market. Industry experts said mainland carriers had been lagging their international rivals in the cargo sector because they had been preoccupied with the passenger side of the business in recent years. They said mainland carriers had invested billions of dollars in passenger aircraft to cater for the fast-growing passenger sector, while investing only a fraction of their capital in freighters.
Guangzhou Automobile Group's HK$25 billion privatization bid for Denway Motors received a crucial vote of support yesterday from the target company's largest minority shareholder.
May 25, 2010

Hong Kong*: A central government official met with Democratic Party leaders on Monday, representing Beijing's first formal contact with the opposition party since its formation in 1992.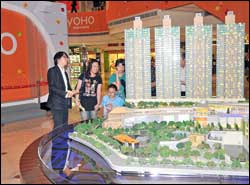 Secondary home sales in Fan Ling fell off this month partly as buyers took a wait-and-see attitude ahead of today's auction of a site in the area. Home transactions total 40 so far this month. That is down 50 percent from the same period in April, said Midland assistant district manager William Chiang. "Generally, [prices] have shrunk by 3-5 percent," Chiang said, noting the less-than-expected price at auction for a Tung Chung site earlier this month and the recent poor performance of the stock market. "Many worried homeowners are willing to talk with prospective buyers," he added, and some had not waited to see out how today's auction turned out. But home viewing has remained constant, Chan added, though most buyers appeared to be waiting to see what happened at the auction. The 95,800-square-foot site is expected to boost the government's coffers by up to HK$1.45 billion. A three-bedroom home measuring 878 square feet at Belair Monte - one of three residences next to the site for sale - was sold at a 5 percent discount for HK$2.38 million, said Centaline branch manager Ken Chan. Belair Monte recorded only two deals this month, down from around 20 a month ago, Chan said. Chiang noted that adjacent Grand Regentville and Regentville also saw a dramatic drop in transactions, while Chan said a two-bedroom unit at nearby Royal Green was recently sold for HK$1.76 million. This was after the asking price was cut by 2 percent. Although transactions in the New Territories were limited because of price haggling, Midland said secondary transactions increased from 31 to 48 over the weekend as sellers lowered prices and quality homes became available. On the primary market front, Midland chief analyst Buggle Lau Ka-fai expects just three high-end projects in Sheung Shui, Fan Ling and Tai Po to hit the market this year. Since they will only provide 570 units, Lau said the Fan Ling auction will not add to housing market pressure even if it proves disappointing. Primary sales during the three-day holiday remained modest. Sun Hung Kai Properties' (0016) Yoho Midtown in Yuen Long turned in over 40 deals, said Centaline's Eric Chan. A mainland investor bought two Yoho Midtown homes of around 573 square feet each for a total HK$5.93 million, or around HK$5,200 psf. Cheung Kong Holdings (0001) sold two homes at Festival City in Tai Wai, said Ricacorp Properties sales director Johnny Yeung Ho-yin. An apartment was sold for HK$6.6 million and another for around HK$10 million. Henderson Land (0012) sold a house at The Beverly Hills in Tai Po for over HK$21 million, or HK$6,700 psf.
The head of a think tank close to the chief executive is slated to take over as chairman of the Hong Kong General Chamber of Commerce, the city's most influential business association, but insiders say any concerns about undue influence by the administration are unfounded. Anthony Wu Ting-yuk, the chairman of the Bauhinia Foundation Research Centre, is due to replace Andrew Brandler at the chamber when members vote for a new head at their annual meeting next week. Wu is deputy to Brandler, who departs after two one-year terms in the position. The Bauhinia Foundation was established in December 2005, shortly after Donald Tsang Yam-kuen became chief executive. The centre's main objective is to help the government find more effective ways of administration and to promote the "one country, two systems" policy. There is no indication Wu will leave the foundation, which he has headed since July 2007, after he takes up the commerce chamber's top job. Wu is also chairman of the Hospital Authority. Critics contend the centre's work is a tool for government policy, pointing for example to reforms to develop and finance Hong Kong's health-care regime. But some chamber insiders said they did not believe Tsang would exert any undue influence over the chamber with Wu as chairman since it is difficult for just one or two individuals to influence such an established organisation. Although the role of the chamber's chairman is traditionally less public, Wu takes over as the government pushes ahead with a number of controversial pieces of legislation, including proposed laws on competitive practices and a minimum wage. Brandler has previously said the chamber agrees a competition law should focus on anti-competitive practices but worried a vague law that did not spell out what constitutes such behaviour could tie up businesses in litigation. On the minimum wage, the chamber said its analysis points to an initial rate of between HK$23 and HK$26 versus the HK$33 that the labour unions want. The chamber's three vice-chairmen, including MTR Corporation (SEHK: 0066) chief executive Chow Chung-kong, BOC Hong Kong (Holdings) (SEHK: 2388) chief executive He Guangbei and Victor Li Tzar-kuoi, tycoon Li Ka-shing's eldest son, will vie for the post vacated by Wu. Some chamber insiders tip Chow to become the new deputy chairman, even though he is only one year into winning the vice-chairman seat from incumbent Yeung Kwok-ki. Wu is also one of six members of the chamber's general committee who are seeking re-election after their terms end. They include former chamber chairman Christopher Cheng Wai-chee, Airport Authority chief executive Stanley Hui Hon-chung, Goldman Sachs (Asia) managing director Ronald Lee, businessman David Lie Tai-chong, Wharf (Holdings) (SEHK: 0004) deputy chairman and managing director Stephen Ng Tin-hoi.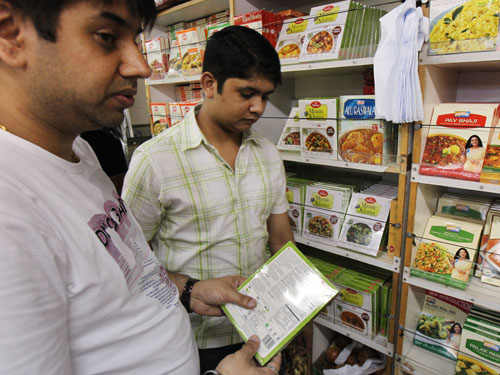 Manager Harmander Brar (left) holds a nutrition label the Brar Group had to create in-house and paste on a packaged food product it sells in its supermarkets. Few ethnic groceries are ready for the new nutrition labelling rules that will come into force in a matter of weeks. Many operators of small provision shops specialising in Indian, Indonesian or other ethnic foods say they know nothing about the regulation. Those that are aware of them fear that at least 20 per cent of their products will have to be taken off the shelves. Some importers are hiring teams to translate and stick on new labels at the last minute. From July 1, all packaged food sold by wholesalers and retailers must carry the "1+7" nutrition label, which specifies the content of energy plus seven core nutrients in the package. Food products will also need to fulfil certain requirements before nutritional claims such as "low in sugar" or "no trans-fats" can be made. The South China Morning Post (SEHK: 0583) found that more than 90 per cent of products sold by ethnic food chains already complied with the new rules. However, the case was very different with smaller groceries. A staff member at New Indonesian Restaurant in Causeway Bay, which runs a small grocery, said she did not know about the regulation. Less than 30 per cent of the products in the shop were properly labelled. "I have totally no idea about this rule," she said. "Has the government done any promotion?" She said the products were supplied by an import agent, who had not informed the shop of the new rules. "Even if we wanted to translate and stick labels on our own, we would not have the manpower to do it," she said. Other food importers are devoting extra resources to prepare for the July 1 deadline. Brar Group, which imports Indian food and operates several supermarkets, is spending at least HK$500,000 on a seven-member "label creation" team that has been at work for the past six months. Group manager Harmander Brar said very few Indian food products came with nutrition labels. The team has asked manufacturers for relevant information and is translating it and creating labels on its own. "We are importing 1,000 types of food products and need to stick on the labels one by one," he said. "As most of our staff cannot write Chinese, we need to hire extra manpower to make bilingual labels." As the team might not be able to finish sticking on all the labels before July 1, Brar said it would first label the more popular products. Some manufacturers were unwilling to provide nutrition information, he said, as they were ready to give up Hong Kong, a relatively small market. "When July 1 comes, we will take these products off the shelf until they can be labelled," he said. Brar estimated that would involve at least 20 per cent of his products, including herbs, noodles, flour and snacks like rice chips and potato biscuits. The firm might need to pay thousands of dollars for laboratory tests to find out a product's ingredients if manufacturers decided not to provide any information, he said. Sellers of products with an annual sales volume of less than 30,000 units may apply for exemption from the new regulation. Brar said some of his products met this requirement, but the application fee - HK$375 for each type of product - could cost the firm even more than creating labels on its own. "This policy is unreasonable and unfair to us. I bet less than 5 per cent of Hongkongers care to read nutrition labels before buying," he said. About 22,400 applications for exemption had been submitted, the latest statistics from the Food and Environmental Hygiene Department show. About 19,000 types of food product had been exempted, and the department was working on a further 1,600 applications. The nutrition label - which must carry information on the energy, protein, total fat, saturated fat, trans-fat, carbohydrates, sugars and sodium in the package - may be in Chinese or English or both. The labelling law was passed in 2008, and the grace period will expire on June 30.
HSBC has no plan to change its China expansion plans due to Beijing's efforts to cool the country's economy, the chief executive Michael Geoghegan said in Hong Kong.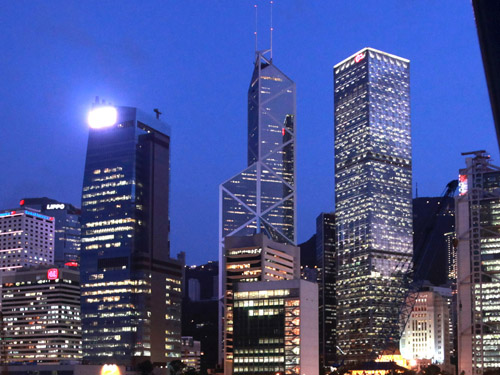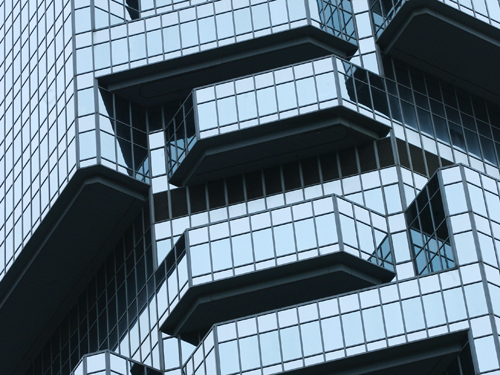 Property investors are turning their attention to Hong Kong's office market, which has seen a surge in transactions in the past few weeks, according to brokers. Lippo Centre in Admiralty, a popular target of investors, was back in demand, said property agency Chartersince Surveyors, with seven deals concluded so far this month, compared with only three in April. The average price at which the deals were reached was up 7.7 per cent to HK$14,000 per square foot from HK$13,000 per sq ft in a month, Chartersince said. Transactions of grade-A offices on Hong Kong Island were also up in the last two weeks, said Eric Ong, sales director in the office department of property agency Midland IC&I. "It surprised me that sales of grade-A offices increased under this poor market sentiment," he said. Midland IC&I's Kenny Kwok said veteran property investor Lai Ni-jan bought a 1,324 sq ft office at East Point Centre in Causeway Bay for HK$16.55 million or HK$12,500 per sq ft recently, 17 per cent more than its previous owner had paid at the end of last year. But Ong said average prices of grade-A offices remained relatively flat so far this year. "Price movements have been within 5 per cent only," he said. That means that despite some exceptions, the growth in office prices continues to lag growth in residential and retail prices, and this had encouraged investors to shift their focus to the office market, said Chartersince Surveyors' associate director Desmond Poon Chi-ming. Office prices in Admiralty range between HK$14,000 and HK$15,000 per sq ft currently, he said, which was still some 17 per cent below their peak levels reached in 1994 and 13 per cent below their 1997 price levels; whereas retail and residential prices rebounded to above their peak levels in 1997 a few years ago. "Office prices are much cheaper, compared with the prices of luxury residential," said Ong. "There are plenty of luxury flats sold for HK$20,000 to HK$30,000 per sq ft. Residential prices at The Cullinan at Kowloon Station, for instance, are about HK$16,000 per sq ft - higher than the prices of offices in Lippo Centre and other grade-A office buildings in Admiralty." Prevailing low interest earnings and mortgage rates had also encouraged people to buy office properties recently, added Ong, who said end-users and long-term investors were now more active in the market than speculators. "The investors are looking for a high rental yield," he said. At current prices investors could enjoy a rental yield of some 3 per cent from buying a grade-A office property, said Ong, while yields for investing in second- or third-tier offices ranged between 4 and 5 per cent. "By comparison the rental yield in a major housing estate such as Kornhill in Quarry Bay would be around 2 to 3 per cent only," he said. "You can't get a rental yield of 5 to 6 per cent in the residential market unless you invest in old housing estates in second-tier districts." Ong said the outlook for the office market remained uncertain, and expected the prices to stay relatively flat this year. Growth in the market was limited to offices in Central, he said, which benefited the developers. But Poon, of Chartersince, was more optimistic about the outlook for the office market and said he expected prices of grade-A offices in Admiralty to rise by some 10 per cent this year.
HSBC Holdings' (0005) Stephen Green will step down as chairman this year as part of the bank's most dramatic board overhaul in decades, according to the Sunday Telegraph.

China*: China and Taiwan will add 100 direct passenger flights and 20 more cargo flights a week to keep up with growing two-way annual trade, officials said on Monday.
Beijing struck a conciliatory note in talks with the United States on Monday by vowing to spur domestic demand and keeping a guarded opening to exchange rate reform.
President Hu Jintao talks as US Treasury Secretary Timothy Geithner and Secretary of State Hillary Rodham Clinton listen during the opening ceremony of the China-US Strategic and Economic Dialogue in Beijing on Monday. The United States treaded softly on the subject and welcomed Beijing's long-standing pledge to reform the yuan as the two sides opened their second Strategic and Economic Dialogue. But both countries also made clear that a stronger Chinese currency was not enough by itself to narrow the whopping US bilateral trade deficit that has fuelled tensions between them at a time when the global economic recovery remains fragile. While President Hu Jintao broke no new ground on the yuan dispute, he set an amicable tone for the two days of talks during which the world's biggest and third-biggest economies will seek to steady their relations. "China will continue to steadily advance reform of the renminbi exchange rate formation mechanism following the principles of being independent, controllable and gradual," he said. The renminbi is another name for the yuan. Hu said his government wanted to expand domestic demand to create more balanced growth, something that Washington – worried about its yawning trade deficit with China – has also advocated. US Treasury Secretary Timothy Geithner said the Chinese government was moving in the right direction on the yuan, which has been effectively pegged to the dollar since the global financial crisis worsened in mid-2008. "We welcome the fact that China's leaders have recognised that reform of the exchange rate is an important part of their broader reform agenda," he said. Trying to press the case that appreciation would be in China's own interest, Geithner said that a more market-driven exchange rate would help suppress inflation while also driving private firms to move up the value chain. China and the United States signalled that there could be progress on two other trade-related policies that have been additional irritants in their relations. China said that it was working to resolve the concerns of foreign companies about an "indigenous innovation" programme that the United States has said was unduly restrictive and a concern on par with the yuan. And Chinese Commerce Minister Chen Deming said he was optimistic that the United States would loosen controls over high-tech exports, a move that would go a small way to balancing their trade ties. The talks also touched on Europe's debt woes, with both sides saying that they were cautiously optimistic that any fallout would be limited. "The general view was that the pace of the global economic recovery will be basically maintained," People's Bank of Governor Zhou Xiaochuan told a news conference. The one slight point of open discord were US calls for a tougher line against North Korea over an alleged sinking of a South Korean warship, contrasting with China's appeals for restraint. Tensions flared between Beijing and Washington in the first months of this year, when China denounced US criticism of its internet censorship, Washington's arms sales to Taiwan, and President Barack Obama's meeting with the Dalai Lama, Tibet's exiled leader. Beijing considers Taiwan a part of its territory, and Hu said on Monday that it was important for countries to respect one another's sovereignty. Beijing officials have said they want only "quiet discussion" of US complaints that the Chinese currency is held too low in value, giving Chinese manufacturers an unfair advantage. The Obama administration so far appears willing to go along in the hope that a quieter approach will give Beijing more political space to let its currency appreciate. The annual US trade deficit with China fell to US$226.8 billion last year from a record US$268.0 billion in 2008. But the Obama administration is keen to lift exports, and the deficit remains a point of friction with Beijing.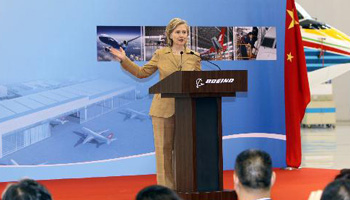 China, US get down to business - The United States yesterday pressed China to give "fair access" for foreign companies.At the same time, China stressed the risks both economies faced from Europe's debt woes, ahead of top-level talks in Beijing.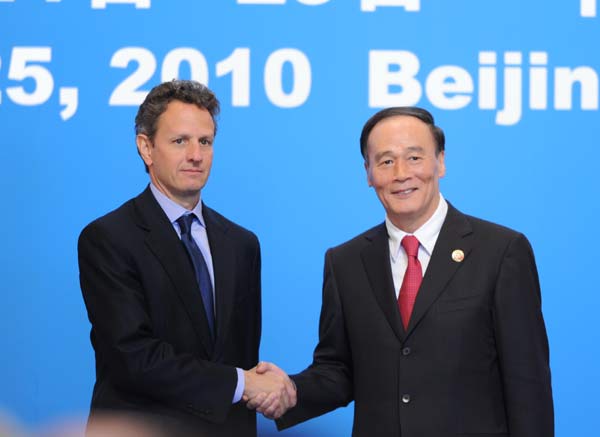 China wishes to learn more about the U.S. timetable and plan to gradually erase impediments to U.S. high-tech exports to China, Chinese Vice Premier Wang Qishan said Monday. Speaking at the second round of the China-U.S. Strategic and Economic Dialogues in Beijing, Wang said China had been pleased to hear about the U.S. initiatives to ease restrictions on such exports. Wang said China also wishes to know the details of how the United States plans to treat Chinese firms making investments in the country, as well as U.S. plans to recognize China as a market economy. Figures by China's General Administration of Customs show bilateral trade reached 298.26 billion U.S. dollars in 2009, nearly 120 times the level in 1979 when two countries established diplomatic ties. To maintain a sustainable, mutually-beneficial partnership in economic and trade relations is vital to China and the United States, respectively as the world's largest developing and developed country, and to the world economy, Wang said. He said as economic exchanges between China and the United States broaden and deepen, "it is unavoidable that some friction and disputes will arise." He urged the two sides to boost communication and enhance mutual understanding, with due respect to differences in history, culture, and economic development. Wang said China and the United States should stand together against protectionism in any of its forms. He called on the two countries to propose specific measures to curb protectionism.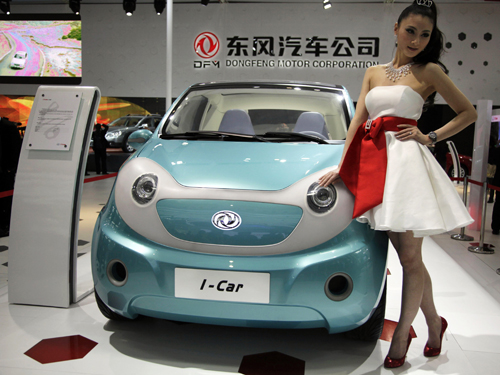 A model is seen standing next to the all-electric I- Car, during the Beijing Auto China held earlier this year. Media reports on Monday said central government is planning to award buyers of green cars with subsidies. China will award buyers of green cars with subsidies of up to 60,000 yuan (HK$68,000) each, the Shanghai Securities News said on Monday, as it steps up efforts to cut emissions in the world's biggest auto market. The central government has worked out a plan to subsidise green car buyers and will unveil details by the end of this month, the newspaper said, citing people with knowledge of the matter. Subsidies will be based on the performance and energy-savings efficiency of the models, the paper said. Maximum subsidies for buyers of pure electric vehicles is 60,000 yuan each, while those for plug-in hybrid and normal hybrid cars are 50,000 yuan and 3,000 yuan respectively, it said.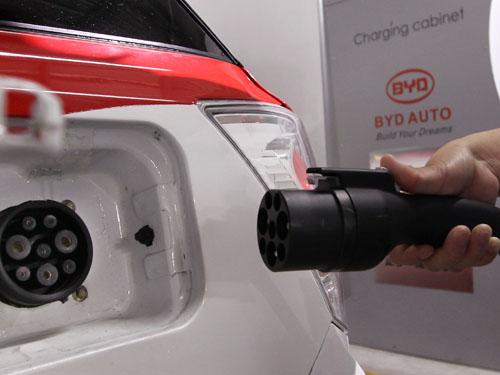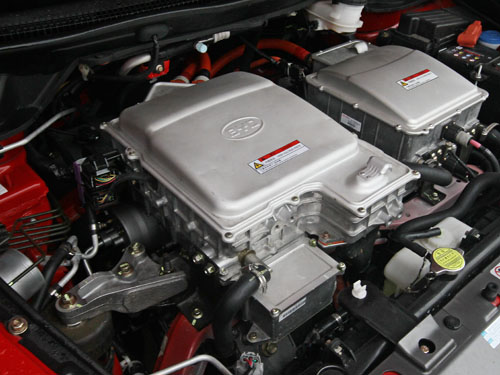 They have no combustion engine, no exhaust pipe and make no emissions or noise. They're China's first indigenous electric taxis. Beijing hopes they will dramatically reduce air pollution in cities - and place China at the centre of the future of the car industry. "You simply start the electric taxi by pressing an 'on/off' button. The acceleration and braking systems are excellent. It's very comfortable. You have strong air conditioning, and a colourful LCD display will tell you everything you need to know, including how many more kilometres the battery can last," said taxi driver Lu Shiming, 39, sitting in his brand new cab in Shenzhen. His taxi's cream-coloured leather seats are proving a magnet for passengers. Lu put his foot down, quickly accelerating to 60km/h, and said the vehicle performed impressively when climbing steep slopes. "The steering wheel is light enough and easy to control," he said, adding that the electric car's performance was better than that of his three previous petrol-powered taxis. Last week Shenzhen became the first Chinese city to put all-electric taxis into operation. The city officially launched 30 battery-powered cabs based on local carmaker BYD's e6 model and promised to increase the number to 100 by the end of next month. By 2012, the city government hopes the number of electric or hybrid vehicles on its streets will swell to 24,000 - including 2,500 electric taxis and 4,000 electric or hybrid buses. Electric cars, with zero emissions, are hugely attractive at a time when the world is grappling with pollution problems. Many foreign cities have similar plans to switch their taxi fleets to electric or hybrid vehicles. Eco City Vehicles (ECV), which makes the official taxis for London, launched trials of an electric conversion of its Mercedes Vito cab earlier this year. Better Place, a California-based producer of electric vehicles, plans an electric taxi fleet in Tokyo. Zap, another US maker of electric vehicles, unveiled its electric cab at the Beijing motor show this year. Experts believe electric vehicles will transform the car industry within five to 20 years. For China, adopting electric vehicles means much more than just a green revolution. Beijing has long regarded the new automotive technology as an opportunity to reduce its dependence on foreign oil, cut carbon emissions and help it leapfrog foreign competitors to grab the lion's share of the car industry of the future. With its huge car market, political will and unparalleled government control, China believes it will be able to build up its electric car industry more quickly than other countries. Wang Binggang , director of the electric vehicles project at the Ministry of Science and Technology, said emission-free cars were now at the top of the country's industrial strategy, which is directly supervised by the State Council. "Electric cars are more than just a new technology," Wang said. "At least four ministries - the Ministry of Finance, the National Development and Reform Commission, the Ministry of Science and Technology and the Ministry of Industry and Information Technology - are involved in the project." Government support and subsidies are important for the fledgling electric car industry. Without an extended network of service stations and other financial incentives, it would be unlikely that market forces and education alone could persuade consumers to make the switch. The BYD electric taxi, powered by an iron battery, has a top speed of more than 140km/h and can run about 250 kilometres after a 15-minute "quick recharge" that tops up the battery to 80 per cent of its full capacity, according to the Shenzhen-based company. The taxi costs more than 300,000 yuan (HK$343,000), while a petrol taxi costs about 100,000 yuan. So for electric cars to be commercially viable, the government has to offer direct and indirect incentives to the taxi drivers and companies. The central government will give a direct subsidy of 60,000 yuan to the buyer of each electric taxi. The Shenzhen government will exempt the driver of an electric taxi from the 45,000 yuan annual licence fee.
General Motor's and its mainland partners are expanding their mini-van and pick-up truck venture, a move which would boost capacity by nearly 50 per cent by the end of 2012, the venture said in a statement. SAIC-GM-Wuling, a three-way tie-up between GM, SAIC Motor Corp and Liuzhou Wuling Automobile, is adding capacity of 210,000 units to an existing facility in the southern city of Liuzhou, which has a designed capacity of 590,000 units annually, the statement said. Expansion of the venture's facility in the eastern city of Qingdao, will also start soon, raising the designed capacity to 510,000 units by 2012 from 300,000 units now, it said.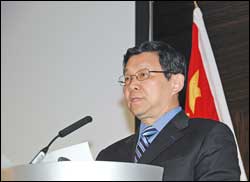 Beijing welcomes signs that Washington may relax controls on high-tech exports to China, Commerce Minister Chen Deming said on Monday, as the United States and China held talks in Beijing. Chen told a news conference that relaxing the controls would help balance the bilateral trade. Chen added that he hoped the reforms would be real and not "lots of thunder with no rain." The United States and China, the world's largest and third-biggest economies, held their second Strategic and Economic Dialogue in Beijing, discussing key issues such as yuan reforms, Europe's debt crisis and North Korea.
Consumer sector-focused China Resources Enterprise on Monday posted a 794 per cent rise in first-quarter profit, boosted by growing sales in its supermarket and brewery operations.
Marriott International aims to double the number of Marriott brand hotels in mainland within five years and intends to introduce a lower-priced hotel brand in the near future.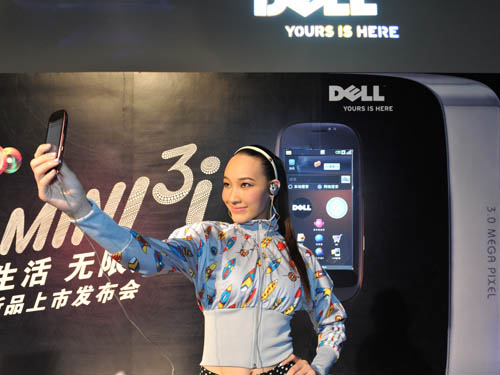 In partnership with China Mobile, Dell has launched the Dell Mini 3i smartphone, which is now available nationwide, and already plans to release improved models later this year. Computer maker Dell, lifted by a 44 per cent year-on-year revenue increase on the mainland over the past three months, will accelerate its push into the country's booming smartphone market with the launch of new models later this year.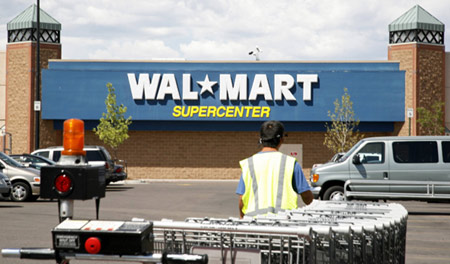 Wal-Mart plans to add 10 million square feet of retailing space in China this year, said a senior executive of the world's largest retailer Saturday. The plan was disclosed by Scott Price, CEO of Wal-Mart Asia, while addressing the Global Summit of Women 2010 which ended in Beijing Saturday. The summit opened on Thursday evening. "This is a huge expansion of Wal-Mart in China," said Price, who added that Wal-Mart now has some 200 stores in 87 cities in China. The retailer will also employ more women, and reduce its energy and resource consumption by 40 percent this year.

The stitched photo taken on May 24, 2010 shows the Arcadian scenery in Liangjiang Township in Lingui County in Guilin City, southwest China's Guangxi Zhuang Autonomous Region.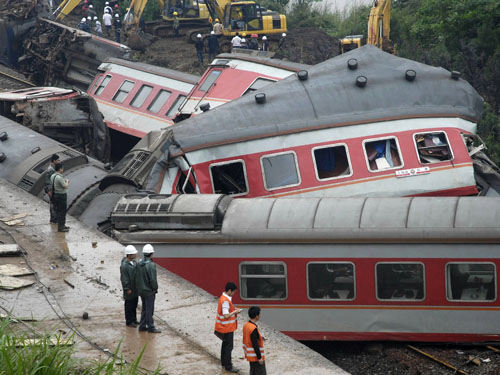 Eight carriages were derailed after a Shanghai-Guilin train hit a landslide yesterday near Fuzhou, Jiangxi. At least 19 people died and 71 were injured when a passenger train was derailed yesterday morning in eastern Jiangxi, state media said. The train, en route from Shanghai to Guilin in the southern region of Guangxi , was derailed at about 2am in a mountainous area near Fuzhou , Xinhua said. Heavy rain caused a landslide that buried a section of tracks connecting Shanghai and Kunming , Yunnan , and the train crashed into the huge mounds of mud and debris, China Central Television said.
May 24, 2010

Hong Kong*: Hong Kong overtakes United States as top business-friendly economy - Hong Kong and Singapore are the world's most competitive economies, an annual survey said on Friday, demoting the United States from the top spot for the first time since 1993. The study lists 58 economies according to 328 criteria that measure how the nations create and maintain conditions favourable to businesses – a formula that had favoured the US for 16 years. "They are so close in the rankings, that it would be probably better to define them as a leading trio," said Stephane Garelli, professor at the Lausanne, Switzerland-based IMD business school, publisher of the World Competitiveness Yearbook. Despite high unemployment and debt, and continued market instability, the United States was better placed than European nations and others to attract new investments and help companies grow. "The US has weathered the risk of the financial and economic crises thanks to the sheer size of its economy, a stronger leadership in business and an unmatched supremacy in technology," Garelli said. Switzerland and Australia rounded out the top five. Then came Sweden, Canada, Taiwan, Norway and Malaysia. Mainland continued its rise in the survey, reaching 18th and highlighting that it is no longer dependent on foreign markets buying up its cheap exports. It led fellow emerging economies India, 31; Brazil, 38; and Russia, 51. Debt-laden Greece actually improved in the ranking this year, rising six places to 46th. Venezuela ranked last for the fifth year in a row, preceded by Ukraine, Romania, Argentina and Croatia.
Asian and European markets tumbled on Friday, extending a wave of selling amid growing fears that Europe's debt crisis could spread and undermine global economic growth.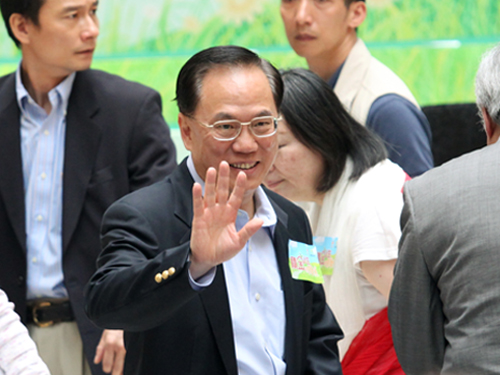 Chief Executive Donald Tsang attends launching ceremony of MPF Investment Education Campaign at Olympian City in West Kowloon on Friday. Chief Executive Donald Tsang Yam-kuen said all seven million people of Hong Kong can participate in a televised debate on political reforms when he takes on Civic Party leader Audrey Eu Yuet-mee on June 17. One day after issuing a challenge to Eu to enter an unprecedented hour-long live TV debate, Tsang said he was happy that Eu has taken up the challenge.
Web search king Google on Thursday showed off a risky attempt to marry the Web to television, chasing a dream that has eluded even archrival Apple.
Hong Kong tycoons have emerged as among the biggest supporters of a record US$21 billion rights issue by Britain's Prudential, sources with direct knowledge of the matter said overnight on Thursday. Britain's largest insurer, raising cash to fund the planned US$35.5 billion acquisition of US insurance giant AIG's Asian life arm, has pulled in a long list of banks and institutions to underwrite the deal. But Prudential, its focus shifting eastwards under the deal to become the largest foreign-owned insurer in Asia, has also wooed Asian investors in the hope of diversifying a UK-centric shareholder register. Most institutions that agreed to sub-underwrite the deal were UK funds that already make up the bulk of Prudential's shareholders, but Asian investors were the second-largest group, with Asia's tycoons leading the charge, the sources said. Prudential would benefit from money already set aside when AIG was considering an Initial Public Offering (IPO) of its Asian unit, chief executive Tidjane Thiam said on Monday when the prospectus for the deal was released. The sources did not comment on local media reports that Hong Kong billionaire Li Ka-shing and property tycoon Cheng Yu-tung were among those on the list. Hong Kong's richest, including Li and Cheng, stepped in to underwrite a large chunk of HSBC (SEHK: 0005, announcements, news) 's cash call last year. The lead banks on the deal are Credit Suisse, JP Morgan Cazenove and HSBC. The sub-underwriting closed on Monday, hours after the Prudential released the delayed details of its rights issue and offer, and the sources said demand was considerably in excess of supply with "some scaling back". Prudential's bankers are hosting meetings for the sub-underwriters on Friday and Tuesday in London, with attendance from Thiam and other top executives, one of the people said. Asian institutions are also well represented among the sub-underwriters, the sources said. Qatar Holding, the prime vehicle for strategic and direct investments by the State of Qatar, and the Government of Singapore Investment Corp, which owns a 0.5 per cent stake in Prudential according to Reuters data, are named in the prospectus as underwriters. One of the sources said GIC was expected to be looking to raise its stake. A separate source familiar with the matter said Singapore state investor Temasek has been in talks about taking a stake in the insurer, but has not made a final decision. Temasek declined to comment. Prudential, which is listing in Hong Kong and Singapore, said earlier this week it would raise the fee paid to institutions sub-underwriting the deal. "It's a big transaction and people are scrutinising the prospectus," one of the sources said. "Some investors still require more analysis for comfort." The unexpected delay to Prudential's offer, after Britain's Financial Services Authority forced it to tweak its US$35.5 billion offer for AIA in an unprecedented last-minute delay, has irked many of its shareholders. Prudential's management has since been on a roadshow to woo back investors to both the rights issue and the deal itself.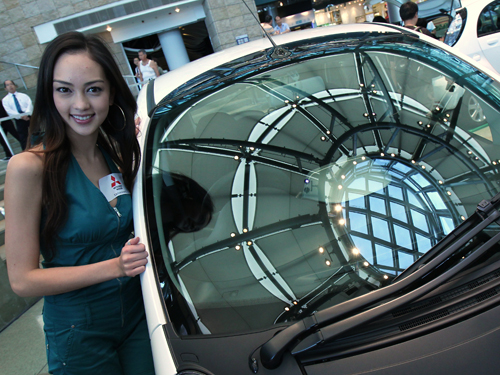 Mitsubishi's four-seater, bubble-shaped electric car, the i-MiEV, goes on sale to the public in Hong Kong today, the first Asian market outside Japan to get the car. The vehicle, powered by lithium batteries, costs HK$395,000 from the authorised distributor, Universal Cars Limited. Six orders have already been placed and the dealer says it plans to sell about 50 cars this year. The cars are already in use in Hong Kong, about 30 having been bought by the government and the two electricity companies in the past six months. Fully charged, the car can travel for up to 120 kilometres, or the equivalent of four return trips between Tseung Kwan O and Tsuen Wan, with no emissions - in fact, it has no exhaust pipe. It takes about 30 minutes to recharge from a powerful quick-charge station or about seven hours from a domestic electricity supply. There are only 37 charging stations around Hong Kong but more will be set up by the end of June. Vivian Lau Lee-kwan, deputy secretary for the environment, said the launch of electric vehicles in Hong Kong was significant. "It is an important milestone to promote this new form of transport to the public," she said. Leonard Cheng Wai-lam, sales and marketing general manager of Universal Cars, said electric vehicles benefited the environment and saved money. "The power cost for an electric car is about 80 per cent less compared with using petrol vehicles and zero carbon dioxide emissions are beneficial to the environment," he said. Universal Cars has conducted a series of seminars on the latest developments in electric vehicles and to promote their use in Hong Kong. A prototype i-MiEV car was handed to the government for a six-month local trial in May last year. In December, the first batch of mass-production i-MiEVs was delivered to the government.

China*: An official with mainland's pension fund said that the fund had invested 15 billion yuan (HK$17 billion) into the Agricultural Bank of China, ahead of the bank's US$30 billion IPO. AgBank, the smallest of the country's Big Four banks, plans to list in Hong Kong and Shanghai by July, although the stock markets locally and globally have seen large swings in the last month, causing many IPOs to be postponed. Ji Guoqiang, a director with the National Social Security Fund, said he hopes AgBank lists as soon as possible but noted that it is up to the bank to decide whether or not to delay the offering. The director was speaking on the sidelines of a financial forum. NSSF would be among several investors expected to back AgBank before its offering, since its sheer size would warrant firm backing before the public is allowed to take up shares. Speculation has grown that AgBank could be forced to delay the IPO due to the instability displayed by stock markets globally in the past few weeks. Swire Properties, a real estate spinoff planned by its conglomerate parent, pulled its HK$20.84 billion Hong Kong IPO, a sign that underwriters and executives are losing confidence in the regional stock markets that roared back to life last spring. But for mainland, the AgBank IPO and several other large capital raisings by the country's banks are less a market opportunity than a mandatory order from the government to boost capital cushions after a huge lending spree last year. Even so, the chairman of China Construction Bank (SEHK: 0939), the world's second-largest lender by market value, said it might delay its planned US$11 billion capital raising to early next year, citing uncertain market conditions. Unless there is a dramatic plunge in the stock market, however, it is unlikely mainland will withdraw its capital-raising plans, bankers and analysts say. The underwriters are also standing behind the US$30 billion offering, for now. Li Jiange, chairman of China International Capital Corp (CICC), told reporters on the sidelines of a forum earlier this month that market jitters would not impact the IPO. CICC, mainland's largest investment bank, is one of the banks handling the AgBank IPO.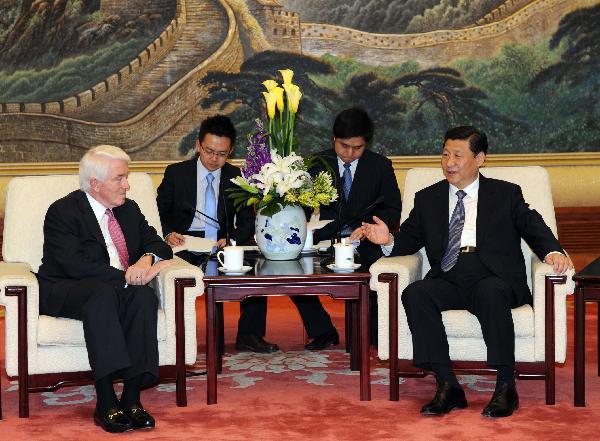 Chinese Vice President Xi Jinping (R1) meets with Thomas J. Donohue (L1), chairman of the U.S. Chamber of Commerce, at the Great Hall of the People in Beijing, capital of China, on May 21, 2010.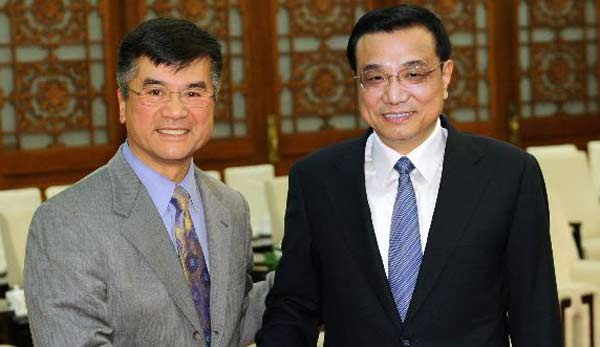 Chinese Vice Premier Li Keqiang (R) meets with U.S. Commerce Secretary Gary Locke at the Great Hall of the People in Beijing, capital of China, May 20, 2010. Chinese Vice President Xi Jinping on Friday asked Chinese and U.S. business communities to further trade and economic ties, ahead of next week's high-level Sino-U.S. dialogue on political and economic issues.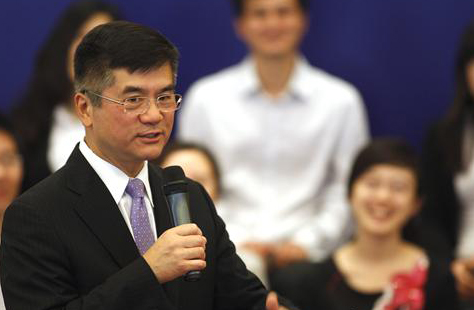 Locke promotes clean-energy deals with China - U.S. Commerce Secretary Gary Locke said Friday the United States and China should lead the way in developing clean energy to meet future energy demands. Addressing students at China's prestigious Tsinghua University, Locke said worldwide energy is a six trillion USD market and the fastest-growing sector is the clean, green energy. Locke is leading a trade mission of 24 U.S. companies to promote sales of clean-energy technology to China. "These companies already possess cutting-edge technologies that can help China meet its ambitious energy efficiency goals while also spurring the creation of new jobs in China and the United States," said Locke. Washington is seeking clean-energy technology sales to China to help fulfill U.S. President Barack Obama's pledge to double exports and create two million jobs within five years. Beijing agrees that clean energy will be a highlight in China-U.S. trade cooperation. Meanwhile, China urges the United States to take moves toward easing restrictions on exports to China. "The clean energy projects involve huge investments and long-term planning. The U.S. export restrictions, if not loosened, are a barrier for future cooperation between the two countries," said China's Vice Minister of Commerce, Ma Xiuhong.
Beijing set out a plan yesterday to revive the far western region of Xinjiang in the hope that an economic boom will end incessant ethnic strife and begin a new round of development in the remote backwater. At a conference chaired by President Hu Jintao and attended by top Communist Party officials that ended on Wednesday, the central government pledged to raise the per capita gross domestic product in Xinjiang to the national average by 2015, and eliminate poverty throughout the region by 2020. Xinjiang's per capita GDP last year was US$2,898, compared with the national average of US$3,600, and ranked higher only than Inner Mongolia in China.
A court in Chongqing upheld the death penalty on Friday of a former police chief convicted of taking bribes from local gang leaders.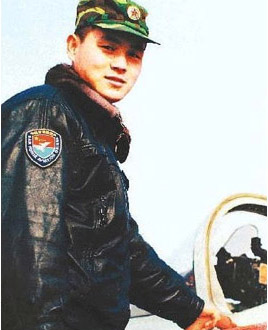 A crippled jet fighter was a second from crashing into a densely populated area in Shandong's capital, Jinan, this month before the pilot managed to pull it away and crash into vacant land nearby, mainland media reported yesterday. People's Liberation Army Air Force pilot Feng Siguang, 28, died in the accident on May 6, but his last-second heroics saved hundreds of lives, Xinhua said. His jet crashed 230 metres from a community of 4,000 people, it said.
The central government has disclosed widespread corruption linked to its 4 trillion yuan (HK$4.54 trillion) stimulus spending package, announcing that more than 3,000 officials have been punished for taking bribes, embezzlement and other abuses. Yesterday's announcement confirmed public fears that the flood of spending and a stimulus-linked easing of curbs on real estate development would fuel the chronic corruption that Communist Party leaders admit is the most serious threat to their power. Deputy Supervision Minister Hao Mingjin told a news conference that 3,058 officials, including several mayors, had received penalties ranging up to life in prison for offences related to the stimulus spending or to construction projects.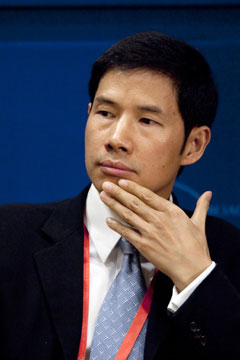 High-profile dealmaker and former Goldman Sachs top Asian executive Fred Hu has decided to launch a $10 billion private equity (PE) fund after exiting from the race for a senior position in the nation's central bank, sources familiar with the matter said on Thursday. Hu is now courting investments for his China-dedicated fund called Chunhua. A number of institutional investors, including the Ping An Group, are keen on investing in the fund, a source told China Daily on condition of anonymity. Ping An Group, the nation's second largest insurer, may invest $5 billion in the fund, the source said, adding that the two sides are yet to finalize the deal. Fred Hu takes the private path, to float $10b PE fund. Fred Hu, former Goldman Sachs partner, is one of the top dealmakers in China. The source said the fund could also rope in some foreign investors, but declined to give more details as the talks were still in initial stages. Hu could not be reached immediately for comments. The investment arm of China Construction Bank, Singapore government-owned Temasek Holdings and his former employer Goldman Sachs are some of the other companies who could help Hu launch the fund, Reuters reported earlier citing sources close to the matter. Hu, a veteran dealmaker in China, stepped down as a partner of Goldman Sachs recently after working with the Wall Street bank for 13 years. In one of his landmark deals, Hu spearheaded the $3.78 billion investment for Goldman in Industrial and Commercial Bank of China.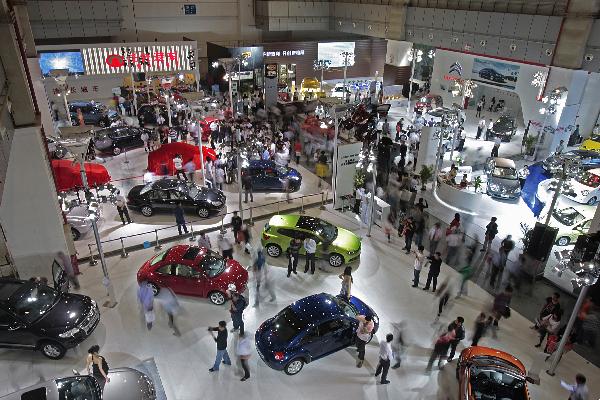 Visitors view exhibits on an auto expo held in Wuhan International Exhibition Center in Wuhan, capital of central China's Hubei Province, May 21, 2010. The 8th Central China International Auto Expo kicked off here on Friday with over 400 autos of more than 50 brands from home and abroad on show.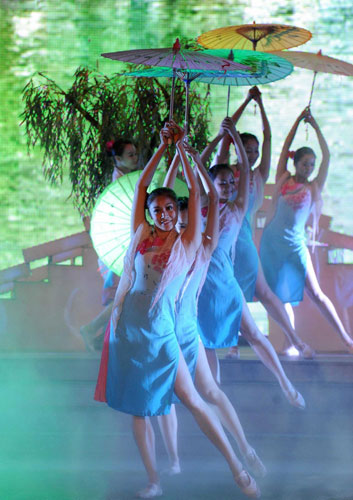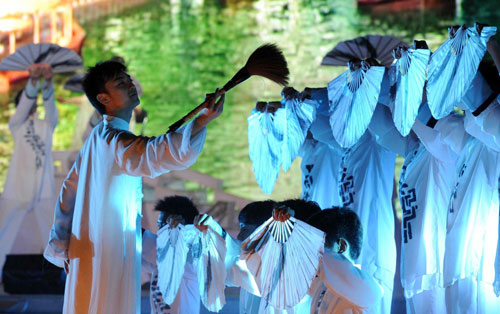 Actors and actresses perform a show featuring the culture of Zhouzhuang, one of China's most famous water townships in Kunshan city of Jiangsu province, at Shanghai Expo Park on May 20, 2010. The 15th Zhouzhuang International Tourism Festival kicked off on May 20, with 180 professional actors and some local residents taking part in the opening ceremony performance.
May 22 - 23, 2010

Hong Kong*: Hong Kong bankruptcy petitions in April fell about 18 per cent from March, but were down 48 per cent from a year earlier, government data showed on Thursday.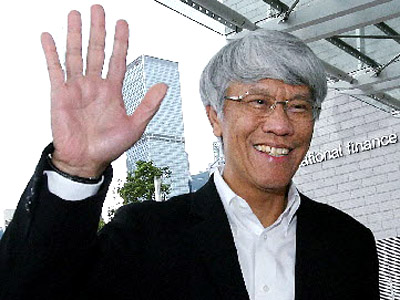 Yam rules out sharp yuan rise - Expectations China will unshackle the yuan from a dollar peg soon and allow the currency to enjoy a sharp one-off gain are misguided, the former head of the Hong Kong Monetary Authority said yesterday in Singapore. "Contrary to market expectations, I think there is unlikely to be a large one- off appreciation of the renminbi against the US dollar when exchange rate flexibility is reintroduced," said Joseph Yam Chi-kwong. Yam, now an adviser to China's central bank, said speculators betting on a yuan appreciation via non- deliverable forwards could lose a lot of money. It was not in China's interest to relax the peg anytime soon given jittery European financial markets, he said. Commenting on financial market speculation that Beijing will soon relax its peg to the dollar, Yam said: "That is yet another example of the dark side of financial innovation." Beijing has pegged the currency at 6.83 per dollar since the middle of 2008 to help the export-geared economy through the global downturn. Advising investors to focus on economic factors rather than political rhetoric, Yam said Beijing's policy between July 2005 and March 2008 was to allow a gradual 2-3 percent appreciation of the yuan versus a currency basket, rather than against the dollar. Should China resume its stated policy, "it would actually require a significant depreciation in the renminbi exchange rate against the US dollar," he said, pointing to the dollar's recent rise against the euro. He added that it was debatable whether the yuan was undervalued, pointing to China's trade surplus, which shrank by 30 percent last year. Yam said the recent intensification of pressure on China to relax its currency peg could be linked to the large number of bets for a rising yuan via the NDF market that need to be settled soon. "I have personally very little sympathy for those losing bets," he said.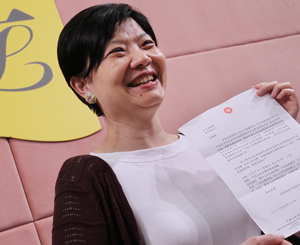 Chief Executive Donald Tsang Yam-Kuen on Thursday invited Civic Party leader Audrey Eu Yuet-mee to a live television debate on the government's constitutional reform proposals.
Hong Kong civil servants will likely get a get a pay rise this year after new statistics released on Thursday showed private sector wages were rising. The 2010 Pay Trend Survey (PTS) Report reported that wages in the private sector had increased by 0.9 to 2.2 per cent from April 2009 to April 2010. Annual pay adjustments for civil servants and government workers are usually based on movements in the PTS. PTS committee alternate chairman Barry Cheung Chun-yuen met civil service unions on Thursday afternoon to discuss the latest findings. "There was more transparency when we were conducting the survey this year," Cheung said after the meeting. "We believe the result accurately reflected pay trends in the job market over the year," he added. The survey was conducted by the PTS committee from April 2 2009 to April 1 2010. It covered 106 companies and more than 170,000 employees over the 12-month period. Among the companies, 81 employed over 100 staff. Over the year, the wages of the lower-paid staff increased by 0.9 per cent, 1.29 per cent in the mid-range and 2.2 per cent for high earners, the report showed. According to the findings, civil servants in lower, middle and upper bands could see pay rises of up to 0.16 per cent, 0.56 per cent and 1.6 per cent, respectively. "Besides the results of the survey, the government would also take into account Hong Kong's economic situation, the government's fiscal position, the cost of living and civil service morale, before deciding the 2010-2011 civil service pay adjustment," the report said. Hong Kong Senior Government Officers Association vice-chairman Philip Kwok Chi-tak said he was disappointed with the results. "Compared with the 5.38 per cent pay cuts we received last year, we expected a higher percentage of increases this year," Kwok said. A spokesman for the Disciplined Services Consultative Council said "Our council will hold a meeting next week to study the validity of the report," he added. The survey is subject to verification by the PTS committee on May 27. After that, the survey results will be submitted to the government.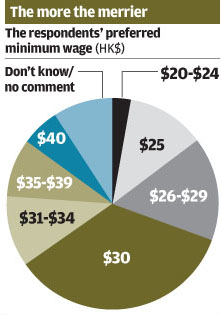 More than 60 per cent of Hong Kong people believe the city's statutory minimum wage should be set at no less than HK$30 an hour, a University of Hong Kong survey has found. Commissioned by Oxfam Hong Kong - a long-time advocate of a minimum wage to protect the city's working poor - the survey found 35 per cent of respondents thought the minimum hourly level should be set at HK$30. Of the 509 people interviewed earlier this month, 11 per cent said the hourly wage should be set between HK$31 and HK$34, 9 per cent said HK$35 to HK$39, and 26 per cent said HK$40 or above. Dr Robert Chung Ting-yiu, director of the university's public opinion program, said the survey polled a cross-section of city dwellers. "We asked the background of these interviewees during the poll - about one-fourth of them are executives and about 10 per cent are blue-collar workers," Chung said. He said 20 per cent of those interviewed were clerical staff, 7.8 per cent students, 12.9 per cent full-time housewives and the rest held other occupations. "The survey covered a wide range of Hong Kong people and I believe they can truthfully represent the voice of the city without any bias to the interests of any particular group," Chung said. Surveys on the minimum wage were also conducted in 2005 and 2008, but it is the first time a survey has asked about what level it should be set at. The Legislative Council is expected to pass a minimum wage bill by July, and the Provisional Minimum Wage Commission will recommend a pay level around the same time. Public support for minimum-wage legislation was 70 per cent in the latest survey, against 71.6 per cent in 2008 and 58.6 per cent in 2005. Of those polled, 72 per cent said a minimum wage should be set at a level that protected basic living standards of workers and reduced the gap between rich and poor. Oxfam Hong Kong director Ho Wai-chi said that given the city is one of the world's wealthiest, it should reward its workers with decent pay. Ho declined to recommend a minimum wage level but said it should be sufficient for workers to support their families. Ho also called for a cap on working hours, a view supported by 66 per cent of those surveyed. "We always stick to our principle of trying to create a fair society, that the vulnerable should be protected," Ho said. "In the past, the government also did not support the minimum wage, but its stance has changed with pressure from the public," he said.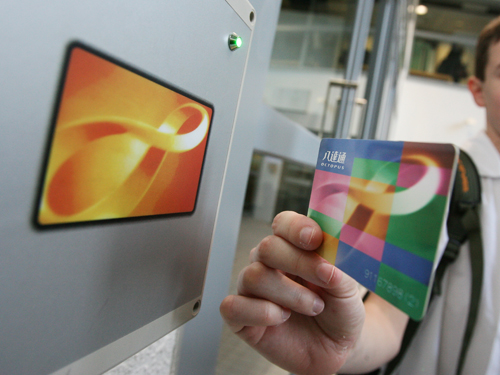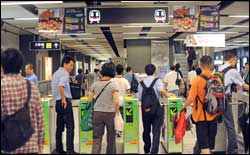 Millions of Octopus card users will be left wondering if they are paying more than single journey ticket holders when new MTR fares take effect on June 13. Train passengers with Octopus cards normally enjoy a lower fare than people buying tickets from vending machines, but the MTR says a fraction of Octopus card users will pay 10 cents to 20 cents more than single journey ticket users on some trips. With single journey fares being rounded off to the next 50 cents, the MTR believes this might mean an excessive amount for some of its shorter, cheaper journeys, so it waived the rise for such trips. However, these trips then become more expensive if one uses an Octopus card. Examples include a ride between Tsuen Wan West and Jordan, which will cost HK$7.50 with a single journey ticket but 20 cents more with an Octopus card. The MTR said only 100 of its 40,000 fare combinations would be affected. "Commuters can choose if they want to pay by Octopus card or buy a single journey ticket," said MTR general manager of marketing Jeny Yeung Mei-chun. When the MTR imposes fare rises averaging 2.05 per cent from June 13, it will mean more than 3.78 million passengers will pay a few extra cents per ride. The increase will see the MTR's yearly income boosted by another HK$200 million but a spokeswoman said this was nullified by annual expenses of HK$600 million with the fare concession packages.
HK signs two new tax treaties, aiming to boost trade and finance - Hong Kong will add France and Austria to the five countries it has full taxation agreements with, on Tuesday.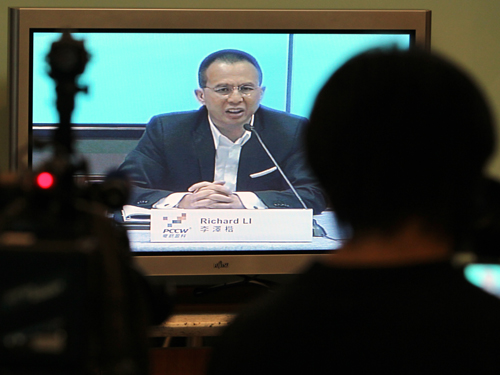 PCCW chairman Richard Li Tzar-kai tells shareholders at yesterday's annual meeting that the company will "actively consider" a possible listing of its shares on the mainland. While legal issues over PCCW (SEHK: 0008)'s failed privatisation persist, group chairman Richard Li Tzar-kai gave shareholders reason to cheer with a vow to hand out generous payouts each year, and a plan for listing its shares on the mainland. "With our steady operating cash flow, the company is confident on maintaining its practice of paying attractive dividend to shareholders," Li said at yesterday's annual general meeting. Shareholders gave a near-unanimous vote to the resolution for paying a final dividend of 13.3 HK cents per share. Li said PCCW, the largest fixed-line network operator in Hong Kong, would also "actively consider" a possible listing of its shares on the mainland. Macquarie Equities Research analyst Lisa Soh, however, noted that such a listing would unlikely become a big priority for PCCW this year since the relevant listing rules in Shanghai remained under development. The Shanghai Stock Exchange just completed, in March, the draft listing and trading rules for its proposed international board, which will enable overseas companies and red chips listed in Hong Kong to float their stock in the country's A-share market. Li said PCCW continued to engage in discussions with mainland carrier China Unicom (SEHK: 0762, announcements, news) , which is the company's second-largest shareholder, about potential business opportunities across the border. He said their exploratory talks had yet to identify material targets. Still, he said PCCW's various lines of business continued to perform steadily and these would benefit further from the economic recovery. The company last year reported an 18 per cent rise in net profit to HK$1.51 billion from HK$1.27 billion in 2008, on the back of cost-cutting measures, improved pay-television and content sales and gains made from the disposal of a property development in Beijing. The so-called PCCW minority shareholder alliance, which counts more than 450 members, yesterday gave credit to Li and senior management for sharpening their focus on new opportunities to grow the company and boost its share price. Alliance spokesman Danny Chan Chung-cheung cited as an example PCCW's decision, which was announced in January, to apply for a free-to-air television licence. PCCW runs Now TV, a pay-TV service with more than one million subscribers that is transmitted over its high-speed broadband network. Chan, however, noted that "something serious" might be afoot regarding the reported police investigation of parties involved in the aborted privatisation of PCCW last year. When asked by a shareholder, Li said it was inappropriate to comment due to ongoing legal processes. Officers from the Commercial Crime Bureau in February executed a search warrant at the home of Li and a number of other residences and businesses connected with the failed HK$15.93 billion attempt to take PCCW private. When asked for an update on the case, a police spokesman yesterday said: "We do not comment on individual cases." In September last year, the board of Singapore-based Pacific Century Regional Developments, the majority stakeholder of PCCW, withdrew its intended application to the Court of Final Appeal for leave to appeal against the decision that blocked its effort to privatise the operator. It said the "shareholders' best interests are served by drawing a line under this matter and focusing on the future".

China*: Mainland and the United States will largely sidestep the yuan at a summit next week because too much pressure would be counter-productive to getting Beijing to change its policy, a mainland central bank adviser said in comments reported on Thursday. Li Daokui, an academic adviser to the People's Bank of China, also said that the United States seemed less insistent now about pushing for yuan appreciation because it was aiming for broader co-operation with Beijing. "Despite mounting pressure for a stronger yuan in the past few months, officials from both sides are expected to play down the currency issue during the meeting, leaving more leeway for China to decide the fate of its own currency," Li told the China Daily. As one of three academic advisers on the central bank's monetary policy committee, Li has little, if any, influence over policy decisions but has knowledge of high-level thinking. The United States will continue nudging mainland at the Strategic and Economic Dialogue next Monday and Tuesday to let the yuan appreciate, but trade issues appeared to be higher on the US agenda ahead of the bilateral meetings. Treasury Secretary Timothy Geithner and the department's senior co-ordinator for Chinese affairs said on Wednesday they will urge Beijing to see yuan appreciation as being in its own interest as well as that of the global economy. Mainland has held its currency at about 6.83 to the US dollar since mid-2008, trying to buffer its economy from the ravages of the global financial crisis. Many analysts and investors had thought that next week's summit or a G20 meeting in June were unofficial deadlines for Beijing to resume yuan appreciation, lest it face punitive measures from Washington. But the deepening of sovereign debt worries in Europe coupled with signs of a stronger US recovery have softened criticism of mainland's yuan policy and cast doubt on whether it is still under intense pressure to move. Separately, Lei Yanhua, a researcher at the Ministry of Commerce, said there was little possibility of the two countries reaching an agreement about the yuan at their meetings next week, the International Business Daily reported on Thursday. Lei argued that yuan appreciation was not key to addressing the China-US trade imbalance and that any yuan appreciation made under duress would harm both mainland and the global economy.
Beijing disclosed widespread corruption on Thursday linked to its 4 trillion yuan (US$586 billion) stimulus, announcing that thousands of officials have been punished for taking bribes.
China Construction Bank said it may delay its planned US$11 billion capital-raising to early next year due to uncertain market conditions.
Mainland's No 3 game operator NetEase.com, which posted a softer-than-expected quarterly profit rise of 8.5 per cent, is looking at more weakness in the months ahead.
China may need to raise interest rates if the country's real estate market continues to show signs of overheating, the Asian Development Bank's head said on Thursday.
PetroChina has halted plans to buy half of its parent's assets in an overseas exploration and development venture due to income tax and oil price concerns.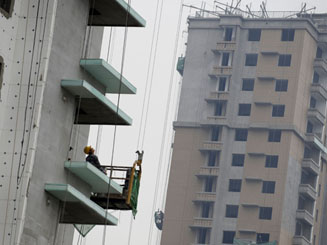 Mainland property prices have stopped rising and transaction volumes have dwindled since the middle of last month, the country's top economic planner said yesterday.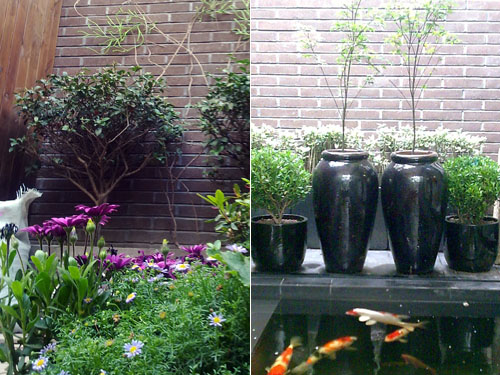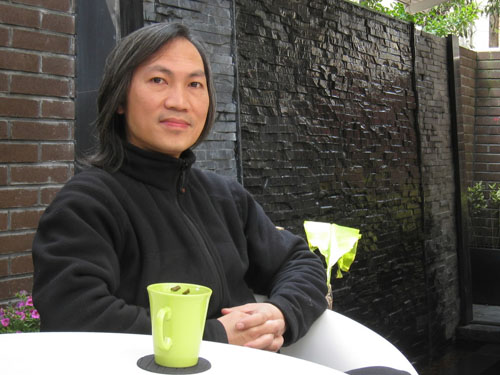 Lawrence Tong's Shanghai home has an air of tranquility, helped by the small garden which he renovated when he moved in. He only targets ground-floor flats that have decent outdoor space. Lawrence Tong is not a typical property investor in Shanghai. While many Hong Kong and mainland investors have their eyes on upmarket residential properties in the nation's financial hub, Tong has bet on the secondary public housing market, or gong fang. Gong fang is the term used to refer to public housing that was originally owned or built by government units or state-owned enterprises to house their staff. "As part of the housing reform in the country, staff were encouraged since the 1990s to buy their public housing units at subsidised prices and retrade them as private housing in the secondary market," says Tong, who moved from Hong Kong to Shanghai 13 years ago. "The attractiveness of the public housing is the location. These buildings were built decades ago and are usually located just downtown of the city," he says. Some of the flats on the ground floor have gardens. Tong cites the example of his 40 square metre flat in Changning district, which has a garden of more than 30 square metres. "I used to live in a 100 square metre-plus apartment in a high-rise building in Shanghai. But it was too big for our two-member family." So two years ago he sold it and bought his cosy home for 760,000 yuan (HK$866,000). He used the rest of his sale proceeds to team up with a friend to buy another 47 square metre gong fang for 1.82 million yuan. Now he rents out the second flat for 7,800 yuan a month, although he pays water and electricity costs. This represents a yield of about 5 per cent, which is higher than the 3 per cent yields available from investing in high-rise apartments. "Our target tenants are expats who are willing to pay above-market rents. The rent can be easily covered by the housing allowances provided by their companies," he says. "Europeans like gardens and they do not mind, and even love, living with local Shanghainese in old districts. They see it as a chance to experience Chinese culture." However, not all gong fang can be sold to foreigners. "Ownership of those with historic backgrounds may not be traded. Usage rights may be traded, but this can only be to Shanghainese buyers." This is not a problem for Tong as his wife is from Shanghai. Another investment attraction of the gong fang, says Tong, is the redevelopment potential. Not all public housing flats are attractive but he only targets those with decent gardens on the ground floor, since their supply was limited and they therefore offer greater investment potential. Tong says investors interested in this market have to be prepared to pay for renovations. "When I bought my home, the flat was very dirty as the owner put all the rubbish in the garden. I spent more than 300,000 yuan to turn it around." A Shanghai-based agent says the gong fang market is stable. When the market boomed, prices did not follow at the same pace, when prices plummeted, prices remained steady.
May 21, 2010

Hong Kong*: HK watchdog targeting jailed Gome boss - SFC likely to pursue billionaire on fraud charges. Electronics billionaire Wong Kwong-yu is likely to face further fraud charges in Hong Kong after being sentenced yesterday by a Beijing court to 14 years in prison and fined 600 million yuan (HK$683 million) for "extremely serious" financial crimes. The 41-year-old Wong - known on the mainland as Huang Guangyu - who founded Gome Electrical Appliances (SEHK: 0493) and once ranked as the mainland's richest man also had 200 million yuan in assets frozen by Beijing's No 2 Intermediate People's Court after being convicted of bribery, insider trading and illegal business dealings. The judgment concludes a chapter in one of the mainland's biggest graft cases on record. Beijing's investigation of Wong widened after his initial detention in November 2008 to implicate more than 10 prominent officials and businessmen, eventually bringing down the mayor of Shenzhen, Guangdong's top graft-buster and the chairman of the provincial Chinese People's Political Consultative Conference.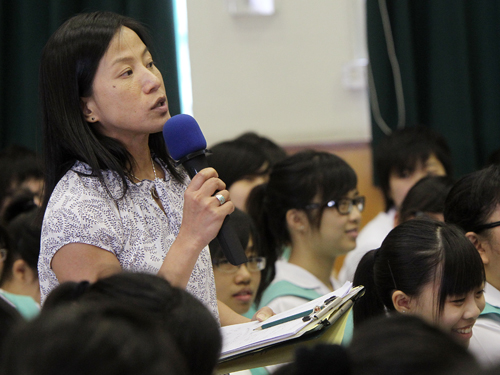 Teacher Ng Mei-lan speaks to Chief Secretary Henry Tang Ying-yen about electoral reform during his visit to Belilios Public School in Tin Hau on Wednesday. Chief Secretary Henry Tang Ying-yen was upstaged by a teacher while visiting a secondary school to promote the government's latest package for political reform in 2012. Tang was speaking to students and teachers at Belilios Public School in Tin Hau on Wednesday morning. During his speech, he argued that even though the political reform package may not be perfect for everyone, it, like a student who gets a B instead of an A on an exam, deserved to be passed. After his speech, a Liberal Studies teacher, Ng Mei-lan, addressed the chief secretary. She said, as teachers, they encouraged students, once they were 18, to register as voters and participate in election, but that Tang, the Chief Executive and other government officials did not vote even though the by-elections were legal. "It seems that you all are setting a bad example," she said, "If we really can elect the Chief Executive with a 'one man, one vote' system in 2017, what should our students do then? "I am not a member of the Civic Party or the League of Social Democrats, but I want to tell you the details have not been laid down for universal suffrage in 2017. She then showed Tang a placard that said in Chinese: "I have the right to elect the chief executive!" Ng was applauded by the students. The chief secretary said that he agreed with the message on her placard and that he too hoped to have the right to elect the Chief Executive in 2017. "In fact, the Standing Committee made this decision back in 2007," Tang said. "After we go through a series of political reforms, everyone should have the right to elect the chief executive in 2017," he explained. Tang also defended the decision of top government officials to not participate in the by-elections by saying that voting was not compulsory in Hong Kong and deciding whether to vote or not was the right of each person. "Civic responsibility is about a person making a decision after thinking independently... It is not about blindly following others." he said. Tang also said the government would try to arrange meetings between moderate democrats and the central government to discuss the political reform package. Chief Executive Donald Tsang Yam-kuen has said the constitutional reform package would be put to the vote in Legco before the legislative year ends in July.
Five pan-democrat legislators re-elected in Sunday's by-elecions were sworn-in at the Legislative Council on Wednesday for another term.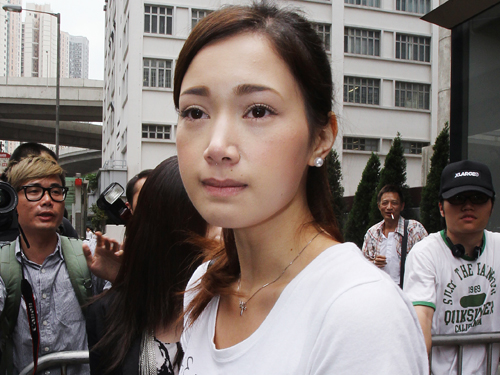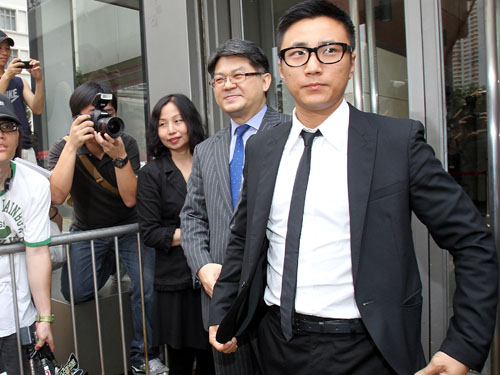 TVB host Amigo Choi Kin-bong's ex-girlfriend Elizabete Kwong Man-wai/TVB host Amigo Choi Kin-bong at Kwun Tong Court. TVB (SEHK: 0511) host Amigo Choi Kin-bong who allegedly assaulted his Brazilian- Chinese model girlfriend was put on a good-behaviour bond yesterday after the prosecution withdrew the charge against him. Choi, 30, is bound over for good behaviour for one year at a surety of HK$5,000. The trial scheduled yesterday was cancelled after discussions between defence and prosecution lawyers for more than two hours, after which the latter withdrew the charge. Leaving the court with his manager, Choi said to news and entertainment reporters that he felt "as usual". "Since the thing happened, my family, friends and I have been worried," he said. "Now it's finally over. I just want to say [to my family and friends]: You don't need to worry any more." His manager read a statement outside court: "We are glad that Mr Choi Kin-bong is found not guilty ... The court ordered a bind-over to solve relationship problems between a man and a woman ... saving the court's and everyone's time." His ex-girlfriend Elizabete Kwong Man-wai, who was supposed to testify in the trial, was tight-lipped and teary when she left the court. Choi, a Chinese-Korean and former boxer, pleaded not guilty to one count of assault occasioning actual bodily harm in Kwun Tong Court for hurting Kwong, 20, at his Beacon Heights flat in December last year. But the prosecution stated the facts, which Choi agreed, that he pushed Kwong when he tried to get her to delete the cellphone photos and text messages he had sent her. The pair lived together shortly after they got to know each other in a TV programme and became close friends in August. On December 22, they had an argument after Choi got a phone call from an ex-girlfriend, and he suggested Kwong move out. When Kwong was packing, he demanded that she delete from her phone their photos and the texts he had sent, and hit the back of her head after she refused. She fell to the floor; Choi grabbed her neck with one hand and pressed her chest with the other, but then searched her bag. They struggled and Kwong was pushed onto the bed. Kwong sought treatment at a hospital and reported the case to police. A medical examination found red marks on her neck and chest. Choi, who had been among TVB's most popular hosts, was suspended after his arrest in December. Choi had a talk show, My Name is Bong, and was one of the masters of ceremony at this year's Miss Hong Kong pageant.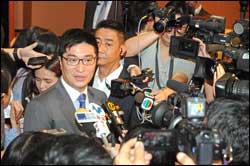 Martin Lee Ka-shing, the younger son of tycoon Lee Shau-kee, has paid top dollar for a site on The Peak so that all his family can live under one roof - or, to be more precise, under three or four roofs. Lee yesterday agreed to pay HK$68,200 per square foot for the land at 35 Barker Road, smashing all local and regional records. The auction for the 53,350-square- foot site lasted about 10 minutes as Lee made the winning 10th bid. He will now invest hundreds of millions of dollars more to develop the site into three or four villas, each of up to three stories, for "family use." "Sometimes what you like just can't be bought with money," he said, explaining that beautiful views from the high-quality plot convinced him to make the purchase. Lee currently lives in a 9,000-sq-ft apartment at Eva Court, MacDonnell Road, with his wife Cathy Tsui Chi-kei and two children. His father - nicknamed "Uncle Four" - lives in a duplex in the same building. Uncle Four and his elder son are also likely to move into the new place. "Our family have been living in apartments over the years," Martin Lee said. "The site's location is quite nice and suitable, so we are trying for houses." He was interested in the penthouse at Henderson Land's 39 Conduit Road after Tsui gave birth to their second daughter, but was later put off by the target price of HK$100,000 psf, Lee senior said in October. Martin Lee, who is vice chairman of Henderson Land, beat two other bidders from Sun
Hung Kai Properties (0016) and Chinachem Group for the coveted site. He also beat the record psf price of HK$61,744 for 6 to 16 Peel Rise set only in April by a consortium, which included Angela Leung On-kei, wife of gaming billionaire Stanley Ho Hung-sun. Market experts all found yesterday's final bid of HK$1.82 billion very satisfactory, and so did seller Hui Sai-fun of Central Development, whose reserve price was close to the opening bid of HK$1.55 billion. Auctioneer Joseph Tsang, also international director at Jones Lang LaSalle, said the auction shows that "the outlook of the luxury market is still positive." Surveyor Pang Siu-kei pointed out that the site is a rarity given the extremely low supply on The Peak and cannot help forecast the market outlook. Both Pang and Tsang said Lee's calculations may be different from those of developers when they bid for the government's plot in Mount Nicholson Road in July. "I think there'll not be a family big enough to bid for the [official] site for self-use," Tsang said, noting it can provide 100 homes each measuring 3,000 sq ft. Ricacorp head of research Patrick Chow Moon-kit noted a Ho Man Tin site to go under the hammer next month will be even less affected by yesterday's auction, since it more of a "large-scale mass-end plot." Chow also believes the Barker Road site serves a very niche market and will have no impact on people who are selling their homes at discounts to boost cash flow. Henderson and Cheung Kong Holdings (0001) both expressed their interests in taking part in forthcoming auctions. Fellow billionaire Li Ka-shing - who lives in 22 Shouson Hill Road with elder son Victor Li Tzar-kuoi - also cherishes his family. In order for his grandson to lead a more comfy life, Li Ka-shing applied last year to enlarge the family house in Deep Water Bay from three stories to four. Li's younger son and PCCW (0008) chairman Richard Li Tzar-kai does not live with his father. But the mother of Richard Lee's son - former actress Isabella Leong Lok-sze - and their child are no worse off in their 21,000-sq-ft house in Shek O Road that cost HK$200 million to build.

China*: US Treasury Secretary Timothy Geithner said on Tuesday that a stronger yuan would help but he would focus mainly on reducing trade barriers in talks with Beijing next week.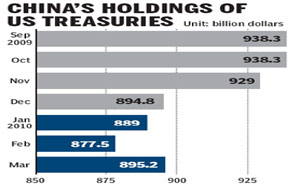 Holdings of US debt rise again - China increased its holdings of US Treasury debt for the first time in six months - a trend analysts said could last as the dollar is expected to continue its strong rise.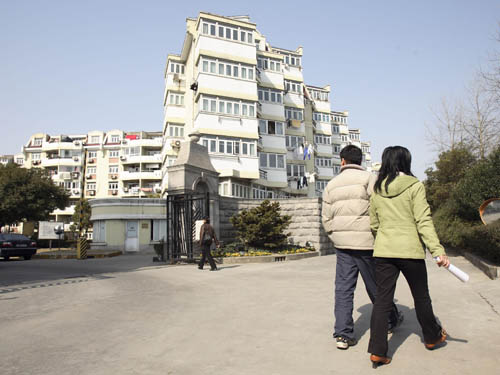 Shanghai is set to build 1.2 million new homes in a further bid to stamp out speculation and stabilize property prices. The news comes as sales in the mainland's financial hub slumped to a five-year low last week, indicating that measures to rein in the property market are taking effect. The Shanghai government said it plans to build 23 large-scale communities, China National Radio reported yesterday. Land for the massive project will be prepared by the city government within the next 18 months. The combined construction area will cover up to 105 square kilometers, of which 40 sq km will be for residential development. The 1.2 million homes will total up to 80 million square meters in area. Shanghai announced a similar scheme last year. The plan is to provide small and medium-sized homes for sale, affordable houses for the less well off, and other apartments for rent. New home sales in the city plunged 16 percent to a combined area of 60,000 sq m from a week earlier, data from Shanghai Uwin Real Estate Information Services showed. That is the lowest weekly level since 2005 and is attributed to recent policies to curb runaway home prices and cool property speculation. The average price declined 9 percent to 22,873 yuan (HK$26,114) per sq m from the previous week as more cheaper homes were sold. It was the first time in three weeks that the average price was less than 25,000 yuan per sq m, although it was still higher than the annual average level. Beijing, meanwhile, said it will launch "special inspections" to check on developers, according to China Economic Net. The focus will be on whether property firms are engaging in illegal or irregular trade practices, and buyers' complaints. Inspectors will also look into land development, home demolitions and property management in a bid to improve the property sector and clamp down on developers who keep their sites idle.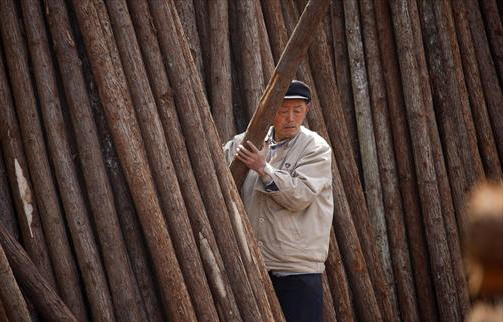 China cuts timber production to protect forest - Timber output has been cut to help sustain the environment of the Greater Hinggan Mountains in northeast China. Annual timber output in the area since 2007 has been one-third less than the approved level of 2.1 million cubic meters under natural forest protection rules, said Zheng Xuehui, director of the planning and statistics department under the Greater Hinggan Forestry Group. The group reduced output by 350,000 cubic meters in the first four months of the year. Between 2007 and 2009, the production was more than 2 million cubic meters under the allowed amount. "After decades of over-felling, the quality of the forest is deteriorating," said Zheng. "If the practice continued, it would have a further negative impact on the environment." The Greater Hinggan Mountains, which has the largest virgin forest in China, had 76.9 million cubic meters of wood resources, Zheng cited a 2006 survey as saying.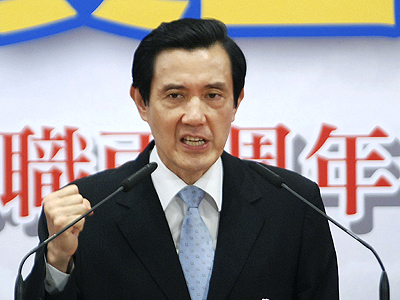 Taiwan's President Ma Ying-jeou speaks at news conference in Taipei on Wednesday, saying Beijing could feel compelled to dismantle the more than 1,000 missiles it has pointed at Taiwan as relations between the rivals improve.
A government economist has said Beijing should drive a "hard bargain" with the US on the yuan issue, ahead of key Sino-US talks next week likely to focus on economic concerns.
A gas explosion has rocked a coal mine in northern China, killing 10 miners and leaving one missing, state media reported Wednesday, citing work safety officials.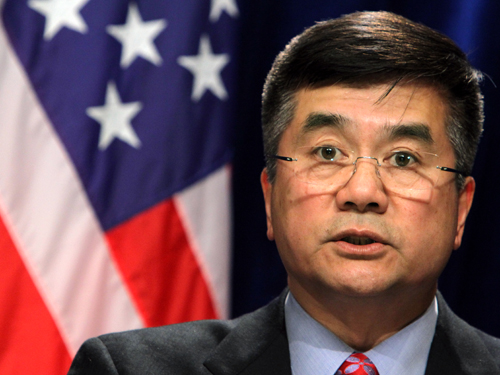 US Secretary of Commerce Gary Locke said on Wednesday that he believed the turbulent economic events of the past several years has persuaded mainland leaders that they need to find a new model for economic growth. US Secretary of Commerce Gary Locke urged mainland on Wednesday to purchase more American goods to help reduce a huge trade imbalance that has caused friction in US-Sino ties. "Obviously the trade deficit needs to come down," Locke said in an interview ahead of a high-level US-China Dialogue on economic and foreign policy concerns early next week in Beijing. "There's two component to it: more exports from the United States to China and more internal consumption within China so that they're less reliant on exports," Locke said. The former Washington state governor said he believed the turbulent economic events of the past several years, including most recently in Europe, has persuaded mainland leaders they need to find a new model for economic growth. "They recognise that their economy cannot become so export dependent, especially with the crisis within the EU. That's also a major destination for Chinese products," he said. The US trade deficit with mainland totalled US$226.8 billion last year, down more than US$40 billion from 2008 but still the largest the United States has with any country. The huge imbalance has fuelled accusations in the US Congress and manufacturing sector that mainland is manipulating its currency for an unfair trade advantage by keeping the price of its yuan artificially low against the US dollar. US officials have said those concerns will be on the agenda at the two-day US-China Strategic and Economic Dialogue meeting starting on Monday. Asked at a news briefing if he thought the crisis in Europe had changed the environment for the talks by making Beijing more wary of revaluing its yuan currency, Locke said: "I'm sure it cannot be ignored." "I think it means perhaps a greater urgency that the two countries talk about economic policy and the way that we can move forward on rebalancing our economies," he told reporters. "So, I think it's even better that we're meeting at this time," he added. Locke, who is in Shanghai leading 24 US companies on a clean energy trade mission, declined further comment on the yuan, saying that was the jurisdiction of US Treasury Secretary Timothy Geithner. A primary purpose of the mission is to help meet President Barack Obama's goal of doubling overall US exports within five years. He was also asked when the United States would designate mainland as a "market economy", as it did several years ago for Russia. Locke said that depended on when the country met a strict set of criteria under US law and did not give any specific timeframe. Mainland resents not being considered a market economy by the United States, which affects how Washington calculates any anti-dumping duties it imposes on mainland exports. Locke stopped short of setting an individual goal of doubling US exports to mainland. But mainland's push to boost its use of renewable energy and to increase building efficiency offers big opportunities in areas where US companies have a lot to offer, he said. In some cases, it makes more sense for US companies to build factories in mainland, than to ship the goods from the United States, Locke said. But US company investment in mainland manufacturing facilities also supports US jobs since many of the components that go into final goods produced in mainland are made in the United States, he said. The United States also welcomes mainland investment in the US manufacturing sector, which helps create jobs in the United States, Locke said. "That's been a theme of the United States, with respect to all countries," he said. US companies had more than US$45 billion invested in mainland as of 2008, but mainland investment in the United States remains far below that.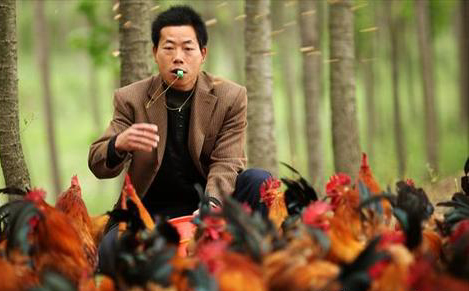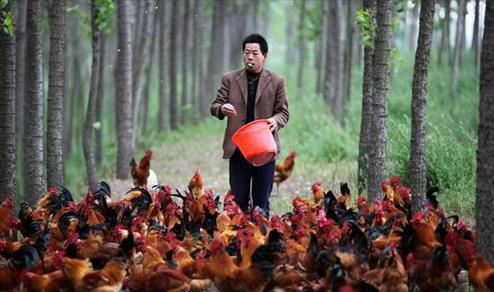 Yin Shuaisong feeds chickens in his hometown of Zhangpan County, central China's Henan province, May 18, 2010. Graduating from Henan Agricultural University in 2003, Yan had worked as a marketing manager for three companies. He quit his last job with a monthly pay of more than 4,000 yuan in 2009 and started his chicken house in his hometown from his savings and borrowed money. He has made a fortune with the chickens and vowed to spread his culturing experience to his fellow villagers.
May 20, 2010

Hong Kong*: Henderson Land Development (SEHK: 0012) chairman Lee Shau-kee and his family have bought Falconridge, a site at 35 Barker Road on the Peak, for HK$1.82 billion in a land auction on Tuesday afternoon. The site has an area of 53,350 square feet and can provide a total gross floor area of 26,675 sq ft. The land price in terms of gross floor area works out to HK$68,229 per square foot, making it the most expensive site in terms of floor area in Hong Kong. The tycoon's son, Lee Ka-shing, said the family would re-develop the property and build three or four 3-storey houses on it for their own use. The family currently lives in a penthouse at Eva Court in Mid-Levels. Falconridge was previously owned by the family of businessman Hui Sai-fun.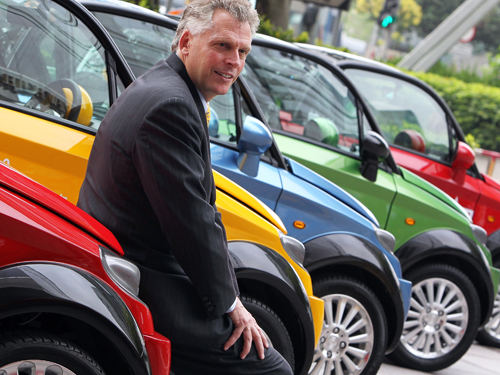 Green Tech Automotive's Terence McAuliffe with MyCars in Wan Chai yesterday. The second generation is due out later this year. Hong Kong's electric car to hit the road in US - Hong Kong's first home-grown electric car is expected to enter the US market next year after its co-developer was acquired by an American carmaker in a HK$100 million deal yesterday. The deal was signed between Green Tech Automotive and Hong Kong company Eu Auto Technology, which developed the all-electric vehicle, MyCar, jointly with Polytechnic University. Green Tech later made 150,000 electric and hybrid cars last year. Green Tech chairman Terence McAuliffe said that if MyCar was approved by the American transport department, it would be on sale in the US by autumn next year. Eu Auto chairman Peter Sun Kwok-wah predicted that 10,000 to 20,000 of the electric compacts would be available each year in the US, where they would sell at a higher price than in Hong Kong. MyCar was launched in Hong Kong last year with a price tag of HK$97,000 and attracted the Airport Authority and the MTR Corporation (SEHK: 0066) among the first buyers. It extended its reach to Europe in the same year, being the first locally developed car to hit the international market. "A small car from Hong Kong will take a big step forward," Sun said at the signing ceremony. US Commerce Secretary Gary Locke sent his greetings to fellow Democrat McAuliffe, the chairman of Hillary Rodham Clinton's presidential campaign, in a video shown at the ceremony, saying: "We're taking the best of technologies around the world and it's a win-win situation." Secretary for the Environment Edward Yau Tang-wah said he hoped the government would buy the second generation MyCar, which is faster, air-conditioned and runs on lithium batteries, and which will go on sale within six months for about HK$155,000. McAuliffe said MyCar was a perfect product for American families who needed a second car for short local trips in small communities. Both the technology and price of MyCar appealed to McAuliffe. "We don't want a car nobody can afford." At the same time, Eu Auto signed an agreement with Denmark to provide electric cars for the country's Bornholm Island. Tourists visiting the island, which is half the size of Hong Kong, will be able to rent an electric car. Dozens of the cars have already been sent there. Mitsubishi Motors will unveil its electric car in Hong Kong on Thursday. About 30 of the cars, priced at HK$395,000 for the public, have been bought by the government and the two electricity companies.
Consumer goods exporter Li & Fung (SEHK: 0494) said on Tuesday revenues from its onshore businesses in the US and Europe were set to reach a total US$4 billion this year, meeting its three-year target. The consumer goods exporter, which supplies retailers such as Wal-Mart and Target, expects revenue from its onshore US business to reach US$3 billion this year, triple 2007 levels, group managing director William Fung said on the sidelines of a shareholder meeting in Hong Kong. Fung also expects revenue from its European onshore business to reach US$1 billion this year. Li & Fung is targeting annual turnover of US$20 billion under its three-year plan for 2008-2010, of which US$16 billion will come from the core sourcing business and US$4 billion from onshore businesses in the US, Europe, and China, and a core operating profit of US$1 billion. "We haven't changed our targets. They are difficult but we are working hard to achieve them," Fung said. With an about US$1 billion war chest for merger and acquisitions after its recent US$400 million note issue, the company aims to grow its onshore businesses in the United States and Europe as well as its cosmetics, beauty and skincare businesses through acquisitions, Fung said. Last week, the company said it was seeking acquisitions in the footwear and cosmetics industries. The exporter had previously expressed confidence a strong M&A pipeline and a return of consumer demand would underpin its bullish outlook for this year, and it forecast a rise in future profitability as it moves to cut costs. Li & Fung saw little impact from the current weak euro as some 95 per cent of its deals are settled in US dollars, but said the debt crisis in Europe may affect its clients, with the impact not likely to be seen until the end of this year or next year. "Our direct impact [from the Europe debt crisis] will not be big. But as the situation continues, and as the euro and pound remain weak, it may have an impact on the purchasing power of our clients in Europe … we have to see how long the situation will last" Fung said. He also pointed out that a weak euro may support exports from Europe, aiding a recovery. "Since the overall atmosphere is on a recovery trend, we don't worry much," Fung added. The exporter holds a positive view of its growth this year helped by a strong recovery in United States, which accounts for more than 75 per cent of its business. "We will have strong growth this year," said Bruce Rockowitz, president, adding the US market was "definitely driving our business in 2010". The stock gained 1.59 per cent in afternoon trade on Tuesday, against a 1.09 per cent rise in the benchmark Hang Seng Index.
Hong Kong's unemployment rate stood at 4.4 per cent in February-April – the same as in January-March, new figures released on Tuesday showed.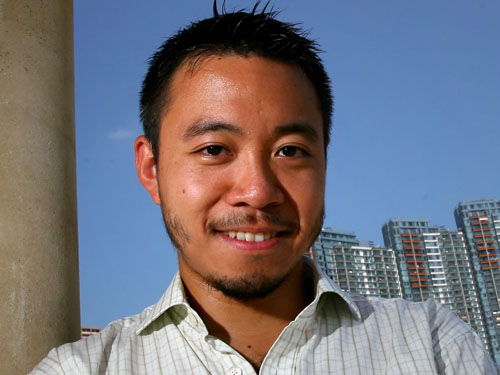 The head of policy development for Regina Ip Lau Suk-yee's think tank has been recruited as special assistant to the Chief Executive's Office. Ronald Chan Ngok-pang (pictured) will start work tomorrow. The position of special assistant was created in 2006 to strengthen the Chief Executive's Office's links with various organisations. The first person to hold the job, Gary Chan Hak-kan, of the Democratic Alliance for the Betterment and Progress of Hong Kong, quit in June 2008 to run for a Legco seat. The position has been vacant since then. Ronald Chan, 27, resigned as a Southern district councillor yesterday. As the institute announced the appointment yesterday, Chan vowed that in his new job he would to help promote the government constitutional reform package and assist in the preparation of Donald Tsang Yam-kuen's next policy address. "As a member of the post-80s generation with experience running in two elections - one in the district council and one in the Legislative Council - I would like to help liaise with the community and promote government policies in the future," Chan said. He won in the district council election in 2007, and stood as the fourth candidate on Ip's ticket in the Hong Kong Island constituency in the 2008 Legco race. Chan said the Chief Executive's Office had approached him several months ago, and he had conducted several rounds of discussions with it before accepting the job. His employment contract with the government lasts until June 2012, and his monthly salary will be HK$76,155. Both Chans started their careers as district councillors, and both were recruited to assist the chief executive at a young age. Ronald Chan yesterday did not want to compare himself with his predecessor, saying that he would perform his duties well. The new appointee has also resigned as a member of the West Kowloon Cultural District Authority, the Liquor Licensing Board, the Greater Pearl River Delta Business Council, and as the director of policy development at Savantas. He holds a master's degree in political and comparative sociology from Stanford University, where he met Ip, who studied there after stepping down as security minister in 2003.
Australia's Treasury secretary urged against changes to a planned 40 per cent tax on mining profits, as global ratings agency Moody's warned it could drive major companies away.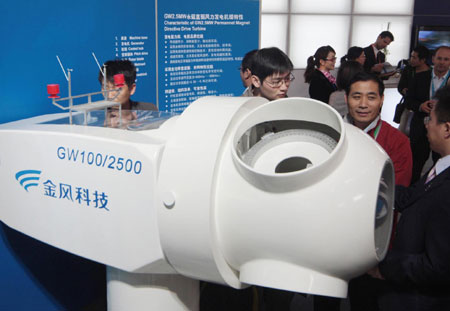 Visitors looking at a Goldwind turbine at a wind power exhibition in Beijing. The wind power equipment maker expects overseas sales will account for up to 30 percent of its business over the next three to five years. Xinjiang Goldwind Science & Technology Co, the world's fifth largest wind power equipment maker, said on Monday that it has received approval from China Securities Regulatory Commission to make an initial public offering in Hong Kong. The company may offer up to 454.59 million shares, including 59.29 million shares in over-allotment, according to a statement released on Monday. Goldwind, which is already listed on the mainland's Shenzhen stock exchange, said in October it planned to float shares in Hong Kong. Sources familiar with the company's Hong Kong listing plans said in January that it aimed to raise $1.5 billion and this would take place in the first half of the year, according to Reuters. The listing still needs approval from the Hong Kong Stock Exchange. "The Hong Kong listing exemplifies Goldwind's ambition to expand its global business and provides the capital that would be used to develop megawatt-capacity equipment, which is the trend of the industry," said Jiang Qian, an industry analyst at China Investment Consulting. China has been encouraging and supporting internationally competitive enterprises like Goldwind to go overseas by offering preferential policies, Jiang added. Wu Gang, chairman of Goldwind, told China Daily in an earlier interview that the company is looking at markets in the United States, Australia, Central Europe and Africa and he expects overseas sales to account for up to 30 percent of its business over the next three to five years. Chinese wind power equipment manufacturers are very competitive in the international market as the result of the relatively good quality of their products and lower prices, according to industry analysts. Meanwhile, Chinese manufacturers have also seized a bigger slice of the domestic market from their foreign competitors who are losing ground as their products are much more expensive. China has overtaken the US as the largest wind power market. The country will have an installed wind power capacity exceeding 16 million kW by June. Industry experts estimate China will install wind power capacity of around 10 million kW annually in the coming years, while the production capacity of the equipment is likely to exceed 20 million kW next year, raising concerns about overcapacity. Goldwind's revenue in the first quarter of this year surged 61.69 percent to 1.855 billion yuan but profit only rose 27 percent to 248 million yuan, indicating a narrower profit margin due to more intense domestic competition. The company's overseas expansion strategy will offset the negative impact of domestic overcapacity, according to analysis by Gerson Lehrman Group Councils. Besides, Sinovel, now the world's third largest wind power maker and Goldwind's major rival, has outstripped it in recent years, forcing the company to seek markets abroad, according to Jiang.

China*: Industrial & Commercial Bank of China (ICBC), the world's most valuable bank, said its new lending has slowed by two-thirds so far this year, as Beijing moves to cool an overheating economy. ICBC's loans have risen by 5.8 per cent so far this year, a sharp slowdown from the 16.2 per cent growth for all of last year, bank chairman Jiang Jianqing told reporters after its annual shareholders' meeting on Tuesday.
Technicians explain to visitors how solar photovoltaic (PV) power works in Dunhuang, Northwest China's Gansu province, May 17, 2010. The 10 MW solar PV power plant involves a total investment of 203 million yuan and will generate on average 18 million kilowatt-hours (kWh) per year. The construction of the plant will be completed by June.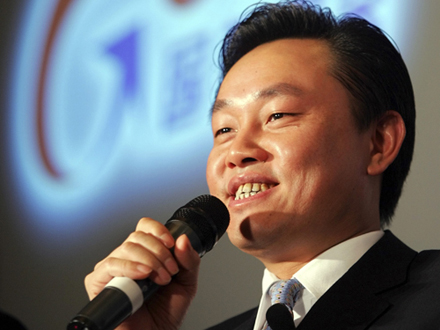 A Beijing court on Tuesday sentenced Wong Kwong-yu, founder of the major retail chain Gome, to 14 years in prison for illegal business dealings.
Prime Minister Wen Jiabao will visit Japan for three days from May 30, the foreign ministry in Tokyo said on Tuesday. Wen will arrive the day after a summit with Japan, China and South Korea on the South Korean island of Jeju. He is to meet his Japanese counterpart Yukio Hatoyama in Tokyo on May 31, and Emperor Akihito and Empress Michiko on June 1. It will be the highest-level Chinese visit to Japan since President Hu Jintao went there in May 2008 and Wen joined a summit in Fukuoka in December 2008. Former Japanese premier Taro Aso visited China in April last year, and Hatoyama, who visited Beijing in October, is also planning to attend Japan Day at the Shanghai World Expo in June.
Thirty electrically powered taxis have entered service in Shenzhen, the first mainland city to have them. After the success of a pilot programme early this month, in which 10 E6 electric cars made by Shenzhen-based BYD were put into service in the city, a further 20 cabs were handed over to Pengcheng Taxi Co yesterday. BYD spokeswoman Xu Feng said customers and drivers had given positive feedback during the two-week pilot and the firm planned to put 70 more E6s into service by next month. BYD chairman Wang Chuanfu said in Hong Kong in March that the company planned to make 100 E6 taxis this year. He said it was a crucial step for BYD because the further development of electric cars would depend on how well the taxis worked. Xu said the cabs could go about 300 kilometres on a single four-hour charge, which would be convenient for taxi drivers in urban areas. "Their business will not be disturbed, because they can recharge the cars at night," she said. But Xu admitted that the lack of charging stations would restrict the demand for electric cars in Shenzhen and said BYD hoped the local government and power companies could work together to solve the problem for the firm and its customers. A staff member at Pengcheng, a subsidiary of Shenzhen Bus Group, said the 10 drivers who tested the cabs had found them very easy to operate, as they did not need to change gears.
A PetroChina employee inspects natural gas purification equipment in Suining, Sichuan province. China will need 200 billion cubic meters of natural gas in 2015. PetroChina Co, the country's largest oil and gas producer, has signed an agreement with Royal Dutch Shell and Qatar Petroleum to explore for natural gas in the Middle Eastern country, part of bid by domestic companies to expand to their gas portfolio. Under a 30-year exploration and production sharing agreement, the partners will jointly explore for natural gas in an area covering 8,089 square kilometers. Shell will hold a 75 percent stake in the project and PetroChina the remaining 25 percent, PetroChina said in a statement. Shell and PetroChina will produce natural gas under Qatar Petroleum's supervision. According to the agreement the Qatari company will be the purchaser of any gas produced, said the statement.
ZhongHang Huiteng Windpower Equipment Co, mainland's largest maker of wind turbine blades, has targeted growth abroad, primarily in the United States, as it eyes public listing.
Top Asian refiner Sinopec Corp (SEHK: 0386) sees surging oil imports from Brazil as a 2009 deal kicks in involving a US$10 billion mainland loan in return for assured oil supplies for a decade from the South American nation. Sinopec executives said on Tuesday at a press conference that oil imports from Brazil should reach 200,000 barrels a day next year, a 43 per cent increase from this year as mainland's overall crude imports reach new highs.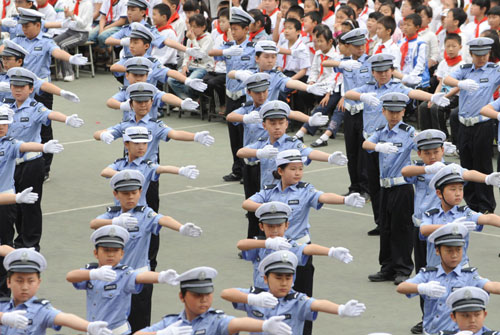 Children practise routines while dressed in traffic police uniforms in Zhengzhou, Henan province May 17, 2010. Some 150 students from five primary schools have formed a traffic management assistance team to help direct the vehicles near their schools under the close supervision of traffic policemen and teachers as a way to enhance their road safety awareness.
May 19, 2010

Hong Kong*: British bank Standard Chartered is replacing the Blackberry, a move that could eventually result in thousands of bankers switching to the Apple device for business.
Despite the re-election of five pro-democrat lawmakers in Sunday's by-elections, a record low turnout has dealt a blow to a campaign touted as a referendum on universal suffrage.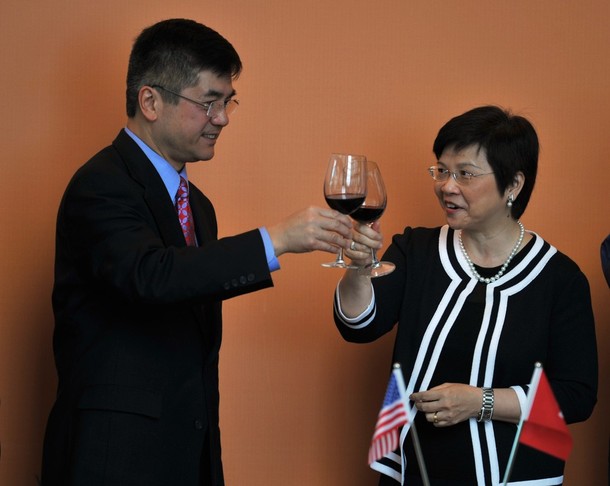 Hong Kong and USA signs MOU to promote wine related cooperation - A memorandum to expand cooperation in wine related business between Hong Kong and the United Stated was signed here in Hong Kong on Monday. The Secretary for Commerce and Economic Development Rita Lau signed the Memorandum of Understanding on Co-operation in Wine- related Businesses (MOU) with the visiting Secretary of Commerce of the United States Gary Locke. "Today, our relationship with the U.S. takes another major step forward. Riding on this MOU, we will strengthen our joint efforts on promoting wine-related trading, tourism, investment and education," Lau said. The MOU also covers a number of special areas, including promoting wine alongside regional and local cuisine, facilitating the organization of wine auctions in Hong Kong for US wines, and encouraging the provision of quality wine storage facilities in Hong Kong. Locke said the MOU was a contribution to the National Export Initiative, which aimed to double American export by 2015. The agreement would help more American wine from all 50 states to Hong Kong consumers. As one of the world's leading wine producers and exporters, the United States is Hong Kong's fourth largest wine provider. Wine imports from the United States amounted to 49 million U.S. dollars in 2009-2010, representing a five-fold increase since Hong Kong's duty exemption. The U.S. auction houses have also held regular wine auctions in Hong Kong with record-breaking sales on several occasions. The MOU on wine between Hong Kong and the United States is the eighth co-operative agreement concluded by Hong Kong with wine producing countries/regions, coming after those with France, Bordeaux, Spain, Australia, Italy, Hungary and New Zealand.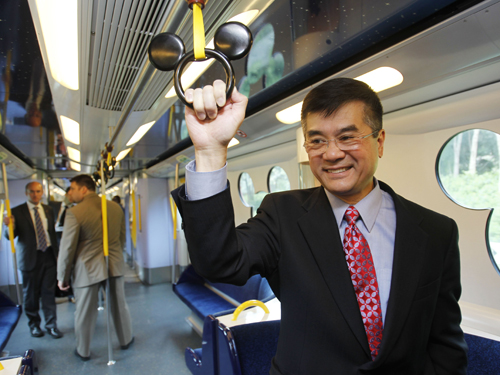 US Commerce Secretary Gary Locke said Monday he was "very concerned" about mainland policies that could limit foreign firms' access to the country's ballooning clean energy market. Kicking off his first trade mission to the country, Locke said Beijing's policies in favour of local innovation and technology could give domestic firms a "leg up" over foreign rivals and pledged to raise the issue with mainland officials. "We're very concerned about that," Locke told reporters in Hong Kong, saying earlier that the policy was "made without any input from affected businesses and really not subject to any public comment". The issue comes ahead of key Sino-US talks scheduled for next week in Beijing, to be attended by US Secretary of State Hillary Clinton, US Treasury Secretary Timothy Geithner, Locke and other key officials. Relations have been tense for months, with clashes over everything from the value of the yuan and trade to human rights and internet freedoms. Locke said Beijing had made some changes to its innovation policies but added that despite laws guaranteeing foreign firms access to the mainland market "implementation is often inconsistent at the provincial and local level". "This is especially true when it comes to intellectual property protection," he told a business lunch on Monday in Hong Kong. "As China moves up the economic value chain from low-cost manufacturing to higher value-added research and development, they too will count on protections for their innovations and free access to other markets." One directive issued by Beijing – and cited in the past by Washington as a problem – stipulates that high-tech goods must contain mainland intellectual property in order to be included in a central government procurement catalogue. Accredited products would be favoured, according to the policy, which foreign firms say effectively excludes them from the process. In a sweeping speech on clean energy, Locke played down "inevitable" trade spats between the two countries, saying less than 3 per cent of mainland exports to the US were slapped with antidumping duties last year. "The disagreements we have are an inevitable byproduct of the growing and mature trade relationship between our two countries," Locke said. The US and China could work together on environmental technologies "to help lead the world away from the brink of environmental disaster", Locke said. Mainland invested US$34.6 billion in clean energy last year, up more than 50 per cent on the previous year – making it the world's biggest investor in energy-efficient technology, according to a UN report published this month.
A 45-year-old minibus passenger was killed and six people were injured after a minibus and a taxi crashed in Sha Tin on Monday morning.
Cathay Pacific (SEHK: 0293) Airlines on Monday said three of its Europe-bound flights had to be diverted, and six flights between Hong Kong and London cancelled as volcanic ash from Iceland was once again disrupting airport traffic in Britain. Two Cathay Pacific flights, CX253 and CX257, scheduled to depart from Hong Kong to London's Heathrow Airport on Monday were cancelled. Four flights scheduled to depart from London to Hong Kong on Monday - including CX252, CX 250, CX256 and CX254 - were also cancelled. "The two late night flights to London on Monday, CX251 and CX255 on Tuesday are also likely to be affected and updates will be available on Monday afternoon," a spokesman for the airline said.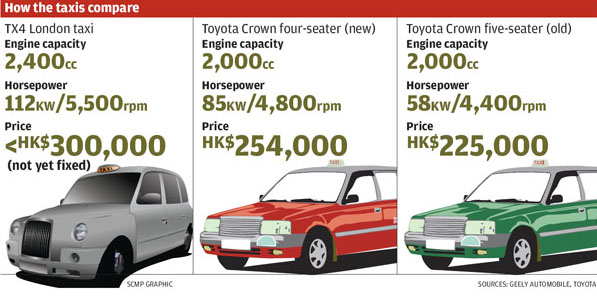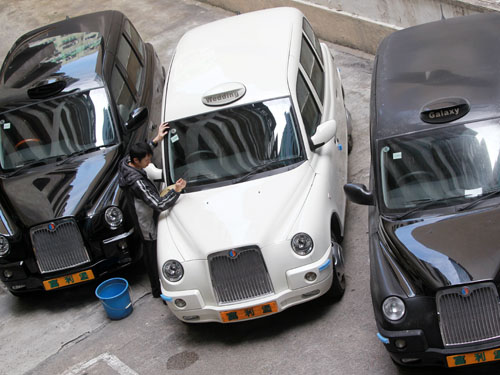 Toyota Crown's decade-long monopoly on the city's taxi sector will face a challenge when mainland carmaker Geely Automobile (SEHK: 0175) finalises in the middle of next year the design of a London taxi that fits Hong Kong's vehicle requirements. The listed mainland company - which bought Volvo for a bargain US$1.8 billion a month ago - said it would renew talks with local taxi owners when its modified London cab - a right-hand-drive, LPG-fuelled vehicle - was ready for mass production next summer. Most of the London cabs now running in the city are petrol-fuelled shuttles for private clubs and hotels. Geely's local dealer, Richburg Motors Trading, has just added another 10. But whether the expensive London cab could become an affordable option for local commuters - especially wheelchair-bound people - depends largely on its price, facilities and whether the government will offer any incentive to the taxi sector to buy the vehicle, which has a ramp and equipment in the rear passenger seat to secure a wheelchair. The government backed a charity agency's plan in 2007 to buy 20 vans that served as taxis for wheelchair-bound commuters. The move infuriated taxi owners, who had been negotiating for years with Geely over a similar scheme. Those talks stalled, not just because the taxi trade wanted to see how the other plan went, but also because Geely considered it risky to inject tens of millions of dollars into altering the iconic cabs' specifications for Hong Kong's small taxi market. But Geely executive director Lawrence Ang Siu-lun said the process was now in motion, and an LPG-fuelled London taxi would be ready for mass production in a year. "Hong Kong is indeed a small market, but sharing this market helps promote our brand," he said. "Besides, local taxi owners have been approaching us for a long time. If there are about 1,000 orders a year, we can go ahead." About 1,000 of Hong Kong's 18,000 taxis are replaced every year. Ng Kwan-sing of the Taxi Drivers and Owners Association, one of the groups involved in the long negotiations with Geely, said both the trade and the passengers were eager to have a different option from Toyota's new four-seater model. "Many drivers prefer five-seater taxis, but Toyota stopped producing them since mid 2008 and replaced it with a four-seater," Ng said. "The London taxi is a five-seater. Its ample space in the rear seat not only allows more room for luggage, which would benefit airport passengers, but it will also help open a new source of clientele for us as the cabin can accommodate wheelchairs." There were 41,100 people who required wheelchairs as at late 2008. They are served by about 130 rehabilitation buses and vans, but bookings have to be made up to three months in advance. Disabled passengers can travel by bus and the MTR, but not all buses are equipped with the necessary low floors and some MTR stations still have no lifts. Ang warned that London cabs were unlikely to be cheaper than Toyota taxis, which cost HK$254,000. A petrol-fuelled London taxi in Shanghai costs about 208,000 yuan (HK$236,000), but the price would be much higher for Hong Kong buyers because Geely was investing up to HK$30 million for the modification and engineering of the LPG version. "Repair and maintenance would also be a tricky part, as its costs are bound to be high given there will be no bank of old parts to use in repairs on the new cars," Ang said. Brandon Tong Yeuk-fung, chairman of another major taxi owner group that has approached Geely, said the government should support the sector to fund the pricing gap if it wanted to promote barrier-free transport for the disabled. "I am not talking about direct subsidies but will the government consider, for example, allowing a separate queue at taxi stands for the special cabs as an incentive for the trade to shoulder the extra cost?" The Transport Department said it welcomed initiatives to provide transport for disabled commuters as long as the vehicles complied with legal standards. A spokeswoman said the department would assist interested parties if they applied to introduce wheelchair-accessible vehicles.
Britain's Prudential launched its US$21 billion rights issue on Monday, finally allowing the insurer to push ahead with its acquisition of AIG's Asian insurance business.

China*: Yemeni security forces have launched an operation to free two Chinese oil workers a day after they were kidnapped by tribesmen, the Shabwa governor said on Monday.
A Shanghai court on Monday rejected the appeals of three former Rio Tinto employees, convicted in March of receiving bribes and commercial espionage, Xinhua news agency said.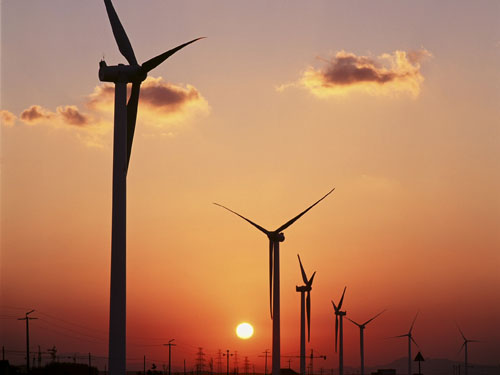 Beijing's attempt to create an insulated market of clean energy for home-grown suppliers could set up a new trade clash with Western countries eager to sell green technology to China. China passed the United States last year as the biggest clean-power market, stoking hopes for Western sales of wind turbines, solar cells and other gear. But US and European companies find that while Beijing welcomes foreign technology, it wants manufacturing done here and know-how shared with local partners. In the wind industry, foreign suppliers with factories in China say they are shut out of big projects.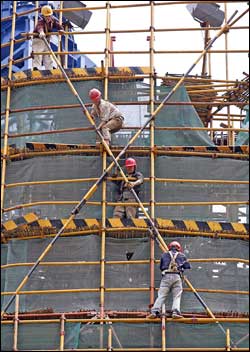 Beijing may launch an expanded property tax nationwide - rather than in just a number of cities - as early as this week to curb speculation, a mainland paper reported. The State Administration of Taxation is expected to submit a document to extend coverage of the tax to the entire country before Thursday, the 21st Century Business Herald said, citing an unnamed expert close to the authorities. The source said a new proposal is to widen the net of the existing tax so that more people will be liable for payment, while city governments could implement the measure flexibly according to their own situation. A tax official, however, said he had not heard of the new move. Expanding tax coverage on a nationwide basis would have a greater impact on property speculation and contain rising home prices, analysts said, as investors who have more than one house would be forced to resell or sublet those that are not occupied. The National Development and Reform Commission will soon take the lead in drafting a new document that would be "stricter" than the earlier "10 measures" by the State Council to rein in the property sector, according to Chongqing Economic Times, quoting market sources. The new measures may involve the government playing a role in the property market and increasing the proportion of government investment, if "previous tightening did not achieve the expected results," one source said. Meanwhile, the Shanghai government is to sell nearly 40 plots of land in the week starting tomorrow, the city's Municipal Bureau of Planning and Land Resources announced. It is the largest number of sites to be sold in a short period. The move is an obvious signal, according to one analyst, that Shanghai is determined to stabilize home prices by increasing land supply. Separately, several property developers in Beijing are reportedly considering offering discounts on their homes. This follows a similar move made by Evergrande Real Estate (3333) on May 5 to offer a 15 percent discount on all its units.
The yuan has risen strongly against the euro and this appreciation will harm mainland exporters, a Commerce Ministry official said on Monday.

Mainland wind power producer Xinjiang Goldwind Science & Technology Co said on Monday that mainland's stock regulator had approved its a bid for a Hong Kong IPO.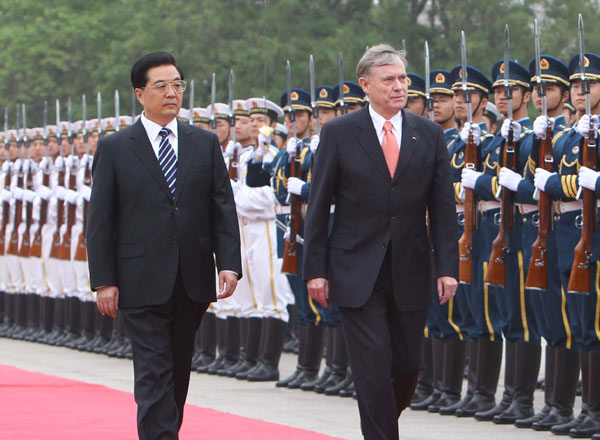 Chinese President Hu Jintao (L) hosts a welcoming ceremony for German President Horst Koehler in Beijing, capital of China, May 17, 2010. Chinese President Hu Jintao on Monday greeted German President Horst Koehler and proposed stronger bilateral collaboration and joint efforts to tackle global challenges. Hu gave a red-carpet welcome to Koehler at the Great Hall of the People in Beijing at the start of Koehler's five-day visit to China. Following an honor guard reception and a 21-gun military salute, Hu and Koehler held hour-long talks covering political affairs, economic cooperation and global challenges. Koehler paid his first state visit to China in 2007 and attended the Beijing Paralympics in 2008. "The visit, including your attendance at the Shanghai Expo, reflects the importance you attach to developing ties with China," Hu said.
May 18, 2010

Hong Kong*: Cargo throughput at Hong Kong International Airport rose for the seventh consecutive month in April, with year-on-year growth of 38 percent to 354,000 tonnes, boosted by strong exports. But passenger volume fell 1.5 percent over the same period to 4.2 million. Air traffic movements climbed 2.7 percent to 24,725, Hong Kong Airport Authority reported. Compared to March, cargo throughput and air traffic movements rose by 2 percent and 1.5 percent, respectively, while visitor and Hong Kong resident travel numbers remained unchanged. Exports through the airport grew 57 percent year- on-year, thanks to the continued recoveries of North America and Europe. Imports jumped 30 percent, while transshipments grew 30 percent and 10 percent, respectively. Hong Kong resident travel numbers fell 4 percent and transfer/transit traffic dropped 9 percent, despite visitor numbers rising 8 percent. "The Icelandic volcanic eruptions and the Black Outbound travel alert for Thailand this year impacted travel," said Airport Authority chief executive Stanley Hui Hon-chung. "However, growth momentum for passenger traffic remains strong." From January to April, the airport handled 16.2 million passengers, 1.3 million tonnes of cargo and 94,825 aircraft movements - up 4.5 percent, 35.1 percent and 1.6 percent year on year, respectively.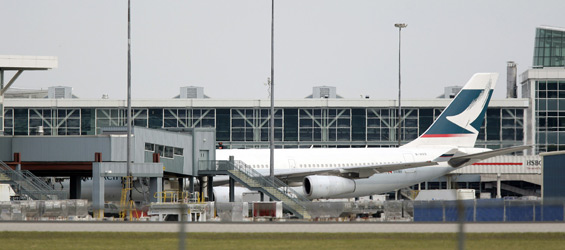 A Cathay Pacific airliner from Hong Kong was escorted by military fighter jets to its destination in Vancouver after what the airline called a "bomb hoax", police said on Saturday.
Just over 17 percent of voters turned out for yesterday's by-election - less than half the number for the 2008 Legislative Council election. The by-election was triggered by the resignations of five lawmakers hoping to create a "de facto referendum" on universal suffrage. All five are expected to retain their seats against lightweight competitors. Despite strong appeals for voter support by the Civic Party and the League of Social Democrats - the two parties behind the by-election - and the presence of heavyweight democrats canvassing for them, only about 579,000 voters cast their ballots, a turnout rate of 17.1 percent. This compared with a turnout rate of 45.2 percent for the 2008 election, when 1,524,249 voters cast ballots. The highest turnout yesterday was in the Kowloon West constituency, where eight candidates fought for one seat. But even there, turnout was a mere 19.51 percent, compared with 47.18 percent in 2008. The next highest was Hong Kong Island at 17.12 percent, compared with 50.17 percent in 2008. "Mad Dog" Raymond Wong Yuk- man accused the pro-establishment camp of canvassing for "agony aunt" Pamela Peck Wan-kam in the fiercely contested Kowloon West seat. Wong, 58 - who resigned from Legco in January along with two party colleagues, Leung Kwok-hung and Albert Chan Wai-yip, and Civic Party lawmakers Alan Leong Kah-kit and Tanya Chan Suk-chong - vowed yesterday that they would vote against the revised constitutional reform package on their return to Legco. "The pro-establishment camp, including the DAB and Federation of Trade Unions, canvassed for Pamela Peck in stealth by, for example, setting up booths," Wong said, referring to the Democratic Alliance for the Betterment and Progress of Hong Kong. "I expected that but she is definitely going to lose." Wong claimed Kowloon West residents had received calls from FTU representatives asking them to vote for Peck, and some of those who handed out Peck's leaflets in the street were the same as those who canvassed for Priscilla Leung Mei-fun in the 2008 elections. Wong also said the battle in Kowloon West seat was not between him and Peck but between universal suffrage supporters and the pro- establishment camp. While he had hoped for an overall turnout rate of 30 percent, he said he would be satisfied with 20 percent given the government's "suppression" of the by-election, insufficient promotion and the announcement by top officials of their decision not to vote. Peck denied she had help and described Wong's accusation as "very ridiculous." Secretary for Constitutional and Mainland Affairs Stephen Lam Sui- lung defended the decision by Chief Executive Donald Tsang Yam-kuen and his political team not to vote, saying it should not put pressure on civil servants. "Civil servants are professional and can make their own judgment," Lam said after visiting a polling station. "We have indicated that our decision should not affect individuals. We respect the decision of individuals." Electoral Affairs Commission chairman Justice Barnabas Fung Wah said he cast his ballot in the morning. "Whether to vote or not, or vote for whom, a voter should make his personal decision. The Electoral Affairs Commission will respect [the decision] of voters," Fung said. As of late last night, the commission had received 426 complaints. Lew Mon-hung, a member of the Chinese People's Political Consultative Conference, said the low turnout rate indicated the de facto referendum was a failure. Lew - who was repeatedly hissed at by the crowd during RTHK's City Forum, which drew a record audience of 450 - said he would not cast his ballot as the by-election was "political sensationalism." Another speaker and commentator, Johnny Lau Yui-siu, said the low turnout rate did not mean the campaign was a failure. "At least it heightened concern in the government and Beijing about the public's view on constitutional reform," Lau said.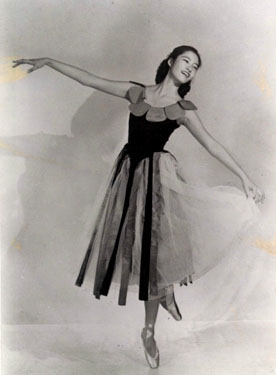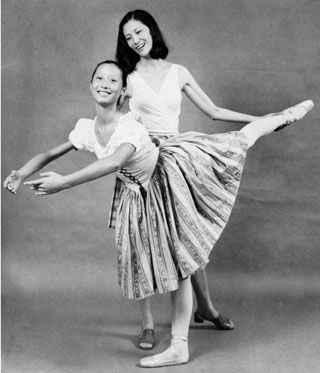 Half a century after founding her first ballet school in Leighton Road, Causeway Bay, award-winning ballerina and teacher Jean Wong still goes to the headquarters of her empire in North Point almost every day. Tall, elegant and perfectly coiffed, she inspects her students and keeps a close eye on the operation of her school. Shy young students, dressed neatly in leotards and tights and with their hair pulled up in sleek buns, appear a little anxious upon seeing Wong. They greet her with a curtsy.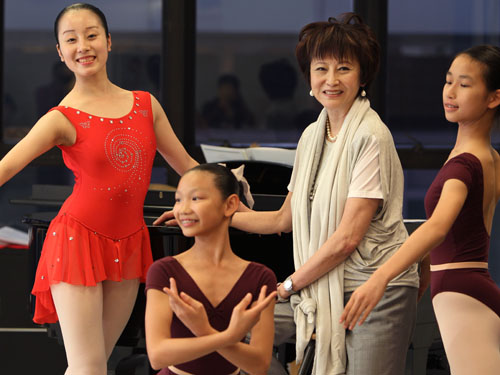 "I still insist that even today, when [students] see me, they must curtsy and boys must bow. Their hair must be neat and their shoes spotless," says Wong as she sits at a wooden desk piled with documents but also supporting a Apple Mac and with an iPhone plugged into the computer. Wong says her charges learn more than elegant movement in a ballet studio - it is the dedication and discipline the training demands that matter. "If they are attending ballet, they must be whole-hearted. They can't say they are not coming in next week. I want a letter from the parents to explain," she says. Whatever they go on to do, the results of such training, the manners they must observe and the strict dress code they follow will stay with them. "They can walk into a job interview with confidence. They don't need to wear designer clothes," she says. Opening a ballet school was not the first thing Shanghai-born Wong did after completing three years of training at the teachers' training college of the Royal Academy of Dance in London in 1959. Still a teenager, Wong taught in a British school for a year. But it did not feel right for her. "I wanted to teach in my own language," she says, recalling how much got lost in translation during her time in London. "I couldn't stand most of the French terms ... like developpe [drawing up the leg and extending into the air]." So Wong came home, and opened her first ballet school with just eight pupils in 1960. Fifty years on, she runs schools at seven locations including the North Point headquarters, and the name Jean Wong is synonymous with ballet in Hong Kong. Any local girl with a liking for ballet would have dreamed of attending the Jean M. Wong School of Ballet. But unless they had passion and dedication, it would not have been the place for them. "Talent is rare. Sometimes you cannot even find one out of 1,000. But with passion, [students] can work hard enough to [achieve something]," she says. The success Wong has achieved is no surprise (this year she became the first Asian dancer to be named a fellow of the Royal Academy of Dance and she was awarded a Bronze Bauhinia Star by the Hong Kong government in recognition of her contribution to the development of arts in the city). Her banker father allowed her to pursue various interests in the arts, from painting to piano. Then she took up ballet, beginning a life-long bond with the art form. "If it wasn't for my father, I would've become a miserable housewife," Wong laughs. "Yes, a desperate and miserable housewife." Even as a child, she knew that teaching rather than performing was her true calling. Her mother used to take her to see Chinese opera. Afterwards, she would choreograph shows at home. "I like bossing people around," Wong says, recalling how she liked to correct her sister's dance moves. In the early days, she personally taught all her students, but later she realised this was not the best way to operate a ballet school. So she began hiring teachers, some of them graduates from the school. The school now has around two dozen, including some from Beijing. Eleven years ago, Wong founded JMW for Arts, which teaches other art forms such as painting and music. She believes learning other forms can complement dance lessons. "I benefited a lot from learning Chinese painting and music," she says. In her early years, Wong taught many students from well-off families - among them the children of Raymond Chow Ting-hsing, founder of the film studio Golden Harvest Entertainment, Run Run Shaw, Stanley Ho Hung-sun, Selina Chow Liang Shuk-yee and Anson Chan Fang On-sang. Some went on to have successful dance careers, including ballerina and designer Flora Cheong-leen and choreographer Yuri Ng Yue-lit, her first male student. Nowadays her students are from a more diverse background, but the attitude of their parents has changed little. They are happy to let their children practise ballet, she says, because it is a healthy activity, but becoming a professional ballerina is another matter. "It is a difficult career, because it is demanding and short-lived. But it's the happiness that matters most, instead of forcing [the children] to become lawyers," says Wong. "There's also this blind attitude towards ballet, that it is something elegant," she says. "They want their daughters to become elegant after learning ballet, but they do not know how to appreciate the art form." She hopes to teach students the theory and history of ballet, as she was taught at the Royal Academy of Dance, but time is always short. Having said that, Wong feels the public's attitude towards ballet has changed a lot in the past 50 years. She cites the sold-out ballet shows at the Hong Kong Arts Festival as a good indicator. "You need an audience to support ballet, but a ballet performance is not a rock concert." Thanks to the impact of Wong's school, ballet has become more accessible and less exclusive. "I'm very proud of influencing so many people's lives," she says. In the coming few months, Wong will be busy with celebrations for the 50th anniversary of her venture. An album of articles by former students will be published. There will be two gala performances of Wong's autobiographical When Dreams Come True, featuring a finale choreographed by Ng. More than 1,000 students will take part in the performances at the Hong Kong Cultural Centre in August. Wong won't say how old she is, but plans to preserve her legacy are in place. Her daughter Liat is the school's chief executive, though Wong doesn't plan on retiring any time soon. "I don't know how to play mahjong," she laughs. "I'm still very happy to come in every day."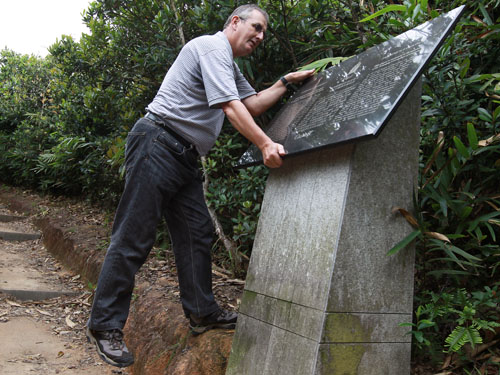 Local history enthusiast Martin Heyes examines a war plaque at Jardine's Lookout near Parkview. It is one of three erected to mark the bravery of Canadian soldiers. Hundreds of Canadian soldiers died in the defence of Hong Kong in December 1941 and in prisoner-of-war camps afterwards. To mark their bravery and sacrifice, three plaques were erected in 2005 by the Consulate General of Canada and the Hong Kong government at sites where battles occurred. The problem, five years on, is that they are difficult to read. "These soldiers sacrificed their lives and it's important that we should honour their memory," says Martin Heyes, who takes tourists on tours around Hong Kong showing where the battles were fought. "Not only are the plaques impossible to read, the concrete [plinths] which they stand on are also covered in moss at two sites. It's appalling that they should have been allowed to become a mess. They need to be cleaned and the inscription needs to be engraved more deeply." Who is responsible for maintaining the plaques remains a ambiguous. Two of the three plaques are installed at sites managed by the Leisure and Cultural Services Department (LCSD). One is at Lawson's Bunker in Wong Nai Chung Gap Road and is part of a war trail. Another is situated outside the Hong Kong Museum of Coastal Defence. The third, in part dedicated to the memory of John Osborn, the only soldier here to receive the British Commonwealth's highest military decoration, the Victoria Cross, is situated at Jardine's Lookout. An LCSD spokeswoman insisted that a recent check of the plaques under its jurisdiction, had shown that they were in good condition and that there had been no deterioration in the writing. The one at Lawson's Bunker, she said, was inspected by the Antiquities and Monuments Office. Museum staff were responsible for the maintenance of the one at the museum in Shau Kei Wan, she said. However, the consulate was responsible for maintenance of the plaque at Jardine's Lookout. Meanwhile, a consulate spokeswoman said they were aware of Heyes' complaints. "In response to earlier correspondence with Mr Heyes, officials from the consulate general visited and evaluated the plaques in 2009.We appreciate that they may be difficult to read. The consulate general ... will continue to consider how these plaques could be made easier to read in consultation with Veteran's Affairs Canada and the Hong Kong Government," she said. Two of the three plaques are located on the Wong Nai Chung Gap Trail, a historical walk developed by the Hong Kong Tourism Board with the assistance of war historians Tony Banham and Ko Tim-keung in 2005 to commemorate the heroes of the second world war. Banham said: "I attended the dedication of these plaques, and even then - Hong Kong's climate being what it is - we knew that they wouldn't last forever. But it is certainly disappointing that they have decayed so fast." The one at Lawson's Bunker marks the bravery of the Brigade Headquarters Canadian "C" Force and their brigadier, John Lawson, who on the morning of December 19, 1941, found himself and his men increasingly surrounded in a bunker dug into the hillside. He refused to withdraw and in his last words over a telephone to his commanding officer, he said he was "going outside to fight it out". The one at the museum is dedicated to the Royal Rifles of Canada, including "C" company and their commander, Major Wells Bishop, for their actions on the night of December 18, 1941, when the Japanese army reached Hong Kong island. The plaque at Jardine's Lookout commemorates all members of the Winnipeg Grenadiers, including Sergeant Major Osborn. After throwing several grenades back that the Japanese had thrown at the Canadians, there was one grenade Osborn knew he did not have time to retrieve. So he warned his comrades and threw himself on it.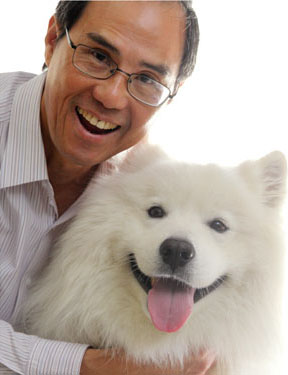 Cats may have nine lives but getting a medical insurance policy to cover just one of those is likely to prove difficult in Hong Kong. The city's estimated 50,000 insurance sales people write very few policies for pets, despite animals playing an important part in the lives of hundreds of thousands of families. With an increasing number of Hong Kong couples opting to have Fido and Whiskers instead of children, this appears to be a market just waiting to be tapped by insurers. But very few insurers offer cover here even though it is a booming market overseas. Government statistics show there are 171,790 dogs licensed in Hong Kong; the real figure is believed to be closer to 300,000. There are no statistics on the number of cats, rabbits and other types of pets but they are believed to be just as plentiful. But despite their teeming numbers, just a few companies such as Blue Cross and RSA offer pet policies. Wong Man-chiu is a pet owner who feels the animal kingdom has been forgotten by the insurance industry. His insurance agent has sold him a wide variety of cover - life, medical, retirement, education - but the policy he really wants is for Oscar, his five-year-old Samoyed. Unlike other countries where pet owners can buy insurance at the local vet or the supermarket, Wong has found it extremely difficult to buy insurance for Oscar.

China*: Premier Wen Jiabao warned the country faces tough choices in moderating economic growth and must avoid piling on adjustment policies and risking negative consequences, state media reported yesterday. His remarks, reported by Xinhua during a recent visit to Tianjin , did not suggest any policy shift, but underscored that policymakers want to move carefully and avoid overstepping in efforts to temper inflation with signs that growth is slowing. "At present, the national economy continues to improve, but domestic and external conditions remain extremely complex, and macro adjustment faces many dilemmas," Wen said, according to the report. "Pay attention to co-ordination in macroeconomic policy, so that it forms into a cohesive overall force and also prevent negative consequences from multiple overlapping policies," Wen told officials in Tianjin, Xinhua said. The mainland's gross domestic product expanded 8.7 per cent in 2009, thanks to massive monetary and fiscal stimulus, and most economists say growth in 2010 will top that figure, after first-quarter year-on-year growth of 11.9 per cent. But the government is worried about inflationary pressures and roaring real estate price rises and has been seeking to temper those pressures, so far without clear effects. Annual inflation pushed up to an 18-month high in April, when consumer prices rose 2.8 per cent on a year earlier. Property prices jumped 12.8 per cent in April from a year earlier, the fastest pace on record. Wen's comments indicated that the government was seeking to bring down price pressures without risking economic growth, and remained committed to the basic policy settings put in place to counter the global financial crisis. "Adhere to an active fiscal policy and an appropriately loose monetary policy, and properly handle the direction, intensity and pace of macro adjustment, maintaining balanced and relatively fast economic development," Wen said.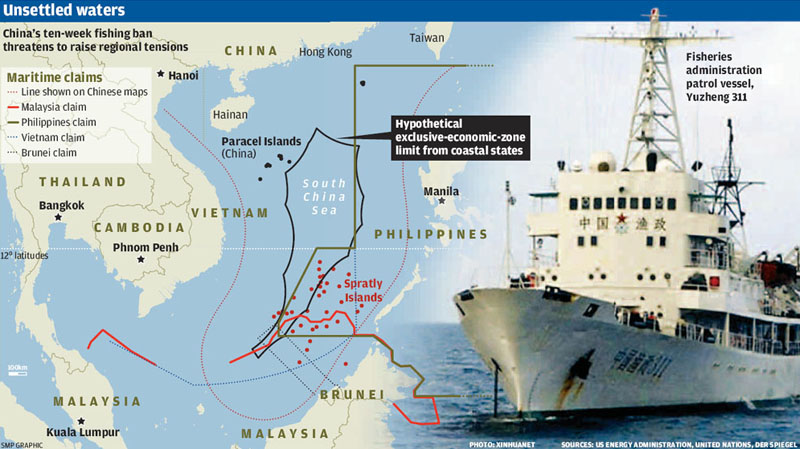 China today launches its annual fishing ban in the South China Sea - a unilateral act that comes amid unprecedented tensions in the disputed area and fresh fears that Beijing is using the moratorium to assert its sovereignty claims there. The mainland's fisheries administration vessels will seek to enforce the 10-week ban on most kinds of commercial fishing from the 12th parallel north of the disputed Spratly Islands up to the Chinese coast, encompassing waters around the disputed Paracel Islands. The ban is going ahead despite a diplomatic protest from Vietnam - which claims both island groups - and recent incidents involving intensified patrols by new Chinese fisheries protection ships, some of which are armed with heavy machine guns. The incidents have included China's largest fishing protection ship, the 4,600-tonne Yuzheng 311, being surrounded by more than 20 Vietnamese fishing and coastguard vessels last month as it attempted to stop harassment of Chinese fishing boats. The Yuzheng - a converted naval vessel - was also intercepted by Malaysian naval ships and aircraft as it patrolled south of the Spratlys late last month, according to mainland press accounts.
Continuous rainstorms in southeastern China have washed away at least four bridges and a river levee in Hunan and thousands of buildings in Jiangxi , Fujian , Guangdong and Guangxi.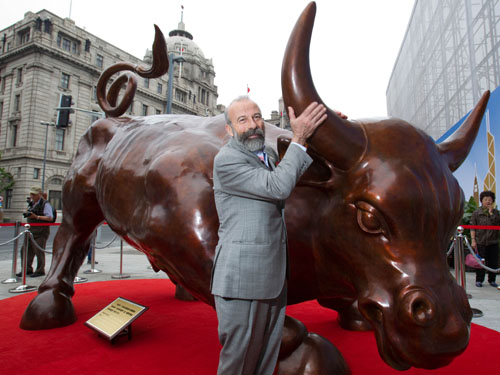 American artist Arturo Di Modica shows off Shanghai's Charging Bull, which is modelled on the one gracing Wall Street. Shanghai unveiled a new landmark on its Bund waterfront over the weekend, a bronze bull sculpture inspired by Wall Street's Charging Bull representing China's rising financial ambitions. American artist Arturo Di Modica - the sculptor behind the New York bull who also created its Shanghai sibling - was at the unveiling. At 2.5 metres high and weighing 2.5 tonnes, the Shanghai sculpture was the same size as the Wall Street version, but "redder, younger and stronger", Di Modica said. "It's a mixture of Western and Chinese cultures," said Di Modica, adding he was inspired by both the Charging Bull and the Chinese Zodiac's Ox. The confident stance of Shanghai's Charging Bull represented a bullish and prosperous future for the rising financial centre, Di Modica said. The Shanghai officials who commissioned the sculpture had previously said they wanted their bull to weigh twice as much the one on Wall Street. The city requested a bull that was younger and stronger than New York City's bull to symbolise "the energy of Shanghai's economy", Zhou Wei, the head of Huangpu district said. "That's why the head of the Bund's bull looks up while the Wall Street Bull looks downward," he said. In the early 20th century, the neo-classical buildings along the Bund were known as the "Wall Street of Asia" acting as home to giants such as HSBC (SEHK: 0005) and AIG. The central government has declared it aims to build Shanghai, which has long been China's business heart, into an international financial centre by 2020.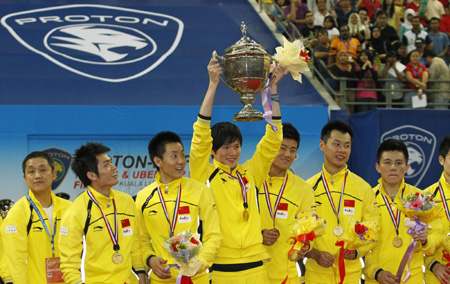 The China team celebrates with the Thomas Cup trophy after defeating Indonesia in the final round of the Thomas Cup badminton championship in Kuala Lumpur May 16, 2010. China crowned at the Thomas Cup men's badminton team championships for the fourth straight time here on Sunday by cruising over powerhouse Indonesia 3-0 at the Putra Stadium. Lin Dan, ranked second in the world, dominated the opener with an easy win over Taufik Hidayat 21-7, 21-14, producing a powerful start for the reigning champions. Cai Yun/Fu Haifeng made it a sweet revenge in the first doubles match where they edged out Olympic champions Markis Kido/Hendra Setiawan 25-23, 16-21, 21-12 to lift China to a 2-0 lead. The second singles Chen Jin then held back the challenges from Simon Santoso, who exerted himself to the utmost, by coming from behind 19-21, 21-17, 21-7, to clinch the winning point for China.
May 17, 2010

Hong Kong*: Hong Kong will have its first electric bus in July, as Kowloon Motor Bus unveiled trial plans yesterday. Trials will take several months in and around the firm's Lai Chi Kok depot before the single-decker can come into service, said KMB deputy managing director Evan Auyang. He said the Volvo - to be shipped from Shanghai - is probably more suitable for short-haul urban routes but the plan for it is not yet fixed. He refused to say how much the bus costs but said it is cheaper than a hybrid single-decker, which costs about HK$4 million, or a diesel at HK$2 million. Fuel expenditure will be lower than diesel models. Auyang said it takes 0.5 to 0.6 liters of diesel for a bus to run one kilometer. An electric bus just needs one unit of electricity. Electricity costs about HK$1 a unit while diesel normally costs at least HK$8 a liter. Auyang says electric buses are cost- effective and good for the environment. Supercapacitor buses, which can be charged much faster, have run in Shanghai for four years. KMB said a fully charged air- conditioned supercapacitor bus can run for five kilometers at a maximum speed of 55 kilometers an hour. A diesel bus, meanwhile, can run up to 70kph. Auyang said his firm will install chargers at some bus stops for refueling en route. It takes about 30 seconds for the bus to charge power to run a kilometer further. Friends of the Earth director Edwin Lau Che-feng said he is pleased with KMB's move. "We welcome any move by bus companies to use new green technology to cut emissions. "It is good that KMB is willing to take the lead even without government subsidies." He hoped the company can replace more smoke-belching buses with greener models if the trial proves a success. He also said he wants other bus firms to follow suit.
Three international enterprises - including one owned by Indonesian tycoon Sukanto Tanoto - are planning to list in Hong Kong, as the city's bourse continues to lure multinational firms.
Hong Kong's economy has clawed its way back after being battered by the global downturn - with first-quarter GDP up 8.2 per cent to pre-crisis levels.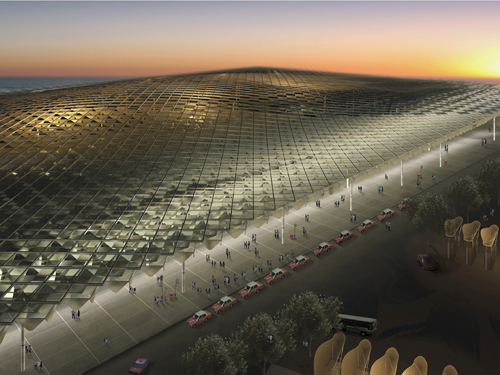 A canopy of tubes with air-cleaning algae won a design contest for the city's border point for a bridge across the Pearl River estuary. A team of three young local designers has won top prize in a competition to design the Hong Kong border point for the bridge across the Pearl River estuary. Their concept of a canopy made of intertwining tubes full of air-cleaning algae won first prize in the professional group category of the competition, in which Hong Kong designers won three of the top awards. Paul Mui Kui-chuen, Benny Lee Chiu-ming and Agnes Hung Oi-kee beat 91 competitors in their category - including planners, engineers and architects - and walked away with HK$450,000 in prize money. The competition received 160 entries from more than 20 countries and regions. More than half were from overseas, including the Netherlands, Switzerland, Russia, India, Egypt, Romania and Jordan. Francis Ho Suen-wai, permanent secretary for Transport and Housing, said at yesterday's award presentation that all entries were of a very high standard. "Some of them are very creative and incorporate environmental concepts," Ho said. The trio's design uses algae to remove pollutants and exhaust fumes from nearby traffic then supplies clean air as a mist to busy areas such as the passenger drop-off point. Glass panels on the roof can be turned at angles to maximise sunlight at different times of day. The lobbies either side of the immigration clearance area are designed as courtyards, with trees and flowers, so friends and family can be farewelled or welcomed in a pleasant environment. Green features like rooftop systems to harvest rain and sea water for cooling purposes were features of the other two winning entries. The first runner-up created an interesting internal space with no columns, while the second runner-up designed a rooftop that looks like two hands locked together. Highways Department chief engineer Bok Kwok-ming said the contractor may merge all three concepts into the ultimate design. The terminal building is located at the northeast of the Chek Lap Kok Airport. The bridge will halve the journey time between Hong Kong and Zhuhai and Macau and is expected to be completed by 2015.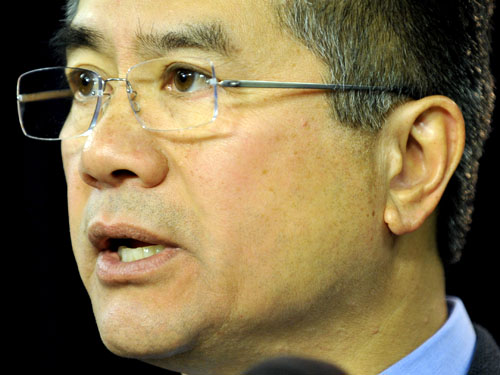 US Secretary of Commerce Gary Locke stops off in Hong Kong today at the start of the first cabinet-level trade mission of the Obama administration. Joined by representatives from 29 US companies, Locke will be promoting American clean energy technologies and services on an 11-day trip to China and Indonesia as part of the US initiative to double exports in the next five years. "Innovative companies like these bringing emerging technologies to a dynamic new market are going to play a big role in meeting President Obama's ambitious goals laid out in his export initiative," Locke said on Wednesday. He added that the mission would help meet the goals of China and Indonesia to curb emissions and boost energy efficiency. American executives will also visit Shanghai and Beijing to make a bid for a growing market in green technology and services. They are competing with a mainland clean energy industry that is flush with investment, and has become a notable supplier to US and European markets. But while Chinese firms like solar panel producer Suntech dominate their corner of the market nationwide, some analysts said there was ample potential for foreign companies to make inroads. "There's definitely room for innovative technologies," said Will Pearson, a global energy and natural resources analyst at the Eurasia Group, which assesses political risk for multinational companies. A need in China for new wind and solar technologies, as well as advances in mitigating local manufacturing pollution and energy emissions, he said, could mean business for companies on the cutting edge. United Solar Ovonic is among the firms vying for that edge. Martha Duggan, the vice-president for government and regulatory affairs at the Michigan-based company known as Uni-Solar, will meet in Hong Kong with utilities, energy and construction companies in hopes of boosting sales of a flexible solar laminate designed to be integrated into roofs. "Today, our sales in China are not as significant as sales in Europe," Duggan said. "But we see a path forward and see developments that sales in China will continue to grow." The laminates are produced in the United States, and finished, assembled and distributed on the mainland through a joint venture in Tianjin, an arrangement Duggan says is "floating all boats", creating jobs in China as well as the US. But some sceptics in the US have questioned whether companies with a limited history of exporting to China can start now. "Structurally, there are limits" to foreign companies' access to Chinese markets, says Derek Scissors, an analyst at the Heritage Foundation. Locke's presence "won't make any difference", he said. China recently lowered trade barriers for wind technology, a bright spot in a sometimes contentious relationship with the Obama administration on trade issues. Disputes over China's currency valuation, US export controls on hi-tech products, and punitive tariffs by both sides are expected to be raised during the bilateral Strategic and Economic Dialogue in Beijing following the trade mission. At the press conference in Washington on Wednesday, Locke said US government officials would raise concerns about policies intended to promote indigenous innovation in China - at the unfair expense of foreign companies, they charge. The US delegation includes such corporate heavy hitters as Dow Chemical, Boeing Commercial Airplanes and the coal producer Peabody Energy. Locke will meet Chief Executive Donald Tsang Yam-kuen and Secretary of the Environment Edward Yau Tang-wah during his visit to Hong Kong.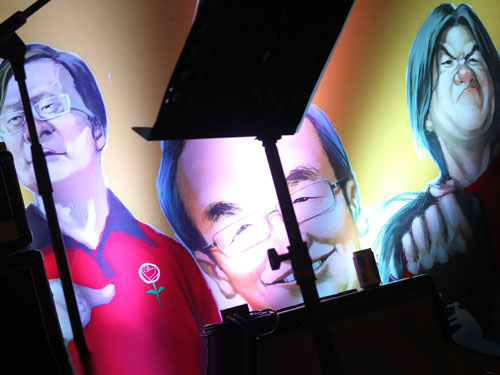 Caricatures of (from left) Wong Yuk-man, Alan Leong Kah-kit and Leung Kwok-hung, three of the lawmakers who resigned to trigger the by-elections, at a rally in Tsim Sha Tsui. Chief Executive Donald Tsang Yam-kuen and his ministers have announced they will not vote in tomorrow's Legislative Council by-elections, ending weeks of speculation. In a statement last night, Tsang said the mainstream community view was that the by-elections could have been avoided. "Many regard it as an abuse of the electoral system and a waste of taxpayers' money," he said. "In view of the unique nature of this by-election and after careful consideration, I have decided not to vote in this by-election. All members of my political team share this view and, of their own accord, have also decided not to vote." He said civil servants should not be affected by his decision. "It is entirely their own decision whether or not to vote, which will be duly respected by the government." In previous polls the government has encouraged people to vote. There has been much speculation of a government boycott because of pressure from Beijing. Members of the public do not seem very keen to vote either - a tracking poll released yesterday showed turnout could be as low as 22 per cent. If the poll is accurate, the five legislators who resigned to force the by-elections will be voted back in. The telephone poll, conducted by the University of Hong Kong's public opinion programme, questioned 1,243 eligible voters between May 5 and 12. The sampling error was plus or minus 3 per cent. Dr Robert Chung Ting-yiu, who is in charge of the programme, said: "Looking at all three stages of the survey together, one can say that there is not much change during the campaign period, and voters' propensity to vote has remained low." He predicted turnout of between 22 per cent and 29 per cent. Turnout in the Legco elections two years ago was 45.2 per cent. A by-election in 2007 saw turnout of 52.1 per cent. Five lawmakers - three from the League of Social Democrats and two from the Civic Party - resigned in January to force the by-elections, which they regard as a de facto referendum on the pace and scope of democratisation. Beijing has denounced the tactics as unconstitutional. Twenty-four candidates are running, but none are from the government-friendly camp. Last night 700 people rallied in Centenary Garden, Tsim Sha Tsui, shouting, "We want a referendum", "No to functional constituencies" and "We shall fight to the end". The league and Civic Party, which organised the rally, urged people to vote and said the higher the turnout the greater would be the pressure on the government and Beijing to allow Hong Kong full democracy. Wong Yuk-man, one of the league lawmakers who quit and who is seeking re-election tomorrow, said the government had done all it could to denounce the by-elections. "This by-election is legal. As chief executive of the Hong Kong government, [Tsang] should encourage people to vote to exercise their civil rights instead of discouraging people from voting," Wong said. He is not worried about the findings of Chung's opinion polls. "You cannot trust these polls. Many people tell me in person that they will come out to vote," Wong said. James Sung Lap-kung, a political scientist at City University, said last night's statement might put some people off voting. Commenting on the decision to issue the statement late last night, Ivan Choy Chi- keung, a political scientist at Chinese University, said the government was trying to avoid media coverage.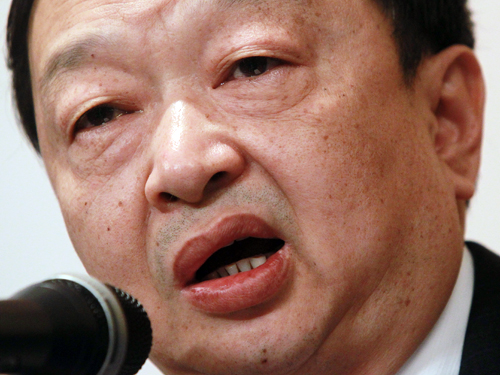 Former Citic Pacific (SEHK: 0267) chairman Larry Yung Chi-kin is under fire over a controversial Hainan Island deal involving the sale of land by the local government to one of the tycoon's private firms at below market prices. At Citic's annual general meeting and press conference yesterday, Citic Pacific chairman Chang Zhenming denied the conglomerate had done any improper deal with Yung over the land in a tourist resort on the island, where Citic is the major developer. But minority shareholders remained dissatisfied with the answers given by Citic over the deal which came in the same month that Yung resigned over the company's huge foreign currency losses. In April last year, the same month that Yung resigned as Citic Pacific chairman over the company's US$1.9 billion foreign exchange losses incurred in 2008, one of Yung's private firms acquired land in Wanning city on the Shenzhou peninsula at far below market prices. His company acquired 54,000 square metres of land, with a maximum buildable area of 27,000 sq metres, at 700 yuan (HK$797) per square metre of buildable land. According to local official statistics, the market price of the land should be more than 6,000 yuan per square metre. Citic Pacific had first rights to that land. Citic Pacific is the main developer of the area, having signed an agreement in 2005 with the Wanning city government to invest 10 billion yuan to develop the seaside resort. "Larry Yung bought the land very cheap - at one-tenth of the market price. Citic Pacific was willing to let him have 27,000 sq metres of buildable land around the same day he resigned," Leung Kwok-keung, a representative of Citic Pacific minority shareholders, said. Chang said the company had "no conflict of interest in Hainan". "We have no connected transactions with Yung that need to be disclosed. Yung got the land through bidding from the Hainan government," he said. Asked why Yung had acquired the land so cheaply, Chang said he had been told by Hainan officials that they wanted the development of the resort accelerated. He added that Citic Pacific had sold part of its land in the resort to China Poly Group, a large state-owned enterprise linked to the family of the late Chinese paramount leader Deng Xiaoping, because the sale would raise the market value of Citic Pacific's property holdings in the resort. Separately, Citic Pacific should provide all relevant documents to the Hong Kong authorities for their ongoing investigation of the company's forex losses, a joint statement by Leung and fellow investor Bernard Yip To-fai on behalf of Citic minority shareholders said. Citic Pacific's legal adviser had told the company it had the right to withhold some documents from the authorities over the forex losses, said Citic Pacific managing director Zhang Jijing. However, Leung said that reason was "entirely nonsense". "If things are okay, why is Citic Pacific afraid of the disclosure?" he said. Yip said withholding documents would hinder the investigation and Citic Pacific should follow the example of Goldman Sachs and give all the information to the regulators. Minority shareholders also questioned executives on why they agreed to pay US$835 million over an earlier agreed price for an iron ore mine in Australia.
OBITUARY: The debonair hotelier who always went the extra mile to help (Manuel Rosas Woo 1929-2010) Hong Kong lost a passionate driving force behind the hotel and travel industry with the death of Manuel Woo. The Philippine-born hotelier was the longest serving executive director of the Hong Kong Hotels Association from 1979 to 1996. He once said: "Our hallmark is quality and the city does not win its reputation easily". For years, he spared no effort to nurture the next generation of the industry, emphasising training and education. The 81-year-old hotelier died of heart failure on April 27. The eldest of eight brothers and sisters, Woo migrated with his family from Zamboanga City to Hong Kong in 1935. He was a merchant seaman in his early twenties before entering the hotel scene. His diligence won him association scholarships to study at both the East-West Centre of the University of Hawaii and at a Cornell University program. He quickly became part of senior management at various hotel chains such as the Dusit Thani in Bangkok, the Shangri-La in Singapore and the Miramar in Honolulu. The global network he cultivated contributed to the growth of the hotel and tourism industry in Hong Kong and later created many career and business opportunities in the industry. When he took over the Hotels Association post in 1979, Hong Kong welcomed 2.2 million visitors and had 46 hotels with 14,363 rooms. By 1996, the year he stepped down as executive director, the number of visitors had hit 11.7 million and the city's inventory boasted 88 hotels with 31,667 rooms. According to hotel consultant Rudolf Greiner, who worked with Woo over two decades, Woo's natural-born professional manner brought Chinese and foreign hoteliers together. "In the mid-1980s during my HKHA chairmanship, he was the driving force behind the decision to bring the first mainland students to Hong Kong in groups of around 25. The students, totalling over 200, were placed in our four and five-star hotels for six-month tailored on-the-job training. He foresaw the need to share the same high Hong Kong standards with our friends in the PRC and many of these students are today senior hotel executives in the PRC. "He was not only a good friend - he was a general among men. Always on call, he was known for his dedication and commitment to the development of strong education and vocational training programmes. For years, he worked closely with and in support of the polytechnic and numerous other hospitality institutes and vocational training centres. Hotels Association executive director James Lu Shien-hwai succeeded Woo after having been his deputy for 12 months. "Manny always had an answer or solution to a problem and if he didn't have one, he would have someone who could provide the answer through his wide and strong network of friends and business associates. "Manny looked after his friends and was always prepared to go the extra mile for them. In protecting the interests of the association and working on matters of principle, he was firm and uncompromising. He was deeply passionate about the association and the hotel industry in Hong Kong." A long-time friend, former Mandarin Oriental Hong Kong general manager and Hotels Association chairman Andreas Hofer, said: "A vacancy for the position of executive director of the HKHA became available in 1978 and as chairman, I was able to convince Manuel to join from the Miramar hotel. He was an excellent communicator and his appointment was a resounding success in all the years that he held the post." The Polytechnic University's School of Hotel and Tourism Management had a long association with Woo who served as a chairman of an advisory committee for the school from 1986 to 1994. The debonair hotelier also established the Manuel Woo Scholarship to encourage academic and personal excellence among the school's students. He was also instrumental in establishing the Andreas Hofer Scholarship for outstanding students. School director Professor Kaye Chon said: "Woo made remarkable contributions to the hotel industry as well as to the development of hospitality and tourism education in Hong Kong." Woo is survived by two sons, Edmund and Raymond.

China*: Continuous rainstorms in southeastern China have washed away at least four bridges and a river levee in Hunan and thousands of buildings in Jiangxi , Fujian , Guangdong and Guangxi.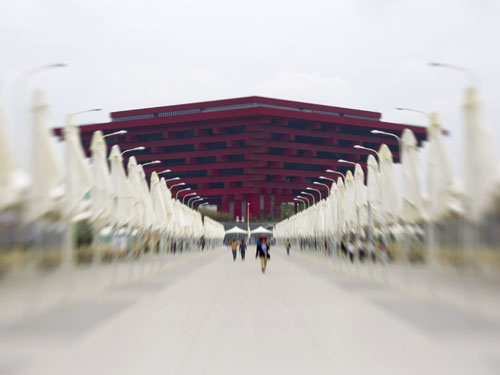 Don't blame the trick photography - there really were very few visitors traversing the walkway to the China pavilion at the World Expo on Thursday. Organizers need to 400,000 visitors a day for the rest of the expo if they are to meet their target of 70 million. Dozens of chief editors of mainland newspapers have gathered in Shanghai for a four-day summit on promoting the city's World Expo, local media reported. The conference appears to be a crisis meeting to find ways to boost the event's visitor numbers, which are languishing at less than half the predicted figure. The 67-member delegation - which includes top editors from the People's Daily, China Youth Daily and "city papers, evening papers and internet portals from across the nation" - toured the 5.28 square kilometre expo site yesterday in the guise of expo volunteers, the Shanghai Evening Post reported. The summit is intended to establish an "expo reporting association" to provide "more exceptional materials to be broadcast across the nation and worldwide" and help promote "a successful expo", the paper reported. However, mainland journalists privately admit that interest is flagging in the multibillion-dollar fair, in line with the lower-than-expected visitor numbers. A reporter at a state-owned paper in a nearby city on the Yangtze River, who asked not to be identified, said his editors were not enthusiastic about promoting the show. "We had a few people stationed in Shanghai ahead of the expo's opening, but they came back on May 4," he said. "We don't really think anything newsworthy is going to happen at the expo. Anything we would be interested in covering can be done using Xinhua. We may send some people back in July or August, while students are on their summer holidays, but not before that." His comments are reflected in the mood in the expo media centre. A hive of international activity during the opening days, it is now deathly silent and virtually empty. Yesterday afternoon it was home only to a handful of journalists, almost all of whom were from domestic media. Just under 2.4 million people have visited during the expo's first 14 days, less than 45 per cent of the number originally expected. The expo will need to maintain a daily average of almost 400,000 for the remaining 170 days if it is to hit its target of 70 million visitors. It has drawn more than 200,000 on just five days so far. Yesterday was the expo's busiest day yet, with almost 240,000 people entering by 7pm, 14,000 up on the peak set on the opening Sunday. Large numbers of school groups began visiting the park during the latter half of the week, something which did not appear to be happening during the first week. The European and Asian zones - the park's busiest sections - bustled with people throughout the afternoon, with reasonably long queues outside the most popular pavilions. However, there was not the same degree of chaos seen during the opening holiday weekend - and waiting times were noticeably shorter than the three or more hours seen on previous busy days. "It's certainly busier than it has been, but I wouldn't say it's the busiest day yet," said one staff member in the Porterhouse Irish pub in the European section.
Medical equipment supplier China Renji Medical Group has sacked its chief executive, blaming him for an HK$81 million loss on a deal it struck two years ago.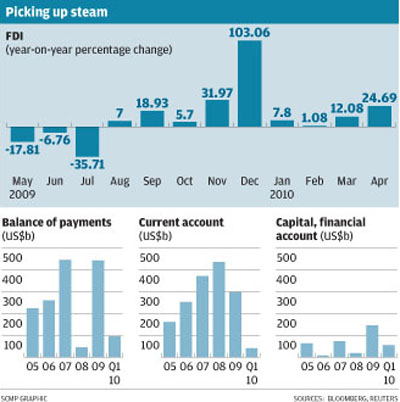 China yesterday reported a US$55 billion surplus on its capital and financial account for the first quarter, a sign that inflows from surging foreign investment and money brought in by commercial banks is putting increasing liquidity pressures on the world's third-biggest economy. As speculation about a stronger yuan heightens, Beijing is also facing an uphill task to rein in hot money inflows, economists said. It was the first time the State Administration of Foreign Exchange published quarterly data for the country's balance of international payments. The foreign-exchange regulator didn't provide comparative figures for the year-earlier period, but for the first half of 2009, the surplus on the capital and financial account was calculated at US$61 billion. "Our latest research shows that hot money inflows have accelerated since late March due to an influx of capital betting on yuan appreciation and to take advantage of investment opportunities in the property and agricultural sectors," said Li Youhuan, a professor at the Guangdong Academy of Social Sciences, a renowned researcher of fund flows. "The speculative capital would prove a big threat to the local economy because of its aggressive way of playing the markets," he said. China attracted US$17.5 billion of foreign direct investment in the first quarter and Li said the remaining US$37.5 billion of surplus on the capital account included investments by China's sovereign wealth fund into domestic companies and foreign exchange turned in by commercial lenders as Beijing raised the banks' reserve requirement ratio twice in the first quarter. The reserve requirement ratio is the percentage of total deposits that banks are required by the People's Bank of China to set aside and save with the central bank. Chinese banks can use foreign-exchange to increase their reserves. "Without a full set of official figures, it is therefore impossible to work out a clear-cut figure for the hot money inflows," Li said. China's capital account surplus blew out from US$19 billion in 2008 to US$144.8 billion last year. In the first quarter, the country's current-account surplus that covers trade in goods and services, declined 48 per cent to US$40.9 billon from a year ago. The country's foreign reserve hit a record US$2.45 trillion at the end of March, the People's Bank of China said last month. For the first three months, the surpluses on both capital and current accounts added US$95.9 billion to the mainland's forex reserve. "While the trade surplus is down, other drivers resulted in an additional US$95.9 billion going into the official reserve, generating appreciation pressure on the currency," said Jinny Yan, an economist with Standard Chartered Bank. Li Huiyong, an analyst with Shenyin & Wanguo Securities, predicted that the country could still post a trade surplus of US$100 billion this year despite slower export growth. The SAFE said the publication of the quarterly data for international payments was aimed at enhancing transparency.
China, Arab nations ink statement to upgrade ties - President Hu Jintao (2nd R) meets with the chief delegates of Arab nations in Beijing Friday. China and Arab nations are establishing a new partnership in an era of growing globalization, demonstrating a new cooperative model for developing countries of the world. The two sides on Friday upgraded their ties as they wrote a common declaration to develop a strategic and cooperative relationship. Both sides pledged to support each other on matters that are of core interests, deepen cooperation on political, trade, energy, environment and cultural issues, and push for closer communications on global and regional topics. The declaration was made as the two-day, fourth ministerial meetings of the China-Arab Cooperation Forum concluded on Friday in North China's port city of Tianjin. Both sides also signed an action plan outlining the specific measures to be taken, between 2010 and 2012, to promote China-Arab relations. While meeting with the chief delegates of Arab nations in Beijing the same day, President Hu Jintao urged the two sides to have closer coordination on reforms of the international system to maintain the common interests of developing countries and deal with global challenges. Hu said China firmly supports the peace process in the Middle East as well as Arab nations' just cause of striving for legitimate rights. Hu also reiterated Beijing's support for a nuclear-free Middle East amid growing international calls for such ambitions. Arab League Secretary-General Amr Moussa expressed appreciation for China's important role in pushing forward the Middle-East peace process, calling China a strategic and cooperative partner. The China-Arab Cooperation Forum was established during President Hu Jintao's visit to the Arab League's headquarters in January 2004. Hu noted at the time that the formation of the forum was a continuation of the traditional friendship between China and the Arab world and an important move to promote bilateral ties under new circumstances. The Xinhua News Agency said the documents inked on Friday between the two sides show that China and Arab countries have similar strategic cooperation goals, huge trade potential and deep cultural exchanges. Hailing the meeting as a landmark in China-Arab history, Foreign Minister Yang Jiechi said the new strategic cooperative relations will not only become a driving force for China-Arab relations, but will serve as a model for relations between developing countries.
May 16, 2010

Hong Kong*: Hong Kong's economy will likely grow more than the government's previous forecast of 4-5 per cent, an official said on Friday, helped by a rebound in the regional economy.
State-owned conglomerate Sinochem Group is seeking a five-year syndicated loan of up to US$1 billion in Hong Kong, as tighter credit controls at home push mainland companies.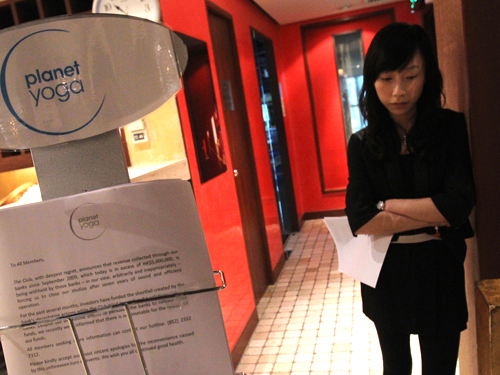 Planet Yoga, which runs three yoga schools in Hong Kong, said on Friday it would close down due to financial difficulties. The move will affect more than 13,000 yoga enthusiasts.

Housing Secretary Eva Cheng Yu-wah on Friday said the Real Estate Developers' Association (REDA) had agreed to the government's new measures aimed at making flat sales in Hong Kong more transparent. Cheng said the new guidelines proposed by Financial Secretary John Tsang Chun-wah for the of selling uncompleted and completed flats would come into effect on June 1. She also said that after discussing the measures with property developers, the government had accepted one amendment suggested by them. "This is to exempt developers from announcing price lists for flats three days before the date of a transaction - if the transaction involves selling the whole property to a fund or an investor, rather than to public,'' she said. But the developers would have to disclose the price list five days after the transaction, Cheng denied that this was a concession to developers. "The new rules for regulating flat sales would apply to all flats sold to the public. "We think the small amendment [suggested by developers] was reasonable. It's a different issue between selling the whole property to investors and selling the units to individual buyers," she said. In a bid to curb speculation and increase transparency, the financial secretary proposed new measures in April to tighten flat sale regulations. The new measures require sales brochures be made available seven days before the start of sales and that transactions involving developers' board members and immediate family members be made public. Other measures include the requirement that price lists be announced at least three days before start of sales and that at least one show flat unit represent the actual size and condition of the flat buyers will get.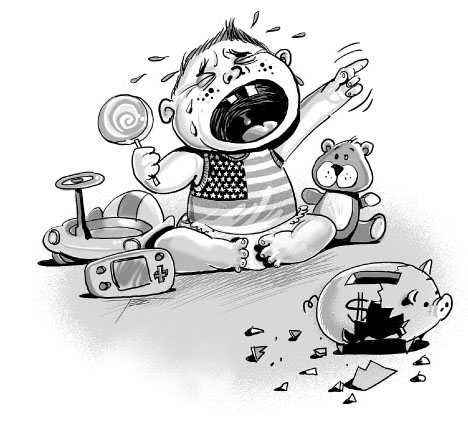 The US blames China for its huge trade deficit, yet the real issue is America's inability to save - America's fixation over China has not come out of thin air. Jonathan Spence, Yale's legendary sinologist, has suggested that it has deep psychological roots. In The Chan's Great Continent (1999), Spence argues that, since the time of Marco Polo in the 13th century, the West has had a consistent knack for seeing China through the same lens as it sees itself. This bias is painfully evident today. Consistent with Spence's thesis, the United States is blaming China for problems that are largely self-inflicted. America faces many tough problems in the early 21st century. But none seem as painfully intractable as those bearing down on US workers. A productivity paradox is at the heart of the problem. Despite a doubling of productivity growth over the past 15 years, workers' pay has continued to lag. This outcome violates one of the most basic tenets of economics - that workers are eventually rewarded in accordance with their marginal productivity contribution. The Great Recession of 2008-09 has added insult to injury, pushing the official US unemployment rate up to 10 per cent. Curiously, China is being singled out as a major culprit behind this tough set of circumstances. At work, goes the argument, are the external pressures of a massive US trade deficit - the most visible manifestation of ever-increasing foreign penetration into America's vast domestic markets. Since China accounts for the biggest bilateral piece of the US foreign trade deficit - about 39 per cent of the total trade gap in 2008-09 - it is also judged responsible for a disproportionate share of the forces bearing down on the compensation and jobs of American workers. The verdict is typically sealed by the claim that these pressures are an outgrowth of a deliberately undervalued renminbi - supporting charges of a currency manipulation that breaks the rules of a just globalisation. A growing bipartisan coalition in the US Congress demands consequences for these violations - either a reversal of Beijing's currency policy or punitive trade sanctions. While such an argument is both emotionally appealing and politically expedient, it suffers from a fatal flaw: the US does not have a bilateral trade problem with China. It has a savings problem that has spawned a multilateral trade deficit. Indeed, the US had trade shortfalls with over 90 countries in 2008-09. This is a direct by-product of one of the classic stress points of macroeconomics: savings-short nations are in a serious bind if they wish to keep growing. In order to do so, they must import surplus saving from abroad - and run current account and multilateral trade deficits to attract the foreign capital. America's sad savings record speaks for itself in that regard. The net national savings rate - the sum total of depreciation-adjusted saving by households, businesses and the government sector - has averaged just 2.4 per cent of national income since 2001. Moreover, reflecting a gaping federal budget deficit, domestic saving plunged into negative territory in mid-2008 and fell to an astonishing minus 2.5 per cent of national income last year. That's a record low for the US. With such an unprecedented shortfall in its overall savings position, massive US current account and trade deficits are unavoidable. Yes, China represents the biggest bilateral piece of this multilateral imbalance. But there is good reason to believe that this reflects the outsourcing decisions of US multinationals, as well as a strong preference by US consumers for low-cost goods made in China. Yet China-bashers choose to blame it on Beijing. The counter-factual argument does not support this claim. If the value of the Chinese currency were higher, a persistently savings-short US economy would still be facing a massive multilateral trade deficit. It is possible that the Chinese piece would be smaller, but, unless America miraculously starts saving again - highly unlikely in an era of trillion-dollar budget deficits - that would then require the non-Chinese piece to be larger. It would be like rearranging the deck chairs on the Titanic. Again, this is not a China problem. It reflects, instead, the unavoidable repercussions of America's chronic savings problem. If Washington were to up the ante on China-bashing and impose broad-based trade sanctions on Chinese exports, as many politicians, prominent academics and other so-called experts suggest, there is good reason to believe that China would retaliate. Depending on the severity of America's action, that retaliation could take several forms - ranging from a World Trade Organisation complaint, to Chinese trade sanctions on imported US products to a reduction in China's demand for US Treasuries. The latter two options would hardly be inconsequential for the US. Tariffs on US exports to China would hit what is now America's third-largest export market - a serious problem for the Obama administration's newly stated goal of doubling US exports over the next five years. Similarly, reduced Chinese buying of US Treasuries would be highly problematic for the funding of Washington's trillion-dollar budget deficits. If China plays that trump card and reduces its participation in upcoming Treasury auctions, the dollar would undoubtedly plunge and long-term interest rates would soar - developments, in and of themselves, that could well trigger the dreaded double-dip recession in a still- fragile US economy. The Washington consensus smugly believes that China wouldn't dare take actions that might jeopardise the value of its vast holdings of dollar-denominated assets. However, in keeping with Spence, this is yet another example of a classic Western misinterpretation of Chinese values. Rightly or wrongly, China feels that it has been mistreated by the West for nearly 200 years. Yet China today is a proud nation with a strong sense of nationalism. Irrespective of the consequences retaliation might have for its currency portfolio, I suspect today's China would find it unfathomable to ignore an aggressive trade action by the US. Stephen S. Roach is the chairman of Morgan Stanley Asia and author of The Next Asia. This is an excerpted version of a longer article that first appeared in American Review.
TV and media veteran Garmen Chan Ka-yiu will lead the marketing and publicity efforts of the West Kowloon arts hub. Chan, currently Cable TV's external affairs vice-president and a former journalist, will become executive director of the West Kowloon Cultural District Authority's marketing, communications and programming department in August. Chan and authority board member Sin Chung-kai confirmed the appointment yesterday. The authority is understood to have approached a number of senior executives in the local film and television industries but they turned down the offer. It also approached a candidate now with a statutory body, who has experience with museum projects and city planning. But the candidate declined the offer after being introduced to the authority's chief executive, Graham Sheffield, last month. Art critic Oscar Ho Hing-kay said it was understandable that experienced executives from the film and television industries would be sought to head the arts hub's marketing as they had a network of contacts. But because of the artistic content involved, arts marketing was a complicated subject and would require a very good team effort to achieve the best exposure while getting the artistic meaning across. Veteran public relations consultant Andrew Fung Wai-kwong said the post required sensitivity in handling local politics because developers' interests were involved. "The person should not be just a messenger. His media background might not help when it comes to controversies involving public interest," he said. Meanwhile, the Leisure and Cultural Services Department will groom 10 young graduates during the first two years of its inaugural trainee programme due to start by the end of the year. Museum of Art chief curator Tang Hoi-chiu said that each candidate, who would receive a salary of HK$12,300 a month, would be rotating through various departments from curatorship to fund-raising and audience development. Ho said the move by the department, which runs most of Hong Kong's museums, should be appreciated as, despite the emergence of a new generation of curators in recent years, not many had experience.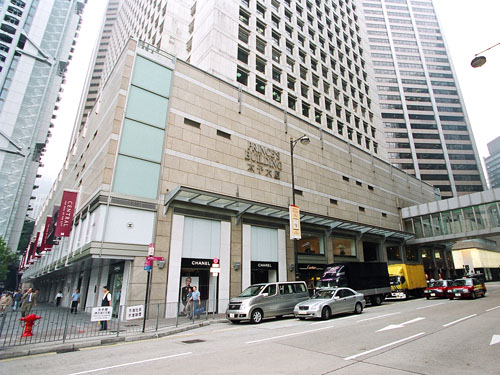 The increasing number of mainland shoppers has encouraged Hongkong Land to invest HK$151 million to renovate the retail podium of Prince's Building in Central. "About 25 per cent of the shoppers in our shopping malls came from the mainland," said Raymond Chow Ming-joe, an executive director at Hongkong Land. "We found that increasing [numbers of] mainland travellers with higher income choose to go shopping in Central in recent months, as the malls have a greater selection of brands. "The retail traffic at our shopping malls may be less than the other malls, but the spending per head is higher than the others." He declined to disclose figures. Renovation work had started and was scheduled to be completed early next year, Chow said. Average rents for the company's retail space in Central rose by 3 per cent last year, its annual report says. Chow expects retail rents to have stronger growth this year as the demand for retail space is strong. The firm's retail portfolio is fully let. International brands also appear optimistic about Hong Kong's retail outlook and have expanded in the city. Alfred Dunhill previously leased a 3,800 square foot retail shop in Prince's Building. In March the firm expanded to an 8,000 sq ft shop on three floors in the building, its largest store in Asia. Cartier has also taken a 10,000 sq ft retail space on three floors in the building. It will be the largest Cartier shop in Hong Kong after renovation is completed by the end of next year. Previously, the retailer occupied a 3,200 sq ft shop. Jewellery shop Van Cleef & Arpels and footwear brand Berluti have also expanded their shops to 3,200 sq ft and 2,300 sq ft respectively, up from 1,700 sq ft and 700 sq ft. In the office market, Chow said rents in Hongkong Land's Central portfolio began to pick up in the second quarter. According to global real estate services firm Jones Lang LaSalle, office rents in Central grew by 7.5 per cent in the first quarter, the highest growth among the city's business areas. "The demand for office has fully recovered," Chow said. "It seems like the global financial crisis never happened." He found demand was mainly driven by the resumption of expansion plans by financial institutions this year, while many professional services companies from the United States and Europe also came to Hong Kong to set up new offices.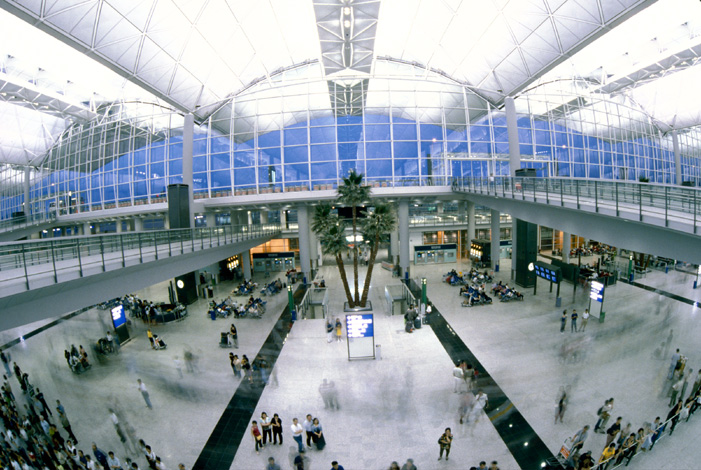 HK Int'l Airport honored world's best in its category - Hong Kong International Airport ( HKIA) has been named the world's best airport among facilities serving 40 million-plus passengers in 2009, the fourth consecutive year for the honor, the Airport Authority Hong Kong (AA) said on Friday. HKIA also took the third place in both regional and overall categories in the Airport Service Quality (ASQ) survey conducted by the Airports Council International. In the 2009 ASQ survey, HKIA achieved a record high of 4.76 points out of 5 points, which means that more than 98 percent of respondents rated it as "excellent" or "very good". Key areas that were particularly commended by passengers included terminal cleanliness, airport ambience, free internet connection, availability and cleanliness of washrooms, and comfort of gates and waiting areas. The ASQ survey, which interviewed over 275,000 passengers at 118 airports in 2009, is a leading industry benchmarking program that allows airports to measure their improvements and benchmark their customer service year on year.

China*: China's current account surplus fell 48 per cent in the first quarter and drew US$30.8 billion in foreign direct investment (FDI) in the first four months of the year.
Billionaire financier George Soros invested last year in Alibaba.com, becoming the third-largest shareholder in the operator of mainland's largest e-commerce site.
Nigeria and China State Construction Engineering Corporation Limited (CSCEC) have signed a US$23 billion deal to build three refineries and a petrochemical complex in Nigeria, a world's major oil exporter, an official statement said Friday. Nigerian National Petroleum Corporation (NNPC) and CSCEC signed the deal on Thursday to jointly seek US$23 billion in financing and credits from the China Export & Credit Insurance Corporation and a consortium of mainland banks for the projects. "NNPC aims to accelerate the construction of new refineries in Nigeria to stem the flood of imported refined products into the country, currently estimated at US$10 billion," an NNPC statement said. CSCEC wants to "expand its presence on the African continent and establish its footprint firmly in the Nigerian oil and gas landscape", the statement said. The refineries are expected to add some 750,000 barrels per day capacity in Nigeria and position NNPC in the international trading of refined petroleum products, it said.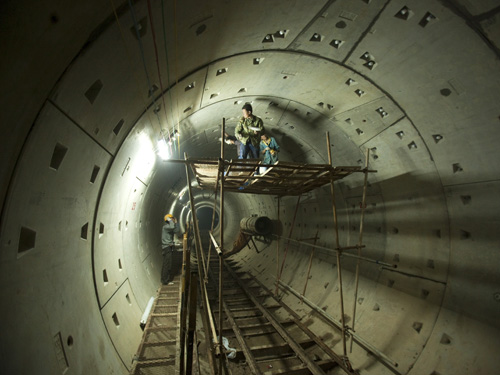 Beijing will spend more than one trillion yuan to lengthen its urban metro rail networks from 940 kilometres at the end of 2009 to more than 3,000 kilometres by 2015. Beijing speeds up metro rail plan across 25 cities - China set to have world's biggest subway network by 2012. The mainland plans to build the world's biggest urban rail network as it battles to get people off increasingly traffic-snarled roads in its major cities and onto public transport. Beijing has accelerated an already aggressive plan to build thousands of kilometres of rail lines in the nation's expanding cities to cope with worsening traffic congestion. China is already second only to the United States in terms of the size of its urban metro rail network, but will become the biggest by 2012. It is building 500km of urban metro rail lines every year. Currently, 25 cities across the country have been given the green light to build metro rail networks. It is expected that 87 metro rail lines with a total length of 2,495km will be built by 2015, according to the China Railway Construction (SEHK: 1186) Corp (CRCC), a leading Chinese rail construction firm listed in Shanghai and Hong Kong. That is a more ambitious rollout than previously planned, in which 15cities would construct 1,700km of urban rail network track by 2015 with an investment of more than 600 billion yuan (HK$683.88 billion). Li Guoyong, deputy head of industrials at the National Development and Reform Commission (NDRC), yesterday told Bloomberg that the mainland will spend more than one trillion yuan to increase the length of its urban metro rail networks from 940km at the end of 2009 to more than 3,000km by 2015. That compares with China's investment in urban metro railway from 1995 to 2008 of about 140 billion yuan, according to Beijing Huaxinjie Investment (BHI) Consulting, a transport consultancy firm. Road networks across increasingly crowded coastal cities cannot cope with increasing traffic, Chen Jing, BHI's sales manager, said. Since the Beijing Olympics in 2008, the capital has implemented restrictions on cars yet traffic congestion is worsening, Chen said. Continued economic growth means the cost of a small car will soon be within reach of millions of people in regional cities across the country. Consumer finance options will make cars even more affordable. Major cities are already feeling the impact of soaring car ownership among the middle class. A Beijing consultant said that since 2002 the number of cars in the city had soared from two million to over four million. "China is undergoing very fast urbanisation and to control traffic congestion it needs to build subways," the consultant said. "The government wants to increase the public transit percentage of total travel within cities." The government also wants to encourage green transport like metro rail instead of people driving polluting cars. Between now and 2015, Beijing's official plan is to spend 35 billion yuan each year to expand its metro system from 230km to 561km. The Ministry of Railways and Sichuan province signed an agreement this week to push the construction of a metro railway in the provincial capital Chengdu. In the next five years, Shanghai will build 200km of urban metro railway, in addition to its 400km of operational metro rail lines, Xinhua reported.
Billionaire financier George Soros invested last year in Alibaba.com, becoming the third-largest shareholder in the operator of mainland's largest e-commerce site.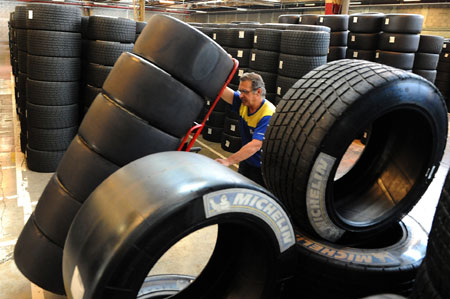 Tires for motor cars are ready for shipment at a Michelin plant in Clermont Ferrand, France. The French company has expanded its network to China's third-and fourth-tire cities, with more than 5,000 dealerships across the nation. French tire maker Michelin is reinforcing its brand and reputation in the high-performance tire market by launching the latest products as Chinese customers become more demanding. "We are putting more attention on the high performance tire market than before, a segment that is growing at a speed twice that of the overall tire market in China last year," said Antoine Guerin, vice-president of marketing and sales with Michelin (China) Investment Co Ltd. Michelin launched its Pilot Sport 3 tire in China this week, a new generation of high-performance tires. The launch follows the market entry of the Primacy LC last year. The Pilot Sport 3 series, with 18 different models, are for sports cars, compacts and large, powerful sedans as well as roadsters and coupes. "As the exact answer to the quest of Chinese sports car owners for tires for driving pleasure and safety," said Guerin. He added that the company believe that the new tire will set a new benchmark in the luxury sport segment in China. Along with the ever increasing passenger vehicle population in China, car owners in the developing market are focusing more and more on accessories, such as tires. According to a recent AC Nielsen survey of car owners in Beijing, Shanghai and Guangzhou, driving comfort and vehicle safety have become the primary factors determining consumers' choice of sports tires. US tire maker Goodyear also plans to launch a high-performance tire this July, aiming at growing demand in China's luxury sport vehicle segment. "It's very important for Michelin to win a high reputation in the high-end market to establish respect in China's tire market", said Guerin. "And brand is key to winning in the local tire market as Chinese car owners trust dependable brands when they buy their cars and change their tires for the first time." "Although China's tire market is still far from reaching the mature ratio of 30 to 70 between OEM and replacement markets, we see great growth potential in both segments," said Guerin. Banking on future demand for replacement tires as the new vehicle population grows, Michelin is now fully preparing a service and distribution network, in addition to its efforts to reinforce its brand. The French company has expanded its network to the third- and fourth-tier cities in China, with more than 5,000 dealerships across the nation, including over 1,100 premium dealers. "We are now focusing on the training for the dealers in a bid to improve our services," said Guerin. "This year, Michelin China will provide training for over 4,000 staff for our dealers."
May 15, 2010

Hong Kong*: Ombudsman Alan Lai Nin on Thursday called for the Fire Services Department to do more to promote fire safety in Hong Kong, particularly at restaurants.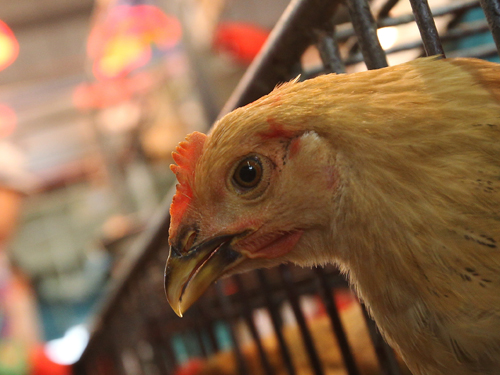 In 13 years centralised slaughtering of chickens has gone from a public health imperative to prevent bird flu to financially unviable. Along the way, most live-chicken traders have quit the business - making it a highly attractive proposition for the remaining vendors. They buy their stock at HK$13 a catty and sell it for more than double that. Now former live-chicken vendors who gave up their licences are demanding them back. They say they, and the people of Hong Kong, have been cheated. Meanwhile, legislators yesterday called on the government to increase the supply of live chickens to prevent profiteering. Secretary for Food and Health York Chow Yat-ngok told the Legislative Council a consultant engaged to study central slaughtering, which was to have replaced the live chicken trade altogether, had concluded it was not viable because live chickens now accounted for such a small share of the market for chicken. The market share of chilled and frozen chicken had increased from 60 per cent in 2003 to over 90 per cent last year. "Also, Hongkongers might not accept that they may need to spend as much money on slaughtered chickens as on live ones," he said. Chow said the government would consider the consultant's report and give a decision to Legco later. A senior government official acknowledged the remaining 131 vendors - down from a peak of almost 500 - who rejected government offers of HK$800,000 to HK$3.2 million to surrender their licences by July 2008 operate like a cartel. "This is like the Western Harbour Crossing, where the operators do not need to care too much about the number of customers as long as the charge is high enough," said the official, who did not want to be identified. But Hong Kong Live Poultry Wholesale Association chairman Tsui Ming-tuen said traders' costs justified their mark-up. Former chairman of the Poultry Wholesalers and Retailers Association Steven Wong Wai-chuen, who surrendered his licence in July 2008 for compensation of about HK$3 million, said: "The whole industry feels like it has been cheated. In fact, all Hongkongers were cheated." But remaining vendors are jubilant. "Many of us still think fresh chickens taste better, so I will never surrender my licence," said Chow Hon-ling, a live-chicken vendor in Kowloon City. Wong said: "If they had mentioned that the policy of central slaughtering might be retracted, many of us would not have left the industry." He said some who had left were considering using their compensation to obtain licences again. Wong does not believe finances alone lie behind the government's apparent change of thinking. "The risk of bird flu has decreased. When the government first put forward central slaughtering, they did it for health reasons, not because it was financially viable," he said. Tsui called the finding wise. "It is obvious no one is willing to invest in the central slaughterhouse." About 18,000 live chickens are available every day, of which about 60 per cent are from local farms. The trade was restricted to prevent bird flu, which first jumped the species barrier to infect humans in Hong Kong in 1997, when six of 18 people who caught the H5N1 virus died. The spread of the disease prompted a cull of all live chickens in the city. Two further mass culls followed. Infectious-diseases specialist Dr Lo Wing-lok said the current risk controls against bird flu were sufficient. "We're already very safe now. Central slaughtering would not lower the risk further. It would be a waste of public funds," he said. Government officials first raised the option of centralised slaughtering in the wake of the 1997 outbreak. Seven years ago, the Team Clean unit set up to improve public health following the Sars outbreak reiterated the idea. The government took up the proposal and said in 2006 that central slaughtering would come in by last year.
Sylvia Tang displays fake buns made for this year's Cheung Chau bun scramble, the trophy and a model of the bun tower. A record number of competitors have signed up for this year's Cheung Chau bun scramble, and a bumper crowd is also expected. The festival, on May 21, falls on Buddha's birthday - a public holiday and the start of a long weekend. A total of 215 people - 171 men and 44 women - have entered the bun scrambling race this year - the most since the leisure department took over running the event in 2005. The contest will be divided into two categories: individual and invitation relay. For the first time, men and women will compete separately. "Past contestants have told us that they think men and women have different builds and powers, so for the first time we're separating the two groups," Sylvia Tang, chief leisure manager (New Territories West) of the Leisure and Cultural Services Department, said. The number of women signing up for the event was a record and 10 more than last year, Tang said. Tickets would be distributed free on a first come, first served basis from 10pm on May 21, she said. Police expect about 50,000 visitors to flock to Cheung Chau throughout the day, especially in the morning, and a strong police presence will be in place to ensure safety. The opening ceremony for the contest will begin at 11.30pm, and the event starts at midnight. An extra ferry service will leave Cheung Chau for Central at 1.15am on May 22, Polly Chan Siu-mui, senior transport officer for the Transport Department, said. Bus services from the ferry terminal in Central to various destinations will also be extended from about 1am to 2.30am that morning. A total of 1,500 spectators will be allowed to enter the soccer pitch at the Pak Tai Temple playground to watch the scramble. Plastic buns, which look very similar to real ones but are less slippery to step on, have been used for the scramble since 2007. About 10,000 plastic buns have been made for this year's event. In the past, many real buns had been wasted, Tang said.
The return of expatriate executives to Hong Kong has increased leasing demand for high-end residential units as well as serviced apartments, according to property consultancy Jones Lang LaSalle (JLL).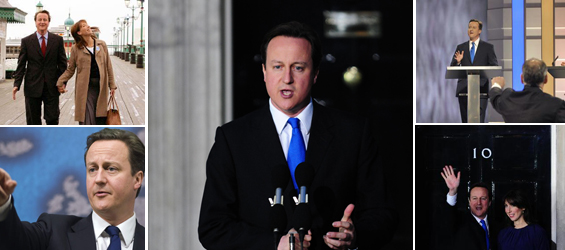 David Cameron is no stranger to Hong Kong. In 1985 when he was just 18, he spent three months here working for conglomerate Jardine Matheson. Cameron's father was a stockbroker for Jardine's chairman. The younger Cameron took up an administrative post, which required no experience but which enabled him to acquire a taste for work during his gap year after graduating from Eton and before going to Oxford. Cameron's Hong Kong links actually go back much earlier - his great-great- grandfather Sir Ewen was the London head of the Hongkong and Shanghai Bank.
The Broadcasting Authority has given Asia Television two weeks to respond to inquiries over the company's shareholding structure, Secretary for Commerce and Economic Development Rita Lau Ng Wai-lan said yesterday.
The average occupancy rate of Macao's hotel sector reached 78.2 percent in March 2010, with four-star hotels leading at 84.6 percent, according to the figures released Thursday by Macao's Statistics and Census Service ( DSEC). At the end of March 2010, the total number of available guest rooms in local hotel sector increased by 10.4 percent year-on-year to 19,408 rooms, the DSEC figures indicated. A total of 641,987 guests checked into hotels and guest-houses in March 2010, an increase of 7.6 percent over March 2009, with the majority coming from the Chinese mainland (52 percent) and Hong Kong (20.4 percent). The average length of stay of hotel guests increased by 0.1 night to 1.5 nights, the figure showed.

China*: China and the United States resumed dialogue on Thursday on human rights after a two-year hiatus, as the US promises to raise concerns about internet and religious freedoms.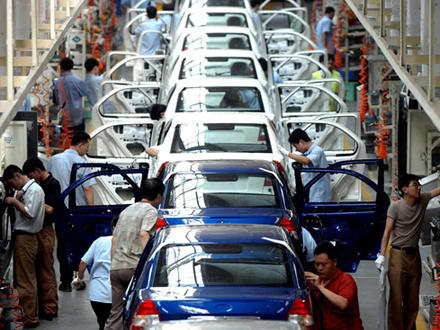 Ford and its mainland venture partners, Mazda and Chongqing Changan Automobile Co, are seeking central government approval to end their three-way tie up, a report said.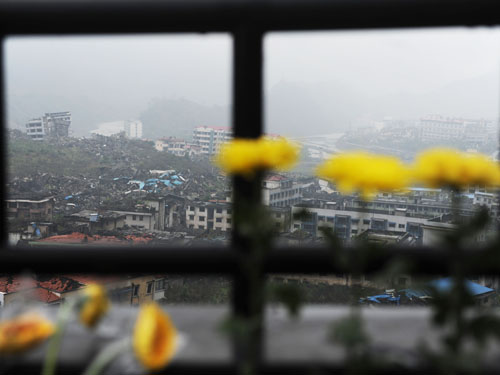 Flowers placed by survivors mourning family who died in the Sichuan earthquake frame a window looking out on a devastated landscape. Tourism has become the major source of income for Wenchuan county, the epicentre of the devastating earthquake two years ago yesterday in Sichuan , and local authorities hope to make it a pillar industry to support residents' daily lives in the future. Zhu Yaozhong , the acting deputy county head, told a press conference in Guangzhou on Tuesday that of all the county's economic indicators last year, the service industry, which mainly relies on tourism, was the only one that rose since 2007. Without giving specific figures, Zhu - also the deputy director of the Development and Reform Commission of Guangdong, the province selected by the State Council to help with the rebuilding of Wenchuan - said the fast-growing tourism revenue reflected the key role the industry is playing in supporting reconstruction in the worst-affected areas. "It showed tourism had contributed the most to Wenchuan, and we think it might become a well-known place for international tourism in the future," he added. According to the Wenchuan Tourism Bureau, more than 30,000 tourists visited the county and spent about 8.2 million yuan (HK$9.3 million) during the Labor Day holiday on May 1-3. This was a dramatic increase when compared with the figures for the same period in 2007. Zhu said that most of the "hardware rebuilding" work was over, and they now faced the challenge of rebuilding local residents' lives. Creating job opportunities for residents will be the top priority. Besides boosting tourism, Guangdong planners are also working on attracting manufacturers to invest in the area. Chen Maohui , deputy secretary general of the Guangdong provincial government and acting deputy Communist Party secretary of Wenchuan, said it was hoped that two industry zones under construction - one in Wenchuan's Xuankou, and the other in the suburbs of provincial capital Chengdu - could provide 20,000 jobs to the county. According to the statement by the Guangdong government, eight enterprises from Sichuan, Guangdong, Hong Kong and Taiwan promised to invest 2.3 billion yuan in the Guangdong-Wenchuan Industrial Zone in Chengdu. These companies have been told that their factories should be ready to start operation by the end of this year. Chen added that some Guangdong-based companies would launch a job fair soon offering about 4,000 posts to Wenchuan residents. By the end of last month, nearly 88 per cent of the 702 projects Guangdong was helping to build in Wenchuan had been completed, the statement released yesterday said. The province alone has invested 8.2 billion yuan in the county's reconstruction.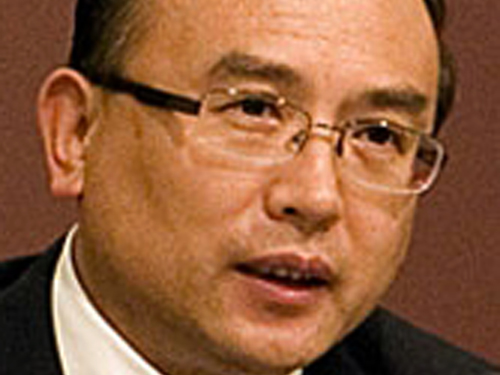 Shenzhen executive vice-mayor Xu Qin , a close ally of Guangdong party chief Wang Yang , has emerged as the leading candidate to become the city's next mayor, nearly a year after former mayor Xu Zongheng was removed amid a graft probe. A major leadership reshuffle is expected to be announced at the annual meeting of the Shenzhen Municipal People's Congress, between May 27 and 31. The position of Shenzhen mayor is the last important position in Guangdong left unfilled after a round of reshuffles last month that saw the appointment of new party bosses for Guangzhou and Shenzhen and a new Guangzhou mayor. Shenzhen officials believe that a power struggle involving candidates and their higher-level supporters has delayed the announcement. Various government sources from both Shenzhen and Guangzhou said Xu Qin was "almost confirmed" to become mayor after acting Shenzhen mayor Wang Rong was promoted to become Shenzhen's party boss last month, although the decision was not finalised. "There are only two weeks left before the Shenzhen Municipal People's Congress opens and the limited time period isn't enough for an outsider to be parachuted in," a Guangdong official familiar with Shenzhen affairs said. But he said Shenzhen's annual congress could still be postponed, because certain decision-making procedures needed to be gone through before it could announce a new mayor. There has been speculation that 49-year-old Xu Qin, originally from Jiangsu, could be the next Shenzhen mayor, ever since he was transferred from his position as director of the hi-tech industry development department at the National Development and Reform Committee (NDRC) to become the city's executive vice-mayor. Cadres parachuted in from outside are usually promoted to higher positions after serving in regional government for several years. When Xu was in Beijing, he worked as Wang's subordinate for four years when the Guangdong party chief was a vice-minister at the State Development and Planning Commission, the predecessor of the NDRC, between 1999 and 2003. Xu was swiftly promoted from a division head to department director during Wang's tenure and was transferred to Shenzhen six months after Wang became party chief of Guangdong. Xu received his doctoral degree in business administration from Hong Kong Polytechnic University in 2004 and is said to be familiar with the special administrative region's economic development. Hong Kong newspapers have reported that Guangdong propaganda chief Lin Xiong , 51, could be a rival for the mayoralty. Lin worked for the General Office of the Communist Party's Central Committee in the 1980s when it was headed by Wen Jiabao , now the Premier. Lin was later promoted to be the deputy party boss of Dongguan and Maoming , and party boss of Zhaoqing .
About 40 percent of new loans in the first quarter went to local government bodies, said an economist with the State Council's Development Research Center (DRC), with analysts warning that a potential crisis is looming. Most polled say local govts behind high realty prices
May 14, 2010

Hong Kong*: The number of people living in poverty in Hong Kong shot up by 19 per cent in the first three quarters of last year, leaving more than one person in nine below the breadline.
The government is proposing three measures to revitalise the secondary market of Home Ownership Scheme flats but the suggestions have been criticised as unattractive. To help HOS flat owners pay the premium that allows them to sell or let their flats on the open market, the government has suggested the Hong Kong Mortgage Corporation provide a guarantee arrangement. With that guarantee, banks could provide a second mortgage loan to HOS owners enabling them to pay the premium. Flat owners could settle the premium loan by instalment, along with their mortgage payments. Another suggestion would extend a mortgage guarantee period of up to 25 years to, for example, 30 years. The Housing Authority has been providing up to 25-year mortgage default guarantees to banks to help HOS flat buyers get mortgage finance. The government also proposes to streamline sale and purchase procedures for second-hand HOS flats, such as shortening the time it takes applicants to get Housing Authority documents from three weeks to two. But "the degree of revitalisation is not enough", Dr Lau Kwok-yu, associate professor at City University's public and social administration department, said. "Only when HOS flats are easily tradable in the market will people be attracted to buy or sell HOS flats." He said the government could learn from Singapore which allowed HOS owners to let their properties even before they finished paying the premium. "For example, after an owner repaid a certain amount of premium, they can lease their property on condition that they give part of the rental income to the government," he said. Echoing his view, Centaline Property Agency associate director of research Wong Leung-sing said the proposed measures would not hugely relieve HOS flat owners' premium payment burden and were not attractive. Wong Kwun, chairman of the Federation of Public Housing Estates, feared the measures would attract speculators. The proposed measures came after the financial secretary announced in his budget in February that ways to revitalise the HOS secondary market would be explored, as most HOS flats are priced below HK$2 million and could cater to the medium and low-priced property market. There are some 320,000 HOS flats. About 64,700 flats are tradable on the open market and about 255,400 still have not paid a premium. The Housing Authority's subsidised housing committee is to discuss the issue on Monday. The authority yesterday also released the price list of 4,000 HOS flats which will go on sale next month. The prices, based on transactions in the second-hand market between February and April, are about 70 per cent of market price. The proposed prices range from HK$620 per sq ft to HK$3,710 per sq ft. The cheapest HOS flat is in Lung Hin Court, Tai O, on Lantau Island, at 375 sq ft and priced at HK$302,400. The most expensive one is a 666 sq ft apartment in Shau Kei Wan's Tung Tao Court, with a price tag of HK$3.28 million, or HK$3,450 per sq ft. Some prices are about 10 per cent higher than those from the same estates sold by the authority late last year, beefed up by a robust property market. More than 1,110 flats on sale are at Yau Tong's Yau Chui Court, while another 1,294 flats are in Tin Shui Wai. The rest are scattered in areas such as Kwai Tsing, Wong Tai Sin, Ma On Shan and Tseung Kwan O. The income limit for applicants has been raised from HK$23,000 to HK$27,000, for a two-person household and they cannot have assets of more than HK$530,000. The authority estimated that at least 106,400 households were eligible to apply for HOS flats. In view of public demand, the authority is suggesting changing the quota allocation ratio between "green form" and "white form" applicants to three to two, instead of a ratio of four to one. Green form applicants live in public housing or are eligible for it, and white form applicants are families on low incomes who live in private apartments.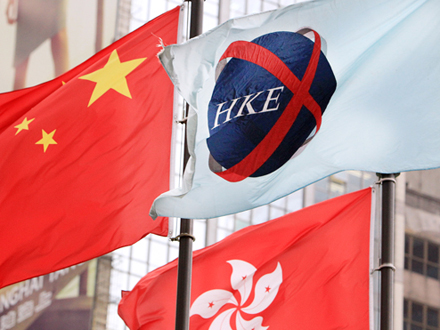 Hong Kong Exchanges & Clearing, which reported healthy first-quarter growth, could face a tough time this year if deteriorating market conditions crimp new listings.
Cathay Pacific Airways (SEHK: 0293) has resumed development of a HK$5.5 billion air cargo terminal in Hong Kong, the company's chairman said on Wednesday. "The main contract for this development has been let and we are on schedule for opening in 2013," chairman Christopher Pratt said in Hong Kong. He added that by that time the company's cargo fleet would have added another 10 Boeing 747-8 aircraft.

Crowd control measures have been put in place to ensure Hong Kong's annual bun scrambling competition on Cheung Chau later this month would be safe, a government spokeswoman said on Wednesday. Government spokeswoman Sylvia Tang said the event would be carefully planned to ensure there were not excessive numbers of people at the event. The annual bun scrambling competition is a traditional activity, where participants compete by climbing bamboo "mountains" to snatch buns. The tradition has been carried on for decades. It began as a ritual for fishing communities to pray for safety from pirates. Today, it has become one of the most well-known Chinese festivals on the island. Tang said this year's competition was expected to attract a lot of spectators. The bun carnival would be held on a soccer pitch at Pak Tai Temple Playground from Friday, May 21 until Saturday, May 22. Tang said that apart from invited guests, only 1,500 people would be allowed on the soccer pitch. The venue would be divided into five zones, with only four open to the public. The carnival was suspended in 1978 due to 100 people being injured by a bamboo "mountain" which collapsed during the competition. It resumed in 2005.
Hong Kong has reported a decline in the number of stray cats and dogs being caught in recent years, Secretary for Food and Health York Chow Yat-ngok said on Wednesday.
Some 11 per cent of 2,234 Standard Chartered Bank customers who bought Lehman Brothers equity-linked notes were considered unsuitable to invest in the structured products, lawmakers were told. That works out at about 245 customers who were classified as having different levels of risk tolerance from what was needed to invest in the equity-linked notes. "Procedurally, it could be possible that, when a client went to a branch or learned about ELN products from other sources, the client might still proceed to buy such products," said Benjamin Hung Pi-cheng, chief executive of Standard Chartered's Hong Kong operations. In such cases, the client would have to be told that the equity-linked note was not part of the list of suitable products and then declare that he was still going ahead with the purchase, Hung said. A list of suitable investment products is compiled based on the client's responses to nine questions asking about investment objectives, risk appetite and other details. Lawmakers are seeking further details of those clients who were deemed unsuitable to invest in the notes. Hung was testifying for the second time before the Legislative Council subcommittee investigating the Lehman Brothers minibond debacle. Hong Kong investors lost billions of dollars on minibonds guaranteed by Lehman when the Wall Street giant went bankrupt in September 2008. Minibonds are not corporate bonds but high-risk, credit-linked derivatives. They are marketed as proxy investments in well-known companies. Equity-linked notes are debt instruments, usually a bond, that base their performance on the return of the underlying equity. The subcommittee hopes to gather evidence from six banks involved in selling the minibonds by the end of the Legco year next month. A settlement offer by 16 banks to buy back soured minibonds from about 25,000 investors meant those who accepted the terms would recoup between 60 per cent and 70 per cent of their initial investments.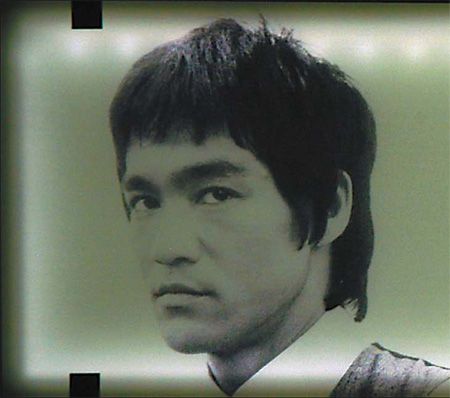 Bruce Lee biopic to be shot in June - A biopic about Bruce Lee will mark the 70th anniversary of the late action hero's birth on November 27 of this year, M1905.com reports. Filming of "Bruce Lee" is expected to begin at the end of next month, the report says. It is slated for release before November 27. The film will tell Bruce Lee's pre-stardom story. Hong Kong-based singer-turned-actor Aarif Lee will play young Bruce. Aarif Lee was named Best Newcomer at this year's Hong Kong Film Awards in April for his performance in the family drama "Echoes of the Rainbow". Manfred Wong, producer of "Bruce Lee", says Aarif's appearance in "Echoes of the Rainbow" reminded him of Bruce Lee, and that he thinks Aarif is the ideal actor for the role. Karen Mok and Tony Leung Ka-Fai will play Bruce Lee's parents. The film will be helmed by "Bodyguards and Assassins" assistant director Wai-Man Yip.

China*: Talks between the mainland and Taiwan on a landmark pact that could give a big lift to US$109 billion in annual trade have stumbled on the choice of wording before final negotiations.
The United States is unlikely to accept China's market economy status (MES) before 2016 and both nations should act according to World Trade Organization (WTO) norms when launching trade remedy cases against each other, Susan G Esserman, a former deputy US trade representative, told China Daily.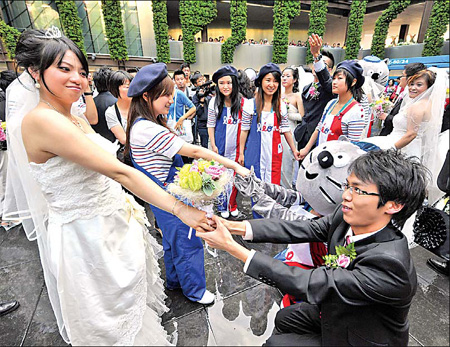 A French-style Expo group wedding ceremony is held in the Expo Garden on Tuesday. Thirty-five Chinese couples from all over the world said "I do" in a French-style group wedding ceremony on Tuesday, witnessed by their families and thousands of visitors at the Expo Garden. As the chief witness at the wedding, Jean Germain, mayor of the city of Tours in France, announced the beginning of the first French-style Expo group wedding with the theme of "Tender Spring" at the Expo Culture Center. Germain had been the witness for 200 Chinese couples who participated in group weddings in Tours in the past two years. Tuesday's ceremony was the first time the mass Tours wedding had taken place in Shanghai, in China and at an Expo. All the newlywed couples were offered a tour to the France Pavilion as VIP guests and granted wedding certificates by Germain, plus a French meal cooked by Michelin star chefs at the Six Sense restaurant in the France Pavilion. A team of specialists from Tours worked on the flower decoration, make-up, photography and dresses for the wedding. At the ceremony, dancers from Tours performed a French tango while a comic group gave comedy shows. All attending couples entered a lucky draw, which offered the winning couple a nine-day European trip for their honeymoon. As the eldest pair of couple, 42-year-old Sandy Gao and her 48-year-old husband, surnamed Zu, flew from the United States last Thursday especially for the memorable wedding ceremony. "Initially we planned to register our marriage in the mainland. After learning about the wedding in the Expo Garden, I really wanted to participate in this kind of special wedding to celebrate the new beginning of our lives," Gao said. Although Gao was a bit rushed in her wedding preparations, she still felt lucky that her application to be a part of the wedding was successful. Wang Li, 32, had been looking forward to a group wedding for its exciting atmosphere and unusual style of celebration. Each couple was allowed to invite up to seven family members and close friends to attend the ceremony, celebrating the precious moments with the lovebirds. "I want my wedding to be perfect and unique, so I choose to attend the group wedding from my heart," said Wang, who brought five family members and two best friends to witness the exciting moment. "Spring is my favorite season and Expo is the biggest cultural festival in Shanghai this year. I am so happy that I'm part of this event with wishes from my families and friends," she said. Wang's mother, Qian Lanying, thought the French and Expo wedding would be the most meaningful and memorable experience for all of them. "I was so surprised when Wang told me that she's attending the French Tours Expo group wedding. I wish the couple to be happy forever," said Ren Li, Wang's best friend, who planned to apply to the next session of the French Expo group wedding in June. Four more French-style Expo group weddings held by Tours city are scheduled until the end of October. "More happy couples will get married in the Expo Garden soon," said Lise Han, the main organizer of the French Expo weddings from Tours. Most of the couples were born in the 1980s, a generation full of characteristic ideas and leading the fashion trend by breaking traditional customs. "France, the dream country of our generation, is the symbol of romance. It's also my dream to get married in the most romantic style. Especially it's the Expo period in Shanghai which makes the wedding ceremony more unique and symbolic for us," said 25-year-old bride Cai Mianmian, an interpreter from Fujian province. She and her husband, Zeng Dongjie, fell in love when they were classmates in senior high school 11 years ago.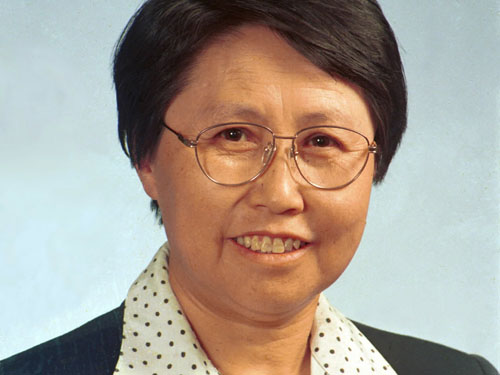 One of the vice-presidents of the National People's Congress was robbed in Paris by two men on a motorbike who smashed her car window as she was on her way to the airport, police said yesterday. Uyunqimg, the third-highest ranking female official in China, was on the A1 motorway north of the French capital on her way to Charles de Gaulle airport on Monday at around 6.30pm when the thieves struck, officers said. No one was hurt in the incident, but the pair managed to smash the car's rear window and grab the official's handbag before escaping. An investigation has been launched. Uyunqimg is the highest-ranking ethnic Mongolian in the central government. The highway from Paris to Charles de Gaulle is a notorious hunting ground for smash-and-grab gangs. In February, French judicial officials reported that Kristina Chernovetska, the daughter of the mayor of Ukrainian capital Kiev, was robbed in the same way. Chernovetska reportedly lost jewellery worth €4.5 million (HK$44.48 million) in the robbery. But aides to mayor Leonid Chernovetsky denied the incident had taken place.
The mainland's media watchdog announced yesterday that it would transfer a part of its film censorship power to provincial-level authorities from July 1, its website said.
SMIC, mainland's largest chipmaker, could climb out of the red by the end of the year on an operating basis, its chief executive said on Wednesday.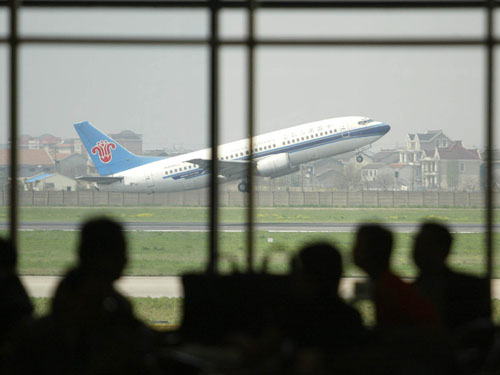 A China Southern Airlines plane is seen taking off from Shanghai's Hongqiao airport in this file picture. China Southern has overtaken JAL as Asia's largest carrier by passenger numbers, according to figures released on Wednesday. China Southern Airlines is now Asia's largest carrier by passenger numbers after overtaking troubled Japan Airlines Corp, or JAL, according to figures provided by the two companies. China Southern actually overtook JAL in 2008 when its passenger volume rose to 58.24 million, according to data supplied by the mainland carrier on Wednesday. The airline, which has mainland's largest fleet, extended its lead even further last year as its numbers climbed to 66.28 million passengers, China Southern said. "Authoritative data shows China Southern Airline surpassed JAL as [Asia's] top carrier in passenger volumes in 2008, but the story has only been publicised lately," said a China Southern official, who said he could not be named under company policy. "It is also a sign of how China's economy expanded so fast despite the financial crisis," the official added. JAL carried 46.87 million passengers in 2008 and 41.98 million last year, according to figures provided by the Japanese carrier. The struggling Japanese airline is restructuring with the help of a state-backed turnaround fund after filing for bankruptcy in January. It has said it will slash international and domestic capacity over the next year by 40 per cent and 30 per cent respectively, compared to the 2008 fiscal year. Combined with previously announced route-cutting plans, JAL will cease to run 28 international routes and close 11 international bases, while 50 domestic routes will be terminated, along with eight offices. China Southern, in contrast, has said it expects passenger numbers to rise 13 per cent this year to nearly 75 million passengers. The carrier announced last month it had swung back to profit last year thanks to a government bailout and improving domestic demand. Since late 2008, Beijing has injected nearly US$2 billion into the nation's top three carriers, including China Southern, to help them weather slowing demand caused by the financial crisis.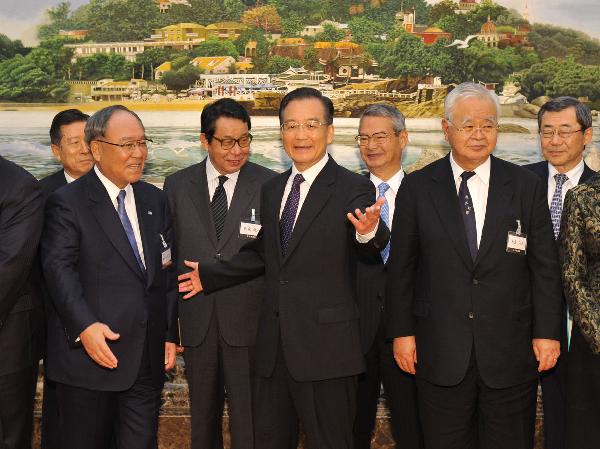 Chinese Premier Wen Jiabao (C, front) meets with members of a delegation of the Japan Business Federation in Beijing, May 12, 2010. Chinese Premier Wen Jiabao Wednesday said Sino-Japanese relations are continuously improving and developing. "This lays an important political foundation for the two sides to jointly cope with the international financial crisis and increase cooperation," Wen said when meeting with a delegation of the Japan Business Federation. Wen hailed the important contribution of China-Japan economic and trade cooperation in promoting economic growth of the two nations and East Asia at large. He said the acceleration of economic restructuring, changing development modes, and achieving sustainable development were common issues for China and Japan, and this was a challenge and opportunity as well for economic and trade relations. Wen hoped the businesses would increase cooperation in energy saving, environmental protection and new energies. Members of the Japanese delegation said Japan was glad to see the strategic and mutually beneficial direction of bilateral ties. China's economy first broke away from the impact of the international financial crisis and had maintained rapid growth. This offered favorable conditions for deepening Japan-China economic and trade cooperation, they said. They hoped to learn more from China's development strategy, and work with China to increase personnel exchanges and strengthen coordination at bilateral and regional levels, in a bid to promote Asian economic integration and world economic recovery. The federation groups most of Japan's leading companies, industrial associations and regional economic organizations.
May 13, 2010

Hong Kong*: Property developer Nan Fung Development won a Hong Kong residential site for less than expected on Thursday, with many developers staying on the sidelines.
Hard-pressed parents will not have to fork out more cash for most textbooks in the new school year after two leading publishing associations said their members agreed to freeze prices. The two groups - the Anglo-Chinese Textbook Publishers Organization and Hong Kong Educational Publishers Association - said 57 textbook publishers will keep prices unchanged to alleviate the financial burden on parents. The Education Bureau, meanwhile, has decided to postpone for a year implementation of a separate pricing scheme for textbooks and learning/teaching resources, which are at present bundled. The bureau's move, however, frustrated parents who hoped costs would have been reduced with the planned "debundling" policy. The bureau yesterday issued the list of recommended textbooks for schools. The list revealed that the prices of about 3,000 textbooks and learning materials will be frozen. Prices of just six course books will rise. The two associations said falling student numbers, education reforms and inflation have led to an increase in the cost of textbooks. But, concerned about the burden on parents, they called on members to show social responsibility. A spokesman for the bureau said it "welcomed the exercise of restraint" by association members when setting textbook prices. On the debundling policy, the spokesman said textbook publishers may need time to resolve problems in its implementation. These include copyright issues and a lack of willingness by schools to buy teaching materials after certain publishers provide aids free to schools. "The bureau, after thorough consideration, has decided to postpone the implementation of the debundling policy for a year," he said. A circular was issued to schools advising them neither to solicit free teaching materials and floral baskets from textbook publishers nor ask them to donate equipment or place advertisements in school publications to help publishers reduce costs, which in turn may help reduce prices. The Consumer Council welcomed the price freeze, saying that it helps relieve the financial burden on parents. It hopes the bureau will implement the debundling policy as soon as possible. "Parents have shouldered the textbook price increments in previous years. We believe the debundling policy would help reduce prices," a spokesman said. Hong Kong Alliance of Parents' Associations chairwoman Chan Siu-chu acknowledged the price freeze but was disappointed with the delay in implementing the debundling policy. According to the Consumer Council, prices for secondary school textbooks rose to a 10-year high of 7.4 percent in 2008, while for primary school books they rose 6.6 percent. Prices fell 0.5 percent and 0.6 percent, respectively, last year, it said.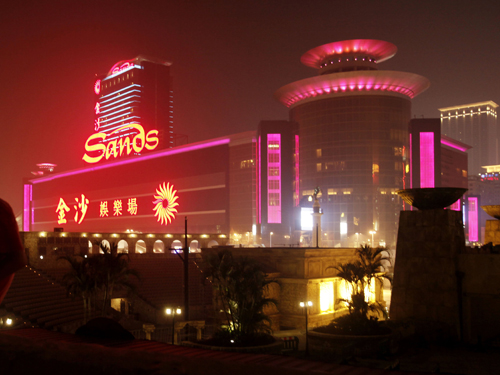 Macau-based Sands China, the world's second-most valuable casino operator, has its sights on expanding into Japan, which it predicts could become Asia's largest gambling market. In Macau, the firm's second-quarter outlook is "extremely good", CEO Steve Jacobs said on Tuesday after the firm posted first-quarter earnings that quadrupled from a year ago on a strong performance in the former Portuguese enclave and strict cost controls. "All indications are it's going to stay as strong as it is today," Jacobs said, referring to the outlook. "In a month where the market was up by about 70 per cent, you've got to assume that we did fairly well." Macau, the world's largest and fastest-growing gambling market, generated record gambling revenues in April, up 70 per cent from a year earlier. Sands, which has been approached by local gaming firms in Japan, is eager to move into a market with the potential to be Asia's largest gambling market, Jacobs said. Expanding in Asia beyond Macau has become important for casino operators such as Sands and Wynn Resorts, which worry about Beijing's erratic travel restrictions on mainlanders visiting Macau, the only place in the country where casino gambling is legal. Japan has long debated legalising casino gambling and could make a decision soon as it looks to the example of Singapore, which recently opened two major casino resorts, Jacobs said. "My own personal view is that their decision to go … or not to go will be made sooner than most people think," he said. "I think what they are trying to do is to find an element to drive tourism – so they are looking more to integrated resorts as opposed to a casino resort or a casino only." Sands China's parent Las Vegas Sands opened its US$5.5 billion Singapore casino resort, the world' second-most expensive, late last month. Japan has made slow progress on allowing casinos, partly due to fears they could trigger social problems. If Japan moves to legalise casino gambling, the first casino could open by around 2014-15, said Jacobs, who was chief executive of an international management services firm before he joined Las Vegas Sands in March last year. Others are less optimistic. "Japan would be the Holy Grail of gaming in Asia," said Aaron Fischer, head of CLSA's Asian gaming research, adding that a large appetite for gambling and a high average income would create strong demand for casino operators. "But CLSA has been talking about gaming legalisation in Japan for the last five years, so we're not holding our breath." Cost overruns for Sands China's next mega casino resort in Macau's Cotai Strip – billed as the next Las Vegas Strip – are "a low probability", Jacobs said, adding that US$1.7 billion of the financing is "already in the ground". Analysts fear that a possible move by Macau's government to restrict the number of non-resident workers on construction projects could result in cost overruns or project delays for Sands China. The project, whose first two phases will cost US$2.35 billion to develop and is set to open by the third quarter of next year, will house the world's biggest casino as well as Shangri-La, Traders and Sheraton hotels. They would complement Sands China's three existing Macau casinos, including the massive Venetian Macao. Analysts say Sands China is their favourite pick among Macau casino stocks due to the firm's aggressive expansion plans and exposure to the mass-market gambling segment, which is more resilient to economic turbulence than the VIP gambling segment. Sands China, whose rivals include Wynn Macau and Melco Crown Entertainment, reported January-March net profit of US$110.51 million versus US$26.66 million a year ago. The results were widely expected as Sands China had reported its first-quarter profit of US$113.3 million, according to US GAAP standards, last week, together with Las Vegas Sands.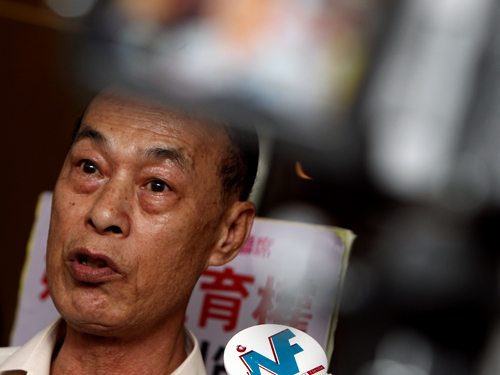 Fok Siu-wing, the father-in-law of mainland mother Zeng Lixia, who was charged HK$48,000 after she gave birth at Princess Margaret Hospital in December 2007. Higher fee for mainland mums giving birth is fair, judge rules - A group of mainland mothers married to Hongkongers are calling for public hospitals to end what they say are discriminatory obstetrics fees after a court upheld a policy that forces them to pay more than local women for giving birth here. They were reacting to a judgment handed down at the Court of Appeal yesterday, in which a judge upheld the 2007 charging package that requires non-resident mainland mothers to pay higher obstetrics fees than residents. The judgment was regarding a case taken out by the father-in-law of one mainland mother, Zeng Lixia. The Hospital Authority had rejected her request to waive her non-resident obstetrics fees, and she had asked for a judicial review of the decision, calling the 2007 law discriminatory. The court had dismissed it. She appealed against that dismissal. Zeng was given a bill for HK$48,000 after she gave birth at Princess Margaret Hospital in December 2007 after the new charges were in place. Yesterday, the court granted her appeal, sending her request for a waiver back to the authority. The Mainland-Hong-Kong Family Rights Association and Zeng's father-in-law, Fok Siu-wing, called the decision to uphold the 2007 charges unfair, saying mainland mothers married to Hongkongers should have the same right to give birth as residents. "The government cannot forbid mainland pregnant women from giving birth here," Fok said. Under the changes to obstetrics charges in 2007, non-resident mothers had to pay HK$39,000 for a pre-booked obstetrics package and $48,000 without a prior booking, while residents enjoy subsidised fees. One woman from the rights group, Linda So Lin-tat, said yesterday she saw no reason why she should feel forced to give birth on the mainland. "I have married a Hong Kong man, so why must I go back when it comes time to give birth?" In his judgment, Mr Justice Andrew Cheung Kui-nung said the residency requirement was not illogical as a bar for deciding who should get subsidised fees. "It may work harshly in individual cases but that fact does not render the policy illegitimate or unjustified," he said. The authority, he said, was duty-bound to provide a high standard of health care to residents, and resources were finite. If the demands on obstetric services were such that meeting them threatened the quality of care in other kinds of health services, it was logical to trim demands. Despite upholding the policy, however, he said Zeng's was not a case where it was appropriate for the authority to refuse to waive the fees. The authority addressed Zeng's case in a way that she and her family rightly perceived as "entirely impersonal and without regard to their circumstances". In her case, the authority could have used its discretionary powers to waive the fees, but in letters refusing to do so there was no evidence that it had acknowledged such powers, the judge said. Secretary for Food and Health Dr York Chow Yat-ngok said the court's ruling was correct. "We think that Hong Kong's medical system, especially obstetrics service, should mainly service local pregnant women," he said after attending the Hospital Authority's annual convention in Wan Chai. But Chow said he was also sympathetic towards mainland women with Hong Kong husbands, who might need a waiver of fees. Hospital Authority chairman Anthony Wu Ting-yuk said he respected the court's decision and would review the case.
Mainland's coking coal logistics company Winsway, partly owned by Hopu Investments, has appointed two banks for its up to US$800 million initial public share offering in Hong Kong, sources close to the deal said on Tuesday. Winsway had hired Goldman Sachs and Deutsche Bank to finalise plans for its IPO in the fourth quarter, the sources said. Hopu, an influential China fund founded by dealmaker Fang Fenglei, who helped Goldman set up its China investment banking joint venture, had bought a US$110 million slice of Winsway, sources told Reuters in April. The banks, Hopu and Winsway all declined to comment.

China*: Property prices in mainland posted the biggest year-on-year jump in nearly five years in April, official data showed on Tuesday, amid persistent fears about a growing bubble in the real estate sector. Prices in major cities rose 12.8 per cent on year in April, the National Bureau of Statistics said on its website, marking the biggest year-on-year rise for a single month since the survey was widened to 70 cities in July 2005. The statistics bureau had previously collected data on 35 major cities. The pace accelerated from the 11.7 per cent increase in residential and commercial property prices recorded in March and a 10.7 per cent rise in February. The figure came after a top housing official said last week that mainland's recent measures to rein in soaring property prices had been effective in stabilising the real estate market. "The trend of excessively fast rising residential property prices in some cities has been curbed, sparking a wide, positive response in society," Qi Ji, vice-minister of housing and urban-rural development, said in a online chat. Mainland authorities have issued a slew of measures in recent weeks as they seek to prevent the property market overheating and derailing the world's third largest economy. The authorities have tightened restrictions nationwide on advance sales of new property developments, introduced new curbs on loans for third home purchases and raised minimum down-payments for second homes.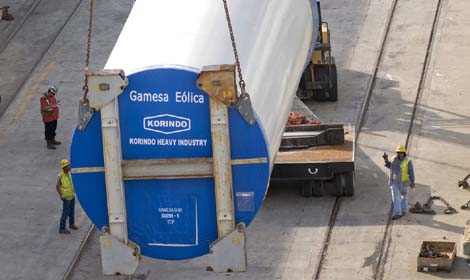 A Gamesa wind turbine tower section is unloaded from a ship at a port in Texas. The Spanish company plans to bring its advanced 5-megawatt wind turbine to China, said chairman & CEO Jorge Calvet. Gamesa charts China entry plans - Spanish wind turbine maker Gamesa is planning to enter China's offshore wind power sector by the end of next year, a top company official said on Monday. Gamesa is currently in talks with a German wind power company for a possible acquisition, and will enter China's offshore wind power market by the end of 2011 or the beginning of 2012 if the deal goes through, said Jorge Calvet, chairman & CEO. If the deal does not take shape, the company has an internal plan to enter the sector during the same period, said Calvet. Gamesa plans to bring its advanced 5-megawatt (mW) wind turbine to China, he said. Meanwhile the company on Monday started building a wind turbine plant at Baicheng city in Jilin province, in line with its plan to tap into the fast growing wind power market in China. The new plant is expected to come on stream in the middle of 2011. It will produce wind turbines with a capacity of 2 mW. The facility will have annual production capacity of 250 wind turbines in the first phase. Products will be sold to wind farms in Jilin province, the company said in a statement. "The new plant represents a great opportunity to keep serving our clients as a reliable partner in the province that the government has identified as the one with the highest wind power capacity in China," said Calvet. China plans to build seven wind power bases, which will have 74 percent of the country's wind power capacity by 2020. Wind power in Jilin is expected to account for 39 percent of the nation's wind power capacity by then, 30 percentage points more than now. Gamesa installed its first wind turbine in China in 2000, and has since sold over 2,000 turbines. The company employs around 1,000 people in the country. The company's fast expansion is due to China's rapid development of wind power. The wind power industry in China has been witnessing annual growth rates in excess of 100 percent in the past four years. China has chosen the sea off eastern Jiangsu province to build the country's first batch of offshore wind power projects, according to the National Energy Administration (NEA). Public bidding for the four projects will start later this month. Construction of offshore wind power projects will be the main focus of China's wind power industry in the future. As the country boasts rich offshore wind energy resources, China has great potential in this field, said Shi Lishan, deputy director of the new energy department under the NEA.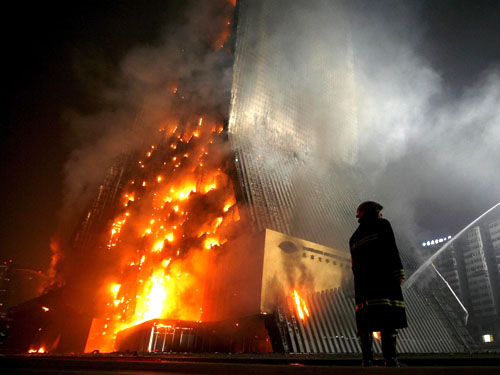 A Beijing court has jailed 20 defendants for the fire that engulfed parts of the new multitrillion-yuan China Central Television headquarters, killed one fireman and tarnished the reputation of the state-owned channel. The fire was sparked by an unlicensed fireworks display on February 9 last year, the last day of the Lunar New Year holiday, as determined by an official investigation. About 30 people were investigated initially, but only 21 were charged. Xu Wei, a CCTV department head in charge of the new headquarters, was sentenced to seven years in prison, the harshest punishment handed down yesterday. Others were sentenced to between three and six years; three were given suspended sentences. One was exempted from criminal punishment. The No 2 Intermediate Court found that Xu was the person who decided to have a fireworks display at the construction site of the new headquarters, commissioned the fireworks from Hunan , and agreed to the use of industrial-grade fireworks, knowing the construction site did not have a licence to do so. The trial was marked with controversy because families of some of the victims said the punishment was unfair while others said more people should have been punished - including higher-ranking CCTV officials or even Beijing officials. Apart from Xu, the defendants were six other CCTV officials, contractors, security officers at the site, and related business associates who helped in the procurement of the fireworks from Hunan, transported and stored them in Hebei , and prepared the display. There was also a shareholder and a technician from the Hunan fireworks manufacturer. When the trial was heard in March, the sister-in-law of Xue Jiwei , owner of a logistics business, said Xue could not have committed a crime simply because he organised transport of the fireworks. She told local media that if Xue was guilty, so should the "manufacturer of the lighter that lit the fireworks and manufacturer of the pickup truck". Xue was one of the 13 defendants sentenced to between three and six years, according to Xinhua's report. The fire killed one firefighter and injured eight - six firefighters and two construction workers. It charred over 80 per cent of the surface of the building on the north side of the iconic new CCTV headquarters, causing damage of 160 million yuan (HK$182.23 million). CCTV operations have still not been relocated to the new headquarters, originally known for its outlandish glass-structure design by Dutch architect Rem Koolhaas in the shape of a pair of enormous trousers. And the charred annex, part of which housed the new Mandarin Oriental Hotel, which was only weeks from opening, still stands rather embarrassingly as debates continue over what to do with it. The fire raised questions over abuse of power and a cover-up. The building on fire became material for mocking photos online. Internet users and some Beijingers said they were fed up with the arrogance of the state-owned broadcaster.
China Mobile said on Tuesday it has set up a unit in Taiwan, paving the way for its long-stalled purchase of a 12 per cent stake of Taiwanese mobile carrier Far EasTone.
Electronic components distributing giant Avnet said on Tuesday it would sell Huawei Technologies products, helping the mainland's top telecoms equipment maker expand its reach.
The Japanese government plans to relax the restrictions on income conditions for granting visas to individual Chinese tourists as of July 1 in a bid to attract more Chinese to Japan, Kyodo News reported Monday, citing government officials. Under the plan, Japan will lower the threshold of an annual income of 250,000 yuan for an individual Chinese tourist to 60,000 yuan, said the officials. And the government will make decisions to issue individual tourist visas by comprehensively judging applicants' income and employment status. According to statistics released by the Japan Tourism Agency, the number of Chinese tourist arrivals stood at 1.01 million in 2009, up by 0.6 percent year-on-year.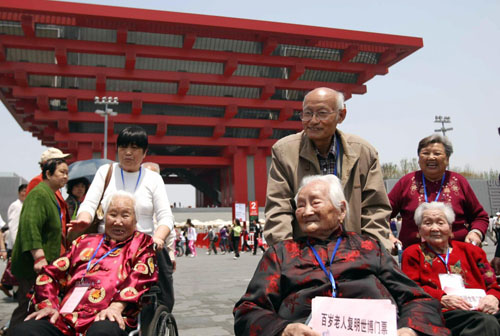 Three centenarians (on wheelchairs), whose cataract disease was cured with the support of the Life & Sunshine Pavilion, visit the China Pavilion on Monday. The Life & Sunshine Pavilion is the first pavilion dedicated to disabled people in the history of Expo.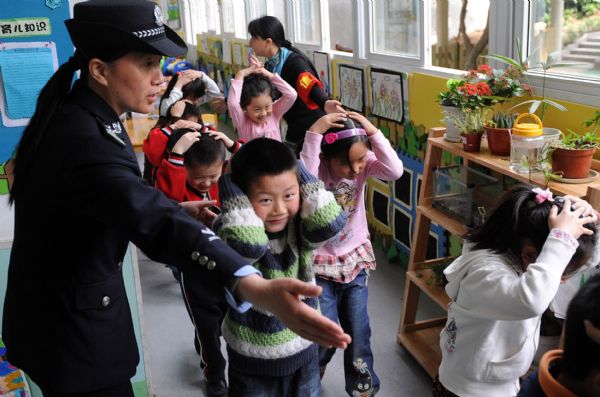 Children guided by a policewoman and a teacher escape from a building during a drill in Nanjing experimental kindergarten in Nanjing, capital of east China's Jiangsu Province, May 10, 2010. The drill was held Monday in Nanjing, aiming at teaching children to escape from buildings and to protect themselves when earthquakes happen.
May 12, 2010

Hong Kong*: After objections from conservationists and scientists, Ocean Park has decided not to use its charitable foundation to fund a Solomons Islands study that could lead to wild dolphins being imported into Hong Kong. It will directly fund the US$100,000 study - on whether the dolphin population in the Pacific country is sufficient to allow for exports - rather than through its Ocean Park Conservation Foundation (OPCF). The study, expected to begin before the end of the year, will take two to three years, and the park promised not to consider imports of wild dolphin pending results of the study. The decision followed fierce criticism from conservationists and scientists, including former OPCF co-director Dr Thomas Jefferson, who wrote to Ocean Park executive director Suzanne Gendron to object, describing the use of the foundation as "totally inappropriate and unethical".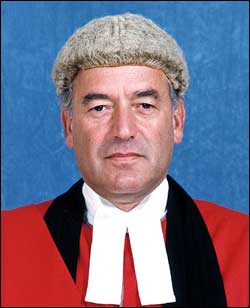 One of Hong Kong's top judges has expressed concern at a growing tendency for people to take what he describes as a "shotgun approach" to constitutional challenges. Vice President of the Court of Appeal Justice Frank Stock also warned they may misunderstand the nature of discrimination when mounting legal challenges. Justice Stock outlined his worries as he and two other judges rejected a legal challenge against the government's decision to charge mainlanders more than Hong Kong residents to give birth in public hospitals. In his judgment released yesterday, Justice Stock said: "There is in constitutional challenges a developing tendency to adopt a shotgun approach, by which every provision in the Basic Law, the [International Covenant on Civil and Political Rights], and the Bill of Rights that might remotely be said to touch upon the subject matter at hand, is thrown into the pot by the pleader even though only one or two clearly identifiable foundations for the argument readily present themselves." He warned that this is an "addictive tendency which makes life more difficult for the Court and which ought to be resisted." The judge went on to say that differences in the way people are treated do not necessarily constitute discrimination. "If the differentiation in treatment is attached to circumstances or situations which are not comparable, the issue does not arise, for discrimination entails a failure to treat like cases alike. "Even if the circumstances are comparable, the differential treatment will not constitute discrimination, as contemplated by the ICCPR and therefore by the Basic law, if the difference in treatment is justified, the burden of showing which is on the government." Law Society Council vice president Junius Ho Kwan-yiu said Hong Kong should follow the United States and set up a constitutional court.
China CITIC Bank said it will sell 16.5 billion yuan (HK$18.79 billion) worth of subordinated bonds soon to meet the regulator's requirement for a higher capital adequacy ratio.

Cathay Pacific Airways (0293) expects a strong interim result because of improved cargo and premium passenger revenues. But it warned a significant increase in fuel costs or any deterioration of the economy would drag it down.

China*: President Hu Jintao held talks with Russian Prime Minister Vladimir Putin and President Dmitry Medvedev during a short trip to Moscow to mark World War Two Victory Day, officials said on Sunday. Putin held several hours of talks with Hu, including private one-on-one negotiations and dinner at his country retreat on Saturday evening, spokesman Dmitry Peskov said. Peskov declined to give details of the discussion except to say that they were substantive. Putin's right-hand man Igor Sechin, who is responsible for energy affairs and often deals with arms sales, was present for part of the talks. Ahead of the trip, the China's Foreign Ministry said Iran would be on the agenda during the Moscow talks. China, Russia and Brazil, each members of the UN Security Council, have acted as a counterweight to Britain, France and the United States who are pushing for new tough sanctions against Iran over its nuclear program. Brazilian President Luiz Inacio Lula da Silva is due to visit Moscow later this week and is also going to Iran. Medvedev, flanked by Foreign Minister Sergei Lavrov and the head of Russia's Security Council Nikolai Patrushev held bilateral talks with Hu on Sunday after a Red Square parade to mark the 65th anniversary of the Allies in World War Two. Hu spoke out against rewriting the history of the Soviet Union's role in World War II, while attending the Moscow celebrations. "Some forces are trying to rewrite or erase the outstanding role of the Soviet people in the victory in World War II," said Hu while meeting Russian President Dmitry Medvedev, Russian news agencies reported. "When it comes to judging the history of World War II, China has an identical position to Russia," Hu said, calling for Moscow and Beijing to "decisively defend the veracity and seriousness of historical truth". Both Medvedev and Prime Minister Vladimir Putin have publicly warned against what they call the falsification of history and criticised other countries for downplaying the Soviet Union's role in winning World War II. Russia has also become more open about its past, recently giving public access to documents about the Katyn massacre in 1940, when Soviet secret police killed thousands of Polish officers. China fought Japan from 1937 until the end of World War II in 1945. After a civil war, the People's Republic of China was established in 1949.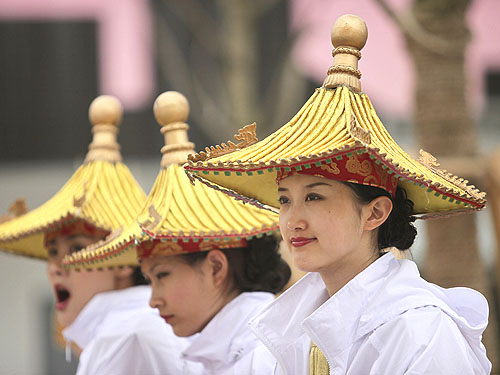 Low visitor numbers dent high hopes at Shanghai Expo - But organisers of the six-month event, launched with great fanfare including a star-studded party and a mammoth fireworks show along the Huangpu river, are worried they will fail to draw the 70 million visitors they have predicted. "If the situation continues, we will take measures to increase the flow of visitors," an Expo official who did not want to be named was quoted as saying by the Global Times newspaper. The Expo, a display of culture, ideas and technology from 189 countries and dozens of companies, is seen as a showcase of China's growing political and economic clout. Organisers have repeatedly given the magic attendance number of 70 million as the hallmark of success, but so far, turnout has fallen far short of the daily average of 380,000 needed to meet that goal. Even though all 500,000 opening day tickets were sold out, only 207,000 people came. Organisers who keenly offered hourly attendance updates at the outset are now only giving daily figures. Shanghai – keen to show the world it is a cosmopolitan city on a par with London and New York – nevertheless hopes it can set an Expo attendance record, topping the 64 million people who visited Osaka in 1970. Portia Luo, a 29-year-old secretary watching Mongolian musicians and Canadian aboriginal dancers perform at the site, said reports of big crowds and long waits in the hot sun had "definitely... scared some people" away. Across the river only a handful of visitors wandered through the city exhibits by London, Madrid, Hamburg and others highlighting how they are embracing the Expo's theme, 'Better City, Better Life'. More than 33 million tickets have been sold and the Shanghai government plans to give a free ticket to each household in the city, boosting potential attendance so far to 40 million, organisers say. They have urged ticket holders not to wait until Expo's final weeks to show up, but 54-year-old retiree Jiang Lijun said she did not want to tackle the heat and would likely wait until at least September to visit with her family. "We saw too many media reports saying that there are very long queues at the Expo park," Jiang said outside a downtown shopping mall. Tough security also may have dampened tourists' enthusiasm. Authorities have insisted on rigorous searches in rail and subway stations, car inspections and major road traffic restrictions around the site. For those braving the first week of Expo, the lower-than-expected turnout meant lines were flowing smoothly at the site's hotspots by the end of the week. After the China pavilion, the most popular venues on the opening weekend were the Swiss, French, German, Spanish, British, Italian, Japanese and South Korean pavilions, organisers said. The US pavilion is also drawing crowds. Countries are seeking to improve the visitor experience, looking to benefit from positive word-of-mouth. At Colombia's pavilion, Mandarin voiceovers for films and narrated tours of exhibits about the country's beaches and coffee had been added in recent days. "This is all about entertaining people," said pavilion director Juan Pablo Cavelier.
The death toll from fierce storms and torrential rains battering southern China has risen to at least 70 people with tens of thousands homeless, state media reported on Sunday.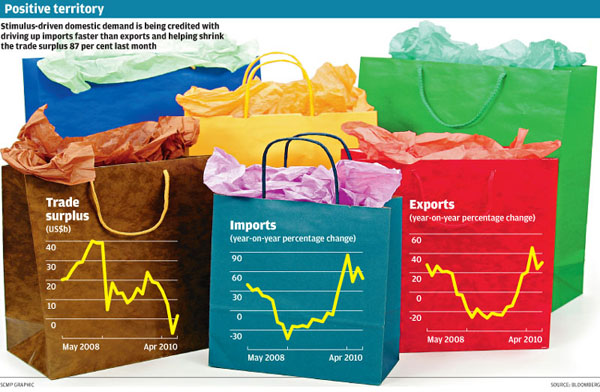 China swung to a trade surplus in April after a rarely seen deficit in March, but exports only narrowly topped imports, providing little comfort for policymakers fearful of another round of global financial woes triggered by the European sovereign debt crisis. The country recorded a trade surplus of US$1.68 billion in the month, defying expectations of a second straight deficit after March's US$7.2 billion shortfall. But the April surplus was a decline of 89 per cent from the surplus recorded a year earlier. Exports rose an annual 30.5 per cent in April, while imports jumped 49.7 per cent from a year earlier, according to data from the General Administration of Customs. Tom Orlik, China analyst with Stone & McCarthy Research Associates, said the data suggested March's deficit was an aberration, rather than signalling a structural shift in China's trade account. Mingchun Sun, chief economist with Nomura International, said imports in April fell to a more reasonable level after a particularly strong sprint in March. He forecast imports will grow by 26 per cent year-on-year in 2010 because of higher crude oil price expectations, while exports will continue to recover, resulting in annual growth of 11 per cent. "Since we expect imports to grow much stronger than exports this year, we also expect China's trade surplus to narrow to US$70 billion in 2010 from US$196 billion in 2009," Sun said. Despite the recovery in the trade account, analysts are divided over whether Beijing will allow the yuan to appreciate amid growing concern over the European debt crisis. Beijing re-pegged the yuan against the US dollar in mid-2008 - after a 21 per cent appreciation in the previous two years - in an effort to cushion China's slump in exports amid the global financial woes. Minister of Commerce Chen Deming and other top officials seized on the March trade deficit to argue against the need to revalue the country's currency. But most economists said at the time that it was a short-term event since it partly reflected rising commodity and raw material prices in international markets that would eventually be passed on to finished goods for export. Orlik said a vanishing trade surplus combined with the emergence of a sovereign debt crisis in Europe may have changed the calculation on the yuan exchange rate as the latest crisis created uncertainty in the outlook for trade. "The April data will do little to strengthen the argument from China's trade partners that appreciation is a necessary part of the search for balance in the global economy," Orlik said. But analyst Wang Hu said the rising trade surplus will add pressure to allow the yuan to appreciate. "We expect the yuan to resume its appreciation in the second quarter as a result of the rising trade surplus," Wang said. Gao Shanwen, chief economist with Essence Securities, said the Greek crisis signalled that the international outlook remained uncertain, which will affect China's export performance in coming months. "The impact of the Greek debt crisis will be reflected in China's trade performance in the second half of this year," Gao said. Orlik said the crisis had taken heat out of the yuan debate. "For the Europeans, a silver lining to the Greek cloud has been a fall in the value of the euro against the yuan - strengthening the competitiveness of European exporters," Orlik said.
May 11, 2010

Hong Kong*: Disabled people have trouble getting around Hong Kong, and the new head of the anti-discrimination watchdog blames the government for not setting a good example and taking the lead.
Legislative Council president Tsang Yok-sing said his remarks at a closed-door meeting with 10 pan-democrats had been "quoted out of context".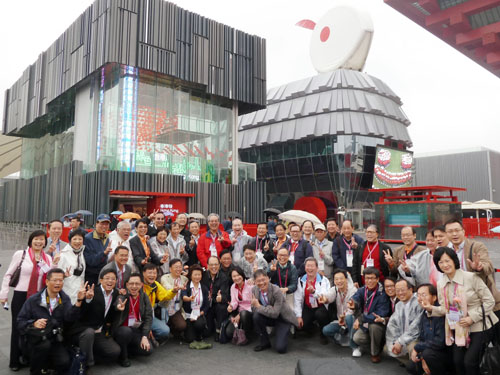 Hong Kong's pavilion at the World Expo in Shanghai has drawn a mixed response from visiting legislators, with some questioning whether the HK$145 million funding is value for money. While a number of government-friendly lawmakers gave their thumbs-up at the site yesterday, others questioned if the technology on display - available years ago - really showcased the city's characteristics. A 42-member delegation from the Legislative Council visited the mainland and Hong Kong pavilions, as well as Japan, Saudi Arabia and African pavilions, as part of a three-day visit to Shanghai. The three-storey Hong Kong pavilion features a 3-D video showing the city's landmarks, interactive electronic games introducing the city's environment and economic development, and a miniature of the Hong Kong Wetland Park. "It is very characteristic of Hong Kong. The 3-D video is wonderful," said Lau Kong-wah, vice-chairman of the Democratic Alliance for the Betterment and Progress of Hong Kong. "I think the money the Finance Committee approved for the project is worth it." Federation of Trade Unions' vice-president Wong Kwok-kin was more critical. "The pavilion can perhaps help promote Hong Kong, but what of Hong Kong is it promoting? I don't see anything representative of Hong Kong here." Democrat Cheung Man-kwong, who does not have a home return permit and whose previous visit to Shanghai was in the 1970s, said the pavilion focused too much on games and failed to show Hong Kong's culture and values. "Situated next to the China pavilion, it would be more meaningful if the Hong Kong pavilion could present Hong Kong's high regard for freedom, democracy and the rule of law." Information technology sector representative Samson Tam Wai-ho said he was afraid the exhibits would give foreign visitors the impression that Hong Kong's technology lagged behind other places. The government said the pavilion was presenting the city's best technology. "Legislators had a very rushed visit and didn't have sufficient time to observe our efforts," said Permanent Secretary for Constitutional and Mainland Affairs Joshua Law Chi-kong. "In fact the pavilion's transparent design represents the transparent and open society of Hong Kong. The message conveyed is very good."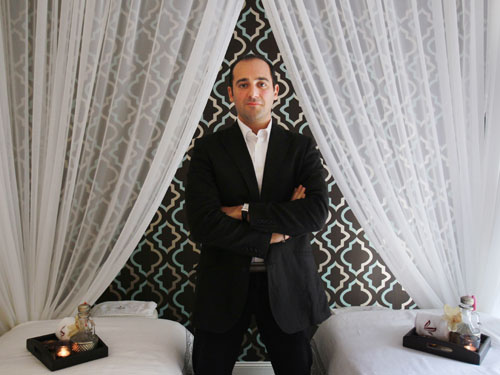 Neil Orvay at the Sense of Touch spa in Repulse Bay, one of five he owns in Hong Kong. His ambition in the next few years is to take the chain across the mainland.
A tough examination that all overseas-trained nurses must pass in order to practise their profession in the city is behind the serious nurse shortage, a Filipino medical worker says.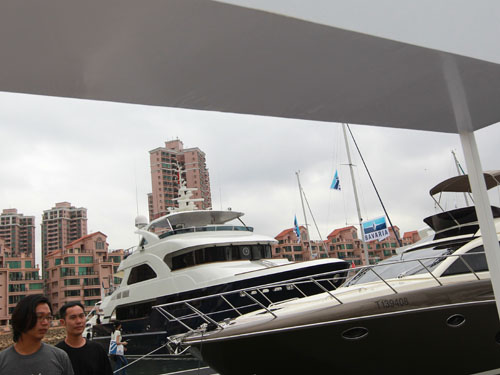 The Jade 95 Explorer 9 (left), priced at HK$77 million, featured at the Gold Coast Boat Show. The almost 30-metre monster motor yacht, worth HK$77 million, opened its enormous decks to the public in the annual Hong Kong Gold Coast Boat Show this weekend at the Gold Coast Yacht and Country Club. It is the biggest and most expensive yacht among about 70 on show at the event. A bar lounge is a must on any luxury yacht, and this one has two. There is a giant sofa for sunbathing on the top deck which converts into a golf practice pitch from which one can hit balls into the sea. And if the three guest rooms and a master bedroom are not impressive enough, a look into washrooms reveals more luxury: heaters installed underneath marble floors, so no one gets cold feet. Jade Yachts vice-president Memphis Han Tsung-lin said the boat could serve as a family hotel during a trip around the Caribbean. Made with steel and aluminium, the yacht was well-fitted for long-distance trips, he said. One tank of fuel was enough to power the boat from Hong Kong to Guam. The yacht, with a top speed of 12.5 knots, may be slower than others, with a trip to Taiwan expected to take about 44 hours. But many owners chose to fly to pick-up points after crews had sailed their boats there, he explained. Jade Yachts began production in 2004 and its yachts were 15 to 20 per cent cheaper than European ones, he said. But if you're a dedicated James Bond fan, you can view yachts produced by Sunseeker, the manufacturer which built Superhawk. The boats are pretty easy to spot: they are the ones berthed beside an Aston Martin, Bond's vehicle of choice. The Predator craft can move along at more than 40 knots, making it the speediest boat in the Gold Coast show. It is bigger than the Superhawk and can go as fast as turbojets heading to Macau, Sunseeker Asia managing director Gordon Hui Yip-wang said. "A Predator is like a sports car," he said. People usually choose them for personal enjoyment instead of business purposes." The 25.6 metre Predator at the show comes with a HK$47 million price tag. Another James - the Liberal Party's former chairman James Tien Pei-chun owns a 35 metre one which cost him about HK$90 million. Still, you don't have to spend squillions to buy a yacht. The cheapest one at the show is an open-top sailing yacht - without a toilet - priced at a mere HK$200,000. A 16.75 metre yacht is a step up, at HK$4 million, plus about HK$400,000 annually for crew, fuel and miscellaneous costs, Gold Coast Yacht and Country Club general manager Albert Wu I-ming said.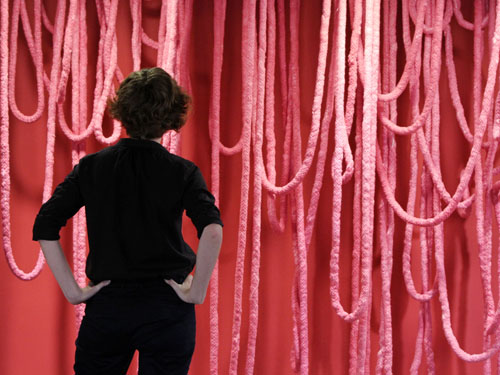 A prospective student eyes design work on display at the Hong Kong branch of the Savannah College of Art and Design. An American art and design university that has been awarded a heritage building in Kowloon to use as its first branch in Asia has attracted local and overseas applicants for its inaugural academic year this autumn despite its high tuition fees. More than 100 people attended two information sessions held yesterday by the Hong Kong branch of the Savannah College of Art and Design (SCAD), which will begin its first academic year in September at the historic North Kowloon Magistracy. Some put in applications on the spot. The college said the two sessions had attracted a good mix of students from local and international schools, as well as a few from Singapore and the Philippines. Singaporeans David Low, a 27-year-old animator, and his illustrator friend Shawn Ye, also 27, attended yesterday's morning session during a 10-day holiday in Hong Kong, and had their portfolios with them. The two friends said they had been working in the creative field for two years but did not have degrees. Low said he had been hearing about the college for a long time and decided to apply for a four-year animation degree course after learning that SCAD would be opening a branch in Hong Kong. Ye, on the other hand, wants to study illustration. "There are only a limited number of arts schools that award proper degrees in Singapore," said Low. Studying in a city close to home would be cheaper and convenient, he said. The tuition fees are US$29,000 per year. Both Low and Ye said that studying at SCAD for four years would be very expensive but they wanted to give it a try. They hope to apply for scholarships from the school and are considering seeking financial aid from their country's Media Development Authority, which offers funding for students studying art and design overseas. "It'd be impossible without scholarships, unless you are very rich," said Low. The college says half its students receive scholarships and more than 90 per cent receive financial aid. Ginger Hansen, recruitment director for SCAD Hong Kong, said it would have up to 300 students in the first academic year. She did not disclose the number of applicants but she said the response had been strong and there had been applications from more than 30 countries. Hansen said that of the eight disciplines available at the Hong Kong campus, graphic design was the most popular with applicants.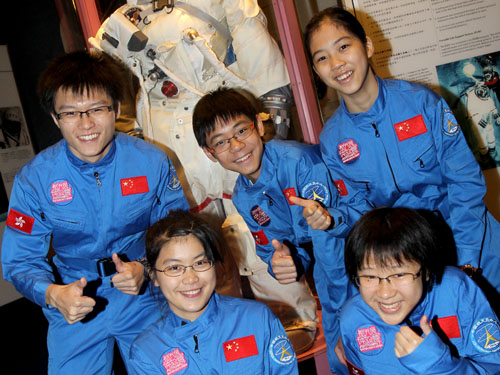 Clockwise from bottom right: Kizmet Wong Sum-yee, Cherie Cheng Siu-mui, Brady Chan Tin-hang, James Kung Chun-hin and Jessica Kung Sze-nga at the Young Astronaut Training Camp last year. When Jessica Kung Sze-nga was little, she loved nothing more than looking up at the dark night sky with thousands of glittering stars. The mysterious universe fascinated her and she dreamed about exploring the stars when she grew up. Jessica, now 14, and her younger brother James Kung Chun-hin, 13, are still striving to explore the universe by either becoming astronauts or contributing to the field of astronomy in the future. "When asked about my ambitions, I always said I wanted to be an astronaut," Jessica said. Jessica and James are two of 30 students who joined Young Astronaut Training Camp in Beijing and Xichang last year. The camp this year will be organised jointly by the Leisure and Cultural Services Department, the Chinese General Chamber of Commerce, the China Astronaut Research and Training Centre, and the Xichang Satellite Launch Centre. It will last for seven days. Chan Ki-hung, curator of the Space Museum, said the programme was valuable for students. "We aim to provide an opportunity for secondary school students to appreciate China's remarkable achievements in space technology, to motivate and educate them in astronomy and space science and undergo Chinese astronaut training," he said. The students will visit major space facilities in China including the China Academy of Space Technology, Beijing Aerospace Command and Control Centre, the National Astronomical Observatories and Xichang Satellite Launch Centre. The training camp runs from late July to early August in Beijing. Candidates should be full-time secondary school students aged 12 or above and be nominated by their school. Candidates should be 1.4 to 1.75 metres in height and in good health, independent, extrovert, confident and interested in space science. Three rounds of selection including a quiz, fitness test, communication skills and overall performance assessment. All local secondary schools can now nominate students to join until May 31.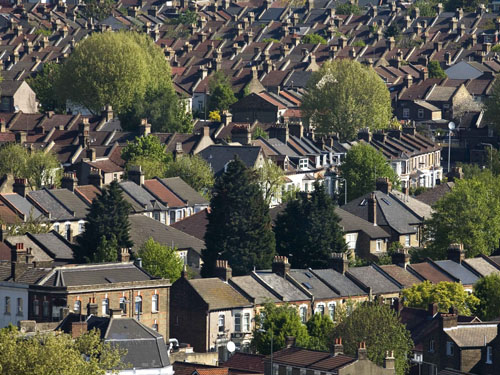 Hong Kong residents have long favoured property in Britain, particularly central London property, as an investment. Most weeks newspapers carry details of yet another new London development "pre-launching" in a nice hotel room in Hong Kong. It seems selling to Hong Kong investors is a tried and tested method for financing new developments in London and there appears to be an endless appetite for such investments. Such purchases can seem all the more attractive partly due to the weakness of sterling and partly due to the prices, which fell in the credit crunch and have yet to surpass their historical peaks. As with any other investment, failure to consider the tax implications and plan correctly can be costly.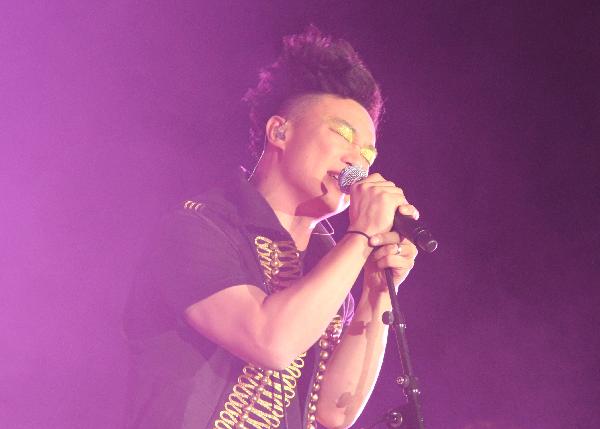 Singer Eason Chan of Hong Kong of China performs during his concert in Rotterdam of the Netherlands, May 8, 2010. The concert was the last of his 2010 Europe Tour.

China*: It has been billed as the biggest and most expensive fair in history, but four days after opening, the World Expo in Shanghai has fallen way short of attendance expectations. Yesterday - a public holiday in the city and the first day when holders of ordinary tickets were allowed access since the expo opened on Saturday - visitor numbers barely scraped past one-third of the projected daily average by lunch time. Fewer than 10,000 more visited after 5pm when tickets for the evening session went on sale for the first time, bringing the day's total to 146,000. Organisers are aiming for at least 380,000 visitors a day to reach their goal of 70 million over the fair's six-month run. Yesterday's disappointing numbers followed similarly lacklustre attendance during the first three days - for which special premium-rate tickets were sold. Shanghai has spent 18 billion yuan (HK$20.47 billion) building the 5.28 sq km site and set aside an operational budget of 10.6 billion yuan for the fair. It has spent hundreds of billions more on infrastructure in the eight-year build-up to the event.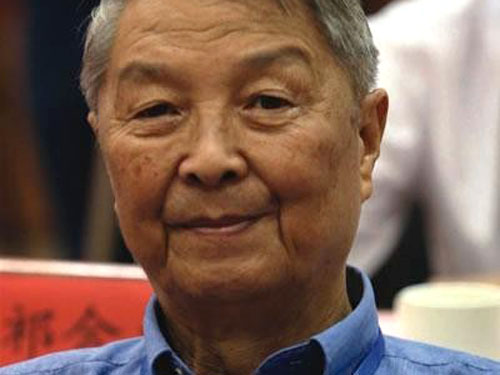 Zhu Houze, a former Communist Party propaganda chief known for his liberal views, died aged 79 yesterday of lung cancer at Beijing Hospital. Zhu Hua said his father (pictured) died at 12.16am. There would be no farewell or memorial ceremony for him. "The funeral will be held among relatives, and his ashes will be brought back to our hometown," he said. Born in 1931 in Zhijin county, Guizhou , Zhu was widely respected for his cultural policies and support for transparent politics during his work as head of the party's Central Propaganda Department between 1985 and 1987. Zhu advocated a liberal environment and a tolerant attitude of the media and intellectual circles.
Foreign expo pavilions face wrecker's ball - The bureau spokesman said it was customary to demolish all temporary pavilions and there had been no change of policy. All foreign pavilions were temporary, he said. Expo Bureau vice-director Zhu Yonglei said he had read the reports but that there would be no voting and the bureau had never thought of keeping any of the foreign pavilions, the Guangzhou Daily said. But mainland websites are inviting users to vote for their favourite pavilions. And an official at the Luxembourg pavilion said she and her colleagues were very surprised to see reports that the expo bureau had denied the possibility of foreign pavilions remaining long-term. "Two years ago when we submitted our pavilion design, they told us there was a kind of experts' committee to judge which foreign pavilions can stay forever. A year ago, the expo bureau sent us a note asking us whether we would like to join the competition to stay in China ... There was no other update from the bureau, so we thought this competition was in progress," said the official, who insisted on anonymity because of the sensitivity of the matter. "I don't think we're the only pavilion that was told of this competition. Over the past two years, I attended many expo meetings with staff from other countries' pavilions. The expo officials mentioned the competition several times," she said. The expert committee would judge mainly on architecture but would also consider cultural and other elements. The understanding that a competition does exist was echoed by the general commissioner of Spain's pavilion, who also said that no matter what the competition standard was, their pavilion was eligible to be selected to stay in China, the New Express reported. Sun Yuanxin , professor at the Shanghai University of Finance and Economics' Institute for World Expo Economy, said foreign governments wanted their pavilions to stay to boost relations with China. Hong said a few foreign pavilions with outstanding design, environmental-protection or energy-saving features would remain but be moved outside Shanghai, according to a selection procedure, the Guangzhou Daily reported. Other countries are keen to see their pavilions stay, and some are already deciding where to move them to. Some cities had shown strong interest in having the French pavilion, said its director, Franck Serrano. "Our president, Nicolas Sarkozy, expressed the wish that the French pavilion be left in China forever when he met President Hu Jintao in 2007," Serrano said. "Mainland cities are fiercely competing to bring the best ones to their cities as a way to help them stand out." He said the French pavilion commission would determine to which city it would remove the pavilion based on what it would be used for. On the other hand, some foreignpavilions are not interested in permanent presence in China. The Japan pavilion will be pulled down and shipped back to Japan, the pavilion's spokeswoman said. Still, there may be nothing to worry about. Crystal Palace in London was supposed to be a temporary building for the 1851 Great Exhibition - the show that led to the World Expo movement - yet it survived until it burned down 1936. The Eiffel Tower, another supposedly temporary structure built for the World Expo in Paris in 1889 is still standing.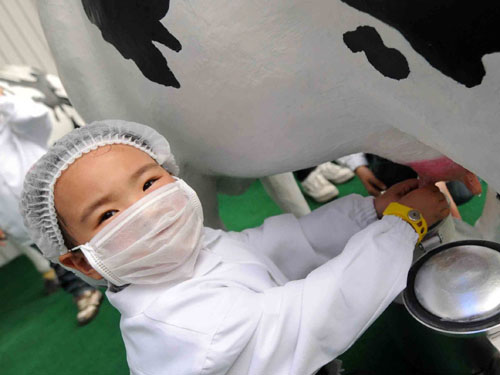 World expos have traditionally offered glimpses of the future - Thomas Edison's light bulb made its premiere in Paris in 1878, for example - and the one in Shanghai is doing the same. The zero-carbon pavilion, billed as the first public building in China that causes no pollution, is a hot ticket at the expo as the world debates ways to cut carbon intensity. But visitors impressed by the dazzling innovations in China's efforts to make industry more environmentally friendly should not get too excited. The technologies on display are fresh out of the laboratory and may take years - if not decades - to be practicable. The zero-carbon pavilion is one example. The 2,500-square-metre structure is not only energy efficient, but also generates power. It is equipped with heat-retaining glass, solar panels and wind-resistant chimney caps, and can reprocess, recycle and reuse things people usually dump. However, such a building won't be a reality for at least five years, Chen Shuo, the general co-ordinator of the pavilion, said. And unless it is built at a certain scale, the cost of construction will be forbidding, he said. "Most importantly, [the display] is to instil in people's minds the benefits of living in a zero-carbon structure," he told the Science and Technology Daily. Beijing has pledged to cut its carbon intensity by up to 45 per cent by 2020 from 2005 levels, announcing its first-ever such targets in the run-up to the global climate conference in Copenhagen in December. But meeting the target would be an uphill task, given that the mainland relies on coal-burning for 70 per cent of its power - compared with the worldwide average of 30 per cent. Bin Hui, the research department chief at the Shanghai Environment and Energy Exchange, told the Sunday Morning Post (SEHK: 0583) that the expo is of "propaganda value" to enhance local companies' awareness of cutting carbon emissions. The exchange has set up a platform on which carbon reduction credits could be "sold or donated" to the expo pavilions. "The trading is symbolic, but an increasing number of people and companies will be interested to find out what carbon credit is, and then help develop the platform further in the future," Bin said. World expos have always been recognized as a kind of "technological Olympics" where the latest scientific innovations can be exhibited. Organisers of the Shanghai fair are hoping not only to catch the eyes of its targeted 70 million visitors, but also provide a platform so that the city can reach out to the worlds of science and business. Mayor Han Zheng said the expo would draw interest from a world seeking new growth engines as it tries to recover from a financial downturn. One thing the mainland has done to take a step ahead of the United States is the commercialising of the "smart grid" - the introduction of 21st century technology into the 20th century power supply system, which enables people to use energy more efficiently. A smart grid exhibition is making its debut in the state grid pavilion. In October, US President Barack Obama announced a US$3.4 billion plan to fund a power transmission system, which included the smart grid. Green technology does not just come from state laboratories. For Xinri E-Vehicle, the world's largest maker of electric bicycles, the move to promote its clean-tech products at the expo ticks all the right boxes. Gavin Hu, its deputy general manager, is confident that a sponsorship deal with the Shanghai expo is worth the money the company shelled out. "It is important to be part of the grand event ... it's part of our branding strategy," Hu said. "Millions of visitors will get to know the brand and products. I am sure they will be deeply impressed by the electric vehicles." Electric bicycles and vehicles have gained ground on the mainland in the past years as people seek greener transport alternatives. By the end of 2008, more than 21 million electric bicycles had been sold in China by more than 1,000 manufacturers, according to the China Bicycle Association. Xinri projected a sales growth of at least 10 per cent this year because of its World Expo campaign. "Masses of people have little knowledge about sophisticated technologies, or they just don't bother to learn. They baulk at the awkward jargon," he said. "It's good to show them how they can use these technologies in daily life."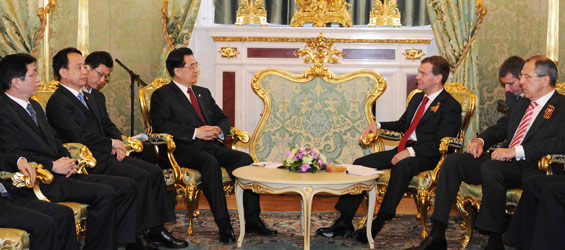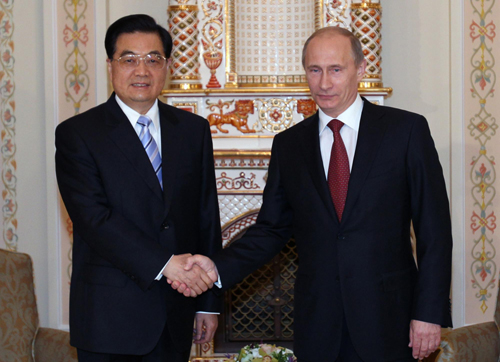 Chinese, Russian presidents meet on bilateral cooperation.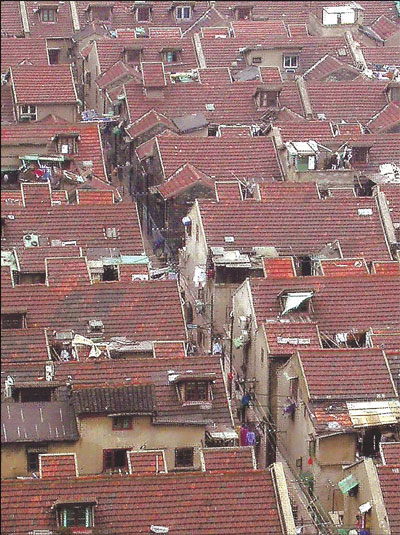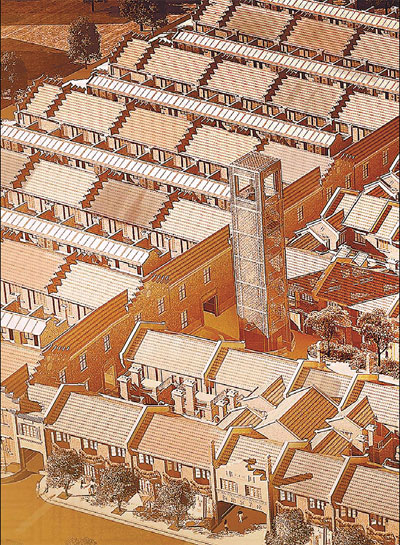 US architect John Portman, 86, has committed 40 years to reviving large downtown areas with luxury hotels and commercial towers, including New York's Times Square and Atlanta's Peachtree Center, but his most recent project is much more intimate and small scale. It is to restore a historic residential area of 51 houses in Shanghai. The real estate project, called Jianyeli, is located in the former French Concession in downtown Shanghai's Xuhui district. The houses in the area are unique for their Shikumen style architecture. Shikumen, which literally means "stone door frame" was developed in the early 1900s to meet the housing demands of booming old Shanghai. The houses are urban Western adaptations of traditional Chinese courtyard houses and were once described as "Chinese houses with a Parisian sensibility". Begun in 2008, the Jianyeli project is scheduled to be completed by the end of this year. "We will make it a residential community, not a tourist attraction," Portman says. "We want to be as true to the existing architecture as possible." Restoring a small world - "But only inside, we have to recognize that this is the 21st century, and we're doing the inside in such a way that anybody living there will have everything they need," he adds. Jianyeli's east side, which was in worse condition than the west side, is being dismantled brick by brick. The area will be built into a luxury residential community with 51 Shikumen-style villas, 62 apartments and more than 4,000 square meters of retail space. A seven-story-high tower designed by Portman will be erected at the center of the area, replacing a water tower. This will be a landmark and "reflect the new beginning of Jianyeli," according to Richard Jones, executive vice-president of Portman Holdings. People will be able to climb up a stairway inside the tower and see the entire neighborhood. "It's been a very challenging project. It's very difficult to rehabilitate something than to build something new," Portman says, "but we're very excited about it. It brings us back from these huge projects to the human level again." A successful architect and developer, Portman started his own business in 1953 after serving in the Navy during World War II. In 1960, while his company was working on the Atlanta Merchandise Mart, Portman had a chance to visit Brasilia. He had hoped to learn from its much-acclaimed urban planning, but was disappointed by the city's lack of attention to human needs. He then went to Scandinavia and other places to learn "how things were put together." "We spend a lot of time on structure and latest material and latest technology. But we don't spend enough time on the impact of the environmental circumstances we create on people," Portman says. "I also became interested in a bigger context - not just a single isolated building, but the impact that building can have as a catalytic element to provide other things that will grow from it," he adds. The mart in Atlanta, which was later named AmericasMart, became the start of the Peachtree Center, the downtown area of Atlanta. Peachtree continues to evolve according to Portman's design into a place with interconnected office towers, restaurants, hotels and retail shops. It set the example for many of the mixed-use projects inside and outside the United States. The Peachtree Center was so successful that when former Chinese Premier Deng Xiaoping visited Atlanta in 1979, he invited Portman to visit China later that year with Atlanta's official delegation. That eventually led to Portman's first project in China, the Shanghai Center. "When I first visited China, there was no color. The national flag was the only color," Portman recalls. "And Shanghai was not cheerful about people coming from the outside." However, Portman says, China was opening its doors and the Western world was coming in.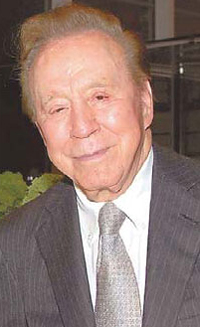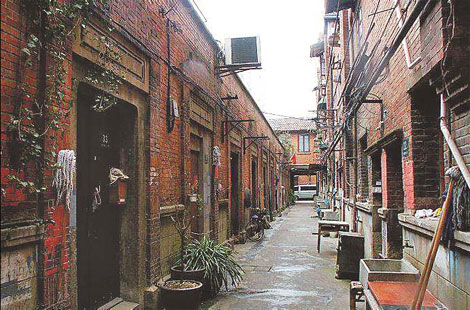 "How can we accelerate that and create a situation that is a great benefit to both China and the West?" Portman recalls, thinking. The architect came up with a concept of a major hotel with apartment towers, some office space and retail stores. "If a man from Germany, the US or Canada came in and set up an office there, we wanted to provide everything he needed. We wanted to create a home away from home," Portman says. Thus Portman created the Shanghai Center, the first mixed-use project in China, which is now "a model of how you put things together instead of building an isolated tower, " he says. Since then, Portman Holdings and John Portman & Associates (JPA) have taken over many "high-rise" projects in Beijing and Shanghai, including Beijing Yintai Center and Shanghai Tomorrow Square. In 1993, they set up an office in Shanghai to further tap the Chinese market. Grace Tan, president of JPA, says that half of the company's projects are in China these days. "Most of our projects focus on Shanghai and Beijing, but we are also excited to see that in recent years, we've begun to be approached by clients from Wenzhou, Qingdao, Xi'an and Changsha. We can see that we're going away from main cities," Tan says. Not only that, Portman's business is gaining more penetration into other Asian countries. In Seoul, South Korea, a gigantic real estate project that covers 1,500 acres is now under construction. The main building, the 2,000-foot Incheon Tower, is designed by Portman and functions as a landmark at the entrance to the city proper of Seoul from the airport. Again, Jianyeli provides a big contrast to all these projects. "The significance (of the Jianyeli project) is for us to be part of something that's very significant for Shanghai, to be part of preserving this cornerstone of Shanghai's heritage," Jones of Portman Holdings says. "It also gives us the ability to show our clients that we can not only build high buildings." In Portman's own words, Jianyeli is a "reminder, a wonderful opportunity to bring back the essence of that time and era."
May 10, 2010

Hong Kong*: HSBC signalled yesterday it might finally be digging out of its ill-advised foray into American subprime lending, saying its US business made its first quarterly profit in almost three years.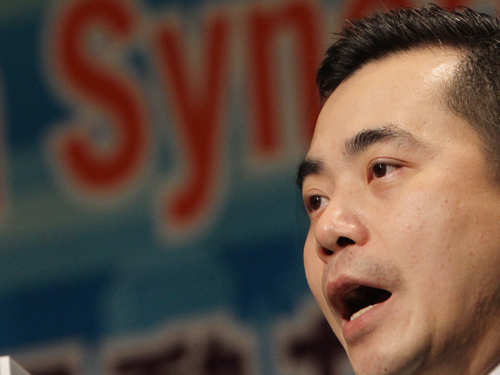 The secretary for justice said yesterday he felt there was no reason to depart from the stance that functional constituencies were merely "transitional arrangements" on the way to universal suffrage, in what appeared to be the administration's first public affirmation of this principle. At a constitutional reform forum attended by academics, lawmakers, officials, and the business community, Democratic Party chairman Albert Ho Chun-yan asked Wong Yan-lung whether the government had withdrawn from its stance that functional constituencies were transitional, as previously expressed. Ho cited a government report made in 1999 to the United Nations, under the Covenant on Civil and Political Rights in Hong Kong, in which the government - dismissing international criticism that functional constituencies discriminated against voters - stated these seats "are transitional" because the ultimate aim "is the election of all members of the Legislative Council by universal suffrage". Wong replied: "I see no reason to withdraw from what was already written there. But I don't feel that is indicative of a conflict with ... the current government stance." Wong said the government had always maintained there was still time to debate the nature and future of functional constituencies in the context of functional constituencies. After the forum, Ho said he believed Wong had effectively reaffirmed the principle that functional constituencies were merely transitional. "The only logical inference, is that if they are only transitional then they must be abolished when we implement universal suffrage," Ho said. Last month Ho posed the same question to the secretary for constitutional and mainland affairs, Stephen Lam Sui-lung, who managed to avoid denying or confirming the government still maintained that position. Pan-democrats and many in the legal community maintain that the Basic Law only envisioned functional constituencies to be merely transitional arrangements to prepare for direct elections of all lawmakers under universal suffrage. However, this government has since been non-committal about the future of trade-based seats, while the business community does not believe they have to be abolished. Wong stressed again yesterday that the government was committed to the electoral model complying with principles of universal and equal suffrage - but that it was only authorised to propose reforms for the 2012 elections, which will not be conducted by universal suffrage. Any elaboration of the definition of "universal and equal" would affect the reform discussions conducted by the next administration, he said. Civic Party lawmaker Ronny Tong Ka-wah, who was at the forum, said he also believed this was the first public affirmation of this stance. "I suspect that this government does believe that functional constituencies are merely transitional. But they don't dare say they must be abolished. Why is it they don't dare say this publicly? Is it because that would not be in line with Beijing's view? This is what is most worrying," Tong said. Both Tong and Ho are part of the Alliance for Universal Suffrage, which has indicated it will vote down a reform proposal unless it is given clear assurances functional constituencies will be abolished. In his speech, Wong urged pan-democrats to support the proposal. "The 2012 political reform may not be what everyone considers to be a large step ... but whether in your eyes this is a large or small step, it is nevertheless a step in the right direction towards universal suffrage." He said accepting the package would not create barriers against abolishing functional constituencies. "On the contrary, because the next administration would then have a greater consensus, with greater democratic elements, they will be able to involve even more people, under more conducive circumstances, to resolve the issues."
The government is proposing to expand the investigative power of the financial secretary's appointed inspectors and impose prison terms on people who refuse to co-operate with investigations.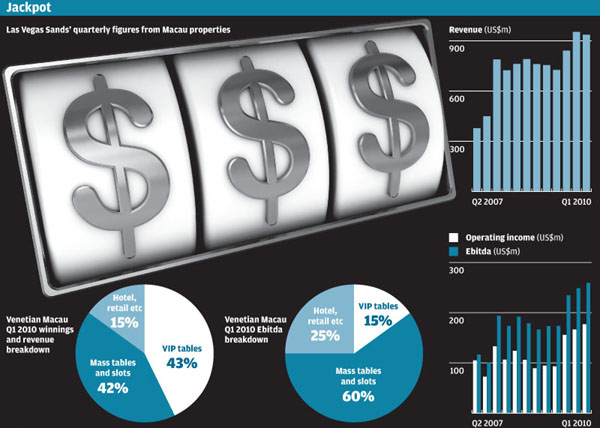 Las Vegas Sands Corp's new US$4.18 billion Cotai casino complex must make do with 40 per cent fewer new gaming tables than originally anticipated following the Macau government's decision to cap the number of tables in the city at 5,500. Sands planned to add 670 tables to its half-built, 6,000-room resort with Sheraton, Shangri-La and Traders branded hotels across the street from the Venetian. But following the government's announcement in March that it would limit the supply of new gaming tables until 2013, Sands has received approval to add only 400 new tables at the property. "We met last week with members of the Macau government and we've been assured in writing of 400 tables to start with, and there are assurances of reviewing tables as we go over the next couple of years," Sands president and chief operating officer Michael Leven said yesterday. Macau had 4,811 gaming tables at the end of March, and the decision to try to cool red-hot growth in the casino industry with the 5,500-unit cap has complicated things for resort developers in the midst of large-scale expansions. In addition to Sands, which has spent US$1.73 billion towards building its new property, Galaxy Entertainment (SEHK: 0027) is building a HK$14.1 billion Cotai resort scheduled to open next year with space for about 600 tables. Sands will work within the new quota but still plans to open the property with 670 tables. In addition to the 400 new units, it plans to relocate 170 of its 1,131 existing tables at the Venetian, Sands and Four Seasons casinos. The remaining 100 units will be newly added electronic gaming tables, which are technically classified as slot machines. "We will open with enough tables to justify the [performance] numbers that we've projected," Leven said. The parent of locally listed Sands China said that net revenue at its three Macau properties rose to US$935.85 million in the first quarter, up 23.9 per cent from a year ago but 1.8 per cent short of the previous quarter's record revenue. But the firm's increase in cash flow nearly doubled the pace of revenue growth owing to cost cutting and a slight shift towards more "direct" VIP play, where the casino bypasses junket agents who command hefty commissions in order to issue credit directly to players. Earnings before interest, tax, depreciation and amortisation (ebitda) at the Macau properties came in at a record US$259.17 million, up 49.7 per cent from a year earlier and 4.3 per cent from the previous quarter. Sands' Cotai project was stalled in November 2008 as the developer ran out of funds in the wake of the financial crisis, laying off around 11,000 builders. The company now plans to open the project in phases from next year. Funding for the remaining US$2.35 billion to finish the property will include US$500 million of the proceeds from last year's Hong Kong listing, contributions from ongoing cash flows and a US$1.75 billion syndicated loan. Executives expect financing to close later this month and full construction on Cotai to resume in three to four months, after all the construction contracts are signed.
Prepaid mobile-telephone connections in Hong Kong are poised to peak this year, driven by carriers' aggressive marketing to mainland visitors and foreign contract workers.

China*: Never mind luxury flats and expensive cars. The next big things for mainlanders with cash are yachts and private jets. And there is plenty of money for both, traders say.
The Ministry of Commerce's attempts to encourage struggling exporters to seal supply deals with local retailers as a way of offsetting a slump in overseas shipments do not appear to be working. The difficulties of selling products to local stores, intellectual property theft, unattractive payments terms and the small orders involved make the domestic market unattractive even for companies still riding out the economic slump. Exporters signed deals worth US$34.4 billion with overseas buyers during the spring session of the Canton Fair, which closed on Wednesday, up 12.6 per cent from the trade fair's previous session six months ago. The volume of deals is 10.3 per cent behind the pre-financial crisis level in early 2008, the Ministry of Commerce said. But it did not disclose figures on how much business the manufacturers had secured from domestic buyers. That was despite an announcement that 8,000 large and medium-sized supermarket chains will be purchasing from manufacturers at the twice-a-year event. It had said 70 per cent of the exhibitors were interested in the trade-matching.
Light shed on scaling the 'Great Firewall' - Eighty per cent of mainlanders scaling the "Great Firewall" there go past the government blocks on websites simply to get access to basic services such as Google.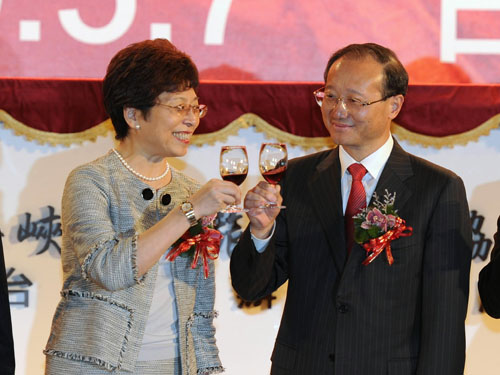 Shao Qiwei and Janice Lai toast closer ties - Beijing has unveiled its first official office in Taiwan, signalling the start of a mainland presence on the island that could lead to the normalisation of ties between the two former rivals who are technically still at war. The Taipei office of Beijing's Cross Strait Tourism Exchange Association yesterday became the first mainland office on the island in 61 years. Shao Qiwei, director of the China National Tourism Administration, attached importance to the opening, calling it a milestone in cross-strait ties that would pave the way for further rapprochements and cross-strait peace. "Three days ago, the Taiwan Strait Tourism Association also officially opened an office in Beijing, marking the first time in 61 years the two sides have swapped regular tourism representative institutions," Shao said in announcing the opening of the mainland office in Taipei. He was referring to the inauguration of the semi-official Taiwanese tourism representative office by Taiwan's tourism minister, Janice Lai, in Beijing on Tuesday. To show the mainland's goodwill towards improving ties with the island, Shao announced that Beijing authorities would allow mainland tourists from Tibet, Inner Mongolia, Qinghai, Xinjiang, Ningxia and Gansu to visit Taiwan, which he said would bring to 31 the number of mainland provinces, regions and municipalities given visiting rights. He said Beijing would also explore the possibility of allowing mainland tourists to come to Taiwan for individual visits without needing to join tour groups, as required currently, and to further expand tourism co-operation with the island. "For anything that could benefit compatriots in cross-strait exchanges and promote cross-strait tourism, we will do all we can to make that feasible," Shao said. The exchange of tourism representative offices was made possible following a pact signed by Taipei's Straits Exchange Foundation and its mainland counterpart, the Association for Relations Across the Taiwan Strait in Beijing on June 13, 2008. The agreement was one of the few pacts signed by the two bodies, which represented their respective governments in landmark fence-mending talks after Ma Ying-jeou of the mainland-friendly Kuomintang party became the island's president in May that year. Ma decided to adopt a policy of engaging the mainland to improve ties. The 2008 talks led to direct cross-strait air and travel links as well as a flurry of exchange visits by high-level officials from the two sides. The swap of the representative offices - barely two years on - has drawn a mixed reaction in Taiwan. "I am happy to see such a development, which I think is positive for people between the two sides of the Taiwan Strait," said 62-year-old Chen Shu-yang, a retired businessman with mainland origins. But social worker Alexander Wang expressed concern that developments may be happening too fast and could lead to the tiny island being swallowed up by the giant mainland. "Don't you think the pace of development is too fast?" he asked. Wang Kung-yi, a professor at Tamkang University's Graduate Institute of International Affairs and Strategic Studies, said: "The swap of the tourism offices shows that the two sides are gradually heading towards normalising their relations, and this is positive in the economic spectrum." But politically it might not be to Taiwan's advantage, given that the ultimate purpose of the mainland was to make Taiwan a province of the People's Republic, he said. George Tsai Wei, professor of political science at Chinese Culture University in Taipei, however, saw the swap of the offices as a "positive development in cross-strait ties". He saw it as going in the right direction and as something "which should not be overinterpreted".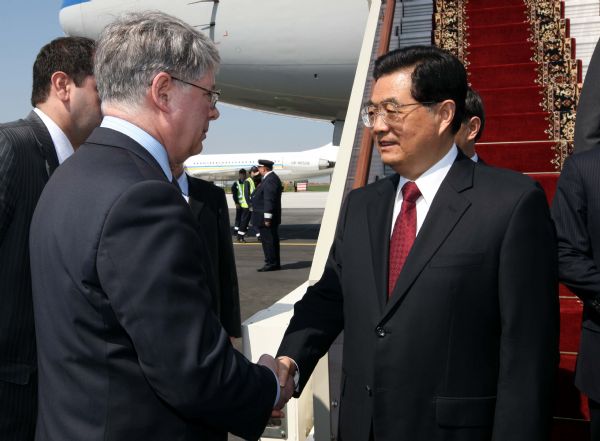 Chinese President Hu Jintao (R) is welcomed by Russian Deputy Foreign Minister Alexei Borodavkin upon his arrival in Moscow, capital of Russia, May 8, 2010. Hu Jintao arrived in Moscow on Saturday to attend ceremonies marking the 65th anniversary of victory over Nazi Germany during World War II.
May 9, 2010

Hong Kong*: Legco president Tsang Yok-sing on Friday again said he would resign so he could vote for the government's political reform package if this was the only way to ensure its passage.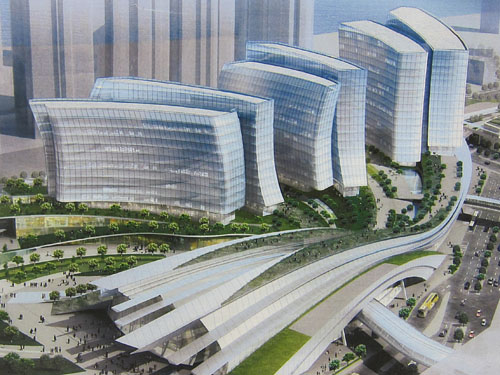 The MTR Corporation (SEHK: 0066) has resubmitted its design for the office towers above the future high-speed rail terminus in West Kowloon, with little change except for the height of the buildings. The Town Planning Board had asked the rail company to revise the design because it found the three office towers "short and bulky" and was concerned about air ventilation around the 58,800-square-metre site. In the latest design, by architecture firm Aedas, the three towers will form a "stepped height profile" ranging from 19 to 28 storeys. In the original plan, they were 21 to 23 storeys. Other parameters, including the site coverage, gross floor area and public open space remain the same. The original design had been described by the Planning Department as "unnecessarily compressed to a rather uniform height ... resulting in an almost flat roofline". It also said "the three office towers appear as one single cubiform mass, which results in adverse visual impacts" when viewed from the Star Ferry in Central. The department, advising the board, says it has no objection to the revised design, adding the new height profile will "slightly improve" air ventilation around the site. But the MTR will still need to submit an air ventilation assessment as a condition for the board's approval. The company should also consult the Secretary for Home Affairs on the design of the pedestrian deck connecting the West Kowloon Cultural District. The terminus site will provide public open space of 8,900 square metres. The board's metro planning committee will discuss the plan today. The government has intended the buildings atop the future terminus site to form a high-grade office hub together with the International Commerce Centre above Kowloon station. Development density was slashed last year, with the plot ratio - the maximum potential gross floor area to land area - dropping to five from 8.89.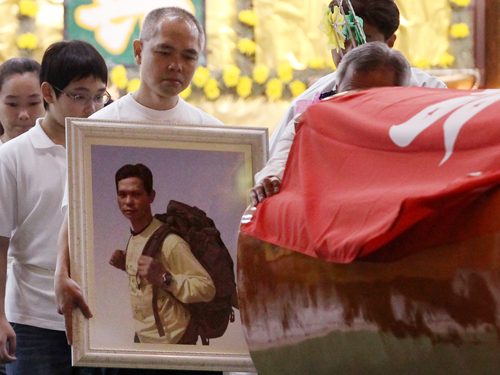 Wong Fuk-wah, brother of Qinghai quake hero Wong Fuk-wing, carries his brother's portrait at a funeral service at the Universal Funeral Parlour in Hung Hom on Friday. Over 300 Hongkongers braved the rain outside the Universal Funeral Parlour in Hung Hom on Friday morning to pay a final tribute to local hero Wong Fuk-wing. The Hong Kong volunteer died rescuing earthquake victims at an orphanage in Yushu, Qinghai, in April. After Wong's family, and four Qinghai orphans whose lives he saved, had paid their last respects, his coffin was taken from the Universal Funeral Parlour in Hung Hom and carried by hearse to the Cape Collinson Chinese Permanent Cemetery in Chai Wan where he was buried near his father. More than 300 Hong Kong citizens, some holding white chrysanthemums, lined the street to bid farewell to Wong, local media reported. One woman said she had been moved by Wong's selflessness in sacrificing his life to save other people. "He wss a dedicated volunteer and went a long way to Qinghai to help other people," she said. Another woman said that, despite the heavy rain, she felt she had to come and pay a final tribute to Wong. The 46-year-old Wong worked as a truck driver in Hong Kong and was known as a dedicated volunteer in the mainland. In Qinghai at the time of the quake, Wong survived the initial earthquake. However, he died while trying to rescue teachers and orphans trapped inside a collapsed building that later collapsed on him. Before this, he had managed to save three children and a staff member.
Shares of skincare products retailer L'Occitane International, the first French company listing in Hong Kong, fell about 8 per cent on their US$708 million Hong Kong debut.

HSBC Holdings said underlying profits in the first three months of this year were well ahead of a year ago, boosted by a sharp fall in bad debts, especially in Asia.

Mainland iron ore producer China Tian Yuan Mining has postponed its US$450 million Hong Kong initial public offering, according to a memo on Friday.

China*: Reports of Beijing's new investment plan to speed up development in restive Xinjiang region has created a buzz among local businesspeople, with many eyeing opportunities for expansion and a change of fortune. Businesses, particularly private ones, were badly hurt by last year's ethnic riots in the capital Urumqi that pitted Han migrants against minority Uygurs. Many workers fled Xinjiang and investors pulled out capital over fears of more violence. But with a major leadership reshuffle late last month and reports that Beijing is ready to inject fresh capital into the region to kickstart its economy, business confidence is rebounding. Abdul Kadeer, a bakery owner in Urumqi, said he and his friends were excited by the news. He said he was considering expanding his business to Kashgar - the most important Uygur city in southern Xinjiang. "I know many people there are out of job. If I can do something to help our fellow Uygurs, I'd love to do that," Kadeer said. He welcomed the leadership change in Xinjiang last month. Beijing replaced hardline party boss Wang Lequan, who ruled the region with an iron fist for nearly 15 years, with Zhang Chunxian , a soft-spoken official from Hunan. "One of my friends met Mr Zhang once before and he is impressed with him," Kadeer said. "We welcome the decision and we hope under him there will be some positive changes." Beijing plans to wheel out a massive investment scheme for Xinjiang at a high-level national meeting later this month, a government official who refused to be named said. Under the scheme, affluent coastal provinces and cities in the east will reserve a few percentage points of their revenue each year and invest the money in Xinjiang. The policy will be enforced for up to 10 years. The central government will also earmark tens of billions of yuan each year for the region and offer more preferential policies. The Central Work Conference on Xinjiang, which will be chaired by President Hu Jintao later this month, will be attended by all Politburo members, central ministers, regional party chiefs and government heads, the unnamed official said. Each coastal province will also be required to provide financial, technological and educational aid to designated areas. The official, who is familiar with preparations for the meeting, said that even a few percentage points of revenue from rich regions, such as Guangdong, Jiangsu and Shandong provinces and the municipalities of Shanghai and Beijing will translate into a handsome handout for a small economy like Xinjiang's. The money could be as much as double Xinjiang's annual revenue of more than 30 billion yuan (HK$34 billion), said the official in the "Go West" programme, which was designed a decade ago to help develop the poorer part of the country. Xinjiang is one of 12 regions targeted in the programme initiated by then president Jiang Zemin.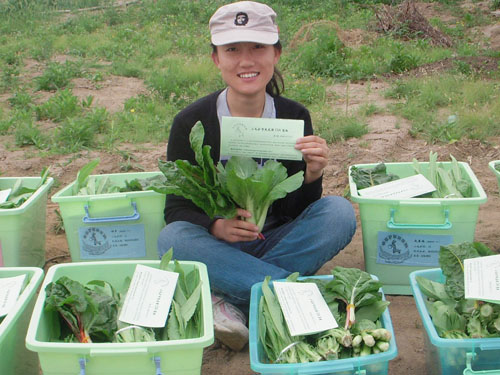 Shi Yan helped found the Little Donkey Farm using Community Supported Agriculture guidelines. Every Saturday, Huang Bin drives with his family to a farm 40 kilometres away from their home in Beijing to check on how their vegetables are growing. The 33-year old businessman rented a 30 square metre plot of land a year ago and has been raising cucumbers, tomatoes, potatoes, kidney beans and other vegetables. "The vegetables we harvest every week are enough for my family to eat," said Huang. "During the harvest season, from May to October, we even give some of our vegetables to friends." The reason he became a vegetable gardener was to guarantee enough safe food for his daughter. "I read in newspapers that some girls started having their periods when they were only eight years old and some girls' breasts started to grow when they were only six because they had eaten pork that had a hormone in it," he said. "I was afraid the same thing could happen to my girl, so I decided to look at organic farms." Huang found the Little Donkey Farm west of the capital. He rented a piece of land, and now the family grows its own food there. Concerns over food safety spread on the mainland after it was revealed that some businesses had added prohibited chemicals to the food they produced in the name of profits - the most prominent being melamine-tainted milk two years ago. People resolved to learn more about the chemicals in their foods, and some have started organic farming on their own. A widely circulated SMS said in part: "The Chinese had to learn much more chemistry than we were ever taught in school, we came to know about panaplate [a type of pesticide] in ham; Sudan red dye in salted duck eggs; formalin in hot pot; paraffin wax from rice; chlorinated lime from buns; and melamine in milk." News reports about tainted food led to a sense of desperation among consumers: "Where can we find food that we know will be safe?" asked one concerned parent. If regular food can be tainted, how about organic food on the mainland market? In an investigative report published in February by the Science News Biweekly, an official magazine of the Chinese Academy of Science, Liuminying Ecological Farm - reputed to be the biggest organic vegetable farm in the Beijing area, which grows about 4,000 tonnes of supposedly organic vegetables per year - was found not to grow its vegetables to organic standards set out in 2005. These standards forbid the use of any farm chemical, non-organic fertiliser or feed supplement. Reporters discovered bags of several types of farm chemicals left on the land of the Qingpuyuan Vegetable Company, which grows its vegetables there. An employee told the magazine they had secretly sprayed the crops with pesticide. "They used fertiliser when no visitors were there," the magazine quoted another farmer in Liuminying village as saying. "Sometimes they even use synthesised urea [a fertiliser with high nitrogen release] during the key growth period." The magazine also reported that, when production of organic foods failed to meet quotas, some producers stuck "organic" labels on non-organic food bought from peasants. The company denied the report, but the seeds of public doubt were sown. Two other organic farms were also found to be in violation, one of which even provided agricultural products to the 2008 Beijing Olympic Games. Against this backdrop, Huang decided to grow the food himself, and a group of people in Beijing have joined him. The Little Donkey Farm has more than 23 hectares of land near Phoenix Ridge in Houshajian town. It's has about 270 families as members. Shi Yan , a PhD student at Renmin University, helped found the farm last year after working on a US organic farm for half a year and contacting a programme there called Community Supported Agriculture, which provides a way for the public to buy directly from farmers. When Shi returned to China, she started her own programme with the support of her tutor, the university and the Haidian district government. The farm offers two categories of annual membership. Members can either rent a plot and grow vegetables by themselves with the farm providing the seeds, organic fertiliser, tools and expertise; or, for a higher fee, they can simply buy vegetables the farm grows. The farm will ship a box of vegetables to members' homes every week for 20 weeks, and the amount is enough for a four-person family. "Our members are mostly private company owners, teachers and professionals, all of whom are highly educated," Shi said. "They pay more attention to food safety, and 80 per cent of them have children. "The farm, which borrowed ideas from CSA, is a new model in China trying to eliminate food safety problems. We want to build a direct connection between the farm and community so farmers can send their products directly to residents who want to buy them." But membership, which must be paid in advance, is not risk-free, as there is always the risk of crop failure regardless of who grows the vegetables. Even so, Shi is convinced the risk is worth it. "If you want to make your food safe, the first thing you have to know is where the food comes from, who grows it and how it's grown." she said. "The key is connecting peasants and consumers directly ... to ensure food safety. This way, we not only have safe food to eat, but also build a harmonious relationship between urban and rural areas."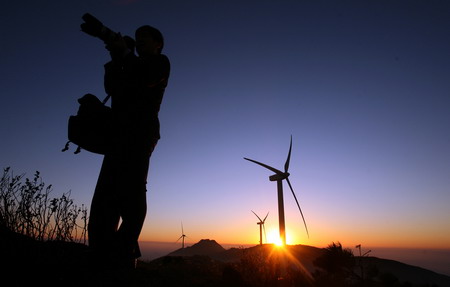 A photographer taking pictures at Jiugongshan wind farm in Hubei province. China's wind power capacity has seen an annual growth of over 100 percent in the past three years. China will take radical measures to increase the use of new energy in the 12th Five Year Plan (2011-15), a move that reinforces the nation's commitment to improve the energy mix and reduce pollution. Development of new energies, including nuclear, hydro, wind and solar will be highlighted in the country's 12th Five Year Plan for the energy industry, said industry sources. The four sectors are also the most developed new energy resources in the country at present. China is also drafting a stimulus plan for its new energy sectors, and it is likely to be announced within the next year, said sources. Earlier media reports said the new energy plan would involve total investments running into several trillions of yuan. Zhou Xi'an, an executive with the National Energy Administration (NEA), told reporters earlier that development of nuclear energy, wind energy, solar energy and biomass energy, as well as clean coal technologies would account for an integral part of the country's 12th Five Year Plan for the energy industry. China has already set a target to increase the use of non-fossil energy to 15 percent of primary energy consumption in 2020. "With such a target in mind, China should take steps to increase the figure to around 13 percent by the end of 2015," said Li Junfeng, deputy director-general of the Energy Research Institute (ERI) under the National Development and Reform Commission (NDRC). Echoing Li's view, Wang Zhongying, a researcher with ERI, said development of new energy is integral for China to achieve its emission control targets. According to a recent report by World Bank, China needs an additional investment of $64 billion annually over the next two decades to implement an "energy-smart" growth strategy. Such investment should be aimed at making the power and transport sectors more efficient and developing renewable energy, said the bank. Many new energy sectors in China have seen tremendous growth in recent years. For instance, wind power has seen growth rates in excess of 100 percent in the last three years. In line with the rapid growth in the industries, China has also adjusted the blueprint for some other sectors. For instance, the country made a plan in 2005 to increase its nuclear power capacity to 40 gigawatts (gW) in 2020, when it would account for 4 percent of the country's total power capacity. But in line with the quick growth of the industry, the target has been raised to between 70 gW to 80 gW, according to officials with both the NEA and NDRC. China has 11 nuclear power reactors under operation at present. These reactors have a total capacity of 9.1 gW and account for around 1 percent of the nation's total power capacity. However, some analysts said it will be a long time before the new energies actually emerge as alternatives to coal and oil. "Coal and oil will still remain the mainstream energy in the country," said Lin Boqiang, a professor at Xiamen University.
May 8, 2010

Hong Kong*: Chief Executive Donald Tsang Yam-kuen said on Thursday he was concerned about the rapid growth in property prices in the city.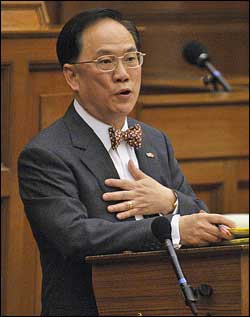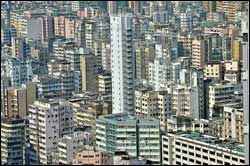 With high property prices a burning issue, the administration is to bounce questions about home ownership back to the people. The key issue in a consultation exercise announced by Chief Executive Donald Tsang Yam-kuen yesterday is whether the government should subsidize home ownership. Tsang revealed to lawmakers that the administration will seek views in the next five months - and then make its stance known in his policy address in October. The Transport and Housing Bureau will run the consultation, in which key points will include: Identifying who the government should help and how to go about it; If it would be fair for the government to use public funds to help people buy their own homes; Whether or not the supply of public housing flats and waiting time for them would be affected if land is set aside for Home Ownership Scheme flats; and Projecting the impact on the property market if some plots that would have gone to private developers are used instead for HOS projects. Tsang acknowledged growing concern that Hong Kong property prices are increasingly out of reach. "The government understands that some residents are not eligible to apply for public housing flats as their income or assets exceed the required level; nor can they afford to buy their own homes," he said. But in a question-and-answer session in the Legislative Council, Tsang also warned that government action could have a major impact on prices. If there was a slump, he said, it would be hard for authorities to stabilize the situation. So the government has to be careful. "Last time when the bubble burst, during the Asian financial crisis, many people blamed the government for having encouraged them to buy homes and turning them into negative asset holders," he said. "Should we bear the responsibility?" He noted that people suffered great pain in property-price bubble bursts in 1997, 1998 and 2000. He went on to label movements in the property market during the past 15 months as "abnormal," which brought about a raft of measures to stamp out bad sales practices and make transactions in private developments fairer. Authorities are also trying to increase the supply of flats, Tsang said. On a call from legislators to make some proposed guidelines legally binding, Tsang said administrative means are preferred over legislation as it takes less time to put them in place. Also, he wants to wait and see if private developers agree with proposals. Democratic Party legislator Lee Wing-tat accused the administration of a delaying tactic by going for a consultation. The idea could be to await interest-rate increases in the United States and Europe at year's end, which could cool the local property market. Federation of Trade Unions lawmaker Wong Kwok-kin also expressed the fear of official foot-dragging, while Democratic Alliance for the Betterment and Progress of Hong Kong lawmaker Chan Kam-lam called for quick measures to increase the supply of flats.

Swire Properties, the property unit of Swire Pacific, has pulled its plans to raise up to US$2.7 billion through a Hong Kong initial public offering, sources said on Thursday.
Florists get waft of sweet profits on Mother's Day - Florists are set to make a killing on Mother's Day because you will have to fork out HK$500 a bouquet to greet mom with carnations, roses or lilies on Sunday.

Rice noodle roll with cha siu, a popular dish although not the healthiest. Yet a survey found people also eat lots of fruit and vegetables. We eat a healthy diet that's rich in fruit and vegetables and low in salt and sugar - yet almost half of us are overweight or obese. Those are the surprise findings of the city's first study on diet patterns. The survey found that the average adult ate more than 160 grams of vegetables a day, an amount almost equal to the combined weight of meat, seafood and dim sum consumed in a day. Fruit is also popular, with each person eating nearly 140 grams a day. Oranges topped the list, followed by apples, bananas and pears. Respondents enjoyed a diet relatively low in soy sauce, sugar and salt - with consumption of these flavourings amounting to less than two teaspoons. The study, commissioned by the Centre for Food Safety, took two years and involved 5,008 adults aged 20 to 84. Although 40 per cent said they never looked at the nutritional information on food labels, they had a good knowledge of what constituted a healthy diet, with three in five correctly stating that two or more servings of vegetables should be eaten every day. Terry Ting Ho-yan, president of the Hong Kong Nutrition Association, said the findings were much better than he expected. "I am surprised that the survey has shown such a low daily intake of red meat, as they are one of the favourites of Hong Kong people." The study found that average daily consumption of beef was 12.14 grams, compared with 29.69 grams of pork and 24.39 grams of chicken. "I doubt if eight out of 10 patients I asked would eat such a small portion," Ting said. The findings do not explain why more than 47 per cent of those polled were considered overweight and obese, according to Body Mass Index calculations. This is calculated by dividing a person's weight in kilograms by their squared height in metres. A BMI of 18.5 to 25 indicates a person is of normal weight, while a figure lower than 18.5 suggests that the person is underweight. A number above 25 indicates the person is overweight, while anyone over 30 is considered obese. Men were more likely to be overweight. Some 8.5 per cent were underweight, mainly young women. Ting said breaking down food intake volumes into average statistics might not fully reflect the actual situation. He said it might be better to assess a person's overall diet. The centre proposed a similar survey on youngsters aged below 20 be conducted soon.
A former senior merchandiser working for a toy sourcing company in the United States was charged by the ICAC on Wednesday for accepting bribes of over HK$400,000 from two toy suppliers in Hong Kong, an ICAC spokesman said. Mak Chau-ping, 32, a former senior merchandiser of Dollar General Global Sourcing (DGGS) – a Hong Kong company that sources products for the US-based company DGGS, faces two counts of soliciting illegal advantages. One of the charges alleges that Mak had solicited bribes amounting to HK$415,284 from two toy suppliers in August 2008 as illegal rebates for him to make purchase orders with the two companies. Mak is also alleged to have solicited a payment of HK$19,349 from one of the two suppliers in December 2008 as a commission for him to place purchase orders with that supplier. Mak will appear at Kwun Tong Magistracy at 9.30am on Friday to make his plea. He has been released bail, pending his court appearance.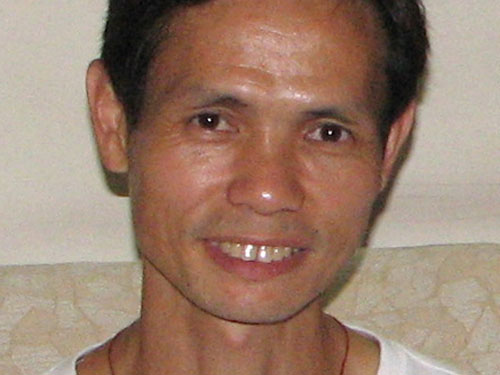 A public memorial would be held on Thursday afternoon for Hong Kong hero Wong Fuk-wing – who died while rescuing earthquake victims at an orphanage in Yushu, Qinghai in April.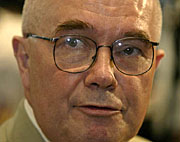 Retired civil servant Mike Rowse is taking up a job as a search director with headhunting firm Stanton Chase International, after the government gave him the all-clear. Rowse, who retired as InvestHK director general at the end of 2008, said he would start work today. He submitted his application to the Civil Service Bureau in January and learned that he had been approved yesterday. Although Rowse already signed off on his employment terms, he must be cleared by the bureau before he can formally work for Stanton Chase. He said the bureau did not impose any special restrictions on his employment. Since leaving the government, Rowse has asked the bureau for approval seven times. The applications refer to Rowse being a director of his own company, a co-host of RTHK's Backchat program, a host of a television talk show on ATV, a regular columnist for the South China Morning Post (SEHK: 0583) and the Hong Kong Economic Journal, an "occasional columnist" for The Wall Street Journal and a search director at Stanton Chase. The executive search firm position is the only full-time employment for Rowse. Rowse said he had never dealt with or heard of Stanton Chase before but was approached about joining the firm despite lacking the relevant experience. Rowse will join fellow search directors Brian Crossley, who specialises in the logistics and transportation sector, and Kevin Moore, who covers the technology industry. Stanton Chase's Hong Kong office was set up in 2007 and is headed by Ivo Hahn, who e-mailed Rowse "out of the blue" late last year about working for the firm. Rowse said he was in discussions about joining another firm at the time but eventually decided on Stanton Chase.

China*: Shares of mainland lender Hua Xia Bank tumbled on Thursday after it said it planned to raise up to 20.8 billion yuan (HK$23 billion) through a private placement to boost capital.
Every hour a baby is born in China with syphilis, as the world's fastest-growing epidemic of the disease is fuelled by the nation's booming economy, researchers n the US say.
French carmaker PSA Peugeot has reached an initial agreement to set up a 50-50 vehicle manufacturing venture with China Changan Automotive Group.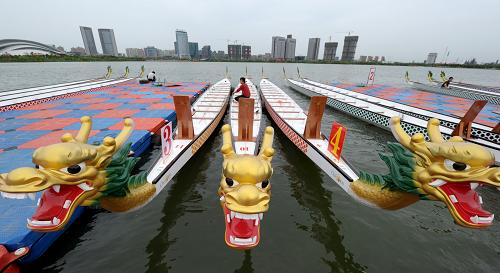 A general view of the dragon boats to be used during the boat race at Swan Lake in Hefei, East China's Anhui province, May 6, 2010.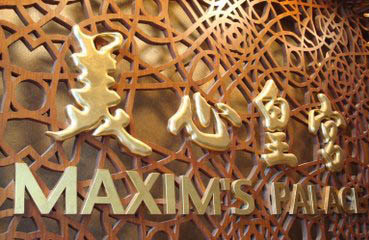 Maxim's tickles taste buds of world at Expo - Hungry Shanghai World Expo visitors can now savor the taste of Hong Kong's famed wonton noodles, barbecued meat and dim sum. The delicacies are being dished up by Maxim's cooks along with the popular pineapple bun and silky- smooth Hong Kong-style tea. The restaurant chain won a contract to serve food in Zone C's 20,000-square-foot food plaza. With the expo attracting a large number of visitors, Maxim's Group has implemented crowd and food quantity control measures. While keeping about 60 customers queuing at cashiers, general manager (fast food) John Sham Yuen-pang said staff take down their orders while they wait. "This means each customer can order from the cashier counters in just 12 seconds," Sham said. At peak times it takes about 15 minutes for a customer to pay and be served their food. The group, which has formed a joint venture with Shanghai Eastern Mei-Xin Air Catering, has adopted aviation catering food safety procedures. This is to ensure no one falls ill. Supplies are kept at between zero and five degrees Celsius. Replenishing stocks depends on the daily flow of visitors. On the menu are 60 to 70 Hong Kong delicacies priced from 10 yuan (HK$11.30) to 50 yuan at its fast- food outlet and 75 yuan to 100 yuan per person at its Chinese restaurant. Sham said it is about 10 to 15 percent higher than fairly priced restaurants in Shanghai. Customers are served by 270 staff recruited and trained in a three-phase program. Most are graduates or undergraduates from the catering, tourism or hotel management fields, with some from the Shandong College of Tourism and Hospitality. About 10 have knowledge of foreign languages such as French and Korean and were elected as ambassadors.
China's biggest developers are borrowing record amounts in Hong Kong, taking advantage of lower interest rates to circumvent a lending crackdown at home. While banks in the mainland demand at least 5.2 percent in annual interest for three-to- five year money, the cost of credit in Hong Kong dollars has fallen to the lowest since November 2004. China Overseas Land & Investment (0688) agreed to an HK$8 billion loan in February that pays 1.45 percent at current market levels. "For property developers to keep growing in what is an extremely fragmented and competitive market they have to go offshore for funds," said Brayan Lai, a credit analyst at Credit Agricole CIB in Hong Kong. "It's one way to circumvent tight onshore credit." Syndicated borrowing by mainland developers in Hong Kong dollars jumped to HK$37.3 billion this year from HK$3 billion in the same period of 2009. Total lending in the city rose sixfold to HK$63 billion from HK$8.7 billion as mainland banks' share of the market fell to 21 percent from 29 percent, while yuan-denominated lending to mainland developers dropped by 25 percent. China Resources Land (1109) said late last month that it agreed to four loans with banks totaling HK$6.2 billion. Agile Property (3383), which has projects in 20 mainland cities and districts, borrowed US$125 million (HK$975 million) in January from a Bank of America Corp unit in Hong Kong. Shimao Property (0813) is seeking a US$400 million loan from Hong Kong units of banks including HSBC Holdings (0005) and Standard Chartered (2888). The loan may pay 3.1 percentage points more than LIBOR, said Nomura credit analyst Annisa Lee. "Companies are going to the syndicated loan market in Hong Kong because liquidity is strong and pricings competitive," Lee said. Shimao's US$350 million of 8 percent bonds due 2016 last traded at a yield of 6.58 percentage points more than Treasuries. Bond sales in Hong Kong may also pay dividends for companies betting on a revaluation of the yuan.
May 7, 2010

Hong Kong*: Employees in Hong Kong, particularly those working in the hotel and restaurant industry, are more optimistic about their job prospects in 2010 than they were a year ago, a new survey released on Wednesday revealed. Researchers from the Department of Management at City University (CityU) interviewed 522 full-time employees in Hong Kong between March and April in the survey. The results are based on the Employees Confidence Index (ECI) – a measure that examines levels of confidence in the job market on a scale of 0 to 10. The survey found that, compared with last year, people's confidence in the overall job market rose by 0.74 points to 3.97. This level remains below the peak experienced before the global financial crisis, however. Chair Professor of CityU's Department of Management, Leung Kwok, noted that confidence in the overall job market had recovered. "The overall economic climate in Hong Kong has improved, and so has the unemployment rate," he said.
Regina Ip rated most popular lawmaker - Regina Ip Lau Suk-yee is continuing her transformation from highly unpopular government minister to popular lawmaker, coming out on top of a popularity survey of lawmakers for the first time in her political career. According to a University of Hong Kong survey, Ip scored 55.1 points, beating the Civic Party's Audrey Eu Yuet-mee to the top spot. Ip also scored the highest average rating, with 59.3 marks for the past 12 months - even though she did not always make the top 10 in the surveys, conducted four times a year. It was a long way from the days when, as security chief responsible for introducing the controversial national security bill under Article 23 of the Basic Law in 2003, Ip was ranked the least favourite government official. In 2008, her four-strong ticket in the Hong Kong Island constituency obtained 61,073 votes, and after just a year in the legislature a similar university survey found that she ranked as the second-most-popular lawmaker at the close of the legislative year. The survey conducts a preliminary round to test the recognition rate of lawmakers, and then asks respondents to rate the top 12 most recognisable lawmakers to form the top 10 rankings. Ip did not score any points in the previous survey. Ip said she fell off the radar last time round, acknowledging she "did not make a lot of waves" at a time of controversy over the unveiling of the government's political reform package. But she said the most recent results reflected her work in speaking out against the government's lowering of the threshold for compulsory sale of older buildings from 90 to 80 per cent of the owners of individual units. Eu came second in the most recent poll, but tops the list of most appearances in the top 10. Unionist lawmaker Lee Cheuk-yan was rated third, while Democratic Party lawmaker Lee Wing-tat was rated fourth.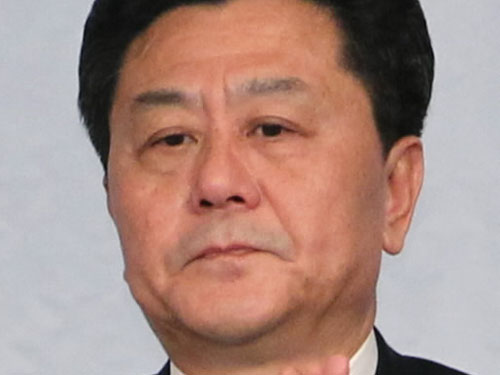 In an open appeal for pan-democrats to support the government's constitutional reform package, Beijing's representative body in Hong Kong warned yesterday of a lose-lose situation if the Legislative Council vetoed the proposals again. Li Gang, deputy director of the central government's liaison office - in a rare speech on political reform - urged lawmakers to act "bravely" and "responsibly" to reach consensus. He said passing the package would "create favourable conditions for realising the universal suffrage timetable". Chief Secretary Henry Tang Ying-yen also warned lawmakers against walking a "road of no return". Both were speaking at a seminar organised by the Alliance for Constitutional Development, a coalition of Beijing-friendly groups.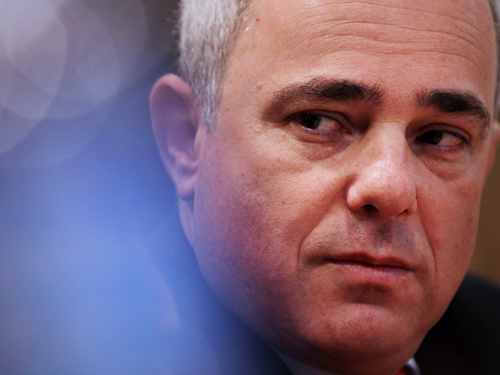 It has been 15 years since an Israeli finance minister visited Hong Kong or the mainland. But it is probably no coincidence that the first official visit by Dr Yuval Steinitz, who was appointed Israel's finance minister 14 months ago, follows Prime Minister Benjamin Netanyahu's declaration last year to stem the flow of terrorist funding by ending the world's dependence on fossil fuels. Steinitz said "there is some relation" to the calls to cut oil dependency to fight terror, although it was not the purpose of the delegation's visit. Steinitz was joined by Environmental Protection Minister Gilad Erdan. "Even leaving terrorism aside, I think it's quite clear now that over reliance of the world on oil is dangerous," Steinitz said. During the three-day visit, the Israeli delegation met top government officials, including Financial Secretary John Tsang Chun-wah. The delegation will next visit Shanghai and Beijing. "We decided, with the complete backing of Prime Minister Netanyahu, that it's very, very important that we create a single level of co-operation, not just for imports and exports, but deeper co-operation, not just with the West but with the East," Steinitz said. Israel is reaching out to Asia at a time of the mainland's rising economic and political clout. Mainland support is seen as key to pushing green technology and alternative fuels around the world, which Israel hopes will hurt the ability of oil-rich countries like Iran and Syria to continue as state sponsors of terrorism. Iran and Syria, accused by the US as supporters of terrorism, back Hamas, Hezbollah and other resistance groups.
The government was taking a tougher stance against cases of cruelty to animals in Hong Kong, Health Secretary York Chow Yat-ngok said on Wednesday.

The Home Affairs Bureau would launch a six-month trial scheme during which three zones in Hong Kong would be designated as places for public performances, Secretary for Home Affairs Tsang Tak-sing said on Wednesday. The trial scheme, which will start in July, will include three special zones set up at the Cultural Centre piazza, the Sha Tin Town Hall plaza, and the Kwai Tsing Theatre plaza. Tsang was responding to a question raised by lawmaker Raymond Ho Chung-tai. Ho said members of the public had made complaints about street arts performers obstructing their way and some performers have already been charged by police. He asked Tsang whether the government had any plans to promote street art performances. In a written reply, Tsang said the registration system for performers under the trial scheme would operate on a first-come-first-served basis. No charges would be levied. "To ensure a certain level of artistic standards, the proposed performances have to go through an audition conducted by a panel. This comprises representatives from the venue operator, the cultural sector and a committee of the District Council," he said. "We hope the trial scheme will provide more room for arts enthusiasts to showcase their creativity," he added. Street performances are becoming more popular among Hong Kong people in places such as Mong Kok, Causeway Bay and Stanley.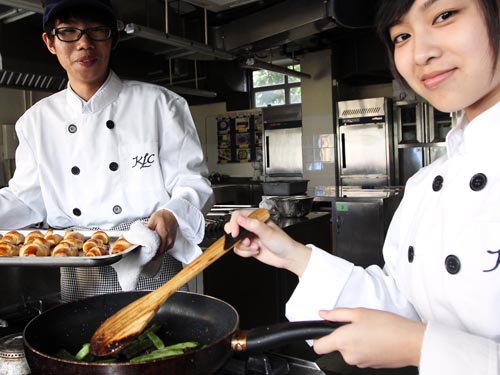 Wong Koon-wai (left) and Jelly Law learn restaurant skills at CCC Kung Lee College. Law says she loves the hands-on training. Secondary-only schools that offer vocation-oriented teaching to students who do not necessarily want to go to university are an unexpected casualty of the new academic system that extends free education from nine to 12 years. Educators say the system - six years of primary and six years of secondary schooling instead of six primary and three junior secondary as before - means pupils spend more time at school, better preparing them for future work and further studies. But it has left secondary-only direct-subsidy schools struggling for students and looking for ways to stay afloat. Three of the four such schools in the direct-subsidy system have suffered drastic drops in enrolment. The problem arises from a new class structure that no longer produces an excess of Form Three graduates for the schools to draw from, and from the impending scrapping of the Form Five public examination - the Hong Kong Certificate of Education Examination (HKCEE) - that once yielded a supply of repeaters seeking a second shot at the test. The additional three years' free education at government schools has also lessened the appeal of direct-subsidy schools, which charge fees. "When we went last year to schools to promote [our school] to Form Three students, the response was tragic," Lee Kwok-wai, principal of Caritas Charles Vath College in Tung Chung, said. The college, set up in 2003, could muster only two classes of 30 Form Four students for the present academic year, compared to six classes of 40 the year before. Under the previous class structure five or six Form Three classes were whittled down to four Form Four classes. But under the new structure the same number of students will progress from Form One all the way to Form Six. Also the end of the HKCEE this year means no more Form Five graduates in future, further depriving such schools of another source of students. "Form Three graduates who show more aptitude for vocational training will just be trapped for three more years at their original schools if they don't come to us," Lee said. "Not all students are capable of entering university or want to contest the limited publicly funded undergraduate places. Many just want to be exposed to job training earlier." Leung Wai-yin, vice-principal of CCC Kung Lee College in Causeway Bay - where Form Four admission numbers have dropped 56 per cent, from 724 in 2008-09 to 322 - criticised the government for failing to promote vocational education. "It was the Education Bureau which encouraged us to set up such vocation-oriented schools. Now they promote the new academic structure at our expense," she said. The heads of the three affected schools say the initial years following the launch of the new structure will be "bleak", with plummeting admission numbers threatening their financial stability and survival. To ride out the slump, they have launched a series of measures, such as advertising and reaching out to youth and parent associations. In addition to the four core subjects - two languages, maths and liberal studies - required by the local curriculum, Caritas Charles Vath College offers vocational classes in seven fields, including tour guide training and property and clubhouse management. With only 60 Form Four students paying an annual tuition fee of HK$8,400 each this year, Lee said they ran the risk of a deficit. While a government or aided secondary school must admit a minimum of 61 students to stave off closure, a direct subsidy scheme school is not subject to such requirements. A DSS school gets government funding on a per-student basis, with one student entitled to about HK$30,000 per year, and it has the privilege of being able to charge school fees, which is not enjoyed by an aided school. Although the special arrangement means DSS schools can function with smaller class sizes, Lee says they still need to fill certain student quotas to break even. He said the school had to admit a minimum of 200 students for each form to get an "optimum" balance sheet. "There have to be a total of 600 students for three forms in three years' time." Leung, of CCC Kung Lee College, said the school had received about half the number of Form Four students that it had in the past. "All the government or aided schools are going out of their way to retain students," Leung said. "Even if some students are obviously not academically inclined, the schools will still let them progress to Form Four on a trial basis instead of letting them go to us for fear that insufficient student numbers will threaten their own survival. "Some students might switch to us midway into Form Four after discovering that they could not get used to the new senior curriculum." One of eight students who joined the school midway through Form Four, Jelly Law Tsz-ying, said the new curriculum at her original school had killed her enthusiasm for learning. "I didn't have any idea what such main subjects as history and liberal studies were about. I was so depressed," she said. "I love the studying style here, which has a lot of hands-on training. I don't want to go to university. I want to work at a hotel counter after I graduate." Leung said the schools might have to cut teaching staff and offer fewer subject choices if the admission numbers remained dismal. The Form Four intake for the current academic year at Yeo Chei Man Senior Secondary School in Tseung Kwan O, which offers practical training including design and tourism and hotel management alongside the local curriculum, was only 180, compared with more than 200 the year before. Acting principal Hui Hon-wing said the Form Five repeaters the school admitted in the past were alone enough to constitute a class. "But there won't be any more Form Five graduates," he said. The school had not foreseen the challenge in securing admissions associated with the launch of the new academic structure, he said. "We didn't really consider this ... Then 12-year free education suddenly cropped up. You don't have to pay school fees if you go directly to senior secondary after Form Three in a government or aided school. But we charge school fees, which is a big disincentive to switch."
Companies in Hong Kong saw a substantial increase in new business from the mainland in April, new data from the HSBC (SEHK: 0005) Hong Kong Purchasing Managers' Index (PMI) released on Wednesday showed. Forty-one per cent of respondents reported an increase in new work, crediting stronger economic conditions across the border in China. Private sector employment in the territory increased in April, marking the seventh month of increases. April's rise in staffing levels was the highest since December 2007, the PMI data showed. Input costs also rose strongly, although at a slower pace than in March. April was the 10th consecutive month of purchase price increases. Prices charged by Hong Kong producers also increased last month, the strongest since July 2008. Respondents blamed rising input costs, according to the PMI figures. Overall, purchasing activity rose in April, reflecting the volume of new business for companies, and thus higher output requirements. This was the ninth increase in as many months. Commenting on the Hong Kong HSBC PMI system, Janus Chan, an economics analyst for HSBC said the latest data suggested increased business activity. "It is encouraging that Hong Kong's PMI continued to strengthen in April," Chan said in a statement. "China is still our major driver of new business, with the PMI sub-index rising to the series' historical high. This will benefit employment and thus private consumption as well. "As demand increases, price pressure has also built. However, the modest underlying inflation in Hong Kong suggests this is still manageable," Chan added. The PMI accurately indicated Hong Kong's descent into recession in the third quarter of 2008. A PMI reading above 50 indicates growth in activity while below 50 signals contraction. The PMI survey compares business conditions with those a month earlier, based on data from 300 private Hong Kong companies in manufacturing, services, retail and construction. The data is collected by Britain-based Markit Group, and the report is sponsored by HSBC.
Hong Kong's so-called "golden period" of trade fairs last month saw a 14.7 percent increase in buyers compared to last year, despite the air chaos caused by Iceland's volcanic ash cloud.

China*: Beijing plans to invest nearly US$1.5 billion in Xinjiang to boost the region's economy and reduce ethnic tensions.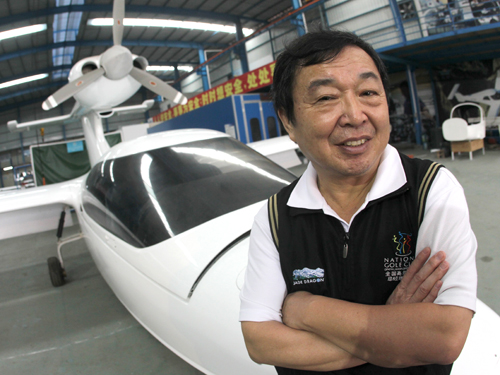 Jemy Hu with the Seawind 300C in Zhuhai. Aviation enthusiast turns childhood dream into business venture - Before the Cultural Revolution swept across China in 1966, many young people on the mainland built and flew their own aircraft. The practice was encouraged by the government, keen to cultivate a large pool of potential pilots, replicating a policy adopted by the former Soviet Union as well as Germany during the second world war. "There were government-backed aero clubs in every major city on the mainland some 40 years ago," said Jemy Hu Jinming, general manager of Zhuhai Yanzhou Aircraft Corporation. The light aircraft manufacturer is expanding its production in Zhuhai now that Beijing has appointed the city as the nation's manufacturing hub for light aircraft. Hu, 63, who was a young boy during the golden days when flying was encouraged, now has a vision of reigniting the enthusiasm for flying among the young, and growing a non-commercial pilot pool. "Boys and girls who showed potential were picked to join the clubs where they could learn to build and fly their own planes," he said.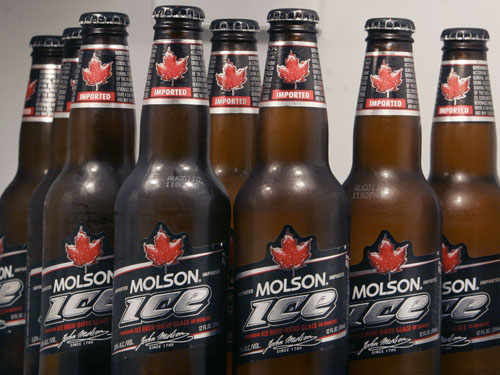 Molson Coors Brewing Co posted a lower-than-expected quarterly profit but its shares pared losses with the announcement of a new venture in China with a local brewer. Molson Coors Brewing Co said overnight on Tuesday it will take a 51 per cent stake in a joint venture with Hebei Sihai Beer Co to expand its presence in the mainland.
China supports international efforts to secure cyberspace but believes each nation's "Internet sovereignty" must be respected, a top Chinese official told a cyber security conference on Tuesday. "China, like many other countries, is very much concerned about cyber security," said Liu Zhengrong, deputy director general of the Internet Affairs Bureau of China's State Council Information Office. "China faces severe cyber security threats," Liu told participants here in the Worldwide Cybersecurity Summit, a gathering of government and business leaders from some 40 countries hosted by the EastWest Institute think tank. "International co-operation is very much needed to safeguard international cyberspace," Liu said. But, the Chinese official added, the "Internet sovereignty of each country needs to be respected" and "different national and cultural conditions" taken into account.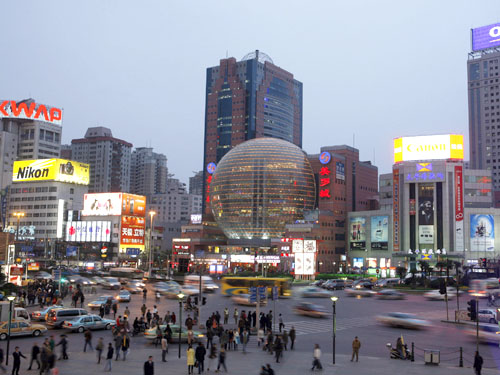 Rail expansion provides missing links - The huge investment in infrastructure in Shanghai to prepare the city to host the World Expo will open up more development hubs, according to property consultants. Forecasters expect new city hubs to follow 300b yuan infrastructure spending - In addition to a short-term direct impact on retail sales and tourism flowing from the event and the preparation that went into its staging, there would be a major and indirect impact over the long term, said Brodie. Nearly 300 billion yuan (HK$340.7 billion) was invested from 2003 to 2009 to prepare for the expo, he said, and the major driver of future change to the property landscape in the city would be the expansion of the transport infrastructure. Shanghai has 420km of metro railway line, double the length at the end of 2008.
Mainland's New Century Shipbuilding withdrew its US$560 million Singapore IPO after a complaint the firm left out critical information in its prospectus, sources said.
Frustrated at being unable to get compensation in the mainland, four parents whose children were poisoned in the country's tainted milk scandal in 2008 are hoping to find justice in Hong Kong.
Mainland restaurant chain operator Little Sheep Group said on Wednesday its directors and some shareholders are selling 4.34 per cent of the company's shares for HK$187.8 million. The company said its shareholders, including four executive directors and 16 other individuals, are selling a total of 44.6 million shares at HK$4.21 each. Shares of Little Sheep fell 1.38 per cent to HK$4.28 in the afternoon trade. The shareholding of executive chairman Zhang Gang will be reduced to 2.42 per cent after the share sale from 3.06 per cent, while that of its controlling shareholder Possible Way will be unchanged at 29.97 per cent and Yum! Brand will also remain unchanged at 27.28 per cent, it said in the statement.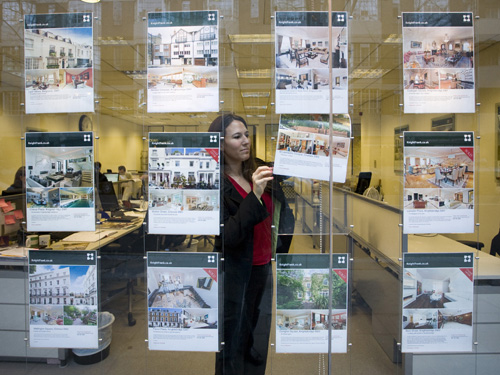 A wave of affluent Chinese are investing in new blocks of flats rising in and around London's former wharves and docks - now among the most sought-after locations in the city. Others are buying large homes in prime central London. The mainly cashed-up buyers who do not depend on mortgage loans have been largely unaffected by the credit clampdown in China, which has triggered a sharp fall in mainland sales. Estate agency Knight Frank reports that over the past 12 months, 31 per cent of clients buying homes through its Canary Wharf offices were from China. Most were after two-bedroom flats priced at £300,000 to £600,000 (HK$7.1 million). Their preferred location was Mill Harbor, near Canary Wharf, because they believe the 2012 Olympics in neighboring Stratford will lift property values throughout East London, Knight Frank reports. "Generally, we have found Chinese like to buy below the £1 million price point," said Meriam Makiya, a Knight Frank sales manager. "They prefer apartments on high floors with good views." When buying in the suburbs, Chinese investors wanted locations with good transport links to the capital's city centre, she said. They also preferred developments that offered security and facilities like a gym or swimming pool. "They buy and then visit the development after exchanging contracts," she said. "However, when purchasing property priced north of £1 million, they tend to come over to Britain before committing." Estate agency Savills has sold two flats at NEO Bankside, a project near the Tate Modern art gallery, to Chinese investors who are increasingly making their presence felt in established prime central London. "In 2009, Hong Kong and [mainland] buyers accounted for 5 per cent of all foreign buyers in prime central London," said Liam Bailey, head of residential research for Knight Frank. Mainland demand has increased despite credit tightening in China since most Chinese investors are cash-buyers and do not need a mortgage. Gary Hersham, a director at West London estate agency Beauchamp Estates, said the first of 12 mainland buyers, all businessmen, appeared in his offices two months ago. They wanted homes valued at £1 million to £3 million in West London for mothers and children to live in, while the fathers stayed in China. Educating children in British schools was their main objective for buying these homes, he said. All bought with cash. Budgets for Hersham's wealthiest Chinese clients reach £10 million. "At the top-end of the range, we are seeing `high rollers' who regularly come to London in order to `play at the tables'. They come into our offices from the various casinos in Curzon Street with the intention of buying a luxury pad for their children in prime Belgravia, Mayfair or Knightsbridge," Hersham said. Guy Meacock, associate at buying agency Prime Purchase, said he was helping a Chinese family buy a £15 million house in Knightsbridge. The husband was planning to float his company on the stock exchange. In the Home Counties, 20 per cent of Prime Purchase clients looking for country homes come from Hong Kong and the mainland, compared to zero per cent a year ago. "They are taking advantage of the perceived weak pound," Meacock said. The pound has fallen against most currencies over the past 12 months, including a 0.58 per cent fall against the Hong Kong dollar and a 0.55 per cent fall against the yuan. The pound continues to wobble over fears that tomorrow's general election will lead to a hung parliament in which no party has a majority. The markets are concerned this could delay the formation of the next government and decisive action being taken to tackle Britain's budget deficit, which is heading towards 12 per cent of gross domestic product, a level close to that of Greece.
Property prices will rise less in Taiwan than in Hong Kong and the mainland when the yuan is allowed to appreciate, according to ING Financial Markets.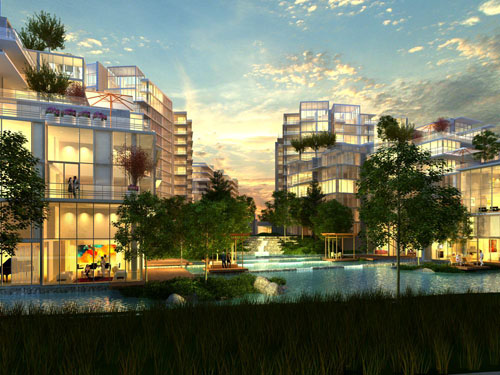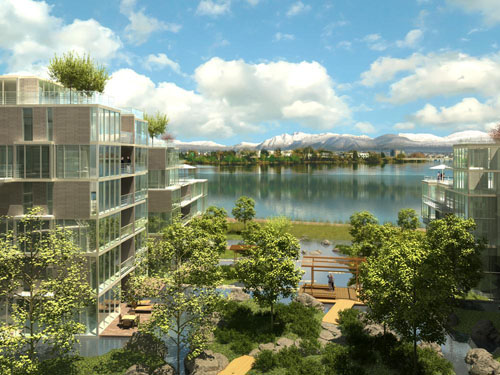 An artist's impression of the River Green project being developed by a private firm owned by the Kwok family in Vancouver. Aspac Developments, a private company held by the Kwok family, the controlling shareholders of Sun Hung Kai Properties (SEHK: 0016), is undertaking a major redevelopment project in Vancouver, Canada. The River Green project, which will take up to 15 years to complete, is set to transform the old Coal Harbour in Richmond, located on a tributary of the Fraser River within the metropolitan sprawl of Vancouver. The area, previously a railway yard and docklands, will be redeveloped into luxury flats and office towers. Richmond, on the Fraser River delta, is home to about 79,000 Chinese Canadians, about 45 per cent of the Chinese population in the country, according to a 2006 census. Aspac has bought the development site and is planning to build three million square feet of residential and commercial property comprising about 2,600 units. According to an official from Magnum Projects, the property's marketer, the first phase of 458 units, ranging from 700 sqft to 4,000 sqft penthouse flats, will be offered in six buildings this month. James Wong, an estate agent specialising in Richmond properties, said prices of older homes in the area averaged between C$700,000 (HK$5.35 million) and C$900,000, while new homes ranged from C$1.5 million to C$2 million. "There are a lot of old or second-generation or older immigrants that are already here and over the years have good equity in their home. They may buy either for investment or for their children." He added that unlike the United States, where it was difficult for non-residents to get a loan, Canada was different. "Here, the banks can do up to 65 per cent financing, whether you are a resident or non-resident. That makes a big difference because people can use some leverage and that provides liquidity for people to invest in real estate," Wong said. Prices have not been released for units in the new development but they are likely to be expensive as Vancouver property has soared in the past 12 months. According to the MLSLink Housing Price Index covering all of greater Vancouver, the average price for all properties was C$584,435 in March, up 20.3 per cent from a year earlier and 2.8 per cent above the previous high in May 2008. The benchmark is misleading, however, as the average price for a detached home on Vancouver's west side was C$1.6 million in March, up 38.5 per cent from a year earlier. In east Vancouver, the average was C$734,300. Aspac paid a reported C$141 million to buy 11 hectares of waterfront land featuring dramatic views of the mountains, ocean and Vancouver Island. In turn, the city used the money to create its C$178 million Richmond Olympic Oval, the site of the speed skating at Vancouver's recent Winter Olympics. In its post-Games incarnation, the centre will be transformed into a fitness facility for the public and the development of top athletes. Looking over the model of River Green in Aspac's C$9 million showroom to promote the project, Xi Yueli, an immigrant from Xiamen, said she had no doubt the project would be popular with Chinese. "Chinese like Richmond. It's central to the city, lots of good restaurants and shopping here, and you can walk around without getting lost." Bob Rennie, Vancouver's "condo king", said Asian investors accounted for about 25 per cent of his market. "With the amount of money being made in China and with the acceptance of China to Vancouver, we have to be in the top two places on the planet for China to look at, to move money to." Rennie forecast Vancouver property prices would "very safely" rise between 4 per cent and 4.5 per cent this year.
Dutch real estate development and investment firm Redevco has its sights on property projects worth as much as two billion yuan (HK$2.27 billion) on the mainland as part of an aggressive expansion drive in Asia. "We are looking at several projects and hope to close a deal in the short term," Robert Lie, the managing director of Redevco Asia, said. He said Redevco had a €7.2 billion (HK$73.87 billion) portfolio across Europe, which it plans to increase to €10 billion in the next 12 months. "We have also set our sights on Asia as the second home market next to Europe. We will become very aggressive in the region and expand when the time is right," Lie said, adding that over the next five years he expected Asia would account for 20 to 25 per cent of the group's property portfolio, with more than half of the Asian investment on the mainland. "Currently, the percentage of Redevco's investment portfolio in Asia is below 5 per cent as we have only been active in the market for two years. However, we have laid the groundwork for further expansion and will escalate the speed of investing in the area accordingly," he said. Lie said Redevco was interested in acquiring shopping centres ranging from 50,000 to 120,000 square metres in size worth about one billion to two billion yuan each. The investment could be made either through partnership for new projects or acquiring existing ones in prime locations. Redevco was also interested in expanding in first- and second-tier cities such as Guangzhou, Chengdu, Chongqing, Tianjin and Dalian. Although Beijing had imposed tough measures to cool the spiralling residential prices, valuations of quality retail properties remained strong, Lie said. "Robust retail spending has driven up the valuation of shopping malls," he said. Last year, the firm paid 750 million yuan to acquire a 50 per cent stake in a shopping centre in Wuhan to be built by Shui On Land (SEHK: 0272), marking its first investment on the mainland. Construction of the 109,000 sqmetre shopping centre will start in the fourth quarter.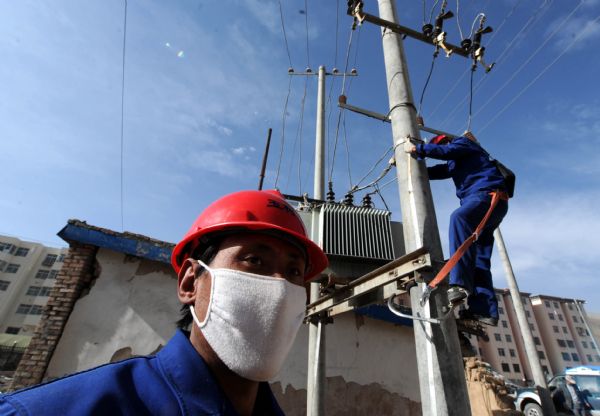 Electric power workers rush to repair Electric facilities in the quake-hit Yushu Tibetan Autonomous Prefecture of northwest China's Qinghai Province, April 19, 2010.
May 6, 2010

Hong Kong*: Air cargo throughput via Hong Kong in April rose 41.9 per cent from a year earlier, Hong Kong Air Cargo Terminals (Hactl) data released on Tuesday showed. A total of 10,080 tonnes of air cargo were handled on April 23, the highest daily tonnage throughput ever, Hactl said in a statement. Cargo exports from the city in April jumped 53.5 per cent from a year earlier, while imports were up 32.1 per cent. Hong Kong is a re-export centre for trade between Asia and the rest of the world. Air cargo volumes through Hong Kong in April totalled 248,027 tons. Lilian Chan, Hactl's general manager of marketing and customer service, said in a statement that growth was accelerating into the second quarter of this year and that the firm expected "this year will be a strong year due to the reviving economy."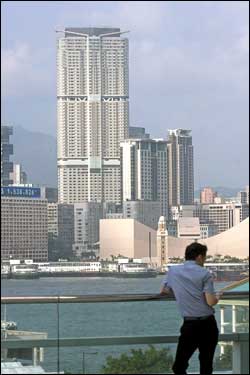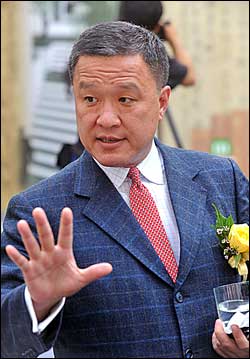 Taking a cue from government-imposed sale restrictions, the Urban Renewal Authority yesterday revealed a tightening of rules on buying property. Eight new measures include a ban on individuals buying more than two homes in any future URA project. The authority also stipulates that only individuals - not companies - can buy from a first batch of flats, and they should make up at least 90 percent of transactions, reflecting a determination to help end-users. It also asks partner developers to hand in for approval the choice of first homes and make written declarations for connected transactions. Partner developers at its new redevelopment projects must comply with all measures or risk an exclusion from future projects for six to 12 months. While the restrictions will apply to projects yet to commence, the authority will also "encourage" current partners to consider the measures in the cause of transparency, openness and fairness for users. "The community at large generally has a higher expectation on the authority to adopt higher standards of good practice," said chairman Barry Cheung Chun-yuen. The government last month unveiled nine new measures to force developers to be more transparent in selling homes. Sixty percent of the 1,000-plus homes coming from the authority in the next 18 months will be 600 square feet or less, Cheung said. The authority is a statutory public body with a mission of enhancing urban living. Board members are appointed by the chief executive. Eddie Hui Chi-man, a Polytechnic University professor concerned with real estate, sees a ban on any form of internal sales and the disclosure of all sold flats within 24 hours as the most significant measures. "No other organization has made any move on internal sales," Hui noted, so the URA is in a "vanguard." Hui also said that the URA - a de facto landowner - has much sway over partner developers, which must abide by whatever tender requirements it sets. But its influence is limited, he added, as its projects are modest when viewed in the context of the overall market. Still, the authority was caught in an embarrassing situation when partner New World Development (0017) was accused of selling flats at The Masterpiece to business associates before the public sale in August to give the impression there was a keen interest in the project. The authority revealed yesterday that company buyers made up 50 percent of transactions at the upmarket project in Tsim Sha Tsui compared with 20 percent at most in other recent projects. Justin Chiu Kwok-hung, executive director of Cheung Kong Holdings (0001), said the new measures from the authority are acceptable, noting they can raise transparency. The authority has refrained, however, from asking developers to release sales brochures and price lists seven and three days, respectively, before any launch - an idea that has met with much resistance. Hui, meanwhile, believes MTR Corp (0066), partly owned by the government, may be the next organization to restrict sales, though its profit-making nature may make prevent it from shouldering as much social responsibility as the URA.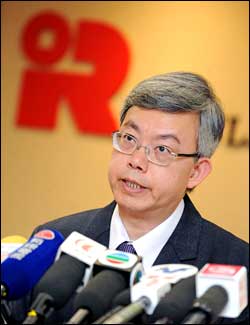 Revenue from stamp duty will likely fall by nearly 30 percent next year, the head of taxes has warned. The HK$42.38 billion collected in duty during the 2009-2010 financial year was "abnormal," Commissioner of Inland Revenue Chu Yam-yuen said yesterday. The amount represents a 32 percent rise over the previous year. The government is adopting a prudent approach by forecasting a 29 percent slump in stamp duty for the next financial year - by more than HK$12 billion to around HK$30 billion. "Over the past year, the property market was very active, but it was not a normal situation. So we decided to adopt a prudent approach to estimate [next year's figure]," said Chu, adding the estimate is based on trends. Stamp duty is mainly levied on property transactions, the lease of premises and transfer of Hong Kong stock. Revenue from property transactions last year jumped 62 percent over 2008-2009 to HK$16.24 billion. Chu said the tax department has long been closely monitoring property speculators who may try to dodge paying profits tax. The department's high-tech officers identify up to 6,000 suspected greenhorn property speculators every year, he added. But Chu admitted it is difficult to track speculators who do not have Hong Kong residence. Under the law, corporations that make quick money by speculation should pay profits tax at a rate of 16.5 percent while non-corporations pay 15 percent. Late last month, the government proposed a raft of measures in an attempt to cool the property market and make sales of new flats more transparent. Over the past year, total tax revenue collection slid 6 percent to HK$179 billion. And the department expects a further 7 percent fall to HK$166 billion next year. Chu said the 26 percent slump in profits tax collections last year was partly offset by the boom in stamp duty. The department also found that the top 100,000 earners contributed 67.5 percent of Hong Kong's salaries tax revenue in 2008-2009, a dip of 11.9 percentage points over the previous year. Chu attributed the drop in part to the financial tsunami, which hit the incomes of the rich. For 2009-2010, the government is owed HK$7.89 billion in unpaid taxes - a rise of 9 percent. Chu considers it a "reasonable level" as the economy is still recovering. However, he would not comment on the department's recent move to file a writ in the District Court seeking more than HK$340 million in unpaid taxes from businessman Tony Chan Chun- chuen. But he did say that anyone who makes money in Hong Kong - including those providing fung shui consultancy services - should pay taxes. The department yesterday sent out 2.04 million individual tax returns. Taxpayers have to return the forms by June 3. Those who file the forms online may have the deadline extended to July 3.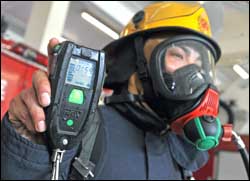 Officials yesterday unveiled increased safety features in new breathing apparatus supplied to firefighters in the wake of a Cheung Sha Wan blaze that claimed a senior fireman's life. The high-tech apparatus features blinking masks and beeping alarms that help track a fireman in distress as well as a device that tracks the amount of air supply left. About 1,500 of the gadgets, which cost an estimated HK$20,000 each, have been in use since April 8 after passing two weeks of testing. The death of Yeung Chun-kit two months ago raised concerns over the safety of the old breathing apparatus. The most novel feature of the new equipment is a scout - an electronic handheld device connected wirelessly to the breathing apparatus which tracks the amount of air left in the tank. "After three minutes of usage, the scout will start recording how long the fireman can breathe in order to work safely," said divisional officer (diving) Kwan Kam-wing. An electronic countdown of the amount of air left in the gadget is also displayed in the mask itself, making it easier for firefighters to keep track. Besides tracking data, the scout is also designed to automatically set off an alarm if the fireman collapses at the fire scene and needs help. "If the scout is dropped or left alone for 20 seconds while in use, it will start beeping and raise an alarm so other firemen can know [a colleague] is in need of help," Kwan said. The mask also features blinking red lights to alert colleagues if a fireman is in dire need of help. Fears aired by members of the Fire Services Department Staff's General Association that the scout is not waterproof were allayed when the gadget was dumped into a bucket of water. The test proved that the gadget was still working after it had been submerged completely. "The scout is protected by a rubber cover which is waterproof. Also, while at a fire scene, water spraying from a hose may not even enter the scout directly," said chief fire officer Lai Man-hin. "But by submerging [the device] completely, water has a higher chance of entering it, but it was fine." He added that firemen need time to familiarize themselves with the new equipment, and they are encouraged to report any defects. Association chairman Chiu Sin- chung rued that some members did not approach him regarding concerns over the gear and went to the media directly. "We must understand the truth and liaise with the department. Firemen must have the confidence to use the apparatus, and the first priority for us is always safety," he said.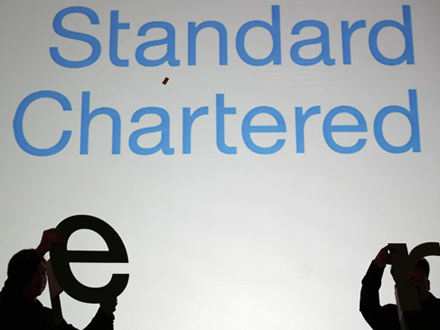 Standard Chartered said it made record first-quarter earnings thanks to buoyant commercial and investment banking business and improving consumer banking in Asia.
Jiangsu Rongsheng Heavy Industries Co has appointed Morgan Stanley and JPMorgan to finalise plans for its long-awaited initial public share offering in Hong Kong, aiming to raise up to US$1.5 billion in the fourth quarter, sources said on Tuesday.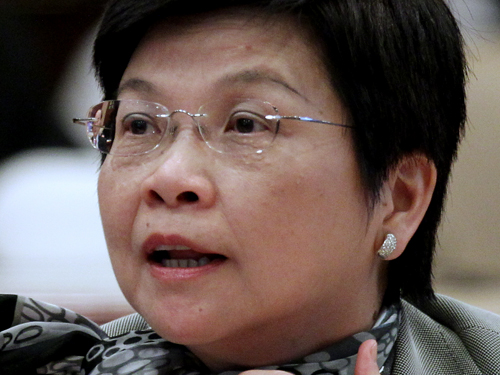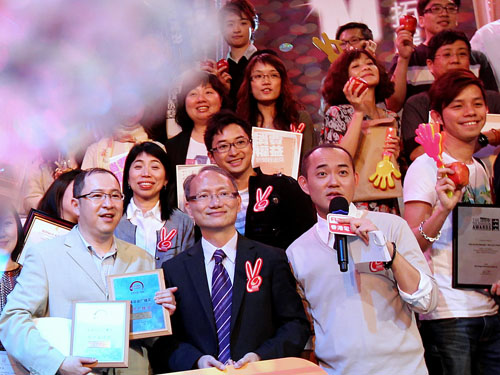 RTHK staff celebrate at Television House yesterday the 78 international and local awards the broadcaster won in 2009-10. The Broadcasting Authority is investigating if Commercial Radio has breached the rules on political advertising, but it would be premature to say the rules should be reviewed, a top government official said. Secretary for Commerce and Economic Development Rita Lau Ng Wai-lan made the comment after the Democratic Alliance for the Betterment and Progress of Hong Kong paid a controversial HK$500,000 sponsorship fee to Commercial Radio for a program it co-hosts. Democratic Party lawmaker Emily Lau Wai-hing spent HK$38,000 to place an advertisement with the same private radio station calling on the public to attend a march in support of universal suffrage. Questions have been raised as to whether their actions violated the Broadcasting Authority's Radio Code of Practice on Advertising Standards, which says no advertisement of a political nature shall be broadcast except with prior approval of the authority. No such approval was sought by Commercial Radio for the DAB's sponsorship or Lau's advert. "[A review of the regulation of political ads] should be made after public discussion. It's too early to talk about it at this stage," Rita Lau said. The authority had received 20 complaints by yesterday about the DAB's sponsorship for Night Rider 18, which is airing for 18 weeks from 2am to 6am. A second-tier member of the party will co-host each episode, interviewing youngsters and taking calls. Twelve complaints were filed about Emily Lau's advert. The authority would examine the complaints and pass them to its Complaints Committee, Rita Lau said. It would then request Commercial Radio to submit its input. The Legislative Council's panel on information technology and broadcasting will meet on May 13 to discuss whether a grey area for the placement of political ads exists that the current code fails to regulate. Panel member Cheung Man-kwong disagreed it was premature to talk about regulation of political ads. "Commercial Radio should stop the sponsored program immediately, and the government should review the restrictions now." Meanwhile, the Trade Development Council said yesterday it had not interfered with production when it sponsored a segment on Commercial Radio to promote a trade fair in Fuzhou. It said the content of the segment and all interviews were done by the radio station, which broadcast it in its talk show On a Clear Day. The station has been criticised for failing to make it clear the segment was sponsored by the council.
Many of Hong Kong's oldest buses - the most visible source of the roadside pollution that still plagues the city even as regional air quality improves - will disappear from the roads this year. Kowloon Motor Bus, which runs the biggest fleet, will retire 288 buses introduced before Hong Kong adopted European emission standards for diesel buses in 1992 as part of a big upgrade.
The Dental Council's move to set up an accreditation process for the University of Hong Kong dental school - the first official examination of standards since 1996 - was welcomed by the health minister yesterday. The accreditation, to be conducted in two years, would help improve standards, Secretary for Food and Health Dr York Chow Yat-ngok said.
Beijing is considering setting out the path to universal suffrage, including reform for the 2016 Legco election - but only if the Hong Kong government's proposal for the 2012 election is passed first.
Citic Securities, and France's Credit Agricole have entered talks to create a broker and investment bank to chase growing opportunities in China and the Asia-Pacific region.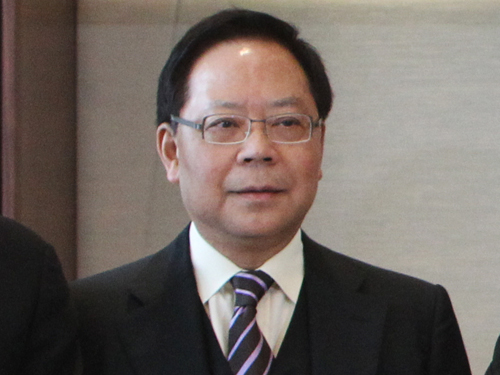 Property investor and developer Chinachem Group yesterday launched its third Hong Kong hotel, underlining its active return to business after winning a legal battle over the ownership of the estate of its former chairman, the late Nina Wang Kung Yu-sum. Director Joseph Leung Wing-kong (pictured), said the group was now a potential bidder in the auction of four sites expected over the next three months. "We may join the land auctions. It will depend on the prices of the sites," Leung said. The group's 432-room L'Hotel Island South is the first hotel completed in the Aberdeen industrial district since the Planning Department relaxed the land use of industrial sites in the area in 2001. Last week, the privately held company leapt back into the spotlight by putting flats up for rent at the controversial 24-storey residential tower at 129 Repulse Bay Road, a building that has been in mothballs for the past eight years. On February 2, the High Court ruled that an estimated HK$100 billion fortune left by Nina Wang belonged to the Chinachem Charitable Foundation, denying the validity of a will possessed by businessman Tony Chan Chun-chuen. The recent activity has had commentators speculating that Chinachem could be interested in a public listing, but executive director Dr Kung Yan-sum insisted yesterday there was no timetable for such a move. "We are not necessarily going to go public," he said. Sylvia Chung, Chinachem's general manager for hotel development and operations, said yesterday the standard room rate at L'Hotel ranged between HK$700 and HK$800 a night. She expects the occupancy rate to exceed 80 per cent by the end of the year. "We believe about 40 per cent of our guests will be business travellers, while the others will come for leisure. About 30 to 40 per cent of the guests will be from the mainland," she said. Chinachem is the largest privately run developer in Hong Kong, having developed more than 300 residential and commercial projects. Its luxury Repulse Bay development offers 100 serviced or rental apartments, which range from 1,800 to 7,700 square feet and are available from HK$90,000 to more than HK$400,000 a month.

China*: China on Tuesday pledged "extreme restraint" in its development of atomic weapons, as world powers met in New York at a key UN conference on curbing the spread of nuclear arms.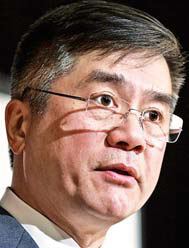 US to increase exports to cut trade deficit - Gary Locke, US secretary of commerce, is expected to lead a trade mission to China in May. The United States will try to boost exports to China - rather than limit imports from the country - to reduce its huge trade deficit, US Secretary of Commerce Gary Locke has said. Locke will lead a trade mission to China from May 15 to 21, ahead of the second US-China Strategic and Economic Dialogue (SAED) scheduled for May 23. The mission will be "focusing on promoting US exports for a broad range of new energy technologies, including clean energy, energy efficiency, and electricity transmission, distribution and storage," Locke told China Daily in an email interview. "China is our second-largest trading partner, our largest source of imports and the largest export market for American goods outside of North America. "We believe increasing our exports to China - not limiting our imports from China - is the best way to address the trade deficit," he said. "To accomplish this goal, we are actively promoting the export of American goods and services." Locke's remarks come among rising trade tensions between the two countries, which have announced anti-dumping tariffs on some of each other's products over the past weeks. Beijing announced last Wednesday that it would slap anti-subsidy duties of up to 31 percent on chicken products from the US after the US Commerce Department initiated an anti-subsidy and anti-dumping investigation into Chinese aluminum extrusion manufacturers. Beijing is also under mounting pressure from Washington to let its currency appreciate as many politicians and economists in the US say the value of the yuan is kept artificially low against the dollar, which they contend is a key reason behind the huge US trade deficit with China. China refutes the claim, saying US restrictions on exports of high-tech products are the root cause of the deficit. According to US foreign trade statistics, the trade deficit with China reached $227 billion last year, compared with the record $268 billion in 2008, the largest between any two countries. Total bilateral trade volume hit $366 billion in 2009. Zhou Shijian, a senior fellow at the Center for US-China Relations affiliated to Tsinghua University, agrees with Locke's game plan but added "the problem is what the US can sell to China". The United States considers it a "very sensitive" issue when China seeks more imports of high-tech products, as they are often referred to as dual-use technologies that can be applied in both military and civilian fields. "But the US can export more high-tech products for civilian use such as environmental protection and green energy products," which China is in dire need of, Zhou said. An increase in the exports of such products will help create job opportunities in the US, where the jobless rate hit 9.7 percent in March. In 2007, China signed an agreement with US-based Westinghouse, under which it will use the company's AP1000 technology to build two nuclear power plants. The $8-billion agreement, the first large-scale joint venture nuclear project, created more than 5,500 jobs in the US. On Google's recent move to exit from the Chinese mainland market, Locke said "this is a business decision" by the company. But he said the US is concerned "about China's increasing use of industrial policies that may restrict market access and discriminate against foreign goods and services". Some foreign companies in China say those policies favor domestic businesses, but some Chinese companies have long complained that the government offers too many preferential policies to foreign firms. Premier Wen Jiabao reassured foreign companies last week that they will not face discrimination in the country as the government will "unswervingly" continue its opening up drive that will facilitate foreign investment. "The policy of encouraging indigenous innovation treats all businesses in China the same. It will not exclude foreign companies," Wen said when he met some European business people who have enterprises in China. Locke also expressed hope for a more open market in China. "China recently issued new policy guidelines that may provide more openness and lower market access thresholds to foreign investment in certain sectors. We look forward to more details."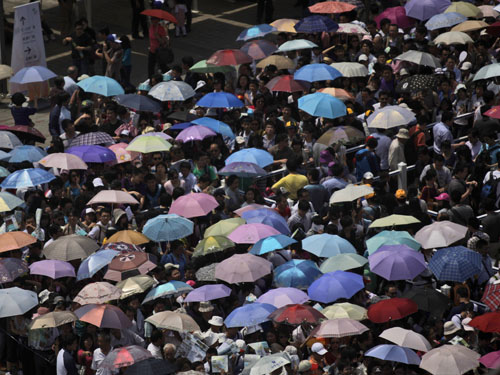 People hold umbrellas to shelter from the sun as they line up to enter the French pavilion at the World Expo yesterday. Twenty-six visitors were treated for heatstroke. Visitors sweltered in blazing sunshine at the World Expo in Shanghai as the multibillion-yuan mega fair entered its second day. With crowds visibly bigger than those on the opening day causing longer waiting times, the higher temperature began to take its toll on the throngs of day-trippers.
Despite huge queues causing backlogs of more than four hours at the most popular national pavilions, staff at the top attractions insist they are well prepared to handle the crowds. But some said they were negotiating with expo organisers on how to provide more protection against the elements. Franck Serrano, director of the France pavilion, said although they received an unexpected 100,000 visitors on Saturday, the expo's first day, the pavilion had "no problem" coping with the crush. "The queue keeps moving, so people actually spent less time waiting than they had expected." But he admitted that visitors had to wait two to three hours to get inside. "It is very routine that visitors at the expo have to queue for a long time for the popular pavilions," he said. "People are willing to queue." France is one of a clutch of striking pavilions - along with those of Japan, South Korea, Saudi Arabia and the United States - that are the real honeypots for expo visitors, attracting swarms of people.
Huijin Investment, the state-owned parent of mainland's three biggest banks, said it would participate in their fundraising plans in an apparent effort to ease market worries.

HSBC's China Purchasing Managers' Index (PMI) dropped in April to a six-month low of 55.4 from 57.0 in March as output, new orders and employment all slowed.
Agricultural Bank of China plans to apply this week for what would be the world's largest IPO, with it looking to raise US$30 billion (HK$234 billion) in Hong Kong and Shanghai.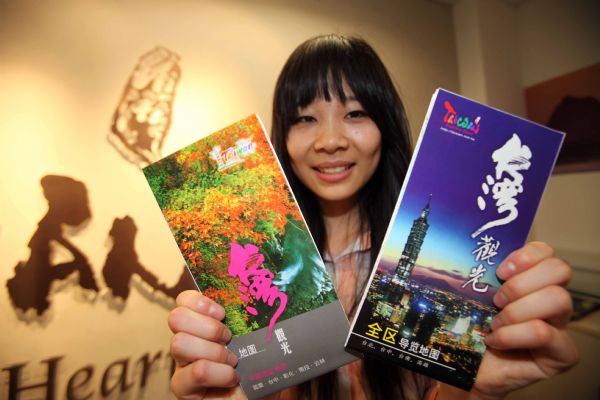 A lady shows the tourism introduction pamphlets of China's Taiwan Province at the Beijing Office of the Taiwan Strait Tourism Association in Beijing, China, May 4, 2010. The Beijing Office of the Taiwan Strait Tourism Association (TSTA) held its opening ceremony at the LG Twin Towers on Jianguomenwai Road in Beijing on Tuesday. The office is a non-government institution to offer an effective platform for reciprocal communications and exchanges in tourism across the Taiwan Strait.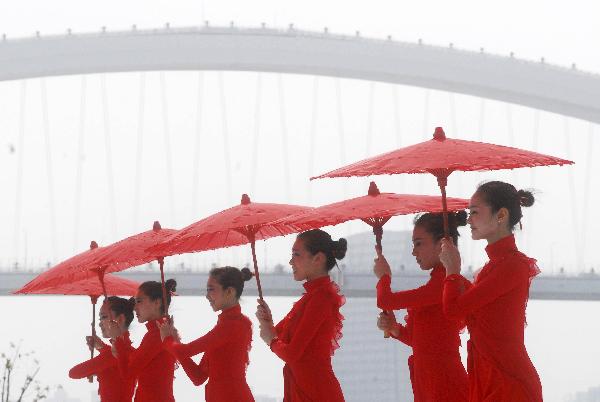 Actors perform during the Beijing culture week, the first of its kind among China's provinces, during Shanghai Expo in Shanghai, China, May 4, 2010.
May 5, 2010

Hong Kong*: Agricultural Bank of China, one of the country's Big Four lenders, plans to file applications this week for its dual listing in Shanghai and Hong Kong.
Secretary for Constitutional and Mainland Affairs Stephen Lam Sui-lung said on Monday the government did not have enough votes to pass its latest political reform package.
A Hong Kong-registered cargo ship sank off China's Shandong province on Sunday after colliding with an Indian-crewed freighter, but all crew members were rescued, Xinhua reported.
The total value of Hong Kong retail sales in March 2010 increased by 19 per cent over March 2009 to HK$24.7 billion, provisional statistics released on Monday showed.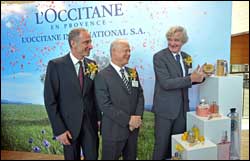 Swire Properties - the real estate unit of Swire Pacific (0019) - opens its retail book today in Hong Kong's largest initial public offering so far this year to raise up to HK$20.8 billion. The valuation of 32.4 times to 35.8 times its estimated underlying profit is fair, chief executive Martin Cubbon said in a video conference yesterday. The property unit seeks to sell 910 million shares at between HK$20.75 and HK$22.90 apiece. Underlying profit, excluding fair value gain of property revaluation, is expected to grow 10 percent to HK$4.23 billion this year, finance director Charles Bremridge said. The developer plans to use 41 percent of the proceeds to pay down its debt from Swire Finance, which will slash its debt to equity ratio to 13 percent from 30 percent. It will spend another 29 percent on loan repayment to secure a revolving loan facility of HK$9.5 billion. The firm also aims to invest 11 percent of the proceeds to fund existing property projects in Hong Kong, the mainland and Britain, while the remainder will be placed in short-term deposits or in the money market as a reserve for any investment opportunities. The minimum cost for a board lot of 200 shares is HK$4,626.21. Swire Properties is set to make its trading debut on May 14. Three listing candidates will begin marketing their IPO plans this week to raise a combined HK$10 billion. Mainland lighting product supplier NVC Lighting kicks off its roadshow today to raise HK$2.34 billion, market sources said. Giti Tyre, one of the mainland's largest tire makers, will start a roadshow tomorrow to get as much as HK$3.9 billion. Chinese iron ore producer China Tian Yuan Mining is expected to raise US$400 million (HK$3.12 billion) to US$500 million. It is expected to start marketing the deal on Wednesday.
Russia's Strikeforce Mining & Resources plans to raise between US$150 million and US$200 million from a Hong Kong initial public share offering, a source close to the deal said.
Mainland lighting products supplier NVC Lighting plans to raise up to US$272 million in a Hong Kong initial public offering, a source close to the deal said on Monday. The company, which kicked off its marketing road show on Monday, was selling about 727 million shares, or 25 per cent of its enlarged share capital, at HK$2.03 to HK$2.90 each, the source said. The source, who has direct knowledge of the offering, was not authorized to speak on the record about the deal.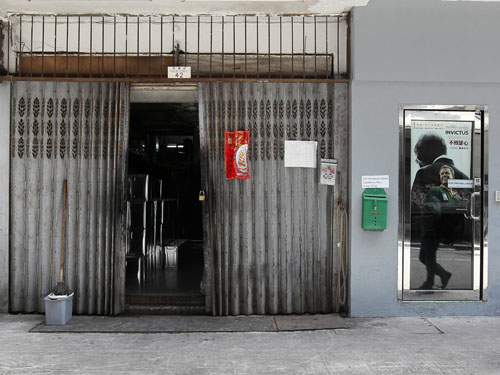 The owner of a soy sauce shop in Causeway Bay is likely to feature in the first case under a new compulsory-sale rule for private redevelopment. He has twice received an offer from a developer for a Haven Street shop in an old building since the new law came into force last month. The law, passed by the Legislative Council in March with strong support from the functional constituencies, allows developers to force the sale of remaining flats in a building older than 50 years once they have acquired 80 per cent of the property interests in it. This is down from the previous 90 per cent threshold. Lawyers have expressed concern that the new law challenges the Basic Law, which protects property rights. Many see it as riding roughshod over private property rights. Victor Sin Ho-yuen, having lost his shop at 44 Haven Street under the 90 per cent threshold, is no stranger to the compulsory-sale law. Under the new law, a shop at 42 Haven Street that Sin owns, and also his flat, are being seen by the industry as the first premises lined up for compulsory sale. His properties, accounting for 12 per cent of the ownership of No 40 and No 42, are the only two unsold to Soundwill Holdings - which, in the name of Haven Properties, has acquired ownership of the rest of the two blocks over the past few years. While negotiating with Sin, the developer gained approval from the Buildings Department in March to redevelop the blocks in Haven Street into a 35-storey apartment block with a clubhouse. And to show it "has taken reasonable steps to acquire" the remaining properties - a series of unanswered offers being a prerequisite for an application for compulsory sale - Soundwill has sent two letters in the past month to Sin with an offer - which he declined to quote - to buy his units, each of 1,200 sq ft. "What I want is ... a shop in the same area so I can continue my business, and a flat nearby so my mother doesn't need to adapt to a new place," Sin said. A Soundwill Holdings spokeswoman confirmed the company would soon apply for a compulsory sale while negotiating with Sin. She would not comment on his call for a shop-for-shop option. Sin said a consultation service available at the Housing Society and the Institute of Surveyors - which the Development Bureau offered when lobbying lawmakers to pass the law - was useless. Staff at the Housing Society's building management consultation centre in Wun Sha Street, Tai Hang, could only explain to him the contents of the law, "which I may know even better", he said. "I asked what else I could do to keep my properties since I have no money for litigation, but the officer only said I could apply for legal aid." The property owner, however, may not be eligible for the means-tested aid. The Institute of Surveyors gave him a list of firms that handle compulsory sale cases. "I asked if the institute could provide a free valuation service, and the answer was no." The bureau has promised a mediation system to protect minority owners but there is no launch date. The 90 per cent rule was introduced under the Land (Compulsory Sale for Redevelopment) Ordinance, which was passed by the pro-government Provisional Legco in 1998, and was reduced to 80 per cent under the new rule passed last month. Constitutional law expert and former Bar Association chairwoman Gladys Li said in a speech to the legal profession last month that the ordinance had a complete lack of balance and challenged the Basic Law. Important policy considerations were not reflected in the bill, she said. In 1998 when drafting the bill, government officials said the law would target defective titles, untraceable owners, those owners who had died without leaving a will or owners demanding unreasonably high prices. But the statute does not mention these groups of owners. At one stage it was suggested an "undue hardship" provision be inserted so the Lands Tribunal, in determining whether redevelopment was justified, would consider the interests of minority owners. The officials then in charge dismissed the need for such a provision, saying the tribunal would consider "other relevant factors", including owners' hardship. However, since the law was applied, judges have repeatedly said that they have no factors to consider other than the "economic lifespan test": if the repair cost of the building exceeds the enhancement in market value brought by the work, redevelopment is justified. "There is absolutely no room for the tribunal to take into account all relevant factors [including owners' hardship]," Li said. A lot of middle-class home owners may be further affected with inadequate compensation to find a flat in the same area, now that the threshold was lowered, and the government may relax development restrictions in the Mid-Levels as well in a few years time, she said. Gordon Cruden, former president of the Lands Tribunal, said in his book Land Compensation and Valuation Law that the ordinance was "the culmination of long-voiced complaints by developers". "The statutory power to permit the compulsory purchase by a private owner of another owners' estate ... goes considerably beyond previous legislation," Cruden wrote. He said the law was different from land resumption laws made for the government or the Urban Renewal Authority, which must have a public purpose for land resumption. "The private purchases are generally made for spot development for private profit and are not part of a wider comprehensive development plan for the public good," he said. Reforms should be introduced to address the shortcomings of the present public auction system, as in practice the developer was the sole bidder. The government could consider whether the sale price should be determined by the tribunal, he said. "Where minority owners ... consider they are disadvantaged ... relief might in certain circumstances be available under the Bill of Rights or the Basic Law," he said. Sin does not see a judicial review as the answer. "I'm already facing a court case and I'm appealing over the sale price of my lost shop. It would be too much of a burden for me."

The Hong Kong Monetary Authority has revealed that it has set up a subsidiary to make HK$12.2 billion worth of investments over the next few years, signaling what could be a more diversified and aggressive portfolio.

China*: In the eight years leading up to the World Expo, Shanghai has been a hive of activity, with armies of labourers working flat out to complete a series of massive infrastructure projects. The city's underground network has more than doubled in size, its second airport has been given an enormous new terminal and integrated rail hub, elevated ring roads now loop the metropolis' eastern fringes, and a high-speed rail network is soon to put Shanghai within an hour's travel of any population centre in the Yangtze River Delta. The unprecedented build-up of infrastructure was largely timed to coincide with the expo's opening, giving rise to speculation that this is the most expensive world fair in history and also causing concern that the rapid expansion could come at the expense of quality. A China Central Television news report in February put the total cost of expo-related construction in Shanghai at 400 billion yuan (HK$455 billion). The report cited unnamed departments as the source of the estimate, but city officials have since been falling over each other to deny rumours of such levels of largesse. At a press conference last month, permanent deputy mayor Yang Xiong said such speculation was groundless. "I don't know where that 400 billion yuan figure comes from. I suppose if you added up all the various infrastructure projects in the city, you would get a large figure," he said. "But these projects are not being done specifically for the expo. These are essential projects to upgrade the city. "Shanghai has a population of some 20 million people. In terms of area, it is bigger than London or New York. It is a very large and complicated city to run. Even if there was no expo, we would still need to extend the metro, build roads and construct the Hongqiao International Airport extension." He said the only direct investment for the expo was 18 billion yuan to build the site, plus a further 10.6 billion yuan in operating revenue. Official figures show that the city's infrastructural investments dwarf those spending figures. From 2002 to 2006 - the four years after the city won the rights to host the expo and the latest period for which data is available - 438 billion yuan was spent on urban projects. Unofficial estimates suggest the amount invested in the years since could be as much as 50 per cent higher. The results of that investment are instantly visible, nowhere more so than the extended metro network. When lines 10 and 13 - the 11th and 12th to open - began operating last month it pushed the city's total length of underground rail lines past 400 kilometres. With 429 kilometres of lines now operational, and 80 more to come in the next two years, the Shanghai Metro is the world's fastest growing and soon to become the most extensive. To put that into perspective, five of those 12 lines opened in the past six months. At the beginning of last year, less than 200 kilometres of track was operational. Nearly 5 million passengers now ride the system's trains every day, and even though it cuts the over-reliance on taxis, they still account for a quarter of all journeys. But that rapid expansion has come at a price. A government insider close to the infrastructural build-up scheme said the race to complete the transport network had been linked to the opening of the expo, and that had caused some compromises in quality. "It would have been better to extend the metro network gradually," he said. "That way we could have done things more efficiently and implemented a single, integrated system. Unfortunately, the time frame for the upgrade did not allow us that luxury. "There are only a certain number of companies building underground carriages and they are all straining to meet the demand. Shanghai isn't the only city extending its network, as there are several other cities doing the same just in the Yangtze River Delta. All the cities are racing to build metro networks. "We have had to source from whichever companies have been able to meet part of our demand at any given time. But the rail systems they use are different from one another. The trains are different sizes and can't be switched from line to line. What's more, the engineers have to be trained differently for each system, so we can't easily move staff from one team to another." He said the expo's site in the heart of the city - unlike most modern expos, which have been located in the outskirts - meant visitors needed to be ferried on public transport. With up to 600,000 visitors expected on the busiest days, there was simply no way the road network could cope if they all arrived by private car. "Expanding the underground was the only way to get that many people into the site safely," he said.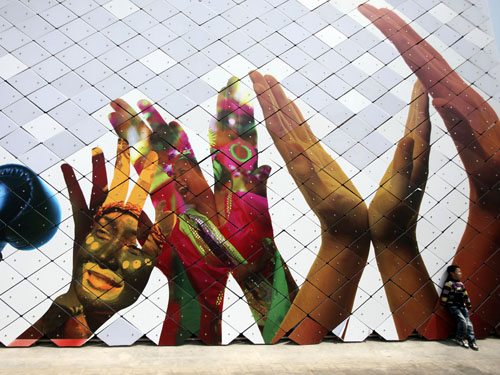 Despite huge queues causing backlogs of more than four hours at the most popular national pavilions, staff at the top attractions insist they are well prepared to handle the crowds. But some said they were negotiating with expo organisers on how to provide more protection against the elements. Franck Serrano, director of the France pavilion, said although they received an unexpected 100,000 visitors on Saturday, the expo's first day, the pavilion had "no problem" coping with the crush. "The queue keeps moving, so people actually spent less time waiting than they had expected." But he admitted that visitors had to wait two to three hours to get inside. "It is very routine that visitors at the expo have to queue for a long time for the popular pavilions," he said. "People are willing to queue." France is one of a clutch of striking pavilions - along with those of Japan, South Korea, Saudi Arabia and the United States - that are the real honeypots for expo visitors, attracting swarms of people. But the lengthy waiting times and intense heat yesterday caused some visitors to question the lack of cover. "They must have spent a fortune on that [Denmark] pavilion, why didn't they think to include some shelter for people in the queue?" Wu Minmin said. "We have been in this line for over an hour, and the sun is really fierce. It's bad enough now, but just imagine when there's a summer downpour. Even a simple canopy would be an improvement." Some of the most exceptional queues were outside the porcupine-shaped Britain pavilion. The three-deep queue stretched around the corner and down to the end of the block before doubling back on itself into a small park. "Waiting times for our pavilion averaged over three hours [yesterday]," Carma Elliot, the British consul-general in Shanghai, said. "We knew well in advance that we would be getting crowds of that sort of size and we've been keeping people informed about how long they can expect to wait. "But supervision of the queues outside our pavilion is handled by the expo authorities, so we have been discussing with them ways to make the experience more bearable." The building's designer, architect Thomas Heatherwick, who was visiting the pavilion yesterday, said he was delighted with the response. "It's great that people have grabbed hold of the idea and run with it," he said. "We weren't sure if they would." While some pavilions were packed with visitors, a handful of countries were still scrambling to open their exhibits. Expo director Hong Hao said last night there were still seven incomplete national pavilions, but he declined to name them. A review of the expo site by South China Morning Post (SEHK: 0583, announcements, news) reporters over the past two days found the incomplete pavilions are those of four eastern European nations, two from Africa and one from South America. The gates to South Africa's pavilion were hidden behind red-and-white plastic tape, while the displays inside appeared almost complete. "We received instructions [yesterday] that we are not to speak to the press," a security guard said. "The building will be open on May 6." Next door, the Egypt pavilion's doors remained closed. The situation was similar at the Venezuela pavilion. In the European zone, work looked to have been abandoned on the Latvia pavilion, while Albania's was locked shut.
Hu Jintao will visit Moscow next weekend for ceremonies marking the 65th anniversary of the end of World War II in Europe.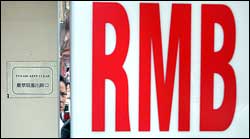 Mainland's increase in bank reserve requirements was aimed at taming liquidity and inflationary expectations, the country's vice-minister of finance said on Monday. The proportion of deposits that mainland banks have to keep in reserve has been raised again as Beijing tightens credit further and slowly exits from its massive economic stimulus package. In a sudden move yesterday, the People's Bank of China ordered mainland lenders to increase their reserve requirement ratio by 50 basis points from May 10 to cool down the overheating economy and control credit expansion. The current RRR is 16.5 percent for large banks and 14.5 percent for small ones. So far this year, the RRR has been hiked three times - in all instances by 50 basis points - with the first increase effective from January 18 and the second from February 25. Some economists had forecast a rise in benchmark interest rates this month. "It was not surprising for the central government to raise the RRR again, after seeing overheating macroeconomic data in the first quarter," said CITIC Ka Wah Bank chief economist and China banking strategist Liao Qun. "There remains a large possibility that Beijing will increase the interest rate by 27 basis points in May, if April's macroeconomic data maintained strength." However, Hang Seng Investment Services chief analyst Mark Wan Chuck-pui said the mainland would raise interest rates only after the United States - in September at the earliest in line with market expectations. "There will be an influx of hot money which will heat up the economy even further, if China raises interest rates at the same time as the yuan is allowed to appreciate," Wan said. Experts expect Beijing to revalue its currency in the second half. Wan said that the RRR hike could help ease the need for the central government to raise rates. Citi Investment Research economist Shen Minggao agreed and expects the RRR to be raised once more in the second quarter ahead of an interest rate increase. But Shen said there is a possibility the central government will raise interest rates two or three times this year if the consumer price index exceeds 3 percent and keeps rising. The China Federation of Logistics and Purchasing, meanwhile, said the purchasing managers' index for the manufacturing sector rose 0.6 percentage point to 55.7 percent in April.
Building and engineering firm Metallurgical Corp of China (MCC) said that in three years it aims to double the proportion of income it earns from overseas markets.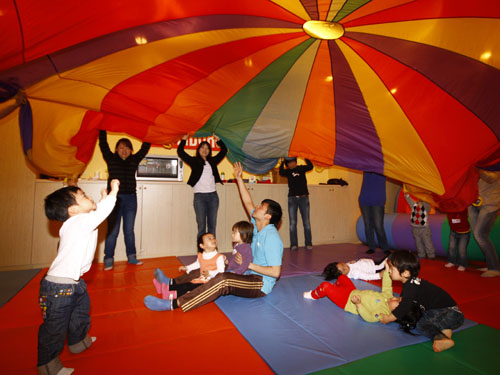 Boom time as mainland parents spend a fortune on their children - Tong Tong has been the biggest spender in his family since he was born. The fixed expenditure on the 11-month-old boy includes baby formula imported from the United States, disposable diapers made in Japan, clothes bought online and various nutrient drinks and vitamin pills. The average monthly spending on the baby is close to 10,000 yuan (HK$11,355), almost 80 per cent of the family's total expenses, said Tong Tong's father, Yang Liangfeng, a senior engineer in an integrated circuit manufacturing company in Beijing. Yet the costs do not stop there. Yang and his wife recently signed up for an "early-education class" for their son with a one-off payment of 13,000 yuan, a big chunk of the couple's monthly salary of 18,000 yuan. "It's so expensive," Yang, 30, said. "But my wife insists it's necessary for my son to take more physical exercises offered in the class because he appeared to be a slow learner." Even so, Yang said the outlay for Tong Tong was modest compared with what his friends and colleagues spent on their children. "A colleague said her daughter would never drink milk without having an imported fruit juice first." Tong Tong is one of 16.2 million children born on the mainland last year. According to National Bureau of Statistics figures, the number of births in the country has been climbing steadily over the past decade, from 11.5 million in 1999. Demographic experts say a new baby boom is emerging on the mainland as children born in the previous boom - in the 1980s - are now entering marriageable and child-bearing age. This upward birth trend may last until 2015. The boom is fuelling a heated market for baby and children's products. Today's new parents, who are more educated and richer than the older generations, are willing to pay more for their children's health and happiness and ensure their future academic success.
May 4, 2010

Hong Kong*: Scores of abandoned dogs saved from death row by a mystery benefactor were yesterday running free after moving from kennels in Pokfulam to a countryside home in Tai Po with a 3,720-square-metre garden. A convoy of cars, vans, buses and trucks took 75 of the homeless pets from the Hong Kong Dog Rescue kennels to the house, which was donated to the charity with only days to spare. Twenty-five more dogs will follow tomorrow. An anonymous well-wisher offered the charity use of the property for six months just a fortnight before the dogs faced being put down as the lease expired on the Pokfulam kennels, which are being knocked down for redevelopment.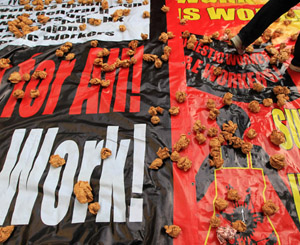 Crowd dwindles at May Day rallies - Despite predictions of a record turnout, only about 4,500 people joined yesterday's Labour Day marches - 1,500 fewer than last year.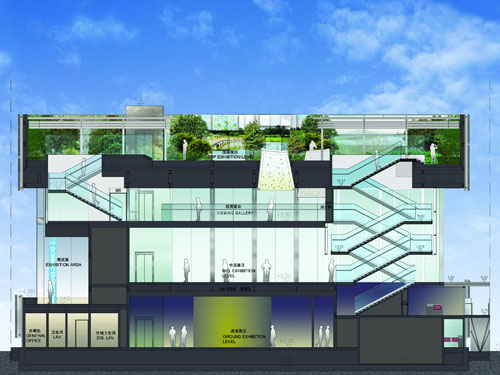 Visitors to the Hong Kong pavilion were in for a surprise yesterday - rather than the ultra-modern metropolis they were expecting, many were left filled with a sudden desire to commune with nature. "I was simply stunned with the wetlands garden on the roof. It was so relaxing and I never realised Hong Kong had so much nature," said Zhou Qiong , a Shanghai native visiting with her parents and younger brother. "We had to queue for nearly two hours to get in but it was worth it." The pavilion was a big hit with domestic visitors. Shortly after the pavilion opened yesterday morning, a queue of at least 600 people had formed under the glaring sunshine. Yang Guoyuan , pushing his elderly mother in a wheelchair, said seeing the city's pavilion had been his top priority for the day. "My sister lives in Hong Kong, so it was like going to visit her," he said. "It was pretty small inside, but that is just like the real Hong Kong." The journey through the three-storey building starts with an animated 3-D film paying tribute to Hong Kong cinema. Visitors then move to the first floor where an exhibition promotes ecological themes using hi-tech interactive games which are controlled by participants' movements. There are more interactive games on the upper floor, including the chance to design a bank note and Web portals that connect to the Hong Kong Science Museum and Chek Lap Kok airport. The tour ends with a rooftop garden dedicated to Hong Kong's country parks. "I loved the 3-D film," said Wang Tianming , a tourist from northern Jiangsu province. "The action figures leapt right out at me." Opening the pavilion, Chief Executive Donald Tsang Yam-kuen praised the efforts of the production team. "The concept, design, preparation and implementation of this project have involved a wide range of people and groups," he said. "Everyone involved has put their hearts, minds and precious time into this project." Tse Cheung-hing, deputy director of the pavilion, said the building could handle up to 12,000 people a day. Professor Lawrence Lau Juen-yee, vice-chancellor of Chinese University, said he was impressed with the Hong Kong pavilion's environmental message.
The government underestimated its 2009-10 budget surplus by more than HK$12 billion, the most in at least a decade, official figures show. Almost HK$10 billion more in tax, land premium and stamp duty revenues and HK$2.2 billion in expenditure savings inflated the surplus from an estimated HK$13.83 billion to HK$25.9 billion. The government had initially projected a HK$39.9 billion deficit, with Chief Executive Donald Tsang Yam-kuen insisting that the budget would be in the red. Over the past decade, the difference between the government's revised surplus estimate and the final result has ranged from about HK$3 billion to HK$11.6 billion. Conservative government forecasting means such differences are common, PricewaterhouseCoopers tax partner Marcellus Wong Yui-keung said. A year ago, government officials were worried about worsening budget deficits amid the global economic downturn. But stock and property market rallies helped boost stamp duties and land premiums. Salaries and profits tax levied on the healthy incomes earned in 2008 also contributed to the surplus. For the year to March 31, the government recorded HK$318.42 billion of revenue and spent HK$292.51 billion. In the month of March, expenditure exceeded revenue by HK$21.1 billion. The year's surplus increased the fiscal reserves to HK$520.27 billion, enough to cover 21 to 22 months of average government spending. Given the robust savings, Wong said there was an ongoing debate over what was considered a healthy level of reserves. For normal government expenditure, reserves equal to between six and 12 months of spending are usually sufficient.

China*: Hundreds of miles inland from the booming real estate markets of Beijing and Shanghai, an unlikely property fever is gripping the middling industrial outpost of Hefei. Rows of half-completed apartment buildings rise over former farmland, each crowned with yellow construction cranes that seem to outnumber trees in parts of this dusty city of five million residents. Taxi drivers boast of owning multiple flats for investment. Billboards hawk developments with names such as Villa Glorious and Rich Country. Frenzied crowds pack sales events with bags of cash, buying units that exist only on blueprints. Average home values in Hefei soared 50 per cent last year. The mainland's real estate rush, once confined to a handful of leading cities, has spilled into the hinterlands with a vengeance. "The situation in Hefei is a symbol of the craziness in China's real estate market," said Cao Jianhai, a professor of economics at the Chinese Academy of Social Sciences. "Prices in second- and third-tier cities are increasing more dramatically than in the first tier. It's very dangerous, and it puts local banks at risk." Buying property in second- and third-tier cities is often tipped to be the best play on the mainland's sizzling real estate market given the scope of higher appreciation than in first-tier cities.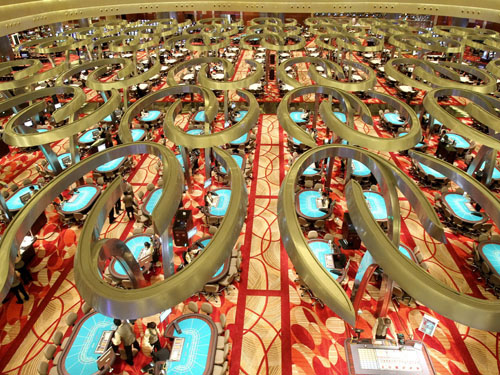 Curbs on mainlanders visiting Macau, Asia's biggest casino hub, remain tight as Beijing continues to crack down on money laundering and gambling by officials misusing public funds. They find it easier to get to Singapore - where the world's second most expensive casino resort, built at a cost of US$5.5 billion, has just opened - than to Macau. Mainland gamblers at Marina Bay Sands, the resort that Las Vegas Sands Corp opened on Tuesday, said approval for their visits to Singapore had come quickly and smoothly. "It's very easy to come to Singapore," said Fang Hong, 36, from Anhui province. "It took me just one week to get approval. This new casino is impressive and offers good services." Fang said he had lost S$100 (HK$567) in the hour after Marina Bay Sands' opened. A Shenzhen public security official in charge of reviewing applications for overseas travel said there were no restrictions on residents visiting Singapore, although civil servants had to get their supervisors' approval.
May 3, 2010

Hong Kong*: A court has dismissed a request for a temporary injunction that would have barred ATV director Payson Cha Mou-sing and his brother from selling some of their shares in the Hong Kong broadcaster to mainland property tycoon Wang Zheng. The ruling paves the way for the deal to go through. The decision came as the troubled broadcaster, one of two that are free-to-air in the city, announced that the court had also dismissed an application to liquidate it. Taiwanese snacks tycoon Tsai Eng-meng, a big shareholder in ATV who is locked in battle with the Cha brothers, had sought an injunction to stop the sale of the 10.75 per cent stake in ATV which they hold in a company called Panfair Holdings, as a temporary measure pending other litigation against them. Wang had offered them sums of HK$83 million and HK$200 million in convertible bonds for that stake, and for other shares they held through a company called Pelaka Investments. One requirement was that ATV should not go into liquidation by the proposed transaction date, June 2. Yesterday, dismissing the injunction application in the Court of First Instance, Mr Justice Aarif Barma said he saw no need to stop the sale. Tsai's application is just one part of litigation that he has engaged in against the Chas and other ATV shareholders. In March, through his company San Want Media Holdings, Tsai sued Payson, his brother Johnson Cha Mou-daid and ATV director Peter Brown. He claims that they breached their fiduciary duties to Antenna Investment, a company holding shares in ATV of which they were directors, by backing an issue of convertible bonds that could be exchanged for ATV shares at 28 HK cents each. He alleges that under an ATV shareholders' agreement, no one may issue shares or convertible bonds with a conversion rate of less than HK$2.47. Antenna and ATV are also parties to the lawsuit. The judge said he dismissed the injunction because the thrust of Tsai's complaints focused only on the convertible bonds. However, the judge allowed injunctions restraining ATV from issuing convertible bonds or bond certificates with a conversion below the minimum rate, and Panfair from disposing of or converting them.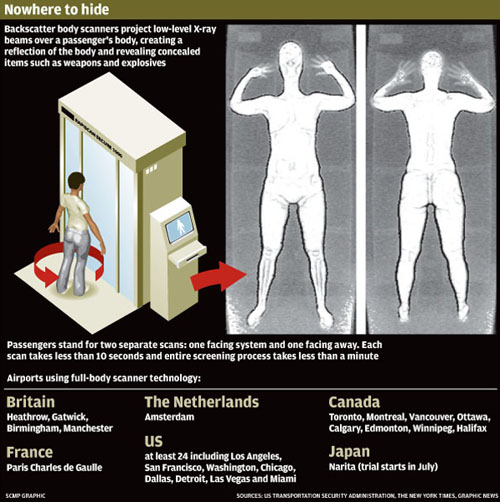 The Airport Authority is looking at introducing controversial full-body scanners, which show images of passengers under their clothes, as part of stepped-up efforts to combat terrorism. It has sent officials to Amsterdam's Schiphol and London's Gatwick airports, which are among several that have installed the scanners since the attempted Christmas Day bombing of a Northwest Airlines flight from Amsterdam to Detroit by a man with explosives strapped to his thigh and groin. An authority spokeswoman confirmed yesterday that it was studying the "whole body imager" but said no conclusion had yet been reached on whether or when to implement such screening. She said that before any trial was conducted the authority would consult relevant parties on issues such as privacy, health and safety. Human Rights Monitor said it opposed mandatory use of the scanners, and called for proper consultation and statutory protection for travellers' privacy before any such "serious intrusion of privacy" was introduced. At least 24 airports in the United States along with key airports in Britain, Paris' Charles de Gaulle and Schiphol have installed the scanners. Trials at some airports, including Manchester in Britain, showed the scanners revealed intimate images, including genitalia and breast enlargements. An official familiar with airport security said the authority and the Aviation Security Company (Avseco) had sent officials to Schiphol and Gatwick early this year to study the scanners. Passengers have no right to refuse a scan at London's Heathrow airport but it is optional in the US, where those who decline are subjected to full-body pat-downs. Two types of imaging technology - millimetre wave and backscatter - are used by the scanners. Hong Kong is looking into the backscatter variety, which uses low-level X-ray beams to create the body's reflection on a monitor. The scanners cost HK$1.2 million to HK$1.6 million each. If introduced, they would be installed at the passenger security checkpoint in the restricted area at Hong Kong airport, the official said.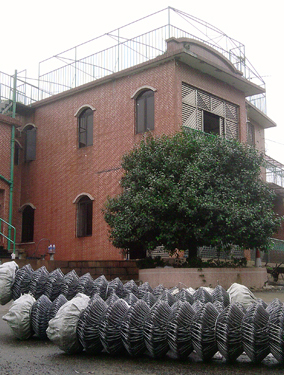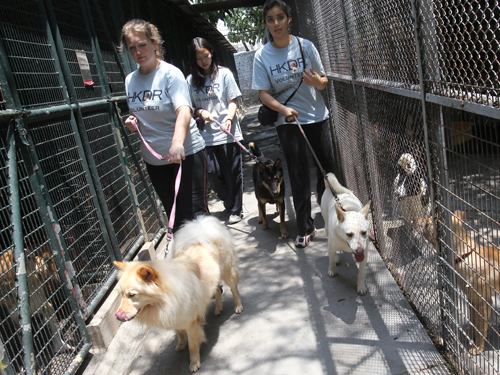 Mystery Samaritan saves 100 dogs' lives - One hundred abandoned dogs are to be moved from Hong Kong to a new home in the New Territories today after a mystery benefactor saved their lives by temporarily donating a house and garden for them to live in. A convoy of cars, vans, buses and trucks will begin driving the homeless pets this morning from the kennels of Hong Kong Dog Rescue in Pok Fu Lam to their new home on a hillside outside Tai Po, which was given to the struggling charity with only days to spare. The transfer - nicknamed Dog-kirk by some of the charity's supporters - will involve more than 100 people, with one volunteer comforting each dog as it is removed from the Pok Fu Lam kennels, which are being emptied to make way for redevelopment by the owner, Swire. Founder Sally Andersen faced having to have most of the unwanted dogs destroyed when the lease on the Pok Fu Lam kennels, which ran out in November but was extended for five months by Swire, finally expired at the end of April. With the deadline to quit the kennels less than two weeks away and an alternative venue in the New Territories blocked by planning objections, an anonymous well-wisher offered Hong Kong Dog Rescue the isolated house with a 40,000 square foot garden. Since the South China Morning Post (SEHK: 0583) highlighted the charity's plight, 80 of its 180 animals have been adopted, given temporary foster homes or placed in private kennels, leaving 100 to be moved in the 32-kilometre canine evacuation starting this morning. Andersen, whose charity seeks homes for stray dogs that would otherwise be destroyed, said: "It has been an extremely stressful few weeks. The offer of this house was a life-saver for the dogs - literally - because until it came up we just didn't know what was going to happen." An intermediary approached the charity with the offer of temporary use of the house, which is isolated from other houses and situated next to a water treatment plant and a columbarium. The owner's identity is a closely guarded secret. "I know she is a woman and I should imagine she is wealthy, but that is about all I know," Andersen said. "The house has a huge garden, so the dogs will have a lot of space to run around, but the accommodation is going to be tight. "Rather than individual kennels, they'll all be sleeping together in a big dormitory-like bedroom. The 30 dogs who have gone to private kennels are only there for a month while we settle in, so they will come back to us, and the numbers will go back up." The Tai Po house has been loaned to Hong Kong Dog Rescue for six months only, meaning the long-term search for a new home will continue after this weekend's operation. "The house hasn't been lived in for a few years, and the garden is all overgrown, so we've had teams of volunteers going up there every day to clear the undergrowth. We've got contractors putting up basic fencing to separate the garden from the driveway," Andersen said. The motorised convoy will take the dogs in small groups from Pok Fu Lam to Tai Po, and Andersen is still seeking additional volunteers to help the animals cope with the trauma of the move. "Some of them are going to be extremely stressed," she said. "It isn't going to be easy to get them in the cars. We want a volunteer per dog to sit with the dogs so they are not loose in cars. The really frightened ones we will have to put in travel crates and just see how it goes." The operation to move the dogs begins at 9 am. Volunteers will stay overnight with the animals in the two-storey house to help them settle into their new surroundings.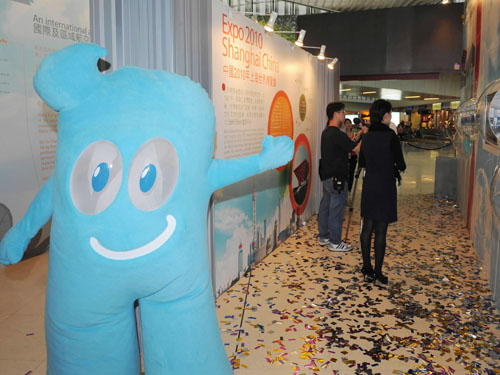 The number of mainland tour groups coming to Hong Kong over the Labour Day holiday is expected to fall 10 per cent because of the World Expo, although the total number of visitors will probably rise 10 per cent, a travel industry official said yesterday. This week is a peak travel period for mainlanders, who usually flock to Hong Kong to shop and see the sights. Joseph Tung Yao-chung, executive director of the Travel Industry Council, said the six-month expo, which opens today, would have a slight impact on the number of tour groups coming to the city, especially those from eastern China. But, as more mainlanders tended to visit Hong Kong on their own, the total number would probably rise 10 per cent compared to last year. "Package tour bookings so far show a 10 per cent drop," Tung said. "But we don't get that many tour groups so the drop will not have that much of an impact." In May last year, fears about the spread of swine flu had a dramatic effect on the number of people coming to Hong Kong, with arrivals from the mainland falling 9.6 per cent year on year, according to data from the Tourism Board. Mainlanders make up nearly two-thirds of the city's visitors. The expo is expected to draw an estimated 70 million people, most of them mainlanders.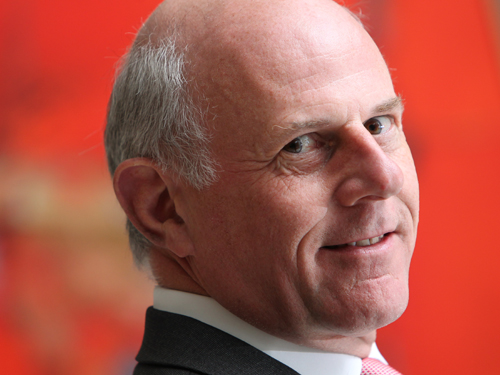 John Coverdale, Hong Kong-based co-head of HSBC's commercial banking business, has slipped his steady hand onto the tiller almost unnoticed. Unlike Michael Geoghegan, the bank's supremely confident and self-assured chief executive, who is king of the soundbite, the quietly-spoken Coverdale often takes a few minutes to answer a question. While Coverdale is effusive before the tape recorder is turned on, he displays the natural caution of a divisional head speaking for his organisation the moment he goes on the record. He also winces slightly as he trots out the bank's key messages - such as the often-repeated "we are open for business", which Geoghegan has said on a loop for more than a year to highlight HSBC's financial strength compared to competitors which are still licking their self-inflicted credit crunch wounds. He is obviously at his best toiling quietly in the background, making sure HSBC's dull but extremely worthy commercial bank continues to form the solid backbone of the institution's earnings - it made US$30 billion of profits from 2004-09. But he has a massive job. The commercial bank, which provides all the bread-and-butter banking services companies need, from working capital loans to treasury management, is a behemoth. It made a US$4.275 billion pre-tax profit in 2009. If it stood alone and was valued on the same earnings ratio as the HSBC group, it would command a US$112 billion market capitalisation. That is more than twice the stock market value of Barclays, Royal Bank of Scotland, Lloyds Banking Group, Bank of New York Mellon and American Express at press time. Coverdale runs the emerging markets side of the commercial bank, including Asia Pacific, Latin America and the Middle East. He has held the job for a year, and executives who work for him say they appreciate his steady hand on the tiller, saying the best thing he did since arriving in Hong Kong was change nothing. Coverdale seems proud that he slotted into his new role, having previously been the bank's deputy chairman in Saudi Arabia, virtually unnoticed outside HSBC. He revels in the fact HSBC is a bit of a boring bank, which does not encourage its executives to rock the boat.

China*: Managers struggle to connect with Generation Y - After the last customers leave, the waitresses at Shanghai's upmarket Tang Dynasty Restaurant - teenagers and twenty-somethings - swap their cheongsams for tight trousers and dance to pop music in the lobby. Dancing is a popular way to build team spirit among younger workers, notes Gabriel Fung Wai-kwok as he leaves the restaurant. Some 240 million strong, China's Generation Y will one day be the pillar of the workforce, and managing them is an unprecedented challenge. Fung, who, as fashion retailer Bellvilles' chief operating officer, is responsible for 530 stores across the country, has had to learn new ways of communicating with his saleswomen, nearly all of whom were born after 1980. "I am chief operating officer, but I tell them to call me Gabriel, not Fung zong (boss), to get rid of any feeling of rank," he said. "I am learning to make friends with them and speak their language, which is basically symbols." The Gen-Y traits of individualism, consumerism and tech-savviness is spreading across the globe from advanced nations to China's nouveau riche middle class. Fung is in a near-constant state of culture shock. In his mid-forties, he was astonished to find many of his staff communicate silently most of the time, through short messaging or by computer. They lead an internet-oriented life of online shopping and games and blogs. Managers of a well-known shopping mall in Jilin in the northeast held a one-day meeting two weeks ago to study the behavior of their "new generation" staff and to map out ways to manage them. "The traditional parental method no longer works," Fung said. "Their needs have gone beyond money and they may resign under any circumstances and at any time." At one stage the shopping mall planned to offer top sales staff a tour to Hong Kong as an incentive: few were impressed, because many of them had been to the city several times already.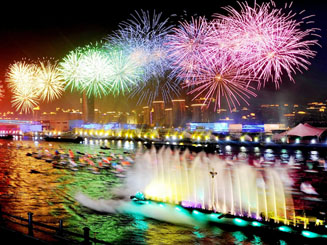 Shanghai puts on a dazzling display - The biggest World Expo in history got off to an explosive start in Shanghai with a star-studded gala opening ending in a huge fireworks display that virtually tore the night sky open.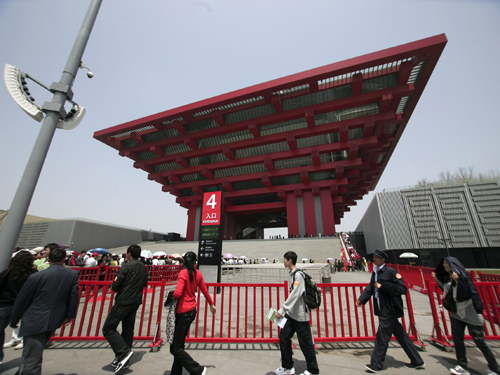 Shanghai Expo opens its doors - Hundreds of thousands of people flooded into Shanghai's World Expo on Saturday at the start of a six-month showcase of culture and technology seen as the latest sign of China's growing economic might. Organisers have said all 500,000 tickets are sold out for opening day at the massive Expo park along the Huangpu river, where visitors will wander through the exhibits of 189 nations, as well as dozens of companies and organisations. "Everything is very colourful," Cui Yan, a 23-year-old Chinese university student, said outside the Mexican pavilion. "The architecture is amazing." "There are so many highlights − I'm worried I can't see all of them on this trip," said Cui, who travelled from Ningbo, in neighbouring Zhejiang province, to be one of the first to catch a glimpse of the Expo pavilions. A sea of people waited to visit China's red inverted pyramid − the centrepiece of Expo park − with 50,000 tickets handed out within five minutes of the park opening. Queues were long at all pavilions but by 4:30 pm about 200,000 people had entered the park − less than half the number of tickets sold. Eager visitors used umbrellas to shield themselves from the blistering sun as they waited patiently, the long queues doing nothing to dampen their enthusiasm. "I want to see the Canada pavilion first. So many of my relatives have emigrated to Canada, and I want to get an idea of what kind of life they're living," retiree Huang Huifang, 58, said as she ran towards the building. Shanghai kicked off the Expo on Friday night with a star-studded music and fireworks extravaganza, signalling it would be bigger and brighter than the more low-key World's Fairs in recent years. Italian tenor Andrea Bocelli, Hong Kong action film star Jackie Chan and Chinese pianist Lang Lang performed for thousands of guests including Chinese President Hu Jintao and about 20 other world leaders. A record number of countries are participating in the event, which is expected to attract at least 70 million visitors − the vast majority of them Chinese, many of whom have never travelled outside the country. Li Huahe, a 47-year-old telecoms company employee from Urumqi in far-western Xinjiang, said he bought his ticket months ago but could only stay a few hours before heading home. "I woke up at 5.00am and I have a 2.00pm flight. I'm worried about the crowds. I want to see at least one pavilion today," Li said outside the Swiss pavilion, which boasts a chairlift that soars over a three-storey-high meadow. Nations with an eye on China's consumer market of 1.3 billion people are pulling out all the stops to attract the attention of Expo visitors. "I really hope people will discover the attitude of the Netherlands. We want to have friendly relations with China," Dutch Prime Minister Jan Peter Balkenende said as he surveyed the grounds from the top of the "Happy Street" pavilion, which aims to capture the feel and creativity of Amsterdam. Denmark has made a splash by bringing its "Little Mermaid" statue out of Copenhagen for the first time, France has Impressionist paintings and India is bringing in a cast of Bollywood stars. Li Kai, seven, was stunned when he was told the statue was real. "It's shocking. I thought it was fake. We should treat her well because she travelled so far," said Li. The hamburger and ice cream cone debuted at past Expos and food is once again playing a major role in attracting Chinese visitors to pavilions. Belgium was promoting fries with mayonnaise, Australia was serving meat pies and France featured champagne tasting. "This is the first time I've eaten foreign specialitty food, I will try more," visitor Yang Wei said, sampling Uruguayan barbecued beef. In Shanghai, the spotlight will be on the cutting-edge design of the national pavilions, all embracing the theme of "Better City, Better Life". Highlights include Britain's stunning dandelion-like "Seed Cathedral", Spain's "Big Basket" made of 8,500 wicker panels, and Switzerland's pastoral pavilion. Du Yuping, a 52-year-old steel company employee from Shanghai, came prepared for the queues with a folding stool. He said he came to Expo Park last week on a trial opening day and ended up waiting up to three hours to see one pavilion, but was pleased to see that operations were running more smoothly on Saturday. "I want to visit Expo at least six times," Du said, sitting on his chair in the queue outside the Norwegian pavilion. "I'm focusing on European pavilions today."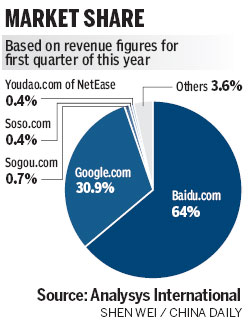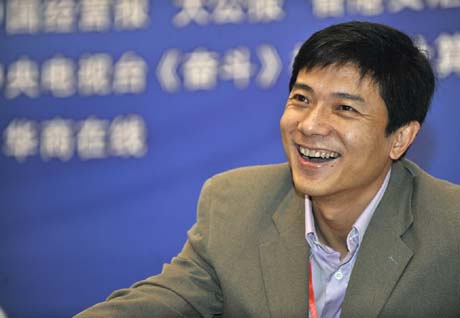 Robin Lee,chief executive of Baidu, said the company has seen higher customer loyalty since the end of May. Chinese search engine Baidu Inc on Thursday said it benefited from Google's partial exit from the country and anticipates more customer gains in the next few quarters. Analysts, however, said that Google's bleeding might slow in the second quarter, as mainland users' continued access to the Google Hong Kong site may ease advertisers' concerns. Robin Lee, chief executive of Baidu, said the company benefited from Google's decision to move its search engine to Hong Kong last month. "We have seen more confidence and higher customer loyalty since the end of last quarter," Lee said during a conference call on Thursday. Baidu also benefited from the overall market growth and the deployment of its new online advertising platform "Phoenix Nest". The company said on Wednesday that its profit more than doubled in the first three months of this year. Net income for the period rose to 480.5 million yuan ($70.4 million) from 181.1 million yuan a year back. Google's loss is really Baidu's gain. Incidentally this is the first earnings report from Baidu after its closest rival Google said in March that it was moving its search engine on the mainland to Hong Kong. The US search company's decision led to most of its advertisers reducing spending by about 30 percent. "The fall of Google's market share in the first quarter reflects the advertiser's concerns on the future of Google's Hong Kong site and its soured relationship with the Chinese government," said Edward Yu, president of Analysys International. "Since the site is still accessible to users in the mainland, we expect Google's market share to recover in the second quarter," he said. According to Analysys International, Google's market share in China fell to 30.9 percent in the first quarter from 35.6 percent three months earlier. Baidu's market share rose to 64 percent from 58.4 percent, the Beijing-based research firm said. The search engine market share is based on revenue, rather than user numbers. Access to Google's new site in Hong Kong has been normal for most mainland users. Google's other services, such as maps, video and music search are also functioning normally.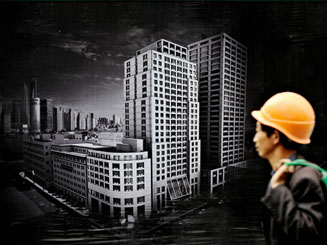 Beijing is the first city to respond to the central government's efforts to restrain sizzling home prices by limiting families to purchases of only one new home.
Three Houston police officers have been suspended for entering the Chinese consulate in the city last week and arresting and beating up the deputy consul general, mainland media reported yesterday.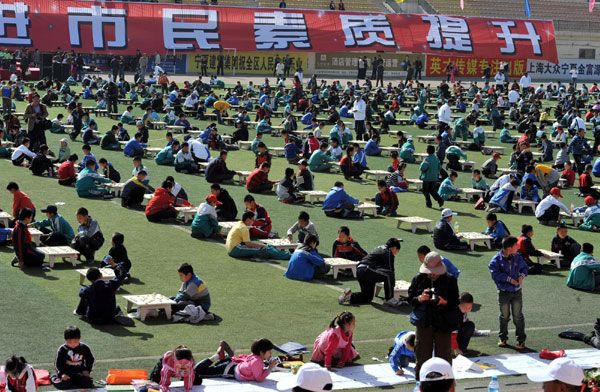 More than 2,000 young competitors participate in a Chinese chess and weiqi (Go game) contest in Yinchuan, capital of Ningxia Hui autonomous region on May 1, 2010.
May 2, 2010

Hong Kong*: Shares in Hong Kong rose 1.5 per cent on Friday, snapping a three-day losing streak, with strong bank earnings boosting investor sentiment as worries over euro zone debt eased.
Skincare products retailer L'Occitane, the first French company to go public in Hong Kong, raised US$708 million after pricing its Hong Kong initial public share offering at top of the indicative range, a source said. L'Occitane International, with a market capitalisation of HK$22 billion, sold 364 million shares or 25 per cent of its enlarged share capital at HK$15.08 each compared with a range of HK$12.88 to HK$15.08, the source close to the deal said on Friday. Half of the offered shares are new and the remainder were sold by parent L'Occitane Groupe SA, which plans to use the proceeds to repay debt. The retail portion of the offering was about 160 times covered, the source said. The deal is being handled by CLSA, HSBC (SEHK: 0005) and UBS.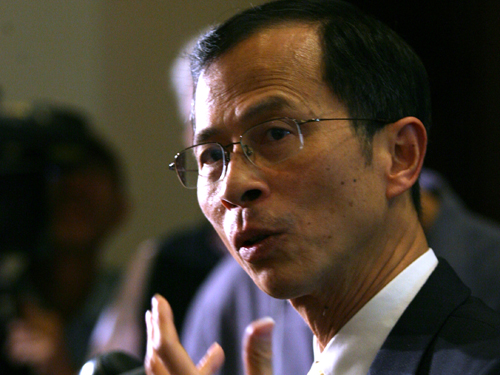 Pan-democrat legislators on Friday criticised Legislative Council president Tsang Yok-sing for threatening to resign if the government's electoral reform package lacked a single, decisive vote. The government's constitutional reform bill can only be passed by a two-thirds majority – or if 40 Legco members vote for it. Speaking on local radio on Thursday, Tsang, former chairman of The Democratic Alliance for the Betterment and Progress of Hong Kong (DAB), said he might resign as Legco president and vote for the bill if the administration lacks only one vote. But Civic Party chairwoman Audrey Eu Yuet-mee said on Friday Tsang had hurt his reputation for impartiality as Legco president. "He should not only resign as chairman, but resign from the legislature and contest the by-election for Hong Kong Island – like the pan-democrat lawmakers," Eu suggested. Democratic Party lawmaker Lee Wing-tat said Tsang had broken a promise he made when was elected Legco president. "Before the election, he said he would not vote in Legco." "Now, he can't tell the public he is a man who keeps his promises," Lee told local media. According to Legco's rules, its president must inform all members if he or she resigns from office - but still remains a Legco member. If Tsang resigns as Legco president, Legco House Committee chairwoman Miriam Lau Kin-yee will become acting president before a new one is elected.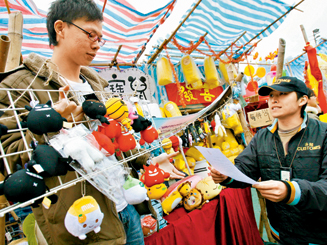 Customs officers launched a two-week operation from April 20 to stop the sale of counterfeit goods in Hong Kong during the Labour Day "golden week" holiday. A spokesman said late on Thursday that officers had already raided 21 retail outlets and five shops. "More than 4,500 counterfeit items worth over HK$1 million were seized, including mobile phones and accessories, cosmetics, leather goods, clothing and watches," he said. Nine men and seven women, aged from 24 to 49, have been arrested. Customs officers would continue to conduct inspections at popular shopping spots during the holiday, the spokesman added. Labour Day on Saturday starts off the "golden week" holiday, which lasts until May 7. During this time, stores have sales and promotions and extend opening hours. Tourists, especially those from the mainland, visit Hong Kong for shopping. In 2007, a month before the "golden week" holiday, some tourists from China claimed they were sold fake goods, such as jewellery, while in Hong Kong. After this incident, the number of tourists from the mainland fell. Common counterfeit goods in Hong Kong include designer handbags, DVDs and jewellery. A person in possession of, or who sells fake goods, are liable to a maximum fine of HK$500,000 and imprisonment for five years. Suspected cases of counterfeiting activities can be reported to customs at tel: 2545-6182.

China*: Shanghai all but closed down the main Pudong financial hub on Friday for a show that will kick-off its multi-billion dollar World Expo, lining the roads with police and taking no chances with security. China's business capital, playing host to world leaders including French President Nicolas Sarkozy and European Commission President Jose Manuel Barroso, is swabbing travellers for explosives at its airports, x-raying bags on the subway and even warning people not to hang their laundry outside.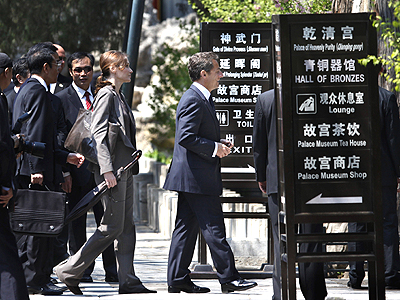 French President Nicolas Sarkozy and his wife Carla Bruni-Sarkozy visit Beijing's Forbidden City on Friday. Sarkozy, who arrived in China on Wednesday, then headed to Shanghai to attend the opening ceremony for the World Expo. Authorities closed off the Forbidden City, the ancient imperial palace in the heart of the capital across from Tiananmen Square, for the visit by the French leader and his wife, Carla Bruni-Sarkozy. Sarkozy, sporting a dark suit and tie, and his wife, in a grey trouser suit and dark round glasses, strolled around the sprawling grounds for about 45 minutes, accompanied by security personnel. France's first couple has included several sightseeing stops on the trip, including a visit to the ancient capital Xian to see the 2,200-year-old terracotta warriors, a tour of the Great Wall and a visit to the Ming tombs. Sarkozy's visit was aimed at breathing new life into Sino-French relations, which hit a low point in 2008 when the French president expressed shock at a Chinese security crackdown in Tibet in March and later met the Dalai Lama. He called China a "strategic partner" and said he would work with President Hu Jintao on a variety of issues, from the Iranian nuclear stand-off to global monetary reform. On Iran, Sarkozy told the Chinese leader that while dialogue was still an option with Tehran, sanctions had to be considered as a last resort if the Islamic republic refused to co-operate with the international community. "China hopes to use dialogue to solve this problem. France completely understands China, and we are willing to discuss this problem together at an appropriate time," state media quoted Sarkozy as saying. "But if dialogue does not work, then we can only use sanctions," he added at a joint media appearance with Hu on Wednesday. China – one of the five permanent members of the 15-member UN Security Council – has so far been reluctant to embrace tough new punitive action. Sarkozy seemed eager to mend fences, steering clear of several sensitive issues in his public appearances. He refrained from adding to pressure on China to allow the yuan to appreciate, saying it was "totally unproductive to make accusations against one another" and better to focus on an overhaul of the global monetary system. The French leader also did not speak publicly on human rights concerns, such as the treatment of political dissidents or religious freedom. He was set to return to France later on Friday after the World Expo opening gala in Shanghai.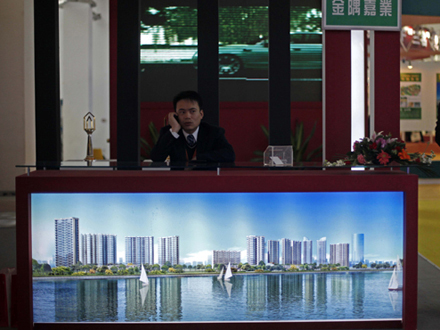 Beijing has issued rules limiting families to one new apartment purchase as authorities try to rein in rampant property speculation and soaring prices, reports said on Friday.
Mainland is expected to finish preparing rules this year allowing foreign companies to list in Shanghai and is considering letting offshore yuan be invested in the city's capital markets, a senior Shanghai government official said on Friday. Shanghai, which aims to become a global financial hub within a decade, also plans to launch cross-border exchange-traded funds (ETF) this year and to allow foreign investment in local-currency private equity funds, said Fang Xinghai, director general of the Shanghai Financial Service Office. "We're very confident that in terms of the size of the financial market, we can become one of the top three, perhaps, in the world this decade," Fang said. "In terms of sophistication, the free flow of capital … we still have a lot of room to improve." Shanghai is intensifying efforts to deregulate its capital markets to become an international financial centre by 2020 that can compete with New York and London. It took a landmark step this month with the launch of stock index futures, which offer limited participation initially but are set for steady expansion. Mainland's securities regulator has prepared draft rules that will allow foreign investors to buy the futures under the country's Qualified Foreign Institutional Investor (QFII) scheme, sources familiar with the situation said on Friday.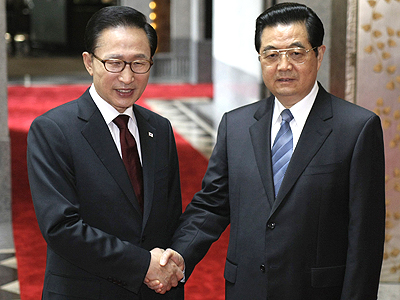 President Hu Jintao and South Korean counterpart Lee Myung-bak shake hands prior to their meeting in Shanghai on Friday.
China's biggest national news agency announced plans on Friday to launch its global, English-language television news network this week, part of efforts to expand the China government's media influence abroad. Starting on Saturday, China Xinhua News Network Corporation (CNC) will begin trial broadcasts of its English TV service around the clock, including news segments, feature stories, weather updates and special bulletins, Xinhua news agency said. The channel is officially set to launch on July 1. The agency did not immediately say what countries would receive the channel. "CNC will offer an alternative source of information for a global audience and aims to promote peace and development by interpreting the world in a global perspective," Xinhua quoted its President Li Congjun as telling a launching ceremony in Beijing. In recent years, China has announced multibillion-dollar plans to raise the profile of state media abroad by expanding Xinhua, state broadcaster China Central Television and the Communist Party newspaper People's Daily. Chinese authorities have expressed disapproval of much of the international coverage of sensitive events in China such as human rights. They accuse international media organisations of being biased and focusing on negative news. In January, Xinhua began broadcasting TV programmes in Chinese in Asian and select European countries. Last year, CCTV began a 24-hour channel airing in 22 Arabic-speaking countries, reaching a total population of nearly 300 million people. Xinhua, a ministry-level body under the administration of the State Council, China's cabinet, said it is transforming itself into a multimedia, worldwide news agency. All three state media outlets enjoy top-level party support and funding, along with virtual monopolies in certain sectors of their domestic markets. Despite China's rapid economic growth and rising global influence, it has not experienced a freeing of the media. China has retained its authoritarian one-party political system with strict limits on freedom of speech and civil and political life.
Australia's foreign investment regulator has cleared Shell and PetroChina's joint bid for Arrow Energy, the Queensland firm said on Friday.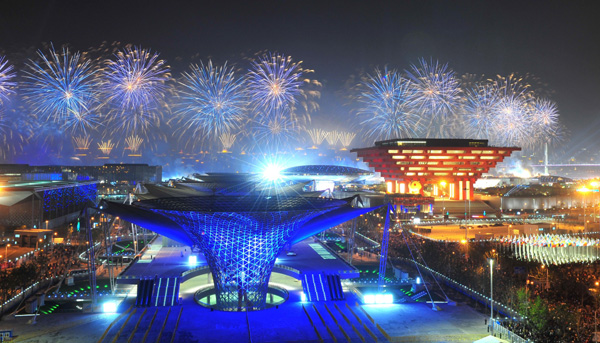 Fireworks are presented for the opening ceremony of the 2010 World Expo in Shanghai, April 30, 2010.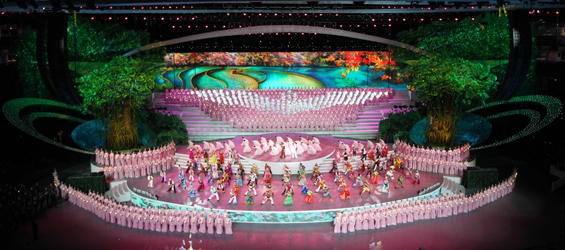 Splendid pre-ceremony performances held at Expo Park.
Splendid pre-ceremony performances held at Expo Park.
May 1, 2010

Hong Kong*: Tsang Yok-sing is prepared to resign as Legco president and vote for the government's constitutional reform proposal if its passage depends on his vote.
HSBC and Hang Seng Bank have pledged to install keypad covers for all their ATMs by the end of next month after a dozen customers lost money in a scam.
A Sheung Wan school that was barred from running a Primary One class has teamed up with a special needs charity in a HK$3.7 million fund-raising drive to run the class privately.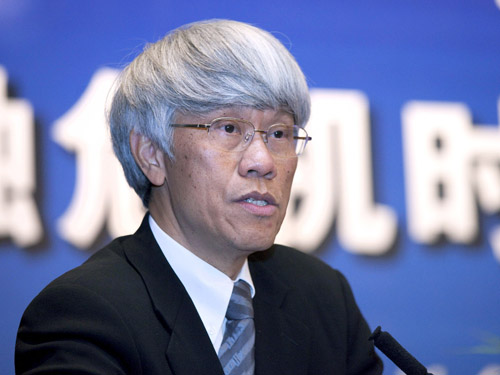 Former Hong Kong Monetary Authority chief executive Joseph Yam Chi-kwong, once the world's highest paid central banker, has a new job in academia. Yam has been appointed a distinguished research fellow at The Chinese University of Hong Kong's newly formed Institute of Global Economics and Finance. The part-time role means Yam will take part in research, share his experience and insights with top bankers and brokers, conduct classes for Chinese University students and deliver lectures. It is not known how much he will be paid. Before retiring as HKMA chief executive at the start of October, Yam was the world's highest paid central banker, receiving HK$11.9 million in 2008 compared to US Federal Reserve chairman Ben Bernanke's US$191,300. Yam was Hong Kong's first central banker and occupied the post from the authority's establishment in 1993. The People's Bank of China in December recruited him to be an executive vice-president of an advisory body to the central bank. It is not known whether the bank pays Yam for the work. The Institute of Global Economics and Finance has been set up to contribute concepts and policy ideas on opening up China's financial system. It will also launch educational programs related to global finance and banking issues, such as the internationalization of the yuan. Besides Yam, the institute has enlisted top professionals and academics including Nobel Prize-winning economists James Mirrlees and Robert Mundell. At a university event to announce his appointment yesterday, Yam slipped easily back into central banker mode, offering his views on the outlook for the yuan. "It will be impossible for the yuan to keep on rising forever," he said. "Mainland officials have also said the yuan has not been undervalued." Yam reiterated his view that the yuan could become the third major international currency, after the US dollar and euro. He also believed Beijing's tightening of credit and other measures to cool down the property market would have a positive economic impact.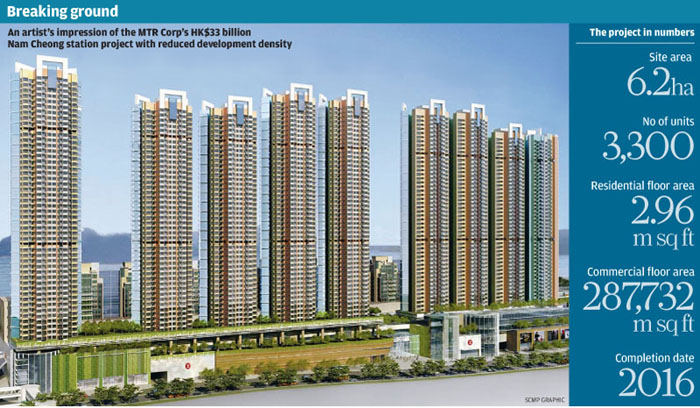 The MTR Corp's HK$33 billion Nam Cheong Station project has attracted interest from 12 developers - four more than when it was first launched five years ago. In 2005, when the KCRC was managing the project in Sham Shui Po, eight developers expressed an interest before the residential development was shelved due to concerns of green groups that the 20 high-rise towers would cause a wall effect. The railway operator has since modified the design and lowered the density of the development on top of Nam Cheong Station, close to the Fu Cheong and Nam Cheong public housing estates. The 6.2-hectare site will now house nine seven- to nine-storey low-rise blocks and nine 42- to 46-storey high-rise residential towers, plus a 287,732-square-foot shopping centre. The project will provide 3,300 flats with a total residential floor area of 2.96 million square feet and is due for completion in 2016. All the major developers, such as Cheung Kong (Holdings) (SEHK: 0001), Sun Hung Kai Properties (SEHK: 0016), Sino Land, Kerry Properties (SEHK: 0683), Henderson Land (SEHK: 0012) and Nam Fung Development were among the 12 to express interest yesterday. MTR is currently negotiating the land premium with the government and will put the project up for tender in the near future, a spokesman said. Even though there has been a better response this time it does not mean the developers are more optimistic about the property market's outlook, according to analysts. Alnwick Chan Chi-hing, executive director at Knight Frank, said only a few of the developers could afford the large investment cost and he expects only four of them to eventually join the tendering process. "But it does present an opportunity for the developers to get the inside information on land premiums if they submit expressions of interest. It can also show the MTR that you are still a market player," Chan said. According to the transaction data of Centaline Property Agency, prices at the seven-year-old Metro Harbor View in the area range between HK$4,964 and HK$5,137 per square foot. A further indication on the state of the property market will be available over the next three months when the Lands Department sells four development sites in Fanling, Tung Chung, Ho Man Tin and The Peak. The two residential sites at Mount Nicholson Road on The Peak and Fat Kwong Street in Ho Man Tin are expected to be major targets as they offer an opportunity for luxury residential projects. Chan said Nam Cheong Station was still competitive, being a mass residential project on top of an MTR station, although he did not believe the developers would be submitting aggressive offers for it or any of the other sites due to the uncertain market outlook. "The latest housing policies show the government is paying special attention to the property market. The government may release new measures to curb the growth in property prices." he said.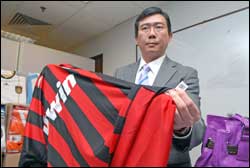 Customs has stepped up its blitz on counterfeit goods ahead of the May Day Golden Week. Over the past fortnight, officers have seized 4,500 pirated items worth about HK$1 million and unearthed five "storage warehouses" in Yau Tsim Mong. Nine men and seven women aged 24 to 49 have been arrested. Most are shop owners. The fake goods include mobile phones, cosmetics, luxury watches, brand-name bags and - ahead of the FIFA World Cup in South Africa - football strips. Intellectual Property Investigation Bureau divisional commander Koon Hon-chuen said it will strengthen surveillance in tourist shopping areas. There were 167 cases in the first quarter this year, the same as in 2009. A total of 1,014 cases were recorded for the whole year. Meanwhile, traffic at Kowloon West's Olympic City during the May Day Golden Week is expected to increase 15 percent to 157,000 people and bring in HK$7.26 million in sales. Sino Group is predicting overall growth of 13 percent for Olympic City, Golden Coast Piazza and Island Resort Mall. with 262,000 visitors. To attract more high-spending mainlanders, Olympic City is offering a one-night stay and buffet breakfast for two. It is also hosting a South African Festival from today until May 9. The 10-day Golden Week lasts from May Day until Mother's Day on May 8. Spokespersons for major shopping malls including Times Square and Elements said mainlanders are becoming a force to be reckoned with. Times Square has increased its cross-border bus service to 30 a day to pick up tourists from Shenzhen, Foshan and Guangzhou. Elements expects mainland shoppers to contribute 40 percent to its overall turnover. The Hong Kong Tourism Board reported tourist spending rose 3.2 percent to surpass HK$160 billion last year. Chairman James Tien Pei- chun said average spending of transit visitors also went up 20 percent.

China*: Insurers rush to launch yuan-denominated policies - Expectations of an appreciating yuan has spread to the insurance sector as policyholders seek out yuan-denominated policies.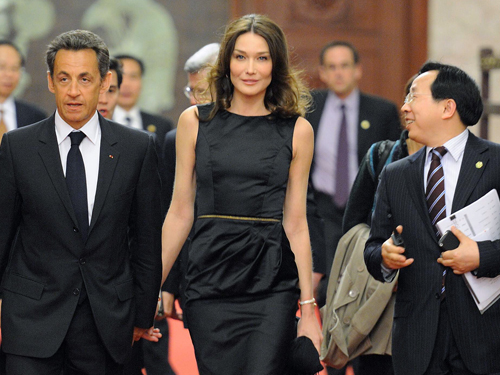 French President Nicolas Sarkozy and his wife, Carla Bruni-Sarkozy, arrive at the Great Hall of the People. Wen pledges that China will play a bigger part in global issues - China yesterday pledged to take a greater role in global issues as it vowed to work with the European Union on nuclear non-proliferation, energy security and climate change. In wide-ranging talks between Premier Wen Jiabao and European Commission President Jose Manuel Barroso, the two sides also agreed to fight protectionism and tear down trade barriers. "China will undertake greater international responsibilities," Wen said in a joint media appearance with Barroso after their talks. "This is not only to meet international expectations but also serves China's interests." The two sides also agreed to set up a climate change hotline between top environmental officials of the EU and China to help both sides co-ordinate their positions in global greenhouse gas negotiations, Barroso said. On the Iranian nuclear issue - a key concern of the EU and United States - Wen did not say whether Beijing would support new sanctions against Tehran. He said only that China was committed to the global nuclear non-proliferation regime and upholding peace in the Middle East. Wen said: "China will remain in touch with the relevant parties and will play a positive and constructive role for the early and proper settlement of the Iranian nuclear issue." Western nations are calling for a fresh round of UN sanctions but Beijing - a veto-wielding permanent member of the UN Security Council - has so far resisted such a move. "China and the European Union have far more consensus than differences," Wen said. "We both stand for world multi-polarity and diversity and we both believe that major decisions in world affairs should be taken in an open, democratic and transparent manner." Barroso and his delegation will leave Beijing today to attend the opening of the World Expo in Shanghai. French President Nicolas Sarkozy and his wife, Carla Bruni-Sarkozy - who will also attend the expo - yesterday walked the Great Wall and wandered the imperial Ming Tombs on a sightseeing stop during their visit to China. Sarkozy's trip is being billed as a return to healthy diplomatic relations between the countries after spats over Tibet. The French leader is also pressing Beijing to support further sanctions on Iran over its nuclear program. Hours before Sarkozy's planned meeting with NPC chairman Wu Bangguo , the French first couple visited the tombs and a section of the Great Wall usually closed to the public, French officials said. The tombs, on Beijing's outskirts, were chosen by 13 of the 16 Ming dynasty emperors, who ruled between 1368 and 1644, as their last resting place. Sarkozy will travel to Shanghai today, where he will attend the opening ceremony for the expo and visit France's stand at the fair. On Wednesday, the couple went to Xian to visit the terracotta warriors.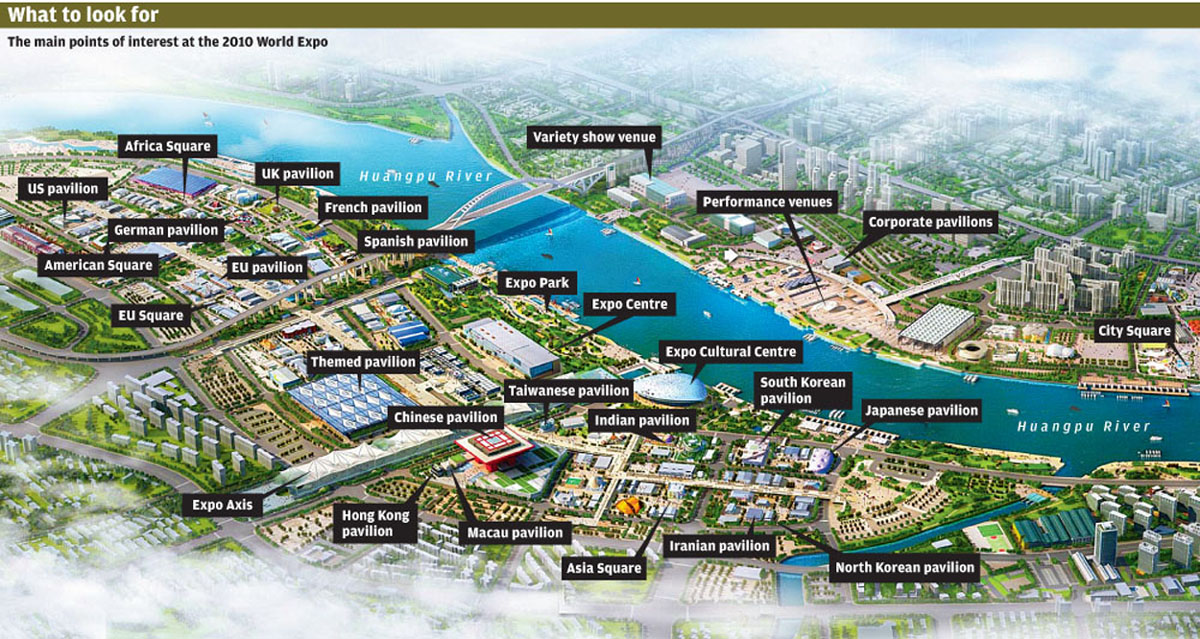 More than seven years ago, after Shanghai won the right to host the 2010 World Expo, thousands of people whooped it up on the city's streets. People from all walks of life believed the big show would help Shanghai catch up with Beijing, which was splashing out roughly US$40 billion on the 2008 Olympics. The municipal government mobilised enormous resources to ensure that expo-related projects were completed on time, allowing the city to show its best face to the world. Real estate firm Jones Lang LaSalle says Shanghai has spent US$95 billion on expo-related infrastructure, with analysts describing the scale and pace of development over the past two years as something never seen before - anywhere. Now the Shanghai government and people are hoping it all pays off. Xinhua has reported that the international fair could create as many as 250,000 jobs in the city and increase Shanghai's gross domestic product growth by 5 percentage points. If the expo attracts the 70 million visitors that have been forecast, income from ticket sales and food and beverage sales could top 10 billion yuan (HK$11.4 billion). The hospitality sector will be one of the top beneficiaries of the six-month event, which looks like being a windfall for the city's 310 star-rated hotels and 6,000 or so inns, which have 334,000 rooms and 557,000 beds. Cheng Meihong , a deputy director of the Shanghai Tourism Administration, told a press conference this month that hotel prices were expected to rise slightly during the expo, as thousands of travellers from other parts of the country and abroad flocked to Shanghai. But economists say that while the expo may boost the retail and hospitality sectors in the short term, it will be difficult for Shanghai to sustain rapid growth after the event. "After all, the economy doesn't necessarily hinge on the event," Morgan Stanley analyst Allen Gui said. "Taking a long view, the outlook is still unclear because it's too early to assess whether the massive infrastructure investments are redundant or properly needed." When the expo opens tomorrow, Shanghai's Metro system will have 420 kilometres of track in operation - nearly double last year's total. That breakneck pace of subway expansion has seen "decentralised" office blocks sprout up outside the central business district. At the end of last year, Shanghai had 415,000 square metres of decentralised Grade A office space, Jones Lang LaSalle said. It predicted the figure would jump to 1.8 million square metres by the end of 2013. More corporate tenants are leaving the city centre to take advantage of cheaper rents in the suburbs. Shanghai, one of the mainland's two main economic locomotives, failed to dodge the bullet when the global financial crisis struck two years ago. Shrinking external demand knocked the steam out of Shanghai's economic growth and robust retail sales, which grew 13.6 per cent last year, were not enough to offset the export slowdown. The city's GDP grew 8.2 per last year, 1.7 percentage points less than in 2008, and the second consecutive year of single-digit growth. Shanghai had posted double-digit growth in the previous 16 years - from 1992 to 2007 - as exports from the Yangtze River Delta boomed and foreign capital flooded in. To add to the blushes of the city's leaders, including Mayor Han Zheng , Shanghai's GDP growth last year was also among the lowest recorded by any of the provincial-level regions. "Shanghai would have to draw a lesson from the slowdown in the past two years," Zhang Youwen , the chief world economy researcher at the Shanghai Academy of Social Sciences, said. "It will be difficult to gauge how much the expo can help the local economy in the long term." The city took a hammering from the global financial crisis, lagging behind mainland rivals whose economies kept growing rapidly, fuelled by Beijing's 4 trillion yuan stimulus package. Shanghai has been striving to shift its economic focus from manufacturing to services, seeking to become a big-name metropolis on a par with New York, London and Paris. Beijing drew up an ambitious blueprint for the city last year, encouraging Shanghai to transform itself into a global financial and shipping centre. However, in the absence of substantive liberalization policies, economists have seen the plan as nothing more than an empty promise. Without full convertibility of the yuan, they said, Shanghai's dream of becoming an international financial hub centre would remain illusory. An official with the Pudong Financial Services Office said district government and city government officials were preparing to host several events during the expo where they would lobby for accelerated market deregulation and seek to attract more overseas investors. Some other governments around the country have also sniffed out opportunities during the expo, hoping to promote investment and trade when influential government officials and businesspeople visit the big show. "We can't afford to miss the big party because it provides a good chance to get to know the big shots," said Guo Yi , a deputy director of the economic research department in Jining , Shandong . "It will be a platform to promote Jining's trade and draw investment to the city."
Leaders from 20 countries are due to gather in Shanghai today as the city prepares to raise the curtain on the biggest and most expensive World Expo in history.
To outdo each other in impressing visitors to the World Expo in Shanghai, participating countries are putting on display their national treasures, many of which had never been taken abroad. The Little Mermaid statue from Denmark, Impressionist paintings and a Rodin sculpture from France, paintings by the Italian Renaissance master Caravaggio and other national treasures are part of the countries' bids to showcase their best. Entertainment will also be a major part of some pavilions' offerings. Among the 20,000-strong performances will be big names such as Orchestra del Teatro alla Scala from Italy, Russian singer Vitas and jazz pianist Herbie Hancock from the United States. Representatives of these pavilions see the higher profiles as a way to promote their countries' culture, as well as boost their tourism and economy. This is the first time, for example, The Little Mermaid has left Copenhagen since it was dedicated in 1913. Even during the six-day "soft opening" of the expo, thousands of visitors swarmed to the Denmark pavilion to view the lady from Hans Christian Andersen's fairy tale, which is well known in China. Wang Jing , the pavilion's deputy director, said it was an honour to share the statue with tourists from all around the world. "Denmark has never valued an expo to such an extent. [Moving the statue] was meant as a cultural exchange, and in the meantime, it can be helpful to business and trade between [Denmark] and China," she said. The France pavilion will exhibit six paintings by Impressionist masters, such as Paul Cezanne and Vincent van Gogh, and a sculpture by Pierre Auguste Rodin, all borrowed from the Musee d'Orsay in Paris. Italy is showing two paintings by Michelangelo Merisi da Caravaggio, Basket of Fruit and Boy With a Basket of Fruit. The Czech Republic removed two bronze Plaquettes of Good Fortune from Charles Bridge in Prague and installed them at the expo, and Nepal is displaying Buddhist relics. Luxembourg is also competing for Chinese people's attention by exhibiting the Gelle Fra (Golden Lady in English) statue, a national monument. Completed in 1923, the statue had never been out of the country. Professor Xu Mingqi , of the Shanghai Academy of Social Sciences, said the expo was a good opportunity for mainland people to learn about other countries, since most of them have never gone abroad.
While Google's mainland business has suffered from a quixotic stand against Beijing's internet censors, Baidu is reaping a mighty windfall from it.
If Beijing does not speed up approvals for hydropower projects it may not meet its clean-energy goals for 2020, the China Electricity Council says.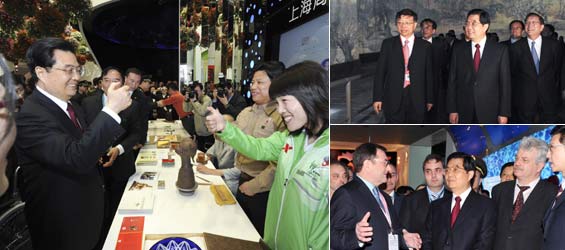 President Hu visits Shanghai World Expo Park.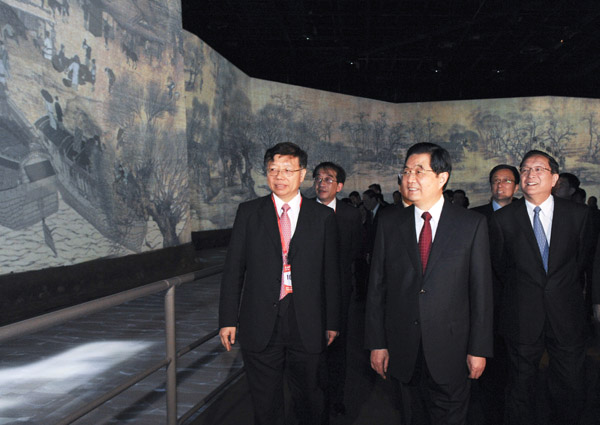 Chinese President Hu Jintao (C) visits China Pavilion at the Shanghai World Expo Park in Shanghai, east China, April 29, 2010. Hu Jintao paid a visit to the Shanghai World Expo Park Thursday, two days ahead of the opening of the global event.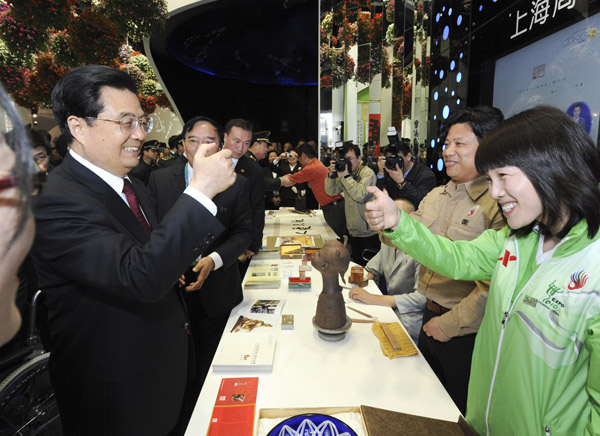 Chinese President Hu Jintao use sign language to express greetings to a volunteer at Life Sunshine Pavilion in the expo site in Shanghai, east China, April 29, 2010. Chinese President Hu Jintao paid a visit to the Shanghai World Expo Park Thursday, two days ahead of the opening of the global event.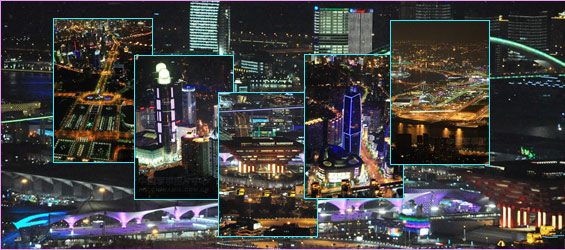 Enjoy sleepless city of Shanghai.

As Western investments into mainland companies go, Goldman Sachs, Morgan Stanley and UK private equity firm Actis Capital's decision to plough US$73 million into yoghurt drink maker Hunan Taizinai may qualify as one of the worst. On April 12 the company, which operates across China but is legally based in the Cayman Islands, was wound up by a court in the balmy British territory, owing creditors 2.7 billion yuan (HK$3.1 billion). But back in January 2007, the company and its founder, Li Tuchun, were the stuff of private equity managers' dreams. Li was a self-made, energetic entrepreneur who left a state-owned enterprise in Shenzhen in 1990, aged 30, with 300 yuan in savings. He built Taizinai, which produces probiotic drinks similar to Japan's Yakult, into a supermarket brand that tapped into the vast potential of China's nascent consumer goods sector. But by August 2008, Taizinai was insolvent, according to a confidential report by accountants Deloitte. After he won the foreign investment, Li massively overexpanded his business, the accountants said. Deloitte also said it suspected Li of inflating sales and assets and making payments out of the company that "drained cash". The report was not an audit, but a draft discussion paper that the accountants prepared for the private equity investors after addressing detailed questions to Taizinai's management, including Li.
April 30, 2010

Hong Kong*: The Hongkong and Shanghai Banking Corporation Asia-Pacific chief executive Peter Wong Tung-shun said on Wednesday the bank would conduct a review of its ATM services.
Greece was pushed to the brink of a financial abyss and started dragging another eurozone country – Portugal – down with it, fuelling fears of a continent-wide debt meltdown.
Anti-drug push `driving down narcotic crime' - Drug offences involving teenagers slid 40 percent in the first quarter of the year, amid a decline in overall crime, according to the security chief.

After days of intense speculation, the future of outgoing Swire Pacific (0019) heavyweight Philip Chen Nan-lok is now clear. He will join Hang Lung Group (0010) and subsidiary Hang Lung Properties (0101) as managing director of both firms. And he will get HK$21 million a year for his services. Chen - the first Chinese to head Cathay Pacific (0293) - announced on April 19 that he will step down as chairman of John Swire & Sons (China), deputy chairman of Cathay Pacific and all other Swire posts on July 1. He said the decision was prompted by his "desire to pursue other interests." The shock announcement triggered media speculation that Chen will join PCCW (0008) - which issued an immediate denial - or Hysan Development (0014). Hang Lung chairman Ronnie Chan Chi-chung said he looks forward to working closely with Chen, and that their appointment talks began "a few months ago." "Chen is a well-rounded person, with experience in all aspects and also has a good personality," Chan said. "I think he is a management professional who is hard to come by," he told The Standard. Chan said though Chen lacks property experience, the departing Swire executive will prove to be a good leader for Hang Lung's property experts. "I believe the group will have bright prospects with Chen as managing director," he said. Chen will succeed Nelson Yuen Wai-leung on July 15. That is the day Yuen retires after 32 years of service with the group to become a board adviser. He has been managing director for the past 17 years. Chan noted Chen's pay will be "exactly the same" as Yuen's was because he will have similar responsibilities. According to Hang Lung's statement to the bourse, Chen is, apart from the HK$21 million a year, entitled to a bonus of HK$5.2 million at the end of June next year. In addition, Chen will be granted the option to apply for 10 million Hang Lung Properties shares and receive a director's fee from Hang Lung Group. His total remuneration from the Swire Group in 2008 and 2009 was HK$15.1 million and HK$14.2 million, respectively. Hang Lung Group closed down 3.3 percent at HK$39 and Hang Lung Properties ended 2.7 percent down at HK$29.20 before Chen's appointment was announced.

Cathay Pacific Airways (SEHK: 0293) said on Wednesday its operations had returned to normal after its flights to Europe were disrupted for a week after ash from an erupting Icelandic volcano covered a huge part of the European continent. Cathay Pacific's chief executive Tony Tyler said although the airline's business had been affected, it was too early to decide whether it would adjust its fares like other airlines. "The closure of the European airspace has some impacts on our revenues, but I am pleased to say we are recovering very quickly. "It's too early to calculate the total financial impact, we will probably make a statement about it later," Tyler said.
Unionists say they have the figures to back up their demand for minimum hourly pay of no less than HK$33, which they say is vital to halt a widening gap between rich and poor.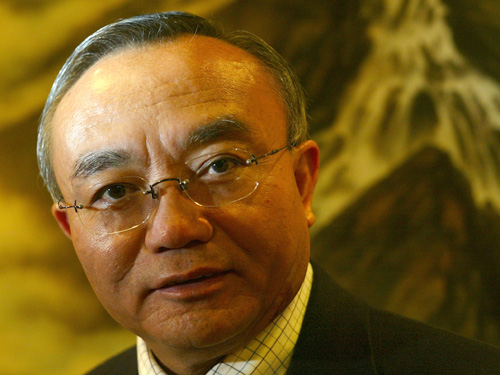 'Referendum' push has failed, top adviser says - Think-tank polls say most oppose poll campaign. The campaign to make next month's Legco by-elections a "de facto referendum" on democratisation is a failure, the government's chief adviser declared yesterday. Professor Lau Siu-kai, the head of the Central Policy Unit, said its surveys had consistently shown that more than half the people opposed the campaign. Five lawmakers from the League of Social Democrats and the Civic Party resigned from their seats to trigger the polls, hoping to offer voters the chance to show they wanted "genuine" democracy. Campaign organisers rejected Lau's claim. Lau said the unit had conducted more than three public opinion polls in recent months - he could not recall how many exactly, nor over what time period they had been done. Each had a sample size of about 1,000. In each survey, more than half the respondents said they opposed the movement for a "de facto referendum" and thought it had failed. Citing the findings and those of others, Lau said people did not think the campaign would put pressure on Beijing to compromise on electoral reform, and felt it lacked large-scale support. League chairman Andrew To Kwan-hang dismissed Lau's conclusion. "Uncle Kai already maxed out his credit limit when he wrongly predicted the turnout of the march on July 1, 2003." Lau reportedly predicted only about 30,000 would join the protest, which saw an estimated 500,000 people take to the streets. Meanwhile, a minister had a message for pan-democrats unhappy with the government's proposal for electoral reform in 2012: take it or leave it, and don't expect any second helpings. Since the government had already "racked its brains" in preparing the proposal - which pan-democrats look likely to veto - there would be no room to come up with one more democratic, constitutional affairs chief Stephen Lam Sui-lung said. Under questioning from Democrat Cheung Man-kwong, Lam said if Legco voted down the proposals there would not be enough time before 2012 to restart the five-step process Beijing has set down for drawing up electoral reforms. But Cheung said after the meeting that the government would have no option but to come up with a new proposal if its refusal to make concessions meant the current one was vetoed. The government is proposing to create 10 new Legco seats. But five of them would be functional constituency seats voted on by 405 district councillors. The membership of the Election Committee that picks the chief executive would rise by half, to 1,200. Pan-democrats have rejected these proposals on the grounds they are too conservative and lack a road map to universal suffrage.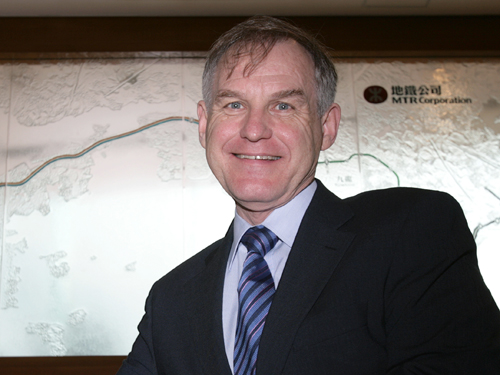 A top executive of the MTR Corporation (SEHK: 0066) acquired his degree from a diploma mill in the United States that was ordered to close seven years ago. According to the MTR's annual report last year, operations director Andrew McCusker holds a degree in mechanical engineering from the now-defunct Kensington University in California. The school, however, was never accredited by a recognised accrediting agency or association recognised by the United States Secretary of Education, shareholder activist and former HKEx (SEHK: 0388, announcements, news) director David Webb has found. "[McCusker] may well be a highly experienced and competent engineer, certainly the MTRC seems to think so," Webb wrote in his online newsletter. "But he might benefit from dropping his claim to a degree in engineering." The school, according to the Los Angeles Times in 1996, had no classrooms, laboratories or dorms; the campus was housed in a small office building, while students earned their degrees at home without attending a class or meeting instructors. The First Circuit Court of Hawaii, where the university was incorporated, ordered it to be shut down in 2003 and tuition fees to be refunded to all students since 1999, after it failed to obtain degree-awarding status. The MTR Corp said McCusker, 65, had more than 15 years of experience when he joined it as operations engineering manager in 1987, and the company looked not just at education, but also at work experience, when recruiting for senior positions. It was understood McCusker had worked for about eight years when he began his Kensington degree in 1980. Edmund Leung Kwong-ho, former chairman of the local branch of Britain's Institution of Mechanical Engineers - where McCusker is a chartered member - said the institute required members to have an accredited degree, but an engineer with ample work experience could also apply as a mature candidate.
Swire Properties, which aims to raise up to US$2.7 billion from a Hong Kong IPO, has tapped Bank of China Group Investment for US$100 million worth of shares, sources said.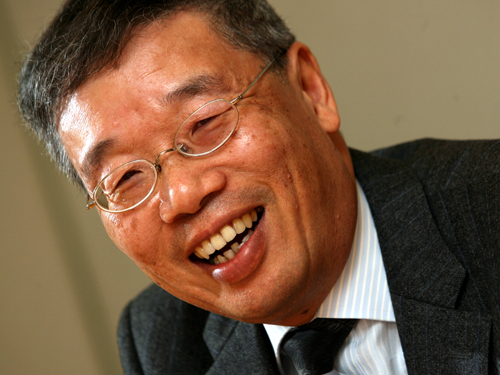 Automated Systems Holdings, the leading information-technology services provider to the Hong Kong government, plans to accelerate expansion on the mainland and across Southeast Asia after recording virtually flat sales in its last fiscal year. "We are working closely with Beijing Teamsun Technology, the group's controlling shareholder, to capture more business opportunities throughout the mainland," Automated chief executive Lai Yam-ting said yesterday. Lai said potential mergers and acquisitions were being considered for growth in Southeast Asia, where Automated already had operations in Thailand. The company posted a HK$115.8 million net profit in the year to March, up 171.4 per cent from HK$42.7 million a year earlier, boosted by a one-off gain from the disposal of its global managed services business in August last year. Revenue fell 2.3 per cent to HK$1.33 billion, due to a slowdown in information-technology hardware and services sales. Lai, however, noted that the improving economy helped the company grow in the January-March period, when it generated HK$28.8 million in profit before taxation that was higher than those of the previous three quarters combined. He said Automated would focus more on growing its technology solutions business - which includes professional, maintenance and outsourcing services - as it further develops operations on the mainland and across Southeast Asia. About 61.2 per cent of the firm's revenue for the year to March still came from its traditional infrastructure business, which is based on sales of hardware such as computer servers and storage systems. Market research firm International Data Corp forecast the mainland information-technology services market this year to reach 82 billion yuan from 73.09 billion yuan last year. Lai said Teamsun, which bought the 68.4 per cent holding of US-based consulting and outsourcing specialist Computer Sciences Corp for HK$262.4 million in September, provides Automated with strategic support on the mainland through its 30 branches nationwide.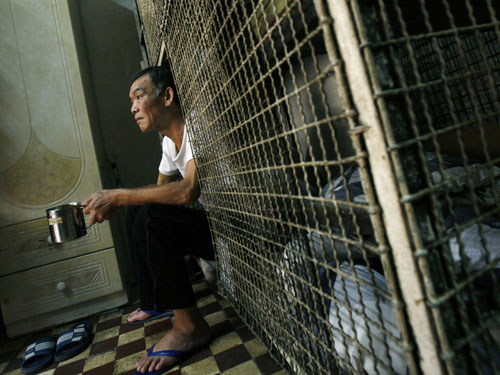 Kong Siu-kau, 63, has a tea break at the entrance to his cage home. Cages can cost HK$1,500 a month. The redevelopment of old buildings in Hong Kong is cutting down the supply of "cage homes" in centrally located areas and forcing up rents for the unemployed and underemployed who can least afford to meet higher living costs. On a per square foot basis, those who occupy "cages" of no more than 15 sqft created by subdividing old apartments into up to 50 separate living compartments now pay landlords from several hundred dollars to up to HK$1,500 in rent each. That translates into a rental charge of HK$100 per square foot, which is at least 25 per cent higher than the per square foot cost of renting a luxury house on The Peak, where effective rents for a 3,000 sqft house range between HK$70 and HK$80 per sq ft.

China*: Shanghai opens the World Expo this weekend, with 192 countries taking part in the massive six-month showcase of ideas and technology – the latest display of China's growing global clout. China's most cosmopolitan city will kick things off on Friday night with fireworks and an opening extravaganza at the riverfront Expo site in the city centre, a day before visitors are allowed in.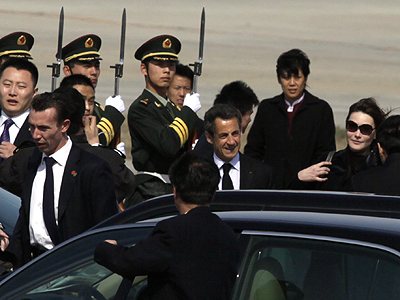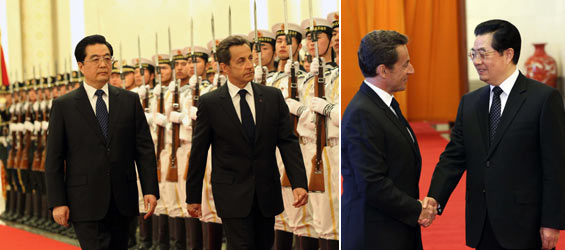 French President Sarkozy seeks to bury the hatchet with Beijing - French President Nicolas Sarkozy and his wife, Carla Bruni-Sarkozy, arrive at the airport in Beijing on Wednesday. French President Nicolas Sarkozy arrived in Beijing on Wednesday for a visit aimed at reinvigorating ties tested two years ago over Tibet and at winning China's support for new sanctions against Iran. The French president, making his second state visit to China, was to head straight into a meeting with his opposite number Hu Jintao and address the media to kick off the official part of his three-day trip. Sarkozy – along with his wife Carla Bruni-Sarkozy and a delegation of top ministers – began the day with an initial stop in the ancient capital of Xian, where the couple visited the famed terracotta warriors under tight security. The French leader will also meet Premier Wen Jiabao and other top officials during his time in Beijing before heading to Shanghai on Friday for the start of the World Expo. "China has become an absolutely indispensable actor on the world stage," Sarkozy told China's state Xinhua news agency in an interview published on Wednesday. "Today, there is not one major issue that we can handle without you." Paris hopes to win China's support for fresh UN sanctions against Iran over its disputed nuclear program, but first Sarkozy has to seal France's reconciliation with Beijing, two years after a heated row over Tibet. In March 2008, just four months after Sarkozy's first state visit to China, ties soured when the French leader expressed shock at the security crackdown in the Chinese-ruled region after protests there led to deadly violence. A month later, the Chinese leadership was incensed when pro-Tibetan demonstrators booed and jostled the Olympic flame as it was carried through Paris on its way to the Beijing Games. Tensions peaked when Sarkozy met the Dalai Lama, Tibet's exiled spiritual leader, in December 2008, before starting to ease when the French leader met Hu at the G20 summit on the financial crisis last year. French Prime Minister Francois Fillon, during a visit to China in December, said any "misunderstandings" between Paris and Beijing were a thing of the past. In his talks with Hu, Sarkozy is expected to seek Beijing's backing for an overhaul of the global monetary system by the G20, but a French official said the leaders would not directly discuss foreign concerns over the yuan's value. On Thursday, he will meet China's top legislator Wu Bangguo, the second highest-ranking figure in the Communist hierarchy, before seeing Wen on Friday. The French president will mix politics with sightseeing during the trip, with scheduled visits to the Great Wall, the Ming Tombs and the Forbidden City. Sarkozy will on Friday head to Shanghai, where he will officially open the French pavilion at the World Expo and take part in the opening ceremony for the six-month exhibition. Cooperation agreements on ecology, higher education and the creation of new businesses are to be signed during Sarkozy's visit, according to French officials. "New chapters are about to be written in China's relationships with France and with the European Union," the China Daily said Wednesday in an editorial. "French President Nicolas Sarkozy's three-day visit shows how each side has let bygones be bygones. It could be seen as a formal announcement to the world that the China-France relationship is now back to normal." Hu is scheduled to make a state visit to France later this year.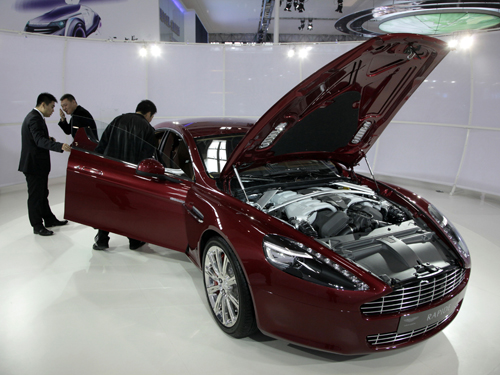 VIP guests take a look at the Aston Martin concept Rapide, a 12-cylinder, four-door sports car at the Beijing Auto China on Sunday. Luxury auto market zooms ahead in mainland - The businessman climbed into the Rolls Royce Phantom with the gold-plated Spirit of Ecstasy hood ornament and sank his feet into wine-red carpet. He says he has a Mercedes S600 sedan and a Jaguar sports car at home but needs something for work. "I just have to consider whether it's too flashy. But otherwise there's no problem. The price isn't a big problem," said the 32-year-old visitor to the Beijing auto show, who would give only his surname, Liu. Free-spending new rich who have made mainland a key growth market for luxury goods makers are more important than ever to US, European and Japanese creators of high-end automobiles. Sales here are surging while they sag elsewhere and manufacturers are pulling out the stops to woo mainland buyers. Mainland is "increasingly becoming the engine of our industry", said Dieter Zetsche, CEO of Daimler AG. Sales of its Mercedes-Benz cars in mainland soared 112 per cent in the first quarter of this year to 23,600 vehicles. Volkswagen AG's Audi unit, BMW AG's Rolls Royce, Fiat SpA's Ferrari and other makers of high-priced wheels are seeing similar gains. The surge has been propelled by an economic boom that created a new crop of millionaires and several dozen billionaires in a country that had almost no private cars 15 years ago. Mainland now has 825,000 people worth at least 10 million yuan (HK11.35 million), according to Rupert Hoogewerf, a researcher of wealthy mainlanders. The new rich "need some luxury products to validate themselves", said Wang Honghao, editor in chief of the automotive magazine Trends Car. "Whether it's luxury cars or luxury luggage, or perfume, clothes, accessories, it's all the same." Mainland's auto market, the world's biggest since last year, defied the global downturn on the strength of Beijing's 4 trillion yuan, which boosted stock and real estate prices. Luxury car sales in mainland soared 66 per cent in the first quarter from a year earlier, well ahead of 14 per cent growth in the United States and a 6 per cent fall in Germany, homeland of Benz and BMW, according to JD Power and Associates. BMW AG's Rolls Royce says sales in mainland, its third-largest market after the United States and Britain, rose 200 per cent in the first quarter from a year earlier to more than 20 vehicles despite a base price of 6.6 million yuan. Rolls Royce's mainland sales are so strong that it added a production line and hired more workers partly to meet the demand. "I see China will even overtake the UK, our home market, this year and that we will see the Chinese market as the second-most-important market after the US," CEO Torsten Mueller-Oetvoes said. As mainland's jet-setting elite gets more sophisticated, luxury automakers are focusing on building their brand image with this niche audience. Rolls Royce publishes a Putonghua luxury lifestyle magazine and invites customers from mainland to visit its factory in Goodwood, England, to see their cars being made. Mercedes-Benz hired movie stars Zhang Ziyi and Li Bingbing to promote its cars. Luxury automakers are opening dealerships in cities as farflung as Chengdu and holds private gatherings for buyers who want to share their enthusiasm for cars. Mainland customers are getting more discerning and companies need to work to reach them, said Matthew Bennett, regional director of Aston Martin Asia Pacific. "It's simple things like increasing the number of people in the company who can speak Mandarin," he said. "The growth in China doesn't come for free. You have to invest and it will come." China's most popular luxury car is the Audi A6L, favoured by government officials. Sales were up 14 per cent in March over a year earlier to 9,983, though that was driven partly by stimulus spending that is winding down this year. Aston Martin – which showcased a DBS like the one James Bond drove in Quantum of Solace – sold about 80 cars in mainland last year. Bennett said mainland is likely to become the company's top market in Asia by next year, though he would not give a sales target. Bennett got a surprise when he showed the company's concept Rapide, a 12-cylinder, four-door sports car, to VIP customers in Beijing in January. "We had about five or seven people on the night who said, 'Yup, fine, I'll take it'," he said. "They hadn't seen other colours. They hadn't driven the car. We hadn't confirmed the price at that point. They said, 'No, no, I'll have it'." The price: 3.6 million yuan. The luxury car market already is big enough that manufacturers are willing to make basic changes to suit wealthy mainland customers. Mercedes unveiled an extended E-class sedan at the Beijing auto show aimed at mainland buyers, who are more likely to sit in back and have chauffeurs. The new Mercedes gives them an extra 140 millimeters of legroom in back. Zetsche said the company is open to changing other cars. "I don't think it would be wise generally to adjust and change the vehicles to become 'more Chinese'," he said. "On the other hand, there are specifics in this marketplace. … To acknowledge these specifics makes sense and therefore we have this extended version."
Mainland will place a moratorium on capital raising by real estate firms as part of a broader campaign to rein in property price rises, state media reported on Wednesday. The move could stand in the way of about 110 billion yuan (HK$125 billion) in share issues planned by 45 companies, unnamed sources close to the China Securities Regulatory Commission told the China Daily. The suspension will allow the Ministry of Land and Resources to examine whether companies have used illegal methods to manipulate market prices, the newspaper said.
Forty-eight Chinese fishermen arrived in Taiwan on Wednesday, the first group to start work under a new agreement which shows rapidly improving ties between Beijing and Taipei.
China's steel industry body will allow mills to sign individual supply deals with global miners, as it seemed to abandon efforts to preserve annual pricing.
Sinopec (SEHK: 0386) plans to issue up to 20 billion yuan (HK$23 billion) worth of corporate bonds to repay bank loans and top up its war chest for overseas acquisitions, a report said on Wednesday. Asia's largest oil refiner will issue the exchange-listed bonds on the Shanghai Stock Exchange in May, marking the country's biggest issue of its kind. An official at Sinopec confirmed the fundraising plan but said the exact timing would depend on market conditions, according to Dow Jones Newswires. Sinopec officials were not immediately available to comment when contacted.

*News information are obtained via various sources deemed reliable, but not guaranteed