[ Home ] [ About Us ] [ President's Corner ] [ Endorsment-Support ] [ Founding Members ] [ Management Team ] [ Collaboration Ptrs ] [ Members' Page ] [ Members' News ] [ Membership Info ] [ New Members ] [ Events Listing ] [ Speakers' Notes ] [ Trade Issues ] [ Technology ] [ Resource Center ] [ HK & China Biz ] [ Photo Album ] [ News Releases ] [ Reading Room ] [ Business Links ] [ Acknowledgement ] [ Alerts ] [ Job Opportunities ] [ Contact Us ] [ Site Map ]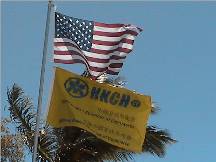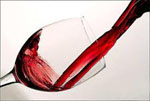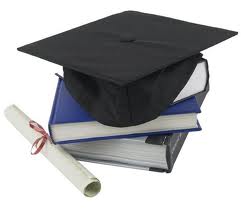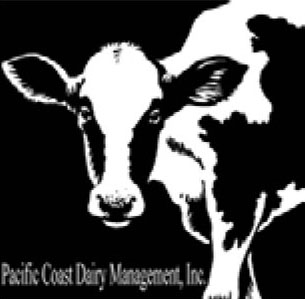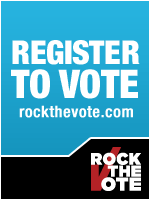 Biz-Video

Hawaii's China Connection

Doing Business in Hong Kong & China
Share Hong Kong, China & Hawaii Biz*



Skype - FREE Voice Over IP

View Hawaii's China Connection Video Trailer
Do you know our dues paying members attend events sponsored by our collaboration partners worldwide at their membership rates - go to our event page to find out more! After attended a China/Hong Kong Business/Trade Seminar in Hawaii...still unsure what to do next, contact us, our Officers, Directors and Founding Members are actively engaged in China/Hong Kong/Asia trade - we can help!
Are you ready to export your product or service? You will find out in 3 minutes with resources to help you - enter to give it a try
(approximate $ exchange rates: US$1 = HK$7.8, US$1 = RMB$6.8)
China President Hu Jintao USA State Visit January 19 - 21 2011 http://www.b2bchinadirect.com/hujintaousavisit.htm

Wine-Biz - Hong Kong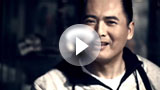 Brand Hong Kong Video

Mainland and Hong Kong Closer Economic Partnership Arrangement (CEPA) http://www.tid.gov.hk/english/cepa/index.html

About APEC http://www.apec.org/apec/about_apec.html
APEC 2011 November 2011 Honolulu Hawaii USA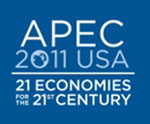 http://www.apec2011usa.org/ Inside APEC http://www.hkchcc.org/insideapechkchccpresentation080810.ppt
AmCham Shanghai latest Viewpoint - US Export Competitiveness in China - 2010 Washington DC Door Knock http://www.hkchcc.org/viewpointusexport.pdf
成功之道 武进制造 Wujin - Changzhou - Jiangsu Province - China http://www.hkchcc.org/wujin.htm
HK$6,000 will be given to each holder of a valid Hong Kong Permanent Identity Card
Share on Facebook

Hong Kong*: Nov 22 2011 Share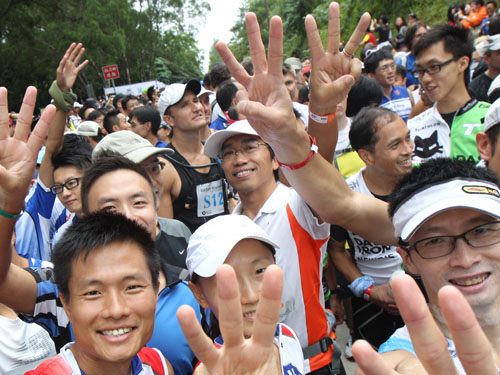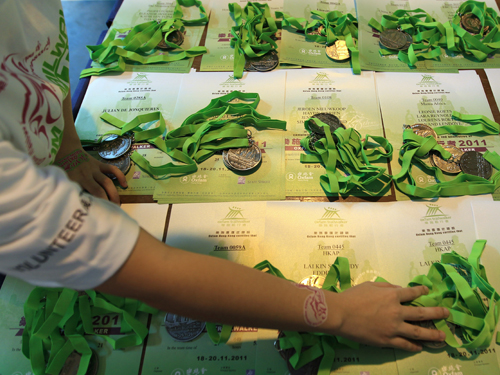 This year's Trailwalker in Hong Kong looked to be the toughest yet, as participants battled high humidity, slippery conditions and at times physical injury - all in the name of ending poverty worldwide. More than 10,000 people - including 4,800 runners and hikers, along with 6,000 support staff and volunteers - joined the Oxfam charity event, now in its 30th year. For many participants - including 64-year-old Antony Wood - it was not so much stamina as sheer willpower that got him and his team through the 100-kilometre trek from Pak Tam Chung in Sai Kung to Yuen Long in the New Territories. "It's the toughest I've ever done, and plenty of others have said the same," said Wood, who joined Trailwalker for the eighth time. "The humidity was astounding. And when you combine that with the very slippery underfoot conditions because of the rain, it really was hard going. Those taking part have shown amazing resilience," he said. He and three teammates aged 66, 64 and 62 - the oldest team to complete the course - put other much younger participants to shame by finishing at a respectable time of 19 hours, 19 minutes. The race, which ends today, can take as long as 48 hours to complete. Much of the excitement was at the head of the trek, where defending champions from the People's Liberation Army (PLA) Hong Kong garrison almost saw their victory snatched away by North Face-Flight. The rival team was closing in on the PLA in the closing stages, but one of its members experienced extreme cramping near the end and dropped down the field. This allowed the garrison to make its third straight podium finish at the Trailwalker. The PLA team clocked in 12 hours and 22 minutes, with second-placed North Face-Flight just three minutes behind. However, it was not the easy victory expected for the army garrison after two years of finishing in the top 2. Ryan Blair, a well-known Hong Kong distance runner, competed with the second-place team and was delighted with the result. "It was just a battle out there, but I take my hat off to the PLA. They have an amazing focus and determination to win this event, which they showed again this year," said Blair, 39. "We were closing on them near the finish, but they deserved their victory." Trailwalker, which began in the early 1980s in Hong Kong as a training exercise by British army regiments, is now held in 12 countries by Oxfam and its affiliates. Over the years, the city's trailwalkers have trekked more than 7.38 million kilometres - equivalent to walking around the earth 184 times. Since Oxfam, a confederation of 15 advocacy groups, took over as organiser in 1986, more than 69,000 trailwalkers have raised HK$340 million for various anti-poverty projects.
Chief executive hopeful Henry Tang Ying-yen yesterday rejected a Beijing loyalist's remark that property developers will decide who gets the top job, saying they were far from powerful enough to dictate the election's outcome. "I don't believe property developers have such a great power to get whoever they support elected as the next chief executive," said the former chief secretary, who announced on Thursday that he would formally declare his candidacy later this month. "If someone said so, it is disrespectful to other members in the 1,200-strong Election Committee [which will select the next chief executive in March]." Tang's comment came after veteran Beijing loyalist Ng Hon-mun said on Friday that the chief executive election would be decided by the city's major businessmen. When asked about suggestions that he had courted property developers for support, Tang declined to comment, saying only: "I have support from many friends." During a visit to Tin Shui Wai yesterday, Tang said he would look into the issue of ensuring fair competition among businesses, as well as better urban planning. He said he hoped this would create more business and job opportunities in the most remote district of Hong Kong. Fellow chief executive hopeful Leung Chun-ying would not comment on Ng's remarks, saying he would continue to canvass support from the Election Committee and the public. Leung is the former convenor of the Executive Council. He said he would formally announce his candidacy next Sunday. Albert Ho Chun-yan, chairman of the Democratic Party, who has obtained his party's endorsement to run for the top job, said Beijing would dictate the chief executive election. Ho said the business community and the pro-establishment camp would look for Beijing's signals in choosing a candidate to support. Regina Ip Lau Suk-yee, chairwoman of the New People's Party, who said last week that she was considering running for the top job, yesterday said that she was not close to property developers, and would balance the interests of various sectors in society. Ip said she would not be ready to make a decision this month.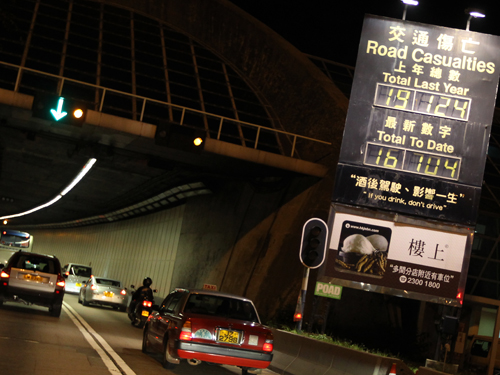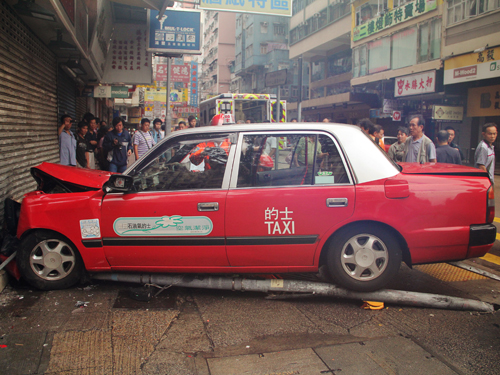 An idea first investigated more than a decade ago as a way of saving lives on Hong Kong's roads could finally be adopted. The first safety audit of a proposed new road in the city will be carried out by the government. The decision comes as the United Nations World Day of Remembrance for Road Traffic Accident Victims is observed today. If the pilot scheme is a success, safety audits - common practice in much of the developed world - could be adopted for all new roads in Hong Kong. The first audit will be carried out on the proposed Central-Kowloon route running via Yau Ma Tei to Kai Tak. Engineers and road safety activists hailed the initiative. Julian Kwong Tse-hin, chairman of Community for Road Safety, said many roads in Hong Kong were poorly designed and some had metal barriers which could not withstand a collision, leading to more serious crashes. Vincent Chan Man-hong, of the Chartered Institution of Highways and Transportation, said he did not believe Hong Kong's roads were particularly unsafe, but added: "With road safety audits, the chance of having traffic accidents can be further reduced." The audits cover the layout of the road, bends, gradients, barriers, road signs and even drainage and are carried out by an independent team. The Transport Department employed consultants to start studying the possibilities of introducing road safety audits for Hong Kong as early as 2000. A department spokesman could not say why it had taken so long to adopt the system. In July 2003, a truck crashed into double-decker bus and pushed it through the parapet of Ting Kau Bridge on Tuen Mun Road, killing 21 people and injuring 20. Despite calls from the public to establish a safety audit system, a panel set up to examine the cause of the accident recommended only a comprehensive safety review of Tuen Mun Road. Yesterday alone, at least 47 traffic accidents happened across the city that caused injuries, according to the government's Information Services Department. The actual number could be larger, as not all accidents are reported. Inside Shing Mun Tunnel, which connects Tsuen Wan and Sha Tin, a vehicle caught fire as it was travelling towards Tsuen Wan. Its male driver had to escape from the burning car. In Tsuen Wan, a double-decker bus hit a bunch of bamboo poles on the pavement, with the flying wood injuring a female passer-by. A taxi lost control in Shanghai Street, Mong Kok, and mounted the pavement, injuring a pedestrian. The 70-year-old driver apparently felt unwell and was hospitalised. Road safety consultant Kwong, of Community for Road Safety, said Hong Kong lagged behind other countries on road safety. The audit system is currently operated in Britain, the United States, Singapore and Australia. Kwong said that while sections of a road may comply with international standards, the audits would help build a picture of the overall safety of the route. "We hope this will not turn into merely a procedure that requires people to write many reports and fill in forms. We hope there will be quality road safety audits in Hong Kong." According to police figures there have been 12,586 traffic accidents in Hong Kong in the first 10 months of this year, up 198 year-on-year. In the same period 102 people died in traffic accidents, seven more than last year. Kwong added: "The situation clearly demonstrates the inadequacy of the current approach and the need for a far more aggressive road safety strategy." Chan said Hong Kong had about 100 to 150 traffic engineers and it would not be difficult to train them to become qualified auditors.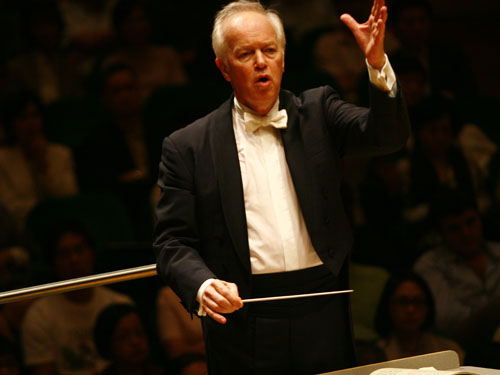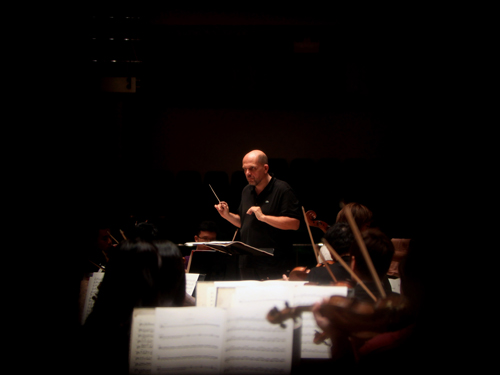 Jaap van Zweden, newly crowned US Conductor of the Year, is in spotlight as he auditions for Hong Kong Philharmonic's top spot with concert series this month. One of the conductors vying for the post of artistic director of the Hong Kong Philharmonic Orchestra has scooped a top international award. Jaap van Zweden, music director of the Dallas Symphony Orchestra and one of the world's leading conductors, was named Musical America's Conductor of the Year 2012 two weeks before beginning a concert series with the Hong Kong Philharmonic last Friday. "I thought the award would go to [Los Angeles Philharmonic chief] Dudamel or [New York Philharmonic chief] Gilbert. But they picked me. It was interesting," said the Dutch conductor, who is to receive the prize from the performing arts news outlet in New York next month. The maestro, 51, is one of a dozen candidates aiming to succeed Edo de Waart as leader of Hong Kong's top orchestra. Though it has not been formally announced, they are auditioning by acting as guest conductors for major orchestral works. Others include the former music director of the Milwaukee Symphony Orchestra, Andreas Delfs, the Japan Philharmonic's Alexander Lazarev and Vienna Philharmonic veteran Johannes Wildner. The exercise will finish at the end of the season in July. Van Zweden has a long association with de Waart. He was concertmaster of the Concertgebouw orchestra in Amsterdam for 16 years, with which de Waart guest-conducted and recorded. In 2004, he succeeded de Waart as music chief of the Netherlands Radio Philharmonic Orchestra. And next year, de Waart will succeed him to lead the Royal Flemish Philharmonic. "I think there is an advantage for me to work at an orchestra previously led by Edo, although we are totally different," Van Zweden said. "Edo is more an orchestra-builder, and I am more on the performance side." According to orchestra board chairman Liu Yuan-sung, the candidates will be evaluated anonymously by all members of the orchestra and the results will go to the search committee for consideration. "Players will comment and rank the conductor's technique, musicianship and chemistry with the orchestra on a five-point scale," Liu said. "But the final decision rests with the search committee." Despite the prospect that orchestra members may influence the verdict, van Zweden did not go easy on them during rehearsals. He remained sharply critical as he fine-tuned the orchestra for the Asian premiere of Philip Glass' double concerto. "All my bones ached after those rehearsals," said one violin player. But to van Zweden, there is only one way to make music, which he calls the way of life. He believes all musicians have the potential to reach that mentality. "If something is to happen between me and the orchestra, it must be out of free will," he said. "I will not tell them: `Oh, you are so fantastic and great' in order to win the contract. I am not interested in that. "All I am interested in is how far I can stretch them and improve them. That would be the moment for me to say, `Hey, that has potential to be an interesting marriage'." He believes a lasting relationship should not be rushed into, but be built on trust and respect. The first criterion he has for working with an orchestra is that he feels welcome. "As conductors, we are no longer tyrants. Instead we should recognise the orchestra as people we can talk to, share thoughts with and feel for."

The controversial bridge project to link Hong Kong with Zhuhai and Macau was given the green light yesterday as lawmakers approved HK$48.53 billion in funding. Secretary for Transport and Housing Eva Cheng pledged that construction would start by the end of the year. Despite delays caused by a judicial review, the authorities aim to have the bridge finished by 2016, the date originally planned. "Due to the judicial review, the project was delayed for more than a year. It has now come to this stage against all odds," Cheng said. The government said the delay might have pushed up costs by HK$6.5 billion. The funding approval came almost two months after the Court of Appeal confirmed the validity of the environmental permits issued for two key elements of the project in a ruling against Tung Chung resident Chu Yee-wah, who filed the judicial review in January last year. Construction was originally due to begin by the end of last year. The funding includes HK$30.43 billion to build boundary-crossing facilities, HK$16.19 billion for the detailed design and construction of the Hong Kong Link Road, and HK$1.91 billion for the detailed design, site investigation and preliminary work at the Tuen Mun-Chek Lap Kok Link and Tuen Mun Western Bypass. This is on top of the HK$10.3 billion already approved between 2003 and 2009 for preliminary works. Cheng said yesterday that she expected the project to create about 14,000 jobs. Construction methods would change and the number of workers would rise to meet the project's compressed timetable. Lawmakers who opposed the funding included People Power's Wong Yuk-man and Albert Chan Wai-yip, and League of Social Democrats legislator "Long Hair" Leung Kwok-hung.
Hong Kong's civil aviation regulator says it will not recruit more air traffic control officers over the next two years despite complaints of near misses which staff blamed on a shortage of manpower. In the first 10 months of the year the Civil Aviation Department recorded 15 near misses - meaning two aircraft came within five nautical miles (9.26 kilometres) - a jump of 66 per cent from nine such incidents for the whole of 2010. The department said none of the incidents had safety implications, and that statistics for the past five years did not indicate a rising trend. However, Tsang Yuk-poon, chief airworthiness-standards officer, said yesterday the department was considering whether such incidents should in future be reported to the public, as they occurred after a spate of media reports caused public concern to increase. Raymond Li Kwok-chu, chief air traffic control officer, denied the incidents had anything to do with insufficient manpower, and dismissed suggestions that the department should import experienced air traffic control officers from overseas. "We considered [importing staff], but after balancing this with other factors we decided our resources would be better spent on training our own people, because it takes time for an expatriate officer to adapt to our system, and after all the training they are bound to stay for only two years under our current system." The department recruited 120 trainees for air traffic control over the past five years - 48 have graduated so far and of the 72 still in training it is assumed, from previous years, that 85 per cent will pass. Li said 60 new graduates would join the team in the next four years, which he said was sufficient to handle projected hourly aircraft movements of 68 in 2015. Li said they would resume recruitment in 2013. In September the South China Morning Post (SEHK: 0583, announcements, news) reported a near miss between a Cathay Pacific (SEHK: 0293) plane and a Dragonair jet carrying a total of more than 600 passengers. The airliners came within one nautical mile of each other, a distance which two aviation experts said could have led to a collision in six seconds if the two were heading towards each other. An air traffic control officer later wrote to the Post blaming labour shortages for the incidents, saying that controllers' rest time had been slashed from an hour to just 30 minutes for every two hours' work. Many had also been forbidden from taking leave despite having accumulated over 100 days of holiday. Li said yesterday that the 30-minute rest time followed international guidelines, and any extra time off was authorised at the discretion of senior officers. He said that even at 15 near-miss incidents a year Hong Kong's airport still performed two to three times better than ones in the West handling similar traffic volumes. Meanwhile, an investigation into an incident last July in which an AgustaWestland 139 helicopter was forced to ditch into the water in Victoria Harbour has found that the quality of the plane's tail rotor was not up to manufacturing standards. Further inquiries are being made to determine how that happened. Sky Shuttle - owned by casino tycoon Stanley Ho Hung-sun - is still flying five AW139s on its routes between Hong Kong and Macau and Macau and Shenzhen.

China*: Nov 22 2011 Share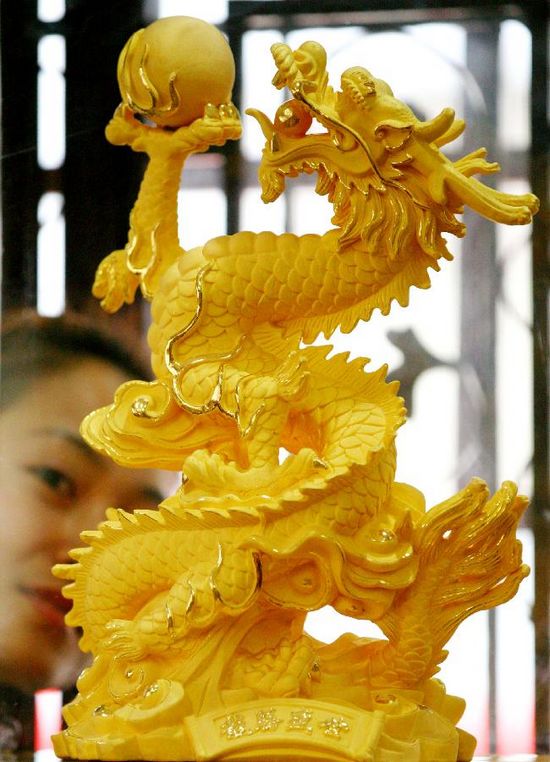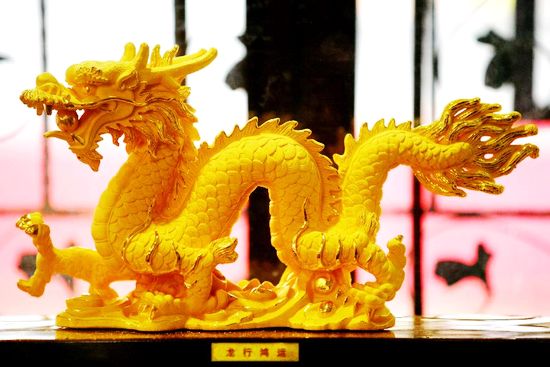 Photo taken on Nov. 19, 2011 shows gold decorations of Chinese Long (dragon) at a shop in Nanjing City of east China's Jiangsu Province. According to the Chinese traditional lunar calendar, it is still two months to go to embrace the Year of Dragon, however, business operators in China have been busily engaged in promoting dragon-related products in a hope to boost sales.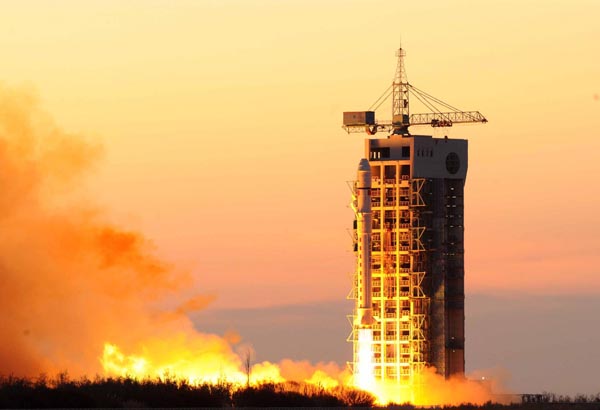 A Long March 2D carrier rocket carrying Chuangxin 1-03 and Shiyan Satellite 4 blasts off from the launch pad at the Jiuquan Satellite Launch Center in northwest China's Gansu Province, Nov 20, 2011. The launch was the 151th of China's Long March series of rockets. The Chuangxin 1-03 will be used to collect and relay hydrological, meteorological, and electric power data as well as data for disaster relief. The Shiyan Satellite 4 will be used for space technology experiments and environmental observation. BEIJING - China on Sunday morning put two satellites into orbit from the Jiuquan Satellite Launch Center in northwest China's Gansu Province. The satellites, Chuangxin 1-03 and Shiyan Satellite 4 were launched on a Long March 2D carrier rocket at 8:15 am Beijing Time, said a Xinhua photographer, who witnessed the whole process. The Chuangxin 1-03, developed by the Chinese Academy of Sciences, will be used to collect and relay water conservancy, hydrological and meteorological data and data for power supply and disaster relief from monitoring stations. The Shiyan Satellite 4 will be used for experiments on space technologies and environment probe. Developed by the Chinese Research Institute of Space Technology, it is the country's fourth technology experiment satellite. The launch was the 151th of China's Long March series of rockets. The Long March-2D is one of the derivations of Long March-2. China started development of modern carrier rockets in 1956, and Long March rockets have become the main carriers for China's satellite launching.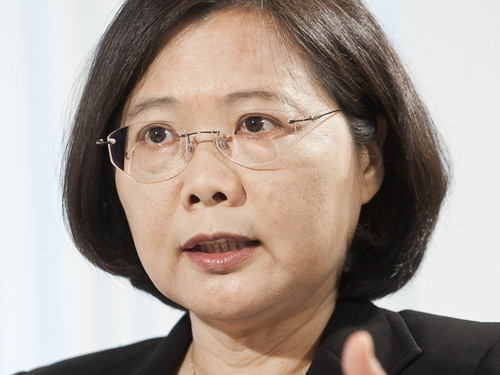 Tsai Ing-wen, the former academic seeking to become Taiwan's first woman president, signalled she would avoid antagonising Beijing if elected - after a predecessor's push for independence led to eight years of tensions. "I am not known as a provocative person," said Tsai (pictured), who is looking to return the Democratic Progressive Party to power after Chen Shui-bian left office in 2008. "The DPP is a very different party now." Tsai has erased the lead of Nationalist party incumbent Ma Ying-jeou in a survey conducted by Taiwan's largest cable-TV operator as a widening wealth gap and high property prices spur voter discontent. A win for Tsai in the January 14 election would risk disrupting closer ties with the mainland that helped power Taiwan's recovery from the global recession. Beijing regards Taiwan, ruled separately since a civil war ended in 1949, as its own territory and was enraged when the DPP's Chen pushed for recognition as a sovereign nation during his presidency. Tsai has eschewed talk of independence for the island of 23 million during her campaign, focusing on domestic issues and criticising the pace of Ma's push to forge closer economic links with the mainland. Ma's lead against Tsai has evaporated, a TVBS Poll Centre survey showed yesterday. The two were tied at 39 per cent, compared with 38 per cent for Ma versus Tsai's 34 per cent on October 15. The margin of error was 2.7 percentage points. James Soong, chairman of the People First Party, had 9 per cent support, down from 15 per cent, the survey showed. "It's an extremely close election," said Bonnie Glaser, a China expert in Washington. "The biggest problem is that the mainland associates [Tsai] with the state-to-state doctrine so they are very suspicious of her." Last week, Wang Yi , director of the mainland's Taiwan Affairs Office, urged voters in Taiwan to help "maintain warm relations with Beijing". Wang stressed that the "1992 consensus" - under which both sides agreed there was only one China but that each could interpret this their own way - should not be questioned, the cross-strait relationship should not move backwards, and peace and the interests of both sides should be looked after. Meanwhile, Taiwan's United Daily News reported yesterday that the general office of the Communist Party's Central Committee ordered all provincial party heads last month to clear up all 58 unresolved disputes concerning Taiwanese investments on the mainland before mid-January, a deadline that coincides with Taiwan's election. The report said it was the first formal political document issued directly by the party to help Taiwanese businessmen protect their mainland interests.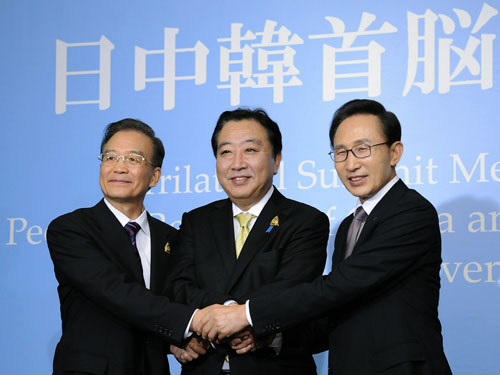 Premier Wen Jiabao joins hands with Japanese Prime Minister Yoshihiko Noda (centre) and South Korean President Lee Myung-bak. Leaders of Japan, China and South Korea agreed yesterday to seek a trilateral investment treaty by the end of the year as a way to speed up talks on a free-trade pact among the three countries, a senior Japanese official said. They also agreed to finish studies by their governments, industries and researchers on the proposed free-trade agreement by the end of December so they could start formal negotiations on it. Japanese Prime Minister Yoshihiko Noda told his Chinese and South Korean counterparts at a trilateral summit it was time to seal the investment treaty as their four-year-long negotiations were getting close to bearing fruit. "The liberalisation of investment rules is one of the big elements for broader free-trade pacts," the Japanese Foreign Ministry official said. "Prime Minister [Noda] stressed the importance of having a fully fledged investment treaty in order to move forward to the Japan-China-South Korea" free trade agreement. The official declined to give details on the investment treaty as it was still under negotiation. But an investment treaty in general would boost legal stability for investment and give companies a better ability to make predictions about their business environment. Noda met Premier Wen Jiabao and President Lee Myung-bak on the Indonesian island of Bali ahead of the East Asian Summit, where boosting economic co-operations in the region was on the agenda. Earlier, Japan assured Asia and key ally United States Tokyo was not choosing sides between Beijing and Washington over sensitive trade and security issues, in a balancing act to avoid past perceived mistakes of upsetting its partners. With rivalry between the United States and China in the spotlight at the East Asia Summit, Japan welcomed the recent announcement of greater US military presence in Australia while seeking stronger strategic ties with Beijing. "I welcome that the United States is deepening its presence in Asia-Pacific but that should not be simply taken to mean that it's a threat to China," Noda told reporters on Friday. "On the other hand, we will seek to deepen the mutually beneficial relationship based on common strategic interests with China. China's development is an opportunity for Japan." Meanwhile, Australia also vowed it could maintain ties with both the United States and China, after plans to station 2,500 US marines in the country's north irked Beijing. "The United States strongly engaged in our region is a force for stability and is supported by Australia," Australian Prime Minister Julia Gillard said on the sidelines of the East Asia Summit. "We will continue to have our alliance with the United States and friendship with China," the prime minister said.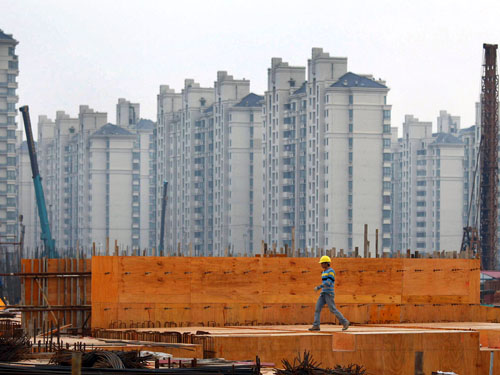 Work goes on at a residential construction site in Shanghai. But with the price of new homes falling in more cities, experts are questioning the need for further tightening. The residential price correction has spread to nearly half of mainland cities, a downturn that is expected to ease political pressure for more cooling measures. National Bureau of Statistics data showed the average price of new private housing fell in 34 of the 70 major cities surveyed, compared with only 17 cities in September. Home prices in 20 major cities remained unchanged. Only 16 cities recorded property price growth last month, compared with 24 cities a month ago. The average price of new homes in first-tier cities including Beijing, Shanghai, Guangzhou and Shenzhen began to slide last month, with prices falling 0.1, 0.3, 0.2 and 0.1 per cent from September respectively. In financially stricken Wenzhou, the average price dropped 4.9 per cent, the sharpest fall among all the mainland cities surveyed. "The number of cities which registered month-on-month property price declines has broadened out pretty significantly in October," said Lee Wee Liat, regional head of the property department at Samsung Securities. During the downturn of 2008, 50 out of 70 major cities recorded price declines after the government invoked a series of cooling measures. In the secondary market, the price correction is also obvious. Last month, average prices of second-hand homes fell in 38 of the 70 major cities. Only 25 cities recorded price declines a month earlier. Prices of secondhand flats in Shanghai and Guangzhou also began to fall last month. Lee said the property price decline had broadened, a sign the government's policy was having the desired effect. "As such there is no need for more tightening," he added. "At the same time, I think the government should start to be cautious about property prices correcting on the downside as it will inevitably affect the economy," Lee suggested the policy should start to be more balanced, and officials should be prepared to limit the downside of a property price decline. Alan Chiang Sheung-lai, of property consultant DTZ, said most developers had cut the asking prices of their new projects to boost sales. "Only small flats and flats with cheaper prices have received a better market response in the last few months as demand from end-users remains strong. Sales of luxury flats have stayed at low level." He believes the cooling measures in the property market will continue over the next few months, adding: "I don't think the government will relax the measures in the short term. "Our survey showed prices of new homes in first-tier cities dropped 5 to 8 per cent last month. We expect the prices will drop a further of 15 to 20 per cent in the next few months."
The yuan exchange rate did not cause the trade imbalance between China and the United States, and its appreciation alone would not end high US unemployment, Chinese Ambassador to the US Zhang Yesui said here Friday night. Zhang was speaking before a group of Chinese and US business leaders at an event to celebrate the 6th anniversary of the China General Chamber of Commerce-USA. "The trade imbalance is caused by a combination of factors, including the structural trade and investment differences, divergent patterns of saving and consumption, and the international division of labor, rather than an issue of the RMB (yuan) exchange rate," he said. He said it was important to note that, despite the yuan's nearly 30 percent appreciation since July 2005, US unemployment rates had increased from 5.1 percent in 2005 to 9 percent now. "This proves that RMB appreciation alone will not help to reduce the unemployment rate in the US," he said. Zhang reaffirmed that China would continue to progressively promote the reform of the RMB exchange rate regime and make the exchange rate more flexible in a self-initiated, gradual and controllable manner. He said China's trade with the rest of the world was moving toward greater balance, with a declining trade surplus on a yearly and even monthly basis. Official data showed China's imports grew 5 percentage points higher than exports in the first 10 months this year, and the trade surplus was down sharply by 16 percent in the same period, with the trade surplus accounting for less than 1.4 percent of total gross domestic product (GDP), he said. "In general, China's trade is basically balanced, and China's balance of international payments is within a reasonable range," Zhang said. Against the background of low economic growth and high unemployment rates, the US Senate passed a currency bill targeted mainly at China. Zhang said he did not think legislation was the appropriate mechanism by which to address the currency issue, because to invoke protectionist measures would only push China and the US to the brink of a "trade war." A trade war, he stressed, was exactly what should be avoided at a time of sluggish world economic growth and international financial instability. Zhang highly valued the China-US relationship, saying it was not and should not be a zero-sum-game relationship. He called for a true partnership which would not only benefit the two countries but also the world.

Hong Kong*: Nov 21 2011 Share
Couples may get to be married at King Yin Lei, the historic mansion saved from demolition in Stubbs Road, if the government adopts a revitalisation proposal. The Lifestyle Group, which manages the renovated century-old Western Market in Sheung Wan, revealed its plan yesterday. It comes as the Development Bureau set out conditions for revitalising four historic buildings. Interested organisations and developers can submit proposals over the next three months. The three other heritage buildings being offered for non-profit use are Haw Par Mansion in Causeway Bay, Bridges Street Market in Sheung Wan, and the former Fanling Magistracy. These buildings, which hold memories for many Hongkongers, attracted more than 100 representatives from 52 organisations to the government briefing yesterday. Structural alterations will not be allowed at King Yin Lei mansion because it is a declared monument, which some at the briefing said limited the creative uses of the property. George Wong Fuk-wah, managing director of the Lifestyle Group, said holding weddings at the mansion required no architectural changes. "It is also a profitable business that will sustain the operation for years," he said. Wong said his firm had been managing Western Market, another declared monument, for the Urban Renewal Authority since 2003, and had found ways of reviving business. For example, a traditional Chinese restaurant on the market's second floor can be turned into a "grand stage", allowing couples to hold wedding ceremonies and banquets at the same venue. "We receive about 40 booking requests a day, which of course is far more than we can handle," Wong said. "About 30 per cent of local weddings take place at non-traditional venues instead of churches and restaurants now." The firm's proposal for King Ying Lei calls for replacing the swimming pool with a small 1930s-style chapel, in keeping with the mansion's design period. Couples could have their wedding ceremonies on-site, which would also be ideal for photography and cocktail receptions. However, banquets would not be practical because of the lack of kitchen space. Wong said his firm was mulling a similar proposal for Fanling Magistracy. Other groups at yesterday's briefing included artists hoping to convert the Bridges Street Market into a Cantonese theatre venue.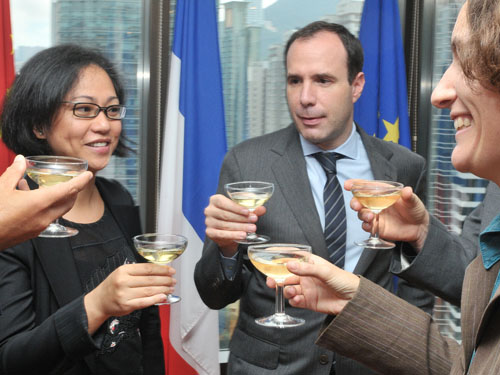 Happy expat Fanny Duguet (left) and Consul Arnaud Barthelemy toast with guests at the consulate in Admiralty yesterday. The French consulate yesterday celebrated the registration of its 10,000th citizen in Hong Kong. Fanny Duguet, the project manager for the Swiss luxury goods group Richemont, who arrived in Hong Kong at the end of August, was given free tickets for the premiere of the upcoming "French Cinepanorama" film festival. Consul Arnaud Barthelemy, toasting with champagne with members of the French community, attributed the rapidly growing French presence to the city's service-oriented economy and its proximity to the mainland. He said the French community was young and dominated by entrepreneurs and families with children. "French people are quite happy in Hong Kong," he said of a community that probably numbers as many as 15,000, as not all expatriate nationals register with the consulate. Duguet, 41, said that the day she heard she was the 10,000th citizen was extra special because her husband, Stephane, had also heard he had found a job in the city.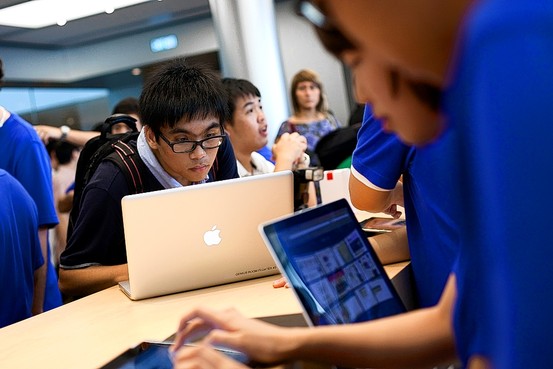 Apple Inc. has begun accepting payment in Chinese yuan for purchases in its online App Store, the company's latest expansion in what has become a key growth market. The change makes it easier for users in China to pay for software applications for iPhones, iPads and iPods. Customers of more than 20 Chinese banks can now make payments to an App Store account to buy games and other downloads. They previously needed a dual-currency credit card—a requirement that led many to either hack their iPhones in order to use apps from other sources, or make purchases in the App Store using false identities and fraudulent gift cards. After long neglecting the Chinese market, Apple has been aggressively expanding in the country in the last two years—opening new retail stores, an ecommerce site and a version of its App Store using simplified Chinese characters, making it easier for local users to navigate. The company's revenue from Greater China rose to more than $13 billion, or 12% of its overall business, in its fiscal year ending in September. That is up from a little more that $3 billion at the end of its 2010 fiscal year. Its recently opened Hong Kong store is one of its largest revenue generators. China is also the hub of Apple's manufacturing, Most of its iPhones and other gadgets are assembled in Chinese factories by subcontractors and then shipped around the globe. Apple is most likely to use its yuan to pay employees and suppliers in China, analysts said. Converting yuan to dollars in order to repatriate profits can mean navigating a difficult bureaucracy, a factor behind many U.S. companies' decision to conduct their trade in China in dollars. "I think there's a natural need" for Apple to use yuan within China, given the large amount of manufacturing done there, said Caroline Owen, head of debt capital markets, North America, at Standard Chartered. An Apple spokesman declined to comment on what the company would do with the yuan. Apple is likely to sell "millions" more applications in China because of the change, though some users will still load pirated apps, said Duncan Clark, chairman of Beijing-based consulting firm BDA China Ltd. Like other tech and media-related companies, Apple sometimes faces extra regulatory hurdles to offering its products in China. The first iPhones that Apple sold in the country came with Wi-Fi wireless Internet capability disabled to comply with government regulations. Several iPhone apps related to the Dalai Lama appear in other countries' versions of the App Store but not in China's. Apple's iPhone took a 10% share of the nearly 22 million smartphones sold in China in the third quarter, ranking the company fourth behind Nokia Corp., Samsung Electronics Co. and Huawei Technologies Co., according to market-research firm Gartner Inc.
Cosco Shipyard along with Hong Kong-headquartered ship management and chandlery companies are among the top 50 unsecured creditors after New York-listed tanker operator General Maritime (Genmar) filed for bankruptcy protection in the United States on Thursday. Jeremy Harwood, a partner in law firm Blank Rome, said it was the "largest maritime bankruptcy ever filed in the US" but it was unlikely to be the last given the state of the shipping markets. Documents filed in the US Bankruptcy Court in New York show Genmar had total debts of US$1.4 billion including a US$300 million bond up to the end of September. Total assets, mainly the firm's fleet of 33 tankers, were valued at US$1.7 billion. Hong Kong's Anglo-Eastern Group, which provides ship and crew management and supervisory services for ships under construction, was owed US$953,335 by Genmar, followed by mainland shipbuilder Cosco Shipyard (Zhoushan) which was owed US$921,932. Court papers show a further US$109,328 was due to Kylin Worldwide (Hong Kong), which supplies marine paints and other coatings, while Wallem, another ship management and ship services firm, was owed US$48,402. Anglo-Eastern chief executive Peter Cremers said Genmar remained a client "so it may not be strategically correct I make comments". But he added: "At this moment, at our level it seems very much business as usual as ships need to earn money. Hence they need to be running, hence operating costs need to be funded." The company manages the day-to-day operations, including providing crew, of several Genmar tankers from its Singapore office. Harwood said a further court hearing was due to be held yesterday that would seek the judge's approval of key elements of Genmar's corporate restructuring. This included clearance for a restructuring agreement that was signed on Wednesday between Genmar, senior secured creditors and OCM Marine Investments, part of Oaktree Capital Management. This would see OCM Marine Investment inject US$175 million of new equity that would be used to fund a reorganisation plan and convert debt to equity. Further equity investment would also be sought. The judge is also likely to agree to Genmar suspending bank loan repayments for up to three years. If the bankruptcy protection plan is approved, Genmar said it could emerge "from bankruptcy in the spring of 2012". Harwood said Genmar's move to seek bankruptcy protection would trigger three or four other shipping firms to file for protection over the next two or three months as they fell victim to poor shipping markets. Shipping companies that had used their cash stockpiles to fund operations since the 2008 financial crisis, when tanker and dry cargo markets crashed and had barely recovered three years later, were now running out of money. "It's going to be a very, very rough six months," Harwood said. While Genmar's financial difficulties were partly caused by the US$620 million purchase of seven tankers last June, the company was also hit by lower charter rates. As a result, spot earnings shrank from US$25,911 per day in the first quarter of last year to US$13,043 per day in the fourth quarter. Average earnings for a supertanker are now about US$20,000 per day, according to Clarkson, the British shipbroker. Harwood said Genmar had "bought a fleet at the top of the market and got overextended". The drop in charter rates had squeezed Genmar's cash reserves as freight revenues barely covered operating costs, while banks also took a tougher line. Nigel Binnersley, a partner in the Hong Kong office of Blank Rome, said decisions favouring other overseas shipowners by the US bankruptcy courts meant "foreign operators with little or no obvious connection with the US can now quite easily seek bankruptcy protection relief. For distressed shipowners looking for a `loan holiday', this looks to be attractive option and one which they should at least consider taking".

China*: Nov 21 2011 Share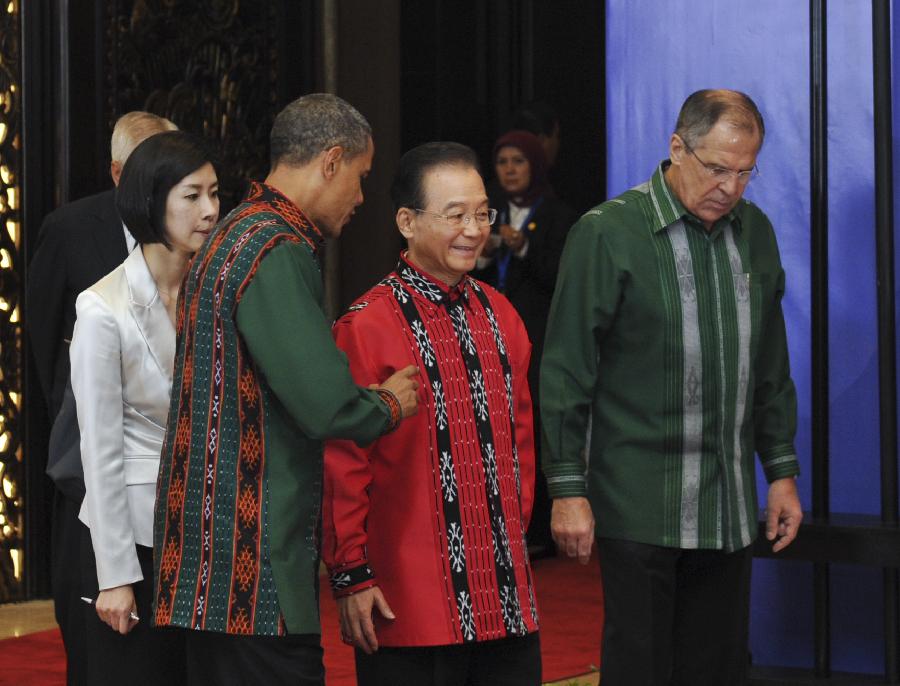 Chinese Premier Wen Jiabao (2nd R, front) speaks with U.S. President Barack Obama (L, front) before the East Asia Summit gala dinner in Bali, Indonesia, Nov. 18, 2011.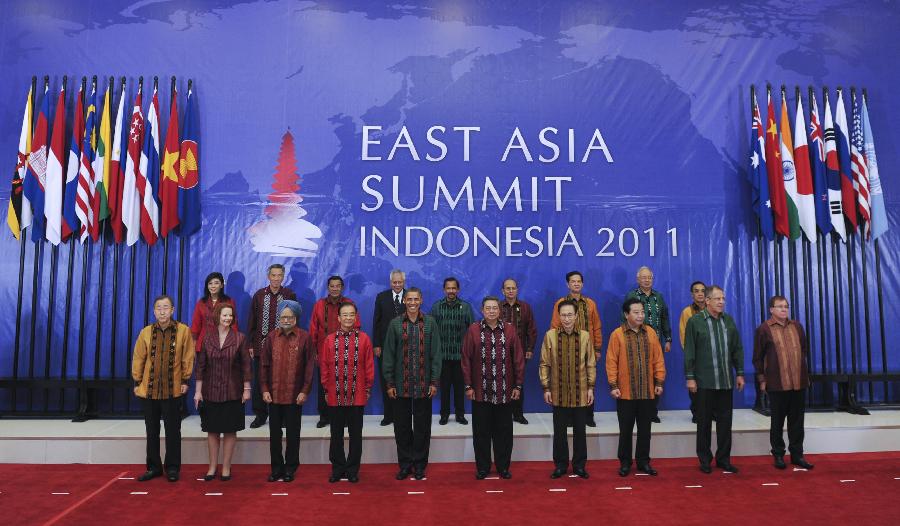 Premier Wen poses for group photos with other leaders before East Asia Summit gala dinner. Chinese Premier Wen Jiabao (4th L, front) poses for group photos with other leaders before the East Asia Summit gala dinner in Bali, Indonesia, Nov. 18, 2011.
Strong demand in investment and jewelry will drive China's total gold demand to 750 tonnes this year, the World Gold Council (WGC) said here Thursday. Buying gold as means of investment has become a more common choice for Chinese in the past third quarter as it is viewed as a safe investment during these uncertain economic times, said the WGC in its Gold Demand Trends report for the third quarter of 2011. Demand for gold bars and coins in China expanded by 24 percent from a year earlier to 60.2 tonnes in the third quarter. In the first nine months, total investment demand reached 204.1 tonnes, said Zheng Lianghao, managing director of the WGC's Far East division. Meanwhile, Chinese gold jewelry demand was 13 percent higher year-on-year at 131 tonnes as retail chains expanded their networks in smaller cities to meet increasing demand fuelled by rising income levels, said Zheng. This compares to a global demand of 465.6 tonnes jewelry in the third quarter, down 10 percent year-on-year. Globally, gold investment demand reached 468.1 tonnes in the third quarter of 2011, up 33 percent from 352.1 tonnes in the corresponding quarter in 2010. "Unsurprisingly investment demand for gold was a key driver during the third quarter," said Marcus Grubb, Managing Director of Investment. "Increasing levels of inflation, the U.S. credit rating downgrade, a worsening eurozone sovereign debt crisis and the lackluster performance of many assets drove investors to increase holdings in gold in order to protect their wealth," he said. He said investors are likely to continue to seek protection from economic uncertainty, which shows no signs of abating. Global gold demand in the third quarter of 2011 increased 6 percent year-on-year to reach 1,053.9 tonnes, up from 991.1 tonnes in the third quarter of 2010, according to the WGC. Gold supply was 1,034.4 tonnes in the third quarter of 2011, 2 percent higher than year-earlier levels of 1,013.0 tonnes, it said.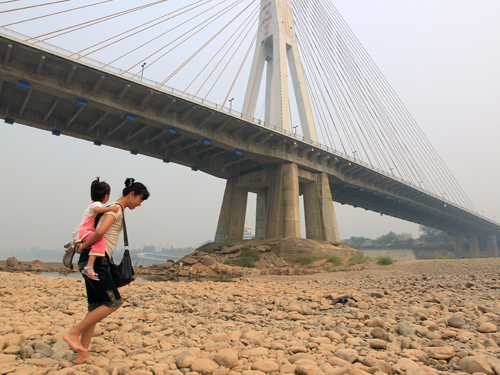 Despite massive debts from existing infrastructure projects, Beijing is determined to invest more than 500 billion yuan (HK$612 billion) to make Yunnan a Southeast Asian gateway. "Yunnan is our nation's land passage to Southeast Asia and South Asia. Its strategic position is very important," the State Council said on the government website. "To improve our country's overseas links, the State Council supports the acceleration of the development of Yunnan as an important bridgehead to its southwest neighbours." Authorities want to improve the province's transport, logistics, energy, waterways and information infrastructure by 2015, and to complete several links to Southeast Asia by 2020. The State Council has called for the completion of a railway linking Kunming, Yunnan's capital, Changsha, and Hangzhou as well as a line between Dali in Yunnan and Ruili on the China-Myanmar border. It also wants expressways built, including one between Kunming and Guangzhou. In addition, it designated the new Kunming Airport as a major aviation hub for western China, with auxiliary airports in cities including Lijiang, Dali and Shangri-La. The new Kunming Airport, with an investment budget of 23 billion yuan, aims to achieve an annual passenger throughput of 38 million and 303,000 flights by 2020, according to the airport's website. In July, the Ministry of Transport signed a partnership agreement with Yunnan supporting the province's plan to invest 500 billion yuan into 126 projects to transform the province into a transport hub by 2015. This was two months after Yunnan Highway Investment, an investment arm of the Yunnan government, announced it could not repay 90 billion yuan in bank loans for highway construction projects. Yunnan and 11 other provinces have incurred 759 billion yuan of debt from building toll roads, the South China Morning Post (SEHK: 0583, announcements, news) reported on October 18. Late last month transport authorities admitted the nation's construction projects faced funding shortages. "The idea of infrastructure investment in southwest China is not a bad one. Southwest China has always lacked infrastructure. That has been a critical obstacle to development. The key is finding a sustainable way of funding it," Patrick Chovanec, professor of the school of economics and management at Tsinghua University, Beijing, said. "The question is, what is the appropriate funding and time frame to achieve this? You need a rational time frame for the construction of infrastructure projects and not build them too quickly." Chovanec said there was "tension in public policy in China between building stuff to drive GDP growth and reining in inflation" and infrastructure investments had fuelled inflation. "China sees Southeast Asia as its backyard, as part of its attempt to claim the status of regional power. This could have something to do with its competition with other powers including the US and Japan, to gain a firmer foothold in Burma and Laos," Pavin Chachavalpongpun, a researcher at the Institute of Southeast Asian Studies in Singapore, said. "China is trying to accomplish several goals via infrastructure and energy projects in Yunnan. One goal is to decrease dependence on the Straits of Malacca, where 80 per cent of its oil imports currently pass through," Paul Donowitz, of Earthrights International, an advocacy group on human rights and environmental issues, said. "Another motivation is to fuel industries in Yunnan and western China as part of Beijing's `go west' strategy. The recent suspension of the Myitsone Dam has caused concern in Beijing and among Chinese companies who wonder whether their investments are safe in Burma. However, China is the fastest-growing investor in Burma, and although the authorities are reluctant to become overly dependent on China, the leaders will continue to encourage Chinese investment even as they encourage the ending of Western sanctions and increased investments from other countries. "The biggest challenge to Chinese investment in Burma is the widespread resentment of the people of Burma to the influence of China ... If the people of Burma do not begin to see benefits from these projects, there will be more resistance, as in the Myitsone case." The dam, on the Irawaddy River, was planned to provide 90 per cent of its power output to southern China. In Shan state, near the border with Yunnan, the Myanmar army was attacking ethnic groups, with the aim of securing a corridor for a gas and oil pipeline, Donowitz claimed. The pipeline, controlled by CNPC (SEHK: 0135), the largest Chinese state-owned energy firm, runs through northern Myanmar into Yunnan and is scheduled to be completed in 2013. Large infrastructure projects in Myanmar were often located in ethnic minority areas, Sean Turnell, an associate professor at Macquarie University in Australia, said. "This, coupled with the dislocation of people and environmental destruction, make these projects a lightning rod for anti-Chinese sentiment." Myanmar and Laos felt ambivalent about China's growing influence, Pavi said. "On the one hand, no country can deny China has been rising. But the overwhelming presence of China in these two countries could sometimes backfire. Many bad practices that come with Chinese investment are unwanted. Look at the Myitsone dam project in Myanmar."
China should further open its markets to foreign companies, the US ambassador to China Gary Locke said yesterday, while advocating Washington should also break down regulatory barriers for Chinese investments in America. Locke criticised the Chinese business environment as being opaque and stacked against foreign companies. "The single biggest obstacle is a lack of openness in the Chinese economy," Locke said in a speech to a conference in Beijing, ahead of key trade talks between the two countries which start tomorrow. Analysts expect Beijing's currency controls, market access restrictions and lax intellectual property rights protection to top the agenda for the annual meeting of the US-China Joint Commission on Commerce and Trade. Locke said China had shut out foreign players in mining, power generation and transport, and called on China to liberalise the financial services sector, from banking to electronic payments. He also called for a tougher crackdown on intellectual property theft, which he said was widespread on the mainland. At the same time, Washington will seek to increase Chinese direct investment in the United States. Foreign direct investment accounted for five million jobs in the US, Locke said, including employees of Chinese firms. He said the US would like to issue five-year visas to Chinese visitors and called on Beijing to consider offering reciprocal treatment to American travellers. Meanwhile, US Defence Secretary Leon Panetta appeared to call China and India "threats" on Thursday, in comments that the Pentagon quickly sought to correct. Panetta, addressing workers at a submarine plant in Connecticut, was talking about emerging challenges facing the US as it looked beyond the Iraq and Afghan wars. "We face the threats from rising powers, China, India, others that we have to always be aware of," Panetta said. Pentagon spokesman Captain John Kirby moved to correct the record, saying Panetta believed that relationships with both China and India were absolutely vital. "Any suggestion that he was implying either country was a military threat is just false," Kirby said.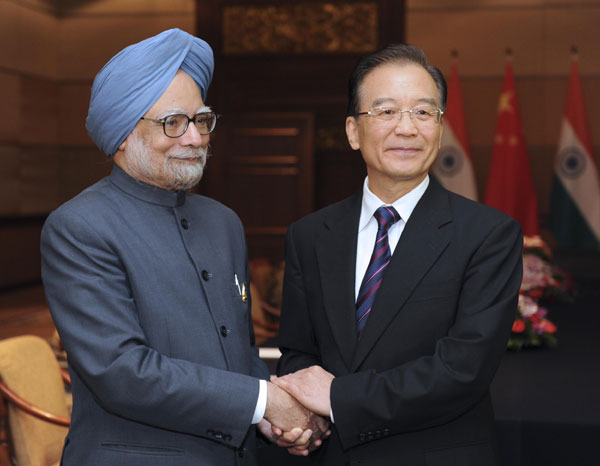 Chinese Premier Wen Jiabao shakes hand with his Indian counterpart Manmohan Singh at the East Aisa Summit held on the island of Bali, Nov 18, 2011. Chinese and Indian prime ministers vowed on Friday to "eliminate disturbance" and improve bilateral ties, which both sides said they greatly cherish despite recent disputes. "China would like to make efforts with India to eliminate disturbance and stick to the path of friendship, mutual trust and cooperation," Premier Wen Jiabao told his Indian counterpart Manmohan Singh on the eve of the East Asia Summit on the resort island of Bali. The meeting between the two leaders came a few weeks after Beijing and New Delhi quarreled over India's overseas oil exploration in the South China Sea. Despite differences, Singh told Wen that India was committed to developing the "best of relations" with China. "We are neighbors and also large, growing economies of Asia. We should cooperate bilaterally and globally," Singh said. "There are enough areas where India and China can enhance cooperation." Singh, noting that the two leaders had been meeting on the sidelines of each of the ASEAN summits held during the last six years, told Wen that he had "benefited enormously" from his conversations with the Chinese leader on each occasion. "No force in the world can stop the growth of relations between China and India," said the Indian prime minister, according to a news release from the Foreign Ministry. The two premiers also agreed in the 55-minute meeting to work toward resolving border issues and maintaining peace and stability along the border. In recent years, India has entered a deal with Vietnam under which Indian companies carry out oil exploration and develop oil wells in the South China Sea, an area which China has indisputable sovereignty. China's consistent position is that it opposes any country engaging in oil and gas exploration and development activities in waters under Chinese jurisdiction. According to the Economic Times, Singh said that "the issue of sovereignty should be resolved according to international law and practice". It quoted Sanjay Singh, secretary on Eastern Affairs of the Indian Ministry of External Affairs, as saying the Indian prime minister argued that Indian explorations of oil and gas deposits were purely commercial. According to an article published by Xinhua News Agency, China has always cherished its bilateral ties with India. However, China's goodwill can by no means be interpreted as a desperate outreach to endear India and other neighbors at any cost. In a report by the Institute for Defence Studies and Analyses, Namrata Goswami, a research fellow at the Indian think tank, wrote, "India should continue to negotiate with China on the border dispute within the framework agreement signed between the two countries on April 11, 2005. "The establishment of a border management institutional mechanism toward the end of this year will be beneficial in resolving difficult issues pertaining to the disputed border in a structured way, thereby creating institutional memory for future reference," Goswami said. "The India-China territorial dispute in the eastern sector, pending resolution for decades together, is not an intractable issue. It can be resolved." He added that "the best way forward to resolve the issue with China is through a mechanism of dialogue and confidence-building".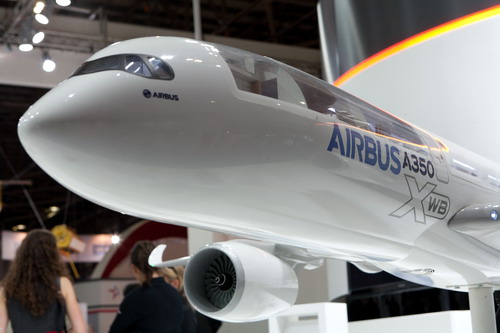 A model of an Airbus SAS A350 XWB on display at an air show. The European aircraft maker opened a logistics center in Tianjin on Friday. Airbus SAS opened a logistics company in Tianjin on Friday to provide support services for all the aircraft maker's programs in China. Airbus (Tianjin) Logistics Co (ATL), the first such center for Airbus in Asia, will handle all the company's transportation needs, including materials and plane parts, between China and Europe. The logistics center is situated in the Tianjin Free Trade Zone Comprehensive Bonded Area, close to other Airbus facilities, including the assembly line for the A320 aircraft. Airbus has several areas of cooperation - involving materials purchasing and parts manufacturing and assembly - with suppliers in six cities: Harbin, Shenyang, Tianjin, Xi'an, Chengdu and Shanghai, and each supplier organizes its own supply chain. "The fact that every supplier uses their own logistics methods to transport raw materials and deliver products means that we spend a lot of money on logistics," said Liu Qiang, operations and quality manager at ATL. Sometimes, suppliers even transport extra raw materials because of a lack of harmonized supply chain management, Liu said. As the number of Airbus programs increases in China, the cost of logistics is a major concern for the aircraft manufacturer. ATL's management of suppliers' goods flow will help Airbus reduce logistical costs and increase efficiency, Liu said. The center, which has an area of 10,000 square meters, provides storage and transportation capabilities in accordance with the demands of suppliers, he added. "The logistics center in Tianjin has the potential to help us reduce costs by as much as 30 percent, according to our experiences in the US," said Laurence Barron, president of Airbus China. ATL has already supplied services for Airbus' two programs in China. One is the manufacture and assembly of wings for the A320. ATL is able to supply logistics services for 40 containers of A320 wings annually, which almost equates to the production capability of the A320 wing assembly line, Liu said. Another program relates to the testing of wing slats manufactured by a Belgian company, which opened a factory next to ATL in earlier this month. The logistics center will also support Airbus' latest aircraft, the A350 XWB, of which 5 percent of the airframe will be manufactured in China, Barron said. "It will provide services for us and all our suppliers in China in the future," he said, "And ATL, which is our only logistics center in Asia, will also serve our suppliers in the whole Asian region." However, it will take some time to ensure that all Airbus-related goods are routed through ATL, because the company cannot change some existing contracts overnight, said Barron. According to some existing cooperation contracts, suppliers take the responsibility for logistics. Another problem facing ATL is the reorganization of the existing goods flow, said Barron. Airbus spends a lot of time and energy on the harmonization of transportation and management of the supply chain, which was previously owned separately by suppliers, he added.

Hong Kong*: Nov 20 2011 Share
The Hong Kong and Macau markets were the key drivers for sales growth during the period, the cosmetics chain Sasa said. Talent gap threatens Sa Sa's growth - Mainland expansion is outpacing staff training, the cosmetics chain said, as profits grew 27pc. The cosmetics retailer Sa Sa International Holdings (SEHK: 0178) may consider slowing down the pace of shop openings on the mainland, because rapid growth in China is straining its talent pool. The company, Hong Kong's largest cosmetics retailer, reported a 27.3 per cent increase in net profit to HK$224.3 million for the six months to September, as turnover grew 32.7 per cent to HK$2.8 billion. Excluding the impact of a new bonus points system that was introduced in May, the company said the profit would stand at about HK$250 million, a 42 per cent rise year on year. Its gross profit margin declined 1.1 percentage points to 43.9 per cent. Simon Kwok Siu-ming, the company's chief executive, said yesterday that the Hong Kong market had continued to grow strongly from October to mid-November. The Hong Kong and Macau markets were the key drivers for sales growth during the period, with the 84 Sasa stores and two specialty stores contributing HK$2.2 billion in sales revenue, up 35 per cent year-on-year. However, the mainland business failed to meet the company's expectations. Despite more than 80 per cent growth in total turnover, the retailer recorded a loss of HK$19.7 million in the mainland market, almost double that of a year ago. Same-store sales also fell 3 per cent. The company blamed the increased loss on the opening of 13 Sasa stores across the border, which had put pressure on its limited human resources. "In mainland China, our strategy and operations are undergoing growing pains. Staff training has not yet matched our pace of expansion," Sa Sa said in its interim result report. Sa Sa, which first opened two mainland shops in Shanghai in 2005, planned three years ago to set up 100 Sasa stores on the mainland by 2011. But it now only runs 39 Sasa outlets. Eugene Mak, an analyst with Core Pacific-Yamaichi Securities, said it would be hard for Sa Sa to make a profit on the mainland within two years. "Apparently, the company lacks experienced staff to support its fast growth. Slowing the pace of shop openings would certainly solve this problem," Mak said. Sa Sa International said it would conduct a "careful review of the store-opening plan to decide the pace and methodology of expansion", and focus more on the cities it has already entered. Sa Sa declared an interim dividend of 2 HK cents and a special dividend of 4 HK cents for the period. Its shares dropped 2.6 per cent yesterday to close at HK$4.81.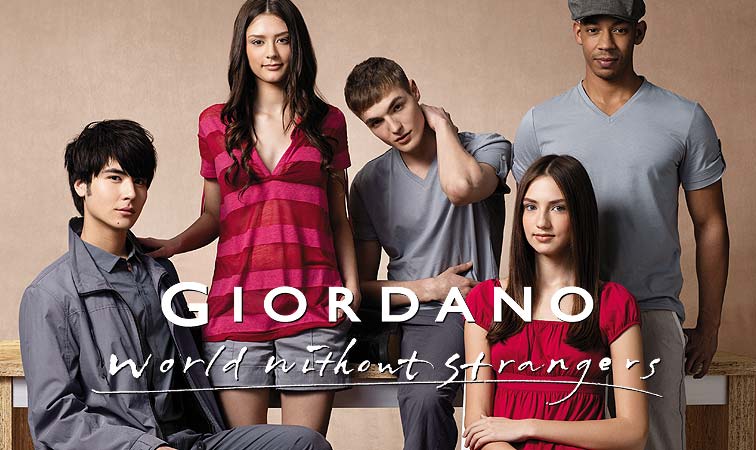 The casual-wear chain Giordano International (SEHK: 0709) recorded an increase in sales of more than 18 per cent for the third quarter this year, with strong growth in Hong Kong and Taiwan. The company said sales for the quarter ending September 30 were HK$1.33 billion, bringing the total year-to-date sales to HK$3.98 billion, up 22 per cent year on year. Gross profit margin improved 0.8 percentage points in the third quarter, helping raise the year-to-date gross margin by 1.5 percentage points to 59 per cent. The company attributed the improvement to increased volumes, a more attractive price mix, a control over markdowns, and effective advertising. Peter Lau Kwok-kuen, chairman and chief executive of Giordano, said the company achieved sales growth of as much as 24 per cent in the first half of this year owing to strong sales of winter products. The third-quarter sales increase was "slower but in line with overall expectations", Lau said. During the period, the chain retailer added a net 54 outlets globally, bringing total shop numbers to 2,496 across Hong Kong, Taiwan, the mainland, other parts of the Asia-Pacific region and North America. The Hong Kong and Taiwan markets reported a significant year-on-year increase in the third quarter, with sales growing to HK$414 million from HK$329 million. The mainland remains the biggest sales contributor, with total sales revenue of HK$439 million. Giordano's share price rose 1.1 per cent to close at HK$6.23 yesterday. The stock has risen significantly in recent months since Cheng Yu-tung, the property tycoon and chairman of the Chow Tai Fook jewellery chain, used several purchases to raise his Giordano stake earlier this year. Cheng, who holds about an 18 per cent stake in Giordano, is now its largest single shareholder.
HK seeks role as region's IP trade centre - Rising mainland demand for intellectual property spells opportunity for the city. Hong Kong is hoping to compete with Singapore to become the region's trading hub for intellectual property assets, as increasing demand for patents, copyrights, licences and trademarks on the mainland opens opportunities for local traders and professionals. The mainland may be a haven for counterfeit goods, but the number of registrations for patents, trademarks and copyrights has risen sharply over the past two years. From 2008 to 2010, the number of patent applications on the mainland surged to more than 750,000 as the country has surpassed the United States as the world's largest patent-filing nation. Alice Ngan, chairman of the Licensing Executives Society's China-Hong Kong sub-chapter, said: "Instead of protecting the owner of the invention, patents and copyrights are also tradeable assets - some of which are worth millions of dollars, and one can sell the same technology to many buyers." Beijing has declared that technology and clean energy are key areas for development in its 12th five-year plan. And China's imports of technology patents have also grown dramatically, costing mainland buyers US$25.6 billion last year - a jump of 19 per cent from 2009. But there is still ample room for growth. In 2010 China spent on average only US$2.30 per person on licensed goods, compared with US$30 per person in Hong Kong and US$100 in the US. The best known intellectual property (IP) trading involves selling the copyright for movies and songs to overseas distributors or television and radio stations. Thousands of transactions take place daily, with corporations and universities acquiring technology for modifications or application in other areas. However, such trading has been done largely through special agencies, such as merchant bank Ocean Tomo in the US, as there is no widely used system for buying IP products. "We wish to facilitate the set-up of an electronic platform where IP buyers and sellers from Asia can match themselves in not just one-to-one, but on a many-to-many basis," Trade Development Council official Raymond Yip Chak-yan said. "Our strong legal system could also make Hong Kong an arbitration centre for patent and copyright disputes." Singapore is another city aspiring to establish a regional IP trading platform, but Yip said Hong Kong's proximity to the mainland and its strength as a financial and trading hub gave it an edge over Singapore. The council will host the city's first conference on intellectual property on December 2.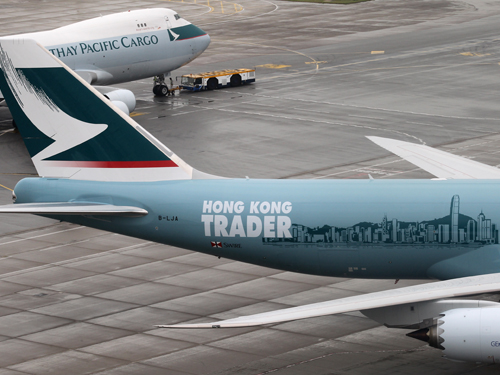 Amid shrinking demand, Cathay Pacific has opened a new cargo facility and next year will take delivery of 10 more Boeing 747-8 freighters (front), the planemaker's biggest. Cathay Pacific Airways (SEHK: 0293) is struggling to fill up its cargo space even as its freight capacity is set to increase by 15 to 20 per cent next year. With the delay in delivery until next year of most of the 10 747-8 freighters it ordered, Cathay will be in the unenviable position of having to fill up even bigger cargo holds - the jumbo 747-8 can hold 16 per cent more than its predecessor B747-400F - even as cargo volume is dwindling amid sluggish demand in Europe and the US. All the new freighters will operate between Hong Kong and North America from next month. "The worst-case scenario is that we'll have to park the aircraft, just as we did during the downturn in 2008 and 2009," Nick Rhodes, cargo director for Cathay, said on the sidelines of the topping out ceremony of its HK$5.5 billion cargo terminal at Chek Lap Kok yesterday. To help ease the overcapacity, a B747-400F will leave Cathay shortly as part of the four carriers transferred to its cargo joint venture with Air China (SEHK: 0753, announcements, news) earlier this year. Three more freighters will be leased to Air Hong Kong, a joint venture in which Cathay owns a 60 per cent stake. Still, Cathay's cargo capacity is expected to rise by up to 20 per cent. Its cargo volume, meanwhile, contracted more than 17.5 per cent year on year last month and load factor - percentage of cargo space occupied - dropped to 66 per cent. Cathay's load factor and the cargo division's profitability would drop next year as a result of weak economic growth in Europe and North America, Rhodes said. "[But] it's not all bad, imports into Asia, especially for China, is quite strong," he said. Cathay is planning new routes to the mainland and India as well as new markets in eastern Europe, and Central and South America to use the additional capacity. It opened a new service to Zaragoza in Spain this month after the rapid growth of retail chain Zara in Asia. It also wants to add more services to Sri Lanka, the garment manufacturing centre for many US fashion brands such as Victoria's Secret. Intra-Asia trade is seen as a ray of hope amid the uncertainty in the cargo market, given the volume of IT-related cargo flows within the region. Cathay is also seeking new services into Australia and Mexico via Los Angeles, pending traffic rights talks. It is increasing the five flights a week on its Miami route to seven because of the growth in traffic between Asia and Central and South America. In the longer term, the International Air Transport Association forecasts global air cargo demand to rise 6 per cent a year in the next decade. Cathay's capacity in the next three years is to grow 5 per cent to 6 per cent, in line with global forecasts for demand. The new cargo terminal at Chek Lap Kok, with annual throughput capacity of 2.6 million tonnes, will hire up to 1,800 staff next year. About 1.8 million tonnes of cargo that Cathay, Dragonair and Air Hong Kong carry a year will be moved to the new terminal in phases from Hong Kong Air Cargo Terminals.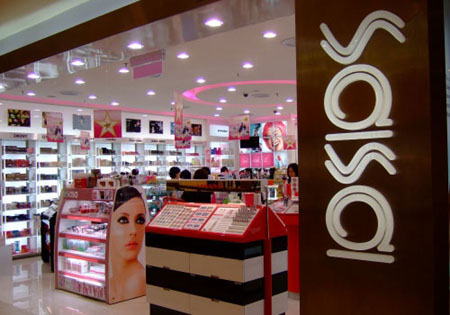 Cosmetics retailer Sa Sa International Holdings (0178), a favorite shopping destination for thousands of mainland visitors, reported earnings of HK$224.3 million for the six months ended September 30, up 27.3 percent compared with the same period last year. But it took a hit from mainland operations, booking a HK$19.7 million loss, which chairman and chief executive Simon Kwok Siu-ming said was mainly attributable to overheads associated with 13 new stores as it sought to expand its mainland footprint. But Kwok said yesterday the firm's expansion will continue, with 15 stores in the mainland set to open. He said Sa Sa has a presence in "eight provinces and 14 cities with 39 stores." Last month, Sa Sa opened a flagship store in Henderson Mall in Shanghai. In Hong Kong, Kwok said Sa Sa had to bear rental rises of "26 percent in the first half," when leases were renewed. Sales increased to HK$2.78 billion, up 32.7 percent compared with last year. Sales and profit growth were driven by "a strong performance" in the Hong Kong and Macau markets, as well as by the introduction of new and exclusive products, Kwok said. Turnover in Hong Kong and Macau increased 35.3 percent to HK$2.2 billion. Sales in the mainland increased more than 80 percent to HK$108.5 million. Sa Sa operates a total of 84 stores in Hong Kong, Macau and the mainland, selling brand name fragrances such as Christian Dior and Lalique; make-up from Bobbi Brown and Clinique; skincare from Guerlain and Suisse Programme, as well as bodycare, haircare and slimming products. In August, the company was included in the Hang Seng Corporate Sustainability Benchmark Index. Basic earnings per share was 8 HK cents. The company declared an interim dividend of six HK cents per share.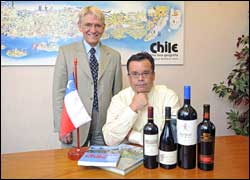 The 10,000 bottles of red wine found abandoned in To Kwa Wan are all fake, containing only water with coloring, according to the Chilean consulate. A Chilean wine company, Vina Cono Sur, has asked the Hong Kong police to provide them with two samples for chemical analysis of their contents. The bottles in 100 crates were found on Chi Kiang Street in To Kwa Wan on November 7. Speaking for the first time since the incident, Chilean consul general Mario Ignacio Artaza yesterday told The Standard only one-fifth - or 2,000 bottles - purportedly came from Chile's Vina Cono Sur, but the rest are from other countries. He said he had been in contact with the police since reading newspaper reports on November 9. "Furthermore, what is inside the bottle is not wine, but water with coloring," Artaza said. He called on the police to solve the case as it has brought the quality of Chilean wine into question. "We believe any attempt at a criminal act must be sanctioned immediately," he said. Artaza also said the director of Vina Cono Sur's Shanghai office, Gonzalo Marina, met with the local police yesterday to hand over their technical report, which details the number of discrepancies in the fake wines from the real Cono Sur. These include misspelling the place Torre Sur where the winery is located, the wrong microcode and company seal, and a screw cap of different shape and color. Vina Cono Sur also asked the police to provide it with two of the bottles to conduct a physiochemical analysis of the wine and review all the packaging elements. Hung Hom police inspector Andrew Sin confirmed that the bottles abandoned in To Kwa Wan came from other countries besides Chile, but he refused to identify the countries. A police spokesman said all the boxes have been moved to the Hung Hom police station. Guillermo Garrido, consul trade commissioner, suspected that counterfeiters might want to damage the reputation of Vina Concha y Toro, the largest producer of wine in Latin America, which is the parent company of Vina Cono Sur. Artaza said: "We want the police to find out as we want to protect the consumer as well as Chile and its companies which are exporting to Hong Kong."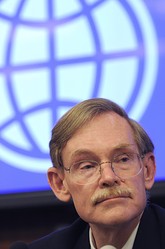 Zoellick: China Won't, And Shouldn't, Save Europe - Earlier in his career, World Bank President Robert Zoellick was a top U.S. official responsible for German reunification, and he's pained by the continent's current woes. In his current job, he focuses a lot on China. But he doesn't believe China will ride to Europe's rescue — or that it should. "The idea that Europe, where the average per capita income is about $40,000 a year, should be going to China, where the average per capita income is about $4,000 a year with a begging bowl," doesn't make sense, he told The Wall Street Journal's CEO Council conference in Washington this week. Chinese domestic politics wouldn't allow a bailout anyway, he said. "I will just summarize one Chinese official at [the] Cannes [Group of 20 nations summit earlier this month] said to me and another," Mr. Zoellick continued. "He said, 'Well, if Germany isn't so concerned about this, why should I be so worried about bailing [Europe] out?'" "Now having said that, if Europe comes together then I do think that other countries would be willing to [cooperate]," he added. "But this is the irony of ironies, going back to the period of the late '90s, they'll operate through the IMF," which lectured Asia during the financial crisis of the 1997 and 1998 about how it needs to get its act together.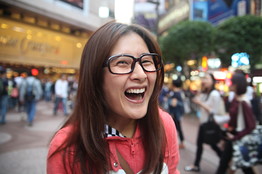 Most people wear glasses to see. This city's hip young crowd wears them to be seen. That's clear when you look closely at the people crowding Hong Kong's busy shopping streets. In many cases the glasses have no glass. The plastic frames, usually in black, tortoiseshell or bright colors, are empty. Chu Fun, a popular 32-year-old morning-radio host, wears contact lenses for nearsightedness, but she wears glasses, too, choosing from among four pairs of lensless spectacles. She bought her favorite ones, black with purple stems, in Japan a couple of years ago for about $13. She also has a pink pair, a black cartoonish pair and a bright red pair she picked up just the other day. Her husband has three pairs, all black but in different shapes. Besides matching her outfits, or her hair, which until recently also was purple, the glasses are practical. She doesn't have time to put on makeup early in the morning before facing her colleagues. "Those black circles are so seriously bad, I try to find some way to cover it," she says. The no-glass frames also don't blind the wearer when walking out of the arctic air conditioning that blasts through most buildings into the tropical heat. "If you wear this, no fog," she says. And one more practicality: fake eyelashes. "If I have lenses here," she says, sticking her finger through the frames, lashes "may clash with the glasses." This way the lashes can stick through unimpeded. Not everyone is crazy about the trend, which optical industry executives say originated in Japan in the 1990s, mostly died away and then resurfaced recently with a vengeance among urbanites, male and female, in China, South Korea and Taiwan. "I'm deeply confused by it," says Michael Perry, an American public-relations expert who moved to Hong Kong a year ago. "You want to reach out and touch to see if the glass is there…Fortunately, I restrain myself." I've been wearing glasses since high school and always thought of them as a burden, because they slip down your nose and you can lose them. If you don't have to put up with them, why would you?" The paradox of wearing specs without corrective lenses is that people here badly need glasses. Nearly 85% of people in their 20s in Hong Kong suffer from myopia, according to the Myopia Research Center, part of Hong Kong Polytechnic University's School of Optometry. Levels of myopia, or shortsightedness, are similar on the mainland and elsewhere in east Asia and are on the rise.

China*: Nov 20 2011 Share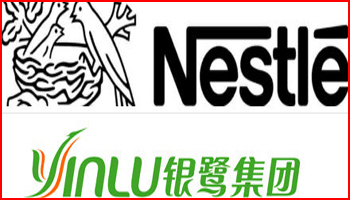 Swiss food giant Nestle SA Thursday officially finished the acquisition of a 60 percent stake in China's Yinlu Foods Group. At a ceremony in the southeastern city of Xiamen, home to the headquarters of Yinlu, the two also announced they will jointly invest 2.5 billion yuan (394 million U.S. dollars) in Yinlu to expand current and build new production facilities nationwide. Chen Qingyuan, chairman of Yinlu, said the company will seek the help of Nestle to make Yinlu an international brand and to expand into the international market. Roland Decorvet, chairman and CEO of Nestle China, said Yinlu has a very good understanding of the tastes of Chinese consumers and the Chinese market and also has very extensive distribution and sales network, while Nestle has rich experience in fields like research and development and management. The two declined to disclose the price of the acquisition. Yinlu, known for its peanut milk and instant porridge products, reported a revenue of 5.4 billion yuan in 2010, up 52.5 percent from a year ago.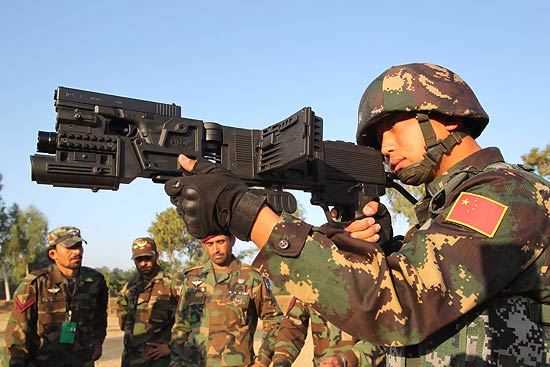 China-Pakistan joint military drill held in Pakistan - On Nov. 17, the Chinese soldiers use Pakistani anti-terrorist weapons.

According to the latest data in the 2011 financial year, the number of U.S. visa applications reached 9.6 million, and 7.5 million of them were approved. The approval rate increased by 17 percent compared with last year. The number of U.S. visa applications from emerging markets, such as China, Brazil and India, has increased substantially. A total of 1.8 million Brazilian and Chinese citizens were awarded U.S. visas. In the last five years, U.S. visa issuance rates to Brazil, China, India and Mexico have increased by 234 percent, 124 percent, 51 percent and 24 percent, respectively. The U.S. State Department has repeatedly said it will continue to raise the U.S. visa issuance to Chinese and Brazilian citizens. The person in charge of consular affairs at U.S. Embassy in China said China and Brazil will each receive 50 additional consular officers by the year's end. In the busy periods for visa applications, more temporary staff will be sent to do related work.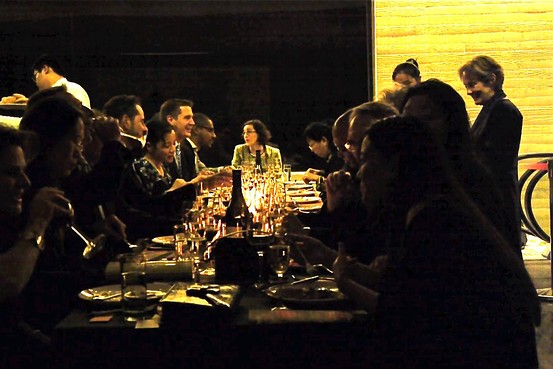 Alice Waters Does Organic American-Style at Dinner in Beijing - Alice Waters (far right) talks with guests at the dinner she hosted at the U.S. Embassy in Beijing. As U.S. chef and food activist Alice Waters rolled out a four-course meal meant to inspire China to eat organic and sustainable foods, something other than pesticides was missing. The founder of renowned Berkeley, Calif. restaurant Chez Panisse organized an elaborate dinner at the U.S. Embassy Wednesday night in Beijing as part of a move to spark a food revolution in China, helping Chinese consumers learn about eating organic foods that are in season and grown locally. But among the several hundred people to whom she dished out this meal—a carefully selected array of Beijing's seasonal vegetables, followed by butternut squash tortellini, braised pork over mashed potatoes and apple strudel with ice cream—less than a third of the attendees were Chinese nationals. A press representative of the U.S. Embassy, which was in charge of the guest list, said many more Chinese had been invited to the dinner than had attended. Declines flowed in the days before. To be sure, there were some Chinese in attendance, many of whom were well-known. Ge You, one of China's most famous actors, and Phoenix Television anchor Xu Gehui were both there. Ms. Waters hoped to inspire these cultural icons. "China is at a critical turning point," Ms. Waters said ahead of the dinner. Fast food restaurants are popping up on every corner, and the pressure to speed up the pace of life, eating on the go, is increasing, she said. But at the dinner, the opening event of a four-day cultural forum sponsored by the Asia Society and Aspen Institute, little was uttered about eating foods free of chemicals and buying from nearby farms. Not a word of Chinese was said. Only a toast was offered as a tribute to a potential food movement in China. "Lift a glass of wine to the people taking care of the land," Ms. Waters said. A food revolution is only at best in its infancy in China, says Zhang Yinghui, who is one of China's more prominent food activists and also attended the dinner. Chinese have been buying organic foods, but they've largely been buying out of fear after countless food scandals have threatened the health and lives of average citizens. Ms. Zhang, while well-informed about China's agricultural industry and green farming, is far less vocal than the organic and slow food backers in the West. "There's less of push here because Chinese, after all, still care about food, even if it is under threat," Ms. Zhang said. "Chinese families still eat together at a table every night," said Ms. Zhang. There are some chefs around China who are contributing to a more conscious way of feeding people, sourcing their vegetables and meat locally. Dai Jianjiun, who runs his restaurant out of Hangzhou, an affluent city south of Shanghai, is one. "Unfortunately, these kinds of restaurants are made available only to the wealthy and the government," Ms Zhang said, adding that the growth of the organic industry in China has largely been propelled by this subset of the population. Critics of the organic movement in West have made similar statements, which could have been applied to Ms. Waters' dinner in China, where the U.S. Ambassador to China Gary Locke sat across from author Amy Tan on Wednesday, feasting on organic bread and carrots that had been plucked from a nearby farm only hours before.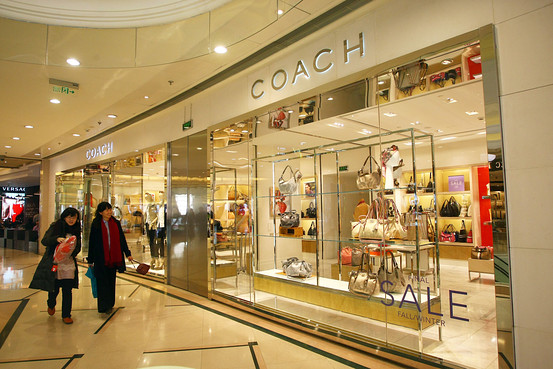 U.S. handbag maker Coach Inc. is pushing for China to become its No. 1 market in the next three years, expanding stores despite an economic slowdown and the rise of online and second-hand markets for handbags in the country. The New York-based company said it is on track to reach $300 million in sales in China by the end of this year and aims to reach $500 million in sales from China by 2014, said Victor Luis, president of Coach's international operations, in an interview on Thursday. Coach posted China sales of $185 million in 2010. For the latest fiscal year, Coach's global revenue totaled $4.16 billion. The handbag, accessories and leather-goods maker is pressing forward even amid signs of slowing GDP growth and weakened demand for China's exports, showing that executives believe China's economy will still grow at a steady clip despite Beijing's efforts to tame inflation and continued unease abroad. "We see China as having more levers at its disposal to manage debt, property, and economic turmoil," Mr. Luis said. "We feel the wind at our back right now in China." To reach that three-year goal, Coach plans to open about 30 stores each year for the next few years primarily in what are known as China's second- and third-tier cities, or fast-growing urban areas outside the central cities of Beijing, Shanghai, Guangzhou and Shenzhen. Locations include far western Urumqi and Nanning in the southwest. It is also rolling out kiosks at the fronts of department stores to grab attention and building large regional stores where it can have more space to showcase products beyond its core accessories, such as knitwear, coats and eventually perfumes. China is already Coach's fastest-growing market, Mr. Luis said. Coach will operate 71 stores in China's mainland as well as in Hong Kong and Macau by calendar year-end. Coach ranks within the luxury category but its products are more within reach than many high-end brands. Its bags can range from about 600 yuan to 15,950 yuan (about $95-$2,500) in China. Analysts say that as Chinese earn more disposable income, they will continue to look for handbags, belts, and luggage that will mark their economic rise. "There is an ever-growing consumer group having the ability and the desire to buy premium or luxury products beyond China's biggest cities," said Pascal Armoudom, a partner at consulting firm A.T. Kearney in Shanghai. China's luxury buyers show a willingness to spend, doling out an average of 10% of their total household income on items such as jewelry, clothing and bags, according to data from brokerage CLSA Asia-Pacific Markets. Coach is seeing increased competition in China as consumers flock to the Internet, where they believe they can get better deals on sites such as Maibaobao.com, a popular Chinese handbag website. Milan Station Holdings Ltd., a retailer of second-hand bags for women in China, has been expanding in Shanghai and Beijing since it went public in Hong Kong earlier this year. Coach doesn't yet have an e-commerce site for China, though it will likely be launching one by the end of 2012, said Jonathan Seliger, president and chief executive of Coach's China operations, adding that the current focus is brick-and-mortar retail. Attempting to raise its profile in Asia, Coach is seeking approval from the Hong Kong stock exchange in the next few weeks for a listing through an issue of Hong Kong depositary receipts, Mr. Luis said. The company has also tapped actress Gwyneth Paltrow as a spokeswoman for the international market in hopes of building more recognition. Coach has 6% market share in China, according to the company. Other brands leading the handbag market include Gucci and Louis Vuitton. Coach expects its sales in Asia to pick up in January, after the company has full control of its business in Taiwan. The deal to regain its distribution in Taiwan, where Coach's retail sales totaled $45 million in 2010, was struck last month. Coach has around 25 retail outlets in Taiwan. Coach posted a profit of $215 million for the fiscal first quarter ended Oct. 1, up from $188.9 million a year earlier. Global revenue totaled $1.05 billion.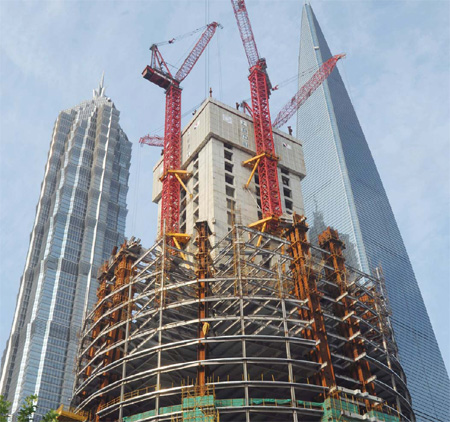 Foreign architects flock to china as new opportunities open up - With over $1 trillion spent last year on new construction projects, up to 48 billion yuan ($7.5 billion, 5.5 euros) spent annually on concept designs and a skyscraper popping up every three days in China, the amount of opportunities for foreign architects are, as one architect put it, beyond comprehension. "In this time of the world, China is the only place that you can work on so many projects. And these projects are usually ridiculously big, which are unimaginable in other places like New York or London," says Casey McSweeney, an American architect at Graft, an international design studio with offices in Beijing, Berlin and Los Angeles. As China gets comfortable in its new spot as the world's second biggest economy, overtaking Japan, it has also become one of the world's most prolific builders. In the next 50 years, according to calculations by the Financial Times, over 76 percent of China will be urbanized, which will create a major construction market for foreign and domestic architects as well as construction companies. Capitalizing on the exponential growth in the building market, many foreign architecture firms are opening offices in Beijing and Shanghai. Graft, first founded in the US by German architects, opened its Beijing branch in 2004 and soon after designed The Emperor Hotel, part of the Design Hotels chain on the mainland. In major Chinese cities, many major projects have been designed by foreign architects, such as the Bird's Nest by Herzog & de Meuron, the China Central Television headquarters in Beijing by OMA's Rem Koolhaas and the Guangzhou Opera House by Zaha Hadid. Gregor Hoheisel, CEO and founding partner of Graft, says the market for Chinese architecture designs is "humongous". He says since Graft opened its office here, revenue for the company has nearly doubled from the previous year. He says the number of projects in China has also grown. Up to 30 of Graft's projects for this year are located in China. Lin Yuru, a senior architect at Graft, says the building boom in China has provided architects numerous opportunities to work on different types of projects at the same time. "This is the best part of the Chinese experience," Lin says. "China's architecture market is prosperous. I asked one French student why he still chose to major in architecture and he said China has projects," says Mo Tianwei, professor at Tongji University. Apart from the building boom in metropolises such as Beijing, Shanghai and Guangzhou, China's second- and third-tier cities are also attracting architects. "The growth in second- and third-tier cities is just massive and many clients go to international architects. The large population, migration of rural communities to the cities, and the desire for the cities to establish identities through architecture are just unique," says Bob Nation, international design principal for the Asia studio at RMJM, an international architecture company founded in the UK. Massimo Bagnasco, chairman for construction at the European Union Chamber of Commerce in China, says the architecture design market got a big boost when the service sector, which incorporates architecture, was emphasized in China's 12th Five-Year Plan (2011-2015). But despite the opportunities that China affords, challenges are equally numerous. Many of the international architectural firms are having to adjust to different requirements and standards of design, says Reja Bakh, design principal at the Shanghai office of Gensler, a major architecture design firm. "They cannot do the design in the same way as they do in the United States or in Europe. The construction process, the schedule, the culture or value, and the quality are all different," he says. Bakh says one headache for most foreign architects in China is the incredible rate of construction and the small window of time given to design. A design takes two to three years to hash out in the US, but only two months are usually given for architects to complete a design in a Chinese competition. "The speed of construction in China is too fast. When you do something very fast, the quality may suffer," Bakh says. "The architecture design is fine, but the quality of construction still needs to be improved. The contracts are okay here, but the builders are not there yet." Another problem is that many Chinese clients prefer a classic European style, such as chateau-like houses with delicate decorations. Lin at Graft says elegance does not necessarily come from old-fashioned design. "We do contemporary architecture design. We do not want to copy a European house 1,000 years ago," Lin says. Foreign architects in China are also not allowed to draw up construction blueprints after the design is finished, according to regulations from the Ministry of Housing and Urban-Rural Development. The rule forces foreign architecture firms to cooperate with Chinese local designing institutes to finish a project. "We have fantastic cooperation with talented and hardworking Chinese architects," Bakh says. "To ensure that the original idea can be realized, we have to overcome the separation between the architects, clients and contractors, so we work with the local architects. I see fantastic creative ability in the young architects that are graduating in China. And I hope Chinese architects will play a more important role in Chinese city planning because it matters to the development of the architecture culture of this country," Bob Nation says. With more foreign designs, however, has come fierce criticism of their concepts. Many critics have leveled Koolhaas' CCTV design as extreme. But for many foreign architects that China Daily spoke with, the criticism is fine. They see it as a risk that a professional architect must go through in their career. "Clients are sometimes looking for something unique or extreme. So the opportunity for both Chinese and international architects to experiment is more available here than the rest of the world. To me, criticism is healthy, because it brings about dialogues and debate in the public arena," Nation says. "Criticism means debate, and debate means attention," says Bagnasco. "Anyway, we have to create a right way to plan the new cities and the green fields. Principles of a sustainable development must be followed." "This is both unavoidable and beneficial to us. We have to be tolerant and open-minded enough to learn advanced concepts from international architects," says Zhu Xiaodi, president of the Beijing Institute of Architectural Design, a top design institute in China. Bakh explained that foreign architects must follow their principles to make their works appreciated by Chinese people. "It is basically a matter of trust. For me, a good building has to be beautiful, to function properly as a building, and also has to make money," Bakh says. "We would explain to our clients whether it is beautiful, functional and profitable. And this is how we bid for the projects."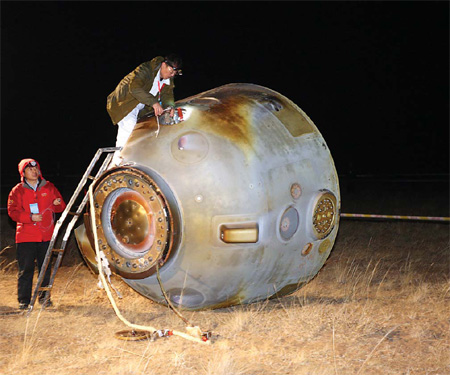 Specialists check the Shenzhou VIII spacecraft, which landed in the Inner Mongolia autonomous region on Thursday after completing 17 days in space. The unmanned Shenzhou VIII spacecraft returned to Earth on Thursday, marking the successful conclusion of China's first docking mission. The spacecraft touched down at 7:32 pm at a landing site in Siziwang Banner (county) in North China's Inner Mongolia autonomous region. During its 17-day journey in space, the vehicle docked, disengaged and re-docked with the unmanned Tiangong-1 space lab module about 340 km above Earth. The two dockings helped China master rendezvous and docking, important procedures for China's long-term plan of building a space station by 2020, experts said. Next year, two more spacecraft, at least one manned, will be launched to dock with the Tiangong-1 space module to better hone the technology. Five helicopters, fitted out with receivers to detect signals from the craft, located the vehicle. After reaching the craft, specialists conducted a series of inspections. Incubators inside the craft were also taken out and sent to Beijing, as they contain biological experiments jointly conducted by Chinese and German scientists.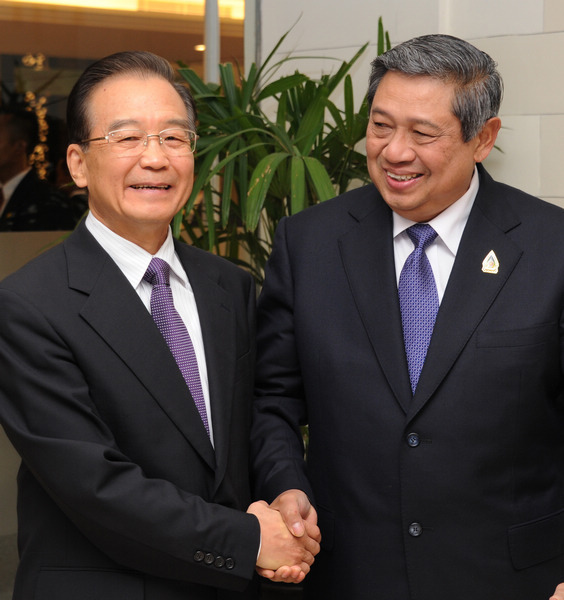 Premier Wen Jiabao (left) meets on Thursday with Indonesian President Susilo Bambang Yudhoyono in Nusa Dua on Indonesia's resort island of Bali. The Association of Southeast Asian Nations (ASEAN) does not want specific political and security issues to become topics of discussion at the approaching East Asia Summit, the Indonesian president told Premier Wen Jiabao on this Indonesian resort island on Thursday. If they do, they could draw attention at the event away from other important business, said President Susilo Bambang Yudhoyono. The remarks referred to the calls that the US and several ASEAN members have made for territorial disputes in the South China Sea to be discussed at the East Asia summit on Saturday. Yudhoyono said on Thursday evening that, against the backdrop of world economic difficulties, ASEAN countries should concentrate more on development and ensure the summit advances "in the right direction". "ASEAN is not in favor of discussing detailed political and security issues at the summit," Yudhoyono said, according to a press release from the Foreign Ministry. Initiated in 2005, the East Asia Summit was designed as a forum for discussions about regional development. Wen said Beijing wants to see the summit stick to its original purpose. China has long insisted that its territorial disputes with some ASEAN members should be settled through bilateral consultations. It announced this week that Beijing is willing to work further with ASEAN nations to find a way to prevent accidents by observing the code of conduct for the South China Sea. According to the Foreign Ministry, Yudhoyono holds China's work to solve the dispute in high esteem. The two leaders' meeting came a few hours after Indonesia echoed Chinese concerns about a strengthening of the US military's presence in northern Australia. Indonesian Foreign Minister Marty Natalegawa warned that may foster tension and mistrust. The plan to post up to 2,500 Marines in Australia's Northern Territory from mid-2012 was released on Wednesday during a quick visit to Canberra by US President Barack Obama, who said it showed a "commitment to the entire Asia Pacific region". Washington has prominently announced plans to "pivot" its foreign policy toward Asia. That announcement quickly drew criticism from China, widely seen as the target of the plan. The foreign ministry questioned whether strengthening the troops' presence was appropriate or "in the interest of countries in this region". Natalegawa also expressed concerns about the plan, which will give US military aircraft greater access and lead to a troop boost in northern Australia, right on Indonesia's doorstep. "What I would hate to see is if such developments were to provoke a reaction and counter-reaction precisely to create that vicious circle of tensions and mistrust or distrust," Natalegawa said on the Australian Broadcasting Corporation. Wu Shicun, president of the National Institute for South China Sea Studies, said Indonesia's remarks show that many ASEAN states - especially those with no stake in the dispute - do not want the South China Sea dispute to draw attention away from other issues of importance at the East Asia Summit scheduled for Saturday. Chen Shiqiu, former Chinese ambassador to Indonesia, said Indonesia wants to build mutual trust within ASEAN and foster the regional bloc's central role in the summit. Premier Wen will have a tight day on Friday. After attending a 10+1 meeting with ASEAN members, he will go to a 10+3 summit with leaders from Japan and South Korea.

Hong Kong*: Nov 19 2011 Share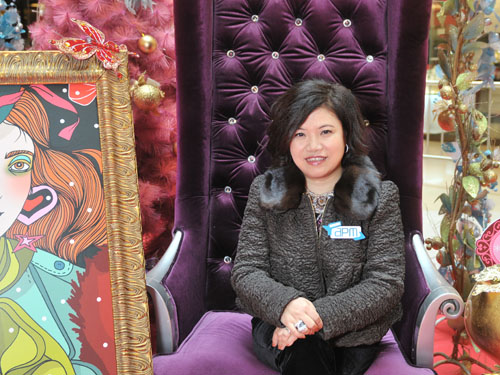 Maureen Fung at APM: "We decided to increase the budget ... after the announcement that East Kowloon was to be redeveloped." Sun Hung Kai Properties (SEHK: 0016) plans a HK$100 million facelift next year for its six-year-old APM shopping mall. The mall is near Kwun Tong MTR station in East Kowloon, earmarked by the government as the site of a second core business district. "Originally, we planned to spend HK$80 million on the facelift. But we decided to increase the budget to HK$100 million after the announcement that East Kowloon was to be redeveloped," SHKP leasing department general manager Maureen Fung Sau-yim said. "We are now working out the details, but the initial plan is to increase the number of shops at APM from the present 180 to as many as 250." The renovation would begin after the Lunar New Year holiday, which starts on January 23, and was due to be completed in two to three years. Fung said the space allocated to retailers of audio-visual equipment and information technology products would be expanded to 100,000 square feet, from the present 45,000. Other revamps would include installing new escalators leading shoppers to upper floors of the seven-level APM, a redesign of the food court, and new toilets featuring differently themed decor on each level. "In order to generate innovative ideas, a toilet-design competition will be held," Fung said. The proposed second financial centre will be double the size of Central and will cover an area that includes Kwun Tong, Kowloon Bay, and the old Kai Tai airport site. The proposal was unveiled by Chief Executive Donald Tsang Yam-kuen in his policy speech last month and is aimed at providing more office space and maintaining the city's competitiveness among regional rivals. Outlining his vision for Kowloon East, or the so-called CBD2, Tsang said the area could provide 5.8 million square metres of office space. To improve the area's infrastructure, the government plans to build a HK$12 billion monorail system with 12 stops connecting Kowloon Bay and Kwun Tong MTR station via Kai Tak. The plan also calls for 33,000 private and public flats on the old airport site, and 20 million square feet of space for offices, shops, hotels and a cruise terminal. "It will definitely inject new life into the area and our shopping mall will need to sharpen its competitiveness to capture the great new opportunities," Fung said. A decade ago transaction prices for office space in the area were about HK$800 per square foot. They have since soared by 837 per cent to about HK$7,500 per square foot. Fung said prices rose another 10 to 15 per cent after the announcement of CBD2. As APM was next to Kwun Tong station and on top of a bus terminus for visitors using the Huanggang border crossing, it attracted a lot of mainland visitors, she said. "Last week a mainland investor was inquiring about making a property investment in Kwun Tong as a result of the plans to turn the area into a second CBD. He also dropped in at apm and spent HK$500,000 on two Rolex watches and other jewellery before heading home," she said. Fung, who oversees more than five million square feet of space in 35 shopping malls, said APM would arrange visits to the mall by 80 tour groups, amounting to about 4,000 people, from Shenzhen, Dongguan and Guangzhou next month to boost Christmas sales.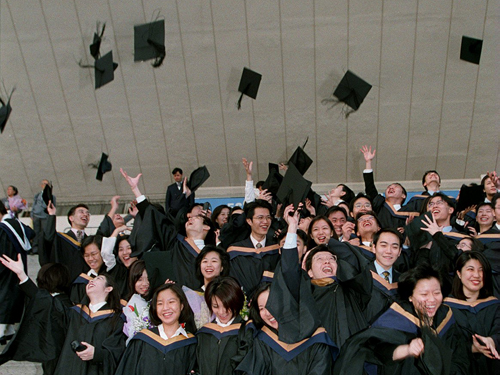 Wuhan has become the latest mainland city to compete for talent in Hong Kong. Nine major Wuhan-based companies, including Dongfeng Motor (SEHK: 0489), have offered the city's college graduates up to four times the wages of mainland counterparts in a bid to find the right candidates for 500 available jobs. A recruitment expo - organised by Wuhan's municipal government, targeting graduates from the eight local universities - will be held next Tuesday at Kowloonbay International Trade and Exhibition Centre. Wang Yuhua, the city's deputy director of human resources and social security, said the average monthly salary offered would not be lower than HK$12,000. "That would be three to four times higher than Wuhan university graduates, who are paid between 3,000 and 4,000 yuan [HK$4,900] a month on average," Wang said. "But we think Hong Kong students are more innovative, their vision more international and they speak and write better English. These are all qualities essential for our city and companies which are all looking for a technology upgrade during China's 12th five-year plan." The 500 vacancies range across sectors such as public relations, engineering, and biological sciences. However, technical jobs comprise a larger portion, as Wuhan is the third-largest mainland city in industrial design and construction. While Wang said Hong Kong graduates' strengths lie more in the services and finance industries rather than industrial design, he said companies required talents from more than one area. "There will be some mismatch inevitably, but this is the first time we have conducted such a recruitment exercise in Hong Kong, and we will see how Hong Kong students fare," he said. About 50 students attended the briefing yesterday, many of whom were mainland students studying in Hong Kong. Steven Xiang, a student from Hubei who finished his doctoral degree in computer science this year at the University of Hong Kong, said studying in Hong Kong gave him an edge over other doctoral students on the mainland, as the experience gave him wider exposure. Li Zheng, director of human resources at Dongfeng Passenger Vehicle, said some companies preferred mainland students in Hong Kong to local ones. "Hong Kong graduates may have problems in adaptability and there are risks that they will not stay long," Li said. "But after all, we rate the candidate as a whole, not just on where they come from."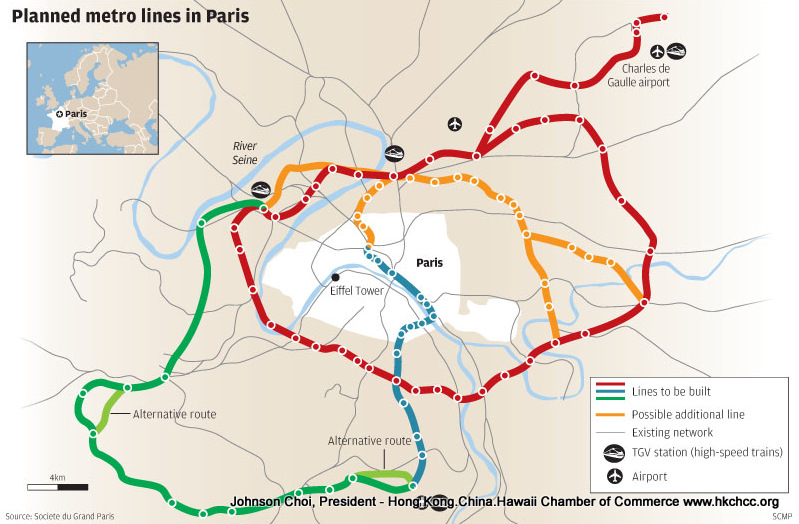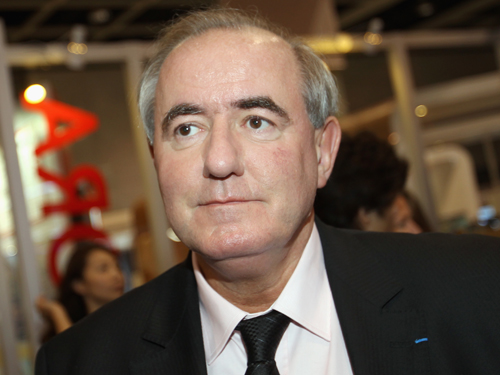 Hong Kong and mainland firms were encouraged yesterday to take part in the biggest urban development project in Paris for 150 years, with €35 billion (HK$370 billion) earmarked for transport infrastructure alone, including a 140-kilometre-long driverless metro system. French urban affairs minister Maurice Leroy, told potential investors, developers, architects and consultants the aim was to make the City of Light ''the city-world of tomorrow'' and to build an ''innovative and efficient eco-city that respects its people and its cultural heritage''. Speaking at the MIPIM Asia real estate conference in Hong Kong, Leroy said he remained confident the Grand Paris project would go ahead despite concerns about debt worries in several euro-zone economies. ''The impact [from the debt problems] has not been that great. Like Hong Kong we have been able to weather the crisis. Construction is going on as planned,'' he said. He also confirmed that a French architects association would be visiting Hong Kong soon to exchange ideas on the development of the West Kowloon cultural district. ''French construction experts are proud to have in part contributed to the construction of your city, and our architects will be pleased to discuss with you the design of the Hong Kong of tomorrow,'' said Leroy, who is in overall charge of the Grand Paris scheme. Despite having two meetings with secretary for development Carrie Lam Cheng Yuet-ngor, he would not be drawn into comparing progress of the Grand Paris scheme, which was first proposed in 2007, with the West Kowloon or the Kai Tak redevelopment. ''I don't interfere in Hong Kong politics,'' the minister said. But he pointed out there had been a ''great deal of public debate'' about the Grand Paris scheme and ''everyone in France…especially the president [Nicolas Sarkozy]'' was confident about the project. These discussions had involved central and regional government, the public and non-governmental organisations and Leroy added there was consensus among political groups on all sides of the political spectrum. The French government gave final approval for the Grand Paris project at the end of August. The scheme is seen as Sarkozy's lasting contribution to France, despite some political wrangling. Leroy said there was no danger it would be cancelled due to budget cuts – ''it has been guaranteed for the future''. He said 10 teams of foreign and French architects, including Britain's Rogers Stirk Harbour + Partners, had already prepared concept plans following an international design competition and these were being incorporated into final planning. Individual aspects of the Grand Paris scheme included ''20 billion euros to be invested by 2025'' on the construction of a new metro network linking inner city and suburban areas of Paris. The total cost of the metro would be at least €32.4 billion and would be co-financed by central and local governments and investors. The expanded metro network ''will open up this great city of Paris and its entire region, linking the airport to the centres of industrial and academic excellence,'' Leroy said. In addition, more than 70,000 new homes would be built each year, ''more than double the annual rate of construction'', to meet a planned target of 1.5 million homes. He thought the creation of research and development centres at Saclay, south-west of the city, ''would be very interesting for Chinese investors''. The La Defense area was also the focus of a massive building programme with five office towers due for completion next year and a further 11 office towers, hotels and arenas due to be finished between 2013 and 2016. Conscious he was talking to potential investors, developers, architects and consultants, Leroy said the Grand Paris scheme was ''an ambitious project for which the state has put in place the means to its realisation'' and create significant economic benefits.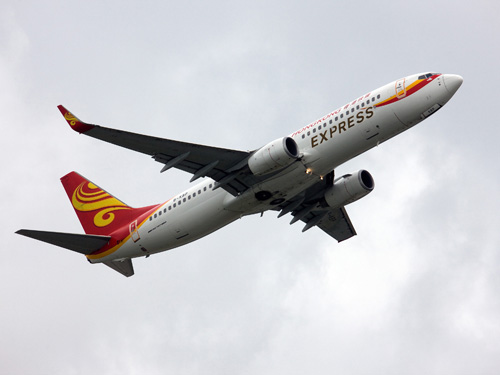 Hong Kong Express Airways is to transform itself into a no-frills airline, in a move that could threaten Cathay Pacific (SEHK: 0293)'s lucrative regional routes. The city's first low-cost carrier since Oasis Hong Kong Airlines went bust in 2008 is another sign that budget airlines are increasingly being seen as a threat to mainline carriers. The new carrier will start by serving regional destinations in mainland China, Japan, South Korea and Southeast Asia from July or August next year, said Yang Jianhong, president of sister carrier Hong Kong Airlines. Hong Kong Airlines is owned by the parent of Hong Kong Express, HNA Group, the fourth largest airline group on the mainland. The new budget carrier will be able to use Hong Kong Express' traffic rights, including routes to Beijing, Shanghai, Kuala Lumpur, Singapore, Taipei, Seoul and Osaka. Flights to Beijing, Shanghai and Taipei will strike a nerve at Cathay Pacific, as these are among the most lucrative routes for the city's flag carrier, due to the concentration of big-spending business travellers. It comes at a time when budget carriers in the region are fast being established. Singapore Airlines is launching a low-cost subsidiary, Scoot, serving long-haul routes to Australia and China. Japan, which used to be a highly restricted market for budget carriers, will see three new low-cost airlines next year. The new Hong Kong budget carrier, which has yet to be named, plans to expand its fleet to 15 Airbus 320s over the next three to four years. The existing five Boeing 737-8s operated by Hong Kong Express will be transferred to Hong Kong Airlines early next year. The pilots who are now flying for Hong Kong Express can either work for Hong Kong Airlines or retrain for the A320. Yang said a new management team, including a chief executive who had an extensive background in European budget airlines, would lead the carrier. The fallout from the collapse of Oasis Airlines and Macau-based Viva Macau, however, underscores challenges facing low-cost carriers in Hong Kong and neighbouring areas. The operating costs facing a Hong Kong-based budget airline is likely to be higher than other Asian low-cost carriers given there is no budget terminal in the city. Higher labour costs are another problem. "The new budget carrier will have a tough time competing with AirAsia and Tiger Airways for Southeast Asia destinations because they have relatively low operating costs in their hubs in Singapore and Malaysia," said Kelvin Lau, transport analyst for Daiwa Capital Markets. Hong Kong Express, however, has a more immediate reason to adapt to the new low-cost model. Hong Kong Airlines is undergoing private-equity fund-raising before a planned initial public offering next year. Wary investors are concerned about the overlap and competition between the two related airlines. "The two airlines will be of distinct positioning after the restructuring ... it can help to ease the concerns of potential investors," said Yang.

Former chief secretary Henry Tang Ying-yen said on Thursday he would formally announce that he would be a candidate in next year's chief executive election by the end of the month. Tang, who had been the city's second highest official, said at a meeting with journalists he would also unveil details of his policies and a list of his supporters at that time. Another potential candidate, Leung Chun-ying, the former convener of the Executive Council, the government's top advisory body, released a statement on Thursday afternoon, outlining his plans. Leung said he would make a formal announcement of his candidacy at a press conference on November 27. Another politician earlier seen as a potential challenger, former Legco president Rita Fan Hsu Lai-tai, announced early this week she would not be a candidate.
Nan Fung Development has made its first diversification into the Hong Kong hospitality industry with its HK$2 billion investment in a 539-room-hotel in Sha Tin. Managing director Donald Choi Wun-hing said the hotel is to be operated by Marriott International under its Courtyard brand. It would be the largest Courtyard hotel in Asia when it starts operation by the end of next year. Speaking at the groundbreaking ceremony for the hotel, Choi said he was optimistic about the tourism industry in Hong Kong - and mainlanders would be the company's target customers. Visitor arrivals to Hong Kong reached 30.42 million in the period from January to September, 16.2 per cent higher compared to the same nine-month period last year. The mainland led the growth with more than 20 million travellers arriving in Hong Kong in the first three quarters, up 23.6 per cent against the same period last year. Choi said that Shek Mun in Sha Tin, where the Courtyard will be located, has been transforming into a business district and this would help draw more corporate travellers to the hotel. The private company is also building a 500-room hotel, to be managed by Langham Hotels International, in Pazhou, Guangzhou. The hotel is scheduled to open in 2013. "If there are any good opportunities, the group will continue to expand its investment in the hotel sector," said Choi. Paul Foskey, the executive vice-president of Marriott International's hotel development in the Asia Pacific, said the planned Courtyard hotel joins one already in Western. Foskey said 10 Courtyard hotels were planned in Hong Kong and mainland cities. Seven contracts have been signed but the hotels are not yet in operation. The United States-based hotel group recently announced that its 100th hotel in China - a JW Marriott Hotel with 345 rooms which is being built now - will be in Shenyang, Liaoning province. Marriott operates 56 hotels in China and has signed contracts to operate 44 hotels more. Foskey said the group would like to expand its presence in second- and third-tier cities. In view of the strong domestic tourism, Foskey said another potential growth area will be leisure and resort cities such as Sanya in Hainan; Huangshan, a mountain range in southern Anhui province; and Dujiangyan in Sichuan province. The hotel group is also in discussions about possible expansion in other tourism areas such as Lijiang in southwest Yunnan province and Changbai Mountain in Jilin province on the China-North Korea border. Commenting on the property market, Choi believes the market still has support in light of positive sales at recent project launches by other developers. The market would be supported by the stable local and mainland economies even though the global economic environment remained unstable, he said.

China*: Nov 19 2011 Share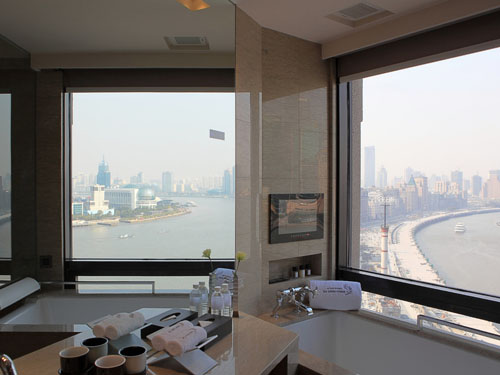 The Les Suites Orient in Shanghai. The city saw just half of its rooms occupied this year compared to 80 per cent in Hong Kong, raising worries about low demand for hotels. The expansion in China of hotel chains including Hilton Worldwide and Hyatt Hotels may be undermined by low demand as four in 10 rooms sit empty. China's occupancy rate was 61 per cent in the first nine months of this year, the same as the year-earlier period and the lowest in Asia after India among 15 countries tracked by STR Global. In Shanghai, only about half of hotel rooms were filled, compared with more than 80 per cent for Singapore and Hong Kong, it said. The world's biggest chains have been rushing into China, which overtook Spain last year to become the world's third most-visited travel destination after France and the US. The number of internationally branded hotel rooms is expected to surge 52 per cent by 2013 after rising 62 per cent in the past five years, according to Jones Lang LaSalle Hotels, which tracks data in 30 Chinese cities. "The question is whether the increase in demand is going to be big enough to handle all the new hotels," said Nigel Summers, an expert on the hospitality industry. Hilton said it would have 100 hotels in China by 2014, four times the number of properties it manages in the country now. For InterContinental Hotels Group, owner of Holiday Inns and Crowne Plazas, one in four of the hotel rooms it will open globally over the next five years will be in China. In the next decade, China will account for 25 per cent of hotels managed by Ritz-Carlton. Hyatt said it has 31 hotels under development in China, adding to the 14 existing ones. Some cities in China require hotels as part of so-called mixed-use property projects that also may include offices and apartments, contributing to the increase in supply. But an analyst said global chains may find it difficult to maintain their standards in the rapid expansion and risk "diluting their brands".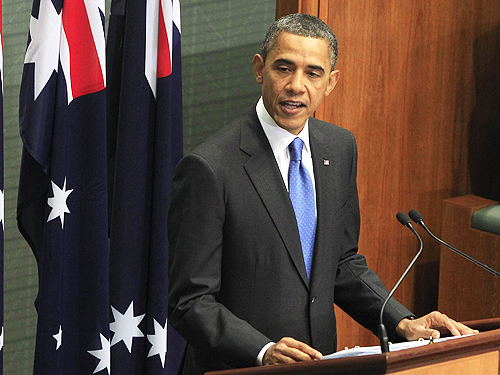 US President Barack Obama addresses the Australian Parliament Parliament House in Canberra on Thursday. President Obama is in Australia to mark the 60th anniversary of the security alliance between the two nations and to bolster Washington's presence in the strategically important region to counter China. Signaling a determination to counter a rising China, President Barack Obama vowed on Thursday to expand US influence in the Asia-Pacific region and "project power and deter threats to peace" in that part of the world even as he reduces defence spending and winds down two wars. "The United States is a Pacific power, and we are here to stay," he declared in a speech to the Australian Parliament, sending an unmistakable message to Beijing. Obama's bullish speech came several hours after announcing he would send military aircraft and up to 2,500 Marines to northern Australia for a training hub to help allies and protect American interests across Asia. He declared the US is not afraid of China, by far the biggest and most powerful country in the region. China immediately questioned the US move and said it deserved further scrutiny. Emphasising that a US presence in the Asia-Pacific region is a top priority for his administration, Obama stressed that any reductions in US defence spending would not come at the expense of that goal. "Let there be no doubt: in the Asia-Pacific in the 21st century, the United States of America is all in," he said. For Obama, Asia represents both a security challenge and an economic opportunity. Speaking in broad geopolitical terms, the president asserted: "With most of the world's nuclear powers and some half of humanity, Asia will largely define whether the century ahead will be marked by conflict or co-operation, needless suffering or human progress." Virtually everything Obama is doing on his nine-day trip across the Asia-Pacific region has a China subtext, underscoring a relationship that is at once co-operative and marked by tensions over currency, human rights and military might. China's military spending has increased threefold since the 1990s to about US$160 billion last year, and its military recently tested a new stealth jet fighter and launched its first aircraft carrier. A congressional advisory panel on Wednesday urged the White House and Congress to look more closely at China's military expansion and pressed for a tougher stance against what it called anticompetitive trade policies by China. The expanded-base agreement with Australia is just one of several initiatives Obama has taken that is likely to set Beijing on edge at a tricky time. The US is China's second-largest trading partner, and the economies are deeply intertwined. China's leaders don't want the economy disrupted when global growth is shaky and they are preparing to transfer power to a new leadership next year. Over the weekend while playing host to President Hu Jintao and other Pacific rim leaders at a summit in Hawaii, Obama said the US would join a new regional free trade group that so far has excluded China. That added an economic dimension to what some mainland commentators have called a new US containment policy that features reinvigorated defence ties with nations along China's perimeter, from traditional allies Japan and the Philippines to former enemy Vietnam, all of whom are anxious about China's growing economic and military power. China was immediately leery of the prospect of an expanded US military presence in Australia. Foreign Ministry spokesman Liu Weimin said there should be discussion as to whether the plan was in line with the common interests of the international community. Responding to questions at a news conference on Wednesday with Australian Prime Minister Julia Gillard, Obama sought to downplay tension between the world powers. "The notion that we fear China is mistaken," he said. Obama avoided a confrontational tone with China in his speech to the Australian parliament, praising Beijing as a partner in reducing tensions on the Korean Peninsula and preventing proliferation. "We'll seek more opportunities for co-operation with Beijing, including greater communication between our militaries to promote understanding and avoid miscalculation," he said. In a note of caution, however, he added: "We will do this, even as [we] continue to speak candidly with Beijing about the importance of upholding international norms and respecting the universal human rights of the Chinese people." With military bases and tens of thousands of troops in Japan and South Korea, the United States has maintained a significant military presence in Asia for decades. Australia lies about 5,500 miles south of China, and its northern shores would give the US easier access to the South China Sea, a vital commercial route. The plan outlined by Obama will allow the United States to keep a sustained force on Australian bases and position equipment and supplies there, giving the US ability to train with allies in the region and respond more quickly to humanitarian or other crises. US officials said the pact was not an attempt to create a permanent American military presence in Australia. About 250 US Marines will begin a rotation in northern Australia starting next year, with a full force of 2,500 military personnel staffing up over the next several years. The United States will bear the cost of the deployment and the troops will be shifted from other deployments around the world. Having ruled out military reductions in Asia and the Pacific, the Obama administration has three main areas where it could cut troop strength: Europe, the Middle East and the US. All US troops are being withdrawn from Iraq by the end of this year, and a drawdown in Afghanistan is underway. But the Pentagon has said recently that the US will maintain a major presence in the greater Middle East as a hedge against Iranian aggression and influence. A more likely area for troop reductions is Europe, although no decisions have been announced. The debate over defence budgets is just one aspect of a broader political fight over fixing the nation's debt problem during a presidential election season. Already, the Pentagon is facing US450 billion in cuts over ten years, as part of a budget deal approved last summer. And if a special congressional committee can't agree on US$1.2 trillion in more long-term cuts or Congress rejects its plan, then cuts of US$1.2 trillion kick in, with half coming from defence. Australia's Gillard said, "We are a region that is growing economically. But stability is important for economic growth, too." She said that "our alliance has been a bedrock of stability in our region." Obama's visit is intended to show the tightness of that relationship and he hailed the long ties between the United States and Australia, two nations far away that have spilled blood together. "From the trenches of the First World War to the mountains of Afghanistan – Aussies and Americans have stood together, fought together and given their lives together in every single major conflict of the past hundred years. Every single one," he said. Obama had a packed day-and-a-half in Australia, his first trip here as president after cancelling two previous tries. After addressing Parliament, Obama was flying to the northern city of Darwin, where some of the Marines deploying to Australia next year will be based.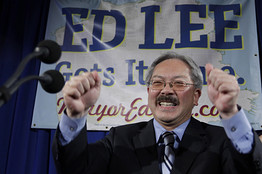 When Twitter-like microblogging service Sina Weibo launched an English mobile interface in April then announced that it would also launch an English website, some questioned whether the company would have an audience among users outside China. Apparently, it does. According to a public relations representative, Sina Weibo now has 450,000 users in the U.S., or roughly .2% of the 227 million total user accounts the service claimed in September. It's not clear how many of those users are Chinese students or other Chinese citizens living temporarily in the U.S., but a number of the service's overseas users appear to use the service mostly as a form of outreach to Chinese audiences. One of those users is San Francisco mayor Ed Lee, the first Chinese American to be elected mayor of the city. U.S.-born Mr. Lee posted on Weibo in English throughout election day, tracking the progress of the election and calling on supporters to vote, finally sending out a triumphant "Thank you San Francisco!" His Weibo name: mayoredlee. Most Sina Weibo users are strangers to the American election process, but that didn't stop people from responding to Mr. Lee. One user writing under the handle Serenity's Horizon, questioned whether Mr. Lee's victory illustrates that ethnic minorities face less racism in the U.S. than in China. Another, The Golden Rock, wrote in English, "I want to know, can you speak Chinese?" In any case, Mr. Lee's reception on Weibo has been warmer than that extended to certain Chinese government officials. As of Wednesday evening, the mayor had more than 47,000 followers on the website. Mr. Lee isn't the only overseas public figure to sign up for an account on Sina Weibo. The service also counts Tom Cruise, Bill Gates, "Harry Potter" star Emma Watson, Radiohead and IMF director Christine Lagarde among its verified users. "Sina Weibo has not only built a platform for interaction between Chinese officials and the public, but Sina Weibo's influence has also extended abroad," Sina boasted in a statement, citing Mr. Lee and also European Council President Herman Van Rompuy, who used his account on the service to post messages about his trip to China in May. "Important international figures and leaders have used Weibo to publicize slogans and decisions, borrowing Weibo's 'popular base' to develop close, positive interactions with citizens."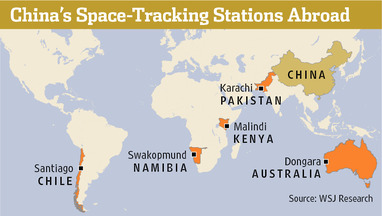 Australian officials said on Wednesday that they didn't consult the U.S. on a plan to allow China to use a space-tracking station in Western Australia that is also used by NASA, despite widespread concerns that the Chinese space program is largely controlled by the Chinese military. The admission comes as a potential embarrassment to Australian authorities as they host U.S. President Barack Obama on his first official visit there. Mr. Obama on Wednesday unveiled plans to boost the U.S. military presence in the country, in large part to hedge against China's escalating firepower. An Obama administration spokesman said late Wednesday that he was unaware of the ground-station issue. U.S. officials and experts have long expressed concerns that China's space program has potential military applications, including enhancing its ability to target U.S. aircraft carriers, and other Navy ships, with a recently deployed antiship ballistic missile. While the site's owner and Australian authorities say there's no risk of China accessing U.S. operations there, some experts say that China could use it to better position spacecraft for military surveillance. China's use of the tracking station in Dongara, in Western Australia, illustrates how Beijing is pressing ahead with international space cooperation, even as U.S. lawmakers escalate efforts to block almost all interaction between China and the U.S. National Aeronautics and Space Administration. U.S. space officials, meanwhile, fear that China could overtake the U.S. as world leader in space if it continues to make rapid advances like the one this month, when the country completed its first space-docking mission—a milestone in its plan to build a space station by 2020. Australian authorities confirmed that they approved a plan for China to use the facility at Dongara, which is owned and run by a Swedish state-owned company called Swedish Space Corp., or SSC, and a U.S. subsidiary that supports U.S. Air Force space surveillance satellites. "Australia did not consult the U.S. on the establishment of the SSC facilities or its customers," said a spokesman for Australia's Department of Innovation, Industry, Science and Research, which handles space issues, on Wednesday. SSC and Australian authorities say the site is used only for civilian purposes and poses no security risks, but they declined to say whether the Chinese entity using it—China Satellite Launch & Tracking Control General, or CLTC—is a military or a civilian entity. CLTC runs China's launch sites and tracks and controls its spacecraft, and is part of the army's General Armaments Department. The department's chief, Gen. Chang Wanquan, also led last week's docking mission between China's Shenzhou and Tiangong spacecraft. There is no publicly available contact information for CLTC. The China National Space Administration didn't respond to requests for comment. China's Defense Ministry said only that it had no contact number for CLTC. An SSC spokeswoman said there were two ground stations at Dongara, one owned and run by SSC, and another by its U.S. subsidiary, Universal Space Network, also known as USN. China uses the one wholly owned by SSC, the spokeswoman said. Lars Persson, SSC's CEO, said in an interview that he didn't know whether his customer was a civilian or military entity, but insisted his company was only "providing civil space services to civil space missions" and had all the necessary government approvals, including for U.S.-made antennas at the station China uses. The Pentagon said it had not been consulted about China using the facility, although it and other agencies had approved a proposal by a U.S. company it didn't identify to provide equipment for the site. "Many space capabilities are inherently dual-use, and China, like a number of other countries, does not have separate military and civil programs," said Lt. Col. April Cunningham, a Pentagon spokeswoman. "These factors increase the need for transparency in order to avoid mishaps, misperceptions, and mistrust." Dual-use refers to technology with both civilian and military applications. Many U.S. and Australian space experts were surprised when a Chinese space official announced in a video message on the docking-mission website earlier this month that China had used a ground station in Australia to successfully guide the Shenzhou-8 and Tiangong-1 spacecraft. One Australian expert on China's space-based intelligence-gathering, Desmond Ball, voiced concern on Wednesday that by using Dongara, Beijing was able to position the Shenzhou and other dual-use spacecraft more precisely, and thus enhance its ability to accurately locate naval targets. "If you've got a platform in space monitoring that activity, when its orbital position is known more precisely, then it's able to locate targets more precisely," said Mr. Ball, a professor at the Australian National University's Strategic & Defence Studies Centre who has worked for U.S. government agencies in the past. "If they approved an agency of the Chinese Ministry of Defense to do this, then it should have been made public. I think there's quite a lot of embarrassment around town." Australia is among many countries that are keen to expand civilian space cooperation with China, even though Canberra is strengthening defense ties with the U.S. to hedge against China. The U.S., by contrast, maintains strict controls on space and dual-use technology transfers, and fierce opposition in Congress continues to block cooperation between NASA and China. The White House has been trying to change that. NASA Administrator Charles Boldentold a congressional subcommittee this month that the U.S. risked being overtaken by China as world leader in space. He pointed out that the U.S. had worked with the Soviet Union on the Apollo-Soyuz test flight in1975, which laid the ground for cooperation with Moscow on the International Space Station. But Rep. Dana Rohrabacher (R-Calif.), who heads the subcommittee, told the hearing: "So, how can cooperating with China now, which is a vicious tyranny and a strategic rival, how can that be a smart policy when our experience tells us just the opposite? Some U.S. and Australian space experts said the risk of aiding China's military space program may have been outweighed by the benefits of improving safety in space traffic, and observing more closely how China tracks and controls its spacecraft. "The one risk is that China could use the station to monitor its military constellations in low-Earth orbit as well," said James Moltz, an expert on space security at the Naval Postgraduate School in California. "But the flip side is that it sets up a dependency relationship on Australia, and Canberra could cut off access in a crisis." China was forced to close a space-tracking station on the Pacific island of Kiribati, from where it monitored U.S. missile tests in the Marshall Islands, after Kiribati recognized Taiwan in 2003. Since then, Beijing was known to use ground stations in Pakistan, Kenya and Namibia, but mostly relied on a fleet of ships of a model named Yuanwang to track satellites and other spacecraft from the southern hemisphere. Now, Beijing uses ground stations in Chile and Australia as well, Xie Jingwen, a designer of the docking mission's tracking and command system, said in the video message on the mission's website. SSC confirmed that China was also using one of its ground stations in Santiago, Chile, which helped to launch six Chinese Compass satellites. They will support a Chinese global positioning system that some U.S. experts say could be used by the Chinese military. The U.S. Defense Security Service, which oversees defense contractors, said the company's USN unit "holds a current facility clearance for access to classified information and technology" but added that the agency had no control over who USN did business with. Australia's Science Department said Australian authorities had approved in 2009 SSC's plan to establish a new station at Dongara and provide services to customers including CLTC. "The Australian government has identified no national security concerns with regard to the current operations of the facilities or the activities being undertaken by the SSC on behalf of its customers, including CLTC," a spokesman said. "The station is fully controlled by SSC, not its customers," he said, adding that the Chinese had one civilian, and some equipment, based at the facility. However, he declined to comment on whether Australian authorities consider CLTC a civilian or military entity.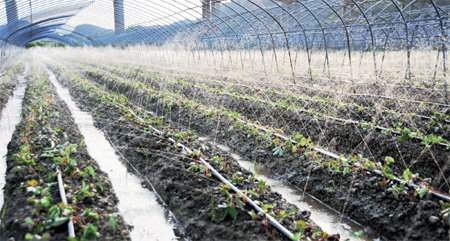 Chinese farmers will soon be able to control their sprinklers with mobile phones and make sure the devices offer the exact amount of water and fertilizer the plants need - all without setting foot on their farms. The cutting-edge irrigation system designed by France-based Irrifrance Industries, a leading sprinkler producer, will roll out next year and will be first available for Chinese farmers because the state-of-the-art devices were designed in China. "We've transferred all of our technologies to China completely. Our products in China are as advanced as those produced in France, sometimes even more cutting-edge than those developed in our headquarters," says Karim Al-Wadi, China chief representative of Irrifrance. Al-Wadi says the company's market strategy shows its commitment to China and its faith in the industry, which is being supported by the Chinese government's investments in the water industry this year. A total of 4 trillion yuan ($628.7 billion, 451.8 billion euros) will be invested in water conservation projects over the next 10 years, with China aiming to double its average annual spending from 200 billion yuan in 2010, according a top policy document released earlier this year. The check of 4 trillion yuan equals the stimulus package the Chinese government employed to boost its economy during the 2008 financial crisis, a fact that wasn't lost in the agriculture irrigation industry at the recent Water Expo China in Beijing. Many industry experts say the agriculture irrigation market will grow exponentially next year when government funds go into effect. In a country where water resources per capita are only 28 percent of the global average and where there is growing pressure to feed a growing population of just over 1.3 billion people, industry leaders believe the agriculture irrigation industry has a rosy future. According to the central government's plan, total investments in the water industry between 2011 and 2015 will reach 1.8 trillion yuan, of which 20 percent will be invested in infrastructure projects related to agriculture, such as irrigation projects. Although Irrifrance, which recently received the award of 2011's Well-known Water Equipment Companies, began selling its irrigation devices to China in the 1990s, it set up its office in China in 2006. "Some told me that they know our machines are very good, but they just couldn't afford them," Al-Wadi says, adding the market has begun to expand this year because of strong government support. "We are expecting to double our sales in China to around 600 machines this year from last year. And I think the surging growth will continue for at least five years," he says. Of the 120 million hectares of cultivated land in China, only 53.3 million hectares have basic irrigation measures and facilities. And the area equipped with high-efficiency, water-saving irrigation, such as sprinklers and drip irrigation systems, is estimated at just 1.3 million hectares by the end of this year, according to the Ministry of Water Resources. NETAFIM, a global leader in smart drip and micro-irrigation solutions, introduced drip irrigation to China in the early 1990s. Its irrigation systems deliver water and fertilizer to the roots of plants and to save 90 percent in water and 20 percent in fertilizer.
Exports of new energy and energy-saving products will be targeted by trade barriers in developed countries, led by the United States, a commerce official warned. To offset this, exporters will need to improve technology and their capacity for innovation to enhance competitiveness, said Zhang Yujing, president of the China Chamber of Commerce for the Import & Export of Machinery & Electronic Products. Zhang's remarks follow the US Commerce Department's decision last week to investigate if Chinese companies are selling solar cells below cost and receiving illegal government subsidies. The investigation came after a petition was lodged by a group of US solar companies. The ministry said in a statement on its website last week that "China is very concerned about the anti-dumping, anti-subsidy investigation into Chinese photovoltaic (PV) solar cell producers, and it will hurt bilateral cooperation in the clean-energy sector as well as the US solar industry". Zhang warned that a trend was emerging in developed countries to erect trade barriers against exports of new energy and energy-saving products to protect their own industries. Although the US economy recorded solid growth in the third quarter, easing recession fears, economists warned that the recovery remained shaky. The EU is trying to cope with debt woes. China has been a victim of trade protectionism for years, especially since the global financial crisis. But now signs are emerging that high-end products, rather than shoes and clothes, are being targeted. China has been hit by 602 trade remedy cases worth $38.98 billion since entry into the World Trade Organization a decade ago. In October 2010, the US announced it would investigate China's clean energy policy, claiming that the government had subsidized certain companies. Trade protectionism targeting China will be increasingly common, especially regarding high-end goods, Sun Zhenyu, the former Chinese ambassador to the World Trade Organization, said. And protectionist measures taken by the US could be followed by the EU, said Jiang Heng, a researcher at the Chinese Academy of International Trade and Economic Cooperation under the Ministry of Commerce. "If the global economy remains sluggish, it is possible that the EU will follow suit and also set up barriers for Chinese PV solar products." During the past few years, China's new energy sector has witnessed rapid growth in output and exports. PV solar cells are primarily produced for export. Outstanding domestic growth in the sector threatens counterparts in developed regions, including the US, Zhang said. Yingli Green Energy Holding Co is the third-largest solar panel maker in the world. The China-based company's sales in 2010 surged by 72 percent from a year earlier. Trina Solar Limited, a leading Chinese manufacturer of photovoltaic modules, said its total net revenues in 2010 increased by 119.8 percent annually to $1.86 billion, and gross profit grew by 146.4 percent to $584.4 million. In October 2009, the Obama administration announced a $151 million investment in developing the new energy sector. It had previously said that it will invest $50 billion into the green energy industry as part of its $789-billion stimulus bill of 2009. Washington does not want to see a huge influx of goods, stamped "Made in China" flowing into the US, experts said and any extra duties will damage exports. It's estimated that up to 95 percent of Chinese PV solar products are exported to the US and Europe. And 15 to 20 percent of Chinese exports go to the US market. "The Chinese PV solar industry will have a really hard time if the US imposed tariffs," Gao Hongling, deputy secretary-general of the China Photovoltaic Industry Alliance, said. In October, the US arm of SolarWorld AG, a leading German producer, led a group of US solar companies to petition for 100 percent tariffs on Chinese PV solar cells. For Zhang, Chinese enterprises have to "add investment on technology and product innovation, otherwise we will find it harder to establish a foothold in the developed markets". Wei Qidong, former secretary-general of the Photovoltaic Industry Alliance in Jiangsu province, where most solar companies are located, said that Chinese companies could consider establishing factories overseas, create jobs and reduce trade frictions. China-based Suntech Power Holdings Co Ltd, the world's largest producer of silicon-based solar panels, established its first factory in Arizona in 2010 and is planning to establish new factories in other US states.

Hong Kong*: Nov 18 2011 Share
In a stunning concession, the government has scrapped plans for a mega mall at the Central Government Offices site but will go ahead with redeveloping the West Wing to a 32-story office and commercial building. The changes, which will also expand leisure areas by 10 percent, were made after a public consultation on the development on Government Hill. The top 26 floors - with floor area of 28,500 square meters - of the new high rise will provide Grade A office space for financial services. The government will invite the Hong Kong stock exchange and Securities and Futures Commission to be key tenants. Secretary for Development Carrie Lam Cheng Yuet-ngor yesterday admitted the site's market value may decline because of redevelopment constraints. In the original scheme, 13,500 sq m were reserved for a mega shopping mall. This was scrapped, with only 2,000 sqm now for commercial development. Lam said the offer to the stock exchange and SFC is not intervening in their operations and if they agree to move in, they still have to pay market rental rates to the landlord. "So it does not really affect the ability to generate profits," she said. To minimize potentially increased traffic flow, car parking spaces will be cut from 164 to 93. And to get a coherent design with the preserved building on the site, the external design should adopt a similar style to that of the Main Wing. "This is still a very prime site in Central, which normally would be sought after by developers. It is unavoidable that the value will be affected," Lam said. "Developers will be cautious when deciding the tender price because of the constraints." A Development Bureau spokesman said most of the views received during the public consultation from September to December last year did not support the proposed shopping center. "They considered that there were already too many malls in Central." The spokesman said authorities had not estimated how much less the site will sell for. Surveyor Lawrence Li Yung- sau, however, believes the land's value will drop 20 to 30 percent, or by HK$2 to HK$3 billion. "Without the constraints, the land value could be up to HK$12 billion," Li said. But he said the West Wing would still be attractive to developers because of the high demand for Grade A office space in Central. Public open space after redevelopment will also be increased from 6,800 sq m to 7,600 sq m. It will be managed and maintained by the Leisure and Cultural Services Department. The government does not have a timetable for project completion. Tender is expected to be called in 2013, but Lam said the government will adopt a two-development system where both tender price and the project's design will be considered. Meanwhile, Civic Party lawmaker Tanya Chan Suk-chong described the concession as too little to be acceptable. "It is already wrong that the government would demolish the West Wing and sell the land," she said, criticizing the government for ignoring the views of conservationists.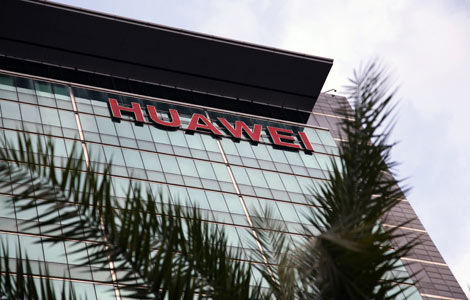 Huawei buys Symantec stake in HK-based JV for $530m - Huawei Technologies Co Ltd's previous attempts at acquisitions and bids in the United States over the past few years were blocked by US lawmakers. Huawei Technologies Co Ltd, the world's No 2 telecom equipment maker, plans to buy the remaining 49 percent stake in a joint venture with Symantec Corp that it does not already own for $530 million to bolster its corporate security solutions business. The deal allows Huawei to boost its product portfolio for its enterprise customers and helps Symantec improve its bottomline by dropping the loss-making business, even as the value of the deal fell below market expectations. The deal is subject to approval from regulators in the United States, but analysts and company executives foresee few hurdles because the joint venture, called Huawei Symantec, was established in Hong Kong and Huawei already owns the majority stake. "Whether this deal will complete or not ... it is still a question mark for now, but I feel that they have a better chance because this joint venture was established in Hong Kong", outside of the Chinese mainland, said Cathy Huang, an analyst at Frost & Sullivan in Singapore. Huawei expects the deal, which some analysts estimated could be worth about $1 billion, to close in the first quarter of 2012. "We likely overestimated Symantec's hand in the negotiation given the joint venture was operated under the control of Huawei," Citigroup Inc said in a report. Shenzhen-based Huawei and smaller crosstown rival, ZTE Corp, have previously encountered obstacles in clinching some deals in the US. For Huawei, the concerns also stem from its founder and CEO Ren Zhengfei, who is a former Chinese military officer. Earlier this year, Huawei backed away from its acquisition of US server technology company 3Leaf System Inc's assets, bowing to pressure from a US government panel that suggested it should divest the assets. In 2008, Huawei gave up a bid for US networking equipment company 3Com, while in 2010, a group of lawmakers opposed Huawei's bid to supply mobile telecommunications equipment to Sprint Nextel Corp. But this case is different, as the joint venture Huawei Symantec was set up in Hong Kong by Huawei and US security software company Symantec in 2008. "The majority of the assets and customers are located in China and other regions. This is not about the US," said Ross Gan, a spokesman for Huawei. Gan said Huawei would brief relevant government stakeholders as part of the routine regulatory approval process for such transactions based on the local laws and regulations that apply. The venture, in which both Huawei and Symantec contributed around $150 million each, has research and development centers in cities such as Beijing and Shenzhen and in Silicon Valley in the United States, according to the company's website. "It's a good thing for Symantec in that it's been a drag to their earnings per share. I'm sure it's incrementally positive," said Brian Freed, an analyst at Wunderlich Securities. "There shouldn't be any political or regulatory issues related to this." The venture has lost money since it was set up in February 2008, according to Symantec's most recent annual report filed with the US Securities and Exchange Commission. Symantec posted $123 million as its share of the venture's losses from February 2008 to December 2010. The venture, which is expected to continue to be in the red through 2013, was estimated to make a loss of $82 million this year, according to Citigroup analysts. Symantec achieved the objectives that it set out for the venture and is leaving with a good return on its investment, Symantec's chief executive, Enrique Salem, said in the statement.
Macau residents are celebrating a windfall after another government cash handout. All permanent residents will get 7,000 patacas (HK$6,796) in cash, a further 6,000 patacas in their central savings system and 500 patacas in medical coupons. The less-well-off will get even more, including one-year's free rent, while senior citizens can collect up to 45,000 patacas in various allowances during the year. In his third policy address, Chief Executive Fernando Chui Sai-on said the gifts were intended to overcome inflation which stood at 5.11 percent in the third quarter and is expected to reach its peak next month. Non-permanent residents will get 4,200 patacas. He indicated earlier that permanent residents would receive only 4,000 patacas and non-permanent residents 3,000 patacas, but raised the amount after the Hong Kong government started dishing out HK$6,000 to residents. It will be the fifth time that the Macau government gives away cash to its people. The 6,000 pataca injection to central savings accounts will go to all Macau residents. Other gifts include 500 patacas in medical coupons and an allowance of 1,900 patacas for the grassroots, with low-income families getting a monthly allowance of 4,400 patacas and a one- year rent exemption. The sweeteners will cost the Macau government 8.5 billion patacas, pushing next year's budget expenditure to 115 billion patacas. The government will also lower the salaries tax and exempt the hawker license tax, business tax and many others. These measures will cost the government 1.47 billion patacas. Javier Tang Siu-sing, who has both Hong Kong and Macau permanent residency, said he is ecstatic at the size of the windfall. "I just did not expect this much. It is a little over the top," he said. While some have suggested that those who reside in Hong Kong should not be entitled to the Macau handout, Tang said it was his right as he is a Macau resident.
Hong Kong is bent on getting Beijing's approval for local insurers to introduce yuan-denominated bonds and insurance products in the SAR, Secretary for Financial Services and the Treasury Ceajer Chan Ka-keung said. "The mainland onshore bond market has a greater variety of choices. If Hong Kong insurance companies can tap into that market, not only will they have higher yields, investors will also have more choices to park their capital," he said, adding that discussions with mainland authorities are in the early stages. He has just returned from a visit to Beijing. Over the past couple of years, Hong Kong insurance companies have sold life policies denominated in yuan, but are not allowed to do the same for investment-linked products. They can only invest in the offshore yuan bond market. "In the process of yuan internationalization, it is necessary to open up the capital account step by step. As China's trading volume increases, the backflow of yuan is beneficial to Hong Kong," Chan said. Around 9 percent of mainland enterprises' trade settlements are made in yuan, he said, while more than 80 percent of these deals are conducted through Hong Kong banks. During his visit to Beijing, Chan also raised the issue of opening the investment door for the local fund industry. He was accompanied by representatives from the insurance and fund management sectors as he met officials from the People's Bank of China, China Insurance Regulatory Commission and China Securities Regulatory Commission. Chan expressed confidence that Hong Kong has the foreign exchange firepower to take on currency speculators amid global economic uncertainties. As of last month, Hong Kong's foreign exchange reserves amounted to US$281.7 billion (HK$2.19 trillion).
Attractive yields offered to unit holders, modest capital expenditure, stable cash flow, a stable fixed-line operation and a growing broadband business are among factors that would attract investors to the HKT Trust, the telecom business being hived off from PCCW (0008), the incoming chief executive of the business trust said yesterday. PCCW Group managing director Alex Arena, who will take the helm at HKT Trust following the listing, acknowledged that equity markets remain volatile, but described the business trust - which aims to raise between HK$9.3 billion and HK$11 billion - as a "defensive play." PCCW said HK$7.8 billion of the proceeds would be used to pay off debt. The trust offers a yield of between 7.5 and 8.9 percent for 2012, with the first distribution set for December 30. But the trust also cautions in its prospectus that "it may not be able to make distributions at all," and that the "level of distributions may fall." The Hong Kong public offering opens today, with trading in the business trust units starting on November 29. If priced at the high end at HK$5.38 per unit, a board lot would cost HK$5,434.23. Pamela Chung Kong-hung, managing director of Computershare Hong Kong Investor Services, said 207.78 million units will be reserved for some 24,000 existing PCCW shareholders. Arena said many investors prefer a "mature business" and others value growth, as he explained the deal to take the telecom business to the market. Recalling that PCCW has been a household name for decades, Arena said many are eager to see the return of Hong Kong Telecom to the equity market.

China*: Nov 18 2011 Share
President Barack Obama insisted on Wednesday the United States does not fear China, even as he announced a new security agreement with Australia that is widely viewed as a response to China's growing aggressiveness. The agreement, announced during a joint news conference with Australian Prime Minister Julia Gillard, will expand the US military presence in Australia, positioning more US equipment there, and increasing American access to bases. About 250 US Marines with begin a rotation in northern Australia starting next year, with a full force of 2,500 military personnel staffing up over the next several years. "This rotational deployment is significant because what it allows us to do is to not only build capacity and co-operation between our two countries, but it also allows us to meet the demands of a lot of partners in the region that want to feel that they're getting the training, they're getting the exercises, and that we have the presence that's necessary to maintain the security architecture in the region," Obama said. While the president sidestepped questions about whether the security agreement was aimed at containing China, he said the US would keep sending a clear message that Beijing needs to accept the responsibilities that come with being a world power. "It's important for them to play by the rules of the road," he said. And he insisted that the US is not fearful of China's rise. "I think the notion that we fear China is mistaken. The notion that we're looking to exclude China is mistaken," he said. The US and smaller Asian nations have grown increasingly concerned about China claiming dominion over vast areas of the Pacific that the US considers international waters, and reigniting old territorial disputes, including confrontations over the South China Sea. China's defence spending has increased threefold since the 1990s to about US$160 billion last year, and its military has recently tested a new stealth jet fighter and launched its first aircraft carrier. Defence Secretary Leon Panetta has said that the goal of the new security pact is to signal that the US and Australia will stick together in face of any threats. The only American base currently in Australia is a secretive joint Australia-US intelligence and communications complex at Pine Gap in central Australia. It is common for there to be hundreds of US service personnel in Australia on exchanges and training missions, but a rotation of 2,500 ground troops is unusual. Obama arrived in Australia on Wednesday afternoon, fresh off the Asia-Pacific economic summit he hosted in Hawaii, where the US and eight other nations reached an agreement for a transpacific trade bloc that sets standard rules for commerce. Obama said Wednesday that while the US is not intentionally excluding China from the agreement, joining the pact with require Beijing "to rethink some of its approaches to trade". The US has accused China of undervaluing its currency to make its exports cheaper and US exports to China more expensive. China had a US$273 billion trade surplus with the US last year and US lawmakers say the imbalance hurts American manufacturers while taking away American jobs. US officials have also pressed China to end unfair discrimination against the US and other foreign countries and to end to measures that undercut its intellectual property. During Wednesday's brief news conference, Obama and Gillard also fielded questions on a range of issues, from US efforts to address climate change to the debt crisis in Europe. Obama reiterated his call for urgent action by European leaders to back the euro and develop a financial firewall to keep the threat of default facing Greece and Italy from spreading across the euro zone. "The problem right now is one of political will, it's not a technical problem," Obama said. "At this point, the larger European community has to stand behind the European project." Asked whether the US would be able to lower carbon emissions through a cap-and-trade system as Australia is undertaking, Obama conceded the US has been unable to pass such a plan through Congress, but noted US efforts to increase vehicle fuel efficiency and to explore clear energy options. He said emerging economies such as India and China must also assume responsibility for addressing climate change. For Obama and Australia, the third time's the charm. He cancelled two earlier visits, once to stay in Washington to lobby for passage of his health care bill, and again in the wake of the oil spill in the Gulf of Mexico. "I was determined to come for a simple reason: The United States of America has no stronger ally than Australia," he said. Obama's arrival in Australia followed a ten-hour flight from Honolulu that took him across the international dateline. The travelling appeared to being taking a slight toll on the president, who admitted he was having trouble keeping up with the time change. "I'm trying to figure out what time zone I'm in here," he said.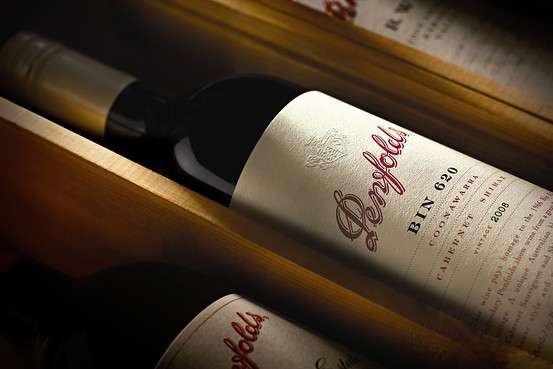 Penfolds Chooses Shanghai for Bin 620 Release - Penfolds's Bin 620 will sell for more than $1,000 - The last time Australian wine producer Penfolds made its Bin 620, a special blend of Cabernet Sauvignon and Shiraz grapes from the Coonawarra area, it was 1966, and it was partially foot-crushed. Penfolds waited more than 40 years before it decided conditions were right to produce it again, and it is now gearing up to sell the 2008 vintage at 1,000 Australian dollars (US$1,018) a bottle, about double the price of the recent Grange, its most famous wine that's produced every year. Thanks to rapidly growing Chinese demand, it's launching the wine at Shanghai's Waldorf Astoria on Wednesday. "In Coonawarra we were blessed with a great vintage when the earlier-ripening Shiraz could be blended with the later-ripening Cabernet to highlight the best of both varieties, and their synergistic union," Peter Gago, Penfolds' chief winemaker, said in a statement. Penfolds says it only releases limited bottlings of rare, "special bin" wines from exceptional vintages and only when the quality of its flagship Grange and Bin 707 wines are not compromised. Special bin wines were first released in the 1950s during a time of research and experimentation at Penfolds. They are not produced annually and are only released if they offer "something extra, different and unique," according to Penfolds. So how does the Bin 620 taste? Steve Lienert, senior winemaker, said it is "balanced as a young wine, but has serious cellaring potential, reflecting authenticity, scarcity and exceptional quality from a standout Coonawarra vintage."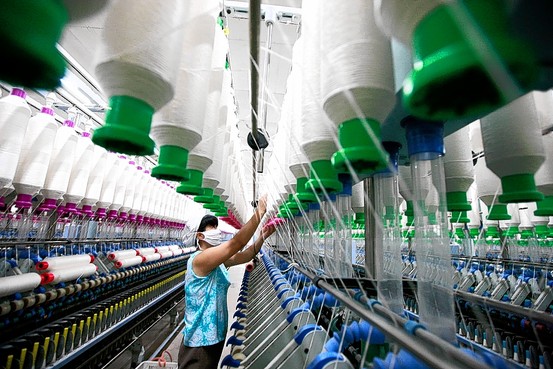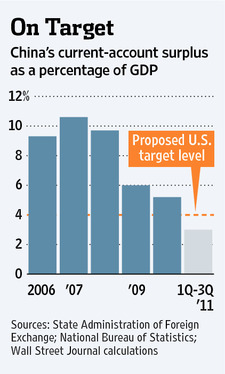 A key measure of China's surplus with the outside world fell sharply in the third quarter, adding to evidence that the country is shifting away from a reliance on exports and undermining the case for a faster yuan rise. China's trade surpluses have drawn criticism from developed economies like the U.S., which say the yuan is undervalued and gives Chinese companies an unfair advantage when selling their products globally. U.S. President Barack Obama, at a press conference at the Asia-Pacific Economic Cooperation summit this weekend, called for China to allow its currency to appreciate more quickly. While there has been a "slight" appreciation in the currency, "it hasn't been enough," he said. Data released Tuesday could bolster China's argument that declines in both the trade surplus and the broader current-account surplus undermine that case. The current-account surplus—the trade surplus plus some other items such as interest payments—fell 43.5% from a year earlier to $57.8 billion in the third quarter, data from China's foreign-exchange regulator showed on Tuesday. As a percentage of the country's gross domestic product, a ratio watched by economists, the surplus in the first three quarters fell to 3%, from 5.1% in the same period last year. "To the extent that [Chinese leaders] have slashed the current-account surplus and cut the merchandise trade surplus, that's a great argument for them," said Arthur Kroeber, managing director of Dragonomics Research, a Beijing economic-consulting firm. "They can go out and say, 'We're doing our job so leave us alone.' " Chinese Commerce Minister Chen Deming made that argument on Friday. Meeting with U.S. Commerce Secretary John Bryson and Rep. Jim McDermott (D., Wash.) on the sidelines of the APEC summit, Mr. Chen said China's shrinking trade surplus illustrates that the yuan "is basically at fair value." The falling capital-account surplus also means that China can now argue that it meets benchmarks the U.S. attempted to implement a year ago in its campaign for faster yuan appreciation. At the Group of 20 major economies summit last November in Seoul, the U.S. had pushed to have the G-20 adopt a 4% surplus as a target by which to judge whether countries' currencies were undervalued. The proposal never went anywhere because of opposition by countries that traditionally run large surpluses, such as China and Germany. Since then, the debate has been overshadowed by the economic travails of Europe, and the G-20 hasn't laid out specific guidelines for capital-account surpluses. But at 3% of GDP, China's surplus is now comfortably within the original proposed target. Still, that doesn't mean China is doing all that economists say it should to rebalance toward domestic consumption. Critics of China's currency policy such as the International Monetary Fund have argued the decline in the surplus is temporary and will likely be reversed once the global economy recovers. In addition, Mr. Kroeber argues that China's rebalancing is being driven by rising domestic investment such as infrastructure projects, not the rising consumption that economists say is vital for the country to transition to more sustainable growth. "The story of the last three years is that China has rebalanced externally, but become more imbalanced internally," he said, adding, "We still do not have a convincing answer to the question of how they are going to make consumption a bigger part of output." In 2010, consumption accounted for 47.4% of GDP, down from 49.5% in 2007, according to China's National Bureau of Statistics. Meanwhile, the share of investment rose dramatically, to 48.6% from 41.7%.

Chinese Premier Wen Jiabao said in Beijing Tuesday that China will make the utmost efforts to promote green growth and curb pollution. "Green growth focuses on energy conservation, reduced energy consumption, sustainable development and environmental protection, " Wen said during a meeting with the foreign participants of the annual meeting of the China Council for International Cooperation on Environment and Development (CCICED). The Chinese government attaches great importance to environmental protection and considers it an important foundation for the country's economic restructuring process, Wen said. Pollution has become a daunting challenge for China's economic development, he said, adding that China will improve its legal system in regards to environmental protection and enhance its environmental monitoring standards. "We will further integrate our standards with relevant international standards," Wen told the guests, explaining that such an aspiration aims to narrow the gap between monitoring results and how the Chinese people feel about their living environment. The premier also spoke highly of the policy suggestions that the CCICED has proposed in the 20 years since its establishment, and expressed his hopes that the organization will continue its role in helping promote China's sustainable development.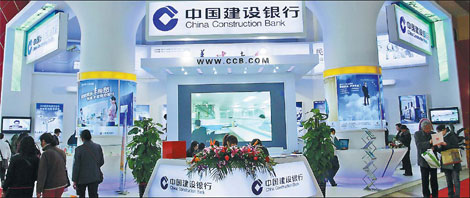 There are vulnerabilities in the financial sector, though the financial system is sound overall, the International Monetary Fund (IMF) said in a report released on Tuesday, as it called for further reforms. In its first formal evaluation of China's financial system, the Washington-based lender said China needs to speed up its financial reform. The IMF welcomed improvements in supervision and regulation and the upgrading of banks' risk management systems. "China's banks and financial sector are healthy, but there are vulnerabilities that should be addressed by the authorities," said Jonathan Fiechter, deputy director of the IMF's Monetary and Capital Markets Department and the head of the IMF team that conducted the Financial Sector Assessment Program (FSAP). Ba Shusong, deputy head of the Institute of Financial Studies at the Development Research Center of the State Council, told China Daily that the report is generally positive and it is constructive for the development of the financial system. The FSAP was established in 1999 and carries out assessments in developing and emerging market countries. Appraisal work by the FSAP in China started in August, 2009. China is one of the 25 "systemically important" countries, including France, Italy and Brazil, that have agreed to mandatory assessments at least once every five years. The central bank, the People's Bank of China, said in a statement on its website that although the IMF report was generally objective and positive, there were still several points of view that are not sufficiently comprehensive. "The government's sway over financial markets has already evolved from direct intervention to asserting influence through regulation of financial companies," the bank said. More commercially oriented mechanisms will be developed to form interest and exchange rates, the central bank said. According to the IMF, the main near-term risks stem from sharp credit expansion, the rapid increase of off-balance sheet exposures, relatively high real estate prices and imbalanced economic growth. "If several of the above risks were to occur at the same time, the banking system could be severely impacted," said the IMF, after jointly conducting stress tests of the largest 17 commercial banks. "The banking system's non-performing loan ratio has been on a downward trend, reaching 1.1 percent at the end of 2010," thanks to strong economic growth and improvements in risk management, the IMF said. But if credit increases more rapidly, it may result in a deterioration of bank asset quality in the coming years, the IMF said. In October, the country's new yuan-denominated lending reached 586.8 billion yuan ($92.7 billion), up 17.5 billion yuan from a year earlier. It increased from 470 billion yuan in September, and 548.5 billion yuan in August. Wang Tao, a Hong Kong-based economist at UBS AG, said that new lending may reach 550 billion yuan in each of the last two months of this year, bringing lending in this category in 2011 to 7.3 trillion yuan. Both the growth of credit and money supply are on track for a "normal" range after government economic stimulus policies, said Ba with the State Council's development research center. "To prevent over-dependence on bank loans, the central authorities are encouraging diversified financing channels, including non-bank and non-government financing," Ba said. "That is one of the reasons that off-balance sheet lending is increasing." He was concerned about the still-imperfect regulatory system that may allow non-performing loans to pressure the financial sector. The banking sector's direct exposure to the real estate sector is moderate, about 20 percent, which is relatively low compared with banks in the United States, the report said. "But the indirect exposure is much higher," the IMF report said. Zhang Zhiwei, chief China economist at Nomura International (Hong Kong) Ltd, said that housing investments may fall quickly in the coming month if the world's second-largest economy meets a sharp downturn.

Hong Kong*: Nov 17 2011 Share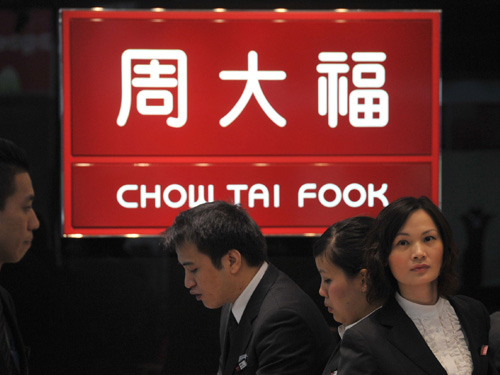 Chow Tai Fook Jewellery Group, controlled by Cheng Yu-tung, yesterday began pre-marketing a US$3 billion Hong Kong initial public share offering - expected to be one of the largest this year. The retailer plans to offer 1.05 billion shares, comprising 76.2 per cent primary shares and 23.8 per cent secondary shares, according to Reuters, which said it had seen the term sheet. The book-building will start on November 28. The shares are expected to be priced on December 8, with listing scheduled for December 15, according to the document. Chow Tai Fook had initially planned to sell shares at a valuation of about 30 times earnings forecast for the fiscal year 2013, which starts in April. Despite economic uncertainties, the jeweller is pushing ahead with its sale in an equity offering market that has virtually shut down. The company, whose name means "good luck" in Cantonese, last week cut the deal's size and valuation because of the global market turmoil. Going ahead with the offering could be a signal that listing conditions are expected to get tougher next year. "The valuation is very high, so I'm not very interested in it," said Victoria Mio, a manager at Robeco Chinese Equities Fund. "Initially there may be interest, but then probably not very sustainable. "Retail is peaking. Whether it's going to slow down dramatically or just slightly, my guess is it's not going to drop off very significantly. But we are going to see somewhat of a softening." Wendy Huang, the research head at SinoPac Securities Asia, said the valuation was reasonable considering the company's leading position in the booming jewellery industry. "Jewelleries are the best-sold consumer goods on mainland markets this year," Huang said. "And the market also expects gold prices will continue to rise next year with the weaker global economy. So I think the [Chow Tai Fook] IPO will be well received by the capital market." Shares of Chow Sang Sang and Luk Fook Jewellery, Chow Tai Fook's major rivals, have risen 17 per cent and 23 per cent respectively this year. The price-earnings ratios of both companies are about 19. Separately, China Polymetallic Mining, a Yunnan-based miner of lead and zinc, has had a successful listing hearing and plans to list in Hong Kong next month, according to a source close to the deal. The deal will be sponsored solely by Citibank, but its size has yet to be confirmed. Edward Au, a partner at Deloitte and head of its national offering group, said the average size of the offerings next year should be between US$150 million and US$200 million, except for a handful of bigger issuers.
Donald Tsang Yam-kuen has proposed to US Secretary of State Hillary Clinton that the United States waive the visa requirement for SAR passport holders entering the country. The chief executive and Clinton met at the Asia-Pacific Economic Cooperation summit in Honolulu, Hawaii. "We talked about the waiver of visa requirements for Hong Kong passport holders to enter the United States," Tsang said, adding that "both sides agreed to actively follow up the matter." They also discussed the possibility of abolishing double taxation for Hong Kong-US businessmen. However, there is no timetable for the waiver request, Tsang admitted. He said there is a backlog from other countries. Tsang asked the US government to consider the high reliability of SAR passport holders who strictly follow immigration regulations set by other countries. Hong Kong people rarely overstay, and waiving visas will not bring extra risks, he said. So far 143 countries or territories, including Guam - a US territory - have given visa-free access or visa on arrival to SAR passports holders. A government source said the possibility of a visa waiver is "very slim." Hong Thai deputy general manager Daniel Chan Kin-pang believes there will be at least a 10 percent increase in Hong Kong tourists visiting the United States if visas are waived, citing the success since Japan waived visas in 2004. The number of Hong Kong travelers to the United States, however, has dropped by 50 percent since the September 11, 2001 terrorist attacks. The visa application cost of HK$1,120 - which is nonrefundable - along with the length of processing time, also deter some visitors. "Hong Kong tourists prefer making spontaneous trips, instead of planning for weeks or months beforehand," said tourism sector lawmaker Paul Tse Wai-chun, who also believes a US visa waiver is unlikely to happen. "It became impossible for Hong Kong to be granted visa-free status after the handover," he said. "The US is concerned about the fact Hong Kong is now a part of China, and it has to be cautious about tourists' entry, especially since around 150 mainlanders come to Hong Kong daily on one-way permits." Citizens of 36 mostly European countries are currently eligible for visa- free US entry. Among Asian countries, only Japan, South Korea, Singapore and Brunei have visa-free status.

Hong Kong and mainland-based airlines will soon be equipped with cabin seats that have been designed in the SAR. The Hong Kong Productivity Council said production of the cabin seats, which comply with international aviation safety standards, will begin in mid-2013. Initially, the plan is to target domestic and mainland airlines. "We started with the development of an aircraft cabin seat to help our industry take off," council chairman Clement Chen Cheng-jen said yesterday. "Now after successfully acquiring the know-how and capabilities to develop a prototype, we believe our industry is one step closer to our goal." The back of the prototype seat is formed from carbon fiber composites, which are 30 to 40 percent lighter than the aluminum alloy that is traditionally used. Apart from the Airbus 340, the seat can be fitted on various long haul and wide-bodied passenger aircraft. "The aviation parts industry is technology-intensive, with high standards in both quality and safety," Chen said. "Each step in the production process has to be accurate and meet current quality-control standards." Traditional aluminum alloy seats are imported from the United States. Since the production line will be set up in the Pearl River Delta, costs will be 30 percent lower than those of overseas competitors. "Our next target will be to diversify into manufacturing other in-cabin equipment, such as trolleys, toilet seats, pantry fittings, storage cabinets and cabin seats for the crew," Chen said. As part of the move, six local firms have formed a consortium - Universal Aviation Industrial. It is the first and only local aviation parts manufacturer. The council will transfer the technology to the company as well as help it set up an assembly line in Dongguan that complies with Hong Kong airworthiness requirements. In addition, the council will consolidate into a technical manual all the design documents, production procedures, test results as well as the experience and technologies acquired from the project and share it with the industry.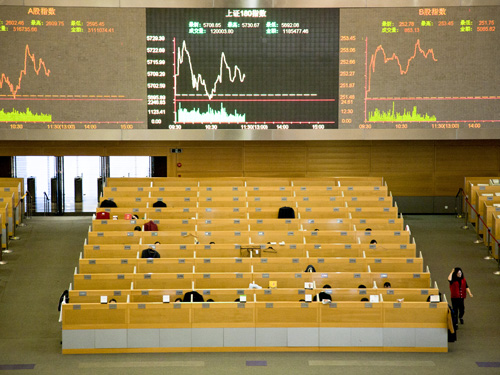 Hong Kong's golden days as the world's largest initial public offering market may be numbered, with the Shanghai Stock Exchange announcing yesterday it was "basically ready" to allow foreign companies to list. The Hong Kong stock exchange has been the number one IPO market worldwide in terms of total funds raised in the past two years, beating New York and London. Local listings have included such major international names as Russia's Rusal and the Italian fashion brand Prada. Local brokers said an international board on the Shanghai exchange would hit Hong Kong hard, as it would lure potential listing candidates away from the city. But experts said it may be too early to worry. Louis Tse Ming-kwong, director of VC Brokerage, said: "The Shanghai international board is going to be a competitor to the HKEx (SEHK: 0388, announcements, news) , but we may not need to worry so soon, since we simply do not know when the international board will happen. The Shanghai Stock Exchange had talked many times about launching its international board soon, but there is no confirmed timetable." China currently does not allow foreign companies to list on the mainland. But for several years, the Shanghai Stock Exchange has planned to introduce a new international board, separate from the A-share market, for foreign firms to sell shares to mainland investors. HSBC, Coca-Cola and Bank of East Asia (SEHK: 0023) have expressed interest in listing there. Shanghai Stock Exchange's executive vice-president, Xu Ming, told Bloomberg yesterday that the international board would start trading as soon as possible but did not give a firm date. Brokers speculate that the persistent delays in the launch - the first study was carried out in November 2007 - may be related to Beijing's worries that mainland investors might prefer trading on the international board instead of the A-share market. Joseph Tong Tang, executive director of Sun Hung Kai Financial, said some deluxe brands that had their eyes on the mainland consumer market might prefer to list in Shanghai. "However, other international firms would still prefer Hong Kong, since it is an established free market, traded by international institutional investors," he said. "China's capital controls ban foreign investors from trading in the mainland markets, which means the international board will only be traded by mainlanders, which is very restrictive."
The government on Tuesday unveiled the latest revisions to plans for the redevelopment of Government Hill, which include expanding a public recreational area and reducing the size of a privately owned shopping mall. The original redevelopment included plans to pull down the 52-year-old West Wing of the current Central Government Offices after staff had relocated to the new Tamar site. Built in its place would be a 32-storey commercial block with 23,000 square metres of floor space, an underground mall, and recreational space covering 6,800 square metres. Secretary for Development Carrie Lam Cheng Yuet-ngor revealed on Tuesday that, due to public demand, the proposed recreational space would be expanded to 7,600 square metres. Another change would be to significantly reduce the size of the shopping mall, from 13,500 square metres to 2,000 square metres. This was because the previous design had attracted strong opposition, Lam said. The development secretary said she had invited the Hong Kong Stock Exchange and Securities and Futures Commission to lease offices in the new commercial block, in order to strengthen the image of Central as a financial centre. Concern groups earlier called on the government preserve the west wing on heritage grounds because it is part of a compound with similar architectural qualities to nearby buildings. But Lam said redevelopment of the west wing had public support. The name Government Hill as first used as early as 1842 to describe the combination of the Central Government Offices, Government House, St John's Cathedral and the French Mission Building.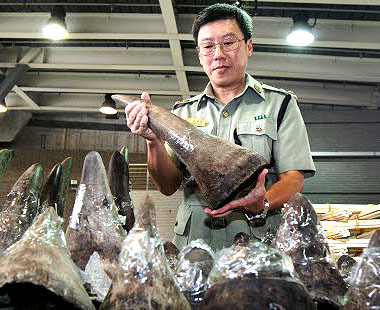 Lam Tak-fai, the Acting Head of Ports and Maritime Command, Hong Kong Customs & Excise Department, on Tuesday discusses the seizure of a total of 33 unmanifested rhino horns, 758 ivory chopsticks and 127 ivory bracelets, worth about HK$17.4 million, inside a container shipped to Hong Kong. Customs said on Tuesday they had seized a large shipment of rhinoceros horn and ivory products in a container that arrived by sea from South Africa. Officers found 33 pieces of rhino horn and 885 ivory chopsticks and bracelets, estimated to be worth HK$17.4 million, a spokesman said. The rhino horns, weighing 86 kilograms, were the largest haul ever made in Hong Kong, the spokesman said. He said the banned items had been wrapped in dark plastic and aluminium foil in an attempt to avoid detection by X-ray scanners. The container had arrived from Cape Town. No one has been arrested so far, the spokesman said. Customs officials believed the haul had been intended for trans-shipment to other parts of Asia, he said.

China*: Nov 17 2011 Share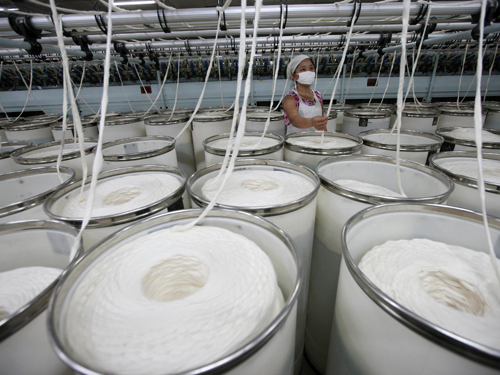 Guangzhou Constant Shoes Co is set to abandon Guangdong, the southeastern province at the centre of the mainland's exporting boom since the 1980s, by shifting most of its production 500 kilometres inland. Rising labour costs and a shrinking supply of workers in coastal areas are threatening to sap the mainland's strength in exports, which account for more than a fifth of gross domestic product. To cope, the maker of women's and men's fashion footwear has chosen to tap a pool of cheaper labour in Yongzhou, Hunan province. "Within a year, our Guangzhou factory will only make samples," sales manager Leon Zeng said. The more companies that join Guangzhou Constant in keeping production within the mainland's borders instead of decamping to neighbours such as Bangladesh, Vietnam or Indonesia, the longer the world's second-largest economy may avoid slumping to less than 5 per cent annual growth, an outcome investors in a Bloomberg poll forecast by 2016. "If we do this shift right, we can buy two decades and avoid shock therapy for the economy," said Cai Fang, a Beijing-based member of the standing committee of the National People's Congress who helped draft the mainland's five-year plan through 2015. "We still have low-hanging fruit to pick." The transition won't be easy. While its new location provides Guangzhou Constant with tax breaks and cuts wages by about 17 per cent, transportation costs will rise by about 20 per cent because of the longer distance moving goods to port. Other impediments include fewer suppliers, the reluctance of young inland workers to take factory jobs and a lack of business savvy among some local governments, according to manufacturers in Guangzhou at the Canton Fair, the mainland's biggest trade show. Additional headwinds may come from abroad, as Europe's sovereign-debt crisis and high unemployment in the US threaten to undermine global growth. China's exports rose at the slowest pace in almost two years in October as Europe's deepening turmoil restricted demand. Should firms overcome the obstacles, the mainland's share of global exports could more than double to 23 per cent in a decade, said Zhang Zhiwei, an economist at Nomura Holdings in Hong Kong. That would give the economy more time to shift away from growth led by investment and foreign sales to a greater reliance on domestic consumption, a central plank of the five-year plan. The mainland economy expanded 9.1 per cent in the third quarter from a year earlier, the slowest since 2009, after five interest-rate increases starting in October 2010 cooled property-price gains. Suppliers of goods used to build or decorate homes will benefit as inland factories fuel the need for more low-cost housing, said Andy Mantel, managing director of Pacific Sun Advisors' Mantou Fund in Hong Kong. "I look for good companies that are making products that will benefit from the roll-out of social housing," Mantel said. His fund has held China Liansu Group Holdings, a Foshan- based maker of plastic pipes, since last year. Royale Furniture Holdings, which makes home furnishings and has more than 2,000 stores, may rise 84 per cent to HK$4.13 in 12 months, according to Ethel Ng, an analyst with OSK Hong Kong Securities. The Hong Kong-based company opened 350 stores this year through September, Ng said in a research note. Higher wages from the spread of manufacturing will help buoy inland consumer spending, said Mark Mobius, Singapore-based executive chairman of Franklin Templeton Investments' Emerging Markets Group, which managed more than US$56 billion in assets as of June. That will aid companies such as Uni-President China Holdings, a Shanghai-based seller of juices, teas, yogurt and instant noodles, said Mobius, whose firm owns the stock. Taiwan's Foxconn Technology Group is the highest-profile company to shift some production inland. The maker of Apple's iPhones and iPads opened a factory in Zhengzhou, the capital of central Henan province, in August 2010, and said in December it would invest more than US$330 million in this and several other facilities, including one in the southwestern city of Chengdu. The inland factories will help boost the operating-profit margin at Hon Hai Precision Industry Co, Foxconn's flagship company, as it saves about 40 per cent on worker pay, said Daniel Chang, an analyst with Macquarie Securities in Taipei. He predicts Hon Hai shares will rise 25 per cent to NT$103 (HK$26) within a year. Annual wages of private companies' urban manufacturing workers in Guangdong province averaged 21,644 yuan (HK$26,494) last year, compared with 16,391 yuan in Hunan and 15,495 yuan in Henan, according to government data. "A move inland is a must for companies in labour-intensive sectors," Chang said. A rise in urban factory wages of 94 per cent since 2005 has led some economists to conclude that the mainland is nearing the so-called Lewis turning point, when surplus labour evaporates, pushing up pay, inflation and consumption. The concept, named after the late economist and 1979 Nobel laureate Arthur Lewis, is associated with rapid losses of competitiveness for sweatshop industries in South Korea and Taiwan in the 1980s. "Dramatic" increases in the mainland's inflation-adjusted wages since 2004 indicate the "era of surplus labour is over", the International Food Policy Research Institute said in a May 2010 paper titled "China Has Reached the Lewis Turning Point."
The 54 bullet trains taken out of service following the deadly Wenzhou high-speed-rail crash in the summer are to resume operations on the Beijing-to-Shanghai line after receiving "modifications", state media reported yesterday. The trains, made by China CNR Corporation, were withdrawn in August, less than three weeks after the collision that claimed at least 40 lives. "After a three-month process of modifications and repeated tests, previously reported problems with the CRH380BL trains have all been fixed," Xinhua quoted an unidentified Ministry of Railways official as saying. "Operations will gradually resume starting from Wednesday." The ministry official told the state news agency that six trains would initially be put back into service, while all 54 trains were expected to be back on the tracks by December 6, "if everything goes well". The Beijing News reported that the first train would "possibly" run between Beijing and Qingdao, Shandong province. The CRH380BL model - one of China's newest and most advanced high-speed trains - was not involved in the Wenzhou crash, but technical faults were uncovered in a safety crackdown launched in the wake of the disaster. The timing of the sudden recall of such high-profile technology shook public confidence in the high-speed rail network's safety record, already jolted by the accident and a series of stoppages and major delays on the new Beijing-Shanghai route. Media reports and experts earlier suggested that hairline cracks found in the axles of trains running on the line were linked to the recall. However, the railways ministry sparked controversy just over a week later by stating that it had been a false alarm, as the German ultrasonic detectors used had been too sensitive, and CNR told a Beijing newspaper that the problem had been solved by resetting the sensors' parameters. CNR had already decided to halt delivery of CRH380BL trains shortly ahead of the recall due to "flaws in the model's automatic braking systems", Xinhua reported yesterday, adding that the company "blamed the problems on quality defects with outsourced parts and components". No one at CNR's head office could be reached for comment yesterday. But a senior safety management official at the Tangshan Railway Vehicle Co - the CNR subsidiary that built the trains - said he understood that the CRH380BL trains had been given the all-clear. "I was not directly involved in the process, but as far as I am aware, the safety checks and rectifications have all been completed, and the trains were returned to the ministry," he said. "When they decide to put them back into operation is not part of our remit." There is a "one in 10,000" chance of a fault occurring, said Professor Wang Mengshu, deputy chief engineer of the China Tunnel Railway Group and a key drafter of the high-speed rail plan. "The problems were not major to begin with," Wang said. "It was a case of testing the individual trains one by one, to make sure they were safe and certifying them. "The main challenge ... is management, not the technical quality of the hardware."
Huawei Technologies, the world's second largest telecoms equipment maker, plans to buy the remaining 49 per cent stake in a joint venture with Symantec Corp that it does not already own for US$530 million to bolster its corporate security solutions business. The deal allows Huawei to boost its product portfolio for its enterprise customers and helps Symantec improve its bottom line by dropping the loss-making business, even as the value of the deal fell below market expectations. The deal is subject to approval from regulators in the United States, but analysts and company executives foresee few hurdles because the joint venture, called Huawei Symantec, was set up in Hong Kong and Huawei already owns the majority stake. "Whether this deal will complete or not… it is still a question mark for now, but I feel that they have a better chance since this joint venture is established in Hong Kong, outside of mainland China," said Cathy Huang, an analyst at Frost & Sullivan in Singapore. Huawei expects the deal, which some analysts estimated could have been worth about US$1 billion, to close in the first quarter of next year. "We likely overestimated Symantec's hand in the negotiation given the joint venture was operated under the control of Huawei," Citi said in a report. Shenzhen-based Huawei and smaller crosstown rival, ZTE Corp (SEHK: 0763), have previously encountered obstacles in clinching some deals in the United States due to national security concerns. For Huawei, the concerns also stem from its founder and CEO Ren Zhengfei, a former PLA officer. Earlier this year, Huawei backed away from its acquisition of US server technology company 3Leaf's assets, bowing to pressure from a US government panel that suggested it should divest the assets. In 2008, Huawei gave up a bid for US networking equipment company 3Com, while last year, a group of Republican lawmakers raised national security concerns about Huawei's bid to supply mobile telecommunications equipment to Sprint Nextel. But this case is different, as the joint venture Huawei Symantec was set up in Hong Kong by Huawei and US security software firm Symantec in 2008. "The majority of the assets and customers are located in China and other regions. This is not about the US," said Ross Gan, a spokesman from Huawei, said in an e-mail. Gan said Huawei would brief relevant government stakeholders as part of the routine regulatory approval process for such transactions based on the local laws and regulations that apply. The aim of the joint venture was to provide and develop network security, storage and systems management solutions to telecom carriers and enterprise customers. The venture, in which both Huawei and Symantec contributed around US$150 million each at that time, has R&D centres in cities such as Beijing and Shenzhen and in Silicon Valley in the United States, according to the company's web site. "It's a good thing for Symantec in that it's been a drag to their earnings per share. I'm sure it's incrementally positive," said Brian Freed, an analyst at Wunderlich Securities. "There shouldn't be any political or regulatory issues related to this." The venture has lost money since it was set up in February 2008, according to Symantec's most recent annual report filed with the US Securities and Exchange Commission. Symantec posted US$123 million in losses for its share of the venture from February 2008 to December last year. The JV, which is expected to continue to be in the red through 2013, was estimated to make a loss of US$82 million this year, according to Citi analysts. Symantec achieved the objectives that it set out for the venture and is leaving with a good return on its investment, Symantec's chief executive, Enrique Salem, said in the statement. The company will continue to invest in China, he added. Huawei said both companies had talks over the past few months on the future and decided that the venture would benefit from a single owner. Symantec shares rose 2.8 per cent to US$17.40 in after-hours trading. Huawei is not listed.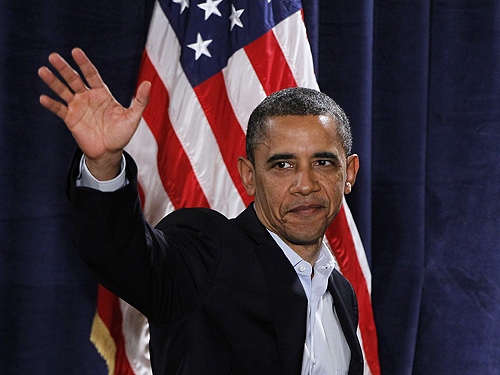 The government in Beijing appeared keen on Tuesday to avoid a diplomatic brawl with the USover trade and currency stances, brushing aside President Barack Obama's criticisms and stressing that the world's two biggest economies share a stake in stable ties. Assistant Foreign Minister Liu Zhenmin did not directly address Obama's comment, made on Sunday, that Washington was fed up with China's trade and currency practices. "The meaning of President Obama's comments is a question that you should ask the White House and the State Department spokespeople," Liu told a news briefing. "China and the United States are also economic partners each of which is important to the other," Liu told a briefing about Premier Wen Jiabao's attendance at regional Asean and East Asia summits on the Indonesian island of Bali later this week. The East Asia Summit will be the first attended by a US president. Obama will meet Wen during the meetings, said Liu. "I think that along with the development of economic globalisation, and the development of Asia-Pacific regional co-operation, China and the United States have massive potential to further strengthen economic and trade co-operation." Tension had been building in the lead-up to the annual Asia-Pacific Economic Co-operation (Apec) forum gathering over a proposed US-led free trade deal that Washington wants as a counterbalance to China's influence but which Beijing sees as an attempt to force it to play by US rules. A day after talks with President Hu Jintao during the Apec summit on Hawaii, Obama used some of his toughest language yet against Beijing. He urged it to take on the responsibilities of a "grown up" economy and stop "gaming the system". China's government will not welcome such remarks, but its leaders have shown throughout this year that they want to keep relations with the United States steady, and avoid feuding that could distract them from a handover of top posts among Communist Party leaders from late next year. Beijing held back from broader retaliation after Obama meet exiled Tibetan leader, the Dalai Lama – scorned by Beijing as a foe of its rule in his homeland – and after the White House announced new arms sales offers to Taiwan, the self-ruled island that China claims as its own. "Some harsh words from President Obama won't come as a complete surprise because he's facing a grim economy at home, so Americans are in a bad mood," said Shi Yinhong, a professor of international security at Renmin University in Beijing. The US election could intensify trade tensions, he added. "But China generally sticks to a pattern of avoiding open quarrels with the President … China wants to ensure that stability remains in place." The currency dispute between China and the United States has been at the heart of tension between the rivals. Washington has long accused Beijing of keeping the yuan artificially weak to give its exporters an advantage. China counters that the currency should rise only gradually to avoid harming the economy and driving up unemployment, which would in turn hurt global growth. Liu suggested that the two governments should keep an amicable face on relations at the impending regional summit. "China and the United States both have a major impact on the Asia-Pacific region," Liu said. "For the two countries to carry out co-operation and mutually benefit in Asia suits not only their interests, but also helps regional peace and development." Last year, US-China relations were beset by a series of disputes, including disagreements over China's trade and currency practices, US arms sales to Taiwan, China's military build-up in the Pacific and its human rights record. The East Asia Summit gathers senior officials or leaders from Southeast Asia, China, Japan, India, Australia, Russia, South Korea and New Zealand.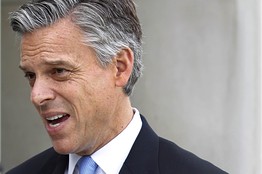 Huntsman Takes Jabs at GOP Rivals for Anti-China 'Pandering' - Jon Huntsman Jr., former Utah governor and former ambassador to China, criticized the anti-China "pandering" by his Republican presidential rivals on Monday, warning U.S. policymakers against "impetuous" steps that could poison the economic relationship between the two powers. Mr. Huntsman, appearing at The Wall Street Journal's CEO Council conference in Washington, specifically targeted former Massachusetts Gov. Mitt Romney's suggestion that the U.S. should use international trade channels to punish Beijing for its management of its currency. Such an approach would be "absolutely foolhardy," Mr. Huntsman said, adding that Mr. Romney "knows better, he's too smart a man… it's called pandering." "You don't want to jeopardize all the many things we're trying to achieve in what is the most important bilateral relationship in the world by acting in an impetuous unilateral way," Mr. Huntsman said. China is quickly becoming a hot-button issue heading into the 2012 presidential elections, as voter dismay about the troubled U.S. economic recovery transforms into skepticism about the U.S.-China economic relationship. A number of politicians on both sides of the aisle have focused on Beijing's management of the yuan as a stand-in for the broader concerns about the trade gap between the two countries. Mr. Huntsman said China's management of its currency is a problem, but that Chinese officials will allow the yuan to appreciate at their own speed. He said he expects the currency to appreciate steadily — with or without jawboning by U.S. officials. "They will arrive at a point in the years to come where they'll have more of a market based currency, whether we tell them to do it or not," Mr. Huntsman said.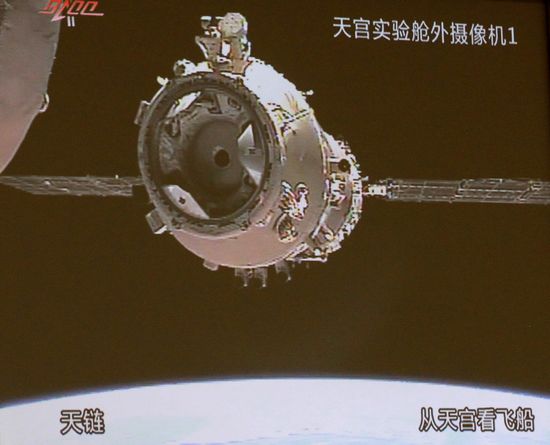 China's two unmanned spacecraft separated and then re-docked smoothly on Monday, following the first successful docking on Nov 3, the Beijing Aerospace Control Center said. The image of Shenzhou VIII spacecraft on the electronic screen in the Beijing Aerospace Control Center, on Monday. Experts said this second attempt was considered more difficult as it was mostly carried out in sunlight, which could interfere with the optical system's performance. After orbiting together since Nov 3, the Shenzhou VIII spacecraft and Tiangong-1 space lab module received an order to undock at 7:24 pm and separated from each other in four minutes. Shenzhou VIII withdrew to a position 140 meters behind Tiangong-1. Then it drew close to Tiangong-1 under the control of the ground station, and the two docked with each other at 8 pm. "Most of the rendezvous process was done in sunlit areas to test the optical telemetry devices' performance in such areas," the control center said in a release. "With the data gained, our goals have been achieved." The final docking was still completed in shadow, it said. In comparison, the first rendezvous and docking practice was entirely carried out in the shadow of the Earth. "You think you can see objects clearer with sunlight on the Earth. But the spacecraft's telemetry system actually produces more accurate results in darkness without interference from sunlight," said Bai Mingsheng, deputy chief designer of the space lab system. The two rendezvous and docking attempts in different environments are expected to give China a breakthrough in the rendezvous and docking technology, and also master the technology better, said Pang Zhihao, deputy editor-in-chief of the monthly publication, Space International. The second exercise is also expected to prove the docking port is up to standard for repeated docking, Pang said. Ma Yongping, vice-director of the Beijing Aerospace Control Center, said that Shenzhou VIII and Tiangong-1 will fly together for two more days. Then Shenzhou VIII will separate from Tiangong-1 and maneuver into an orbit 200 km above earth before its return on Thursday evening, he said. The spacecraft is expected to fall in the Inner Mongolia autonomous region. At the same time, Tiangong-1 will elevate its orbit to prepare for the next rendezvous and docking mission in 2012 with Shenzhou IX, which could be manned, he said. The docking system, developed by Shanghai Academy Spaceflight Technology, is compatible with the docking mechanism and structure used on the International Space Station, the Soyuz spaceship and space shuttles, Xinhua News Agency cited Tao Jianzhong, a research fellow with the academy, as saying. "We've simulated 1,101 dockings and 647 separations on the ground and the first docking precisely fit into our simulation," said Tao, who is an expert on docking simulation. He said that future international cooperation in space would be convenient in light of the compatibility. The country's manned space program spokeswoman, Wu Ping, told an earlier news conference that China's spacecraft would conduct two more space docking missions in 2012, at least one of which will be manned. China aims to build a space lab by 2016 and a space station around 2020, she said.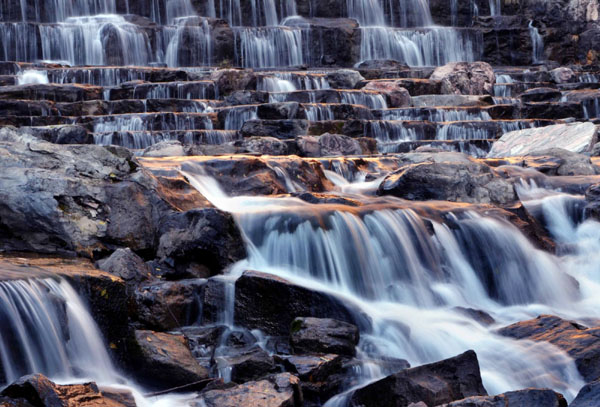 A waterfall is seen in Bali Valley on Nov 14, 2011. Bali Valley of Henan province depicts a natural art gallery every winter.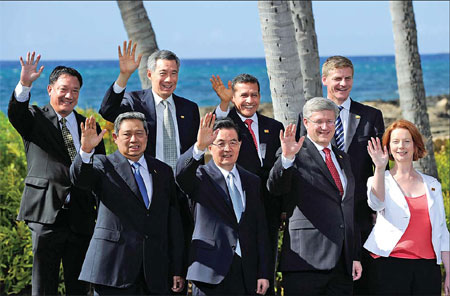 President Hu Jintao and other APEC leaders at the traditional photocall on Sunday at the end of their summit in Honolulu, Hawaii. President tells APEC leaders that growth models have to change - President Hu Jintao pledged on Sunday that China will boost both imports and domestic demand as the world's second-largest economy embraces a more balanced economic structure. Hu made the remarks as he addressed Asia-Pacific Economic Cooperation (APEC) leaders who were attending a summit in Hawaii. He called on regional countries to change their growth model to better meet the challenge of a struggling global economy. Analysts said that Hu's speech sent a clear message that China is committed to economic cooperation, both regionally and further afield. Addressing APEC leaders, Hu said sustainable growth was vital for economic recovery and long-term development. "We should speed up the shifting of the growth model and adjust the economic structure". Hu said that developed countries should adopt responsible macroeconomic policies and properly handle sovereign debt and fiscal risks. Emerging markets, he added, should boost domestic demand and promote growth through the combined forces of consumption, investment and exports. Wu Jinglian, a leading economist with the State Council's Development Research Center, said low savings and high consumption in developed countries were key factors behind the current global financial crisis. The opposite scenario was at play in developing economies and this worsened the global economic situation, he said. Both developed and emerging economies should adjust their structures, Wu said. Emerging economies could emerge stronger from the crisis by maintaining high growth levels but developed countries will have to refocus and identify new sources of growth, Wei Liang, a researcher with the China Institutes of Contemporary International Relations, said. "To that end, the US and Europe should place greater emphasis on technological innovation and hopefully that will lead to another industrial revolution to boost the global economy," Wei said. In this respect, there is potential for China and Western countries to cooperate, he said. China, the world's biggest exporter, has seen its trade surplus declining sharply over the past several years while imports have increased. Incomes have also risen and spending on construction has surged. Increasing domestic demand has boosted global production. China's imports are expected to reach $8 trillion in five years, Hu said at a G20 summit in France earlier this month. In the first three quarters of 2011, China's imports have already reached nearly $1.29 trillion, up 26.7 percent. Officials said that this demonstrates how China implemented measures to stimulate domestic demand. Besides high-tech imports, China should also encourage imports of consumer goods, such as food, which only contributes a small part of the total import volume, Wang Haifeng, director of the International Cooperation Center affiliated to the National Development and Reform Commission, said. "More competition from abroad would urge domestic producers to enhance the quality of their products," Wang said. Hu said in his APEC speech that China will unwaveringly put equal importance on imports and exports as well as inbound and outbound investment. Hu also said that China will continue to implement a win-win strategy of opening up new regions. China will redouble efforts to increase transparency and to make sure that its institutions and mechanisms are more responsive to the needs of an open economy, Hu said. "We will seek our own development and at the same time fulfill international responsibilities as our ability permits," Hu said.

Hong Kong*: Nov 16 2011 Share
Henry Tang, on the day he announced his resignation as chief secretary, has hired a new public relations firm. Three supporters of sustainable development are setting out to break the hold of the Hong Kong General Chamber of Commerce on the Election Committee to decide on the next chief executive. Markus Shaw, Stephen Wong and Dr George Cautherley, running on a platform of sustainable development and environmental protection, will submit their nomination forms for the commercial first subsector of the committee this morning. Shaw, president of WWF Hong Kong, is a grand-nephew of media mogul Sir Run Run Shaw. Stephen Wong is a former investment banker and Cautherley is vice-chairman of the Hong Kong Democratic Foundation. The chamber is fielding 17 candidates for the 18 seats. In 2006, chamber-backed candidates took all 12 seats available for the subsector in the then 800-strong Election Committee. This time round there will be 1,200 members. Henry Tang Ying-yen - likely to be one of the candidates from whom the committee will choose to succeed Donald Tsang Yam-kuen - has meanwhile hired a new public relations firm for his campaign after his two-month contract with AsiaNet Communications expired on Sunday. It is understood that he has hired H&L Fung, a firm owned by PR veteran Jenny Fung Ma Kit-han, wife of former Legislative Council secretary-general Ricky Fung Choi-cheung. Tang's public relations advisers have been blamed for the handling of his disclosure of his extramarital affair after the firm declined to offer an English version of his statement, and turned down media questions after a minute-long press conference by Tang and his wife. The former chief secretary has also been the target of internet criticism after he was pictured lying on a bed during a visit to partitioned flats in Tsuen Wan. Internet users doctored the picture into various versions, some posing Tang in a coffin. Nominations for the Election Committee are scheduled to close today. By Saturday, 1,003 nominations for the subsector poll had been received. Shaw challenged the incumbent lawmaker representing the Hong Kong General Chamber of Commerce, Jeffrey Lam Kin-fung, in the commercial functional constituency in the 2008 Legislative Council election. About 360 candidates running in subsectors such as agriculture and fisheries, sports, performing arts, culture and publication, and Hong Kong Chinese Enterprises Association, are expected to be returned unopposed. The number of uncontested seats will account for 30 per cent of the total number of seats on the Election Committee, similar to the proportion in the 2006 committee poll.
Chinese University is nearing agreement on plans to build a campus in Shenzhen's Longgang district early next year to tap into the burgeoning Pearl River Delta. Business faculty dean, Professor Wong Tak-jun, said the university expected to seal a final deal with the Shenzhen municipal government later this year or early next year, having already signed a framework agreement for the new campus. Construction would begin soon after the deal was signed and students would be accepted two years later. The campus would have three faculties - business, engineering and science - and should have 10,000 students by 2020. The business school would be the first to be set up across the border by a Hong Kong institution, Wong said. "A global business school is one with knowledge about China," he said. "We can do research in the Pearl River Delta, where hi-tech companies and numerous other enterprises are located, and benefit from it like Stanford University benefits from its location in the [San Francisco] Bay Area. Besides undergraduate education, we hope to offer Executive Master of Business Administration and MBA degree programmes." He said the university would also put emphasis on character building, ethics and corporate social responsibility - areas he saw as essential for China's development. Seventy per cent of the future students would be from the mainland. The university's move comes as two American institutions are working to set up branch operations on the mainland. Duke University and Wuhan University have joined forces to establish the Duke Kunshan University about 60 kilometres west of Shanghai, which will begin operation in the 2012-13 academic year. New York University is also known to be planning to set up a branch campus on the mainland. Demand for business education among mainland students is growing strongly. This is backed by the 294 per cent rise in Chinese candidates for the Graduate Management Admission Test, used as a prerequisite for admission by about 5,200 management programmes at nearly 2,000 business schools worldwide. Chinese candidates sat for 40,069 tests worldwide this year.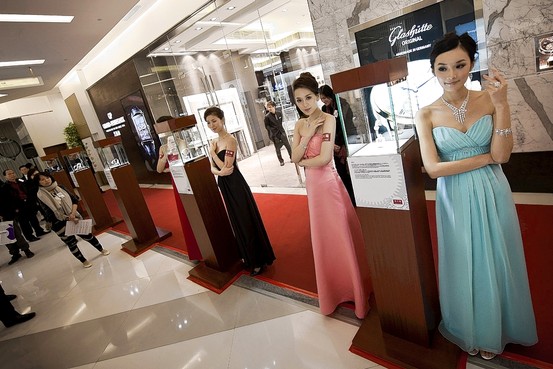 The world's biggest jeweller began pre-marketing a planned US$3 billion Hong Kong IPO on Monday, as some analysts warned that even with increasing demand for luxury goods among wealthy mainlanders, the company's anticipated valuation may not be as dazzling for investors. Chow Tai Fook Jewellery Group, controlled by Hong Kong billionaire tycoon Cheng Yu-tung, is strongly placed to tap cash-rich China's hunger for golden trinkets and all that glitters. The jewellery retailer's IPO is expected to be one of the largest this year, as the company pushes ahead with its offering in the face of economic uncertainty and an equity offering market that has virtually shut down. Chow Tai Fook – which means good luck in Cantonese – last week cut the deal's size and valuation because of the global market turmoil, but moving ahead with the IPO now could be a signal that listing conditions will only get tougher next year. Foreign luxury firms are banking on strong China and emerging market demand to offset weaker sentiment in developed countries. London-based jeweller Graff Diamonds plans to raise US$1 billion in a Hong Kong listing next year to help fund further Asian expansion. Italian fashion house Prada listed in Hong Kong earlier this year, and US luxury goods maker Coach is expected to go ahead with its plans for a secondary listing by the year-end. Prada, which raised about US$2.5 billion in its IPO, is to spend some of those proceeds buying into the initial public offering of local handbag maker Sitoy Group, IFR reported on Monday, citing sources with knowledge of the deal. Chow Tai Fook, more than double the size of Tiffany & Co by revenue, plans to offer 1.05 billion shares, 76.2 per cent of which are primary shares and 23.8 per cent secondary shares, according to a term-sheet. Book-building is due to start on November 28, with pricing scheduled for December 8 and listing on December 15. The jeweller has 1,500 stores in Asia and is one of the best known brands in the region, though it has little recognition in the West. The 80-year-old company initially planned to sell shares valued at around 30 times its forecast earnings for fiscal 2013, which starts in April. But the market turbulence prompted it to seek a valuation of about 25 times and to sell 10 per cent of its enlarged capital, down from the usual 20-25 per cent in Hong Kong IPOs, IFR reported last week. Edwin Fan, analyst at BOCI, said Chow Tai Fook's lowered valuation expectation was still high compared with local rivals Luk Fook Holdings (SEHK: 0590) and Chow Sang Sang Holdings, which are valued at 15 times. "I'd say all three are enjoying the rally in the booming industry, so not one has a hugely significant advantage. You may even see the relatively smaller ones demonstrating growth which is a little bit stronger than Chow Tai Fook," said Fan. Chow Tai Fook is among just a handful of companies to test investor appetite after market volatility virtually brought Hong Kong's IPO market to a grinding halt. The current fourth quarter is traditionally the busiest period for capital raisings. Foreign luxury brands not traditionally focused on jewellery, such as Louis Vuitton and Chanel, are starting to see the market as a means to grab a slice of China's appetite for luxury. Chow Tai Fook, with annual growth of 60 per cent, is a common sight on major streets in Hong Kong and China. At one Chow Tai Fook branch in Causeway Bay district, more than two dozen customers from the mainland eye the gold, diamond and jade on display. "Around 90 per cent of our customers are from the mainland. They are most keen to buy gold bars and gold wedding bangles," said salesman Eric Yu. While foreign brands Tiffany and Cartier are popular for white gold jewellery, Chinese customers prefer to buy yellow gold due to its strong history in China and investment value. "They want it for investment, not to wear," Yu said. CLSA Asia Pacific Markets estimates Greater Chinese demand is expected to account for 44 per cent of the global luxury goods market by 2020. Analysts say China consumers spend an average of 10-12 per cent of total household income on luxury items, underlining the high propensity to splurge on high-end goods. Chow Tai Fook Chairman Cheng Yu-Tung, one of Hong Kong's best known property and retail magnates, also owns New World Development, a multi-billion dollar real estate, retail and transport conglomerate. Among other offers, New China Life (SEHK: 2628, announcements, news) Insurance, the nation's third-biggest insurer, plans to raise about US$2.5 billion through a Hong Kong and Shanghai IPO to replenish capital. Deutsche Bank, Goldman Sachs, HSBC and JP Morgan are handling the Chow Tai Fook offer.
Public hospitals were investigating reports some mainland pregnant women had been lying about their expected delivery dates to get early maternity services, Secretary for Food and Health York Chow Yat-ngok said on Monday. Chow said there had been reports from public hospitals, particularly Princess Margaret Hospital, that some pregnant mainland women were lying about when their babies would be due. They were doing this in order to meet the quota requirements needed to give birth at these hospitals. "We are concerned that this might cause unnecessary chaos in the hospitals, particularly if these pregnant women came in much earlier than the expected date," he said after a Legislative Council meeting. The health secretary said hospitals would refer such cases to the police for further investigation. The government has put a cap on the number of mainland women who can give birth in Hong Kong from 2012 at 34,000. This is to ease pressure on medical services and ensure enough beds for local pregnant women. The quota followed a growing influx of mainland pregnant women giving birth here in recent years. Chow said hospital officials were now studying ways to ensure mainland pregnant women behave properly, such as using supersonic scans to double-check the expected delivery dates provided by them. He also urged doctors and medical workers to scrutinise their documents.

China*: Nov 16 2011 Share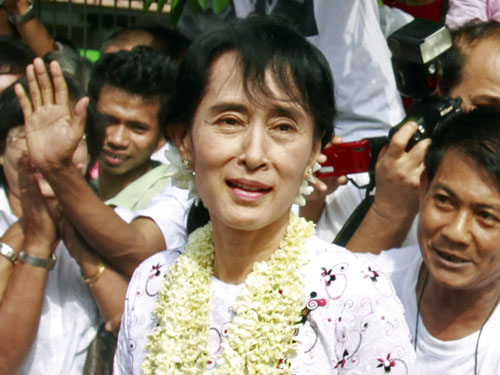 Myanmar's opposition leader Aung San Suu Kyi yesterday urged an end to current difficulties with China, saying she was "particularly anxious" for good relations with Beijing. Speaking to media on the first anniversary of her release from house arrest, Suu Kyi (pictured) acknowledged "bumps and kinks" in the relationship - now one of the most closely-watched in the region. "China and Burma are neighbours and we will always be neighbours as long as the world stands," she told the South China Morning Post (SEHK: 0583, announcements, news) , using the Southeast Asian country's former name. "Because of that we are particularly anxious that our relations should be good. "We've had very good relations with China ever since we became independent in 1948," she continued. "And although, of course, there can be bumps and kinks in any relationship, I'm confident that we will be able to overcome these difficulties and re-establish the friendly relations we've always enjoyed." She said if China "wished to", it could help Myanmar a great deal in its moves towards democracy - an effort Suu Kyi is now in talks with new President Thein Sein about. Thein Sein, a former general, took office in March after elections sanctioned last year by the ruling junta. "Whether or not it does help in the process of democratisation, I hope that China will remain a firm, good friend to us, keeping in mind what is most desirable for our country and our people," Suu Kyi said. While Suu Kyi did not cite specific problems with Beijing, her remarks follow a government decision to order work frozen on a US$3.6 billion dam being built at Myitsone. The dam - which would have flooded an area the size of Singapore to provide power mostly to China - had faced fierce domestic criticism, including from Suu Kyi's National League for Democracy (NLD) party. Her remarks come during an important week for Myanmar. In Bali, leaders from the Association of Southeast Asian Nations are expected to decide whether to let Myanmar chair the organisation for the first time in 2014 - a long-held junta goal. At the weekend, her party plans to decide whether to formally register to participate in upcoming by-elections. That would be significant considering it boycotted elections last year amid concern over a 2008 constitution that effectively enshrines military power despite establishing a parliament. Participation would end an era that saw the NLD demand the upholding of its 1990 election landslide - a result the military refused to accept amid bloodshed. Recent months, however, have brought a string of compromises from Thein Sein that have been welcomed internationally, including the release of some 200 political prisoners and talks with Suu Kyi. The US as well as European and some regional nations are intensifying talks with the government - factors which could complicate the strategic picture for China in a country until recently seen partly dependent on Beijing. The West still keeps economic sanctions on Myanmar and Suu Kyi has yet to call for them to be lifted. While she said much work needed to be done, she urged the people to have faith, saying she believed the country was "looking at the opening to the road to democracy". "I have met President Thein Sein and I personally believe that he is very genuine in his desire for the process of democratisation," Suu Kyi said. One unsettled issue remained the release of political prisoners, some of whom have been detained since the crackdown on student protests in 1988. The release of some detainees was expected yesterday, but it was delayed after a meeting of top officials, sources said. Suu Kyi's party issued a fresh dossier yesterday detailing some 591 political prisoners - figures that differ from government accounts.

Beijing has told Washington it will abide by the rules only of international agreements which it has helped to draw up, as the two countries locked horns at the Asia-Pacific Economic Co-operation (Apec) summit. Experts said Beijing was growing weary of Washington's attempt to press China into following rules that were made without consulting it first. This refers to the proposal to create a Trans-Pacific Partnership (TPP), which could become the world's largest free-trade zone. While the US has not explicitly ruled out China's joining the TPP, US Secretary of State Hillary Rodham Clinton has linked the agreement to non-tariff issues including government procurement, the conduct of state corporates, regulatory convergence and intellectual property. Some mainland experts said the preconditions were designed to squeeze out China as the US was trying to reassert its leadership and counter Beijing's growing influence in the Pacific Rim region. US President Barack Obama said he wanted a legal document for the trade deal by next year and that the TPP would go beyond the scope of normal trade deals and serve as a model for broader agreements. Mainland experts said that to leave out China - the world's second-largest economy - would make the TPP ineffective and that Beijing would see no obligation to follow its rules. "China believes it is unreasonable to follow rules in whose consultation process it was not involved and with which it does not agree," said Shi Yinhong , a Sino-US affairs expert at Renmin University. At an informal meeting of Apec leaders yesterday, President Hu Jintao warned against protectionism. "We should work to establish a balanced, inclusive and win-win multilateral trading regime so that people everywhere will enjoy the benefits of trade and investment liberalisation," he said. His remarks have been seen by analysts as an indirect rebuff of the trans-Pacific deal. Ni Feng , a US affairs expert at the Chinese Academy of Social Sciences, said China's track record proved that it had followed the rules of international organisations to which it belonged. "Sometimes the US is not transparent about the rules it is negotiating. Under such circumstances, it is not fair to demand China to follow rules that the US has reached with others," he said. Obama earlier took a swipe at Beijing, saying that China was a "grown-up" country that should "play by the rules" on currency and trade issues. He accused China of "gaming the system" to its advantage. The Foreign Ministry hit back hours later. "First we have to know whose rules we are talking about," Pang Sen , its deputy director general, told reporters. "If the rules are made collectively through agreement and China is a part of it, then China will abide by them. If rules are decided by one or even several countries, China does not have the obligation to abide by that."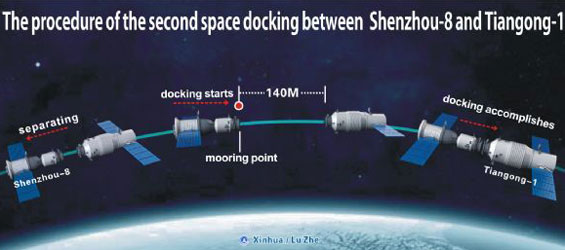 Shenzhou-8 re-docks with Tiangong-1 China's Shenzhou-8 unmanned spacecraft re-docked with the Tiangong-1, a module of the country's planned space lab, Monday evening.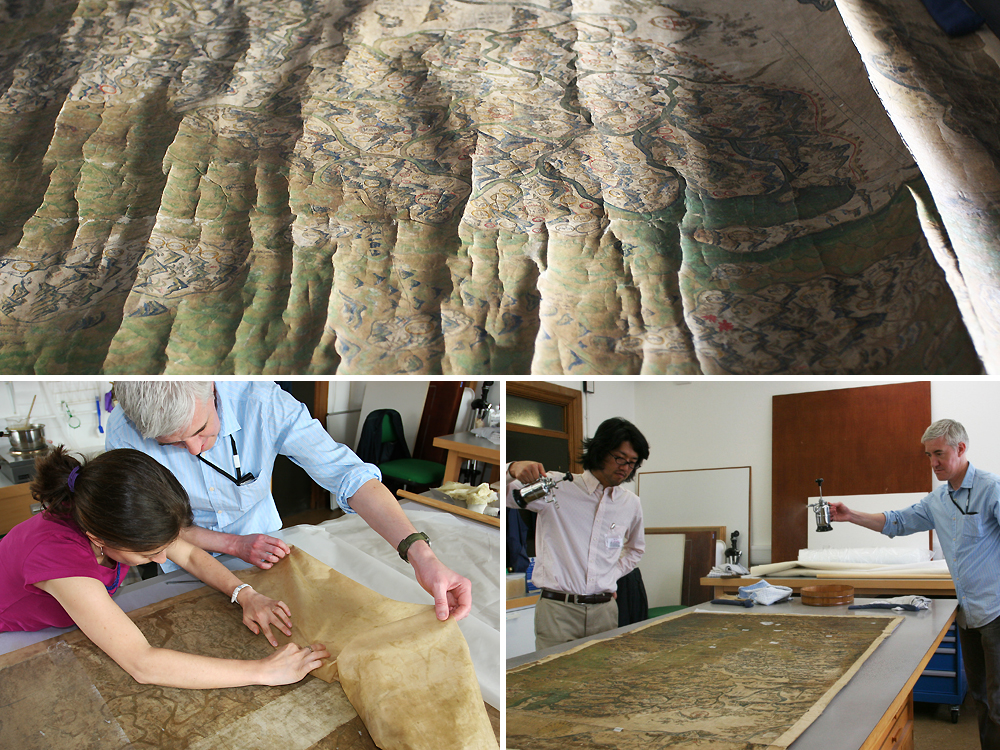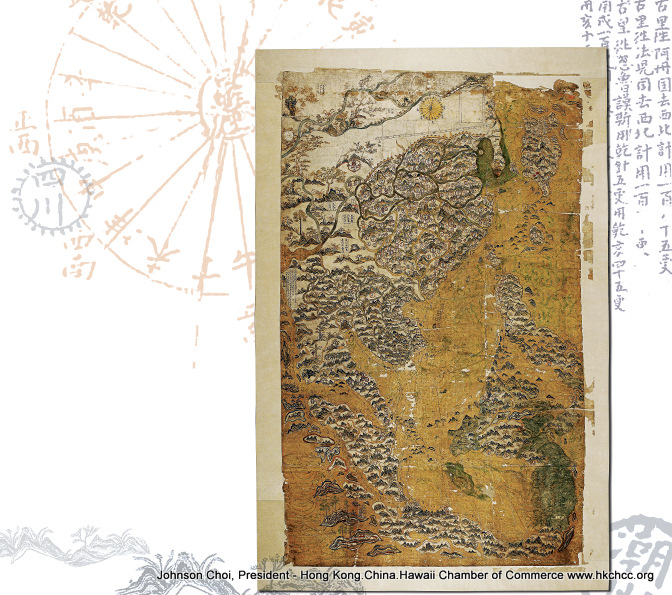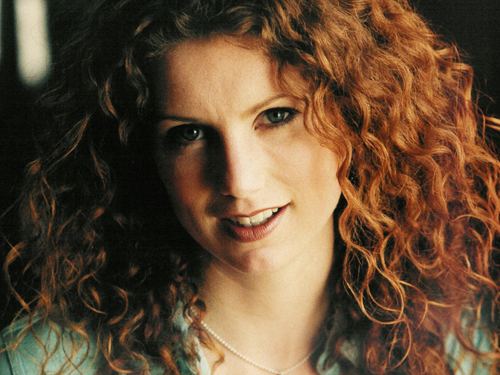 The Selden Map before it was restored (top). The map being restored by Keisuke Sugiyama (second right), of the British Museum, and Robert Minte (right), of the Bodleian Library. The chance deciphering of an ancient map in Oxford University's Bodleian Library has generated a flurry of excitement among maritime historians. It is changing perceptions about Chinese trade during the Ming dynasty.
The yuan ended down slightly against the dollar on Monday after China's central bank set the mid-point little changed as President Hu Jintao indicated that the government may keep the yuan exchange rate stable for a while. President Hu was quoted as saying on Sunday that US trade and employment problems would not be solved by even a major appreciation of China's yuan versus the dollar. Dealers said Hu's comments signalled that China had no intention to let the yuan rise faster in the near term. That cemented expectations that the yuan would rise to around 6.30 versus the dollar by the year-end, or roughly a 4.6 per cent increase for the whole year. "For now the yuan will not appreciate too much, not only because of the domestic economy, but also because of the overseas crisis [euro zone debt crisis]," said a dealer at a commercial bank in China. He said slower-than-expected export data had sparked expectations that the central bank could slow the pace of yuan rises, while inflation pressures decreased on a pull-back in the consumer price index. Exports were up 15.9 per cent year on year, the weakest in eight months and down from 17.1 pct in September, while China's annual inflation rate fell to 5.5 per cent in October from September's 6.1 per cent – the biggest drop in the annual rate from one month to the next since February 2009. Spot yuan closed at 6.3538 versus the dollar, up marginally from 6.3424 at Friday's close. Before trading began, the PBOC set the mid-point at 6.3301, slightly higher than Friday's 6.3317. The central bank uses the fixing to signal the government's intentions for the yuan. Spot yuan has now risen 3.71 per cent so far this year and 7.43 since the it was de-pegged from the dollar in June last year. Steady yuan gains pushed mainland firms to sell most of the dollars they earned until the worsening of the euro debt crisis sparked a global dollar rally in September. Offshore one-year dollar/yuan non-deliverable forwards were bid at 6.3360, up slightly from 6.3260 at the close on Friday. They now implied that the yuan would largely remain unchanged in 12 months from the PBOC's mid-point. Offshore dollar/yuan forwards have typically forecast yuan appreciation in the past few years. But it has largely implied yuan depreciation since the dollar rally in September.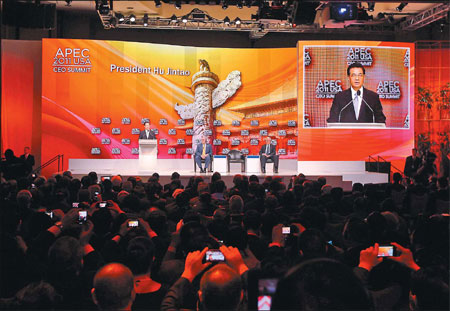 President Hu Jintao has called for emerging markets and developing countries to have a greater say in global economic governance. Addressing top executives at the Asia-Pacific Economic Cooperation (APEC) forum CEO summit in Honolulu on Saturday, he said changes are taking place in global economic governance, but they are not keeping up with changes in global economics. Emerging markets and developing countries are carrying greater weight and are playing a bigger role in global economic governance, Hu said. "New mechanisms for global economic governance should reflect changes on the world stage," Hu said. "They should observe the principle of mutual respect and collective decision-making and increase the representation and voice of emerging markets and developing countries." Hu arrived in Hawaii on Thursday to attend the 19th leaders' meeting of the APEC group. He was also expected to address the leaders' meeting on Sunday. The way the global economy is run has been increasingly questioned in recent months as the eurozone has grappled with its debt problems and the world has struggled to recover from the economic crisis. Many countries have called for structural reform, and the issue has been high on the agenda of organizations such as the United Nations, the Group of 20 and APEC. Nassir Abdulaziz Al-Nasser, President of the UN General Assembly, said on Friday that one of the assembly's priorities during the current session is to strengthen the UN system for global governance through creative and adaptive structural changes. "Serious concerns relating to food security and the global financial and economic crisis have exposed how fragile and fragmented global economic governance has become," he said. Addressing the APEC CEO summit, Hu also called for an increase in regional economic integration through trade. China supports efforts to build an Asia-Pacific free trade area based on the East Asia Free Trade Area, the Comprehensive Economic Partnership for East Asia and the Trans-Pacific Strategic Economic Partnership Agreement, he said. "The regional multilateral trading regime has played an important role in countering the international financial crisis and opposing protectionism." Hu, calling on all countries to make rules on multilateral trade balanced and inclusive and beneficial to everyone, said China will move faster on the idea of establishing free trade areas, and will strengthen business ties with major trading partners. It will also deepen practical cooperation with other emerging markets and developing countries, he said. "We should vigorously promote regional and sub-regional economic cooperation and the establishment of free trade areas." While focusing on China's plans in developing a regional economy, Hu stressed that China will "open wider to the outside world and take an active part in global economic governance and regional cooperation". He also said China will give equal weight to imports and exports and to inbound and outbound investment, and focus more on encouraging Chinese businesses to invest overseas.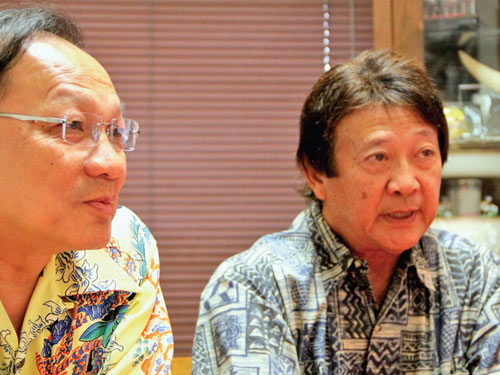 John Hui and Vernon CW Ching say the Hawaii Chinese Chamber of Commerce has become a bridge in economic exchanges between China and the US island state. The Hawaii Chinese Chamber of Commerce, turning 100 years old on Nov 26, has been taking advantage of its geographical and cultural position in serving as a bridge for business and culture exchanges between China and the Pacific island state. The anniversary will be celebrated at the Hilton Hawaiian Village Coral Ballroom. The past decade has been an important one for the chamber, a time when it developed from the Chinese Merchants' Association founded by 13 young Chinese merchants in Honolulu in late 1911, to an influential organization with more than 350 members today that plays a leader's role and an active voice for the Chinese community in Hawaii. Recently, China's rapid growth has brought hundreds of delegates to Hawaii seeking enormous opportunities in business, education and cultural exchange. The Chinese chamber has welcomed and hosted an average of 20 delegates from China each year. "The chamber has actively facilitated this important exchange, making China-Hawaii relations flourish in various fields," John Hui, president of the chamber, said. Hui started to visit China regularly seven years ago and is very confident in the Chinese market. With his network of contacts and businesses in Chengdu, capital of Sichuan province, the chamber helped in the signing of a new sister city agreement between Honolulu and Chengdu in September. In addition, the chamber is facilitating more exchange students to come from Sichuan and hopefully a direct flight connecting Hawaii to Chengdu, the major city in Southwest China. Talking about the APEC being held at Honolulu now, Hui thinks the recent surge in Chinese tourists to Hawaii will bring Hawaii as well as the United States many business opportunities. "More dramatic growth depends on making the US visa process for Chinese easier and for more direct flights between the Chinese mainland and Hawaii," he said. According to Hawaii's Department of Business, Economic Development & Tourism, the number of Chinese visitors to Hawaii will increase annually by 20 percent from 2012 to 2014. By 2014, Hawaii will have 140,000 Chinese visitors a year. As an important part of its centennial celebration, Vernon CW Ching, former president of the chamber and the US China Peoples Friendship Association Honolulu Chapter, is working on a special centennial edition about the chamber's history. "The centennial book will cover not only the 100-year history of the chamber but will also include individuals, most of whom are Chinese and have done much not only to the chamber but also to the Chinese culture and business in the state of Hawaii," Ching said.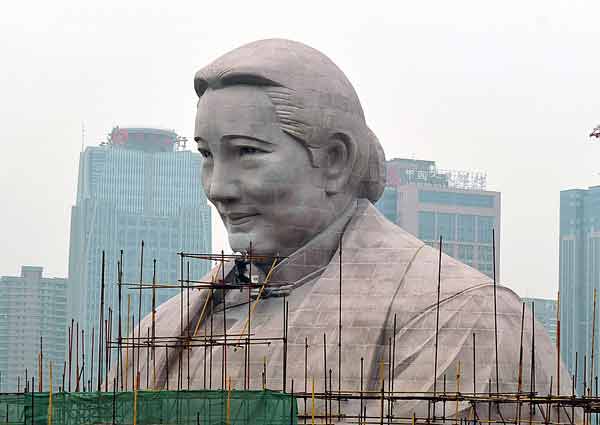 A 24-meter stone statue of Soong Ching Ling (1893-1981) under construction in Zhengzhou, capital of Central China's Henan province, on Nov 6. Funded by Henan Soong Ching Ling Foundation, the construction of the statue is reportedly costing 400 million yuan ($63 million). A scandal-ridden charity organization has declined to respond to accusations about its excessive commercial activities. The Henan Soong Ching Ling Foundation, a regional public foundation, came under fire after a Chinese media organization revealed that it gave illegal loans and allocated huge amounts of money to invest in real estate and other profitable sectors, while only a small share of its revenue went to charitable causes. China's regulations require that no less than 70 percent of a public foundation's annual revenue should be used for philanthropic purposes. Yet figures on the China Foundation Center website show that the foundation ranked first among more than 2,000 Chinese charity foundations in 2010, with total assets of nearly 3 billion yuan ($476 million), spent only 140 million yuan on charity projects that year. A report by Xinhua News Agency revealed the foundation raised a great deal of money selling health insurance in the vast rural areas of Central China's Henan province, some of which was then lent to property developer. An anonymous insurance agent in Luohe city, one of the 17 branches for the subordinate body in charge of the insurance - the Development and Management Center for Henan's Charitable Health Insurance - was quoted by Xinhua as saying that he collected about 1.8 million yuan in premiums every year. The agent, who has run the business since 2007, added that the project named "charitable health insurance" was run in such a way that it would appeal to villagers. He explained that most farmers chose to buy the insurance as they were promised they would receive an annual 400 yuan in interest once they paid 10,000 yuan in premiums. Earlier last week, the foundation also failed to explain the source of funding for a giant statue of Soong Ching Ling, wife of the 20th-century revolutionary Sun Yat-sen, and an adjacent complex. The 24-meter-high statue is part of an 800-square-meter complex under construction in Zhengzhou, the capital of Central China's Henan province, which includes a large meeting hall and four six-story buildings that house cinemas, studios and meeting halls. The project will soon be completed, according to workers on the site who are now burnishing and waterproofing the statue. The foundation insisted that the money needed for the project, which reportedly cost 400 million yuan, was "self-collected" and refused to give more details. But media organizations and Web users have questioned this, as it is rare for a regional charity organization to raise so much money for such a project. The provincial government has formed a panel to investigate the allegations. Employees from the foundation told China Daily on Wednesday that the officers authorized to answer media inquiries were out of office and could not be reached for comment. China Daily's later calls to the foundation went unanswered. Xu Yongguang, secretary-general of the Narada Foundation, a private charity focusing on public welfare projects, argued that charity foundations should not be criticized for investment activities that maintain and enhance their asset value. Given China's high inflation rate and low reserve interest rate, the value of donations shrinks if it is simply saved in banks, Xu said. Deng Guosheng, director of the non-governmental organization research center at Tsinghua University, said that it is "vital" that Chinese charities make their work more transparent. Liu Peifeng, an associate professor from the law school of Beijing Normal University, said that China should speed up legislation to regulate the commercial behavior of charity organizations.

Hong Kong*: Nov 15 2011 Share
Hong Kong firms clean up at technology awards - Hong Kong entrants claim victory in five out of 14 categories at Apicta ceremony in Thailand - With major wins by three local companies and one of the city's oldest tertiary institutions, Hong Kong topped the Asia-Pacific Information and Communications Technology Alliance (Apicta) Awards held last week in Thailand. Apicta, a 16-member alliance, recognises each year the best in innovation in 14 categories from the region's information and communications technology industries. Hong Kong submitted 29 entries this year, compared with 16 a year ago. The city has been a participant in the Apicta Awards since 2002, with all its entries nominated by the non-profit Hong Kong Computer Society. "Hong Kong topped the overall charts by winning in five categories and receiving nine certificates of merit," said Michael Gazeley, managing director of Network Box Corp, which won the Apicta Grand Award for best security application. Last year in Malaysia, Hong Kong had two Apicta Grand Award winners and gained five certificates of merit. "Hong Kong has benefited greatly from the awards and has received good recognition for our entries over the years," said Stephen Lau Ka-men, president of the Computer Society. Kwai Chung-based Network Box won for "Z-Scan", a cloud-computing service that identifies malicious software and blocks it from harming networks. Compared with the typical three to 20-hour response times from traditional anti-virus software vendors, Z-Scan takes as little as three seconds to identify and block even previously unknown malware. It is the same technology that won Network Box the grand award in the technology category at the government's Hong Kong Awards for Industries on June 30. Pulse MediaTech received two Apicta Grand Awards this year for best start-up company, and in new media and entertainment. Quarry Bay-based Pulse MediaTech won for its "JM Digital Publishing Platform", which provides one-stop digital book conversion, online purchase and fulfilment for various mobile systems worldwide. It also claims to deliver the best electronic book reading experience. TalkBox, another start-up firm, won in the communications category for a smartphone application used in iPhones and Android handsets. TalkBox Voice Messenger enables instant audio messages between users and sharing of photos with geographic locations either through Twitter or Facebook. Baptist University picked up the Apicta Grand Award for best tertiary student project, called "Ulcer Detection in Gastrointestinal Videos", by its department of computer science.
The mainland-based garment manufacturer Grand Concord International Holdings is planning to raise HK$80 million through a Hong Kong listing to upgrade production capabilities and expand its sales network. The company, a specialist in the production of underwear and thermal insulation fabrics established in 2000, plans an initial offer of 100 million shares, including a placing of 90 million shares and a public offering of 10 million shares in Hong Kong. The offer price is HK$0.8 a share. Retail subscribers can apply from today until Thursday noon to invest HK$3,200 for a lot of 4,000 shares. Grand Concord expects net proceeds from the initial public offering to be around HK$38.4 million. The company's co-founder and chairman, Wong Kin Ling, said "We'd like to use about 50 per cent of the raised amount on upgrading and expanding our manufacturing equipment and plants to enhance our production efficiency." The company aims to boost its annual production capacity from the current 18.6 million pieces of underwear and 4,000 tons of fabrics to 24 million pieces and 7,000 tons respectively in about a year, said its chief financial officer, Eric Lee Yin-sing. Grand Concord, which has its headquarters in Zhucheng, Shandong province, had sales revenue of more than 378 million yuan (HK$464 million) last year, up 94 per cent from 2009. Its revenues for the first six months were around 140 million yuan, of which over half came from Japanese clients, one third from the mainland and about one tenth from its US customers. Its clients include the lingerie brand Triumph as well as fashion and sports labels such as Puma and DKNY. Its gross profit for the first half of this year was 46.64 million yuan.
James Tien tries his hand at making salted egg yolks. Business visitors lured to Lantau - Unusual cultural activities promoted to regular visitors as an alternative to shopping and dining. From making salted egg yolks in Tai O village to learning kung fu from a shaolin master - the Hong Kong Tourism Board is promoting cultural activities on Lantau Island to appeal to business travellers. Many business visitors return to the city frequently and want a richer experience than the usual round of dining and shopping. They seek physical and cultural activities, and are finding them on Lantau. "Long-haul visitors love cultural activities and nature," said James Tien Pei-chun, chairman of the Tourism Board, which is promoting such adventures for business travellers - whose numbers have not yet been affected by the European debt crisis. Visitors to Hong Kong for meetings, incentives, conferences and exhibitions (Mice) increased steadily to a total of one million over the first nine months of this year - 15 per cent more than the same period last year - according to the Tourism Board. Some end up in Lantau's Tai O village, learning to make salted egg yolks - a traditional delicacy - from retired fisherman Kwok Wa-hei, 75, in his stilt-house built on tidal flats. Salted egg yolks may not appeal to everyone: the American travel-news website cnngo.com labelled them one of the world's disgusting foods - for which it later apologised. They're all in a day's work for Kwok. "You should crack open a duck egg near its top and take out its egg yolk," he said, letting the contents of the shell slide into his palm. He pulled away the egg white, since only the yolk is wanted. Then, with remarkable gentleness, he washed the fragile yolk in a bowl of water before shifting it from one hand to the other. He placed it carefully on a bamboo tray and sprinkled salt onto it, saying: "It will be ready after three days in the sun." Because the yolks break easily, some companies and schools turn the task into a group team-building activity, Kwok said. Other activities for business travellers include learning martial arts at Lantau's Shaolin Wushu Cultural Centre, and joining a tai chi class in Tai O. People interested in cooking can learn to make dim sum at Ming Court, a Mong Kok restaurant awarded two Michelin stars. To cater to nature-loving travellers, free hiking tours will take place every Sunday until December 11, including a heritage walk from Tung Chung to Tai O and a coastal ramble passing by scenic Tai Long Wan. Bookings should be made at the Tourism Board's visitor centres.
Police have been accused of using women as bait after a serial sex attacker labelled a "dangerous sexual predator" was jailed for 5-1/2 years. Billy Chan Ho-leung pleaded guilty to five charges of indecent assault last December and January. The labourer targeted women in bars in Lan Kwai Fong, followed them when they left alone and assaulted them in dimly lit places as they walked home. But police did not release any details of the assaults, despite appeals to do so by one of his victims, until after his arrest in June. The senior police officer who headed the investigation has defended the move as a professional judgment call. "I have no regrets whatsoever about the way the case was handled. It was proven to be the correct way because we got the guy convicted," said Assistant district commander for Central district Kenneth Pemberton. But legislator Emily Lau Wai-hing and Hong Kong Human Rights Monitor said the police had threatened public safety by not publicising the attacks. The revelation of the case comes after police were criticised for delaying the release of information about a series of stabbings in Tseung Kwan O in early October and a series of indecent exposure cases in Kwun Tong on October 18 and 19. Chan was jailed on November 4 for the five attacks. The District Court heard Chan had committed the offences while on probation for indecent assault and that one of his victims had been assaulted twice. Judge Stephen Geiser rejected a defence claim that Chan had mental problems, saying psychiatric reports indicated he was a dangerous sexual predator. One victim told the Sunday Morning Post (SEHK: 0583) Chan attacked her in a lane off High Street, Sheung Wan, as she walked home early on January 1 after celebrating the New Year with friends. She had asked police to warn other women by publicising the attack. "I remember going to the police in January and asking them to warn women in the area," said the woman, an expatriate who is now thinking of leaving Hong Kong because of the trauma of her ordeal. "They told me they didn't want to create a panic or tip off the attacker, fearing that he might flee Hong Kong. "I was sure they were doing a good job trying to find him, but I felt I needed to try to warn women about this. I knew I would feel terrible if the same thing happened to another woman and I had kept quiet." The woman was so worried he would strike again that in March she contacted the Sunday Morning Post, which published her story. At the time, police said there was no evidence a serial attacker was involved and said no other sex attack had been reported in the vicinity either before or after she was attacked. But when the man was caught on June 8, and matched with DNA from blood taken from the victim's coat, it emerged he had indecently assaulted another woman in December in Po Hing Fong, Sheung Wan, about a kilometre from the later attack. Only when the man was in custody did police issue a press release asking for other victims to come forward. Legislator Emily Lau said the police had been wrong not to warn the public at the time of the assaults. "If there is somebody like that lurking around, the public should know," she said. "It is really reprehensible of the police not to inform the public and I definitely condemn them." Lau plans to initiate a Legco debate on press freedom on November 23, when she will mention the police practice of not informing the media and the public in such cases. She said the issue was also due to be discussed by the Legislative Council's security panel on November 25. Law Yuk-kai, director of Hong Kong Human Rights Monitor, said the police had shown "a totally misplaced priority". "It means they are using women as prey, and that is irresponsible," Law said. "To bring someone to justice is one police priority, but preventing [more] people falling prey is even more important and that is why it is important for police to release information." Law said he hoped to meet police to offer help on updating what he called was the "obsolete and outdated practices" on the release of information. "The police really need to revise their guidelines and draft them with public consultation or else they will not address the people's security needs and the need of the public and the media to know," he said. "The police cannot be stationed on every corner to take care of everyone. People have to fend for themselves and information is power. It is wrong to say law and order is only a matter for the police. It is important they release this information as soon as possible. In withholding information, they are doing the public a disservice." Hong Kong Police would not comment on the case but said certain factors - the public's right to know and operational strategies such as covert operations, and privacy of individuals - were considered before information was released in some cases, including rape or kidnapping. "Nevertheless, the police will release related information to the public according to the special requirement of particular cases. When disseminating information, the police will take into consideration the public's right to know and comply strictly with the relevant ordinances and the requirements of the Code on Access to Information."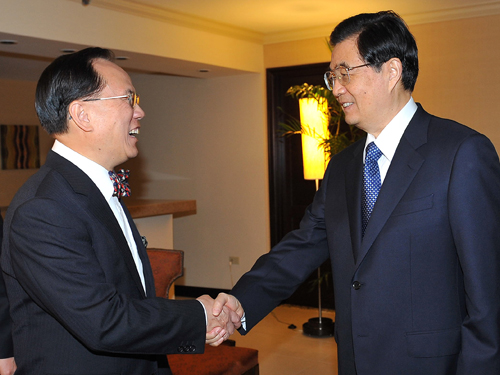 The chief executive greets President Hu Jintao in Hawaii, where they discussed the economy. President Hu Jintao told Chief Executive Donald Tsang Yam-kuen yesterday that the government should be well prepared for the impacts of global economic uncertainties and severe inflation. Hu called on the Hong Kong government to shield the economy from any fallout and ensure the city's long-term stability and prosperity (SEHK: 0803). James Sung Lap-kung, a political scientist at City University, said Hu's remarks suggested Tsang should pay more attention to people's rising grievances about the government, as the economy might take a hit just as elections were held for the chief executive and Legislative Council next year. Hu met Tsang yesterday in a closed-door discussion in Honolulu, Hawaii, where they are attending the Asia-Pacific Economic Co-operation (Apec) forum leaders' summit. Speaking afterwards, Tsang quoted Hu as saying Hong Kong would face risks to its economy from at home and abroad. "President Hu suggested the Hong Kong government assess the situation comprehensively and be prepared," he said. Hu pointed to the growing threat of Europe's sovereign debt crisis, fluctuations in the world's financial markets and doubts about global economic recovery, Tsang said. He also quoted the president as saying Hong Kong would face intense inflationary pressure but expressing confidence in the city's steady economic growth, low unemployment and social stability. Tsang said the government would take measures at an appropriate time to support small and medium-sized enterprises and to look after people's livelihoods. Xinhua quoted Hu as saying the central government had consistently supported the city's economic prosperity and stability. Government figures released on Friday showed the city's economy grew 0.1 per cent in the third quarter from the previous three months. Tsang has said economic growth could shrink to as little as 2 per cent year on year in 2012. The government forecasts 5 per cent growth this year. Inflation rose by 6. 1 per cent year on year in the quarter, up from 5 per cent in the second quarter. He expressed pessimism about the prospects for the global economy during a discussion session at the forum, predicting rougher times in the coming 12 months and a longer turnaround than after the Asian financial crisis in 1997-98. At the beginning of the discussion, Hu congratulated the Hong Kong government for "successful" district council elections - which saw Beijing loyalist parties including the Democratic Alliance for the Betterment and Progress of Hong Kong and the Federation of Trade Unions triumph in many races. Tsang said Hu's comment did not refer to the "outcome of the election at all. It's quite clear that President Hu was referring to the high turnout in the district council elections." A record 1.2 million people, or 41.4 per cent of the 2.9 million eligible voters, cast their votes last Sunday. Tsang said he did not discuss the election of the next chief executive with Hu. However, he reiterated that he would ensure the smooth transition of government next year in terms of "policy implementation, economic performance, political stability and people's livelihood", even though the city might face bad economic times.

China*: Nov 15 2011 Share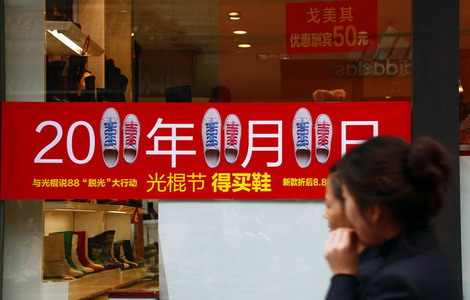 Pedenstrians pass by a shoe store in Jilin, Jilin province, Nov 11, 2011. The ad reads "Buy shoes on Signles' Day". Online retailers registered a sales surge on Nov 11, as a result of "Singles' Day", and experts said wider recognition of the event is likely to support the growth of online sales. Taobao Mall, one of the largest online trading stores controlled by Alibaba Group Holding Ltd, said it had recorded some 1.15 billion yuan ($176 million) in sales revenue by 11:11 am on Nov 11 after more than 11 hours of trading. To put that into context, the sales revenue generated by Taobao Mall on Nov 11 2010 was 936 million yuan. Taobao Mall revealed that some 3.42 million consumers flooded onto its online stores at midnight on Nov 10 and the sales revenue had reached some 100 million yuan by just 12:08 pm. "Singles' Day is not a traditional Chinese festival, so it is mainly celebrated by young people. The online shopping model is widely accepted by the younger generation, and some of them have good purchasing power. As a result, when online stores mount promotions for Singles' Day, there will be a big surge in sales," said Wang Ningyuan, an analyst from CIC Industry Research Center. "Unlike the Spring Festival and National Day vacations that last several days, the Singles' Day one-day promotion will tend to help people make decisions quickly, it will better support the sales growth." Eyeing tremendous business opportunities, online store operators had long been prepared for big sales and advertised intensively from early November. Some stores said discounts of up to 50 percent would be offered. Meanwhile, some popular stores increased inventory volumes to guarantee supply. "We have uploaded products worth 60 million yuan to the system to ensure consumers can get what they want," said Hong Yan, an online store manager at the Mark Fairwhale brand on Taobao Mall. Hong said her team operated at full capacity from midnight and had recorded sales revenue of around 8 million yuan by 2 pm. She said the revenue target for the day was 20 million yuan. Singles' Day, or Guanggun Festival in Chinese, was first celebrated in 1993 by four students in Nanjing, Jiangsu province. The event falls on Nov 11 each year when unattached individuals are invited to join the celebrations. The date was chosen because it is dominated by the number 1, which can be used to represent a person's single status. Many involved realized that Nov 11 2011 will be the century's biggest Singles' Day, because the year also contains two number 1s, a fact that provoked wider celebrations. "It is a situation that will not happen again for one hundred years, so I want to do or buy something special to commemorate the day," said Shanghai resident Zhao Ping.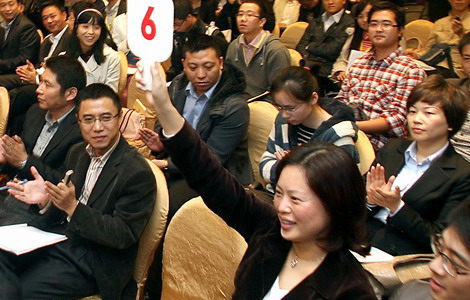 Yang Weihua, general manager of Ningbo Gaobao Investment, makes the winning bid for the right to lease Dayangyu Island, which lies off the coast of Ningbo, Zhejiang province. Da-yangyu, the first island ever to be put up for auction in China, sold for 20 million yuan ($3.15 million) on Friday. Ningbo Gaobao Investment, which deals in real estate and tourism development, won a three-way bidding war for the right to use the land for 50 years and build a luxury resort. "I think 20 million yuan is a reasonable price," said Yang Weihua, general manager of Ningbo Gaobao. "It has rich natural resources, especially in vegetation and seafood, and it's a great spot for sailing on the big, blue sea." She said her company will invest about 500 million yuan into the project, but declined to reveal more details. Dayangyu Island, which lies off the coast of Ningbo in Zhejiang province, covers 258,000 square meters - the size of 36 soccer fields - and was once an orchard and hunting site. It is among the first batch of 176 uninhabited islands made available to domestic and foreign developers by the State Oceanic Administration. "Located between urban areas and scenic attractions, Dayangyu is one of the islands with relatively good resources," said Jin Tengyong at the Xiangshan county ocean and fisheries bureau, explaining the 15-million-yuan reserve price at auction. "It's just 300 meters off the mainland, meaning the island is more suitable for reclamation if you take into account the cost of infrastructure, such as fresh water, electricity and roads." Authorities running the auction invited only companies with registered capital of more than 50 million to take part. The losing bidders were Xiangshan Tourism Group and Xiangshan Movie Development. "Setting the bottom line high is beneficial for the island's future," said Jin, who added that the local government will not cover the cost of infrastructure. As this was the first auction of an island in China, the event was nerve-wracking for both officials and experts at Huacheng Auction House, which organized the sale. "It was a trial for all of us," said the auctioneer, Li Lianmei. "The authorities were worried they couldn't do the auction professionally and there was concern we wouldn't even be able to find three potential buyers in advance. "In the end, we just carried it out as we do all land use sales," she added. According to the country's Island Protection Law, which took effect in March 2010, individuals and companies can only use the islands for up to 50 years after obtaining approval from local governments and ecologists. Getting that permission, however, does not mean developers have the freedom to do whatever they want. "I received a phone call from an interested party one day who was asking about turning an island into a industrial base," said Jin. "I turned him down immediately." Zhejiang has about 2,900 islands, each with an area of 500 to 1,000 square meters. More than 90 percent are uninhabited. Although the State Oceanic Administration's decision to open Chinese islands to developers stoked excitement, few local governments have so far been able to seal deals. "We've had 10 islands on the market since April, but not a single one has been leased out," said Ni Dingkang, an ocean and fisheries official in Zhoushan, the only prefecture-level city in China made up entirely of islands. "The reason is mainly due to the high rent and poor condition of these islands."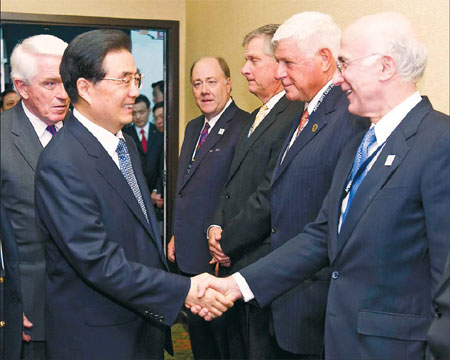 President Hu warns against protectionism to deal with economic woes - China's booming consumption and investment demand in the coming five years will generate a huge market for US companies, President Hu Jintao said on Thursday. "China's imports in the coming five years may total $8 trillion and our retail market could expand to $5 trillion by 2015," Hu said. "This will provide a huge market for the United States, which is aiming to revitalize its manufacturing industry and double its exports." But he warned that politicizing trade frictions and resorting to protectionism should not be the way to address trade disputes between the world's two largest economies. The two countries should consult equally and handle their trade disputes properly in line with World Trade Organization rules, Hu said. He made the remarks during a meeting with US business leaders on Thursday, ahead of his meeting with US counterpart Barack Obama scheduled for Saturday, local time, in Honolulu. The US could help resolve its trade deficit and unemployment problem by loosening restrictions on exporting its high-tech products, Hu told the US business leaders. They also discussed the expansion of Chinese investment in the US to increase local jobs. Hu urged the US to take more concrete actions to help Chinese firms invest in the US. US business leaders said that China-US trade ties may be the most important bilateral economic relationship of the century. "We are committed to expanding it and growing it, in a manner that benefits both sides," said Thomas Donohue, president and CEO of the US Chamber of Commerce. The two countries are each other's second-largest trade partners, with bilateral trade volume rising to $385 billion in 2010. Hu also reaffirmed China's commitment to protecting intellectual property rights, saying China will enhance its law enforcement in that area. Hu arrived in Honolulu with other Asia-Pacific leaders to attend the Asia-Pacific Economic Cooperation Leaders' Meeting. Analysts called on China and the US to join hands to help keep alive the flickering hopes of a continued global economic recovery while the European Union is struggling to avoid sliding into the abyss of the debt crisis. "The 2008 crisis has brought home that the fiscal and monetary measures of the US, China and Europe are interconnected, and coordination is very important and urgent to ensure global economic recovery," Gustaaf Geeraerts, director of Brussels Institute of Contemporary China Studies, said at a forum in Beijing. But analysts have warned that protectionism, which is often more prevalent during times of crisis, could hurt China-US economic relations, which are ever more important as Europe is trapped in a debt crisis. In the latest trade measures against China, the US is investigating Chinese solar photovoltaic companies for alleged government subsidies. "China will face a tougher global trade climate in the years to come, because of the ups and downs in the US and Europe," Zhong Shan, vice-minister of commerce, said in a prepared text of his speech for the forum. China has received the most anti-dumping investigations for 16 consecutive years, and also tops the most investigated countries for anti-subsidy cases, Zhong said. He urged countries with trade deficits with China to ease their restrictions on exports to balance bilateral trade, rather than just resort to blocking imports. The world is suffering from more trade protectionist measures, said Gordon Orr, Asia chairman of McKinsey & Company. The Ministry of Commerce also said in a trade report released on Friday that there could be more trade protectionist measures against China next year due to domestic elections and continued economic woes in developed countries. China is making efforts to solve its economic problems, which helps promote global economic stability and rebalancing, analysts said. Official figures show that China's new yuan lending was 586.8 billion yuan ($92.5 billion) in October, the highest since June, which analysts said is a result of monetary loosening to slightly boost liquidity to stabilize the world's second-largest economy. Meanwhile, it has successfully driven down the ratio of trade surplus to GDP to slightly less than 3 percent this year from more than 10 percent in 2007. Its imports surged in October as exports grew at their slowest rate in five months, suggesting efforts to tilt the economy toward domestic demand are paying off.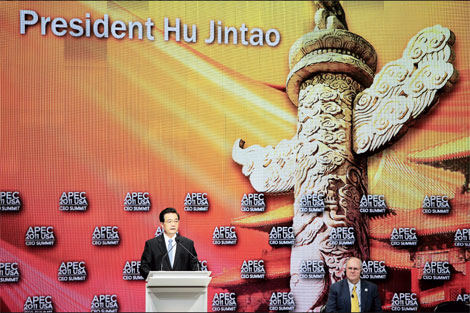 President Hu Jintao gives a speech as Craig Mundie, Microsoft's chief research and strategy officer, looks on at the CEO Summit during the Asia-Pacific Economic Cooperation summit in Honolulu on Saturday. President Hu Jintao has called for emerging markets and developing countries to have a greater say in global economic governance. Addressing top executives at the Asia-Pacific Economic Cooperation forum CEO summit in Honolulu on Saturday, he said changes are taking place in global economic governance, but they are not keeping up with changes in global economics. Emerging markets and developing countries are carrying greater weight and are playing a bigger role in global economic governance, Hu said. "New mechanisms for global economic governance should reflect changes on the world stage," Hu said. "They should observe the principle of mutual respect and collective decision-making and increase the representation and voice of emerging markets and developing countries." Hu arrived in Hawaii on Thursday to attend the 19th leaders meeting of the APEC group. He was also expected to address the leaders' meeting on Sunday. The way the global economy is run has been increasingly questioned in recent months as the eurozone has grappled with its debt problems and the world has struggled to recover from the economic crisis. Many countries have called for structural reform, and the issue has been high on the agenda of organizations such as the United Nations, the Group of 20 and APEC. Nassir Abdulaziz Al-Nasser, President of the UN General Assembly, said on Friday that one of the assembly's priorities during the current session is to strengthen the UN system for global governance through creative and adaptive structural changes. "Serious concerns relating to food security and the global financial and economic crisis have exposed how fragile and fragmented global economic governance has become," he said. Addressing the APEC CEO summit, Hu also called for an increase in regional economic integration through trade. China supports efforts to build an Asia-Pacific free-trade area based on the East Asia Free Trade Area, the Comprehensive Economic Partnership for East Asia and the Trans-Pacific Strategic Economic Partnership Agreement, he said. "The regional multilateral trading regime has played an important role in countering the international financial crisis and opposing protectionism." Hu, calling on all countries to make rules on multilateral trade balanced and inclusive and benefiting everyone, said China will move faster on the idea of establishing free trade areas, and will strengthen business ties with major trading partners. It will also deepen practical cooperation with other emerging markets and developing countries, he said. "We should vigorously promote regional and sub-regional economic cooperation and the establishment of free trade areas." While focusing on China's plans in developing a regional economy, Hu stressed that China will "open wider to the outside world and take an active party in global economic governance and regional cooperation". He also said China will give equal weight to imports and exports and to in-bound and out-bound investment, and focus more on encouraging Chinese business investment overseas.

Hong Kong*: Nov 14 2011 Share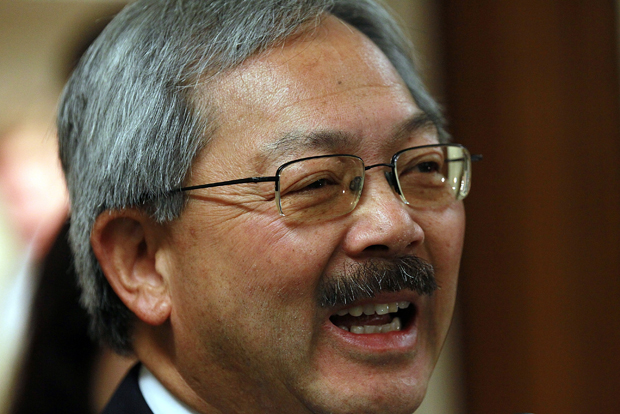 Hong Kong lessons pay off with San Francisco first - A man born in the United States but who studied Chinese in Hong Kong yesterday became the 43rd mayor of San Francisco. Ed Lee, 59, becomes the first elected mayor of Chinese descent in a city steeped in Sino-American history. Lee, a bureaucrat and political novice when he was appointed acting mayor in January, finished with 61 percent of the vote. Lee was born in Seattle, Washington, after his parents emigrated to the United States from Guangdong in the 1930s. His father, Lee Gok-suey, worked as a cook managing a restaurant in Seattle and his mother was a seamstress and waitress. His father died when he was 15. Lee, who has five siblings, graduated from Bowdoin College in Maine in 1974 and from the University of California, Berkeley Law School in 1978. He married his wife Anita in 1980 and has two daughters. Lee was appointed mayor after former mayor Gavin Newsom won election last November as California's lieutenant governor. He was San Francisco's city administrator at the time of his appointment and had the support of prominent city political figures in the mayoral race, which he officially entered in August. Lee, who faced off against 15 other candidates in the race, counted an agreement with the city's unions on a pension reform measure as the signature achievement of his 10 months in office and voters endorsed it over a competing measure. When asked in a recent radio interview to name a song that had influenced him, Lee had no hesitation is nominating Let's Stay Together. "People are depending on not just the mayor, but the Board of Supervisors working together with the mayor, which is why I like my song, Let's Stay Together, because we have a lot more to accomplish," he said.
The discount investors enjoy by buying yuan in Hong Kong is disappearing as the mainland's shift toward pro-growth policies spurs demand for "dim sum" bonds. The discount fell to 0.2 per cent yesterday from a record 1.9 per cent on September 23, according to data compiled by Bloomberg. The currency strengthened 0.5 per cent this month in offshore trading after a 1.6 per cent jump in October that was the biggest advance in a year. Yuan-denominated, or dim sum, debt sold in Hong Kong rose in each of the past four weeks, the longest winning streak since May, according to the Deutsche Bank Offshore Renminbi Bond Index. "As the China bears fade away, offshore yuan will soon return to a premium versus the onshore rate," said Nathan Chow, an economist at DBS Bank (Hong Kong), a unit of Singapore's biggest lender. "China's economy is fundamentally strong. Demand for yuan continues to outstrip supply in the offshore market." Premier Wen Jiabao said last month that policies will be "fine- tuned" to protect Asia's biggest economy against global turmoil, spurring speculation two years of monetary tightening will start to be unwound. The government has since announced tax cuts for companies as well as increased credit for smaller businesses, while the central bank lowered its one-year bill yield for the first time since 2008 and injected 163 billion yuan (HK$200 billion) of funds into the financial system, while inflation appears to be slowing. "With inflation easing lately, they have some room to use monetary policy to help the economy," said Hitoshi Ueda a senior fund manager with Sumitomo Mitsui Asset Management in Tokyo. "That is supportive of growth and will lead to a stable speed of yuan appreciation. We aim to benefit from that strengthening." The yuan gained 0.23 per cent to 6.3550 per US dollar yesterday in morning Hong Kong trade, while the exchange rate in Shanghai rose 0.05 per cent to 6.3428, according to data compiled by Bloomberg. The onshore rate has gained 0.19 per cent this month after climbing 0.5 per cent in October. Analysts surveyed by Bloomberg expect the currency to climb 4.3 per cent to 6.08 per dollar in Shanghai by the end of next year. The average yield on dim sum bonds fell to 3.68 per cent on Thursday from a record 3.95 per cent on October 7. The rally in the securities may slow as Europe's debt crisis hurts exports, deterring policymakers from allowing yuan gains, said Frances Cheung, a senior strategist at Credit Agricole CIB in Hong Kong. Overseas sales rose 15.9 per cent in October from a year earlier, the least since February, trade data showed. "Dim sum bonds' performance depends on investors' expectations of yuan appreciation and as you can see the China exports numbers weren't too great," Cheung said. "Although China will still have relatively better growth, it can't stand alone in this global storm."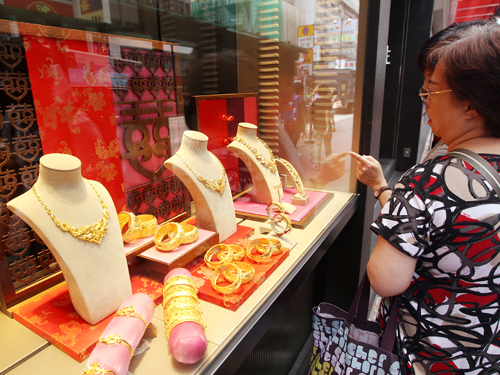 Billionaire Cheng Yu-tung's Chow Tai Fook Group may gauge investor demand next week for a US$4 billion initial public offering of its jewellery unit, two people with knowledge of the matter said. The Hong Kong Exchanges and Clearing (SEHK: 0388, announcements, news) stock exchange approved the listing plan on Thursday and the luxury retailer aims to list next month, the people said. Chow Tai Fook has not decided whether it will sell a 10 per cent or 15 per cent stake in the unit, one of the people said. The larger stake may raise as much as US$4 billion, the person said. The sale targets almost double the amount raised by Milan-based Prada in the biggest IPO this year in Hong Kong, where surging disposable income in China has helped drive monthly retail sales to a record. The jewellery unit may be valued as high as seven times annual revenue, double what LVMH Moet Hennessy Louis Vuitton paid to buy out Bulgari last month, and triple Tiffany's market capitalisation. "I doubt if investors are willing to pay them a high premium over rivals," said Patrick Yiu, managing director at CASH Asset Management. Chow Tai Fook Group has more than 1,300 stores in Asia and plans to increase the number to 2,000 by 2016, according to the Hong Kong-based company's website. The jewellery chain has annual revenue of more than HK$30 billion. Calls to Chow Tai Fook's Hong Kong office and to its public relations representative, Brunswick Group went unanswered. A US$4 billion dollar sale would value the jewellery unit at about US$26.7 billion, compared with US$9.56 billion for Tiffany, according to Bloomberg data. At that price, investors would be paying about 6.8 times revenue, compared with the 3.5 times LMVH paid for Bulgari and the 2.8 times market price to sales ratio for Tiffany, according to Bloomberg data. Prada, the maker of Miu Miu bags and Church's shoes, raised US$2.5 billion in a Hong Kong IPO in June. Coach, the largest US luxury leather-goods maker, aims to list in Hong Kong later this month and Graff Diamonds, a London-based retailer of the gems, is also planning an initial public offering, according to people with knowledge of their plans. "Retail growth has been very strong and the company's profitability looks bright," said Yiu of Cash Asset. "There's always a strong appetite for luxurious products in China." Hong Kong shopping sprees by mainland tourists have fuelled sales of shoes, clothes and jewellery and driven monthly retail sales to record highs this year and prompted global retailers to accelerate expansion. The growth has prompted retailers to go ahead with share sales despite the prospect of economic growth slowing on the mainland and concern about Europe's debt crisis that have helped drag the benchmark Hang Seng index down 17 per cent this year. "Chow Tai Fook should receive strong demand despite the market volatility," Steven Leung, a sales director at UOB Kay Hian said. "We have not come across a sizable IPO for quite a long time, there is abundant liquidity in the market, especially among long-term funds, and they could quickly snap it up." Deutsche Bank, Goldman Sachs, HSBC and JPMorgan Chase are managing the IPO for Chow Tai Fook as global co-ordinators, the people with knowledge of the matter said
Shoppers will be able to buy the new iPhone 4S from Hong Kong's Apple store only by appointment after huge demand caused crowd control problems in the IFC Mall. The announcement was made at noon yesterday after 1,000 people queued to buy 5,000 phones, with many selling on their purchases to dealers for a fat profit. The store received complaints about crowd management on Wednesday that led to the introduction of barriers. About 40 police officers were drafted in on Thursday to ensure order and 10 reinforcements arrived later from the police tactical unit. The store has now introduced an iReserve system, under which customers can seek an online appointment and - if successful - pick up their phones the next day. It means customers can no longer buy the iPhone 4S simply by walking into the store. It also helps to stamp out the reselling of newly released products at inflated prices. Mike Groves, who is in charge of risk management for Apple, said the new arrangement was the only way the 4S would be available from the Apple store until further announcement. "There will be no more lines," he said. Apple did not disclose the numbers of appointments and phones that will be available each day. The appointment and pick-up system is available at all Apple shops for all products, but the iPhone 4S is the only product that is solely available through iReserve. The biggest losers are likely to be dealers who buy large numbers of the phones from people in the queues. One dealer bought more than 100 phones by paying HK$2,000 to HK$4,000 to professional queuers. He said he would sell some to a store in Mong Kok and take the rest to sell on the mainland, where the phone will not be released until next month. He was not concerned about iReserve, as he was certain of turning a profit from mainland customers who will gladly pay the inflated price before the launch there. The shop he sold to was selling the iPhone 4S for HK$6,450 for a 16GB model - HK$1,362 more than the original price of HK$5,088. Shopowners were generally offering HK$6,300 to HK$6,700 to buy the 16GB version. One man who bought an iPhone 4S yesterday said the buyers he encountered were offering HK$6,300. He said that figure was too low and he had decided not to sell. Of the iReserve scheme, he said: "I think it's good for consumers that Apple is doing this. I always thought they were toying with regular customers by making it really difficult for us to get hold of a phone. And it's not like Apple is earning anything from all this reselling business." Wing Liu, an Apple fan who bought a 16GB phone from a reseller for HK$6,100, said: "Yes, Apple say they will take online appointments. But honestly, how many people will manage to get one? "The website might crash. I honestly think it will be very difficult to get an appointment." One customer to lose out was Hussain, from India, who queued for three days only to lose his place when he went to the store's exit to collect money from a reseller to pay for five phones. He was treated as having left the store and was prevented from re-entering by the security guard. "I am just a poor man and I just want to make a bit of money," he said to the guard.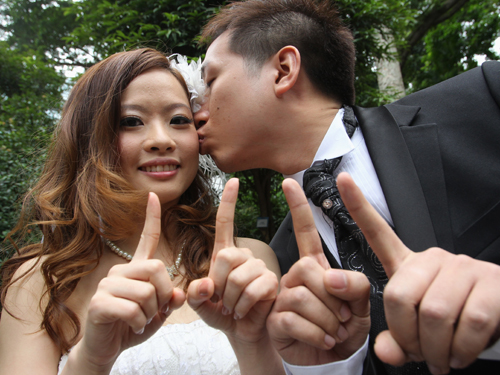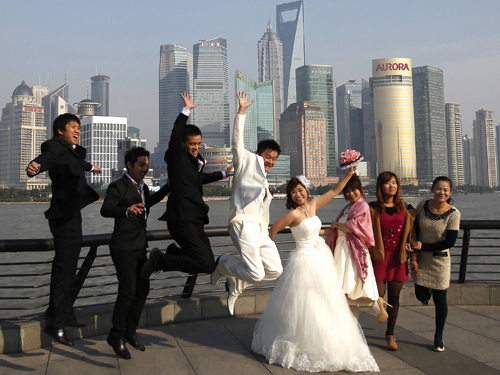 Pui Wai-loi and Stephen Ma Kit-ting tie the knot at the Marriage Registry in Admiralty – just two of the thousands of Asians who chose to get married on the 11th day of the 11th month of 2011– believing the quirk of the calendar makes it the most auspicious date in a century. November 11 is traditionally seen in China as a good day to marry, and in Shanghai nearly 5,000 couples wed. A newly married couple pose with friends in Shanghai. Some say it's for luck. Others choose the date because it's easy to remember. Whatever the reason, sweetness filled the city yesterday as a record number of couples tied the knot on the date with six ones. Pui Wai-loi and Stephenie Ma Kit-ting were among the 1,017 pairs who got married yesterday for its implication of "one life, one love". They added two more 1s to their wedding, as they became husband and wife at 11am at the marriage registry in Cotton Tree Drive, Admiralty. The couple, both 27, were the first to apply through the government's online booking system three months ago. "She's always my No 1," Pui, an IT professional, said, but he downplayed the significance of 11.11.11. "The meaning of this date is only imposed by others and is not important. The essential thing is this love and promise will never be changed." Jodie Fook Siu-chu, who married Joe Cheung Chi-hang, said she had not thought too much about the meaning of the date when they planned their wedding. "We just gave it a try, and in the end succeeded," she said. Cheung, who celebrates his birthday today, said he hoped their friends and family would remember their marriage on the special day. "I hope it will bring luck to our new family," he said. Couples who missed out yesterday and still want to pick an auspicious date could opt for December 12 next year. But they will have to get planning soon. Wedding planner Vicky Chan, of Theme Wedding Design, said bookings for next December were almost full. "Usually couples start planning their weddings six to nine months ahead of the actual day, but next December is abnormally full," she said. The previous date with the most couples tying the knot was on October 10 last year.
Britain's elite colleges look East for funds - As top universities grapple with reduced funding amid drastic cuts to public spending, more Hong Kong philanthropists are willing to step in - Some of England's most prestigious universities, strapped for cash after deep cuts in government subsidies, are to step up fund-raising drives in Hong Kong and the mainland. While Oxford, Cambridge and the London School of Economics say government grants will still make up the bulk of their income, these elite institutes are increasingly looking eastward to diversify funding. And the amount donated by Hong Kong philanthropists is expected to rise this year, with new scholarships and projects to be announced. "Oxford University has put an increasing emphasis on our relationship with China and Hong Kong," a spokesman for the English-speaking world's oldest university said. "We are looking more to philanthropy." Last year Hong Kong businessmen donated at least £2 million (HK$24.77 million) to the top three English universities: Oxford, Cambridge and the LSE. This is expected to increase this year and next. (On top of that, Li Ka-shing donated £5 million to Oxford for an infectious diseases research program in Asia.) The LSE said donations from Hong Kong had surged in recent years - from just £19,000 in 2007 to £45,000 in 2009 and more than £775,000 in the last academic year. "At a time when the UK government has sharply reduced funding of higher education, we, like all universities, increasingly have to look to alternative sources of funding," an LSE spokesman said. Britain's coalition government has drastically cut public spending to reduce a record deficit. In England, university tuition fees have tripled, triggering riots and protests. All but one of England's 130 universities will get less money from the government after adjusting for inflation. Oxford's funding will be cut by 1 per cent in real terms and government grants to Cambridge will drop 3 per cent. But many Hong Kong tycoons are willing to support these prestigious institutes. Dickson Poon, whose companies include Harvey Nichols, donated £1 million last October to St Hugh's College, Oxford, for the creation of a China Centre. Construction of the 6,600 square metre building, to bear Poon's name, starts next year. "We owe a debt of gratitude to Mr Poon and the other donors who are making the China Centre possible, despite the financial climate," said Professor Andrew Hamilton, the university's vice chancellor. Former Sun Hung Kai Properties (SEHK: 0016) chairman Walter Kwok Ping-sheung also donated to Oxford. Two weeks ago, the Walter Kwok Foundation pledged £100,000 to set up a scholarship for Hong Kong students to study politics at Oxford. The billionaire said he was thinking of offering more scholarships in the future - such as sponsoring a joint undergraduate degree programme between Oxford and the University of Hong Kong. "The reason why I chose to partner with UK universities is because Hong Kong inherited its entire legal system from Britain," Kwok said. He also donated to Cambridge and Imperial College London.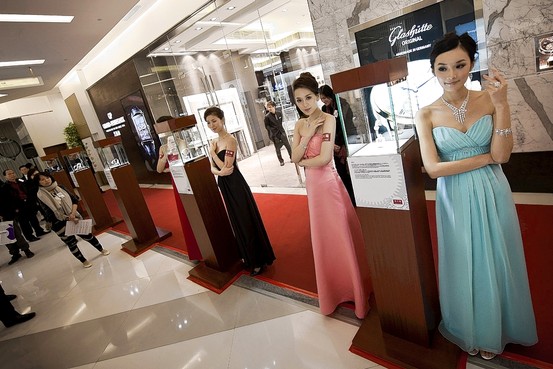 The world's largest jeweler is launching one of the biggest IPOs of the year, hoping to capitalize on impressive growth rates and an obsession among many Chinese for gold and diamonds. The jeweler, more than 50% bigger than Tiffany & Co. by revenue and slightly bigger than the jewelry businesses of luxury goods maker Cie. Financiere Richemont SA, plans to raise up to $3.5 billion in a stock offering in Hong Kong, people familiar with the matter said. The big selling points to investors are an Internet-like 60% annual growth rate, more than 1,500 outlets in Asia, nearly all in China, and one of the best-known brands in the region. The name? Chow Tai Fook. The 80-year-old Hong Kong company, owned by one of the city's richest families, may be the biggest brand almost completely unheard of in the West. "They are the dominant jewelry player in China," said Aaron Fischer, a retail analyst at brokerage firm CLSA. "It would surprise people in the West just how big they are. They're one of the biggest luxury names in China." The brand is impossible to miss in Asia. Chow Tai Fook stores line the main shopping streets of China's major cities, with 50 stores in Hong Kong alone, some facing each other on opposite sides of the same street. Its ads are plastered on taxis, buses and billboards. But it's the chain's presence in smaller Chinese cities that sets it apart from its Western rivals such as Tiffany's, which has 16 stores in China. The stores themselves are heavy in gold, which accounts for more than half of Chow Tai Fook's sales. The chain pioneered the sale of nearly pure 24-carat gold, now the standard demanded by most Chinese buyers. There are other Asian touches. Customers looking in the showcases are offered tea or water by eager salespeople clad in identical black pantsuits. While prices of gold items are pegged to the market price, if the browsers find a diamond ring or jade necklace they like, the bargaining begins. The salesperson whips out a calculator and furiously punches in a lower price, with customers free to make counteroffers in a scene that would make a salesperson at Tiffany's gasp. Chow Tai Fook ranks among China's most sought-after brands. A study by CLSA of the most-searched brands on Baidu, China's largest Internet search engine, placed Chow Tai Fook fifth, just below Louis Vuitton, Chanel, Gucci and Coach and ahead of like Prada, Cartier, Tiffany and Rolex. Chow Tai Fook, traces its history to Macau, the former Portuguese colony turned gambling mecca, where jeweler and gold trader Chow Chi Yuen gave it a name that roughly translates as good fortune. The company's now 86-year-old chairman, Cheng Yu-tung, married Mr. Chow's daughter and moved to Hong Kong to expand the family business. Mr. Cheng's son, Henry Cheng, currently presides over a multibillion-dollar real-estate, retail and transportation empire known as New World Development Ltd. The family's third generation is also involved in the business, including Sonia and Adrian Cheng. Both are Harvard alumni and Adrian is a former Goldman Sachs banker who is spearheading the jeweler's push into high-end diamonds and other gems so they are less dependent on lower-margin gold sales. The generational shift is one reason for the IPO, in which the family will sell between 10.5% and 13% of its stake. Chow Tai Fook's size and rapid growth are the big draw for investors. People familiar with the matter say sales were $4.5 billion in the last fiscal year, which ended in March, up 53% from the year before, while profits were $464 million, up 64%. In the current fiscal year, sales are expected to rise 71% to $7.7 billion and profits up 80% to $835 million. That growth is expected to slow slightly the next year. The next-largest pure-play jewelers are Tiffany, with sales of $3.09 billion in its last fiscal year, which ended in January, and Signet Jewelers, owner of Kay Jewelers in the U.S. and H. Samuel in the U.K., with revenue of $3.4 billion last year. Signet has 1,857 outlets, more than Chow Tai Fook. The jewelry companies owned by Richemont, including Cartier and Van Cleef & Arpels, had sales last year of $4.73 billion, and have grown 34% so far this year, putting Chow Tai Fook slightly ahead. Investors are expected to pay up for that growth. People familiar with the matter say they hope the shares will sell for more than 20 times earnings per share in 2013, which assumes two years of 60%-plus growth. It's the same method used to make expensive but fast-growing Internet stocks appear cheap. Chow Tai Fook's IPO comes during a drought in what had been a vibrant Hong Kong IPO market. The family decided to go ahead with the IPO in a meeting Friday morning, a day after the Hong Kong market fell 5%, in part on worries about turmoil in Europe. Given the market's continued volatility, Chow Tai Fook plans to set its IPO price at between 18 and 25 times forecast 2013 fiscal earnings, rather than the more than 30 times valuation it previously planned, implying an IPO size of $2.5 billion to $3.5 billion, down from $3 billion to $4 billion, a person familiar with the situation said. If successful, the IPO would be the fifth biggest in the world this year. One item in its favor is stocks of companies that benefit from the growth in Chinese consumer spending, including two smaller Hong Kong jewelers, have done well this year.

China*: Nov 14 2011 Share
Foreign Minister Yang Jiechi and Commerce Minister Chen Deming attended the 23rd Asia-Pacific Economic Cooperation (APEC) ministerial meeting here Friday to explain China's positions and proposals on issues concerning Asia-Pacific cooperation. Yang said at the meeting that the influence of the international economic crisis still exists at a deep level. He said that the economic development of the world and the Asia-Pacific region faces severe challenges and various forms of protectionism are rearing their ugly heads again. As a result, he said, it is necessary to strengthen regional cooperation, especially concerning economy and trade. China believes that regional economic cooperation should uphold equity and tolerance, openness and fairness, sustainable development, mutual benefit and all-win, Yang said. He said that efforts should be made to promote the establishment of a multilateral trade system in a future period of time and to support the Doha Round of trade negotiations. Steps also should be taken to steadily advance the establishment of an Asia-Pacific free trade zone on the basis of the ASEAN 10+3 and ASEAN 10+6 frameworks in order to realize Asia-Pacific regional economic integration, Yang said. The foreign minister called for efforts to advance green economies and nurture new areas of economic growth, and actively create jobs and encourage innovation. Yang also emphasized the importance of APEC cooperation on reform involving the economic structure, of improving and making the mode of economic development more complete, and of transferring the ways of economic growth. He called on APEC members to implement responsible macroeconomic policies, and properly deal with sovereign debt and financial risks. Emerging market economies should actively boost domestic demand, promote their economic growth toward the direction of depending on the driving role of consumption, investment and exports, Yang said. Yang also stressed the importance of boosting cooperation among APEC members to enhance the capacity to prevent and control natural disasters in the region and to alleviate the impact of them on people's lives and property and the regional economy. The Chinese government pays great attention to disaster prevention and relief as well as disaster control, he said. China is ready to share helpful experience with other APEC members and promote cooperation on disaster prevention and relief in the Asia-Pacific region and reduce damages caused by natural disasters, Yang said. While talking about anti-corruption cooperation within APEC, Yang said APEC members should beef up political transparency on the basis of equity and mutual benefit, respecting each others' differences and focusing on effects. China is willing to further cooperation with other APEC members to advance anti-corruption efforts and help create a better commercial environment in the region, promote the competitiveness of the region and make active contributions to its economic development, Yang said. Meanwhile, Chen said it is an established tradition of APEC to support a multilateral trading system and oppose protectionism. All members of the World Trade Organization, including the APEC economies, should show confidence in the multilateral trading system and send positive signals for global economic stability and development, the commerce minister said. The Doha Round of trade negotiations should adhere to the aim of the Doha Round and not deviate from its development goals, Chen said. He said the WTO should always abide by the authorization of Doha Round, and not give up its negotiation achievements of the past 10 years. WTO members should understand and make concessions to one another, narrow their differences and finally reach agreement on the basis of consolidating the existing achievements, Chen said. WTO members should adopt a long-term perspective and make some concessions to promote the advancement of the Doha Round of trade negotiations, he added. China supports Russia's accession to the WTO and hopes the forthcoming eighth WTO Ministerial Conference could make progress, Chen said. Chen said, protectionism has revived since the Yokohama meeting in 2010, while it is relatively conspicuous that China has been subject to harm of protectionism. From January to September, China has sustained 50 trade remedy investigations, involving three billion U.S. dollars. Chen appealed to all parties to be highly alert, and to take practical actions to resist and cancel all kinds of protectionism and make less use of, prudent use of and refrain from abusing trade remedy measures to prevent politicalization of economic and trade issues. Regarding the next generation of trade and investment issues, Chen said that China generally holds an open attitude toward discussions about the next generation of trade and investment issues, but the relevant cooperation should be in respect of differences among economies and the Bogor Goals could not be played down or even replaced. Regarding liberalization of trade in environmental products and services, Chen said that China respects the non-binding nature of the APEC forum, and holds a supportive and open attitude toward liberalization of trade in environmental products and services. The member economies' different levels of economic development and technological capacities, Chen said, should be given full consideration in promoting liberalization of trade in environmental products, which not only require the contributions from developing members but also developed ones. Otherwise, it would violate the principal of "common but differentiated responsibilities," Chen said. Chen emphasized that APEC should firstly take full care of the concerns of developing countries. Secondly, efforts should be made to establish through cooperation a technological innovation system meeting the realities of all member economies, and jointly create a favorable environment for encouraging innovation. Thirdly, he said, steps should be taken to encourage technology transfer and cooperation among member economies, and cancel discriminative policies that restrict the exports of high-tech products, in order to enable all member economies to enjoy the fruits of innovation. On the sidelines of the summit, Yang exchanged views on bilateral ties and common concerns on international and regional issues with many of his foreign counterparts, including Australia's Kevin Rudd, Chile's Afredo Moreno, Mexico's Patricia Espinosa Cantellano, New Zealand's Murray Mccully and Canada's John Baird. Chen, also on the sidelines of the meeting, met with U.S. Trade Representative Ron Kirk; Thomas Donohue, president of the U.S. Chamber of Commerce; Canadian International Trade Minister Edward Fast, Indonesian Trade Minister Gita Wirijawan, Thai Deputy Prime Minister and Commerce Minister Kittirat Na Ranong and U.S. Commerce Secretary John Bryson.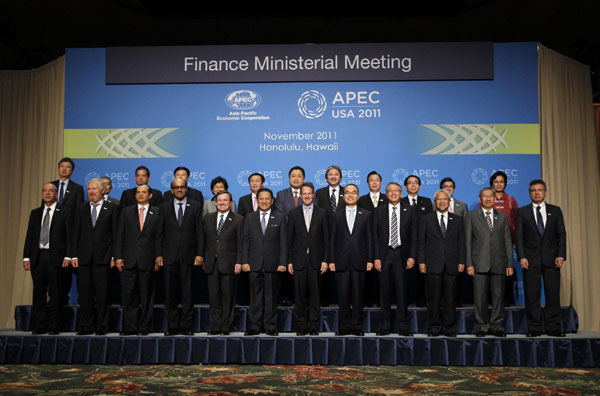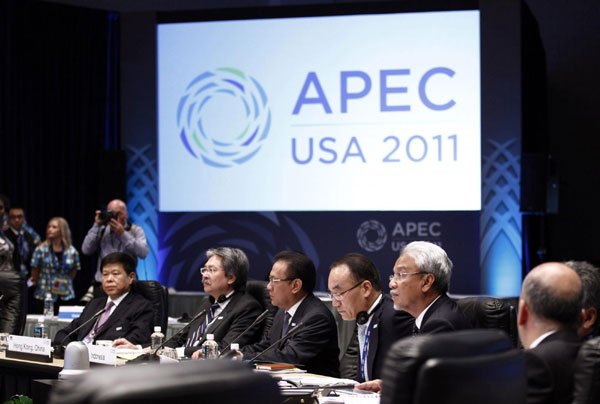 The APEC finance ministers pose for a family photo after the first of their meetings at the APEC Summit in Honolulu, Hawaii, Nov 10, 2011.
US retailers say China essential to their futures - If one were to try to snap a photograph of China, it would be difficult to capture a still shot. That is how rapidly the country is moving and changing, said an official with the National Retail Federation of the United States, the largest retail-trade association in the world. Workers in a toy factory in Ganyu county, Jiangsu province, keep themselves busy working with products that are to be exported to the United States. "Everything's growing by leaps and bounds," David French, senior vice-president for government relations at the organization, said after a four-day trip to Beijing and Guangzhou this past month. "The pace of change is so strong that it was so exciting to see it happening from the ground level. I learned more in 72 hours than in months of research about China." He took to task US Senators who accused China of holding down the value of the yuan and passed a bill that would let the United States place duties on imports from countries found to be manipulating their currencies. He said they "are thinking about the China of five to 10 years ago". He also predicted that China will become the leading market for luxury goods by 2020. Both French and Matthew Shay, president and CEO of the National Retail Federation, met with Chinese retailers, manufacturers, other businesses and US and Chinese government officials. "China is integral to the success of the US retail industry," Shay said in a press release. "High-quality, high-value merchandise produced by Chinese factories is key to US retailers' ability to supply American families with the products they need and want at prices they can afford." China is the leading supplier of imported merchandise to US retailers. Even so, wage increases in China and a recent rise in the value of the yuan have caused the country to become a more expensive source of merchandise and a more attractive market. That is why the representatives of the National Retail Federation took their trip. "We see a lot of opportunities in getting our goods in the consumer marketplace," French said. Even so, French said language, cultural and political barriers must still be broken down. What may work in the US market may fail in China and vice versa. Of the 2,500 retailers French represents, he identified one as enjoying a particularly surprising amount of success in China. "LL Bean has 66 stores in China," French said. "I'm not sure they have a dozen all across America."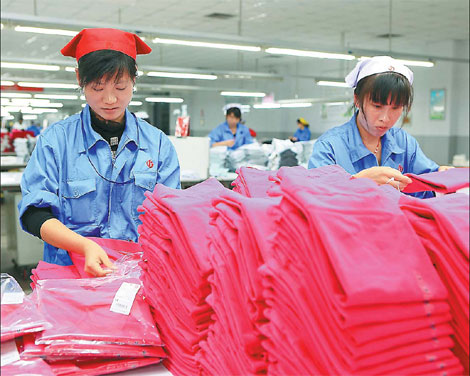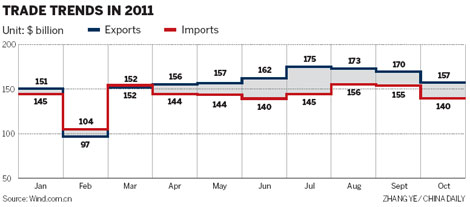 Workers make underwear for export to Japan at a factory in Qingdao on Wednesday. Exports increased 15.9 percent to $157.49 billion in October, the lowest level for five months. China's trade surplus narrowed in October as unexpectedly strong domestic demand lifted imports and weak US and European demand curbed export growth, official data released on Thursday show. Imports surged 28.7 percent year-on-year to $140.46 billion, the General Administration of Customs said on its website on Thursday. Exports increased 15.9 percent to $157.49 billion, the lowest in five months, the data show. The result was a trade surplus of $17.3 billion, down 36.5 percent year-on-year. "The nearly 29 percent import increase caught us by surprise," said Hu Yanni, a macroeconomist at China Securities Co Ltd. "The data show that domestic demand remains pretty good. Investment needs in China are better than expected," Hu said in a telephone interview. For the first 10 months, China imported 560 million tons of iron ore, up 10.9 percent, the customs statement said. Imports of machinery and electric products increased 15.6 percent to $619.9 billion, while vehicle imports were up 27.6 percent to 820,000, according to the data. "The strong import growth shows that domestic demand remains strong," Zhang Zhiwei, an analyst with Nomura Securities, said in an e-mailed report. "Robust domestic demand will help to support the soft landing of China's economy," he said. The government has more room to increase domestic demand, Hu said. Infrastructure construction in the western part of the country and investment in agriculture have the potential to further improve import demand, she said. The import surge also reflects the impact of government policies, analysts said. The government has been encouraging an increase in imports to achieve a better trade balance. It is formulating policies such as credit for importers and lower import tariffs, Premier Wen Jiabao has said. Imports will exceed $1.7 trillion in 2011 and total imports will amount to about $10 trillion over the next five years, Commerce Minister Chen Deming wrote recently. But the outlook for exports is less positive. Analysts said that the pace of export growth would keep sliding next year as Europe, China's largest foreign market, remained mired in a debt crisis, while the outlook for the US, the second-largest market, was uncertain. "Weak external demand will restrain exports," said Zhang. "Europe is China's largest market, and it has not shown any positive signs of improvement," said Hu. Shipment growth to the European Union slowed to 7.5 percent in October, compared with a 9.8 percent increase in September, customs data show. The Canton Fair, known as the barometer of China's trade, has also seen a decline in overseas orders. During the most recent session, which ended early this month, US orders were down 24 percent from last year and orders from Europe fell 19 percent, according to organizers of the event. Weakening external demand is causing hard times for small and medium-sized enterprises (SMEs) in southeast China, the country's main export hub. "This is a tough time for SMEs," said Chen Yongfang, a trade official in Guangzhou, capital of Guangdong province. "It has become pressing for these companies to transform themselves," he said. Some small companies, boxed in by a stronger yuan and rising labor costs, may have to close, according to Zhang Yujing, president of the China Chamber of Commerce for Import & Export of Machinery & Electronic Products. "This is a wake-up call for the survivors to modernize," he said. "Many small-scale businesses will die because they have been competing on low prices instead of advanced technology," said Chen Hanhui, vice-director of Tech-Long Packaging Machinery Co Ltd, China's leading packaging machinery manufacturer whose clients include Procter & Gamble Co and Coca-Cola Co. "The industry needs to invest more in technology development and human resources," he said.
According to China News, Nobel Laureate in Economics, "Father of Euro" Mundell said 12 in Hangzhou, China should work with the United States, the European share in the global rights, the yuan and the U.S. dollar, the euro should work together become the world's most important currency. He supports the RMB into Special Drawing Rights (SDR), and continuously improve the RMB in the SDR weights, and other major currencies to reach the same level. U.S. dollar, euro, yuan three currencies should become the cornerstone of a new international currency, and accordingly the establishment of a new international monetary system. But this requires a large country including the United States support. Held in Hangzhou, China Gold Summit, Mondale also support the gold into the SDR. Gold as a reserve, for early warning of inflation. Even if another 100 years, gold will remain in the monetary and financial system. The current international monetary system under the credit, financial crisis, countries often create huge unlimited liquidity to the cost of inflation and stimulate economic recovery, reducing the market's confidence in the currency. Financial market turmoil, much of the country as a strategic reserve of gold assets. In 2010, central banks over 20 consecutive years of net sellers of gold, when net purchases of gold 68 tons. In the first quarter, and net purchases of the world's central banks rose sharply to 129 tons; the second quarter, the amount of global central banks buy gold as compared with the same period in 2010, quadrupled. However, limited global gold reserves, combined with some countries oppose, Mundell believes that difficult to restore the original gold standard. GDP, compared with the global gold reserves, the supply is too small. 12, the "Father of Euro", said the issue comes to Europe, the euro is the world's second most important currency, which in the past 10 years was a success, to achieve the desired goal. Without the euro, the EU will fall apart.

Hong Kong*: Nov 13 2011 Share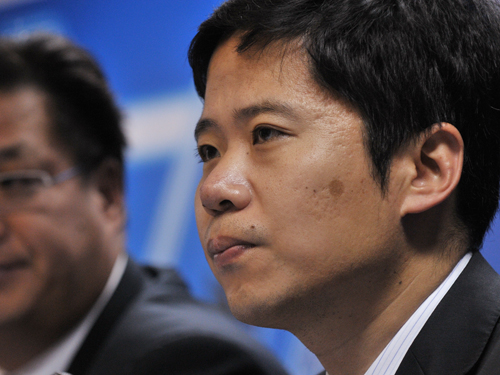 China Vehicle Components Technology Holdings, one of the mainland's leading makers of shock absorbers, is set to go ahead with its listing plans despite the doom and gloom hanging over the Hong Kong stock market. It plans to offer its shares at between HK$1.40 and HK$1.80, raising a maximum of HK$140.4 million. The Henan-based company provides parts to cars and trains at home and aboard, including FAW-Volkswagen. Expecting to net HK$92.1 million, the company plans to spend a third of the money on research and development, including building a research centre in Italy. The rest will go into expanding its production capacity and more buildings. The company has ambitious plans to triple its output from 5.1 million shock absorbers last year to 15 million units by the end of next year. Chief executive Zhao Zhijun said the research centre in Italy was a strategic move that would help boost the firms international image and its penetration into Europe and the US. He said the grim economic outlook and high unemployment rate in Italy meant it would be a good time to tap into its engineering talent pool and industrial facilities. He did not give details of the amount of capital investment or the size of the research centre, as these would "depend on the financial conditions" of the company. China Vehicle has had a colourful history in regards to corporate finance. Between 2008 and 2009, it was involved in inter-company lending involving 144 million yuan, an activity that drew penalties from authorities as the company was not licensed to make such loans. The company said it stopped the loans after 2009. Its cash flow has also been tight. According to the listing documents, it has yet to pay 160 million yuan to complete a 300 million-yuan expansion project. But it has only 53.7 million yuan on its balance sheet. The company's net liabilities in May this year were 23.3 million yuan. The company said it still had more than 200 million yuan of unused bank loans and that its annual net profit should be enough to cover costs. Last year it made a net profit of 37.5 million yuan, up almost a third from 28.4 million yuan the previous year. It saw a net profit of 38.1 million yuan in the first five months of this year, more than double the amount in the same period last year, thanks to strong growth in sales. China Vehicle will fix its offering price next Wednesday and make its trading debut the following week.
Chow Tai Fook Jewellery has obtained approval for its listing from the Hong Kong stock exchange, cutting the proposed size and valuation of the IPO because of turmoil in global markets, IFR reported on Friday, citing sources with knowledge of the plans. The company will start on Monday pre-marketing the initial public offering, which should raise about US$3 billion, said IFR, a Thomson Reuters publication. The sources could not be named as they were not authorised to speak publicly on the matter. Chow Tai Fook initially planned to sell shares at a valuation of around 30 times forecast earnings for fiscal 2013, which starts in April. Given current volatility in equity markets, the company decided to seek a valuation of about 25 times and to sell 10 per cent of its enlarged capital, down from the usual 20-25 per cent in Hong Kong IPOs, IFR reported. Chow Tai Fook declined to comment when contacted by reporters. Goldman Sachs Group, HSBC and JP Morgan are sponsors for the deal and together with Deutsche Bank will work as joint global coordinators. The Hong Kong Economic Journal reported earlier the listing approval and pre-marketing plans, but gave no further details of the offering. The jewellery retailer, controlled by New World Development tycoon Cheng Yu-tung, had planned to raise up to US$4 billion, IFR reported earlier.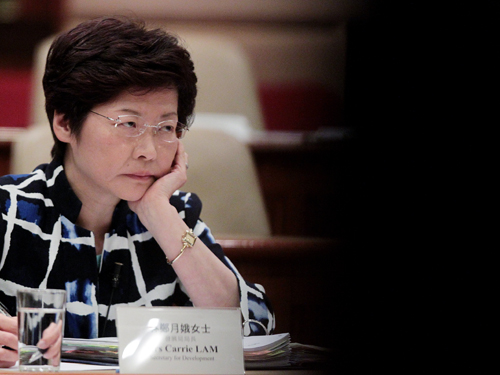 Reclamation in Hong Kong outside Victoria Harbour would be a "green" way to ease a space shortage for disposal of construction fill and should not be demonised, the development minister says. But green groups say the ocean should not be treated as a rubbish bin and the government should encourage recycling of the fill instead of dumping it. Launching a public consultation on ways to increase land supply yesterday, Carrie Lam Cheng Yuet-ngor said reclamation in waters other than the much-shrunken harbour was not only a way to create more land, but also would help solve the mounting fill problem. "We have been sending surplus fill to Taishan , [Guangdong,] 170 kilometres away," the secretary for development said, adding that fill always had to be processed somewhere in the world. "Our environmentalist friends say we, as members of the global village, should take our own responsibilities. It does not seem justified to ask others to deal with our fill." Most fill - stone and mud sorted from construction waste - comes from infrastructure and land-formation works. Shipping the materials to the mainland city caused carbon emissions of 50 tonnes a day and cost HK$70 a tonne to handle, HK$33 more than using it for local reclamation, she said. "We will be using the latest technology and strictest monitoring for future projects," the minister said. "One should not demonise reclamation work." Two existing public fill banks in Tseung Kwan O and Tuen Mun will be full by 2020. The first-stage consultation, ending in February, does not identify reclamation areas but asks the public whether they agree with eight proposed criteria for site selection, including whether a project meets local needs, its environmental impact and cost effectiveness. Officials expect the next reclamation project to be completed in 2019. The exercise also seeks views on rock-cavern developments for various facilities from sewage plants to data centres and restaurants. An earlier feasibility study covered five sites in Lantau, Tuen Mun, Mount Davis, Sha Tin and Lion Rock. The two strategies are among six to meet the government's target of providing land for 40,000 flats a year. Vincent Ng Wing-shun, vice-president of the Institute of Urban Design, agreed there was a need to reclaim land from the sea because other land-supply methods, such as resumption of rural land, incurred uncertainties, including compensation and relocation of residents. Dr Man Chi-sum, chief executive of Green Power, said he had not "demonised" reclamation. "Priority should always be given to using abandoned or abused land in the New Territories, like scrap-car storage," he said. "The minister is treating the ocean as a rubbish bin. Once the shorelines are straightened, the natural habitat is lost." He said hardly any developers were using fill from the two existing banks, and the government should encourage them to recycle the materials stored there instead of finding places to dump them.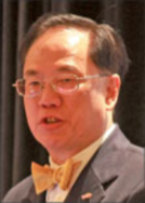 Hong Kong leader Donald Tsang said the city's financial sector has helped the United States' recovery and created jobs in the largest economy in the world. Tsang, who is the chief executive of Hong Kong, said on Wednesday that the city's "irreplaceable" role in China's economic reform provided "an additional monetary resource that will help address some of the imbalances that have surfaced here in the US and more lately in Europe". "We have been given a spearhead role in the internationalization of the renminbi, which in turn will help our country to continue with the reforms and opening-up of its banking and financial services sectors," Tsang said, who had visited New York City and Boston during a recent trip to the US. The special administration region's top leader said Hong Kong will serve as a "gateway" to improve Sino-US trade. He added that Hong Kong has an expanded economic role in China's 12th Five-Year Plan (2011-2015) with the goal of becoming an international asset management and an offshore renminbi business center. Tsang said Hong Kong will continue to be the global center of finance and banking, logistics, business services and tourism, which in turn will benefit the city's US partners investing in the metropolis. The US is Hong Kong's second-largest trading partner and a major investor in the city's economy. "The Hong Kong dollar maintains its linked exchange rate to the US dollar, as it has done since 1983. We have a long-standing, strong and broad-based relationship, and it is one that I believe will continue to grow," Tsang said. US exported $27 billion in goods to Hong Kong last year, creating the largest US trade surplus with any single partner that year. There are currently 1,330 US companies based in Hong Kong, of which 840 are regional operations. The number of US companies based in Hong Kong over the past decade has increased 65 percent from 2001. More than 50,000 American citizens live in Hong Kong and tens of thousands of Hong Kong residents have studied in the US, Tsang said. "Hong Kong has a pivotal role to play in the future China-US relations," said Martin Indyk at the Brookings Institution, which co-hosted Tsang's visit to Washington.
Donald Tsang will head to Honolulu, Hawaii, to attend the Asia-Pacific Economic Cooperation summit from Nov 11-13.

China*: Nov 13 2011 Share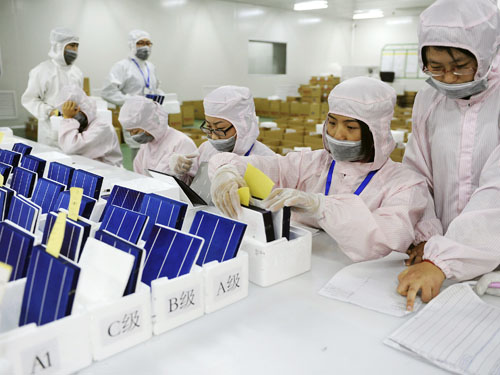 China has contested a United States decision to launch anti-dumping and countervailing duty investigations on Chinese-made solar power panels. Ministry of Commerce spokesman Shen Danyang yesterday criticised the US for initiating trade frictions and that for the first time the probes centred on a Chinese clean-energy export. The US started a probe on Tuesday on whether Chinese-made crystalline silicon photovoltaic cells and modules were sold at "less than fair value" and whether they were subsidised by Beijing. The probe is in response to a petition filed by a solar panel producer in the US. Shen said the US had shifted the blame of the slow development of its domestic solar power industry to China and had deployed restrictive measures on Chinese exports, which prompted "strong disagreement" among Chinese firms. "The Chinese government is seriously concerned about the case," Shen said. "The restrictive measures not only hurt Sino-US co-operation, but the national interest of the US." Solar power panels have emerged as the latest subject of trade disputes between both countries, following a string of disputes over products such as tyres, broiled chicken, raw materials, mineral resources, paper and steel plates. Some economists said the trade dispute arose mostly from China's large trade surplus and the yuan's appreciation against the US dollar, which has been slower than US expectations. The yuan closed at 6.3459 to the dollar yesterday, down from 6.3402 on Wednesday. It has gained 3.84 per cent so far this year, or 7.57 per cent since the yuan was unpegged from the dollar in June last year. Christine Lagarde, head of the International Monetary Fund, said yesterday that Beijing "was willing to let the yuan appreciate" after meeting with Chinese state leaders, such as the central bank governor.
Chinese President Hu Jintao got down to work shortly after his arrival in Hawaii Thursday, meeting with a group of U.S. business leaders to exchange views on investment, trade and protection of intellectual property rights(IPR). "The opportunities for expanding China-U.S. trade and economic links lie in the rapid growth of Chinese investment in the United States," Hu said, adding that he supported companies from both countries in increasing mutual investment. President Hu, on his second trip to the United States this year, made the remarks during a meeting with the leaders of top U.S. companies, including Keith Williams of Underwriter Laboratories, Michael Ducker of FedEx Express, and Thomas Donohue of the U.S. Chamber of Commerce. "We positively perceive the U.S. government's manifestation that it welcomes Chinese companies to invest in the United States, and hope that the U.S. side would take more concrete action in this respect," Hu said. Hu emphasized that deepening and expanding mutually beneficial trade and economic cooperation between China and the United States is in the interests of both peoples and conducive to the global economic recovery and development. China-U.S. trade and economic relations are currently faced with both challenges and important opportunities, he said. "The opportunities lie in economic restructuring in both China and the United States," Hu said. According to the Chinese president, China is expected to import more than 8 trillion U.S. dollars worth of goods in the next five years. By 2015, sales of consumer goods in China are likely to rise to nearly 5 trillion dollars, Hu said, adding that this will provide a huge market for the United States in its effort to rejuvenize the manufacturing industry and realize the goal of doubling U.S. exports. Hu pointed out that opportunities for expanding China-U.S. trade and economic links also lie in the new growth areas of bilateral cooperation, including new energy, clean energy, energy efficiency, biopharmaceuticals, aviation, space and infrastructure construction. "If the potential in these areas is tapped into, China-U.S. trade and economic cooperation will have boundless prospects," Hu said. Closer cooperation at local levels also offers new opportunities for expanding bilateral economic links, he said, noting that over the past decade, 47 of the 50 U.S. states have witnessed a three-digit increase in exports to China. "Growing at the current rate, China-U.S. trade volume will very likely exceed 500 billion dollars in the next three to four years," Hu said. Hu emphasized that China stands firm in its determination to protect IPR, adding that since China has already had a fairly sophisticated legal system in that regard, the future focus would be law enforcement. Hu said China has achieved positive results in its campaign to crack down on IPR infringement and counterfeits. Noting that China will mark its 10th anniversary of joining the World Trade Organization (WTO) next month, Hu said openness in China's service trade sector has come close to the average level of developed countries. He said China is determined to advance the reform and open-up cause, and will firmly adhere to the opening-up strategy of mutual benefit and win-win results, and will provide a sound investment environment for U.S. and other international companies as it always does. Competition between Chinese and U.S. firms is a natural development of free trade and market economy, and virtuous and fair competition is good for the growth and common development of both Chinese and U.S. companies, he said. He said the two sides should properly handle trade frictions through consultations based on an equal footing and in accordance with market rules and WTO regulations. "The two sides should not politicalize trade and economic issues and should not pursue protectionism," Hu said.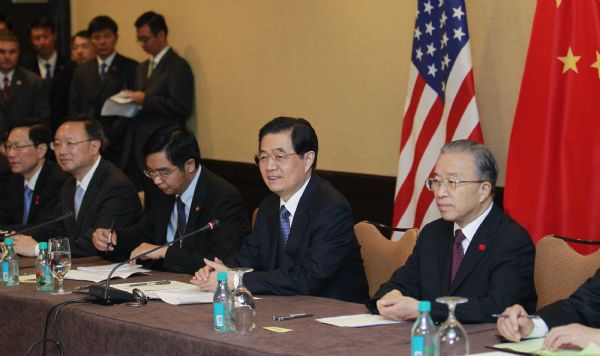 Chinese President Hu Jintao (2nd R) meets with a group of U.S. business representatives in Honolulu, Hawaii, the U.S., Nov. 10, 2011, to discuss issues on the expansion of China-U.S. economic and trade cooperation. Chinese President Hu Jintao met a group of U.S. business representatives in Honolulu, Hawaii, on Thursday to discuss expansion of China-U.S. trade cooperation. President Hu was expected to exchange views with the business representatives on the China-U.S. trade ties. The Chinese leader was also expected to encourage the U.S. business sector to play a role in promoting China-U.S. trade cooperation and developing bilateral ties. Hu arrived in Honolulu earlier in the day for the Economic Leaders Meeting of the Asia-Pacific Economic Cooperation (APEC) scheduled for Saturday and Sunday. At the annual meeting, leaders of the 21-member grouping will exchange views on economic growth in the Asia-Pacific region, strengthening regional economic integration and expanding trade. They also are to discuss promoting green growth and fostering job creation in green industries, energy security, and expanding regulatory cooperation.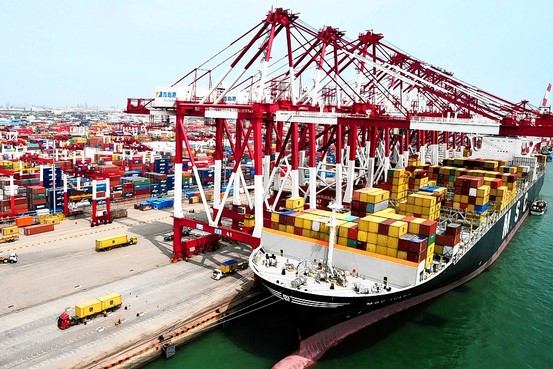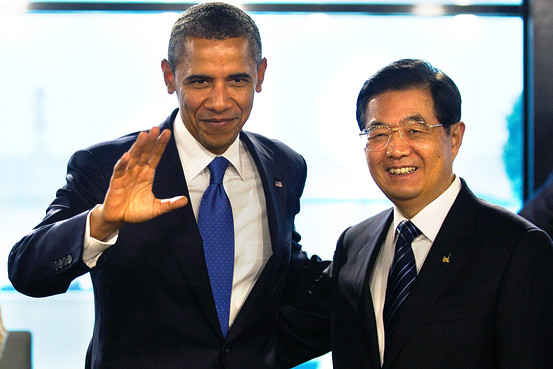 China's slowing economy makes Beijing more likely to step on the brakes on the yuan's rise, just as U.S. President Barack Obama is to meet with Chinese President Hu Jintao under pressure to convince his counterpart to pick up the pace. The result: Economic frictions between the U.S. and China could build at a time when Mr. Obama has little room to maneuver. He meets Mr. Hu Saturday in Hawaii, amid a clamor in Congress and among a slew of Republican presidential candidates to get tough with Beijing about its currency. Mr. Obama knows it would be a tough sale. His administration has tried to ease the pressure by being tough in other ways, such as bringing cases against China at the World Trade Organization. But the speed of the yuan's appreciation has become a politically potent way to measure the administration's success. "Politics are important in the U.S.," said Wang Tao, the head of China research at UBS in Hong Kong. "But on this side of the Pacific you have politics, too. Don't expect rapid appreciation." Chinese trade and inflation data out this week don't help the U.S. case either. China's inflation rate fell to 5.5% after months of being over 6%, and is expected to moderate further. The U.S. had used the inflation argument for more than a year. Now it will argue that the turmoil in Europe suggests China should rely more on domestic consumption than exports. On Thursday, China reported that growth in exports slowed for a second month, decelerating to 15.9% year-to-year in October from 17.1% in September. Leaving aside data for February, which are distorted by the Lunar New Year holiday, the rate of growth was the slowest since November 2009. A number of analysts expect the export sector to slow further over the coming year as Europe teeters near recession and the U.S. grows slowly. In October, the slowdown in sales to the European Union—China's largest trade partner—was already evident. Exports to the EU grew 8% from a year earlier, down sharply from a 25% growth rate at the beginning of the year. Exports to the U.S. held up better in October, with a 13.9% gain from a year earlier. China's trade surplus with the U.S. remained high in October at $20.1 billion, up 11.4% year-to-year. The slower pace of Chinese export growth translates directly into domestic political pressure. A stronger yuan makes Chinese exports more expensive in dollar and euro terms, and threatens jobs in the politically potent export sector, which already complains that China's relatively tight monetary policy has hurt growth. The administration's case that yuan appreciation could help China fight inflation has also potentially weakened after data Wednesday showed China's inflation is already slowing.The Chinese government clearly factors politics into its yuan policy. It agreed to let the currency float somewhat against the dollar in June 2010, shortly ahead of a summit of the Group of 20 nations in Toronto, where its currency policy was bound to be a central issue. Since then the yuan has risen about 7.5% against the dollar, or about 10% after factoring in China's higher inflation rate. But it has only risen half as fast against a basket of currencies because the dollar has slipped in value in that time. already Ms. Wang, at UBS, figures the annual pace of 5% to 6% appreciation against the dollar will drop to 3% to 4% as exports slow further, especially if the dollar rises in value against the euro and other currencies. RBC Capital Markets economist Brian Jackson also expects policy makers "to slow the pace of gains" of the yuan. For China's opponents in the U.S., even the current pace of yuan appreciation is inadequate and the issue is gaining prominence as Republican presidential candidates jockey for position—spurring Mr. Obama to need to keep raising the issue even though he's unlikely to make much headway. In a GOP debate Wednesday, former Massachusetts Gov. Mitt Romney said the Obama administration should have named China a currency manipulator "a long time ago" to bring action against it at the WTO. Mr. Obama is widely expected to decide against citing China for currency manipulation—meaning that it uses its exchange rate to gain unfair competitive advantage. The Treasury makes such determinations in a semiannual report required by Congress. Former House Speaker Newt Gingrich upped the ante rhetorically. "In terms of dealing with China strategically, I think we're going to have to find ways to dramatically raise the pain level for the Chinese cheating," he said. The Senate last month passed a bill that would force the White House to seek tariffs and other penalties against China unless it speeds the yuan's rise. A majority of House members have signed on to a similar bill. House Speaker John Boehner (R., Ohio) has so far blocked the legislation, which he called "dangerous." But strong interest from rank-and-file Republicans could prompt the GOP leadership to reconsider. Jon Huntsman, another Republican candidate and Mr. Obama's former ambassador to China, called the U.S.-China relationship "troublesome and problematic" in Wednesday night's debate, but warned that assessing tariffs on Chinese products could lead to a trade war. "That's not a good idea," he said. "We have seen some progress, but it's not enough," said U.S. Undersecretary of the Treasury Lael Brainard on Wednesday in Washington. "We're going to keep pushing very hard to accelerate." "The administration is obviously worried about losing control of the issue to the Congress," said Fred Bergsten, director of the Peterson Institute for International Economics. "That's the worst outcome for any administration." The leaders' meeting on the sidelines of the Asia-Pacific Economic Cooperation forum is their first one-on-one since Mr. Hu's January trip to Washington. International Monetary Fund chief Christine Lagarde, after two days of meetings with Chinese officials in Beijing this week, said China's "authorities are prepared to let appreciation continue in the months and years to come," but she didn't say at what pace.

China made its largest purchase of U.S. cotton in eight years, a sign that the scramble for the fiber is heating up again. Growers and merchants sold China 996,100 bales of the most common variety of cotton in the U.S. last week, the U.S. Department of Agriculture disclosed Thursday in a weekly export report. This is the most sold in one week since October 2003 and amounts to about 9% of estimated U.S. cotton exports in the season that began Aug 1. Prices jumped on the news, with cotton for December delivery closing 2.4% higher, at 99.5 cents a pound, on ICE Futures U.S. Prices have plunged 54% since hitting a record in March, when supplies were tight. It wasn't immediately clear why China bought so much cotton at once. Industry officials speculated that China would be using the U.S. cotton to replenish its stockpiles. Over the summer, China said it would do so, but at the time didn't provide much detail as to how the cotton would be supplied. "I think the business was done for the national reserves," said Philip Bogel, chairman of the American Cotton Shippers Association and a cotton trader at Toyo Cotton Co. "I was surprised this large of a sale came out today." The China National Cotton Reserves Corp. wasn't available for comment. Calls to the Chinese Embassy in Washington, D.C., weren't answered.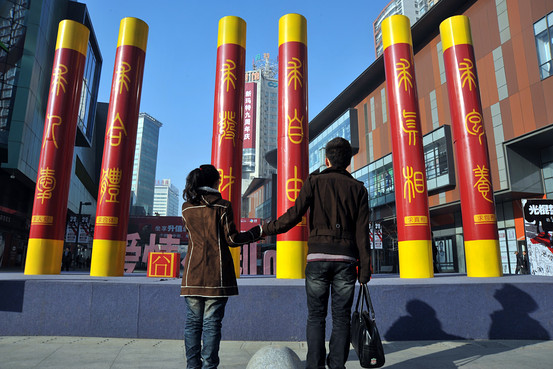 A young couple look at six pillars marking the date of 11/11/11, also called "Singles Day," on a shopping street in Shenyang in northeast China's Liaoning province. Love is in the air — at least in China and Hong Kong, where couples are rushing to tie the knot today: Nov. 11, 2011, or 11/11/11. A spokesman for Hong Kong's Immigration Department said a record-high number of lovebirds — 1,017 couples — have notified the department of their plans to get married today. "If all of these couples end up getting married today, it would be the day with the highest number of people getting married in Hong Kong in at least two decades," the spokesman said. But why are the numbers forcing so many marriages on a Friday? The pronunciation of the numbers "11/11/11" is similar to the Chinese idiomatic expression "one life, one lifetime" ( 一生一世, yi sheng yi shi in Mandarin), which means "forever." Numerology has long played an important role in Chinese culture, factoring prominently into everything from architectural plans to the price of mobile phone numbers. Auspicious numbers are often determined by what words they resemble. The number "8," for example, is considered a lucky number as its pronunciation is similar to that of the Chinese word for "wealth." The Beijing Ministry of Civil Affairs said 4,000 couples had registered to get married in the city today. A spokesman for the ministry said that the average is 700 a day. The city record came on the first day of the Beijing Olympics, Aug. 8, 2008, when 10,000 couples registered. "Today is a lot but it can't compare to 08/08/08," the spokesman said. The western city of Chengdu expected 2,000 couples to register to marry Friday, according to an official marriage registration office of the city's Chenhua district. "This will probably be the peak day for marriage registrations this year," she said. In Hong Kong, the last record was made on Oct. 10, 2010 (10/10/10), when the department recorded a total of 859 couples getting married. Many Hong Kong couples interpreted the triple tens as similar to a Chinese phrase meaning "perfect." But in China, where a preference for male children and the one-child policy have combined to produce 34 million "extra" men, Nov. 11, 2011 — widely referred to as "Singles Day" in the Chinese press — has been as much about the travails of those who've failed to find a mate as it is about getting married. One single man in Chongqing chose to celebrate the auspicious date this week by dressing up in a yellow jumpsuit and collecting 1,111 hugs from strangers. "Bachelor Man," as the 20-year-old dubbed himself, said he launched the campaign to help other singles find love. Meanwhile, a group called the Chinese Single People's Association has decided to aid the young and lonely by publishing a list of the 11 jobs Chinese single people find least desirable in a prospective partner. According to the state-run China Daily, poets are the least marriageable, followed by secretaries, lawyers and performance artists. Other undesirables included computer programmers, salesmen, oil field workers and reporters. The association compiled the list by distributing 111,111 questionnaires in 111 cities, according to China Daily. The report did not say how many people responded to the questionnaires.

Hong Kong*: Nov 12 2011 Share
Hong Kong shares fell 5.3 per cent on Thursday, wiping out almost a week's gains, as Europe's escalating debt crisis and weak results from the likes of HSBC Holdings (SEHK: 0005) sent investors rushing for the exits. The benchmark Hang Seng index lost more than 1,000 points to close at 18,963.9. The China Enterprises index of top locally listed mainland firms, an outperformer this month, dropped 5.7 per cent. Financials bore the brunt of the sell-off, with Chinese banks under additional pressure after Goldman Sachs' sold parts of its stake in top lender Industrial & Commercial Bank of China. HSBC, Europe's top lender, fell 9.1 per cent as borrowing costs in Italy surged to near unsustainable levels, while ICBC tumbled 8.7 per cent, its biggest fall in three years. The two accounted for over a third of the Hang Seng's more than 1,000 point drop on the day. The Hong Kong benchmark index ended 5.3 per cent lower at around 18,964, while the Shanghai Composite fell 1.8 per cent to 2,480. Turnover remained relatively high and at HK$74.7 billion was about 11 per cent higher than this month's daily average. Shares of China Overseas Land & Investment (SEHK: 0688) fell 4.9 per cent while Sino-Land dropped 6.6 per cent. The escalating political and economic crisis in Italy are spurring fears of a break-up of the euro zone, eclipsing further turmoil in Greece. "Europe and US futures are indicating a lower open as fears of contagion grow. Lots of rumours are circulating but what the market wants is clear facts," said a Hong Kong-based trader at an American brokerage. "All sectors were hit today and I expect investors to review their portfolios on the basis of exposure to Europe," the trader said. Underscoring the tough environment for banks, HSBC gave its starkest warning to date that new regulations might force it to leave Britain while at the same time reporting a 36 per cent fall in third quarter profit as the euro zone debt crisis hit investment bank income. Rival Standard Chartered fell 4.8 per cent. Financials, particularly banks, were the hardest hit. A sector sub-index in Hong Kong fell over 7 per cent, led by heavyweights HSBC Holdings, Industrial & Commerical Bank of China and China Construction Bank (SEHK: 0939). The three stocks contributed to just half the Hang Seng index's drop on the day. HSBC shares slumped 9.1 per cent, their sharpest drop since March 2009, as investors fretted over the bank's weak third quarter results, which spurred a round of downgrades on the stock. ICBC shares dropped 8.7 per cent, the most in three years, after Goldman Sachs cut its stake in the lender. Chinese property counters extended losses as investors remained bearish on the sector's prospects as there was little to indicate any relaxation of policies aimed at cooling prices. The Shanghai Composite fell 1.8 per cent to 2,480 as mainland property counters continued to lag as investors remained bearish on the sector's prospects. China's property sales fell in October for the first time in six months, confirming anecdotal evidence that the real estate market is weakening across the country under a slew of government measures meted out since late 2009. China Vanke, the country's largest property developer, shed 1.3 per cent. Poly Real Estate fell 2.5 per cent. Bucking the slide across markets, liquor stocks were a relative bright spot in Shanghai and Hong Kong. Kweichow Moutai rose 0.4 per cent while China's second-largest brewer by volume, Tsingtao Brewery (SEHK: 0168), rose 1 per cent.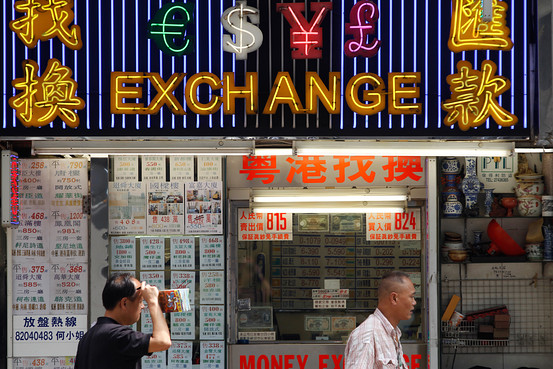 Dual Exchange-Rate Regime For China? An Historical View - Is China going back to a dual exchange-rate system? That's the way it's been looking of late with the renminbi trading at a discount in Hong Kong to the mainland rate. The Hong Kong rate, of course, is the more market-driven one. Lately, investors have been selling off the yuan as part of a broad scramble into the relative safety of dollar assets. The rate in Beijing is set by policy makers, not the market. Even as Chinese export growth tails off, the People's Bank of China continues to nudge the yuan higher, sending a message of support to the teetering global economy. A notable exception to the creeping appreciation came after the U.S. Senate last month advanced a bill to penalize countries that manipulate their currencies. China was ticked off–and the yuan duly ticked down. The gap between the two rates is hardly insignificant. On one day last month the yuan in Hong Kong traded at a discount of close to 3%. The differential is smaller at the moment: Late Thursday, the dollar traded at 6.3459 yuan onshore and 6.3685 yuan in Hong Kong. All this recalls the currency confusion of the 1980s and early '90s when China operated two distinct–and highly divergent–exchange rates. There was an overvalued official rate and a market rate set by foreign and domestic businesses trading in currency swap centers. (There was also a black-market rate set by stall-holders in places where tourists congregated, like Beijing's Bar Street in Sanlitun.) Back then, there were also two types of Chinese currency. Foreigners weren't allowed to own renminbi, literally "the people's money." So travelers were supposed to exchange their hard currency for Foreign Exchange Certificates at the Bank of China, and use them at designated tourist hotels and the famous state-run Friendship Stores that sold hard-to-find imported goods like 555 cigarettes and Johnnie Walker whiskey. But the system started to break down as China's economy opened and private enterprise flourished. In 1994, China unified its two rates at the swap-market rate of 8.7 to the dollar–much weaker than the official rate of 5.8 to the dollar. At the same time, China abolished the Foreign Exchange Certificates. China now had one currency and one exchange rate. (The black market faded quickly). It was the most significant currency reform since Deng Xiaoping launched his economic modernizations in 1979. The decision to seek a role for the yuan as an international currency, taken at the height of the financial crisis in 2009, was similarly momentous. Some would argue it's the most important reform to the exchange rate since the end of yuan's dollar peg in 2005. It stands out for its boldness at a time when financial reform in China has largely stalled. Among the newest generation of Chinese economic modernizers, many of them clustered around central bank Gov. Zhou Xiaochuan, the hope is that the internationalization of the Chinese currency will kick-start a broader reform process. The reformers talk optimistically about a "basically" convertible currency by 2015, a move that implies market-driven interest rates, a truly commercial banking system, a deep bond market and a host of other innovations needed to underpin China's next stage of growth. That is far from assured. Indeed, the recent volatility of the offshore yuan might even be a reminder for China's leaders of the kind of problems they avoid by keeping the exchange rate for the onshore yuan under tight control. As China prepares for a leadership transition next year, shifting currency policy will offer vital clues to how the reform effort plays out. Reformists have no desire to see two exchange rates creating new confusion. For them the goal is clear: one currency; one exchange rate; full convertibility.
Broadband internet service providers will not be allowed to restrict access to subscribers who sign up for so-called "unlimited use" service plans that, in effect, do impose certain limits, the telecom regulator said yesterday. The latest policy guidelines from the Office of the Telecommunications Authority spell the end to such plans. They are aimed at improving transparency, as well as allowing users to make better choices on how service providers implement the "fair usage policy." Aimed at giving users equal access to the internet, in terms of connection speed and quality of service, contracts signed on or after February 13 have to be bound by the new guidelines. At present, some subscribers who use unlimited mobile data packages even connect their smartphones to laptops for internet access, adding to the burden on mobile networks. "A permissible example is `unlimited plan for data usage up to two gigabytes,' as long as their network can facilitate access," said assistant director Danny Lau Kwong- cheong. Such plans will be banned unless customers agree to the terms. Service providers will be obliged to notify users should they want to lower the internet speed. Download speeds must not be below 128 kb per second. Existing contracts will not be affected. Should service providers want to amend contracts, they must give 30 days' notice to customers, who will have 15 days to end the contracts without penalties. OFTA has received 160 complaints last year and 74 in the first 10 months of this year. Providers such as Hutchison Telecom, 3 Hong Kong and CSL said they will study the new guidelines. Internet Society Hong Kong chairman Charles Mok Nai-kwong said service providers underestimated usage. "It seems fair to slow access to those users with extremely high internet use." Telecom stocks were affected by the news. SmarTone (0315) slipped 1.2 percent to HK$13.54. Hutchison Telecom dipped 0.7 percent to HK$3.02. But PCCW (0008) surged 2.9 percent to HK$3.15 after announcing plans to raise up to US$1.42 billion (HK$11.03 billion) from listing its telco unit.
HSBC's stock price slumped more than 8.0 per cent on Thursday in Hong Kong after the global banking giant reported a third-quarter earnings plunge and warned of "significant headwinds" ahead. Europe's biggest bank reported on Wednesday that underlying pretax profits sank 35 per cent in the three months to September to about US$3.0 billion, as bad loans rose in the United States, Hong Kong, Brazil and the Middle East. Investors were unforgiving when markets opened in Hong Kong, driving the stock down 8.17 per cent to HK$62.35 by the lunch break. "Revenue progression was weak as GBM [global banking markets] slowed, but the big surprise was in impairments," Morgan Stanley said in a commentary, according to Dow Jones Newswires. HSBC chief executive Stuart Gulliver said in the earnings release that economic and political uncertainty, particularly in Europe, had hit the banking sector's performance in the quarter. "Against this backdrop, HSBC remains resilient, with a strong balance sheet and robust liquidity," he said. Asia-focused HSBC added that its exposure to the debt of weak euro zone states Greece, Ireland, Italy, Portugal and Spain stood at US$5.5 billion at the end of the third quarter, down from US$8.2 billion on June 30. The bank's share price slumped 5.04 per cent on Wednesday to 510.40 pence on London's FTSE 100 index, which finished down 1.92 per cent – although equities were down across the board on eurozone debt crisis worries. In Hong Kong, the Hang Seng index was down 4.48 per cent by the break on Thursday, in line with a regional stock sell-off.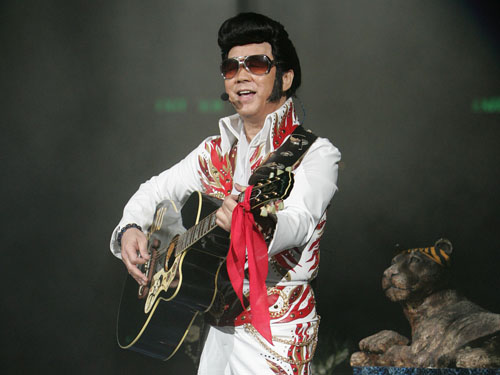 With the death of Ricky Hui Koon-ying, 65, on Tuesday, Hong Kong bid farewell to one-third of the Hui brothers trio, collectively regarded as giants of Hong Kong pop culture. Yet individually each was distinct. Sam Hui Koon-kit, the youngest, was known as "the god of Canto-pop" for his looks and lyrics in the 1960s and 70s pop scene otherwise dominated by Mandarin-speaking crooners. Michael Hui Koon-man, the eldest and some say the brains of the trio, earned a reputation as one of Hong Kong's finest comedians and filmmakers. Ricky, it's fair to say, was the loveable underdog. He was not a leading man with chiselled looks, nor a bona fide pioneer like his brothers. As a comedian he played the slapstick joker, his list of film credits reading like a compendium of sly insults: Pighead, Homely Cop, Dumb Ying and Hentai Voyeur. As a pop star, he sang about solitude and lovesickness - tunes for the guy who's down on his luck and doesn't get the girl. But his career propelled him to the heights of stardom, making him a household name during the course of seven albums and more than 60 films spanning four decades. The third of five children, Ricky came from humble beginnings, raised in a squatter's hut in Diamond Hill then a public housing estate in So Uk, Cheung Sha Wan. Unlike Michael and Sam, Ricky skipped university and ended up as an actor in training at the Shaw Brothers Studio. From that point on, it's almost impossible to separate Ricky from his brothers. The trio were comedic dynamite in the 1970s and 80s, breathing life into a local movie industry that teetered after the death of martial arts legend Bruce Lee. Their most popular films followed a similar recipe of slapstick and gags held together by thin plotlines. But the trio injected a particular brand of Cantonese humour and societal commentary that was well received by local audiences. The Private Eyes (1976) - directed by Michael and starring all three brothers - was Hong Kong's highest-grossing production of the entire 1970s, outperforming the films of Bruce Lee, Jackie Chan, and Francis Ford Copolla's The Godfather. Ricky also worked with producer Sammo Hung Kam-bo in the comedy horror flick Mr Vampire (1985), and director John Woo in From Riches To Rags (1979). Ricky, who never married, was one of a vanishing breed of entertainers in an industry that increasingly seeks pretty young things instead of the everyman. "There was a certain authenticity to his acting and to his singing. He didn't seem to be putting on an act," critic Perry Lam Pui-li said. "If Ricky has ever been a celebrity in his own right, it's all because people can relate to him, that people regard him as one of us."

China*: Nov 12 2011 Share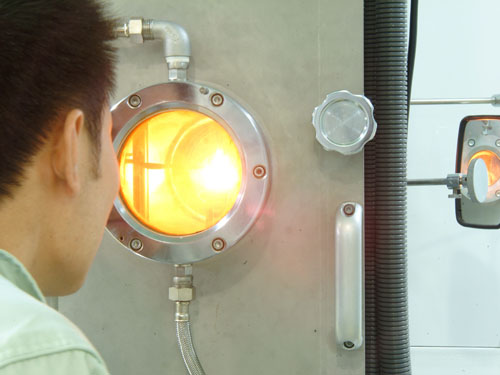 Polysilicon prices have more than halved. Only a handful of Chinese producers of polysilicon, the key raw material in solar power panel components, are expected to survive the industry's consolidation, as low prices and central government policies favour the biggest players. The industry is going through an overhaul as small-scale producers, typically using outdated technology, are being squeezed out of the market by a price war. Ray Lian Rui, a Shanghai-based analyst for the industry consultancy Solarbuzz, said: "Next year will be a year of consolidation. It's primarily driven by market forces." He said many loss-making small players had mothballed their factories after polysilicon prices halved. Most of these were not expected to restart production. Domestic producers only supply about half the mainland's US$5 billion solar power polysilicon market, even though domestic polysilicon output last year, at 43,000 tonnes, was less than half the industry's capacity. The problem, analysts said, was that a large number of high-cost new market entrants had yet to start production or were producing using only a small part of their capacity. The solar industry has a long supply chain, in which polysilicon is processed into ingots, sliced into wafers, made into cells and assembled into modules and panels to generate electricity from sunlight. The global production capacity for solar wafers more than tripled last year, which, together with weakening demand in Europe, the world's biggest market, saw wafer and module prices halved. This in turn has resulted in spot-market polysilicon prices plunging by more than half to around US$32 a kilogram, from US$72 a year ago. Luo Lu, a solar sector analyst in Beijing with the renewable energy industry information provider Bloomberg New Energy Finance, said: "Among the around 30 polysilicon makers, only those with chemicals distillation expertise are expected to endure. "Those without the technology will have to invest in the necessary upgrades to remain viable, but it is hard to raise the cash to do so in this environment." Beijing wants the industry to be dominated by perhaps two makers by 2015, with annual capacity of at least 50,000 tonnes, and another three with a capacity of more than 10,000 tonnes. The industry leader, the Hong Kong-listed GCL-Poly Energy Holdings, plans to raise annual capacity to 65,000 tonnes by mid-2012, from 25,000 tonnes at the end of June. The company, based in Jiangsu province, produced 17,600 tonnes last year. The company, with production costs around US$20 a kilogram, is the only maker still comfortably profitable at current prices, Luo said. The second-largest player, the New York-listed LDK Solar, said earlier this month that it planned to raise its annual capacity to 55,000 tonnes from 17,000 tonnes and cut production costs by a quarter to about US$30 a kilogram.
International Monetary Fund chief Christine Lagarde held talks in Beijing on Thursday against a backdrop of worsening economic turmoil in Europe that has rattled financial markets around the world. Lagarde, who is on a two-day visit to the mainland, has warned that Asian economies are not immune to the crisis that has engulfed the euro zone, saying the world risked a "downward spiral" if it did not pull together to tackle the crisis. Details of the IMF chief's visit were being kept under wraps, but it is all but certain to focus on the crisis in Europe, whose leaders have already called on Beijing to contribute to a fund set up to support troubled euro zone economies. She held talks with the head of China's central bank on Wednesday, and the foreign ministry has said she will also meet China's leaders, without giving further details. Asian stock markets slumped on Thursday after Wall Street suffered a pummelling, as Italy became the latest European country to suffer a huge surge in borrowing costs. "If we do not act together, the economy around the world runs the risk of a downward spiral of uncertainty, financial instability," Lagarde warned in a speech on Wednesday. China holds the world's largest foreign exchange reserves at US$3.2 trillion, but has so far made no firm commitment to provide financial assistance for the euro zone. Last month Klaus Regling, the head of the European Financial Stability Facility, travelled to Beijing to try to persuade the government to help. Europe has been discussing establishing a special purpose investment vehicle to persuade the mainland and other potential contributors, and is exploring the possibility of linking it to the IMF. Lagarde visited Moscow before heading to China, and on Wednesday the Russian government said it was not prepared to invest directly in the EU rescue fund and would prefer to help the euro zone through the IMF. Any move to help developed European countries out of the current crisis would be a hard sell for the Party leaders in the mainland, where millions of people still live in poverty, and inflation and housing costs are straining household budgets. Men Jing, chair of European Union-China relations at the Belgium-based College of Europe, said in a comment piece published in the official China Daily newspaper that Europe needs to behave in a "responsible way". "It is ridiculous that rich European nations have their begging bowls out and want money out of the pocket of China, whose per capita income is only about US$4,000," she said. China has also been burned before on risky overseas investment. It bought stakes in investment bank Morgan Stanley and asset management firm Blackstone only to see values collapse in the 2008 global financial crisis.
Surge in Rich Chinese Who 'Invest' in U.S. Citizenship - Despite all the talk of class warfare and punishing success, the U.S. remains a highly desirable place for the world's rich. Especially for the rich Chinese. According to data from the Immigration Service, thousands of wealthy Chinese have applied for the EB-5 Visa, also known as the "green-card-for-money" program. Under the program, foreign investors must finance commercial projects in the U.S. by investing either $500,000 or $1 million and create at least 10 full-time jobs. The investors have to undergo a background check, identify the source of their wealth and create and sustain 10 full-time jobs. The investors and their families can get citizenship after five years if they fulfill the requirements. Lots of rich people around the world apply. But the Chinese have become far and away the biggest users and beneficiaries.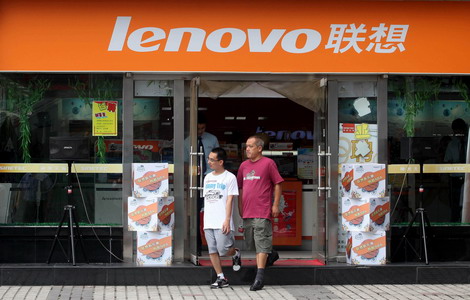 Consumers leave a Lenovo store in Beijing. The PC maker's sales in mature markets exceeded those in China for the first time in the third quarter, generating $3.3 billion and accounting for 42.6 percent of the company's global sales. The PC company says it is moving focus from the domestic market to go worldwide - Lenovo Group, the largest Chinese PC maker by market share and the second-largest globally, will apply greater pressure to its overseas competitors in mature markets, including the United States and Europe, following the appointment of a new Chairman and CEO, Yang Yuanqing, on Nov 3. "In the last three years, Lenovo has been mainly focused on the Chinese market. Now the company plans to place greater emphasis on overseas markets," said Yang. Lenovo is the world's second-largest PC vendor, with a record market share of 13.5 percent between July and September, according to International Data Corp. The company attributed the growth to previous acquisitions and surging sales in overseas markets. Yang announced that the company plans to increase investment and effort in those consumer markets where it doesn't yet have a strong share. "As the biggest player, Lenovo holds around 20 percent of the market for government and big business globally," said Yang. "Businesses refreshing their hardware will provide more opportunities to further growth next year." However, he also admitted that the company is eager to expand its consumer market too. The update of the Windows operating system next year will stimulate sales of commercial computers, said Raphael Vasquez of the US-based IT research company Gartner Inc. According to Lenovo, mature markets, such as the United States and Japan, contributed more than $100 million of the company's profit last quarter. Meanwhile, sales revenue in the mature markets exceeded that in China for the first time during the third quarter, coming in at $3.3 billion and accounting for 42.6 percent of the company's global sales. Lenovo was one of the first Chinese companies to enter the global market and compete with overseas brands. After buying International Business Machines Corp's PC business in 2005, the company announced a $175 million joint venture with Japan's NEC Corp in January and the acquisition of Medion AG, a German multimedia and consumer electronics manufacturer, in July. Lenovo's special consultant Gianfranco Lanci, the former CEO of Acer Inc, said the company's sales channel in Germany has been fully used by Lenovo following the acquisition of Medion. Reconstruction of other aspects of the business model will be completed by the end of this year. However, Lenovo's competitors, such as Dell Inc and Hewlett-Packard Corp (HP), reported a strong presence in the mature markets during the second quarter. HP reported profit of around $1.93 billion for the second quarter and Dell reached $890 million, while Lenovo's profit was only $108 million. The new chairman said the company will shift focus from growing its market share to increasing profits in mature markets through the introduction of more mobile Internet devices such as smartphones and tablet PCs.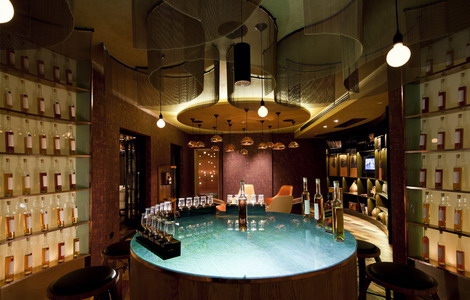 A Johnnie Walker House exhibition hall. Liquor giant Diageo has been increasing its investment in China's second- and third-tier cities, where the rapidly expanding economy has generated great demand for foreign spirits. Managing director seeks to develop a taste for Scotch tipple among nation's alcohol lovers. Joseph Tcheng, a Hong Kong-born British, is a lucky man. He loves what he sells. His greatest challenge, of course, is to convince the people he tries to sell to. Judging by the results, he has done quite well. In alcohol-loving China, sales of whisky and cognac have soared over the past several years. The cognac market in China grew by 17.5 percent last year to 1.9 million cases, according to The IWSR Spirits in China Report 2011. Whisky, meanwhile, grew by a more modest 2.8 percent in 2010. As managing director of liquor giant Diageo's Greater China business, Tcheng developed his love for whisky in his 20s. During his university days in the UK, the Hong Kong businessman cultivated a taste for Black Label, one of the most popular brands of Diageo's Johnnie Walker family, and he has kept drinking it along with dinner or at business occasions for the last 30 years. "It's the flavor that I first tasted at a young age and I have been fond of it ever since," the 56-year-old businessman said. "I like its refreshing taste when diluted with two portions of soda. It's quite suitable to sip it in highball glasses with meals." Tcheng is also a fan of Guinness, the company's Irish dry stout beer. In a similar way to how the managing director developed his appreciation of Scotch whisky, Diageo wants to cultivate an international spirits culture in China, where the younger "Generation-Y" types, who are more familiar with the Internet and expat communities, and the status-conscious wealthy are increasingly exposed to foreign drinking habits. One of the distiller's focuses in China is the so-called super-deluxe market as the nation's economy is set to grow more than three times faster than the US and Europe this year. Currently, the British distiller runs a wide range of brands in China, including Johnnie Walker, Windsor, Baileys, Smirnoff and Guinness. It is especially well positioned to win in the Scotch whisky sector: Johnnie Walker has acquired about a 30 percent share of China's whisky market by volume, or 6 percent behind its rival Pernod's Chivas Regal.
"The gap was much larger before," Tcheng said.
China's imports surged in October as exports grew at their slowest rate in months, suggesting efforts to tilt the economy towards domestic demand may be offsetting the external weakness that has dragged on economic growth this year. Customs figures showed import growth of 28.7 per cent year on year in October, well ahead of the 23.0 per cent forecast and far in excess of September's 20.9 per cent growth rate. Headline growth in exports meanwhile was its most sluggish in eight months, but strip out the traditionally volatile month of February and October's growth of 15.9 per cent was the slowest since November 2009 when they shrank. "We were expecting quite a deceleration as external demand continues to decline in Western economies," said Donna Kwok, an economist at HSBC in Hong Kong. "But the key thing to look at here is the strength of the domestic demand factors as imports grew nearly 29 per cent." Markets showed scant reaction to the data since investment sentiment is being driven by events in Europe. Imports from all three of China's key trading partners surged. The rate of import growth from the United States accelerated the fastest at 20.5 per cent over a year earlier, jumping by 7.6 percentage points from September's pace. Imports from resource-rich Australia grew at 36.7 per cent versus September's 33.4 per cent, while European Union imports rose 28.2 per cent versus 25.7 per cent previously. The surprise imports surge limited October's trade surplus to US$17 billion, much lower than a forecast for US$24.9 billion. That may go some way to satisfying critics who say China keeps its currency weak to support exports – despite evidence to the contrary in the form of an appreciation of the yuan of some 40 per cent in real effective exchange rate terms since 2005 when Beijing abandoned a long-standing currency peg. China's government has been working hard to wean the world's number two economy off of what many analysts say is an addiction to export-led growth. Others dismiss the notion that exports are so significant to Chinese growth, pointing instead to the infrastructure and consumer demand created by massive urbanisation that draws millions of rural workers into China's fast-expanding cities every year. The rate of fixed asset investment growth – a principal driver of economic expansion in China – was running at 24.9 per cent year on year in the first 10 months of this year, data showed on Wednesday, again underscoring domestic economic resilience. That kind of expansion in infrastructure spending though could also distort the view of the underlying rebalancing of growth and the ability of the consumer sector to compensate for an extended sharp decline in external demand. "I think the underlying (export) weakness is perhaps even weaker," said Li Cui, an economist at Royal Bank of Scotland in Hong Kong. " My estimation is that the real growth could only be around 7-8 per cent, adjusting for export prices." "The strength of imports is stronger than expected. It shows the underlying industrial demand is fairly solid. Also, it's likely that the inventory building still continues, partly because of the declining global prices. The producers take this opportunity to build their inventories," she added. But it's that inventory build that signals the possibility of risks ahead to analysts at IHS Global Insight, who are concerned that final domestic demand may not keep pace with the level of stock building. "Going forward, we'd expect import growth to slow as the lag of monetary policy catches up with the economic cycle," IHS senior analyst Ren Xianfang wrote in a note to clients. China has hiked interest rates five times since October last year and raised the amount of reserves banks must park at the central bank – thus cutting the amount of credit available in the economy – nine times over the same period in a bid to tame inflation that hit a three-year peak of 6.5 per cent in July. If that tightening has not yet fully filtered through into the domestic sector, there could be a couple of particularly poor quarters of growth ahead as the impact from a sharply-slowing external sector are amplified. The rate of growth of China's exports to the European Union and Australia both declined year-on-year in October versus September, according to Reuters calculations – down to 7.5 per cent from 9.8 per cent and to 16.1 per cent from 21.4 per cent, respectively. Exports to the United States meanwhile increased by 13.9 per cent year-on-year in October versus September's 11.6 per cent expansion. China's leaders have begun talking in recent weeks about "fine tuning" macroeconomic policy to maintain economic growth, which slowed in the third quarter to 9.1 per cent, its weakest in more than two years. And it's that sense that the leadership has already turned its attention to growth and is gradually recalibrating policy in that direction which economists say reduces the risk of a hard economic landing for China. "Domestic demand is still resilient and may suggest that the economy would only slow down in a gradual way," said Wang Hu, an analyst at Guotai Junan Securities in Shanghai. "But there is no risk of a sharp slowdown."
China's trade surplus widened in October, but was well below expectations, as both imports and exports fell from a month earlier. The trade surplus rose to $17.03 billion from $14.51 billion in September, but fell significantly short of the median $25.8 billion forecast in a Dow Jones Newswires survey of 12 economists. "China's export growth will continue to slow, and the trade-surplus growth will stay on a declining trend," said Cui Li, an economist at Royal Bank of Scotland. "With the trade surplus coming down a lot, this will relieve pressure for yuan appreciation." Societe Generale economist Yao Wei said she projects that China's full-year trade surplus will come to around $160 billion, which would be down around 12% from $183.1 billion in 2010. Exports fell 7.2% from September, while imports fell 9.5%, according to data released by the General Administration of Customs. Compared to a year earlier, export growth slowed while import growth accelerated. Exports rose 15.9% from a year earlier, down from September's 17.1% rise, but above economists' median forecast of a 15.3% expansion. Imports rose 28.7% from a year earlier, up from a 20.9% rise in September and beating the economists' median forecast of a 21.2% increase. However, the apparent surge in imports was due to a low base of comparison in the year-earlier period, said Li Huiyong, an economist at Shenyin Wanguo Securities. Import and export growth will both likely slow in the coming months, he added.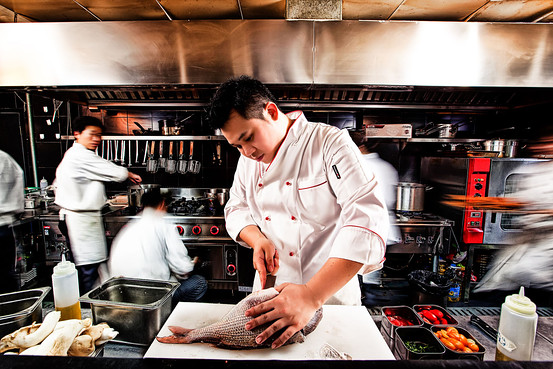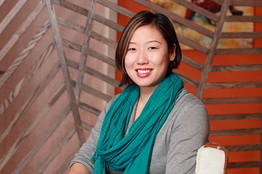 U.S.-Born Chinese, Back in China to Set Up Shop - Ed Hsu is having an identity crisis. The 37-year-old, American-born Chinese owns two Shanghai branches of Singaporean chain Awfully Chocolate, which he first franchised in 2007. "My parents went to Taiwan during the war but have these romantic memories of China, so they're confused, which trickled down to me," he says. "You come to China, and you're not really Chinese anymore. You go to Taiwan, but they don't consider you Chinese. Then you go to the States, and you're a citizen, but you're not really American." Mr. Hsu is one of many foreign-born Chinese now flocking to China — Shanghai in particular — eager to get a piece of the economic pie. But what does it mean when your parents fled this place half a century ago in search of a better life, and you've now returned seeking the same thing? Like Mr. Hsu, Kelley Lee, 34, who owns six eateries in Shanghai — including brewpub Boxing Cat Brewery, taqueria Cantina Agave, cocktail bar Alchemist and cafe iiiit — and Austin Hu, 31, a former Gramercy Tavern chef who now runs his own Shanghai restaurant, Madison, agree that for foreign-born Chinese, the lines that define ethnicity are significantly more blurred in China. Ms. Lee says she grew up in Cerritos, Calif., thinking of herself as "Chinese first and American second," but when she moved to Shanghai in 2004, she felt more American than Chinese. "When I say 'the Chinese,' I have a separate identity from them, though nor can I relate 100% to being a white-bred American."

Hong Kong*: Nov 11 2011 Share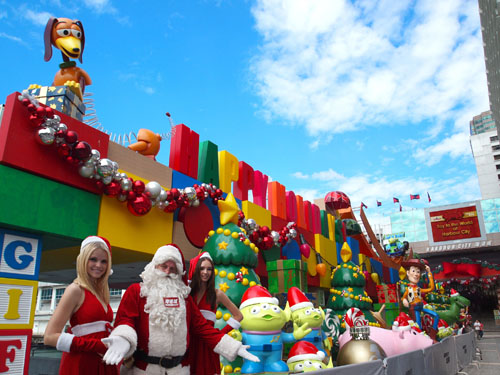 Hong Kong retail landlords are banking on bigger and better Christmas displays to get their tenants' cash tills ringing this holiday season. To lure more people into their malls - especially cash-rich mainland visitors - owners of shopping centres will be vying with each other to offer the most attractive decorations, as well as special deals and promotions. Sun Hung Kai Properties (SEHK: 0016), owner of the APM mall in Kwun Tong, said it would spend HK$18 million, up 20 per cent from last year, to decorate the complex. A 10-metre Christmas tree made from crystals will take centre-stage in a 6,000 sq ft exhibition featuring creative designs and providing the setting for parades by Santa Claus and his Christmas fairies. As a draw card for the fashion-conscious, the developer has secured the rights to display the work of Swedish illustrator Liselotte Watkins - whose distinctive pieces have been incorporated into fabrics used by fashion label Miu Miu. Langham Place in Mong Kok has opted for a "winter carnival" themed Christmas, and Harbour City shopping centre in Tsim Sha Tsui will make a pitch to fans of the Toy Story movies. The encouraging signs of growth in retail spending has prompted shopping mall owners to increase their Christmas budgets. Canis Lee Lai-yi, general manager of leasing at Harbour City Estates, a unit of Wharf (Holdings) (SEHK: 0004), said the Harbour City shopping centre achieved business turnover of more than HK$18.9 billion in the first three quarters, up 36 per cent versus the same period last year and representing 6.4 per cent of the total retail market in Hong Kong. International property consultant Colliers International said the growth in sales was driven by promising domestic demand and an increasing number of tourists visiting the city. The number of inbound visitors continues to grow. Colliers noted that, so far this year, their number had risen 18 per cent from the same period a year earlier. At the end of the third quarter this year, the value of retail sales was growing at an annualised 29 per cent a year, it said. The growth of the retail sector was fundamentally policy driven, said Colliers, and inbound visitors from the mainland were likely to continue to support this industry. But Colliers cautioned that any change in the average spending per visitor would directly affect the sustainability of the consumption patterns of inbound visitors. "Whenever there is a slowdown in visitor spending, prospective growth in the Hong Kong retail market will very much depend on whether local consumption can take up the slack," it said.
It looks like it's the men who are putting in the hard yards in Hong Kong on the work front, if a recent survey is anything to go by. The study by Regus has shown that in the city 39 per cent of women work nine hours or more per day compared to 69.5 per cent of men. Globally, only 5 per cent of women work 60 hours per week compared with more than twice that - 12 per cent - for men. They are also less likely (32 per cent) to take work home to complete more than three times a week, compared with men (48 per cent). Regus, the world's largest providers of flexible workplaces, canvassed the opinions of more than 12,000 businesspeople in 85 countries, including over 100 in Hong Kong. "While women were found to be less likely to work longer hours, probably because they are more likely to be employed in part-time work, small company workers are more likely to clock up the hours than large company employees," Hans Leijten, Regus' regional vice-president for East Asia, said. The study also confirmed that most Hong Kong workers stay late and bring work home with them. More than half (57 per cent) of surveyed respondents in Hong Kong work nine or more hours per day and almost 40 per cent regularly take work home to finish. Pressure during working hours has increased in recent years because of slow economic recovery in established economies and, conversely, very rapid growth in emerging ones. Globally remote workers, such as flexible and mobile employees, are more likely to work 11 hours per day (14 per cent) than fixed office workers (6 per cent), and to take tasks home to finish (59 per cent) than fixed office workers (26 per cent). In Hong Kong, 12.8 per cent of remote workers work 11 hours per day compared with 6.6 per cent of fixed office workers, while 48.7 per cent of remote workers will take tasks home to finish compared with 37.7 per cent of fixed workers. "This study finds a clear blurring of the line between work and home," Leijten said. "The long-term effects of this overwork could be damaging both to workers' health and to overall productivity as workers drive themselves too hard and become disaffected, depressed or even physically ill." Leijten said that although the survey found that remote and mobile workers generally worked longer hours, a growing body of evidence suggested that remote workers were more productive, have a higher job satisfaction and lower stress levels.
Chief Executive Donald Tsang Yam-kuen says Hong Kong's economy may have slipped into recession in the third quarter and could face tough times ahead as Europe's debt crisis deepens. Growth may be as little as 2 per cent next year after a likely expansion of 5 per cent this year, Tsang said yesterday during a visit to New York. The economy grew by 7 per cent last year. "I am pessimistic about short-term global growth," the chief executive said. "I am afraid a major eruption in the largest market in the world, i.e. Europe, is going to affect everyone on earth and Hong Kong cannot be totally exempted." Tsang said that while a full-year recession was very unlikely, it was "possible to have a couple of quarters of bad times". His assessment echoed that of many analysts. Banks including HSBC and Standard Chartered have cut their forecasts for the city's growth this year and next year. "It's very likely Hong Kong has entered into a recession, and I doubt if that will be a brief one," said Law Ka-chung, chief economist at Bank of Communications (SEHK: 3328) in Hong Kong. "There are so many bombs in Europe waiting to explode and the impact on the global economy may be huge, similar to what we saw in late 2008." Nicholas Kwan, head of east global research at Standard Chartered Bank, was more optimistic and said the recession could be technical. (In a technical recession, output declines quarter-on-quarter for six months; in a full-blown recession, output declines year-on-year for six months or more.) Kwan said strong growth at the start of the year had raised the base for comparison. "We may see contraction continuing into the first quarter next year. But by the end of the year [2012], we believe there may be GDP growth in the range of 3 to 3.5 per cent." He said local exports - which fell for the first time in nearly two years in September - might rebound after the Lunar New Year. Tsang said mainland growth and the city's fiscal surplus - which is big enough to fund two years of operations with no revenue - would help Hong Kong weather the slowdown. Tsang steps down in June. Political observers believe his successor will face a tougher time. "Candidates for the next chief executive should think twice before making promises of more public spending, particularly welfare expenditure. They should tell the public where the money will come from before making pledges," said Dr Li Kui-wai, associate professor of economics at City University. "We should prepare for rainy days. Financial Secretary John Tsang Chun-wah should not offer too many sweeteners when he delivers his last budget." Chief executive hopefuls Henry Tang Ying-yen and Leung Chun-ying have both said that more public rental flats should be built for people on low pay. Leung said last month that the government should provide 35,000 such flats a year for the next few years to shorten the queue. Both have also expressed concerns about the widening wealth gap.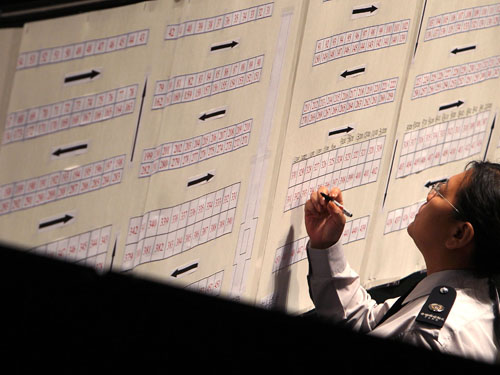 The auction for stalls at the Victoria Park Lunar New Year fair saw the highest bid in 10 years for the largest fast-food stall at the five-day event, but two smaller ones went for less than last year. A snack seller who gave his name as Mr Lau paid HK$510,000 for the stall and will need to earn more than HK$100,000 a day to make a profit. The stall, measuring 7.6 metres by 4.8 metres and next to Sugar Street, went for HK$380,000 last year. The previous highest price for this stall was HK$490,000 two years ago. All the stalls saw a higher opening price, which for the first time was calculated by the Food and Environmental Hygiene Department by taking last year's opening price and adding the rise in the Consumer Price Index A from last year, or 5.1 per cent. Ho Leung-shing, senior superintendent of operations at the department, said the increase in the opening price usually had no effect on the selling price. A total of 600 people attended the auction, which saw occasional shouting and bickering between bidders battling for the corner stalls. There were 177 wet-goods stalls up for bidding yesterday, of which 165 were auctioned off. The highest selling price was HK$48,300. Last year the highest selling price for a wet-goods stall was HK$45,000. Fifty-one of them were sold at the opening price of HK$8,410. The total raised from sales of wet food stalls was around HK$300,000 less than last year. The fair will take place from January 17 to January 21. The early arrival of the Lunar New Year is a headache for flower farmers. Last year's fair ran from January 28 to February 3. A major concern is the chilly weather forecast by the Observatory. Lau Hoi-to, also known as the "Peach Flower King, said: "Our peach blossoms may not open in time. The fair is only around 70 days away and the flowers are still little buds. "The cold weather is a concern, but that's not even the worst part. It's going to be terrible for our business if it rains. And you know, we sing in folk songs about spring showers making the flowers bloom, so we need the showers. But it's a headache if the fair is on at the same time as the spring showers." Lau rented 15 stalls this year for around HK$200,000, which he said was less than he had paid in the past. Last year he rented 13 stalls in the same area for around HK$300,000. "People might have more of an incentive to buy peach blossoms to put at home to turn their fortunes around," Lau said. Yeung Siu-lung, who is known as the "Orchid King" and has taken part in the fair for more than a decade, bought 14 stalls for around HK$150,000. He said the cold weather would be a wallet pincher for him because he would have to turn up the greenhouse heat for his orchids. The bidding continues today at the Queen Elizabeth Stadium in Wan Chai, with 284 dry-good stalls and eight thematic stalls up for grabs.
Wandle Investments Ltd, a unit of New York Stock Exchange-listed Yum! Brands Inc (Yum), obtained clearance from China's Ministry of Commerce on Monday to acquire a further 66.05 percent stake in Hong Kong-listed Little Sheep Group Ltd at a premium price of HK$6.50 (83 cents) cash a share. The price is 30 percent above the closing price of HK$5 on April 21, the last trading day before Little Sheep's filing to the Hong Kong Stock Exchange. The transaction must be approved by shareholders of Inner-Mongolia-based Little Sheep, which operates a chain of some 400 hotpot restaurants, mainly in the Chinese mainland. In a statement to the Hong Kong bourse, Little Sheep said that it would notify its shareholders of the timetable "in relation to the proposal, the scheme and the option offer". The transaction would increase Yum's holding in Little Sheep to about 93.2 percent. The remaining minority stake will be held by the co-founders of Little Sheep, Zhang Gang and Chen Hongkai. Yum said it would take over the management and operation of Little Sheep when all conditions are fulfilled and the share acquisition plan is implemented. Little Sheep closed at HK$6.37 on Tuesday, up about 15 percent. The chain posted revenue of 1.9 billion yuan ($299 million) in 2010, up 22.6 percent. Yum made a preliminary proposal in April to acquire all outstanding shares of Little Sheep. The Ministry of Commerce began a review of the deal in June. The ministry's Anti-Trust Bureau decided to extend the review period by 60 calendar days on Oct 25, arousing investor concern that the deal, involving a popular local brand, might find it hard to win government approval. Jing-Shyh Sam Su, chairman and chief executive officer of Yum! Restaurants China, said the deal is another important step in executing Yum's strategy of being rooted in China. Analysts said that the deal would help both companies expand their consumer bases and improve their competitiveness. Linus Yip, a Hong Kong-based strategist with First Shanghai Securities Ltd said the arrangement would give Little Sheep an opportunity to learn advanced operating strategies from Yum, which would mean improved international competitiveness. Little Sheep has about 24 restaurants overseas. Tough competition in the hotpot restaurant sector has pushed Little Sheep to "a bottleneck" and the chain might find it hard to maintain high growth rates. But cooperation with Yum "can help the company expand its presence in the global market and bring better management experience to companies", said Kang Jianhua, an analyst with CIC Industry Research Center. Although industry experts generally took a positive view of the deal, consumers might not see things the same way. According to an online survey conducted by sina.com, more than 50 percent of some 2,200 respondents said that they would not patronize Little Sheep outlets as often as before.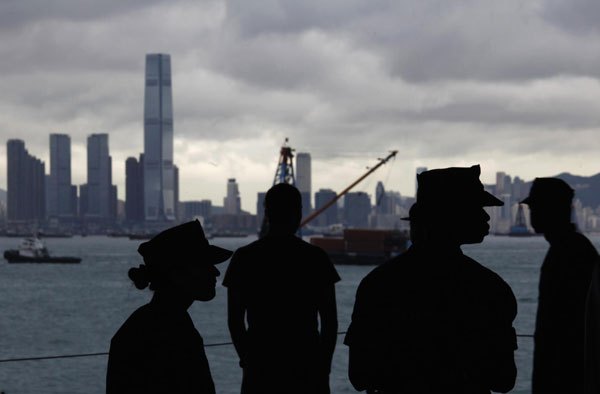 US Navy personnel stand on board US aircraft carrier USS George Washington during its routine port visit to Hong Kong Nov 9, 2011. HONG KONG - The US unclear powered aircraft carrier USS George Washington pulled in Hong Kong waters on Wednesday to get replenishment upon her second portal call to the city. Captain David Lausman, commanding officer of the USS George Washington, told the press briefing that the Chinese navy acted professionally when they encountered. "Chinese navy had great improvement in the past two or three decades. We are looking forward to working with them in the future," he added. Commissioned in 1992, the 332-meter, 97,000-ton USS George Washington carries a crew of more than 5,000. The sailors will stay in Hong Kong for about 5 days and participate in some volunteer work.

China*: Nov 11 2011 Share
Prime-time advertising slots on state broadcaster China Central Television for next year were once again snapped up by liquor brands this week despite new restrictions on alcohol advertising coming into effect next year. The total value of auctioned and pre-sold advertising on CCTV next year hit a record of 14.26 billion yuan (HK$17.46 billion), up 12.5 per cent. The auction in Beijing on Tuesday itself raised 12.25 billion yuan. The CCTV advertising auction is seen as a gauge of corporate spending power and analysts view the results as a key indicator of business confidence across the whole economy. A total of 245 companies from 28 countries and regions joined the 18th auction, with 104 successful bidders, mostly from the mainland. Liquor companies ranked top, spending 3.35 billion yuan on successful bids, up 37 per cent. Their share of winning bids was up 3 per cent, according to Charm Communications, a leading mainland advertising agency, and they occupied the No1 position for the ninth year in a row. Maotai's total spending of nearly 498 million yuan ranked top among all companies. Three liquor companies - Maotai, Yanghe and Jiannanchun - won the bid for the 10-second slot before the 7pm newscast for 656 million yuan, The Beijing News reported. Bank of China paid 76 million yuan, up 51.7 per cent, for standard 10-second advertising slots after the newscast for two months. "The result demonstrates the strong confidence Chinese companies have in the domestic economy as well as their continued recognition of CCTV's value in building brands targeting China's fast-growing consumer market," Dang He, founder and chief executive of Charm Communications, said. Professor Zhao Xiao, an economist at the University of Science & Technology Beijing, said the CCTV prime-time advertising auction results were seen as one indicator of the mainland's economy and suggested growing corporate spending power, propped up by growing sales in the mainland market. "Liquor sales are very reliant on branding and advertising because the product is mainly for social intercourse or given as a gift," he said. Zhao said big profit margins in the liquor industry helped the sector invest more in advertising. The profits of liquor producers rose 300 per cent from 2004 to 2009, tech-food.com reported. Eight of the 20 most successful bidders were liquor or beer companies, even though CCTV will restrict liquor advertising from the start of next year, allowing just two liquor advertisements in prime time and up to 12 in any one day on each channel, Nine channels targeting overseas markets and children do not show any liquor advertisements. Professor Huang Shengmin, dean of Communication University of China's school of advertising, said the results indicated that liquor companies were more competitive in securing advertising slots and consolidating their branding, especially in the market for luxury goods. "Images of alcohol containers or drinking behaviour have been ordered to be replaced with those of drinking culture and celebrity ambassadors," he said. "So that could reduce the negative influence on the public in response to social criticism while not damaging the industry."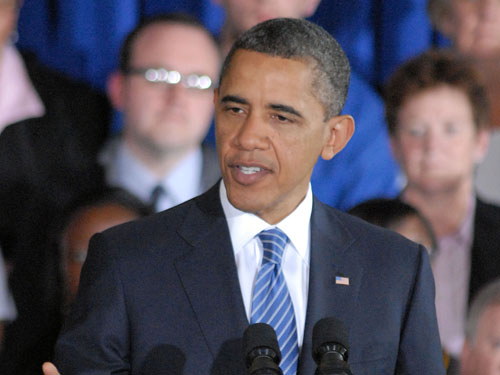 The United States' involvement in the Asia-Pacific region and Chinese currency reform are expected to top the agenda when President Hu Jintao and his US counterpart Barack Obama meet during the Apec summit starting today in Hawaii. Hu will elaborate on China's stance on global economic policy, regional development and hold one-on-one meetings with the leaders of Asia-Pacific Economic Co-operation (Apec) forum countries. While the debt crisis lingers in Europe, analysts expect Obama to use the summit in Honolulu to intensify his focus on the fast-growing region. The US has stepped up its presence in the region and some of its actions, such as a fighter-jet upgrade for Taiwan and military drills in the South China Sea, have upset Beijing. Obama and American officials have recently reiterated that the US will not be leaving the region. US Defence Secretary Leon Panetta recently travelled to Japan, South Korea and Indonesia, and the Obama administration has also engaged North Korea and Myanmar in recent months. Following the Apec summit, Obama will visit Australia before going to Bali, Indonesia, to become the first US president to take part in an East Asia Summit. Ma Zhengang , a former Chinese ambassador to Britain and a former president of the China Institute of International Studies(CIIS), said China welcomed US involvement in the region, but there were concerns over whether the US presence would affect China's position. "Some of the developments in the region triggered fears that the US presence is not mainly for economic gain, but also about containing China," Ma said. "Both sides do not want confrontations, and want to discuss how they can co-operate with each other." Professor Jin Canrong , a Sino-US affairs expert at Renmin University, said China is well aware that the US presence can help allay fears about China's development among countries in the region. "But on the other hand, China also has some worries about the US and wants to discuss them frankly," he said. CIIS president Qu Xing said the two presidents will discuss solutions to the global economic crisis, and he expected the US will press China to allow the value of the yuan to rise more rapidly. "As the economies in Europe, the US and Japan are not in good shape, how China can help tackle the financial difficulties and co-operation with the US in this regard will be a main concern," Qu said. "The US will link the appreciation of the renminbi to economic recovery." The US also wants to expand the Trans-Pacific Partnership free-trade pact, which calls for restrictions on government subsidies for state-owned enterprises, and to persuade all Apec countries to lower tariffs on environmentally friendly products such as solar panels to 5 per cent. China, which has imposed an average 7 per cent tariff on 153 green products proposed by the US, says the two goals are too ambitious.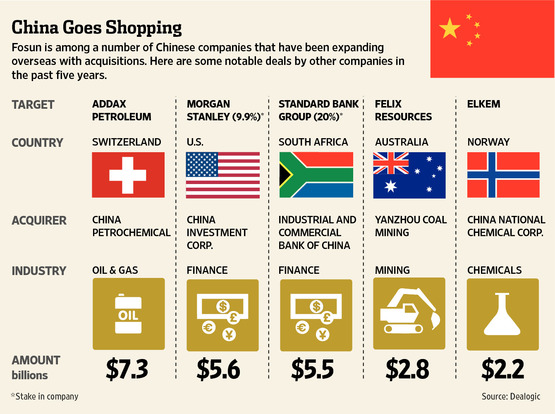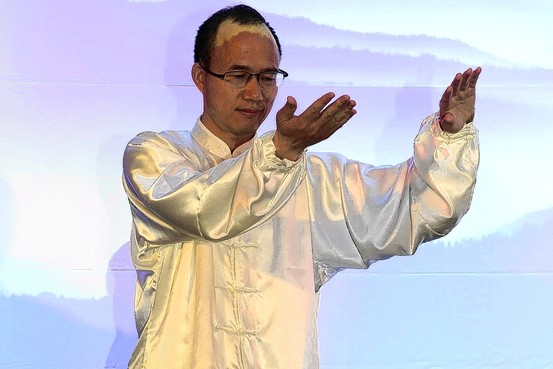 The dinner at New York's Four Seasons Hotel, a Wall Street coming-out party last April for Chinese conglomerate Fosun Group, was much like any other high-class corporate event—until Guo Guangchang, the company's chairman, changed from pinstripes into white silk pajamas to demonstrate his prowess at tai chi. Guest Mark Grier, vice chairman of Prudential Financial Inc., saw the 10-minute display as a message that Mr. Guo intends "to make a contribution to China beyond the specific commercial impact of running his business." Another person saw it as a way for Mr. Guo to demonstrate his vitality as a "young strong leader." Whatever the intent, the performance was a reminder that Mr. Guo, 44 years old, is not just another apparatchik running a big state-owned Chinese enterprise. Nor is Fosun yet another lumbering Chinese behemoth. The early wave of Chinese investment abroad was led by the purchase of mining and energy companies by China's state sector. But the face of overseas Chinese investment is set to change as private companies like Fosun exploit their lucrative home market for global scale. Private-equity firm Hony Capital Ltd. is looking to put its cash to use abroad, for example. And the parent of Hainan Airlines Co. is bidding for the airport assets of German construction company Hochtief AG. Such firms "represent a new generation of Chinese financial investors, full of drive and quick to move," says David Chin, co-head of investment banking for UBS AG's Asia-Pacific unit. Chinese outward foreign direct investment came to $68 billion last year. That's still small compared with the U.S. figure of $329 billion, according to the United Nations, but more than five times its total five years earlier. The bulk of Fosun's assets are in Chinese steel, mining, pharmaceuticals and real estate. Yet the company last year bought a stake—now 10%—in French resort operator Club Mediterranée SA, which has its eye on China's growing domestic tourism market. Earlier this year Fosun took a 10% stake in Folli Follie Group SA, a high-end global retailer based in Greece. "Our investment overseas will get faster and there will be more of them. We're certainly not going to stop with two," Mr. Guo says in an interview in the company's headquarters, a concrete bunker along Shanghai's riverfront. Not all of Fosun's forays have been successful. The company tried in vain to buy a stake in Italian fashion house Prada SpA and led a consortium that unsuccessfully bid for American International Group Inc.'s Asian insurance unit. Fosun did, however, sign an agreement earlier this year to manage $500 million for Prudential Financial, the money-management arm of the big insurer. And last year it agreed to a $100 million joint venture with Carlyle Group LP to make private-equity investments in China. Fosun's approach is different from that of Chinese firms that have stirred controversy with high-profile bids abroad, such as Huawei Technologies Co.'s attempts to buy assets in the U.S. or Chinalco's effort to raise its stake in Anglo-Australian miner Rio Tinto. Fosun, by contrast, is taking minority stakes in high-profile foreign firms eager to expand in China.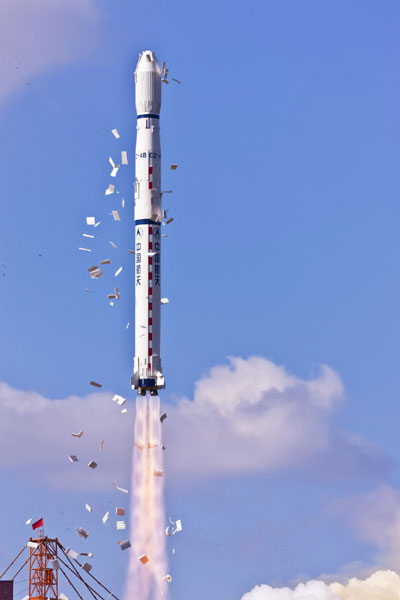 China successfully launched the remote-sensing satellite Yaogan XII Wednesday from the Taiyuan Satellite Launch Center in the northern Shanxi province, according to a press release from the center. The satellite was sent into space aboard a Long March 4B carrier rocket at 11:21 am Beijing Time, according to the center. The satellite will be used to conduct scientific experiments, carry out surveys on land resources, estimate crop yield and help with natural disaster-reduction and prevention. Also hitching a ride on the rocket was the satellite Tianxun I, which will be used to carry out technological verification tests, according to the center. Yaogan XI was launched from the Jiuquan Satellite Launch Center in northwestern Gansu province in September last year.

Hong Kong*: Nov 10 2011 Share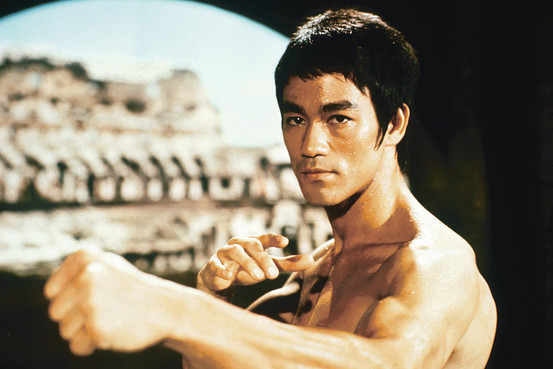 A museum dedicated to Bruce Lee may happen after all — in Seattle, not Hong Kong. City officials, according to local reports, recently put forth a proposal to examine the possibility of a museum dedicated to the martial-arts star. The Bruce Lee Foundation, which is headed by his daughter Shannon, has developed a concept for what would be called the Bruce Lee Action Museum and envisions a building that would house memorabilia and personal items from his life. The latest plan calls for the museum to be located in Seattle's Chinatown International District, though before anything proceeds further, it's up to the foundation to put forth a more comprehensive proposal. Mr. Lee lived in the Pacific Northwest in the 1950s and '60s. He's buried in Seattle's Lakeview Cemetery, next to his son Brandon. According to Ms. Lee, the foundation has begun a campaign to raise $10 million to secure the property and begin drawing up the designs, though she added that the "museum of our dreams" will cost much more. While it'll be years before the Seattle proposal comes to fruition, it was long expected that such a museum would also be built in the late star's former residence in Hong Kong's Kowloon Tong district. The Hong Kong museum is now unlikely, since the current owner of the property and the Hong Kong government could never agree on the plan. Mr. Lee died in that house in 1973. "There was always a plan for a museum in Seattle," Ms. Lee said in an email. "If the museum in Hong Kong had materialized, then it would have been in addition." Hong Kong intends to pay tribute in other ways. In October, its top politician, Chief Executive Donald Tsang, said in his annual policy address that the government would set up a gallery in the Hong Kong Heritage Museum to honor Mr. Lee. The city currently has a bronze statue of Lee along Kowloon's waterfront but has failed to satisfy long-time fans who say the star deserves so much more in the town where he did most of most of his cinematic work.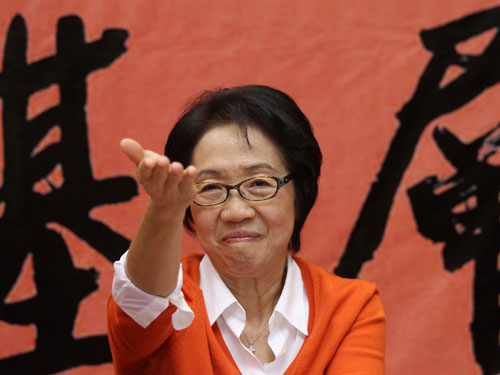 The defeats suffered by pan-democrats in Sunday's district council elections will weaken their prospects in next year's Legislative Council poll, as the results will undermine their district networks and ability to muster support at grass-roots level, political observers say. The Beijing-friendly Democratic Alliance for the Betterment and Progress of Hong Kong (DAB) emerged the biggest winner with 136 seats, up from the 115 it won in 2007. Added to the 11 seats won by its ally, the Federation of Trade Unions (FTU), the two government-friendly groups accounted for 35 per cent of the 412 seats on 18 district councils. The success rate of the 182 DAB candidates was 74.7 per cent, up from 65 per cent in 2007. The pan-democratic camp suffered an even worse defeat than in 2007. Various groups from the camp won a total of 83 seats on Sunday, down from 96 four years ago - even though their share of the popular vote increased. Just 47 of the Democratic Party's 132 candidates were returned, down from 59 in 2007 when it fielded 108 candidates. A record 1.2 million people voted in the most hotly contested district council elections in Hong Kong's history. Seven of 41 candidates from the Civic Party won seats. The party has attracted criticism for its role in legal cases involving foreign domestic workers' right of residency and the environmental assessment of the giant bridge project linking Hong Kong, Zhuhai and Macau. The government-friendly camp won 34.5 per cent of the vote, up from 29.6 per cent in 2007. And despite the pan-democrats' setbacks, they still won 33.2 per cent of the total, up from 27.5 per cent four years ago. If the votes in the 18 district councils are regrouped into five Legco geographical constituencies, the share of votes won by the DAB and FTU everywhere but on Hong Kong Island was higher than in 2007. The two groups won 30.6 per cent of the total vote in New Territories West, 6.7 percentage points higher than the share won by the DAB in 2007. FTU candidates did not run in elections under the unions' own banner until 2008. Dr James Sung Lap-kung, a political scientist at City University, said the pan-democrats' loss of more than a dozen district council seats would affect their near-term political future. "Many pan-democrat councillors' offices at district levels will be taken up by their pro-government rivals. Pan-democrats will be in a disadvantageous position to maintain their grass-roots network, which is crucial for next year's Legco election," he said. Pan-democrats have usually won about 60 per cent of the vote in Legco elections, while Beijing-friendly candidates polled 40 per cent. "I think the pan-democrats may not be able to maintain the 60-40 golden rule in next year's Legco election," Sung said. "The gap ... may narrow to 55 and 45 per cent." Joseph Cheng Yu-shek, professor of politics at City University, said pan-democrats fared better at Legco election polling stations in constituencies where their district councillors held office. For example, in the 2008 Legco election, the ticket fielded by the Civic Party won 268 votes at the polling station at the German Swiss International School - the highest among all parties. The DAB won just 79 votes at that polling station, which is in The Peak constituency of Central and Western District Council. The Civic Party's Tanya Chan won the seat in the 2007 district polls, but she lost on Sunday. Civic Party leader Alan Leong Kah-kit called on pan-democrats to rally. "Various pan-democratic parties need to learn a hard lesson for the democratisation movement, and sit down as soon as possible to prepare for next year's Legco election," he said.
Two Hong Kong companies, a trust made up of telecom assets and a jewelry chain, are gearing up to raise as much as $6 billion from initial public offerings in the city, while a mainland Chinese solar firm and a cement maker also moved forward with listing plans. PCCW Ltd. plans to start order-taking from institutional investors Wednesday for the listing of its core telecommunication assets as a trust, in a deal that is aimed at raising between $1.2 billion and $1.4 billion for the company controlled by Richard Li, son of Hong Kong's richest man, Li Ka-shing. Gold and diamond jeweler Chow Tai Fook Jewellery Co., controlled by Cheng Yu-tung, chairman of New World Development Co., is planning to seek listing approval Thursday from the Hong Kong stock exchange for an IPO of up to $4 billion, people familiar with the situation said Tuesday. At that size, the jewelry firm would have the world's biggest IPO since Spain's Bankia SA raised $4.4 billion before a July listing in Madrid. Two other companies, based in mainland China, also moved forward Tuesday with listing plans in Hong Kong. Henan-based cement producer Tianrui Group Cement Co., in which U.S. private-equity firm KKR & Co. has a minority stake, is planning to seek listing approval on Nov. 17 for an up to $500 million Hong Kong IPO, people familiar with the situation said Tuesday. Xinyi Solar Holdings Ltd, the solar glass unit of Hong Kong-listed Xinyi Glass Holdings Ltd., started premarketing its roughly $150 million IPO Tuesday, according to a term sheet seen by Dow Jones Newswires. The IPOs come after a period of relative quiet on the deals front following a heavy selloff in markets amid concerns about the European debt crisis and a slowdown globally. Hong Kong's stock market is still down 15% this year, and just one major IPO, the $1.7 billion listing by Chinese brokerage giant Citic Securities Co., has been completed since early October. Citic Securities is the world's biggest IPO since Bankia's deal in July. PCCW's telecom trust will offer 2.05 billion units at an indicative price range of 4.53 Hong Kong dollars (58 U.S. cents) to HK$5.38 each, representing a yield of 7.5% to 8.9% for 2012, a person familiar with the situation said Tuesday. Investors generally buy trusts for their yields, or the expected dividend payout per unit, rather than the potential increase in a trust's share price. The public offering, where the trust is sold to Hong Kong retail investors, will start Nov. 16. Pricing is slated for Nov. 22, and listing on the Hong Kong stock exchange for Nov. 29, two people familiar with the deal said. PCCW will hold a stake of 55% to 70% in the trust after it is listed, PCCW said in circulars released in late September. The trust's main businesses are fixed-line and mobile telecom assets in Hong Kong. While Chow Tai Fook is planning to seek listing approval Thursday, it has yet to decide whether to go ahead and start premarketing. If it gets the green light, it can begin gauging investor views on the deal and come up with a price range. People familiar with the deal said the jeweler has until the end of March to start taking orders, because its audited accounts used for the approval process end in September. Stock-exchange listing rules require that the audited accounts of the company cannot be older than six months from the first day of the IPO's offering to retail investors. Tianrui Group will begin taking orders for its IPO soon if it gets listing approval on Nov. 17, people familiar with the situation said. They said KKR, which invested $115 million in the company in 2007 before the financial crisis, and the private-equity arm of J.P. Morgan Chase & Co have a minority stake in the cement producer. Xinyi Solar Holdings, which makes ultra-clear photovoltaic raw glass, plans to sell 520 million new shares in its IPO. An overallotment option that would boost the deal size by 15% would see the Chinese company raise as much as around $172.5 million, according to the term sheet.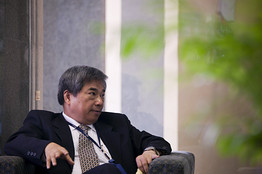 Small investors hoping that China's biggest instant noodle maker would talk more about its strategic deal with PepsiCo were out of luck when the Hong Kong-listed firm on Monday chose to speak only with analysts at a well attended briefing. The tie-up involves a venture of Tingyi (Cayman Islands) Holding Corp. becoming PepsiCo's franchise bottler in mainland China, with exclusive rights to manufacture and distribute trademark drinks including Gatorade, Tropicana and other Pepsi soft drinks. The large analyst turnout reflects strong market interest in the deal, announced late Friday by Tingyi, best known for its Master Kong noodles and drink products available nationwide. The company, however, opted to exclude the media and other shareholders from the meeting. Questions over how and when the company could turn around Pepsi's loss-making China bottling business, as well as the difficulties in managing multi-brand operations, remain unanswered. Some reporters who — were told of the session by helpful analysts — gathered outside the venue to speak with Tingyi's founder and chairman, Taiwanese businessman Wei In-Chou. But management wasn't prepared to talk, saying it had nothing to add beyond the announcement. The management team also said it was too tied up with finalizing the deal. "We're all very busy (preparing the deal). Are you telling us to not get married and not consummate the union, and come speak to you?" asked Chief Financial Officer Frank Lin, who was accompanying Mr. Wei as they left the analyst briefing. Yet the executives had the time — an hour and a half to be exact — to speak with research analysts and field their questions. The setup meant that brokerage clients could potentially learn more about the transaction before the press, and other retail investors for that matter. Tingyi's arrangement to selectively speak with analysts comes even while the Hong Kong Stock Exchange has for years been recommending companies to "consider opening up their meetings with analysts to the press and the public," according to existing disclosure guidelines. Though this practice remains common practice among some Hong Kong-listed firms after they post earnings or acquisition announcements, many companies have improved their communication with shareholders, holding either separate meetings with analysts and reporters or conducting joint sessions, in order to avoid potential selective disclosure of price-sensitive information. Ricky Tam, chairman of the Hong Kong Institute of Investors, a group representing the interests of the general investing public, said he was concerned about Tingyi's decision not to meet with reporters. "Considering that this is a very substantial transaction, the company should have held meetings for both analysts and the media," he said. "If not, they should at least upload the related presentation materials from the analyst meeting to the stock exchange to ensure fair and simultaneous disclosure." After chasing the tightlipped Tingyi chairman down an elevator and into a nearby hotel, the persistent journalists were rewarded with a brief comment: The company is considering a separate listing of its beverage business in the long term.

China*: Nov 10 2011 Share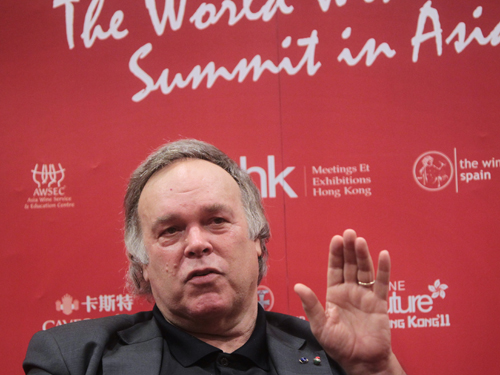 Wine critic praises China's passion - Robert Parker sees much to admire in the mainland industry, but talk also touches on image problems - Could China produce world-class wines to compete with the best from countries such as Argentina, Australia, Chile, France and Spain? That remained to be seen, said Robert Parker, a man whose wine ratings can make the market move. Despite that cautious assessment, he said there may be some "pretty special wines emerging from China". "I've never seen such a dramatic transformation of a country, their interest in wine. They're incredibly fast to pick up things, to learn, to immerse themselves," Parker said. "The interest and passion is an important factor in quality and in wine education. That already exists and has existed for some time in China. That's a good sign." The renowned US wine critic was speaking at Winefuture Hong Kong 2011, a gathering of respected figures in the wine industry being held at AsiaWorld-Expo until today. They will be welcome words for Chinese winemakers, who struggle against a negative image rooted in nationwide food safety scandals and the mainland's reputation for fake products. Celia Hay, a wine educator with the New Zealand School of Food and Wine who is looking to teach wine classes on the mainland, said: "[The experts] were saying, since 2006, when the market was deregulated, that 20,000 wine importing companies have been set up. But there's still a lot of fraud, smuggling ... and some companies are just focusing on sales; it's just a commodity. For most of us in the industry, it's a special beverage that needs some respect. "It'll take some time to educate the consumer to experiment and to trust Chinese wine. There are some good-quality wines, but some wines in China are overpriced. If the quality is good, than it's fine to charge a high price, but often the quality is not good," she said. Professor Zhang Fuqing, a viticulture expert with Dynasty, a 30-year-old mainland winery, said, however, that the fake and substandard products "are just a part of development". "Other countries seem to forget their development also included these phases," he said. "I think a lot of foreigners think only their wine is best. It's pride and prejudice. "In reality, they've all done bad things. In the 1990s, they exported a lot of substandard wine to China because they knew Chinese people would not know what was good."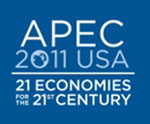 US goals of establishing regional free trade and an environmental policy at the Apec summit are useful but too ambitious for some developing nations, China said on Monday, days before President Hu Jintao heads to Hawaii for the meeting. Apec (Asia-Pacific Economic Co-operation) members from 20 countries have taken a "fundamentally supportive attitude" toward US proposals for green growth and innovation to be raised at the leaders' meeting in Honolulu from November 12-13, Assistant Foreign Minister Wu Hailong said. "But expectations for outcomes are too high and beyond the reach of members from developing countries," Wu told reporters during a joint briefing with China's Commerce Ministry. Sorely lacking jobs at home and looking for ways to cement the US presence in Asia, the Obama administration wants to drive forward the TransPacific Partnership (TPP) free trade pact among nine nations on the sidelines of Apec. The United States eventually hopes to expand the deal from the current nine countries – the United States, Chile, New Zealand, Singapore, Australia, Vietnam, Peru, Malaysia and Brunei – to all 21 members of Apec, which account for about 54 per cent of the world's economic output and 44 per cent of global trade. Part of the initiative would be strong language that ensures state-owned enterprises (SOEs) do not benefit from government subsidies not available to privately owned firms. The SOE issue is likely to discourage the participation of China, the world's second biggest economy, where many critical industries are controlled by state-backed firms. "We haven't participated in the talks, so we cannot comment. The threshold is high. Whether a standard can be achieved, we'll just have to wait and see," Assistant Minister of Commerce Yu Jianhua said when asked about the US goals for SOEs in the deal. But whether or not China ever joins what Washington describes as a "21st-century" trade agreement, a top US State Department official said on Monday he thought the pact would help shape Beijing's behaviour in the trade arena. "If we have high enough principles and practices in it, it will give a signal to China that other countries are playing by a higher set of international rules," said US Undersecretary of State Robert Hormats. China has said it supports free trade in the Asia-Pacific and will watch progress on the TPP, which some analysts think Japan could ask to join at this week's Apec meeting. But experts say Beijing prefers other regional frameworks that would not force it to open its markets at the behest of the United States. Those deals might include a Japan-China-South Korea deal, as well as the 10+1, 10+3, 10+6 frameworks – talks between the 10 members of the Association of Southeast Asian Nations (Asean) and other Asia-Pacific countries. "China is in a much better bargaining position when they don't have the United States sitting at the same table," Scott Kennedy, the director of the Research Center for Chinese Politics and Business at Indiana University, told reporters. Hu is set to meet with US President Barack Obama at the summit, as well as the presidents and prime ministers from Japan, Canada, Peru and Vietnam. The United States hopes to persuade China and other Apec countries to agree on a deal to lower tariffs on environmental goods, such as wind turbines and solar panels, to 5 per cent. Assistant Commerce Minister Yu said of the list of 153 green products proposed by the United States, average US tariffs are 1.4 per cent compared to China's nearly 7 per cent. "The problem is, if we set a goal of 5 per cent, the US doesn't need to do anything. We are the ones that need to do all the work," he said. "Some economies on one hand promote free trade of green products and services and at the same time abuse trade remedies and protectionism on trade of green products within the Apec region," Yu said. The US arm of Germany's SolarWorld has asked a the Obama administration to impose duties of more than 100 per cent on solar imports from China, which they said were unfairly undercutting US prices and destroying American jobs. The US Commerce Department is due to decide by November 9 whether to launch an investigation on the case, which could add to friction before the summit.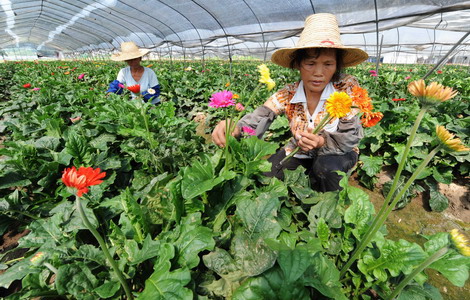 Taiwan farmers who set up businesses at a development park in Qingliu county in East China's Fujian province are eyeing a bigger market on the mainland. They hope that the local government helps address their financing problems. Qingliu Development Park for Taiwan Farmers was set up in 2006 and is among the six parks of its kind in Fujian. The parks aim to attract Taiwan farmers to bring investment, agricultural varieties, as well as technological and managerial skills, besides helping them explore the market on the mainland and boosting cross-Straits cooperation in the agricultural field, local officials said. There are 29 such parks on the mainland. "The soil and climate in Fujian are quite similar to those in Taiwan, and it's suitable for growing Taiwan vegetables such as cabbage, balsam pear and okra," said Tang Thin-then who hails from Taiwan's Taichung and has invested around 20 million yuan ($3.15 million) to grow vegetables in the development park in Qingliu last year. Local government laid out many favorable policies to attract Taiwan farmers and help their businesses grow. "We would waive their land use fees in the first two years and let them enjoy a 30 percent discount in electricity price," said Lai Wensheng, deputy head of the park's management committee and deputy director of Qingliu agricultural bureau. The park will also improve infrastructure and provide free facilities to Taiwan farmers, said Lai. A total of 53 Taiwan-invested agricultural companies and 12 individual agricultural families operate in the park, running businesses such as growing flowers, fruits and vegetables, fisheries and processing of agricultural products. "The park grows products worth around 960 million yuan each year and those businesses help provide jobs for nearly 9,000 people in the county," said Lai. Tang Thin-then said his vegetables were popular in the market and that he planned to expand his business next year. But it was not easy getting a bank loan since vegetables were perishable commodities and hence could not be mortgaged. Wu Chia-cheng, a farmer from Pingtung in Taiwan who grows tomatoes on a 40,000-square-meters land in the park, had the same problem. "I want to switch to soilless tomato planting, but I need a loan of around 500,000 yuan to do that. I hope the government could help facilitate the funds," he said. In fact, the local government is trying to find ways to address the problem. Lai said they were considering setting up a credit system within the development park and a company that will act as a guarantor to help promising companies and farmers acquire loans. Lured by the favorable policies, another Taiwan company signed a deal with the park on Sunday, agreeing to invest $50 million to develop ecological agriculture and biopharmaceutical industry there.
Passenger vehicle sales in October showed the steepest year-on-year decline since 2008, as the government tightened up its 2-year-old subsidy policy for fuel-efficient models.
Shanghai will issue China's first ever local government bonds on November 15 in a pilot program designated to help cash-strapped local governments to curb fast-spreading debt risks, officials said Tuesday. The government will sell 3-year fixed-rate bonds worth 3.6 billion yuan ($567 million) and 5-year fixed-rate bonds worth 3.5 billion yuan, said officials with the Shanghai government's bureau of finance. The Ministry of Finance announced in late October that the State Council, or Cabinet, had allowed the cities of Shanghai and Shenzhen and the provinces of Zhejiang and Guangdong to issue bonds on a trial basis this year as authorities explore ways to solve local government's debt issues. The nation's auditing agency said earlier this year that local government debt totaled about 10.7 trillion yuan at the end of last year. About 80 percent of local government debt is raised through local government financing vehicles (LGFVs), which are mainly set up to fund construction projects and have come under fierce criticism due to them being poorly supervised and managed.

Hong Kong*: Nov 9 2011 Share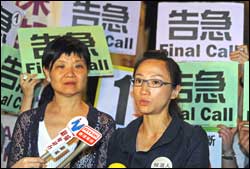 Civic Party lawmaker Tanya Chan Suk-chong's loss in the district council election carries major ramifications. For it reflects on her being one of the five legislators who quit their seats in the top chamber last year to force by- elections that were held to be a referendum on political reform. "I am their nemesis," she said of the political establishment. "If they can unseat me it will have a very symbolic effect." Chan made the comment earlier in the day during polling in which she faced Liberal Party upstart and winner Joseph Chan Ho-lim as she sought to retain her Peak seat in the Central and Western District Council. It also came as banker Chan was seen as likely to unseat the Civic Party co- founder and administer a stunning blow to pan-democrats. Tanya Chan was talking hours after she issued a "critical" call for voters to turn out in force because, she said, her party was facing a major defeat. The Peak constituency was also seen as a place where the Civic Party would pay the price for alleged roles in the failed legal challenge to the environmental assessment for the Hong Kong- Macau-Zhuhai bridge and the judicial reviews on right of abode for foreign domestic helpers. Liberal Party stalwarts were confident Joseph Chan would win - better than 50-50 chance, according to a smiling Liberal Party honorary chairman, James Tien Pei-chun. Tien said he had many friends in the district, where most voters are upper middle class. Liberal Party chairwoman Miriam Lau Kin-yee also looked confident when canvassing last night for Chan. And Joseph Chan talked about being familiar with the constituency, having been born and bred in the neighborhood. By contrast, Tanya Chan looked tense and said she was in a desperate fight for the seat, despite having former chief secretary Anson Chan Fang On-sang canvassing for her for about half an hour on Magazine Gap Road. Even the presence of Democratic Party founding chairman Martin Lee Chu-ming, a voter in the constituency, who also came out for her, did not ease Tanya Chan's worries that she faced a powerful force. But political commentator James Sung Lap-kung of City University said the "critical condition canvassing" was a usual tactic for pan-democrats, and Tanya Chan should know she was more likely to win with a high turnout rate. But she disagreed, saying the emergency call was genuine and not a "crying wolf" strategy.
Bank of China Ltd.'s Hong Kong unit will retain its coveted position as the city's sole yuan-clearing bank, a person familiar with the situation said Monday, ending hopes for other lenders seeking clearing status in a move that reflects Beijing's cautiousness over the scope of the internationalization of the country's currency. Bankers and analysts have been awaiting a decision by the People's Bank of China on whether to allow more than one offshore clearing institution, given their view that the current one-bank setup isn't sufficient to satisfy their needs in this rapidly growing market, focused mainly in Hong Kong. China has been developing Hong Kong as the center for offshore yuan trading. China's central bank will sign a renewed contract with BOC Hong Kong (Holdings) Ltd. as early as this week to continue its yuan-clearing role, said the person. "The terms will likely remain the same as in the last contract," the person said, indicating that the bank's contract will be extended by five years, to the end of 2016. BOC Hong Kong, which is 66%-owned by its Beijing-based parent, has been Hong Kong's only yuan-clearing bank since December 2003, shortly before China began allowing individuals to hold yuan-denominated deposits in Hong Kong. The city's offshore yuan market began to develop in earnest beginning in mid-2010, when China relaxed regulations on the use of its currency outside the nation and essentially unpegged its currency from the U.S. dollar. As a clearing bank, BOC Hong Kong earns fees by settling offshore yuan payments between lenders. The bank also receives a bigger quota to invest in domestic Chinese bonds, which offer higher yields than offshore issues. The blue-chip lender's yuan-clearing contract was renewed in January 2007 and was set to expire at the end of this year, the person said. U.K.-based lender HSBC Holdings PLC, which has been a front-runner in underwriting "dim sum bonds," or yuan bonds sold offshore, said in May that it hoped to become another offshore yuan-clearing bank in Hong Kong. Industrial & Commercial Bank of China Ltd.'s main Hong Kong unit has expressed similar interests. Analysts said Beijing's decision to maintain the status quo signals its desire to have tight oversight over the offshore market's development and prevent run-away growth. Yuan deposits in Hong Kong swelled to 622.2 billion yuan ($97.8 billion) at the end of September, more than four times the 149.3 billion yuan of a year earlier, the Hong Kong Monetary Authority said Monday. "It's easier for authorities in Beijing to control the offshore yuan market, such as interest rates and other policy decisions, if the clearing role is restricted to an institution with Chinese backing instead of a foreign bank," said Frances Cheung, senior strategist at Crédit Agricole. A single clearing bank also restricts the scope and size of the yuan business for some lenders because their exposure to any single lender is limited due to risk-management regulations. Having multiple clearing institutions would help them bypass such difficulties. Lenders seeking clearing status are attracted by the benefits of fees and related services income, "which are risk-free and effortless," said Kim Man Ngan, head of yuan strategy at Hang Seng Bank Ltd. He said BOC Hong Kong earns a clearing fee of 0.91 yuan for every 1,000 yuan deposited by other banks. He said the yuan-clearing status could also raise a lender's profile in the booming market. "BOC Hong Kong's unique status lures a lot of fund flows into the bank, expanding its pool of yuan deposits," he said, adding that it gives the bank better market information on yuan fund flows. Analysts estimated that BOC Hong Kong enjoys the biggest market share in yuan deposits, accounting for roughly a third of the city's total yuan deposits.
Gambling revenue in Macau rose 42% to a record high in October, government statistics showed Tuesday, as high rollers from mainland China continued to drive growth despite concern that the authorities' credit-tightening or an economic slowdown will stop the music. Macau, the only place in China where casino gambling is legal, has seen gambling revenue soar since the end of 2009, and is poised to rake in more than five times the gambling revenue of the Las Vegas Strip this year. Gambling revenue in the Chinese territory rose to 26.85 patacas (US$3.36 billion) in October, up from 18.87 billion patacas in the same month a year earlier, data from Macau's Gaming Inspection and Coordination Bureau showed. October's revenue haul beat the territory's previous high of 24.77 billion patacas hit in August. It was boosted by China's "golden week" holidays, which fall in May and October. The strong numbers were recorded during a month of extreme volatility in casino stock prices due to intensifying concern that a liquidity crunch in China could cool the casino industry's explosive growth. Though data don't show any evidence of a slowdown in Macau--in the January-October period, Macau's gambling revenue was 45% higher than a year earlier--investors dumped casino shares in early October with SJM Holdings Ltd., Macau's largest operator by revenue, tanking 26% in just one trading session. The strong October revenue figures led the Hong Kong-listed shares of Macau's six casino operators to outperform the territory's benchmark Hang Seng Index, which fell 2.5%, hurt by a China manufacturing activity report that fell short of economists' forecasts. Galaxy Entertainment Group Ltd. led the way, rising 0.7% to HK$16.26, while Wynn Macau Ltd.'s shares rose 0.5% to HK$22.35. Sands China Ltd.'s shares fell 0.2% to HK$23.85, but that marked a 6% rebound from an intraday low of HK$22.50. Stanley Ho's SJM Holdings was the weakest link, falling 1.8% to HK$13.44. But the Chinese manufacturing data illustrate the complex outlook for the world's second-largest economy, the source of most of the money bet on Macau's baccarat tables. Disappointing Purchasing Managers Index figures, combined with recent government measures to help smaller businesses, have fueled expectations that China's tightening cycle is over, but the poor data also indicate that a tight monetary policy and weakening export demand have started to take a toll on economic growth. Less clear still is the effect any macroeconomic developments in China could have on Macau's gambling industry, which is driven by the opaque and notoriously difficult-to-forecast VIP business. In a recent report, Bank of America Merrill Lynch analyst Billy Ng wrote that the key fundamental drivers of Macau gambling growth are the wages of Mainland Chinese--and hence their net worth--the number of visitors to Macau, and the value of the Chinese currency.
Pro-Beijing parties in Hong Kong trounced the opposition as voters expressed discontent with pro-democratic parties in local elections that may predict the outcome of more important polls next year. Results from Sunday's poll were released early Monday for individual candidates in the neighborhood-council elections, but the government of the Chinese territory did not immediately provide a breakdown by political party. Candidates from two major parties backed by the central government in China won 124 of 336 contested seats while the two biggest pro-democracy parties lost ground, garnering only 53 seats, the parties said. While district councilors wield little power, analysts say the outcome could foreshadow a tougher struggle for pro-democracy candidates in legislative elections next year, which could make it harder to move toward a fuller democracy. "If the democrats are losing the elections they kind of lose their legitimacy in terms of the whole democracy movement, so it will be a more difficult fight for them," said Ma Ngok, a political scientist at Chinese University of Hong Kong. About 1.2 million people, or 41.4% of the 2.9 million registered to vote, cast ballots for 839 candidates in Sunday's election, exceeding the 38.5% turnout in the last district council elections, in 2007. Another 76 candidates were returned unopposed. The big winner was the pro-Beijing Democratic Alliance for the Betterment of Hong Kong, which won 100 seats while the Federation of Trade Unions won 24. In the pro-democracy camp, the Democratic party won 46 contested seats while the Civic Party won seven. Hong Kong, a former British colony, is a special administrative region of China, with its own political system and a high degree of autonomy. Hong Kong's mini-constitution promises eventual democracy and Western-style civil liberties commonly denied in the mainland. Half of the 60 members of the current Legislative Council are elected, with the rest chosen by professional and business sectors, many loyal to Beijing. Next year, the legislature will add 10 more elected seats under a set of limited changes that were approved last year with the help of the Democratic Party. The deal fractured the democratic camp, with some hardline lawmakers calling it a betrayal and forming their own small parties, which may have split Sunday's vote and driven some voters to pro-Beijing candidates.

China*: Nov 9 2011 Share
Employment quality in China is relatively low, which is a major reason affecting the quality of economic growth, says a latest report on the labor market. The report, released Saturday by the Labor Market Research Center of the Beijing Normal University focusing on the quality of employment in China, says Beijing, Shanghai and Tianjin were the top three cities in terms of employment quality, adding the overall employment quality in China is still low. "Poor employment quality in China is a major reason for the poor quality of economic growth," said Lai Desheng, a professor with the Beijing Normal University.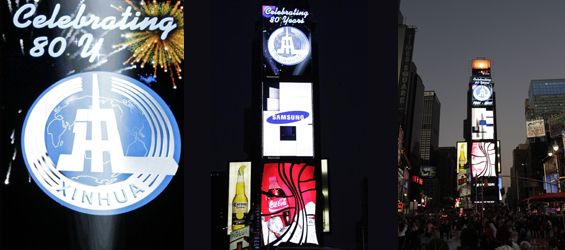 Xinhua News Agency celebrates 80th anniversary at Times Square - Photo taken on Nov. 6 shows the advertising screen presenting a video to celebrate the 80th anniversary of the founding of Xinhua News Agency, at Times Square in New York.
Despite recurring trade disputes between the mainland and developed economies, the World Trade Organization rated China's performance in the past decade an "A +." "Considering China as the world's largest exporter and the second largest importer, it's normal to have more trade friction," WTO deputy director-general Valentine Rugwabiza told The Standard on the tenth anniversary of the country's accession to the WTO. During a recent visit to Hong Kong, she said China could be an example for Russia, which is set to join the WTO. Asked whether it is right for China to impose limits on exports of rare earth resources, she said the WTO generally prohibits trade restrictions, but members could adopt measures to protect scarce natural resources. She declined to comment on suggestions that China would seek market economy status from the European Union in return for supporting the euro zone rescue fund. Referring to progress made since the WTO entry, she said Beijing has made vast improvements. "China's tariffs on manufactured and agricultural imports are very low by the standards of the developing countries where it has reduced from an average of 15 percent before accession to 9.5 percent in 2010." Rugwabiza added that every year China has imported goods worth US$750 billion (HK$5.85 trillion) on average and created more than 14 million jobs for trading partners. Looking forward to the Doha Development Round, which addresses issues such as agricultural subsidies, she hopes there will be some progress. The Doha Round began in 2001 but broke down despite several attempts in the past few years as significant differences arose between developed and developing nations.
Shares of Tingyi (Cayman Islands) (SEHK: 0322) Holding Corporation rose more than 13 per cent on Monday morning after the Chinese noodle and beverage maker struck a deal with PepsiCo to jointly tap China's beverage market. Tingyi's shares hit a two-month high of HK$23.80 before easing to HK$22.80 as of 10.38am, up nearly 10 per cent versus a 0.59 per cent gain in the benchmark Hang Seng Index. The company announced on Friday that it would buy PepsiCo's money-losing bottling business in China, giving the US company's products access to Tingyi's vast distribution network. In return, PepsiCo will receive a 5 per cent indirect stake in Tingyi-Asahi Beverages Holdings (TAB), a joint venture between Tingyi and Japan's Asahi Group Holdings. "We believe the strategic alliance with PepsiCo is neutral to positive for Tingyi," RBS said in a research note, adding that the deal should strengthen Tingyi's market position, enrich its product mix and increase its bargaining power with distributors and suppliers. But the challenge for Tingyi was whether it could successfully turn around and integrate PepsiCo's plants and businesses in China, it said. Under the deal announced on Friday, PepsiCo will initially receive 5 per cent of Tingyi-Asahi Beverages, with the option to increase its stake to 20 per cent by 2015, when China is projected to become the world's largest market for bottled drinks. The company was also considering listing its unit Tingyi-Asahi Beverages Holdings (TAB), a joint venture with Asahi Group Holdings, Tingyi Chairman Wei Ing-Chou said on Monday. But this is only a long-term plan, Wei told reporters, without giving further details. Tingyi announced on Friday that it would buy PepsiCo's money-losing bottling business in China, giving the US company's products access to Tingyi's vast distribution network. In return, PepsiCo will receive a 5 per cent indirect stake in TAB, which Tingyi said has a valuation of US$15 billion. Under the deal announced on Friday, PepsiCo has the option to increase its stake in TAB to 20 per cent by 2015, when China is projected to become the world's largest market for bottled drinks. Analysts said the deal would create synergy and cut costs, with PepsiCo benefiting from Tingyi's nationwide distribution network. Bankers and analysts said PepsiCo had been losing money in China partly because it did not have a strong joint venture partner and had suffered from limited access to national distribution networks. PepsiCo's bottling business in China, which has a book value of US$600 million, has lost money for the past two years amid soaring raw materials costs and intense competition from Coca-Cola, whose share of the mainland market is more than triple that of Pepsi.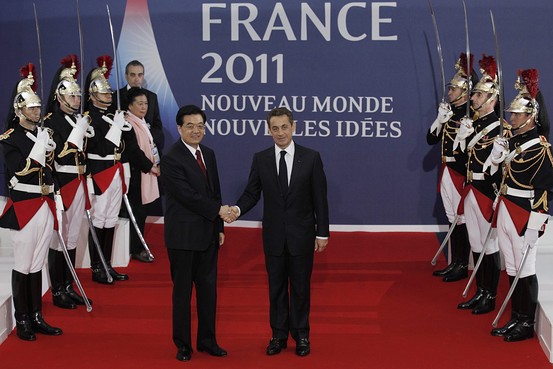 At the G20 summit in Cannes last week, the Chinese delegation circulated two versions of a speech by Chinese President Hu Jintao: one in English, the other in Chinese. The English-language transcript of Hu's prepared remarks, distributed on Thursday night, contained the following passage: "To keep asking emerging markets to revalue their currencies and reduce exports will not lead to balanced growth. On the contrary, it would only plunge the global economy into a 'balanced recession' and make sustainable growth impossible." It was some of the strongest language yet from the Chinese side rejecting yuan appreciation pressure. But that passage was omitted entirely from the Chinese transcript. The upshot was that foreign media reported a tough stance by Hu on the yuan, while official Chinese media reported a much milder speech. The following day, after all the stories were issued, the Chinese delegation belatedly asked reporters to use the Chinese-language version, without explaining why. The confusion highlights the sensitive position that China finds itself in, with slowing growth and exports making a case for slower appreciation of the currency, even as political pressure from abroad to allow a faster rise remains intense. It's still unclear which version of the speech was actually delivered at the summit. Hu spoke behind closed doors to a small, elite group consisting of the G-20 heads of state and possibly their top staff members. China's official Xinhua News Agency published a transcript of Hu's remarks on its English-language service on Thursday night with the language included. But on Friday, Xinhua published the English transcript again, with the relevant passage removed. Xinhua also ran an English-language commentary piece on Friday with nearly identical language on emerging market currencies, but didn't attribute these comments to Hu. At the conclusion of the summit, the G-20 endorsed stronger language than previously on currencies, calling for faster moves towards flexible, market-based exchange rates, a point highlighted by U.S. officials as a significant shift by China. Chinese leaders, however, may draw a distinction between yuan flexibility and yuan appreciation, as they argue that market forces can move the currency in both directions. Indeed, Chinese Commerce Minister Chen Deming told reporters on the sidelines of the conference that he believes the yuan has already appreciated to a reasonable level, having risen over 30% against the U.S. dollar since 2005. Selling pressure on the yuan that emerged in September shows the market perception of the currency is starting to change, he said. In short, even without confusing mix-ups over speech translations, the U.S. and China may still be speaking different languages when it comes to exchange rates. The G-20's call for flexible exchange rates may have been lost in translation.
For years, Chinese fine wine buyers have tended to favor high-end juice from France's Bordeaux region. Lately, however, wines from another part of France — Burgundy — have started to seep into the Chinese market. One highly anticipated barometer of the wine region's progress among Chinese consumers was a Burgundy-dominated auction held by Acker Merrall & Condit in Hong Kong over the weekend (see video above). Well, the results are in and there was good news for Burgundy producers: 98% of the lots sold for a total of $14.5 million

Hong Kong*: Nov 8 2011 Share
Gold flow from Hong Kong to the mainland in September rose almost sixfold from a year earlier to a record of 56,896 kilograms, the Hong Kong Census and Statistics Department said on its website - The amount of gold entering the mainland from Hong Kong in the first nine months more then doubled from a year earlier to 201,068 kilograms, the department added. Spot gold prices slumped more than 10 per cent in September, after hitting a record high above US$1,920 an ounce on September 6, prompting strong buying interest on the physical market. The run-up to the week-long public holiday in China at the beginning of October – a buzz week for retailers – also helped boost China's appetite for bullion. Gold bar premiums in Hong Kong doubled during September to US$2 an ounce over spot prices by the end of the month, and subsequently jumped to more than US$3 in early October. China does not publish gold trade data.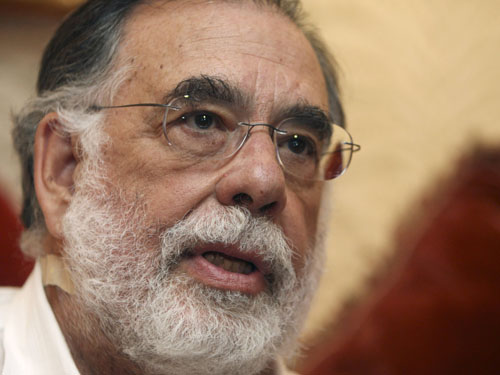 US film director and multi-Oscar winner Francis Ford Coppola yesterday likened movie-making to his other great passion, wine, at the opening of the three-day WineFuture expo at the Convention and Exhibition Centre. The director of modern classics such as Apocalypse Now and The Godfather trilogy said producing a fine wine had features in common with directing a great film. "Cinema and wine-making are similar in three areas," Coppola said. "You have the gathering of source material, choosing from the material and adding the finishing touches." But he said he had no plans to give the subject the big-screen treatment. "I am Italian-American. I recall wine at the table since my earliest memories. I got into wine purely because I love it, not as a businessman." Hong Kong has become the wine hub of Asia since the government abolished duties on imports in 2008, helping the market expand beyond a handful of local connoisseurs. "I am very impressed by the changes and gladdened by the removal of the duties," said Coppola, who is on a panel discussing "The New World Approach". WineFuture is an annual gathering of some of the most important wine personalities. This year it features one of the world's most influential wine critics, Robert Parker, who will lead three South China Morning Post (SEHK: 0583) -sponsored events - a masterclass and two wine dinners. The Trade Development Council said Hong Kong's wine imports rose from HK$2.86 billion in 2008 to HK$6.98 billion last year. In the first eight months of this year, imports reached HK$6.67 billion, a 65 per cent increase year on year.
The pro-Beijing camp scored a landslide victory in Sunday's district council elections – with the Democratic Alliance for the Betterment of Hong Kong (DAB) and Federation of Trade Unions winning 146 of the 412 seats. In contrast, the pan-democratic camp suffered an even worse defeat than it had experienced in 2007. The Democratic Party won only 47 seats, while the Civic Party won seven. A record turnout of 1.2 million people voted on Sunday in the most hotly contested district council elections in Hong Kong history – which saw 839 candidates contest 336 constituencies. Some 76 councillors were returned. Of the 2.9 million eligible voters, 41.4 per cent cast their ballots – compared with a turnout of 38.8 per cent in the 2007 district council polls and 44.06 per cent in 2003 – when there were nearly 500,000 fewer registered voters. All results were tabulated and released by 4am on Monday. DAB chairman Tam Yiu-chung said he was satisfied his party had secured more seats. DAB lawmaker Ip Kwok-him defeated Leung Kwok-hung of the League of Social Democrat (LSD). Ip received 2,723 votes, while Leung, also known as "Long Hair", only got 973 votes. Ip said this showed voters were unwilling to back radical politicians. Civic Party legislators Tanya Chan and Ronny Tong Ka-wah both lost their seats. Chan was beaten by Liberal Party first-time candidate Joseph Chan Ho-lim in the Peak constituency of Central and Western. Tong lost to incumbent independent Wong Ka-wing in City One, Sha Tin. Civic Party leader Alan Leong Ka-kit said the goal of achieving full universal suffrage would be more difficult after the landslide defeat. The party only won seven seats, despite fielding 41 candidates. The Democratic Party also suffered, as its lawmakers Lee Wing-tat and Wong Sing-chi were defeated in Kwai Tsing and North District, respectively. The party's vice-chairman and former lawmaker Sin Chung-kai lost to incumbent councillor David Wong Chor-fung, of the New People's Party, in Wan Chai's Tai Hang constituency. However, party chairman Albert Ho Chun-yan fended off a challenge from People Power candidate Albert Chan Wai-yip and independent Shum Kam-tim in Lok Tsui, the Tuen Mun District. Ho said the party had "passed a test" because it did not lose too many seats. However, the party now has three fewer seats. He said the pan-democrats would need to review their strategy. Democrat lawmakers Kam Nai-wai and James To Kun-sun held on to their seats in Central, Western and the Yau Tsim Mong District. Radical pan-democratic group People Power – whose goal was to punish the Democratic Party and Association of Democratic and People's Livelihood for backing the government's reform package for the 2012 elections – was the biggest loser. Of its 62 candidates, only one achieved a victory. Its campaign mostly received lukewarm support from voters. The radical LSD which fielded 28 candidates failed to win any seats. Party chairman Andrew To Kwan-hang lost his seat in Chuk Yuen North, the Wong Tai Sin district. The New People's Party – which contested the elections for the first time – secured four seats. The party fielded 12 candidates this year. The Electoral Affairs Commission said it had received about 2,200 complaints from voters.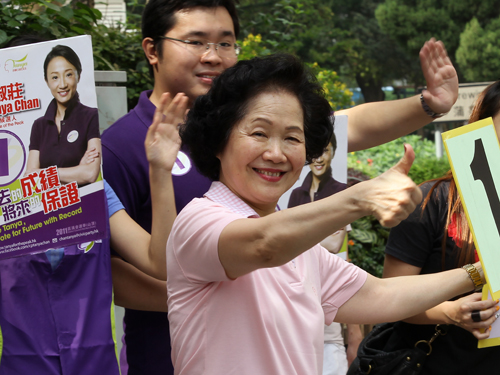 A record turnout of 1.2 million people voted yesterday in the most hotly contested district council elections in the city's history. Of the 2.9 million eligible voters, 41.4 per cent cast their ballots, as 839 candidates contested 336 constituencies, while 76 councillors were returned uncontested. The count was expected to be completed by 4am today. The turnout compared with 38.8 per cent in the 2007 district council polls and 44.06 per cent in 2003, when there were nearly 500,000 fewer registered voters. Early results indicated the pan-democrats were in for a long and painful night. Civic Party legislators Tanya Chan and Ronny Tong Ka-wah both lost out. Chan was beaten by the Liberal Party's Joseph Chan Ho-lim in the Peak constituency of Central and Western, while Tong lost to incumbent independent Wong Ka-wing in City One in Sha Tin. Wong said he was surprised by the size of his victory, polling almost twice as many votes as Tong. Another pan-democrat heavyweight, Lee Cheuk-yan of the Confederation of Trade Unions, was defeated by Wong Kwai-yung of the Federation of Trade Unions in the Fu Yan constituency in Yuen Long district. Democrat Party vice-chairman and lawmaker Sin Chung-kai became another major scalp, losing out to incumbent councillor David Wong Chor-fung of the New People's Party in Wan Chai's Tai Hang constituency. Sin said it was a "painful loss" and showed that the public had "sounded the alarm bells for the pan-democratic camp". He said his party needed deep reflection. It was a colourful day for some candidates, with Democrat Ricky Lam Wai-kei remaining calm and silent while People Power's Edward Yum Liang-hsien yelled at him for five minutes in front of television cameras in the Lung Sheung constituency of the Wong Tai District Council election. The radical pan-democratic group People Power fielded 62 candidates, of whom 36 challenged the Democratic Party, while nine more took on the Association for Democracy and People's Livelihood (ADPL). People Power said its goal was to penalise the two moderate groups for backing the government's reform package for the 2012 elections. The Democrats and the ADPL warned that People Power's move would split the democrat vote. The elections were widely seen as a milestone on the way to universal suffrage, and sparked unprecedented interest among political parties. More was at stake than usual this year: under the electoral reform package passed last year, district councillors will be eligible to contest the five "super seats", to be decided by 3.3 million voters in next year's Legco election. The 412 newly elected district councillors can take part in the election committee subsector polls next month and the 117 winners can vote for the chief executive in March. Ma Ngok, a political scientist at Chinese University, attributed the higher voter turnout to the creation of five "super seats" in the Legislative Council and the pan-democrats' repeated warnings of the dire political consequences if they did not produce a good showing in the district council polls. Electoral Affairs Commission chairman Mr Justice Barnabas Fung Wah said that by 5pm yesterday it had received 1,600 complaints from voters.

China*: Nov 8 2011 Share
Beijing is likely to inject more than 1 trillion yuan (US$158 billion) into the money market in the next two months via annual subsidies from the Ministry of Finance, the official China Securities Journal on Monday quoted a research report as saying. The injection will help improve liquidity, which has been impacted by the government's tight monetary policy in place since October last year, the newspaper quoted the report by China International Capital Corpotation (CICC) as saying. The Finance Ministry typically offers subsidies to various industries and sectors in the last two months of each year as part of distribution of the government's annual tax income. The ministry does not publicise these subsidies but the market estimated they totalled 1 trillion-2 trillion yuan last year. The People's Bank of China (PBOC) has not raised interest rates or bank reserve requirement ratios (RRR) since July in a sign that the government may be considering loosening its tight monetary stance amid the market turmoil sparked by the euro zone debt crisis. The central bank previously instituted a slew of rate and RRR hikes as inflation repeatedly hit three-year highs. Those steps offset the impact of liquidity injections via Finance Ministry subsidies late last year, but the market widely expects the PBOC will leave the subsidies to improve market liquidity this year, traders have said.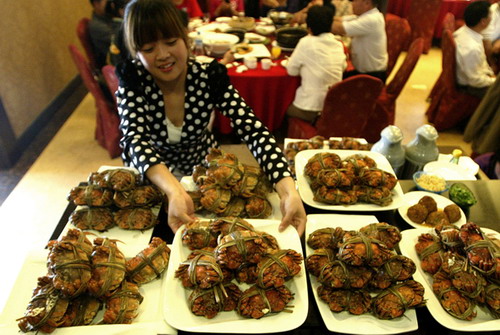 A waitress serving customers with fresh water crabs at a restaurant in Nanjing, capital of East China's Jiangsu province. Demand for online Chinese meal ordering and delivery services has increased in recent years in mega cities such as Beijing and Shanghai but experts say companies need to improve service quality to attract more customers. The growing pace of life and the long lines of people waiting outside famous restaurants have driven many white-collar workers and young people to switch to online ordering services to save time and money. Currently, most online ordering services are provided by third parties rather than the restaurants themselves. "Some Chinese restaurant operators may not consider developing an e-commerce division so there are big market opportunities for us," said Jiang Xing, the founder of Canzhuowang, one of the online meal ordering and delivery service providers in Shanghai. Compared with the price of meals served in traditional bricks and mortar restaurants, the cost of dishes offered online is considerably lower. In some cases, consumers might receive as much as 10 percent off a meal ordered online. "Stress from the growing pace of life discourages many young people from preparing a meal at home. Home delivery is a convenient way for people to enjoy life without lining up for a long time outside a restaurant," said Mo Daiqing, from China E-Commerce Research Center. Jiang said the number of orders received online grew significantly in 2011 compared with demand in 2008 because the business model is gradually being accepted by Chinese people. "When I established Canzhuowang four years ago, we had fewer than 3,000 orders a month and our main customers were from Taiwan and Hong Kong. Now, we need to meet more than 20,000 orders a month," said Jiang. The entrepreneur said changing consumption and expenditure habits were key factors contributing to business growth. He said customers were getting familiar with home delivery services and had begun to trust the business model. "Many Chinese were not willing to pay delivery fees at the beginning because they thought home delivery should be free. It was a big challenge for us to educate consumers to pay this extra fee. However, the delivery fees charged by foreign companies such as Pizza Hut and KFC made people realize that home delivery is not a free service," said Jiang. At present, there are several companies offering home delivery services including 717.com and 129T.com in Shanghai. However, Jiang said business was not easy even though the potential market is big. "We do not have great bargaining power in negotiating with restaurants, so the profit margin is pretty low," said Jiang. "Online orders are not numerous enough so restaurant operators do not pay a lot of attention to this sector." According to Jiang, the gross profit margin is around 25 percent because he only focuses on orders from restaurants. He said the gross profit margin is comparatively lower for other companies who offer delivery services for casual meals. Industry experts say not all food supplied in restaurants is suitable for home delivery, which means less choice for customers. "Hot and spicy food is suitable for home delivery because the tastes will not change a lot. However, food made with flour such as noodles does not work well as a delivery item," said Jiang. Although industry experts say the future is promising for online meal home delivery businesses, potential customers are still hesitant about ordering online. "I know there are several service providers but I am not sure whether they can really be on time. I will get frustrated if orders cannot be delivered on time," said Wang Rui, a Shanghai resident. Jiang said more than 70 percent of orders are delivered on time, which is good by industry standards. Some say the restaurant experience is markedly different from eating the same meal at home and are willing to pay for the difference.
The government may revise regulations covering joint offshore oil exploration with foreign companies following a spill off the northeastern coast at a field operated by ConocoPhillips China, sources said. The proposed revision is being led by the Ministry of Land and Resources (MLR) and aims to strengthen government oversight of offshore oil and gas exploration involving foreign enterprises, according to a source who requested anonymity. The source said that the revised amendments to the regulations would nail down regulator responsibility, especially for the MLR, the National Energy Administration, the General Administration of Quality Supervision, Inspection and Quarantine, the Ministry of Environmental Protection and the State Oceanic Administration. Detailed penalties for environmental damage caused by companies and violations of other rules would also be covered. A senior official from the MLR, who also declined to be named, confirmed to China Daily that the amendments are under discussion among officials and experts, and may be sent to the State Council this year. He did not disclose any further details. Amendments to the regulations, which were introduced in 1982, have been carried out before, in 2001 and 2011. But these could be the most comprehensive changes. Under existing rules, China National Offshore Oil Corp (CNOOC) is authorized by the government as the exclusive entity to carry out domestic offshore oil exploration activities with foreign companies. The regulations currently are not specific on obligations and responsibilities concerning the government and companies, particularly when accidents occur. The recent oil spill has exposed shortcomings of regulators and the inadequate punishment for those responsible, said Feng Fei, director of the industry department at the State Council's Development Research Center. "The supervisory capabilities of related regulators should urgently be raised," he said, suggesting that amendments should seek greater insight into just how experienced various companies are in offshore drilling. Chen Bi, executive vice-president of CNOOC, said earlier that he did not know about the possible amendments. But he added that the spill in June will make the company consider reviewing the cooperation model with foreign companies. CNOOC holds a 51 percent stake of the Penglai 19-3 oilfield off Bohai Bay. More than 3,300 barrels of oil spilled from this field. ConocoPhillips China, a subsidiary of the Houston-based energy company ConocoPhillips, holds the remaining 49 percent and operates the production base. The field is the biggest offshore oilfield so far discovered in China with estimated recoverable reserves of about 500 million tons. "The incidents have caused very negative effects on both the environment and society," Chen said. More stricter regulations, both in terms of safety and environmental protection, will be introduced, he said. Donna Xue, spokeswoman for ConocoPhillips China, refused to comment on the proposed revisions but said that the company is not familiar with possible regulatory amendments. The June spill was widely considered by industry experts as a catalyst to propel the government to review existing regulations introduced when China was short of capital and technology. Offshore oil exploration has been going on for about 30 years and revisions are inevitable, a senior researcher from China National Petroleum Corp, the country's biggest oil and gas producer, said, on condition of anonymity due to the sensitivity of the issue. "The spill is a stimulus to the revisions," he said. In addition, Feng also questioned the exclusive rights of CNOOC in the offshore oilfield by saying that the country should let more Chinese companies participate in joint exploration activities. Competition may help boost the industry to develop in a much healthier way, he said.

Hong Kong*: Nov 6 - 7 2011 Share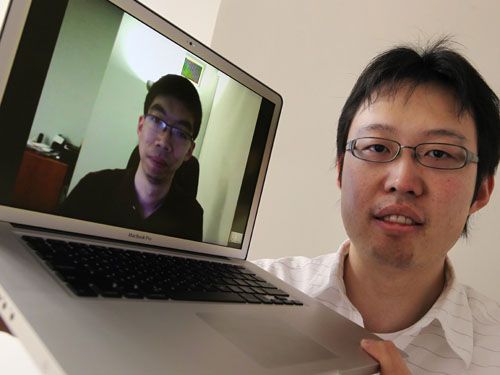 When Stanford graduate Andrew Toy Jong-kein quit Morgan Stanley and launched a technology company, he decided not to base it in Silicon Valley. Instead, he started it in Hong Kong, where the economy is geared around finance and property rather than technology. Born locally and educated at Island School, Toy, 33, chief executive officer of Enterproid, also insisted on employing local graduates. "When we showed our technology to Google headquarters in California, they were amazed by what we had done ... our technology is better than technology coming from people in Silicon Valley," he said. In less than two years the company has grown into a multinational with bases in Hong Kong, New York and London. Toy set out to change the practice of people using the BlackBerrys provided by their companies for business and another phone for personal use to avoid compromising sensitive information. His company's Android app, Divide, which allows users to split one smartphone between work and personal use, has won two international awards and attracted US$11 million in investment from companies including Google and partnerships with AT&T and Dell. Toy met co-founder David Zhu Wei while they were studying computer science at Stanford University in California. They went on to work as engineers in various companies, including Morgan Stanley, where they met third partner Alexander Trewby. Toy wanted to give Hong Kong a try, and his partners agreed. "The one thing that is really good about Hong Kong is the talents. We have been very, very happy. It exceeded our expectations in terms of the quality of the people that we can hire," Toy said. Zhu, 32, said Hong Kong graduates were good academically, but lacked problem-solving skills and were reluctant to take risks. But with the trio's experience in Silicon Valley, they were able to create a team of passionate engineers. They will have 20 staff in Hong Kong by the end of this year. Enterproid started life early last year with US$500,000 and the use of a conference room in a Tsim Sha Tsui office owned by Toy's uncle. The company says it is now dedicated to encouraging more hi-tech entrepreneurship.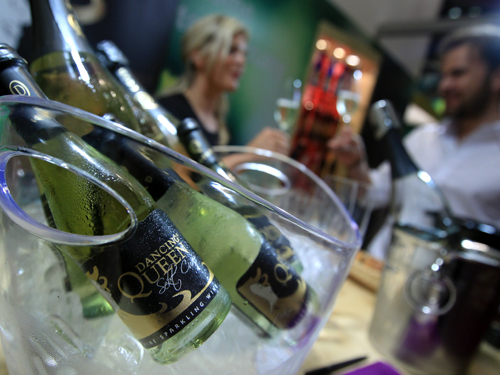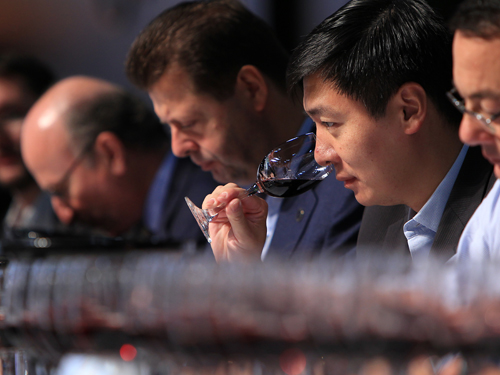 Wine lovers toast record-breaking imports - HK$7.3 billion worth poured into the city in 9 months, following HK$6.98 billion for the whole of last year - Visitors toast a new German brand of sparkling wine on offer at a booth yesterday. A total of 930 exhibitors set up shop at the Wine and Spirits Fair. The curtain fell on Hong Kong's biggest wine and spirits fair yesterday as figures emerged showing that the city had already brought in a record-breaking HK$7.3 billion worth of wine in the first nine months of the year alone. It beats the HK$6.98 billion worth of wine imported for the whole of last year, the highest market-value figure at the time. Year on year, the third quarter results showed a 57 per cent increase. The rise is put down to Hong Kong's development as a regional hub in the industry at a time when an increasing number of mainlanders are becoming wine drinkers and collectors. Wine re-exported this year is expected to exceed 50 per cent of the overall imported wine in terms of volume, according to figures provided by dealer ASC Fine Wines, one of 930 exhibitors at the International Wine and Spirits Fair. Re-export volume has tripled since 2007 from 5.1 million bottles to 16 million last year - out of a total of 51 million bottles imported into the city. "Hong Kong is edging towards becoming a hub for the alcohol trade," said Hong Kong Trade Development Council deputy executive director Chau Kai-leung. The three-day wine fair at the Convention and Exhibition Centre also set its own records: 19,403 retail buyers - a 37 per cent increase from last year - and more than 19,690 visitors on the final day. One of them, Christopher Britton, who was about to enter an Italian fine wine tasting session, said: "By tonight, we will probably be a little bit worse for wear." Rich Xu, who runs a wine trading firm in Shenzhen, had some specific shopping in mind. "I have spent about 2 million yuan [HK$2.5 million] on wine futures, but here I am looking for some vintage wine," he said. David Andrews, ASC Fine Wines general manager for Hong Kong and Macau, said that robust growth in the mainland market had been an enormous help for wine dealers based in Hong Kong. The company's Hong Kong office is set to expand by 50 per cent in terms of manpower, he said. Mainland demand is "higher than the amount the French can produce", Andrews said. Last year, Hong Kong imported 35 million bottles of wine for local consumption. Andrews cited a study by wine expert Debra Meiburg showing that more than half the wine consumed in Hong Kong is priced at less than HK$300 per bottle.
The number of Hong Kong property transactions agreed to in October fell 14% from September and 53% from a year earlier, Land Registry figures showed, as potential home buyers retreated because of rising mortgage rates and volatile markets. The total came in at 5,675 transactions, valued at 27.6 billion Hong Kong dollars ($3.55 billion), down 12% from September and 52% from a year earlier. There were 4,643 transactions in the residential property sector, down 3.7% from September and 51% from a year earlier. In terms of value, residential property transactions totaled HK$22.5 billion, down 2.2% from September and 50% from October 2010. Transactions have declined in recent months as mortgage rates have risen, albeit from a base of less than 1% for some adjustable-rate loans. Uncertainty over the euro-zone sovereign debt crisis also damped sentiment. Although Hong Kong property prices began to fall in a month-on-month basis in July, they were still 12% higher than at the start of the year as of August, government statistics show. The price increases earlier in the year followed a 24% surge in 2010, the result of abundant liquidity and persistently low interest rates.

Gambling revenue in Macau rose 42% to a record high in October, government statistics showed Tuesday, as high rollers from mainland China continued to drive growth despite concern that the authorities' credit-tightening or an economic slowdown will stop the music. Macau, the only place in China where casino gambling is legal, has seen gambling revenue soar since the end of 2009, and is poised to rake in more than five times the gambling revenue of the Las Vegas Strip this year. Gambling revenue in the Chinese territory rose to 26.85 patacas (US$3.36 billion) in October, up from 18.87 billion patacas in the same month a year earlier, data from Macau's Gaming Inspection and Coordination Bureau showed. October's revenue haul beat the territory's previous high of 24.77 billion patacas hit in August. It was boosted by China's "golden week" holidays, which fall in May and October. The strong numbers were recorded during a month of extreme volatility in casino stock prices due to intensifying concern that a liquidity crunch in China could cool the casino industry's explosive growth. Though data don't show any evidence of a slowdown in Macau--in the January-October period, Macau's gambling revenue was 45% higher than a year earlier--investors dumped casino shares in early October with SJM Holdings Ltd., Macau's largest operator by revenue, tanking 26% in just one trading session. The strong October revenue figures led the Hong Kong-listed shares of Macau's six casino operators to outperform the territory's benchmark Hang Seng Index, which fell 2.5%, hurt by a China manufacturing activity report that fell short of economists' forecasts. Galaxy Entertainment Group Ltd. led the way, rising 0.7% to HK$16.26, while Wynn Macau Ltd.'s shares rose 0.5% to HK$22.35. Sands China Ltd.'s shares fell 0.2% to HK$23.85, but that marked a 6% rebound from an intraday low of HK$22.50. Stanley Ho's SJM Holdings was the weakest link, falling 1.8% to HK$13.44. But the Chinese manufacturing data illustrate the complex outlook for the world's second-largest economy, the source of most of the money bet on Macau's baccarat tables. Disappointing Purchasing Managers Index figures, combined with recent government measures to help smaller businesses, have fueled expectations that China's tightening cycle is over, but the poor data also indicate that a tight monetary policy and weakening export demand have started to take a toll on economic growth. Less clear still is the effect any macroeconomic developments in China could have on Macau's gambling industry, which is driven by the opaque and notoriously difficult-to-forecast VIP business. In a recent report, Bank of America Merrill Lynch analyst Billy Ng wrote that the key fundamental drivers of Macau gambling growth are the wages of Mainland Chinese--and hence their net worth--the number of visitors to Macau, and the value of the Chinese currency.

China*: Nov 6 - 7 2011 Share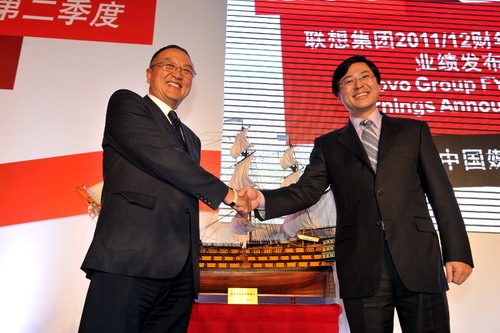 Yang Yuanqing (right), CEO and Chairman of Lenovo Group, gives a farewell present to outgoing Chairman Liu Chuanzhi on Wednesday in Beijing. China's largest PC maker, Lenovo Group, announced the resignation of its founder and Chairman Liu Chuanzhi on Wednesday. The announcement coincided with the release of results for its second fiscal quarter, which ended on Sept 30. For the quarter, Lenovo recorded an 88 percent year-on-year gain in net profit to $143.9 million, while revenue rose 35 percent to $7.79 billion. Lenovo has become the world's second-largest PC vendor, with record market share of 13.5 percent during the July to September period, according to International Data Corp (IDC). In the second fiscal quarter, Lenovo's worldwide PC shipments rose 35.8 percent year-on-year, against the PC industry's global growth rate of 5 percent. The company attributed the growth to previous acquisitions and surging sales in overseas markets. Lenovo's overseas mature markets, such as the United States and Japan, exceeded Chinese sales revenue for the first time in the most recent fiscal quarter, with revenue of $3.3 billion, accounting for 42.6 percent of the company's worldwide sales. After buying International Business Machines Corp's PC business in 2005, Lenovo announced a $175 million joint venture with Japan's NEC Corp in January this year and the acquisition of Medion AG, a German multimedia and consumer electronics maker, in July. Added by the sales revenue of the two companies, Lenovo's gross profit for the second fiscal quarter increased 59.8 percent year-on-year, to $948 million, with a gross margin of 12.2 percent. "We still consider acquisitions as an important method to drive our growth," said Liu. The company said that Liu, who returned as chairman in February 2009 to help turn the company around in the wake of the global downturn, would end his duties as chairman effective Thursday. His successor, Yang Yuanqing, will assume the dual roles of chairman and CEO. Liu said that after Yang takes over, Lenovo won't just focus on acquisitions in the PC sector but will also look at companies in other emerging industries. "The change of CEO means that Lenovo has emerged from its crisis, which started from 2009, and entered a stable phase," said Wang Jiping, a senior analyst with IDC China. "Sooner or later, we'll be number one in the global PC market, if we keep growing at the same pace," Yang said. Wang said Lenovo does have a very strong homefield advantage in the Chinese market, with $3.2 billion sales last quarter, but if it wants to surpass Hewlett-Packard Corp and become No 1 in the global market, it must find new growth drivers and regions beyond China. Liu will remain chairman of Lenovo's parent company, Legend Holdings, and his focus will be on building the company's core operating assets in new industries such as agriculture and new materials. He will also help it achieve a listing in Hong Kong between 2014 and 2016.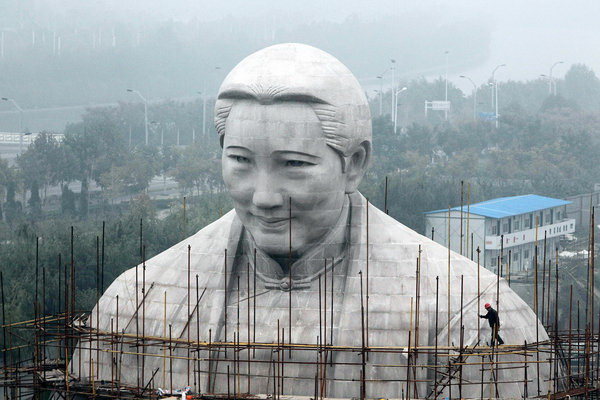 A 24-meter stone statue of Soong Ching Ling (1893-1981) is going up in Zhengzhou, capital of Central China's Henan province, on Nov 3, 2011. Soong Ching Ling is former vice-president of China and wife of Sun Yat-sen, the leader of the 1911 Revolution that toppled the Qing Dynasty (1644-1911), China's last dynasty. The statue's base is designed as a meeting hall with an area of 800 square meters and construction is expected to be completed by the end of this month, according to construction workers. One of the workers said the statue belongs to the Henan Provincial Soong Ching Ling Foundation.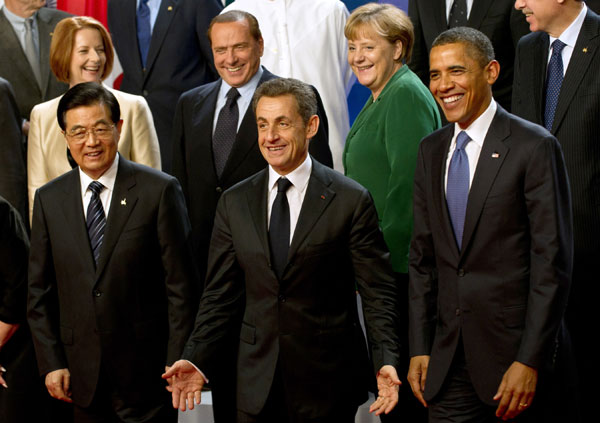 G20 members on Friday agreed to boost the resources of the International Monetary Fund (IMF) to prevent the European debt crisis from pulling the world economy into a fresh recession - but failed to agree on how. Speaking at the end of the two-day G20 meeting, French President Nicolas Sarkozy, the summit's host, said finance ministers of G20 members would be tasked with examining various options. Earlier reports on Friday said G20 leaders spent a large amount of time discussing how to inject billions of dollars into the world economy through the IMF. Sources also told Reuters that Sarkozy was pushing to include a reference to special drawing rights - a supplementary foreign exchange reserve unit maintained by the IMF - in a final G20 communique on Friday. Reinforcing the IMF would help boost confidence, said Dirk Willem te Velde of London-based think tank Overseas Development Institute. "I believe the IMF proposal could help stabilize the eurozone in the short term. But in the longer term, we need to reduce global imbalance by encouraging deficit countries to export more and surplus countries to increase demand." The fiscal problem in the eurozone is just the short-term side effect of the ongoing crisis, said James S. Turley, chairman and chief executive of accounting firm Ernst & Young. The long-term problem that European nations need to fix is a possibly significant slowdown of the economic growth. "In the eurozone overall, there is not much of a growth story. That is as severe an issue that needs to be dealt with as the fiscal situation," Turley told China Daily in Beijing. President Hu Jintao on Thursday called for reform of the international monetary system, including expanded use of the special drawing rights and creation of an international reserve currency with stable value, rule-based issuance and manageable supply. US President Barack Obama hailed what he said was good progress in talks with his G20 partners on finding ways to solve the eurozone debt crisis, which has threatened the world economy. "We came to Cannes to discuss with our European friends how they will move forward and build upon the plan they agreed to last week to resolve this crisis," he said after the G20 summit. Tax haven fight - Apart from boosting the IMF, Sarkozy said other key achievements of the summit include warnings against tax havens. Sarkozy said tax havens - and countries that don't share tax information - will be shunned by the international community. "We don't want any more tax havens. Our message is clear," he said, adding G20 members have agreed to boost growth and, for the first time, had agricultural issues on the agenda. Sarkozy's remarks were partly in response to earlier complaints the summit was "shadowed, or even hijacked, by the euro crisis issue", said te Velde. "It would be essential for the G20's credibility that the G20 meeting in Cannes initiated long-term solutions to foster sustained growth globally rather than commenting only on quick fixes to the eurozone crisis," he said. China has called for more help to be given to the less-developed parts of the world. In his speech, Hu said food security, infrastructure, and tariff-free and quota-free treatment to least-developed countries have been the focus of the G20 consultations on development this year. "To further help the least-developed countries in their endeavor to develop, China will, in the context of South-South Cooperation, give zero-tariff treatment to 97 percent of the tariff items of exports to China from the least-developed countries having diplomatic ties with China," he said. Unlike a day earlier, the Greek issue didn't dominate Friday's discussions after it was clear that the country had called off a referendum on whether to stay in the eurozone. Greece's Prime Minister George Papandreou may yield power to a coalition government after a confidence vote in parliament late on Friday. Government sources told Reuters on condition of anonymity that Papandreou has struck a deal with ministers to step down and hand power to a negotiated coalition government if they help him win the vote. One source was quoted as saying Papandreou "agreed to step down" and the situation was "very civilized, with no acrimony". Papandreou surprisingly raised a referendum plan on Oct 31 on whether the debt-ridden nation will accept the bailout plan European leaders reached last week. The referendum plan shocked other European leaders such as German Chancellor Angela Merkel and Sarkozy, who said Greece would not receive one cent in aid until it votes to meet its commitments to the eurozone. Under intense pressure, Greek Finance Minister Evangelos Venizelos confirmed on Friday the referendum had been scrapped.

Hong Kong*: Nov 2 - 5 2011 Share
The mainland's railway companies were among the worst performers of the stock market yesterday following unsatisfactory third-quarter results. The share price of China Railway Group (SEHK: 0390) fell 14 per cent to HK$2.63, while that of China Railway Construction Corporation (SEHK: 1186) (CRCC) was down 11.7 per cent to HK$4.70. CSR Corporation lost 10.1 per cent to end the day at HK$4.70. Although China Railway's 48.6 per cent drop in net profit to 1.14 billion yuan (HK$1.38 billion) during the third quarter was in line with market expectations, the poor market sentiment towards the industry has been dragging stocks down, said Guotai Junan Securities analyst Gary Wong. As of September 30, the state-owned firm's loss from a highway construction project in Poland stood at 644 million yuan. Recently, a Polish court ordered China Railway and two other companies to pay US$41.3 million over an aborted highway project. State-owned CRCC did better as it swung into the black with a net profit of 1.35 billion yuan in the third quarter, against a 1.35 billion yuan net loss for the same period last year. "If you exclude the loss in the third quarter last year, CRCC's results don't look that good. The market fears heavy risks," Wong said. Although the net profit of CSR, a train maker, grew 9.7 per cent to 772.6 million yuan in the third quarter, the state-owned firm suffered a net operating cash outflow of 13 billion yuan in the first nine months of this year. Money owed to it more than tripled from 11.18 billion yuan at the end of last year, to 35.09 billion yuan on September 30, mainly due to delayed payments from the country's cash-strapped Ministry of Railways. CSR yesterday received 6 billion yuan in payment from the railway ministry, which is likely to help its finances. A Citic Securities report said 2011 has been a devastating year for China's railway industry, with "no light at the end of the tunnel. The mainland rail sector's growth has ground to a near-halt following the arrest of former railway minister Liu Zhijun in February, the high-speed train crash in July and public concerns over the ministry's massive debt, which stood at 2.1 trillion yuan - or 5 per cent of the nation's gross domestic product - in the first half of this year, said Citic Securities. A JPMorgan report, however, said spending in the sector appeared to be recovering in light of favourable government policies.
A pilot scheme under which homeowners can invite the Urban Renewal Authority to redevelop their blocks attracted just 25 applications by the deadline yesterday. The biggest site covers 21 blocks and the applications come from Central and Western, Island East, Yau Ma Tei, Kowloon City, Sham Shui Po and Wong Tai Sin districts. District councillors say one was received from the dilapidated "Thirteen Streets" area on the fringe of the former Kai Tai airport. It is unattractive to private developers because of limited profitability. Another is from Hai Tan Street, Sham Shui Po, near an existing authority renewal site. Many of the applicants will be left disappointed as the authority earlier decided to take on only one or two such projects this year. "A panel will review the applications. The successful cases will be included in our annual business plan for the following financial year," a URA spokesman said. It would decide whether to expand the scheme after reviewing the first year's operation. The so-called demand-led scheme was launched in July. Buildings on a site over 400 square metres and in poor condition are considered for redevelopment with two-thirds support from owners. An application gets higher priority if renewal brings urban planning gains such as more open space. Many councillors helping flat owners to organise themselves blame the two-third-majority threshold for the small number of applications. The authority said the high threshold was needed as it would respond only to groups of owners where there was keen demand. Kowloon City district councillor Pius Yum Kwok-tung said homeowners in a street in To Kwa Wan, behind the site of a fatal building collapse last year, wanted to have the whole street rebuilt but they failed to get consent from two-thirds of owners. One block in the middle of the street was already acquired by a company. "There are many buildings nearby with similar problems. Developers or their agents have acquired some units in the blocks, making it difficult for owners who haven't sold to make up the majority," he said.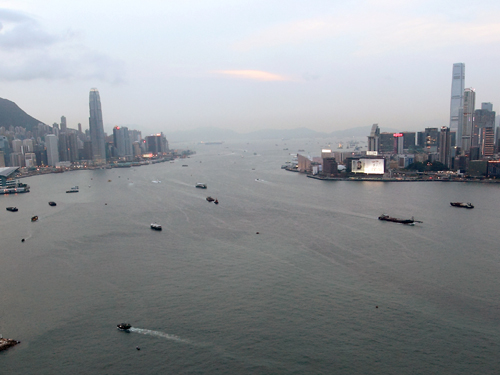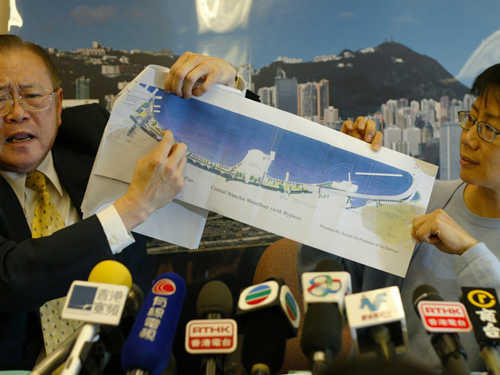 Two activists at the forefront of efforts to protect Victoria Harbour say they are stepping down from their campaign, satisfied that the harbour has become significantly safer from large-scale reclamations. Christine Loh Kung-wai, chairwoman of the Society for Protection of the Harbour, and Winston Chu Ka-sun, the society's adviser, said their mission had been accomplished. "We have come quite a long way," Loh said yesterday. "Sixteen years ago, we started this [campaign] to help raise young people's awareness of their duty to protect the harbour ... It's time to be handing over the baton to someone else." In a sign of how things have improved, Loh said next Sunday's "Walk For the Harbour", an annual event for the past five years, would be the last. Loh said her group had made great strides by drafting legislation now known as the "Protection of the Harbour Ordinance", saving it from the provisional legislative council which wanted it eliminated in 1997. It had also launched several lawsuits against the government over large-scale reclamation projects. The law and a subsequent Court of Final Appeal judgment in 2004 prevented the government from reclaiming the harbour if there is no "overriding public need". Chu said their campaign opposed most proposed reclamations. Only about 30 hectares out of a proposed 584 hectares were being reclaimed. "We are not immortal," said Chu, a lawyer. "We can't do this forever. The task of looking after the harbour should be shared among Hongkongers." The society will, however, continue to exist. Chu said: "We are not chickening out, we are not selling out. If the government proceeds again on [large-scale] reclamation, we will sue them." Dennis Li Kit-wai, the society's director, will take over Loh and Chu's task of monitoring the government. In September, Chu extended an olive branch to the government by presenting his "proportionality principle" to the Harbourfront Commission. He suggested that in determining whether there was an overriding public need for a reclamation project, the primary consideration should be whether any enrichment of the public enjoyment of the harbour would justify the loss and damage to the harbour. Minor reclamations such as the building of a pier, lighthouse, landing steps, breakwater or slipway should be allowed, Chu had said. Carrie Lam Cheng Yuet-ngor, secretary for development, welcomed the proposal at the commission meeting, but said that it offered symbolic meaning rather than a technical solution, because there could always be another party who could go to court. But she said the activists' gesture would encourage officials to proceed with several projects involving small-scale reclamations, including a public promenade under the Island Eastern Corridor, public piers for water-taxis at the West Kowloon Cultural District and a monorail connecting Kai Tak with Kwun Tong. Chu said the society would continue to call for the establishment of a statutory harbour authority to centralise urban planning and construction work around the harbourfront.

China*: Nov 2 - 5 2011 Share
Nearly half of the mainland's super-rich are considering emigration, according to a survey of people with assets of more than 10 million yuan (HK$12.17 million) that has raised concern about the country's worsening social and business environment. The survey, released jointly by the Hurun Report, which also publishes an annual China rich list, and the Bank of China, also found that 14 per cent of the 980 millionaires surveyed had either already moved overseas or were applying to do so. The results were based on one-on-one interviews in 18 major mainland cities, from May to September. The average respondent was 42 and worth more than 60 million yuan, the survey found. Forty-six per cent said they planned to emigrate, citing the better quality of education available for their children overseas, concerns about the security of their assets on the mainland amid political and economic uncertainty, and hopes for a better life in retirement as the main reasons. A third had engaged in "investment immigration", which allows a person to emigrate after they agree to first invest a certain amount of money in the host country. The report did not list the most popular destinations for mainland millionaires, although Hong Kong has long been one of the most attractive places for mainlanders who can afford to live elsewhere. In the past decade the city has attracted at least HK$50 billion in investment immigration from the mainland, with some of this money fuelling the property boom. A recent Xinhua report also listed developed countries with good health care systems and less polluted environments, such as Canada and Australia, as top options for mainland millionaires. After education, protecting assets and retirement, other reasons listed for wanting to emigrate included the lack of a sufficient legal framework on the mainland leading to too many grey areas, a worsening atmosphere for investment, and rising living costs and taxation. Some - corrupt government officials and businesspeople - wanted to leave because they obtained their money illegally. The yawning wealth gap on the mainland has also fed a resentment that makes some of the wealthy uncomfortable. "This massive insecurity about the safety of their assets is like a huge black cloud hanging over their heads," independent business commentator Ye Tan was quoted as saying in the survey report. Other observers say this indicates a worrying trend for the Chinese leadership and the country, whose uneven jump to capitalism over the past three decades has created hundreds of super-rich but left a string of problems behind including corruption, pollution, food safety fears and a creaking health system. "Getting a foreign passport is like taking out an insurance policy," one millionaire from Zhejiang province was quoted as saying.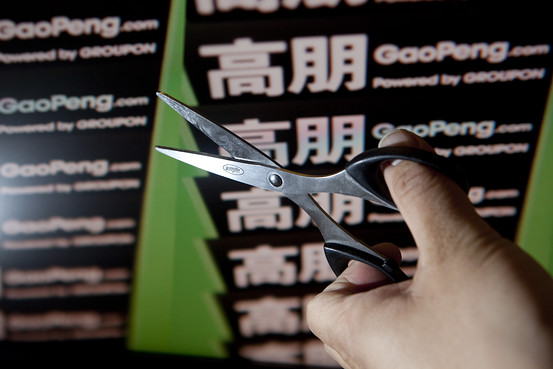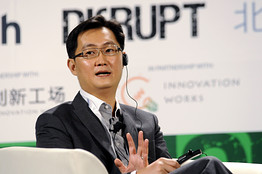 Groupon Gets Lukewarm Review from Chinese Partner Tencent - It wasn't the enthusiastic cheer you might've expected from a partner. Asked about his company's joint venture with online-coupon website Groupon, the chairman of Chinese Internet giant Tencent Holdings replied in decidedly lukewarm terms. "Groupon is our partner, so in a public setting we do not want to say much directly criticizing them," Pony Ma said Monday at Disrupt, a conference hosted by Techcrunch at the China National Convention Center in Beijing, when asked about criticisms of Groupon and other foreign Internet companies looking to expand in China. "We have an open attitude toward trying these new things, but once again it has proven that the China market is totally different from the U.S. or other markets," Mr. Ma said. The Wall Street Journal reported in August that the joint venture, which operates the website Gaopeng.com and is also funded by private-equity firm Yunfeng Capital, had closed offices in some cities and laid off hundreds of employees. Other U.S. Internet companies from eBay to Google have also had trouble expanding in China. Mr. Ma did have some positive things to say about Groupon, arguing that the company had "proved this is a good business model, providing online marketing to local companies," and that the market for that service has good prospects. But one problem is that competition is usually tougher in China than elsewhere, as "dozens or even over a thousand" competitors will quickly crowd any new online industry, Mr. Ma said. "The same night or even the same hour, Chinese companies… will all act at the same time" to imitate a new business model once it becomes known, Mr. Ma said. Analysts estimate there are hundreds of online deals websites like Groupon operating in China, including Lashou Group, which last week filed with U.S. regulators for an initial public offering. The Groupon-Tencent joint venture had a net loss of $46.4 million in the first nine months of the year on revenue of $2.1 million, according a Groupon regulatory filing.
New banking, securities and insurance regulators have been appointed in the biggest reshuffle of financial officials for almost a decade. Shang Fulin, 59, former chairman of the China Securities Regulatory Commission (CSRC), replaces Liu Mingkang, 65, as chairman of the China Banking Regulatory Commission, according to the Xinhua News Agency which quoted an unidentified spokesman with the Communist Party of China (CPC) Central Committee's Organization Department as saying on Saturday. Guo Shuqing, 55, former board chairman of the China Construction Bank (CCB) and a former head of the State Administration of Foreign Exchange (SAFE), takes over from Shang as securities regulator. In addition, Xiang Junbo, 54, the former board chairman at the Agricultural Bank of China (ABC), replaced Wu Dingfu, 65, as chairman of the China Insurance Regulatory Commission (CIRC). The CCB and the ABC are among the country's four largest State-owned banks. Age was the key factor behind the reshuffle, analysts said. Both Liu and Wu have reached the compulsory retirement age of 65 for senior government officials. Guo, a former academic known for his down-to-earth demeanor, will find his new role at the China Securities Regulatory Commission gives him with an opportunity to put his knowledge of global finance to good use for the benefit of the capital markets. Guo has taken some crucial decisions over a three-decade career, including asking CCB shareholders last year to cough up billions to recapitalize the bank after a State-led lending binge in 2009 to prop up China's economy during the global downturn. "Guo is a politician who also has a profound understanding of the global economy," a CCB source, requesting anonymity, said. "He may not be familiar with every aspect of the banking business, but he has a long-term vision that has placed customer-service at the core." The philosophy major and Oxford-educated scholar, who speaks English fluently, has moved easily between academia, government and a rapidly growing commercial sector that has helped China become the world's second-biggest economy. Guo, a native of the Inner Mongolia autonomous region, says he washes up the dishes at home most days. "I don't want to use a dishwasher and waste water or electricity," he said in an interview with Reuters. A pragmatist, Guo studied for a master's degree in Marxist and Leninist theory, writing a thesis entitled "Thoughts About Certain Fundamental Problems in China's Economy" that cautioned of grave risks in using Western macro-economics theories in a China which had just begun to embrace reform. The new securities regulator has published several books on China's economy, including one co-authored with Zhou Xiaochuan, head of the central bank. His ascent through the ranks of the financial elite saw him serve as vice-governor of inland Guizhou province, and later as chairman of the country's foreign exchange regulator, the State Administration of Foreign Exchange from 2001 to 2005. Guo came in for criticism while at SAFE for using taxpayers' money to bail out the major lenders in an attempt to make them more market-oriented. He joined CCB, which counts Bank of America as a strategic shareholder, as chairman in 2005 after SAFE's $22.5 billion bailout left the agency as the bank's largest shareholder. Seven months after Guo took over, CCB sold shares publicly for the first time in Hong Kong and two years later in Shanghai, making it the first State-owned Chinese lender to float shares in both bourses. China's financial markets have achieved impressive growth in recent years. The country overcame a $650 billion bailout of State-owned banks and a five-year bear market to become home to the world's two biggest lenders and the third-largest stock market by value. "China's financial industries have seen tremendous changes and the new regulators are facing a much better starting point than 10 years ago, when the banks were seen as technically insolvent and the stock market was chaotic," Bloomberg cited May Yan, a Hong Kong-based analyst at Barclays Capital as saying before the announcement. Shang became chairman of the CSRC in December 2002. Prior to that, he served from 2000 to 2002 as president of the ABC and was a deputy governor at the central bank from 1994 to 1996. Liu became head of the banking regulatory commission in March 2003, and Wu was appointed head of the CIRC in November 2002. Xiang was a State auditor and deputy central bank governor before joining the ABC in 2007 to lead the restructuring. An initial public offering three years later raised $22.1 billion in the world's largest first-time sale.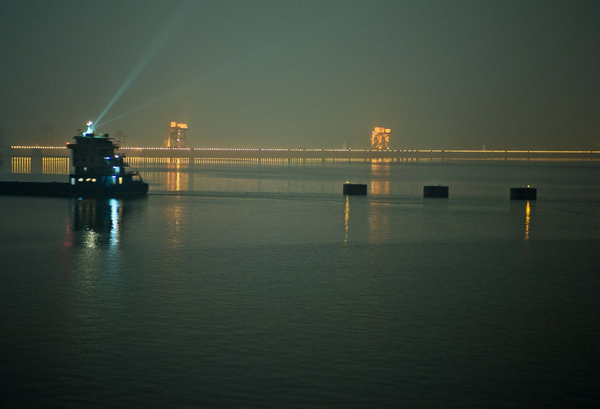 Photo taken on Oct 30, 2011 shows the Three Gorges Dam, in Yichang, Central China's Hubei province. The water level of the Three Gorges Dam, the world's largest water control and hydropower project which spans China's Yangtze River, reached its designed full capacity of 175 meters on Oct 30. China's Three Gorges Dam on Sunday reached its designed highest mark, the second time for the world's largest water control and hydropower project to run at full capacity. The water level hit 175 meters at 5 pm after storing water for nearly two months from the water level of 152 meters, said an official with the China Three Gorges Project Corporation (CTGPC), the developer of the project. A dozen hydropower turbo-generator units started operation on Sunday, generating power capacity of 8.2 million kw, said the official. The dam in central China's Hubei province completed its first full-capacity test last October. Operating at full capacity should give full play to the dam's functions of generating hydroelectric power, delivering water to the lower reaches to alleviate spring droughts, and containing water from summer flooding, as required by the State Flood Control and Drought Relief Headquarters. The Three Gorges Project was launched in 1993 with a budget equivalent to $22.5 billion. So far, monitoring shows the dam is operating smoothly.
A modified model of the Long March CZ-2F rocket carrying the unmanned spacecraft Shenzhou- VIII blasts off from the launch pad at the Jiuquan Satellite Launch Center in northwest China's Gansu Province, Nov. 1, 2011.

China on Monday rejected a US accusation that it had hacked into an American satellite system, calling the claim "factitious". Foreign Ministry spokesman Hong Lei made the comments when questioned about a recent report on the suspicions by the United States-China Economic and Security Review Commission. "This commission always observes China through tainted glasses. The report is totally factitious, made with ulterior motives, and does not warrant refuting," Hong said. China has been a victim of hacker attacks as well, Hong said, adding the country opposes any kind of cyber crime.

Hong Kong*: Nov 1 2011 Share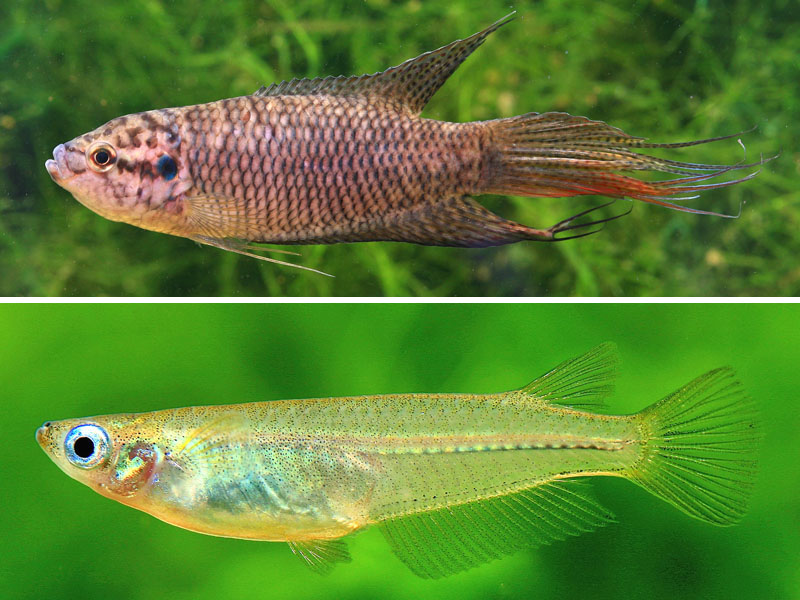 The Hong Kong paradise fish (top) and the rice fish require conservation. The only freshwater fish named after Hong Kong, identified recently as a new species, is already dwindling in numbers, spurring efforts by scientists to step up a breeding programme. The Hong Kong paradise fish, Macropodus hongkongensis, found only in the city, is threatened by man-made damage to its habitat. Researchers are now examining its genetic make-up with a view to aiding the government's breeding programme. Last year, Chinese University obtained funding of HK$854,440 from the Environment Conservation Fund for a three-year study to see if there are genetic differences within species of fish found in different parts of Hong Kong. Six species are being studied, including two that are of conservation concern - the Hong Kong paradise fish and the rice fish, Oryzias curvinotus. "Animals in the ocean or on land can go anywhere they like, but this is not the case for freshwater fishes in streams," Tsang Ling-ming, a post-doctoral fellow at the university, said. "You can have two streams that are very close together, but the water may be from different sources; the water could be different in temperature or pH level, which means one gene pool of fish may survive in one stream but not the other." The Hong Kong paradise fish is the only fish that breeds by attaching its eggs to bubbles and then stays with the eggs - an uncommon habit, because most parent fish will leave their offspring to fend for themselves. The fish can be found only in Tai Po, Sai Kung and parts of the New Territories where the land is not too hilly, so that the currents in the streams are more gentle. The Agriculture, Fisheries and Conservation Department has listed so far 21 fish species as requiring conservation. Tony Chan King-tung, a nature conservation officer with the department, said it was important to protect the genes of the fish, because they will determine whether newly bred fishes under the breeding programme will survive when they are reintroduced into a freshwater environment. "One species of fish may still have genetic differences," Chan said. "They adjust to the place where they live, and some fishes may have adjusted to more sunlight or a faster water current, and their bodies will become adapted to the environment over generations." It was therefore important to record the genetic information of the fishes found in each location, Chan said. "We definitely do not want fishes with different genes but of the same species mixing together in their habitats, because that may weaken their ability to adjust."

Hong Kong's currency was linked to China's silver dollar until 1935 when the value of silver became unstable. It then switched to a sterling standard, which remained until sterling became unstable in the early 1970s, and it was floated from 1974 until the currency crisis of 1983. As editor of the Asian Monetary Monitor at the time, I proposed linking the Hong Kong dollar to the US dollar. This system was adopted and has worked well for 28 years, but recent instability in the US economy has raised questions about its future. Instead of going over familiar arguments for keeping the US dollar link, I should first point out that Hong Kong is in a monetary union with the United States. Europe's monetary union, of course, is now faced with unprecedented pressure, which may end in the exit of one or more of the participants, or even the break-up of the union itself. Why has the European monetary union come under such immense stress after only 12 years of existence? Why is Hong Kong's monetary union with the US more robust? Economists have always cited these criteria for a successful monetary union: labour mobility; openness, capital mobility and price/wage flexibility; a central fiscal transfer mechanism to redistribute income; and similar business cycles between the participant economies. These are, in my opinion, necessary but not sufficient conditions for a successful union. Based on Hong Kong's experience, there are eight criteria for success: wage/price flexibility; labour and capital mobility; a limited welfare state; fiscal discipline; strongly capitalised banks; banks maintaining ample liquidity; low household debt; and low corporate debt. The first three conditions are necessary for an optimal currency area; the next five are needed to avoid bubbles or busts. Essentially, they require that the balance sheets in the major sectors - government, banks, households and non-financial corporations - must not be allowed to become so overleveraged as to precipitate a crisis. Hong Kong limits the build-up of leverage. Consequently, when a bubble bursts in Hong Kong, negative equity in the household sector or corporate bankruptcies are limited. In terms of fiscal discipline, since 1983, the Hong Kong government has maintained an average annual budget surplus of 1.4 per cent of gross domestic product, deliberately accumulating in good times a fiscal reserve that can be run down in recessions. The virtue of fiscal prudence has been repeatedly emphasised by successive financial secretaries. Banks in Hong Kong today generally maintain capital ratios of 14-18 per cent. Banking supervision in the city is widely admired in Asia, and loan underwriting standards are carefully monitored. Since 1991, Hong Kong has limited household leverage by imposing a maximum loan-to-value ratio of 70 per cent (recently tightened) on all residential mortgage loans by banks; the city has never permitted the 120 per cent "Ninja" loans - no income, no job or asset - of the kind seen in the recent US and British housing bubbles. In addition, since last November, loan-to-value ratios have been extended to commercial property loans, effectively restricting all property-related leverage. Since it is predominantly companies that buy commercial property, this restriction limits corporate debt. Applying these rules to, say, Greece, it is clear what it and other peripheral economies in the euro zone needed to do to be viable members of the monetary union. One could say that European monetary union was too lax in applying the Maastricht convergence criteria, which included a maximum 3 per cent budget deficit and a maximum 60 per cent government debt-to-gross domestic product ratio, and a maximum consumer price index inflation rate. The maintenance of a fixed exchange rate is not a purely technical matter. In Hong Kong's case, the authorities have long taken the view that while the exchange rate is fixed, the economy must be as flexible as possible, but that alone is not enough. They have therefore sought to ensure, in addition, that Hong Kong's institutions are as robust as possible to ride out the inevitable external shocks. I believe these eight fundamental rules accurately convey the spirit of the monetary and financial regime that Hong Kong is currently attempting to operate. I know some in Hong Kong are investigating the idea of linking the HK dollar to a "basket of currencies", but I basically agree with those who, like former government economist K.C.Kwok, argue that Hong Kong has many other problems to fix and should not focus on fixing this one: "If it is not broken, don't fix it!"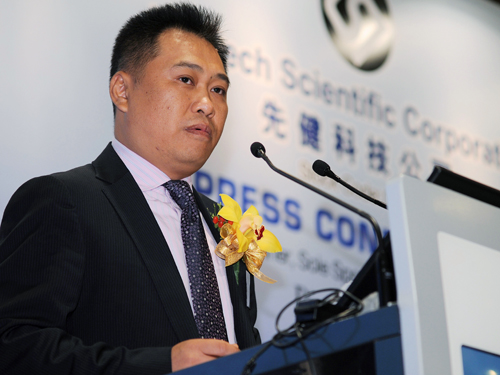 LifeTech chairman Xie Yuehui answers questions about its upcoming offering on the GEM. Trading in the stock begins on November 10. Biotechnology company LifeTech Scientific Corp aims to raise up to HK$282.5 million through an initial public offering on the second board today to fund new manufacturing and product development. The Shenzhen-based company, which specialises in implants for treating cardiovascular disorders, will offer 125 million shares at a target price of between HK$1.91 and HK$2.26 each. LifeTech has earmarked 55 per cent of the expected net listing proceeds, or HK$88 million, for expansion of its production base in Shenzhen and a further 35 per cent, or HK$56 million, for product development. The remainder will support its sales and distribution network in emerging markets. The new listing comes as the Hong Kong stock market continues its roller-coaster ride, with the Hang Seng Index closing at 20,019 points on Friday, after falling to as low as 16,250 on October 4. LifeTech's shares, to be listed on the Growth Enterprise Market, will begin trading on November 10. The company, established in 1999, claims to be the world's second-largest provider of congenital heart defect occluders - devices used to close an abnormal opening in the wall between the two upper chambers of the organ as an alternative to surgery. Its net profit rose to 10.97 million yuan (HK$13.4 million) in the first four months of the year, from 1.84 million yuan a year ago. Turnover grew 40.9 per cent to 44.58 million yuan. Last year's net profit was 3.79 million yuan, against a loss of 4.49 million yuan in 2009, with revenue increasing 31.3 per cent to 104.7 million yuan. LifeTech is involved in a court case in India, in which a rival alleges copyright infringements on some occluders. LifeTech has rejected the allegation but warned of possible ramifications arising from the dispute. Forgoing sales in India might reduce gross profit by 13 per cent in the four months to April this year, LifeTech said. Cross examination of witnesses is expected to be completed by January 6. Lifetech Scientific (Shenzhen) operates as a subsidiary of EastBridge Investment Group Corp.

China*: Nov 1 2011 Share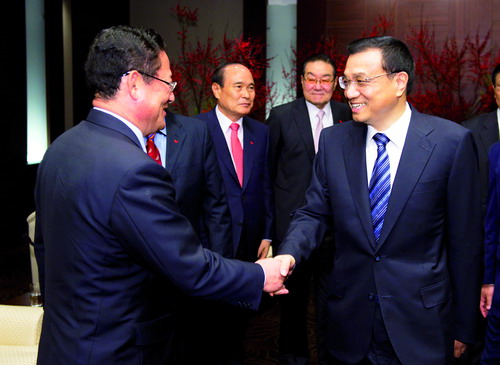 Vice-Premier Li Keqiang on Thursday said negotiations on a free trade agreement between China and the Republic of Korea (ROK) should move at a faster pace, and said he hoped the two countries could expand their investment cooperation. "We have to speed up efforts to conclude a free trade agreement," Li told representatives from the Korea Chamber of Commerce and Industry and other business leaders at a banquet. He said the two countries agreed on the need for such a deal and the foundations had been laid through years of research. "A China-ROK free trade agreement will help us jointly cope with international economic risks and boost both countries' national welfare," Li said. He also suggested the ROK should expand its investment in China in the service sector and agriculture. He said the two countries should strengthen cooperation on banking and securities to jointly push forward the development of a securities market in the region. China is the ROK's largest trading partner, with annual bilateral trade surging to $188.4 billion in 2010 from $6.3 billion when diplomatic relations were established in 1992, Huh Chang-soo, chairman of the Federation of Korean Industries, said at the banquet. Huh called for more economic cooperation and personnel exchanges with China to expand trade and fuel growth. Prior to the banquet, Li met ROK Parliamentary Speaker Park Hee-tae at the National Assembly to talk about ways to promote regional security. According to the Seoul-based Yonhap news agency, Li briefed Park about his meeting on Monday with Kim Jong-il, the top leader of the Democratic People's Republic of Korea (DPRK). Li told Park that Pyongyang is willing to seek dialogue with Seoul and ease tensions on the Korean Peninsula in accordance with the principle of denuclearization. Li on Thursday concluded his tour of the Korean Peninsula, which included a three-day visit to Pyongyang. During his two-day stay in Seoul, Li met ROK President Lee Myung-bak and Prime Minister Kim Hwang-sik, and the two countries agreed to expand their currency swap agreement to the equivalent of $56.5 billion. Analysts say such a rare back-to-back trip to the DPRK and the ROK showed China has acknowledged the equal importance of the DPRK and the ROK and takes a balanced attitude toward them. Kang Jun-roung, a professor with the ROK's Hankuk University of Foreign Studies, on Thursday told a group of 200 visiting Chinese young people in Seoul that the rapid development of the China-ROK relationship is a great achievement since the two countries had only had diplomatic ties for 19 years. He said that people on the Korean Peninsula do not want a war and need help from both China and the United States to ensure this. AFP and Ma Liyao contributed to this story.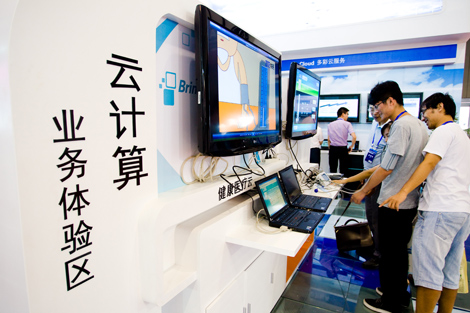 The overseas market may eventually contribute as much as 80 percent of ZTE Corp's total sales, said Hou Weigui, the president of China's second-largest telecom-equipment maker by sales. At a news briefing in Beijing on Friday, Hou said ZTE's overseas presence has expanded in recent years. The Shenzhen-based company took its first step toward globalization in 1995, when it established branches in Indonesia. Overseas sales amounted to 20.8 billion yuan ($3.27 billion) in the first half of this year, accounting for 55.7 percent of its total sales. Hou said the figure will continue to grow and may reach as much as 80 percent, but he did not predict when ZTE will realize that goal. "We are particularly interested in big countries, where market demand is large," said Hou. However, political concerns from foreign governments and currency volatility have already hurt ZTE's global expansion. Like its larger rival Huawei Technologies Co, ZTE has also faced difficulty in selling telecom equipment in the North American and Indian markets. Hou also claimed that the US government has hindered ZTE's sales because of concerns about national security. "It's useless making further efforts (to persuade the US government to trust the company). The problem cannot be solved," Hou said. He added that ZTE will only perform well in less sensitive areas, including the fields of mobile phones and enterprise IT solutions. Another challenge facing the company is that of currency volatility, which has eaten away at profits. The company reported net profit of 1.07 billion yuan in the third quarter, a year-on-year decline of 21.5 percent. However, the comparative weakness of the euro against the stronger yuan meant that earnings from European sales were lower than expected. "We cannot ignore the currency issues any more. Measures should be adopted to help avoid this risk," Hou said, without elaborating. Founded in 1985, ZTE has grown into a leading global vendor of telecom infrastructure equipment, along with Ericsson AB, Nokia Siemens Networks BV and Alcatel-Lucent SA. "ZTE's success is attributed to hard work, creativity and government support," said C.W. Cheung, Asia-Pacific consulting director at the researcher Ovum. "ZTE's competitiveness in low price and high quality helped it stand out amid the global financial instability of the last three years," Cheung said. However, given the weaker investment in telecom-network construction from global carriers, makers of telecom equipment worldwide have started to tap new fields to boost growth. Hou said ZTE has seen a fast growth rate in terms of its mobile-phone business. The company expects to ship 12 million smart terminals in 2011, with total terminal shipments reaching 120 million units, up from 90 million in 2010. He Shiyou, executive vice-president of ZTE, also said that the company wants to become one of the world's top three mobile-phone vendors by 2015. Hou said ZTE would like to rely on flagship products to increase its sales of mobile phones. The ZTE Blade V880, an Android-based smartphone, has sold more than 5 million units worldwide. The company said the number of ZTE Blades sold in China has so far surpassed Apple Inc's iPhone series.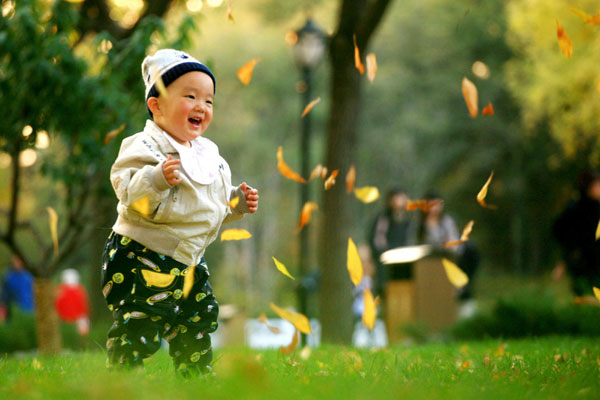 China will adhere to its family planning policy so as to maintain a low reproduction rate, said the country's family planning chief on Sunday, expected to be the eve of the world's population reaching seven billion. "Over-population remains one of the major challenges to social and economic development," said Li Bin, director of the State Population and Family Planning Commission in an exclusive interview with Xinhua, adding that the population of China will hit 1.45 billion in 2020. Li said maintaining and improving the existing family planning policy and keeping a low reproduction rate, along with addressing the issues of gender imbalance and an aging population, will be the major tasks in the future. Li's words came just one day before Oct 31, the day on which the United Nations estimates the world's population will reach seven billion. Zhai Zhenwu, a leading Chinese demographer, said earlier this week that China's family planning policy had postponed this day for at least five years, as it prevented 400 million people from being added to the country's population, which is 1.34 billion at present. "The population of China would have hit 1.7 billion had it not been for the family planning policy, and it would have created difficulties for society," said Li. The most populous nation in the world, China introduced its family planning policy, often referred to as the "one-child policy", in the late 1970s to curb pressure on the environment and resources. Li said the policy has made a favorable environment for the country's economic development and social stability by alleviating demand for fundamentals including education, employment and housing. Thanks to the policy, China's average education term has reached nine years and its population's life expectancy 73.5 years. In addition, maternal mortality rates and infant mortality rates are among the lowest in all developing countries. "The Chinese government seriously fulfills the World Population Plan of Action and the Millennium Development Goals set by the United Nations, making positive contributions to the world's population development," said Li. However, Li said that besides overpopulation, China is still facing other population-related challenges, including gender imbalance and an aging population. For every 100 girls born in 2010, 118 boys were born. And 13.26 percent of China's population are aged 60 or above. It is expected the ratio will hit one third, or 440 million, by 2050. One fifth of the population will be 80 years of age or older in 2050, according to Li.

Hong Kong*: Oct 30 - 31 2011 Share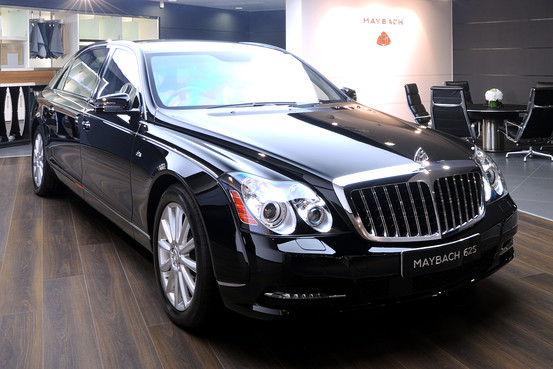 A Maybach on display at the Mercedes-Benz dealership in Hong Kong. Maybach aficionados in Hong Kong have a more convenient spot to swoon over the luxury land yacht. Mercedes-Benz's high-end brand vacated its seaside showroom in Repulse Bay and in August opened a more modest dealership in the commercial district of Wan Chai. Maybach set up shop in the corner area of what is now called the Mercedes-Benz Excellence Center, which also offers retail services for the AMG line of performance vehicles. Agnes Chung, a senior manager at Mercedes-Benz, said that the move was part of an effort to improve exposure for the brand, as the company looks to carve a larger slice of the ultra-luxury market. (The 62S model sells in Hong Kong for about 8 million Hong Kong dollars, or US$1 million, partly due to luxury taxes.) "We love Repulse Bay as a location, but if you looked at the accessibility, I would definitely say there is no comparison to where we are at the moment," Ms. Chung said. "Within that Wan Chai area, we will be able to find target customers who are around, and would like to look for a car of that range." The Maybach name isn't as widely known (despite photo ops with Russell Simmons and an ill-fated appearance in a Kanye West video) as other luxury competitors such as Rolls-Royce and Bentley, and its sales have struggled, with fewer than 200 sold world-wide last year. In its current form, Maybach has been in the market since the late 1990s, as parent auto maker Daimler stepped up competition with BMW and Volkswagen.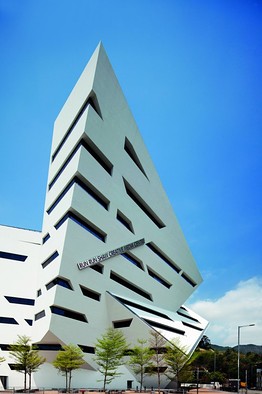 Daniel Libeskind's latest project, an angular, nine-story academic building, opens today in Hong Kong. The Run Run Shaw Creative Media Centre is located on City University of Hong Kong's campus and named after the local media magnate who donated 100 million Hong Kong dollars (US$12.9 million) to the institution last year. The 263,000-square-feet building features several Libeskind design touches, such as reflective surfaces and irregularly shaped windows, and houses a theater, classrooms and exhibition spaces. According to the starchitect's site, its design "enhances the spirit of limitless possibility and outside-the-box thinking." Run Run Shaw's opening comes soon after that of Mr. Libeskind's remake of the Military History Museum in Dresden. And by the end of this year, his Reflections at Keppel Bay, a condominium complex in Singapore, are expected to be complete. Given how prolific he is, Mr. Libeskind has been questioned on whether his designs are borrowing too much from each other. The Toronto Star asked him about it earlier this week, pointing out the similarities between the Military History Museum and his project at Toronto's Royal Ontario Museum, which he finished in 2007. "They're completely different buildings," he told the newspaper. "People see an angle in a building, and they think they're all the same. They're blind." The Star's architecture columnist, Christopher Hume, couldn't resist a last shot at the architect, saying that the strip windows of the new Hong Kong building were "reminiscent — you guessed it — of the ROM." Elsewhere in Asia, Mr. Libeskind is working on Haeundae Udong Hyundai I'Park, a mixed-use project in Busan, South Korea. When finished, the tallest of the towers, at 72 floors, is expected to be the loftiest apartment building in Asia. He's not the only high-profile architect building up his Asia credentials. Austrian firm Coop Himmelb(l)au also took on a Busan project with its Cinema Center, and Frank Gehry told Bloomberg earlier this week that he hoped to work on a museum in China and a "spiritual kind of building" in India, not to mention his residential tower in Hong Kong.

China*: Oct 30 - 31 2011 Share
China said yesterday that the purchase of European Financial Stability Facility (EFSF) bonds would not be on the agenda of the upcoming G20 summit in France, but added that President Hu Jintao would focus on the lingering European debt crisis and commodity prices. Zhu Guangyao , finance vice-minister, said China needed more time to study the details of the EFSF's new initiative before deciding on investment and urged Europe to take investors' needs into account. Zhu made the remarks after a meeting with EFSF chief Klaus Regling, who was in Beijing yesterday to persuade China to help restore the euro zone economy after European leaders reached a last-minute deal to contain the bloc's crisis. "We need to wait for the technicalities to be clear and also to carry out serious study before we can decide on investment," Zhu told a press briefing on the G20 summit. He said the EFSF's guarantee amounts for treasury bonds of troubled countries and the composition of the special purpose vehicle would not be finalised for at least a month. "I don't think how the member states will contribute to the EFSF will be discussed at the G20. It will not be on the agenda," Zhu said. While stressing that the resolution reached by European leaders to increase the leverage of the EFSF could help stop the crisis from spreading, Zhu called on Europe to make greater efforts to implement its agreements. Deputy Foreign Minister Cui Tiankai told the briefing the G20 summit would focus on stabilising financial markets and tackling urgent problems, including the debt crisis, based on the principle of mutual benefit. Other issues such as global monetary system reform and increasing the representation of emerging markets would also be discussed, he said. European leaders reached a deal on Thursday after a meeting in Brussels that private banks and insurers would accept 50 per cent losses on their Greek debt holdings. The EFSF, set up last year to aid troubled European nations, will be leveraged to give it firepower of €1 trillion (HK$10.9 trillion) to put a safety net under bigger euro zone states. Ding Chun , a European affairs specialist at Fudan University, said China would also want to see how the markets respond to the deal before deciding how to invest. "Indicators such as whether the market is convinced by the deal will be used," he said. "There are other alternatives for China to help, such as doing it through the [IMF]. That is the other factor China wants to consider." Before meeting officials from the Ministry of Finance and the People's Bank of China, Regling said he expected the country to continue buying bonds issued by the EFSF, but added that a conclusive deal with Chinese leaders was not expected. He said 40 per cent of EFSF bonds were purchased by Asian buyers this year, with China a "good" and "loyal" buyer. "We all know that China has a particular need for investment as its surplus has to go somewhere. The EFSF can offer some commercially interesting products [for China]," Regling said. The EFSF chief said the European Union was trying to come up with new mechanisms for investment in the financial facility to restore market confidence in the debt-laden region. He will discuss with China and other investors how to structure a special purpose investment vehicle and explore the possibility of linking it to the International Monetary Fund. China had not set any conditions for buying the bonds and there were no "special deals" between the EFSF and Beijing, Regling said. Critics have suggested that the central government may press Europe for trade concessions or to refrain from human rights criticisms. Fu Ying , another vice foreign minister, said she hoped Sino-EU trust would be enhanced after the crisis and both sides would treat each other without "outdated prejudices".

*News information are obtained via various sources deemed reliable, but not guaranteed